Husky puppy raised with 2 cats??
Husky of the Month
Congrats Nikita, Archer, and Cheyanne,
our November HOTM Winners!

Husky Cuddles!


Thanks to all for this month's entries!
Forum Rules
1. Here we prefer clarity to agreement. Obviously not everyone is going to agree on a topic; here we prefer to talk out our differences in a respectful manner to ensure mutual understanding and respect.
2. Read the Stickies and Announcements. Each sub-forum may have specific rules which trump the Forum Rules in cases where there may be conflicting information. Read the rules of each board before you post so that you are clear on the expectations of the staff.
3. Respect ALL Staff and Admins. These people volunteer of their time and MUST be respected as well as their word adhered to. They are responsible for maintaining a free, open, clear and organized forum. Anyone found to be openly undermining any official ruling by a staff member will be warned.
4. Signatures: One picture only and no links. Images: To keep the forum looking neat and tidy, we ask that members insert just one picture only in their signatures. The picture should be no more than 200x500 pixels and should be of an appropriate subject, for example, your dogs and their names. Should you need assistance creating an appropriate signature, please PM an Admin and we would be happy to help! This is to ensure that signatures remain a welcome addition to our forum instead of a cumbersome distraction. Links: Hyperlinks in signatures--unless to a personal blog or photo stream of your dogs (like Flckr or Piscasa, for example)--are strictly prohibited. Please PM a staff member with any questions or concerns regarding this rule.
Rescue Spotlight
Our current rescue spotlight is:

Delaware Valley Siberian Husky Rescue!

Author
Message
TheHailstorm
Newborn



Join date : 2011-06-21
Location : St. Louis



Subject: Husky puppy raised with 2 cats?? Thu Jun 23, 2011 3:13 pm

---

Hey everyone! We're are new to this site. We are getting our new puppy Bella(thats her name as of now) on July 7th, shes a siberian husky of course and she is just gorgeous! We have been wanting a husky for a long time now and we have been doing a lot of research. Some things I was unaware too, but since I'm learning about it now, at least we can be prepared. Ok so for my question, I have heard that considering the "prey instinct" that huskies have, I have read a lot about how they will kill smaller animals i.e. cats and others but I heard that if raised from a puppy with cats that they will do better with small animals. Now, we are going to crate train our husky, and even though we do have a backyard, she WILL be going outside with us on a leash at all times. I have also read that they will learn to live with the cats in the house but if they encounter ones they are not used to, they want to kill those. We are mainly concerned about our 2 cats. Bella will be 9 weeks when we bring her home and our cats are 3 and almost 1. Does anyone else have cats with their huskies? IS IT possible to have them in the same house together and raise them together? I want to know if other people have had success raising their puppy with cats and things are ok. We plan on keeping her in the crate at night and whenever we are gone. Advice please, our 6 year old (and us) are soo excited about bringing her home! Any advice, suggestions, etc you can offer would be just wonderful!! Thank you!!

jbealer
Husky Stalker


Join date : 2009-05-29
Location : Denver, CO



Subject: Re: Husky puppy raised with 2 cats?? Thu Jun 23, 2011 3:20 pm

---

well you are starting by getting a puppy which is the safest way to help with the cats. i just know from what i read from others on this site that it has worked for them, but the husky and cat are NEVER left together with out supervision. i adopted older huskies and they will kill a cat if it gets to close, even at friends homes i will not trust them with the cats or small dogs around. now its not to say she will always work with your cats and there is always that chance she will just end up with a high pray drive but with good training it can work.we cant wait to see pictures when you bring her home. WELCOME!

now to let others with real info post

_________________

Huskyluv
Resident Nutritional Bookworm


Join date : 2009-06-23
Location : Huntsville, AL



Subject: Re: Husky puppy raised with 2 cats?? Thu Jun 23, 2011 3:54 pm

---

Check out the following thread, it's pretty similar in content to your question about huskies and cats:
Betty in Munich Cats/Huskies

I know there are other threads with postings on the subject of cats and huskies getting along but can't seem to find them right now.

_________________

TheHailstorm
Newborn



Join date : 2011-06-21
Location : St. Louis



Subject: Re: Husky puppy raised with 2 cats?? Thu Jun 23, 2011 4:14 pm

---

Thanks for your information!! You two have already been helpful and thanks huskyluv for that link, reading that has helped me feel better, I think that as long as we socialize them well together, once the cats get over their "hissy" stage when Bella first comes home, lol they always do that, we will just try to introduce them and work with them all together. Let Bella see us with the cats and see that they are alright and let the cats see us with Bella so they know she is ok... We will continue to do more research about it to see if we can't find out some good ideas of things we can do to help them all mush well together...

Let me know if you guys find anything else about this topic! Thanks!

arooroomom
Husky Collector


Join date : 2009-12-13
Location : South Fl



Subject: Re: Husky puppy raised with 2 cats?? Thu Jun 23, 2011 5:53 pm

---

I have 4 cats here. No issues at all but my cats are dog savvy. I just always used the rule of no mouth on the cat. Mishka was the most difficult but she wad 5 months old when she came home. Just be vigilant and always crate the dog when you leave.

_________________

Force Free Training Thread

Cheyenne, Mishka, Mickey, Rodeo, & Odin

Are you a Husky owner in South Florida?! Join our facebook meetup group!

26nikita
Senior



Join date : 2010-09-11



Subject: Re: Husky puppy raised with 2 cats?? Thu Jun 23, 2011 8:08 pm

---

I have two huskies and two cats and both dogs were raised from puppyhood with the cats. Dakota is excellant with them and can be completely trusted around them when I am not home, but that is just becuase he has absolutely no prey drive. Willow on the other hand does have a prey drive so she will never be trusted around them with out my supervision. She can be in the same room with the cats and they can drink from the same bowl and be fine, but the minute one of the cats run in her line of vision, the chase is on. As long as you supervise them, you should be fine. You will learn pretty quickly how strong of a prey drive Bella has by her reactions to the cats, squirrels, birds etc...

KareBear
Teenager



Join date : 2011-06-10
Location : London, Ontario



Subject: Re: Husky puppy raised with 2 cats?? Thu Jun 23, 2011 10:20 pm

---

Aevyn and his two feline sisters Pandora and Kahlua have been fine with each other since day one. Our cats were both 1 and a bit when Aevyn came home at 10weeks, and honestly, there was a small bit of chasing, small bit of hissing and swatting - but now they're very tolerant of each other. They even curl up and sleep together sometimes. So I dont think you have anything to worry about, just, as everyone else said, keep an eye on it.

Sponsored content






Subject: Re: Husky puppy raised with 2 cats??

---
Latest topics
» The Husky Bunch - A Video Diary

by aljones Yesterday at 2:32 pm

» Sarloos wolf phantom pregnancy?

by Emilyk123 Yesterday at 1:18 pm

» The Desert Pack

by Lostmaniac Yesterday at 10:11 am

» Husky with mini Golden Retriever?

by Lostmaniac Sat Oct 09, 2021 3:41 am

» HELP PLEASE!!!! Slipped Disc / Crate Rest

by aljones Tue Oct 05, 2021 10:08 pm

» Recall Information

by aljones Tue Oct 05, 2021 3:24 pm

» For once - NOT a husky!

by aljones Mon Oct 04, 2021 9:49 pm

» Husky vs. husband. Hint hint … she wins!

by amymeme Mon Oct 04, 2021 1:43 pm

» My male Husky is too skinny...any advice?

by Lostmaniac Sun Oct 03, 2021 8:36 pm

» Greeting from manchester/england.!

by Ant&Lisa Sun Oct 03, 2021 6:43 pm

» Husky WANTS to run away

by amymeme Sat Oct 02, 2021 3:57 pm

» Way more stressful then I thought!

by Windfishin Sat Oct 02, 2021 1:59 pm

» Is my husky red?

by Windfishin Sat Oct 02, 2021 1:53 pm

» Huskies' Strange Feeding Habits

by Gillian Thu Sep 30, 2021 6:28 pm

» Max and Mika's scrapbook

by dvflyer Mon Sep 27, 2021 4:27 pm

» Apollo Scrap book

by Lostmaniac Mon Sep 20, 2021 4:43 pm

» Bolt Scrap Book

by Liv_Skye Mon Sep 20, 2021 4:39 pm

» Storm scrap book.

by Liv_Skye Mon Sep 20, 2021 4:37 pm

» Systemic Marking

by aljones Sun Sep 19, 2021 3:19 pm

» 2 year old Husky has mouth sores and patch on leg

by amymeme Thu Sep 16, 2021 8:49 pm


Sours: https://www.itsahuskything.com/t2116-husky-puppy-raised-with-2-cats
Can Siberian Huskies and cats get along?
For those of you who don't know, Gatsby was raised in a household with four cats. Before I got him, I made sure I did all the research to see if it would be a good idea to bring a Siberian husky into my home. Siberian huskies are known to have very high prey drives and there's a reason why. Back in time, huskies were often sent off to fend for themselves and this sometimes meant they had to kill prey. This hunting behavior learned over many hundreds of generations in harsh arctic conditions is now a natural instinct and it can't be unlearned. It's just a part of their DNA.

My husband and I were pretty disappointed by this but that didn't stop us to see and learn HOW we can make this work. We started to reach out to husky parents on Facebook, Instagram, and other husky forum groups hoping to hear from their experience. I was surprised to find out that there were so many people who have huskies and cats living with each other. After speaking to them and also speaking to husky rescue groups, I learned that it is possible to have cats and huskies co-exist. You just have to make sure that you raise a husky puppy with the cats. The husky puppy will grow up with the cats and treat them as part of his pack
It's not going to be an easy process but it's not impossible. It's definitely going to take time and it will not happen overnight. This can take MANY months and even years! Right now, Gatsby only wants to play with the cats. I am certain of this because of his wagging tail and play bows to the cats.

If you plan on getting a husky and have cats, here are some tips based on my experience:
Slow introductions – You must introduce your husky puppy to your cat VERY slowly. On the first day I brought Gatsby home, I had my cats and Gatsby smell and greet each other between a baby gate. We also fed them between the baby gate where they could see each other. I also had Gatsby crated and allowed the cats to come around to smell him. Cats take a while to adapt to change so we have to give them time to accept the new puppy.

Physical exercise and mental stimulation – This step is important. You MUST tire out your husky puppy first before you let him/her interact with your cat. Husky puppies have a ton of energy. There is no way it will be a good experience for your cat if your pup is just acting crazy. Take your puppy out for a brisk walk, play fetch or tug of war, even a quick training session will help get their mind stimulated and drained.

Reward an ignore and reward good behavior – whenever your husky puppy walks past your cat, reward with a treat. This teaches them to think "Hmm. Every time I ignore the cat, I will get a treat." Make sure you also reward your husky puppy if you see him/her playing nice with your cat.
Supervise the interaction – I never let Gatsby and the cats interact with each other without us watching. My husband and I will always supervise their encounters.
Give attention to both your cat AND husky puppy – While the husky puppy needs a lot of attention and will take up most of your time, make sure you give attention to your cat too because cats can get jealous easily. If you give attention to your cat, your husky puppy will start to understand the cat is part of the pack. I noticed Gatsby started acting differently when I showed affection to the cats in front of him. He became much more gentle and now even likes to give Daphne a kiss. I can't say that Daphne feels the same!
Feed your cat first – Let your husky puppy know that your cat rules the household. He/She was here first and is higher ranked in the pack. Over time, your husky puppy will come to realize that.
Have high places for cats to jump – Cat trees and shelves are good to have so your cat can jump to safety when they feel threatened by your husky puppy. Your cat will feel more comfortable in high places where he can keep an eye on the world around and below him/her with greater confidence. We purchased cat shelves and mounted them on the walls around the apartment. Here is what we are using:

Cosy and Dozy – We have these in our bedroom and living room. The padding is thick and you can the cover is removable for washing. It's big enough for two cats and they love to stare down from above to see what Gatsby is up to.
Catastrophic Creations – Here is another option. We have a few pieces of these in our living room.
Once your cat and husky puppy are getting along, don't think that your husky will get along fine with other cats that are not in your household. The other cats are not part of the pack and there is a possibility that your husky may kill them.
I hope these tips I am sharing based on my experience can help you build a loving relationship between your cat and your husky puppy. Just remember that it will take time. It's going to be difficult and frustrating in the beginning because you're already overwhelmed with the new puppy but with proper introductions, patience and love, I believe that there is a good chance that huskies and cats can get along.
Want to see another husky and cat get along? Meet my favorite duo on Instagram. Greyson, and Skyla are the bestest of friends and they live in Miami, FL with their mom Gabriela. These two are squad goals right here!
* I am not a veterinarian, canine/animal nutritionist, or dog trainer. I am a blogger. All information shared is based on my personal experience with my Siberian Husky and research about feeding, canine health, nutrition and training that I do for my dog.  Please do not use content from this blog in place of veterinarian and pet behavioral care.
Sours: https://www.sibelife.com/can-siberian-huskies-and-cats-get-along/
How to Introduce a Husky Puppy to Your Cat?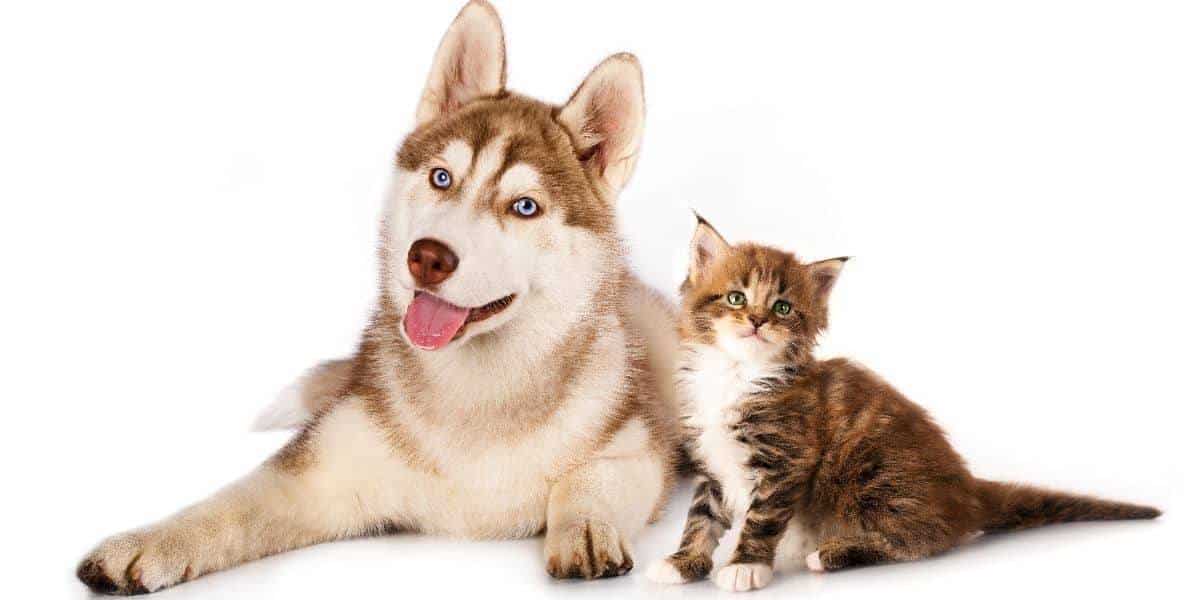 You got a new Siberian husky puppy and bring him home with his irrepressible temperament, and are worried about how a kitten or an adult cat will react to it? Or maybe you want to know how to make a kitten friend with a husky dog, that has been living in your house for a long time? Befriend animals with different psychology of behavior is not so easy as you think.
Siberian Huskies, despite being domesticated, still have a natural prey drive. They want to chase and capture smaller animals. However, with careful, disciplined training you might just be able to make your Husky get along with a cat at home. Here's how…
1. Set realistic expectations
The training you will need to give your Husky is not going to be easy. It will require time, patience, and your watchful attention for many weeks, if not months. Despite this effort, you might not win. Some dogs can't shake that prey drive even for family cats. You need to think about a Plan B, such as physically separating kittens from puppies full time. And although we hope it would never happen, Huskies can and do kill cats, should the two of them cross paths. It might not be a pleasant thought but you need to be mindful of the potential consequences of cohabitating a Siberian Husky with a cat.
2. General Tips
It isn't all gloomy though. Here are some ideas of how to get off to a good start and give everyone a chance at living happily together:
Start training early in the dog's life. There are lots of training articles on Husky Puppies Info with general advice on what to do and how to do it. The earlier you start the easier it will be to form good habits in the dog's mind.
Ensure you can physically separate the cat and the dog, each having resting, feeding, and pooping areas. In the beginning, only a short amount of time will be spent together so they need a space to feel comfortable in when not training.
Exercise your puppy first, before letting him or her spend time with your cat. Exercise can dampen the boisterous nature of puppies, who might be inclined to jump or trample over your cat.
Keep your Husky on a leash until you are absolutely, positively, 100% positive he/she will not attack or chase your cat. You probably already know it is risky to send your dog off-leash at the park, and the same applies indoors with smaller animals.
Give lots of positive feedback when your Husky "plays fair". This is the key to helping your Husky understand the cat is part of your "pack" and not a foreigner.
3. Start by setting up your home
The introductions will require your Siberian Husky on the leash, and the cat free to come and go. Ensure the cat can escape to a safe place that he/she already frequents. If you have a small pet door, or a barrier (such as a child gate you jam in a hallway or stairwell) that the cat can squeeze through but not the dog, that's great! Otherwise, just a room that can be closed off will do.
4. Introductions
It will help if you have a partner so that one of you can manage the Husky, and the other the cat. However, if you are on your own that's ok, just try to encourage the cat to visit the Husky and have a sniff around.
Set the dog up so that he or she is in an area that the cat can approach without surprise – visibility for the cat is important. Whilst the dog is on the leash, encourage the cat to come up and say hello. It would be natural for the dog to get excited and that's ok. The important thing is that you have control of the dog, and are willing to repeat this process many times until he exhibits calmer and restrained behavior.
The first encounter might only last a few seconds before the cat runs away. Don't forget that cats are curious and are likely to come back for more.
5. Develop the relationship
Work your way up to 5-minute encounters, and then try for 6, 7, 8 minutes, and longer. Keep this up for a month until you can have substantial sessions together (such as 30 minutes) without any major problem. If your Husky jumps for the cat or displays other predatory behavior, issue feedback with a firm "no". No need to punish the dog, rather issue praise and positive feedback when he shows restraint.
6. Monitor closely
At one point you will have the husky off-leash. Still, make sure you have the cat's safe place open so they have somewhere to run to if frightened. Otherwise, keep close to your Husky and be prepared to grab the collar if he or she gets rough.
With a bit of luck, your cat and dog are starting to get along nicely! Of course, it might take many weeks or months of supervision to gain the confidence that they won't hurt each other. It is quite ok to have the two separated every time you are out of the house, just in case something does happen.
7. Warning signs
Aggressive behavior by either animal is a sign that the relationship needs further work. Cats tend to wave their tail when anxious, take swipes with their paw, and stare intently at their foe. Huskies tend to get excited and move a lot, maybe try to pick the cat up in his/her jaw.
However, there is a fine line between play and fight. In this video the animals get along ok, despite the slightly aggressive behavior:

Conclusion
With patience and a bit of knowledge, you might just pull it off – introducing two natural foes to each other and have them get along. It's not an easy process and given the choice, not one most Husky owners want to deal with. Just remember to take things slow and give lots of positive feedback to your Husky when he or she behaves nicely around your cat.
Sours: https://www.huskypuppiesinfo.com/how-to-introduce-a-husky-puppy-to-your-cat/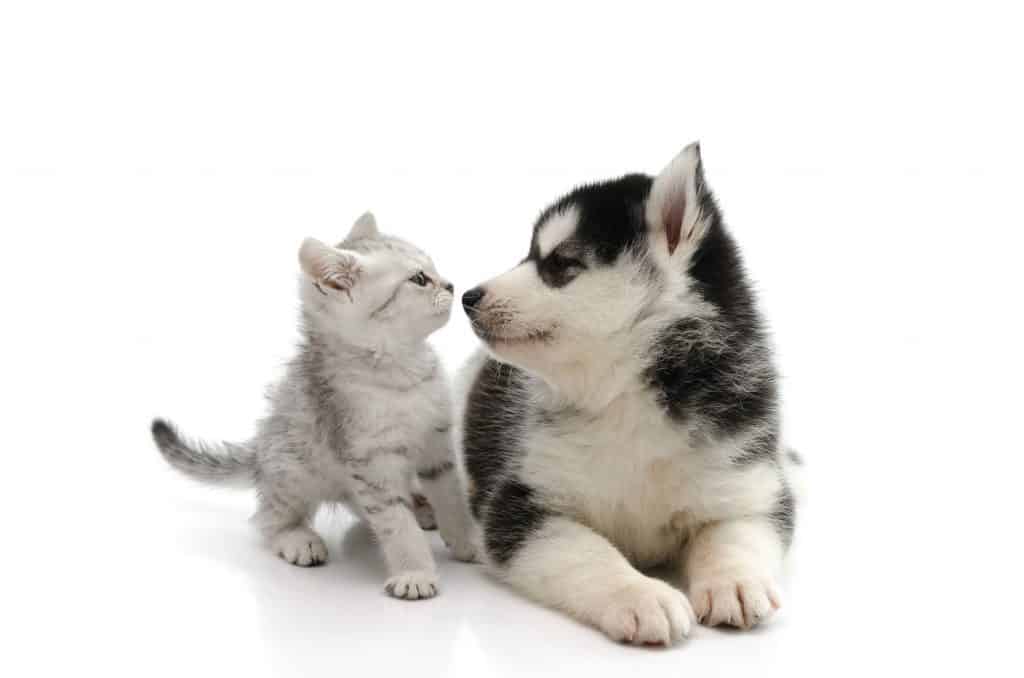 Huskies are beautiful dogs bred to run in the icy tundras of the north. They have beautiful furs, beautiful blue eyes, and a lot of energy. Dog lovers everywhere love them. But what about cat lovers? If you have a cat and want a Husky, will they get along? I looked into this question and I'm glad to report that I've got some answers for dog and cat fans.
So do Huskies get along with cats? Huskies have strong survival and predator instincts that make it difficult for them to get along with small animals, including cats. While a Husky raised around other small dogs does fine, Huskies generally need training and careful monitoring if they are going to live with a feline friend.
If this has made you question your desire to get a beautiful Husky friend for your little kitten, don't worry. There are a lot of ways to get cats and Huskies used to each other. If you want to learn more, read on and find out why Huskies and small animals can get used to each other.
Huskies: How to Make Them Like Cats
Huskies are pack animals and often have a very intelligent, stubborn personality. They also tend to be more predator-minded when they cross paths with cute little animals like cats, hamsters, squirrels, bunnies, etc. They're great with most other dog breeds, but cats?
Not naturally, at least. It requires training and getting these two very different animals used to each other to make a dent in the Husky's "I'm-bigger-and-badder" mentality.
Here are 7 tips to get Huskies used to living with cats:
Get them started young. You've heard the term "You can't teach an old dog new tricks?" It's kind of accurate for Huskies. While these dogs usually train well, they will take time to become accustomed to cats and only really succeed when they're started young. If you're a cat owner looking at getting a Siberian Husky, look at getting a puppy.
Slowly get your Husky accustomed. Bringing home a baby Husky is going to be a lot of fun for everyone… except for the little animals in the house, like your cat. If the cat is a little on edge, it's because your brand-new Husky is probably sending out vibes like "I'm gonna eat you, little kitty." Start by letting the cat and Husky cross paths for certain amounts of time. First for five-ish minutes with monitoring, next for ten or so minutes with more supervision, and so on. Allowing them time to relax around each other is important.
Exercise your Husky beforehand. Huskies are notoriously high-energy. That comes from the fact that they're bred to run and pull sleds, as well as stay warm in snowy climates. If your new Husky is full of energy and encounters your cat, even if it's not meaning to be rough it could injure the little furball. Take your Husky for a brisk walk, let him run outside, play fetch, or allow some other exercise before letting the animals have a run-in.
Keep them separated. It sounds a little simple, but some new Husky owners with cats think that the longer the amount of time the animals spend together, the more used to each other they'll be. That's not entirely true. It's best for each animal to have his or her own sleeping area, own place to eat, and different places to use the doggy or cat restroom. As cats have big bubbles and Huskies are dogs and territorial, it's really for the best.
Keep the Husky well-fed. I think you know why. If your adorable Siberian Husky gets really hungry one day and your long-time feline friend is extra lethargic and chubby that day… chances are, that poor cat will cross a line somewhere and Mr. Husky will be chasing that cat for dinner. Keep both animals well-fed. They get hangry, too.
Give attention to both cat and dog. Cats like attention, even if they don't always act like it. However, dogs do act like it. Huskies need a lot of playtime and attention. If you're used to spending an hour or so a day focused on your kitten friend, plan on spending at least that much with your Husky. They'll get jealous and territorial about playtime if the cat starts to get more.
Keep on monitoring. While these tips are great ideas for allowing Huskies and cats the opportunity to get along, be careful for a while. Even when your Husky has matured more and your cat is used to the big, adorable blue-eyed dog that races by occasionally, it's still a good idea to supervise their interactions. This is easier if the dog is an outside dog and the cat is a house cat, but overall, supervision is a good idea.
Huskies and Other Small Animals
For the most part, you can count on Huskies needing time to adapt to any little pets. Some animals that it will definitely chase and try to eat/play with include cats, bunnies, hamsters, mice, guinea pigs, chinchillas, birds (if they're out of their cage), and ferrets. Huskies generally aren't fans of reptiles of any sort but don't usually chase after them.
Most of these animals can become tolerable for Huskies as long as they're allowed to slowly interact with them. If you have a cute little bunny and want a Husky with a beautiful coat to take sweet Instagram pictures of them together (because who wouldn't do that if they owned both?), chances are it'll take a while for the Husky to be trained into liking the bunny. That's just how these dogs work, and we should respect that.
Can Huskies and Cats Ever Actually Be Friends?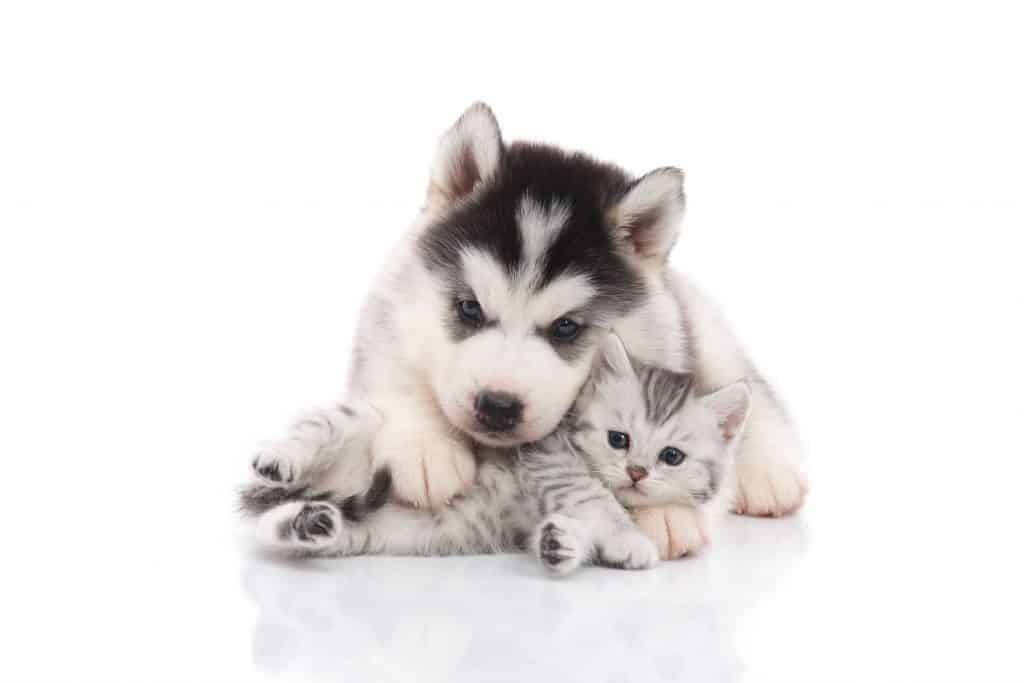 While you shouldn't expect this outcome off the bat, Huskies and cats do occasionally bond well. This probably takes a certain personality trait in both the dog and the feline which is more tolerant than others of their breed, but it is definitely possible.
For example, one user of flickr.com's "Siberian Husky" group added this to the discussion on cats and Huskies:
Several other users agreed that Huskies and cats can learn to be BFFs.
In another example, ABC News found that a group (or pack) of pet Huskies actually rescued a cat and ended up adopting it into their pack, treating it as one of their own.
These adorable cases melt our hearts, but it's not always common. However, with careful guidance and a lot of monitoring, you can train your Husky to like (or at least tolerate) your pet cat.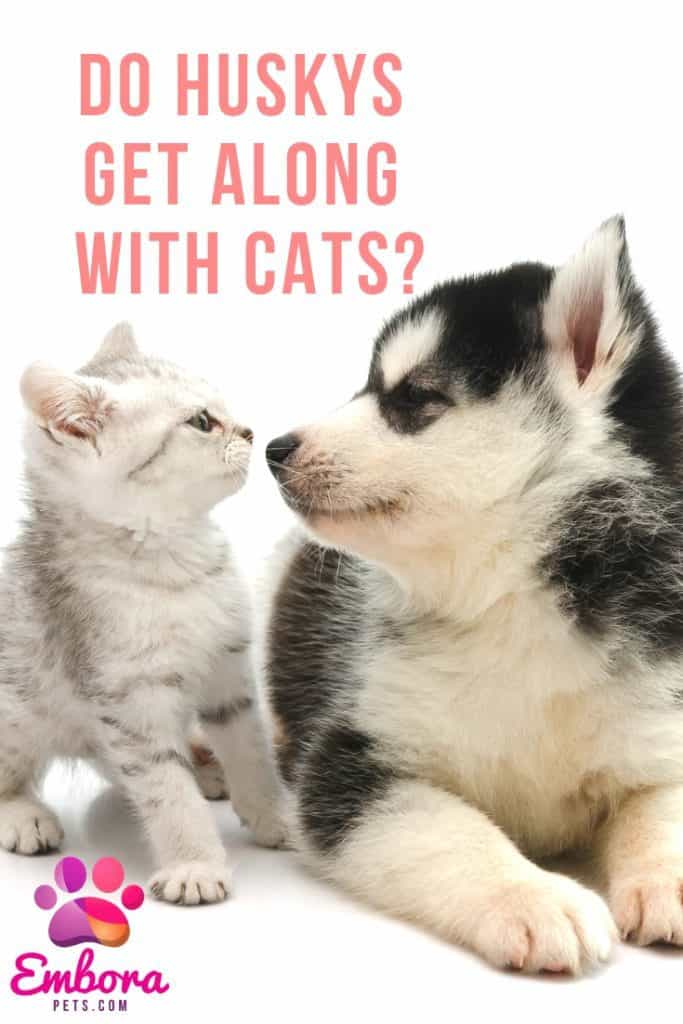 Related Questions:
Are Huskies ever allergic to cats? In very rare cases, pet-to-pet allergies can exist, but this is something that has to be diagnosed by a vet. Symptoms of Husky allergies include sneezing, itching, swelling in certain parts of the face, hives, and even vomiting. If you think your Husky is allergic to your cat, or the other way around, talk to a veterinarian to get it diagnosed and keep both pets very clean and separate in the meantime.
Do Huskies and small breeds of dog get along? Generally speaking, Huskies will get along just fine with other dogs, besides being very excitable and possibly playing rough. If you are wanting to get a small dog or small puppy and introduce it to an adult Husky, you will need to supervise a lot and take precautions about their eating bowls, sleeping spaces, and bathroom areas, kind of like cats.

Sours: https://emborapets.com/do-huskies-get-along-with-cats/
And husky cat puppy
Now he pesters every day, takes advantage of the fact that you are here and I cannot resist loudly and yell. You just understand, Ol, what a thing I can't finish anymore. Besides, there was no way the first time. Here I feel like a doll, he tries, I am pleased, but no more. - Yes.
Husky puppy is jealous of the cat getting attention...
He sucked my dick"; no, he entered me from behind, "but, he fucked me in the ass. " Whom it jars, may not read further. I'm not going to overuse obscenities. It's just that these impressions are too bright for me.
You will also like:
On his hands and microscopic nanorobots quickly crawled out of them. Like some small ticks on many legs in a cyborg block of three eights, penetrating inside, crawling wherever possible and making diagnostics of. The machine and its programs. Evelina let go of her hands from the block, and Alexei took it in his own hands and placed it inside the head of the T-888, reconnecting it to the.
Machine.
8799
8800
8801
8802
8803