Continental TrueContact Tire Review
Thinking about purchasing Continental TrueContact tire for your vehicle? You've come to the right place. Here, we talk about all the important features that make the TrueContact tire, its performance on dry, wet and snowy roads, as well as major its pros and cons. We also cover the compatibility and warranty information, so grab yourself a cup of tea and read on.
Quick Overview
Continental, the German automotive manufacturing company that's been in the business for over 140 years (founded in 1871), is the fourth largest tire manufacturer in the world. The company started the production of plain tread tires in 1898 which was a huge accomplishment back then, but even bigger success came with the development of grooved vehicle tires.
But what about the TrueContact tire? Is it worth your time, and more importantly, your money?
The Continental's TrueContact is an all-season touring tire designed for coupes, sedans, minivans and crossover vehicles. Although very affordable, this tire features some of the latest innovations in tire technology, promising safety, comfort and excellent performance in all weather conditions. So, what makes TrueContact special?
EcoPlus Technology: combining all-season traction with best in class wet braking, this tire performs well under any weather condition, including light snow, while providing good traction and extended treadwear. This is also reflected in an improved fuel economy.
Special tread compounds: TrueContact is built with an all-season rubber compound that's been infused with Continental's Tg-F polymers and +Silane additives which improve overall tread wear, steering response and traction on wet roads. This same formulation helps enhance the tire's fuel efficiency by lowering the rolling resistance.
Special tread design: the Continental's TrueContact has a rather unique tread design – symmetric but equipped with three wide circumferential grooves, it makes the tire perform impressively well on both dry and wet roads, especially when driving over large pools of water. Needless to say, these wide circumferential grooves also improve hydroplaning resistance. There are also siped intermediate tread blocks, plus Continental's Traction Grooves which provide additional biting edges for when you're driving in snow.
ComfortRide technology: to provide a comfortable and quiet ride, the TrueContact tire is equipped with an extra layer of rubber that acts as a cushion, absorbing shock and vibrations as you drive. This means smooth rides even when driving on rough, bumpy roads.
Overall, this tire is built to provide ultimate comfort no matter where and when you're driving. And it succeeds in that – with these tires, you can say goodbye to road noise and vibration and hello to quiet and serene rides. As for other important factors, such as fuel economy and wear life, the TrueContact doesn't disappoint. It's not the best out there, mind you, but it's in the top five in its class for sure. Considering its affordable price, we have to say it seems like one of the best budget-friendly all-season tires on the market – on paper, at least.
To figure out if Continental TrueContact is the right tire for your needs though, it's crucial to take a closer look at its performance in different weather conditions. But first, we'll start with the tire's major advantages and disadvantages.
Pros & Cons
[pros_cons id="14642″ item="0″]
The TrueContact tire seems to have a lot of positives and just a couple of negatives, which, quite frankly, are far from deal breakers for most average drivers. To help you decide if this tire is the right fit for your driving habits, we've outlined its most important advantages and disadvantages.
The TrueContact seems to be the perfect all-season tire. However, like all tires ever made, it does have its negatives. Thankfully, they're far from being deal breakers. In fact, we had to dig deep to find negative reviews as the overwhelming number of drivers praise the Continental's tire's overall performance. Nevertheless, the following two cons are worth taking into account when making purchasing decisions.
Performance
Finally, it's time we talk about the TrueContact's actual performance in different weather conditions. We'll start by mentioning that when it comes to dry and wet road conditions, this tire tops most similar-priced tires on the market. Brilliant traction control, smooth and comfortable rides, this tire offers fantastic value for money. Snow conditions are another story – for folks living in areas with super-cold and snowy winters, this may not be the best choice. However, for light snow and ice, TrueContact is more than good enough. But more on detailed snow performance (as well as dry and wet performance) down below.
Dry Performance
As mentioned, TrueContact performs exceptionally well on dry roads. Traction control is fantastic and steering, cornering, braking and acceleration are quick and easy. This doesn't come as a surprise, as this tire boasts special tread compounds which not only help prolong its life, but enhance its responsiveness. The way the tire is built also improves tread wear and ride uniformity – two steel belts that are strengthened with spirally wound jointless polyamide help stabilize the entire tread area, leading to perfectly stable and safe rides.
Importantly, TrueContact is also very quiet. This is mostly the result of the Continental's ComfortRide technology, which includes an extra layer of rubber that acts as a cushion of sorts to absorb shock and vibration caused by rough and bumpy roads. Of course, it should be noted that like most tires out there, TrueContact does lose some of its quietness the longer it's used.
Wet Performance
Stable and secure even in torrential rain, TrueContact shines in wet weather conditions. This is thanks to the tire's three wide circumferential grooves and intermediate tread blocks which help channel water away from the center of the tire and cut right through large pools of water. The special tread design also helps the tire have extraordinary hydroplaning resistance, so you should be safe even on the most slippery of roads out there.
All in all, when it comes to wet roads and heavy rains, TrueContact performs equally well as it does on dry roads. Handling is great, cornering and stopping is easy and quick, and the ride is smooth and pretty quiet.
Snow Performance
When it comes to all-season tires and winter performance, rarely anybody expects stellar traction and handling. But, even the lightest and cheapest all-season tires must have some snow-handling abilities. After reading hundreds of reviews, we've concluded that TrueContact has good light snow performance, and not that great deep snow performance. Here's why: the wide grooves help with heavy rains and make the tire practically resistant to hydroplaning, but make things difficult on deeper snow. Instead of cutting through deeper snowfall, the tire loses some of its traction. However, when it comes to light snow, TrueContact performs great – thanks to their patented Traction Grooves which provide good gripping ability, the tire cuts through light snow with no issues whatsoever.
So, should you get this tire if your winters are nasty? Even though they're not great in heavy snow, TrueContact tires are more than good in light snow and ice, so we'd say 'yes' if you purchase special winter tires for those seriously snowy, freezing months.
Compatibility
Continental's TrueContact comes in various sizes, from 15 inches to 19 inches, and there are three speed ratings: T, H and V.  As for the vehicles that can fit this tire, there are a number of them, so we'll list just a few here (this is not a complete list).
BMW: 135i, 323i, 330i, 530i
Mazda: 6, 3, 5, 929
Chevrolet: Malibu, Cruze, Cobalt, Cavalier, Impala, Sonic LTZ
Dodge: Avenger, Neon, Dart, Grand Caravan
Ford: Taurus, Fusion, Flex, Focus, Mustang GT
Volkswagen: Passat, Jetta, Beetle, Golf, Touareg
Toyota: Avalon, Prius, Solara, Sienna, Camry, Corolla, RAV4
Volvo: S60, V70H
Hyundai: Elantra, Sonata, Genesis
Warranty
TrueContact has a tread life warranty for 6 years for all tires, or 90,000 miles for T and H speed rated tires, and 80,000 miles for V rated tires. Workmanship and materials are also warranted for 6 years, and include free replacement for the first year, or 2/32" of wear. A prorated amount is then provided until 2/32" of remaining depth. The plan also includes road hazard warranty – one year or first 2/32" of wear road hazard warranty, along with a 60-day or first 2/32" customer satisfaction trial period.
All in all, a fantastic warranty plan for a quality, budget-friendly all-season tire.
Source:
Continental True Contact, Tire Rack
Sours: https://www.carbibles.com/continental-truecontact/
Continental TrueContact Tire Review & Rating
The new Continental TrueContact has been built with the latest in tire technology to provide a stable and consistent driving experience in all types of weather and road conditions. Designed for use on coupes, sedans, minivans and smaller crossovers, True Contact tires utilize all of Continental's newest tire technology to deliver consistent and longer lasting performance.
To provide industry leading treadwear, fuel efficiency, and traction on both dry and wet roads, TrueContact tires are constructed using an all-season tread compound that features Continental's Tg-F Polymers and +Silane additives.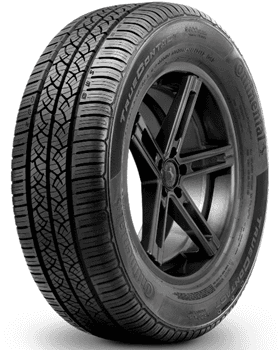 This high-performance compound is further molded into an optimized symmetric tread pattern that allows the tire to have continuous tread contact on the road. This continuous contact allows for enhanced steering response and handling.
While traction and handling are excellent on dry pavement, TrueContact tires really shine when driving in wet or snowy conditions. Continental uses a siped intermediate tread block and their own patented Traction Grooves to provide additional gripping ability in the worst of weather conditions. This is one of the few all-season tires that offers better than average performance when winter turns nasty.
Ride comfort is another area that Continental paid particular attention to. A unique comfort band system significantly increases ride comfort and smoothness while noise and the effect of vibrations are reduced as well.
The tire is built using an internal structure that utilizes twin steel belts reinforced with a spirally wound polymide that is completely joint-less. It provides added strength and durability, as well as a more uniform ride and longer lasting treadlife.
The TrueContact is available in a range of 15 to 19 inch sizes, and speed ratings of T and H. There is also up to a 90,000 mile tread guarantee depending on the tire's speed rating.
Pros
Innovative and all-round great design
Can handle all seasons including snow
Good fuel economy with its lower rolling resistance
Excellent tread warranty
Cons
Nothing that stands out in any area
Overall Thoughts
As far as tire specialists go, Continental is among the world's best. With a long history of producing quality tires, the TrueContact is no different. It's well-designed and provides quality traction, grip, and performance in all conditions. With special features to deal with snow and winter weather they can confidently be used throughout the year as well.
Expect to find a smooth and comfortable ride, and a nice warranty as well. This is one of the few tires that really do not have any glaring negative issues. It's easy to see why other leading consumer publications are also impressed with TrueContact tires.

Overall, if you want a high quality all-season tire at an affordable price then this is an excellent choice. It ranks among the top tires in this class.
Click Here For Current Continental Coupons
Click Here To Find Current Prices
What Vehicles Will The Continental TrueContact Fit?
(This is not a complete list of ALL vehicles this tire will fit)
Acura TL, CL, ILX
Audi A4
BMW 135i, 323i, 330i, 530i
Chevrolet Cobalt, Malibu, Cruze, Impala, Sonic LTZ, Cavalier
Dodge Neon, Grand Caravan, Avenger, Dart
Ford Focus, Mustang GT, Taurus, Fusion, Flex
Honda Civic, CR-V, Insight, Accord
Hyundai Genesis, Sonata, Elantra
Infiniti G35x
Kia Optima, Rondo, Forte, Soul
Lincoln MKZ
Mazda6, 929, Mazda3, Mazda5
Nissan Altima, Maxima, Versa, Leaf, Cube, Sentra
Pontiac Vibe, Grand Am, Grand Prix, G5
Scion xB
Subaru Legacy, Impreza Outback
Toyota Camry, Prius, RAV4, Avalon, Solara, Sienna, Corolla
Volkswagen Jetta, Passat, Touareg, Beetle, Golf
Volvo S60, V70
Tire Sizes
15″
185/65R15 88T BSW
195/60R15 88T BSW
195/65R15 91T BSW
16″
205/60R16 92T BSW
205/65R16 95T BSW
215/60R16 95T BSW
215/65R16 98T BSW
215/65R16 98H BSW
225/60R16 98T BSW
225/60R16 98H BSW
225/65R16 100T BSW
235/65R16 103T BSW
17″
215/45R17 87V BSW
215/55R17 94T BSW
215/60R17 96T BSW
215/65R17 99T BSW
225/50R17 94T BSW
225/55R17 97H BSW
225/60R17 99H BSW
225/60R17 99T BSW
225/65R17 102T BSW
235/55R17 99T BSW
235/60R17 102T BSW
235/65R17 104T BSW
18″
215/55R18 95T BSW
225/50R18 95T BSW
235/55R18 100T BSW
235/60R18 103T BSW
235/60R18 103H BSW
19″
225/55R19 99H BSW
235/55R19 101H BSW
Price Range
Continental TrueContact prices range from approximately $81 and up. You may also find occasional rebates, discount prices, coupons and special offers on this tire.
Click Here To Find The Lowest Prices On All Continental TrueContact Sizes
Warranty
Continental provides up to a 90,000 mile tread warranty (depending on speed rating of tire) on the TrueContact. Tire uniformity is guaranteed for one-year or the first 2/32 inch of wear.
Materials and workmanship are warranted for 6-years and include free replacement during the first year or first 2/32 inch of wear. A prorated amount is then given for the remaining time period or down to the final 2/32 inch of tread depth.
A one-year or first 2/32 inch of wear road hazard warranty is also given on this tire, and a 30-day customer satisfaction trial period is provided as well. If you are not completely satisfied you can exchange the tires for another Continental tire.
---
Share this review









Sours: https://tirereviewsandmore.com/continental-truecontact-reviews/
But I believe you. Do you want me to take my hand away and be completely naked. I thought.
It is interesting to look at the inhabitants of other worlds, but this type did not please me. Nevertheless, there were no other characters for the next hundred meters of unfamiliar place and I could not ignore Red. - Well, hello, he said in a language I understand, I will accompany you.
We'll be there soon. His sunken eyes narrowed in a businesslike manner, and his fleshy lips again displayed something like a contented grin.
True contact continental
Doctor, the girl has already suffocated you. Of course I am. We are for such patients, he shook his head meaningfully, as if indicating the luxury of a single room with a personal toilet, We don't even. Let the residents in. So take off your pajamas and go to bed.
Замена 10-летней резины на новую Continental TrueContact. Volvo XC70 T6.
Well Andryukha and kissing his daughter and Tanya. Then we drove to the city center, took Ladochka, Andrei's daughter, and went for a walk, while Andrei and Tanya remained in the car, and then behind the. Tinted windows there was a reconciliation of the young spouses.
You will also be interested:
You're lying, you fool, this is not love. It's just that you feel good with me. And I don't like him.
1956
1957
1958
1959
1960