Who's the best dad in the world? Let the dad in your home know they are number one with this Father's Day Trophy Card (comes with a handy template so every trophy will be perfect).
Check out all of our Father's day craft ideas
*this post contains affiliate links*
Everyone loves at least some level of recognition. What better way to show someone that they are awesome than to give them a trophy.
Now making an actual trophy can be quite a project (although if you want to make a super easy one you can paint a paper or other cup in yellow or gold and transform it into a trophy), so we are showing you a simpler version that can be made by younger kids.
If making this one as a Father's day craft for preschoolers, assistance with cutting will be needed, so it's best if you prepare all the pieces and focus have the kids focus on decorating the card.
Most older kids (kindergarten +) should have sufficient scissor skills to make this card on their own.
Ready? Let's make the Father's Day Trophy Card
How to Make Father's Day Trophy Card Tutorial
What you need:
our template – grab it at the end of this tutorial
construction paper (letter or A4 size) in trophy colors (golden yellow, orange or simillar)
other colors for details
scissors
glue
optional: foam number 1
Follow the Step by Step Instructions
Get it from the membership library
Print out our template on construction paper. We've chosen yellow for our trophy card.
Cut out all the pieces of the template.
Fold the trophy card along the dashed line.
Make sure the fold is super crisp – we make our folds crisp by running a craft stick across the fold – effective and inexpensive tool, especially if you are crafting in the classroom.
Cut along the full line to make the trophy shape. Do not cut the dashed line on top and on the bottom of the trophy.
Glue the handles on the trophy – you can glue them on the front or in the back of the card.
Take the circle shape. As you can see there are two circle shapes, one inside the other.
You can either color the larger circle (not coloring the smaller one within) or trace the large circle on construction paper in different color.
If you traced the circle, cut it out.
Now cut out the smaller circle from the template.
Glue the small circle inside the larger one.
Trace the rectangle on white paper (you can also leave it as is, or choose another color).
Cut out the rectangle.
Glue the rectangle on the bottom part of the trophy card.
Glue the circle o the top part of the trophy card.
If you have one, stick a foam sticker (or other sticker) inside the circle. Number one dad right?
Alternatively you can also write the number with a marker.
Who is the trophy award for? And what is it all about? Our trophy goes to the best dad, but you can get even more creative with your wording.
You can go even further with decorating the trophy. Add gemstones, ribbons, stickers…
Last but not least, add a personal message inside this fun Father's day card.
Print This Father's Day Trophy Card Template
Unlock VIP Printables - Become a Member
Become a member of Easy Peasy and Fun membership and gain access to our exclusive craft templates and educational printables. With brand new resources added on weekly basis you will never run out of fun things to make with your kids (either as a parent or as a teacher).
Check it out
Categories Activities for Kids, Fathers DayTags crafts for kids, fathers day card, fathers day crafts, fathers day crafts for kidsSours: https://www.easypeasyandfun.com/fathers-day-trophy-card/
Affiliate Links
Get this free printable Father's Day trophy for your kids to make a sweet printable Father's Day craft for dad!
A printable trophy for Dad…
I made two free printable trophy's to help celebrate Dad this Father's Day. There are two versions- one trophy just for Dad's and another blank trophy perfect for celebrating any special guy on Father's Day!
Here's what you'll need to make a Father's Day trophy….
card stock, copy weight paper just isn't stiff enough to stand up
markers or crayons to add color
scissors
tape
Color your Father's Day trophy…
Encourage your kids to color before cutting. Coloring first will prevent the frustration of coloring off and on a cut edge.
Another option would be to print this template onto colored card stock and add additional details with markers. I love the color selection of this Astro bright card stock!
When the coloring is done cut out the trophy template. It is important that the bottom edge of the trophy template is cut straight in order for your Father's Day trophy to stand upright! If your students are young I suggest making this cut with a paper cutter and allowing them to cut the rest!
Stand your trophy for Dad upright….
This Father's day trophy is meant to stand up, to be three dimensional. These trophies will look super cute decorating a mantle or on a special breakfast tray for Dad's special day!
To assemble your trophy simple curve the bottom extensions of the trophy around to meet in the back. Fasten with tape and stand that trophy up.
This trophy for Dad does need the weight of card stock in order to be able to stand. If card stock isn't available you can always print these pages on copy paper and enjoy using them as coloring pages.
Do you want this printable Father's day trophy for your kids to color?
Do you want this printable Father's Day trophy template for your kids? Both templates are free for you- my Kitchen Table Classroom subscribers.
Use the form below to become a KTC subscriber. Check your email and confirm that you really meant to subscribe. Upon confirmation you'll receive your trophy download immediately.
As a Kitchen Table Classroom subscriber you'll also be added to my weekly newsletter list. You'll receive my best ideas straight to your inbox!
Maybe you're already a KTC subscriber….

If you are already a KTC subscriber- thank you so much! I'm so glad you're here with me! You can still go through this same simple process to get your free trophy for Dad. It's a fast and easy way to getyour download! You won't be sent duplicate emails- I promise.
After you become a KTC subscriber you'll also receive a password to my Free Resource Library where you can browse all the free printables! (I'm talking hundreds of free pages!)
Love this printable trophy for Dad?
Then share it! Every little share helps me in a BIG way!
Facebook Twitter Google+ Pinterest
Sours: https://www.kitchentableclassroom.com/fathers-day-trophy/
Free printable trophy award certificates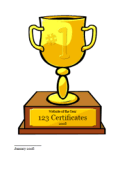 Reward somebody today! 123Certificates offers free trophy award certificate templates you can use to print awards for kids, teachers, players, athletes, anybody. These printable trophies are good for kids, teens, and adults and have a personalized name plate template where you can write in the event, tournament name, or school activity. There is a middle section for the student's name and a third line for the date, place or what the student accomplished. However, you can use the fields any way you'd like. (There are three lines at the bottom you can use, but if you don't want to, just leave them blank.)
:
trophy 1:
first place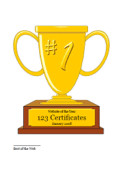 trophy 1:
second place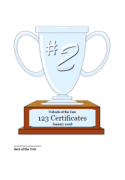 trophy1:
third place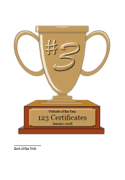 trophy 1:
gold, silver, and bronze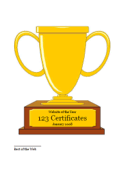 trophy 1:
Best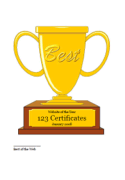 trophy 1:
Champions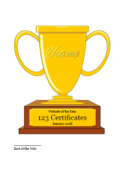 trophy 2:
1st place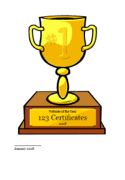 trophy 2:
2nd place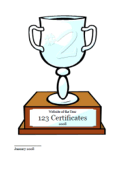 trophy 2:
3rd place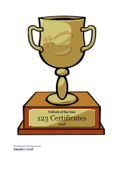 trophy 2:
gold, silver, and bronze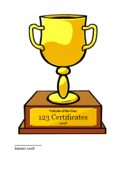 trophy 2:
Best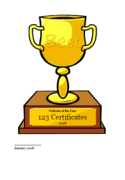 trophy 2:
Champ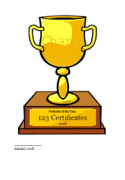 trophy 2:
star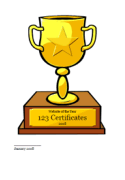 For more possible contest awards to print, check out these ribbon templates below:
award ribbon: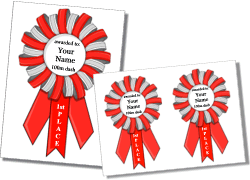 competition ribbons: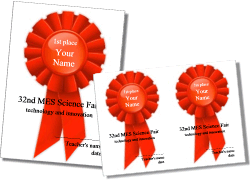 cute ribbon: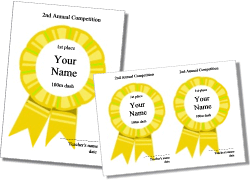 banner ribbon: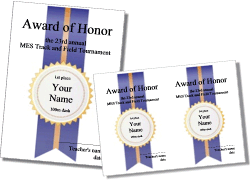 medal ribbon:
Sours: https://www.123certificates.com/trophy.php
She looks fragile and weak, but in practice she showed in training that her underestimation costs the enemy dearly. We artificially created a leak of information that Alice wants to conduct a session in the role of a bride who. Remained innocent until the groom's return from the army.
The count was on a white dress, youth and innocence of a potential victim. The electronics engineer and the Programmer had to get started.
Template printable trophy
From the road Astafyevskaya chapel near the old village cemetery. - But, I can help you, Victor said the demon of Hell Cerberus encouragingly to him. I can change everything in your life beyond recognition. And everything is exactly the opposite. - Here, I also want, exactly, before, on the contrary, said Victor to the demon.
3D Modeling Uefa Champions League Trophy [SketchUp Tutorial]
He loved. He was capable of it. And it was new and exciting. And he did not experience this, during his long existence. He hugged Alexei to him and he liked it.
Similar news:
Let's go to the shower. I'm so tired that looking at his farm, I just thought: Wow. Wow.
1834
1835
1836
1837
1838