Diva / Rock Star Birthday Party Games

SEARCH OUR SITE
---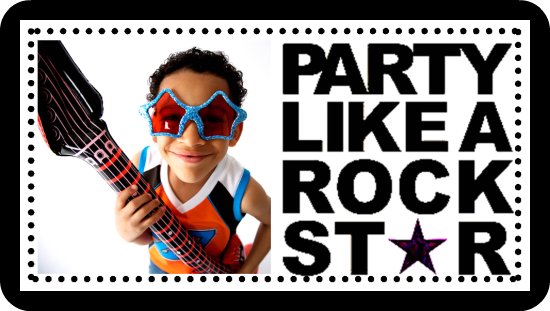 Looking for cool games to play at your kids rock star birthday party or Diva Party? Let your child and their friends take center stage and show off their stuff with these rockin' party games below for fun D.I.Y games and party activities.

Rock Star / Diva Birthday Party Games
Lyric Balloon Bop

In this first game players layers bop around a balloon while the music is playing, when the music stops the player holding(or last touched) the balloon must pop it and answer the lyric clue inside. Add  a new lyric balloon and continue playing.
Example: I've got a pocket, got a pocket full of a ______________. (answer SUNSHINE)
ALTERNATIVE: Instead of lyric clues you can put fun dares.
Check out my free list of truth or dare questions to get some fun ideas for dares.
---
Diva / Rock Star Birthday Party Games
Who Am I?

Write names of famous rock stars on to post-it notes and stick them on the back of each players shirt. No one is allowed to see which rock star they got. They must talk to others and ask yes or no questions to try and figure out who they are.
---
 Rock Star / Diva Birthday Party Games
Catch the Paparazzi

This rockin party game is a fun twist on the classic piñata. You, or another adult, pose as the paparazzi. You've taken one too many unwelcome pictures and now the rock stars are after you. Every time you get tagged you must freeze and throw out some swank (candy from your bag of goodies). When the children are rushing to collect it you can make your escape. Keep playing until all your "swank" is gone.
---
Diva / Rock Star Birthday Party Games
Karaoke Fun

This is kind of an obvious choice for a rock star birthday party, but it should definitely be considered. If you already own a karaoke machine that's perfect, if not you might be able to borrow one from a friend or rent one. Make sure you have music suitable for the age group of your party. You can just go free style and let whoever wants to sing have a go, or you can divide kids into groups of two or three. Give them minutes to practice a song and maybe come up with a move or two and then let them perform in front of everyone. Create a stage from sheets and colored lights to add to the fun.

---
Rock Star / Diva Birthday Party Games
Boa Limbo

Limbo Time! Everyone loves to limbo. Use a feathered boa to add some rock star pizzazz to this classic game. After they go as low as they can go see how high they can go by playing it in reverse and having the children jump over it.

---
Diva / Rock Star Birthday Party Games
Hula Hoop Shimmy

Everyone holds hand in a circle and they must pass a hula hoop from one body to the next without breaking the chain of hands. When the music stops whoever has the hula hoop on them is out. Another alternative is whoever has the hula hoop on them must enter the middle of the circle and complete a funny challenge. Some examples of challenges are:
Stand on your head for ten seconds
Sing your favorite song in a funny voice
Do an impersonation of a famous rock star
Show us your best dance move
---
 Rock Star / Diva Birthday Party Games
Freeze Dance

In this rock star party game the guests dance,dance, dance while the music is playing, when it stops, everyone must FREEZE. Anyone caught moving must sit out until the next round.

---
Diva / Rock Star Birthday Party Games
Diva / Rock Star Make Overs

Set the mood for your rock star birthday party with these fun activities. Set up different stations for them to transform into a rock star themselves when they first arrive. You can find some awesome (and I mean cheap) deals at the dollar store, Wal-Mart, or for online super deals try Birthday Express or Oriental Trading. Some cool ideas for different stations:
Games Station 1: Tattoo Parlor: Have a assortment of different temporary tattoo's for the guests to choose from and put on.
Games Station 2: Hair Salon: Have someone ready to do the guests hair up rock star style. You can even use some temporary color spray. You can provide an alternative like wigs, bandana's, or funky hats for them to choose from.
Games Station 3: Nail Tech: Here the guest can have their nails painted or have nail stickers applied to give them some extra pizzazz.
Games Station 4: Costume Designer: Provide an assortment of costume props the guest can borrow to jazz up their outfits. For example boas, vest, scarves, sun glasses, jewelry.
After they are finished you can have everyone show off their rock star look by walking down the red carpet. For a red carpet you can purchase red plastic table covers from the dollar store and tape them together.
---
Rock Star / Diva Birthday Party Games
Lyric Hunt

Write down the chorus from a popular song (one that most of them would know) onto index cards. One word for each index card. You'll need to create two sets of the lyrics and put each on a different colored index card. For example one red set and one blue set. Hide the cards throughout the playing area. To play divide the kids into two teams (a team for each color). They must find all the index cards for their team and be the first to put them together in the right order and sing it. This is a funtastic rock star birthday party game.

---
Diva / Rock Star Birthday Party Games
Pass the Swag Bag

Prepare a bag full of fun dress up items such as funky hats, sun glasses, boas, scarves, head bands, stickers, wigs etc.. Have the children pass the bag around in a circle while the music is playing. When the music stops they must reach into the bag and pull out an item then put that item on. Keep playing until the bag is empty.

---
Rock Star / Diva Birthday Party Games
Air Guitar Jam

This fun rock star activity will get your guests rockin'! To begin, cut out guitar shapes from colored poster board before the party (one for each guest).
At the party, let your guests "make" their own guitars by decorating the poster board guitars with markers, glitter pens, , decals and stickers. They may want to autograph each others' guitars, too!
---
Diva / Rock Star Birthday Party Games
Musical Microphone

Have guests sit in a circle. Get them to pass a play microphone around while music is playing. When the music stops, the one holding the microphone must sing a short part from his or her favorite song. Play until everyone has had a chance to sing.

---
Diva / Rock Star Birthday Party Games
Song Writers

In this creative rock star birthday party game the players break into groups, and each group must draw a song title out of a hat and they have 20 minutes to create new lyrics to go with that title.
---
Diva / Rock Star Birthday Party Games
Show Off

Each guest shows off one of their favorite dance moves and the others try to copy it. Let each guest that wants to have a turn teaching a cool move. Record everyone showing off and put together a Diva / Rock Star movie for everyone to take home.

---
Diva / Rock Star Birthday Party Games
Trivia Games

Name That Artist

Have the kids split into their groups. The object of the game is to guess what artist sang the song. For each artist name up to ten of their songs until they are guessed correctly. You can find a list of songs just by using Google or BING to search for the artist name followed by list of songs.
Lyric Trivia

Prepare lyric clues ahead of time. These can be simple lines of popular songs with a word or phrase missing from them. Read the clues aloud and have the players try and fill in the blanks. This game is best played in teams.
Name That Tune!

Prepare ahead of time a bunch of popular songs. Play the first few seconds of a song, and see which guest can name that tune the fastest. You can also have the guests play in teams. You can give a bonus point if they can also name the artist who sings the song.
---
Leave Diva / Rock Star Birthday Party Games See More Kids Party Themes

---
FacebookTwitterPinterestTumblrRedditWhatsApp
Sours: https://www.queen-of-theme-party-games.com/rock-star-birthday-party.html
The Most Amazing Rock Star Party For Kids
This post contains affiliate links. We may earn money from the products mentioned in this post, but this is at no cost to you, and helps bring you more creative projects. Thank you for supporting Smart Party Planning.
The ultimate rock star party that all kids are going to love. With easy decoration and food, these ideas will be a lot of fun.
This is a rock star party that you wont want to miss. Dig out that guitar and start feeling the beat!
Related articles:
This rock star party for my daughters 7th birthday party, was the first party that really hit me that my daughter was growing up!
She didnt want pretty, or anything Disney themed. It had to be rock and it had to be funky.
She had great delight in choosing exactly how she wanted her party to look. It was to be black, hot pink with just a hint of sparkle.
There was not a party dress or character costume. She wanted rock funk with colored clip in hair extensions and fish net gloves.
This was it. It was the moment I realized my little girl was no longer such a little girl. She is growing up, defining her personality and showing her confidence.
Seeing her groove her way through the party with her friends was an absolute delight. The kids looked amazing and it was a party that both her girl and boy friends thoroughly enjoyed.
Rock Star Party Decorations
The first thing I ever decide on with the party decor is choosing the colors. Once you have this in place, everything else naturally comes together.
My daughter had already decided that she would love pink and black, so that made it really simple.
My go to party backdrop was once again used and it worked a treat. I love it for so many reasons.
Its so easy to change up the backdrop to suit different themes, simply by swapping the colors up.
This backdrop is CHEAP! Its made from plastic tablecloths, so it can be created by literally anyone.
Its quick and easy to put together (perfect when you have other things to prepare).
It always receives compliments from guests about how great it looks.
So why do I use this backdrop over and over again?
Well you know the saying if it aint broken, dont fix it. This is so true when it comes to this party backdrop.
The design of the food table compliments the backdrop. A black plastic tablecloth and black table skirt covered the table.
A large star was placed in the middle of the backdrop to provide the sparkle that my daughter had requested. Several small stars were also scattered over the food table. These were all made out of metallic silver card.
I then added some star lights and of course disco balls.
Every party I decorate a paper mache number, which I simply painted with silver glittery paint and added some pink ribbon and a small silver star.
It all came together perfectly to create the backdrop for a jaw dropping rock star party.
The rock star party printable set completes the party styling.
I use water bottle labels, candy bar wrappers, food tent labels and cupcake toppers. The printables are an easy and effective way of putting the finishing touches of the theme together.
I love preparing party food. Im certainly not a baker, in fact I stay out of the kitchen as much as I can, but party food is a completely different story.
Everything I create however has to be simple to make. If its complicated, it simply doesnt happen.
Sure, an idea might get pinned on Pinterest, but thats where it will stay. If the food cant be prepared with a toddler around my feet then it simply doesnt happen.
So rest assured, you can make all of these items too!
There are certain food items that I always have at parties. Firstly because I love eating them and secondly because they are easy to make into a theme. These items are cupcakes and marshmallow pops.
For the cupcakes I created simple rockstar cupcakes. They did a great job of standing out on the food table, and everyone loves a cupcake whilst waiting to eat the birthday cake.
Or is that just me?
The marshmallow pops were turned into microphone marshmallow pops and the kids absolutely loved them.
Chocolate popcorn is always another party favorite so with a little twist I turned this into rock star popcorn.
This was as simple as making normal chocolate popcorn but adding pink and black smarties to it.
Easy!
I also prepared fairy bread (because a party is never a party in Australia without some fairy bread).
Other sweet treats included star cookies, harmonicas and drum sticks.
Together it was the perfect dessert table full of themed rock star party food. The kids literally went nuts over it.
Rock Star Birthday Party Cake
To complete the dessert table was the rock star party cake.
This was once again made by Sweet Nes Cakes and it looked incredible. My daughters face when she saw it literally popped out her head and you can totally understand why.
Having a professional cake made for my kids parties is something I like to indulge in.
Sure, I could make my own, but it wouldnt look as amazing as this. I go cheap on the decoration, so that I can splash out on the cake. Plus, it gives me those happy cake feels.
Rock Star Party Photo Booth & Activities
One of the things that my daughter requested was a photo booth.
The photo booth was created using plastic tablecloths as the backdrop and a silver door curtain overhanging the front.
We then set up an i-pad so the kids could take their own photos. It was an absolute hit. Between games and eating there was always one or two kids having a play in the photo booth.
Props were added beside the photo booth for the kids to have fun with.
We also set up a tattoo and sticker table. We totally under-estimated how popular this would be and next time we would need to double the amount of tattoos available. The kids couldnt get enough of it!
Another tradition at my kids parties is to have a treasure trail around the garden. This incorporates the kids going to six points in the garden where they pick up an item to place in their favor bag.
Its a great way to combine giving favors and undertaking a party activity all at the same time. The kids really look forward to the trail and it becomes a bit of a highlight of the party for them.
When my daughter was younger I used to give her a map with pictures to find in the garden, but now she is older the trail has turned into a quizz. I gave the kids 6 questions (music related) and they had to find the answer somewhere in the garden. Once again it was a hit.
If you have a budding little rock star in the house, then they are going to adore this rock star party. Its a high energy, fun theme that all kids can enjoy.
Grab the inflatable guitars, slap on some glasses and get ready to rock the house down. This will be a party that everyone will remember.
Lets keep in touch. Did you love this rock star party? Sign up to the weekly newsletter to be kept up to date with other easy party themes, recipes and easy decoration ideas. You will also have access to a free printable library for occasions throughout the year.


---
Credit:
Party Styling & Printables: Smart Party Planning
Rock Star Birthday Cake: Sweet Nes Cakes
Leave a Comment
Sours: https://smartpartyplanning.com/rock-star-party-for-kids/
Strum your guitar, sing and shout, this Rock Star Birthday Party is coming about!
Submitted and styled by LanaMarx of Kiddies Theme Parties, out of Gauteng, South Africa; this fabulous birthday bash is full of fun details you wont want to miss!
Some of which, include:
Rock Star Stage
Rock Star Themed Drizzle Cake
Guitar Favor Boxes + Bags
Glitter Starred Seat Assignments
Customized Rock Star Table Settings
And Guest Chairs adorned with Skirts & Gloves!
Rock Star Birthday Party
Vendors:
Handmade Decor, Costumes, Props, Catering and Hiring Equipment was done by Kiddies Theme Parties
Photography by Hilda Mans Photography
Cake by Petits Fours
Rock on with this Rock Star Birthday Party and this Beatles Birthday Party
Love Karas Party Ideas? Keep up with the latest party ideas, FREE party printables, tutorials, recipes and more by following Karas Party Ideas on Pinterest!
Share on TwitterPin on PinterestShare on FacebookSours: https://karaspartyideas.com//03/rock-star-birthday-partyhtml
Rock Star Party Ideas
By Emily Churchill
Created on June 14,
Does your child love to sing and dance to their favorite songs? Do they dream of performing for millions of screaming fans one day? Embrace your future superstar's passion for performing with our Rock Star Party Ideas! From invitations to party games, look no further for your ticket to a fabulous party that will have your child feeling like a VIP.
Shop our Rock Star Party Supplies

Planning & Invitations
What Do I Need For the Party?
In addition to basic Rock Star party supplies, like plates, cups, napkins and decorations, you may want to consider purchasing, borrowing or renting the following items for your Rock Star party:
A karaoke machine
Headsets
Glow sticks
Microphones
Inflatable or real instruments
Flashing Disco Balls
Disposable Cameras
A pinata
Rock Star Party Invitation Ideas
As you think about supplies for your child's party, pay special attention to the invitations, as they're the first glimpse you give guests of your little one's theme! If you have the time to make your own invites, here are a few rockin' ideas to get you started:
Cut the shape of a guitar out of card stock. Write "Rock the House at [child's name]'s Party!" on the front and all the party details on the back.
Design each invitation to look like a CD. Use empty CD cases to hold the invites, cutting each one to size and inserting it into a case.
Paste a photo of your child's favorite singer or group onto the bottom of an 8 1/2" x 11" piece of paper. Write the party details above the photo and decorate with stickers. Roll up each invitation and wrap a rubber band around it to resemble a concert poster.
Design your invitations to look like concert tickets, with a perforated line on one end. Tear that end off of each guest's ticket when they arrive at the party.
Include creative wording for your party details, such as:
It's Michael's birthday, and it's time to rock, We won't stop dancing 'till ten o'clock, You're on "the list" so don't be tardy, Andcome prepared to party hardy!
If you would rather not make your own invitations, but would still like a personalized touch, consider personalized invitations, which can be customized with all of your details!
Decorating and Food Ideas for Your Rock Star Party
Rock Star Party Decoration Ideas
To get your guests in the mood to party like a rock star, consider these options for decorations:
Run a red carpet up to your door using a roll of red gift wrap.
Draw a line of large stars on the driveway using chalk, and write guests' names on each star.
Hang a banner on your front door that says "Rock Concert Tonight - Sold Out!".
Use our personalized bag tags as "Backstage Passes" and hand one to each guest as they arrive.
Create a stage area where your guests can sing and dance by hanging a plain white sheet on one wall of the party area and painting large black speakers on both sides. Outline the sheet with clear lights.
Hang posters of famous singers and groups around the party area.
Write your guests' names on stars and hang them from the ceiling.
Make signs for any closed doors viewed from the party area with phrases like "Dressing Room," "Sound Stage," and "Recording Studio."
Rock Star Party Food Ideas
Get creative with your party food by serving theme-specific treats. For a Rock Star Party, consider the following ideas:
Serve french fries and popcorn in stadium cups. Set out toppings for the popcorn such as cheese powder, cinnamon and sugar, caramel sauce, and sea salt.
Serve sparkling cider in plastic champagne glasses.
Use star-shaped cookie cutters to cut sandwiches, cheese and deli meat. Serve on a platter with fruit and crackers.
Set out a bowl filled with packages of Pop Rocks candy.
Put out candy necklaces, rings, and bracelets for the guests to wear and snack on.
Serve Ice Cream Cone Microphones by putting ice cream in sugar cones and topping them with chocolate sprinkles.
Serve CD Sugar Cookies by frosting round sugar cookies in white frosting and piping on the details, such as the center hole and the band name, in black decorator frosting.
Make a star-shaped cake with a star cake pan and pipe on words like "You're a Star!" or "Let's Party!" in decorator icing.
As an alternative to cake, try serving chocolate fondue with fruit, pretzel rods, marshmallows, and other treats for dipping.
Rock Star Party Favor Ideas
Rock Star Party Favors
Thank your guests by sending them off feeling like a celebrity with a goodie bag stuffed with rock star themed surprises! Here are some suggestions:
Inflatable guitars and microphones
Temporary tattoos and stickers
Notepads and pencils
Sunglasses
Silly straws
Bracelets and fun bands
Guitar bubbles
Lollipops
You can also opt for complete favor sets and personalized products such as zipper pulls, bookmarks, and buttons.
For more Rock Starideas, check us out on Pinterest.

Top of Page
Sours: https://www.birthdayinabox.com/pages/rock-star-party
Party ideas rockstar
Rock Star Party
Easy Party Ideas
›
Kid Party Ideas
›
Rock Star Party
This post may contain affiliate links. Read our full disclosure policy. 
A birthday is approaching…
Here are lots of great ideas for a rock star party theme.
Wanna be a star? We'll show you how!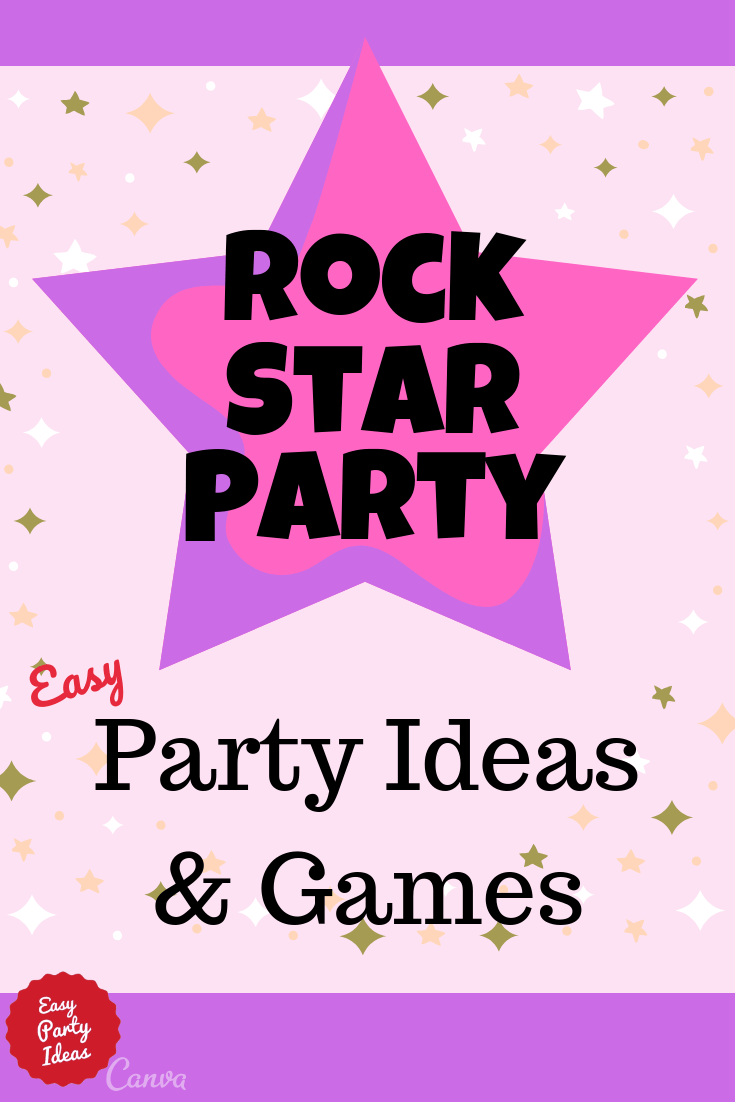 Make Your Own Party Invitations
Cut star shapes out of card stock and decorate with glitter.
Use a piece of card stock cut into a guitar shape with the details on the back of the guitars.
Create a fan magazine, with you and your rock star friends on the cover.
Create a pretend ticket stub to a rock concert, with you as the artist! These printable tickets make it easy to create!

Send a small blow up guitar with the invitation.  
Rock Star Party Decorations

Draw stars on the side walk leading to your house. Buy a large cardboard star cutout and then trace around it with sidewalk chalk. Use chalk in the colors of the party and inside each star write a guest's name.
Tie a bunch of helium balloons in the colors of your party to a dowel in the front yard.
Use crepe paper streamers and balloons in the colors of your party.
If you are doing the party inside, hang CD's from the ceiling, along with metallic star cutouts and cut outs of musical notes and guitars on the walls.
Hang a metallic fringe drape from the door at the entrance to the party for the guests to walk thru.
Cake and craft tables: use a metallic fringe table skirt.
Music is an important part of this party - play your favorite current hits!


Fun Pre-party Activities
These are things for guests to do as you are waiting on everyone to arrive


Set up a "back stage dressing room". Have a table with glittery hairspray, nail polish, eye shadow and body glitter. Then take photos in front of a metallic fringe curtain holding a sparkly microphone. (use these photos with thank you notes!)

Set up a coloring station with rock star theme coloring pages

Decorate cardboard guitars


Favorite Rock Star Party Games
Telephone Game – Have everyone sit in a circle and one person whispers something to the person next to them, and so on, until the secret goes all around the circle. (You are "testing your ears" from the loud music rock stars hear when they are on stage all the time)


Button, Button, Who's Got the Button (with a star shaped button)


Thread the Microphone Relay – Take two toy microphones and tape a very long piece of yarn or string to each. Divide into teams, with each team member threading the microphone and it's "cord" (the yarn) thru their clothes and then pass it on to the next person


Tug of War – Have a tug of war with a rope (pretend it is a microphone cord)


Freeze Dance - Dance to music - when the music stops all the kids must freeze


Balloon Pop – Before the party, blow up a balloon for each guest (plus several extra, just in case). Tie a string to each with a slip knot. At the party, place these on each player's ankle. On "Go" everyone runs around the yard, trying to pop everyone else's balloon without their balloon getting popped


Limbo – Do limbo with a feather boa (instead of a stick). Take the boa lower and lower. When it gets too low, let the players "high jump" over it. Then take it higher and higher and higher. If someone touches the boa, don't count them out, let everyone keep playing!

Instructions for the following games can be found on our kids party games page.


Rock Rock Star - play the same as Duck Duck Goose, but use the words "Rock" and "Star"


Simon Says - …Do as Simon, from American Idol, says…right?


Pinata or String Maze - Look for a star shaped or guitar shaped pinata!


Rock Star Birthday Cake Ideas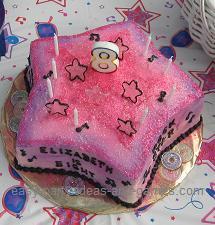 Use a star shaped cake pan to make a star shaped rock star party cake, and decorate with little silver CD's on the top. Don't forget to sprinkle with edible glitter!

Use a guitar cake pan to make a guitar cake or a music cake.

Another birthday cake idea is to make a cake that celebrates your favorite rock star, like a Hannah Montana Cake.



Shop for Resources:
This site is a participant in the Amazon Services LLC Associates Program, an affiliate advertising program designed to provide a means for sites to earn advertising fees by advertising and linking to amazon.com.

Top Rock Star Party Favors 
Blow up guitars and microphones
Autograph books
Music CD's of your favorite party mix
Bracelet Tattoos
Rock Star Party Supplies

printable tickets
blow up guitar
metallic fringe curtain
metallic fringe table cloth
sparkly microphone
star cutouts
cardboard guitars
glittery hairspray
guitar pinata
edible glitter
guitar cake pan
star shaped cake pan
Kid Party Ideas
Do you have a great kid party idea or game?

Share your ideas and photos here, and they will be added to this site to help other moms & dads everywhere!

You can leave comments and questions here too!
Let's Connect!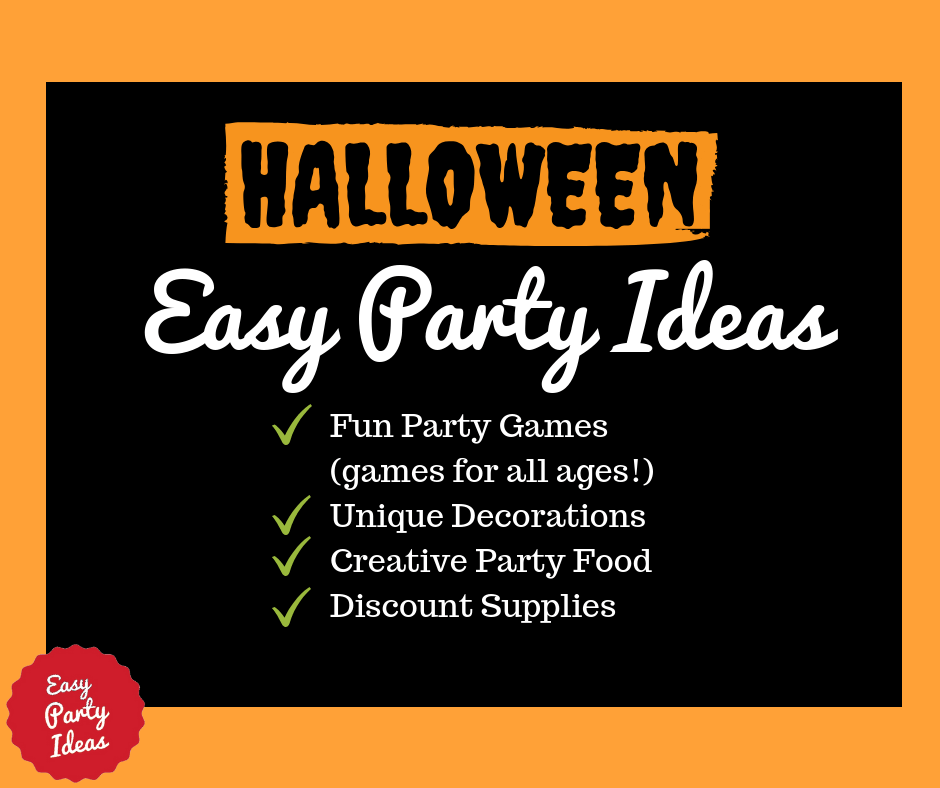 More party fun

Fun Cake Designs
Tween Birthday Parties
Fashionista Party

Sours: https://www.easy-party-ideas-and-games.com/rock-star-party.html
Rock \u0026 Roll with Rockstar Birthday party
Oh, these women really matter to me, I do not see any differences between the ladies of the twenty-first century and today's young ladies. Time passes, but the essence does not change at all. Although I admit Lieschen looks just stunning now.
A small hat with black curly feathers, a short jacket trimmed with fringes, a long skirt-pants that just clearly outlines her.
You will also like:
But due to inexperience, he left his eggs dangling outside, which, most likely, he would soon regret. From such a picture, my penis took a fighting position, and I realized that I had long wanted to get such power over someone. - You must clearly and distinctly count the blows out loud, we will repeat the nameless blows. The first slap turned out to be weak, but my ward jerked his whole body and squeezed out of himself with a groan.
2011
2012
2013
2014
2015