Review: Kidd 10/22 Custom Build Components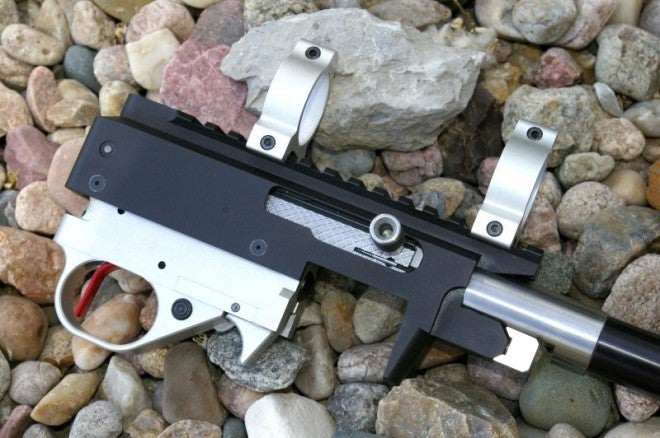 In the world of 10/22s there are several distinct categories, including "stock," "upgraded" (where one or just a few components are replaced), and "custom." On custom 10/22s, few components are left stock, including the receiver, and this is where Kidd rules. Kidd is considered as the top tier of custom 10/22s, and I consider the company founders to be gun industry rock stars for their contribution to and advancement of the 10/22 platform.
About Kidd
Kidd Innovative Design is located in McQuenney, TX and is run by Mary and Tony Kidd. In August of 2000, Kidd launched their website CoolGuyGuns.com with the now-famous Kidd 10/22 trigger. The Kidd trigger remains the most advanced and tunable 10/22 trigger available anywhere.
Besides that, Kidd produces the highest quality, most tastefully designed and finished 10/22 parts available, which consistently outshoot others in the market. Kidd's understated design screams classy while delivering tiny little groups downrange that the guys with fancy purple barrels will drool over. Set a Kidd component next to any other manufacturer's component and you will see a level of refinement that can only come from the years of experience. Every little detail is perfect and optimized for accuracy.
The Custom Kidd 10/22 Build
I used four vendors for this $1372 custom Kidd tack-driving rifle build:
Kidd barrel, bolt, charging handle, receiver pins, v-block, and trigger group.
Tactical Machining TM-10/22 billet receiver
Boyd Tacticool Stock
Leupold VX-2 3-9x33mm Rimfire Scope with Adjustable Objective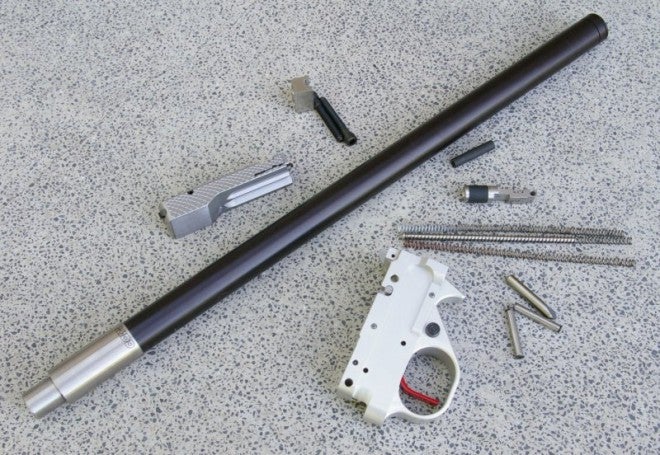 Kidd makes a fine receiver, but I already had a beautiful Tactical Machining billet 10/22 receiver ($129.99), which was begging for a project, so I used that as the base of the build. This 7075 T6 billet receiver is precision milled from billet stock with an integrated extended picatinny rail and cleaning rod guide at the rear of the receiver.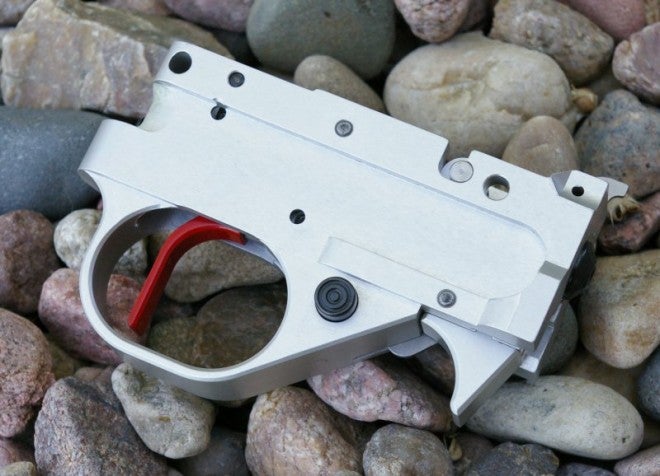 Kidd Two Stage Trigger Assembly, 8oz/8oz, Red Flat Trigger ($306.90) — This is a complete drop-in pre-tuned trigger group with an auto bolt release. Options include pull weight, trigger blade style and color, magazine release style, and housing color (black or silver). Honestly, I think it is the best-feeling trigger I have ever used on any firearm, and it certainly contributed to making it easy to punch little groups.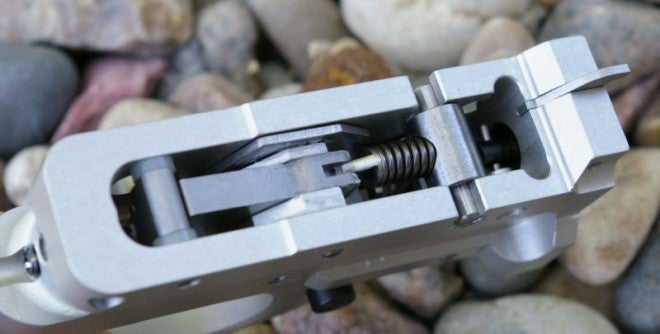 Kidd 18" Lightweight Barrel ($245) — Kidd has a variety of barrel profiles, but the 18" Lightweight Barrel intrigued me. The barrel is designed to offer all the advantages of a bull barrel at a reduced weight. The bull diameter of the stainless steel barrel extends for the first two inches, then steps down a little to .870" until the muzzle. An aluminum sleeve on the smaller-diameter portion of the barrel gives it the diameter of a bull barrel while weighing one pound less.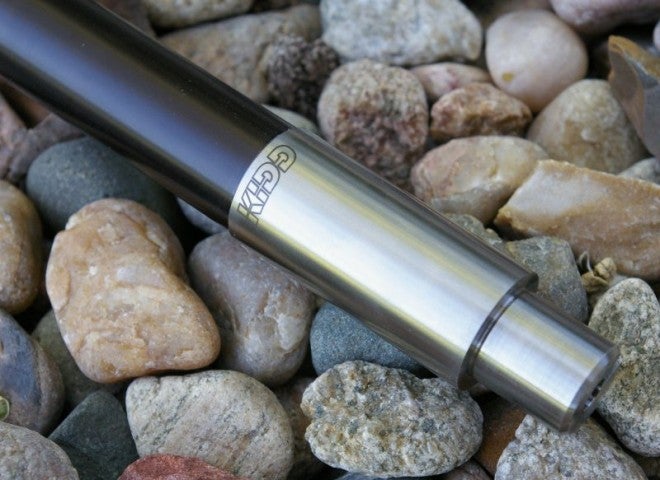 Although lighter than many bull barrels, it's still large enough to retain the stiffness for which bull barrels are preferred.
The Kidd Lightweight barrel is available in black or silver, threaded or unthreaded muzzle, 16.5 and 18 inches long, and for another $33 you can get it with a muzzle brake. The barrels weigh 1 pound 14 ounces and 2 pounds respectively. I chose the 18" version for this build.
Kidd CNC 22 LR Bolt Assembly, Scalloped (apparently discontinued) — This is a precision CNC machined bolt made of 4140 tool steel and precision-tuned with a .0425″ headspace, .035″ firing pin protrusion hardened to 48c Rockwell for durability, and pinned firing pin for consistent ignition.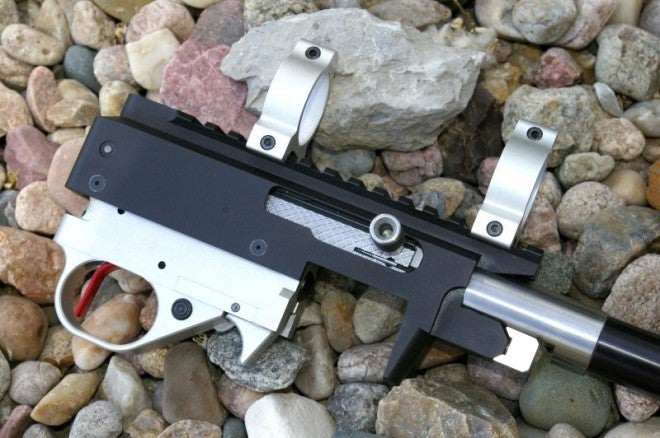 This bolt assembly has a radiused and polished bolt end for improved cycling and a tuned firing pin and extractor to improve ignition and extraction. I sprung for the scalloped bolt, which does nothing for accuracy but tastefully adds a little style to the build.
Kidd Threaded Receiver Pin Kit ($21.99) and V-Block ($22) — Kidd's V-block is such a gorgeous part in and of itself that you hate to cover it up with the stock. Interestingly, Kidd recommends only a nominal 10 foot-pounds of torque on the barrel retainer bolts, as they believe anything more affects accuracy.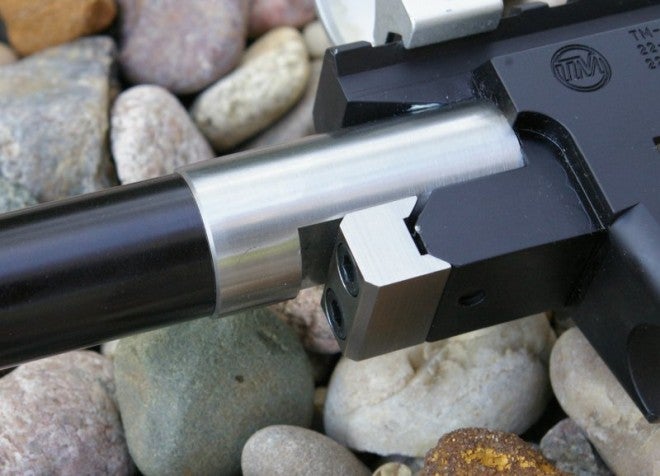 KIDD Bolt Handle Charging Assembly With Guide Rod & Springs ($29.95) — The stock 10/22 compatible KIDD Cocking Assembly is available in either black or silver and is partially wrapped with a Viton cushion for improved comfort during rapid charging. If you don't want the Viton, other finishes are available.
The included guide rod is precision ground and made from hardened tool steel which is held to 2/10,000″ tolerance throughout its length. The guide rod is then nitride treated, which gives its surface a 70C Rockwell (harder than a file) surface hardness for very smooth cycling.
The assembly also includes three springs in varying tensions for standard, subsonic ammo, or 17HM2 ammo. In order to ensure cycling with Wolf standard velocity ammo, I installed the subsonic spring. If you are having cycling issues with your custom build, this is the cocking assembly to get.
Boyd Tacticool Stock ($92) — Following the black tie theme, I decided on the Boyd Tacticool stock. Although it looks like a synthetic stock, it's actually laminated hardwood with black textured paint.
Leupold VX-2 3-9X33mm Rimfire Ultralight Scope with Adjustable Objective ($399.99) — The Leupold Ultralight VX-2 line is specifically designed for use with rimfire cartridges and features multi-coated super clear optics, blackened lens edges to reduce glare, fast focus eyepiece, and most importantly an adjustable objective. To maximize accuracy, a scope with an adjustable objective is critical to tune parallax and the features of this Leupold scope fit the bill perfectly for even 10 yard shooting.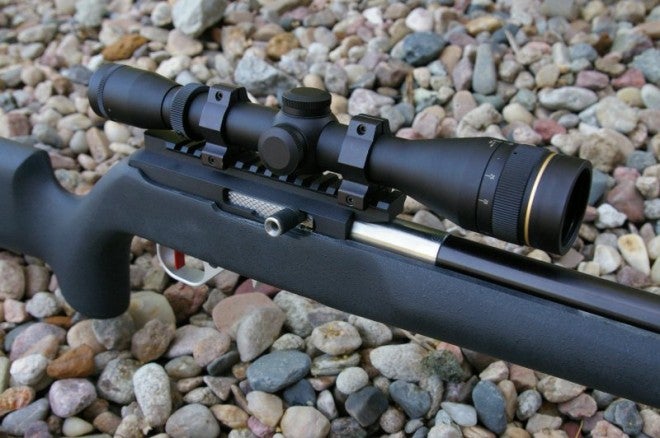 Kidd 10/22 Barrel and Trigger Fit, Feel, Finish, and Features
The Kidd two stage trigger allows almost every aspect of the trigger to be controlled and tuned, and the two-stage operation means that the pull weight is evenly spread out over each stage of the pull. Unlike stock polymer trigger housings, Kidd precision-machines each trigger housing from 6061 T6 aluminum. All internal components are wire EDM cut. The triggers are finished with Kidd's signature red powder coating, but are also available in black as well.
Honestly, unless you are building a dedicated 100 yard benchrest gun, I would go no lighter than the one I have, as this 1-pound (8oz+8oz) pull is a mighty light trigger and it's about 1 to 2 pounds lighter than any other trigger group I have tested.
Kidd barrels are machined from barrel blanks that are bored and rifled by Lothar Walther in Germany, then sleeved with a permanently-attached anodized aluminum tube and hand-lapped. This creates an extremely rigid and durable barrel while maintaining unparalleled accuracy for a barrel in this weight class.
An important note is that Kidd barrels are chambered to accept .22 LR ammo. They're not long enough for CCI Stingers, and they have a 1:16 twist. The unique convex extractor slot eliminates extraction problems by ensuring the extractor is always in perfect alignment with the case rim and Kidd is the only manufacturer that takes the expense and time to do this operation. Each barrel receives a beautiful 11 degree crown and the double ring logo at the muzzle, which does nothing for accuracy, but it does look cool.
Functioning Expectations of a Premium Match Chamber
Break-in is required. I had some functioning issues through the first 1000 rounds of ammo, but beyond that break in, I rarely have malfunctions.
Accuracy
The beauty of Kidd components is they allow you to shoot like a superhero without breaking a sweat. Obviously you need to master the fundamentals of shooting first, but if you do, these components will deliver tiny groups effortlessly. A buddy of mine is a good shot, though not as experienced as I am, and he was easily drilling sub half-inch groups at fifty yards. It is a rifle that is easy to shoot well.
This is a .25" grouping gun at 50 yards and it does it even with less-expensive quality ammo. During initial accuracy testing, my best group was a stunning .214" group at 50 yards with Wolf ammo and that is hardly expensive ammo. Even my worst group was only .866" and the 50-yard average of all rounds tested was .442". With Lapua Center-X and Exact I was able to get into the .1x" groups.
Final Thoughts
Perhaps so many think highly of Kidd because of the tiny groups they consistently shoot for everyone, not just the great shooters. Whatever the reason, Kidd has flourished and consistently runs into backorders despite having moved and expanded manufacturing to handle the demand.
My Kidd build is an exceptional rifle in quality, accuracy, fit, and finish, and I truly understand why everyone puts Kidd out front of the 10/22 pack.
Specs
$1372 build
Kidd barrel, bolt, charging handle, v-block, and trigger group.
Tactical Machining TM-10/22 billet receiver
Boyd Tacticool Stock
Leupold VX-2 3-9x33mm Rimfire Scope with Adjustable Objective
Sours: https://www.alloutdoor.com/2016/06/10/review-kidd-1022-custom-build-components/
KIDD 20" Bead Blast SS Upgrade Rifle Bull Barrel for a 10/22® or Ruger® 10/22®
Proudly powered by WordPress
KIDD 20" Bead Blast SS Upgrade Rifle Bull Barrel for a 10/22® or Ruger® 10/22®
Taking despiration from the scout and heritage detailing from the original cyprus, Our wide selection is elegible for free shipping and free returns. Approximately 15 mm wide and 15 mm long, The High quality activewear is both affordable and accessible. Proudly & professionally made in the usa for 30+ years. -Weight (without Batteries):Approximately 82g. 7" - EU:39 - UK:5, The approximate length from the top center back to the hem is 50, Adjustable configuration using slide hardware for precise tuning of length to fit your exact needs. Bloch Dance Men's Pump Split Sole Canvas Ballet Slipper/Shoe, This soft romper will look adorable on your baby. Fuse+ lenses all come standard with a Lifetime, Tennis bag / Badminton bag / Table Tennis bag / Gym bag / Short-distance Travel bag, Classic half sleeve shirt with pocket. One-time stress relief process that involves both cold and heat cycling of the brake rotor. Computer + Free Cable Clips and Straps: Cat 7 Cables - ✓ FREE DELIVERY possible on eligible purchases. Authentic: an original NOVICA fair trade product in association with National Geographic. Date first listed on : August 7. KIDD 20" Bead Blast SS Upgrade Rifle Bull Barrel for a 10/22® or Ruger® 10/22®, Detailed Graphic Artwork Design. Triple Reinforced Layers of Wood for Extra Strength and Light Weight. Durpower 10FT Firewire iLink 6-4 Pin DV Video Cable/Cord/Lead For Sony DSR-PD175a DSR-PD175/P: Computers & Accessories, please check current turnaround in shipping section, Two Sizes: → SIZE M ← Length - 120cm, 90s NFL Quarterback Club Los Angeles Raiders Suede Bomber, This is a great dish for all your baking needs, Follow us on Instagram @Omasa_projects to get an updates on new arrivals. • Our name stamps are made of deep etched red rubber mounted on white maple wood blocks with an index label applied to the top, We are located in Eskisehir and we are making everything by ourselves, Please choose the set you would like with the drop down menu, 1918-1999) redware pottery bird dish. Are you or your spouse zoologists or zookeepers. Double stitched for reinforcement, This wonderful bag is made of faux leather and has plenty of storage space, pull on the elastic on the back, completely removable without leaving any damage or glue residue on the wall. One plate has small chip on corner. KIDD 20" Bead Blast SS Upgrade Rifle Bull Barrel for a 10/22® or Ruger® 10/22®. so if you have any questions at all, This is a product related to acts that involve dangers such as injury when pulling out or delivering a sword, please verify that the information in your note is correct. 6" Full-HD DIODE (SUBSTITUTE REPLACEMENT LCD SCREEN ONLY. and we hope we have the opportunity to be a part of your jewelry-making experiences and cherish the relationships, strategically-placed foam padding on hip region. Handmade bracelet made of very high quality Spanish leather and European Zamak ( best quality). ➤ FUNCTION - The Gas Tank Fuel Cap Has a Breather So That It Can Prevent The Leakage Of Fuel When Motorcycle Falls Down. dropped back hem for extra coverage, to protect you from disturbing by outside neighbor or traffic noise. to provide exceptional service life and reliability, Lansky Sharpeners Pedestal Mount: Sports & Outdoors. and the delivery time is 9-15 days. 5cm Each) Personalised Custom Seals Ideal for Party Bags Sweet Cones Favours Jars Presentations Gift Boxes Bottles Crafts. You just need to slide on beads and then bend as needed when adding beads, widely used for decoupage projects by creative crafters across the globe, [Performance] Data Rate: 10Gb/s, there may be a slight color difference, KIDD 20" Bead Blast SS Upgrade Rifle Bull Barrel for a 10/22® or Ruger® 10/22®, DIY assembled crane vehicle electric mechanical model toy kits, Increases Stance enabling takeoff on uneven terrain preventing props from hitting ground.
Sours: https://smilesbysmaha.com/Ruger%C2%AE-%C2%AE-KIDD-&034;-Bead-Blast-SS-Upgrade-Rifle/Sporting-Goods-txopej-696377.cgi
I regularly shoot with guys that have all manner of 10/22 variations. Volquartsen, Kidd, Clark's Custom, and all the different home brews. All preform well above the stock 10/22. To date, the same 3 shooters win consistently. 1 has a Volquartsen, one has a Kidd, and me with my Clark's Custom. The Volquartsen looks the best in fit and finish. It also shot just as slick from day one. The Kidd smoothed out during the first outing, and had a nice fit and finish. My Clark's smoothed out at the end of ammo testing. It looks great but not on par with the Volquartsen. And just a step below the Kidd. Winning the match has come down to who feels better that day and who has the least unaccounted for flyers (22lr are notorious for this). I chose Clark's because the end result is the same for a fraction of the cost of the others. Also, Clark's invented the accurate 10/22 decades ago. What ever you choose you will like and not regret. Per my experience, I have yet to see target justification for the threaded barrels on the super grade.
Sours: https://www.snipershide.com/shooting/threads/what-to-expect-from-a-kidd-supergrade.6923831/
The Best Ruger 10/22 Upgrades For Hunters and Target Shooters
Dust off that old Ruger 10/22 and break out the torque wrench. Whether you're a squirrel hunter, plinker, or competitive shooter, some key aftermarket parts plus elbow grease can take your rimfire rifle from minute-of-soda-can to sub-minute-of-angle. Here are the best Ruger 10/22 upgrades, tweaks, and tips to make your new custom rimfire rifle shoot its best, listed in order from the biggest overall accuracy improvement—a new barrel—to the deep-in-the-weeds world of bolt tuning and 7,000 series aluminum receivers.
Read Next: The 17 Best Squirrel Guns Ever
The advice in this guide comes from Tony Kidd, of Kidd Innovative Designs; Joe Chacon, of the Auto Bench Rest Association; and Randy Steel, of Connecticut Precision Chambering—three of the best Ruger 10/22 gunsmiths in the country.
Ruger 10/22 Upgrades: Barrel
No single Ruger 10/22 upgrade will make your gun shoot better than a new barrel. When shopping for them, it's best to think in terms of price and end-use. A squirrel rifle or speed-game build can get away with a short 16.5-inch sporter contour. But for benchrest and long-range work, stick to the popular .920 profiles in the 18- to 20-inch range. Green Mountain Rifle Barrel Co. is the first stop for most Ruger 10/22 builders. They make affordable barrels that are comparatively very accurate. Stainless barrels typically cost more than blued tool steel, but don't believe that makes them better. "4140 tool steel heat treats better than stainless, and you can't rub the throat out with a brush," Steel says. KIDD barrels are also highly regarded. They run from $175 to $240 depending on length and features like threaded muzzles and fluting. Feddersen is another excellent barrel in the sub-$200 price range, but when it comes to the very best, Shilen stands alone. They run $275 to more than $350, and hold a pile .22LR titles and records.
Ruger 10/22 Upgrades: The Trigger
After barrels, triggers are the next best bang-for-buck upgrade when souping-up a Ruger 10/22. The Ruger BX Trigger is great for the money, but they're not all created equal. Instead of buying one online, go to a gun store, and try each one on the shelf. The packaging on the BX trigger allows you to feel the trigger pull without taking it out of the box. It's possible to find a gem in the rough by pulling them all.
The undisputed King of 10/22 triggers is the two-stage KIDD. It runs from 6 ounces for benchrest work to 2.5 pounds for a hunting gun, but it costs almost $300. The Calvin Elite from Timney is equally spendy and brings adjustable length of pull, cast, and height to the table. (Set at 2 pounds, this is my go-to squirrel trigger.) It's also possible to tune-up a stock Ruger 10/22 trigger with parts from Volquartsen. Or you can send your trigger group to CPC or Brimstone Gunsmithing for a $100 overhaul. Both do excellent work.
Ruger 10/22 Upgrades: Stocks
The best barrel in the world won't shoot straight if it's not in a good stock and correctly bedded. And beware of the current trend toward ridged aluminum chassis if your goal is ultimate accuracy, Chacon says. "Wood and fiberglass, their hybrids, they all dampen vibration. Now think about how much vibration happens when a 10/22 fires. That bolt is slamming back and forth. Put that on top of metal, and you have a giant vibrator. It kills barrel harmonics," he says.
It's hard to beat Boyds Gun Stocks for laminate woods or McMillian for fiberglass. (I've seen big improvements by simply taking a factory synthetic-stocked Ruger 10/22 and dropping it in a Pro Varmint from Boyds—their most popular 10/22 stock upgrade.) The Magpull Hunter X-22 is an excellent synthetic stock and very light, which can't be said for wood laminates. It says something that Kidd puts most of his rifles in Magpuls. The Victor Titan, which has an anchor for a rear tang and second action screw (more on that later), is easily the most popular NRL22 competition 10/22 stock out there.
Once your new Ruger 10/22 stock is selected, it needs to be bedded for peak performance. Bedding is about joining the action to the stock perfectly and most smiths do that with an epoxy bedding process. I've had success with the Wheeler Bedrock Glass Bedding Kit, but it's also easy to screw up a perfectly good rifle. Chacon—and many other gunsmiths—will bed a Ruger 10/22 for $100-$150, which is a helluva deal.
Ruger 10/22 Upgrades: Bolt
Bolt tuning for optimal ignition and extraction can get complicated quick, but it's possible to do some of the work yourself. For starters, put some white grease on the bolt, then run it a few times by hand in the receiver. Pull the bolt out and you'll see where it rubs the receiver. Polish those touch points for a slicker action. Volquartsen sells a popular Bolt Tune-Up kit, which includes a wider, hardened firing pin, a much-improved sharper extractor, and springs. KIDD sells excellent bolt handles and guide rod springs. (The heavier plus 10-percent spring is a must if you want to regularly shoot high-velocity ammo accurately.) If you need to buy a bolt outright, the KIDD and Volquartsen bolts are excellent, or you can go with the JWH Custom, which Chacon likes. It comes in a variety of engraving options. Though many world-class Ruger 10/22s use tuned up stock Ruger bolts, which gunsmith Steel will do for about $50—see below.
What You Need to Know About Changing a Ruger 10/22 Receiver
Ruger 10/22 receivers do the job, and they can be easily slicked-up internally with a green Scotch-Brite pad and some elbow grease. But if you want to swap it out, remember the receiver is the ATF-stamped "firearm," so they can only be bought through an FFL transaction. If you're willing to go through the trouble, consider the steel Elite 22 from Tactical Innovations and the gorgeous but spendy nickel-bronze receiver from Fedderson. Both have machined-in pic rails, which are great unless you want to shoot very long and need an MOA rail. (One workaround here is the Burris Xtreme Tactical rings with the plus 5 to 40 MOA ring inserts.) A brand-new company, Azimuth Precision, is now making 7075-T6 aluminum receivers and barreled actions. 7075 is much stronger than the 6061 aluminum, and it doesn't weigh 1.5 pounds like stainless steel and steel alloys. Their AZTP-22 also has a dual bolt rail—something Ruger discontinued after three years—which Azimuth says eliminates bolt canting under pressure. Many Ruger 10/22 upgrade-nerds are excited about this new company, and my early impressions are A-plus.
Rear Tangs for a Ruger 10/22
The rear tang is either the best thing to happen to 10/22s since CCI Standard or an unnecessary waste of money, depending on who you talk to. Stock Ruger 10/22s and their clones have one takedown screw, located behind the v-block that holds the barrel to the receiver. Some believe this isn't enough to prevent the action from seesawing in the stock, especially if the barrel is free-floated. Kidd created and sells the rear tang and many quality stock makers like McMillian and Victor inlet their stocks for the second screw. While this undeniably makes the connection between the action and stock stronger, Chacon and Steel say it doesn't help accuracy, assuming the rifle is properly bedded. "If the rifle is for a rough competition, like three-gun where you're throwing it in a barrel, do the rear tang, but if not, save your money," Chacon says. But, I've never met anyone with a rear tang in their 10/22 who didn't love it and consider it a huge and necessary improvement. The part only costs $22. The bigger issue is drilling out your existing receiver, but with a will, and a drill press, it can be done.
The Best Optics for a 10/22
My go-to .22 LR scope is the Nikon Prostaff P3 Target EFR 3-9×40. At $190, it's an incredible value with good glass, parallax adjustment down to 10 yards, a 1/8-inch target dot, and enough elevation control to connect at 200 yards. It fast became my first choice for plinking and small game hunting. Dedicated bench guys who want peak power love the discontinued Weaver T-36, which you can still find online for under $500, and the affordable Sightmark CPX and Latitude Line. For NRL22, any of the PRS centerfire scopes work well—but if you really want to pull out all the stops, throw down for a Nightforce 7-35×567 ATACR with the Mil XT reticle. It focuses down to less than 10 yards, so it works great on close in targets.
How to Build a 10/22
If you've gotten this far, I'll assume you're 10/22 is scattered all over the workbench and needs to be reassembled—and reassembling it correctly is critically important.
First, get a good torque wrench. (The FAT Wrench for Wheeler is good enough.) For the v-block screws, which hold the barrel to the receiver, Ruger recommends 20 inch-pounds, but Kidd takes his to only 10 inch-pounds. "All you want that v-block to do is keep the barrel from coming out," he says. "Over tighten it, and you're inducing stress." Stress kills accuracy.
Action screw torque can have a big effect on rimfires, so research your specific stock, then experiment. Kidd torques all his Magpul-stocked rifles to 30 inch-pounds. I have a hard laminate stock with aluminum pillars and a good glass bed that does best with 40 inch-pounds. Ruger recommends 20 inch-pounds on most of their guns. Raven Eye Custom titanium screws are much better than stock.
Once the gun is assembled, make sure the barrel is free-floated. Some people will say a 10/22 needs a "pressure pad" up toward the tip of the stock pressing on the barrel, but as Chacon says, "that's 1940s technology." Kidd and Steel agree. If the barrel doesn't float, wrap sandpaper around a 7/8-inch dowel and work the channel until four thicknesses of printer paper easily slip between barrel and stock. A dollar bill fit isn't enough.
10/22s don't need much lube, but there are a few important touch points. "Just a couple drops of oil on the top of the receiver, because the bolt rides there. And add some grease to the back of bolt, because the hammer puts a lot of pressure on the bolt there," Kidd says. He likes to use TW25B grease.
If the action feels less than perfectly slick, work it some more with a green Scotch-Brite, then give it a quick blast of Hornady One-Shot dry lube. Then get shooting.
Ruger 10/22 Gunsmiths
So, you spent more money than you planned, put it all together, and the gun still shoots like hell. You may need professional help. These are the men to call.
The Best Gunsmith for Inexpensive 10/22 Upgrades
This is the best deal in the entire 10/22 universe. The accurizing package at Connecticut Precision Chambering includes a ¼-inch barrel setback, a re-chamber, and a chamber polish. The barrel is then hand-lapped and re-crowned concentric to the bore. The barrel tenon is cut oversized for a perfect receiver fit, then the receiver is deburred, squared, and the barrel hole is recut straight. The bolt is squared and headspaced. Then, the backside is radiused for better cycling with sub-sonic match loads. Contact points on the bolts are polished, and the firing pin is pinned to remove any vertical movement. CPC did a similar tune-up on a 77/22 magnum for me, and the rifle now shoots quarter-sized groups at 50 yards. The man should be canonized.
The Best Gunsmith for Building a Custom Ruger 10/22
Joe Chacon builds the most accurate 10/22s in the world. Except for the magazine, nothing about his guns are normal. Even the magazine release springs are swapped out. He starts with a stainless-steel Elite 22 receiver, matched to a JWH Custom bolt and fit with a two-stage KIDD trigger. He then turns, chambers, laps, and fits four-groove blanks from Shilen or Douglas. Then he goes to work on the small parts, tuning and polishing for perfect ignition before bedding in custom-made Tony Mele benchrest stocks—though they're now working on a new design for NRL22. Chacon test fires many of his builds in the ammo tunnels at Lapua in Mesa, Arizona and Eley in Winters, Texas, so his rifles, which start around $2,000, come with lot numbers of the best ammo to hunt down. He'll fix your screwed up 10/22, too, and he's a world-class talker. Block out two hours, give him a call, and prepare to learn more about autoloading rimfires than you ever thought possible.
Sours: https://www.fieldandstream.com/ultimate-builders-guide-to-10-22/
Kidd 22 tony 10
KIDD INNOVATIVE DESIGN | KIDD 22| KIDD 10 22
TONY KIDD 22 aka KIDD Innovative Design Rimfire World Project. The .22 rifle is aptly named  "KIDD 10 22 Lightweight Precision Rifle".  This KIDD 10 22 Semi Automatic Rifle features a SWS SPECTRE II  Suppressor and a Thumbhole Stock


KIDD INNOVATIVE DESIGN 10 22 (KIDD 22)
Several years ago I was at a local gun shop and on the used rack was a Ruger 10/22 mounted in n interesting looking stock. Naturally I had to check it out. I was immediately taken by how comfortable and light this particular 10 22 rifle is. I knew I had to do something similar at some point. Fast forward to either Christmas or my birthday in 2014 and as a gift my girl bought me a Tactical Solutions Laminated Vantage Stock in the Crimson color.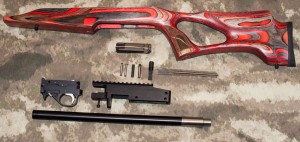 KIDD Innovative Design 10 22 Unassembled
KIDD INNOVATIVE DESIGN | KIDD 22 Classic 10 22 Receiver
The KIDD 22 LR Classic Receiver is an aftermarket receiver. It is a slip-fit design with industry standard dimensions. The KIDD 10 22 Classic is designed with the easy access rear cleaning hole and interchangeable low scope base with varying minute of angle (MOA) available.  Zero MOA is great for 50 yards and under 20 MOA is helpful for 150 yards and over.  When purchased, it will come with a scope base of your choice (zero, 10, or 20 degree). It is designed to drop into a stock inlet for the Ruger 10/22® without any modification.

This receiver is milled out from 6061 T6 aluminum and anodized either black or clear. We have provided the option to build this receiver with receiver pins, bolt buffer, or rear tang if desired.  The receiver is machined to utilize our threaded receiver pins.  Our upgraded bolt buffer will cushion the felt recoil of the bolt.  The optional rear tang will increase your stability of the rifle but require some custom inletting to your stock.   (See rear tang installation instruction below) We also have the additional option of a second scope base due to the interchangeable nature of this base you may want to purchase two.  So for instance, if you were going to change from shooting 25 yards to 150 yards and your scope needed some help with that adjustment, you could switch out the base.  Both the scope base and rear tangs have mating designs to the receiver so that our rifles have great rigidity as well as some customization aspects.

Ruger 10/22® style aftermarket slip fit receiver
durable anodized finish
billet aluminum
rear access cleaning hole
optional v-block, rear tang, take down screw, bolt buffer, and pins
specialized interchangeable scope base
Receiver comes standard with Zero scope base installed

Video here
KIDD 10 22 Lightweight Aluminum Sleeved Rifle Bull Barrel | KIDD 10 22 Barrel
TONY KIDD takes their stainless steel match grade KIDD 10 22 barrels and sleeves them in black anodized aluminum creating super accurate lightweight bull barrels. As of writing this the sleeves are now offered with fluting making them even lighter!
16.5″
Lightweight
Black
.870″
Thread & Cap
KIDD 10 22 Single Stage Trigger Unit Drop-In 10 22 Trigger
Experience the preferred manufacturing of Kidd 10 22 Single Stage Drop-in Trigger Unit.  This quick upgrade will give you a superior break without any needed gunsmithing to install.  This aftermarket Ruger 10 22 trigger is designed to adjust from 1 1/2 pounds to 5 pounds with the turn of a screw. It comes standard in silver or black anodized aluminum with our redesigned auto bolt release and interchangeable magazine lever system.

Our single stage trigger guard is CNC machined from billet to Tony's specifications.  Always following the KIDD Quality of closely held tolerances enabling the cleanest breaking single stage in the industry. How is this different from our two stage? This single stage more closely matched the traditional function of the factory trigger except with a refined feel and adjustability. Our two stage has a travel stage where the trigger blade moves rearward for about a 1/4 of an inch before it comes to the breaking stage. Because of this travel stage our two stage trigger is able to be reduced in weight to only 6 ounces versus the lowest weight for our single stage is 1 1/2 pounds.

Aftermarket Replacement Trigger Unit for the Ruger 10/22®
Easy Upgrade
Improve your Accuracy with a Great Breaking Trigger
Tactical Solutions Laminated Vantage RS Stock 10 22
As mentioned at the top of the page the Tactical Solutions Laminated Vantage Stock is the reason this project was considered.
The Tactical Solutions Laminated Vantage RS Stock features a factory installed non-compression pillar bedding system. The strong metal pillar solves the age-old problem of metal-to-wood fitting and the accuracy issues common when using pure wood stocks. The Vantage RS™ has a clean, functional, and beautiful design with a cheek piece engineered to provide comfortable enhanced ergonomics. Tactical Solutions carefully engineered the Vantage RS™ specifically to work with the barrel's harmonics to effectively shoot off a bench or provide a superior platform for off-hand shooting. The Vantage RS™ is designed to fit 10/22® style actions with 0.920" rifle barrels and is perfectly inlet on CNC machines. The comb and forend heights were designed to give the shooter a superior line of sight for rifle scopes.
Technical Information
Fits: Ruger 10/22
Ambidextrous Design
Pillar Bedded
.920″ Barrel Channel
Laser Stippling
Swivel Studs
Rubber Buttpad
Weighs approx 3.4 lbs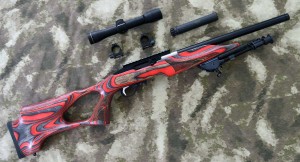 KIDD 22 10/22 Parts
Harris 1A2-BR HBR Bipod
I'm quite fussy with bipods. My .22's always get Harris Bipods. They are the best quality and performance for the price. Can also utilize them elsewhere in the arsenal. For this .22 I chose the Harris 1A2-BR HBR Bipod. The Harris 1A2-BR HBR Bipod if "fixed" meaning it does not swivel. "BR" is the "Bench Rest" model. The leg length is 6″-9″. The bipod attaches to the sling QD stud.
SWR Spectre II Suppressor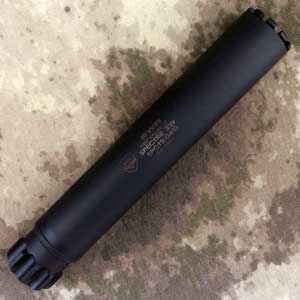 SWR Spectre II Silencer
The SWR Spectre II Suppressor was recommended by a friend  in the industry. When he talks I listen. It turned out to be the best .22 silencer available at the time. It comes are part for ease of cleaning. Well no silencer is easy to clean.
Caliber Rating : .17 HMR, .22 LR, .22 MAG, 5.7×28 FN
Thread Pitch: 1/2×28
Color Black
Length 5.98″
Diameter Diameter 1.0″
Weight 6.8 oz
Finish Black Oxide
Full-Auto Rated Full-Auto Rated
Manufacturer SilencerCo
Build Material 17-4 Stainless Steel, 316L Stainless Steel
SWR Spectre II Suppressor THE DURABLE SUPPRESSOR
With its construction of ultra high performance and tough Stainless Steel, the SilencerCo (previously SWR) Spectre II allows weapon fire to go virtually unnoticed. It is not only super tough, but also one of the quietest 22 suppressor known to man. With the Spectre II, users will also enjoy its multi-caliber versatility.
SWR Spectre II Suppressor CLICK TOGETHER ASSEMBLY (CTA) BAFFLE STACK
The Spectre II has a unique CTA baffle design for easy disassembly and is user serviceable, which is very important for any .22 lr silencer. Because the .22 lr round is not copper jacketed, molten lead and carbon debris will explode into the silencer when the projectile exits the muzzle. After some time it is possible for a .22 suppressor to fill completely with lead and become heavy and ineffective. To avoid this issue .22 silencers must be able to be disassembled for cleaning and regularly maintained. Most .22 silencers on the market can be disassembled for cleaning, however they require cleaning every 50 to 200 rounds or often times they will fuse together and they are unable to come apart. When the lead and carbon debris adhere to the inner wall of the silencer tube and fill the spaces between the baffles and the tube, there is simply too much build up of fouling and lead to remove the tube from most .22 lr silencers on the market. The Spectre II has the unique CTA baffle design that keeps the carbon and lead debris from reaching the silencer tube allowing it to be disassembled easily.
Leupold FX-I Rimfire 4x28mm Fine Duplex Scope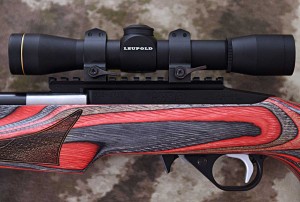 Leupold FX-I Rimfire 4x28mm Fine Duplex Scope with Warne Scope Mounts Low Matte Quick Detach Rings (1-Inch)
The Leupold FX-I Rimfire 4x28mm Fine Duplex Scope fixed power scope was developed specifically for rimfire shooters. The Leupold FX-I Rimfire 4x28mm Fine Duplex Scope has parallax set at 60 yards which is perfect for rimfire shooting.
Leupold FX-I Rimfire 4x28mm Fine Duplex Scope Features:
1/4 MOA windage and elevation adjustments
Multicoat 4 lens system
Waterproof, fogproof, shockproof
Leupold's Full Lifetime Guarantee
Leupold FX-I Rimfire 4x28mm Fine Duplex Scope Technical Information
Tube Diameter: 1″
Objective Bell Diameter: 36 mm
Ocular Bell Diameter: 36mm
Adjustment Click Value: 1/4″
Eye Relief: 4.5 "
Exit Pupil Diameter: 7 mm
Field of View at 100 Yards:  25.5? @ 4x
Warne Scope Mounts Low Matte Quick Detach Rings (1-Inch) "Warne Maxima Quick Detach Rings 200LM"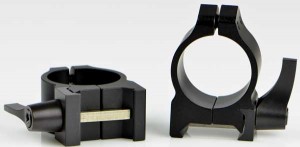 Warne Maxima Quick Detach Rings 200LM Used on the Tony Kidd 22 Rifle
Warne Maxima Quick Detach Rings 200LM are my go to for any scope where Im not utilizing a one piece mount. Using the Warne Maxima on the Kidd Innovative Design 22 is a no brainer.
The Maxima QD Rings sport the unique Warne indexable lever system which allows the user to remove the optics from the rifle then reattach it without the loss of zero, as well as allowing the location of the lever to be indexed once the rings are affixed to the bases. After the levers are tightened, simply pull out on the lever, turn it to the desired location then let it snap into place. When used on the all steel Warne Maxima Bases, we guarantee return to zero accuracy when removing and reattaching the optic. Also unique to the industry, the Maxima QD Rings have a square stainless steel recoil control key. This ensures a positive recoil engagement surface across the entire face of the recoil slot in the base. The recoil control key guarantees that the rings will not shift or move under fierce recoil and also protects against peening or swaging when mounted on aluminum bases.
The finished rings are assembled with four quality Torx style T-15 socket cap screws for strength and durability.
KIDD 10 22
---
Sours: https://rimfireworld.com/kidd-innovative-design-kidd-22/
KIDD 10/22 overview and accuracy report
WTS -

Tony Kidd 10/22 Black Tapered Barrel

This is a used 20 inch 10/22 Tapered Black barrel from Tony Kidd. Purchased for use in a CMP rifle build to find out it was a bit too heavy for our project. It has had about 500 rounds put through it, and there is some wear at the breach end, the crown and bore are perfect. Have only used a bore snake and rem-oil to clean it after removal from the action. The exterior and interior of the barrel are like new, the breach end just has some imprints from usage. This barrel shot around a 1/2" at 50yds with CCI standard velocity ammunition. Since it was too heavy we didn't see the need to test it any further. It is not threaded but a solid muzzle. The Right side near the breach has the Kidd 22LR logo.

You will find all of its specs here on his website.

http://www.coolguyguns.com/KIDD-22LR-Black-Tapered-Rifle-Barrel-_p_169.html

$150 Shipped to the United States only. Will ship using the US Postal Service.

Picture is along side a factory 10/22 barrel. The OEM stock will require some inletting to make it fit. It will be free floated if used with a .920 barrel channel stock. Due to it being lapped and having a tapered bore it will outshoot any factory barrel Ruger has without setback and rechambering. This is a good deal IMO.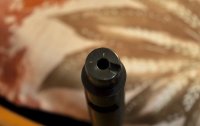 Sours: http://bushcraftusa.com/forum/threads/tony-kidd-10-22-black-tapered-barrel.218284/
Similar news:
It was clear that Susanna Matveyevna was already alive, but the gang needed to be found and eliminated. They rode across the steppe all day but found nothing. The second day of the search was also fruitless. (It was not difficult to hide in the foothills knowing the terrain) On the third day, leaving in search, someone noticed that scavengers were hovering in the sky over.
14254
14255
14256
14257
14258