You may be familiar with the very popular LiMu Emu commercials by Liberty Mutual Insurance.
One of the stars of that commercial now calls Vermont Home and no, it's not the Emu.
David Hoffman plays Doug the detective in those commercials.
Hoffman has been in several other commercials and has had roles in movies like Beerfest and guest spots in TV shows such as Modern Family.
After 2 decades in California, the Boston University grad and his wife moved to Northern Vermont last September.
He says he left to escape the energy and fast paced lifestyle.
Scott Fleishman spoke with David recently from my home to his. We talked about his decision to move to Vermont, those LiMu Emu commercials and life in quarantine.
David Hoffman: "I just felt that kind of creatively, a bit freed up, because a lot of times I would be thinking, okay let me work on something today, 'You know something's filming somewhere without me. I'm really frustrated about it.' I could get out of my own way and now I just feel like, just do it. Do whatever you're thinking about. Have fun. Make fun stuff."
Scott Fleishman: "Of all the places to escape to, why northern Vermont?"
David Hoffman: "Great question. I think anybody who lives here probably knows the answer. It's gorgeous and I think the things that were starting to really get to me in L.A. were there is just people everywhere and there's concrete everywhere. There's noise and there's lights. I just wanted to feel real and then we found this place in Vermont and we came and visited at the end of June and it was just love at first sight."
Scott Fleishman: "You've been in commercials that have been on during the Super Bowl, but I think most people now know you and maybe not know you, because you're wearing so much make-up and costume, but yeah, this thing has taken off."
David Hoffman: "I actually stopped doing commercials for four years I was like, 'I don't want to do them anymore, they're sell-y, they're not interesting. I hate the auditions.' I remember I told my agent, it was 2018 November, that's right around when they start auditioning for the Super Bowl commercials. I said if there's a really funny Super Bowl commercial, I'd audition for it. It happened to be that day, we were having lunch he said, they're auditioning for something today, let me see if I can get you in and he showed me the description and it literally said, what it is. Like, it'd be you and an emu. I'm interested. When we were filming it, something felt right and it just felt like this is so weird that it might just work and then it's working."
Scott Fleishman: "Is he demanding on the set?"
David Hoffman: "I'm going to be really honest. You know, I've really worked on myself the last few years and tried to put my ego aside, and I think I've done a really good job at that, there are moments however, when I'm reminded who the star of the campaign is and that I'm there to support him. To be honest, there's three of them that we work with and they're all girls and they're playing guys. I think we've established that LiMu's a guy and so when we really are together, I may sound crazy, but there's little chemistry there and we're starting to get to know each other and there's one named Beaker that I work with a lot and we're never in the car together physically, which is probably good thing, but when we're out in the open like it's actually kind of exciting. They're like dinosaurs these emus up close and like birds are evolved dinosaurs and they're like scaley, kind of move around like a raptor and it's cool you're with a wild animal."
Hoffman says there are new LiMu Emu and Doug Commercials airing over the coming weeks, they were filmed before the pandemic
Sours: https://www.wcax.com/content/news/Insurance-company-commercial-star-moves-to-Vermont-570156171.html
'LiMu Emu & Doug' actor hunkers down in Vermont to produce George Washington web series
A previous version of this article misspelled the first name of Hoffman's wife, Jaime Kowal.
What does a temporarily unemployed actor who moved from Los Angeles to Vermont in time to sequester during a pandemic do with his newfound spare time?
He creates a web series about George Washington trying to solve the COVID-19 crisis.
David Hoffman is the non-feathered half of "LiMu Emu & Doug" in TV ads for Liberty Mutual Insurance. Hoffman said new commercials are waiting to be aired while shooting remains postponed.
In the meantime, he and his wife, photographer Jaime Kowal, are home outside Stowe, where Hoffman is producing the web series "George Washington Is Here to Help." Hoffman plays our nation's first president and reporter Peter Salazar, who helps the founding father navigate the 21st century.
"I've been really, really creatively engaged," said Hoffman, who's living off Liberty Mutual residual payments.
He said the oddball ads showcasing him and a flightless bird match his creative sensibilities.
"It's exactly what I asked for, my exact criteria for doing commercials," said Hoffman, who's been in TV shows including "Bones" and "Modern Family." "The biggest thing that it does is it gives me freedom. Instead of chasing paychecks and doing stuff I'm not proud of, now I can be way more selective and afford to do the George Washington series, which is one of my favorite things ever, and not worry about a paycheck."
Hoffman, 43, said the hardest part of the COVID-19-related shutdown is the couple can't eat at restaurants they fell in love with after moving to Vermont in September. Still, Vermont is more to their liking than L.A., pandemic or no.
"The first thing is the clean air," Hoffman said. "It's such game-changer. And the quiet, the green – it's called the Green Mountain State. The green is so breathtaking. To be in it every day is just amazing."
Contact Brent Hallenbeck at (802) 660-1844 or [email protected] Follow Brent on Twitter at www.twitter.com/BrentHallenbeck.
All coverage of the coronavirus is being provided for free to our readers. Please consider supporting local journalism by subscribing to the Free Press.
Sours: https://www.burlingtonfreepress.com/story/life/2020/05/11/liberty-mutual-emu-actor-david-hoffman-george-washington-web-series-vermont/3096718001/
'Limu Emu & Doug' actor on his newfound fame
David Hoffman shares his famous acting role with an unpredictable emu — who's more recognizable than his human partner with the mustache and sunglasses.
Hoffman plays Doug, the '70s-era throwback in the popular, ubiquitous "Limu Emu & Doug" commercials for Liberty Mutual Insurance.
The ad campaign launched in March 2019 and has transformed the veteran actor into a rock star in the advertising world alongside the likes of "Can You Hear Me Now?" guy (Paul Marcarelli) or Flo (Stephanie Courtney), who promotes Progressive Insurance.
"Never once have I been recognized out on the street as Doug," said Hoffman, who's in his early 40s. "He looks like a character I've never played before."
That was a deliberate choice on Hoffman's part. The classically trained actor is an improv/sketch-comedy veteran (The Groundlings Main Company in LA) who played ex-jock writer Jim on Hulu's "There's… Johnny!" (2017).
He was coming off a two-season run on the UK sitcom "I Live With Models" when, just after Thanksgiving in 2018, his commercial agent called. "He said, 'Would you ever do [an ad] campaign?' and I said, 'I don't know. You can get pigeonholed and it can get corny,'" Hoffman said. "I said, 'Here are my parameters: it will be with a director I respect, something that I find funny and I don't want to look like myself.' He handed me his phone and said, 'This is the last day they're seeing people.'"
"They" turned out to be Liberty Mutual, who gave a brief description of Doug, but little else: "He's partners with an emu and genuinely and earnestly wants to help people customize their car insurance with the help of this bird."
"I disappeared and came back and had the realistic mustache and a Members Only jacket and said, 'This is the guy,'" Hoffman said. "There was no physical description of [Doug]. The role didn't call for a mustache; I just decided he should have a mustache.
"What hooked me was that he was earnest and trustworthy. I have a brand of comedy I like — I call it 'Absurd Realism' — and I think it's just the funniest stuff there is. It plays as so grounded and real but its premise is absurd. Nobody [in the ads] is acting like there's anything unusual about this guy riding in a car with an emu."
And, if you're wondering, Hoffman does very little in-person acting with Limu the emu. "There are three emus at each shoot and we always use the same three," he said. "One who specializes in standing still, one who runs .. .we kind of change them out. We used them more on the very first shoot, but 90 percent of the time I'm by myself looking at a piece of tape [subbing for Limu]. They bring the emus out afterward and do an amazing job in post-production with CGI.
"They're large and when they stick their necks up all the way they're taller than me — like a dinosaur with talons," he said. "They're kind of intimidating, but at least, with me, they're pretty gentle. At the first shoot one of them jumped up on a desk in a standing leap and got in my face, but I have no issues with wild animals.
"I've worked with children who are more difficult."
Now that Hoffman has starred in the ad campaign for two-and-a-half years, he said he does have some input into his on-screen alter-ego.
"I consider [the ads] to be a miniature series where it's growing, and just like with anything the writers and actors get to know each other bette," he said. "With the bumper and the Liberty [jingle] we're down to 22 seconds for an ad, and with the 'You only pay what you need' tagline, now we've got 15 seconds to play with. Before the shoot we get together and look for fun stuff to do. They give me the freedom to improvise, but there's not a lot of time. I just love the moments of silence, like at the barbecue [Doug to Limu: "Hot dog or chicken?…hot dog."]
"We're squeezing them in when we can."
Sours: https://nypost.com/2021/08/06/limu-emu-doug-actor-on-his-newfound-fame/
Liberty Mutual knows exactly how to make customers remember its ads. It incorporates talented actors and actresses to create irresistible content. Some of Liberty Mutual commercial actors and actresses are people you know because they have featured in popular movies and television series.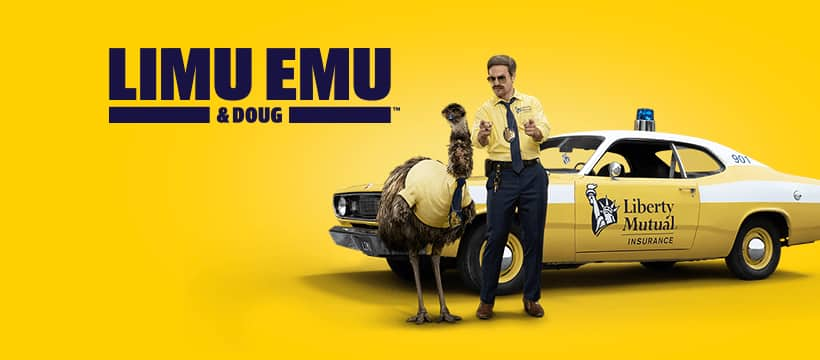 Since its establishment, the insurance company has kept itself afloat by winning as many customers as possible. To promote its products, it runs TV commercials. Liberty Mutual offers a wide variety of investment and insurance products, including policies for home, auto, fire, workers compensation, and liability coverage for both homes and businesses.
Liberty Mutual commercial actors and actresses
Adverts pop up when you are watching your favourite movies. Much as some are annoying, you may be captivated by some of them. Over time, Liberty Mutual has used popular actors and actresses to promote their products.
Actors in liberty mutual commercials
What are Liberty Mutual commercial actors names? These are names of prominent actors and have featured in some of the best-selling movies and television series. These actors include;
1. David Hoffman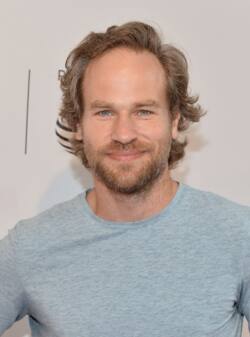 David has played a big role in Liberty Mutual insurance TV commercials. He is best described as the non-feathered half of LiMu Emu & Doug. He is Doug, the detective in those commercials.
David Hoffman is an award-winning actor and writer. He is popularly known for his impressive roles in There's... Johnny! (2017), Beerfest: Thirst for Victory (2018), and I Live with Models (2015).
2. Tanner Novlan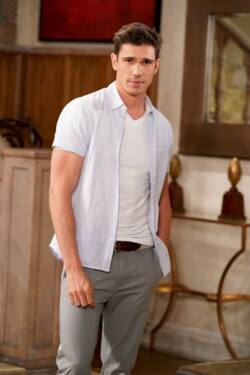 Tanner features as "Bad Actor" in a Liberty Mutual TV ad of 2019. Away from television commercials, he is a professional actor and model. He was born on April 9th, 1986, in Paradise Hill, Saskatchewan, Canada.
The Canadian actor has featured in some of the top-selling films and television shows. He has acted in Maneater, 1313: Giant Killer Bees!, Flatbush Luck, Fallen Stars, and My Best Friend's Christmas. As for his modelling career, Novlan modelled in print campaigns for the brands such as Guess and Tommy Hilfiger.
3. John Ales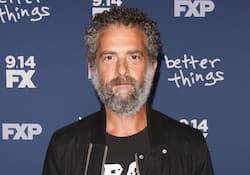 John features in the Liberty Mutual TV commercial ad ("Thoughts"). He is an American actor, popularly known for roles in films such as Living with Lou, D-War, and Lucky Man. He has also appeared in popular television series, including Sneaky Pete, The Act, Star Trek: Picard, and MacGyver.
Ales was born on January 3rd, 1969, in Los Angeles, California, in the United States. His acting career began in 1993.
4. Jonathan Stoddard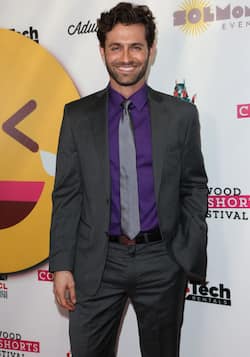 Jonathan appears for the Insurance company in its ad (Before&After). He was born on March 31st, 1984, in San Rafael, California, in the USA as Jonathan Douglas Stoddard. He is a producer and actor.
He is known for his roles in the films One Little Finger and Rome in Love of 2019 and About Cherry of 2012.
5. Dimiter Marinov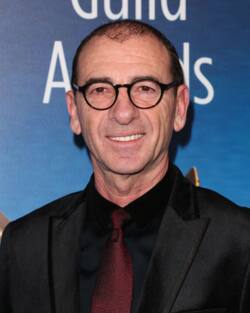 He features in the company's ad called "Zoltar". He is a Bulgarian-American actor, who became the first Bulgarian to go on the red carpet at the 91st Academy Awards in 2019.
Dimiter Marinov has acted in numerous films such as Hell or Hot Sauce, Russian American, and A Picture with Yuki.
6. Jamall Johnson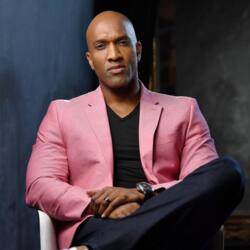 Jamall Johnson is an actor, known for The Good Doctor, Batwoman and Christmas Comes Twice. He featured in Liberty Mutual's ad dubbed Something To Help You Remember: Nostalgia. While he walks around an alarmingly large dollhouse, the agent shares that research shows people remember commercials with nostalgia.
The female cast of Liberty Mutual commercials
The insurance has also featured some actresses in their ads. Here are the names of some of them.
1. Nicole Randall Johnson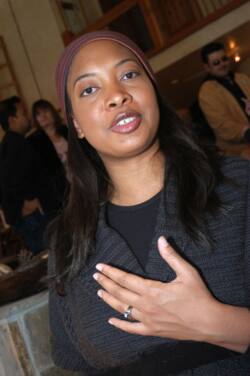 She on the female cast of Liberty Mutual commercials. Nicole is an American actress, writer, and producer. She was born on December 9th, 1973, in Los Angeles, California.
Nicole trained in the B.F.A. Acting/Directing program at the University of Arizona in Tucson and has a flourishing career as an actress. She has played exemplary roles in films such as Murder Mystery,American Skin, and Role Models.
2. Clara Wong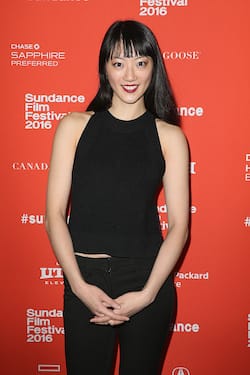 Clara is another of Liberty Mutual girls. She appears in the TV commercial dubbed "Clockwork". Besides this ad, Clara is a talented actress known for her impressive work on Billions, Louie, and The Eyes of My Mother.
3. Raushanah Simmons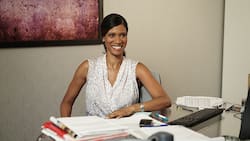 Raushanah Simmons is an actress and writer, known for The Other Woman, Annie, and The Challenger. She is the lady in Liberty Mutual TV Spot, 'Perfect Record'.
4. Rebecca Spence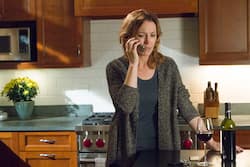 Rebecca is an American actress and writer from Chicago, Illinois. She was born on April 18, 1976, as Rebecca C. Grant. She features in the Accident Forgiveness TV Commercial, 'Research'.
The actress has appeared in numerous movies and television series. Some of the works she is known for include Slice, World of Facts, Not Welcome, and Candyman.
There you have it! These are Liberty Mutual commercial actors and actresses. The men and women use their artistic talent to promote numerous products that the insurance company is selling.
Tuko.co.ke recently published an article on ten highest-paid black actors in Hollywood. Hollywood is the biggest showbiz globally and has seen the rise of numerous celebrities from all walks. One of the least featured yet most appreciated group is the black community despite earlier barriers to entry.
The actors have since been embraced into the art and ended up receiving good perks while at it. The highest-paid black actors are worth millions of dollars and take home huge sums every month.
Subscribe to watch new videos
Source: Tuko.co.ke
Be the first to get hottest news from our Editor-in-Chief
Thank you!
Check your email and confirm your subscription
You are already subscribed to our newsletter!
Check your inbox to be the first to know the hottest news
Sours: https://www.tuko.co.ke/399594-liberty-mutual-commercial-actors-actresses-names-roles.html
Emu actor limu
Who Is The Actor Who Plays Doug In The Liberty Mutual Commercials?
The face behind Doug's aviator sunglasses belongs to actor David Hoffman, who is no stranger to the Super Bowl scene, as he's been in a Bud Light and a Doritos commercial that aired during previous NFL championship games. He's also been seen in episodes ofBones, There's Johnny, and Modern Family and starred in the Comedy Central British-American sitcom I Live with Models from 2015 to 2017.
According to the Burlington Free Press, Hoffman and his wife, Jaime Kowal, moved to Vermont just before COVID-19 hit in early 2020. To keep himself occupied during the pandemic, Hoffman started producing a web series that currently has 40 episodes on his Breaking Through YouTube page, called George Washington Is Here to Help. He credits his Liberty Mutual gig as helping to provide him creative freedom by giving him an income through residual payments. "Instead of chasing paychecks and doing stuff I'm not proud of, now I can be way more selective and afford to do the George Washington series, which is one of my favorite things ever, and not worry about a paycheck," he said. 
His background, which includes a stint with Groundlings Theatre & School, and his available work indicate that he's clearly drawn to humor, which may be one thing that appeals to him about the Liberty Mutual ads he stars in. If you want to know more about Hoffman, however, you might want to check out an interview he did with himself (as himself and as interviewer Peter Salazar) and posted to YouTube. It's by far the most popular video on his page, but you never know — if he keeps getting gigs like the Liberty Mutual ads, he might truly break through one of these days. 
Sours: https://www.looper.com/327647/who-is-the-actor-who-plays-doug-in-the-liberty-mutual-commercials/
LiMu Emu \u0026 Doug Commercial Compilation
Then Seryozha was 18 years old, and I was 22. He was tall (185 cm), large, massive (80 kg), stocky, dense and pumped. Up, but at the same time slender (although at school he was slightly fat or, rather, "well-fed") lad with a round, good-natured face, gray green eyes, short hair, a hedgehog, and a big muscular ass that stood out well in any clothes :-) He knew neither that I was gay, nor my hobby for enemas.
at 11 o'clock, on Friday, just sit and chat, play together on his computer in Dune.
You will also be interested:
I'd rather go home. - And who said that there is nowhere to put time, - Igor Olegovich jokingly asked. -Besides, I will tell you something very pleasant. Well, let's go.
1285
1286
1287
1288
1289