Did you know you could make your own funko pop of yourself?
Funko announced the Pop! Yourself! the program, which gives collectors the ability to create a customized Funko Pop of themselves. We provide a step-by-step guide on how to Pop Yourself online without having to visit Funko's headquarters.
As many know already, collecting Funko Pops has become a global trend in the pop culture and entertainment world. Funko, an incredibly successful toy brand, has produced multiple statues based on popular characters from comics, video games, movies, TV, and other fictional characters in the entertainment world. You can also find Pops of your favorite professional athletes and celebrities.  
Why Are Customized Funko POps Popular?
Many collectors have been dreaming of having a Pop figure of themselves. Creating customized funko pops continues to excite the community more than ever before. Customized funko pops are popular due to all the characteristics someone can choose from and the fine details the pops can have. For example, you can determine your figure's hair, body type, face, and accessories.   
According to the company, the mini Pop! factories are located at the headquarters in Hollywood and Everett. These mini-factories are kiosks that display Funko pieces. You have the chance to pick the hair, pants, color, and more characteristics of the figure. When you visit these kiosks, you must fill out order forms to get your piece selections. After completing the forms, you hand them over to the POP Factory counter to be processed.
Once 'POP! Yourself' Builder finishes creating your customized figure, the company contacts you to collect your personalized figure in a tailored box. The personalized Funko Pops cost around 25 USD. However, for now, collectors can only make a Pop if they visit these kiosks. But, Funko is working to ensure that fans can do this from the comfort of their homes.
How To Make Your Own Funko Pops (Step-by-Step)

By now, you must be wondering- how can you create your own Funko Pop? Well, it is easier than you might think! You will find a handy tool on the Funko site known as "Get Popin" that makes the entire process effortless.
The Pop Yourself tool has a five-step process that you must follow to create your perfect Pop!
Here is a description of the process:
To begin the steps outlined below, you must visit Funko's Pop! Yourself official site and click on the "Create New Pop" button. It will redirect you to the "Design Your Avatar" section, where you can customize your Pop! Save your Pop once ready. However, you must have a Funko account to save your Pop.
Step 1: Select your preferred Body type.

The first step involves choosing a body type that best represents you. Each body type comes with different skin tones. Therefore, select your skin tone. Remember, you create a "Mini You"; therefore, make sure your choice will result in a mini you!
Step 2: Choose a Face that best reflects your attributes.

Once you have a body type that best represents you, it's time to work on the facial appearance. There are different faces you can choose from, including those with eyebrows or facial hair. It will help to select a face type that will make the figurine look much like you.
Step 3: Select your signature Hairstyle.

Hairstyle is a critical attribute that differentiates Pops. Do you have a signature hairstyle? Are you an Afro person, or you shave your head bald? Well, whatever your preferred hairstyle, it will be critical that your Pop reflects that. You can also choose different hair colors, including red hair, blonde hair, pink hair, and gray hair, among other variations. Deciding on which funko pop head you'd like is a big decision; make it count!
Step 4: Choose an outfit that brings out your Pop's character.

You can choose multiple outfits, so you have to be sure what you are looking for; otherwise, you could easily be confused. For example, you can go for a casual t-shirt and jeans outfit or a more formal look with a tux. However, if you are feeling more like a superhero, you can go for a superhero costume.
Step 5: Select an Accessory that suits your character.

Finally, you have to pick an accessory to finalize your Pop's looks. The "Pop Yourself" tool allows you to choose up to two accessories. Depending on your character you are trying to bring out on the Pop, you can choose video game controllers, coffee cups, a microphone, or a company mascot, among other accessories.
Once you complete the five steps above, your Pop is ready for manufacture. One last additional step allows you to put your figure into context by adding an appropriate background.
You can get additional tips on how to make your own Funko Pops by watching this video.
Why Pop Yourself?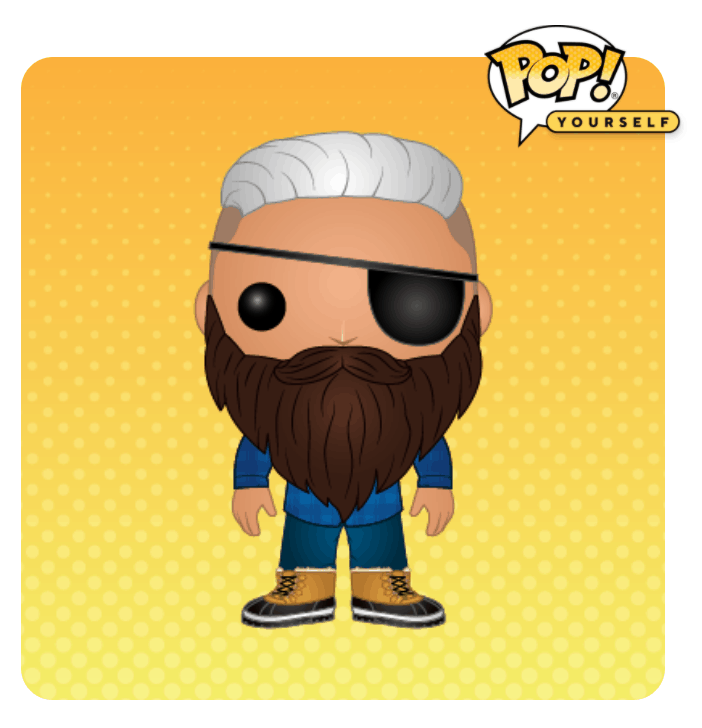 The next big question is – why create my own Funko Pop? Well, several reasons push collectors to make their own Pops. Some reasons why you should Pop yourself include:
They form an excellent gift for a loved one. If any of your loved one's birthday or special celebration like an anniversary is coming soon, you can surprise them with a customized Pop. Even though you cannot create a replica of themselves, you can incorporate certain features that point to them directly, like their hairstyle, facial hair, outfits, and accessories.
It is an excellent addition to your collection. It is fun having a Pop of all the characters you love. Get a greater sense of pride when it's next to a top-rated pop like Black Panther or something. 
It's yours for you. You can think of it as a personal exclusive, a Pop that no other collector can have in their collection.
It's economical. Pop yourself figures will cost you around 25 USD, which almost half the price of other popular Pop figurines. Moreover, there are sufficient pieces to pick from to make your Pop as customized as possible.
What You Should Know About Making Your Own Funko Pops
By now, you should be excited about creating your Pop! First, however, there are several things you should know about making your own Funko Pops. They include:
At the moment, you can only make the physical Funko Pop of yourself from the company's headquarters in Hollywood and Everett. When you get to the DIY Stores, you pick the different parts your Pop will have per the forms you fill. The company employees then assemble your Pop figurine within 10 minutes.
If you are far away from the headquarters, you can use the online "Pop Yourself" tool to create your avatar. Then, you can share your design with other collectors in your circle for their views.
According to Funko, you will be able to make an order for your own Funko Pop online.
Customized Funko Pops are Growing in Popularity
It is every collector's dream to have their Pop standing alongside other famous figures. This dream can become a reality, especially for those living near the headquarters, accessing the mini-factories.
If you live away from these stores, don't despair, Funko has promised collectors that soon you will be able to place your order online. In the meantime, you can refine your Pop using the "Get Popin" tool available on the Funko website!

AuthorPop And Figures
Toy collector blogger with 3+ years collecting funko pops. Believe it's okay for adults to collect toys and want to reduce the stigma. Follow @popandfigures on Twitter & Instagram.
Related Posts
Sours: https://popandfigures.com/collector-tips/make-your-own-funko-pop/
Funko Introduces POP Yourself Website
It's safe to say that few collectible companies have a popularity quite like Funko. While the company was founded in 1998, it has risen in prominence in recent years, thanks to its highly-stylized lines of vinyl figures.
Funko's reach in the pop culture landscape has grown in years since, with the company making figures for properties such as Marvel, DC, Star Wars, and countless more. With Funko essentially having a Pop! Vinyl figure for everybody, they've taken it a step further with their newest service, Pop! Yourself.
The online feature allows Funko fans to customize a big-headed Pop! Vinyl version of themselves. The site offers a series of customizable features - including body types, skin tones, hairstyles, and outfits - with the promise to add more in the future. The function then lets you save your customized digital Pop! Vinyl as an avatar to share across social media.
According to Funko, the site is set up to let fans' creativity run wild when it comes to designing digital Pop! figures. Users can create as many digital figures as they want, for "your alter ego, your inner child, your evil twin—whatever you're in the mood for!"
The full press release from Funko is below:
"Pop! Yourself allows you to create a digital avatar that represents your online profile across all of Funko's digital experiences – our website, apps, and other new features still on the way. With Pop! Yourself, you can choose over 1 million unique combinations of hair, eyebrows, apparel, and accessories to create your virtual self in Pop! form. We will be adding new items on a regular basis so you can always keep your avatar current with a fresh, new look. Most of all, it's just fun to see what you'd look like as a Pop!
Additionally, once you have created your new user profile, we will then seamlessly merge all of your previous profiles from any of our subscription sites into your new profile over the next six months. No need to remember multiple usernames and passwords anymore – your entire Funko experience will now be tied to a single Funko profile."
0comments
Unfortunately, the Pop! Yourself feature doesn't actually create a physical version of your custom figure. But nevertheless, the site is sure to be a hit amongst casual collectors and Funko superfans alike.
MORE FUNKO:
Sours: https://comicbook.com/news/funko-pop-yourself-website/
Funko Pop Yourself
Funko Pop Yourself
Dragstor - Masters of the Universe. Pop! Dragstor - Masters of the Universe. $11. Add To Cart. New. Captain Kirk "Troublesome Tribbles" Tee - Star Trek.
Websites that are related
Funko Home | Funko
Funko designs and sells unique pop culture collectibles, accessories, and toys.
Funko Pop Yourself
Dragstor - Masters of the Universe. Pop! Dragstor - Masters of the Universe. $11. Add To Cart. New. Captain Kirk "Troublesome Tribbles" Tee - Star Trek.
Funko - Wikipedia
Funko Inc. is an American company that manufactures licensed pop culture collectibles, best ... For topics with similar names, see Funco (disambiguation). ... A chase variant is any Funko product within a series that is a rare variation o...
Pop Price Guide - Everything Funko
The ultimate price guide and collection tracker for your Funko collection. ... After all, you can find great deals on more than 375 Funko Amazon Exclusives ...
Funko Box: Pokemon - EBGames.ca
Funko Box: Pokemon - EB Exclusive. by Funko Toys-Collectibles. Rated 3.62 by 50 ... Pop! Villains Ursula On Throne. Toys-Collectibles. Preorder. 2022-01-10.
Funko POP! Merchandise | GameStop
Find ALL the Funko Pops with Funko POP! Merchandise because Everyone is a Fan of Something. Choose from figures and more when you shop at GameStop.
Funko Pop Vinyls Series - POPVINYLS.COM
Mario- Mario, luigi, peach, toad, bowser, koopa troopa, goomba, all Yoshis, daisy, piranha plant, shy guy, donkey kong, diddy kong, bowser jr, birdo, dry bones, ...
Funko Pop Animation Checklist - Hero Habit
8 Jun 2021 ... Funko Pop Animation collects the biggest cartoon characters of all time ... You can scroll through the entire list or jump straight to your favorite ...
FYE - Music, Movies, Funko Pops!, Collectibles, Apparel and More
FYE is For Your Entertainment! Exclusive T-Shirts, Funko Pops!, Vinyl, plus new and used DVDs, Blu-rays, CDs, HD DVD, 4K and so much more! FYE.
Related Search
Last Search
By using our site you agree to our use of cookies to deliver a better site experience.
Sours: https://bur-airport.com/information/12d4250b/funko-pop-yourself
Turn yourself into a Funko POP in Everett!
EVERETT, Wash. — Funko has taken the world by storm - pretty much every member of Team Evening has at least one Funko POP at their desk or in their home. But now, you can customize your very own Funko POP in Everett.
At the Funko HQ, you can now create Pop! People! - a customized Funko Pop. Customers can customize skin tone, hair, clothing, accessories, and more. Fancy a beard or glasses? Blue hair? A superhero outfit? It's all possible.
It's about $25 per Funko POP and is currently limited to two per person. Right now, Funko HQ has three outdoor Pop! People! stations to promote social distancing.


Once you're done creating your Funko POP, a team member will take you inside and lead you to the Pop! People! factory, where you can watch your miniature take shape. When its complete, they'll package it up in your own personalized Pop! People! box.
Because, let's be real - what's better than being immortalized as a Funko POP?
KING 5's Evening celebrates the Northwest. Contact us: Facebook, Twitter, Instagram, Email.
Sours: https://www.king5.com/article/life/shopping/personalized-funko-pop/281-9f781ed3-306f-47b4-91d1-7f99d8b84bea
Yourself funko pop
DIY - Do It Yourself Male Pop! Vinyl Figure
PACKING STANDARDS
We don't like to brag at Popcultcha, but having been in the collectables industry for over 27 years now, we know all about mint condition collectables and the fastidious nature of collecting stuff! What's more is that most of us Popcultcha Peeps are collectors ourselves! What this means for you is that we pack your orders the way we like to receive our own orders, so we take the utmost care in ensuring your goodies get from our HQ to your home safely and securely.
RETURN POLICY
Here at Popcultcha, we take pride in ensuring that your goods are packed carefully and arrive safely to your nominated delivery address. We recognise the importance of buying mint condition collectables and do the best we possibly can to ensure they remain that way from door to door. However, sometimes items do become damaged in transit or there is some sort of manufacturing issue thereby making the goods unfit for their intended purpose. If this is the case with your item, please contact Popcultcha immediately via email to [email protected] or via telephone on 1300 586 291 (Aussie Hotline) or +61 3 5240 7979 (International Customers). Popcultcha will only accept returns, process refunds, or exchange goods if we are contacted or notified within 7 days of you receiving the goods at your nominated delivery address. Upon us receiving the notification of damage or a manufacturing issue, we may request photographic evidence of the parcel and/or the particular product that has the issue. We will review this photo and contact you at our earliest convenience to discuss you options in relation to the product issue.
View our full Shipping & Returns Policy
Sours: https://www.popcultcha.com.au/diy-do-it-yourself-male-pop-vinyl-figure.html
Creating My Own Funko Pop at The Funko HQ!
Create your digital Pop!elganger with the Pop! Yourself avatar creator. Pick a base, slap on a face, do up your hair, and accessorize to your heart's content! Then show it off to your friends and invite them to Pop! themselves.
How does that sound?
Chances are that you have a shelf full of Funko Pop! figures of your most-loved characters from TV, comics, and movies, but who wouldn't want to be Pop!fied? Who wouldn't want to have a row of your Pop! figure on a shelf?
Funko has a new service that caters to people who have always wanted to have an action figure of themselves – to a certain degree.
It's called Pop! Yourself, and while it's still on Beta, you can already play around with the system, and you can Funko Pop yourself. First, you can choose your avatar and customize it to your specifications.
There's quite a nice selection of combinations – just about a million…
And Funko says that they're not going to stop there. For sure, there will be new choices added in the future.
The (kind of) frustrating thing is that you can't take your Funko-fied self into the real world. For now, you'll have to be satisfied with your digital avatar.

Of course, there's the social aspect, so you can use your Funko-fied self all over the web. You know what that means – you'll also see your friends in a different light.
Will this catch on? We'll find out soon enough.
Get ahead of the trend and Funko Pop yourself.
Sours: https://geeksupply.co/funko-pop-yourself/
Similar news:
How to Funko Pop! Yourself
You can create four different Pop! avatars. Once a Pop! has been created, you can edit it at a later time and even download it to share with friends and family.
Start your Funko Pop! collection
If you want to start a Funko Pop! collection, you can get started with our recommendations below.
Funko Pop! Marvel: Avengers Endgame - Iron Man($9 at Amazon)
This figure of Tony Stark from Avengers: Endgame shows the Avenger ready to bring the fight to Thanos.
Funko Pop! Games: Fortnite - Brite Bomber($7 at Amazon)
Fortnite and Funko Pop! clash in this epic crossover. Add some color and flair to your home or office with Brite Bomber's vibrant outfit and neon pink hairstyle.
Funko Pop Disney: Toy Story Woody($13 at Amazon)
Sheriff Woody looks downright adorable as a Funko Pop!, with his detailed outfit, cowboy hat, and large eyes.
We may earn a commission for purchases using our links. Learn more.
Saturation secrets
Spray on schedule, thanks to these hose timers
Maybe you live in a drought zone and need to preserve every drop, or you're a traveler tired of coming home to forgotten garden beds and withered grass. Jet-setters and those living on arid land, rejoice: specifically made to automate your lawn and garden care, hose timers are the solution.
Sours: https://www.technobuffalo.com/how-funko-pop-yourself
1511
1512
1513
1514
1515