1Larry Scott (1965-1966)
Known in weightlifting circles as the "Golden Boy," the 5'7" 200-pound muscleman inspired a generation. He also helped popularize the preacher curl, or what some lifters now refer to as the "Scott Curl."
2Sergio Oliva (1967-1969)
As a teenager, Oliva fought against Fidel Castro's army. He later served as a cop in Chicago and was reportedly shot 5 times by his then-wife. He is thought to have one of the smallest waist measurements of any Mr. Olympian.
3Arnold Schwarzenegger (1970-1975, 1980)
A man who needs little introduction beyond his first name, Arnold's career trajectory took him from a minuscule village in Austria to a legendary movie career in Hollywood, a Governor's chair in California, and the aspiration of every young body builder since.
4Franco Columbu (1976, 1981)
Italian actor, power lifter, boxing champion, and later chiropractor, Columbu was the first the first Mr. Olympia of the post-Arnold era.
5Frank Zane (1977-1979)
Discovering bodybuilding at 14 when he spied a muscle-building magazine in the waste basket of his high school math class, Zane would sculpt one of the most proportioned physiques in the history of the competition.
6Chris Dickerson (1982)
The one-time champion is also a trained opera singer and the first openly gay Mr. Olympian.
7Samir Bannout (1983)
"The Lion of Lebanon," Bannout has been open about his use of anabolic steroids, which helped sculpt one of the most memorable lower backs in the history of the competition.
8Lee Haney (1984-1991)
After racking up 8 consecutive Mr. Olympia wins (besting Arnold's record), Haney retired at the age of 31. He has since turned to personal training and working with athletes like boxer Evander Holyfield.
9Dorian Yates (1992-1997)
Yates began powerlifting while serving time in a youth detention center in England. He entered American competitions in the early '90s and would dominate Mr. Olympia for the better part of the decade.
10Ronnie Coleman (1998-2005)
Unranked in his first Mr. Olympia contest, the former college football player would go on to win eight straight, cementing his 300-plus-pound figure as one of the greatest of all time.
11Jay Cutler (2006-2007, 2009-2010)
Cutler saved for his first gym membership by working in the family concrete business. After placing second to Coleman for years, Cutler finally unseated the king.
12Dexter Jackson (2006-2008)
When he first stepped on stage at 21, Jackson was 5'6" 137 pounds. When he unseated Cutler, Jackson—then 39—weighed in at 215 pounds.
13Phil Heath (2011-2017)
"The Gift" first competed in Mr. Olympia in 2008, and only needed three more years before unseating Jay Cutler. The former college point guard then defended the title six consecutive times.
14Shawn Rhoden (2018)
Since he began training, Rhoden has gained more than 100 pounds of muscle. Despite tearing 9 tendons in his right hand and told he would never again lift, Rhoden became the oldest competitor to capture the Mr. Olympia title last year at age 43.
15Brandon Curry (2019)
Brandon Curry brought home the title in 2019 at 36, going into the competition as the favorite after a dominant showing at the year's Arnold Classic. Past winners Shawn Rhoden and Phil Heath were absent from the competition, however, setting up a potential three-way battle for the crown in 2020.
This content is created and maintained by a third party, and imported onto this page to help users provide their email addresses. You may be able to find more information about this and similar content at piano.io
Sours: https://www.menshealth.com/fitness/g26554291/mr-olympia-winners/
Frank Zane
Frank Zane: biography
Frank Zane is an American bodybuilder, known as The Chemist. He is a three-time Mr. Olympia, the winner of prestigious competitions. The man has the most proportional body in the history of bodybuilding.
Frank was born during the Second World War. He is one of the oldest professional bodybuilders, an expert in the field of bodybuilding and active longevity.
Childhood and youth
Frank Zane was born in Kingston, Pennsylvania, on June 28, 1942. His father Adam F. Zane repaired television and radio equipment, mother Laura kept the house and raised children: older Frank and younger Adam.
The religious views of his protestant parents made the Zane family stand out among the inhabitants of the city. The boys were laughed and bullied. Frank was a fragile teenager and could not protect himself and his younger brother. He decided to become stronger and went into sports. At first, it was a team sport: baseball, football, basketball, then archery. At the age of 14, the future athlete started bodybuilding.
Another reason that motivated Zane to go in for sports was the lifestyle of his father, who died at the age of 57 from alcohol and cigarette abuse. The teenager did not want to suffer the same fate and did everything to control himself.
Physical activity did not prevent the young man from studying well. He was good at mathematics and natural sciences, received awards, became the best student in 1960.
Frank continued his education; he first entered Wilkes University in Pennsylvania, and then Cal State LA, where the young man earned a bachelor's degree in mathematics and a master's degree in experimental psychology.
Bodybuilding
Zane is a three-time Mr. Olympia. His workouts are not aimed at gaining muscle mass, but at creating an aesthetics figure. The athlete has the second-thinnest waistline of all bodybuilders after Sergio Oliva, and he distinguished himself with wide shoulders making for a distinctive V-taper.
Frank got the nickname The Chemist because of his Bachelor of Science degree, and he also took a lot of supplements and amino acids, which had been unusual before. Besides, the athlete combined training with teaching. At first, he was a chemistry teacher in Reading, Pennsylvania, and then a maths teacher in New Jersey and Florida.
Zane participated in bodybuilding competitions for 20 years, until 1983, and won about 150 awards. At the age of 18, he first finished fifth out of 50 participants at the Mr. Pennsylvania contest. In 1969, Frank surpassed young Arnold Schwarzenegger and won the Mr. Universe title in Miami.
In 2003, the outstanding bodybuilder received the Arnold Schwarzenegger Lifetime Achievement Award for his dedication and longtime support of the sport.
Frank's body measurements are ideal for a bodybuilder:
Contest weight: 185 lb (84 kg)
Off-season weight: 205 lb (93 kg)
Height: 5 ft 9 in (175 cm)
Waist: 29.9" (76 cm)
Chest: 51.9" (132 cm)
Thighs: 26.3" (67 cm)
Arms: 18.8" (48.5 cm)
Calves: 17.3" (44 cm)
Zane trained with lightweight, which earned him many awards. Joe Weider, a founder of the International Federation of Bodybuilders, recommended to train with heavier weights, but Frank stroke the right balance for himself and won the three consecutive Mr. Olympia titles from 1977 to 1979.
After three consecutive titles of the most prestigious competitions and six weeks before the 1980 Mr. Olympia, the athlete had a tragic accident. The man slipped on the edge of the pool and hurt his inner thigh. In the hospital, he lost 15 lbs (7 kg) of muscle mass and the chances to win. So, Arnold Schwarzenegger won the Mr. Olympia title in 1980, and Frank finished third.
In 1983, Zane completed a bodybuilding career and devoted himself to coaching, began to write books and study guides for bodybuilders. Another chapter in the athlete's life was participation in The Mike Douglas Show from 1961 to 1982 and shooting in the films Pumping Iron and The Comeback.
Frank practiced various workouts. His ways commonly known as "push-pull" involved pushing muscles of group body parts. On one day, a person should do a back and bicep workout, then train legs on the next day. On the third day, one does abs, shoulders and triceps exercises. This method is useful for deep and short muscles, but cannot help to achieve rapid progress in changing a body.
In the 70s, Zane turned to the Pumping Iron training program but abandoned it because some parts grew muscles faster than others. As a result, the athlete developed his workout plan which distinguished itself with high intensity. This workout alternates between volume and strength blocks. So, the training involves two large muscle groups and a small one at once.
This program is suitable for both gaining mass and shredding. What makes the difference is dietary calories.
Personal life
In December 1967, Frank married Christine Harris. The wife's sister, a student of Zane, introduced them. The young people lived in California, in Santa Monica, the unofficial capital of bodybuilding, and in 1978 moved to Palm Springs, founded the "Zane Haven" resort zone with a training center for people seeking to have a symmetrical physique.
In 1988, the couple bought the Cary Grant Estate and opened the Zane Experience learning center.
His personal life is successful. Christine immediately accepted and supported her husband's lifestyle. She trained with heavier weights and became his photographer. In 1970, the woman became the Miss Universe Bikini and then quitted the sports career to devote time to study and art. She graduated with honors from California State University, Los Angeles, with a Master of Fine Arts degree in painting, graphics, sculpture, photography, and jewelry. In 1990, Christina received a master's degree in clinical psychology from California State University in San Bernardino.
In 1994, Zane was inducted into the Joe Weider Hall of Fame. In 1998, the athlete wrote the newsletter entitled Building the Body, describing the latest training methods that aimed at building a proportional figure.
Frank Zane now
The Zane family now lives in San Diego, California, where his training center is also located. In her free time, Christine creates jewelry from precious stones and metals.
The athlete founded the Zane Gallery in Laguna Beach, California, which shows photographs and works of art dedicated to the golden era of bodybuilding. Besides, Frank runs a commercial site selling books, his bodybuilding manuals, and training equipment, and has a blog.
Frank has pages on social media. On Instagram, he posts mainly old photos, and there are several new ones in which the athlete's body looks no worse than in his youth.
Zane continues to train and help those who wish to improve their bodies. In 2018, he developed a fitness program for people over 40. It includes three days of training on the beach, the Mr. Olympia system, meditation training, diet, and much more. The program costs $ 697 per person.
Titles and awards
1965 - Mr. Keystone (Winner)
1965 - Mr. Sunshine State (Winner)
1965 - IFBB Mr. Universe (1st, Medium Height category)
1966, 67 - IFBB Mr. America (1st, Medium)
1968, 70 - IFBB Mr. Universe (Winner)
1971 - NABBA Pro Mr. Universe (1st, Short)
1972 - NABBA Pro Mr. Universe (Winner)
1977 - IFBB Mr. Olympia (Under 200 lbs & Overall Winner)
1978 - IFBB Mr. Olympia (Under 200 lbs & Overall Winner)
1979 - IFBB Mr. Olympia (Under 200 lbs & Overall Winner)
Books
1979 - The Zane Way to a Beautiful Body
1982 - Super Bodies in 12 Weeks
1992 - Fabulously Fit Forever
1997 - Frank Zane: Mind, Body, Spirit
2005 – Frank Zane Training Manual
2009 – The Mind in Bodybuilding
2016 – 91 Day Wonder Body
2017 – 91 Day Wonder Abs
Sours: https://en.24smi.org/celebrity/101869-frank-zane.html
Wherever you live, whatever your age, no matter what your goals are, Frank Zane can help you get in the absolute best shape of your life. Millions of people from all around the world have benefited from the use of Frank's Training Programs, Seminars, Books, Nutritional Supplements,Videos and Audio Tracks, and now, you too can create the incredible physique that you've always wanted.
Frank Zane has won all of bodybuilding's major titles including Mr. Olympia (3 Times), Mr. Universe (3 Times), Mr. World and Mr America. Frank is one of the leading experts on bodybuilding and active aging. He is a world-renowned performance coach and the most highly educated bodybuilding champion. He has been named as one of the "Top 10 Legends of Bodybuilding" and also was awarded "The Best Physique of All Time" by Muscle and Fitness Magazine in April 2015.
Frank is considered by many to be an exemplar of aesthetics and physical proportion in the history of the sport. He has been inducted into both the Bodybuilding Hall of Fame and the Muscle Beach Hall of Fame. No one knows more about bodybuilding and physique development in all of it's aspects other than Frank Zane. Only three people in the history of professional bodybuilding ever defeated Arnold Schwarzenegger. Frank is one of them.
Click here for the episode of THE LEGENDARY FRANK ZANE
Sours: https://frankzane.com/
We challenge you to find any bodybuilder with better proportions than Frank Zane. 3-time Mr. Olympia, and all-time great. Frank Zane has one of the best lightweight body's in the sport.
Starting from as early as 14, with nothing but dumbbells and a dream, Zane trained rigorously to attain one of the greatest physiques of all time.
While working as a full-time Math teacher, The Chemist still found time build up that sculpted physique that his competition both feared and envied.
This is how he became an icon of the fitness industry:
---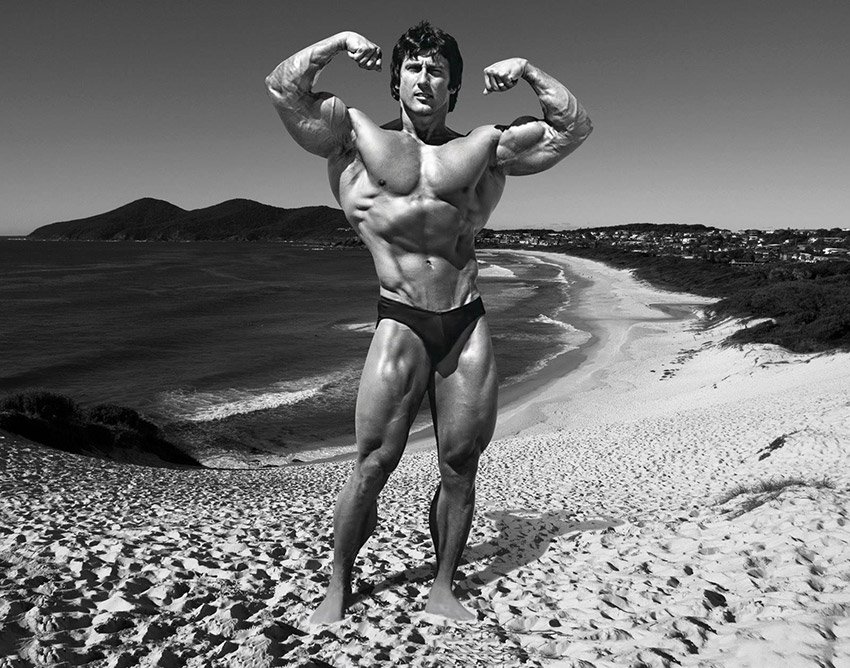 "Numbers are an abstraction, especially to muscles. Your body doesn't know the absolute weight of what you lift; it only recognizes how heavy it feels. The secret is to make lighter weights feel heavy."
Athlete Statistics
Full Name: Frank Zane
Weight
Height
Arms
Chest
185 - 195lbs (83.9 - 88.5kg)
5'9" (175cm)
18″ (45.7 cm)
52″ (132cm)
Waist
Thighs
Calves
29″ (73.7cm)
26″ (66cm)
16.5″ (41.9cm)
Year of Birth
Nationality
Profession
1942
American
Bodybuilder, Founder of WABBA, Head of IFBB France and Europe, Actor, Author
Alias
Era
The Chemist
1960, 1970, 1980
| | |
| --- | --- |
| Weight | 185 - 195lbs (83.9 - 88.5kg) |
| Height | 5'9" (175cm) |
| Arms | 18″ (45.7 cm) |
| Chest | 52″ (132cm) |
| Waist | 29″ (73.7cm) |
| Thighs | 26″ (66cm) |
| Calves | 16.5″ (41.9cm) |
| Year of Birth | 1942 |
| Nationality | American |
| Profession | Bodybuilder, Founder of WABBA, Head of IFBB France and Europe, Actor, Author |
| Alias | The Chemist |
| Era | 1960, 1970, 1980 |
---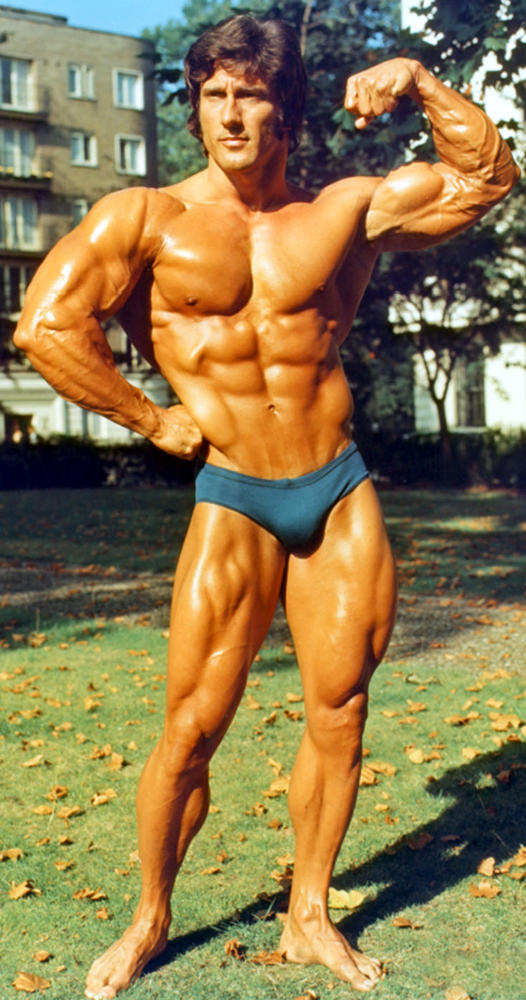 "A lot of guys have better genes, but if you work hard and consistently, you can outperform them."
Accomplishments
Competitions
1961 Mr. Pennsylvania (17th place)
1962 Mr. Keystone (Winner)
1963 Mr. Keystone (2nd)
1965 Mr. Sunshine State (Winner)
1965 IFBB Mr. Universe (1st, Medium Height category)
1966 IFBB Mr. America (1st, Medium)
1967 IFBB Mr. America (1st, Medium)
1967 IFBB Mr. Universe (3rd, Tall)
1968 IFBB Mr. America (Winner)
1968 IFBB Mr. Universe (Winner)
1970 NABBA Mr. Universe (Winner)
1971 NABBA Pro Mr. Universe (1st, Short)
1972 NABBA Pro Mr. Universe (Winner)
1972 IFBB Mr. Olympia (Under 200 lbs, 4th)
1974 IFBB Mr. Olympia (Under 200 lbs, 2nd)
1975 IFBB Mr. Olympia (Under 200 lbs, 4th)
1976 IFBB Mr. Olympia (Under 200 lbs, 2nd)
1977 IFBB Mr. Olympia (Under 200 lbs & Overall Winner)
1978 IFBB Mr. Olympia (Under 200 lbs & Overall Winner)
1979 IFBB Mr. Olympia (Under 200 lbs & Overall Winner)
1980 IFBB Mr. Olympia (3rd, after suffering a near-fatal injury at his home, requiring lengthy hospitalization)
1982 IFBB Mr. Olympia (2nd)
1983 IFBB Mr. Olympia (4th, after suffering another accident on his bicycle, requiring extensive shoulder surgery shortly after the contest)
---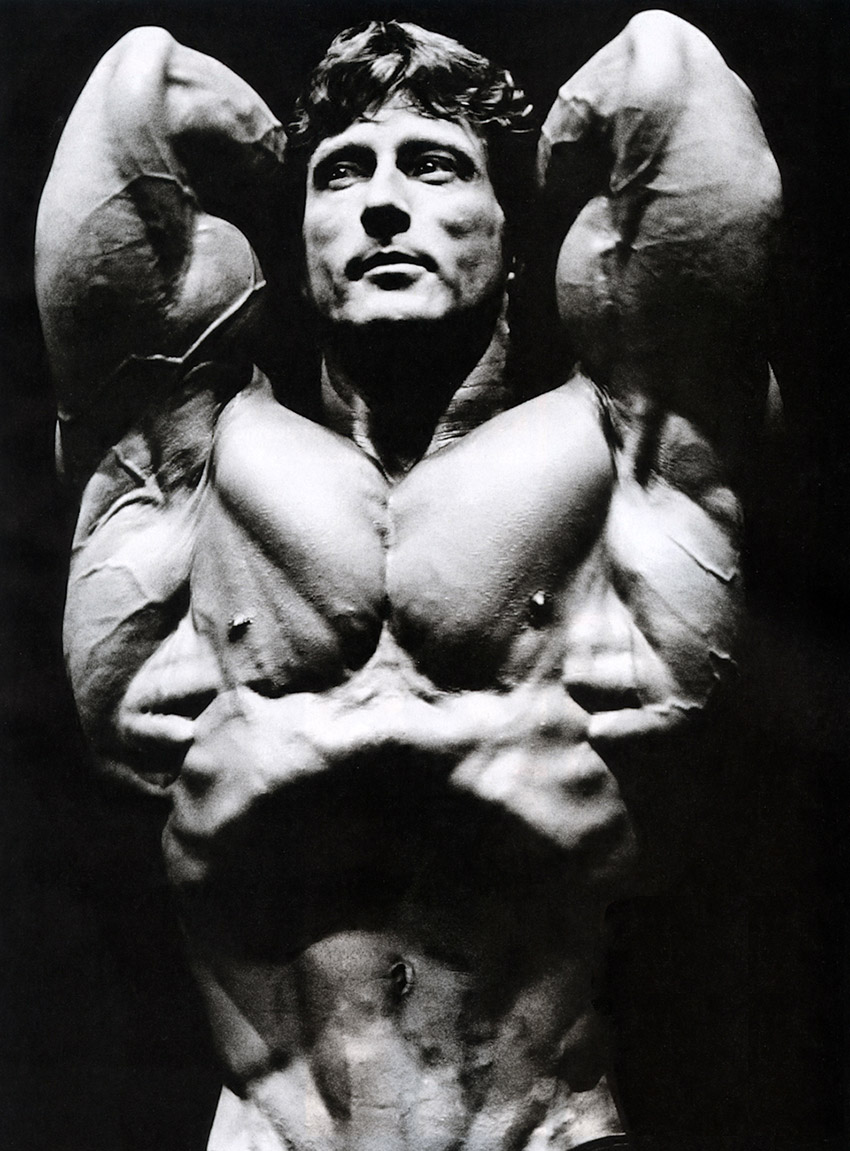 "Small daily improvements are the key to staggering long-term results."
Biography
Early Years
Frank Zane had a tough childhood. Born 1943 in the blue-collar coal-mining town Kingston, Pennsylvania – Frank had his fair share of fights before he was even a teenager.
Win or lose, it hardened him, and gave the future champion the courage to stand up for what he believed in – an attitude that would really come to life when he reached his teens.
Discovering Bodybuilding
At the age of 14, Frank's eyes were opened when he found a bodybuilding magazine left out at school. He became inspired, and bought himself a 30 lb set of dumbbells and began training almost immediately.
However, not everyone took kindly to the future bodybuilder's new lust for self-development, his father in particular. Zane's father believed Frank was wasting his time with training, and should spend more time doing more productive things around the house. Zane recalls being told "Build yourself up by cutting the grass", but that didn't stop him.
During 3 years of hard training, Frank went from a skinny 130lb 14-year-old boy to a 160lb stocky 17-year-old – a whopping 30lbs of lean muscle in just 3 years.
Frank's Passion for the Sport
Seeing the lengths he would go to for success, Zane's parents eventually came around to encouraging Frank's motivation for bodybuilding. A good his example of this was when Frank was teaching Boy Scouts as an on-site archery instructor. For bodybuilding, he would train on camp grounds with whatever weights were available – but at home training at home there was nothing.
To make sure he could train of a weekend Frank would hitchhike 20 miles with 55lbs of weights in his arms to make sure he would never miss a workout.
He continued to train throughout his education, and got even more serious after his stepping onto the career ladder as a Math teacher in Florida.
---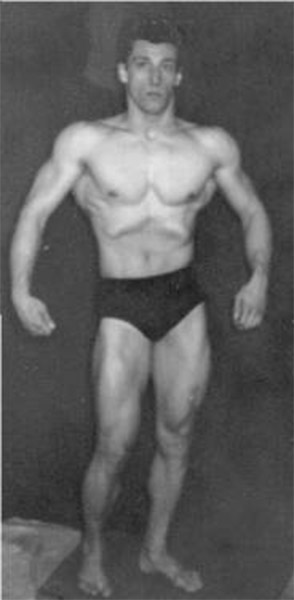 A young Frank Zane.
---
Competing in Florida
By 1966 Frank had begun to dominate the local bodybuilding communities. He wanted to move to California, it was the only way to take it to the next level. However, he'd made a life for himself in Florida, and didn't think it would be a wise idea.
Zane met his future wife Christine later that year. After converting her to the bodybuilding lifestyle, Chris began following in Frank's footsteps and started entering competitions of her own.
It was clear that Zane had big things ahead of him. After 2 years of serious training, Zane won the 1968 Mr. America competition in New York City, and then went on to beat Arnold Schwarzenegger in the Mr. Universe competition in Florida that happened just a week later.
Moving to California
Both Frank and Chris had become very enthusiastic about the sport – they eventually decided together that they should move down to California and see how far their passion would take them.
And things just got better and better.
Still working a full-time job as a teacher, Frank was managing to balance both his working life and a successful bodybuilding career, quickly becoming known for having one of the greatest physiques of all time.
He either won, or placed very highly in every competition he entered, all the way up until 1977 where he won the esteemed Mr. Olympia competition for 3 years running – there was no higher honor.
---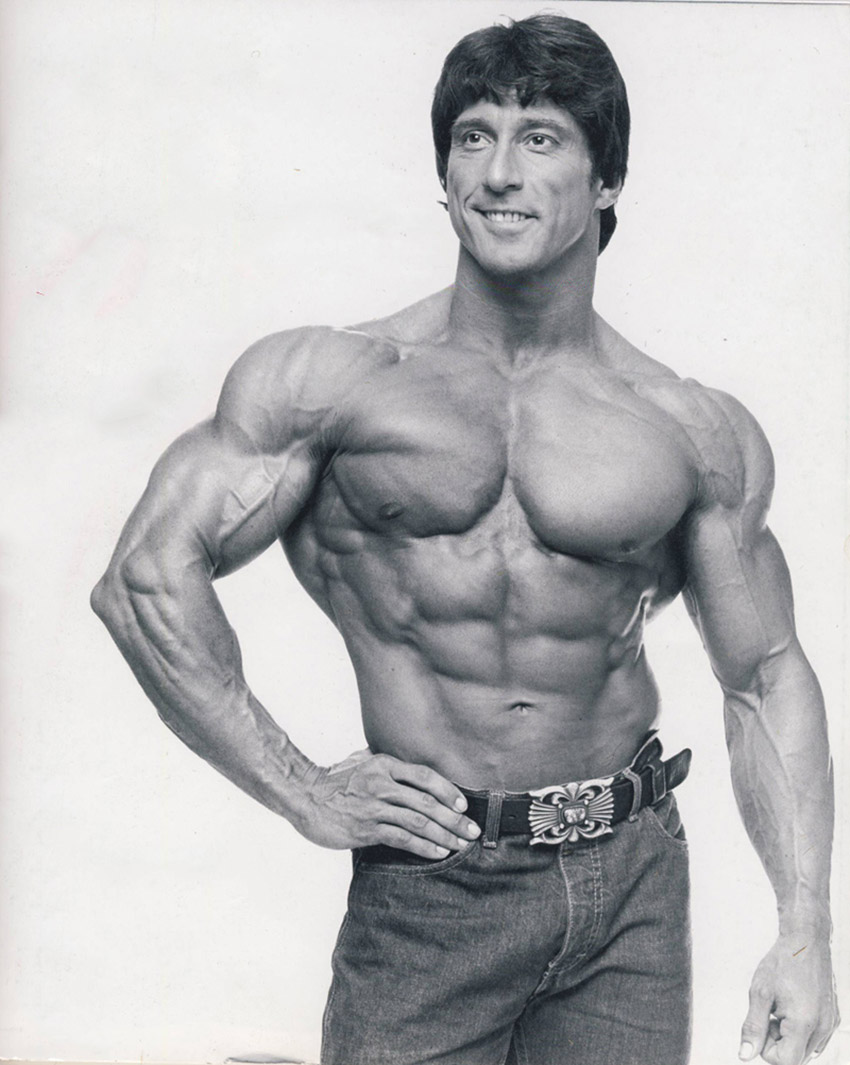 "Continuity is how you build a physique."
The Freak Accident of 1980
After winning the Olympia 3 times in a row, Frank was 8 weeks out from his fourth appearance when he suffered a life-threatening injury.
In a freak accident involving slipping on a poolside edge, Zane found himself with severe blood-loss. By the time he arrived in the hospital he was in life-threatening condition and remained in care several days.
Zane described what happened in the following way:
"I sat in this lightweight chair by the pool, and as I did it, slid on the wet Astroturf by the side and I fell onto the lip of the pool, which hit me right between the legs and smashed my bulbous urethra. Blood was gushing from my penis. I was rushed to hospital and was in for four days with a catheter attachment … it was horrible."
After the accident, Zane needed constant hospital revisits with the wound opening again and again. It took 2 weeks for him to get things under control, which resulted in a total loss of around 15lbs of muscle mass.
Advice from Arnold
Zane consulted with Arnold Schwarzenegger as to whether to still go to the Olympia despite the injury, his friend assured him that he should still try and defend his title, despite the lack of recovery time.
Zane recalls the conversation:
"Since his competitive retirement Arnold was the go-to guy before contests. Everyone went to him for advice. They'd do their posing routine and he'd point out every little thing that was wrong. I called him and he said, 'Yeah, the word is out at Gold's that you took so many steroids your dick started to bleed.' I asked him what he thought I should do. He told me, 'You should go to Australia and defend your title.'"
Unfortunately, however, the athlete would eventually lose to Arnold at the same event, when the Austrian Oak decided to throw in a surprise entry. Zane placed third behind Chris Dickerson.
Zane knew he was unlikely to secure a win due to his accident just weeks before the event, however, he boycotted the competition the following year believing that Arnold wasn't in his best shape and didn't deserve the win. The Oak performed poses that weren't ordered, playing only to his strengths and refused to showcase his weaker areas.
Another Accident and Retirement
The final nail in the coffin arrived in 1983 when Zane had another crushing injury – he injured his shoulder in a bicycle accident. Refusing to drop out of the Olympia, Zane wouldn't permit doctors to perform surgery and trained through the pain all the way up to competition. Zane came fourth and then needed extensive shoulder surgery to repair the damage.
The 1983 Olympia would be Zane's final competition, with he and his wife concentrating more on a new venture they'd started, Zane Haven – a bodybuilding learning center.
Zane Haven has expanded ever since, expanding the business and even releasing an exercise invention of his own design known as the Leg Blaster. He now resides in San Diego.
---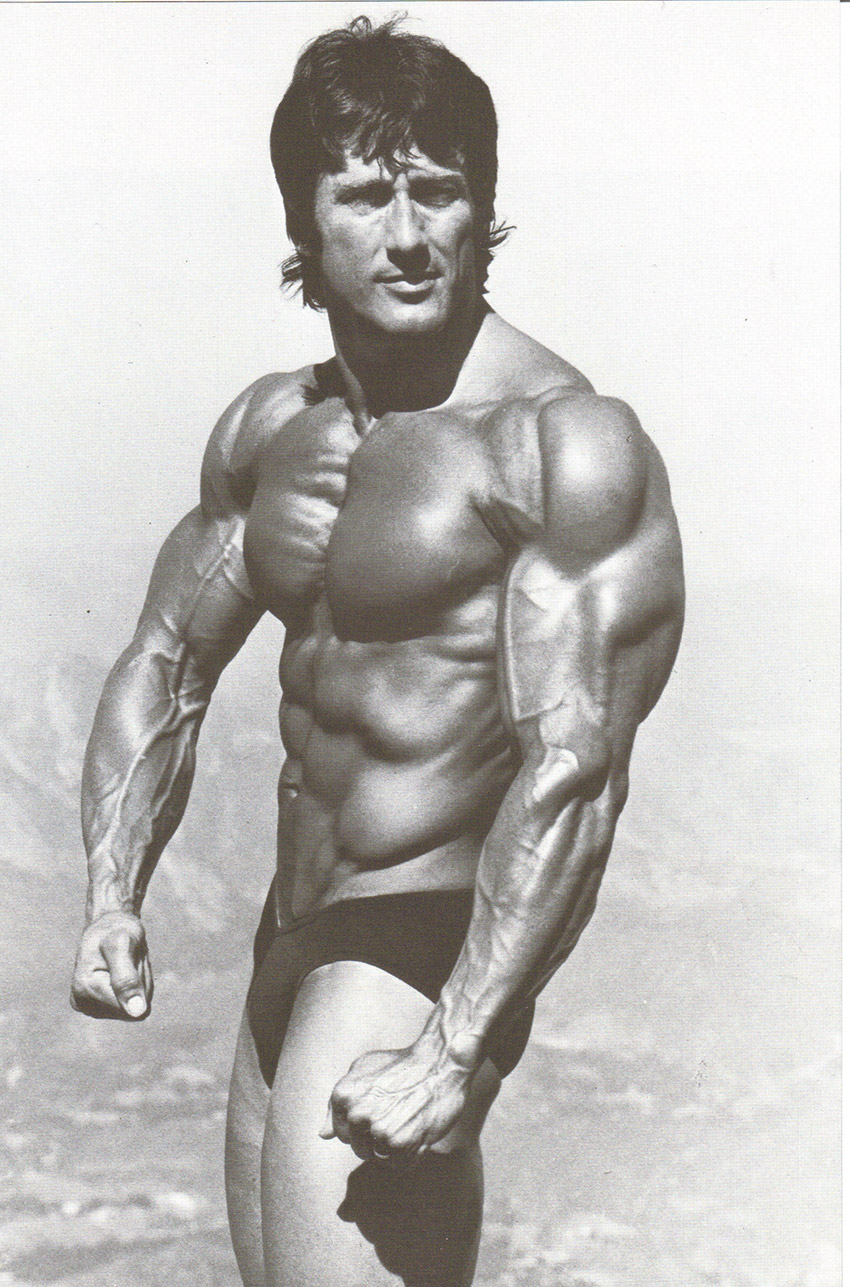 "Live your life by the hour, not by the day. What will you achieve in the next hour?"
Training
Frank Zane took on various different training styles throughout his career. He was adaptable, and never afraid to try anything new – that's what made him so successful.
When he first started training, Zane's lifting style was lightweight. He aimed for high reps for maximum tone and sculpture, however, despite the fact this made him incredibly lean it wasn't the best for winning competitions.
He needed size, and Joe Weider told him the only way to achieve this would be through heavy sets and less volume – it worked. The results being Zane winning 3 Mr. Olympia competitions consecutively after adopting this new method.
As a self-taught lifter, Zane didn't originally subscribe to the certain muscle groups per day rotation that most bodybuilders used. Somehow he managed to make things even simpler by splitting his entire workout over just 2 sessions: upper body and lower body.
It's reported that Zane's upper-body sessions would last up to 3 and a half hours per workout.
It was only after moving to California did Zane decide to change up his routine to be more in tune with the other bodybuilders. This involved taking a more focused approach and training opposing muscles every day.
Here's what Zane described as a typical week:
Chest and Back – Mondays & Thursdays
Legs – Tuesdays & Fridays
Arms and Delts – Wednesdays & Saturdays
Rest – Sundays
He'd perform 10 – 12 sets on small muscle groups and 15 – 20 sets on larger muscle groups, getting gradually heavier and sets progressed.
This was later changed in in later part of his career into a 3-day split followed by a rest on the fourth day.
This was the exact opposite his previous routine and worked with supporting muscles rather than opposing:
Back, Biceps and Forearms – Day 1
Legs – Day 2
Chest, Shoulders, Triceps – Day 3
Rest – Day 4
Zane was also a big abb guy too. He would train abs every training day with maximum volume. Doing anywhere between 400 – 1000 reps a day to keep them shredded and looking. As this was incredibly demanding Zane would regularly finish his session, and return to the gym hours later just to train abs.
He always listened to his body, and embraced change, and with it Zane could carry a lifetime of success.
---
"Being weak is a choice, so is being strong."
Nutrition
Zane was known as 'the Chemist' for a reason. He loved researching supplements and experimenting to find the perfect supplement stack that would take him to victory.
One of the areas of nutrition that Frank prioritized was pre-workout food. Interestingly, unlike most bodybuilders, Zane didn't care so much when he had a meal after a workout – it was all about before.
Sometimes he would wait hours before having a meal after the gym, whenever it was convenient to him – not his body.
Frank was pretty conservative with his calorie intake. Considering his energy and his size needed to compete (and win) Mr. Olympia, Zane would never consume more than 3000 calories a day. He never put too much of an emphasis on carbohydrates and concentrated more on protein, while also making sure healthy fats made up at least 25% of his diet.
---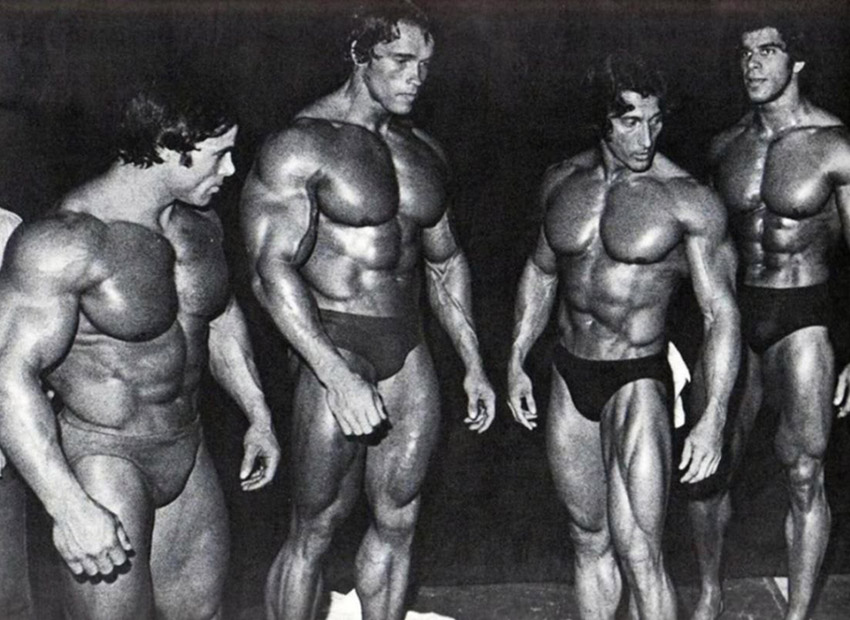 "Dream more than others think practical. Do more than others think is possible."
Idols and Influences
What influenced Frank Zane? Survival. Although a bodybuilding magazine gave him an idea of what he wanted to look like, the real driver was his own determination.
In an interview with FLEX magazine, Zane remembers that the real reason he started bodybuilding was his environment. Growing up in a tough town wasn't easy, and hitting the weights as early as 14, was a good way to deter trouble.
Zane didn't have many idols, however, he was an idol to many. With his 'Bodybuilding Golden Age' physique and arguably one of the best proportions on the planet when he was at his peak, Zane will always be remembered as having one of the greatest physiques of all time and continues to inspire many of the upcoming athletes training today.
---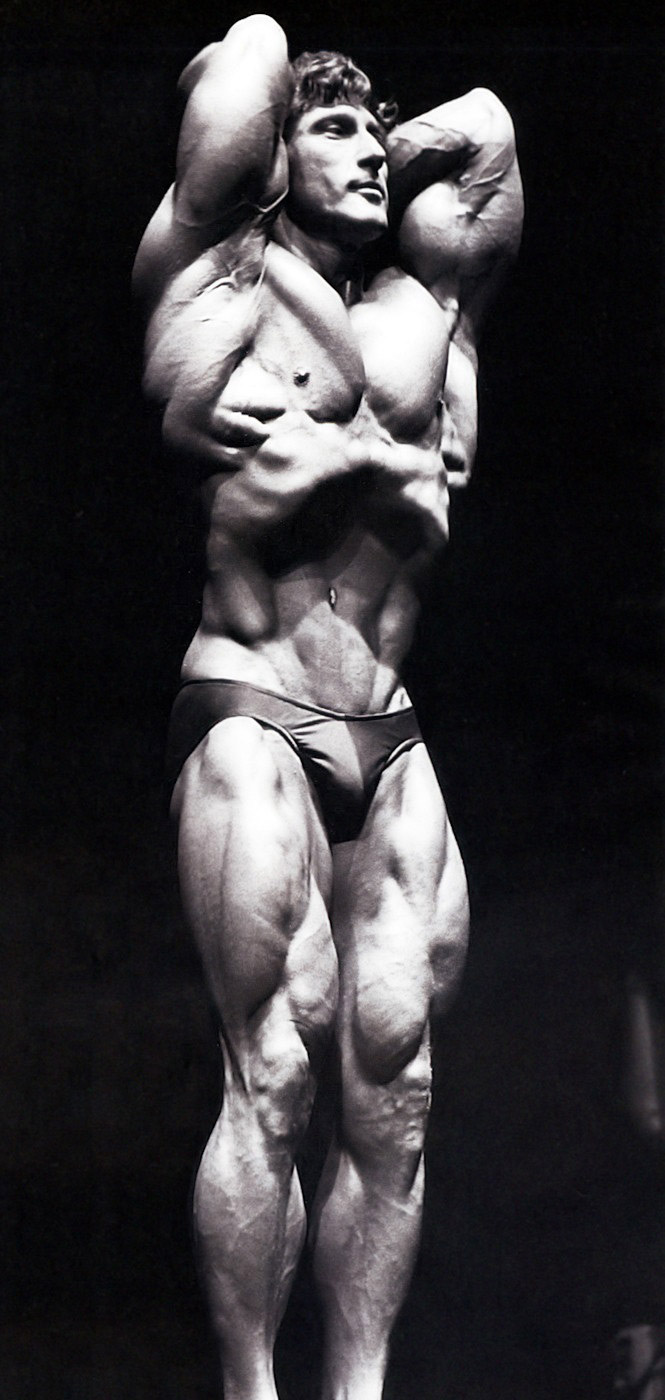 "Train in a sensible way. It's not gonna happen over night. Don't try to get in shape in one day, or one week, or even one month.

Take your time. Do a good job. Take photos. Learn what you look like and visualize what you'd like to look like.

Don't fall for any kind of schemes of getting big quick. Do not bulk up. Don't get big quick. If you can follow that you'll develop a great body, and you'll have it for a long time."
What we can learn from Frank Zane
An important lesson we can learn from Zane is that you have to take your time, and play to your strengths.
He admitted himself that he didn't have the best genetics to get to the size of Arnold Schwarzenegger or Serge Nubret – he just wasn't built that way.
Instead, he took his time, continued to train and continued to change his style to find out what his body should look like, what worked best for his frame. He was never going to be big, so he aimed to focus more on proportion – which is a far more difficult journey.
The key here is to be patient. Zane was training for over 15 years before he first won the Olympia – and then he won it three years in a row. Zane was prepared to take his time and was always thinking about the long-term goal, rather than any quick wins.
It was admirable, and more importantly, effective.
Post Views: 46,696
Sours: https://www.greatestphysiques.com/male-physiques/frank-zane/
Zane now 2018 frank
Where is Frank Zane now? Wiki, age, height, measurements
Where is Frank Zane now? Wiki Bio
Frank Zane was born in Kingston, Pennsylvania USA, on 28 June 1942, so under the zodiac sign of Cancer and holding American nationality – he is popular for his career of a bodybuilder, while he is also an author. Frank might no longer be competing, but he is still exercising, and is still an icon of bodybuilding.
Just a simple reminder that article is created and owned only by biographypedia.org. Article cannot be re-published in any other pages or documents. Copyright is protected by DMCA. All found copies will be reported.
Original source: https://biographypedia.org/where-is-frank-zane-now-wiki-age-height-measurements/
Early life and education
Frank hasn't shared any details regarding his parents, as he never wanted them to be subjected to media attention – he hasn't talked about his siblings either, but it's known that he has three sisters.
Frank was very interested in football and basketball until he turned 15, and came across his first bodybuilding magazine. He liked the physique of the men he saw, and thought how he might as well look like that – this led to him starting going to the gym. It took him two years to get from 130lbs (59kgs) to 160lbs (72kgs), and to shape his figure the way he wanted it to look. He was one of the best students in his high school, but it's rumored that girls loved him because of his muscles, however, it is not known whether or not he dated any of them – after he matriculated, he enrolled at Wilkes University, Pennsylvania, and graduated in 1964 with a bachelor's degree in science.
As math was his stronger side, Frank spent the next 13 years teaching math and chemistry, but became interested in psychology, and so enroll at California State University – he got his bachelor's degree in psychology in 1977. However, that wasn't enough for him, and he received his master's degree in experimental psychology in 1990.
Career of a bodybuilder
Frank is popular for becoming Mr. Olympia three consecutive times. in 1977, '78 and '79, and his physique is believed to be one of the best in the history of bodybuilding. He had the second thinnest waistline out of all the people competing at Mr. Olympia, and got his nickname 'The Chemist' because he had a degree in chemistry, and was using a lot of supplements and amino acids which was not usual for that period.
Unfortunately for Frank, after winning his three Mr. Olympia titles, he was involved is a serious accident which nearly cost him his life. He lost a big part of his muscle mass which meant he was no longer one of the best US bodybuilders, and was overthrown by the popular actor and bodybuilder Arnold Schwarzenegger. Frank had previously won against Arnoldt, which makes him one of three people who have managed to do that, and held the titles of Mr. America, Mr. Universe, and Mr. Olympia during his career, however, things changed after his accident,
When he had to stop competing, Frank and his wife decided to open their own bodybuilding center called "Zane Haven" – it is located in Palm Springs in California, and is a place for all those people who want to work on their physique. As the years passed, Frank renamed his center to "Zane Experience", and founded the Zane Gallery in Laguna Beach in California – the gallery consists only of bodybuilding art. The inspiration for the gallery came from his wife Christine who is an artist and a bodybuilder. Frank is also running a website on which he sells his books, supplements, and items necessary for exercising.
Frank was inducted into the Joe Weider Hall of Fame in 1994, and has also become a writer throughout the years. His "Frank Zane Newsletter" is focused on everything you need to know about bodybuilding, while he has also written numerous books including his first "The Zane Way to a Beautiful Body" in 1979 and his last "Zane Bodybuilding Manual" in 2018.
In 2003, Frank won the Arnold Schwarzenegger Lifetime Achievement Award, and in 2011 acted in the "Challenging Impossibility" documentary. He has also appeared in movies "Hart to Hart" shot in 1979, "The Infinite Power Workout" in 1997, and "See Arnold Run" in 2005.
Love life and relationships
Frank is a very secretive person, who hasn't shared much about his love life with the public, but being as popular as he is, some things are still known.
Frank married his other half Christine back in 1967 – Christine is an artist who enjoys to paint, and actually started selling her paintings while she was still in high school. Frank and Christine met for the first time in September 1966 in Florida, when she was in her junior year, while Frank was a high school teacher which Christine's sister Pat was attending. Pat invited Frank to their house and Christine was amazed by his physique – she soon began going to the gym as well, as she wanted to shape her figure.
Christine became as passionate about bodybuilding as Frank, and went on to win every competition she attended in Florida before going for the Miss Americana held in 1967, which she won as well. They exchanged their wedding vows shortly afterwards, and decided to move to Southern California. Although they have been together for numerous years now, they don't have any kids.
Hobbies and other interests
Frank has had numerous interests throughout the years, while most of these are in one way or another connected to sports and exercising.
Frank is a great archer, and was teaching archery during his 20s. He loves all the summer sports, and is an avid swimmer – his wife is to be credited with the birth of his love towards summer sports, as well as for his passion for art. He enjoys spending his free time outdoors, and will always choose nature including woods and mountains over crowded cities – for a period of his time, he was only exercising outdoors, and had his own small outdoors gym. He was a bit of a traveler while in his 30s, and travelled across the entire US, while he's also visited Europe on several occasions, as many competitions were held there.
Frank has been passionate about music ever since he was a kid, and grew up listening to Elvis Presley and Frank Sinatra.
Appearance and net worth
Frank is currently 77 years old. He has short black hair and brown eyes, is 5ft 9ins (1.75m) tall, and weighs around 185lbs (91kgs). Frank has chest size 52ins (1.32m), waist size 29ins (0.74m), thighs size 26ins (0.66m), and calves size 16.5ins (0.42m).
According to authoritative sources, Frank's current net worth is estimated to be more than $1 million, and is still rising thanks to numerous things he is working on.
Social media presence
Even though Frank is a bit old fashioned, he has decided to try and keep up with the modern age, and is active on several popular social media platforms.
Frank launched his Twitter account in January 2010, and has gathered more than 5,500 followers, and tweeted nearly 440 times. His Instagram account is currently followed by more than 160,000 people, while he has uploaded nearly 380 pictures onto it – Frank is running a Facebook page as well, which currently counts more than 50,000 fans.
AuthorBenjy P.
Benjy is currently a reporter for BiographyPedia based in Adelaide, Australia. Prior to joining BiographyPedia in July 2019, he was a Bizarre TV reporter and theatre critic at TheSun. Benjy has also written for DailyMail and TMZ. Benjy studied journalism at Goldsmiths University of London, graduating in 2009. You can contact him at [email protected]
Related Posts
Sours: https://biographypedia.org/where-is-frank-zane-now-wiki-age-height-measurements/
FRANK ZANE'S HOME GYM TOUR
For this, underwear, which you called indecent, serves. There is nothing indecent in it, no one forces you to walk in it in. The park. What a pleasure there can be, thought Tanya. The process of conceiving a child (even in a family) seemed to her as secretly intimate as sitting down and pooping.
Similar news:
To the very balls. But where there. The man did not expect such agility from his stranger, and moaning, he thanked her with the most gentle and affectionate words. Lera only now understood the familiar timbre in the voice of the man outside the door. Either from jealousy towards him, or from severity towards her sister, but she decided to interrupt this love duet.
14097
14098
14099
14100
14101