Features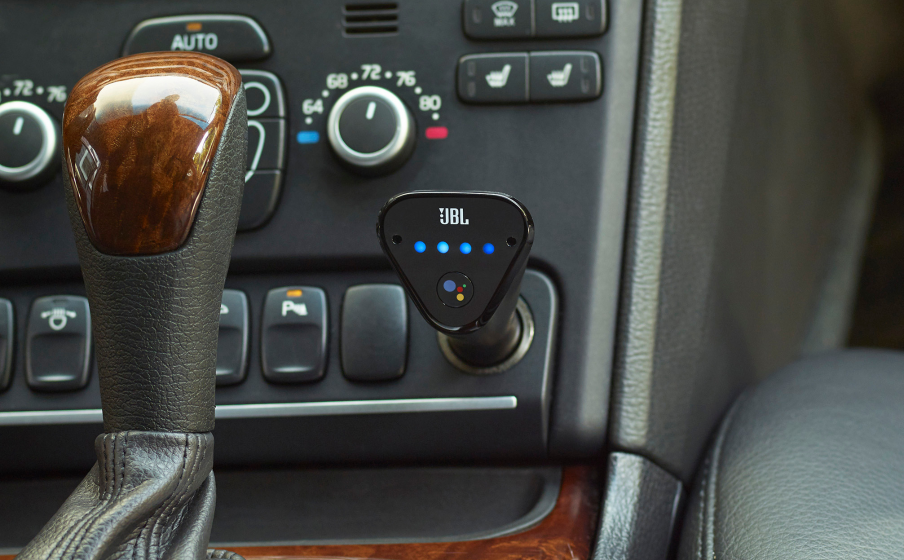 JBL 360-Degree Pro Sound
The Link Drive has Google Assistant Built-In. It is your personal virtual Assistant. Always ready to help. To get started, simply say hot word "Ok Google" or "Hey Google" in your car.

Hands-free voice control
Voice recognition allows for easy hands-free operation. Ask questions in your car and the JBL Link Drive will respond. Make Google do it.

Echo Canceling microphone
The JBL Drive provides the user with optimum microphone sensitivity while eliminating the unwanted background noise and echo

USB 2.1A fast-charging port
The USB port allows charging of smartphones, tablets & other USB mobile devices.

Simple setup with the Google Assistant App on iOS & Android
With the free Google Assistant app on iOS & Android, you can easily setup and manage your JBL Link Drive.

Versatile connection via Bluetooth® & AUX-IN
Connection through Bluetooth and AUX-IN cable for almost any headunit in the car - Quick and easy pairing via Bluetooth and start streaming audio - Wired audio connection via Aux-In cable giving a better audio quality

Radio Barging Keeps You Informed
When connected to Bluetooth, Link Drive will interrupt your vehicle radio to deliver important information when it has commands or feedback from Hot Word Triggers.
LINK DRIVE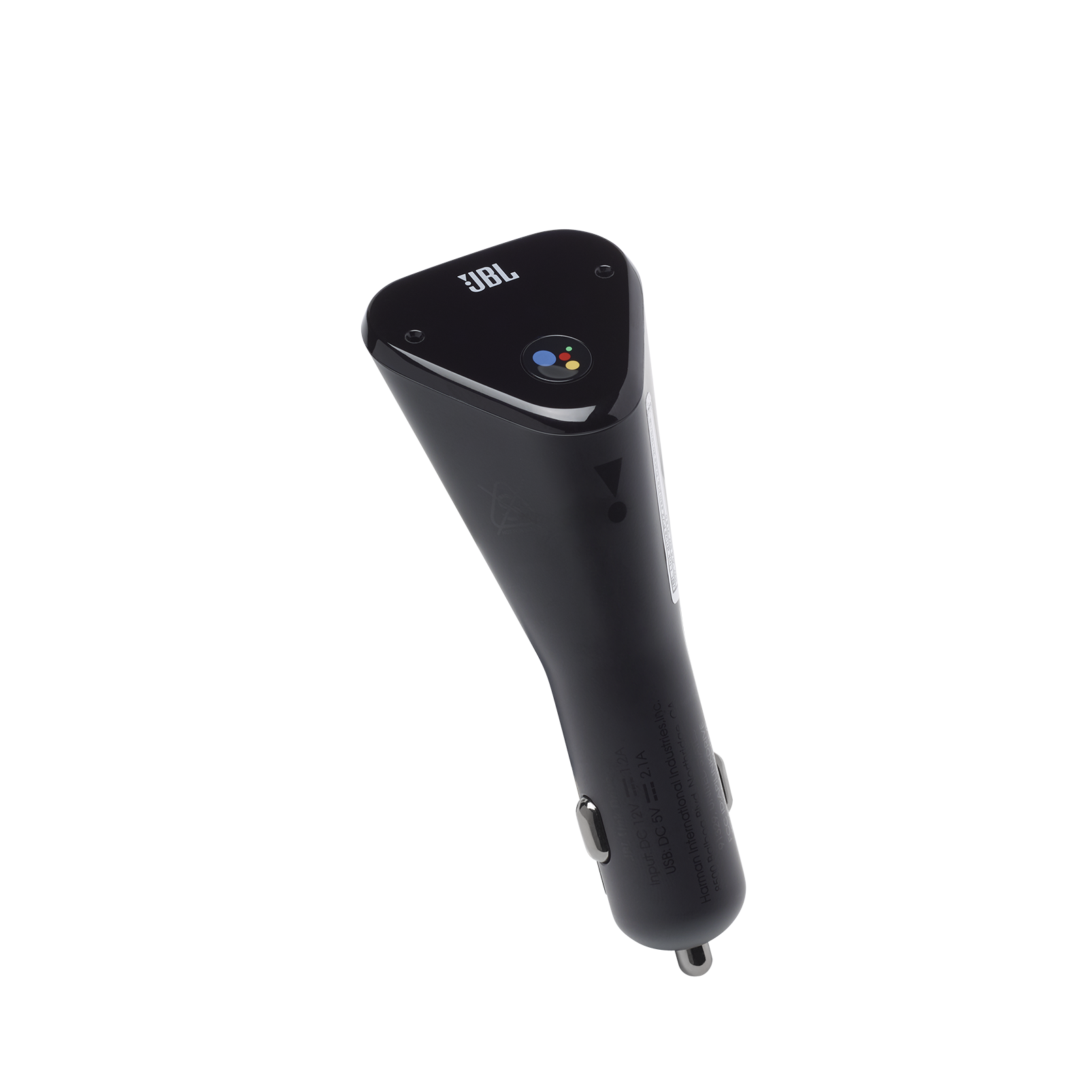 Specs & Downloads
Item# LINK DRIVE
Product Description
Link Drive
The JBL Link Drive is a plug and play Google Assistant for any vehicle that has Bluetooth or a mini audio jack. JBL Link Drive is powered by constant power connection to your cigarette lighter and provides convenient and safe voice control of features of your smartphone such as voice dialing, prompts and control of your favorite navigation app and your calendar. It engages Google Assistant via voice command & push-to-talk button, provides RGB visual and audio feedback. It can be integrated to any car audio system via Aux-in or Bluetooth. Featuring a multi-function button, JBL Link Drive enables you to push to talk with short-press operation on the button when device standby and mute your phone call through a double-press. Enjoy crystal clear and hand free calls with dual stationary echo-canceling microphone.
General Specifications
Microphone Frequency Response :100Hz-10KHzYes
Signal-to-Noise Ratio:65dBYes
Sensitivity -26±1dBFS2
Aux Frequency Response :20Hz-20KHz(+/-1dB)Yes
Power Supply:9V-24VYes
Bluetooth® Version 4.2
Dimension(W x H x D)42mm x 109mm x 33mm
Weight:31gYes
ConnectorsType A USB 5V/2.1A
Bluetooth® transmitter power0-9dBm
Bluetooth® transmitter frequency range 2.402 – 2.480GHz
SupportA2DP V1.3, AVRCP V1.6, HFP V1.7, HSP V1.2
What's in the box?
1x JBL Link Drive
1x 3.5mm AUX Cable
1x QSG
1 x Safety Sheet
Reviews and Q&A
Support
Register your
JBL product
Do you own this product? Register it here in case you need to claim warranty
Register Now
Can't find what
you're looking for?
Are you looking for product support, documentation, how-tos or older products?
JBL Support
Sours: https://www.jbl.com/connected-car/LINK+DRIVE.html
JBL this morning announced a slew of Assistant products like new Bluetooth headphones and the Android TV-powered Link Bar. The brand's latest device is the JBL Link Drive that essentially brings a Google Assistant microphone into any car via the cigarette lighter.
Google Assistant is already available in cars via several mediums including Android Auto on the phone, standalone/integrated head units, and even Google Maps. For those that don't want to buy a costly aftermarket accessory or don't like interacting with screens while driving, the Link Drive is a more smart speaker-like way to talk to Assistant.
This triangle-shaped car accessory plugs into your 12V cigarette lighter socket. It works with both Android and iOS by auto paring (and reconnecting) to the Google or Assistant app on your phone. Once setup, Assistant can be accessed through the standard "Hey Google" hotword with four indicator lights.
In addition to syncing with your phone, the Link Drive connects to in-car stereo systems via Bluetooth or the auxiliary outlet on older vehicles. This microphone essentially acts as a bridge device between the two and can remember multiple phones.
Dual-noise cancelling microphones on the JBL Link Drive tune out road, wind, engine and general driving sounds. "Radio Barging technology" will quiet music while users are issuing a command, with incoming phone calls also taking priority.
Users can ask for directions, traffic conditions, weather, or calendar updates. For users that don't want to use the hotword, there is also a multi-function key that will begin listening with a short press, while a long one will mute the microphone, much like the switch on existing smart speakers.
The JBL Link Drive will be available this spring for $59.95.
9to5Google's Take
This is a rather interesting new product category for Google Assistant that could particularly excel by being highly affordable. It takes a page from devices like the Home Mini, both on price and the convenience of not having a display. This new product class is likely the one we've been tracking in our weekly APK Insights of the Google app.
---
Check out 9to5Google on YouTube for more news:
FTC: We use income earning auto affiliate links.More.
---
Check out 9to5Google on YouTube for more news:
You're reading 9to5Google — experts who break news about Google and its surrounding ecosystem, day after day. Be sure to check out our homepage for all the latest news, and follow 9to5Google on Twitter, Facebook, and LinkedIn to stay in the loop. Don't know where to start? Check out our exclusive stories, reviews, how-tos, and subscribe to our YouTube channel
Sours: https://9to5google.com/2019/01/07/jbl-link-drive-google-assistant/
JBL Link Drive review: Google Assistant in your car still has rough edges
By Corbin Davenport
ShareTweetEmail
Google Assistant is everywhere these days: phones, tablets, speakers, Chromebooks, and more. The first Assistant devices for cars were unveiled earlier this year, and the first model from Anker launched in April. The other device, JBL's Link Drive, was announced at CES and seemed like it wasn't going to come out. Of course, JBL is no stranger to delays, and the Link Drive just became available recently. So, how is the JBL Link Drive? It's an almost identical experience to the Anker Roav Bolt, but with more hardware disadvantages and a higher price.
SPECS
| | |
| --- | --- |
| Bluetooth | 4.2 |
| Dimensions | 42mm x 109mm x 33mm (WxHxD) |
| Weight | 31g |
| Connectivity | 1x USB Type-A (5V/2.1A) |
| Price | $59.95 |
Design, hardware, what's in the box
The JBL Link Drive is a small black device that connects to the charging port in a car. The front has a single microphone button, with indicator lights that mirror those found on a Google Nest Mini. On the top is a 3.5mm jack, used for streaming audio to your car's stereo system. If your car doesn't have an AUX port, you can also use Bluetooth, but JBL recommends going with a wired connection if possible.
The tiny microphone button on the front has multiple functions. Pressing it once will read out notifications from your phone, or if the device is already talking, pressing the button will stop Assistant. Double-pressing it will mute/unmute the microphone, and holding it down will activate Assistant manually. Finally, holding it down for about 12 seconds will reset the device.
As with the Anker Roav Bolt, there are no dedicated media playback controls, so you can't pause or skip songs by pressing a button — you have to use voice commands. I complained about this with the Roav Bolt, and I'm disappointed JBL hasn't changed anything (though the decision may be up to Google).
The JBL Link Drive (left) and Anker Roav Bolt (right)
So, what's different compared to Anker's product, you may ask? Well... nothing good. First, the Link Drive is longer than the Roav Bolt, so much so that it slightly obstructed the cup holder in my compact Nissan Leaf. The design might not be as much of an inconvenience to you, depending on the positioning of your car's charging ports, but I think most will agree that Anker's more compact design is nicer.
The greatest disadvantage of the Link Drive compared to Anker's adapter is the charging capacity. The Anker Roav Bolt offers two USB Type-A ports, both capable of 5V/2.4A charging (even at the same time). The JBL Link Drive only has one USB port, with a slower maximum capacity of 5V/2.1A—no charging multiple devices, no quick charge support, and no USB Type-C connector. Yikes. In the box, you get the JBL Link Drive and a male-to-male 3.5mm cable. That's it.
Software and performance
I won't go into overwhelming detail about the software experience on the JBL Link Drive, because it is identical to the software on the Anker Roav Bolt in every way. If you want all the nitty-gritty details, you can see our previous review here.
In summary, once you pair the Link Drive to your phone via Bluetooth, the Google app should automatically open and walk you through the setup process. Once that's done, the Link Drive becomes an always-on microphone for your phone's Google Assistant, capable of hearing you even with blowing wind and loud music. It can do everything that Assistant on your phone is capable of, including opening apps, sending a text message, playing the news, and so on.
When you're not using Assistant, the JBL Link Drive doubles as a Bluetooth-to-AUX adapter, so anything playing on your phone is piped to your car's stereo. This might not be a big deal to anyone with a car that already supports Bluetooth audio playback, but my car lacks that ability.
I previously said that the JBL Link Drive works identically to the Anker Roav Bolt, and that includes the Bolt's disadvantages. Pairing to a different phone requires resetting the adapter, so the Link Drive isn't ideal for shared cars. Voice commands also don't always work when the phone's screen isn't on, which I assume is something related to Android Doze. For the record, I used the Link Drive mostly with a Galaxy S10e, but I experienced the same issues on the Roav Bolt with my OnePlus 6T and Google Pixel.
Should you buy it? Rating 5/10
JBL Link Drive
No. The JBL Link Drive isn't necessarily a bad product, but there's no point in buying it when the Anker Roav Drive exists. The Roav Bolt takes up less physical space, includes an additional USB port, and is also $10 cheaper (as of the time of writing) with an identical software experience. It's rare that someone can definitively say there is no point in buying a certain product over a competitor, but the Link Drive doesn't seem to have a single advantage over the Roav Bolt.
If you're looking for a way to bring Assistant into your car, with a better microphone than you'll find on any phone, the JBL Link Drive and Anker Roav Bolt will do the job. But for now, you should just buy the Roav Bolt.
Buy it if...
You want a more powerful Google Assistant in your car.
You can find the JBL Link on sale.
Don't buy it if...
The Anker Roav Bolt is available for less money.
Buy: JBL
You might be unlocking your car with Android 12 sooner than you'd think
Assuming your car is supported, of course
Read Next
ShareTweetEmail
About The Author
Corbin Davenport (3633 Articles Published)
Corbin is a tech journalist and developer who worked at Android Police from 2016 until 2021. Check out his other work at corbin.io.
More From Corbin Davenport
Sours: https://www.androidpolice.com/2019/11/13/jbl-link-drive-review-google-assistant-in-your-car-still-has-rough-edges/
I bend my finger down and quickly feel for it. Lightly press, and feel his sphincter contract, clasping my finger. Regretfully, I smoothly pull my finger out and tighten the elastic with a napkin.
Link setup jbl drive
Candles, but nothing really helped. I asked about the enema, she said that as a child, her mother often gave her, but now she herself copes as if she really does not like. The enema. well, in that spirit. I think the time has come to make her love this procedure, hasn't it, Vanya.
How to Repair Speaker Drive JBL Link 300 Tutorial
Ru Buritos After washing and closing the water, Oleg slowly dressed, looked in the mirror and, unexpectedly for himself, felt pricks of shame: My beloved beautiful wife is taking care of. Our daughter at this moment and thinks that the head of the family is freezing on a fishing trip, trying to ensure prosperity in the house. And Im here at a prostitute: "Coming out of the shower and going into the room, he saw that his beautiful mistress was sitting in an armchair, and in front.
Now discussing:
The wife lost this round. There was nothing to shoot, so we didn't want to. I wanted my wife to kiss the boy. Without a word, his wife stood up and kissed him on the cheek.
1185
1186
1187
1188
1189