So obsessed are we with houseplants that stylish outdoor planters can feel hard to come by. The best options though, do it all – just as happy outside as in, they're sleek enough for living rooms and bedrooms and hardy enough for patios, balconies and beyond.
From sculptural concrete planters to terracotta pots with a twist, we've handpicked an edit of designs to suit all spaces. Many are generous enough to give plants plenty of space to grow, too. Green fingers crossed

1'Coletta' planters, Made
Rounded edges and a speckled finish soften the industrial feel of this pair of contemporary planters, which are all the more versatile in their simplicity. Made of composite fibrecement, they're a reassuringly robust duo. Set of two planters £79, made.com
2'Grecian Bust' plant pots, Anthropologie
From colonnades to domed crowns, the trend for home accessories with a bit of historical heft shows no signs of slowing. With its potential for all manner of leafy 'dos, this bust-style planter deftly toes the line between classicism and kitsch. Large planter £36, anthropologie.co.uk
3'Pidestall' planter, Woud
Norwegian for 'pedestal' or 'base', this roomy planter is the work of product designer Emilie Stahl Carlsen. Her sleek and understated design works particularly well when grouped with other sizes and colours from the collection – minimalists might prefer taupe (pictured), light grey or black, but there's a red or blue option, too. Medium size £, connox.co.uk
4'Chubby Egg Cup' plant pot by Tina Vaia
Handcrafted in Vaia's hometown of Valencia, this glazed terracotta plant pot will inject any space with a concentrated dose of summer. Its simple form provides a brilliant foil for punchy colour and sculptural foliage. Medium planter, £, wagreen.co.uk
5'Nuclear' plant pot, Lyon Beton
No prizes for guessing the inspiration for the familiar silhouette of this concrete pot. Designed by Bertrand Jayr as a reference to the uneasy relationship between the man-made and natural world, it's an invitation to let your own pocket of nature reclaim its rightful place. £,amara.com
6'Frida' planters by Julie Harrison
It was an exacting client after some 'out-of-the-ordinary planters' that inspired French garden designer Julie Harrison to create her brilliantly bold mosaic pots. Latest colourway 'Frida' (pictured) is a tribute to the Mexican artist Frida Kahlo, and Harrison has recently created a range of vases with the same design language. From approx £98, julepaysage.com
7Concrete pot, Serax
Cast in concrete with simple notches to aid portability, this stylish take on a cylinder planter will bring a hint of brutalism to your balcony. Simple and functional, it feels true to the Belgian homeware brand's ethos. Large planter £41, scp.co.uk
8'Umanoff' planter, Menu
The rattan revival may be going strong – and going nowhere – but this drum-style planter was designed the first time around, in , by midcentury master Arthur Umanoff. It pairs handwoven rattan with a slender yet sturdy steel frame, and there are three sizes to choose from, including a much leggier 'large'. Medium planter £, twentytwentyone.com
9'Oasis' flower pot, Northern
Not just a pretty pot, this smart colour block design integrates a reservoir below for the less fastidious waterers among us. We particularly like the earthy pairing of terracotta and olive green, though there are black and white options, too. Large planter £, nest.com
10'Water Cooler' planter, Tiipoi
Not Just A Shop is the University of the Arts London's retail space, selling all manner of products designed by its creative graduates. Our latest find is this series of hand-cast concrete planters inspired by Indian water towers from Tiipoi, whose founder Spandana Gopal is an alum. £69, notjustashop.arts.ac.uk
11'Grow' planter, Cane-line
Designed by the Danish brand to weather the depths of Scandinavian winters, this simple powder-coated aluminium planter is deceptively durable. The wider range offers some seriously roomy options in round and rectangular styles. £, cane-line.co.uk
12'Plant Box', Ferm Living
There's little this planter on legs couldn't be used to display or store, though it makes a particularly neat home for a raised herb garden. Designed with modern living in mind, it comes in seven colourways and is just as happy outside as in. £, skandium.com
13'Botany' planters by Aaron Probyn
British designer Aaron Probyn's 'Botany' pots, handmade in Sri Lanka using hard-wearing, raw coloured porcelain clay, are a sleek addition to his debut homeware collection. We love the dark, earthy take on terracotta, though purists might prefer the jet black. From£25, aaronprobyn.com
14'Collect' planter, &Tradition
Generous enough to provide a home for larger plants and even small trees, these do-it-all concrete planters are the handiwork of Space Copenhagen. Their sculptural shape and gently patinated finish feels faintly classical, but still rooted in modernity. £, skandium.com
15'Play' plant pots, Darkroom
British design brand Darkroom is much loved for the bold simplicity of its geometric designs, and these terracotta and resin blend planters are no different. Strong but relatively lightweight, each is hand-painted in the London studio. From £90, darkroomlondon.com
16'Highlands' flower pot, Bolia
Designed by Berlin-based product design duo Böttcher & Kayser, the silhouette of this rectangular planter feels almost architectural. It's maintenance-free and more than tough enough for whatever a British winter might throw at it, taking on temperatures down to °C. £, bolia.com
17'Okura' conical planter, Jonathan Adler
Sculpted in Jonathan Adler's Soho studio, this characterful planter combines a shapely, organic feel with a punchy pop of red. Filled with lavender, rosemary or a spiky agave, it will bring a hint of the Balearics to your balcony or back garden. £, uk.jonathanadler.com
This content is created and maintained by a third party, and imported onto this page to help users provide their email addresses. You may be able to find more information about this and similar content at piano.io
Sours: https://elledecoration.co.uk/design/g/modern-planters-plant-pots/
The top 15 potted plants for your garden
Gardening expert Helen Young unveils the best potted plants for your garden.
Jan 20, pm
By teaming stylish pots and planters with the right plants, you can easily transform an outdoor space into a lush oasis.
Our list of top-performing potted plants is divided into sun-lovers and shade-lovers, chosen for their good looks as well as for being robust and easy to grow.
Whether you're looking for plants for your balcony, deck or backyard, with such a huge variety to choose from, you're bound to find the perfect potted plant to suit your space.
Shade lover: Peace lily (Spathiphyllum) A very popular indoor plant, this glossy-leafed beauty thrives in a warm, bright spot out of direct sun. The white blooms are very long-lasting.
Photo: Getty
Shade lover: Fuchsia These are traditionally shade-lovers but the Sun Kisses range also takes full sun. They flower profusely throughout the year and will tolerate temperatures from -3˚C to 40˚C.
Photo: Getty
Shade lover: Port wine magnolia (Michelia figo) A slow-growing yet very worthwhile large shrub. The dense, small leaves make an excellent screen, and the bubblegum perfume of its spring flowers is a bonus.
Photo: Getty
Shade lover: Flamingo flower (Anthurium) Like peace lilies, these prefer bright light without direct sun in a warm climate. The flowers last for months: use them as a table centrepiece or for splashes of colour.
Photo: Getty
Shade lover: Golden cane palm (Dypsis lutescens) If you need a tall (to 10m), dense, screen, this clumping palm is a great choice. It's lush and undemanding, although drying winds and hot sun can burn leaf tips.
Photo: Getty
Shade lover:Camellia (Camellia japonica) Dark, lustrous foliage is the perfect foil for large and beautiful winter flowers, in pink, red and white. Choose a smaller variety for pots.
Photo: aremediasyndication.com.au
Shade lover:Fiddle-leaf fig (Ficus lyrata) Popular as a house plant in the s for its handsome, large leaves and un-killable nature, this rainforest tree is enjoying a welcome comeback to garden designs everywhere. Tall and striking wherever it's placed.
Sun lover: Blueberry
Delicious blueberries are easy to grow in pots and have pretty, profuse flowers. Choose evergreen varieties such as Blueberry Burst to look good year-round.
Photo: Getty
Sun lover: Geranium Big Red (Pelargonium x hortorum Big Red) The star performer among geraniums, with bold red flowers most of the year and terrific disease resistance.
Photo: Getty
Sun lover: Chilean Jasmine (Mandevilla) Grow this long-flowering beauty as a climber or nip the tendrils for a soft, bushy effect. There are pink, white and crimson varieties, all with glossy leaves.
Photo: Getty
Sun lover: Imperial Bromeliad (Alcantarea imperialis) For wow factor, this bromeliad plant is unequalled, especially the Rubra and Silver Plum varieties. They can reach two metres across, so allow room.
Photo: Simon Whitbread
Sun lover: Dwarf sacred bamboo (Nandina Gulf Stream, Flirt and Obsession) Great texture and colour combine with toughness in this foliage plant. The colour intensifies in cool weather.
Photo: Getty
Sun lover: Dwarf kangaroo paw (Anigozanthos Bush Gems series Bush Fantasy) Just one of many colours in this series, it's bred for superior flowering and performance.
Photo: Ramm Botanicals
Sun lover: Bird of paradise (Strelitzia reginae) Silvery leaves and exotic flowers make this a striking accent plant, yet it's tough as nails. Suitable for hot, exposed and windy spots.
Photo: Brent Wilson
Sun lover: Jade plant (Crassula ovate) A compact succulent with great form and pretty heads of pinky-white flowers. It practically thrives on neglect.
Photo: Brent Wilson
SHAREPIN
writer: Helen Young
photographer: Simon Whitbread
Article By
Read More
read more from
Sours: https://www.homestolove.com.au/top-performing-potted-plants-for-your-garden
Group of threes
Don't fret if you're without a yard to grow the flowers or fruit trees of your dreams. A wide variety of plants can thrive in containers that can perk up the appearance of your front porch, deck or patio.
As an increasing number of budding gardeners have found out, pretty pots can handle more than herbs. Mini, portable gardens, which may require less care and water and be moved under cover in harsh weather, can include a Pix Zee peach tree or a short Baby Cakes blackberry bush.
The experts at Al's Garden & Home centers have always been big boosters of container gardening.
Each spring, Al's hosts DIY Container Days at its garden centers in Gresham, Sherwood, Wilsonville and Woodburn.
This year's free-to-attend event, April , will have people wearing masks and spreading out as they purchase a "thriller" for the center or back of their container, "spillers" for the edges and "fillers." They will then put their compact gardens together, using soil and transplant fertilizer provided at no cost, at planting stations in the parking lot. Bring a pot or buy one.
Peter Eastman of Al's Garden & Home says well-planned container gardens allow you to have year-round, seasonal color while you experiment with new-to-you varieties. Another perk to pots: "You can really cram plants in for that lush, full look," he says.
To fill a window box or other outdoor containers, start with an "anchor" evergreen, like a 5-inch, locally grown lemon cypress, and rotate in seasonal annuals (a filler like cineraria) and perennials (like butterfly-attracting salvia) that are right for sun or shade, depending on the location.
Here are more tips to successfully growing and displaying plants in containers:
Select a small, medium and large container. Put a small tree or a tall plant in the biggest pot and set it behind two smaller pots to form a triangle, suggests Al's Garden & Home. Put your favorite perennials in the two pots.
Large flowerpots often don't have to be watered as often as smaller ones. Plastic and lightweight pots are easier to move around.
Terrain, an online shop with tasteful products for your indoor and outdoor living spaces, has planters you can search for by size (5 inches to more than 30 inches wide), shape (bowls, pots, urns and troughs), and material (basket, earthenware, stone, concrete). There are plant stands and trays, too.
The experts at Al's Garden & Home recommend these trees for containers:
Acer palmatum varieties (Japanese maples) have upright or weeping growth, and the foliage can vary from green to deep purple.
Cornus florida (Flowering dogwood)aresmall to medium size and produce white or pink flowers in late spring and show off reds and purples in the fall.
Lagerstroemia indica var. (crape myrtle) can be a shrub or a tree that blooms July through fall.
Al's Garden & Home suggests these flowers for containers:
Anemones have long stems to add height to the container or, when cut, in a flower arrangement.
Bellis 'habanera Mix' English daises have pompom-shaped flowers in red, white and pink.
'Alpino Series' Saxifraga is a mounding plant with short-stem blooms and tiny rosette shaped foliage.
Brooke Edmunds, a horticulturist with Oregon State University Extension Service, says beans, squash, radishes, strawberries, kale, chard and spinach grow well in containers.
If space is really tight, select miniature varieties like Thumbelina carrots.
Vine crops can be put in hanging baskets or grown in oak barrels or large pots and trained vertically on trellises, stakes or railings.
Root and leaf crops (beets, turnips, lettuce, cabbage, mustard greens) can tolerate light shade.
Tomatoes, green beans, peppers and others grown for their fruit must have from six to eight hours of direct sunlight each day. The more sun the better.
>Read about soil and drainage for container gardens as well as gardening basics in OSU Extension's publication Growing Your Own
Wayfair has outdoor containers on sale like a durable, decorative, inch-tall resin flower pot ($). But you can also start small and inside, in front of a window with a Triflora hanging planter ($) with melamine pots for herbs, succulents and vine plants. Adjust the length of the ropes and slide them along a metal curtain rod to the desired sun location.
Are you ready to branch out? Check out Amazon's best-selling container garden books.
Burpee offers free advice on the best locations for specific seeds and plants as well as gardening in pots on decks and patios. Suggestions:
Sunny spot: Plant long-blooming annual flowers and tropicals, or try a pot of herbs mixed with marigolds, striped-leaf cannas, or a combination of verbenas, nasturtiums, zinnias and lantanas.
Shade from walls or trees: Plant hostas, caladiums, impatiens or small hydrangeas.
A container with a trellis can support flowering vines.
Bring in fragrance with roses and plant milkweed (Asclepias tuberosa), salvias, lantanas, and butterfly bush (Buddleia davidii) to attract pollinators such as butterflies and hummingbirds
Here are containers in classic, traditional and modern styles:
Cost Plus World Market has planters to go with outdoor furniture in styles such as coast casual, riviera beach, Marrakech modern, Napa Valley chic, Pacific Coast picnic, Ojai ranch, Montauk summer, Savannah siesta, Sedona sunset and natural elegance.
Home Depot has a wide range of plant containers from a rustic walnut look to sleek ceramic.
Houzz has a gallery of photos of container plants dressing up home entrances. See pots for sale, from whimsical to weathered-looking.
Frontgate has lavender, aloe and other plants in containers, even a privacy-creating boxwood headge, starting at $
Joss & Main has compact, attractive plant stands that are perfect for small spaces. A red bike (on sale at $) holds plants in its basket and seat; a smaller version is $
Lowe's has an assortment of indoor-outdoor plant pots.
Serena + Lily offers free design advice for outfitting a patio or terrace with upscale outdoorsofas, sectionals, dining chairs, coffee and side tables plus pillows and rugs.
2 Modern has modern outdoor furniture and contemporary planters on sale.
Walmart has outdoor planters and pots, including self-watering ones starting at $
— Janet Eastman |
[email protected] | @janeteastman
Sours: https://www.oregonlive.com/hg//03/pretty-potted-plants-and-flowers-perk-up-your-front-porch-or-patio.html
10 Container Plants for the Forgetful Gardener
Are you the type of person who occasionally (or frequently) forgets to water and/or fertilize container plants? If so, this list is for you.
These plants can be used both indoors and outdoors though keep in mind that containers outside dry faster because of increased air circulation, sunshine, and heat distribution from pavers or concrete.
Without further ado, check out these options.
Jade Plants
Most any variety of jade plant is low maintenance because of its ability to tolerate neglect and less-than-ideal growing conditions. Many prefer the silver jade plant (pictured above) in containers because the paddle-like leaves are a bit bigger, less common and prettier with their red edging and silver-green coloring. Its a succulent which means the larger and more plentiful the leaves, the more water the plant can hold. Jade plants need light and have shallow roots so be mindful that they can topple over if too top heavy.
Mother-in-Laws Tongue
Despite its terrible name, I can personally vouch for the ease of t his plant. I have it in a container on my front porch where it receives a few hours of bright light—not direct sunlight—per day in an otherwise shady spot. I rarely ever water it.
With its pointed, upright leaves that can reach tall, mother-in-laws tongue is brilliant for architectural interest and often seen in modern home decor alone in a variety of container styles. I have mine in a round pot with kalanchoe succulents around it that bloom in various colors.
Kalanchoe often fall into the category of easy-care, but its very easy to overwater them and rot their roots. If you can err on the side of forgetfulness, they have a better shot.
Burros Tail (Sedum morganianum) 
Another succulent, burros tail (or donkeys tail) is often seen cascading over the sides of hanging container plants as well as other succulent arrangements. Stems can reach lengths of up to 3 but they are fragile so avoid handling them, if you can. The upshot is that if one breaks, you can replant it elsewhere.
Its recommended that you plant it in partial shade, but I have it in a full-sun exposure. The color is just a bit more faded than it would otherwise be.
Aloe Plants
Aloe vera grows pretty slowly but does have the added benefit of serving as a home remedy by breaking off a leaf and using the sap for healing purposes.  It does prefer bright light, but does not like it when its leaves touch the soil. When this happens, theyll turn brown. Aloe vera is upright and spiky though some varieties have spots while others dont.
Though aloe vera is typically sold as young plants, large plants fit very well in modern gardens outdoors alone in large pots.
Pothos 
This is another grow it and forget about it plant that dazzles in hanging planters. Pothos leaves wilt  and a few will brown and drop when its time to water, giving plant owners a hint before hitting the point of no return.  Though it can grow up to 40 in the wild, indoors its easily good for . Keep it trimmed for a healthy, bushier look and otherwise plan to water it deeply two times per month.
Ghost Plant 
Ghost plant is a sedum though their rosettes look like echeverias so you get the best of two succulent worlds. Eventually, stems will grow while the rosettes remain on the ends, making an excellent choice for cascading over the sides of pots. Ghost plants are one of the easiest succulents to grow and they change color, too. In shade, ghost plants are a blue-gray color but in the sun, they take on an orange-pink color. Because their inclination is to root, leaves fall off easily. However, they can handle broken stems, irregular water and general neglect like champs.
Palm Trees
A number of palm trees grow well in containers inside and out. In fact, the San Diego International Airport installed 30 giant palms in containers near baggage claim in Terminal 2. The green design also involves multi-story glass window so the palms receive plenty of natural light.
Smaller palms to consider include ponytail palms, sago palms, kentia palms and pygmy date palms. Keep in mind that some palms may not suit your lifestyle. For example, ingesting parts of a sago palm can be fatal to dogs while pygmy date palms have thorns at the base of their fronds.
Geraniums
Geraniums are easy to grow and inexpensive to purchase at nurseries in San Diego. They have a winning combo of bright showy foliage (red, pink, rose, salmon, orange, lavender, violet, or white) and interesting leaves that are sort of shaped like clovers. They do very well as in-ground border plants but even better in containers. Plant them in organic matter and provide them with a slow-release fertilizers each spring. One of the reasons why they can handle neglect is because they prefer the soil to completely dry out between watering. You could very easily combine geraniums in a large container with other plants on this list.
Zamioculcas Zamifolia
This really cool-looking option with its oval-shaped, shiny leaves is also referred to as the ZZ plant. A slow-grower with a potentially wide spread at maturity, the ZZ plant can handle low light indoors like a champ. If you grow it outdoors, be sure to keep it out of direct sunlight.  The plants low water needs make it a great option for forgetful gardeners—its leaves will yellow if you water it too much. Try to remember to feed it a houseplant fertilizer every few months.
Cast Iron Plant
Bring a tropical look your home by adding a few bushy cast iron plants to containers. Aside from the fact that the plant prefers low light or filtered light (it can even handle dark bathrooms), it gets its name from being virtually indestructible. Though its best to water cast iron plans regularly, theyll be fine if you dont. There is also a variegated type that has cream-colored stripes traveling up its long leaves. Both types are quite popular these days with florists for lining glass vases as a way to camouflage stems.
Your Turn
Which plants in and around your house tolerate neglect?
Photo credit: silver jade, Flickr/ideonexus; mother-in-laws tongue, Katie Dillon; burros tail, Flickr/[emailprotected]; aloe, Flickr/martius; pothos, Flickr/42jellos; ghost plant, Flickr/[emailprotected]; palm tree, Flickr/troykelly; geraniums, Flickr/nhoulihan; zz plant, Flickr/starr-environmental; cast iron plants, Flickr/[emailprotected]
Sours: https://www.installitdirect.com/learn/low-maintenance-container-plants/
Plants modern outdoor potted
The design trend of choosing plants for their structural and sculptural qualities rather than decorative aesthetic evolved shortly after WWII. Some of those plants are still used today and others have been reinvented. Here are 13 plants that work well in modern-style gardens.
'Color Guard'. Photo by: Proven Winners.
YUCCA
Mod Appeal: Yucca's stiffly upright crown of evergreen swordlike foliage creates a living sculpture. Though perfect for a drought-tolerant garden with a southwestern feel, especially when combined with cacti and succulents, many types are hardy as far north as Zone 4.
Update: Types with cream or yellow centers, (like 'Color Guard') or edges (like 'Bright Edge') really glow in a sun-drenched garden; 'Starburst' has cream stripes that take on a pink tinge in cool weather. Banana Split® is tender but glorious in a simple container.
Canna 'Pretoria' (left), elephant's ear Alocasia macrorrhiza (right). Photo by: Susan A. Roth.
CANNA & ALOCASIA
Mod Appeal: Structural to the extreme! Lush, oversize foliage like that of Canna 'Pretoria' and elephant's earAlocasia macrorrhiza provides a perfect foil for the spare straight lines of modernist architecture and offers a tropical, exotic look. Dramatic in mass plantings, but the simplicity of one elephant's ear makes a bold statement.
Update: Used in over-the-top Victorian gardens, but development of canna cultivars with striped or nearly black foliage have put them back on the scene. Others, notable for their flowers, are the Toucan® series, that bloom in dark orange, scarlet, yellow, rose and coral. The 70 or so species of elephant's ears are hardy in Zones 7 to 10, but are used seasonally in cooler regions because they grow so fast—up to 6 feet in one season. Striking cultivars and hybrids are 'Hilo Beauty', 'Black Velvet', 'Lutea' and 'Variegata'.
Shadowland® 'Autumn Frost'. Photo by: Walters Gardens / Proven Winners.
HOSTA
Mod Appeal: Unbeatable foliage plant, forming the backbone of many shade gardens. Use as a specimen in a pot or in sweeps of ground cover.
Update: A flood of new cultivars entered the market years ago, with a mind-boggling array of leaf shapes, sizes and colors. While some older varieties are still rock-solid selections, choice newer introductions include Shadowland® 'Autumn Frost', 'Hanky Panky', 'Abiqua Drinking Gourd', 'Paul's Glory' and 'Stiletto'.
Pyromania™ Orange Blaze. Photo by: Proven Winners.
RED-HOT POKER
Mod Appeal: Strongly vertical, yet compact, the red-hot poker contributes the all-important eyestopping moment to a design. Pyromania™ Orange BlazeKniphofia (shown center), is a hybrid with bright orange flowers over grass-like foliage.
Update: Red-hot pokers have gotten sophisticated with subtle shades of cream, primrose, lemon and burnt apricot with fine, grassy foliage—try Pyromania™ Flashpoint (yellow),'Toffee Nosed' (cream) or 'Little Maid' (yellow-green).
Photo by: Susan A. Roth.
AGAPANTHUS
Mod Appeal: Space-age globes of flowers float above mounds of strappy foliage, attractive even when not in bloom. Plant en masse or in a pot.
Update: This conservatory plant from South Africa moved outdoors with the arrival of the hardier Headbourne Hybrids in the s, just in time to become a darling of the modernists. Further breeding has produced plants with flowers in white ('White Heaven'), variegated foliage ('Tinkerbell'), and dwarf ('Peter Pan') or giant ('Storm Cloud') forms.
Phormium 'Sundowner'. Photo by: John Glover.
NEW ZEALAND FLAX
Mod Appeal: For designers concerned with form, texture and color, New Zealand flax (Phormium tenax) is a godsend. The long, leathery, swordlike leaves fan out boldly and hold their shape through thick and thin.
Update: Breeding at a furious pace has produced some excellent garden varieties, both in form and color, e.g., Phormium 'Sundowner'.
Photo by: Andrea Jones.
AEONIUM
Mod Appeal: The fleshy, organic geometry of succulents is fascinating and seems particularly at home in contemporary settings. The California modernists in particular enjoyed the graphic impact of these low-upkeep plants in the garden and in containers. A conversation piece in windowsill gardens in cooler zones. Their symmetrical rosettes can be nearly flat to the ground or perched atop snaky stems.
Update: In sunny, warm zones Aeonium haworthii 'Variegatum' (shown) branches readily into a mat of subtle foliage. For a dramatic focal point in a pot, try Aeonium 'Zwartkop', a black-maroon oddity. The aptly named 'Dinner Plate' is only 2 inches tall but 12 inches across.
Rock 'N Grow® 'Pure Joy'. Photo by: Walters Gardens / Proven Winners.
SEDUM
Mod Appeal: Tolerant of most soil types, drought- and disease-resistant with interesting foliage and long-lasting flowers appearing late in the season, the sedums are an easy sell to any garden designer looking for an attractive, hardworking plant that plays well with others of the same ilk, such as grasses—just ask Oehme, van Sweden.
Update: Constant breeding work on sedums has introduced many superb varieties such as Rock 'N Grow® 'Pure Joy', which shares the all-round virtues of its family plus bubblegum pink flowers that attract butterflies and bees. Attractive seed heads follow after the blooming season.
Evergold Sedge. Photo by: Proven Winners.
CAREX
Mod Appeal: Fountains of delicate foliage and flowers are good foils for bolder plants and add movement to thegarden. Tall grasses make living hedges; shorter grasses and sedges are tidy yet informal edging. Handsome in the garden even in their winter tans and browns.
Update: Grasses and sedges have taken the gardening world by storm. Varieties with variegated foliage, such as Evergold sedge (Carex hachijoensis) with dark green and bright gold striped leaves are popular.
Photo by: Andrea Jones.
SWISS CHEESE PLANT
Mod Appeal: Swiss cheese plant (Monstera deliciosa) is a robust vine in warm zones and a houseplant farther north. Used in interiors so often at midcentury that it is synonymous with the fifties. Split-leaf philodendron (Philodendron selloum) has the same architectural look but doesn't climb.
Update: As if the deeply split and perforated leaves weren't striking enough, 'Variegata' has white markings and 'Marmorata', splashes of yellow.
Photo by: Andrew Lawson.
AUCUBA
Mod Appeal: The modernists agreed with the Victorians on this one. Aucuba japonica has full-season interest with glossy evergreen leaves and red berries. Adaptable, easy shrub for shade.
Update: Breeding programs have produced a plethora of variegated forms. Joining the old standby 'Variegata', or gold dust plant, are 'Picturata', 'Mr. Goldstrike' and 'Pepper Pot'.
Photo by: Andrew Lawson.
FATSIA
Mod Appeal: A native of Japan, Fatsia japonica suits the Asian-inspired style of many modernist homes, making a bold foliage plant for the shade.
Update: Fatsia is a familiar houseplant that has made a transition to the outdoor landscape in warmer zones. The variegated leaves of 'Aurea' and 'Variegata' create a bright spot in shady gardens. The lace-doily leaves of 'Manchu Fan' are intricately lobed and nearly circular.
Photo by: Jerry Pavia.
LILY TURF
Mod Appeal: A cast-iron constitution, shade tolerance and easy upkeep explain the appeal of smart, functional lily turf (Liriope muscari). But, like many other stalwart ground covers, it has been overexposed to the point of cliché.
Update:Liriope muscari 'Pee Dee Ingot', on the other hand, inspires reverence among leading-edge gardeners for its fountains of chartreuse foliage—chartreuse being the in color, along with black, for foliage fanciers today.
Watch this short video to see how a modern planting plan was put together.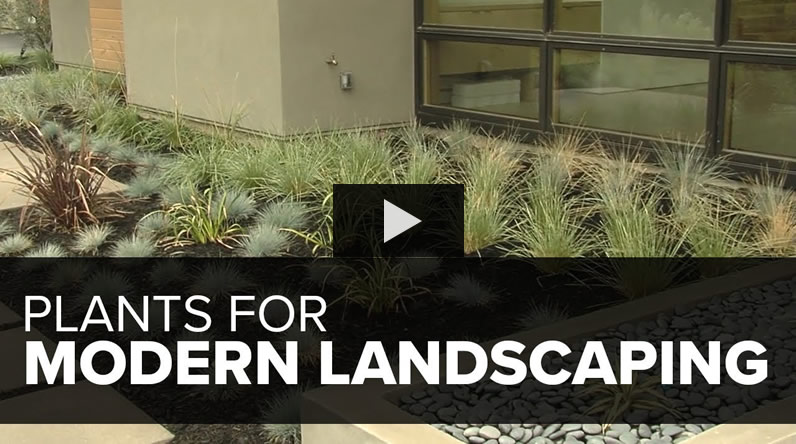 The History of Mid-Century Modern Plants
Just as architects veered off in a radical new direction in the years after World War II, garden designers were throwing off the yoke of the highly ornamented, specimen-packed gardens of the late 19th and early 20th centuries. Like their architect peer group, they embraced the modern principles of simplicity, efficiency and functionality.
Christopher Tunnard, a garden designer with a teaching appointment at Harvard who had migrated from Europe to America in , produced a book, Gardens in the Modern Landscape (Architectural Press, ), which proved to be a major influence on the Eckbo, Church, Rose generation of modernist garden designers. On planting design,Tunnard was clear: "To plant is but a part of landscape composition; to co-ordinate is all."
For the modern landscape designer, that translated into the sparing use of plants chosen for their sculptural rather than their decorative effects. They were to be enjoyed, like abstract art, for their color, form, texture and balance. Foliage was in, flowers were out. The point was to provide a backdrop for the evolving suburban way of life. Tunnard said, "Landscape architecture is indispensable for living the good life…it is for human enjoyment in the 20th century, not for Sunday promenading in the 19th."
The midcentury also ushered in the glory days of the American lawn, long before concerns about water conservation reached a head. Manicured turf was everywhere: subtle, monochromatic, minimal—and, if you didn't think too much about it, it even looked low maintenance. Midcentury designers lauded the low-maintenance garden, which not only carried forward the lessons of good design, but also gave the garden back to everyman. Today's designers tend to speak rhapsodically about native plants for similar reasons. It was a time of purposeful austerity, a time when gardens were composed of a limited plant palette, marked by the repetition of shapes and materials.
Of course some of those midcentury plants have hung around and are mainstays today—a testament to their reliability. Some have been the source of renewed interest, thanks to plant breeders who have reinvented the old favorites—coleus, for example. "New" modern plants have also entered the arena—ornamental grasses and garden varieties of American natives, such as Rudbeckia. Understanding the principles of modernist design makes it possible to fill out the contemporary plant list with species and cultivars that weren't available 50 years ago yet are still appropriate to the philosophy. The march goes on because the lessons of good design never go out of style.
Sours: https://www.gardendesign.com/plants/modern.html
21 Front Door Flower Pots For A Good First Impression - garden ideas
3 Gorgeous Ways to Group Containers Together for a Lush Patio Garden
Container gardens soften hardscapes and add living beauty you can easily change up through the seasons as the plants grow and fade. Plus they allow you to mix plants that wouldn't normally mingle together in a single pot or garden bed. Maximize all the gorgeous potential by artfully arranging several containers together, especially in spaces where you don't have soil or get much rain, such as on your porch or patio. To make your cluster of containers look like an expert landscaping project that lasts all year long, make sure to follow a planting theme, such as a mix of colorful annuals and perennials, a monochromatic look created with flowers and foliage, or even a lush arrangement of tropical houseplants.
mix of plants in container garden grouping
Mix-and-Match Your Favorite Garden Plants
As long as you choose plants with similar care needs, it's easy to create a container garden with all of your favorite annuals and perennials. For the most impact, use a variety of textures and sizes when you're planting. Even if you choose plants that look completely different, you can tie the entire grouping together with neutral containers and repeating some plants in several of the pots. Vary the sizes and heights of each planter, with taller ones in the back so each plant can be seen from various angles. It also helps to choose a few large statement planters that can help anchor the entire grouping.
Like any garden, you'll need a few plants to serve as focal points. In this grouping, creamy white foxglove flowers, purple salvia, and a tall bird of paradise all draw in the eye. Then, you can fill in the spaces in the middle with bright foliage plants like heuchera to make your grouping look lush and full.
all red and pink grouping of container garden plants
Create a Monochromatic Grouping
One easy way to create a cohesive container garden is to choose plants with a similar color palette. For this grouping, shades of red and dark pink are used to add brightness and color to a plain patio. Tall, dark pink cordyline makes a nice focal point in the back, while burgundy heuchera and red caladium fill in the front. Smaller corydlines echo the color and shape of their larger cousin. The 'Aloha Kona Hot Orange' calibrachoa flowers pick up the reds and yellows in the foliage around them.
If you don't have planters that are different heights, you can still elevate some of your pots in the back by stacking them on a cinderblock, an upside-down pot, or even on steps if you're arranging the containers on your porch. This also gives you more options for rearranging the containers, because you can swap out which pot is elevated above the rest. Using neutral planter colors and styles keeps the focus on your brightly colored plants. Try to use an odd number of containers; this will make the group more pleasing to the eye.
tropical grouping of houseplants in containers
Try a Tropical Houseplant Container Collection
Even if you don't live in an area where it's possible to grow tropical plants outside year-round, you can create a temporary tropical container garden for the summer with a few favorite houseplants. When the weather turns too chilly to keep them outside, you can bring them for the fall and winter (use lightweight planters to make them easier to move). Start with the largest plants first, such as a towering fiddle-leaf fig and glossy rubber tree. Then, fill in with medium-sized plants, such as sago palm, snake plant, and taller cacti. Finally, complete the grouping with a few shorter plants in the front. Succulents and cacti are perfect for this position because they'll stay small, but they can add interesting texture and colors to the group.
For the best arrangement, try to vary the size, texture, and heights of the plants you use. If you're using plants with mostly green foliage, try using a few different colors of containers to add a little more brightness to the group. If you use a similar style of planter, even if the colors are different, they'll all blend together well.
How to Keep Your Containers Looking Fresh
Make sure you choose plants that have similar needs. For example, if you're trying to fill in a sunny spot on your patio, don't toss in one plant that likes shade alongside several sun-loving containers. It also helps to choose plants that have similar watering needs so you can water all of them at once.
Shortly after planting, cluster containers closely to create a sense of fullness. As plants mature and fill in, spread pots apart. Keep your container garden looking its best by moving plants in peak bloom to the forefront of the garden or elevating them above their neighbors. Likewise, slip plants past their prime to less prominent positions. Every four weeks or so, add a balanced fertilizer to your pots to help give plants the nutrients need for healthy growth.
Sours: https://www.bhg.com/gardening/container/plans-ideas/how-to-group-container-gardens-together/
You will also like:
And then I felt that I could not stand it any longer. I jumped to my feet and prepared to pee. But from the tip of my piss, instead of yellow water, some whitish spray flew out.
3
4
5
6
7