Completed
Date
Main Event

Sat, Jan 3

UFC 182: Jones vs Cormier

MGM Grand Garden Arena Las Vegas, NV

Sat, Jan 3

Jones def. Cormier

5th Rnd, 5:00 (Unanimous Decision)

Results

Sun, Jan 18

UFC Fight Night: McGregor vs Siver

TD Garden Boston, MA

Sun, Jan 18

McGregor def. Siver

2nd Rnd, 1:54 (KO/TKO)

Results

Sat, Jan 24

UFC Fight Night: Gustafsson vs Johnson

Tele2 Arena Stockholm, Sweden

Sat, Jan 24

Johnson def. Gustafsson

1st Rnd, 2:15 (KO/TKO)

Results

Sat, Jan 31

UFC 183: Silva vs Diaz

MGM Grand Garden Arena Las Vegas, NV

Sat, Jan 31

Silva vs Diaz

5th Rnd, 5:00 (Overturned)

Results

Sat, Feb 14

UFC Fight Night: Henderson vs Thatch

1stBank Center Broomfield,

Sat, Feb 14

Henderson def. Thatch

4th Rnd, 3:58 (Submission)

Results

Sun, Feb 22

UFC Fight Night: Bigfoot vs Mir

Ginasio Gigantinho Porto Alegre, Brazil

Sun, Feb 22

Mir def. Silva

1st Rnd, 1:40 (KO/TKO)

Results

Sat, Feb 28

UFC 184: Rousey vs Zingano

Staples Center Los Angeles,

Sat, Feb 28

Rousey def. Zingano

1st Rnd, 0:14 (Submission)

Results

Sat, Mar 14

UFC 185: Pettis vs Dos Anjos

American Airlines Center Dallas,

Sat, Mar 14

Dos Anjos def. Pettis

5th Rnd, 5:00 (Unanimous Decision)

Results

Sat, Mar 21

UFC Fight Night: Maia vs LaFlare

Ginasio do Maracanazinho Rio de Janeiro, Brazil

Sat, Mar 21

Maia def. LaFlare

5th Rnd, 5:00 (Unanimous Decision)

Results

Sat, Apr 4

UFC Fight Night: Mendes vs Lamas

Patriot Center Fairfax,

Sat, Apr 4

Mendes def. Lamas

1st Rnd, 2:45 (KO/TKO)

Results

Sat, Apr 11

UFC Fight Night: Gonzaga vs Cro Cop 2

Tauron Arena Krakow, Poland

Sat, Apr 11

Cro Cop def. Gonzaga

3rd Rnd, 3:30 (KO/TKO)

Results

Sat, Apr 18

UFC Fight Night: Machida vs Rockhold

Prudential Center Newark,

Sat, Apr 18

Rockhold def. Machida

2nd Rnd, 2:31 (Submission)

Results

Sat, Apr 25

UFC 186: Johnson vs Horiguchi

Bell Centre Montreal, PQ

Sat, Apr 25

Johnson def. Horiguchi

5th Rnd, 4:59 (Submission)

Results

Sat, May 9

UFC Fight Night: Miocic vs Hunt

Adelaide Entertainment Centre Adelaide, Australia

Sat, May 9

Miocic def. Hunt

5th Rnd, 2:47 (KO/TKO)

Results

Sat, May 16

UFC Fight Night: Edgar vs Faber

Mall of Asia Arena Manila, Philippines

Sat, May 16

Edgar def. Faber

5th Rnd, 5:00 (Unanimous Decision)

Results

Sat, May 23

UFC 187: Johnson vs Cormier

MGM Grand Garden Arena Las Vegas,

Sat, May 23

Cormier def. Johnson

3rd Rnd, 2:39 (Submission)

Results

Sat, May 30

UFC Fight Night: Condit vs Alves

Goiania Arena Goiania, Brazil

Sat, May 30

Condit def. Alves

2nd Rnd, 5:00 (TKO)

Results

Sat, Jun 6

UFC Fight Night: Boetsch vs Henderson

Smoothie King Center New Orleans,

Sat, Jun 6

Henderson def. Boetsch

1st Rnd, 0:28 (KO/TKO)

Results

Sat, Jun 13

UFC 188: Velasquez vs Werdum

Mexico City Arena Mexico City, Mexico

Sat, Jun 13

Werdum def. Velasquez

3rd Rnd, 2:13 (Submission)

Results

Sat, Jun 20

UFC Fight Night: Jedrzejczyk vs Penne

O2 World Berlin, Germany

Sat, Jun 20

Jedrzejczyk def. Penne

3rd Rnd, 4:22 (KO/TKO)

Results

Sat, Jun 27

UFC Fight Night: Machida vs Romero

Seminole Hard Rock Hotel and Casino Hollywood,

Sat, Jun 27

Romero def. Machida

3rd Rnd, 1:38 (KO/TKO)

Results

Sat, Jul 11

UFC 189: Mendes vs McGregor

MGM Grand Garden Arena Las Vegas,

Sat, Jul 11

McGregor def. Mendes

2nd Rnd, 4:57 (KO/TKO)

Results

Sun, Jul 12

The Ultimate Fighter 21 Finale

MGM Grand Garden Arena Las Vegas, NV

Sun, Jul 12

Thompson def. Ellenberger

1st Rnd, 4:29 (KO/TKO)

Results

Wed, Jul 15

UFC Fight Night: Mir vs Duffee

Valley View Casino Center San Diego, CA

Wed, Jul 15

Mir def. Duffee

1st Rnd, 1:13 (KO/TKO)

Results

Sat, Jul 18

UFC Fight Night: Bisping vs Leites

The SSE Hydro Glasgow, United Kingdom

Sat, Jul 18

Bisping def. Leites

5th Rnd, 5:00 (Split Decision)

Results

Sat, Jul 25

UFC on FOX: Dillashaw vs. Barao II

United Center Chicago, IL

Sat, Jul 25

Dillashaw def. Barao

4th Rnd, 0:35 (KO/TKO)

Results

Sat, Aug 1

UFC 190: Rousey vs Correia

HSBC Arena Rio de Janeiro, Brazil

Sat, Aug 1

Rousey def. Correia

1st Rnd, 0:34 (KO/TKO)

Results

Sat, Aug 8

UFC Fight Night: Teixeira vs Saint Preux

Bridgestone Arena Nashville, TN

Sat, Aug 8

Teixeira def. Saint Preux

3rd Rnd, 3:10 (Submission)

Results

Sun, Aug 23

UFC Fight Night: Holloway vs Oliveira

SaskTel Centre Saskatoon, SK

Sun, Aug 23

Holloway def. Oliveira

1st Rnd, 1:39 (KO/TKO)

Results

Sat, Sep 5

UFC 191: Johnson vs Dodson 2

MGM Grand Garden Arena Las Vegas, NV

Sat, Sep 5

Johnson def. Dodson

5th Rnd, 5:00 (Unanimous Decision)

Results

Sat, Sep 26

UFC Fight Night: Barnett vs Nelson

Saitama Super Arena Saitama, Japan

Sat, Sep 26

Barnett def. Nelson

5th Rnd, 5:00 (Unanimous Decision)

Results

Sat, Oct 3

UFC 192: Cormier vs Gustafsson

Toyota Center Houston, TX

Sat, Oct 3

Cormier def. Gustafsson

5th Rnd, 5:00 (Split Decision)

Results

Sat, Oct 24

UFC Fight Night: Holohan vs Smolka

3Arena Dublin, Ireland

Sat, Oct 24

Smolka def. Holohan

2nd Rnd, 4:09 (Submission)

Results

Sat, Nov 7

UFC Fight Night: Belfort vs Henderson

Ginasio do Ibirapuera Sao Paulo, Brazil

Sat, Nov 7

Belfort def. Henderson

1st Rnd, 2:07 (KO/TKO)

Results

Sat, Nov 14

UFC 193: Rousey vs Holm

Etihad Stadium Melbourne, Australia

Sat, Nov 14

Holm def. Rousey

2nd Rnd, 0:59 (KO/TKO)

Results

Sat, Nov 21

UFC Fight Night 78: Magny vs Gastelum

Arena Monterrey Monterrey, Mexico

Sat, Nov 21

Magny def. Gastelum

5th Rnd, 5:00 (Split Decision)

Results

Sat, Nov 28

UFC Fight Night: Henderson vs Masvidal

Olympic Park Gymnastics Arena Seoul, South Korea

Sat, Nov 28

Henderson def. Masvidal

5th Rnd, 5:00 (Split Decision)

Results

Thu, Dec 10

UFC Fight Night: Namajunas vs. VanZant

The Chelsea Las Vegas, NV

Thu, Dec 10

Namajunas def. VanZant

5th Rnd, 2:25 (Submission)

Results

Fri, Dec 11

The Ultimate Fighter 22 Finale

The Chelsea Las Vegas, NV

Fri, Dec 11

Edgar def. Mendes

1st Rnd, 2:28 (KO/TKO)

Results

Sat, Dec 12

UFC 194: Aldo vs McGregor

MGM Grand Garden Arena Las Vegas, NV

Sat, Dec 12

McGregor def. Aldo

1st Rnd, 0:13 (KO/TKO)

Results

Sat, Dec 19

UFC on FOX: Dos Anjos vs. Cowboy 2

Amway Center Orlando, FL

Sat, Dec 19

Dos Anjos def. Cerrone

1st Rnd, 1:06 (KO/TKO)

Results
Sours: https://www.foxsports.com/ufc/schedule?season=2015
By the Numbers: 2015 Year in Review
41
UFC events in 2015
13
PPV events
22
FOX and FOX Sports 1 events combined
6
UFC Fight Pass events
4
New countries were added to the Octagon's passport - Philippines, Poland, Scotland and South Korea
473
Fights
154
KO/TKOs
90
Subs
51.6
Percentage of the 244 finishes in 2015 occurred in the first round (126)
20
Title fights (including the interim UFC featherweight title fight between Conor McGregor and Chad Mendes at UFC 189)
15
Finishes across those title fights - 11 KO/TKOs and 4 subs
7
New UFC champions were crowned this year - Daniel Cormier, Rafael dos Anjos, Holly Holm, Joanna Jedrzejczyk, Conor McGregor, Luke Rockhold and Fabricio Werdum
13
Seconds it took for "The Notorious" Conor McGregor to score a KO of Jose Aldo at UFC 194 to unify the UFC featherweight championship, fastest finish in a UFC title fight
24:59
Time into the bout when UFC flyweight champion Demetrious Johnson armbarred Kyoji Horiguchi at UFC 186, latest finish in UFC history
8
Seconds it took for Leon Edwards to score a KO of Seth Baczynski at UFC Fight Night: Gonzaga vs. Cro Cop 2 and for Makwan Amirkhani to score a KO of Andy Ogle at UFC on FOX: Gustafsson vs. Johnson, tied for fastest KO/TKO in 2015
14
Seconds it took for the UFC women's bantamweight champion Ronda Rousey to armbar Cat Zingano at UFC 184, fastest submission win in 2015
56,214
People were in attendance at UFC 193 in Melbourne, Australia when Holly Holm scored a second round headkick KO of Ronda Rousey to claim the UFC women's bantamweight belt, largest event in UFC history
10
Finishes across 12 bouts at UFC Night Night: Boetsch vs. Henderson, most finishes at a UFC event in 2015
7
KO/TKOs at UFC 185 and UFC Fight Night: Boetsch vs. Henderson (including six in a row), tied for most KO/TKOs at a UFC event in 2015
6
Submission stoppages at UFC Fight Night: Namajunas vs. VanZant, most sub wins at a UFC event in 2015
5
Split-decisions at UFC Fight Night: Henderson vs. Masvidal, most split-decisions at a UFC event in 2015
2
Draws occurred in 2015 - the Road to UFC: Japan final between Mizuto Hirota and Teruto Ishihara at UFC Fight Night: Barnett vs. Nelson, and the Fight of the Night battle between Darren Till and Nicolas Dalby at UFC Fight Night: Holohan vs. Smolka
5
The Ultimate Fighter seasons in 2015 - American Top Team vs. Blackzilians, Team McGregor vs. Team Faber, Brazil 4, Latin America 2 and Road to UFC: Japan
3
Consecutive nights of live UFC events on December 10th, 11th and 12th with UFC Fight Night: Namajunas vs. VanZant, UFC Fight Night: Edgar vs. Mendes and UFC 194
3668
Days between Jose Aldo's first career loss on November 26th, 2005 and his second career loss on December 12th, 2015 to McGregor at UFC 194
341
Days longer than Aldo's teammate former UFC bantamweight champion Renan Barao's unbeaten streak which ended at UFC 173 last year to current champ T.J. Dillashaw
441
Days between Carlos Condit's torn ACL at UFC 171 and his returning second round TKO of Thiago Alves at UFC Fight Night: Condit vs. Alves in May, which earned him a shot at current UFC welterweight champ Robbie Lawler at UFC 195
7
Underdog wins at UFC on FOX: dos Anjos vs. Cerrone, most in 2015
4
Fight Night bonuses won by Tony "El Cucuy" Ferguson in 2015 (3 POTN, FOTN), most of any UFC fighter in 2015
3
Fight Night bonuses each won by Thomas Almeida, Daniel Cormier, Neil Magny, Conor McGregor and Ronda Rousey in 2015
4
Wins by Neil Magny and Max Holloway inside the Octagon this year, tied for most wins in 2015 and following a 2014 where Magny earned 5 wins (tied UFC record) and Holloway earned 4 wins
15
Days between Donald "Cowboy" Cerrone's unanimous decision win over Myles Jury at UFC 182 and his unanimous decision win over Benson Henderson at UFC Fight Night: McGregor vs. Siver, fastest winning turnaround in UFC history
173
Seconds it took combined for Frank Mir to score a first round KO of Antonio Silva and Todd Duffee, which both earned him Performance of the Night awards earlier this year
2
Times each Joanna Jedrzejczyk, Demetrious Johnson and Ronda Rousey successfully defended their respective UFC belts in 2015, most in 2015 (Rousey would later lose title to Holm at UFC 193)
128
Seconds it took for John Lineker to secure a guillotine choke on Francisco Rivera in the shortest and, maybe, wildest Fight of the Night bonus winner of 2015
6
Years since Tamdan McCrory had fought inside the Octagon since his split-loss to John Howard at UFC 101 and, most recent, his triangle choke of Josh Samman at UFC on FOX: dos Anjos vs. Cerrone
8
Years almost to the very day did Mirko "Cro Cop" Filipovic get some revenge by scoring a third round KO/TKO of Gabriel Gonzaga following their first meeting at UFC 70 where Gonzaga landed maybe the most famous headkick KO in UFC history against Filipovic
Sours: https://www.ufc.com/news/numbers-2015-year-review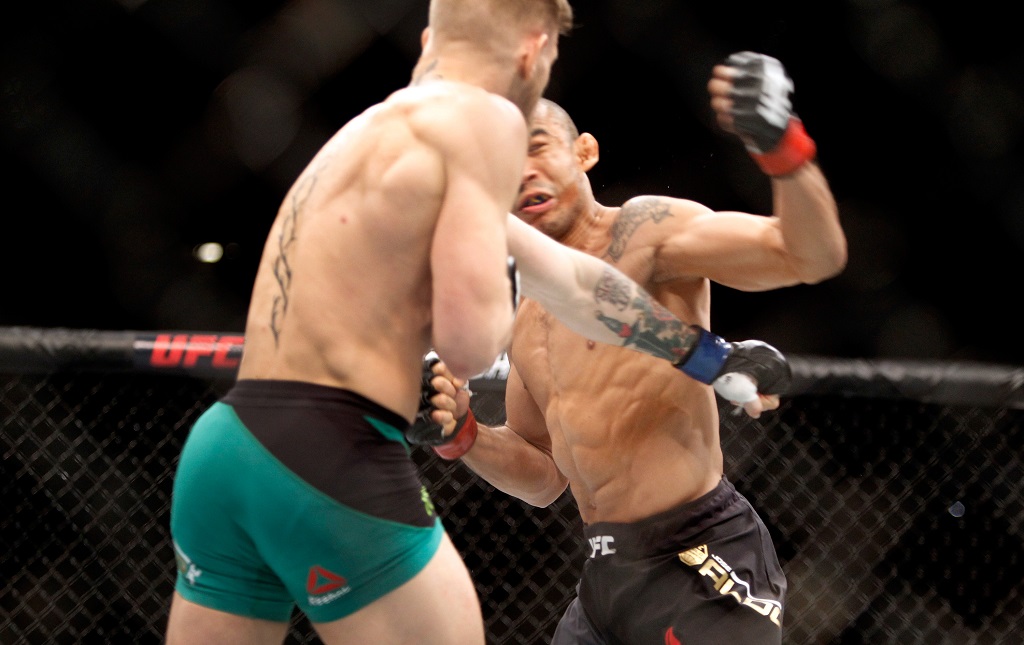 By all accounts, 2015 was the most successful year the UFC has experienced in quite a while. Sure, the promotion still lacked one of its biggest stars in former UFC welterweight champion Georges St-Pierre, and it did lose two of its biggest stars, Jon Jones and Anderson Silva, for prolonged periods of time, but those losses didn't affect the promotion's bottom line.
Yes, injuries were still a major concern in 2015, but those injuries didn't seem to hurt events quite as much as they did in 2013 and 2014. Even when then-UFC featherweight champion Jose Aldo was forced from what was expected to be the biggest fight of the year, the promotion still put on one of its best events with UFC 189. If you want to know how good 2015 was for the UFC, just consider that Ronda Rousey lost her UFC women's bantamweight title in a devastating fashion, and it didn't cause the promotion all that much duress.
One reason the UFC didn't stress too much over Rousey's defeat may be thanks to a 27-year-old Irish fighter named Conor McGregor, who emerged as a fit-for-superstardom fighter. The UFC should also thank the woman who beat Rousey, Holly Holm, who emerged as a quiet media darling in the wake of her win. With the UFC returning on January 2, 2016, now is a good time to reflect on the promotion's best moments in 2015.
Fight of the year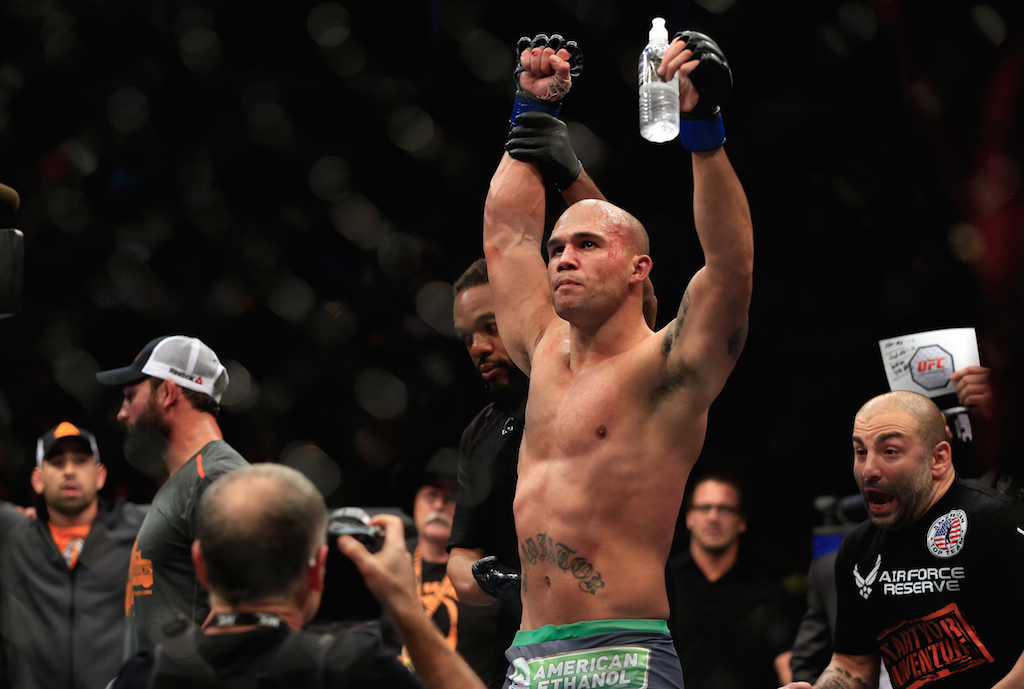 3. Andrei Arlovski vs. Travis Browne — UFC 191
If you wanted to see two extremely large men try to knock each other out, then this was the fight for you in 2015. Early in the first round, Travis Browne survived a vicious onslaught from Andrei Arlovski. As the round progressed, Arlovski threatened the KO a second time. Again, he was unable to finish the fight. With 90 seconds left in the first round, Arlovski again had Browne wobbled, but a right from Browne put Arlovski to the mat.
When Arlovski returned to his feet he put more punishment on Browne, who struggled to stay on his feet. An uppercut and a right from Arlovski ended the night for Browne. After his win, Dana White, UFC president, revealed that Arlovski was almost pulled from the fight in the days leading up to the event due to an injured calf.
2. Jon Jones vs. Daniel Cormier — UFC 182
The buildup to this fight was long and often ugly; even after it was over, the victor, Jon Jones couldn't help but get on the microphone and tell the crowd at the MGM Grand Garden Arena that he didn't like his vanquished opponent. The fight lasted all five rounds, but the reality was that Daniel Cormier was only in it for the first three.
In the fourth round, Jones let everyone know why he may one day go down as the greatest fighter in the history of mixed martial arts. Cormier was supposed to be Jones' equal. He was supposed to give Jones a tough test, and he was supposed to have a chance to win. But he did and was none of those things. It was a great performance by Jones, the then-UFC light heavyweight champion.
1. Robbie Lawler vs. Rory MacDonald 2 — UFC 189
Things started slow in this one. For the first five minutes, UFC welterweight champion Robbie Lawler (pictured above) and top-ranked challenger Rory MacDonald did little but figure out range and show each other the respect their skills deserved. In the second round, Lawler opened up and bloodied MacDonald's nose, using effective striking in the pocket. Round three was more of the same — until about 30 seconds left.
That's when MacDonald wobbled Lawler with a headkick and moved in for the kill, throwing everything he had, but Lawler took the onslaught and survived the round. Round four was also MacDonald's round, and Lawler's corner seemed a little worried between the fourth and fifth. Lawler turned it on in the final round, finishing the fight when he connected with MacDonald's already crushed nose, and MacDonald collapsed in pain, unable to continue. This was the kind of fight that fans will talk about for years to come.
Submission of the year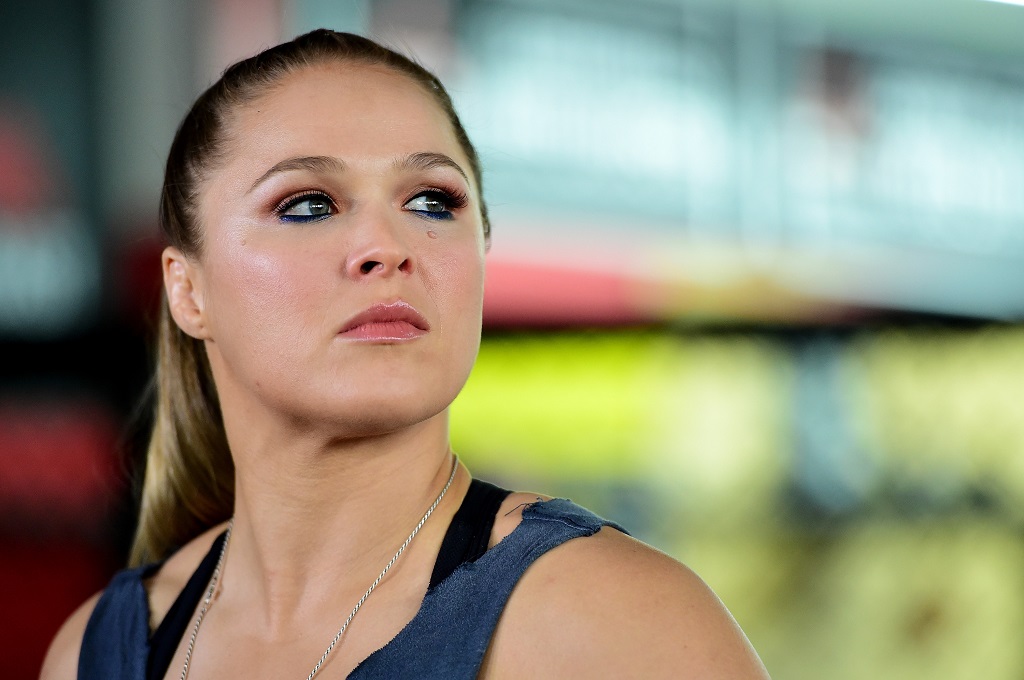 3. Benson Henderson vs. Brandon Thatch — UFC Fight Night 60
Benson Henderson, a former UFC lightweight champion, looked to have three strikes against him entering this fight. First, he took the fight on short notice. Second, he moved up to welterweight for the first time. Third, he fought in Brandon Thatch's hometown in the main event of this card. Halfway through the fourth round, Henderson nailed a takedown and easily passed from half guard to side control to back control. The position change was a mixture of Henderson's experience and Thatch's inexperience. Henderson then softened Thatch up with strikes, put in the hooks, and sank in the rear naked choke, forcing the tap.
2. Takeya Mizugaki vs. Aljamain Sterling — UFC on FOX 15
Entering this fight, Takeya Mizugaki was the No. 6-ranked fighter in the bantamweight division, while Aljamain Sterling was a 10-0 fighter on his way up. With four minutes left in the third round, Sterling took down Mizugaki against the cage. Sterling then transitioned to Mizugaki's back, and Mizugaki did his best to escape the grasp of Sterling. When the clock showed three minutes left in the round, Mizugaki spun and took top position, but in the transition Sterling was able to secure an arm-triangle choke from the bottom, forcing Mizugaki to tap.
1. Ronda Rousey vs. Cat Zingano — UFC 184
It was quick, it was brutal and it was the best submission of 2015. At UFC 184, then-women's bantamweight champion, Rousey (pictured above), met No. 1 Cat Zingano in the main event and made things look too easy. When the fight started, the two were a combined 19-0 in MMA, but 14 seconds into the fight, Zingano was handed her first defeat via a Rousey armbar. It was a thing of beauty, and if you have a minute or two, you should watch the submission a few times.
Knockout of the year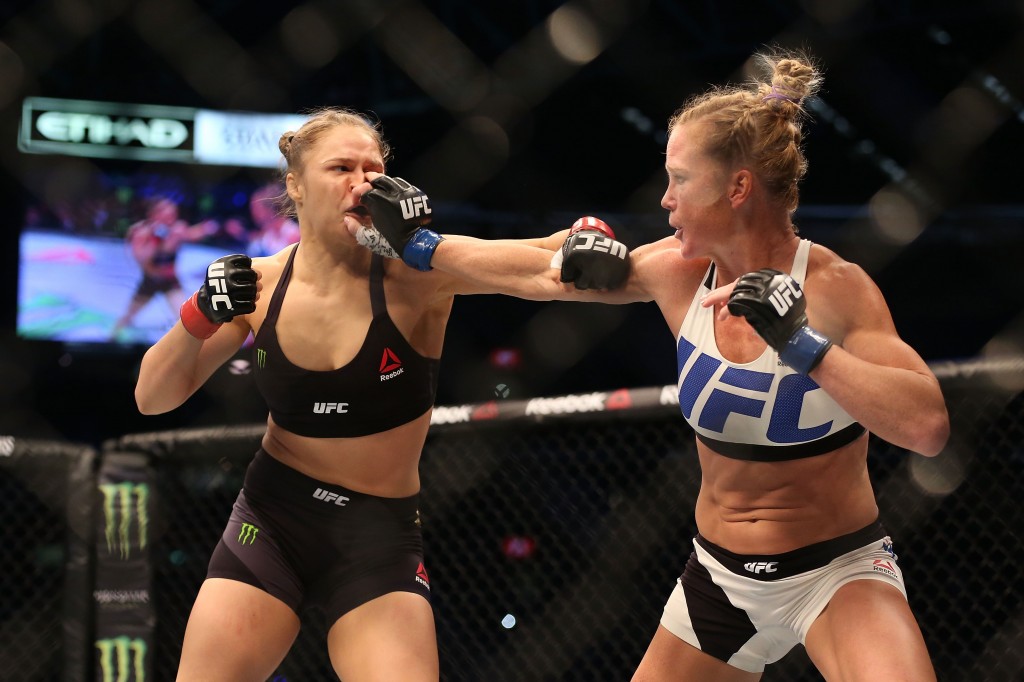 3. Jeremy Stephens vs. Dennis Bermudez — UFC 189
One day after missing weight for his featherweight fight, Jeremy Stephens delivered a stunning knockout of Dennis Bermudez. In the third round, Bermudez walked Stephens back toward the cage, and a second after he touched the cage with his right hand, Stephens landed a perfect flying knee that dropped Bermudez. Immediately after the knockout, Stephens jumped out of the cage and shook the hand of UFC CEO Lorenzo Fertitta.
2. Thomas Almeida vs. Brad Pickett — UFC 189
Thomas Almeida may not be a household name for UFC fans, but the 20-0 Brazilian is a fighter you should keep on your radar. In his four fights in the UFC, Almeida has won one "Fight of the Night" bonus and three "Performance of the Night" bonuses, with his last three fights ending by knockout. His UFC 189 knockout of Brad Pickett is his most spectacular UFC finish to date.
The first round saw each fighter stagger the other, with the round ending with Almeida smiling and covered in blood. The end came quickly in the second round when, seconds after Pickett missed a flying knee, Almeida delivered a flying knee of his own and Pickett fell to the mat with his arms outstretched over his head. The fight ended 29 seconds into the round.
1. Ronda Rousey vs. Holly Holm — UFC 193
This may have been the most unexpected knockout of the year. Sure, we all knew that Holm had the background and skills to knock out Rousey; after all, Holm was a multiple-time boxing champion, but c'mon, this was Ronda Rousey, the unbeatable UFC women's bantamweight champion. Holm seemed to dominate the fight (pictured above), but everyone watching knew that one mistake could have ended her night early, allowing Rousey to retain the title. That slip never came, and when Holm put her shin across the face of Rousey to end the fight, she took the title and stamped her name on best knockout of the year.
Fighter of the year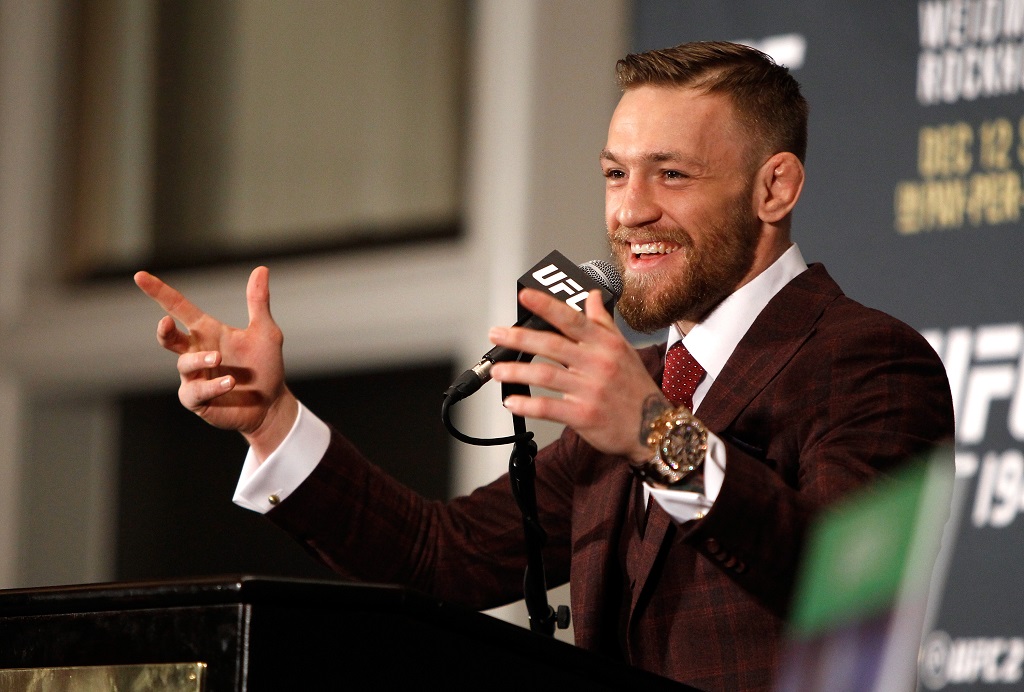 3. Rafael dos Anjos
When Rafael dos Anjos fought Anthony Pettis in March, not many people expected dos Anjos to dethrone the UFC lightweight champion, but he did, earning a unanimous decision victory in a fight where he was never in any danger. Dos Anjos dominated Pettis from start to finish, winning each of the five rounds on the scorecards. When he faced Donald Cerrone in December, dos Anjos still hadn't made believers out of all MMA fans. A lot of people thought that Cerrone would walk out of the cage that night as the new champion. But he didn't. In fact, Cerrone didn't even make it out of the first round, getting knocked out at the 66-second mark of Round 1.
2. Holly Holm
Holm started 2015 as a good MMA fighter, but one who many thought needed a lot more time to develop. In her first fight of the year, Holm earned a split decision over Raquel Pennington. In her next fight, she took a unanimous decision over Marion Reneau. In her last fight, she knocked out Rousey. Wait, what was that last one? Yes, Holm knocked out Rousey. But she did more than that; she made the woman who had been the only UFC women's bantamweight champion look lost in the cage. Rousey had no answer for Holm's game plan throughout the entire fight, which ended with Holm turning out the lights on Rousey in the second round with a head kick.
1. Conor McGregor
All McGregor (pictured above) did was exactly what he said he was going to do: Knock out each of his opponents and win the UFC featherweight title. McGregor started his year with a second-round TKO of Dennis Siver. He followed that with a second-round TKO over Chad Mendes, and he finished the year by capturing the UFC featherweight title with a 13-second knockout of Jose Aldo. During that time, he became the only fighter to rival Rousey in popularity. McGregor's goals for 2016 include defending his featherweight title and moving up to lightweight to capture that title.
Upset of the year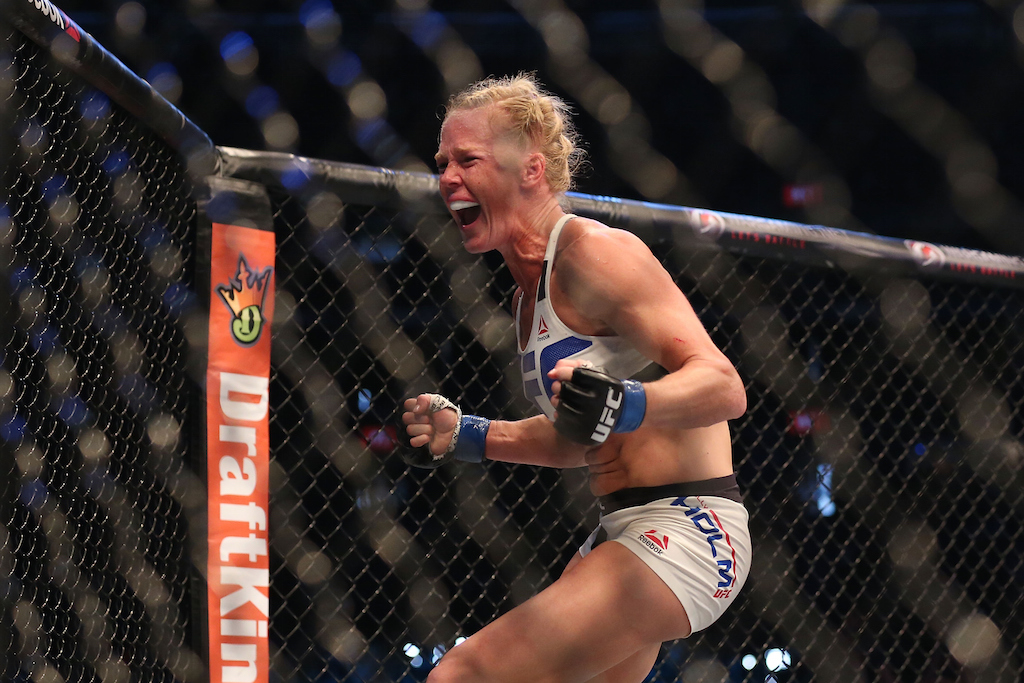 3. Gegard Mousasi vs. Uriah Hall
This fight would have been tough for Uriah Hall even if he hadn't taken it on short notice, but he did, and many in the MMA world saw Gegard Mousasi earning a win over Hall with little effort. For most of the first round it appeared that Mousasi would do just that. He controlled almost the entirety of the round, forcing Hall to avoid his strikes and submission attempts. The tables turned almost immediately at the start of the second round, as Hall landed a jumping spinning back kick and followed it with a flying knee. Mousasi dropped to the mat where Hall finished him with punches. It was a memorable performance and a stunning upset for Hall.
2. Rafael dos Anjos vs. Anthony Pettis
Pettis was poised for a long reign atop the UFC's lightweight division. He hadn't lost since 2011, and he was heavily favored over dos Anjos. However, 25 minutes after their fight began, not only did Pettis lose, but he lost every round — none were even close. Dos Anjos captured the title with the win and sent Pettis crashing back down to the land of the mortals.
1. Ronda Rousey vs. Holly Holm
Rousey was portrayed as a nearly mythical beast; a fighter who couldn't lose; and a fighter who wouldn't lose. Fans were led to believe that she had the skills, toughness, and mental fortitude to face any test head on and plow right through it — and she did, at least for a while. Holm (pictured above) reminded us that there is always someone out there just a little better and that with one mistake, mental or physical, that person can take everything you worked for.
News of the year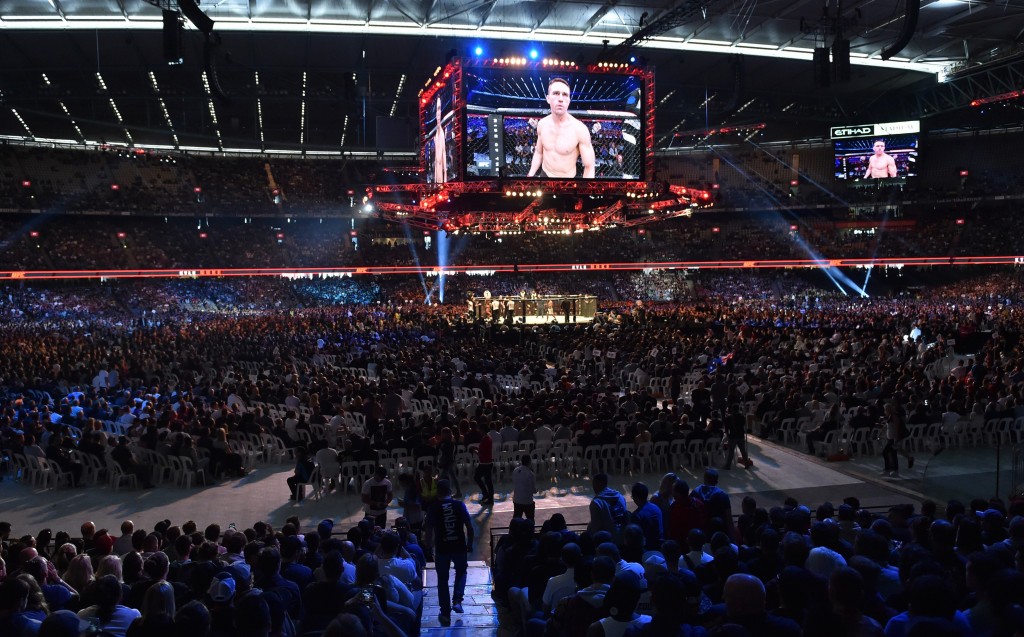 3. Nick Diaz suspension
When the Nevada State Athletic Commission handed Nick Diaz a five-year suspension for a failed drug test following UFC 183, the responses involved shock, amazement, and anger. The NSAC justified the suspension by saying it was the third time Diaz had failed a marijuana test. However, many felt that the punishment's severity had a lot to do with the fact that Diaz had the audacity to actually stand up to the Commission and fight the test, instead of just falling on his sword and begging for forgiveness. The uproar over the suspension continues, and right now the two sides are discussing a settlement.
2. Drug tests
On July 1, the UFC and the United States Anti-Doping Agency began a partnership that set up a drug-testing program for all UFC fighters. The move was applauded by many who claimed that the UFC's drug testing program was far below what was required for the sport. The program is still in its early stages, but it has already caught fighters doping.
1. Free agency
The UFC is the biggest player in mixed martial arts, but it's not the only one. The two other big MMA agencies are Bellator and World Series of Fighting. Right now, big-name UFC fighters who have fought out their contracts are paying attention to these two promotions. In the past, fighters tended to re-sign with the UFC before their contracts expired, but with the possibility of becoming free agents and getting the best financial deals, they are opting to fight out those contracts and listen to offers from other promotions.
This is a huge deal for the sport, and the possibility exists that it will raise fighter salaries as promotions realize that they don't want fighters hitting free agency. The biggest free agents at this time are former UFC lightweight champion Henderson, former Strikeforce heavyweight champion Alistair Overeem, and young, up-and-coming bantamweight Sterling.
Fighters we missed
2. Nate Diaz
Diaz's first fight in 2015 was on the last UFC fight card of the year. It was his first fight with the promotion since he put in a lackluster performance against dos Anjos in December 2014. Diaz was up to his usual antics in his most recent fight against Michael Johnson. He taunted his opponent, postured, posed, talked trash, and actually open hand slapped Johnson during the three-round fight.
Diaz won the fight easily and took home a "Fight of the Night" bonus for his efforts, but he really showed us why we miss having him around when he took the microphone for his post-fight interview and gave the FOX production team fits, tearing into UFC featherweight champion Conor McGregor with a, shall we say, colorful interview.
1. Khabib Nurmagomedov
Khabib Nurmagomedov has not fought since he defeated current UFC lightweight champion dos Anjos in April 2014. Injuries have kept the 22-0 fighter from the Octagon since then, yet he remains ranked No. 2 in the division, behind only former champion Pettis. Nurmagomedov is still young, 27 years old, so there is hope that he will put his injuries behind him and get back in the cage to fight again. If the past is any indicator, that fight will be spectacular.
Sours: https://www.sportscasting.com
10 Best – Greatest UFC fights of 2015
A great fight is a perfect storm. Put two fighters together and you never know what you'll get, but when both have the intention of making a statement against each other and the styles mesh, it becomes something more than just an athletic competition. When that happens, there's nothing better in all of sports.
Here are 10 of the best fights from 2015, as the Highly Unofficial awards season continues.
10 – Gian Villante-Corey Anderson
Corey Anderson's first pro loss was a painful one, mainly due to the teeth he had to get fixed after eating a knee from Gian Villante, but someday he may look at the third-round knockout defeat as the turning point in his career, because he proved that he didn't just have the talent to succeed, but the heart as well. This was a dig down deep bout, and both Anderson and Villante did that throughout, with Long Island's Villante - down on one scorecard heading into the final round and even on the other two – leaving the judges out of it with a sudden third-round finish.
9 – Nicolas Dalby-Darren Till
Fighters with unbeaten records often fight a certain way when they reach the elite level of the sport, choosing to protect that "0" instead of using the style that got them to the big show in the first place. Welterweights Nicolas Dalby and Darren Till don't fall into that category, and their October Fight of the Night in Dublin proved it. Yet the biggest takeaway from this three-round battle was Dalby's miraculous final round comeback, one that didn't win him the fight, but that did do enough for him to keep his undefeated record by way of a draw.
8 – Edson Barboza-Paul Felder | Read: Family first for Barboza
It's not a Fight of the Year list without an entry (or two) featuring Edson Barboza. Meeting up with fellow striker Paul Felder in July, it was assumed that, like most matchups of this sort, two strikers would equal a wrestling match. Not here. Putting their varied array of punishing and diverse stand-up techniques on display for 15 thrilling minutes, Barboza and Felder showed just what striking looks like at the highest level of the game, and while it was Barboza leaving with the decision win that night, there were no losers in this bout.
7 – Yair Rodriguez-Charles Rosa | WATCH ON FIGHT PASS
In boxing, you rarely see two hot prospects meeting on the way up. It just doesn't happen. In the UFC though, a great matchup is a great matchup, and Sean Shelby put together a classic one between featherweights Yair Rodriguez and Charles Rosa at UFC 188 in June and they stole the show with a mix of flashy striking, slick groundwork and guts and grit. When it was over, Rodriguez emerged with a well-deserved decision win, and it's not out of the realm of possibility that the next time they meet will be with a world title up for grabs.
6 - Brian Ortega-Thiago Tavares | Read: Ortega a Big Name Hunter
Great MMA fights rarely have every element of the sport flowing through it from start to finish. Brian Ortega's third-round stoppage of Thiago Tavares was the exception. From slick groundwork to crisp stand-up exchanges, from two guys going for the finish throughout to gut checks for both featherweights, this was a fun one to watch, and in beating the veteran Tavares, Ortega announced his arrival to the big show in a big way in his second Octagon bout, and it's clear that we will be hearing a lot more from "T-City" in the future.
5 – John Lineker-Francisco Rivera
Proving that, in combat sports, the best defense is often placed around deyard, bantamweights John Lineker and Francisco Rivera threw all caution to the wind in their UFC 191 clash in September. What resulted was a frenetic 2:08 of toe-to-toe slugging capped off by a Lineker guillotine choke that ended the bout and allowed the entire fight world to take a deep breath again.
4 – Andrei Arlovski-Travis Browne | WATCH ON FIGHT PASS
I don't know whether I love this fight because it captured the great comeback of Andrei Arlovski in four minutes and 41 seconds or just because two big guys swinging bombs at each other for nearly five minutes will always get the top spot in my heart. Whatever it is, Arlovski and Browne didn't fight like good friends on May 23. This was a bitter enemies' kind of fight, with Arlovski putting Browne in trouble several times, Browne coming back with a knockdown, and "The Pit Bull" finally putting the finishing touches on his former training partner with a barrage of blows. It was compelling from a storyline point of view and in terms of pure visceral action, a mix that made it an easy pick for this list.
3 – Tony Ferguson-Edson Barboza | What Ferguson's win meant
Win or lose, Edson Barboza can't be in a bad fight, and in December he lived up to that Action Hero reputation once more against Tony Ferguson, who is must see TV in his own right. While Barboza's devastating striking attack was on display once more against the Californian, "El Cucuy" took it all and came back firing with a diverse array of techniques that eventually forced Barboza into an ill-advised takedown attempt that produced Ferguson's submission finish.
2 – Daniel Cormier-Alexander Gustafsson | Full recap of UFC 192
It's not the legacy Alexander Gustafsson wants for himself, and he will do everything in his power to one day wear UFC championship gold, but for now, he should never hang his head about being in what are likely the two greatest 205-pound title fights ever. Of course, the Swede came up short, first against Jon Jones in 2013 and then in October against Daniel Cormier, but oh, what fights they were. Looking to prove that the vacant title he won against Anthony Johnson was no paper crown, Cormier went into those dark places only real fighters are willing to go to and after surviving Gustafsson's attacks and coming back with his own furious assault, he came out with a split decision victory and silenced any doubters once and for all.
1 – Robbie Lawler-Rory MacDonald | WATCH ON FIGHT PASS
Most fight fans would have watched Robbie Lawler and Rory MacDonald stare each other down in the center of the Octagon after the fourth round of their UFC 189 war in July and said 'okay, Fight of the Year.' It was that good, a moment of calm in the midst of a punishing 21-minute battle, as the two battered and bloodied welterweights assessed each other for a few seconds before returning to their corner. A minute into the next round, Lawler finished MacDonald, who was perilously close to taking the welterweight title in the third frame. Even more notable is that according to the scorecards, Lawler needed a finish in the final round to keep his title. Drama, momentum swings, displays of courage that show just what it takes to be a professional fighter – this fight had it all.
HONORABLE MENTIONS – Oliveira-Lentz II, Cote-Burkman, Jones-Cormier, Jouban-Dwyer, Laprise-Barberena
Sours: https://www.ufc.com/news/10-best-greatest-ufc-fights-2015
Latest fights 2015 ufc
When was the last time Nick Diaz fought in the UFC? Fan favorite makes return at UFC 266
2,428 days.
That's how long it has been since MMA fan-favorite Nick Diaz has been inside the octagon, but that all changes this weekend at UFC 266.
For the first time since February 2015, Diaz will step inside the UFC cage this Saturday and take on former welterweight champion Robbie Lawler.
Diaz's last fight, which was well over six years ago, ended in a loss to Anderson Silva in the main event of UFC 183. The result was eventually changed to a no contest after it was revealed Silva had tested positive for PEDs. 
MORE: Best bets, odds and predictions for UFC 266
Even though he's only fought three times in the past decade and hasn't won any of those fights, Diaz's return to the UFC at age 38 has plenty of fans excited because of his cult hero-like status. 
Despite never winning a title in the UFC, Diaz held gold in Strikeforce and was once considered one of the most exciting fighters in mixed martial arts. 
His return bout against Lawler is a rematch from their 2004 bout at UFC 47, which saw Diaz win via knockout in the second round. 
Why did Nick Diaz stop fighting?
Diaz was suspended on multiple occasions because of failing drug tests for marijuana use, including a five-year ban courtesy of the Nevada State Athletic Commission in September 2015. 
He appealed that suspension and got it reduced to 18 months and it was eventually lifted in August 2016. He has since signed an agreement with NSAC to compete again. 
MORE: Why Volkanowski is primed to beat Ortega
Diaz has been away from the sport for over six years but will return against Robbie Lawler this Saturday (AEST) at UFC 266 in a five-round mididleweight bout. 
Nick Diaz career MMA record
Diaz has a career record of 26-9 (2 NC), with 13 wins coming by way of knockout and another eight via submission.
He held the Strikeforce welterweight title in 2010 and defended it successfully on three occasions before opting to vacate the title in 2011. 
In the UFC, Diaz has had 14 fights and won seven of them. His last win for the promotion came in October 2011, when he defeated BJ Penn via unanimous decision. 
Diaz lost to Carlos Condit in a fight for the UFC interim welterweight title in February 2012 before going down to Georges St-Pierre in a title fight in March 2013.
His last fight inside the UFC octagon was a loss to Anderson Silva, though it was eventually changed to a no-contest after Silva failed a drug test. 
How to watch Nick Diaz in UFC 266
In the U.S., the UFC 266 main card is available via pay-per-view on ESPN+, which also requires a subscription. The PPV price for UFC 266 is $69.99 for current subscribers. New subscribers can pay a bundle price of $89.98for the UFC 266 pay-per-view and an ESPN+ annual subscription, which offers a savings of more than 30 percent.
Click here to learn about the different pricing and bundling options with the ESPN+ platform.
Date: Saturday, September 25
Start time: 6 p.m. ET / 3 p.m. PT
Main card (PPV): 10 p.m. ET / 7 p.m. PT
Main event: 12:15 a.m. ET / 9:15 p.m. PT (approximate)
Diaz and Lawler are the third of five fights on the main card, which starts at 10 p.m. ET. They should enter the octagon around 10:45 p.m. ET, depending on the length of previous fights.
Sours: https://www.sportingnews.com/us/mma/news/ufc-266-nick-diaz-returns-last-fight-robbie-lawler-mma-mixed-martial-arts-nate-diaz/1dnn5ptcibjo81knteeojfp0zn
Conor McGregor v Chad Mendes - Full fight replay - #UFC246
Tall. A bit balding and plump. Hi Lesha. Of course, I remember, "Well, that's good that you remember. We accidentally crossed paths in the bank.
You will also like:
Why here, and not in the toilet?". Because we are prescribed bed rest, you probably too, "Ira replied. She She took out a pot from under the bed, pulled down her pajamas and panties and sat on it. A jet of urine purred into the ship.
416
417
418
419
420