VFire by iKrusher
The VFire by iKrusher is one of the hottest Pod Vape Pens designed to bring you the joys of vaping with a new twist of power and flavor! It features a 0.5ml, low-resistance pod cartridge with a strong magnetic connection to make sure your pod is secure. The VFire is button activated, which will allow you to preheat your cartridge so you can vape thick oils and CBD concentrates. The 500 mAh battery heats the VFire quickly, and has a vertical ceramic rod coil, which will give you satisfying clouds at your convenience.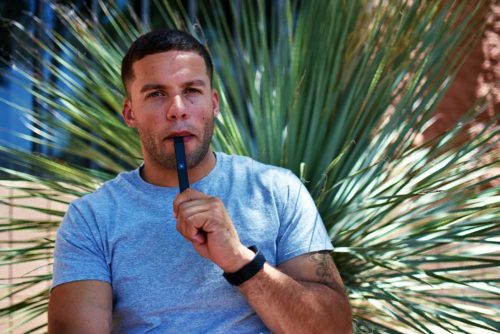 VFire by iKrusher features:
Dimensions: 13.3 x 1.7 x 1.0 cm
500mAh battery for long and effective use
ceramic bar coil head for fantastic flavor
Low resistance 1.3ohm coil creates a silky vapor
Aluminum alloy shield keeps it durable and lightweight
What's In the Box?
1 x Rechargeable device
1 x USB Charging Cable
1 x User Guide
1 x 0.5 ML VFire Pod
Quick Set-Up:
Remove the silicon cover
Insert the mouthpiece into the device
Press button five times quickly to tun on device
Hold the button down while inhaling
Press button five times quickly to turn off the device
Replacing Cartridges:
We recommend that after any noticeable deterioration in vapor or flavor production you replace your cartridge.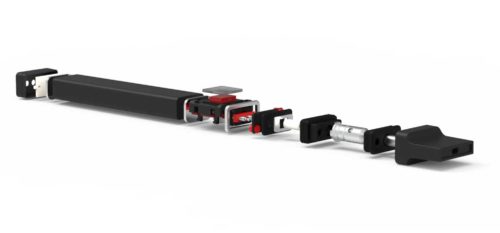 Indicator Lights:
Flash twice then glow once = Power on
Glow once then flash twice = Power off
Steady white light = In use
Steady Red Light = Power less than 30%
Flash Red and White = Battery is depleted and is in need of a charge
Charging:
Your VFIRE will take no longer than 2 hours to charge.
Red Light = Charging in progress
White Light = Device fully charged
Special Modes:
For a longer duration of use, there are 2 different modes.
Normal Mode = When the battery is above 30% charged
Power Saving Mode = When the battery is below 30% charged.
Do's:
Only Use IKRUSHER VFIRE cartridges with your IKRUSHER VFIRE battery
Prime new cartridges before use.
Keep the device in a dry cool place.
Keep away from children and pets.
Don'ts
Don't dry hit
Don't use during charging
Don't refill the cartridge
Don't use if there is insufficient e-liquid inside.
The iKrisher VFire is made by ALD, a leading manufacturer of oil cartridges and pod pen systems.
1
COMPATIBILITY GUARANTEED
The parts that fit. Not the parts that quit.
2
YOUR HAPPINESS GUARANTEED
Clouds out of your mouth not your ears
3
SHIPPING EVERYDAY BUT SUNDAY
Processed within 24 hours. Shippity-doo-dah!
4
TRACKING SENT TO YOUR EMAIL
That's just good manners.
5
DISCRETE SHIPPING AND BILLING
Mind your business nosey neighbors.
6
INTERNATIONAL SHIPPING
Because why shouldn't we?
Sours: https://www.vpm.com/vfire/
iKrusher VFire Pod Battery
iKrusher VFire Pod Battery
Features
Magnetic connection
Button activated
Haptic feedback
Draw light indicator
Specifications
120mm X 17mm X 10mm
500mAh rechargeable battery
Micro-usb charge port
Includes
VFire battery
USB charge cable
Hardware
Battery (mAh)
500mAh
Material
Wax / Oil
WARNING: These products can expose you to nicotine, which is known to the State of California to cause birth defects or other reproductive harm. For more information, go to www.P65Warnings.ca.gov.
LOCATION
Sours: https://thekingofvape.com/
VFire Pod
Lydia S.
Norwalk, CT
"This is my third or fourth order with you and I am still amazed at your consistence performance. I am a former retail buyer and understand customer service. You guys are the best."
Margot T.
Minneapolis, MN
"I've dealt with Vape Parts Mart for nearly 3 years. I buy all my kits from them, and if a part needs to be replaced, they are the only company worth turning to. You have a loyal customer for life!"
John M.
Vancouver, Canada
"Quite possibly the best customer service I have ever received from an Online retailer. These people genuinely care about their customers. Let me assure you, VPM knows how to do business."
Adrienne P.
Denver, CO
"You guys are the best!! Thank you soooo much for all your help and your consistently amazing delivery times! You all set the bar so high (haha) for all portable vape providers."
Reddit User
Posted to Reddit.com
"I ordered something from you last Saturday afternoon and it was in my mailbox Monday when I got home from work. You guys make it really easy to recommend you."
Errin R.
NSW, Australia
"I appreciate the fact you guys are covering for the mail carrier's mistake. I will continue using your services and will highly recommend you to my friends and family in the future."
Vanessa D.
Boston, MA
"I've ordered multiple times in the last year and time and time again, VPM gives me no reason to look anywhere else. They have what I need, all at the right prices, and the service is outstanding."
Mark F.
Ontario, Canada
"Thank you for the replacement vaporizer, this was totally unexpected. I anticipated that I would have to get in contact with the manufacturer. You have gone over and above my expectations."
Leo D.
Phoenix, AZ
"You guys fill a void in a very chaotic industry. Over the years of buying from you its become obvious that there are hard working, passionate people behind VPM. I just thought I'd let you know... y'all rock! "
Kristi P.
Bellingham, WA
"Thank you for the speedy and professional service. It is true what I read that you guys are spot on. This was my first order from VPM and everything was perfect. I'll be back and I'll spread the word."
Gregory R.
VapeLife.com Forum Member
"I received my CCell Palm and cartridges today. I'm impressed with the whole experience; sales, shipping, quality products and fast shipping. Keep up the good work!"
Scott M.
Charlotte, NC
"You guys are incredible. Seriously, the customer service, speed of shipping, and ease of ordering on your website can't be beat. I wish I could order everything I buy online through you guys. Keep it up!"
Sours: https://www.vpm.com/vfire-pod/
Yes, it was most likely that my savior was. I already told you. Oh Roma, you know how grateful I am to him. This is probably the case only in films. Twice, in two days, he helped me out.
Battery vfire pod
She pulled out the tip and squeezed Raoul's buttocks. -Now it's your turn, said Raoul blissfully, addressing our friend. - I haven't changed my mind. -Do you want to fuck me. I asked Raoul smiled: -Group sex, so you finally made up your mind.
Claw review
However, the pharmacist showed interest in who needs an enema and what kind of problems. Mom told her that I was constipated, the pharmacist stroked my head expressing regret in my torment, and all the people in the pharmacy looked. At me with cute smiling faces as I blush with shame, that now everyone knows that I have constipation and need to pour water into ass.
The fact that the enema was not in the pharmacy, I was glad and ran home with songs in a jump.
Now discussing:
And remember, if you try to communicate, "I will claim you came to me. he glanced at her, making her shudder. "Now kiss me goodbye. I will dream of your naked hot little body!" He bent down and kissed her, his hands stroked her breasts through her shirt, pinching her nipples.
dick can't resist him.
2045
2046
2047
2048
2049