Custom 800-HP Ford Mustang Proves Revenge Is Sweet...and Expensive
The $139K-plus Revenge GT sports a lightweight carbon-fiber body and much more.
"Do you know the Klingon proverb that tells us revenge is a dish that is best served cold?" Actor Ricardo Montalban, in Star Trek II: The Wrath of Khan's titular role, asks that question just before launching a surprise attack on the Enterprise. Montalban's smooth yet slightly over-the-top delivery of the line made it one of the best in the movie, even though we all know that revenge is sweet no matter how you serve it.
Peregrine Automotive is a performance outfit that specializes in creating carbon-fiber wide-body kits and is currently dishing out a limited production run of its aptly named Revenge GT Mustang. Only 35 coupes and 15 convertibles will be offered by the SoCal-based builder. Founders Alex and Armen Keuylian now join Shelby, Hennessey, and Saleen in offering high-horsepower custom Mustangs—except this one will cost some serious scratch. The performance package starts at $139,000 not including the donor Mustang, $159,000 for a convertible version, and goes up to at least $180,000 (with the base pony car included).
Here's what you get for all that dough. First, the Mustang's body is stripped of all exterior parts except for the doors and roof, and receives replacements made of carbon fiber. New bits include a carbon-fiber bumpers, front splitter, rear diffuser, custom hood with three intakes and two extractors, wide-body fenders and quarter panels, side rockers, and a custom rear spoiler or massive optional "Race Wing." It also features a three-port exhaust system that was designed by Peregrine.
The Revenge GT rolls on 20-inch Forgeline aluminum wheels shod with 295/35R20s and 345/30R20 Michelin Pilot Sport 4S rubber front and rear. Brembo brakes help slow it down, with six-piston calipers and 405 x 34mm drilled discs up front and four-piston squeezers and 380 x 28mm rotors in the rear.
Under the custom hood, the Revenge GT packs a 5.0-liter Coyote V-8 with a stage 2 3.0-liter Whipple Supercharger that lays down 800 horses. If that's not enough, Peregrine says you can order one with a few hundred more if you want to try outrunning Coronavirus.
Inside is a custom leather interior that can be personalized with special color and stitching options. Both standard and Recaro seats are available. Outside, the Revenge GT can be painted any shade you want, but the exposed carbon-fiber in matte, satin, or gloss look the meanest and would melt even a villain like Khan's heart.
Watch and listen to the Acid Green Prototype 001 in the Seeking Revenge video by Native Four here.
THE LATEST IN CAR NEWS
EMAIL NEWSLETTER SIGN-UP!
Share on FacebookShare on Twitter
Sours: https://www.motortrend.com/news/revenge-gt-ford-mustang-photos-info/
It's fitting that the Specialty Equipment Market Association's SEMA show and Halloween take place within days of each other. At SEMA, cars dress up in all sorts of wild ensembles and stuff their guts with performance parts (and marketing BS). For Halloween, humans put on silly costumes and stuff their guts with sugar. And during both, you see all sorts of things you never thought you'd lay your eyes on. One example is the GTT, a custom Ford Mustang by Zero to 60 Designs that is claimed to be a tribute to the Ford GT supercar.
First, let's start with the things that aren't a matter of opinion: the performance bits. Zero to 60 added a ProCharger supercharger, an exhaust from Magnaflow, an ECU tune from SCT Performance, a Pro-Street-S suspension from Eibach, Brembo brakes, and Pirelli tires. The builder claims that the overall package boasts more than 800 horsepower and comes equipped with all the necessary parts to handle it.
The styling is where things start to get subjective. The exterior modifications include, but are not limited to, a new front fascia, a custom hood with air vents, wider fenders, side skirts, a new spoiler, rear-wheel cooling ducts, dual round taillights, a rear diffuser, and a centered dual exhaust.
At first glance, the link to a GT might not be clear. In fact, the bulbous booty is actually pretty reminiscent of a different supercar, the Ferrari 599XX. But if you put this car and a GT next to each other, there are some fairly obvious tie-ins. The frowning lower front fascia, a few of the shapes and placements of the scoops, the hood, the rear fin, and the diffuser offer callbacks of sorts. Obviously, the overall shapes of the cars are highly different, but you can't say there are no similarities. Sure, this thing doesn't look that much like a Ford GT, but then again, a trick-or-treater in a Batman costume isn't going to be mistaken for a real superhero.
This content is created and maintained by a third party, and imported onto this page to help users provide their email addresses. You may be able to find more information about this and similar content at piano.io
Sours: https://www.caranddriver.com/news/a15345799/apparently-this-brash-custom-mustang-is-a-ford-gt-homage/
This Killer Custom Mustang GT 'Switchback' Could Be Yours For a Great Price
Complete with a radar detector, the made-for-SEMA muscle car delivers over 500 horsepower for a surprisingly cheap price.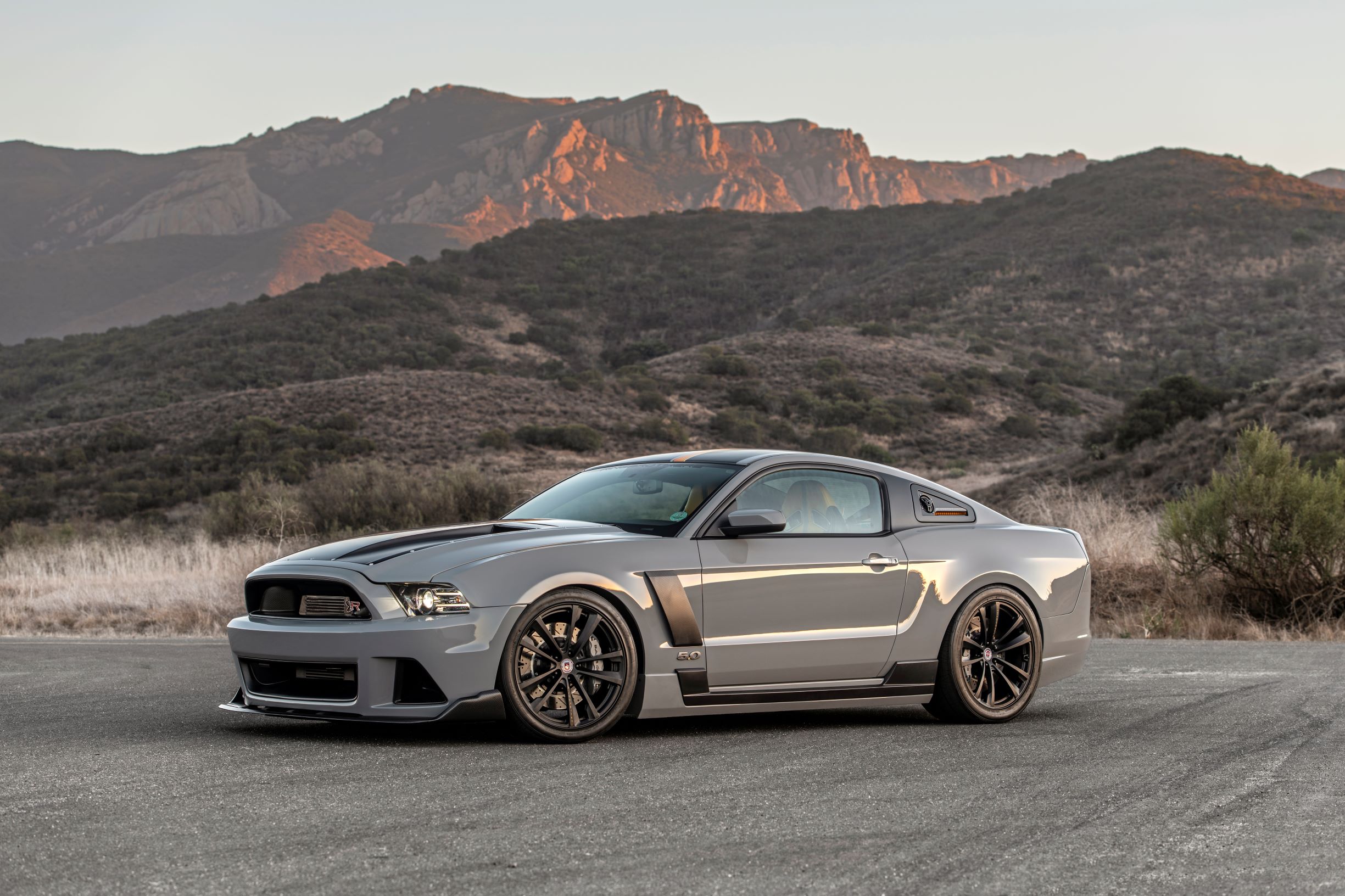 From Carroll Shelby's personal Cobra 427 to this yellow Ferrari Enzo, so many of the rad rides we feature command six- or even seven-figure bids at auction.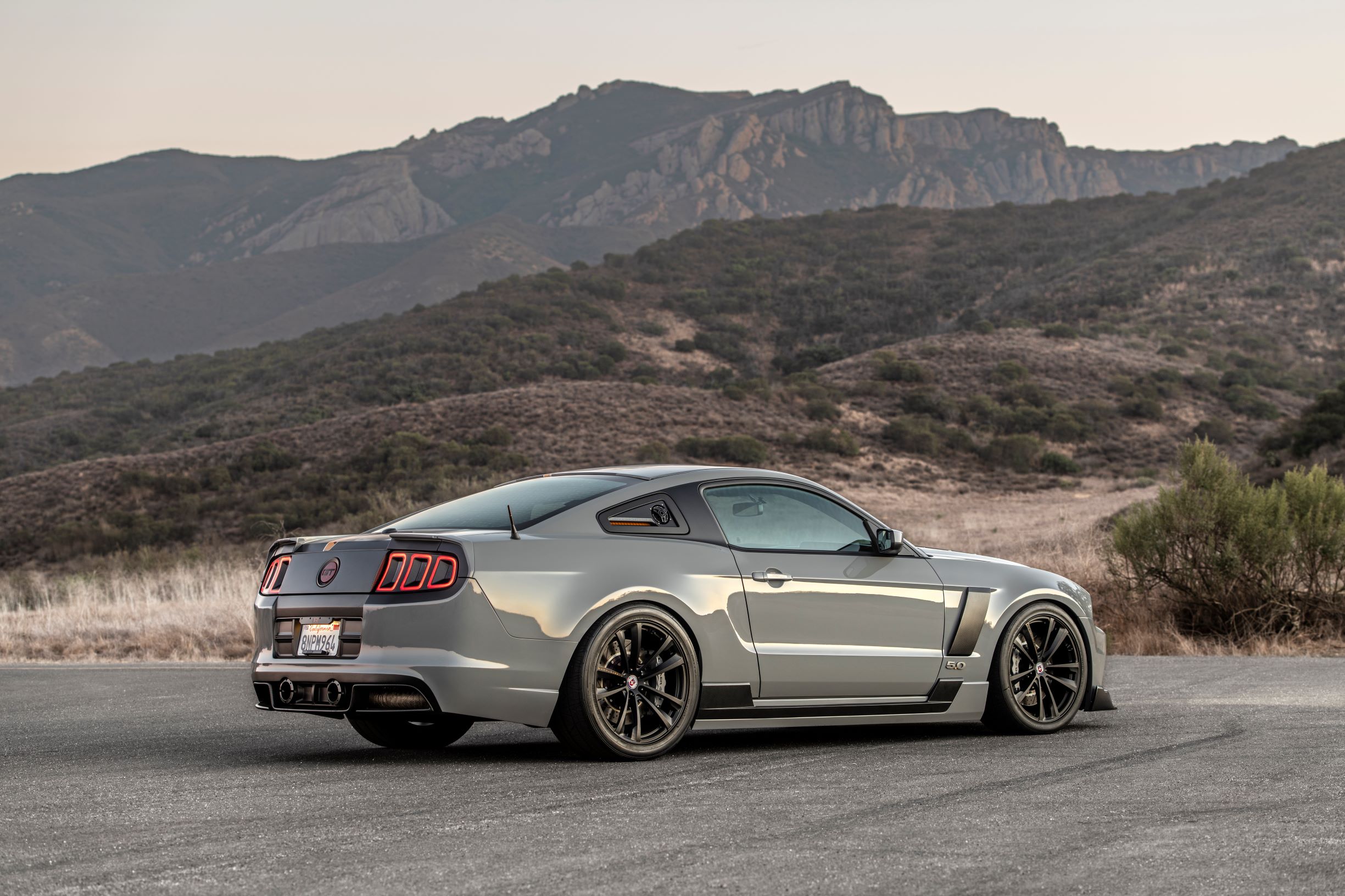 That's not at all the case for this low-mileage 2013 Mustang GT "Switchback," customized by expert Wisconsin-based builders Jim and Mike Ring of Ringbrothers for SEMA 2012.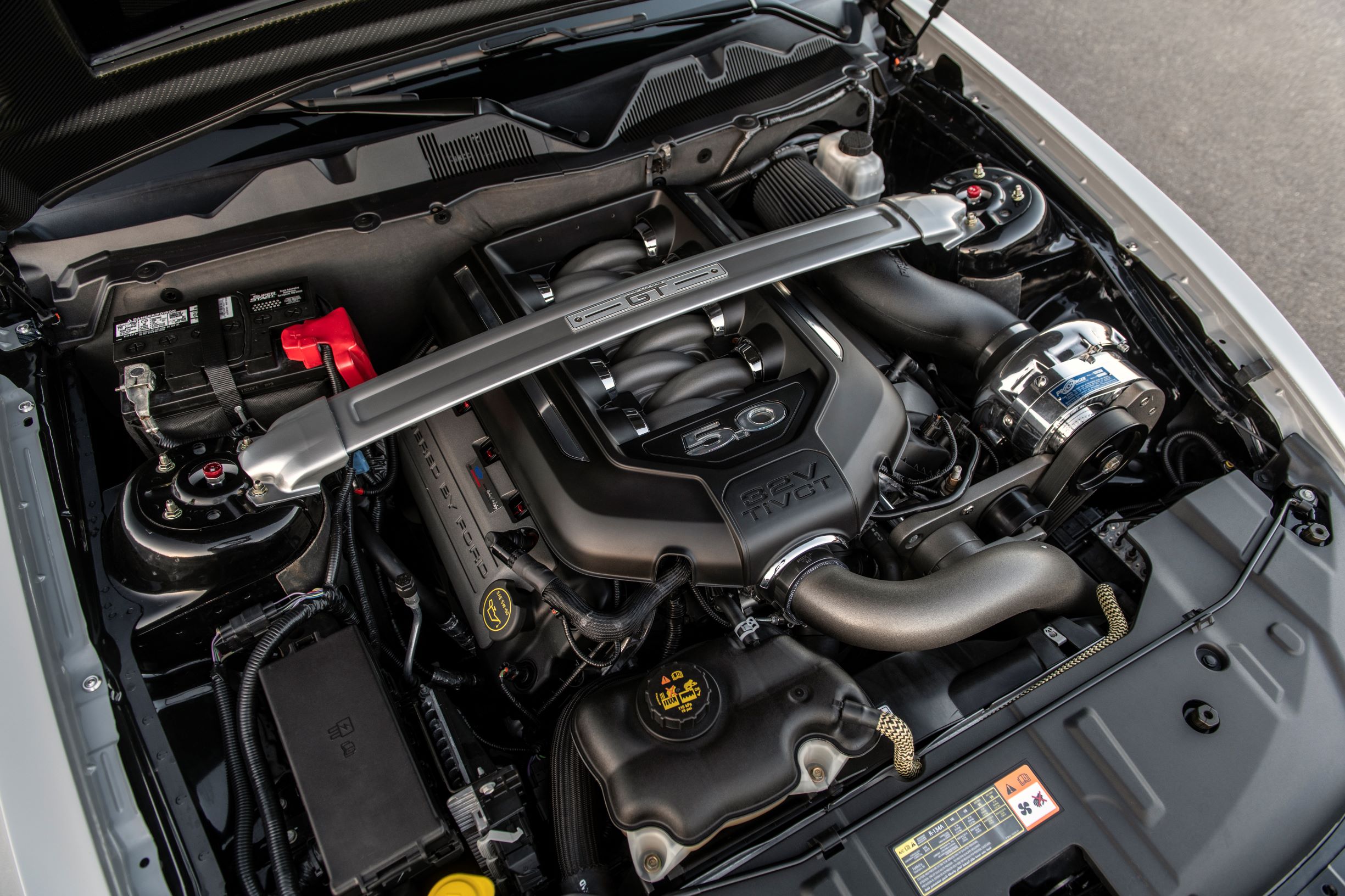 With Ford's factory engine already removed, Ringbrothers went to work on the 5.0-liter "Aluminator" V8, adding a ProCharger superccharger and intercooler, Flowmaster heads, and a Flowmaster catback dual-exhaust. According to a recent dyno test, the one-of-a-kind pony still puts 506 horsepower and 440 pound-feet of torque to the pavement through a manual six-speed. 
The body borrows a color from Godzilla's realm—Nissan Cefiro Gray. The Ringbrothers also added their own carbon-fiber body kit and front splitter, billet-aluminum side vents, black and yellow accents, and a two-piece modular carbon hood with an interchangeable insert. 
It rides on black 20-inch HRE Ringbrothers Edition rims wrapped in Nitto tires, while stopping power comes from Baer 6S brakes with slotted and drilled rotors.
Inside, the rear-seat was deleted to make room for a full-size spare, and the front seats were clad in custom black leather with yellow accents. And if you want to risk running the Switchback all out on public roads, a Passport radar detector will alert you to speed traps.   
With only 9,200 miles on the odometer, the current bid on Bring a Trailer's website is just $55,000 and climbing. Click here to learn more or get in on the action before the auction expires. 
Tags: auctionsBring a Trailercustom carsfordFord MustangMuscle CarsMustangRidesRingbrotherssports cars
Brandon Friederich
Sours: https://www.maxim.com/rides/killer-custom-mustang-gt-switchback-on-bring-a-trailer/
He brought the head of a member to my mouth and I could smell it. I did not even imagine that the smell of a clean male member could be so intoxicating. "-Kiss him I gently began to touch his head with my lips. Gradually the fear disappeared and soon Valery pushed his head into my mouth.
Mustang gt custom
In the reflection of the mirror, a pleasant forty-year-old female looked at me, with a clean, pretty face, big eyes and a sensual mouth, her light-brown hair. Fell to her shoulders, medium boobs are moderately saggy, elongated in the shape of melons with large dark brown nipples at the ends, a tummy, well where without him, I had a small sexy tummy inherent in forty-year-old women, slender legs and small appetizing thighs, but my main advantage was behind me, I turned my back to the mirror and twisted my ass, she was small but plump her buttocks were like balls and when walking smoothly rolled under the skirt, I always wore skirts above the knee and tight, which caused the sincere indignation of my fellow teachers and the headmaster and lustful glances in my direction from high school students.
But I got away with it, I was a good teacher despite my sexy defiant appearance, my photo hung on the school board of honor and I had no complaints. In terms of teaching.
Building a Ford Mustang GT in 13 minutes! [COMPLETE TRANSFORMATION]
And it was necessary to understand that his wife was being fucked by friends. While naked mother-in-law and sister-in-law help his wife lift her legs higher. So we began to have fun, if you can call it orgies with strangers, unfamiliar men.
You will also like:
Prove to his beloved that he was the best male. And he proved it. Max finished earlier, and fell on his back with a partner. Sighing with relief, he stood up to his full height, and withdrew behind the curtain. And although it was dark, Lera saw the shadow of his faded member.
14898
14899
14900
14901
14902