A wide choice of durable, convenient, and attractive reel systems to meet every need...
The Wheels Reel System features large 20" (51 cm) wheels which easily roll over virtually any surface. These specially designed wheels, makes moving the reel system away from the pool effortless.

Designed to fit most in-ground pools 12' to 20' (3.6m to 6.1m) wide and up to 40' (12.1m) long.

Each end is fitted with a handle so winding the solar cover may be done from either side of the pool.

Rolls on any surface, with large wheels.

Wide track bearings for easy cover handling.

Available with Silver Guard Finish or mill tubes.
The Blanket Handler Reel System is designed with many convenient features and is constructed for durability. The 'three way' end design makes the Blanket Handler the perfect fit for in-ground pools, and above ground pools with decking.

Built to fit in-ground pools that are 12' to 20' (3.6m to 6.1m) wide and up to 40' (12.1m) long.

Unique three way design enables stationary placement, fence or wall mounting, or mobility with the included easy lock casters.

Easy lock casters provide stability.

Convenient handles on both ends.

Wide track bearings for easy cover rolling.
---
---
Our Blanket Handler XL meets the needs of larger pools, with its heavy duty engineering and our larger 4" (10.2cm) tubes.

Fits pools with a width up to 25' (7.6m) wide and 50' (15.24m) long.

Tubes are Feherguard's unique, patented Rib-Locking System, for added strength and durability.

Attractive Silver Guard anodized finish reduces tarnishing, for years of excellent wear.

High Density Polyethylene with UV inhibitors, provides strength and protects the bright white colour.

3" heavy duty locking casters for easy movement inside LC25 Tubeset.

Heavy duty wide track roller bearings for easier blanket roll-up.
---
The Low Profile In-ground Reel System is engineered for placement under Diving Boards. The design solves many of the problems that limit the use of higher profile reels. The unique aspect of our Low Profile System is its capacity that will meet many residential Solar Reel needs.
Designed to fit rectangular pools 14'8' to 20' wide by 40' long (4.47m to 6.07m wide by 12.2m long) with up to 6" (15.24cm) radius corners.

Readily stores under diving boards with an existing 10" (25.4cm) of clearance.

A 40' (12.2m) solar cover rises about 8" (20.3cm) over the deck level.

Tubes are anodized with Silver Guard Finish to reduce tarnishing.
---


• Commercial Reels can be used on any shape or size of commercial pool and are offered in both Single Tube and Dual Tube Models (may require multiple reels)
• Dual Bearings per frame give a smooth solar blanket roll up

• 36" high white frames are made of structured aluminum

• Simple assembly

• Stainless Steel hardware for maintenance free use

• Heavy Duty aluminum tubes designed to handle heavy loads

• 4" heavy duty locking casters for mobility are included

• Able to roll over diving boards up to 19" from deck

• One year Warranty
MODEL
POOL WIDTH
MAX REEL LENGTH
MAX COVER LENGTH
CARTON WEIGHT
HV-100/C14
Up to 14'
16'
125'
110#
HV-200/C14
Up to 30'
16' (Dual Tube)
90'
120#
HV-100/C20
15' to 20'
22'
125'
120#
HV-200/C20
Up to 40'
22' (Dual Tube)
90'
150#
HV-100/C24
21' to 24'
26'
125'
120#
HV-200/C24
Up to 48'
26' (Dual Tube)
90'
150#
HV-100/C30
25' to 30'
16' (Dual Tube)
90'
120#
---
Sours: http://www.feherguard.com/_newpages_/prodinground.html
The Best Solar Cover Reels for Every Kind of Pool
Handling your solar pool cover can be a real pain. Spend less time wrestling with your solar pool cover and more time enjoying the water with our top picks for the best solar cover reels for every kind of pool.
Solar pool covers are an excellent investment in your inground or above ground swimming pool.
For a simple piece of fabric, they provide a lot of value in terms of regulating the temperature of the water (saving you lots of $$$ on heating the pool).
That said, they can be a hassle to pull out of the water and store.
Solar covers for your pool, although they are basically tarps, are not immune to being torn and degrading when tossed and folded around. Rips, frays, fold marks from being balled up like a snowball—they all add up to a damaged cover that doesn't do its job effectively.
Enter the solar cover reel.
Pool solar cover reels help keep your pool area organized, protect your pool cover, and make it easier to position and store the cover.
Below is a breakdown of the best solar cover reels on the market, including key features (like price).
Read on, find the right solar cover reel for your pool, and spend more time in the water enjoying your pool than fighting with your solar cover.
Let's do this!
VINGLI Pool Cover Reel Set
⭐ Best solar pool reel for inground pools
It's not often you find that people go ga-ga over something as simple and as functional as a solar cover reel, but that's typical of pool owners who choose a VINGLI Pool Cover Reel Set.
With over five hundred five-star reviews on Amazon (click here to read them and see current pricing), the VINGLI reel sets feature a one-hand wheel crank, full solid tires, handles to make positioning the reel easier, and anti-slip legs so that you can crank the pool cover quickly and orderly.
VINGLI offers these in two different pool sizes, including 14- and 21-foot models (the 21-foot model is pictured below). The thick tires on the reel mean you can also quickly store and move the reel as necessary.
They can fit different-sized pools as well, including bean-shaped, rectangular, Oyster shaped pools, and more. The cover simply has to be cut to fit the orientation of the pool and the straps on the VINGLI reel are long enough to take care of the rest.
Well-priced, well-reviewed, and adaptable to just about any kind of inground pool shape there is, the VINGLI is our top pick for best solar pool cover reel.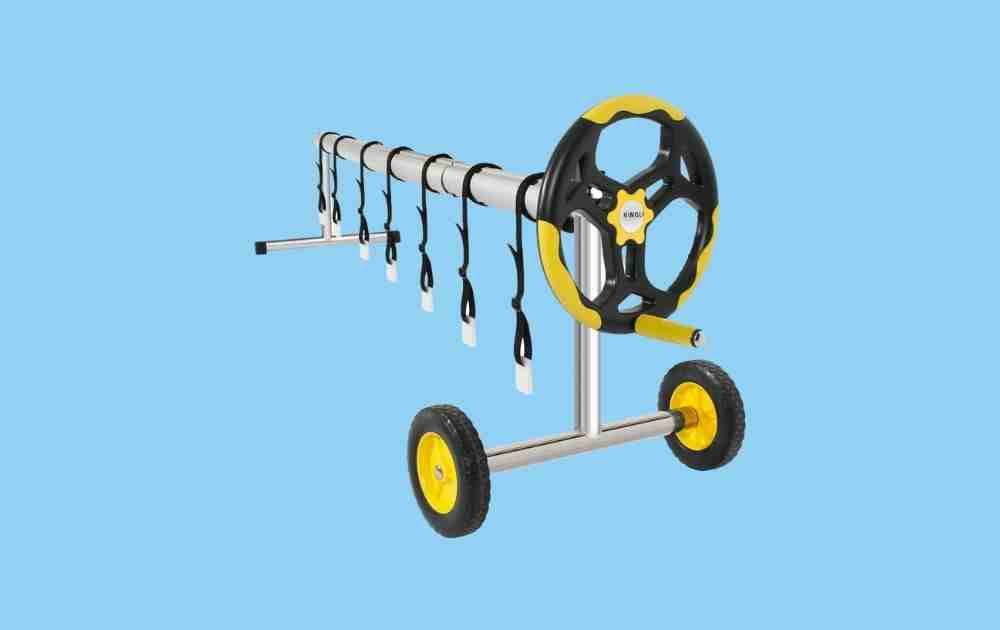 HydroTools Above Ground Pool Solar Blanket Reel
Designed specifically for above-ground swimming pools, the HydroTools reel is paired with Swimline poles (sold separately, unfortunately) that you use to create a custom-width reel set for your solar pool cover.
This reel is meant to be installed next to your pool with the attached base and crank wheel. Straps and hooks are included to hook up to your pool cover.
Although it doesn't have the same versatility as the VINGLI reel—most notably the portability—this reel is very budget-friendly, costing under $50 (check Amazon for current pricing and availability).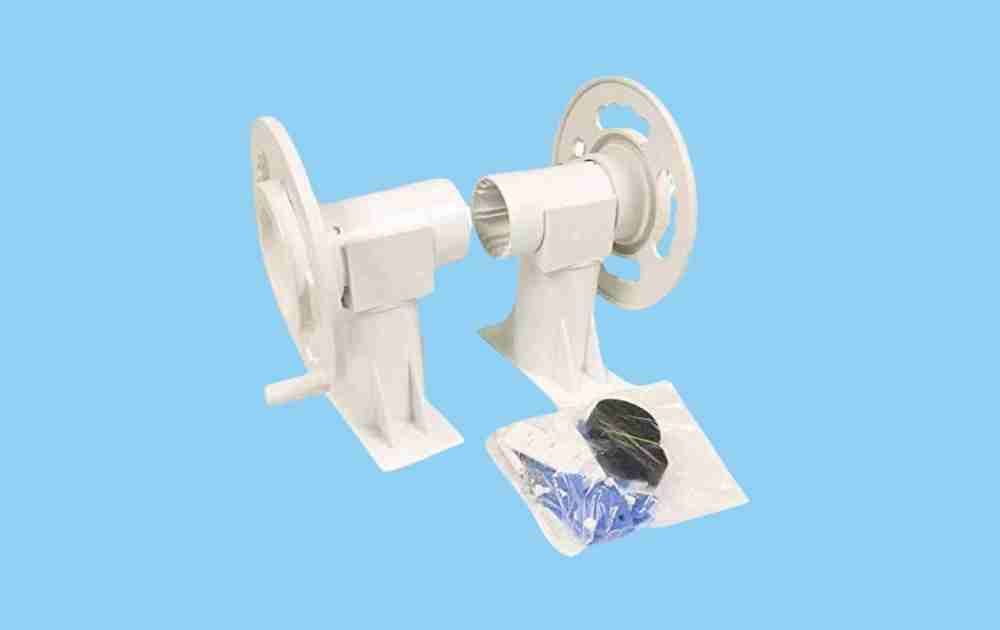 Intex Solar Cover Reel
⭐ Best solar cover reel for Intex swim pools
Intex is one of the leading names when it comes to backyard swimming pools.
They make everything for endless water-based fun, including inflatable swim pools and pool floats for adults, as well as cleaning and maintenance tools, like pool filters and pool vacuums.
The Intex Solar Cover Reel is a perfect example of a brand that knows its stuff—the reel is a breeze to install, with two clamps that are attached to one end fo of your pool. A small hand crack makes retracting the cover simple and fast.
The clamp system means it is only handy for rectangular above-ground swim pools (it's attached to the side of the pool), but is great for pools between 9' and 16' in width.
When you combine Intex's legacy in the pool biz, a tool-less installation, and a heavy-duty aluminum shaft that won't corrode or buckle, the Intex Solar Cover Reel is a no-brainer for Intex (and rectangular) pool owners.

NSdirect Pool Cover Reel
⭐ Best for larger inground swim pools
Another inground reel comes our way from the folks at NSdirect, with a reel that is heavy-duty and perfect for inground swim pools up to 22.5 feet wide.
The diameter of the shaft on the reel is a solid 3", which won't buckle or bend under the weight of your soggy pool cover. Treaded, non-slip wheels help you keep the reel steady and also mean you can store the cover away from the pool when it's in use.
These kinds of heavy-duty reels are priced reasonably, ranging in cost from $159-179 depending on the color you choose (check Amazon for current pricing and availability), and are easy to assemble out of the box.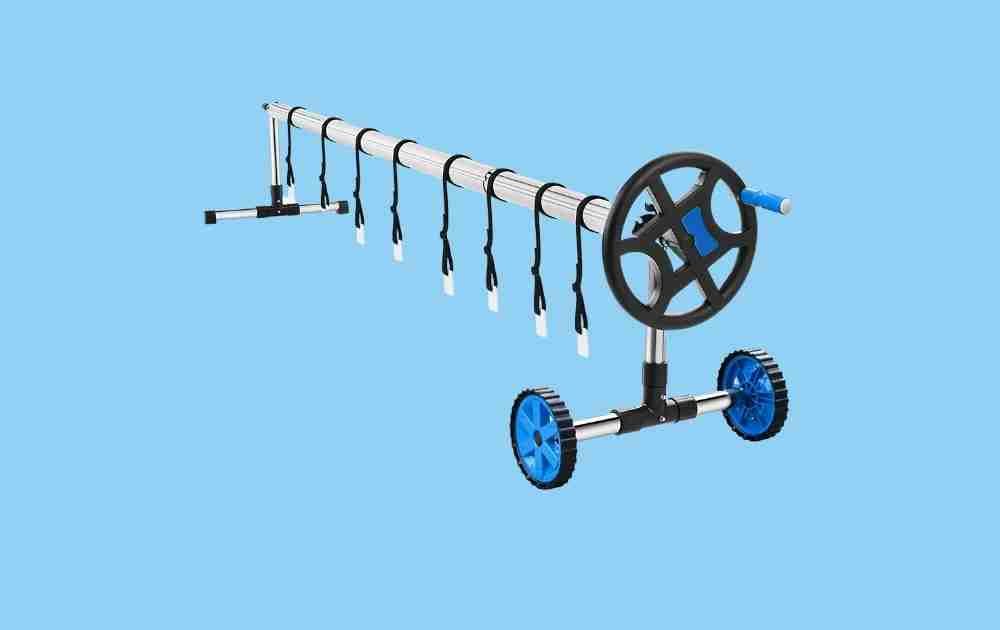 Recommended Reading
Below is a curated list of recommended resources for pool and spa owners, covering more of your pool cover and pool heating needs.
6 Best Solar Swimming Pool Covers. A solar pool cover saves energy, keeps your pool clean, and regulates the temperature of the water. Here is a breakdown of our favorite solar swim pool covers.
5 Best Pool Ladders for Above Ground Swimming Pools. Looking for the right pool ladder for your above-ground swimming pool? Here's a breakdown of the best ones on the market, including key features, price, and more.
5 Best Heaters for Above Ground Swimming Pools. Want to get more time and use from your backyard pool? Here are our hand-picked selections of the best heaters for above-ground swimming pools.
5 Best Above Ground Swim Pool Liners. Ready to fix and replace the pool liner in your above-ground swimming pool? Here is a collection of cost-effective and durable pool liners for maximizing the life of your pool.
6 Best Winter Pool Covers. Whether you have an in-ground pool or an above-ground pool, here is our selection of the best winter pool covers.
Sours: https://www.yourswimlog.com/best-solar-cover-reels/
How To Choose A Pool Cover Reel – Buying Guide
Types Of Pool – Inground vs Above Ground
The above-ground pools have some requirements regarding the frequency of usage, but the in-ground swimming surfaces will need to be covered since they can't be moved. Covering a small above ground pool that can be stored when not in use isn't a good idea, but the larger pools must be covered and protected.
Installation and Operation
Most of the best pool cover reel options listed will operate in much the same way. They will have some form of a hand crank that is going to be able to reel in your cover and wrap it around itself.

The higher-end solar cover reel options will have a wheel on them that has a hand crank on it to make the reeling in very easy and be done fairly easily by just one person.
Other solar cover reels will have a more simple operation, often with a hand crank that is not attached to a wheel.
Quality And Durability
With a product such as this, quality is going to be very important as not only will it be working in challenging conditions but it will be dragging the pool cover off the pool and that can sometimes require a lot of effort.
Most of them are made out of aluminum and steel requiring the most strength and therefore, delivering durability to be able to cope with the stresses of the operation. In order to save weight and made sure it is easy to use, the tubing is often made from aluminum as this still has a high level of strength but helps it to be lightweight. Both of these materials are corrosion resistant too.

Plastic reels aren't as durable as the metal ones, but since they are made out of high-quality plastic, an excellent amount of strength will be provided, serving good for the smaller pools.
Creating a Budget
The budget needed should be calculated considering the pool's demands. Maintaining your pool isn't cheap at all, but a pool cover will help you eliminate the funds and the time needed. Having one will make that easier and will save you money further down the line in terms of lack of maintenance and not having to heat your pool as much either.
In that respect, it's probably going to be the best idea to get the best cover reel that you can. That being said, the lower budget ones that we have looked at in this guide are still high quality and would be able to do a good job.
Size Of The Pool
While there are many great types of pool cleaner, the bigger pool you have, the more time you're going to spend cleaning it. That makes the need for a pool cover with a great reel even more important in order to cut down on the maintenance required.

It's an obvious point, but you need to make sure that you are getting a reel that is going to be wide enough for your pool. It's vital that you get your measurements right in order to avoid any mistakes from happening.
There are many products that are able to be bought in a range of different sizes, allowing you to pick the perfect one for you. There are also adjustable cover reels which are ideal if you have a swimming surface that has a unique shape or size.
Type Of Cover
You not only have to consider what type of pool you have, but it's also important to know whether or not you want a regular pool cover or one of the solar pool covers. The reels here can often be specialized to one type or another.
If you already have a pool cover then it's important that you get a cover reel that is going to be compatible with it but if you don't already have one, then it's a good idea to look into the different types of pool cover to see which one would be best.

Solar pool covers can be a great option as they will help to retain the heat that is trapped in the pool. They can also aid in the temperature increase of the water as well, maximizing the sun's energy in order to get it as warm as possible.
Wheels, Straps, And Reel
As well as the basic mechanism of the tool, it's important to look at the other aspects too and ensure that they are going to be of a high enough quality for you to be able to use it effectively.
The wheels need to be large enough and easy to move. Most wheels are plastic but there are other wheels available that have a high level of grip. You also want to check how it is going to be attached to the cover too and this needs to be compatible.
FAQs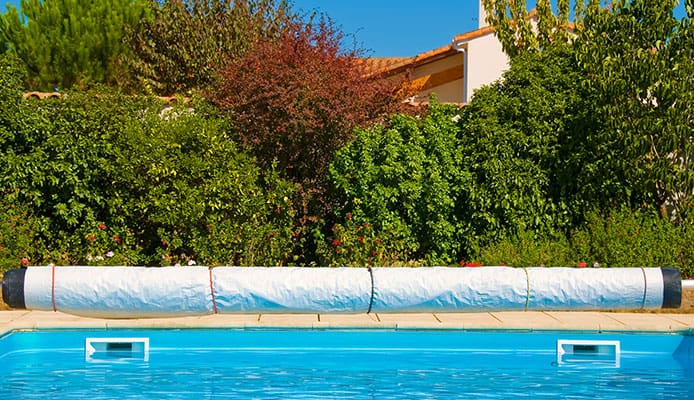 Sours: https://www.globosurfer.com/best-pool-cover-reels/
What Are The 7 Best Solar Cover Reels?
Despite your love affair with your solar pool cover, you've probably daydreamed about ripping it apart or balling it up in your garage when using it with your pool.
The good news is, solar cover reels offer an easy and convenient way to use solar covers that won't drive you nuts, so you can continue to warm your pool.
Our Picks For Best Solar Cover Reels
We looked high and low for the best solar pool cover reels across numerous categories, narrowing it down to just a select few.
Best Overall (Recommended)
VINGLI Pool Cover Reel Set 18 Feet...
NOTE:Item ship in more than one box and may arrive...
DURABLE, MAINTENANCE-FREE, RUST-FREE CONSTRUCTION....
FIT IN ALL SHAPE POOL: Adjustment for width. This...
Best On A Budget
HydroTools by Swimline In-Ground...
In-ground pool cover reel system
Includes straps and hardware to attach to the...
Poles sold separately
Best For Large Pools
NSdirect Pool Cover Reel, 22.5 Feet...
22.5 feet long, light, durable, maintenance-free,...
Fits in-ground pools 5' ft - 22.5' ft wide.Solar...
Easy for one person to operate, allows a 2 man job...
Nova Microdermabrasion Swimming...
【Durable & Adjustable】Made of polishing...
【User-friendly Design】Features a hand crank on...
【Stable & Portable】 2 wheels for easy moving....
Best For Small Pools
Viewee 14 FT Pool Cover Reel Set,...
3 Advantages of Viewee Professional Custom Tube -...
Powerful Load Bearing- Tires & Bracket - Viewee...
Eco-Friendly Qualified Turntable - The material of...
Best For Above Ground Pools
HydroTools by Swimline Above-Ground...
Above-ground pool cover reel system
Includes straps and hardware to attach to the...
This item fits perfectly with Swimline pole item...
SunHeater SPAGCR13T Stainless Steel...
POOL SOLAR BLANKET REEL SYSTEM – The Sunheater...
FOR ABOVEGROUND POOLS – This solar cover reel...
EASY TO USE POOL REEL SYSTEM – The simple pin...
Best For Intex Pools
Intex Solar Cover Reel, for 9ft -...
Keep your pool water warmer with this...
All the benefits of covering your above ground...
Easy to install and use.
What Is A Solar Cover Reel?
A solar cover reel is used with a solar blanket (not solar sun rings or liquid solar blankets), allowing you to store and deploy it without arduously lugging, folding, or balling it up in the back of your shed until next season.
Picture your toilet paper roll… except if for some reason you needed to put the toilet paper back on the roll periodically. Wait, nevermind. That doesn't work at all.
It's essentially a giant spool that you position at one end of your swimming pool, consisting of a long metal pole, supported between two vertical end bars.
The pole has some dangly straps hanging down that allow you to clip the edge of the pool cover for easier rolling and to keep it in place. One end of the reel also has some kind of wheel or crank that you'll use to actually wind up the cover in an efficient and not-migraine-inducing way.
Some models even have wheels to help you move the whole thing around, making it easier to reposition, move out of sight, or store your solar cover reel away for the long winter months.
Note: If you don't already have a solar cover, you'll almost certainly need to purchase this separately as they don't often come bundled with a solar reel. See our recommendation below.
Blue Wave NS520 14-Mil Solar...
Conserves energy – this 14-mil blanket covers...
Minimizes heat loss: our insulating thermal...
Superior durability - this Rectangular 14-mil...
Pool Mate 1836RS-8SBD BOXPM Deluxe...
Unique aluminum heat shield that traps otherwise...
Material is highly resistant to ultraviolet rays...
14.6% greater heat retention
Types Of Solar Cover Reels
Two main types of solar cover reel exist, so it's important to know what they are and how they differ.
Manual Solar Cover Reels
VINGLI Pool Cover Reel Set 18 Feet...
NOTE:Item ship in more than one box and may arrive...
DURABLE, MAINTENANCE-FREE, RUST-FREE CONSTRUCTION....
FIT IN ALL SHAPE POOL: Adjustment for width. This...
Manual solar cover reels are the most common type of reel on the market, and they function just as their name suggests.
By hand.
The wheel or crank on the side of the contraption is forcefully turned to roll or unroll the solar cover whenever in use.
These are also unsurprisingly the cheaper types of solar cover reels you can buy for your above ground or inground swimming pool.
Automatic Solar Cover Reels
Automatic solar cover reels turn an otherwise manual reel into an electric-powered, automated reel system.
The hand-crank is replaced with an electric motor that activates rotation in both directions with the press of a button.
These tend to be a little slower than doing it by hand, but it's infinitely more satisfying to use.
Are Solar Pool Cover Reels Worth It?
Solar cover reels are worth their weight in gold, but everything has its pros and cons when it comes to pool equipment, and solar cover reels are certainly no exception to that rule.
So let's break it all down.
Pros:
Speeds up the process of putting on/taking off the cover
Easy to install (cover easily attaches with straps)
Very easy to use (just turn it… duh!)
Works with both inground and above ground pools
Works with regular pool covers (but not safety covers)
Promotes more frequent use of your solar cover
Easier to store for long periods with a reel cover
Not all that expensive for the added convenience
Cons
Not compatible with freeform shaped pools
Above ground pools require a special fitting
Replacing your solar blanket is more of a hassle
Not the most aesthetically pleasing device
Automated reels require additional wiring
May still require a pool cover pump (for water buildup)
What You Need To Consider
Now let's talk about the most important aspects and features to consider when it comes to choosing a solar cover reel for your swimming pool.
Do You Need Wheels?
Solar cover reels usually come with a set of wheels, but it's not always a given.
If you do want something more maneuverable, so you can roll to reposition or move it out of sight when the pool is in use, you'll want one with wheels.
They come in either plastic or rubber variants:
Plastic wheels are cheaper and more likely to degrade over time. If your reel is sitting out in the elements, the wheels may crack after a season or two, making moving your reel practically impossible. Reels with plastic wheels are going to be less expensive, but it's something to take into consideration before buying.

Rubber tires are the more premium option. These are going to be similar to bike tires and will last a lot longer than the plastic alternative. Maneuvering reels with rubber tires is easier on wet surfaces (like your pool deck) and will withstand the elements over time.
Of course, you don't need wheels for your solar cover reel. If you prefer to have something more permanent in place, that's fine too.
Does The Build Material Matter?
Pretty much all reels you find are going to be made from aluminum or stainless steel. Both materials are durable, rust and corrosion-resistant, and can withstand sun and rain very well.
Stainless steel reels tend to be sturdier, heavier, and less likely to bow in the middle, especially if you have a wider pool. Aluminum models will be less expensive, lighter-weight, and more likely to sag a bit in the center.
If you have a smaller-width pool and are on a budget, the aluminum version may suit your needs just fine.
Besides, if you use a solar reel case when storing your solar cover reel, you should see a decent product lifespan regardless of which way you go.
Novinex Swimming Pool Solar Reel...
EASY TO INSTALL: Ground Swimming Pool Reel Cover...
ANY SIZE: Pool Cover Blanket For Reel Can Be Cut...
FULL PROTECTION: Ground Poly Tarp Pool Cover for...
Blue Wave 20-ft Solar Reel and...
Constructed of waterproof woven polyethylene
Protects reel and blanket from the elements
Heavy duty zipper closure
Do The Type Of Straps Matter?
Solar pool cover reels usually come with two types of fasteners that actually connect your pool cover to the reel itself.
These are either embedded straps or hook-and-loop straps:
Embedded straps connect directly to the reel by drilling and screwing them in place. Typically, they are much more secure than other kinds of connections because they are embedded directly into the reel by means of grooves in the metal.

Hook-and-loop straps use Velcro instead, looping around the reel and eliminating the need for drilling any holes. This makes assembly a breeze but may not hold up with long term use.
So, if you have a large pool with a heavy cover, the hook-and-loops straps may not cut it and you may want to spring for the embedded-style straps.
Pool Ruler Solar Cover Reel...
COMPLETE KIT: Includes 8 each of Straps (6ft long...
1 YEAR GUARANTEE: We got tired of straps breaking...
UNIVERSAL FIT: Works on pool covers from 10ft to...
Does It Work With Thicker Solar Covers?
'Mil' is the term used to denote the thickness of the plastic of your pool cover. Thicker plastic and higher mil mean better protection for your pool and a more durable cover in the long run.
If you have a very thick solar cover, you're going to need a reel that can accommodate its thickness and extra weight.
This is an important consideration when looking to purchase a solar cover reel. Not all reels will give a mil size accommodation in their specs, so it's a good question to ask of manufacturers before you buy.
Does It Work With Your Solar Cover Size?
It's important to get a reel that's compatible with the size of your solar cover and ultimately the size of your pool.
If you can't find a reel that perfectly matches, it's better to err on the side of slightly too wide as opposed to slightly too narrow – otherwise you'll need to cut down your cover and leave more of your pool water exposed.
Fortunately, you should have no trouble finding reels in various sizes, from small 16ft or 18ft reels all the way up to the longer 24ft or 26ft variants.
These sizes will be clearly stated on the product listing or box, so just double check it matches up with your cover if you already have one.
Some cover reels also allow for adjustable width between a specific range (using telescopic tubes), meaning you can have a custom setting for your pool without having to worry about missing a few inches.
Do You Have An Above Ground Pool?
Most solar cover reels you come across will be designed for inground swimming pools, so they aren't tall enough to overlook the walls of an above ground pool – unless you have a flush pool deck, of course.
Otherwise, you need to get a reel that can be installed on the edges (or walls) of an above ground swimming pool – or even a semi above ground pool, for that matter.
This is typically done in the middle of the pool, so the cover can roll out in both directions. The pole/roller is then lifted out of the reel system and put to one side while the pool is in use.
Also be aware that you may have to buy the reel system and roller separately, as the roller has to be a specific width, whereas the sides should fit almost any above ground pool.
HydroTools by Swimline Above-Ground...
Above-ground pool cover reel system
Includes straps and hardware to attach to the...
This item fits perfectly with Swimline pole item...
SunHeater SPAGCR13T Stainless Steel...
POOL SOLAR BLANKET REEL SYSTEM – The Sunheater...
FOR ABOVEGROUND POOLS – This solar cover reel...
EASY TO USE POOL REEL SYSTEM – The simple pin...
Are You Better Off Building Your Own?
If money is tight and you're looking for the cheapest possible option, you might consider going the DIY route instead.
It's very possible to build your own pool cover and reel with a few basic, easy to acquire items, along with a hacksaw and electric drill.
It likely won't be as sturdy or durable as some of the products we've reviewed in this article, but it should last at least one or two seasons if done right, hopefully giving you enough time to save up for a commercial reel.
How To Install A Solar Cover Reel
So you've picked out your ideal solar cover reel and need to know how to get this thing ready for action.
Let's do a quick rundown.
Assemble The Reel
Solar cover reels typically come flat-packed, so you will need to whip out the instruction manual and piece it all together.
The process varies from product to product, especially if you're installing on an above ground pool, but it shouldn't take you more than an hour if you've ever bought and assembled something from IKEA.
Once it's fully assembled, you'll want to have it in position (by your pool) so you can attach the solar cover.
Attach Your Cover
Again, the instructions provided with your solar reel will go into more detail on how to attach your solar cover to the reel.
This process also varies depending on the type of straps being used, but is fairly straightforward in all cases, especially for inground pools.
In general, your solar cover will be placed on your pool while being attached to the roller, allowing you to properly measure the strap distances and ensure it all fits well before doing any drilling or piercing the cover.
Crank It!
With everything in place, all that's left to do is crank the reel and make sure it retracts your cover evenly, as well as distributes it evenly on the way out.
You may need to adjust your crank speed to avoid any creasing or folding, and it's not uncommon for thinner covers to need a little extra guidance with your other hand to retract neatly.
Our Top Pick
VINGLI Pool Cover Reel Set 18 Feet...
NOTE:Item ship in more than one box and may arrive...
DURABLE, MAINTENANCE-FREE, RUST-FREE CONSTRUCTION....
FIT IN ALL SHAPE POOL: Adjustment for width. This...
Sours: https://poolonomics.com/best-solar-cover-reel/
Reels in ground solar
In-ground Solar Pool Cover Reel Systems
Doheny's Shipping & Delivery Services
Free Shipping Details
Doheny's Pool Supplies Fast has Free Shipping! This not only covers our brand name chemicals but also our most popular swimming pool supplies.
Next Day Delivery Details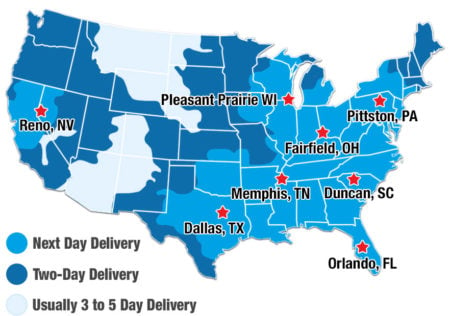 Doheny's is pleased to offer free next day delivery at no additional charge to most of the US for all Doheny's brand chemicals and many of our most popular swimming pool supplies. Next Day Delivery Service does not mean Next Day Air, but simply that your qualifying products will be shipped from the warehouse closest to you resulting in delivery the next day.
Some details regarding this service:
Other than for Pleasant Prairie, Wisconsin, not all products are stocked at all locations and therefore not available for next day delivery. Only those items with a Next Day Delivery designation on the product page can be expected to arrive the next day and orders must be placed by 4 PM local time (exceptions include areas serviced by our Texas and Tennessee warehouses: Texas by 2:30 PM and Tennessee by 3 PM).
If you reside in the next day delivery area served by our Pleasant Prairie facility, order in-stock products and place your order by 4 PM CT you should receive your order the next day (except Saturday or Sunday). This applies to products even if they do not have a Next Day Delivery designation.
Because next day delivery is not guaranteed for standard service and residential deliveries are made only Monday through Saturday though Saturday delivery is not guaranteed, there is a chance that our product will not arrive the next day. While we try our best, unexpected demand can cause products to occasionally be out of stock or create a warehouse backlog that also can prevent shipment the day of the order.
Sours: https://www.doheny.com/pool-supplies/inground/pool-covers/solar-covers/reels
Do Solar Pool Covers Work? The Good And The Bad of Solar Pool Covers
A very pretty face. The face of an unknown young woman that Skynet used to create the initial portrait of this young and now maddeningly loving machine. A very familiar face to him. Perhaps from his boyish human memory.
You will also like:
How many male sexual partners have you had so far. Um. eight, well.
14321
14322
14323
14324
14325