Big Bear Lake Fishing
Sponsored Content
See fishing limits, where to launch or rent a boat, what fish are in the Lake, get info on upcoming tournaments and more.
What's in Big Bear Lake?
Rainbow Trout
The most popular species of fish found in Big Bear Lake is rainbow trout. Big Bear Lake serves as a first-rate trout fishery habitat because its depths allow the fish to thrive, even in the heat of summer. One of the best ways to track down this healthy population of trout is by down rigging deeper waters and trolling leadcore lines at three colors or more. The west end of the lake tends to see a majority of the action during the summer months. Shore anglers fishing near the dam will have success with slip bobber setups with power bait or live bait at 15 to 18 feet.

Panfish
There are a variety of panfish in Big Bear Lake such as bluegill, pumpkinseed, and crappie found in and around the south shore, especially at the marina docks.

Channel Catfish
Channel catfish are fished throughout the summer. These fish inhale stink baits, mackerel, shrimp or chicken livers, and are on the prowl for a good meal both day and night, so fishing is good all day long. Catfish are primarily found on the east end of the lake near Stanfield cutoff and the East Boat Public Launch Ramp.

Largemouth Bass
Summer is prime time for fishing largemouth bass. The aggressive northern bass species get hungry after their mid-summer spawn and will attack just about anything thrown their way. Crank baits such as Rapala Husky Jerks, Luhr Jensen Mini Speed Traps, and plastics fished Carolina or Texas style near docks, rocks and weed beds yield good results.

Please remember to abide by fishing limits was it comes to all fish species. This is very important in maintaining the bass population in Big Bear Lake so everyone can enjoy catching them.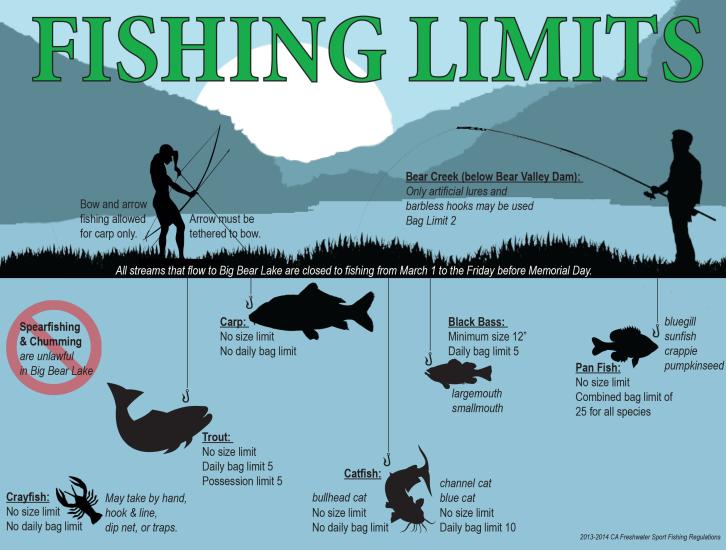 Big Bear Lake Map
Popular fishing spots are marked with a fish icon along with the main trolling path. Marinas for pontoon or fishing boat rentals are marked with an anchor icon.
Top fishing spots at Big Bear Lake
Depending on the time of year, there are a few ideal spots for Big Bear Lake fishing- whether it's from a boat or from the shore. Check out the handy guide below to make the most out of your fishing trip:
Launch Ramp Info
The Public Launch Ramps are open for all vessels, motorized and non-motorized. Both ramps are located on the North Shore. The East Ramp is close to Stanfield cutoff, near the Discovery Center and the West Ramp is closer to the Big Bear Dam, west of Fawnskin. Launching your vessel is free, but your vessel will need to pass inspection for the Quagga mussel. You will also need to have a Lake Use Permit. Permits can be purchased daily, multiple days or annually. For launching information in day use and permits visit Big Bear Municipal Water District.
Fishing tournaments in Big Bear Lake
Fishing Gear & Supplies in Big Bear Lake
Fishing licenses and tackle can be purchased at any marina and many local shops including Big Bear Sporting Goods.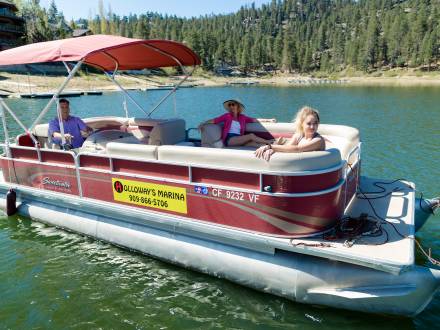 Marinas
Holloway's Marina & RV Park
398 Edgemoor Rd
Big Bear Lake, California 92315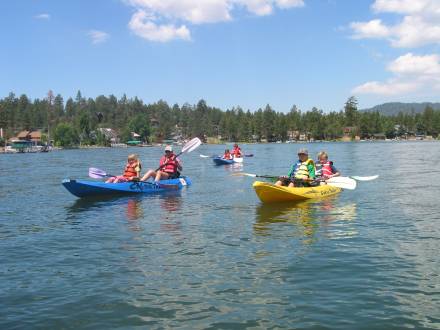 Marinas
Pleasure Point Marina, LLC
603 Land Lock Landing
Big Bear Lake, California 92315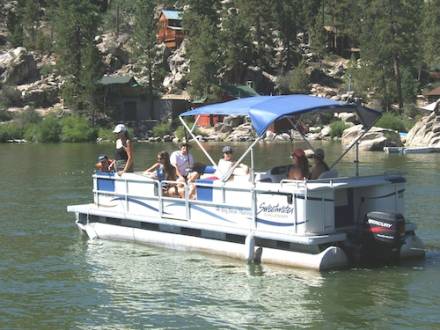 Marinas
Big Bear Marina
PO BOX 1844 500 Paine Ct.
Big Bear Lake, California 92315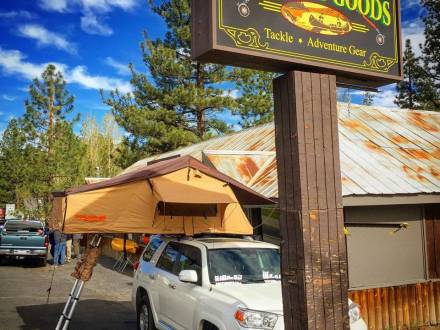 Fishing
Big Bear Sporting Goods
40544 Big Bear Blvd
Big Bear Lake, California 92315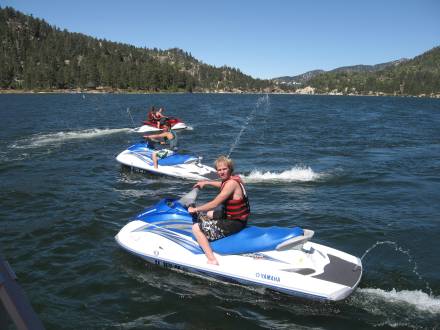 Marinas
North Shore Landing
38573 North Shore Dr
Fawnskin, California 92333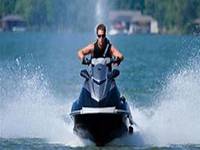 Marinas
Pine Knot Marina-Boat Rentals/Jet Skis
439 Pine Knot
Big Bear Lake, California 92315
Fishing
Big Bear Charter Fishing
398 Edgemoor Rd.
Big Bear Lake, California 92315
Fishing
Cantrell Guide Service
400 Pine Knot Ave
Big Bear Lake, California 92315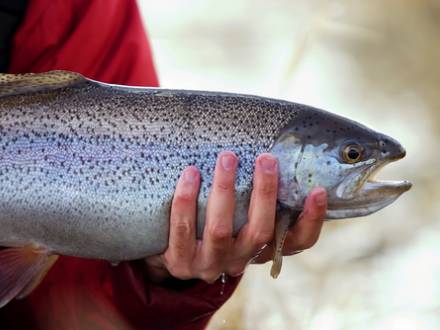 Fishing
Fish Big Bear Charter Service
500 Paine Ct.
Big Bear Lake, California 92315
Find the Hotspots | Fishing
Fishing Charters
Quality and professional fishing adventures.
Fishing Report
Take a fishing trip to Big Bear Lake, California and catch your share of trout!
Fishing for $50k Trout Derby
Click for Registration and Event Details!
Planning Your Fall Fishing Adventure
Where to go and how to prep for an autumn fishing excursion in Big Bear Lake!
Sours: https://www.bigbear.com/things-to-do/boating-water/fishing/
Fishing Report
June 27, 2016
"Think like a Fish" hosted by legendary fishing guide John Cantrell. This week's fishing report includes info on water and weather temps, fishing tips, bait recommendations and the best fishing spots.
June 6, 2016
"Think like a Fish" hosted by legendary fishing guide John Cantrell. This week's fishing report includes info on this weekend's "Fishin' $50K" Trout Derby, water and weather temps, fishing tips, bait recommendations and the best fishing spots.
May 27, 2016
"Think like a Fish" hosted by legendary fishing guide John Cantrell. This week's fishing report includes fishing tips for Memorial Weekend, bait recommendations and the best fishing spots.
May 19, 2016
"Think like a Fish" hosted by legendary fishing guide John Cantrell. This week's fishing report includes upcoming fishing tournament info, water temp, bait, best fishing spots.
May 2, 2016
"Think Like A Fish" S1E2 May 2, 2016, hosted by Big Bear Lake legendary fishing guide, John Cantrell. Find out what lures are working and current lake conditions for fishermen. This weekly video is for Big Bear Lake, California.
June 19, 2015
Infographic on Fish Limits in Big Bear Lake
May 5, 2015

Yo! Did you hear it? The sound of one million rainbow trout being planted into Big Bear Lake. You heard me right. ONE MILLION. The blue light was flashing and the District purchased some beauties to over-flow our Lake for this season and seasons to come. I'm keeping half of the trout secured in my super-secret location until they grow larger for you anglers to catch a toad down the road.The carry-over from last fall and winter are bringing in some nice numbers for people drifting from Rock Wall to the Zebra Room or center-lake from the Observatory to Windy Point. My thoughts are using dough baits and night crawlers if you want to reel in dinner. Trolling hasn't fared quite as well and water temps are in the mid-fifties. But for you die-hard trollers, the rainbow trout colored Rapalas will be your best bet. Keep your lines low. These babies are staying fairly deep between 12-20ft. Give it time. They will be moving east soon with the temperatures rising.The bass are still in pre-spawn and haven't shown all their hiding places yet. You bassers hold tight. When these guys emerge from their winter haunts, they will be hungry, aggressive and protecting the nest. Please remember these fish grow very slow and will be spawning in early spring so return them quickly to fight another day. You just have to be patient for that time and then wham, bam, thank you ma'am.Catfish and bluegill are still not showing, but the carp are coming out in the warmer afternoons just in time to get your shooting skills sharpened for the BBMWD's Carp Round-Up June 20th-21st. A new category for fishing only is added to this year's event and we expect a giant turn-out and even better prizes.
I expect those crazy, in the news, read-all-about-it, record breaking numbers to come rolling in this season. Don't miss out. Share your photos with us!
-Mike, BBMWD
April 3, 2015

Fair to good trout action over the past week with the best bite at the dam, throughout the west end of the lake, and along the north shore. Top action has continued to be on PowerBait, Gulp!, and inflated night crawlers fished with a two- to three-foot leader and small treble hook. The best bite has been in the mornings and evenings. Anglers are reminded that all tributaries to the lake are closed to fishing March 1 through May 31 to protect the spawning rainbow trout. The bass bite has started to take off as the fish move shallow for the spawn. Phil Bougie, San Bernardino, landed and released a 6-10 bass, while Tyler Voss, Big Bear, did the same thing with a four-pounder. Other species are still very slow. The Big Bear Municipal Water District (BBMWD) opened The Carol Morrison East Launch Ramp for the 2015 season on April 1, and all five private Big Bear Lake marinas are now open. On May 8, the Duane Boyer West Launch Ramp will open. The BBMWD also planted approximately one million fingerling rainbows on April 1. These fish are expected to be from six to 12 inches long within three months. For more fishing information: Big Bear Sporting Goods at 909-866-3222.
September 15, 2014
Trout anglers across California are very familiar with the short fall of fish from Department of Fish and Wildlife (DFW) and private hatcheries, due to lawsuits, budget cuts, and drought. It has changed fisheries throughout the state as well as Big Bear Lake. While anglers are still catching trout, the fish tend to be smaller and fewer, with more time and patience needed to fill a stringer.
Mike Stephenson, general manager for Big Bear Municipal Water District (BBMWD) is well aware of the shortfall and is taking action to turn it around. Stephenson is planning to expand the trout rearing cages for the already successful program by building a war chest of funds from Big Bear Lake tournaments, The City of Big Bear Lake, and the BBMWD budget. While this is a great way to enhance the Big Bear Lake fishery in the future, the more important question is what about now? What about TroutfesT a mere two weeks away? Well, Stephenson has secured a contract that will provide trophy, sub-trophy and numerous catchable sized trout for the 10th Annual TroutfesT. This very well could be the best tournament of the year in Big Bear Lake.
Some anglers may have already given up on trouting this year. However those anglers just might want to grab their gear and enter Big Bear Lake's TroutfesT for not only a chance at a new Klamath boat or thousands of dollars in cash and prizes, but also for that catch of a lifetime, or at least this year.
September 9, 2014
As the days shorten and sunlight fades, Big Bear Lake is starting to fall into autumn. Water temperatures have come down to 65 degrees at the dam and below 70 degrees as far east as Juniper Pt. Oxygen levels remain good from top to bottom at the dam with the levels just short of the bottom at the west ramp. Some folks have produced nice stringers of Big Bear bows from a pound to three pounds.
The key has been to use a variety of lures, while being flexible as to speed and location while trolling. Trout are hitting spoons in just about all finishes at one time or another from one to three colors down, with surface action coming early on Rapalas in gold/orange/red colors. One lure can be hot one minute and not the next. Patience and switching out lures on a regular basis is important. Dragging the same lure around for hours after you get one fish will not fill your stringer. Flashers and crawlers have caught some of the bigger trout lately, so be sure to add that method to your arsenal.
August 3, 2014
Before the skies darkened and started to rumble, the trout bite on Big Bear was pretty darn good. Anglers trolling the lake from Trout Alley to the dam enjoyed limit fishing from the surface to 15 feet down. Three colors of leadcore was the mark for Thomas Buoyants in gold and Needlefish in red dot frog. The surface action was best with Rapalas in gold/black, trolled way back at 150 feet. While flashers and crawlers had been hot, the bite fell off for this setup for now.
Lake temperatures are holding at 67 degrees at the dam to 69 near the west boat launch ramp. Temperatures should begin to drop as the days get shorter with less direct sunlight. Oxygen levels improved with high levels throughout the lake. While the oxygen is good everywhere the water temperatures are the reason the trout are concentrated in the western third of the lake. This last week Mike Stephenson, general manager of Big Bear Municipal Water District (BBMWD) gained enough confidence with the current conditions to do a trout plant. The BBMWD plant along with a Department of Fish and Wildlife plant has made for a lot of happy anglers.
Pan fish remain elusive as they are in other Southern California lakes. Nobody knows why they seem to be hiding out. They are not near the shore and appear to be suspended in deeper water, not willing to bite, or hold in large schools. Bass fishing remains good as the bass are holding in deeper water and coming up for buzz and crank baits and also drop-shotted baits. No news from the nocturnal anglers on the whisker fish at this time.
July 22, 2014

While the trout bite is far from wide open on the lake, trout are coming to the net for the patient angler. With water temperatures rising quickly on the lake and oxygen going away from the bottom to 23 from the surface, it is time to spend time, and adjust to the changing conditions.
Fishing from shore requires a slip bobber set-up from 15 to 20 ft. from the west ramp to the dam. Fishing for trout east of those areas is a tough go. Drift fishing in the western third of the lake with dough bait and crawlers off a slip bobber is the best bet for bait anglers.
Trollers working the same area are seeing trout hit Neddlefish in Lady Bug, Watermelon and Red Dot Frog patterns. CD-03 Rapalas in the Fire Tiger color are working well on over cast days. The fish are active from 5 to 20 ft. down. Many other lures also work from time to time, so it is important to switch out your offering on a regular basis.

The DFW did a plant this past week; the arrival of new fish will help. BBMWD does not plan any additional stockings of pen or hatchery trout, until the fall and TroutFest time when the waters will have cooled.
June 25, 2014

Well, it was just a matter of time. Just 11 days after Fishin' for $50K was completed on Big Bear Lake, the tagged trout that was good for $50K was reeled in by Kenny Tanaka, 13 years old, of Thousand Oaks, CA. Kenny landed the trout while on a charter trip with Cantrell Guide Service on June 19. The tagged trout hit a Needlefish trolled near the dam. While Kenny did not receive the $50,000, he did receive assorted gifts and prizes from The Big Bear Visitors Bureau. Kenny had not heard of the derby until after his catch, but he plans to enter it next year.
Trout anglers are finding an up and down bite on the lake. Trollers using crawlers and flies in the early hours of the day are finding fish at one to two colors. As the sun hits the surface the trout are going deeper at three to four and hitting Needlefish. The trout are concentrated from Windy Point to the dam. Shore anglers continue to soak crawlers and dough bait hung from slip bobbers in the same area along the North Shore with decent results.
Bass action has slowed a bit. The smallies have been elusive while the largemouth has been sitting on beds in a defensive mood. Crappie and bluegill are also hard to find as one day they like a spot and the next cannot be found. Hide and seek spots for these species include; Mallard and Boulder Bays, Eagle Point and Marina Point.
June 2, 2014
By: Alan Sharp
With the weather and wind finally setting up in a "normal" pattern, the fish are responding to the favorable conditions. All species from trout, to bass and panfish are being landed along the lake. The trout are scattered from the dam to the observatory. Anglers trolling from the surface to 3.5 colors down on leadcore are catching nice trout from one and half to three pounds. Trollers are seeing surface action on flies and crawlers early in the day, then down to 3.5 later in the day on Rapalas and Tasmanian Devils. Bait anglers working the west end along the north shore are also in on the action as long as a long leader of 3 to 5 feet is used.Bass are continuing to hit crayfish type jigs along the docks around the lake. The bass are ranging in size from two to four pounds. Crappie and bluegill are putting a smile on the faces of young and old anglers when they present a mealworm or mini jig in 5 to 10 feet of water in Boulder Bay and Papoose Bay near rocks and docks.
FISHIN' FOR $50K is this weekend June 7 and June 8. The California Department of Fish and Wildlife and Big Bear Municipal Water District will be stocking trout for the event. One tagged fish could bring a hefty $50,000 prize to a lucky angler. The event offers lots of cash, tackle and fishing gear prizes to anglers. To learn more about this great family event call 800-424-4232 or www.bigbear.com.
Upcoming Fishing Events in Big Bear Lake
June 7 & 8: Fishin' for $50K
Info: 800-424-4232

June 21: Aaron's Bass Tournament Championship Series
Info: 800-475-3166
May 27, 2014

By: Alan Sharp
For the anglers plying the waters of Big Bear Lake, it has been a confusing week. Dazed by high winds, snow on the ridge, and rain in the valley; not only are the anglers wondering what's going on...so are the fish. Trout fishing that had been strong in the western end of the lake went flat this past week. The trout are scattered around the lake due to high oxygen levels and even water temps. Trout have moved back into the "Trout Triangle" and are hitting on trolled crawlers (with or without flashers), flies and CD Rapalas all trolled on the surface or as little as 10 feet down. This is a big contrast from the past month when three to five colors of leadcore was the norm. Bait anglers along the shore or drift fishing are using slip bobbers rigged shallow with dough baits and crawlers.
While the trout fishing has been inconsistent, the large and small mouth bass are not confused. They are hitting crayfish jigs fished near docks in a pre-spawn binge. Working the docks, with a slow retrieval of jigs has produced double digit counts on largemouth in the 3 pound range with an occasional 5 pounder mixed in. Smallies are showing, but less active than the bucket mouths.
It appears that with the end of Sprinter we jumped right into summer. As the waters warm the panfish and catfish will go off. Crappie and Bluegill are spotty now. They are starting to school up near the shore, but are moving around, much like the trout. If you find todays spot, hit it hard with mini-jigs tipped with nuggets or worms. No catfish sightings yet. Look for them to come on when the warms a bit more.
Upcoming Fishing Events in Big Bear Lake
June 7 & 8: Fishin' for $50K
Info: 800-424-4232
June 21: Aaron's Bass Tournament Championship Series
Info: 800-475-3166
May 19, 2014

By: Alan Sharp
The May Trout Classic, now in its 32nd year, has never had a woman win the top prize. That changed this weekend. For the first time in 32 years Jean Sotiros Fontana became the first woman angler to take the top prize at Big Bear Lake's May Trout Classic, which is known as the Grand Daddy of Big Bear trout tournaments.
Sotiros landed her first place trout drift fishing near the Solar Observatory. The 3.92 pound trout took her offering of Pautzke's Fire Bait, and her way to the grand prize of $2000. Jean had come to the weigh-in on Saturday, May 17 at around 3 pm. One hour before the next scheduled weigh-in. Jean had the trout in a cooler bag, with no ice or water. A tournament official saw the fish and realized it was a nice sized trout that could put her in the lead. He suggested to Jean, that she ice and water down the fish to help preserve it for the anxious hour before she could officially weigh-in. Good advice. The fish weighed in at .04 pounds more than the leader at the time, giving her the lead and on Sunday and the title of first lady angler to win the May Trout Classic.
Nathan Marshall, Big Bear City took the honors in the Junior Division (12-15 yrs.) with a 2.29 pound bow caught on a trolled Needlefish in Metcalf Bay. Tessa Chan, San Dimas was the Pee-Wee Division (5-11 yrs.) winner with a 1.89 pound trout she landed on a nightcrawler off Windy Point.
May 5, 2014

By: Alan Sharp
Big Bear Lake is the place to be during the month of May in Southern California. Trout fishing is excellent, bucket mouth bass are busy and the smallies are heading to spawn. The DFW stocked the lake the past two weeks. With the addition of the fresh trout, the holdovers have come alive. While the stockers are in the ten to twelve inch class, the holdovers are running from two to three pounds of hard fighting bows. The May Trout Classic (May 17-18, 2014) will add even more large trout to the lake.
Big Bear Charter Fishing Guide Matt Keller has been working trout alley and the mouth of Boulder Bay this past week with great results. CD Rapalas, in brook trout and gold fluorescent red, along with X-Rap Rapalas in the rainbow trout finish, have landed limits when trolled on leadcore or off a down rigger at ten to twenty feet. "Old School" flashers and crawlers, trolled at the same depth, are also putting fish on the stringer.
Largemouth Bass are very active pre-spawn, holding off points in fifteen feet of water. Best baits are drop shotted Robo Worms and skirted crayfish jigs. The bass are also showing along docks all over the lake. Smallmouth bass have moved on and off beds due to chilly weather, but are now setting up in the back of bays for spawning. Crappie and bluegill remain sluggish, but should come on strong as the weather continues to improve.
April 28, 2014

By: Alan Sharp
This past weekend was the wrong one to spend a day or two on the waters of Big Bear Lake. With a late winter blast bringing several of inches of snow, high winds, and wind chills in the teens, the anglers stayed at home.
Before the weather went south, the trout fishing remained good. The water temp is high for this time of year between Juniper Pt. to the observatory at 58 degrees. As a result the trout are starting to head west a bit ahead of schedule. The latest storm should help bring the fish back to the "Trout Triangle" again. In the meantime, more fish are showing from Windy Pt. to the dam, where water temps are 54 degrees.
Trolling leadcore as always got the best results. From 2 colors early then down to 4 later in the day, with CD Rapalas in tow, has produced limits of holdover trout. Trout over two pounds are common with the occasional three pounder mixed in.Bait anglers along the shore are having better luck from the west ramp to the dam along the north shore. While fishing off the bottom works, using a slip bobber, will suspend your dough bait or inflated night crawler just above the weeds that are starting to grow off the lake bottom.
The first of the lake's trout tournaments is just two weeks away. The 32nd Jim Hall Memorial May Trout Classic is the "Grand Daddy" of them all and offers Big Cash Prizes $$$, Fishing Tackle and Raffle giveaways plus free Pautzke's Firebait for all.
April 21, 2014

By: Alan Sharp
Big Bear Lake is known as a premier trout fishery, but did you hear about the bass in the lake? Home to both small and largemouth the bass have done well the past few years. Case in point, Scott Eberhard local "bassaholic," from Big Bear City claimed a new lake record with a 6.35 lb. bucket mouth. While this may not seem big compared to the ones caught in other So. Cal. Lakes, Big Bear has a northern strain of bass, that don't grow to double digit size.
Scott was fishing in the morning on 4/6/14, when the bass hit a Boss brush hog jig. Scott said, "We were fishing an offshore ledge that runs 7' to 14', I was bringing the jig slowly down the ledge and she thumped it good!" Scott's bass bested the previous mark of 5.9 lbs. from 2008. After taking the lunker to the lakes official weigh station at Big Bear Marina, Scott released the record bass back into the lake.
Trout fishing was up and down this past week. Between a full blood moon, weather fronts moving through and a little rain, the trout seemed as confused as anglers, when picking the right time to be on the bite. With water clarity high, days with light winds helped put trout on the stringer. Calm days were less productive.
The tried and true methods for trolling and bait fishing remained the same. Trollers from two to four colors of leadcore got hit on a variety of lures, in a variety of colors. So, change lures often, until you find the magic for the day. Inflated crawlers and dough bait anglers did well from the north shore, along the length of the lake.
Upcoming Fishing Events in Big Bear Lake:
May 17: Aaron's Bass Tournament Championship Series
Info: 800-475-3166
May 17 & 18: Jim Hall Memorial May Trout Classic
Info: 909-585-4007
June 7 & 8: Fishin' for $50K
Info: 800-424-4232
June 21: Aaron's Bass Tournament Championship Series
Info: 800-475-3166
Big Bear Lake Marinas:
Big Bear Marina, 500 Paine Ct.: 909-866-3218
Captain John's Marina, 39369 North Shore Dr. (Hwy. 38)
Holloway's Marina & RV Park, 398 Edgemoor Road: 909-866-5706
Pine Knot Marina, 439 Pine Knot Ave.: 909-866-7766
Pleasure Point Marina, 603 Landlock Landing Road: 909-866-8455
North Shore Landing, 38573 Northshore Drive: 909-878-4386

April 14, 2014

By: Alan Sharp
Spring is in the air and waters of Big Bear Lake. The 2014 fishing season started off with anglers whacking the trout all over the lake. Holdover Rainbow Trout in the 2 to 3 pound range are providing anglers with great hard fighting, good eating fish. Uniform temperatures of 48 degrees, with oxygen levels high, have the trout hitting in all areas of the lake.
Shore anglers working the North Shore from east to west are doing well on dough baits and night crawlers. Fish close to shore early and late, then deeper during mid-day when the sun is high and fish go to darker water. Be sure to vary your leader length, until you find the zone the trout are in.
Trolling, as always, is the most effective way to land a limit of trout. Surface action with light spinning tackle is working at the crack of dawn. As the sun hits the water, be ready to go deeper with leadcore line at 2 to 4 colors. Just about every type of lure is working now. Vary the colors and finish of the tried and true Rapalas, Needlefish and Dick Nite Spoons in your tackle box until you find the magic for that day.
On a recent trip with Guide Curt Dills, father and son Rick and Matt Chavez from Orange County had a great day on Big Bear Lake. They both got their limits of hefty holdovers, trolling in "Trout Triangle" (Eagle Pt., Observatory, Lagonita Pt.) At the end of the day Matt exclaimed, "This has been the best trout fishing trip I've ever had."
Upcoming Fishing Events in Big Bear Lake:
May 17: Aaron's Bass Tournament Championship Series
Info: 800-475-3166
May 17 & 18: Jim Hall Memorial May Trout Classic
Info: 909-585-4007
June 7 & 8: Fishin' for $50K
Info: 800-424-4232
June 21: Aaron's Bass Tournament Championship Series
Info: 800-475-3166
Big Bear Lake Marinas:
Big Bear Marina, 500 Paine Ct.: 909-866-3218
Captain John's Marina, 39369 North Shore Dr. (Hwy. 38)
Holloway's Marina & RV Park, 398 Edgemoor Road: 909-866-5706
Pine Knot Marina, 439 Pine Knot Ave.: 909-866-7766
Pleasure Point Marina, 603 Landlock Landing Road: 909-866-8455
North Shore Landing, 38573 Northshore Drive: 909-878-4386
Sours: https://www.bigbear.com/things-to-do/boating-water/fishing/fishing-report/
Big Bear Lake plans to grow its own rainbow trout in a new $3.5-million hatchery
Reporting from BIG BEAR LAKE —
Hatchery Drive cuts through the forest about a mile east of the reservoir for which this San Bernardino Mountain resort community is named.
It's the lone remnant of a facility that produced teeming millions of trout here before mud flows closed it in 1932.
Now, with trout offered by state hatcheries getting fewer in number and smaller in size, the Big Bear Municipal Water District said Friday it plans to build a $3.5-million hatchery that will produce 150,000 pounds of rainbow trout each year and feature education programs, tours and projects devoted to rearing rare and endangered fish.
"We plan to be making fish within a year," said Mike Stephenson, the district's lake manager.
In its first phase, the hatchery will grow trout exclusively for Big Bear Lake. If successful, there's room in the facility to expand fish production and accommodate projects with partners such as state and federal wildlife agencies and universities, he said.
Those projects could include captive-breeding federally threatened and endangered species including the Santa Ana sucker, steelhead trout and Sacramento perch, Stephenson said.
The proposed 13,000-square-foot facility would be one of the largest in the state, and is scheduled to open early next year on four acres of district property currently used as an RV park, officials said.
The hatchery aims to boost the local economy and restore the lake's luster as an angling hot spot in Big Bear Valley, which is a two-hour drive from Los Angeles and home to about 18,000 permanent residents.
It also attracts about 7 million visitors who spend an estimated $350 million here each year, city officials said.
Eventually, the district hopes to defray operating costs of about $300,000 by selling rainbows to other recreational lakes including Lake Arrowhead, a few miles to the west; and Santa Ana Lakes in the Orange County city of Anaheim.
The proposal was developed largely because state hatcheries were no longer reliable sources of enough large, sterile trout to meet demand. State law requires that trout stocked for recreational purposes be sterile in order to keep them genetically isolated from native species.
The initiative comes at a time when annual sales of state fishing licenses have flattened over the past five years at roughly 1 million, with most sold to older anglers.
That trend initially made the hatchery proposal a hard sell to the district's directors.
Their perspective changed after board members traveled to Anchorage to visit the William Jack Hernandez Sport Fish Hatchery, one of the newest and largest fish hatcheries in the United States.
"I was blown away by the technology and efficiency I saw there," Charlie Brewster, director of the water district, said. "We're planning to use it as a model for our effort to set Big Bear Lake up as a premier fishing lake."
Michael Perry, executive director of the Big Bear Visitors Bureau, said his agency has already agreed to budget $250,000 each year to assist the educational components of the hatchery, where visitors will learn about fish life cycles and the Big Bear Valley ecology.
Its water held back by a 129-year-old dam, Big Bear Lake crawls with invasive species including massive brown carp, noxious aquatic plants and bass, which accumulate mercury, a neurotoxin that poses special risks for pregnant women and children.
But the alpine forests, creeks and meadows that surround it are home to one of the nation's largest concentrations of rare plants and animals. They include one of California's few known colonies of unarmored three-spined stickleback fish, and southern mountain buckwheat and Bear Valley sandwort, which are both listed by the federal government as threatened.
Bald eagles for centuries have migrated here each winter from frigid nesting grounds in the Pacific Northwest to roost in scraggly pine trees and hunt for fish and waterfowl in wetlands surrounding the 7-mile-long lake.
"Will bald eagles feast on trout from our new hatchery? Heck yes!" Stephenson said.
In the meantime, the district will continue to stock the lake two to three times a year with rainbows purchased from Mt. Lassen Trout Farm, a private hatchery roughly 600 miles to the north in Paynes Creek, Calif.
The latest shipment of 4,600 pounds of trout, worth $20,000, arrived at daybreak Thursday in a tank truck, in time to satisfy some of the anglers expected to cast lures, bait and artificial flies into the lake over the Memorial Day weekend.
The 11 1/2-hour drive was nearly as arduous for the truck driver, Leng Xiong, 57, as it was for the hundreds of trout in the six stainless steel tanks he had onboard.
"That was quite a trip," Xiong said. "One of my headlights went out; officers at a weigh station gave me a hard time, and I had to stop at a gas station to buy nine bags of ice to keep the fish tanks from overheating."
"The last time I delivered trout here," he added, "I got a flat tire."
A few hundred yards away, Robert and Karen Maloney sat quietly on folding chairs near their fishing rods, waiting for a strike.
"For us, it's not really about catching fish," Karen, 61, said, adjusting her sun hat. "It's about sitting back and soaking up the scenery for five to six hours at a time: white caps on the water, bald eagles perched on tree tops, pine trees."
Her husband agreed, to a point.
"When that hatchery comes in," he said, "it's going to be trout heaven around here."
@LouisSahagun
Sours: https://www.latimes.com/local/california/la-me-big-bear-hatchery-20170524-story.html
July 12, 2021
The Lake has been very busy with vacationers & folks playing work hookie (everyday) and the fishing can be tough during the boat races.
Although some early risers and owls are doing very well, the banker-hour fisherfolks are doing okay with the control depth fishing methods, but the summer slow down with our rainbows is here.
Down riggers, dipsey divers and slip bobbin fishing style is in effect. A downrigger trolled night crawler behind some hardware or just bareback is a known commodity for this time of the year. A dipsy diver with a wonder bread color (or whatever color you like) needle fish were deadly a few weeks ago. Also, of course, the dough baiters on the slip float are doing well at the dam and nearby cool deep water. The appropriate depth is looking like between 10 and 20 feet, and it fluctuates a little each day. Do not count out the trusty Rapala trolled in the morning and afternoon when the dust settles. Outside papoose and boulder bay have produced well as of late. A few folk's mid-day in the middle of our independence celebration did very well on slip bobbers tied to the mooring balls in the west. These hot temps are like sleeping pills to our local trout, but just like us after a good nap they still gotta eat.
The catfish have come alive, and the warm shallows are doing pretty good on nightcrawlers and cut material and the good old, almost free, Bar S hot dog. Have seen a few nice 3-lbers showing up with the occasional noodling mouth monster.
Crappie have been slow to nonexistent.
Bluegill are extinct or at least very well hidden.
The bass bite was fantastic pre spawn and turned off for a bit and are now back in full chow mode. Texas rig around docks and rocks or the trusted wacky attack is producing well and is picking up. Soft crawdad baits are also great along with lizards and chatter baits. Weedless presentation is mandatory this time of year and so is going in the trenches. Top water is a blast and effective but is short lived after the sun pops out. A spook or plopper in Bass and Bluegill colors is working early and late very early and very late.
Not a ton of carp showing on the surface but some are seen suspended in the deep water. Few fish are coming into the carp-o-matic.
Sours: https://www.bbmwd.com/fishing-report
Bear stocking big trout
Places to Fish & Boat
Now the trollers are needle fishing to the lake death with a few colors in the water and doing okay.

Stocking is needed desperately and if you want something done right you know what they say.

Otherwise we may never catch a fish again. The lake has been beat up with being the only game in town,

everyone was spiking the ball on every inch of the shoreline and dang near moving in like a homeless camp.

With that said the crappie bite has been good, it has been awhile since I have seen this many crappie showing

their face. Mini jigs have been doing the trick near the docks and rocks. Our bass fishing has been great, at least

for this lake it has been. Lots of 3 lb. smallies and a new lake record largemouth has been CPR'ed and still

swimming for your entertainment.

We are open with restrictions , visit our website for current updates and limitations. Don't make your plans

until you understand our procedures.


Water temperature at the surface is 41 degrees

Best Time to Fish


Morning


Afternoon





5AM - 10AM

Good


11AM - 6PM

Fair
Sours: https://goldenbear.net/news.cfm/mode/details/id/2738/big-bear-lake-fishing-weather-fishing-news-service-reports
12+ RAINBOW TROUT fishing Big Bear Lake California (part 1)
Big Bear Lake Fishing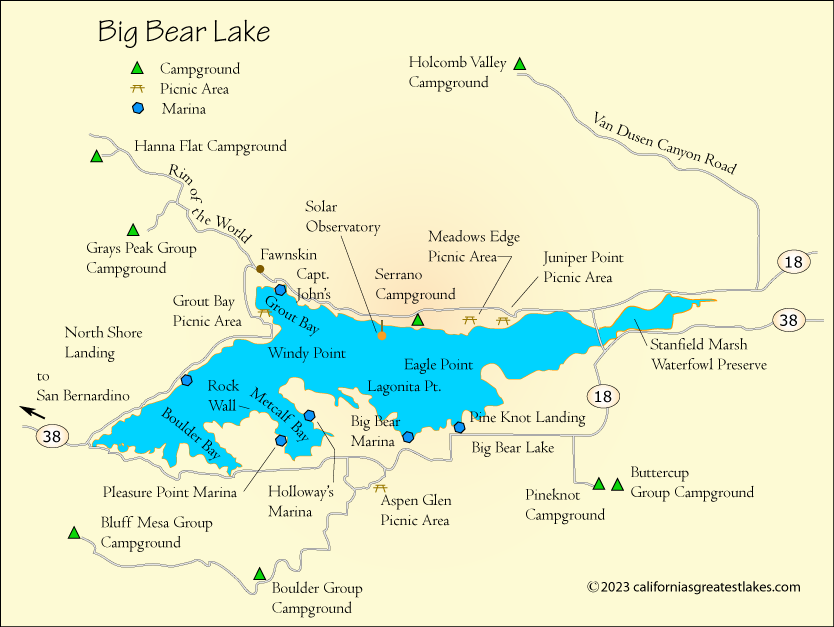 Trophy Fish from Big Bear Lake
Largemouth Bass 5.9 pounds caught by Pam Kalina in 2008
Rainbow Trout - 18.69 pounds caught by Erin Dominquez in 2009
Catfish - 27.82 pounds caught by Kevin Bremer in 2009. Chris Perez caught a 27.03 pound catfish in 2008
Which Baits and Lures are Catching Fish at Big Bear Lake?
Bass
Spinners and Spoons, Hellgrammites, Shallow Diving Crankbaits, Nightcrawlers, Bucktail Streamer, Silver Shad Crankbaits, Minnows
Trout
Berkley Powerbait, Salmon Eggs, Nightcrawlers, Garlic Powerbait, Helgy, Rainbow Glitter PowerBait
Crappie
Jigs with a marabou skirt, Minnows, Rapalas
Catfish
Nightcrawlers, Mackerel, Nitro Biscuits, Minnows
Bluegill
Small Lures, Spinners
Carp
Berkley Powerbait
Big Bear Lake Trout Derby
June TBA, 2021
Anglers at the Fishin' for $50k Trout Tournament are hoping to land one of the 5 tagged fish worth $10,000 each. Other awards include adult and children's categories.
Fishin' for $50k Trout Tournament
Sours: http://www.californiasgreatestlakes.com/big_bear/big_bear_fishing.html
Now discussing:
General Info:

The lake has 2,971 surface acres and 22 miles of shoreline at capacity. It rests at an elevation of 6,743 feet. Big Bear lake is open year round, except when frozen-over during cold winters. There are many campsites and cabin rentals located near the lake. The South shoreline is mostly private. Public access is allowed on the North side. (909) 866-3218.


Other lakes and rivers in the area:
Green Valley Lake
Jenks Lake
Arrowbear Lake
Santa Ana River



Boating Info:

Launching is free at several ramps on the North shore. You must, however, purchase a boat permit available at most marinas and launch ramps. Some marinas also feature over-night slips. Boat rentals are available at Holloway's Marina and Pleasure Point Marina. Skiing and personal watercraft are allowed.




Fishing Info:

There are Trout, Bass, Catfish, Carp and Crappie in the lake. The lake is stocked with rainbow trout regularly by the DFG and County hatcheries. The Big Bear Fishing Assoc. also stocks Trophy Sized Trout for contests and special events. Fishing is generally best during the early mornings or late evenings or during the early spring and fall / winter months when the water is too cold for pleasure boaters and skiers. There is No ice fishing allowed on the lake. Be sure to visit the CDFW web site for complete regulations before heading out.




Lake Records:




Comments and Tips:

Big Bear Lake

Big Bear Lake is not a "pay-to-fish" lake, it's "FREE"! It's a huge lake,(six miles in length), in a beautiful mountain/forest setting and it's sunny and mild every day. Serrano Camp Ground, (on the lake), has RV hookups and tent-camp sites with firerings, flush-toilets and hot showers. A word for those seeking trout; first, let me say, Big Bear Lake is a very heavily stocked trout-lake, with several thousand rainbow trout added every week, for shore fishing along the Northshore, from Gray's Landing and west to the Dam are the ideal spots. There is a lot of weed growth along the shoreline, but the weed cutters are working fulltime, so use a bigger weight and put it out there. The prefered method would be to take out a boat and still-fish near the bouy-line at the Dam, using a slip-bobber, or, drift fish or slow-troll deep water, no further east than the telescope. East of the Telescope is considered shallow water, less than 35 feet deep and the trout want to be in or accessable to deep water. For Bass fishing, most any weedy area anywhere along the northshore. Along the southshore; due to the fact that most of the south shoreline is private property, (condos,luxury homes,etc.), you will need a boat to hit the coves and better bass spots along most of the southshore, but try the Eagle Point area and Boulder Bay. Big Channel Cats, (from 5 to 20+ pounds), exist, but are elusive. You're more likely to get bites from smaller Bullheads, (yellow/gold or yellow/green in color), in the under five pound range. Bluegill, Sunfish and Crappie are in the shallows. And, of course, there are tons of big carp everywhere.
Good Fishing!


---
If you know something about this area or have some photos that you'd like to share, please E-mail and I'll post it here!
» Photos
FNN member "jpainter" and his son took advantage of some nice weather over the weekend and caught some quality rainbows from Big Bear Lake!>>>Report
FNN members "troutsniffer" and a friend fished Big Bear Lake and caught some nice bass. >>>Report
Jimmy De caught this trout off the bank on North Shore 9 June 2011. 26.5 inches long 9.8 pounds.
Sours: http://fishingnetwork.net/forum4/
6550
6551
6552
6553
6554