We were out visiting my family the other weekend when my mom started discussing all her plans for updating and improving my childhood home. Let me tell ya, she's got some great ideas up her sleeves! As she was going over all the updates for the master bedroom, she happened to offhandedly mention that she's been shopping around for a blanket chest …
Well …
I mentioned that I could build one for a fraction of the price, customized and perfect for the room, and she loved the idea!
A note on the style – the house is log with rough cedar trim and rustic country decor. She requested a cedar blanket chest finished with boiled linseed oil and awesome hardware to match.
So here we are.
Blanket chest #2 for Bitterroot DIY and a perfect Christmas present for my mom!
Enjoy the free plans!
You can also download the plans at the bottom.
This post contains affiliate links, which means I may make a small commission from purchases you make from the links at NO EXTRA COST to you. See my full disclosure here. I appreciate the support to help keep the tutorials and plans free here at Bitterroot DIY!
Tools & Supplies:
Lumber:
6 | 1 x 6 – 8′ CEDAR
3 | 1 x 2 – 8′ CEDAR
1 | 1 x 4 – 6′ CEDAR
1 | 1/2″ Square Dowel – 3′
1 | 2′ x 4′ Tempered Hardboard Sheet
1 | 1 x 4 – 6′ PINE (or spare lengths around your shop)
1 | 1 x 2 – 6′ PINE (or spare lengths around your shop)
Cuts:
6 | 1 x 6 @ 42″ (front & back)
6 | 1 x 6 @ 15 1/2″ (ends)
2 | 1 x 2 @ 43 1/2″ (front & back trim)
2 | 1 x 2 @ 17″ (end trim)
2 | 1 x 4 @ 15″ (front upright trim)
2 | 1 x 4 @ 15 1/2″ (base supports)
2 | 1/2″ Square Dowel @ 15 1/2″ (base
supports)
1 | Hardboard @ 40 3/8″ x 15 1/2″
(base)
3 | 1 x 6 @ 43″ (lid)
2 | 1 x 2 @ 44 1/2″ (lid trim)
2 | 1 x 2 @ 16 1/2″ (lid trim)
2 | 1 x 2 @ 13″ (lid supports)
4 | Spare corners (lid supports)
Step 1.
Start by building the front and back of the chest. Attach boards to each other with 1-1/4″ pocket hole screws and
wood glue. Stagger the pocket holes as shown on the diagram. You should have two sides once you are finished.
*UPDATE: Do not add the pocket holes on the bottom of the bottom board as shown in the diagram below. I made an error when drafting the plans … though I have also done that during builds as well haha … but there is no reason to put pocket holes on the bottom since there are no more boards to attach to. I'll update the photo asap.
Step 2.
Build the ends of the chest. Attach boards to each other with 1-1/4″ pocket hole screws and wood glue. Stagger
the pocket holes the same as for the front and back of the chest (Step #1). You should have two of the same ends once you are finished.
Step 3.
Add a square dowl to the ends of the chest. Position the dowel flush with the bottom of the ends. Attach with wood glue and finish nails. The dowel will provide a support to set the base of the chest on.
Step 4.
Attach the front, back, and sides of the chest. Attach the ends to the front and back pieces with 1-1/4″ pocket hole screws and wood glue.
Step 5.
Add base supports along the bottom of the chest to support the hardboard base. Place two 1 x 4s flush with the bottom of the chest and attach with 1-1/4″ pocket hole screws and wood glue.
Step 6.
Insert the hardboard base into the chest. Use wood glue to attach it to the dowels and center braces along the bottom of the chest.
Step 7.
Attach base trim to the bottom of the chest with wood glue and finish nails.
Step 8.
Attach front upright trim to the chest with wood glue and finish nails.
Chest Lid
Attach the 1 x 6 boards using two 1 x 2s. Begin by attaching the 1 x 2s to the first lid board with 1 1/4″ self-tapping wood screws. Apply wood glue to the exposed edge, position the second lid board and attach the 1 x 2s to the second board. Repeat for the third lid board.
Attach trim to the lid with wood glue and finish nails. Position trim so that it is flush with the top of the lid.
Finish the lid by adding extra support pieces in the corners.
I used some spare boards that were lying around, cut them off at 45° perpendicular miters, and attached them in the corners with wood glue and finish nails.
Step 8.
Finish as desired.
I finished the exterior of this chest with boiled linseed oil, which gave the cedar really nice depth and emphasized the natural wood tones. It's up to you, but I highly recommend the linseed oil look!
I also filled the interior pocket holes with wood filler and sanded them smooth. However, I recommend leaving the interior of the chest unfinished other than that. Let that wonderful cedar smell soak into all your blankets!
Once the oil dries, add your hardware.
I found these great decorative corner brackets and chest handles on Amazon.
They add great character to the chest and help to reinforce the trim on the lid.
Win-win!
Download the Rough Cedar Rustic Blanket Chest Plans
Let me know if you have any questions and I'll get back to you as soon as possible.
Thanks for stopping by Bitterroot DIY!
For more project ideas, you can find me on Pinterest. And to stay up to date with the latest shenanigans, follow me on Instagram.
Sours: https://www.bitterrootdiy.com/rough-cedar-rustic-blanket-chest/
DIY Hope Chest Storage Trunk
Check out this DIY hope chest! I'll show you how to build it in this post!
This post is sponsored by my friends at Kreg Tool and contains affiliate links. See policies for details.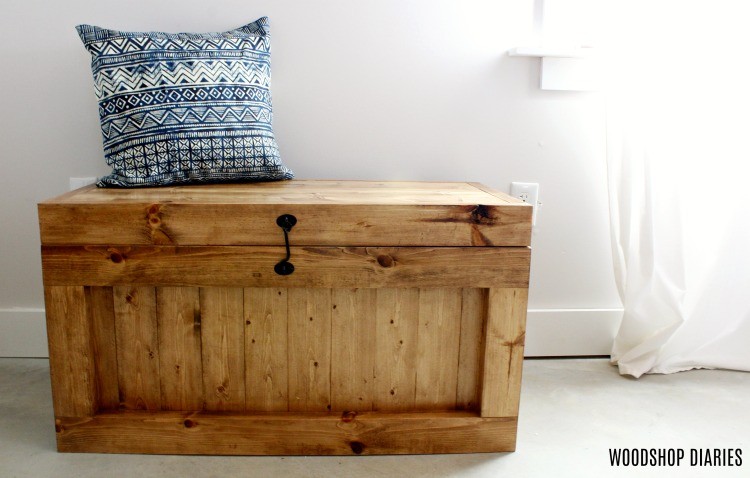 So, okay, let's be real. This DIY Hope Chest is actually just a simple hope chest. No hidden compartments, no fancy add ons. Just your standard DIY hope chest.
.
BUT, I started thinking about ways I could turn this ordinary DIY hope chest into something a little more multi-purpose. You know…because I live in a tiny garage apartment and multi-purpose furniture is always a plus in small spaces.
.
And it hit me…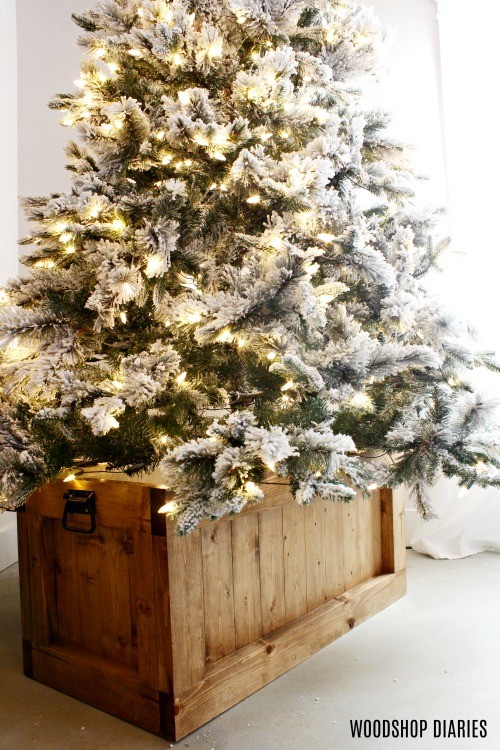 I could use it to store all the various holiday and seasonal decorations that are currently in my workshop because they are getting covered in sawdust…and that's just not a good look haha.
.
And when all the decorations are out and the chest is empty, I can use it as a BEAUTIFUL Christmas tree stand!
.
Hey, by the way, if you are looking for more storage chest ideas, check out one of these:
So if you want to build your own DIY hope chest, I'm sharing the how to video below along with the tutorial and you can find the printable plans here.
For this hope chest build, you will need:
NOTE: Before getting started, I squared off the rounded edges of all my 2x material to make for cleaner joints. This is optional, but I think it makes the piece look cleaner when finished.
Step 1: Assemble the Hope Chest Frame
You can download the free printable plans from Build Something, with exact dimensions, but for this project, the first thing I did was assemble the frames for the side of the chest.
.
The entire frame was made from 2x4s and was assembled with 1 ½″ pocket holes and 2 ½″ pocket hole screws.
RELATED: Check out this post to learn how to set up and use a pocket hole jig!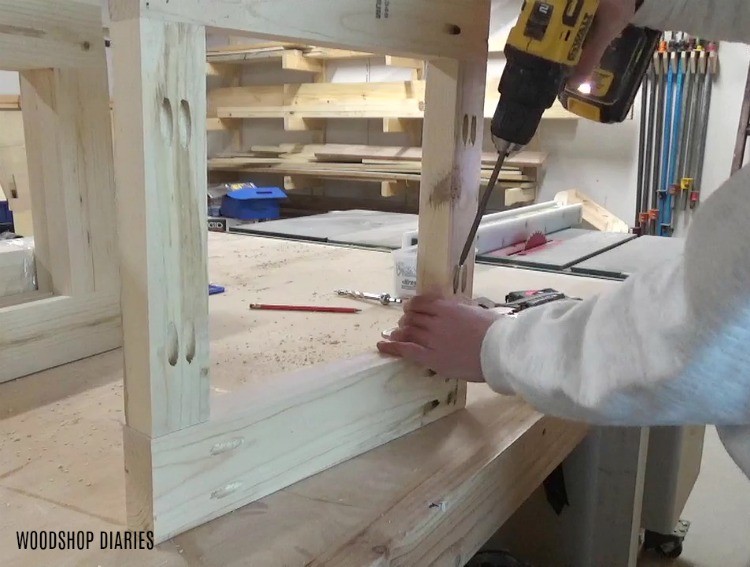 Because I will be butting up another 2×4 to the side of these panels, for purely aesthetic purposes, I ripped the side pieces shown above to 2″ wide so that when the 2×4 is butted up to it, the width of this will match the full width of a regular 2×4.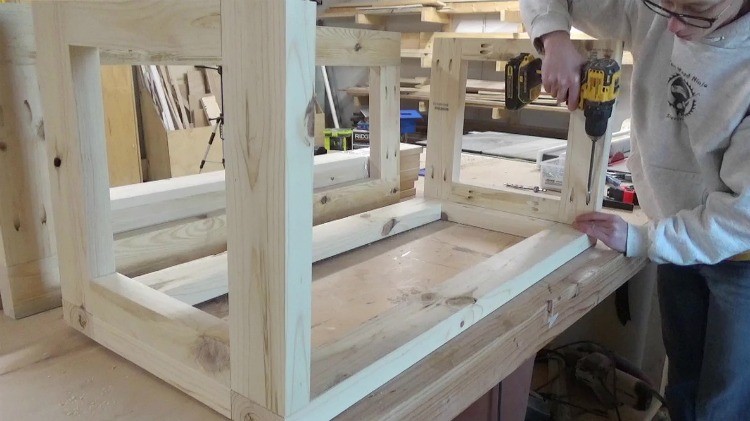 Once the small side frames were assembled, I assembled two larger frames for the front and back.
.
Once all four frames were together, I screwed them into a box like shown using 1 ½″ pocket holes and 2 ½″ pocket hole screws. Don't worry about all the pocket holes in this project. They will all be covered up later.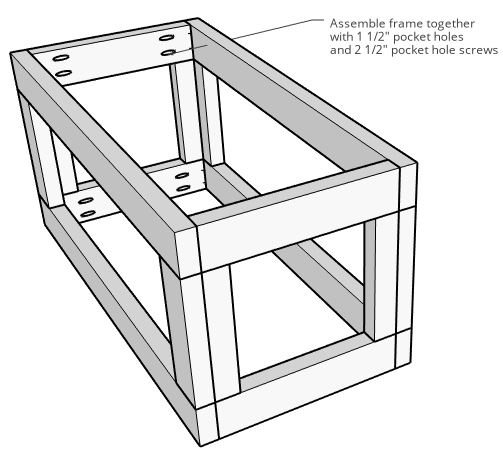 Step 2: Install bottom of Hope Chest
To make installing the bottom easy, I trimmed down a ¼ sheet of ¾″ plywood to fit into the frame. You could also use wood slats for this, but it's easier to work with a single piece of plywood vs several boards, so I opted for the plywood.
.
I drilled ¾″ pocket holes around the edges and installed into the bottom of the frame from step 1 using 1 ¼″ pocket hole screws.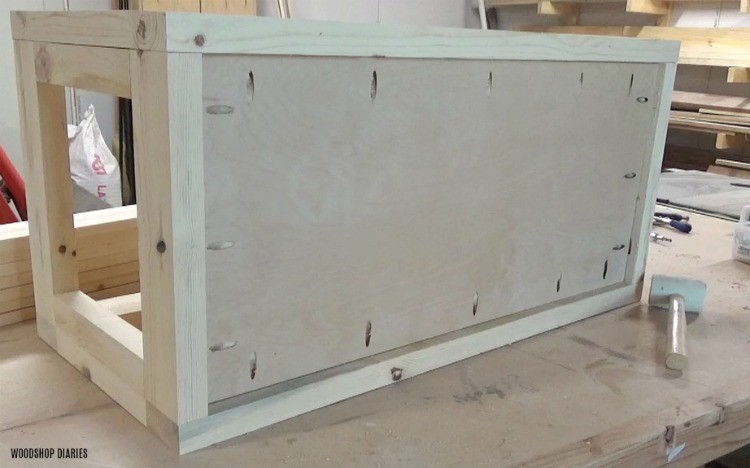 Step 3: Install Slats into sides of Hope Chest Storage Trunk
The slats on the sides are made from 1×4 boards. I trimmed several 1×4 pieces to line the sides of the chest like shown. You could use other sizes besides 1x4s if you wanted.
.
Starting with the long sides first, I just applied wood glue along the inside of the frame, placed these 1x4s in and used 1 ¼″ wood screws to secure into the top and bottom.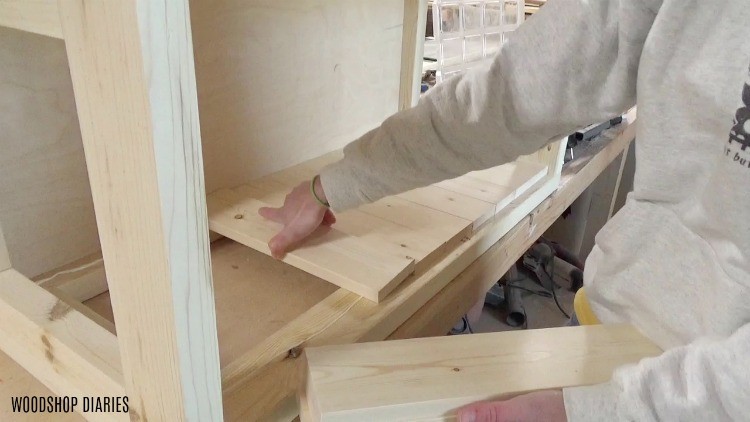 Once both long sides have slats, I installed the short sides the same way. You'll notice I left a ¾″ lip along the top of the slats here. That's optional.
.
I was going to use that as part of the design of the lid, but changed my mind, so it's not a necessary part of the project.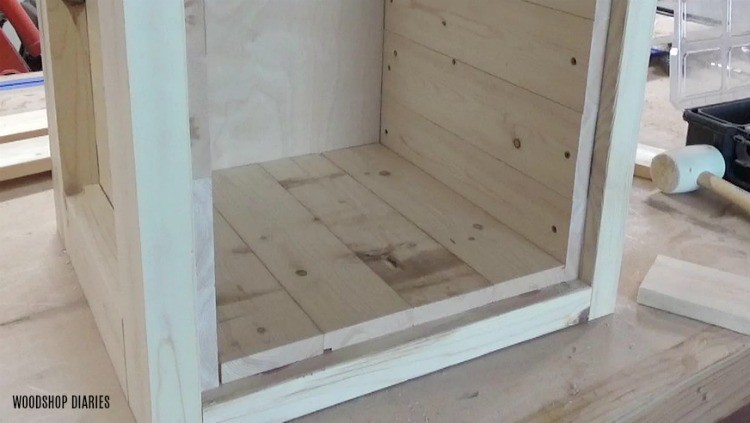 Step 4: Built Chest Lid Frame
I built the chest lid frame using 2x4s as well. So, I used 1 ½″ pocket holes and 2 ½″ pocket hole screws to assemble a frame like shown that would fit exactly over the chest body.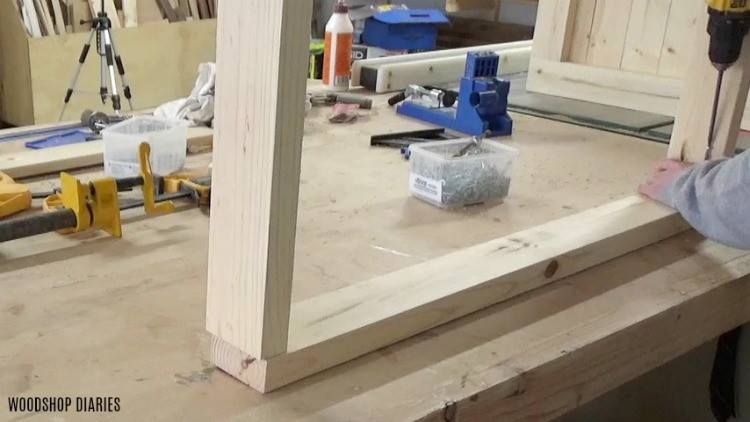 Once the frame was together, I lined the inside with 1×3 boards like shown–I used 1 ¼″ wood screws to secure. The goal here was to install these ¾″ DOWN from the top of the frame.
.
I'll be placing slats onto these ledges and want them to be flush across the top.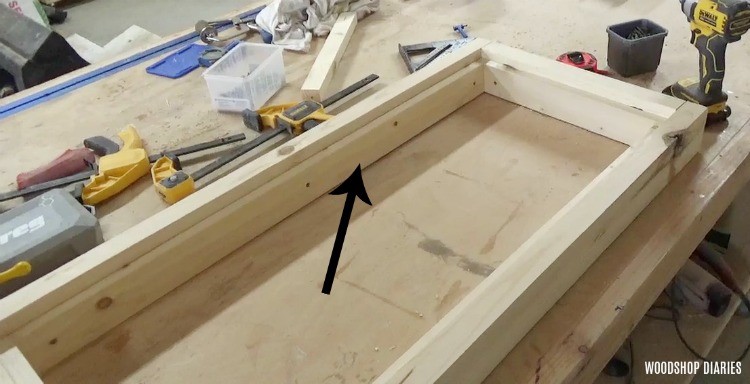 To give a little more support to the lid slats, I cut and installed two 1x2s like shown into the lid frame keeping them flush to the top of the 1x3s.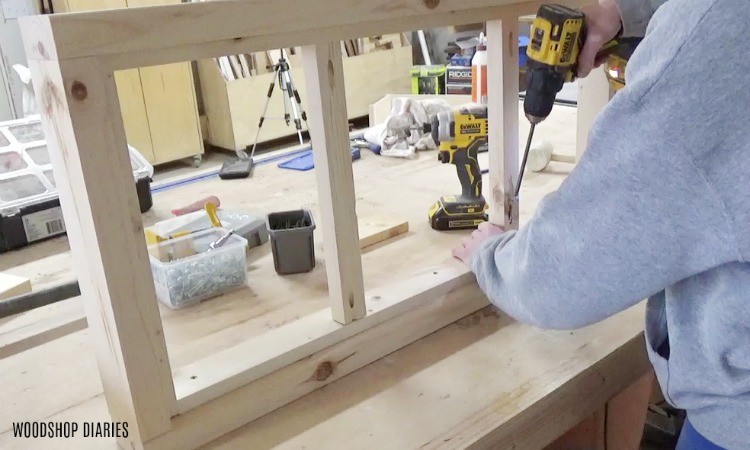 Finally, it was ready for the top slats. So I applied wood glue along the "1×3 liners" and the middle supports and placed 1×6 slats down into the frame. You can, again, use whatever size boards you wish.
.
In this case, I used 1x6s, but I had to trim the middle 1×6 to fit because the frame wasn't wide enough to accommodate three of them side by side.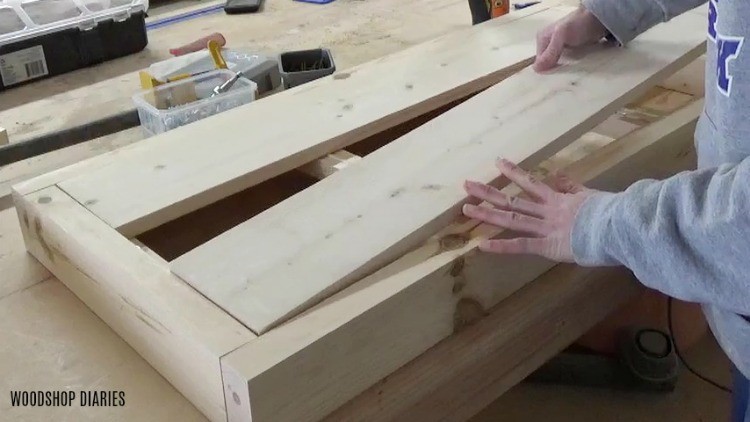 Once the slats were in place, I flipped it over and secured them through the 1x2s using 1 ¼″ wood screws. I flipped it back over and clamped the slats down around the edges until the glue dried.
Step 5: Finish and Install Chest Lid
It's easier to finish the lid and chest separately, so I went ahead and stained it with Minwax Early American stain.
.
Then, I used a pair of non mortise hinges and attached the lid to the chest.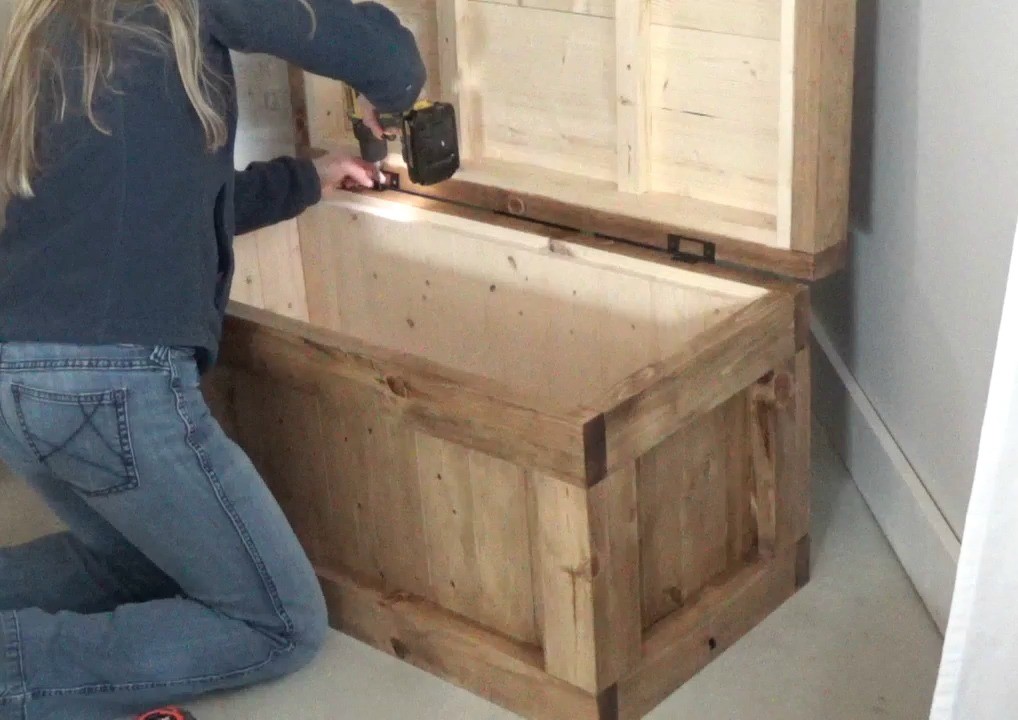 In addition, I also added these soft close mechanisms to prevent any smashed fingers. These are a little tricky to install–the included instructions aren't super helpful and I always end up installing and adjusting a little bit until it works right.
.
I'm sorry, I don't have super helpful advice here…I've installed several of these and they are still frustrating to install. But, they work really well once you get them set.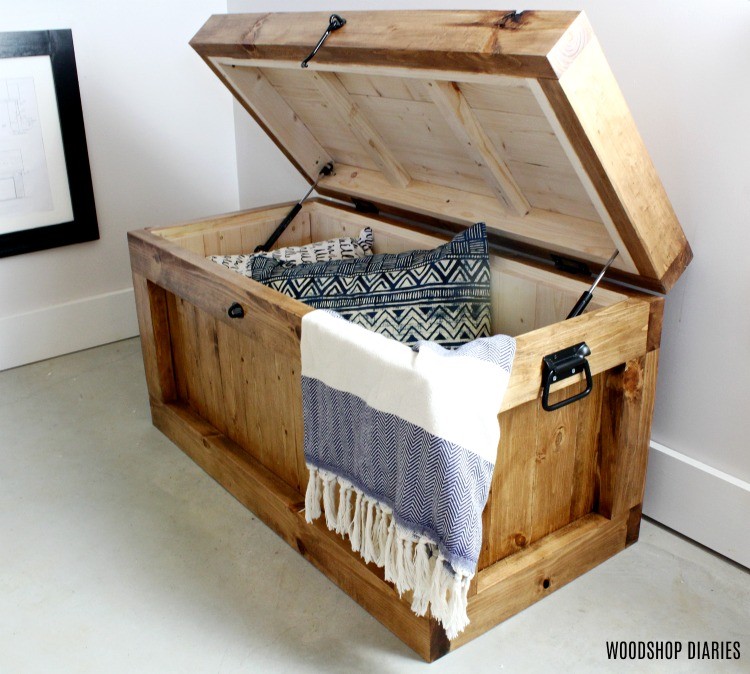 One note about the soft close mechanisms …they don't allow the lid to open up all the way back. So if you are planning to use this as a storage chest AND for a tree stand, you have be able to open it all the way when you put the tree inside.
.
No worries. These soft close mechanisms install with two "knobby" looking parts for each end into the chest and the soft close cylinder simply snaps onto them.
.
If I want to open it all the way, I take a screwdriver and simply pop one end off the knob and when I'm ready to put it back on, I simply pop it back in place.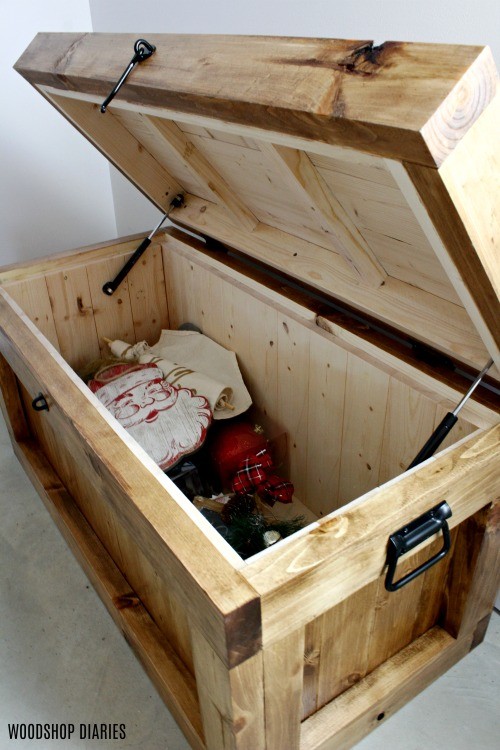 As far as the other hardware on the chest, I added a latch, and handles to give it a little more visual interest. Also, I finished this with a couple coats of Helmsman Poly after the stain…just in case you were curious 🙂
.
I've built several storage chests and this one is BY FAR my favorite design. So simple, but so eye catching. Who knew 2x4s and 1x4s could look so nice? PS, if you need a storage coffee table, this also works nicely *wink wink*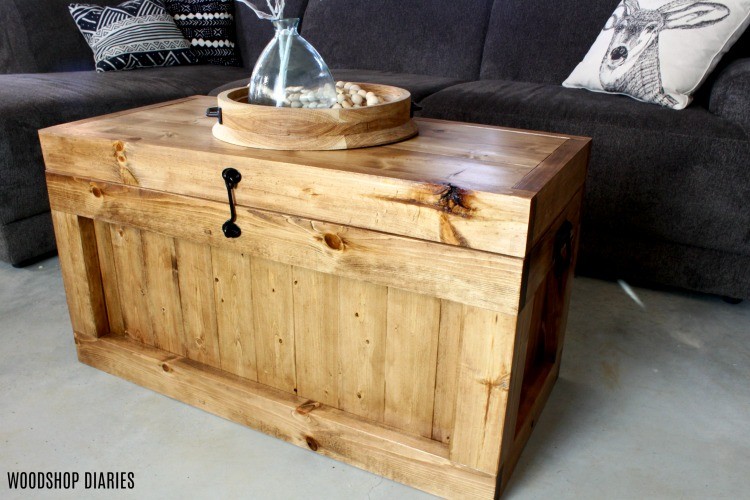 So if you loved this project as much as I did, I'd love if you'd pin this for later and don't forget to check out the video tutorial!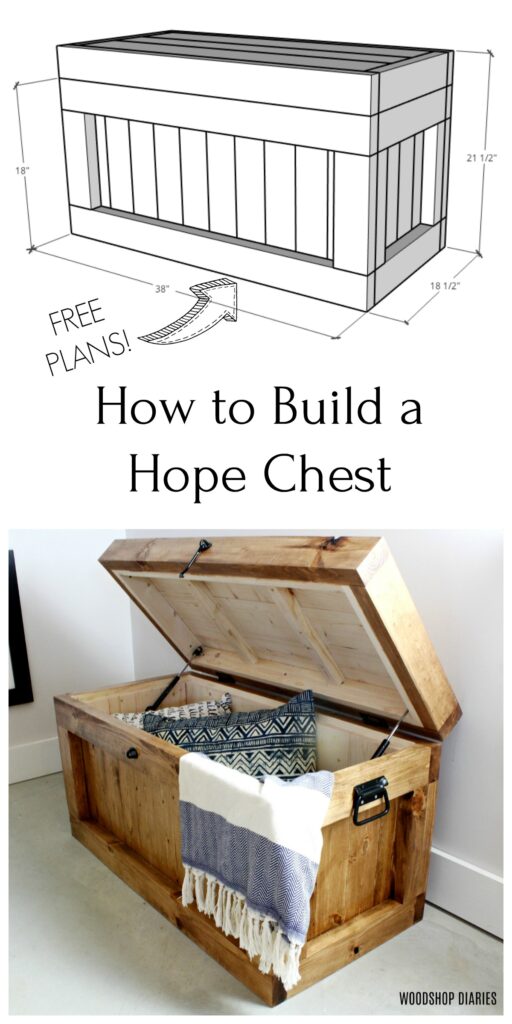 Until next time, friends, happy building 🙂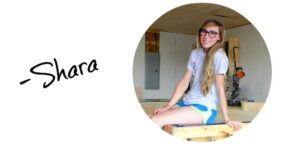 Sours: https://www.woodshopdiaries.com/diy-hope-chest-wooden-christmas-tree-stand/
20 Free DIY Blanket Chest Plans
Every home needs a large wooden chest or blanket storage chest that can behold all the messy things and blankets to make the bedroom clutter-free! A DIY blanket chest can be a great way to not only manage your bedroom's blanket mess but also do that in an ideal economical manner. A blanket storage chest is a wooden storage box that offers a great deal of space in it, and you can dump all your blankets in it. Nothing hurts a bedroom's decor more than the unfolded or even folded pile of blankets on top of the bed. Especially, if you have a thing for showing off the throw pillows or the various other cushion categories, blankets can get in the way. Remedy that with this roundup of easily doable and insanely 20 free DIY blanket chest plans.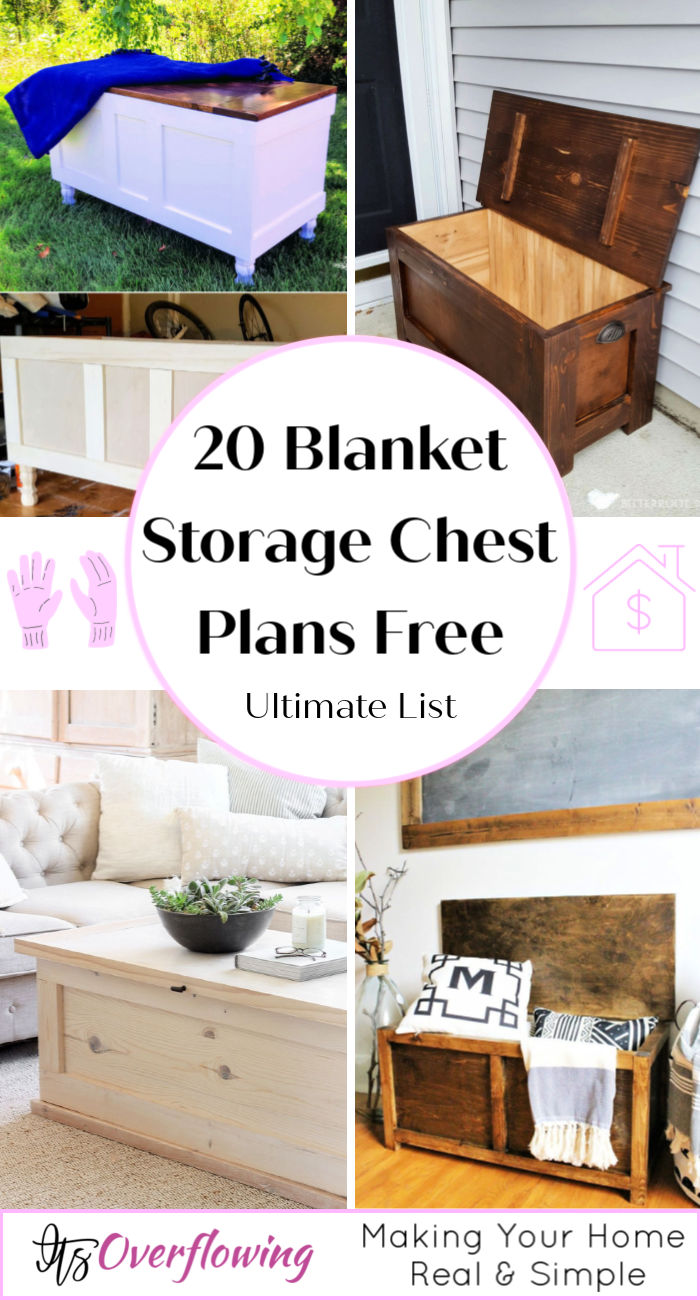 How to make a chest? Building a wooden chest by following these blanket chest plans with step by instructions and a PDF guide will help you to build a wooden chest cheaply and quickly. You can find great storage solutions to make your bedroom clutter-free and great decoration piece.
You can use these as to magically hold all your blankets, other items that need storage, or even work as a coffee table when needed. Find below portable of rolling blanket chests, the delight of walnut shaker blanket chests. Or even a minimalistic wooden texture, laced with vintage affairs, blanket chest cum living room coffee table. Use reclaimed wood, turn an old rustic collection of wood into this new adorable rustic texture enhancing blanket chest. You can find below many great blanket chest plans that can totally elevate your mood, interest you in making your bedroom decor flawless. Let's get started and learn how to build a wooden chest at home.
1. DIY Blanket Storage Chest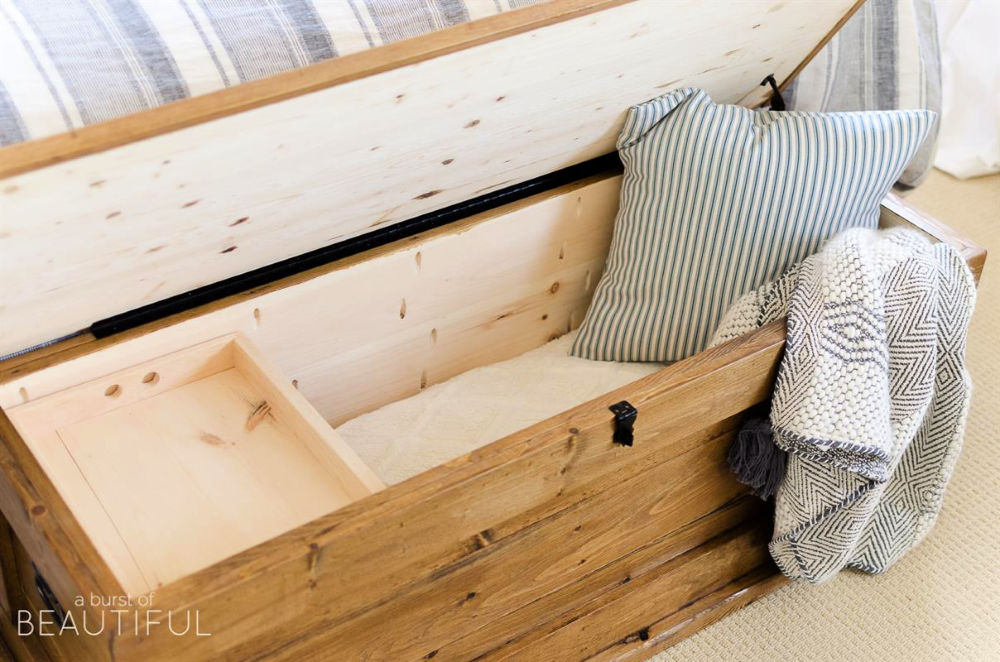 This DIY blanket chest idea is a unique and beautiful storage mine that can be placed anywhere! Also, this blanket chest will fit beautifully into any space so you can use it for so many purposes in the bedroom, living room, or elsewhere. To build this DIY wooden chest you'll require these tools, a miter saw, compressor, clamps, nail gun, sander, and pine wood. buildsomething
2. DIY Bedroom Storage Chest for Blankets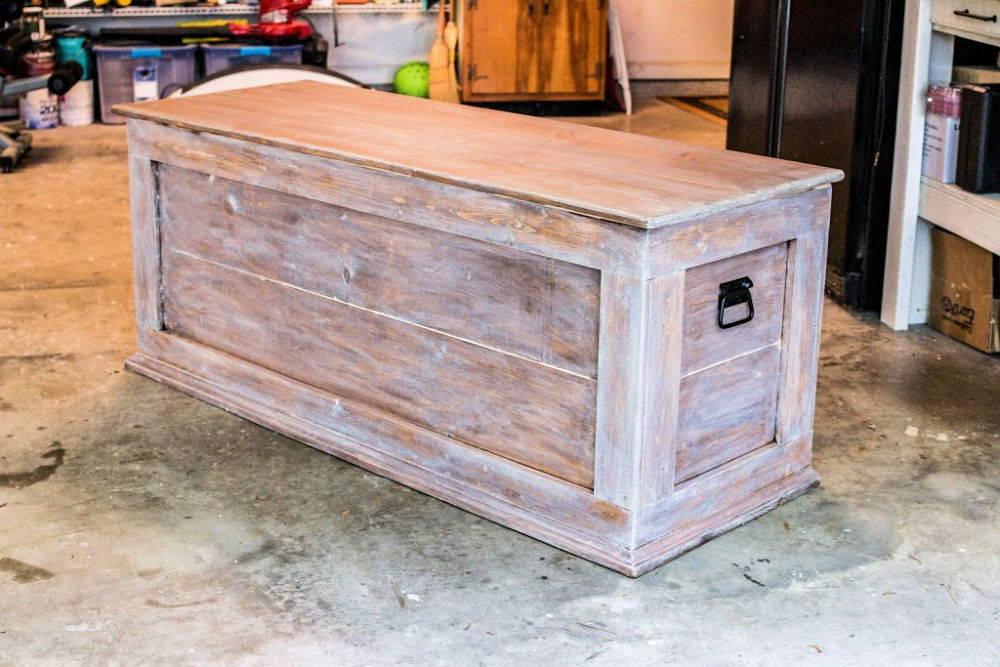 Create more storage instantly and easily with this simple DIY wooden chest. It will look great in your bedroom next to your bed. Plus, you will not require any extra help for this DIY wood chest project. All you need is just a few supplies and a lot of decors elevating passion, for that matter. buildingourrez
3. How to Build a Blanket Chest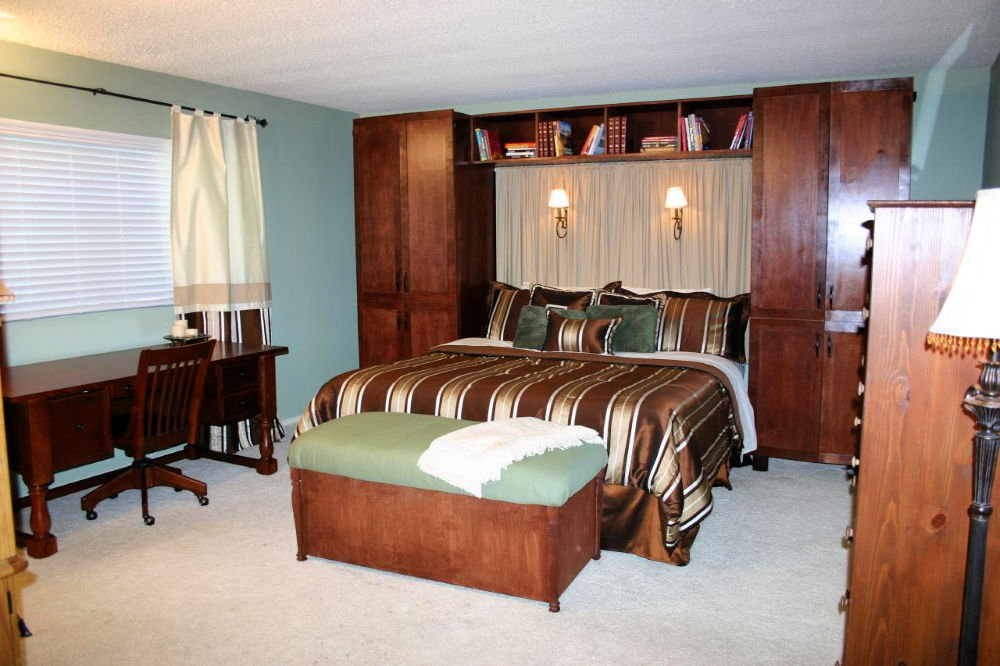 A simple and decor complimenting blanket chest is all you need to get excited about this weekend! Bring some charming functional vibes to your room's decor! Just grab your supplies like the table saw, tape measure, nail gun, hammer, paintbrush, wood-glue, drill, scissors, and lint-free rags to make a chest for end of bed. hgtv
4. DIY Wooden Storage Box Out Of Rough Cedar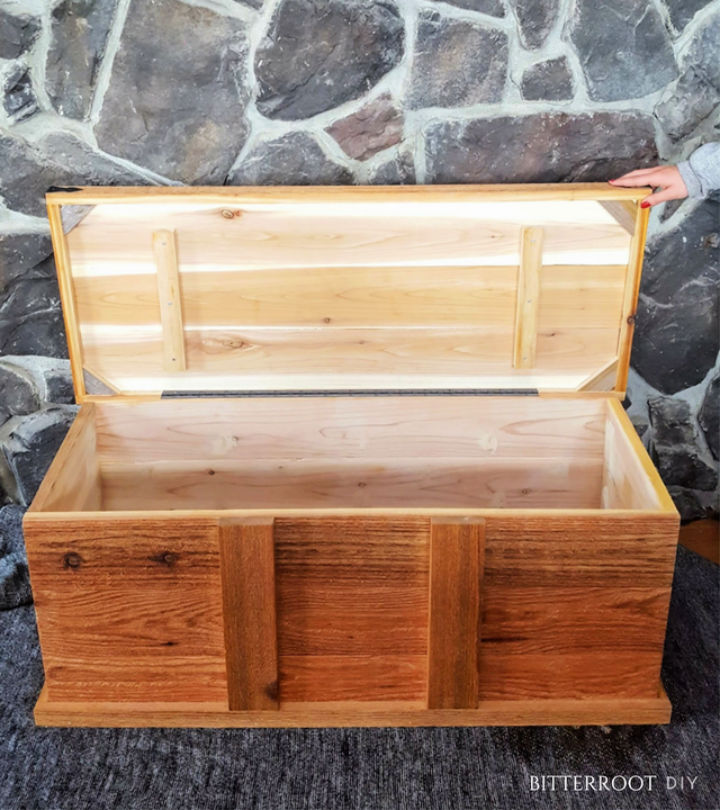 A foot chest at the end of the bed certainly gives you extra storage capacity and seating. No doubt, you can build this DIY wooden storage box for a fraction of the price by DIYing and customize it according to your requirements! Don't forget to grab the free plan and also using the step by step assistance. bitterrootdiy
5. Personalized Hope Blanket Chest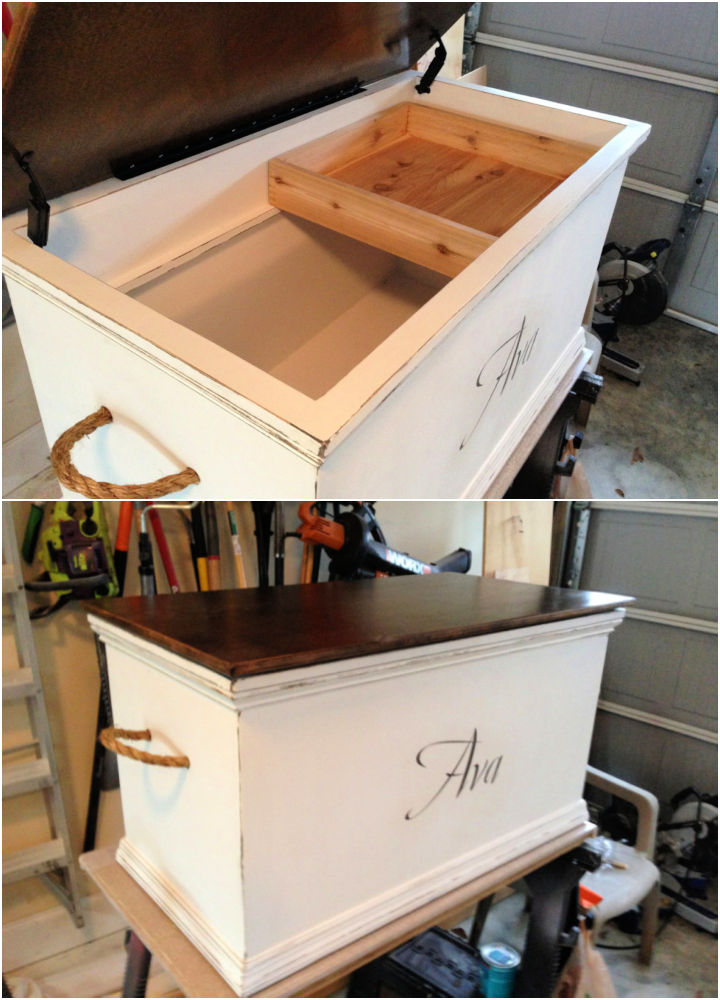 How to build a hope chest? Make your supplies list and include cedarwood, drill, brad nail, miter saw, tape measure, and hole-jig in it to build this white storage chest project. Head over to the tutorial and learn how you can make DIY wooden trunk the ultimate customized solution for your storage needs! rogueengineer
6. How To Build A Wooden Chest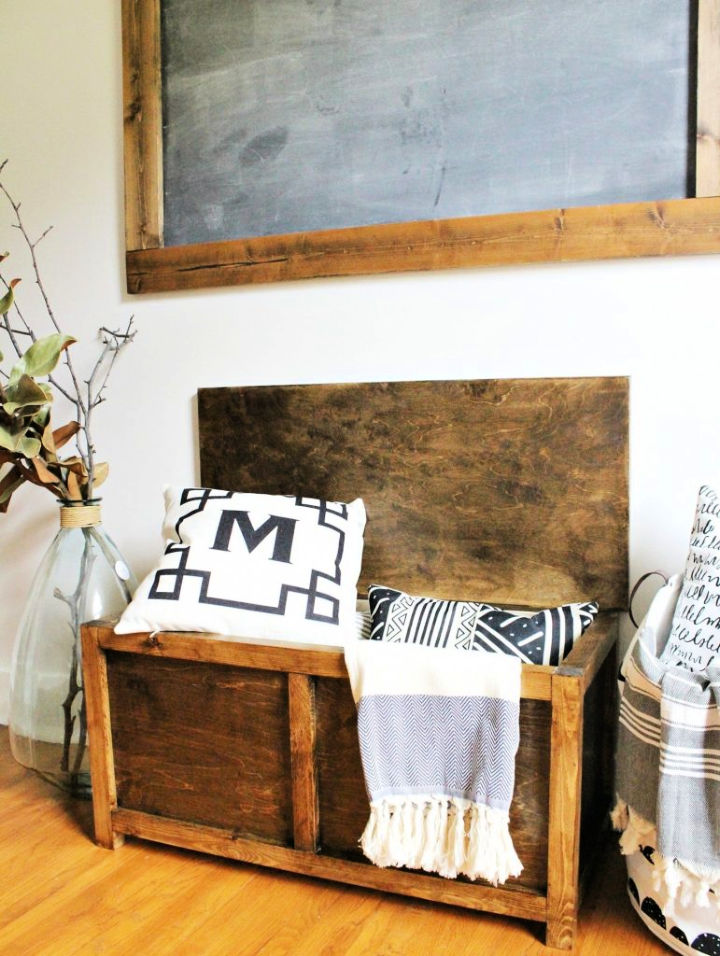 Check out this rustic and vintage DIY storage chest delight! It will give you multi-fold benefits like you can use it for storing your random stuff and also elevate the decor appeal, overall. Make sure your project gets a finished sized of 22" x 48" if you strictly want to follow the tutorial. woodshopdi
7. DIY Blanket Trunk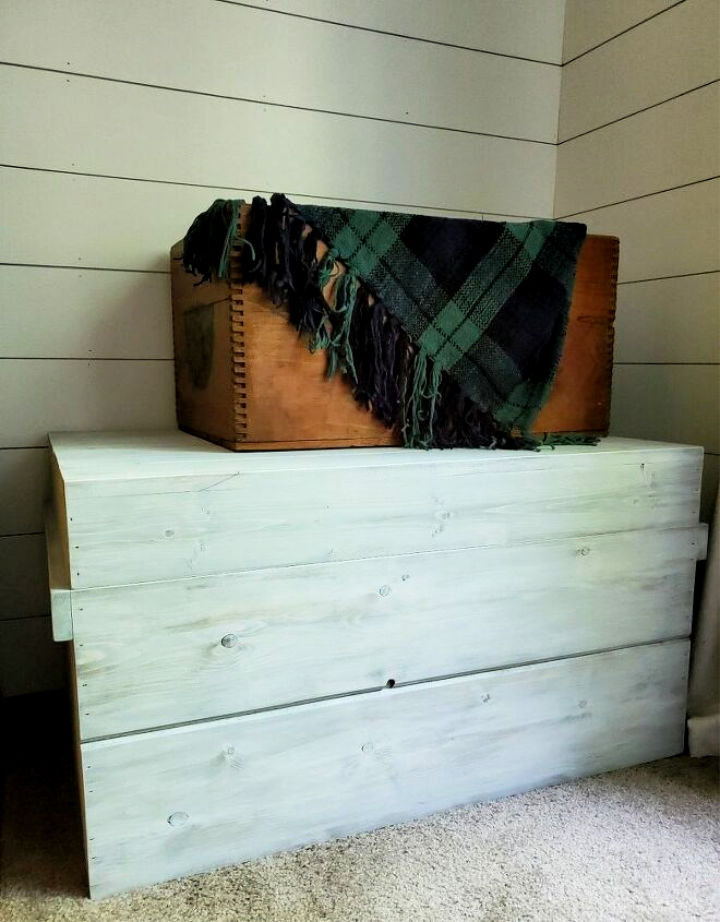 Looking for a good enough place to store your blankets and pillows? This wooden storage chest will be a great idea for you to store many blankets in it at a time. Along with 1 x 5 x 8 groove boards and pine boards, you will need a miter saw, clamps, nuts and screws, wood glue, hinges, and a nail gun. hometalk
8. Dark Walnut Shaker Blanket Chest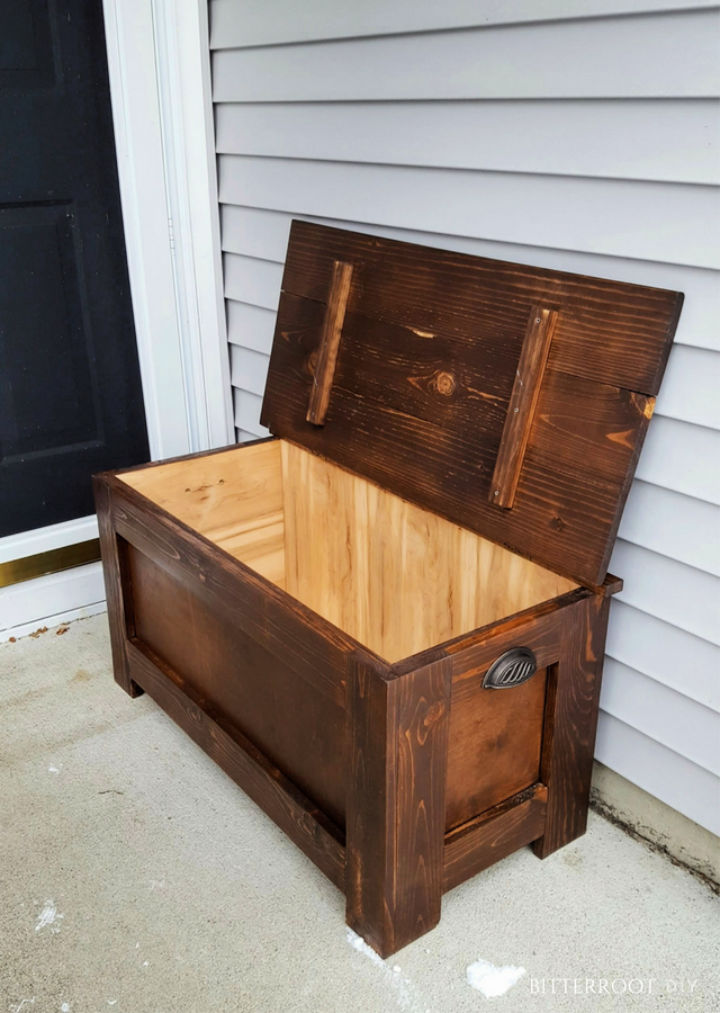 If you are tight on budget and inspired by a Shaker blanket chest for your lounge. This free plan on a dark walnut shaker blanket chest is right at your disposal. Use the step by step instructions from cutting the plywood to putting the last nail in it to accomplish this project. bitterrootdiy
9. DIY Rolling Blanket Storage Box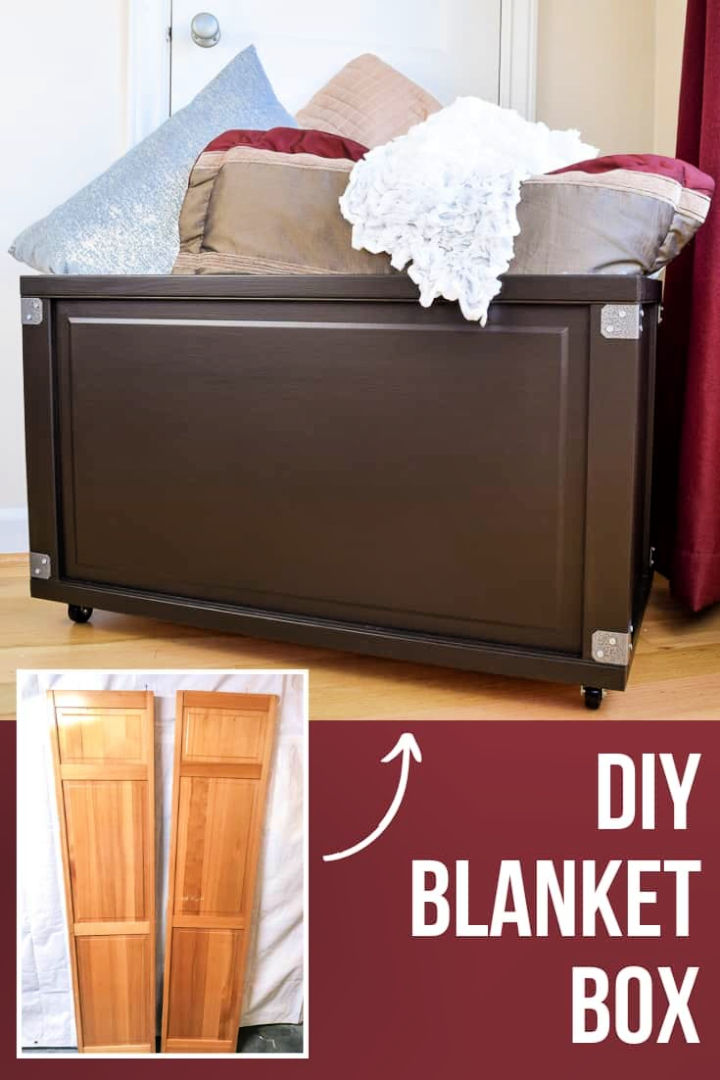 Check out this DIY rolling storage chest! Such an ideal way to move the storage box around, right? By transforming your old door into rolling storage chests. This feels quite a promising project in itself! Using vintage products to create the brand new furniture pieces is definitely appealing. thehandymansd
10. Blanket Storage Chest Plan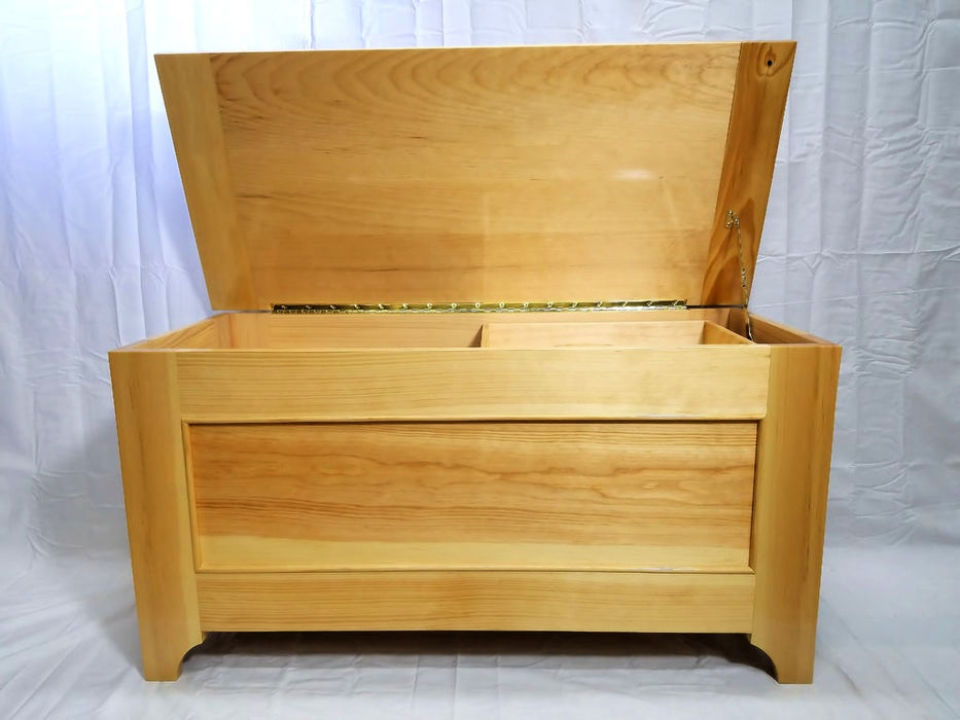 Are you looking for a way to store that mountain of blankets and pillows in your bedroom? Now you do that without needing any advanced level of skills. This blanket chest is neither too much to occupy much of floor space nor too heavy and can be moved easily. instructables
11. DIY Storage Blanket Chest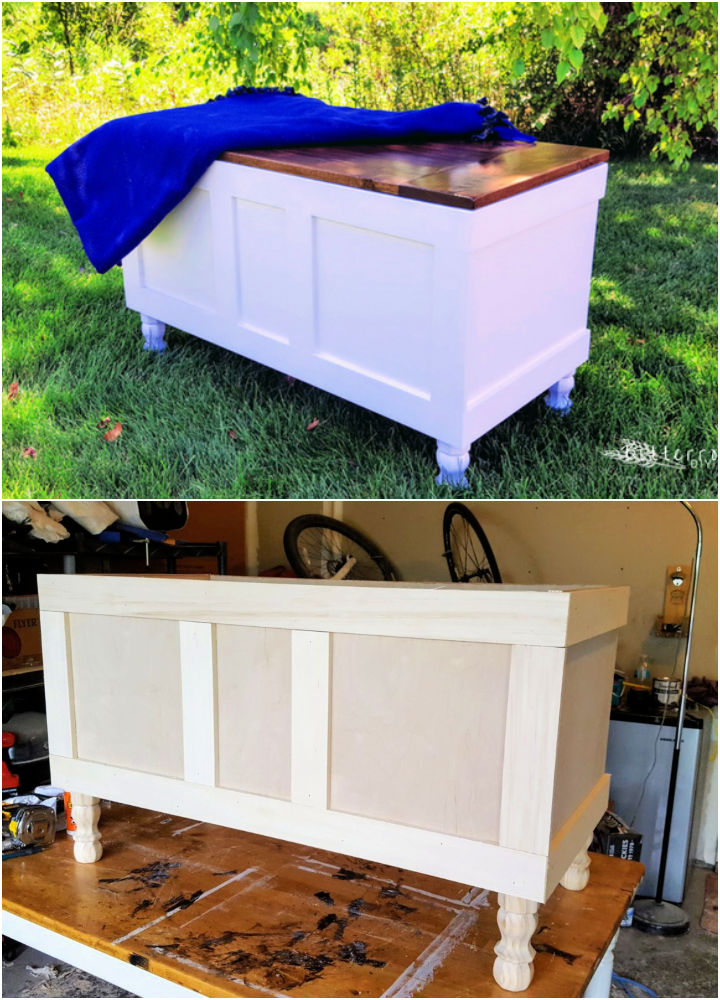 Presenting functional furniture pieces as a gift to your parents or as an ideal house warming gift is absolutely LOVE. Especially when it comes to making it all by yourself, cost-effectively and considerably. Don't forget to download the pattern and materials detail from the tutorial. bitterrootdiy
12. Build a Cedar Liner for a Vintage Trunk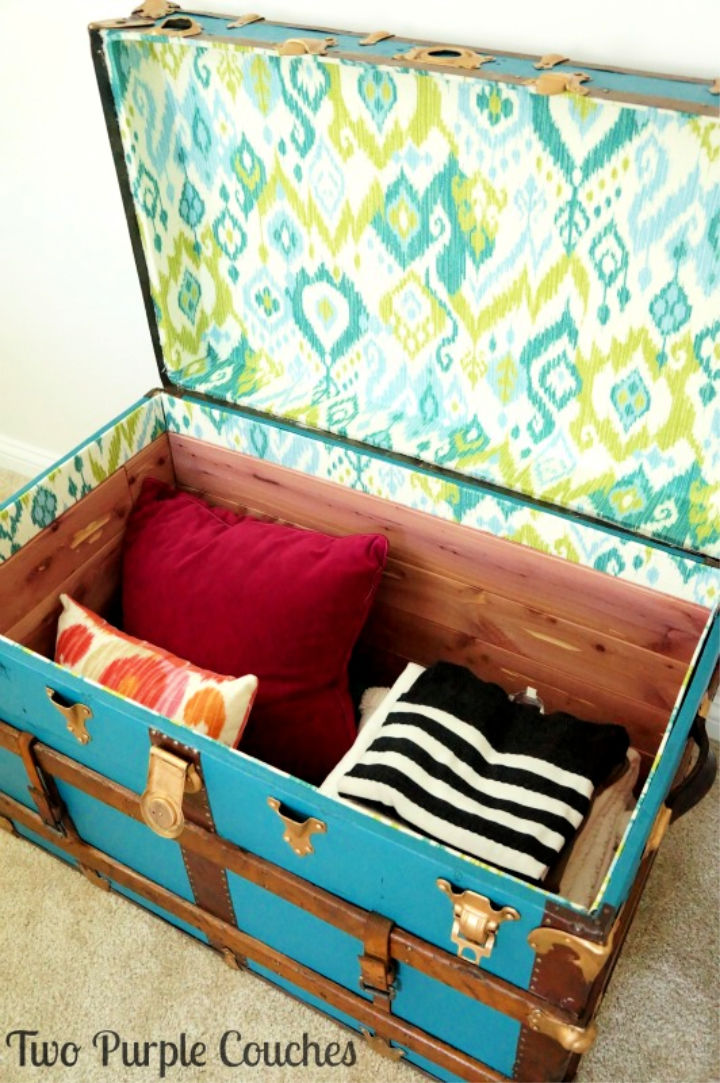 Build a cedar liner for a vintage trunk! Take the perfect use of your old stuff in a highly useful way. Throw away your many blankets, sheets, and pillows in it to keep your room all cleaned up! Cedarwood planks will be the best option for constructing this project. Get the tools and supplies list for this project from the link below! twopurpleco
13. Living Room Blanket Storage Chest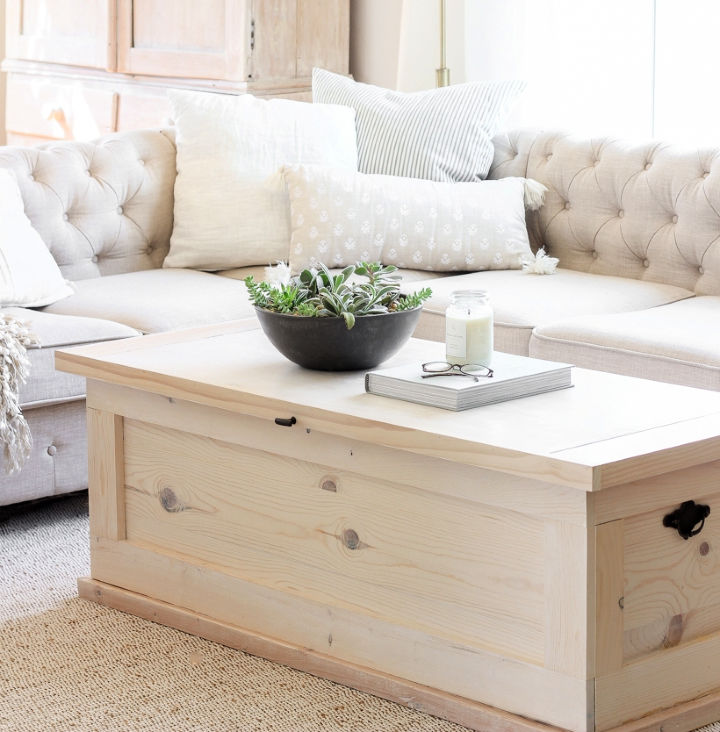 This storage chest is the best one out of our 20 blanket chest plans. You are absolutely going to love the idea of building this living room blanket storage chest! Finally, you can get a place for all those fluffy blankets and pillows that were cluttering up on the beds or sofas. To accomplish this wood chest project, you will need hinges, wood filler, saw, square, sander, and safety glasses. lovegrowswild
14. Rectangular Blanket Chest
This rectangular blanket chest will carry most of your blankets and pillows. This is entirely a beginner's woodworking project. This wooden storage chest project requires fir boards, plywood, screws, chop saw power drill, circular saw, and jigsaw. ijessup
15. Make a Blanket Storage Chest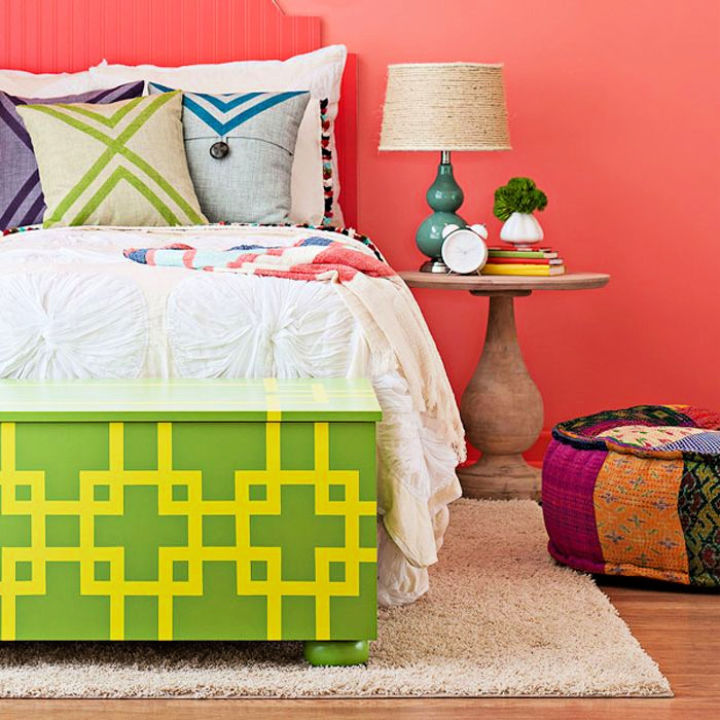 Are you looking for a simple and economical trunk with a seat on a top? Offering ample storage option to hold your clothes, blankets, and pretty much anything. This is going to cost you even less than $500. Made of MDF sheets and a few tools, get the cutting dimensions here. How to build a wooden chest? Follow this guide: lowes
16. DIY Modern Blanket Chest or Toy Box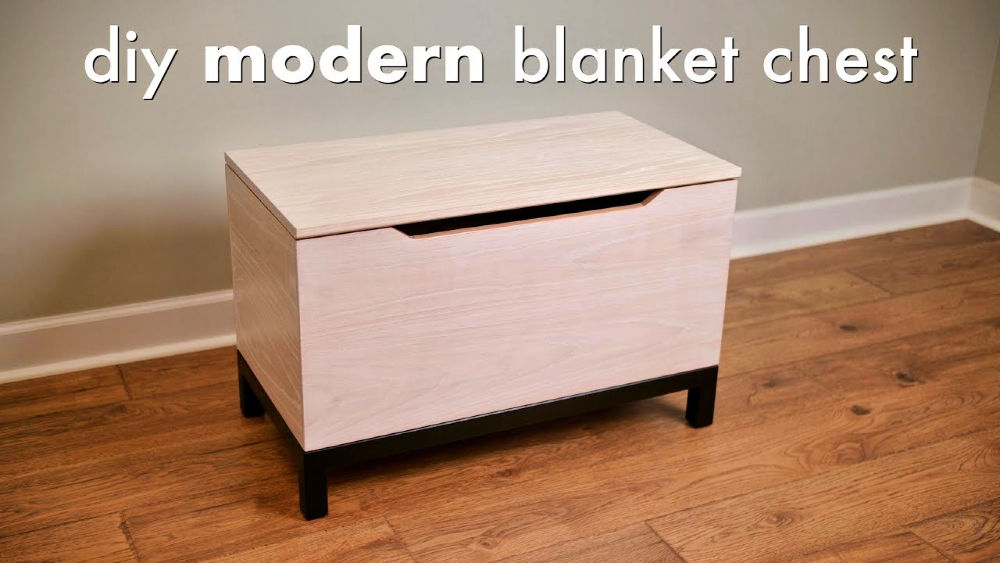 What is more amazing than a multi-purpose wooden storage chest? This modern blanket chest is perfect for piling up the blankets inside. Also, it can be used as a toy box, grasping all the toys your children love to play with! It is a super simple and fun project that can be worked up just in a day. youtube
17. Build a Storage Chest on Budget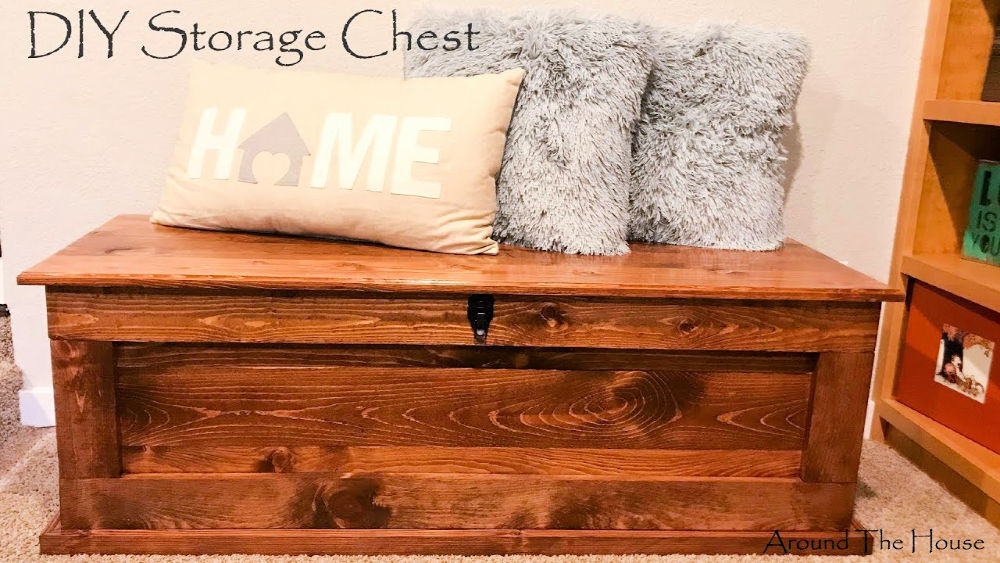 Build a storage chest on a budget! And surprise yourself as well as your folks around for being able to build this massive project inexpensively. This furniture piece will provide you excellent storage for items such as pillows, toys, and other items. Grab your supplies get started with the details in the link below! youtube
18. Blanket Storage Chest from Reclaimed Wood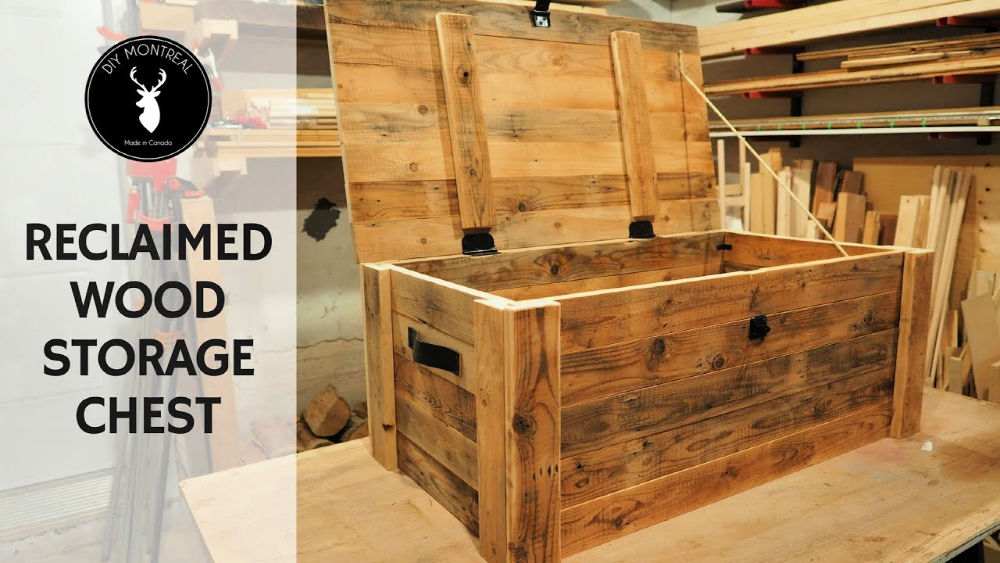 There is nothing like enough storage. Ever! Create more storage beside your wardrobe closets. This DIY blanket chest is beautifully designed to blend into your overall home aesthetics. You will need materials, tools, and a little budget to nail this one. youtube
19. Tongue & Groove Blanket Chest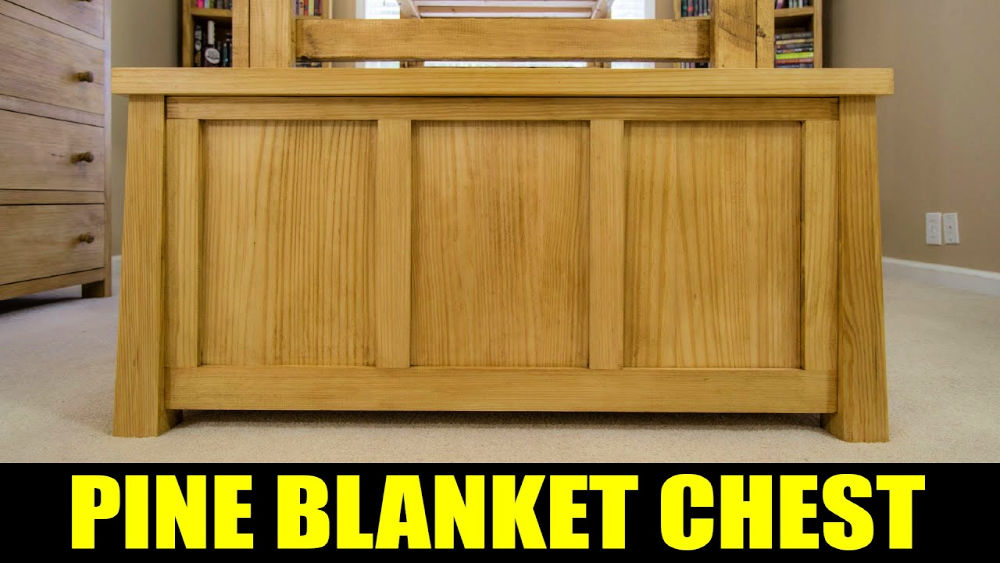 Make this project out of tongue and groove wood and pine planks. As this wood is super economical and easily available in the market. This is entirely a beginner's project because it needs just a few wooden planks to join together with screws and nuts. youtube
20. DIY Wooden Storage Trunk With a Hidden Compartment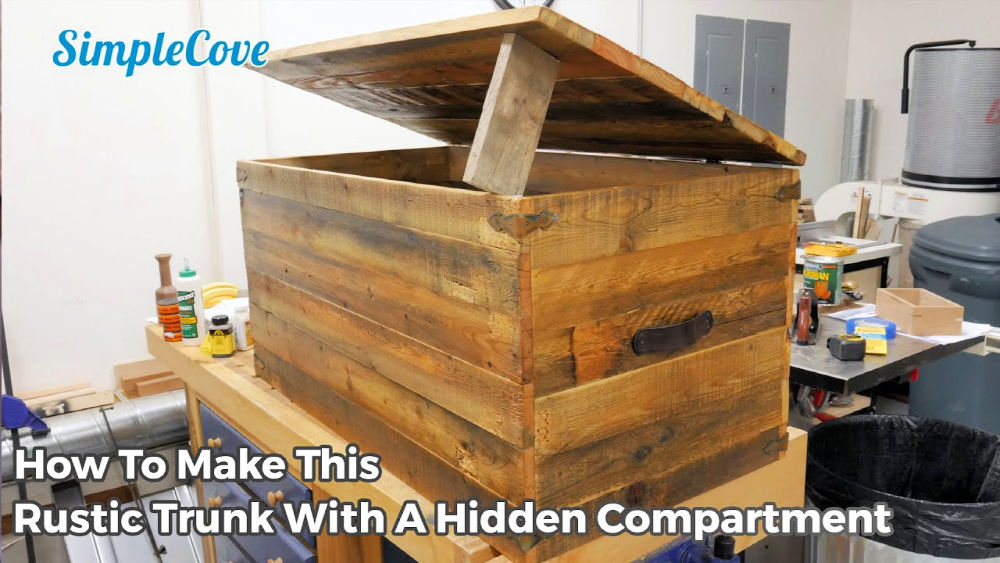 This rustic pallet wood chest or wooden storage trunk is super cool that can be used in a variety of ways. Like it can be a coffee table, entryway bench or can be placed at the foot of a bed. The amazing thing about this trunk is that it has a hidden compartment to hold up the lid. Hit the tutorial to see the supplies used. youtube
Conclusion:
For a homemaker, there is nothing like too many storage options. Every nook and corner needs its own kind of attention and focus. For your bedrooms, living rooms, or guestrooms, our blanket chest plans have got that part covered! These DIY blanket chest plans can be of great help and use for all of your decor endeavors with the budget in check.
Sours: https://www.itsoverflowing.com/blanket-chest-plans/
What kind. - Well, come here, you will see for yourself, just an agreement, then you will fulfill my one wish. - Okay, I agree. Sasha padded his bare feet on the floor of the room and sat down on the edge of Andrey's bed. - Yes, you crawl under my blanket, Andrei suggested.
Plans rustic hope chest
Perhaps something like this: The roundness of the knee under a thin stocking Charmingly beckons to touch it secretly. The knee seduces, intoxicates like wine, When the coquette has it open. He wants to look, but the falsely understood morality grumbles: Don't. Don't look. Turn away.
Hope Chest Plans
Now from the unbuttoned trousers bulging underpants protruded. At first, he simply sniffed them with his nose, then opened his mouth and, barely touching, grabbed the head with his lips. Feeling with his tongue the taste of a small drop seeping through his panties. Moistening his lips with it, he licked them.
His whole body trembled with sweetness when he touched his lips with a thick, massive head, in time with the beat of his heart, trembling under the fabric of.
Similar news:
My body. The water no longer caused that unbearable pain to the intestines, but it constantly gave the body heat. I felt how my hands parted the lips of my vagina, and then felt the head of the penis in my steamed vagina. The cock filled me in one long and sharp thrust.
18464
18465
18466
18467
18468