The healthiest things to eat at Panera Bread
It can be tricky to eat well when dining out, but seeking out healthy fare is worth the effort: According to recent research, each meal eaten out is associated with a slight increase in body mass index (or BMI). And who eats out just once a week? Taken with another analysis showing that meals from fast-casual restaurants, including Panera, can have significantly more calories than a fast food meal, a several-times-per-week dining out habit (be it breakfast, lunch or dinner), can lead to a lot of unwanted pounds.
If unwanted pounds aren't bad enough, restaurant meals are also typically high in sodium, yet low in fiber and whole grains, and many don't contain adequate produce. That's true even at Panera, where the health halo of clean ingredients may trick you into thinking that everything on the menu gets the green light. It doesn't. (Chicken Tortellini Alfredo and Frontega Chicken Panini, I've got my eyes on you!) Still, dining out is a convenience we all rely on so to help you avoid the unhealthiness and keep things light, I drilled down into the nutrition information of the Panera menu for the best offerings and looked for ways to make them even better. Here are your healthy Panera Bread picks.
Avocado, Egg White & Spinach
This sandwich would make a filling and nutritious start to your day. I'm a fan of the flat bagel, which cuts about 20 g of carbs when compared to Panera's whole grain bagel. Plus, it contains sprouted grains, which are easier to digest than regular whole grain breads. Sprouted grains also make the nutrients in grains more bioavailable. The healthy fat from the avocado together with the 21 grams of protein (mainly from the egg whites) and 7 grams of fiber (from the bagel and veggies) means this is a meal that will curb hunger and fuel busy days.
Steel Cut Oatmeal with Almonds, Quinoa and Honey
The combo of steel cut oats and quinoa gets the thumbs up in my book. I can't even quibble with the drizzle of honey since it's only providing about a teaspoon of added sugar. The only thing missing from this meal is produce, so I'd pair it with the Summer Fruit Cup to balance out breakfast.
Steel Cut Oatmeal with Blueberries, Granola & Cinnamon Crunch Topping
The steel cut oatmeal base makes this another winning breakfast. When compared to cold cereal, oatmeal has been shown to increase feelings of fullness and satisfaction, so if cereal is your morning jam, oatmeal is a good choice. However, too much added sugar is a personal pet peeve so I'd skip the cinnamon crunch topping here. You'll still get one and a half teaspoons of added sweetener from the granola it comes with. To cut back even more, you can skip both toppings and opt for pecans, instead. Doing so boosts your healthy fat intake, which is a nutritious move.
Mediterranean Veggie Sandwich
This sandwich is layered with lots of veggies, which is why it makes the cut. Instead of the tomato-basil bread it's served on, get it on the sourdough. Doing so brings the sodium down 250 mg — still high at 980 mg, but an improvement. Bring it down another 250 mg by choosing avocado instead of feta. The swap brings avocado's vitamins and minerals to your meal and ups the fiber another 4 grams.
Roasted Turkey & Avocado BLT
For those craving a turkey sandwich, this one gets my vote, but I'd suggest eating it open-faced since most adults could do without the extra carbs, calories and sodium from refined breads. Skipping the bacon would shave 200 mg of sodium (and 100 calories) from this meal — worthwhile nutritional savings if you ask me.
Modern Greek Salad with Quinoa
There are plenty of healthy ingredients, like olives, kale and romaine lettuce, in this main-sized salad. Like most restaurant meals, the sodium is high, but 300 mg of salt is coming from the Greek dressing. Order the dressing on the side and drizzle lightly — just enough to add flavor. That will keep the sodium in a healthy range.
Caesar Salad with Grilled Chicken
The Caesar Salad is a classic choice, although not without its landmines. As with other salads, my advice is to get the dressing on the side and use just enough to coat your greens. Since the black pepper croutons don't add anything by way of nutrition, try skipping them and getting your crunch from the optional pecans instead. Whole foods provide a nutritional boost over processed ones, and in this case, pecans stand out with more than 19 vitamins and minerals, including key nutrients like vitamin E, calcium, magnesium, and potassium. Choosing pecans over the croutons also lightens the carb load.
Strawberry Poppyseed Salad with Chicken
This meal meets all of my nutritional requirements: Not too much added sugar, lots of produce, hearty levels of protein and fiber (to keep your belly full), and sodium levels (just 280 mg) that are hard to match in restaurant meals. Have it with the Sprouted Whole Grain roll if you like (yes, you heard me right!).
Black Bean Soup
This bean-based soup is a satisfying, plant-based choice that provides almost 70 percent of your daily fiber needs. Note, however, that it's really high in sodium — above 1,000 mg out of the 2,300 mg limit recommended for healthy adults. To lighten the sodium load, choose off the "You Pick Two" menu. You'll get a smaller portion, which naturally lessens the sodium levels. Pair it with the Seasonal Greens Salad and remember to go easy on the side serving of dressing. And make sure you drink plenty of water and meet your fruit and veggie quota throughout the day. Both will help your body flush out the extra sodium.
What makes a good pick?
In general, meals that meet the following guidelines are good choices when you're dining out. As you've seen above, however, it's often hard to meet these requirements at a restaurant. In those instances, you may have noticed I've suggested some hacks to keep these meals more in line with my recommendations. Though I've customized them specifically based on Panera's options, you'll get ideas for how to upgrade your meals elsewhere, too. Tips like eating an open-faced sandwich, skipping the bacon, ordering dressing on the side, and adding flavor- and nutrition-boosters, like avocados and nuts, are strategies that can be applied no matter where you're dining. Below are other eat-well commandments to be on the lookout for:
Meals have less than 700 mg of sodium
Grain-containing dishes are made with whole grains
Fruits and/or veggies are included in the meal (and preferably in abundance)
Calorie levels are appropriate for most adults (under 550 calories, though those looking to lose weight may want to aim for less)
Dishes contain healthy fats from foods like avocados, olives and nuts
Added sugars are kept to a reasonable limit
MORE TIPS AND TRICKS FROM A NUTRITIONIST
Want more tips like these? NBC News BETTER is obsessed with finding easier, healthier and smarter ways to live. Sign up for our newsletter and follow us on Facebook, Twitter and Instagram.
Sours: https://www.nbcnews.com/better/health/healthiest-things-eat-panera-bread-ncna882826
The Calories in Panera Salads
While salads make a healthy meal option, some of the salads at Panera Bread are high in fat, saturated fat, sodium and calories. High intakes of saturated fat and sodium increase your risk of heart disease. Knowing the nutrition information for the different salad options can help you decide which one makes the best choice for your diet.
Meatless Salads
Panera Bread offers three meatless salad options: a Greek salad, Caesar salad and a classic salad. If you're looking to save calories, the classic salad is your lowest calorie, fat and sodium option, with 170 calories, 11 grams of fat, 1.5 grams of saturated fat, 140 milligrams of sodium, 17 grams of carb, 3 grams of fiber and 2 grams of protein in a whole serving -- this includes the reduced-fat balsamic vinaigrette. Both the Caesar and the Greek salad are much higher in calories and fat, and the Greek is significantly higher in sodium. One whole serving of the Caesar salad contains 310 calories, 12 grams of fat, 7 grams of saturated fat, 480 milligrams of sodium, 17 grams of carbs, 3 grams of fiber and 9 grams of protein, while the same serving of Greek has360 calories, 32 grams of fat, 8 grams of saturated fat, 1,140 milligrams of sodium, 13 grams of carbs, 4 grams of fiber and 8 grams of protein.
Mostly Chicken
Rally's Nutrition Guide
Seven of the salads at Panera include chicken as the protein. The lowest calorie salad with chicken is the Asian Sesame chicken salad with 420 calories, 22 grams of total fat, 3.5 grams of saturated fat, 500 milligrams of sodium, 25 grams of carbs, 4 grams of fiber and 32 grams of protein. The next-lowest calorie option is the Chicken Caesar salad, which has 440 calories, 26 grams of fat, 7 grams of saturated fat, 660 milligrams of sodium, 19 grams of carbs, 3 grams of fiber and 34 grams of protein. The highest calorie chicken salad at Panera is the Chicken Cobb with Avocado, which has 650 calories, 48 grams of fat, 11 grams of saturated fat, 970 milligrams of sodium, 16 grams of carbs, 6 grams of fiber and 41 grams of protein.
One Turkey
If you like turkey, Panera Bread offers one turkey-based salad called the Roasted Turkey Harvest Wheatberry salad. As for the salads featuring animal proteins, this turkey salad is one of your lower-calorie options. One whole serving of the turkey salad at Panera contains 450 calories, 15 grams of total fat, 4.5 grams of saturated fat, 900 milligrams of sodium, 46 grams of carbs, 7 grams of fiber and 35 grams of protein.
Shrimp or Beef
Nutritional Information on Melting Pot Restaurant
In addition to the poultry salad choices, Panera Bread also offers one beef and one shrimp option. Both of these salads are the two higher-calorie salad options at Panera. One whole serving of the Steak & Blue Cheese salad contains 680 calories, 47 grams of fat, 13 grams of saturated fat, 1,060 milligrams of sodium, 30 grams of carbs, 4 grams of fiber, 36 grams of protein. The Chilled Shrimp & Soba Noodle salad is the highest calorie salad on the Panera menu, but it is also the highest in fiber. One whole size serving of this salad contains 700 calories, 23 grams of fat, 3.5 grams of saturated fat, 1,720 milligrams of sodium, 86 grams of carbs, 12 grams of fiber and 38 grams of protein.
References
Writer Bio
Jill Corleone is a registered dietitian and health coach who has been writing and lecturing on diet and health for more than 15 years. Her work has been featured on the Huffington Post, Diabetes Self-Management and in the book "Noninvasive Mechanical Ventilation," edited by John R. Bach, M.D. Corleone holds a Bachelor of Science in nutrition.
Sours: https://healthfully.com/the-calories-in-panera-salads-6260763.html
Comfy couches, free WiFi, and even a fire crackling in the hearth—a visit to Panera Bread is like stopping at your best friend's house for a bite on your way home…but don't get too cozy.
While the Panera menu appears to have a wide variety of seemingly healthy options like soups, salads, and sandwiches, finding something that's actually good for your weight loss goals is harder than it might appear. Menu items that are low in calories can carry up to half your daily recommended amount of sodium and a day's worth of fat—while some of the Panera's more caloric entries may actually be among your best choices.
It's a little confusing, we know. To cut through the noise—and all the numbers—we've sorted through the nutrition facts (everything from calories and fat to sodium and fiber) to find the best and worst sandwich, pasta, soup, and salad options at Panera Bread.
To make sure we were recommending the absolute best healthy choices at Panera, we consulted a team of registered dietitian nutritionists to help us. We excluded all seasonal items and just included Panera's regular menu. Although calories played a role in our rankings, we also dinged items that were too high in sodium and saturated fats. Now settle in on that couch and enjoy.
Best Healthy Panera Soups
These satisfying soups will warm you up by the spoonful, but some might leave you loosening your belt. Read on to see how your favorite soups at Panera stack up.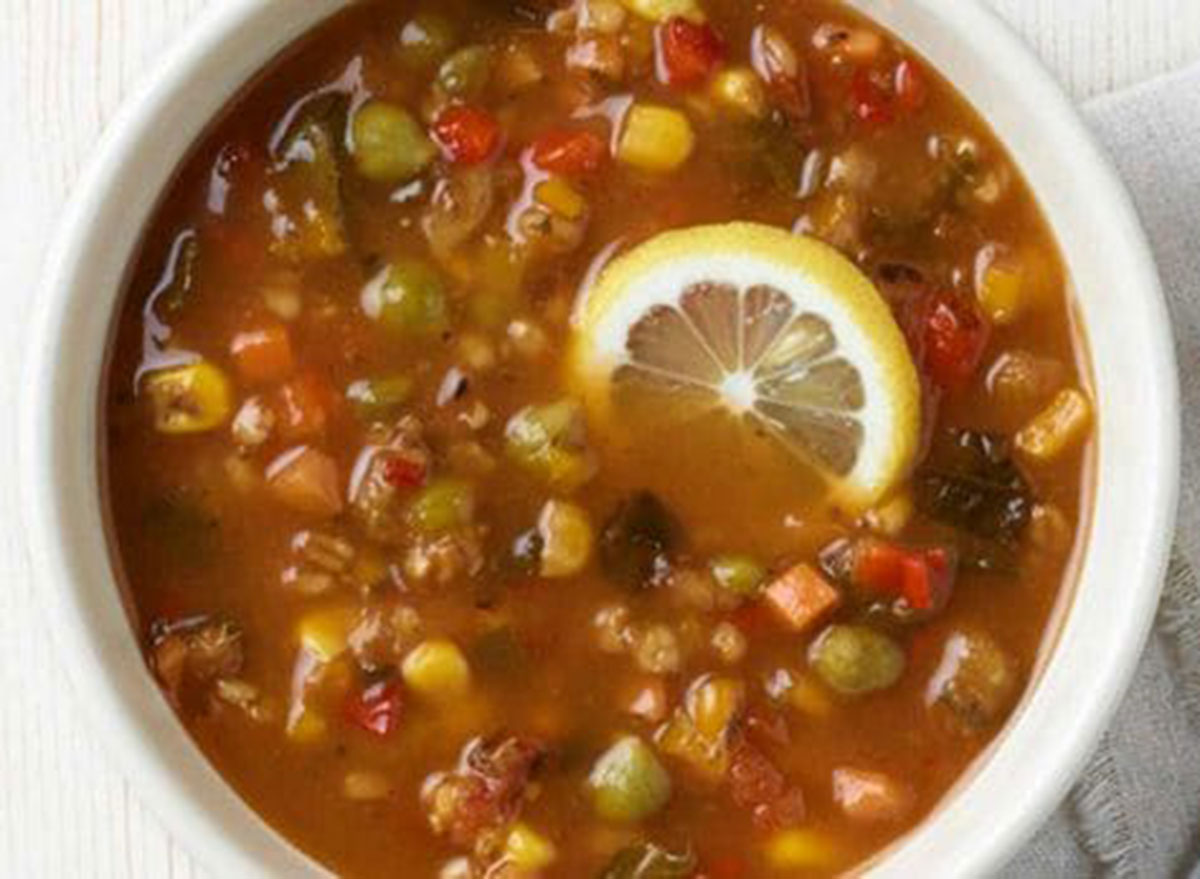 Per bow (1 ½ cups): 100 calories, 2 g fat (0 g saturated fat, 0 g trans fat), 1,090 mg sodium, 16 g carbs (4 g fiber, 6 g sugar), 5 g protein
Yes, there are actually 10 vegetables in this soup. NYC-based Registered Dietitian, Natalie Rizzo, MS, RD, and author of The No-Brainer Nutrition Guide For Every Runner says the ten vegetable soup is a great accompaniment to a salad or sandwich. "With just 100 calories and 5 grams of protein, it can't stand alone as a [complete] meal, but it's a great and tasty way to add veggies to your meal," she says. "Rarely do you ever get 10 veggies in one sitting, and this soup makes that easy." Of course, like every other soup on this list, the sodium content is quite high, so you should still be aware of that.
Per bowl (1 ½ cups): 170 calories, 4 g fat (1 g saturated fat, 0 g trans fat), 1,490 mg sodium, 21 g carbs (3 g fiber, 3 g sugar), 13 g protein
Cold-weather classic and curer of colds, chicken noodle soup does everything a comfort food is supposed to do—and without a hefty caloric price tag. With a light broth base and packed with fresh veggies and antibiotic-free chicken breast, this is one of our favorite choices, save for the fact that the sodium content costs you more than half of your daily allowance.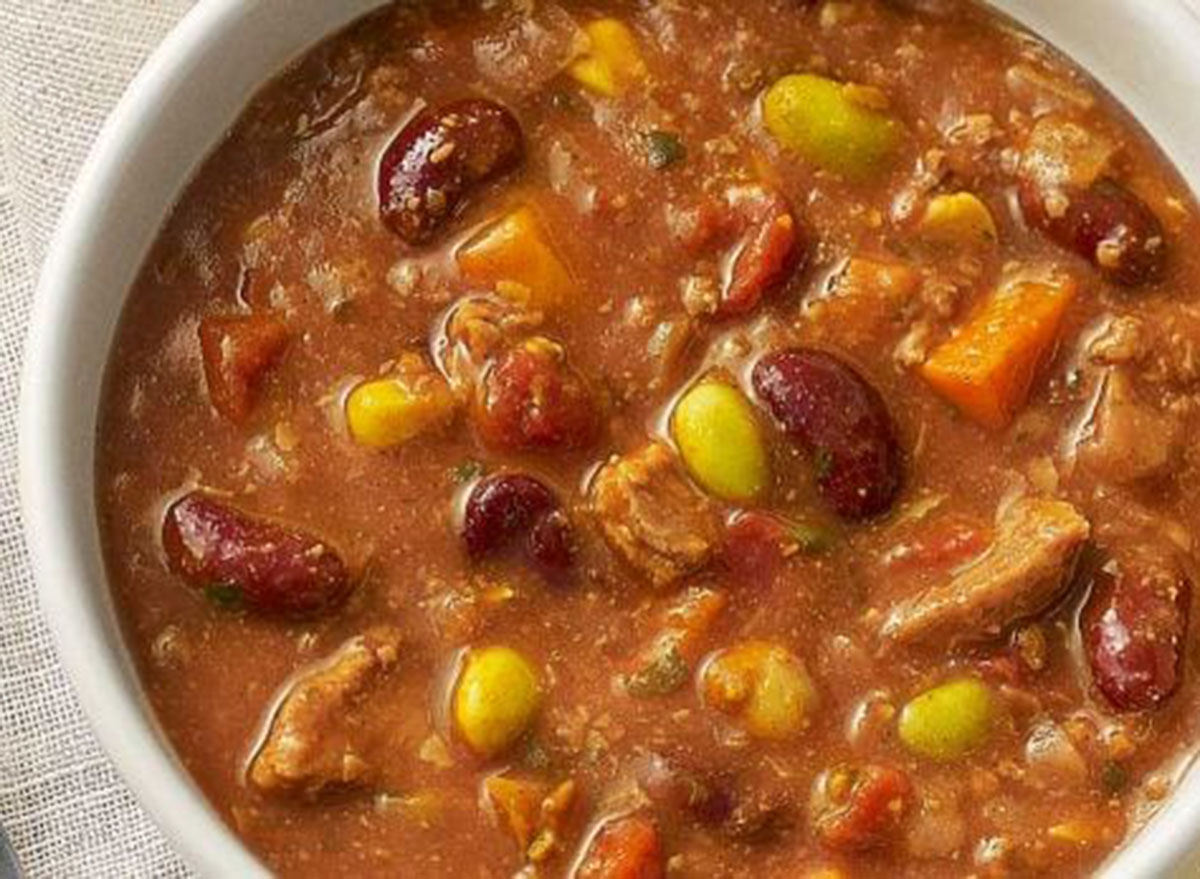 Per bowl (1 ½ cups): 340 calories, 12 g fat (2.5 g saturated fat, 0 g trans fat), 1,140 mg sodium, 39 g carbs (1 g fiber, 9 g sugar), 24 g protein
Now this is what we call a hearty soup. Yasi Ansari, RDN, a San Francisco-based performance and wellness dietitian, especially appreciates this dish because of its high protein content, which will help you stay fuller, longer. She also points out that this soup is high in antioxidants and vitamins. "The chilies and tomatoes in this dish provide health protective antioxidants," says Ansari. "Tomatoes provide antioxidants lycopene, [and] vitamins A and C." She emphasizes that it's important to eat foods rich in vitamins A and C because they both keep the skin healthy and even boost immunity. Ansari is also an advocate of utilizing Panera's famous "Pick Two" menu, recommending pairing the bowl of chili with a half of a salad.
Per bowl (1 ½ cups): 310 calories, 14 g fat (6 g saturated fat, 0 g trans fat), 1,660 mg sodium, 35 g carbs (3 g fiber, 15 g sugar), 13 g protein
The Bistro French Soup at Panera is a broth-based masterpiece, and while it's healthier than other soups on the menu, it still shouldn't be consumed on a regular basis. "This soup is high in the saturated fat and sodium department, so it's more of a treat than a healthy meal," says Rizzo. "The calories aren't all that high, so it's definitely fine to eat if you're craving something really savory and umami, but it shouldn't be your go-to order."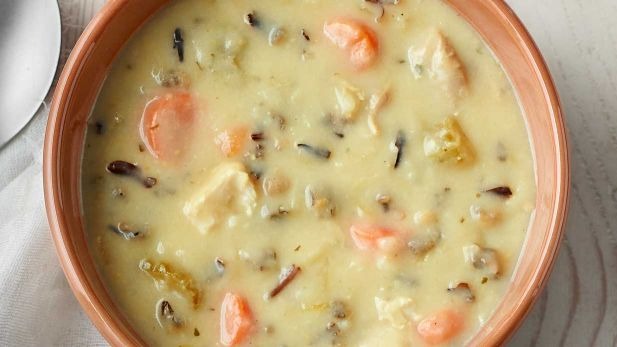 Per bowl (1 ½ cups): 310 calories, 17 g fat (9 g saturated fat, 0 g trans fat), 1,470 mg sodium, 32 g carbs (2 g fiber, 4 g sugar), 10 g protein
While some of the 17 grams of fat in this soup are unhealthy—via the rich cream and butter—the others are heart-healthy omega-3s thanks to the wild rice. This Native American grain is a weight loss wonder food because it has nearly double the fiber and protein, and fewer calories than its arguably more popular cousin, brown rice. According to Penn State researchers, whole grains like wild rice helped dieters on a calorie-restricted diet to lose significantly more belly fat than those who consumed the equivalent number of calories from refined carbohydrates.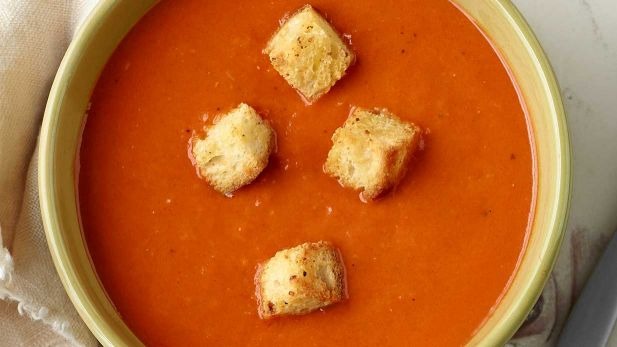 Per bowl (1 ½ cups): 340 calories, 21 g fat (11 g saturated fat, 0.5 g trans fat), 840 mg sodium, 34 g carbs (1 g fiber, 17 g sugar), 5 g protein
Vine-ripened, antioxidant-rich, cancer-fighting tomatoes are pureed with a fatty medley of cream, asiago, parmesan, and romano cheeses and topped with even more cheesy croutons to boost this soup's saturated fat content to just under your daily recommended intake. Even though this creamy vegetarian bowl has a considerable amount of saturated fat and calories, there's still one good thing about it—it has one of the lowest sodium contents out of all the soups.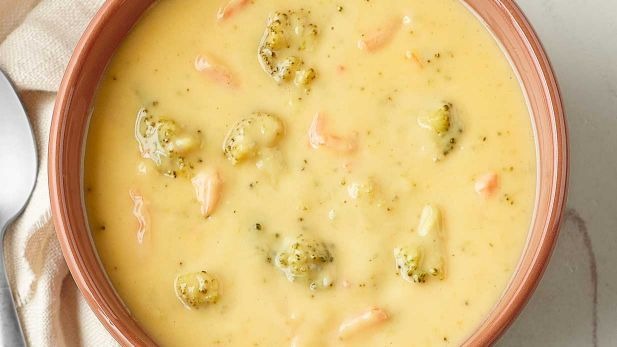 Per bowl (1 ½ cups): 360 calories, 21 g fat (13 g saturated fat, 1 g trans fat), 1,330 mg sodium, 30 g carbs (6 g fiber, 6 g sugar), 14 g protein
Jonathan Valdez, RD, a registered dietitian, owner of Genki Nutrition, and Media Spokesperson for New York State Academy of Nutrition and Dietetics, says that the 2015-2020 Dietary Guidelines for Americans recommends that Americans consume less than 2,300 mg of sodium per day. Panera's Broccoli Cheddar Soup contains more than half of your day's worth of sodium at 1,330 milligrams. "This should be consumed sparingly. If you just have to have it, try not to consume this dish more than once per week," says Valdez.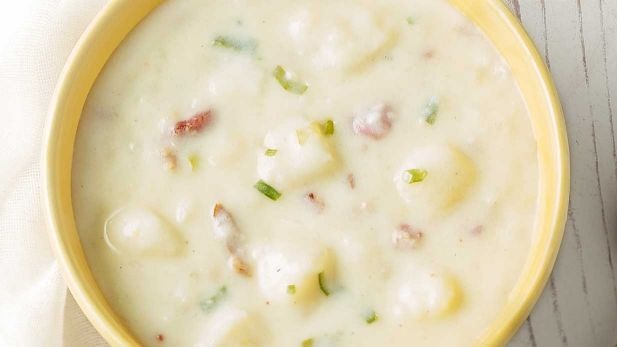 Per bowl (1 ½ cups): 390 calories, 21 g fat (13 g saturated fat, 0.5 g trans fat), 1,410 mg sodium, 43 g carbs (3 g fiber, 7 g sugar), 9 g protein
Although this soup might be marginally healthier than a classic loaded baked potato, this rich creamy broth with potatoes, bacon, and chives has more than a quarter of the sodium than what's in the Triple Whopper at Burger King. Ansari says that if you're going to opt for this creamy, sodium-filled soup, "I'd recommend pairing it up with a salad that provides chicken for added protein and ordering a cup serving rather than the bowl of soup."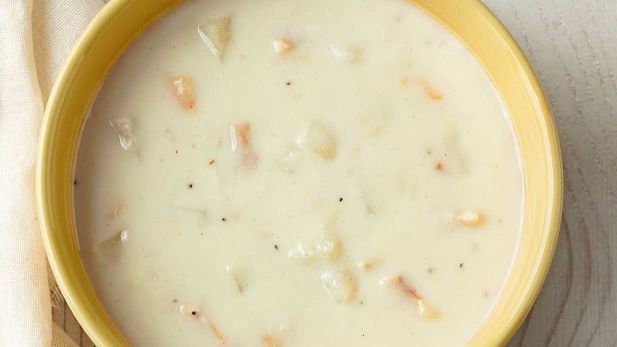 Per bowl (1 ½ cups): 570 calories, 39 g fat (24 g saturated fat, 1.5 g trans fat), 1,040 mg sodium, 42 g carbs (3 g fiber, 6 g sugar), 36 g protein
This thick and creamy bowl will not only cost you the most calories out of all of Panera's soups, you'll also get a heart-stopping 39 grams of fat and 1,040 mg of sodium — about as much as you're supposed to consume of each in a whole day. Not to mention that 24 of those 39 grams of fat are saturated, which you're supposed to only have at most 20 grams of per day.
Best Panera Menu Sandwiches and Paninis
The best sandwiches start with great bread, and Panera has certainly mastered that, offering a wide variety. Yet the high-sodium trend continues, and many of these sandwiches rack up an entire day's worth of sodium—and then some. But you can customize any order to your liking, which means the calorie-cutting power is in your hands. We'll help you use it.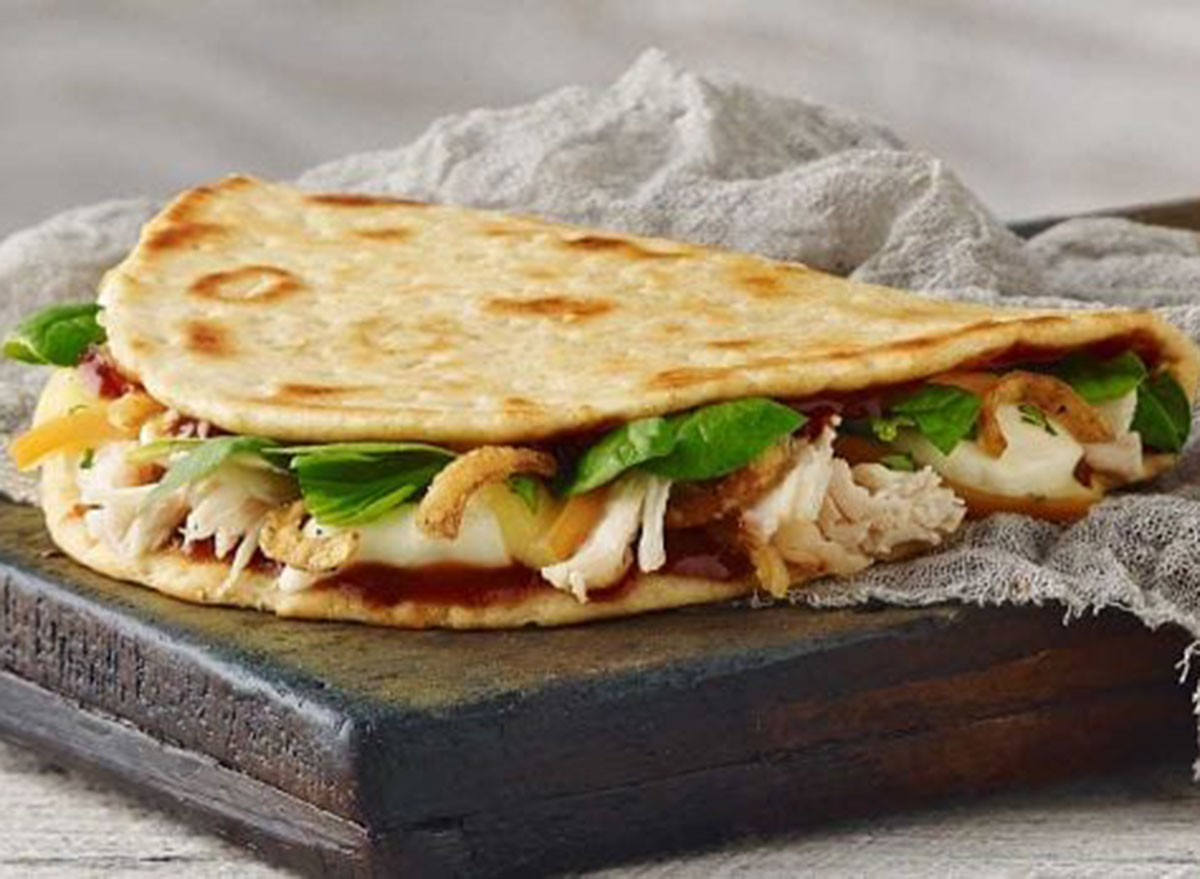 Per whole sandwich serving: 410 calories, 18 g fat (10 g saturated fat, 0 g trans fat), 750 mg sodium, 37 g carbs (3 g fiber, 7 g sugar), 25 g protein
OK, we know, this is not a traditional sandwich, but hey, it's listed under that category on Panera's menu so we think it deserves to be ranked! It's clearly the healthiest choice, seeing as it ranks low in all of the nutritional categories that can cause health problems if eaten in excess. Valdez says, "If you're looking to eat a whole sandwich without having any leftovers, and looking for a lower sodium, calorie, fat, and carb option with protein, this is your best bet."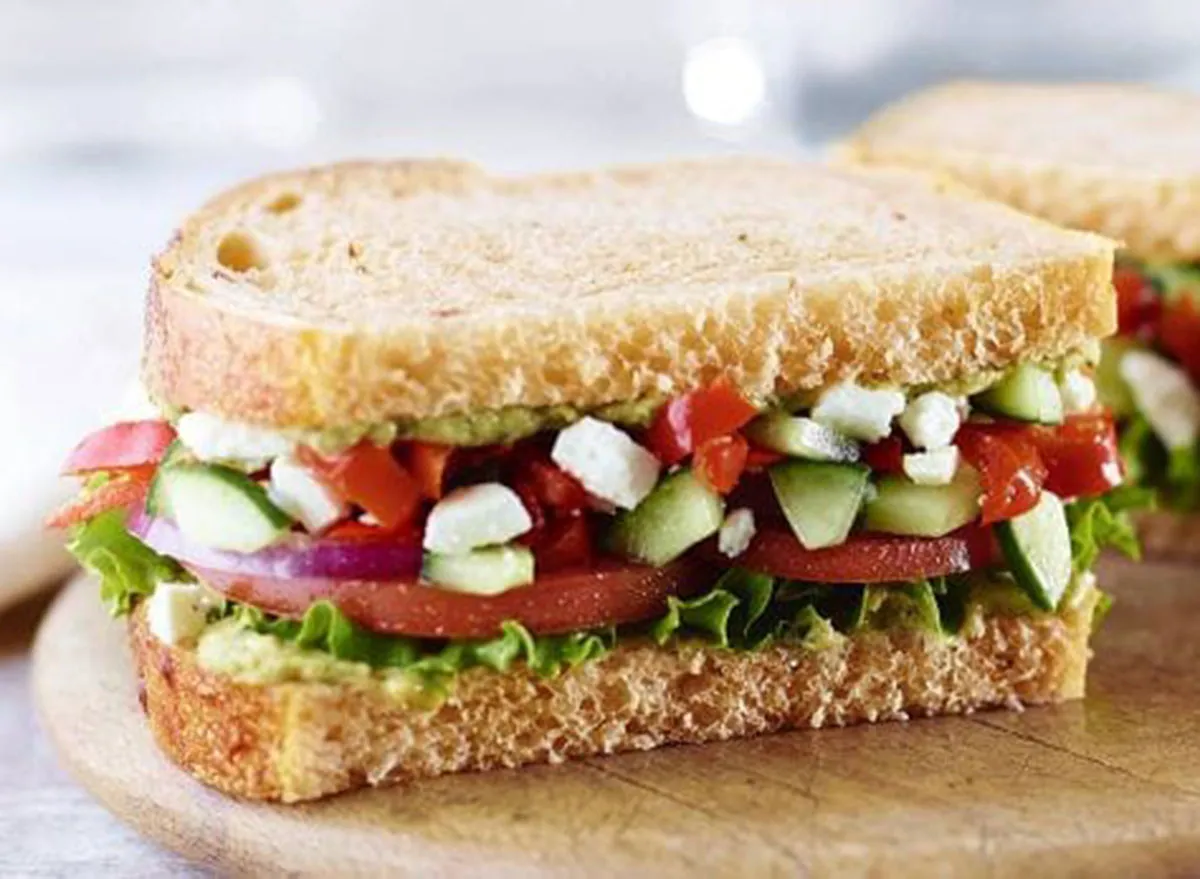 Per whole sandwich serving: 440 calories, 13 g fat (3 g saturated fat, 0 g trans fat), 1,250 mg sodium, 66 g carbs (7 g fiber, 8 g sugar), 18 g protein
The medley of tomatoes, onions, feta cheese, hummus and cucumbers found in this sandwich is also included in the Mediterranean diet that prevents about 30 percent of heart attacks, strokes and deaths from heart disease in people at high cardiovascular risk, according to a study in the New England Journal of Medicine.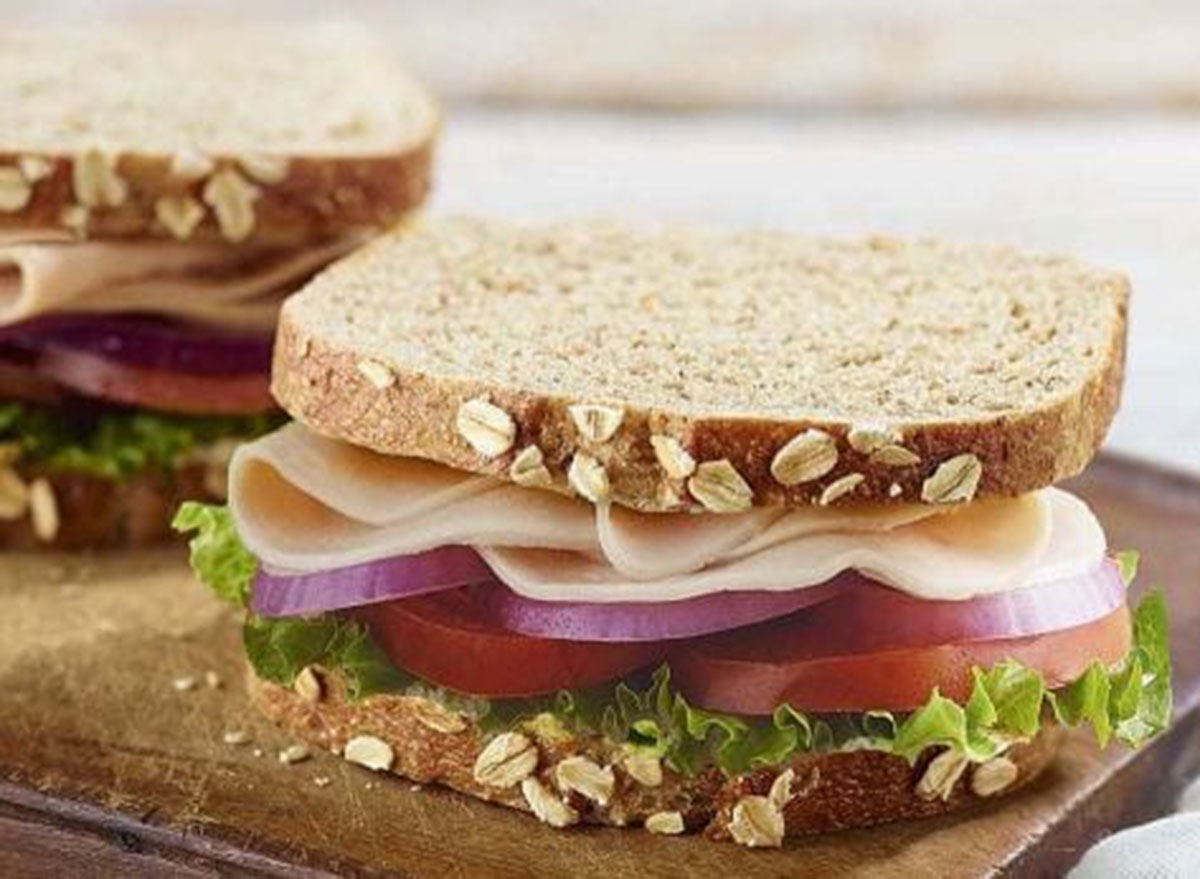 Per whole sandwich serving: 540 calories, 17 g fat (3 g saturated fat, 0 g trans fat), 1,180 mg sodium, 64 g carbs (9 g fiber, 8 g sugar), 37 g protein
Ansari confirms that Panera's turkey sandwich on whole grain is a healthy option, but there's a simple hack to make it even more nutrient-dense. "To add more nutrients to it, I'd recommend adding avocado for a source of heart-healthy fat," says Ansari. "It provides a good source of fiber and protein." Opt out of the salty bag of chips, and instead, pair this sandwich with a piece of fruit. "I'd also choose mustard and ask for either light mayo or the mayo on the side," says Ansari.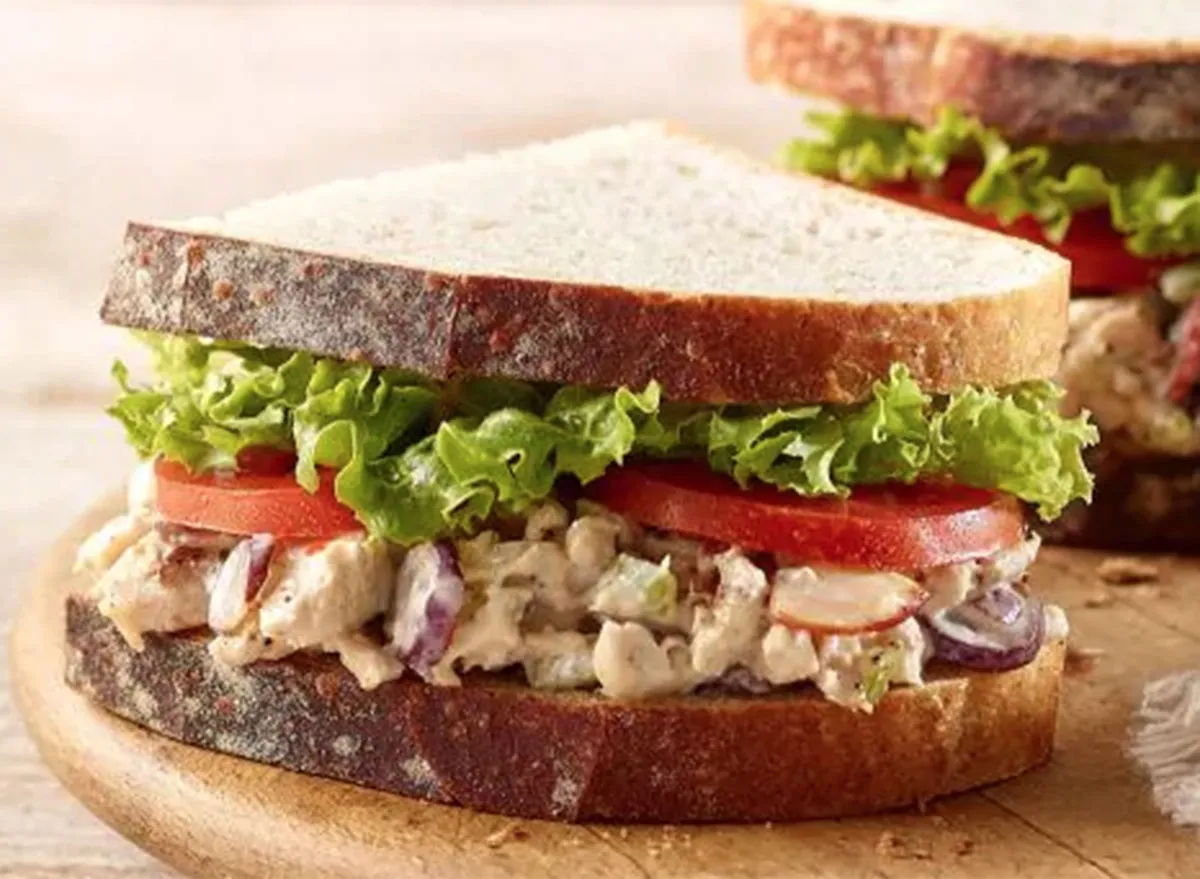 Per whole sandwich serving: 620 calories, 31 g fat (4.5 g saturated fat, 0 g trans fat), 680 mg sodium, 59 g carbs (5 g fiber, 12 g sugar), 28 g protein
Unlike homemade chicken salads, Panera makes theirs sans mayo, replacing it with much healthier ingredients like soybean oil, honey, cider, and vinegar. As an added bonus, this chicken salad contains antioxidant-rich grapes. Not only will grapes help you burn fat, but because they also contain the antioxidant anthocyanin, they may help boost collagen structure in the retina, protecting your eyes and helping to guard against macular degeneration.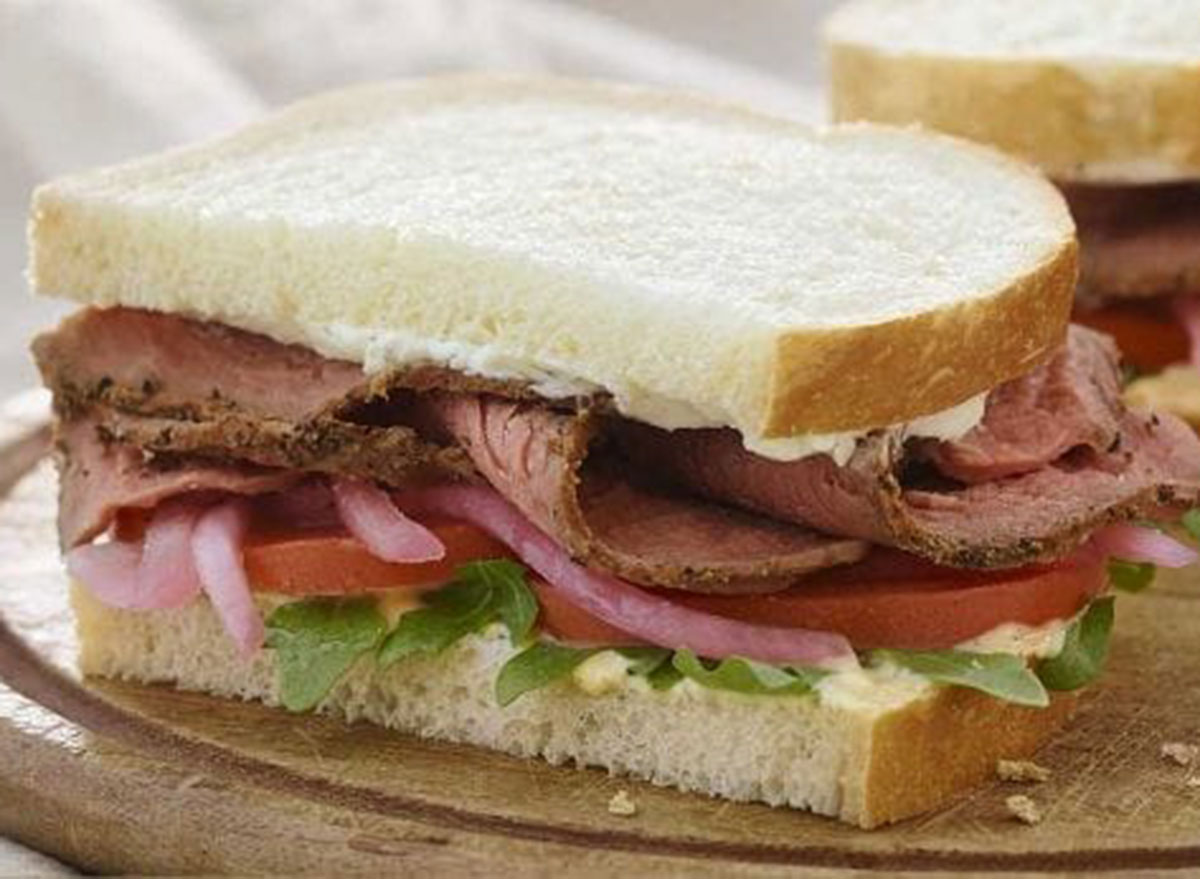 Per whole sandwich serving: 470 calories, 16 g fat (7 g saturated fat, 0 g trans fat), 880 mg sodium, 50 g carbs (3 g fiber, 8 g sugar), 33 g protein
Valdez says this is a great option if you're looking for a filling meal that won't hinder your fitness goals. Why? Let's do a quick rundown of the nutritionals. The calories dip just below 500, the saturated fat amounts to just 35 percent of the recommended intake, the sodium content is about 38 percent of the total recommended intake, the carbohydrate content isn't anything too crazy, and finally, the protein intake is just three grams over what's typically acceptable to have in one sitting. "I am a big promoter of lean beef. It has iron, which, is a nutrient of concern to Americans," says Valdez. Who said ordering steak had to be an unhealthy endeavor?
Per whole sandwich serving: 650 calories, 34 g fat (5 g saturated fat, 0 g trans fat), 1,370 mg sodium, 58 g carbs (4 g fiber, 5 g sugar), 28 g protein
Tuna or to-not? That is the question. At Panera, we say go for it! As a prime source of docosahexaenoic acid (DHA)—a fatty acid that down-regulates fat genes in the abdomen, preventing belly fat cells from expanding in size—tuna is one of the best fish for weight loss! Still, Ansari advises that the full sandwich packs a lot of calories. She suggests ordering the half sandwich and pairing it with a salad, via a "Pick Two." She also recommends swapping out the black pepper focaccia bread for whole wheat to add more fiber to the meal.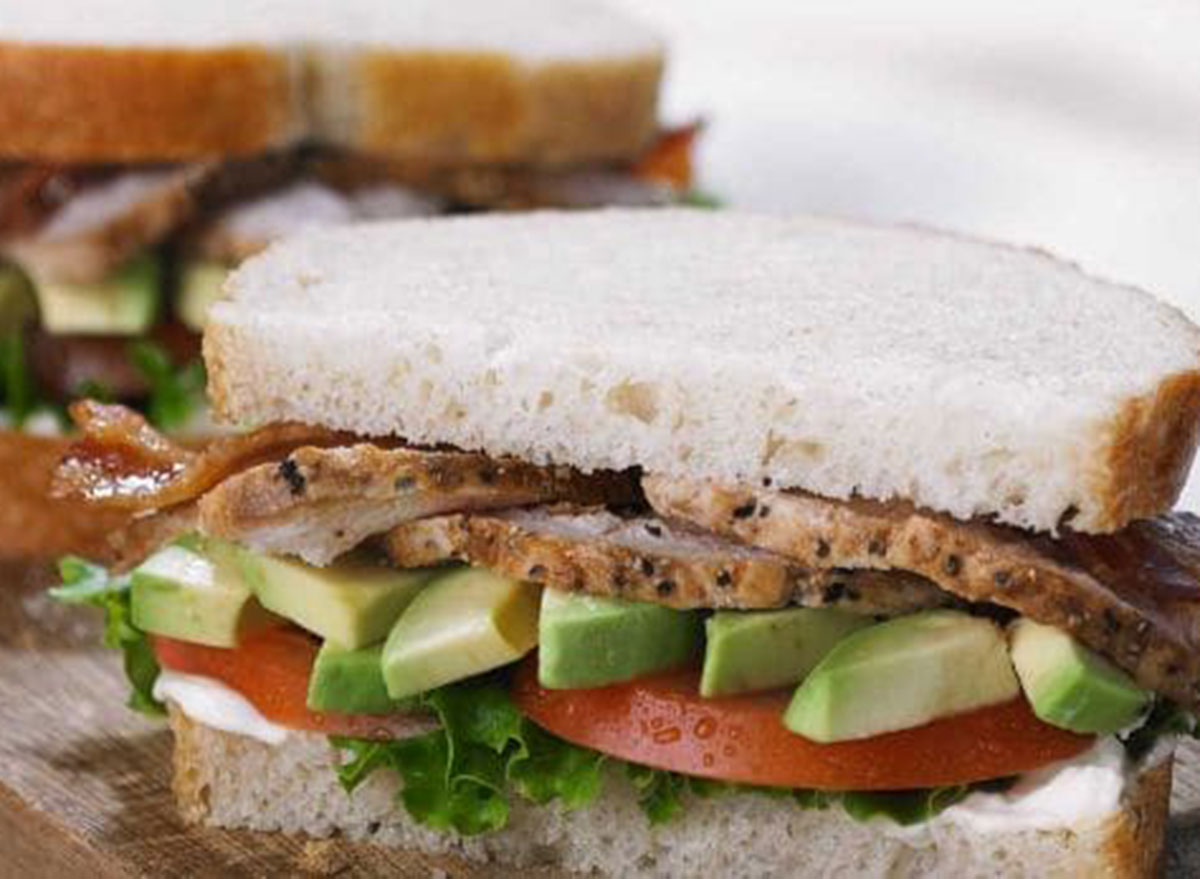 Per whole sandwich serving: 680 calories, 35 g fat (7 g saturated fat, 0 g trans fat), 1,350 mg sodium, 52 g carbs (6 g fiber, 5 g sugar), 42 g protein
This sandwich is a healthy alternative for you salad lovers out there that find yourselves craving carbs. Because of the layer of heart-healthy avocado, the fats you see in the nutrition include monounsaturated ones that play an important role in lowering elevated cholesterol—a factor in insulin resistance, excess weight, and obesity. This sandwich is relatively high in sodium, so be mindful of your salt intake the rest of the day.
Per whole sandwich serving: 600 calories, 26 g fat (11 g saturated fat, 0 g trans fat), 1,480 mg sodium, 50 g carbs (3 g fiber, 7 g sugar), 41 g protein
There's no getting around the fact that Panera's ham is super salty, but on top of that, they up the sodium ante by adding more salt and pepper. To keep your levels in check, ask them to hold the S&P, and go with the half-sandwich option with a cup of fruit.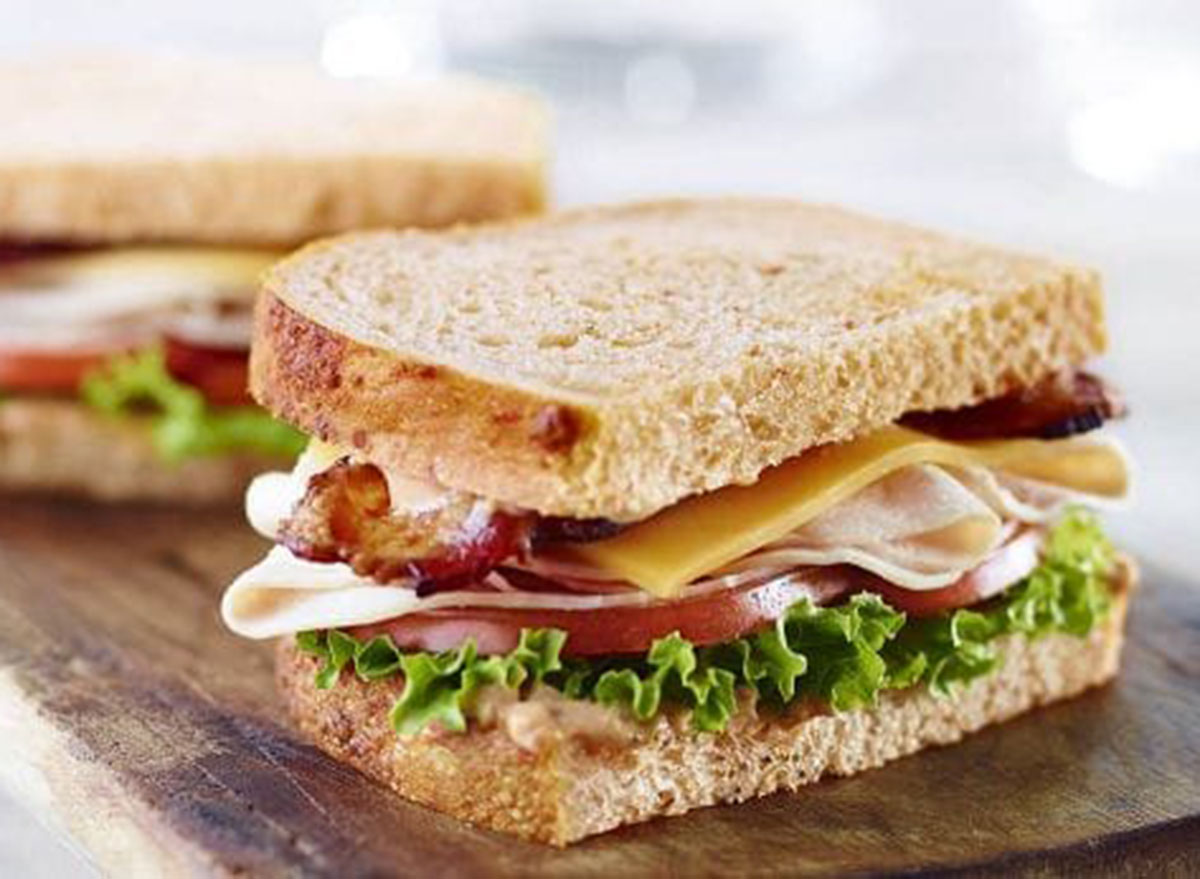 Per whole sandwich serving: 620 calories, 23 g fat (9 g saturated fat, 0 g trans fat), 1,650 mg sodium, 58 g carbs (4 g fiber, 6 g sugar), 46 g protein
Don't be fooled by this sandwich's moderate calorie count. Anything that has more than half of a day's worth of sodium is not ideal to eat in one sitting, regardless of the fact that this sandwich has fewer calories and carbs and less fat than its more unhealthy counterparts.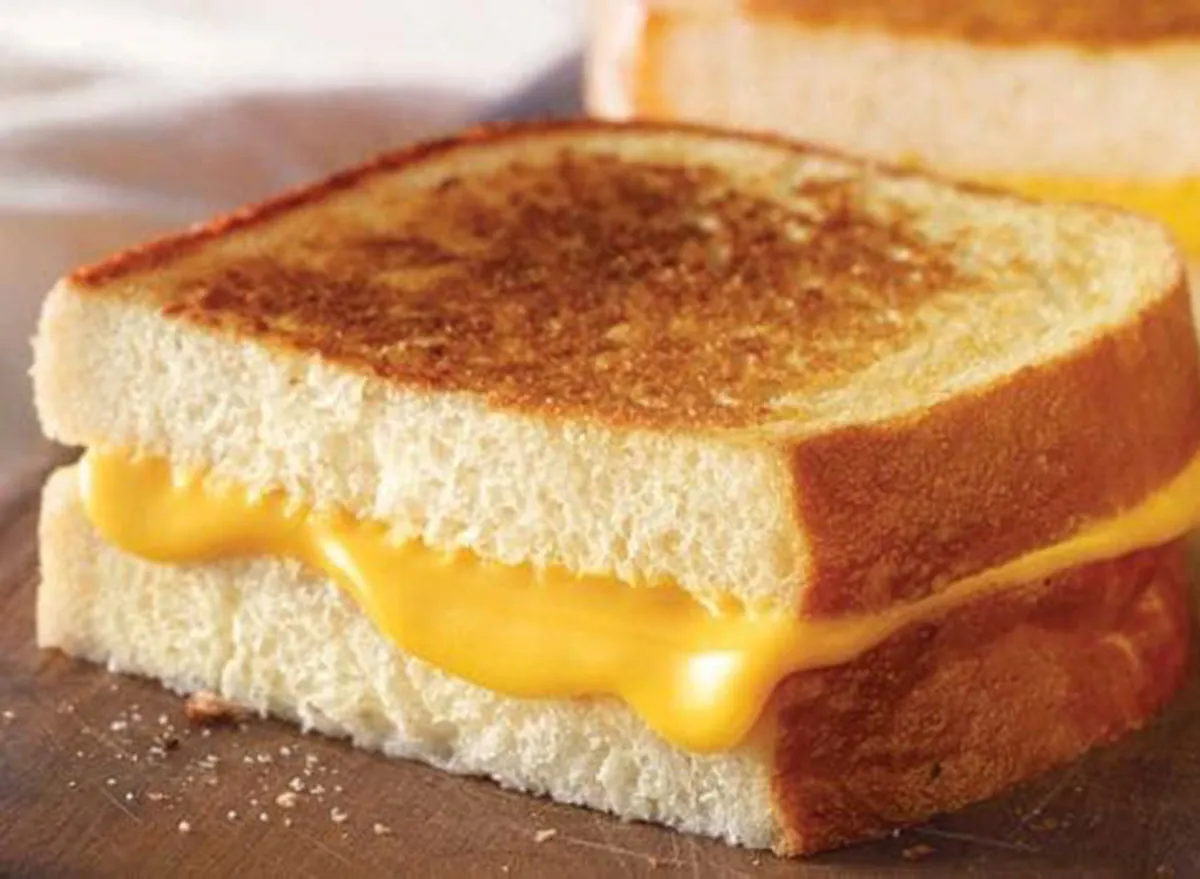 Per whole sandwich serving: 630 calories, 25 g fat (16 g saturated fat, 0 g trans fat), 1,560 mg sodium, 74 g carbs (2 g fiber, 8 g sugar), 28 g protein
Panera keeps this American classic as simple as can be: white bread and cheese. And who doesn't love the comfort food combo of oozy grilled cheese and a cup of warm tomato soup? Rizzo says, "Grilled cheese is the ultimate comfort food, but it's not exactly health food. Made with just bread and cheese and lacking any fruits or veggies, this sandwich contains more saturated fat and sodium than one should eat in a sandwich." Because the white bread contributes to this sandwich's high saturated fat to fat ratio, sub it for the healthier whole grain for your half sandwich, because we know you'll be tempted to pair it with the high-fat, creamy tomato soup.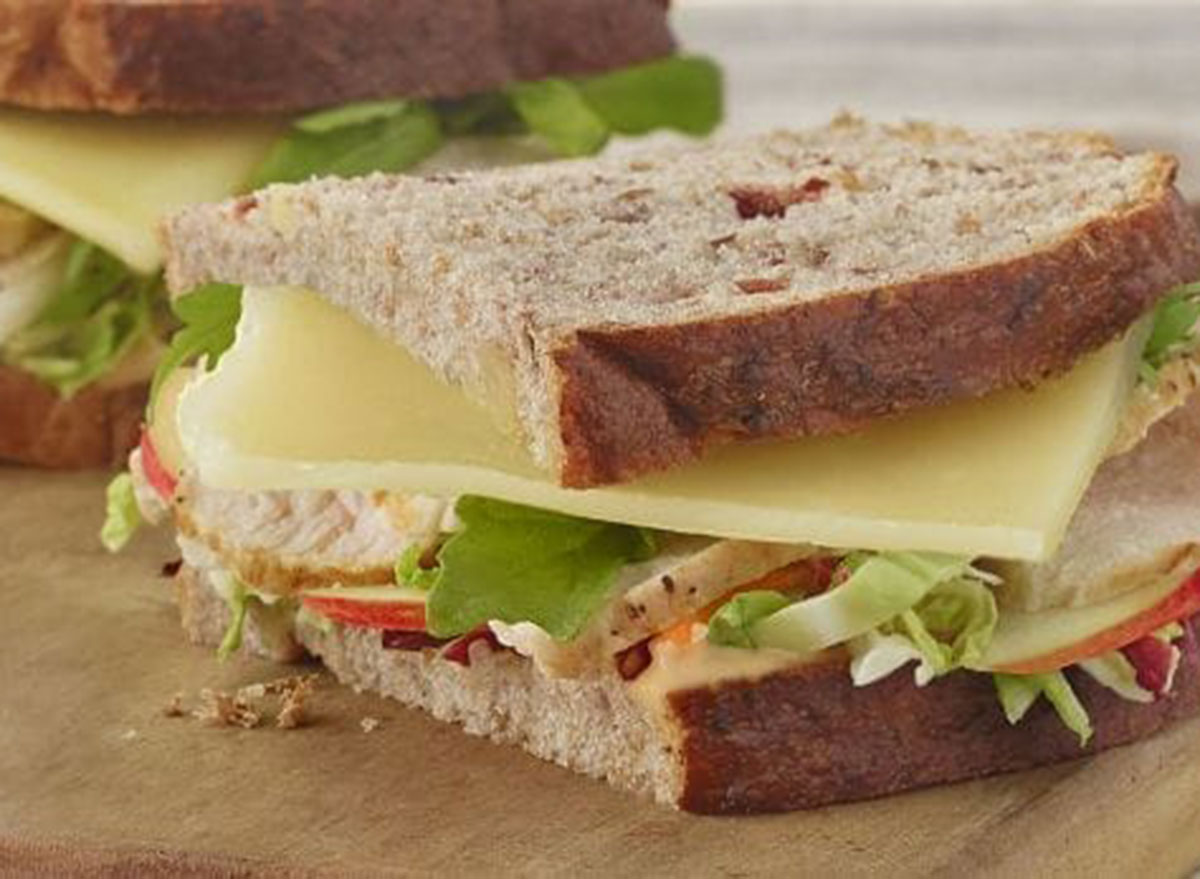 Per whole sandwich serving: 710 calories, 32 g fat (12 g saturated fat, 1 g trans fat), 1,280 mg sodium, 62 g carbs (7 g fiber, 16 g sugar), 47 g protein
Valdez says it's easy to think this sandwich is a healthy option. "The title can be misleading in terms of turkey and having things like apple and cranberry walnut. But having these healthy options can be obtained in other manners, such as just eating a whole apple or having cranberries with walnuts in a trail mix with other seeds and dried fruits," he says. According to Valdez, this sandwich contains 60 percent of the recommended saturated fat intake and just a little above half of the recommended sodium intake for the day. This is definitely a sandwich that you'll want to split in two!
Per whole panini serving: 790 calories, 29 g fat (10 g saturated fat, 0 g trans fat), 1,800 mg sodium, 84 g carbs (4 g fiber, 5 g sugar), 50 g protein
The salt content in this panini is a little out of control. Follow the advice of nutritionist Jim White, RD, ACSM HFS, and owner of Jim White Fitness Nutrition Studios, if you're really craving this smoked pulled chicken sandwich and use the "You Pick 2" option: "I really like doing the pick two at Panera because it gives you a great variety and cuts the portion sizes—and calories—in half." Pair it with a cup of the ten vegetable soup, and you'll be good to go.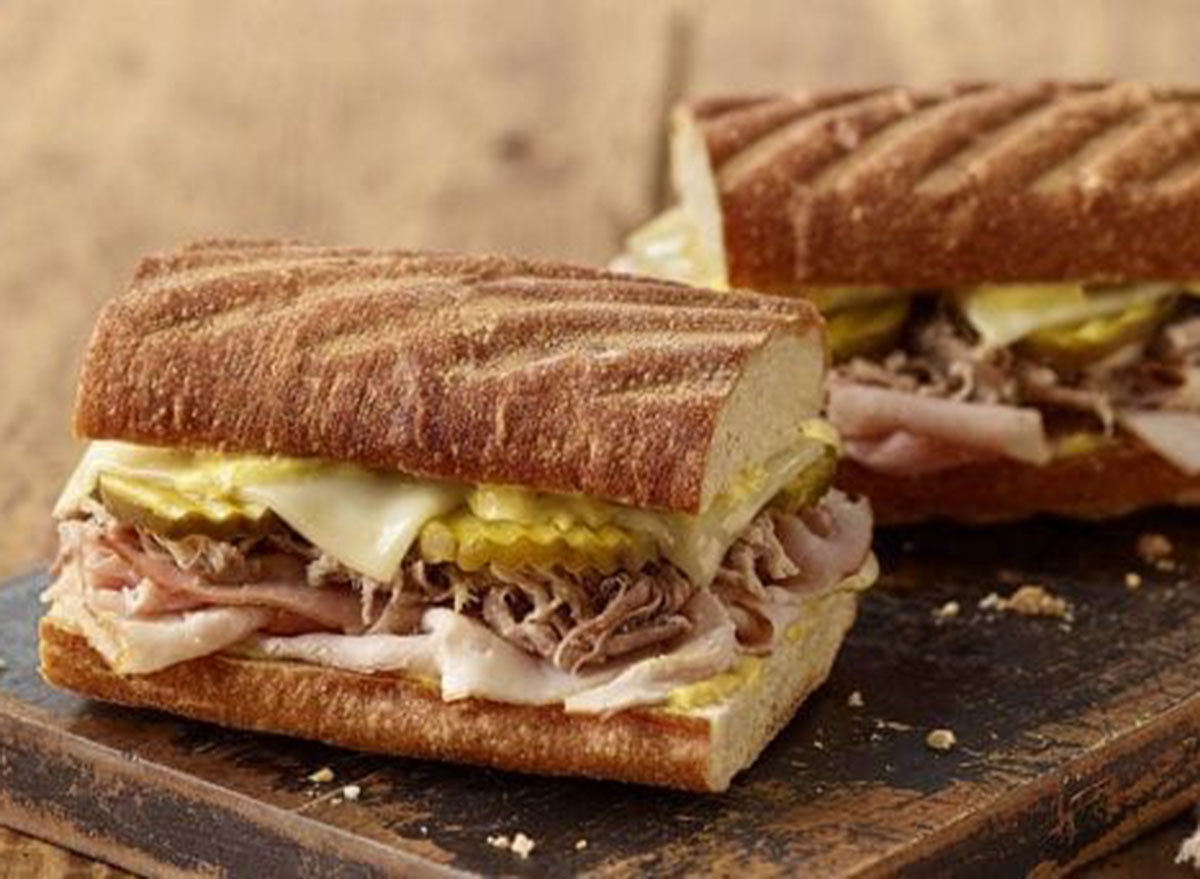 Per whole sandwich serving: 880 calories, 34 g fat (13 g saturated fat, 0 g trans fat), 1,640 mg sodium, 87 g carbs (4 g fiber, 9 g sugar), 56 g protein
Who doesn't love a decadent Cuban sandwich? While this may be one of the unhealthiest sandwich options you could order, Ansari assures that you can still order the scrumptious panini, without having to feel that guilty about it. "The great thing about Panera Bread is that you can adjust portions on sandwich items. You can customize the sandwich and make it healthier by changing the bread," she says. Swapping out the carb-loaded ciabatta for a rye bread could cut down the sodium and carbs, for example. She also suggests opting for a lighter portion of the artisan ham, shredded pork, and Emmental cheese.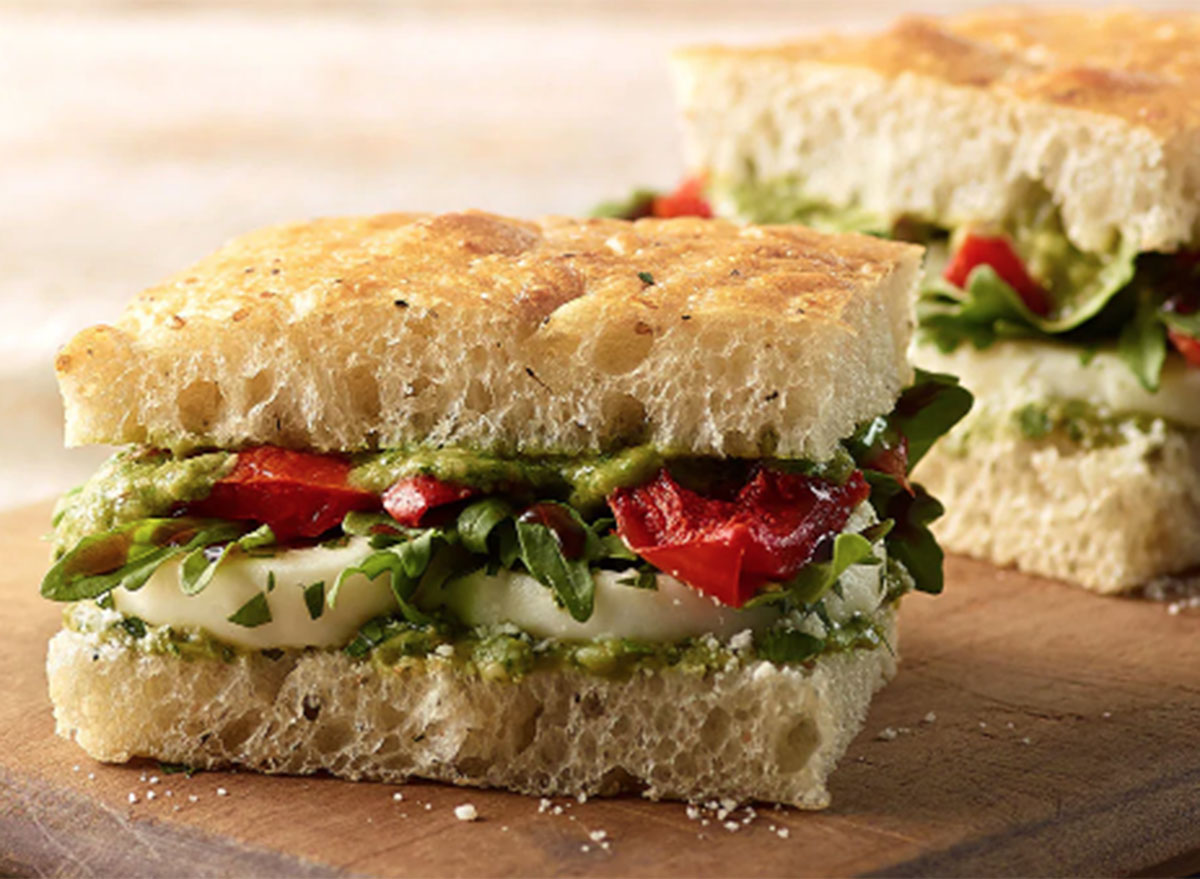 Per whole sandwich serving: 760 calories, 40 g fat (19 g saturated fat, 1 g trans fat), 1,750 mg sodium, 63 g carbs (4 g fiber, 11 g sugar), 39 g protein
How could a sandwich that only contains a basil and white bean puree as well as as mozzarella, parmesan, and smoked tomato confit be one of the worst-for-you sandwiches at Panera? "With 19 grams of saturated fat and more than half the amount of sodium you should have in a day, the Modern Caprese is something to steer clear of," Rizzo says. In addition, Rizzo says that the focaccia bread alone could be a contributing culprit. "It's usually quite high in sodium and calories, making it something to only have every once in a while," she says. "If you're really craving a caprese, split it with a friend or two!"
Best Healthy Panera Salads
These fresh salads will keep you full and focused for hours after you devour them. Some of them, though, are best left unordered because of their calorie-heavy dressings. Thankfully, Panera Bread allows you to customize your dishes, and opting for a lighter dressing that's on the side will almost always turn a disastrous dish into a balanced, healthy meal.
Read on to see how your favorite salad at Panera did in this lettuce showdown—and devour our tips on how to amp up the lesser plates to their full healthy potential.
Per whole salad: 410 calories, 21 g fat (3 saturated fat, 0 trans fat), 540 mg sodium, 25 g carbs (4 g fiber, 5 g sugar), 32 g protein
"This powerhouse salad is hands-down the best without needing any modification recommendation," says Valdez. "You can even use all of the dressing because it amounts to only 410 calories in all." He also suggests adding fruit to the salad, which won't tack on that many more calories and will add some additional fiber and natural sweetness to the dish. Yum!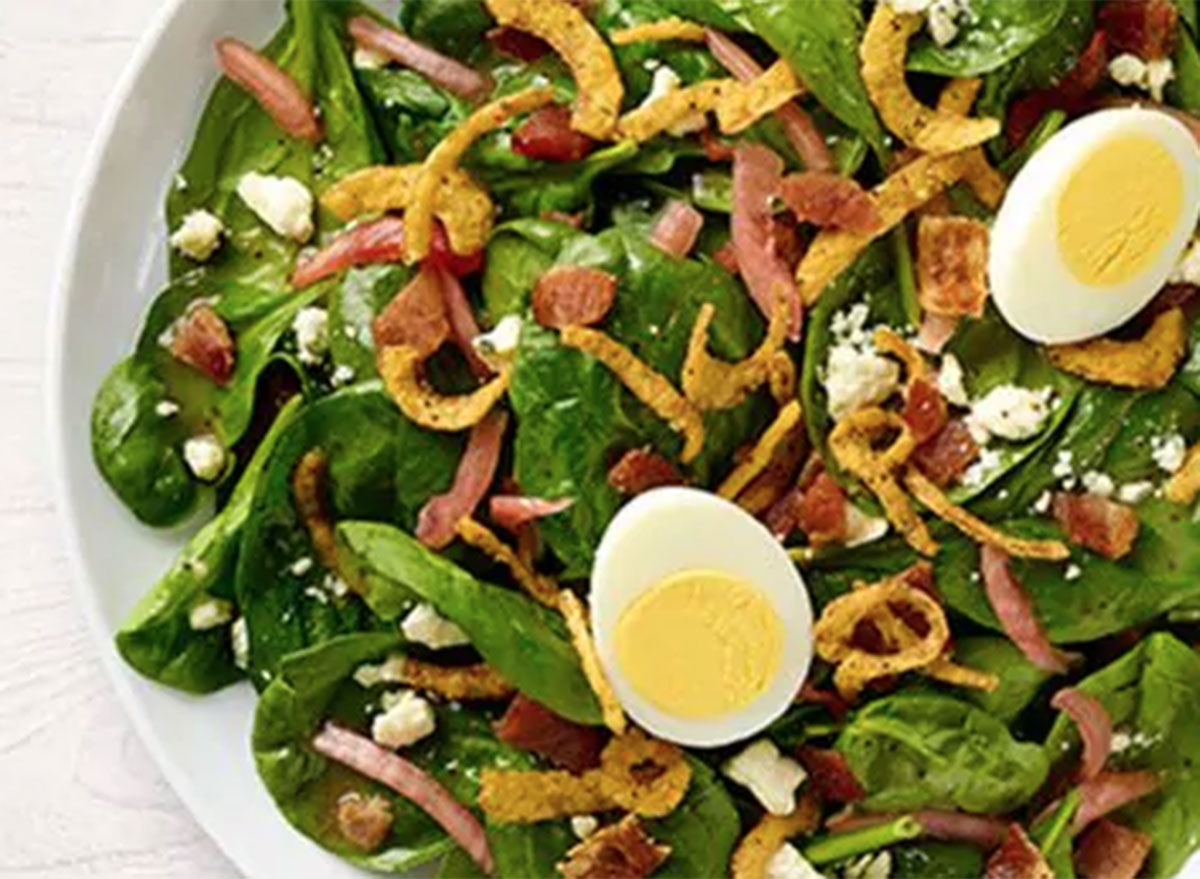 Per whole salad: 350 calories, 21 g fat (7 g saturated fat, 0 g trans fat), 910 mg sodium, 23 g carbs (4 g fiber, 12 g sugar), 20 g protein
Bacon and poppyseed in a salad? Now that's the kind of match we are looking for in a meal. While Ansari agrees that this is definitely one of the healthiest salads on the menu, she still would recommend ordering it with a lighter portion of bacon and cheese in order to reduce the saturated fat and sodium contents. She also commends Panera's inclusion of spinach as the base of the salad. "Adding green leafy veggies like spinach into the diet provides antioxidants, which can help reduce the risk of chronic disease," she says.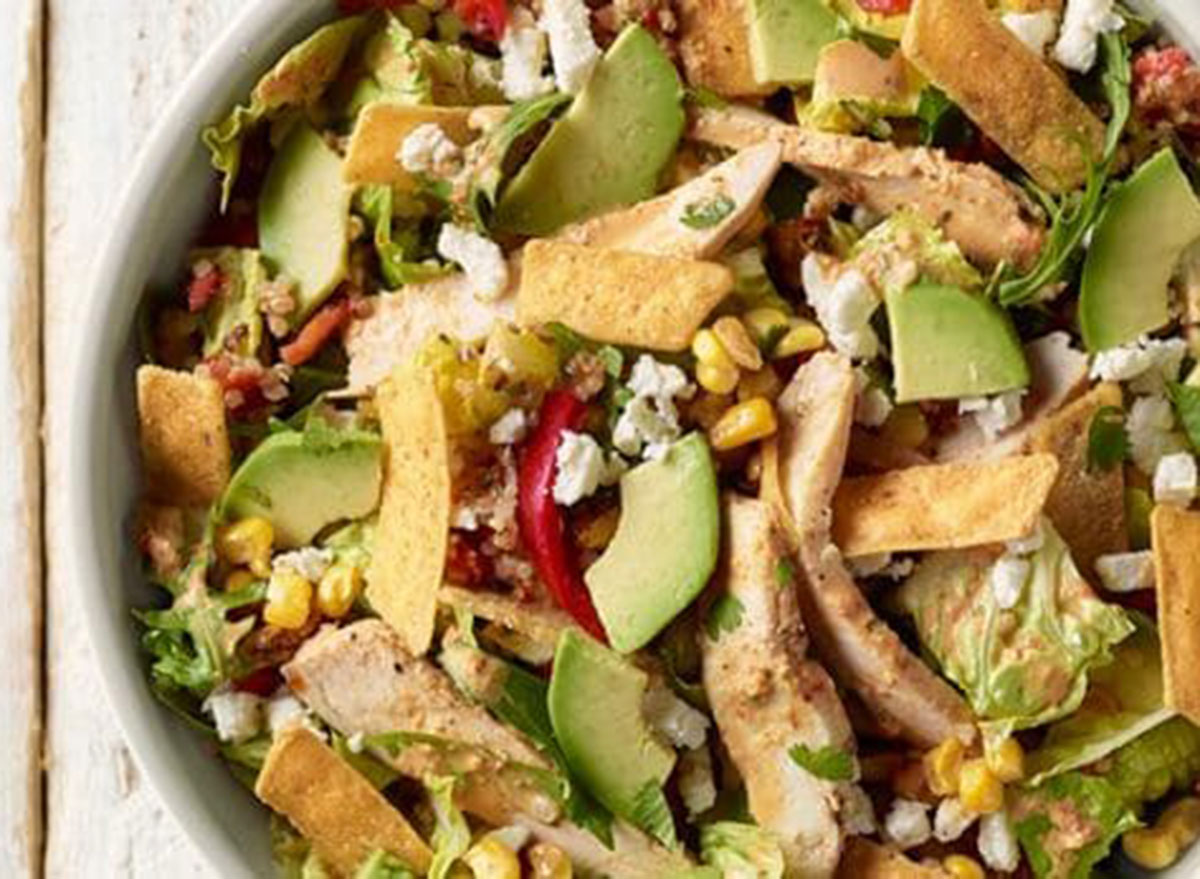 Per whole salad: 460 calories, 36 g fat (5 g saturated fat, 0 g trans fat), 710 mg sodium, 29 g carbs (8 g fiber, 4 g sugar),19 g protein
In comparison with most other salads at Panera, the Southwest Chile Lime Ranch Salad with Chicken definitely veers on the healthier side. The only problematic part is that it's high in fat, which can accumulate around your midsection if eaten in excess regularly. Valdez sheds insight on the ingredients that jack up the total fat in this salad: "What really sets the fat content high in this salad is the avocado, ranch, feta cheese, dressing, and masa chips." Try asking for all of those ingredients on the side, and use about half to make this salad an even more health-conscious option.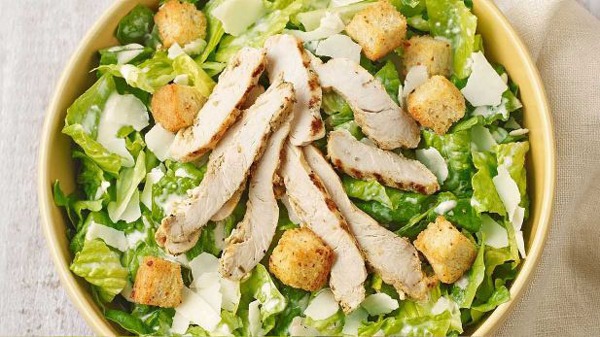 Per whole salad: 450 calories, 28 g fat (7 g saturated fat, 0 g trans fat), 780 mg sodium, 17 g carbs (2 g fiber, 1 g sugar), 34 g protein
With 450 calories and 28 grams of fat, Panera's caesar dressing is better than most, but it's still far from healthy. When you add on the Asiago Parmesan and Black Pepper Croutons, this salad isn't as nutritious as some of their other options. If you're set on getting this classic choice, ask for the dressing on the side and only allow yourself a couple of spoonfuls to save yourself a good amount of calories and fat.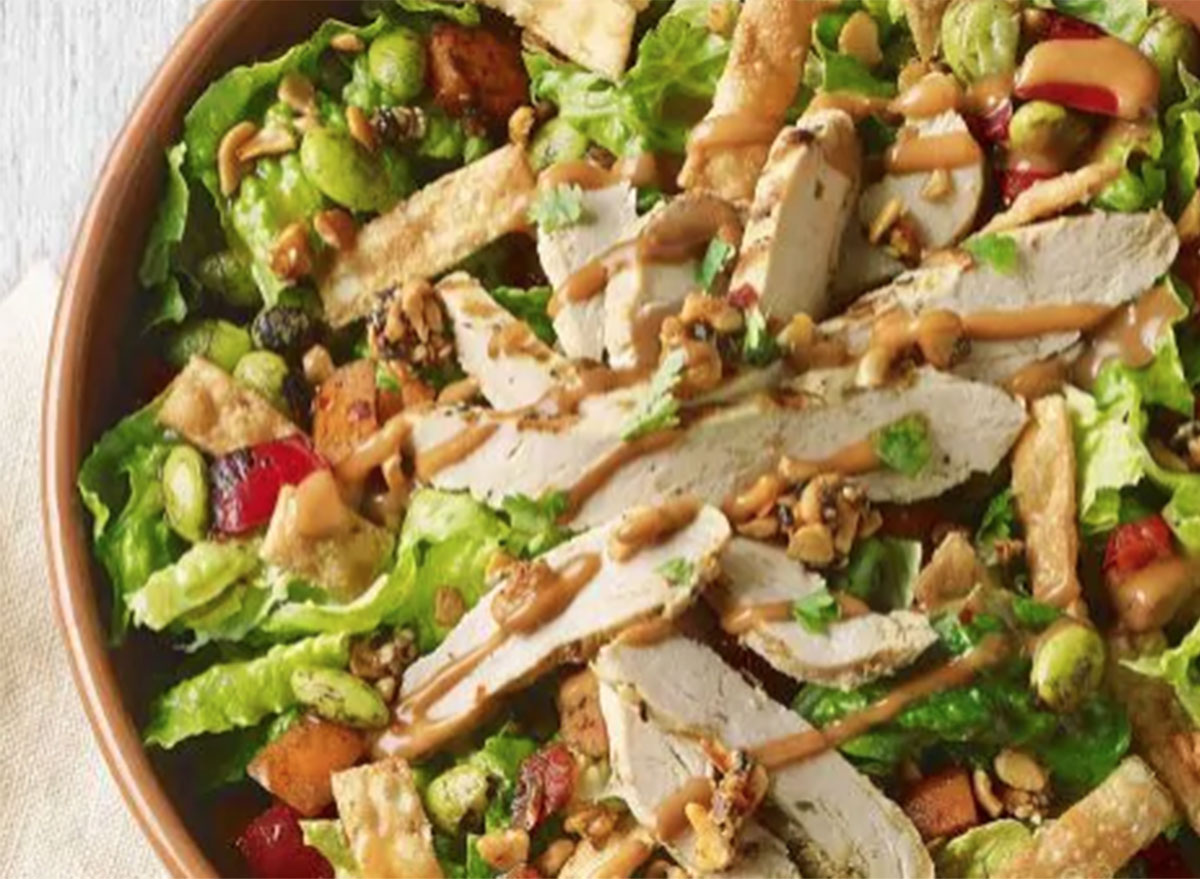 Per whole salad: 490 calories, 21 g fat (3 g saturated fat, 0 trans fat), 970 mg sodium, 41 g carbs (6 g fiber, 13 g sugar), 38 g protein
"What makes this the unhealthier option is the higher sodium content," says Valdez. The sodium content in the Spicy Thai Salad with Chicken (970 milligrams) translates to roughly 42 percent of the daily allotment. Valdez also points out that this salad also packs more carbs than other salads on the menu. "To slim this salad down further, you may opt out of the carbs, fat, and extra calories in the wonton strips," says Valdez. "Finally, have the dressing on the side, and dip your fork in it with each bite of salad to minimize the extra fat and calories that may be coming from the salad dressing."
Per whole salad: 570 calories, 35 g fat (7 g saturated fat, 0 g trans fat), 610 mg sodium, 36 g carbs (6 g fiber, 21 g sugar), 33 g protein
Though we appreciate the inclusion of apple chips in this salad, which contains quercetin (a fat burning phytochemical), the 21 grams of sugar in the white balsamic with apple flavored vinaigrette are what muddies the nutritional value of this salad. Swap the sugary stuff and opt for a simple drizzle of balsamic vinegar and olive oil to get a solid, protein-packed meal.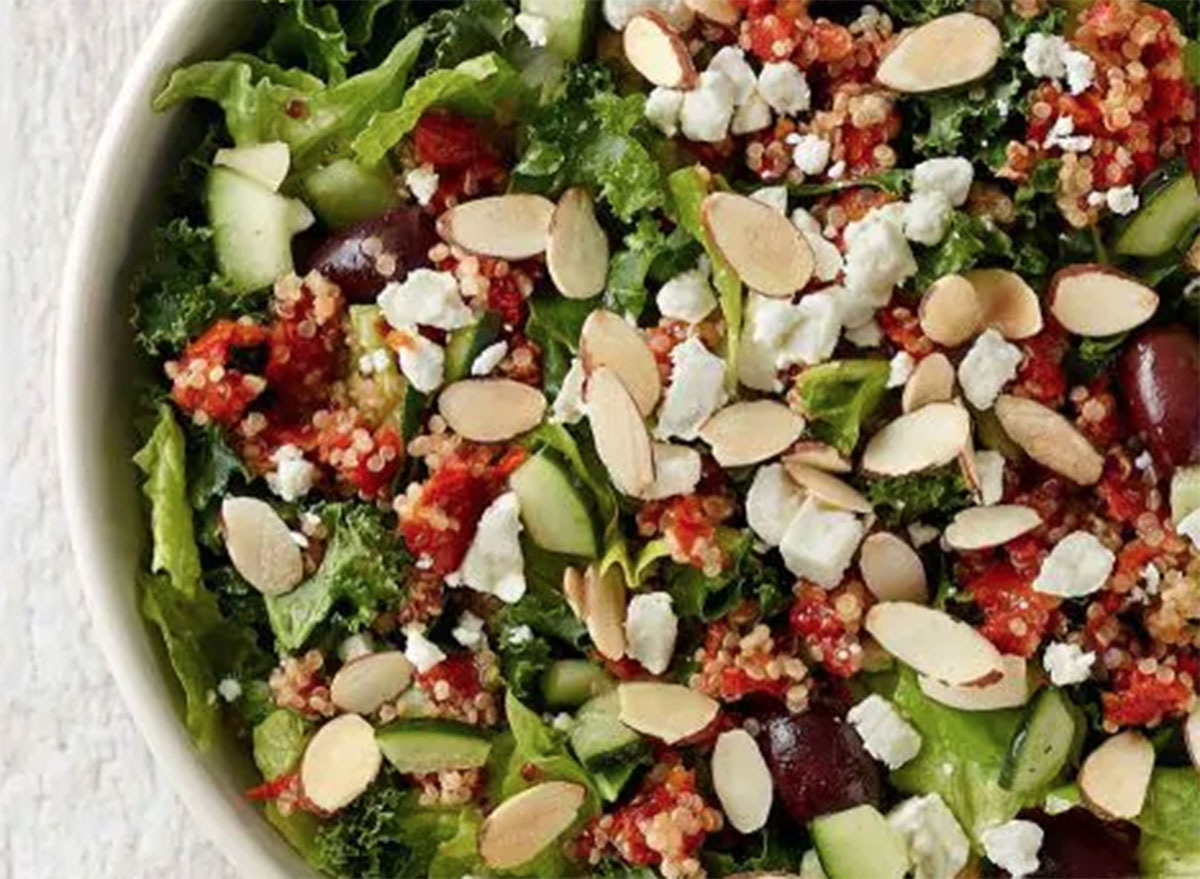 Per whole salad: 520 calories, 43 g fat (7 g saturated fat, 0 g trans fat), 880 mg sodium, 26 g carbs (7 g fiber, 4 g sugar), 12 g protein
"I actually really like this salad and eat it rather frequently," says Rizzo. "Although the fat is rather high, most of it is healthy fat, likely from the olives, nuts, and oils." Rizzo also points out that the protein content in this salad is decently high for a vegetarian option. To cut down on some of the fat though, Rizzo recommends asking for the feta cheese on the side. And of course, you can always opt for a "Pick Two."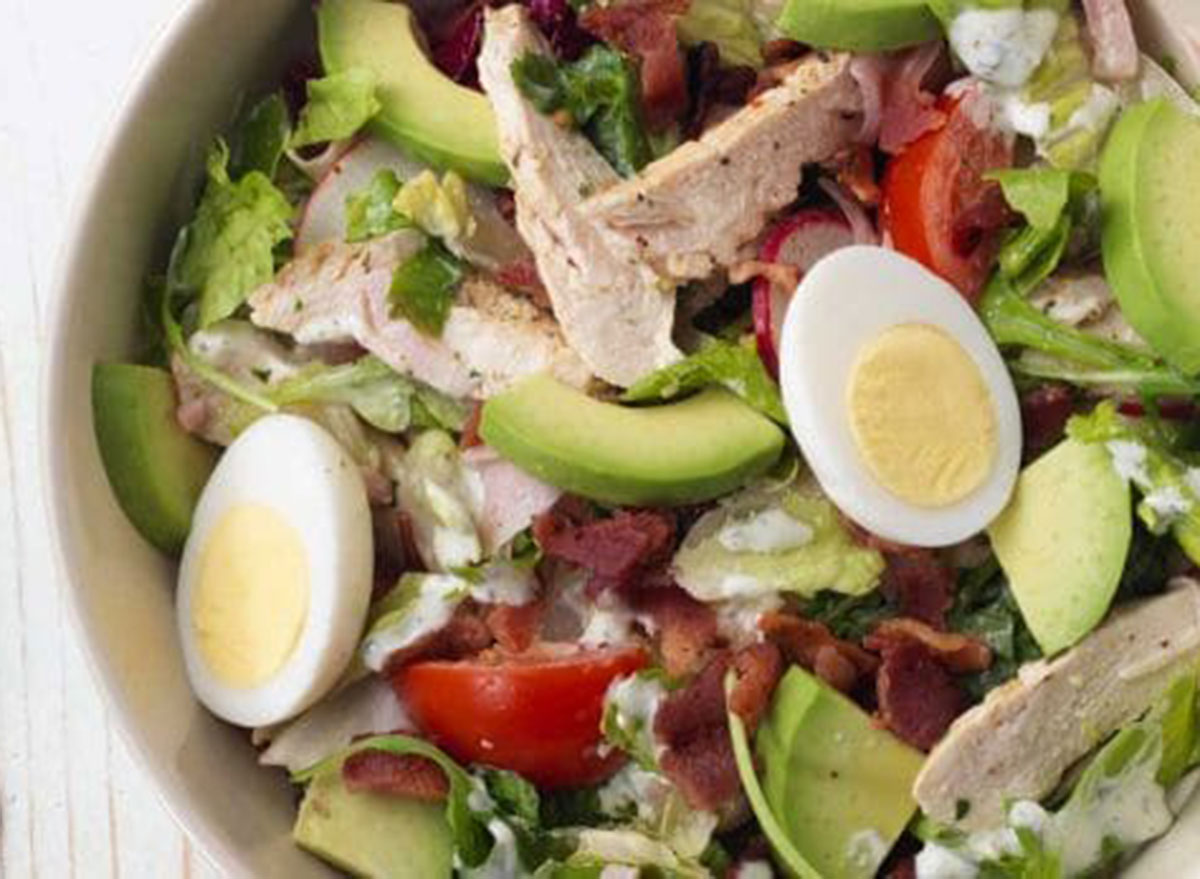 Per whole salad: 550 calories, 32 g fat (7 g saturated fat, 0 trans fat) 740 mg sodium, 24 g carbs (7 g fiber, 11 g sugar), 43 g protein
To be clear, this salad is not the worst thing you could get on Panera's menu (we're looking at you, bread bowl). However, there are a couple of ways to cut down on the fat, sodium, and protein contents. Ansari suggests either ordering the salad as a "Pick Two", or asking for the bacon and the dressing on the side. "I always encourage clients to be in control of how much dressing is added to their meals. For a healthier dressing pick, I'd ask for a side of lemon juice and their fat-free poppyseed dressing on the side," she says.
Eat This, Not That! Editors
Inspired by The New York Times best-selling book series, Eat This, Not That! is a brand that's comprised of an award-winning team of journalists and board-certified experts, doctors, nutritionists, chefs, personal trainers, and dietitians who work together to bring you accurate, timely, informative, and actionable content on food, nutrition, dieting, weight loss, health, wellness, and more. Read more
Sours: https://www.eatthis.com/panera-menu-ranked/
What to Eat at Panera Bread: Healthy Menu Choices and Nutrition Facts
Panera Bread's menu is a little different from other popular casual dining and fast food restaurants. Instead of burgers and fries, you'll find mostly bakery-cafe style fare like freshly baked bread, bagels, and pastries. Beyond breakfast, Panera also offers soups, salads, sandwiches, and a few entree options, like pasta and noodle bowls.
As is often the case when dining out, Panera's portion sizes tend to be large and meals can be quite high in calories. However, you can always choose to split a menu item with a friend or do a 1/2 sized portion. And since most of the items at Panera are baked or grilled instead of fried, it is possible to find healthier options. The website even offers recommendations for diners following low-fat and low-sodium diets, and you can generally put together a full meal for $10 or less.

What Experts Say
"Panera Bread features a wide variety of flavorful dishes, meets food allergy needs, and offers great half portion sizes of menu items. If one dish is lower in veggies or fiber, or higher in sodium, pair it with a dish that balances the meal out. If you eat here regularly, vary your order to help ensure you meet nutrient needs without exceeding daily recommendations for sodium."
— Willow Jarosh, MS, RD
Navigating the Menu
Viewing the nutrition information for Panera's menu online or with the Panera Bread mobile app before you go can help you plan an order that's within your daily intake of calories, fat, and other nutrients. You can also get an estimate of nutrition facts for your customizations by using the online tool to order Panera for delivery.
If you have specific dietary needs and preferences, such as a food allergy, Panera's website also offers helpful information on common food allergens to help you navigate the menu.
With the information you need to estimate the nutritional content of the menu and the ability to mix-and-match items when you order, you'll be able to customize a meal at Panera Bread that suits your tastes, dietary needs, and goals for your health.

What to Order & Avoid at Panera Bread
 Most Nutritious Options
Least Nutritious Options
Avocado, Egg White & Spinach  (Breakfast)
Sausage, Scrambled Egg & Cheese on Brioche (Breakfast)
Sprouted Grain Flat Bagel (Bagels)
Cinnamon Crunch Bagel (Bagels)
Reduced Fat Garden Vegetable Cream Cheese (Spreads)
Strawberry Fruit Spread (Spreads)
White Whole Grain Loaf (Breads)
Brioche Roll (Breads)
Ten Vegetable Soup Cup (Soups)
Baked Potato Soup in Bread Bowl (Soups)
Seasonal Greens Salad (Salads)
Southwest Chili Lime Ranch Chicken Salad (Salads)
Mediterranean Veggie on Tomato Basil (Sandwiches)
Chipotle Chicken Avocado Melt on Black Pepper Focaccia (Sandwiches)
Mediterranean Grain Bowl (Warm Bowls)
Baja Grain Bowl with Chicken (Warm Bowls)
Kids Mac and Cheese (Mac)
Broccoli Cheddar Mac & Cheese (Mac)
Petite Chocolate Chipper (Desserts)
Kitchen Sink Cookie (Desserts)
San Pellegrino Sparkling Water (Beverages)
Signature Hot Chocolate with Chocolate Chip Marshmallows (Beverages)
Most Nutritious Option
If you're searching for the most nutritious option at Panera Bread, order from the restaurant's popular sandwich menu and enjoy the Mediterranean veggie sandwich on tomato basil bread.
Breakfast
Panera's menu features on-the-go breakfast egg sandwiches and wraps, baked egg soufflés made with cheese, veggies, and meat, as well as a selection of hearty steel-cut oatmeal and fresh fruit. You'll also find a variety of hot or iced coffee and tea, as well as a full cafe menu of espresso drinks like lattes.
✓ Avocado, Egg White & Spinach Sandwich
For a protein-rich breakfast, choose the avocado, egg white, and spinach on sprouted grain bagel flat sandwich. It provides 350 calories, 13g fat, 5g saturated fat, 39g carbohydrate, 19g protein, and 690mg sodium.
✗ Sausage, Scrambled Egg & Cheese on Brioche
Meanwhile the sausage, scrambled egg, and cheese on brioche delivers 550 calories, 33g fat, 16g saturated fat, 33g carbohydrate, 29g protein, and 870mg sodium.
To start your day with a protein-packed breakfast without as much fat, choose a 35-calorie serving of egg whites instead of whole eggs, which can be upwards of 100 calories depending on how they're prepared.
For a lower-fat breakfast, skip extras like cheese and load up on veggies instead. If you want to lower the sodium content of your egg sandwich, avoid processed breakfast meats like sausage and bacon. While you'll find no shortage of bread options, keep breakfast carbs low by avoiding high-carb bagels and rolls. Instead choose a whole-grain wrap or whole grain bread.
The Best Healthy Breakfast Foods and Recipes
Bagels and Spreads
Panera's bakery boasts an impressive selection of bagels. You can get staples like plain, everything, sesame, and whole grain as well as unique flavors like chocolate chip, french toast, and cranberry walnut. However, even the healthier-sounding bagels are still high-calorie and high-carb—even before you factor a spread of any kind.
✓ Sprouted Grain Flat Bagel
If you're looking for a low-cal, low-carb breakfast, you aren't likely to find a bagel that fits the bill. Eaten as-is, you can get a plain, everything, sesame, or sprouted grain flat bagel for under 300 calories. The sprouted grain flat bagel delivers 180 calories, 2g fat, 34g carbohydrate, 4g sugar, 7g protein, and 410 mg sodium.

✗ Cinnamon Crunch Bagel
The cinnamon crunch bagel — a cinnamon bagel topped with an added cinnamon sugar crunch — clocks in at 420 calories, 6g fat, 4.5g saturated fat, 82g carbohydrate, 33g sugar, 10g protein, and 390 mg sodium.
In addition to being over 300 calories and high-carb, the sweet-sounding bagel choices can also be high in sugar. The other popular cinnamon swirl and raisin bagel has 310 calories, only 1.5g fat, 65g carbs, 10g protein, and 12g sugar—only the chocolate chip and French toast bagels have more sugar, at 15g. The asiago cheese bagel has 320 calories, 5g fat, 55g carbs, and 13g protein.

Veggie Hummus Egg Sandwich Recipe
Spreads
Of course, unless you plan to eat your bagel plain, you'll need to remember to factor in the calories, fat, and sodium content of what you put on it. Even something simple like a pat of butter can easily add 100 calories.
✓ Reduced Fat Garden Vegetable Cream Cheese
For the most nutritious bagel spread option, ask for the reduced fat garden vegetable cream cheese. Two tablespoons of this spread come to 70 calories, 6g fat, 3.5g saturated fat, 1g carbohydrate, 1g sugar, 2g protein, and 220 mg sodium.
✗ Strawberry Fruit Spread
Two tablespoons of the strawberry fruit spread, on the other hand, pack in 90 calories, 0g fat, 0g saturated fat, 23g carbohydrate, 22g sugar, 0g protein, and 0 mg sodium.
The spreads at Panera vary by location and availability, but you can usually get most of the staples like butter, peanut butter, and plain cream cheese. Be sure to track your portions: a typical serving size for most spreads will be two tablespoons, so keep in mind that a larger container will contain more than a single serving.
Simple 6-Ingredient Bagel Recipe
Bread
As you might expect from the chain's name, freshly baked bread is Panera's claim to fame. You won't find any particularly low-carb options on the bakery menu, but if you need a base for building a healthy sandwich, there are a few options to look for.
✓ White Whole Grain Loaf
A two-ounce serving of the white whole grain loaf has 130 calories, 1g fat, 26g carbohydrate, 3g fiber, 2g sugar, 6g protein, and 240 mg sodium. For sandwich-making, Panera's country rustic, sourdough, tomato basil, and whole grain bread have 150 calories or fewer, although only the whole grain has 26g of carbs or less per serving. You can also pack some extra protein into your sandwich with the whole grain bread, which adds 6 grams per slice.
✗ Brioche Roll
The Panera Bread brioche roll has 210 calories, 7g fat, 4g saturated fat, 31g carbohydrate, 6g sugar, 7g protein, and 300 mg sodium.
If you're looking for a low-fat option, choose the country rustic, the sourdough or sprouted grain roll which each have 0 grams per slice. While a French baguette may be the go-to choice to accompany soup, even the smaller side order at Panera will add 180 calories and 36g carbohydrates to your meal.
As with bagel options, sweet bread like cinnamon raisin or those topped with cheese are higher in calories, fat, sugar, and sodium than whole grain options.
The Best Store-Bought Breads
Soup
Panera's hearty soups can make a meal on their own or be paired with a sandwich or salad. With a range of flavors and ingredients, you can choose from classic comforts like low-fat chicken noodle soup or creamy tomato or try Panera's take on bistro French onion and chowder. 
✓ Ten Vegetable Soup (Cup)
A cup of the ten vegetable soup comes in at 60 calories, 1g fat, 0g saturated fat, 10g carbohydrate, 4g sugar, 3g protein, and 730 mg sodium. Loaded with vegetables, a cup of this hearty soup can be enjoyed alongside a small sandwich or salad in the You Pick Two option.
✗ Baked Potato Soup (Bread Bowl)
The baked potato soup in a bread bowl has 890 calories, 18g fat, 7g saturated fat, 152g carbohydrate, 6g sugar, 33g protein, and 2,110mg sodium. The broccoli cheddar soup is a favorite at Panera, but with 360 calories, 21g fat, and 1330 mg sodium, a bowl is not among the more nutritious choices. This option is high in sodium and fat. A single serving provides more than half of your sodium needs for the day.
Calorie counts for Panera's soups are for a traditional bowl, but you can reduce the calories by getting a cup-size serving instead. On the other hand, if you order soup served in an edible bread bowl, you'll need to add about 550 calories on average, about 700-800 mg sodium, and about 120g carbohydrate to your meal.
Roasted Tomato and Fennel Soup Recipe
Salad
Panera's salads vary as much in nutrition as they do taste and ingredients. While you can find some lower-calorie options, some salads are higher in calories and fat than full entrees. If you top your greens with crunchy extras and creamy salad dressings, the calories can easily add up.
✓ Caesar Salad (Half)
A half portion of the Caesar salad has 170 calories, 13g fat, 3g saturated fat, 9g carbohydrates, 5g protein, and 310mg sodium. This smaller portion can be paired with a soup or sandwich, making a full meal while keeping the calories and sodium low.
✗ Southwest Chili Lime Ranch Chicken Salad (Whole)
A whole portion of the Southwest chili lime ranch chicken salad has 670 calories, 34g fat, 7g saturated fat, 57g carbohydrate, 9g sugar, 38g protein, and 750mg sodium. If you're hoping to make a more well-rounded meal out of a salad, look to choices like the half green goddess cobb with chicken. The 250-calorie salad contains 210grams of protein and 14 grams of fat.
Popular salads with more calories and fat can still be nutritious choices—just plan to pack up half to take home for another meal.
When you're choosing a salad, the most straightforward way to avoid added calories, fat, and even hidden sugars is to skip dressing altogether. If you do choose a dressing, get a half-size portion of low-fat dressing and ask for it to be served on the side.
Low-Carb Chicken, Bacon, & Apple Salad
Sandwiches
Panera offers a range of pre-made sandwiches and paninis, but you can also customize your own with fresh fruit and veggies, grilled chicken, mozzarella cheese, nuts, and avocado.
✓ Mediterranean Veggie on Tomato Basil (Half)
Customize a half portion of the mediterranean veggie sandwich on tomato basil bread for 270 calories, 6g fat, 1.5g saturated fat, 44g carbohydrate, 4g sugar, 10g protein, and 620mg sodium. With veggies only — you can add meat if you wish — this sandwich is also a nutritious option for vegetarian diners.
✗ Chipotle Chicken Avocado Melt on Black Pepper Focaccia (Whole)
A whole chipotle chicken avocado melt on black pepper focaccia bread comes with 930 calories, 49g fat, 15g saturated fat, 80g carbohydrate, 5g sugar, 46g protein, and 1,990mg sodium.
If you want to try one of Panera's signature sandwiches, but are intimidated by the calorie or carb count, order half a sandwich instead of a whole. The full-size steak and arugula on sourdough has 480 calories, 18g fat, and 50g carbs. If you halve it, you can have a 240-calorie sandwich with 25g carbs, 8g of fat, and 16g protein.
You'll find simpler sandwiches on the PaneraKids Menu, like less-caloric versions of standbys like grilled cheese and PB&J, as well as smaller portions of ham or turkey and cheese.
How to Make a Healthier PB&J
Warm Bowls
Panera's bowls are a mix of salad and pasta. These creations feature veggies, quinoa, soba noodles, and protein sources like eggs, edamame, and chicken. In smaller portions, they can be a healthier alternative to carb-heavy pasta entrees.
✓ Mediterranean Grain Bowl
The Mediterranean grain bowl includes brown rice and quinoa, arugula, tomatoes, olives, cucumbers, hummus, feta cheese, and a lemon tahini dressing. You'll get all of these classic Mediterranean flavors for 620 calories, 29g fat, 6g saturated fat, 75g carbohydrate, 6g sugar, 20g protein, and 1,180mg sodium.
✗ Baja Grain Bowl with Chicken
The Baja grain bowl with chicken, meanwhile, has 730 calories, 34g fat, 7g saturated fat, 81g carbohydrate, 9g sugar, 30g protein, and 1,430mg sodium.
If you're feeling a little uninspired with grilled chicken, Panera's bowls give you other protein options like cage-free eggs and edamame. Each bowl is under 380 calories and has less than 15g of fat, though full-sized portions can be a little higher in sodium and carbohydrates than other choices.
Baked Tofu Noodle Bowl Recipe
Mac
Pasta dishes are among the highest-carb, highest-calorie items on Panera's menu—especially if you order them in a bread bowl. Most servings of macaroni and cheese at Panera are well over 1,000 calories, as well as being high in fat and carbohydrates.
✓ Mac and Cheese (Kids)
For a smaller portion of Panera Bread's classic macaroni and cheese, look to the kids menu. The kids' mac and cheese comes in at 470 calories, 31g fat, 33g carbohydrate, 1g fiber, 17g protein, and 1040 mg sodium.
✗ Broccoli Cheddar Mac & Cheese (Bread Bowl)
The broccoli cheddar mac and cheese in a bread bowl has 1,050 calories, 31g fat, 13g saturated fat, 155g carbohydrates, 8g sugar, 40g protein, and 2,290mg sodium.
While a few pasta entrees have some protein, the protein doesn't offer enough of a nutrition benefit to offset the fat, carbohydrate, and sodium supplied by starchy pasta and creamy cheese sauce.
For a similar meal with fewer calories, try creating your own. An order of macaroni and cheese from the kid's menu and ask for a side of grilled chicken to add yourself, which only has around 60 calories and 2g fat, but adds 13 grams of protein to your pasta.
Easy Crockpot Mac & Cheese Recipe
Desserts
Most of the options for sweets at Panera are of the bakery variety. You'll find an assortment of pastries, cookies, and cakes, as well as other bakery items like croissants, muffins, and scones. While you won't find many low-calorie, low-fat, or low-carb desserts, a few treats are available in "mini" sizes and may be an option.
✓ Blueberry Mini Muffin
A blueberry mini muffin brings 70 calories, 3g fat, 0.5g saturated fat, 10g carbohydrate, 6g sugar, 1g protein, and 55mg sodium.
Panera's brunch pastries, like muffins, scones, and iced cinnamon buns, are packed with calories, carbs, and sugar when you order them full-size. Smaller portions still add extra calories and sugar to your meal but can be a more sensible way to satisfy your sweet tooth. Ordering the mini version of the blueberry muffin saves you 450 calories and 37g sugar.
✗ Kitchen Sink Cookie
This kitchen sink cookie is a popular choice at Panera Bread and is built to share. It has 800 calories, 44g fat, 28g saturated fat, 99g carbohydrate, 56g sugar, 8g protein, and 760mg sodium. Panera notes that this specific dessert is big enough to split with a friend, so if you're craving this sweet-and-salty option, consider giving half to a friend.

Cranberry, Apple, & Carrot Muffin Recipe
Beverages
Panera is one of the first fast-casual-dining chains to publicize the ingredients and added sugar content of the beverages it serves. If you order one of Panera's craft beverages—including non-carbonated teas, lemonades, and frescas—you'll see information posted in the restaurant and online about the calorie and sugar content of each drink.
✓ San Pellegrino Sparkling Water
While water is often the best and most nutritious beverage whether you're dining out or at home, Panera Bread also offers no-calorie options like San Pellegrino Sparkling Water or Spindrift Seltzer - Lemon for 0 calories, 0g fat, 0g carbohydrate, 0g sugar, 0 g protein, and 0-10 mg sodium.
✗ Signature Hot Chocolate
A 20-ounce serving of the signature hot chocolate delivers 430 calories, 12g fat, 7g saturated fat, 66g carbohydrate, 50g sugar, 12g protein, and 200mg sodium,
Panera's beverage menu is categorized according to how sweet a drink is, ranging from unsweetened to medium-sweetened. You'll find a variety of iced tea flavors with no added sugar, as well as drinks made with far less sugar than traditional fountain soda or other common fast-food beverages.
However, Panera also has some high-calorie drinks that are also high in sugar. While you can have a cup of black coffee or tea for few, if any, calories and no added sugar, other espresso drinks can have as many calories (if not more) than your meal.
Avoid creamy milk-based drinks with sweet syrups and toppings, such as the caramel latte. The 16-oz drink has 390 calories, 15g fat, 54g carbs, and 46g sugar. If you want to add flavor without adding too many extra calories or sugar, ask for a "shot" of flavor in an otherwise black coffee. A single pump of caramel syrup has 60 calories, 11g carbs, and 9g sugar.
For a slightly-sweet iced treat that won't add an extra meal's worth of calories to your day, check out Panera's selection of smoothies. The almond milk peach and blueberry smoothie (16-oz) has 210 calories, 2g fat, 49g carbohydrates, and 41g sugar.
10 Healthy Fruit Smoothies Under 300 Calories
Diet-Specific Options
Panera has a wide range of choices for diners following a special diet. There are items for vegans, vegetarians, low-sodium, gluten-conscious and high-protein eaters. The company is committed to serving food that doesn't contain artificial preservatives, flavors, sweeteners, or colors.
With such a heavy emphasis on bread, Panera can be a challenging choice if you're on a low carb diet. Most of the bakery items at Panera are high-carb and high-calorie, though there are one or two options that may be suitable.
Gluten-Free
Green Goddess Cobb with Chicken
Fuji Apple with Chicken Salad
Southwest Chile Lime with Chicken Salad
Baked Potato Soup
Vegetarian Autumn Squash Soup
With Panera's focus on bread, you might not be expecting a wealth of gluten-free choices on the menu. However, the chain has made a point of offering "gluten conscious" items for diners looking to reduce their consumption of gluten and wheat. The most nutritious of these is the green goddess cobb with chicken, which has 500 calories, 29g fat, 24g carbohydrates, and 40g protein in a whole portion.
Panera's gluten-free menu primarily consists of swaps or substitutes you can ask for when you place your order. However, the company notes that because its kitchen contains an abundance of gluten-containing products, it's impossible to ensure cross-contamination with gluten or wheat allergens does not occur.
For this reason, Panera recommends diners with celiac disease check with their doctor before ordering from its menu of gluten-free options.
Low-Carb
Egg Whites
Greek or Caesar Salad (Half)
Ten Vegetable Soup (Cup or Bowl)
For a full low-carb meal, opt for a half portion of the Greek salad with a cup of the ten vegetable soup for 20 total carbs.
Low-FODMAP
Quinoa
Steel-Cut Oats
Egg or Egg Whites
Summer Fruit Cup or Banana
Greek, Caesar, or Seasonal Greens Salad (no croutons or dressing)
If you're following a low-FODMAP diet, dining out can be difficult. Many popular restaurants use high-FODMAP ingredients or cooking styles. With a few clever customizations, you can create low-FODMAP meals at Panera—though your options will largely depend on your individual tolerance for certain ingredients.
Diabetes-Friendly
Chicken Noodle Soup (Cup)
Caesar Salad with Chicken (Half)
Ham, Egg, and Cheese on Whole Grain Farmstyle Bread
Scrambled, Over-Easy, or Egg Whites (Side)
Greek, Green Goddess, Chili Lime Rojo Ranch Salad Dressing (Half)
Create your own diabetes-friendly meal by keeping carbohydrates low with a cup of the chicken noodle soup and the green goddess salad.
Low-Fat
Vegan Lentil Quinoa Bowl
Mediterranean Egg White Wrap
Mediterranean Veggie on Tomato Basil Sandwich
Plain Bagel with Reduced Fat Garden Vegetable Cream Cheese
Order a whole Mediterranean veggie on tomato basil sandwich for only 12g fat. This is one of the restaurant's lowest-fat options, and if you only want a half-size portion, you'll be consuming 6g fat.
Low-Sodium
Apple, Banana, or Seasonal Fruit Cup
Sprouted Grain Bagel with Strawberry Fruit Spread
Napa Almond Chicken Salad Sandwich on Country Rustic (Half)
Steel-Cut Oatmeal with Strawberries, Pecans, and Cinnamon Crunch Topping
Keep your sodium intake lower by ordering a half portion of the Napa almond chicken salad sandwich on country rustic bread. It contains only 400mg sodium.
7 Low-Carb Diet Myths Debunked
Vegetarian
Greek Salad
Modern Caprese Sandwich
Vegetarian Creamy Tomato Soup
Greek Yogurt with Mixed Berries
Avocado, Egg White, & Spinach Breakfast Sandwich
Panera Bread offers an impressive range of vegan and vegetarian options, and its most nutritious option is the Greek salad with a cup of the vegetarian creamy tomato soup.
Vegan
French Baguette
Green Passion Smoothie
Vegan Lentil Quinoa Bowl
Steel-Cut Oats with Strawberries and Pecans
Soba Noodle Broth Bowl with Edamame Blend
The chain defines vegan as: "food with no animal sources: no meat, fish, shellfish, milk, egg, or honey products, and no enzymes and rennet from animal sources." In recent years, the company has been testing different vegan and vegetarian-friendly menu items, though some are only available for a limited time or in specific regions. When you're viewing the menu online, you'll see a green leaf icon on items that are vegan-friendly.
For a hearty vegan meal, order the vegan lentil quinoa bowl.
Even with its commitment to creating these options, Panera still provides the caveat that as it does use animal products in its kitchens, no menu item is certified vegan.
Panera Vegan Statement
"All of our menu items (vegan and non-vegan) are prepared in the same kitchen, so while we're happy to make your order just the way you want, we can't guarantee that there will be no cross-contact between ingredients."
Food Allergies and Safety
When you're dining at Panera, let the employee taking your order know if you have a food allergy. Before you decide what to order, carefully review the menu's nutrition information and ingredients list. More detailed information for some products can be found on the Panera At Home website.
Panera Food Allergen Statement
"Please note that we cannot guarantee that any of our menu items are free of allergens because we use shared equipment and handle common allergens throughout our supply chain and bakery-cafe."
If you have any concerns or questions, ask to chat with a Panera manager. They may be able to give you additional information and can pass on your request to the kitchen staff.
A Word From Verywell
Compared to many other popular casual dining and fast food restaurants, Panera Bread's menu of mostly baked and grilled food gives you the ability to customize a relatively healthy and satisfying meal. While most items on the menu come in large portions, you have the option of getting a half-order which can reduce the calories of your meal.
You can even mix-and-match different items to create a hearty meal—or more than one, leaving you with leftovers to pack up and take home for later. If you're following a special diet or trying to avoid certain ingredients, you'll find the transparency of Panera's menu, as well as the range of choices, helpful in creating a meal that suits your tastes and needs.
Subway Nutrition Facts: What to Order & Avoid
Thanks for your feedback!
Sours: https://www.verywellfit.com/diet-friendly-panera-bread-choices-3495696
Calories panera salad
Food Search
1 to 10 of 89 for Panera Bread Salads
---
1 2 3 4 5 6 ... Next
Foods
Recipes
Meals
Exercises
Members
Your Food Diary
Use the FatSecret food diary to track your diet. There are thousands of foods and recipes in the FatSecret database to choose from, with detailed nutritional information including calories, fat and protein for each serving size.

You may also add one of the many great recipes and food ideas submitted by our members.

Find out how your diet compares to your friends and to other members like you!
Recent Food Diary Entries
Sours: https://www.fatsecret.com/calories-nutrition/search?q=Panera+Bread+Salads
Is Panera Bread Actually Healthy? - With Full Menu Review
Then you need to breathe deeply through your mouth and everything goes away. for the first time I ran into this phenomenon in the gynecologist's office, when the nurse decided to give me an enema. do you remember, I told you about this two days ago. only 14 years old, I have never yet been enema from Esmarch's circle.
You will also be interested:
The oriental scent pleasantly enveloped and intoxicated the head. The picture of the ball was so-so, but since Igor had no choice place of viewing, gradually began to doze and, probably. Would have fallen asleep, but the touch of something on his leg brought him out of his doze.
It was something, there was a neighbor's hand, with which he gently touched Igor's leg. Without opening his eyes to the end, Igor saw how carefully this hand moved from the knee to the hip and back.
747
748
749
750
751