19 Smudge Sticks to Buy as You Manifest the Best New Year Ever
As the new year approaches, many of us are taking stock of our lives, our habits, our spaces. We're filled with renewed energy—ready to tackle 2020 head on, and render it the year that we became the people we've always dreamt of being. But as we approach this time of transition, we may find our year-end rituals lacking. Penning a few resolutions feels almost clinical, when what we're craving is absolute ceremony. We want to light every candle we own. We want to purge unnecessary belongings. We want is to stock up on smudge sticks and infuse our homes with fresh energy.
The latter is, admittedly, more complicated than simply lighting candles or cleaning house. Because smudging isn't merely a matter of wafting smoke around your house—it's a spiritual tradition with roots in many indigenous cultures. Smudging is a ceremonial act, said to cleanse, purify, and ground those engaging in it. "Smudging allows people to stop, slow down, and become mindful and centered," one First Nations group writes. "We smudge to clear the air around us…We smudge our whole being so that we will portray only the good part of [ourselves] through our actions."
This ritual is a beautiful one. It concretizes transitions, simultaneously honoring the past you've lived while creating space for the future you hope to build. It's little wonder many of us find ourselves so drawn to this tradition; it gives visual form to the feelings living inside us—feelings that tend to overflow as we approach the end of one year, and the start of a new one.
Though smudging is a culturally specific ritual, the sentiments it encapsulates are universal. And there are respectful ways to engage with this tradition. "A smudge is led by a person who has an understanding of what a smudge is and why it is done," the same First Nations group explains in its smudging guidelines. "That person may be an Elder or a cultural teacher…it can be a [person] who is knowledgeable about the tradition of smudging."
So spend some time getting to know this tradition before stocking up on turn-of-the-year smudge sticks. Or opt not to, and turn instead to one of the other equally moving ways to honor yourself and the changes you're welcoming into your life.
Our mission at STYLECASTER is to bring style to the people, and we only feature products we think you'll love as much as we do. Please note that if you purchase something by clicking on a link within this story, we may receive a small commission of the sale.
The Ritual Incense Bundle Trio Set
This smudging set comes with three different bundles: one crafted from sage, one crafted from lavender, and one crafted from roses.
Rosemary, Rose, and Calendula Smudge Stick
This smudge stick blends herbaceous rosemary with florals like rose and calendula to create a bundle that's vibrant, cleansing, and refreshing all at once.
Rootfoot Palo Santo Bundle
Those who prefer woodsy scents to floral ones will surely appreciate this bundle, which is crafted entirely from palo santo wood.
Floral Smudge Bundle
This artisanal bundle comes not only with white sage and flowers, but also with a rose quartz crystal.
Celebration Rainbow Smudge Stick
Each of these exceptionally pretty bundles is one-of-a-kind. But all of them are made from some combination of wormwood, sage, cypress, citrus, rose, carnation, and goldenrod.
Palo Santo Smudge Stick and Raw Crystal Bundle
This crystal-forward smudge stick is crafted from traditional ingredients, like white sage, lavender, and palo santo.
White Sage and Lavender Smudge Bundle
This incredible fragrant bundle is made entirely of white sage and lavender. And each smudge stick is hand-wrapped and sold by members of the Cheyenne River Sioux Tribe, so you can rest assured knowing you're buying respectfully and responsibly.
Palo Santo and Crystal Bundle
There's no sage in this smudge stick. Instead, this "protection" bundle is crafted entirely from flowers and palo santo.
Sage and Palo Santo Smudge Kit
This "positive energy" smudge kit comes complete with three rose petal-wrapped sage bundles and two sticks of palo santo wood. Use them one at a time—or in combination.
Lavender Smudge Bundle
Lavender lovers will surely appreciate these smudge bundles, which are composed entirely of Grosso French lavender. And since these bundles are crafted and sold by Native Americans, you can trust that your money is going to the very people whose tradition you're engaging with.
Medium Sage Smudge Stick
This smudge stick is crafted entirely from organically grown, sustainably harvested sage, bundled up in hemp string.
Rosemary, Lavender, and Rose Smudge Stick
This rosemary, rose, and lavender bundle promises to be vibrantly fragrant. What's more? Each smudge stick comes paired with labradorite, a stone said to encourage reflection.
Catherine Rising Large Lavender Smudge Stick
This classic sage stick is paired with fresh lavender and dried white roses to create a bundle that's fresh and bright.
Love Smudge Twin Pack
This smudging twin pack comes with two sage bundles wrapped with roses. Choose between a yellow-on-yellow, red-on-red, or red-on-yellow color combination, and know you're buying from a Native American-owned shop.
Floral Smudge Kit
This seven-piece set comes with two sage sticks, four palo santo sticks, and one rose palo santo bundle. Use them one at a time, or light a couple in conjunction.
Palo Santo and Crystal Bundle
This "positivity" bundle is made from cedarwood and dried flowers, and topped off with a crystal.
White Sage Smudge Stick Bundle
This smudge stick is crafted entirely from white sage, making it a particularly traditional option. Sage is one of "four sacred medicines" recognized by many indigenous peoples, and it's said to cleanse spaces and relieve troubles.
White Sage and Rose Smudge
Each of these vibrantly colored bundles carries a different meaning. The red rose bundle signifies love, passion, and beauty. The yellow rose bundle signifies friendship, happiness, and new beginnings. And the purple rose bundle signifies enchantment, desire, and grace. Like all products at the Whispering Winds Shop, each bundle is hand-wrapped and sold by Native Americans.
Pink Sage Bundle
These floral beauties are composed of white sage, palo santo, roses, baby's breath, and other dried flowers, leaving each one fragrant, bright, and delightful.
Sours: https://stylecaster.com/smudge-sticks/
That Sage Smudge Stick Probably Came From Stolen Plants
Ron Goodman and his boss were training a new volunteer ranger at the North Etiwanda Preserve, a lush and rocky landscape in the foothills of the Cucamonga Wilderness, roughly 50 miles east of Los Angeles. They were looking out over an area of burn scar when Goodman spotted three men with duffle bags among the sand-colored boulders. He knew exactly what they were doing and took off running in their direction.
---
It was the first time the ranger had intercepted illegally harvested white sage, but it wouldn't be a unique experience.
"I cannot explain how difficult it is to march this stuff out. The bags can weigh 70 to 100 pounds. It's rocky terrain and there's no shade, we have rattlesnakes. And yet they still do it," said Goodman, a retired San Bernardino County ranger.
Poaching white sage for commercial sale, mostly bundled in smudge sticks or distilled into essential oils, has threatened the plant's survival in recent years. Police estimate the plant sells for around $30 per pound wholesale — and the industry is booming. But wild white sage has been disappearing in California for decades. Climate change, invasive species, unprecedented fires and sprawling development has chipped away at coastal sage scrub in Southern California, as well as the delicate web flora that grow alongside it, many of them rare, threatened or endangered. Salvia apiana itself is unlisted by the U.S. Fish and Wildlife Service, which keeps a database of threatened and endangered species.
The average processing time for the threatened and endangered species is 12 years, and plants usually take longer than animals. Despite official data regarding how much remains in the wild, the Indigenous people who have used white sage for centuries as well as the ecologists and rangers who work in the area understand that it's disappearing.
"It doesn't even grow around Los Angeles anymore," said Goodman. "The plants are really suffering from the drought this year and because poaching has been going on for years, the plants haven't been allowed to reach their full size. That's in addition to what we've lost to development."
Human Development and Climate Change
The natural territory of coastal sage scrub spans from Santa Barbara to El Rosario in northwestern Baja California, occasionally popping up in patches along the central California coast. In Southern California, the shrubland exists almost entirely in the wildland-urban interface, where housing developments carve into swaths of wild vegetation. Development has transformed the complex network of grasslands, thickets of dwarf evergreen shrubs and riparian corridors that once ruled the landscape. The World Wildlife Fund estimates that due to human land conversion, only about 15 percent of the California Coastal Sage and Chaparral ecoregion remains intact.
Nothing in an ecosystem exists in a vacuum. White sage is mycorrhizal, meaning its roots form vital relationships with beneficial fungi in soil. So when the plant disappears from its native community, the absence throws the ecosystem out of balance. This paves the way for invasive grasses like Bromus rubens and Avena barbata. "These grasses create a flash fuel problem that allows fires to very easily spread through the area," said Arlee Montalvo, a retired senior plant restoration ecologist for the Riverside-Corona Resource Conservation District.
Nine of the 10 largest wildfires in California history have happened in the last nine years. All plants, including those in coastal sage scrub habitats, have adapted to regular bouts of fire. Some seeds even need the smoke to germinate. But flora today are faced with wildfires that burn at a temperature and with a frequency they haven't evolved to withstand.
"In 2003, the human-caused Grand Prix burned with such intensity that the sage never came back," said Goodman.
A Trend That's Fueling Poaching
Like dietary supplements and medicinal herbs, the white sage market is almost completely unregulated. Consumers have no way of knowing what labels that dub products sustainably or ethically wildcrafted actually mean — and some argue harvesting sage for commercial use isn't ethical at all.
Under California State law, no one is allowed to harvest white sage growing on public land for commercial sale. Harvesting on private land is legal with written permission from the land owner, though Goodman said that is a rare occurrence.
"A lot of vendors say their product is sustainably sourced from the hills of California. Unless they can say exactly where it's grown, we can be pretty sure it's stolen," said Rose Ramirez, an ethnobotanist who lives in San Diego County and who is of Chumash and Yaqui descent.
In 2018, the Rancho Cucamonga Police Department made their largest bust to date. Four people had stuffed 400 pounds of poached white sage into backpacks they'd plan to hike out of a valley in the North Etiwanda Preserve.
The following year, the department arrested 24 people for poaching white sage, police records show. According to Goodman, deputies have used helicopters, infrared cameras and a bloodhound to surveil the area in the past, but a dwindling budget means just a few rangers are charged with patrolling the 1,200-acre area.
Susan Leopold, director of United Plant Savers, a non-profit dedicated to protecting native medicinal plants in the U.S. and Canada, calls the North Etiwanda Preserve the "mecca of the white sage mafia."
"The North Etiwanda Preserve is very unique, ecologically speaking, and white sage grows in big, lush clusters that don't appear anywhere else in California. It's easy to pick a lot quickly in the preserve," said Leopold. (Under state law, white sage in this specific area is protected under the California Endangered Species Act.)
Goodman and a group of 12 core volunteers at the Cucamonga Foothills Preservation Alliance patrol the foothills of the preserve, educating their neighbors on what to look out for and reporting suspected poachers to local law enforcement. The alliance has aided in the confiscation of 200 pounds of sage seeds and thousands of pounds of harvested white sage.
"When we encounter the poachers, they act on it. Three years ago, they weren't," said Goodman. "But law enforcement is now behind getting white sage more protection. They now understand the cultural and ecological significance."
Pushing for Transparency
A man bundles white sage, which is burned as an incense in blessings and sacred ceremonies, at the annual traditional agave roast at the Malki Museum on the Morongo Indian Reservation near Banning, California, April 11, 2015. DAVID MCNEW / AFP / Getty Images
Burning white sage is cultural appropriation for anyone who is not part of a culture that traditionally uses the sacred plant in ceremony. American Indian/Alaska Native people were subject for nearly a century to Eurocentric laws that jailed or even killed them for practicing their religions, including burning white sage. For these reasons, Native communities have been calling on non-Native people who burn sage to stop. While some argue that cultural appropriation should be reason enough to stop masses of non-AIAN people from using white sage, others see the commercial sale of white sage as something that is here to stay.

Ramirez is part of a group that's trying to get white sage recognized as a culturally significant plant at the state level, which could pave the way for it to eventually be recognized as threatened or endangered. This could save some white sage habitat from development. She's also among those who see working to make the industry more sustainable as the most realistic option to protect wild white sage, which can be legally harvested by local tribes for personal use.

"We are way beyond this idea of not selling white sage. It's being sold all over the world, by places like Wal-Mart and Alibaba," Ramirez told EcoWatch, noting that some wholesale listings are specifically marketed towards yoga studios.
While Ramirez and fellow ethnobotanist Deborah Small don't encourage non-Native people to use white sage, they recognize that it's now deeply rooted in pop culture, largely thanks to social media. In that case, they want people to grow white sage if they can, especially if they live in places like Orange County and Riverside, California, where the wild population has been decimated by construction. "We want people to concentrate on rehabilitating white sage in areas where it used to grow," said Ramirez.
The second option, they say, is to only purchase products made from farmed plants, rather than those that claim to be wildcrafted or foraged. The team is currently working on creating a white sage verification system that would force the industry to be transparent about where they source their product.
"Foragers or wildcrafters think it's their right and they make it seem so innocent. It wouldn't be such a bad thing if we didn't also have the climate change, the over development; if we had massive amounts of this plant left," said Ramirez.
Kaitlin Sullivan covers the environment, science and health beats. Her work has appeared in NBC News, Popular Science, NPR, VICE and Inverse, among others. Before becoming a journalist, she worked on a farm in Western Colorado, at a hostel in Brazil and as an editor for the American Alpine Club.
Follow her on Twitter: @kaitsulliva

Related Articles Around the Web
Sours: https://www.ecowatch.com/white-sage-poaching-2654463355.html
Rose smudge stick meaning
Some other herbs and spices that are often used include cilantro, cedar, lavender, and mugwortSmudge Sticks. Unit: 1 smudge stick per order. Chakra Vial. 4". It's one of the most well known and popular of all the crystals because it works with love, the most important energy. 95 New. With respecting your personal information, A Peace of Lovelace LLC is committed to ensuring that your privacy is protected. We were exploring topics like angel communication, oracle cards, and cleansing spaces. 45 From our teachings, Rose petals are of the direction of the north bringing wisdom into our lives. Our smudge sticks are handmade in Torquay, on the Surfcoast of Victoria Large 6" Abalone Shell & 6" Wood Tripod Stand Kit - Smudging Sage Sticks, Powder. Each beautiful organic blue sage stick is carefully hand-wrapped with our handpicked roses, hemp string and vintage velvet ribbon. Palo Santo is used in South America in much the same way white sage is used in North America- to combat negative energy and to cleanse the space. With the things in my garden I made my own smudge stick that I'm very happy with! I used rosemary as the base for purification of negative energy, basil for luck and again purification and then rose petals for self love and because it looks nice. Store incense in a glass container, in a cool, dark place. 1 Floral Rose Smudge Stick, beautifully designed with sustainably harvested blue and white sage, local fragrant lavender and pink/purple roses. This seven chakra white sage comes with seven different colours of rose petals that are wrapped around the sage stick. Cleanse every room in your home or space with the smudge stick. 3. Mystical magical mugwort metaphysical meanings of the herb of protection and psychic vision. Regular price 9. 25in deep. It promotes telepathy. Palo Santo is used in South America in much the same way as White Ceremonial Sage is used in North America- to combat negative energy and to Lavender Smudge Stick With Altar Potion Bottle —. We looked to some of the strong, empowered women who inspire us to share their perspectives on the unrelenting quest for balance. It is known to cleanse out negative energies and unwanted spirits. These beauties have the most amazing scent! Just the thing to make a house feel (and smell) fresh Home Goods. Mexican Sage, Purple Sage, Eucalyptus Leaves, Olive Tree Branch with leaves, French and English Lavender, Magnolia Flower Petals, Rose Petals, Rose Buds. Final Verdict. A study has also found that after a 1 hour smudging ceremony with Feb 28, 2011 · Overview. Rose Images. 95. 10. Peppermint: A purifier raises the vibration of a Smudge sticks are used for purifying the atmosphere, dispersing negativity, and protection. Disinfects air. . "I invite the spirit of the salt to work with me to protect my home (or Dec 03, 2015 · You can burn powdered or stick incense on a charcoal disk, toss it directly in the fire, or add it to a homemade incense wand like the one pictured above. Kiko Long Lasting Stick Eyeshadow Lagoon Blu is an eyeshadow pencil, which is extremely durable, and intensive. Carry the abalone shell with you to catch any ash as you travel through your home. Sheer, lightly pearlized shadow, which can also be used as a highlighter shade under the browbone. Take your energy cleansing practice to the next level with a White Sage & Rose Petal smudge stick. Another quick way to cleanse Sunstones is to smudge them with burning cedar or sage. . Use your hand, a small piece of cardboard, or a feather to "waft" the smoke. 00. Browse our full range of incense, cones and dhoop sticks today. AlmondThis rainbow smudge stick is a powerful cleansing tool to clear negative energy from your mind, body, spirit and space, as well as a chakra healing tool that balances and aligns your chakras. To use your smudge, begin by ensuring your space is well ventilated for effective cleansing. The plant combinations in these agna smudge sticks have been used by the native Australians for decades and are some of the most powerful smudge sticks around. Lavender is also added into White Sage sticks as well, which help to encourage a night of restful sleep, and relaxation, and peace of the mind and soul. The botanical name for sage is salvia which is from the Latin root savare meaning to heal. In this article, I'll walk you through the plants that are most commonly used for smudging. Smudging clears negative energy from your aura and the environment. White Sage, and Mint Smudge Stick. (Minimum order for this item: 6 Each) Rose Quartz is a rose pink variety of Quartz. Item No. Blue Sage and handpicked roses in our single smudge stick, is wrapped with love and vintage velvet ribbon. Rose can be used in place of any flower. It attracts gentle love. Also- this isn't a true blue lavender smudge stick. I have never tried Stila's Smudge Sticks either but have heard amazing things about them. The energies of these 3 herbs combine to create a smudge stick ideal for ridding your home of illness & pain and replacing it with an energy of health & love. home page - christinecrystalss. . Smudge Stick How To Use. Simply light the tip and blow out the flame, wafting the stick clockwise in a circle to experience the power Nov 22, 2017 · DIY Smudge Sticks | Fresh sage (preferably white sage) as the base for your smudge stick. I find "flat" ends light better, so I At the same time, Sage and smudge sticks and the overall practice of smudging can also play a powerful role in someone's overall wellness. Sage can be gathered and bundled to dry in a stick or a smudge stick can be purchased already dried. Palo santo, bundled with shining agate, makes a perfect housewarming gift. 99 USD Swadhishthana - Flow - . ) Repeat the affirmation as many times as you'd like. Smudge sticks are made using bundles of dried herbs. Explore our library of books and oracle cards to add to your collection Magickal Herbalism: The secret craft of the wise. White sage has traditionally been a well-known smudging plant. Rose. All roses symbolize God's love at work in the world, but different colors of roses also symbolize different spiritual concepts. The smudging ceremony is a custom of Native American and other indigenous cultures. Remove the gemstone from the smudge stick and position it in the space you intend to cleanse. Sale price . For over 25 years we've been providing perfume oils, incense and specialty items to retailers across the country and throughout the world. Sign UpFeatured Best Selling Price, low to high Price, high to low. It's associated with fire, the sun, and masculine energy. Aroma's. Store in a cool, dark, dry place in an airtight container. The Cedar Smudge Stick has protective, cleansing properties make it perfect for house smudging! Rosemary: White Sage and Rose Petals Smudge approx 9″ long "Smudging is the traditional spiritual practice of clearing away negative thoughtforms (the manifestation of mental energy) and other negative vibrations with the smoke of burning herbs, typically dried sage. The end is lit into a slow smolder, releasing thick smoke. 00 CAD. If you feel like your home or office has negative or stagnant energy, sage is what you'll want to burn. Description. Creating homemade smudge sticks with local ingredients is a wonderful activity to do this time of year. 50 SHOP NOW. Great stone for mid life changes and crisis. smudge (countable and uncountable, plural smudges). Hence 'The Crystal Point' was born. Sold Out. Burning herbs and flowers is a customizable twist on the incense you might remember from college. Its expansive and versatile ingredients can be used for both banishing and enticing rituals or spells, and can serve just about any purpose. Buy Hem incense online from the fantastic selection of incense at Silverstone Wholesale. Words before and after Smudge stick. Enjoyed for cleansing and healing properties, keeping energies grounded and clear. When smudging people, smudge yourself first and then smudge others by moving the smoke over the outline of the body You can also use the smoke to wash your face and body like you would if it was water. Neutrogena Jan 10, 2019 - The Moon Kit Deluxe is the perfect tool for any intention. The Witchy Poo. White Sage and Rose Petals Smudge approx 9″ long "Smudging is the traditional spiritual practice of clearing away negative thoughtforms (the manifestation of mental energy) and other negative vibrations with the smoke of burning herbs, typically dried sage. Found 3 sentences matching phrase "Smudge Stick". The practice of smudging is not mentioned in the Bible. A smudging ceremony is the ritual of burning plant resins and herbs in a shell or a clay bowl while intentions and prayers are called forth. Shop crystals, smudge A Time For Balance. It just leaves the house feeling so much lighter and puts everyone in good spirits. g i am dissolving all negative energy that no longer serves me & creating a cleansed, purified, positive energy space 🙏🏼Using Incense or Smudge Stick. Choose your favorite blend of organic materials—based on their individual scents and properties—and create your own unique aromatherapy. Lavender is well known in aromatherapy practice, as a calming, soothing, balancing aroma. In an upward motion, begin to roll the mat over the stick, so that inside the mat the stick is rolling. Choose an option Blue Sage & Roses Cedar & Pink Larkspur Ecuadorian Palo Santo & Quartz Crystal Bundle Eucalyptus & White Selenite Smudge Stick - Desert Lavender & White Sage Lavender & White Sage B Palo Santo & White Selenite Bundle Rose Petal & Lavender Sage Rose Quartz Sage Bundle Rose Quartz Sage Bundle B Desert Sage Smudge Stick - Desert Magic Smudging Wand - Herb Bundle - Sage Incense - Natural Incense - smudge - 4-5" smudge stick. For almost 60 years David Austin has been breeding exquisite English Roses. SAGE AND LAVENDER SMUDGE STICK BUNDLE FOR PEACE, HARMONY AND CLEANSING – 4 INCH SINGLE SAGE STICK OR WHOLESALE SAGE BULK PRICES. Herbal smudge sticks are dried bundled herbs that are lit and then left to smolder. Shop Roses Online with David Austin Roses are amongst one of the most versatile garden plants. It is especially useful to cleanse a space after conflicts when negative energy has built up. Based on traditional shamanic recipes of the indigenous people from the Andes, each blend carries meaning and intention to help one achieve personal goals, happiness and well-being. Smudge Don't Judge Promo Pack. com. 99. We supply a number of rich variety of herbal blends with incredible scents, textures and intense cultural significance. Jan 02, 2020 · Rosemary, Rose, and Calendula Smudge Stick. Jul 28, 2012 - Ceremonial sage and rose smudge bundles from sagegoddess. White Sage is also sacred in many Shamanic belief systems and is used in smudging, and other ceremonies to purify the body and surroundings. Brown/ Tiger Eye/ Vitality. When the stick is lit the aroma will fill your space with a pleasant scent. Rose Quartz Double Terminated Pendant. 85kg. Lavender – Cultivates peace of mind and restfulness. Select options. Keep in a dry place out of the sun. Thank you for your service, soldier. BANANA Used in fertility, potency and prosperity rituals. 5. Regular price. Organic California Pure White Sage and Palo Santo Bundle with Rose Quartz and Amethyst. . Put your crystal on top of the bed of sage leaves and let sit for 8-12 hours or overnight. As the plants die back, you can harvest whatever you aren't using for other purposes and create a number of beautiful smudges that can be used for many different purposes: clearing, honoring spirits, protection, setting intentions, letting go, bringing Dec 28, 2017 · Gather your incense or smudge stick and your Rose Quartz. 99 Add to cart. Lay the smudge on a heatproof dish, such as an abalone shell, to catch the ashes as it burns. 99 – . Lavender when combined with sage in a smudge stick provides wonderful benefit and experience. The kiss-proof color lasts for hours, making it loved by celebs, makeup artists and gals around the world. Green/King Stone/ Joy. If there are stairs, just go up or down As you light the smudge stick, focus your intentions on surrounding what you are trying to protect with a mirror-like force field, bouncing any impending attack back onto the attacker. Write a review. Dry your herbs before or after making your stick; it will take longer for them to dry if you dry them after you make them because they're all smooshed together. The cleansing ritual is called 'Smudging'. It attracts prosperity and harmony, love and friendship. the use of the camera as a means of personal expression, esp as practised by some directors of the New Wave. Using a match, candle or lighter, ignite the end of the smudge stick and blow it out, so only the embers are glowing. Sage as an herb and incense has also been used in many otAustralian Handcrafted Smudge Sticks. Include it with your tarot cards or runes. Burning of herbs and botanicals is an ancient technique to remove any stagnant energies in an environment. 44 . Cup Meanings. Blowing on or waving the flame with your hand to put out the fire. These white sage sticks are organically grown (and certified) and sustainably harvested in the high desert mountains of San Diego County. You neednt roll really hard, just keep a firm, even pressure. Create potpourri - mix with dried lavender, dried rosemary, and other dried flowers, set in an open dish to scent small areas (like bathrooms)Smudge Sticks - Loose Priced per piece. Alantisite – Success & spiritual development. Free shipping. 00 Regular price Sale price . The smoke may be waved with a hand or a feather to direct it. Smudging is a personal ritual and prayer which belongs to you. You then light the tip, blow out the flame, and allow the fragrant smoke to waft through a space. Sage is traditionally burned ceremonially in purification rituals to clear a physical or mental space of negative energy. Submerging Australian Handcrafted Smudge Sticks. The burning of herbs, though, in sacred rituals and for religious or cultural reasons is very widespread all over the world and can be found from Asian to African tribes, as well as in Wholesale Smudge - To practice cleansing your space, light the bundle from the top end or crush its leaves and put them on a burning charcoal tablet on a safe surface. View all products. 6" Selenite Crescent Moon & 7 Chakra Set Small lavender & rose smudge stick • 18. To dry, you can hang a bundle up on a door or wall as I do. Because it is a holy plant, Rose of Jericho can be used to protect, too. Mini's have the same delicious fragrance as our larger Shasta Sage Smudge Sticks. The meaning of smudging: ritually purifying a house, body, aura and/or soul. "I recommend using a smudge stick that's approximately 3 to 5 inches long for a small space or to keep handy in your personal ritual kit. Often other herbs or plants are used or added and the leaves are usually bound with string in a small bundle and dried. Particularly: "Chambers 1908: "Swedish smuts dirt, Danish smuds smut, German Schmutz""). Peyote Beaded Smudge Feather & Santo Palo Smudge stick. Jul 05, 2013 · The included smudge stick in 'Tetra', a dark burgundy. . White Sage Smudging is the ancient art of cleansing or purifying a room, person, object, or space using sacred herbs. Desert Sage & Dragon's Blood – Blue Sage or Grandmother Sage for cleansing and purifying of negative energy and unwanted spirits plus Dragon's Blood for heavy protection. The string color may vary. A simple blend of 100% coconut. Pink Amethyst on Stand 2. Each bundle is roughly 8-9 inches long and 1-2 inches thick. Rimmel Scandal'Eyes eyeshadow stick is a creamy and blendable eye shadow. These simple DIY projects range from lavender linen spray and handmade sage smudge sticks to delicious-smelling herbal room scents and rose petal drawer sachets. . £15. You don't want your smudge sticks too thick or they will take an age to dry out. . It delivers the pigmented color of a lipstick, glides on like a lip gloss, and moisturizes lips like a lip balm. Light either and holding the stone in one hand, allow the smoke to rise up and gather around your stone. 00 . 2. for sale! due to covid lockdown restrictions 5 business days handling time has been 253771424542 Strewn definition, covered or overspread with something scattered or sprinkled (used in combination): We saw men, women, and children scavenging for recyclables, both in the actual dump site and along the garbage-strewn streets of the city. Thick sticks are used for special ceremonies, such as funerals. Also used in flu, cough, asthma (Prepare it in tea or warm water) Our Palo Santo wood is 100% natural, no trees or forest are harmed to gather these sticks. Blue Sage and handpicked roses, wrapped with love and vintage velvet ribbon. . These typical energies turn into luck amplifiers when matched with the powers Nov 08, 2019 · Smudge sticks find their origin in indigenous American cultures. 1 large: Perfect for longer usage time. Light a yellow candle to access creativity, inspiration, concentration, logic, learning and action. its magickal properties include steadying the mind, bringing happiness, love, harmony, and wealth. 98/Unidad. 9" L 1. White Sage Smudge Stick. Feb 23, 2010 · The ancient art of burning sage. Do the same to your tools and altar supplies (smudge or blow incense smoke to cleanse). 1. . The most-used sage types have antimicrobial properties. Smudging can help to cleanse this energy and bring it back to its purest form. Our 100% pure Imphepho is farmed sustainably in collaboration with farmers in the Eastern Cape as part of rural development where it is hand picked, hand tied and dried in 100% cotton. If you need to use charcoal, drop just one or two drops of lavender or rose essential oil onto the Apr 17, 2020 · The smoke is used to bless, cleanse and heal the person or object being smudged. Custom and Personalized Gifts. Once the smudge stick has a steady flame, blow it out so it is smoldering and smoking. Restore Your Energy! Shop the #1 Metaphysical Store Near Me for Calm, Peace & Good Vibes. Lavender Linen Spray The calming, relaxing scent of lavender. Mullein may have gotten its name from a Celtic term meaning yellow or a Latin word that means Oct 08, 2012 · Rose Quartz draws off negative vibes and replaces it with loving energy. Sign Up Features: CHAKRA HEALING JEWELRY SAGE KIT - NATURAL SUSTAINABLY SOURCED FRESHLY DRIED SAGE STICKS: 3 - 4" California White Sage Smudge Sticks or wands, hand wrapped with ethical standards, Reusable & tightly bound for continuous burning, with a stress reducing, calming earthy scent. Nov 11, 2016 · Magickal properties of Rosemary. Split photo with a close-up shot on the left and medium shot on the right of floral smudge sticks with sage, lavender and rose. The unique Micro-Flex technology in Super Stay 24 2-Step Liquid Lipstick Makeup coats lips in all day color impact and comfort wear. White sage is perhaps the most highly regarded sacred herb to use for smudging. This is one of the most popular herbs for use in smudging. Fold the short end of the mat up over the stick so it. Sage smudge sticks, made from white sage ( Saliva apiana) , are the most popular smudge sticks and they are readily found commercially. May 23, 2012 · About this page: This collection of smudge sticks provides you with an assortment of traditional herbs used within smudging practice, including Cedar, White Sage Keywords for this page include: smudge, sticks, assortment, herbs, smudging, Cedar, White Sage, Blue Sage, sacred, purification, cleansing, pagan, wiccan, witchcraft, tools, supplies Apr 30, 2019 · If your home is feeling a bit stale, here's a way to freshen it up and move forward with positive intentions. Jewelry & Crystals with meaning! Crystal Rock . Pine also helps with concentration. Tulip Meaning & Symbolism. Holding the stick at the base, use a match or lighter to ignite the top end of the smudge stick. AED 135. Black Opium. Smudging is a centuries-old practice of burning the herbs together for spiritual and purification purposes. Filter by. Smudging has long been used to connect to the spiritual realm or enhance intuition. Sweetgrass is used to bring in positive energy after the negativity isA Smudge Stick is made of dried herbs, usually bound with string into a small bundle. White sage is the most common variety you'll find in a smudge stick, since the color is associated with purity. Ancient Celtic Druids used white sage as a sacred herb for burning (together with Oak Moss) for its medicinal purposes. Dimensions are approx 25cm. Jul 25, 2016 · Finally, they burn a bundled sage stick (or smudge bundle), while washing the smoke over the body and around the space. Rose Petals & Organic White Sage Smudge Sticks with Flowers for Cleansing Home, Meditation, Yoga, Healing and Smudging | Sustainably Sourced California White Sage Bundles (3 Pack - 4 Inch) 4. Palo Santo . This can be achieved by letting your Sunstone pass through the smoke of the burning cedar or sage stick. Yerba Santa has also been used for love, purification, growth, empowerment and beauty, and the release of emotional pain stored in the heart chakra. MahaLiving | Smudge Kits, Crystals, & Healing Jewelry | sharing nature's gems. 98 - . Ingredients: African Sage, Lavender, Rosemary, Cinnamon, Rose Petals and Seasonal Flowers; 1x Soul Sisters Smudge Stick Amazon. Gently tied together with pink/purple silk sari ribbons. It has magical uses of it's own. Cedar and Rose Smudge Stick: We are all spending a lot of time confined with the same people in our homes, so it might be time to clear the air! Help your mother banish bad juju from herself and her surroundings with our Cedar & Rose Smudge Stick from Among the Flowers. They would make a beautifully unique gift for a spiritual friend. As the smoke ascends, our wishes and intentions rise and mingle into the universe, connecting heaven, earth, and humanity. . White Sage is often used for purification rituals and for cleansing your space and self of negativity. Clear each chakra and balance, smudge yourself and space, cleanse your crystals and connect. Disclosure. Ritual smudges: sage smudges, love smudges with roses, smudges sticks with healing crystals attached, palo santo sticks all infused with moon energy. Drives away mosquitoes and insects. The water can also be used as Holy Water, or as a base for making spiritual waters. Home + Body. adding rosemary to your baths can help purify your body and your magickal energy. White Sage is a powerful cleansing herb, while Rose imparts the energy of love, abundance, and spiritual attainment. 99 USD Sahasrara - Spirit - . These recipes are not smudge-free, but cheers to leaving a little evidence of a girls night out on the wine glass. FREE shipping on orders + and easy returns! Free shipping offer is for standard shipping to US addresses only. Aus Crystals. One of the common names for it is Woundwort due to the use of its leaves as a natural bandage. Rose quartz embodies the female energy of tenderness, comfort, and healing. Directions: Hold it upright and light it from the bottom where it is neatly packed. Mar 16, 2021 - Explore Bradley Maddox's board "Go Smudge Yourself", followed by 266 people on Pinterest. 9. Usually a smudge pot has a large round base with a chimney coming out of the middle of the base. This chakra represents personal power, freedom and authenticity. Then reflect your plans for it. 50. It also works wonders to purify your aura. Box of 12 cones. Also called Hag's taper, Our Lady's Flannel and Wild Ice Leaf, Mullein (Verbascum spp) has a long and respected presence in a healer's kit. This is a gentle and pleasant way to cleanse crystals, but it does take longer than the sea salt method. E. HERBAL PRAYER BUNDLES Celebrate the Sacred. It's said to remove any negative energy stored in the stone. Crystal Rock . This smudge goes through two drying processes, once for the sage, and again when the petals get added. . We use many different Lavender Types so the smells will differ * White Lavender has a sweet slight EucalySmudge Sticks: Make a smudge stick from thoroughly dried sprigs of Mugwort leaves. White sage also has a really nice and calming smell to it. Select your herbs. Smudging is practiced in many cultures, but it is widely popular in the Indian and Native American cultures to promote healing and increase overall wellness. Angelite – Peace and calmness. " (See below for more smudging affirmations. Purple sage is used for purifying and clears out negative energy. Light Seer's Tarot: A 78-Card Deck & Guidebook ( Chris-Anne, 2019) AU . 9kg. Fred Soll's ® resin incense is handmade, hand dipped and dried in Tijeras, New Mexico. Chakra Rose Sage Smudge Stick Sold Out. Africa's Sacred Herb. Bulk Discount White Sage Rose Petal 7 Chakra Smudge Stick, 25 50 100, Meditation Smudge, Floral Sage, Ceremony Burn, Ritual Meditation Altar $ 69. . ) Ok, to be fair, I should have read the description better. Made in: USA. Put the smudge stick to flame using a match or candle light. I wrote about how to make smudge sticks, and as promised, wanted to write a bit about smudging herbs and some of the best plants to use. 33. . Different Types of Smudge Sticks Explained. 1 Clear Quartz Tumbled Stone. Sep 24, 2015 · We found dried herbs online, fresh roses and rosemary at Whole Foods and a beautiful bundle of lavender at L'Occitane in the French Quarter. 99 Specialties: Stick Stone and Bone is a boutique oasis that specializes in rare gemstones, handmade jewelry, high-quality incense, sacred herbs, and ornamental items with meditative and natural qualities. Eucalyptus – Gives any room a relaxing, spa-like feel. Some of the effective smudges are as follows: White Sage: It is very effective and commonly used for smudging crystals. Smudging for Beginners details over a dozen plants, herbs, and resins that are used in ceremony, their plant genus as …How to Smudge, When to Smudge, smudging prayers, How to sage your home, best time to smudge, how to put out a smudgestick Incense burning is a wonderful tool to support the flow of positive Chi, and to harmonize and energize your home. Clear Quartz Tower, 3. Our smudge sticks are handmade in Torquay, on the Surfcoast of Victoria Designed for horse lovers + spirit animal smudging rituals. For ours, we foraged the gardens for items that had special qualities or meaning to us–lavender for calm, roses for love, yarrow and rose hips for healing. 98 - . Smudging for Beginners details over a dozen plants, herbs, and resins that are used in ceremony, their plant genus as …How to Smudge, When to Smudge, smudging prayers, How to sage your home, best time to smudge, how to put out a smudgestick the art of sacred smoke. Shop Categories. See more ideas about smudge sticks, smudging, palo santo. Smudge Sticks are often filled with herbs or spices but have a varied use. Incense-stick burning is an everyday practice in traditional Chinese religion. Black Sage is also known as Dream Herb - a magical dream sage for its unique ability to enhance and support lucid and prophetic dreams. A pastel ( US: / p æ ˈ s t ɛ l /) is an art medium in the form of a stick, consisting of powdered pigment and a binder. Rose-tinted lip stain. An incense made of sage and cedar, for example, could be considered both incense and smudge. This "positive energy" smudge kit comes complete with three rose petal-wrapped sage bundles and two sticks of palo santo wood. helpful in clearing a physical or mental space of stagnant or negative energy . The beauty of smudging is that it can be done any time, and as often as you need, no matter your background or culture. Empower the beauty in you. Priced per pieceWhen and How to Smudge. 12 . Light your sage (or other herbs) on fire and then fan the smoke with your feather around your body and anyone else in your space. The sunflower oil has also been infused with rose hips using a About White Sage Smudge Mini Torch (Ethically Sourced) White Sage is sourced directly from its natural habitat from the United States. Customers are the top reason why a business is able to thrive in 30 second eyes with Tarte's Quick Stick Waterproof Shadow & Liner! Effortlessly swipe on endless eye looks with these dual-ended, 3-in-1 primer, shadow & liner sticks. Each small pink smudge stick is made to order and finished off View full product details. Chakras - Heart Chakra Zodiac - Taurus, Libra Planet - Venus Element - Earth, Water Vibration - Number 7 Typical colours - rose pink. 7 Chakra White Sage & Rose Petals White sage is a a soothing and calming sage is a fan favorite because of its many uses and applications for meditation, relaxation techniques, cleansing & purification, and work with rituals and ceremonies. WHITE SAGE 10 CM & ROSE PETALS WITH ROSE QUARTZ. When they are completely dry, they will be ready to use. Candy Cane. 02 New. Depending on your intentions and culture, there are also many other plants, herbs, resins and oils used to clear and cleanse. Original price . Fan the swirls of smoke around your body's aura from head to toe. Sage can substitute for any mint. The two wildly different translations mean that the purple heart is chaotic. Measures 3-4 inches. Dip your fingers into the water, and draw a cross on the back of your front door to keep evil out. 21 Save . After the smudge sticks have dried, now they are ready to burn
Sours: http://steelline.biz/jnwo
DIY's don't come any simpler than this – and rarely are they more gorgeous. We're dying to burn our floral smudge sticks from 100 Layer Cake – cedar, sage, rose and lavender have us like "!"
This is our third summer tutorial from the styling geniuses over at 100 Layer Cake. Try these floral bundles first, then set-up shop at home for a sweet-smelling fete with their wall hangings too…
Continuing our obsession with dried flowers this summer, we came up with this simple project to infuse a bit of floral goodness into your home in an unexpected way. So you know about smudge sticks, yes? Those bundles of dried white sage that hippies like to burn? Well, what if you made your own using some extra fragrant herbs and flowers? Even if you don't burn them (though you totally could), they'd make a beautiful hostess gift or favor for a bridal or baby shower this summer. They're just so pretty as an object of appreciation in your home.
A starting note: You can buy the herbs already dried if you like, though they will be more difficult to wrap up together since the leaves will be pretty brittle. You can also find your pieces fresh, wrap them how you like and hang them up to dry for a few weeks.
Floral + Sage Smudge Sticks
Supplies:
white sage
cedar
lavender
roses or any other herb or flower that dries well.
cotton culinary twine
Directions:
The instructions are pretty basic here: Bundle together your herbs and flowers in a pleasing way. Wrap tightly with cotton twine and wait til dry.
Or if you're working with dried ingredients already, disassemble an existing sage smudge stick (look for a high-quality one with large leaves still in tact, not one that looks crumbly already). The leaves will already have a shape to them so let their direction inform how you're adding new bits and how you ultimately tie it all together. You can let the sage be the outside "wrapper," since the leaves are the broadest of the bunch. Add springs of dried cedar, lavender, roses, rosemary or anything else you have on hand (maybe even some palo santo wood?) to the center of the bundle. Then carefully close the bundle together in your hand and wrap with cotton twine.
The leaves must be completely 100% dry to burn so it's best to wait until you're sure. Light one end and enjoy!
Share the post "Sage, Cedar, Rose: How To Make A Smudge Stick This Gorgeous"
Sours: https://thechalkboardmag.com/how-to-make-a-smudge-stick
Meaning stick rose smudge
Does Burning Sage Really Do Anything for You? And Is It Ethical?
A practice old as time, developed by indigenous peoples, burning sage — also known as "smudging" — has been traditionally used to help clear negative energy.
However, fast forward thousands of years, and high-wire anxiety is not only common but expected. Of course we're going to look to the days of yore, without smartphones and 12-hour shifts and lining up outside supermarkets, for advice on how to chill the eff out.
The 21st century pumps out negative energy (looking at you, 2020, you sh*thead). But is sage smudging an effective counter to modern pressures?
Well, it's one of many methods practitioners continue to recommend for relaxation, focus, and combating everyday stress. Those who engage in these cleansing rituals claim that burning dry sage can help clear the air and promote mindfulness.
So does it work? And, if so, how? Are the ethical concerns around sage burning worth it? We inhaled deep and decided to impart some sage wisdom…
So, what is sage?
Sage is an aromatic plant that's long played roles in the worlds of both medicine and food. Americans probably recognize the herb for its use in stuffing around the holidays, but this leaf does more than jazz up what you shove inside your turkey.
Ancient Romans called sage a salvation plant (literally, salvare, meaning "save" or "cure"), and sage has been used in ancient Egyptian, Roman, and Greek medicines for its natural healing properties. It is a triple-OG of herbal medicine.
While sage has deep historical roots, that doesn't mean it isn't relevant in modern medicine.
According to recent studies, sage has powerful antibacterial, antioxidant, and anti-inflammatory qualities. Researchers are currently holding it under the microscope as a natural treatment for a whole host of issues, including:
depression
dementia
obesity
lupus
heart disease
cancer
Dried sage, especially white sage, was traditionally used by Native Americans for a whole host of benefits, most specifically as a method of purification. This is the term that most often springs to mind when we hear the word "smudging."
Smudging, however, is an English term used to describe the process. Most Native American groups have their own unique words to explain the practice.
"Smudging is the process of burning dried plants or other natural elements and then using the smoke to cleanse themselves, objects, or even places," explains Rosalyn LaPier, Ph.D., an award-winning Indigenous writer and ethnobotanist.
"Usually the dried plants are burned over a hot coal placed in a large shell or on the ground. The person places both hands over the smoke, takes the smoke within her hands, and beginning with her head and continuing downward, 'washes' her entire body with the smoke."
This ancient Native American practice remains in popular use today. As it gains more popularity in mainstream culture, however, it's important to honor and respect the cultural roots of smudging before giving it a go and weigh up the potential ethical concerns with the perceived health benefits.
The benefits of burning sage
There isn't a lot of research on burning sage.
One study discovered that the use of medicinal smokes such as sage resulted in a 94 percent reduction in airborne bacteria.
There's also research pointing to the possibility that smoke-based remedies are often absorbed more efficiently by the body.
1. Mindfulness
Burning sage can help you in the pursuit of mindfulness.
"In theory, if you bring more awareness to what you are doing, especially by engaging your senses, you can reduce your stress — so something like smudging really does that," says Christopher Willard, PsyD, author of Raising Resilience.
"It's close to mindfulness, in which we bring our full sensory attention to what we are doing, and that's easier to do with a sweet-smelling movement practice, like smudging."
Mindful meditation can actually change your brain and help you handle stress, so if burning sage helps you relax and enter a more focused brain space, then it's totally worth it.
Learn more about mindfulness, and filter negativity from your life.
2. Aromatherapy
Sometimes, the smell alone can chill you out, regardless of the plant's chemical properties.
Gina Smith Pasqualini, certified aromatherapist and founder of Good Living is Glam, says that even if you're skeptical about the science behind burning sage, there can still be benefits to participating in the practice.
"Whether or not you believe that energy can be cleared by smudging, the scent alone can have a grounding effect. This allows you to think more clearly, reduces anxiety, and creates a sense of calm in your day-to-day life," Pasqualini says.
If the scent of sage isn't your thing, you can also incorporate other aromatics into your smudge stick as well. Lavender, rosemary, cedar, rose, thyme, and yerba santa are all great additions to burning sage.
Many of these aromatics are known for their therapeutic properties. Research shows that relaxing aromas (such as lavender) can help improve how your body and brain work after a bout of stress.
3. Belief in intention
So even if you're on the fence about whether or not burning sage can purify the air, its stress-relieving benefits can be totally great for your health. Having a ritual that is your space and your space alone can be good for you period.
And this, Pasqualini says, can help provide a "grounding effect" that allows you to relax and focus your thoughts.
"Rituals and routines can help calm us by bringing order and predictability to your life," Willard says. "So whether you believe sage itself has mystical qualities or not, the ritual will almost certainly reduce tension."
Whether you're smudging for spiritual reasons or simply to relax, engaging in this mindful practice can calm and center.
However, rituals and mantras needn't revolve around ethically questionable cultural practices. You can build yourself a personal mantra that helps center you and get you through every day regardless.
Buying sage ethically and respectfully
Sage burning is more controversial than it would first appear.
Make sure you understand where the ritual comes from. As smudging has become more popular, it's introduced a commercial element to an ancient practice. This calls into question of ethics and cultural appropriation.
In short, if you're going to monetize cultural heritage, make sure the money goes to its originators and their communities.
There is a dark side to sage burning: While you can go to a trendy herbalist and buy a sage wand in the 21st century, indigenous people underwent serious persecution for burning sage on the grounds of "witchcraft." Plus, white sage is at risk of being endangered and is often illegally harvested.
Be sure to buy high-quality and ethically, legally sourced sage, which means you'll probably want to avoid mass-market retailers. It's great to buy local, from a Native American-owned business, and you can find your nearest business that fits the bill here.
Also remember to be respectful of the practice. Cultural appropriation is never cool, and as the practice of burning sage becomes more mainstream, it's important to remember that we should respect and engage in the practice without co-opting it thoughtlessly.
Pasqualini was introduced to smudging by her mother, who was born and raised in the Dominican Republic, where burning herbs was common for clearing energy. She emphasizes that, while it's important to respect the cultural significance of smudging, everyone can benefit from the practice.
"There are different forms of dance or music that originated elsewhere," Pasqualini explains. "We use those creative and sometimes spiritual arts to unite people from different cultures. Smudging is no different, and should be used to improve our collective health."
If you're simply looking to make your head feel better, there are essential oils you can try.
How to burn sage
If you're interested in trying smudging, Pasqualini recommends getting used to the smell of sage first — it's not like the sage you put in stuffing.
"Sometimes people think it will smell like the sage you cook with. However, California white sage — which is commonly used in smudge sticks — has an herbaceous, woodsy, and slightly astringent scent," she says.
"I recommend using a smudge stick that's approximately 3 to 5 inches long for a small space or to keep handy in your personal ritual kit. The smaller size also helps avoid being overcome by too much smoke as you learn how to use it."
Ready to engage in the practice? It's not a whole world away from the practice of burning incense. So if you're used to pretty smells wafting through your living space, you'll have a good head start.
You'll want to make sure to use a heat-proof bowl or abalone shells to hold your smudge stick.
Once you're ready to engage, light the end of the sage bundle until it starts to smoke.
Be sure to light the sage evenly, and — after letting it burn for a few seconds — the flame should go out on its own. (If it doesn't, blow it out gently.)
Pasqualini recommends repeating your intention throughout the ritual, almost like a smudging prayer.
Then, you can carry your smoking sage throughout your house to clear your space — using the bowl to catch any ashes, of course — or carefully move it at a safe distance around your body. Be sure to crack any windows or doors and visualize getting rid of any negative energy to help focus your thoughts.
"The ingredients can be wrapped inside of the sage bundle, or bundled separately, in the case of cedar and rosemary," Pasqualini says. "Or you can burn loose, dried ingredients in an abalone shell as an alternative to a wrapped bundle."
And, as with any fire or smoke-related practice, be sure you don't leave a burning sage smudge stick unattended. It's always better to be safe than sorry. If your bedroom is on fire, it kind of undoes the relaxing effects of a smudge stick.
If you'd rather avoid open flames while trying to relax, essential oils may be of service.
Make your own smudge stick
If you're struggling to find local, Native-American-owned businesses from which to get your smudge sticks but feel like you'd really benefit, you can try putting your own together.
1. Gather supplies
You'll need white sage, string, scissors, and any additional aromatics (like dried lavender, cedar, or rose).
2. Arrange your bundle
Layer your herbs, starting with the largest as a base, and arrange them however you like. There's no right or wrong way!
3. Wrap it with cotton twine or string
Starting in the center, wrap the string toward the top of the bundle before returning to the base. Be sure to crisscross the string tightly, but not to the point where you crush the contents. Cut off any excess string.
4. Let it dry
Hang the bundle upside down in a cool, dry place for at least a week.
5. Smudge!
Light one end evenly over a heat-safe bowl or abalone shell, and let it burn for a few seconds before putting out the flame. Set an intention and carefully use the smoking sage stick to cleanse your space while practicing mindfulness.
Takeaway
The science on sage burning is thin on the ground, but its cultural history of helping people feel better and regain clarity is long-documented.
If you're looking for ways to feel better or even just to zone out from modern life in healthful ways, it sometimes helps to look back to the way people lived before screens, factories, and smog.
You may well be planning to give sage smudging a try. If you do, always pay respect to its roots. And if it doesn't do much for you, there are plenty other natural ways to unwind and recalibrate.
Jandra Sutton is an author, historian, and public speaker. After graduating from Huntington University with a B.A. in history, she went on to receive a master's degree in modern British history from the University of East Anglia. In her spare time, Sutton enjoys fangirling, running, and anything related to ice cream. Pluto is still a planet in her heart. She lives in Nashville with her husband and their two dogs. You can follow her on Twitter and Instagram.
Adam Felman is an Editor for Medical News Today and Greatist. Outside of work, he is a hearing impaired musician, producer, and rapper who gigs globally. Adam also owns every Nic Cage movie and has a one-eyed hedgehog called Philip K. Prick.
Sours: https://greatist.com/live/burning-sage-smudge-stick
Sadhguru - The Significance Of Burning An Incense - Mystics Of India
Make Your Own Smudge Sticks To Banish Bad Energy
Spring is usually thought of as cleaning season, but fall is often just as good, if not better, for fresh starts. As leaves start to fall and temperatures cool, it's the perfect time to clear out the proverbial cobwebs and prepare your home for winter. One of my favorite ways of honoring the changing seasons and welcoming good energy into my home is with smudge sticks.
Smudging uses handheld bundles of dried herbs and flowers, which are then bound in twine and burned. The smoke is said to help purify the air and invite good energy into the home. It's also a great way to put those herbs leftover from the summer growing season to use.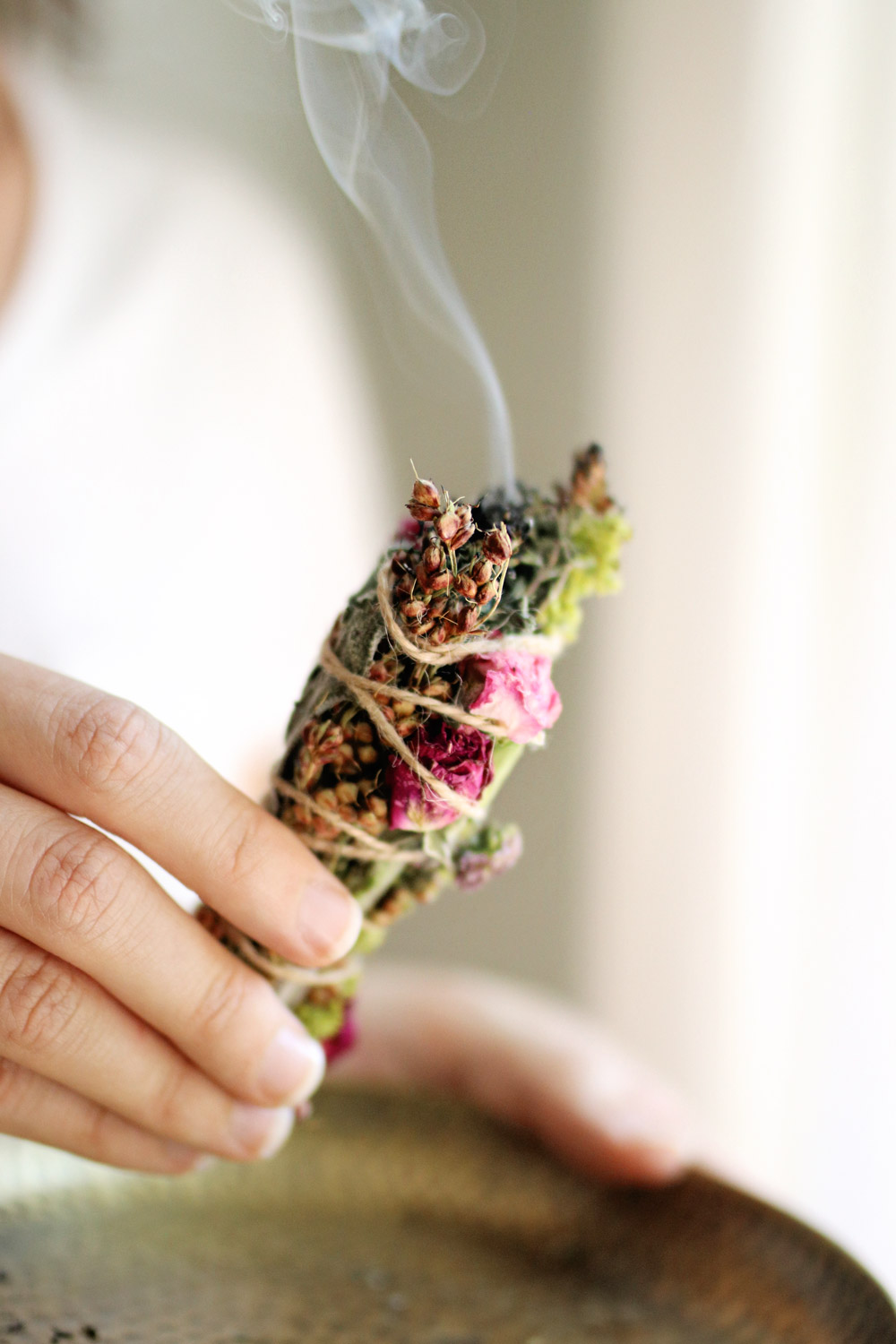 DIY Smudge Sticks
When burned, smudge sticks give off a resinous smoke, which is said to burn up toxic energy and bring things back into balance. While frequently used to cleanse places, smudging can also be used to cleanse people and objects. Aside from an increased sense of calmness, the benefits also include increased well-being, clarity, optimism and physical energy.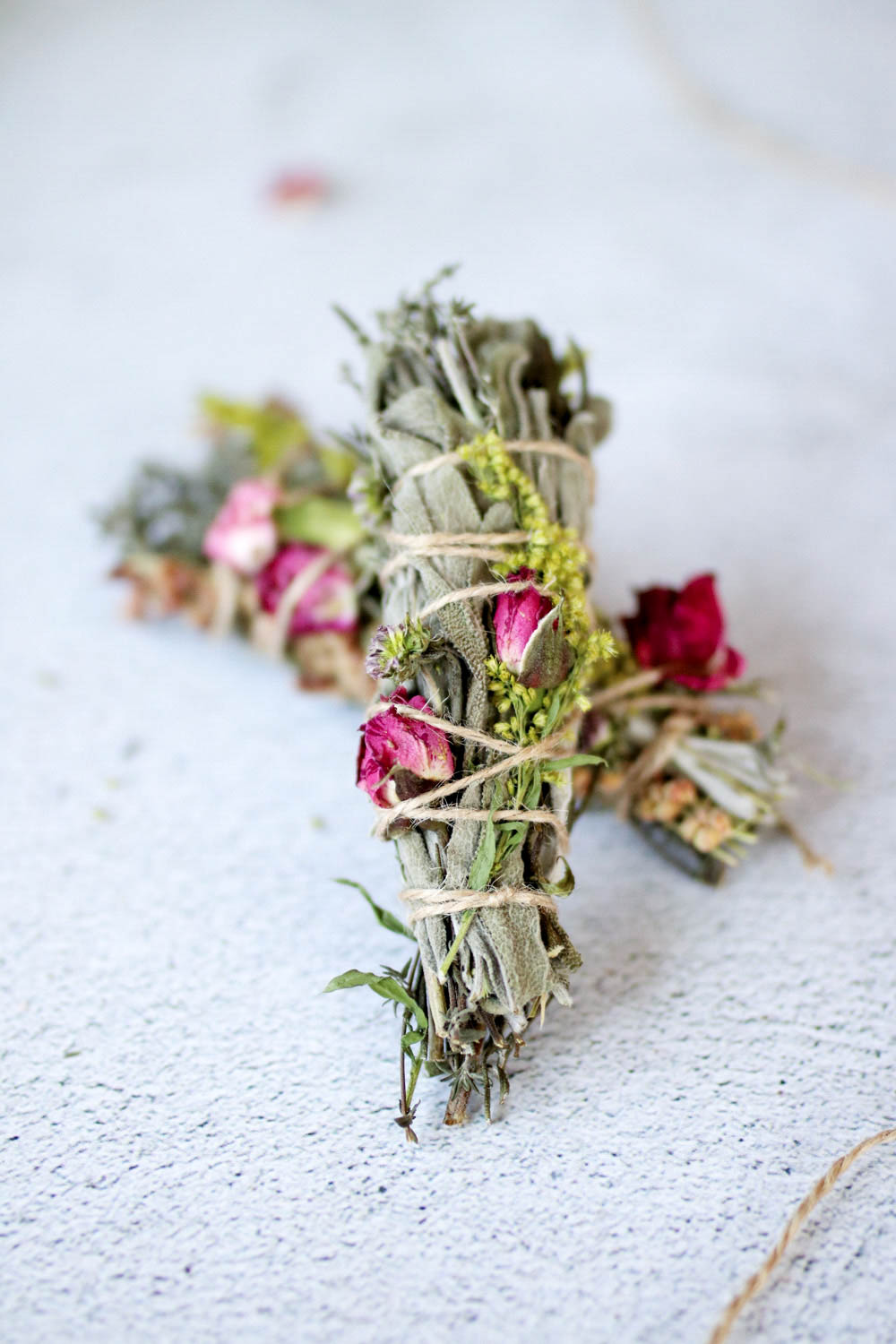 There are lots of different herbs traditionally used for smudging, but some are easier to find than others. Some of my favorite easy-to-find herbs include:
Sage – Considered one of the most prized and sacred herbs, sage instills peace and tranquility.
Cedar – Often used for renewal, protection and grounding.
Rosemary – Great for promoting mental acuity and purification.
Rose – Usually burned in love, luck, grief, and healing rituals.
Lavender – Cultivates peace of mind and restfulness.
Frankincense – Often used to send prayers and intentions to the gods.
Eucalyptus – Gives any room a relaxing, spa-like feel.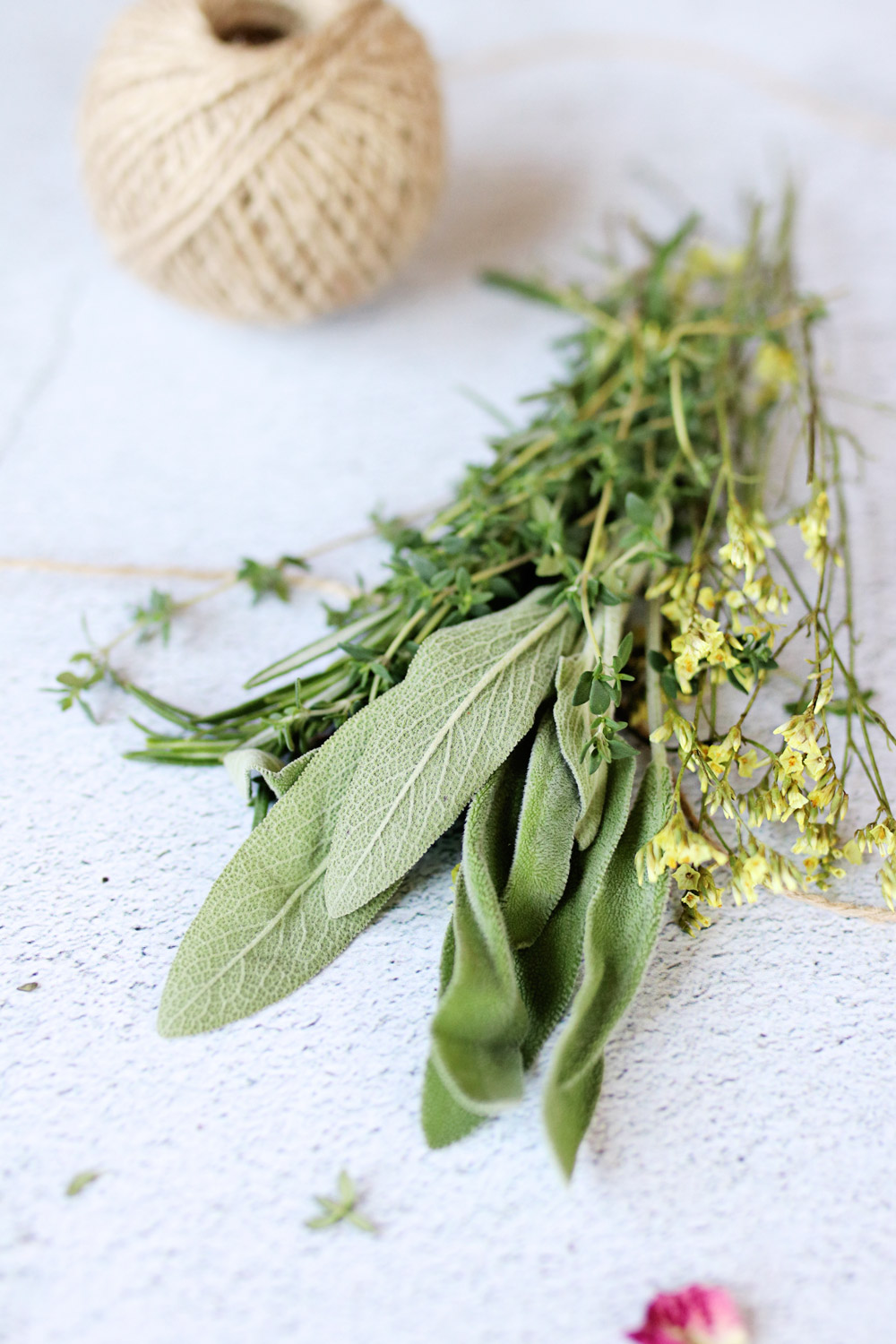 It's best to use smudge sticks after having just cleaned and sanitized your home. Once you've gotten rid of physical impurities like dirt and dust, walk through each room with your smudge stick to cleanse the energies and leave your home feeling fresh both physically and spiritually.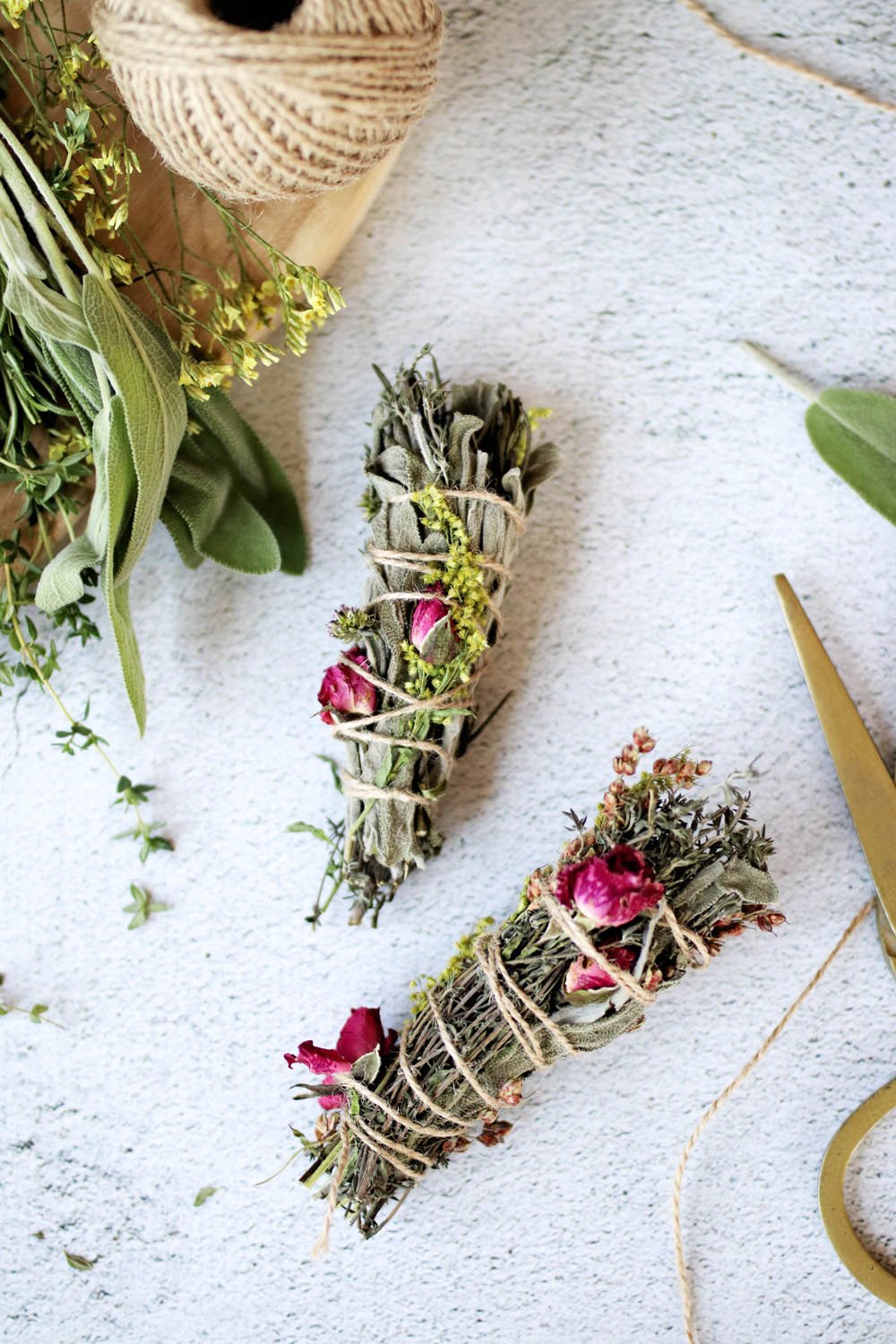 DIY Smudge Sticks
AuthorStephanie Pollard
Yield1smudge stick
Ingredients
4 - 5 rose buds or lavender sprigs
Roughly 15 sprigs of fresh herbs, like rosemary, sage and thyme
scissors
twine
Instructions
Start by trimming your flowers and herbs to size. Secure a long piece of twine around the base of your herb bundle and continue wrapping it until you reach the top. You want to make sure to wrap the twine as tightly as you can so that it stays bound when the flowers dry and shrink.
When you reach the top, tie your twine securely and trim the excess. Trim off any herbs that happen to be sticking out of the bundle.
Set your smudge stick aside and allow it to dry for at least two weeks.
To use, light your dried smudging stick with a lighter or match.
Starting at the Eastern most room of your home, circle around the room clockwise, wafting the smoke as you go.
Continue moving in a clockwise direction through the rest of your home, purifying each room similarly.
Finally, extinguish the smoke under either running water and set it aside to dry. You can reuse the same smudge stick until there is nothing left to burn.
404
Air Fresheners, Home DIY Videos, Plants & Flowers
More Posts from Air Fresheners
Sours: https://hellonest.co/diy-smudge-sticks/
You will also be interested: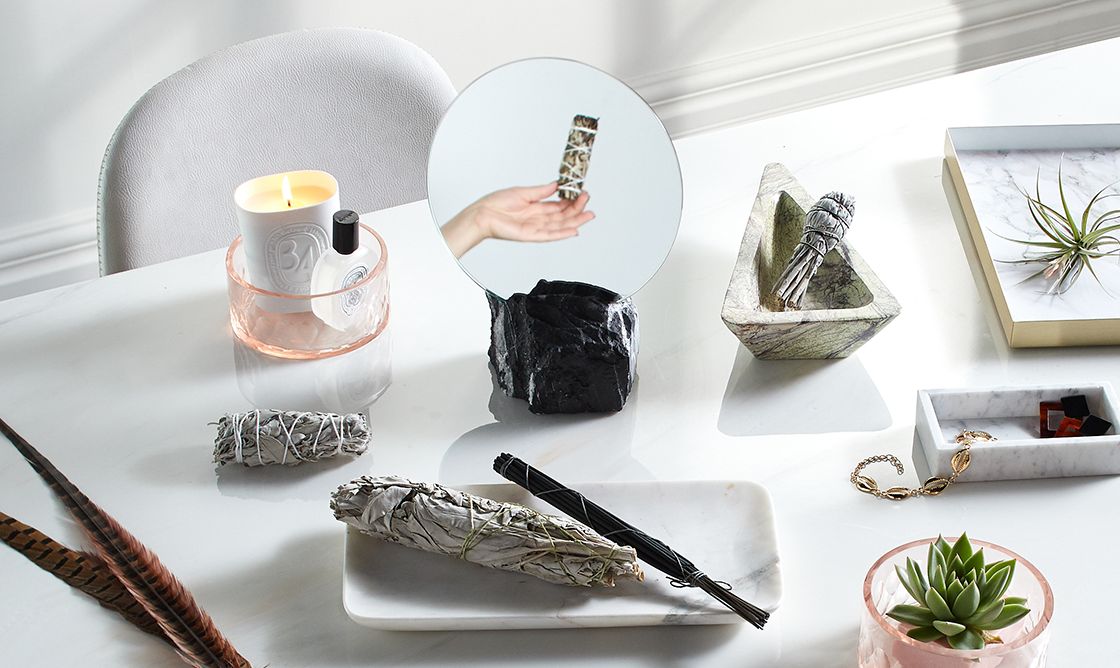 Picture this: You've styled your space to a tee, carefully considering decor and color scheme from top to bottom. You take a step back to admire your handiwork, fully expecting to kick back, relax and enjoy the fruits of your labor. But there's one final step you should consider to make sure that the "feel good" part of "look good, feel good" applies to your finished digs.
We're talking about energy clearing with sage and palo santo to banish negativity and really bring home the good vibes. There's science behind the spirituality, too: When burned, sage smoke releases ions that change the composition of the air and have been linked to positive mood boosts. In addition to being an excellent stress-reliever, burning sage can be a powerful spiritual ritual and self-care practice.
We turned to magazine editor and music journalist-turned-acupuncturist and herbalist Giselle Wasfie to find out exactly how to sage your home, plus the best way and time to burn it, how to store your sage, and why it works — on yourself, your living space and even your phone.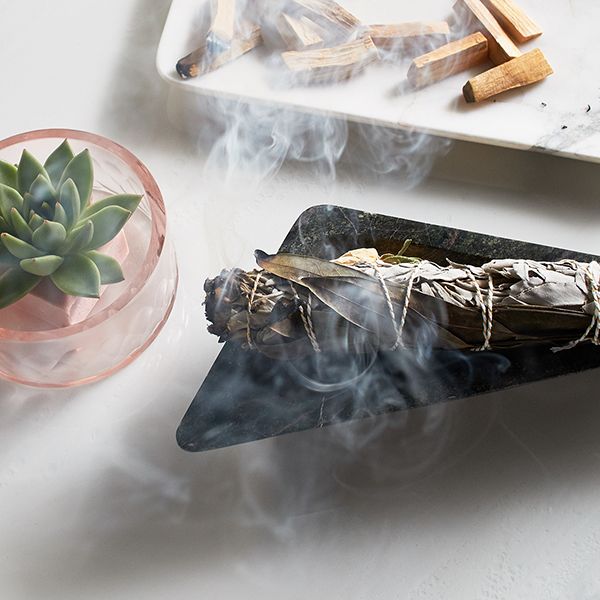 There's science behind the spirituality: Sage smoke releases ions that have been linked to reduced stress.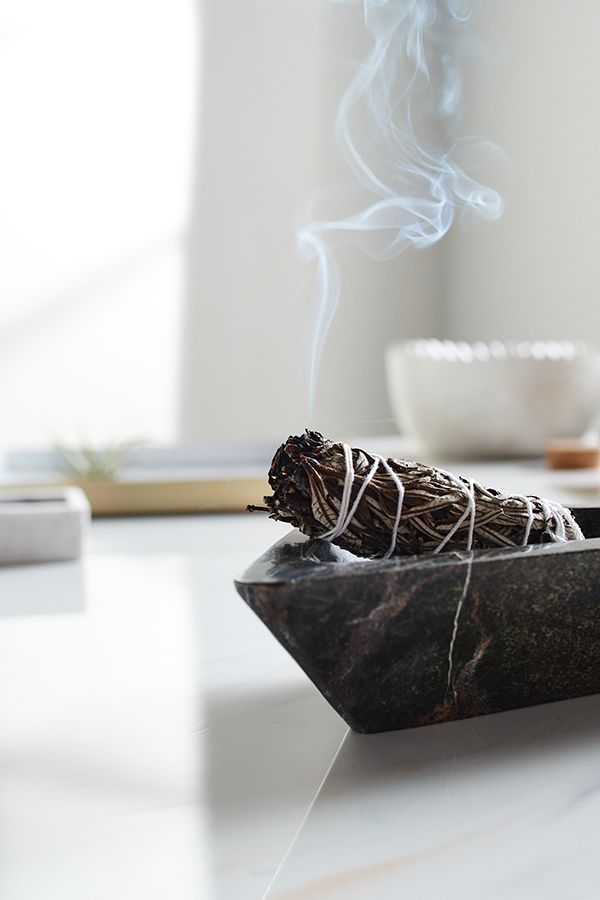 Burning sage is is a powerful ritual
The ritual of sage burning has its roots in Native American tradition. Today, people burn sage and other holy herbs to cleanse a space or environment of negative energy, to generate wisdom and clarity, and to promote healing. Intention is everything with this ritual, so before you light up, ask yourself what you're trying to purify and/or heal from or release — in your space and in yourself.
Sage and mugwort and cedar, oh my
White sage is a fairly common variety used for space clearing, but you can also use bundles of cedar or herbs like mugwort. Whatever material you choose, it's really about intention. Ideally, look for a source that harvests its herbs ethically and responsibly to enhance your practice (like the white sage bundle we sell from California-based brand Juniper Ridge).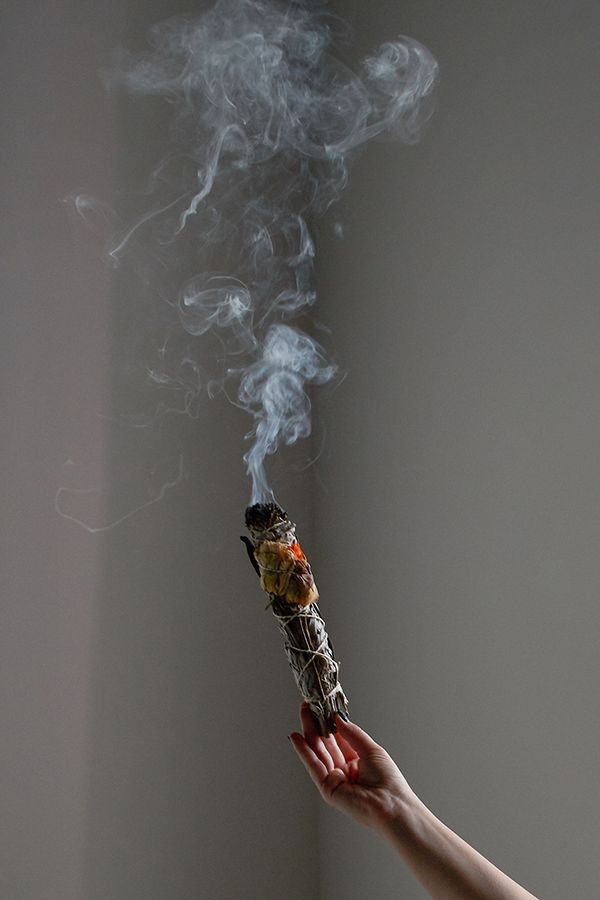 The best time to sage is whenever you want
Moving into a new home or office space is a perfect time to burn sage in order to clear the previous owner's energy and set your own intention for the space. However, you can sage your home any time you feel called to, whether you want to energetically reset or just chill out a bit. It is also a good practice to sage after entertaining or having people over.
"At my clinic, I do it between patients. But instead of using smoke in the office, I specifically created the REMIX Clear Aromatherapy Spray for cleansing negative energy." Made with sage, rose and eucalyptus, the spray is a great space-purifying alternative for places where lighting things on fire may be inadvisable (like an office). Giselle even sages her computer and iPhone. "They definitely need it!"
How to sage your home 101
Light one end of the wand. Carefully allow the flame to go out so that the tips of the dried leaves are smoldering slowly, and let the smoke billow up. You can blow on the end to release more smoke and fan the smolder, but keep your face far away (at least two feet), because it's typical for little sparks of ash to break off, and you don't want them flying in your face.
Start to waft around your space and through your different rooms with your intention in mind. Starting in one corner and "pushing" energy toward the door can be a good way to release bad vibes. Pay special attention to wafting in corners and near mirrors, as well as high-traffic areas like hallways and doorways. Also, pay extra attention to windows.
You can get expressive here with your waving, but always remain conscious of the fact that you're holding a burning object. Also, keep an eye out for those fallen ashes and put them out immediately. Use an abalone shell or other fireproof dish to catch those ashes as you go.
Store your sage safely
After clearing and cleansing, extinguish your sage stick by gently pressing it into the abalone shell or a clay dish, glass bowl or ashtray. You can also allow it to burn out on its own. Some people like to wait 20-30 minutes to allow the sage smoke to reach maximum potency. Then, open any windows and your front door to let all of that stuck energy out.
Finish with incense or palo santo
Now that you've cleared the energy and created a new, pure space, infuse it with your own positive thoughts and intentions. Burning your favorite incense or palo santo wood is an excellent way to do this; between sage's cleansing powers and the healing, uplifting properties of palo santo, they really are a dynamic duo. "Plus, your neighbors are sure to think you're interesting!" Giselle says.
For more scents and incense stick options, check out our collection of unique candles and home fragrances.
Sours: https://www.cb2.com/blog/how-to-sage-your-home/
881
882
883
884
885