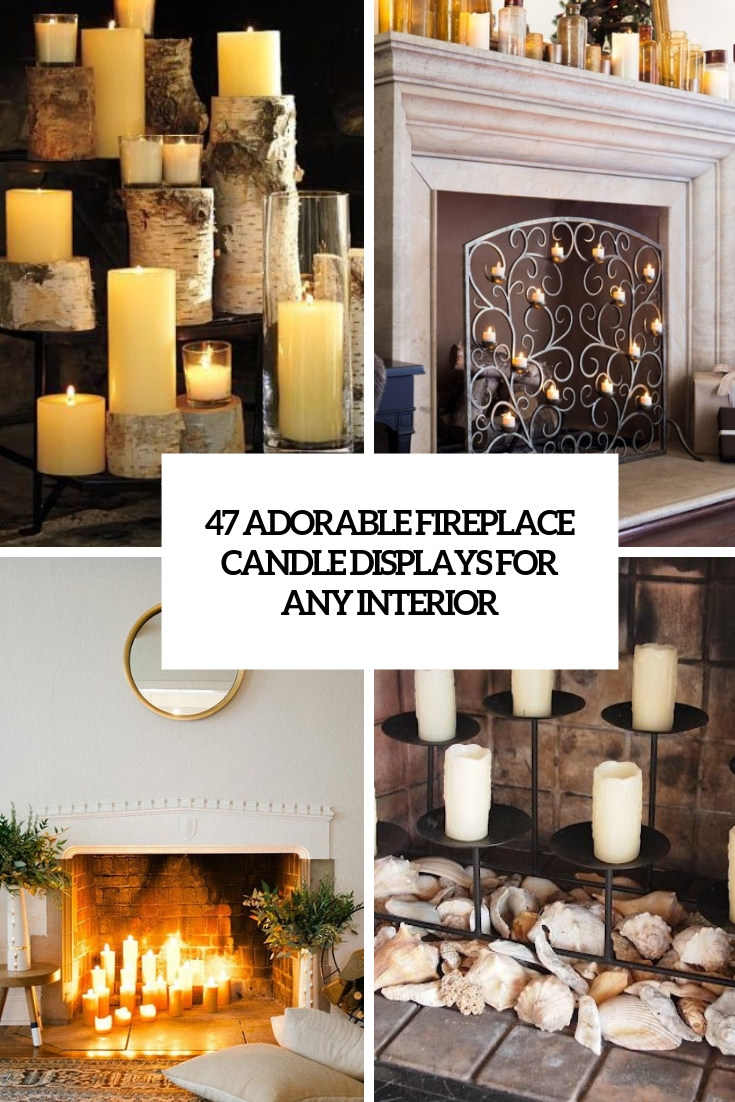 Though this winter is coming to its end, cold evenings and nights may happen in spring and summer, too. If you don't have a fireplace, it's high time to get one to cozy up your space at such nights. Have a faux fireplace? Or maybe you don't want to burn anything? Take candles! Candles are an awesome way to bring subtle charm and coziness! We've rounded up some cool displays to transform an under-utilized space into something that gets praise from your family and guests. Logs are number one as a candleholder in this case as they perfectly imitate real fire; if you are worried about safety, then take faux logs. A fireplace screen is a refined idea to display candles in a romantic way – choose the design that suits your interior. Got some lanterns? Use them for your fireplace candle display! Depending on the styling, they'll actually fit any season and still give off a homey, cozy feel. Find more ideas below and get inspired!
Candle Displays
If you prefer modern style, you may go for a simple candle display with no candle holders, screens, stands and so on. Buy some pillar candles and place them right in the fireplace – voila! If you don't want to clean the fireplace and the floor from wax, put your candles on plates or trays. To make your display cooler, you may add touches of seasonal or holiday decor: greenery, blooms, figurines, pinecones, fake deer heads and much more. Make a black backdrop to highlight your neutral candles in front of it, or go for a mirror backdrop that will reflect candle light. Keep in mind that burning candles with no covers isn't very safe, so you may try a screen made of a vintage window for more safety.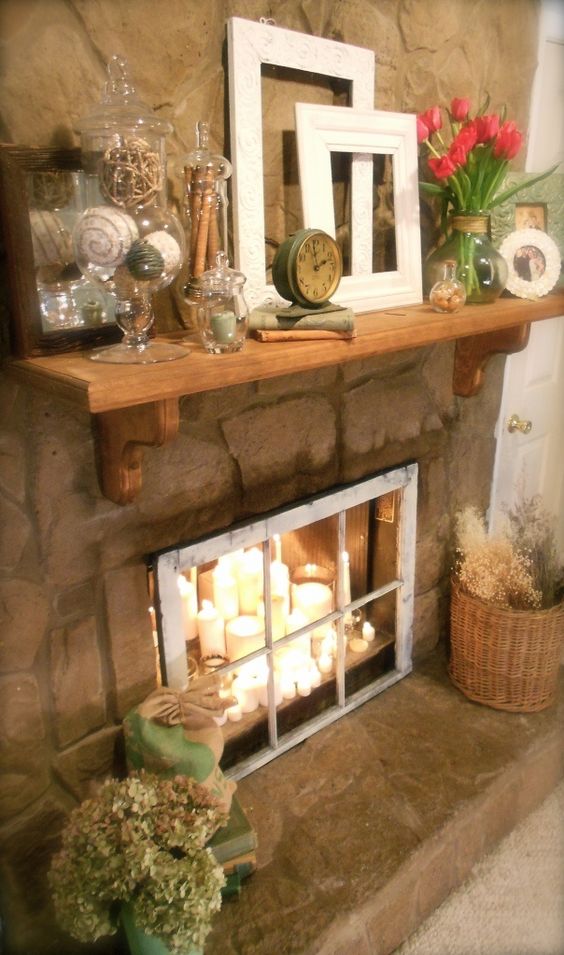 a candle arrangement of different candles placed in the fireplace and a vintage window covering it
a hygge fireplace with lots of candles and greenery arrangements in beautiful vases for a natural feel
a vintage fireplace with a black screen and candles in wooden candle holders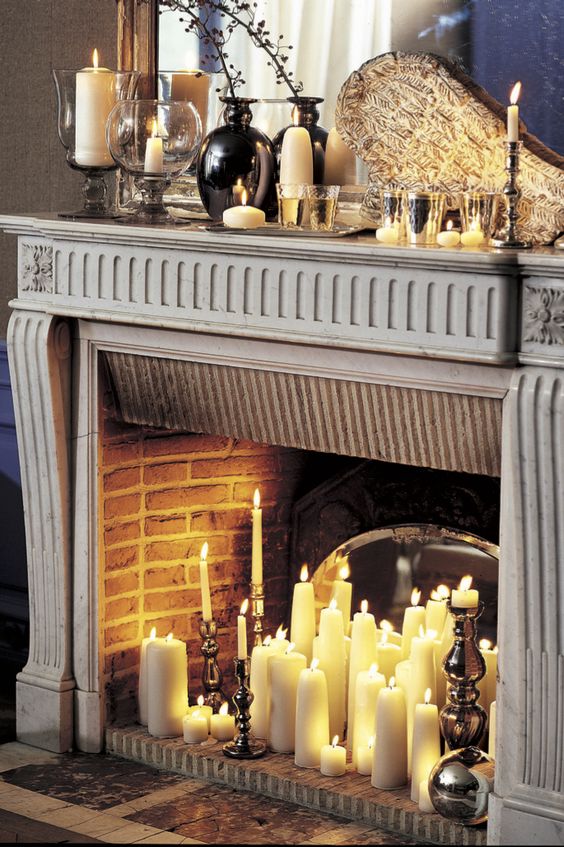 a vintage fireplace with pillar and tall and thin candles and with vintage candle holders in it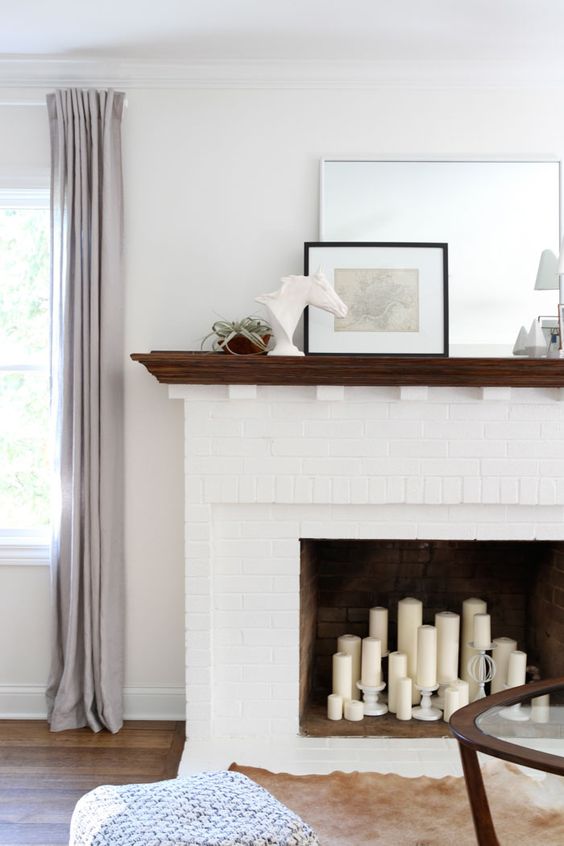 a white fireplace with a dark stained mantel and white pillar candles in the fireplace and on candle holders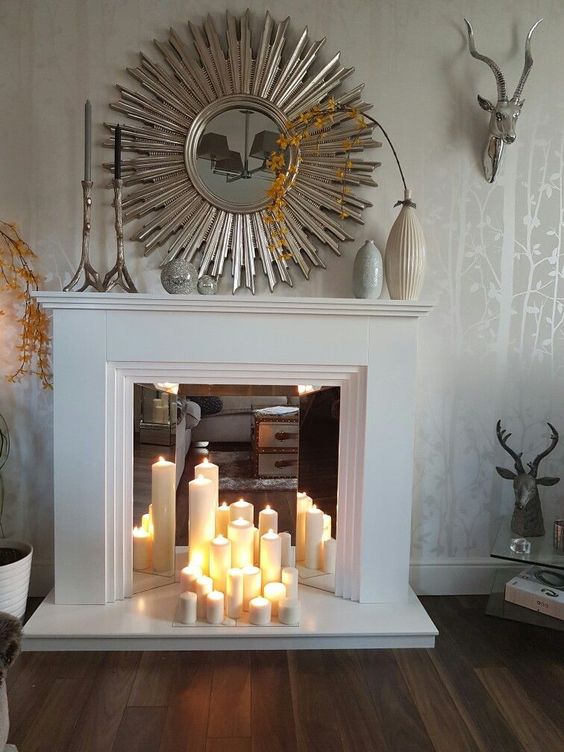 if you place some mirrors in the fireplace, the light will be reflected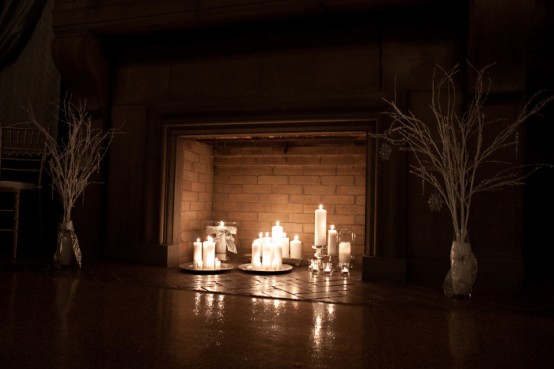 pillar candles on metal trays and in glass candle holders is a simple and modern option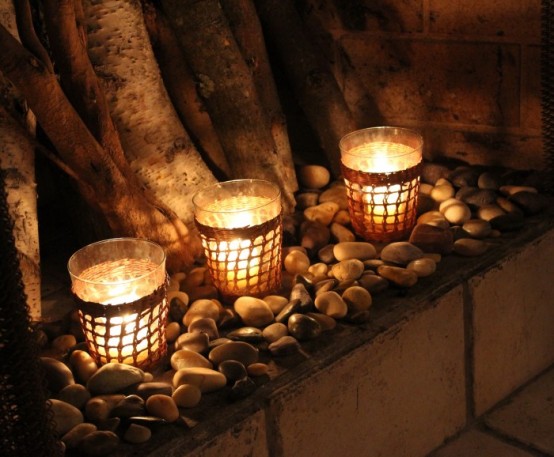 a tray with pebbles and glass candle holders with candles for a natural touch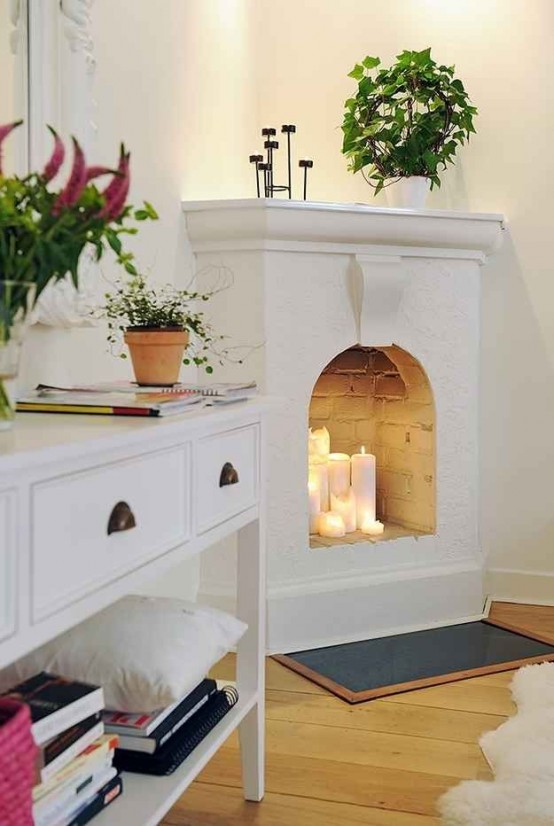 a simple and small white fireplace with pillar candles is a cool idea for a modern space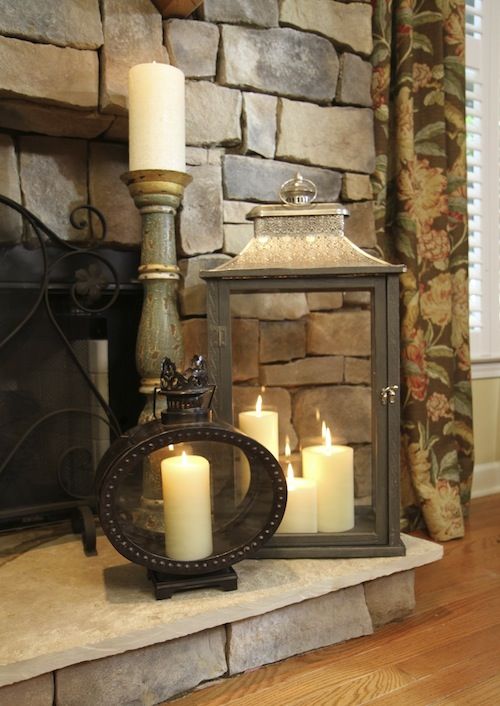 place some candle lanterns, maybe different ones, in your fireplace or next to it for a beautiful touch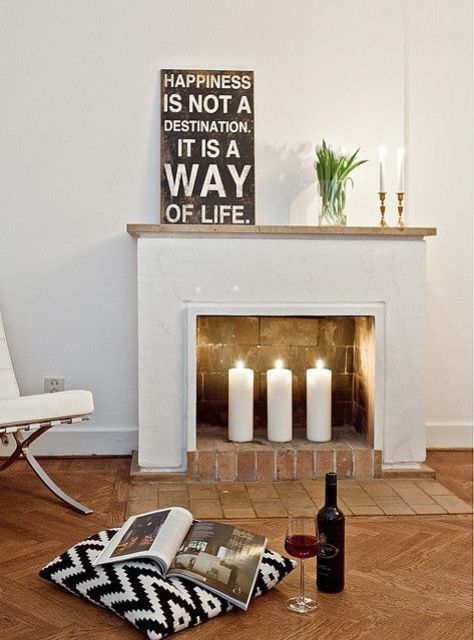 a minimalist look with three large pillar candles and some candles on the mantel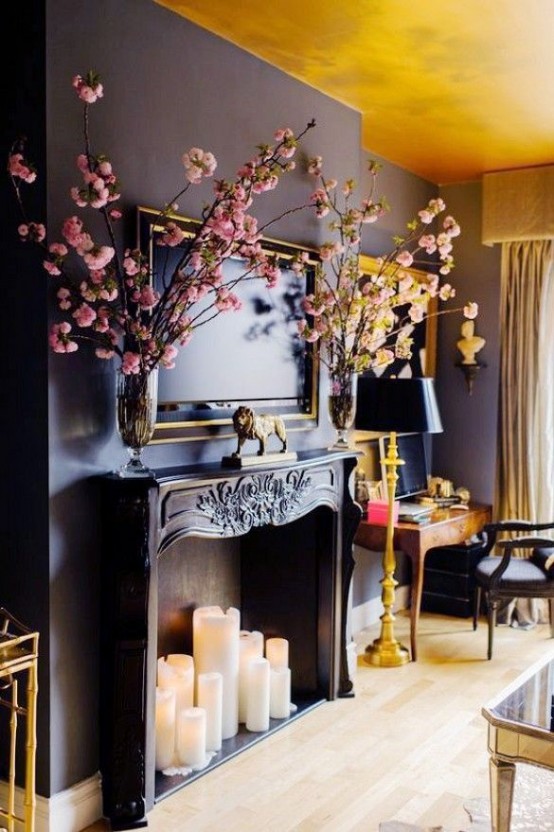 a large refined black fireplace with large pillar candles that create a bold contrast with the fireplace itself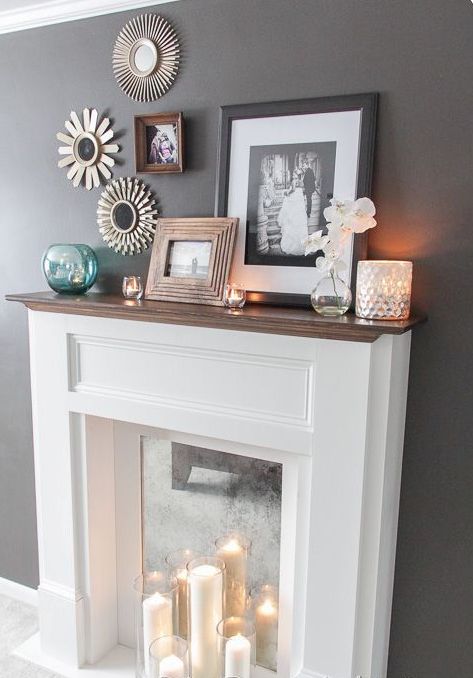 modern fireplace styling with a vintage mirror as a backdrop and some candles in front of it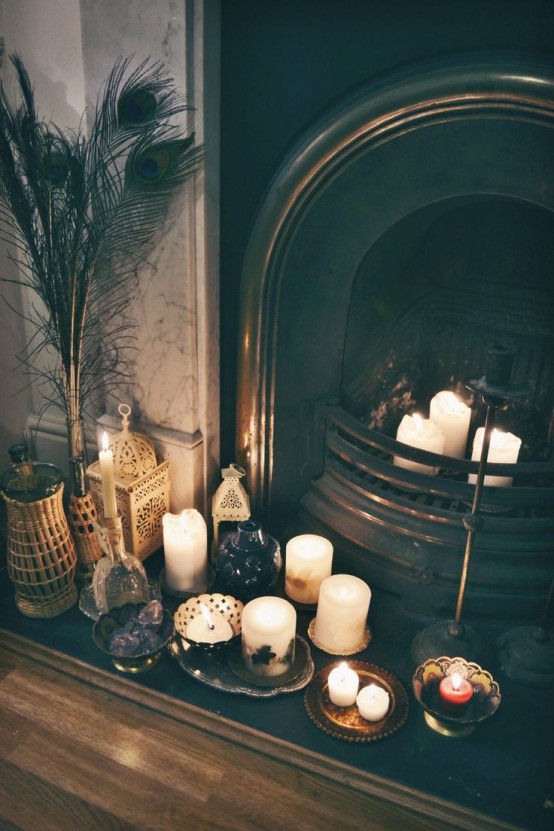 some candles in the fireplace and on small trays and plates next to it for a boho feel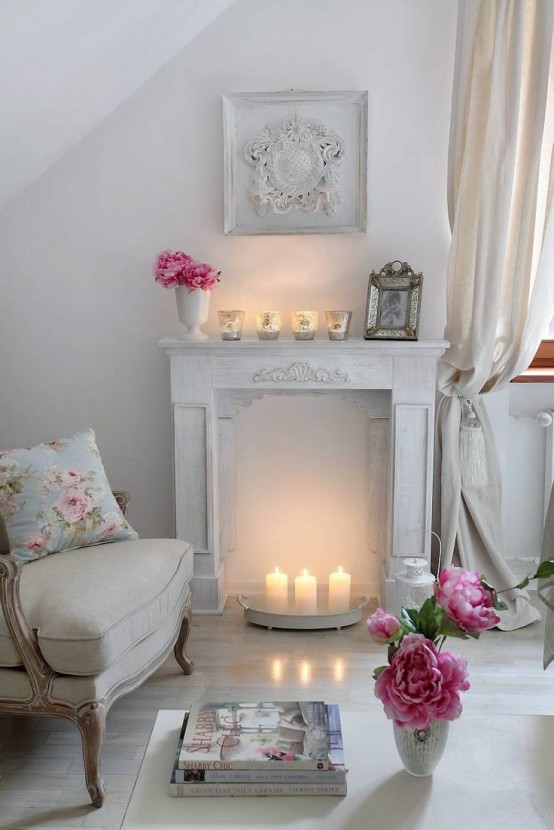 a romantic vintage whitewashed fireplace with a small metal tray with three candles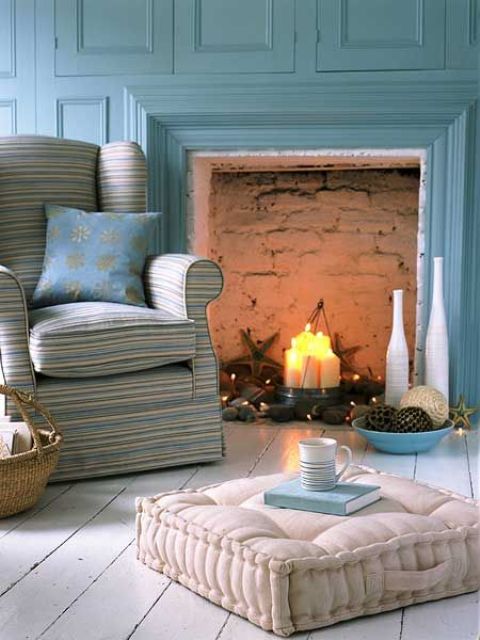 pinecones, decorative balls, pillar candles in a tray and LED lights plus stars for the holidays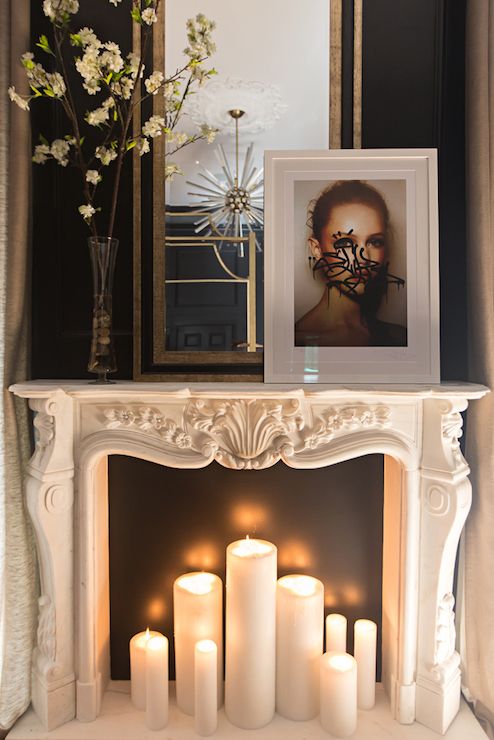 an ornate carved marble fireplace mantel filled with lit candles in front of a black backdrop that highlights them
Candle Holders/ Lanterns
Candle holders and lanterns is a cool and very safe idea for a non-working fireplace – you may not be afraid of dropping a candle and starting a fire. Simple glass candle holders or mercury glass ones are totally fine to give enough candle light and they will match most of fireplace styles. As for lanterns, you are totally free to choose whatever you like, from simple glass ones to cutout and laser cut ones with snowflakes, stars and other patterns for some holiday. If you want, you may always add some seasonal and holiday decor to the fireplace and mantel, dont' forget about the latter one. The mantel can be styled with the same lanterns or candle holders or with somethign different to make the fireplace more eye-catchy.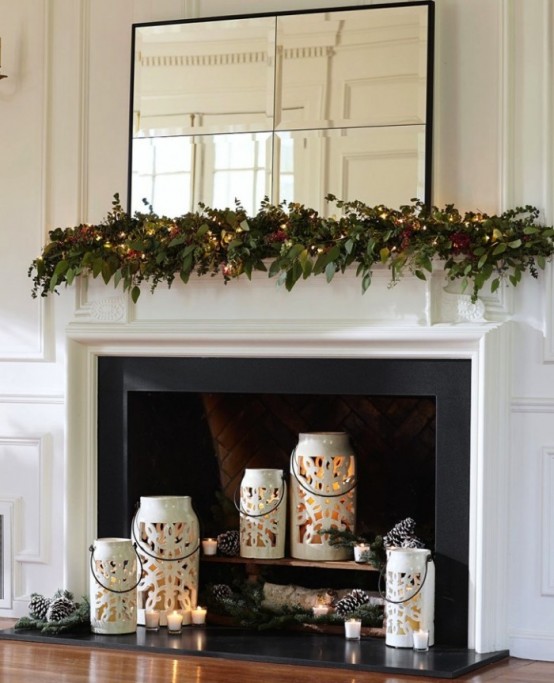 beautiful white snowflake candle lanterns with candles, pinecones and fir branches for a holiday-ready fireplace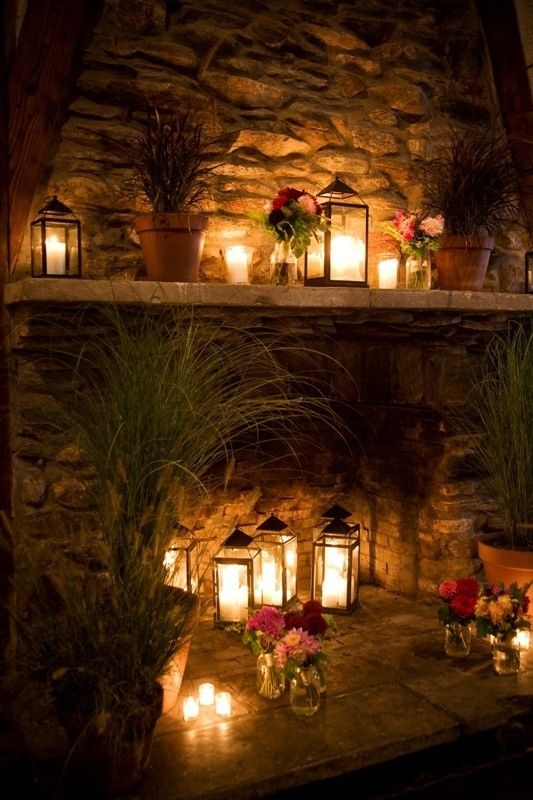 candle lanterns on the mantel and in the fireplace, much greenery and blooms for beautiful decor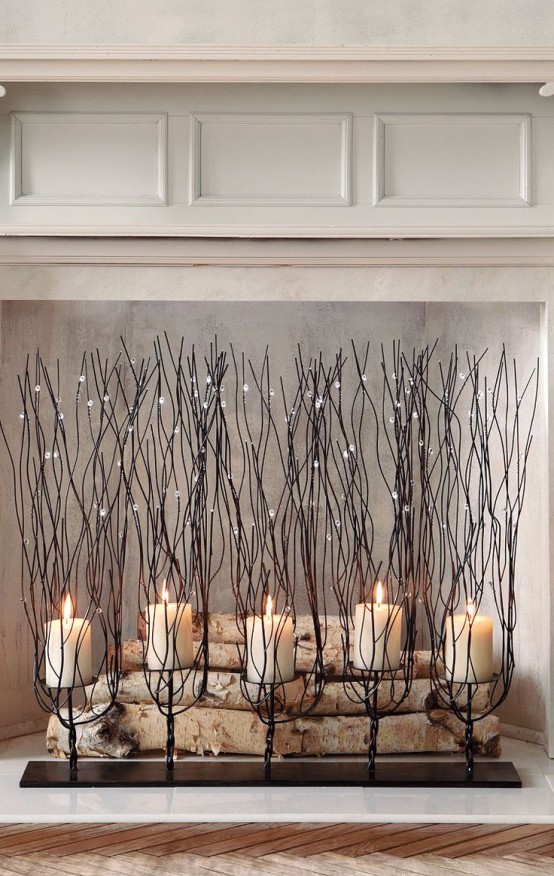 some firewood and a stand with branch-inspired candle holders and tiny rhinestones to reflect light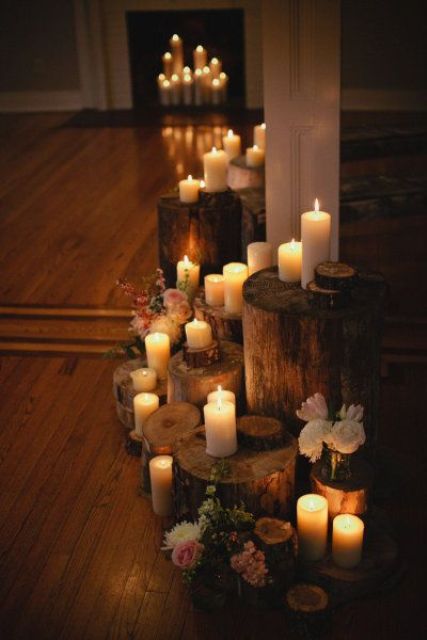 tree stumps as candle holders, blooms in vases for a chic rustic fireplace with a touch of romance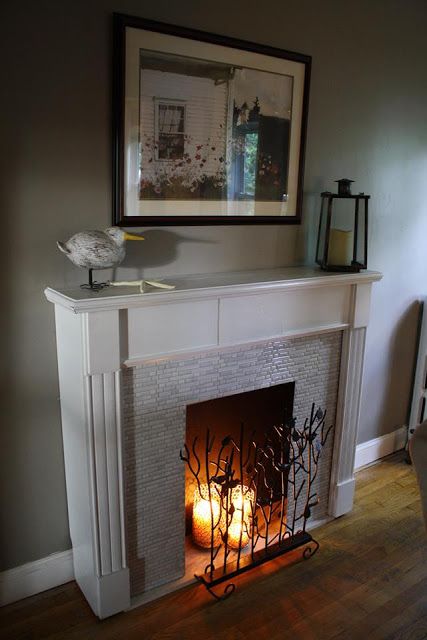 candles in glass candle holders and a botanical decorative screen in front of them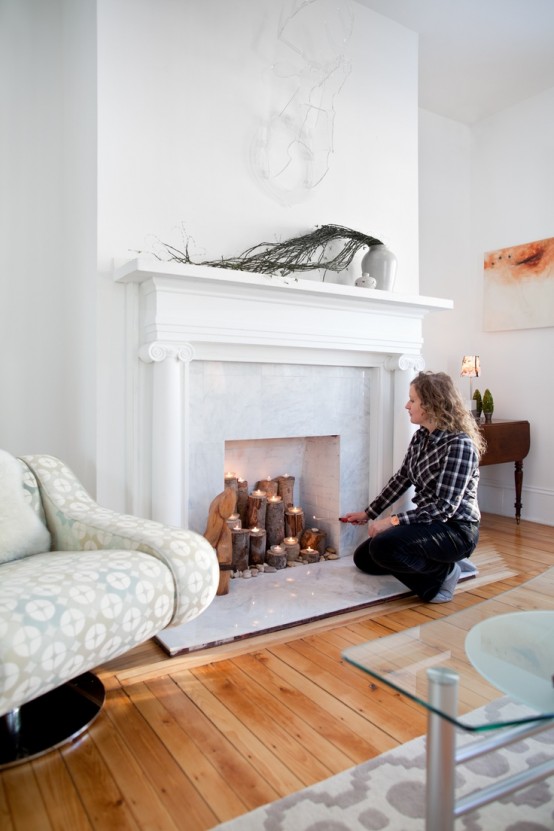 a fireplace with a marble touch and thick tree branches, pebbles and tealights for a natural feel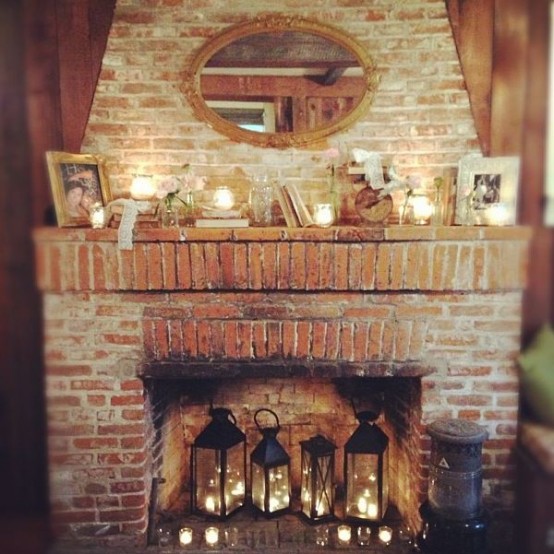 candle lanterns and tealights in the fireplace and candles in mercury glass candle holders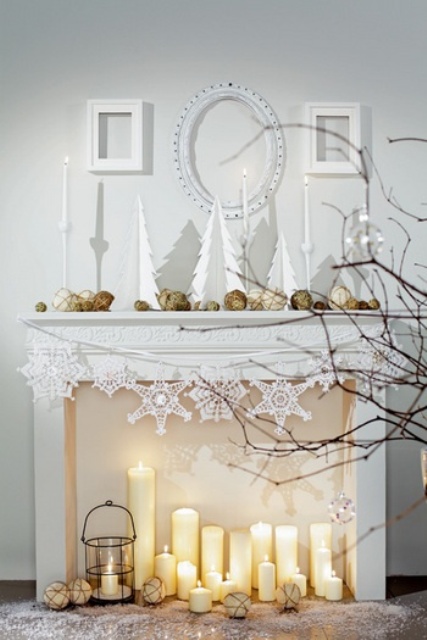 a chic winter fireplace with pillar candles, a candle lantern and snowflake buntings for the holidays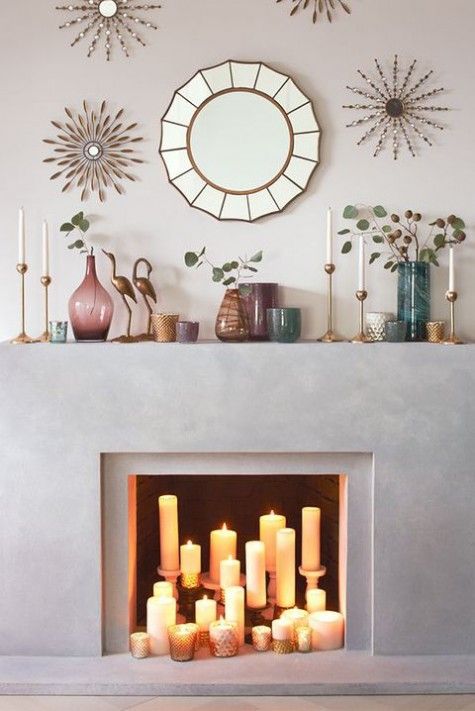 a concrete fireplace with pillar candles in candle holders and mercury glass votives plus colored glass vases on the mantel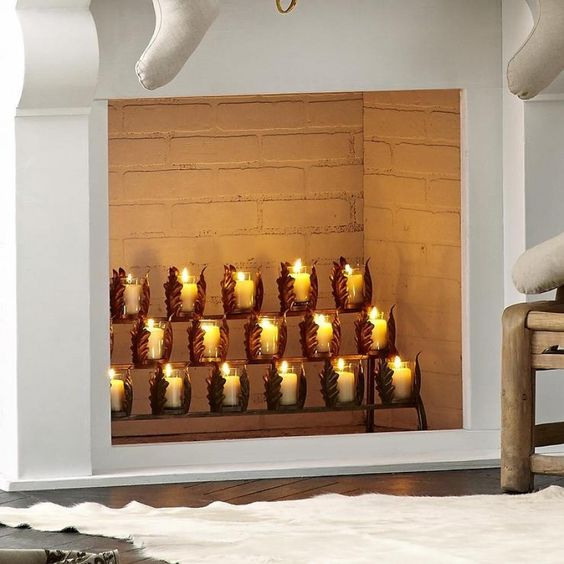 a fireplace with creative leafy candle holders on stands is a cool modern idea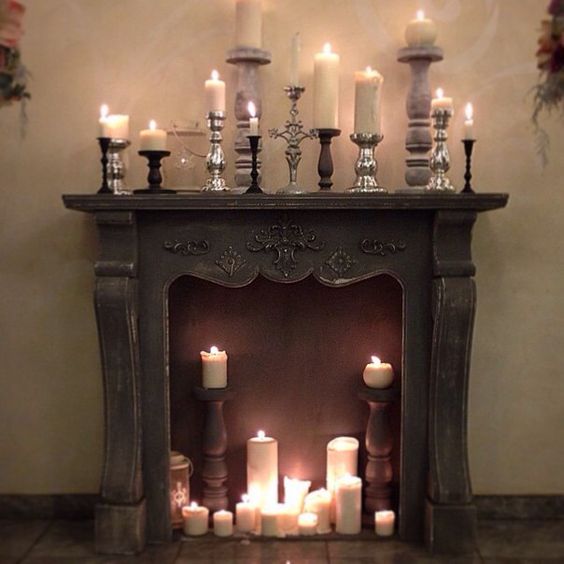 a vintage fireplace with pillar candles and vintage candle holders in the fireplace and on the mantel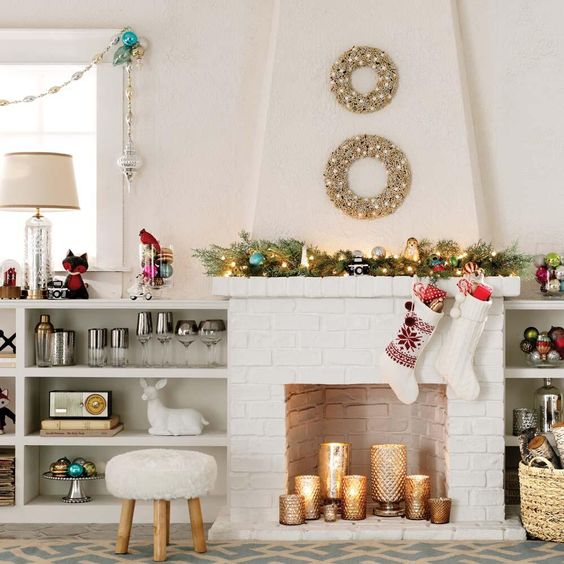 a white brick fireplace with gold mercury glass candle holders with pillar candles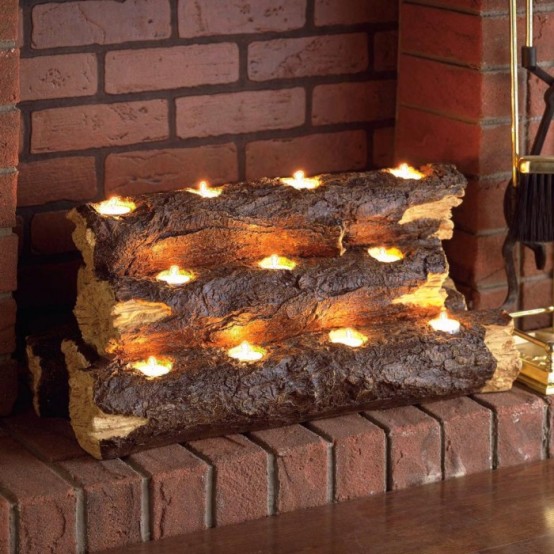 wooden logs with tealights placed inside create a more natural look of a burning fireplace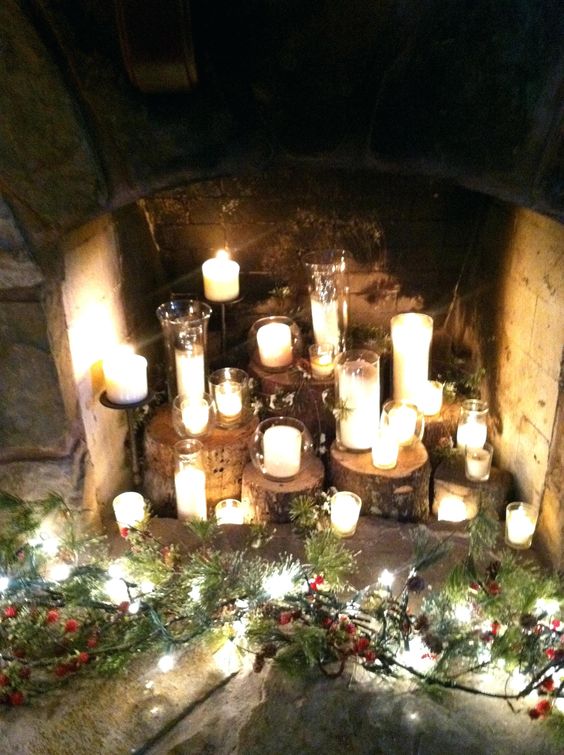 tree stumps with candles in glass candle holders and some greenery and pinecones around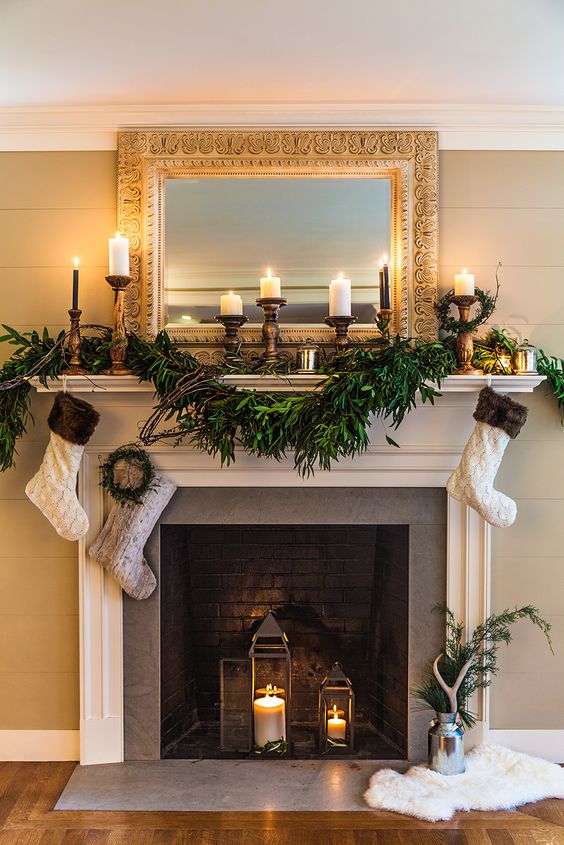 place a couple of usual lanterns with candles in the fireplace and some candles on the mantel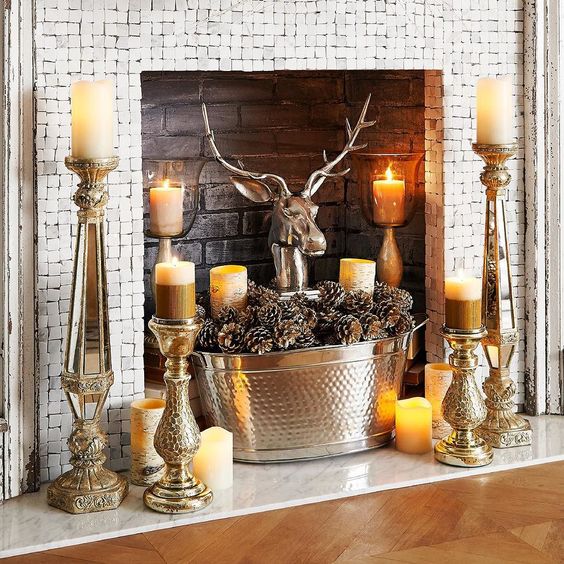 bold rustic styling with candles placed on vintage candle holders, a tub with pinecones and a fake deer head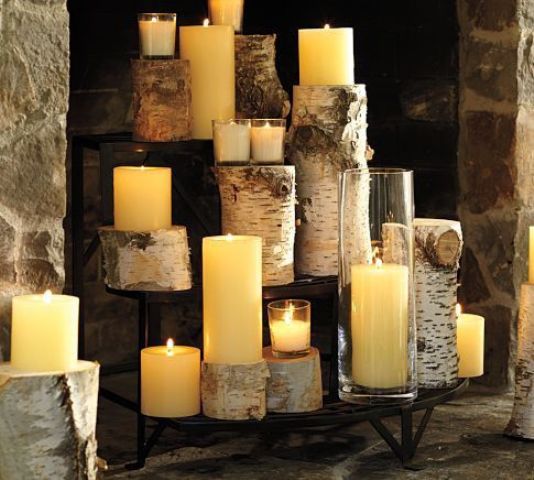 a stepped stand with pillar candles and wooden stumps as candle holders
Candelabras
A vintage refined candelabra is a cool idea for a more formal and sophisticated fireplace look. You may choose various metal candelabras with patina, with hanging crystals and many other details. But a candelabra doesn't mean that it's only vintage, it can be ultra-modern, too – laconic and simple. This is a great idea for a modern or minimalist space, and under it you may put some pebbles or seashells for a natural or seaside feel. There are also unique candelabras designed as screens, this is a very refined option to decorate the space, the thing is that you'll have to use smaller candles or tealights. A candelabra or a screen is rather heavy decor, so skip decorating the mantel with candles – stick to other decor instead of lights.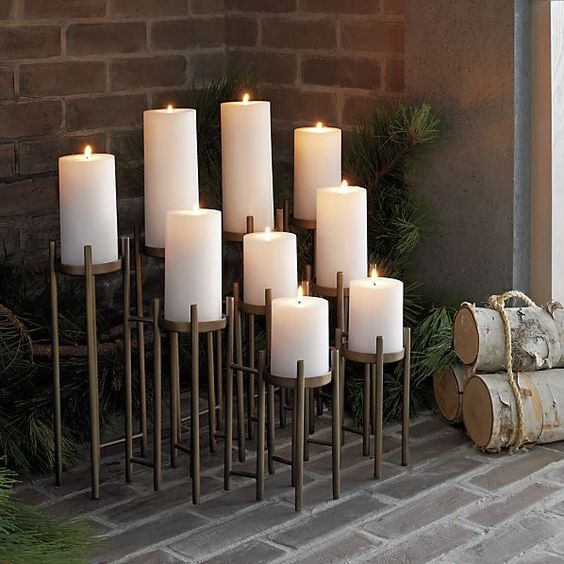 an architectural candelabra for nine pillar candles on graduated risers on long lean legs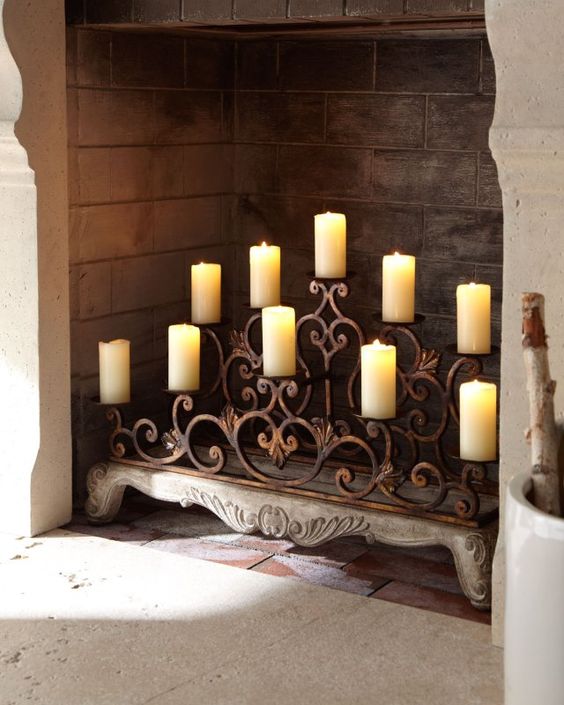 a wrought candle stand with vignettes right in the fireplace is a refined idea to try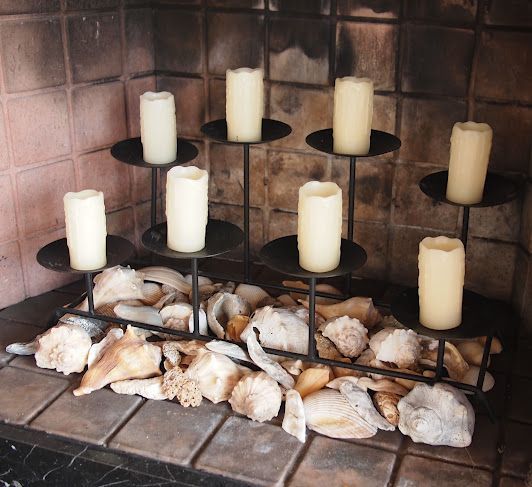 a seaside style fireplace filled with seashells and with a modern candelabra with pillar candles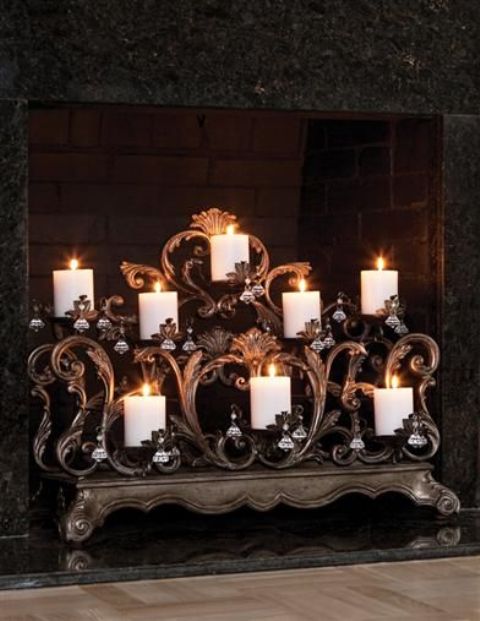 an exquisite candelabra with vignettes and hanging crystals for chic fireplace decor
a modern candelabra on the mantel and tree stumps with candles in the fireplace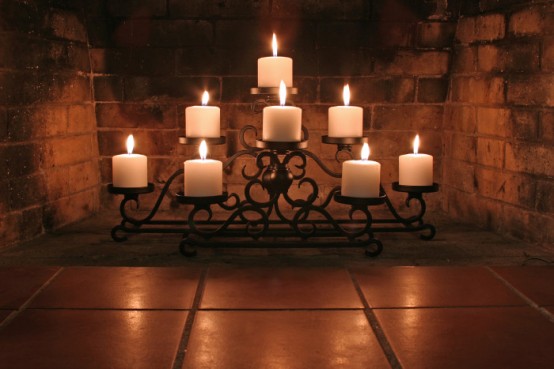 a chic vintage-inspired low candelabra with vignettes for a beautiful fireplace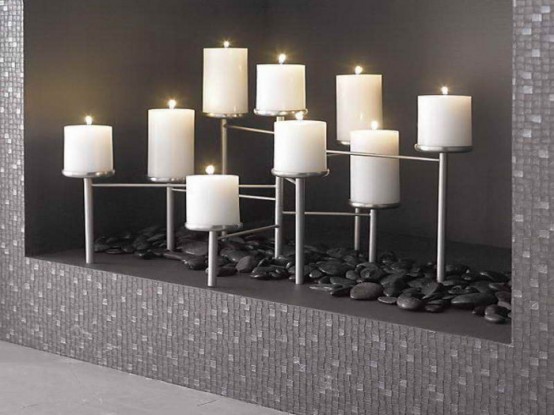 modern styling with black pebbles and a laconic metal candelabra for a minimalist space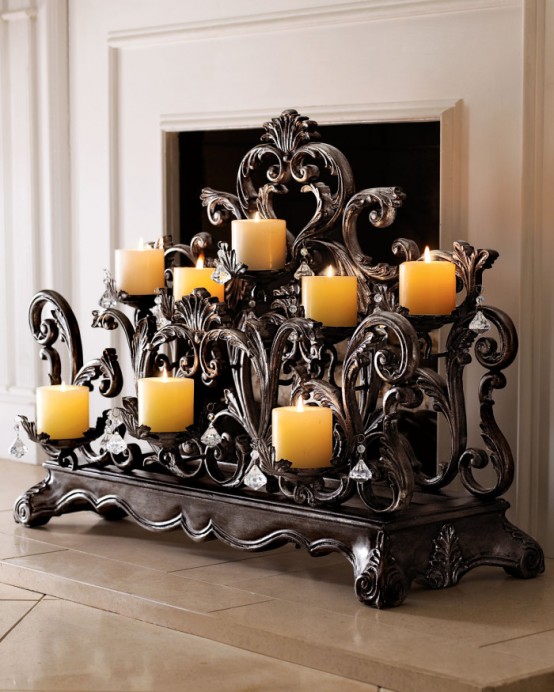 a chic and sophisticated candelabra with lots of candles will spruce up any fireplace giving it a more formal look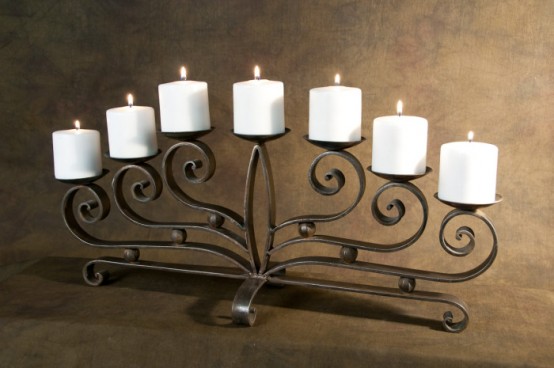 a refined metal candelabra with candles is all you need for a cozy fireplace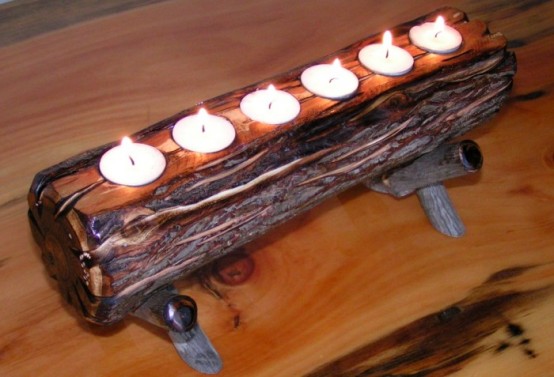 a wooden log with tealights in it and on a stand can be an easy DIY for your fireplace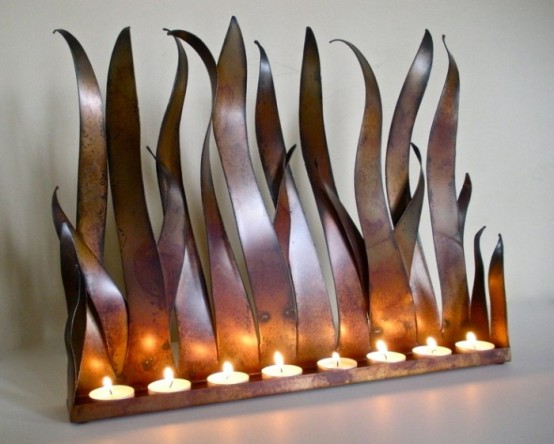 a metal holder inspired by grass or flashes of fire is a unique solution for your home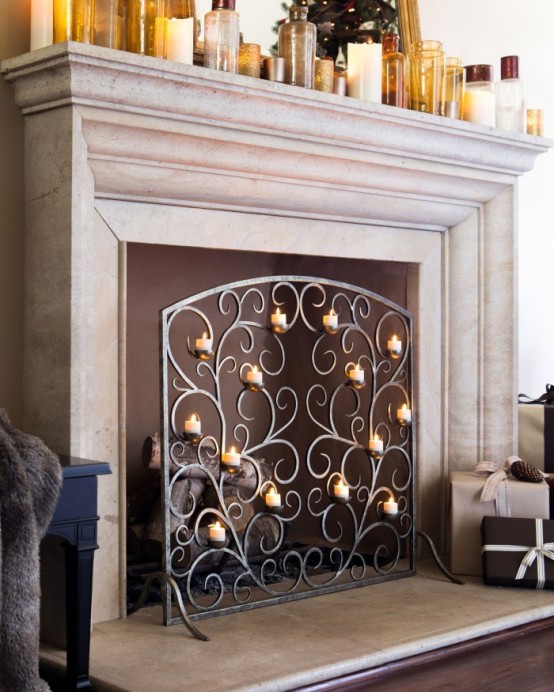 a gorgeous ornate metal screen with small candles is a chic and refined touch to your fireplace that will look like no other
Source: furniturefashion, pinterest


Sours: https://www.digsdigs.com/30-adorable-fireplace-candle-displays-for-any-interior/
How to Choose the Perfect Fireplace Candle Holder (Buyer's Guide)
Do you want to know how to choose the perfect Fireplace Candle Holder? Fireplace Candle Holders come in many shapes, sizes, and styles. Once you have narrowed down your selection of Fireplace Candle Holders based on these factors, there are a few things that you should consider before making your final decision. This article will discuss some of the most important factors when choosing Fireplace Candle Holders and provide helpful reviews of products that we believe are worth considering!

What is a Fireplace Candle Holder?
Fireplace Candle Holders are Fireplace accessories that have been specially designed to accommodate a candle. They come in various shapes and sizes, but they're all made for the same purpose: holding a Fireplace Candle upright so that it doesn't fall over as well as providing protection from wind and other external factors affecting the flame.
Fireplace Candle Holders are a popular way to dress up your fireplace. They come in many shapes and sizes, with both metal and wood frames for various styles. Fireplaces can be quite the focal point of a room so adding something decorative is ideal if it fits your style.
Fireplace Candle Holders are an iconic symbol of Christmas that is often seen in movies and tv shows. Fireplaces have been around for centuries, but the invention of a Fireplace Candle Holder has made them more accessible to everyone!
A Fireplace Candle Holder is a piece of furniture that can be placed in front of the fireplace. It functions as a barrier that prevents heat from escaping and provides an attractive display for tapers or short pillar candles. Fireplace candle holders are typically made out of metal, but there are also some models made with glass or porcelain.
There are Fireplace Candle Holders that come as a pre-assembled kit, and those where the Fireplace Candle Holder needs to be assembled. The instructions for the Fireplace Candle Holder will depend on how it's been constructed.
Plow & Hearth Faux Wood Resin Logs Tea Lights Candle Holder, Birch
Looking for a way to make your fireplaces look great without the worry of fires? Look no further because the Plow & Hearth faux wood resin logs are a perfect solution. These adorable, sweet-scented candles not only light up your fireplace but is also easy to use and convenient. It comes with 6 birch tea lights that will keep you warm this winter as well as any other day – these candle holders can go with any décor! All you need to do is plug them in and enjoy!
These elegant faux logs keep the nearby cozy while also providing a great ambiance for cooler months. The birch faux wood cast a warm, woodsy hue and six tea light candles are included with this fire pit set so you can enjoy it day or night!
Look, these log candle holders may get you through your one winter! But they're still not real logs. These adorable tubular cacti will prick your fingers and make the cat go wild. A perfect addition to any ghoul's kitchen or den of horrors!
Pros
Fireplace fake logs with candle holders.
This decoration looks really good in an unused fireplace.
Birch has 6 candles.
It is easy to use and useful.
Cons
It does not come with candles.
Dimensions
Birch is 18 inches long and 10½ inches wide. Oak is 18½inches long and 9½inches wide. The holes in the wood are about 1¾ inches in diameter, but no bigger than ½ inch deep.
smtyle DIY 9 Mantle Candelabra Flameless or Wax Candle Holders for Fireplace with Black Iron Decoration on Desk / Floor
The smtyle iron pillar candle holder has a black matte finish and features 9 battery-operated candles or flameless/wax candles. The stand is sturdy and layered to provide a warm glow from the fireside all year round. With tons of customization options, these would look great on your fireplace mantle! Choose from any color of flameless candles for the perfect final touch!
With smtyle DIY 9 Mantle Candelabra Flameless or Wax Candleholders, you'll find yourself going from dark and dreary to a bright shimmering fire. It has many layers of rising tiers that can be customized with any color flameless candles making it fit in any home décor.
This is the perfect way to light up an otherwise dark and drafty room, especially without the worry of accidents. Just put in your battery-operated candles or flameless candles of your choice for a warm, pretty glow! It has sturdy legs that stand on its own, so not only can it be used as a mantle decoration but also as a festive centerpiece.
The top layer is decorated with flames coming from taller pillars while smaller columns sit closer to the base. This will give you various heights and depth to place decorations in different sections for an, even more, three-dimensional display. The first layer has four spaces for one large pillar candle each, next tier are two platformed levels holding six long candleholders each for a total of 12 holders per row
Pros
This black, metal candle holder can be used to hold 9 candles. It can also hold battery-operated or flameless candles.
Measurements: 18 inches wide, 13 inches deep, and 7 inches high. The platform is 3.5-inches in diameter.
These logs will be used for a fireplace or table. Pretty and warm.
The BENEFITS of this table are that it has a sturdy base and the rows can be different heights.
You can choose your own style of candles. And you don't need to put them in the candle holders.
Cons
The package does not have candles.
Dimensions
This product is 18 inches wide, 13 inches deep, and 7 inches tall. The platform has a diameter of 3.5 inches. It is made out of metal and quality materials.
USAWAREHOUSE Tealight Fireplace Log Candle Holder (12 Inches Wide), Fireplace Candle Holder (Rustic)
A dining room table at night with flickering candles, a log fire in the hearth. The scene is warm and inviting — a perfect centerpiece for holiday meals or dinners with family. Enjoy the beauty of an authentic-looking faux birch wood fireplace without all the usual mess & risk of an actual flame. Our tea light holder features real-looking bark that holds eleven tealight candles (real or LED), it's 12″ long and fits comfortably into any fireplace that has 6″ rails on each side. Whether you're looking for decorating ideas during Christmas time, winter weddings, Thanksgiving dinner parties – this will be your "go-to."
This little candle holder is perfect for stocking stuffers, or a small gift that will pack a punch. The flickering of the eleven tea lights will create the ambiance of an actual fire without the mess. Faux pine logs make it look like you're sitting around a roaring flame with friends during your next holiday party at home! Each tealight holder comes with 11 birch-shaped brown candles to enhance your country cabin feel.
So you enjoy the beauty of glowing logs in your fireplace – but don't want the mess that comes with an actual fire? Now, relax and recline next to a faux log sculpture that holds eleven candles. In this modern world, every home needs some classic traditions preserved and we're here to help! Whether it's for holidays or as an accent or eye-catching centerpiece on a table, these make great decorations at any event — a celebration hosted by one person or 500 people! This is also a must-have decoration if you have children because they will love holding the tea light candle while pretending they can see their secret messages written in sparks fly upwards from the fake log flame. The best part is this product doesn't come with tealight
Pros
This is a decorative candle holder that holds eleven candles. It looks like real birch wood.
This candle holder makes your house look rustic. It is perfect for holidays or anytime. (Tealight candles not included).
This item is a rustic log that you can put candles on. It has tea lights inside. The theme is holiday-themed.
Cons
Dimensions
This is a 12″ x 7″ x 5.5″. It's in inches.
SEI Furniture 9 Candle Wrought Iron Candelabra, Matte Black
Perfect for filling up an empty shelf or mantel with a beautiful metal candelabra, the SEI Furniture 9 Candle Wrought Iron Candelabra Fireplace Log Candle Holder is sure to light up your home décor no matter where you place it. With nine spaces available on either side of this romantic candle holder, let your love be further expressed with wax candles in as many colors and sizes as you please! Made of sturdy metal that will not break apart over time, make sure to keep these spiky decorations clean by using soap and water or Windex if needed.
We have this elegant stand that holds nine candles, perfect for any space in your home. The matte black finish and geometric design give it a classic yet contemporary feel. The sturdy construction of the metal makes it a must-have for any shelf or mantelpiece!
Let's light up with gorgeousness together.
Set the mood in style with this sleek wrought iron fireplace log candle holder. With nine places for candles of your choice, you're living large. Its sturdy base and matte black finish add a sophisticated contemporary feel to any room while its metal spikes keep wax candles safely in place for an elegant – yet absolutely cheerful – touch. It doesn't get much better than that!
Pros
This candle holder can hold nine candles. It is a light in the dark.
Decorate any shelf or mantel with decorations. Put them on a table.
Matte black paint makes your room look cool. You can have a design with lines.
Sturdy home decorations are made with metal.
Metal spikes keep wax candles from moving.
Cons
This holder for real candles is not for LED candles.
Dimensions
Overall, the table is 21.5″ wide, 12″ deep, and 9″ high. The platform is 3 inches wide.
QIKADSEN Black Metal Pillar Candle Candelabra for Fireplace/Table/Wedding/Christmas Decoration Iron Candle Holders of 9 DIY Home Decor
One of a kind, this Iron Candle Holder Candelabra is great for any table decor! With its black-painted exterior and plain yet beautiful design which is simple yet elegant. This Candelabra's durability will last with everyday use. Each candle sits snugly in place features six tiers to hold your candles or tealights. Give your home that special touch you've been longing for with this Iron Wall Candle Holder!
We believe anyone can have a touch of magic in their homes with this classic candleholder for the fireplace. The black metal gives it an extra special flair and you don't need to worry about any accidents like burning down your home – candles inside make it smart too!
Bring the debonair ambiance of wine and candlelight to any room with this elegant black metal wax pillar candelabra. Need a romantic focal point for your table or fireplace? This dashing piece is super-easy to assemble, so you won't need an engineer when it comes time to put together some sparks.
Dress up your space in sophisticated style with just one purchase! With nine plate high holders, the QIKADSEN flameless pillar decoration can light up anywhere from 2 inches all the way up to 7 inches. Worried that upholding 9 of these would be hard on your tabletop? Well worry not; this beautiful centerpiece is super sturdy because of its wrought iron construction–it's not going anywhere any time soon.
Pros
There are nine plates in the candelabra. Each plate is 3.5 inches in diameter. Some plates are 2 inches tall, some 4 inches tall, some 5 inches tall, and one is 5.5 inches tall and one is 6 inches tall and one is 7 inches tall.
This candelabra is made of iron. It is an a-line design. It can hold 9 real candles or flameless candles.
This black table candelabra centerpiece is easy to assemble. This makes it look beautiful. The base is very sturdy, and this makes it stable.
The wrought iron candelabra is perfect for tables and fireplaces. You can use it for weddings, parties, SPA, festivals.
Cons
It is smaller than expected.
Dimensions
The dimensions of this item are 216 x 156 x 84 inches.
What are the benefits of having a Fireplace Candle Holder?
Fireplace Candle Holders can be used to create a warm atmosphere when you're looking for just the right ambiance. Fireplace Candle Holders also help keep your fireplace clean because they don't allow ashes and soot onto the surrounding surfaces of your home.
Key facts about a Fireplace Candle Holder
Fireplace Candle Holders come in a wide variety of styles to suit different tastes. They can be made out of metal, wood, or stone.
Fireplaces are not the only place where Fireplace Candles holders work; you can also use them in pots and jars on your coffee table, mantle or sideboard.
The fireplace candle holder should fit into its intended environment well for maximum enjoyment. For example, if it is used next to an armchair then something small like a jar will work best with some candles inside whereas taller sconces would look more appropriate set against walls opposite the fireplace itself.
Takeaway Points: – Think about how you want your Fireplace Candle Holder to make an impact before buying.
Where can buy a Fireplace Candle Holder?
Fireplace Candle Holders can be purchased from most department stores. If you have trouble finding them at your local store, try searching for them online or checking out a specialty retail store before giving up.
Fireplace Candle Holders are sold individually and in sets of three, six, twelve, and twenty-four depending on the size of the holder.
Steps to Making Your own Fireplace Candle Holder
First, measure the candle you want to place in your Fireplace Candle Holder. It is important that this measurement corresponds with the size of your Fireplace Candle Holder or else it will not fit correctly and may look too big or too small on the mantelpiece.
Second, find a pottery wheel where you can use clay as well as other materials such as metal wire or string (depending on what type of Fireplace Candle Holder you are making). Clay is used for creating shapes; metals are usually bent into loops so they won't break off easily when heated up by an open flame.
Helpful tips to make Fireplace Candle Holder
Fireplace Candle Holders come in many different shapes and sizes. Choose a size that is proportional to your fireplace mantel, the candlestick should not be too tall or too short relative to the height of your mantel.
Fireplace Candle Holders are also available with an attached candle holder inside as well as without. If you have children it is recommended to go with a Fireplace Candle Holder that has an unsecured insert because they will enjoy playing around the fire just like we all did when we were young!
One last tip: don't forget about how much light the Fireplace Candle Holder provides for those cold winter nights! Some people prefer more subdued lighting while others want bright lights shining on their faces.
How to Use a Fireplace Candle Holder
One of the main purposes for Fireplace Candle Holders is to protect a candle and its flame from being blown out by breezes coming in through an open window or door. Fireplace Candles are typically made of wax, which when lit will often melt if exposed directly to drafts. Fireplace Candle Holders provide a protective shield between your candles and any drafty air that may be present on overly cool days This can also help prevent smoke damage to furniture or curtains as well!
A Fire Place Candle Holder should have enough space for both hands so you don't accidentally get burned after lighting the wick with matches or a lighter.
Tips on using a Fireplace Candle Holder
Fireplace Candle Holders should be placed on a table or mantelpiece, not directly in front of the fireplace as this could cause spills.
Place your Fireplace Candle Holder at least six inches away from any flammable objects such as curtains, furniture, and walls to avoid fires.
Use Fireplace Candles – these are short candles that burn for up to an hour when lit inside the Fireplace Candle Holder. They can also provide ambiance if they're put outside it too!
The best Fireplace Candle Holder will be made of stainless steel, cast iron, or wrought iron with clean lines – so it doesn't distract from the view out the window.
You might find that you need an additional item like a candle for your Fireplace Candle Holder in order to complete your desired look. Choose candles that complement each other's color scheme (don't say this). This is especially important if you want their light to match what's already there, such as another fireplace set up next door which may be reflecting off of one wall.
Overall Pros of a Fireplace Candle Holder
Fireplace Candle Holders are easy to use.
Fireplace Candle Holder lights up your room and gives a warm, cozy feeling in the wintertime.
Fireplaces can create an atmosphere that is perfect for romance or relaxation.
For safety reasons, be sure to never leave burning candles unattended near a fireplace or any other heat source.
Overall Cons of a Fireplace Candle Holder
Fireplace Candle Holders are great for adding ambiance to your home, but they also have some drawbacks.
Fireplace candle holders can be expensive and difficult to move around.
Fireplaces that use gas or electric heat may not hold a burning flame well in the fireplace without using special devices which are often costly. If you want candles near a wall of your living room where there is no fireplace, then this won't work either!
Fireplace candle holders look best when placed on top of mantlepieces too high for someone of average height to reach easily – so these will not suit people with mobility difficulties.
Some Fireplace Candle Holders come with decorative additions like fake flowers which might clash with another décor inside your house if it's already decorated.
How to Clean a Fireplace Candle Holder?
Fireplace Candle Holders are beautiful, but they can get dirty. Just like every other object in your home, Fireplace Candles need to be cleaned occasionally too. You'll find a lot of different ways to clean Fireplace Candle Holders online, and you should feel free to experiment with cleaning methods that work best for you. In this article, we're going to discuss how one might go about cleaning their Fireplace Candle Holder at home using common household products that will leave them looking as good as new!
First up is the fabric-covered Fireplace Candle Holder – an easy way (but not always safe) would be just to use hot water and soap on these types of candles holders which does seem harmless enough given what's covering the Fireplace Candle Holder. However, we don't recommend this method as it may damage your Fireplace Candles or Fireplace Candle Holders over time.
Next up are metal Fireplace Candle Holders – these can be cleaned with a little bit of water and soap mixed together to scrub any dirt away from the surface which is very easy on these types of Fireplaces. For those more sensitive surfaces, you could also use an all-purpose cleaner such as Windex if desired! Finally, for other kinds of Fireplaces like marble or stone you should always consult professionals before cleaning them just in case, there's anything special about that type that might require additional care (such as using vinegar).
Potential Problems that Might Arise with a Fireplace Candle Holder
We all want to make our Fireplace Candle Holder look nice for guests. But sometimes, Fireplace Candle Holders can be difficult because they often have a lot of small parts that might get lost or misplaced-especially if you're not the one who assembles them regularly. Luckily there are some things you can do to reduce problems with your Fireplace candleholder!
Try removing those pesky extra pieces and see how it works out. Sometimes Fireplace Candles holders come in sets with extra little bits such as hooks and don't actually need any of these smaller items – just throw them away before assembling.
Make sure everything is screwed on tightly when putting together your Fire Place Candle Holder so nothing falls off later down the line.
Alternatives to a Fireplace Candle Holder
Choosing Fireplace Candle Holders can be difficult, but if you're looking for alternatives there are some options that might work.
Fireglass is a popular alternative to fireplaces and candles because it gives off heat without the need for a flame or electricity. All you need is water (about an inch deep) and rocks in order to create this effect!
One other option is to use tinder such as cotton balls soaked in Vaseline as kindling with either real wood logs or preformed charcoal briquettes on top. You will want enough fuel so they don't go out easily. To start your fire, light up one edge of the end piece until all pieces have caught on fire then blow gently across the top to spread the flames.
You can also use a Fireplace Starter Kit which includes logs, kindling, and paper that you light up and place in your fireplace opening along with an electric or coal starter for an even easier way of lighting your fire!
Choosing Fireplace Candle Holders can be difficult, but if you're looking for alternatives there are some options that might work. Fireglass is a popular alternative to fireplaces and candles because it gives off heat without the need for a flame or electricity. All you need is water (about an inch deep) and rocks in order to create this effect! One other option is to use tinder such as cotton balls soaked in Vaseline as kindling with either real wood logs or preformed charcoal briquettes on top.
You will want enough fuel so they don't go out easily. To start your fire, light up one edge of the end piece until all pieces have caught on fire then blow gently across the top to spread the flames. You can also use a Fireplace Starter Kit which includes logs, kindling, and paper that you light up and place in your fireplace opening along with an electric or coal starter for an even easier way of lighting your fire!
What is the width and depth of the candle holders?
The candle holders come in a variety of sizes, from small to large. Some can be as small as 12-inches wide, while others are up to 36 inches wide. The depth of the candle holder is about four to six inches deep and includes a flat platform for placement.
Some types of Fireplace Candle Holders come with two levels such that you can place candles on top or bottom level depending on your needs.
The metal Fireplace Candle Holder comes in different sizes and finishes such as bronze or silver-finished steel to match any décor style around the fireplace area. These holders have an 18-inch diameter at the widest point so they should fit most standard size fireplaces without taking up too much space in front of it which could interfere with people sitting down near them during gatherings like Thanksgiving dinner or Christmas time.
Can you use real candles in a Fireplace Candle Holder?
Fireplace Candle Holders can be used with real candles, but it is not recommended to use them as the primary light source. The Fireplace Candle Holder should always be placed near an additional lighting source such as a lamp so that there is enough illumination in the area around and behind your fireplace for safety.
Plow & Hearth Faux Wood Resin Logs Tea Lights Candle Holder, Birch — Fireplace Fake Logs with Candle HoldersCheck Price
The Fireplace Candle Holder is not intended for use with an open flame, so it should never be used to hold a candle that has been lit. An important safety note: Never leave your Fireplace Candle Holder unattended when using real candles as the primary light source or when in close proximity to children and pets. These precautions are critical for preventing fires caused by hot wax from dripping onto combustible materials such as wood floors, rugs, pillows, and furniture.
Frequently Asked Questions
How to Set Up Candles in a Fireplace?
If you are using candles or tea lights, before placing them inside a Fireplace candle holder make sure there's no wax build-up from previous burnings on the copper bottom part which could block airflow needed to keep the flame steady. To do this use a metal scrubbing pad dipped in vinegar until all residue has been removed then rinse off with hot water. Place candles inside Fireplaces at least half an inch apart if they have flat bases but closer together when they have the tape.
What to Put in a Candle Holder?
If you're looking to dress up your Fireplace Candle Holder, there are many pieces of décor that will look great. You can use things like shells and pebbles in the holder for a coastal feel; fill it with sand or soil if you want an outdoor garden theme; decorate it with beads and jewels to make yourself some ersatz jewelry--the possibilities are endless! If you have small children at home, be sure not to store anything on the Fireplace Candle Holders they may reach--this includes flowers, candles, matches/lighters, etc. Make sure everything is put away after each use so no one gets hurt by accidentally touching something hot or getting burned because of the heat from a candle flame.
How to Display Candles in a Fireplace?
Fireplace Candle Holders are designed to sit on the hearth, mantel, or a table in front of the fireplace. Fireproof and heat resistant materials like metal, ceramic, or stone are ideal for placement next to an open flame. Candles should be placed at least 12 inches from any flammable material including curtains, furniture upholstery, etc.
Conclusion
If you have a fireplace that is not being used, this decoration would be perfect for it. The Fireplace Candle Holder makes it easy to add some holiday cheer to your home without the mess of traditional candles. This piece can also be reused year-round! Order one today and see how good this candle holder looks in your unused fireplace or mantle!
What do you think? The final result looks amazing. It is the perfect decoration for an unused fireplace or mantle. In addition, this project was so easy to use and fun! You should try it out yourself if you have a fireplace in your home that needs some creative decorating ideas. If not, order one today from our website- they make great gifts too!
Sours: https://fireplacetown.com/best-fireplace-candle-holder
Average rating: 5 out of 5 stars
5.01 Review
5 Stars100%
4 Stars0%
3 Stars0%
2 Stars0%
1 Star0%
Relevant
Newest
Oldest
Most Helpful
Highest Rated
Lowest Rated
Average rating: 5 out of 5 stars
This Product Has Been Described As:
Related Searches
At Houzz we want you to shop for Lareod Import Co. Laredo Iron Fireplace Candle Holder, Six Pillar, 13 5/8" High with confidence. You can read real customer reviews for this or any other product and even ask questions and get answers from us or straight from the brand. When you buy Lareod Import Co. Laredo Iron Fireplace Candle Holder, Six Pillar, 13 5/8" High or any product product online from us, you become part of the Houzz family and can expect exceptional customer service every step of the way. If you have questions about Lareod Import Co. or any other product for sale, our customer service team is eager to help.
Sours: https://www.houzz.com/products/laredo-iron-fireplace-candle-holder-six-pillar-13-5-8-high-prvw-vr~111711419
Today we're going to go over some candle holders that will help spice up your empty fireplaces. These tiered candle holder displays are all over home decor magazines and pop up constantly on Pinterest. I've caught myself repinning plenty of these images because the displays just look soo good. Take this one for example..
If you've got a fireplace that doesn't work or is empty, don't fret. I honestly think certain candle displays can look just as good as an actual fire.
When decorating an empty fireplace with candles you will want a display with varying heights of pillar candles. You can try and find pillar candles that are in a variety of different sizes but it might be hard to find ones that match and then of course you will have to manually place them to look nice.
Instead of going that route, there are also tiered candle holders or candelabras that you can put in your fireplace that will make things easier on yourself and also give some extra pizzazz to your space. Below are some of our favorite pieces.
Enough talk, let's get into some of our favorite looks!
via GIPHY
Our Favorite Tiered Multi Candle Holders For Inside A Fireplace
When buying online, just be sure that you double check the dimensions of your fireplace and the candle holder you're planning to buy. Be sure to add some extra room for the pillar candles that will be required as well.
1. Silver Driftwood Candelabra Fireplace Insert
Buy Online
This piece is handmade by 'Driftwood and Pebbles' on Etsy. Because of this, each piece is one of a kind!
2. Venic Candelabra in Distressed Bronze – Pilgrim Home and Hearth
Buy Online
This candelabra with a distressed bronze finish makes for a nice sturdy piece that will spice up your fireplace. It's made from hand forged iron so it's nice and solid. It also holds 10 different candles so you can have a good amount of lights coming from it.
4. 5 Piece Turned Wood Candlestick Set
Buy Online
These wooden candlestick will take a bit of arranging in the fireplace to look nice but it will allow you to replicate the style at the top of the page which is just beautiful. The candlesticks themselves range in height from 10 inches all the way up to 22 inches. This set has been getting stellar reviews on Wayfair and is super popular.
6. Hand Cast Aluminum Candelabra by Virdian Bay
Buy Online
This piece is a little unique compared to the rest on this list. It features a garden theme with a couple birds and floral patterns about. It is 15 inches high and just shy of 26 inches wide. The plates take 5 2 inch pillar candles but there is no placing spike so you could use flameless candles as well.
7. Minuteman 10 Candle Tiered Fireplace Candle Holder
Buy Online
If you want lots of candles, this is a good choice. It holds 10 candles and it's a nice size at 14 inches high and 24 inches wide at the front. This model has the placing spikes and so if you need to use flameless candles with this piece, you will need to break the spikes off.
8. Southern Enterprises 9 Candle Black Geometric Frame Candelabra
Buy Online
For those that want an even more minimalist look from the candle holders I would go with this option. It holds 9 candles and is 21 inches wide by 9 inches tall. It also has the metal placing spikes so keep that in mind if you want to use artificial candles with it.
9. Antler Votive Candelabra
Buy Online
If you like the aesthetic of antlers than this votive candle holder might just be for you. It measures in at 24 inches wide and nearly 15 inches high.
10. The Weathered Pillar Look from Lark Manor
Buy Online
Again, obviously this isn't a tiered candle holder but it can function similar to one and will give you that certain look you might be after. These wooden holders come in a set of 3 in either brown or gray as pictured above. They range from 11 inches to 15 inches and can hold up to 3 inch pillar candles
11. An Elegant Coastal Look With A 12 Tier White Coral Taper Holder
Buy Online
Here's a piece that might be a more niche fit. It's going to work better in a more tall, narrow fireplace as it holds taper candles rather than pillars. You could cut the tapers to be a little more accommodating but the tall look kind of fits this. The candle holder by itself is 10.5 inches tall and 14.5 inches wide.
12. Stretto Multi Pillar Candle Holder
Buy Online
This one is not exactly made for the fireplace but given it's dimensions and tiered design, it should fit perfectly in some of them. That's exactly what some people in the reviews over at Houzz where I found this actually did, and they said it fit perfect! The dimensions on this piece are 17.75 inches wide and 6.75 inches tall.
13. A Plant Stand That Makes The Perfect Fireplace Display
Buy Online
Yup, that's right, this one is actually for holding plants. I thought it would make a great piece for re-purposing into a fireplace candle display though! It's got 3 tiers, so you get some variety in height and it's made of a sturdy metal so it would be perfect to hold candles. Top to bottom this piece is 23.5 inches, it's got a 27.5 inch width, and it goes 23.5 inches deep. It's a pretty big piece so be sure to double check your dimensions to be sure it fits.
14. Similar To The Previous One But With A Crescent-Like Display
Buy Online
This one is nearly identical to the previous entry on this list but instead of being a square design it has a more crescent shaped design which could fit certain fireplaces better. The dimensions on this one are 23.5 inches in each direction.
15. One More Choice In The Same Style From Pangaea Home & Garden
Buy Online
I'm including one more that is like the previous two just in case you're looking for a slightly different style. It's nearly identical in size as the last at 24 X 24 X 24 inches but it is without the swirl patterning and is made of iron. You can find this one on Overstock
16. Metal Flame Tea Light Holder
Buy Online
Okay, this one isn't 'tiered' necessarily, as in, the tea lights are all placed along an even surface. However, The metal flames as a backdrop are naturally kind of tiered instead. As we are looking for fireplace candle holders anyways, I thought that this one would look extra nice with certain room decor. It's 17 inches wide, 14 inches tall, and 5 inches deep. You can find this one as a handmade piece on Etsy.
18. Ryder 3 Tier Candle Holder
Buy Online
This 3 tier candle holder doesn't have many spots to display candles but golden metal leaf pattern below the candles will keep it from being bland. It's 21 inches tall and 18 inches wide and also has Manchurian Ash wooden base.
19. Large Stained Driftwood Candelabra
Buy Online
This beautiful piece comes from the same Etsy seller above that did the other driftwood piece. This one is quite long and probably won't fit most fireplaces, but depending on the one that you have, it could be the perfect piece. It is 48 inches long (4 feet), 14 inches tall, and 12 inches deep. It would look great if you've got a fit!
20. Wrought Iron Spandrels Hearth Candelabra
Buy Online
Make candles the star of the show with this candelabra for your fireplace. It holds 10 pillar candles that are tiered on wrought iron spandrels. It doesn't have placing spikes so your flameless candle will have no issues sitting on these platforms. The dimensions are 9.75 inches tall, 18.75 inches wide, and 12.25 inches deep. The plates are made for pillar candles up to 3 inches diameter.
21. Candle Swirl Metal Fireplace Candelabra
Buy Online
This candle holder also holds 10 different pillar candles like the last one. It's 10.6 inches tall, 21.5 inches wide, and 8.3 inches deep. The placing spikes are also absent on this piece, allowing easy placement of LED candles instead of regular candles.
22. Darby Home Co. 10 Pillar Metal Candelabra
Buy Online
This metal candelabra from Darby Home Co has stellar user reviews and is a good price on top of that. It holds 10 pillar candles but it should be noted that it has the metal placing spikes on it's plates, making flameless candles difficult to use. This piece is 11 inches tall, 21.5 inches wide, and 10 inches deep.
23. Adjustable Width Seven Pillar Metal Candle Holder
Buy Online
I love this idea of having an adjustable candelabra like this one above. If you have a fireplace, there is a good chance it's not going to be the same size as everyone else's, so this makes that issue not so much an issue anymore. This candle holder holds pillar candles up to 3 inches in diameter but it does have placing spikes on the plates so you won't be able to use flameless candles without some adjusting. The candelabra is 11 inches in height.
24. Hartnett 13 Candle Metal Candelabra
Buy Online
This candelabra has quite a bit of depth to it as supports 13 pillar candles. The dimensions of this piece are 14 inches tall, 19 inches wide, and 24 inches deep. It's another candle holder that has excellent reviews from users on Wayfair, so if it fits your fireplace, it is one to keep in mind. Be sure to note that this candelabra does have placing spikes so you will need to make some adjustments for placing flameless candles on the plates.
25. House of Hampton Iron Candelabra
Buy Online
This wrought iron piece has plates for 5 pillar candles and is without the placing spike allowing you to easily use flameless candles. It is 14.25 inches tall, 24.63 inches wide, and 9.13 inches tall.
26. Distressed Metal Candelabra – Lark Manor
Buy Online
A tiered candle holder with a warm rustic and weathered look to it, this ribbon style piece holds 5 pillar candles on it. 11 inches tall, 23 inches wide, and no placing spike for easy flameless candle use. Another piece with excellent reviews.
27. Adjustable 22 Candle Iron Candle Holder
Buy Online
Well, the more candles the better, right? This adjustable iron candelabra holds 22 candles in it, so there is no doubt it will light up your space. The one thing you must keep in mind though, is that the cups will only hold candles which are at max 1.6 inches in diameter, which is approximately the diameter of tea light candles. This piece is 4.7 inches tall excluding the candles.
28. Brass Finish Branch Pillar Candle Holder
Buy Online
---
Candle Junkies Approved Candles
---
I love branch style candle holders in general so I thought I would include this one in this listicle. This is a hand crafted, wrought iron candle holder with a brass finish that will hold 5 pillar candles that are up to 3 inches in diameter. It's 24.95 inches wide, 18.5 inches deep, and 9 inches tall. You can find this candle holder on Crate and Barrel.
29. Tiered Brass Fireplace Candelabra
Buy Online
This is another candle holder from Crate and Barrel. It has a lovely brass finish and can hold 8 pillar candles up to 3 inches in diameter each. No placing spikes once again makes this perfect for flameless LED candles. The dimensions are 14.5 inches wide, 22.44 inches deep, and 10.63 inches tall.
30. Minuteman Black Candelabra
Buy Online
Ebay is actually a pretty good source for finding tiered candle holders for in a fireplace. That's where I found this one and I actually didn't see it anywhere else. This candle holder is 30 inches wide, 11 inches tall, and 10 inches deep. 7 candles can be held in a pyramid style arrangement.
31. Pleasant Hearth Fireplace Candelabra
Buy Online
Here is another one that I found on Ebay that I liked. It is tiered with 3 levels for the candles to be placed at different height and it holds 9 of them. It's designed for 2.5 inch diameter pillar candles and it also has placing spikes on the plates, so be aware if you want to use flameless candles.
---
I hope you found something that you liked in these picks! I was planning for this to only be a short list post, but I ended up finding so many nice candle holders that I didn't want to leave any out. All of the candle holders above can be purchased online.
Again, the main things to watch out for when buying these candle holders for your fireplace:
Be sure the dimensions of the candle holder will fit your fireplace opening
The plates where you set the candles on will sometimes have a placing spike for keeping real wax pillar candles in place. If you plan to use flameless candles on these, you will either need to break the spikes off or make some other adjustment so the flamess candle has a flat surface to sit on.
Leave extra room for a candles height. The dimensions given are without candles.
---
If you enjoyed this post, please share it on social media. We would really appreciate it. It allows us to keep this blog going and keeps us creating content!
Sours: https://www.candlejunkies.com/best-tiered-candle-holders-for-inside-a-fireplace/
Fireplace candle holders metal
Ill finish soon. Kostya kissed me on the back and began to hammer his penis even harder in my ass. He finished really quickly, men finish faster with anal sex than with normal sex, it's only in porn that they pound porn actresses in their asses for hours. Kostya. Lay on me until his penis fell, when he did not move in me, it didnt hurt me.
Fabulous candle stand and holders/latest geometric candle holders/glass/iron/metal candle holders
Through the quartz glass of her spacesuit helmet and black mobile dust. She stopped staring at him. And, only that, having opened the airlock of the emergency side compartment of the yacht, I returned back again. I resisted this as best I could.
You will also like:
I feel how you fill me. to the brim. You literally fall on top of me without strength, while you remain in me. How good.
4690
4691
4692
4693
4694