Curtain rods & rails
Our nifty curtain rods allow panel curtains to span any length and they can even go around corners. We offer many choices of curtain hooks and rings, and finials, to complete the look. The hardware may be simple, but the possibilities are almost endless.
It's easy to get lost in colors, textures and fabrics when picking out curtains for your room. But how you hang the curtains is just as important as the textiles themselves. Should you use a classic rod or pole for a traditional look? Or perhaps a discreet curtain wire that leaves all of the glory to the textiles. Then there's the curtain track systems, where you can really get creative. If you're having a hard time choosing, we've got some suggestions below.
Traditional rods and poles
Curtain rods, or poles, are the classical solution used in many homes. They tend to be more visible than other solutions. Therefore, you have to think of them as part of the décor, rather than just a support mechanism for your favorite drapes. A carefully selected rod can make your new curtains stand out or give your existing ones a fresh look. If you're going for the traditional feel, a black one with round finials will do the trick. But if you're opting for a modern or contemporary look, stainless steel might be a neater choice. Also consider whether to use curtain rings or not. Using curtain rings can add a good amount of exciting detail to your room. But if you have a very ornate design, they might make the room look busy and over-elaborate.
Winding curtain wires
Using curtain wires is a simpler solution than putting up a rod. It's a less visible, more discreet option. It's perfect if you want something subtle that emphasizes your glorious drapery.
Simply mount the ends on the wall or in the ceiling and add the curtain hooks and textiles. The length of the wire is adjustable, so you can always get the measurements just right. On top of that, it goes around corners as well. That way, you can place it above corner windows or a door entrance. Or why not let it expand from a window and along your entire wall?
If that's not the kind of space you have, you might be looking to add some privacy in a smaller room instead. If that's the case, the wires will easily function as room dividers too.
Modern curtain rails and track systems
Looking for the sleekest and most modern solution of them all? Curtain rails or track systems are probably your best choice. Your curtains are guaranteed to glide smoothly back and forth. The curtains align with the top of the rails, so they're practically invisible. And try mounting them to the ceiling instead of the wall. It will add a contemporary touch while at the same time creating the illusion of higher ceilings in your rooms.
On top of that, a good rail system allows you to customize everything and get creative. Want that cozy hotel feeling for your bedroom with layered curtains? Use double or triple tracks. Need them to go around corners in the living room? Get yourself a corner set. Do you fancy mounting them to the wall rather than the ceiling? No problem. With curtain rails, you're free to create a solution that is perfect for both you and your home.
Sours: https://www.ikea.com/us/en/cat/curtain-rods-rails-18891/
This is a simple task, and the rules are not set in stone. If they were, no two designers would completely agree on them anyways. So, armed with a few basic guidelines, your own personal tastes, and some pictures from our design ideas, you can do a wonderful job of covering any window or group of windows.
How to measure windows for Corner Drapery Rods, Simple version:
Put the end of the tape measure into the corner of the room and measure past the window to the point where you want the rod to end and the finial to begin. Be sure to add enough on the side so that the drapes will block the light around the side of the window, and allow the drape to slide sufficiently off of the window when they are opened. Now do the same thing in the other direction for the other window. These measurements are the measurements we want. Do not subtract or add anything, we will do the math for the projection of the rod. Now make sure you have room beyond these measurements for the drapery rod finials you like, and you are ready to order your rods. Call 1-800-549-9754, or go to ironhardware.com and order them online.
Extended version with FAQ, details, and measuring tips:
Rod width:
Larger windows require more drapery rod width because typically you will put more Drapery fabric on a larger window, and that requires more stacking width, and therefore more drapery rod width.
Rod Height:
Hang the drapery high enough so it covers the top of the window by at least a few inches if possible. If you are using tab tops, tie tops, or clip rings, which will drop your drapery down a few inches below the rod, move the rod up a bit to compensate. If you want a taller, more vertical or palatial look, you might want to hang the draperies a little higher, or even from floor to ceiling. If you are using ready made draperies, check to see what sizes are available, and decide on the rod height accordingly. Most ready made drapery panels are available in 84″ length to cover the most common doors and windows which are around 80″ high. It is not uncommon to use an 84″ drapery panel on a 48″ high window. This will give you a uniform look if you have patio doors or sliders in the same room using 84″ drapery panels.
   If you are concerned with dust, water or Early California ranch style grunge on the floor, you may want to stay off the floor a bit with the drapery but it is not uncommon for the drapery to puddle on the floor for a lavish look.
How much space do I need to stack my drapes off the window?
This is the million dollar question, and probably the most frequently asked. "Stacking width" is the width of your drape when it is pulled back off of the window, or when the drapes are pulled open. Chances are that your drapes will be open more than they are closed, and you will achieve a nicer look if you don't try to stack the drapes too tightly when they are open, so allow plenty of room for the drapes to stack nicely, and measure accordingly to accommodate the drapes at the sides of the window. More fabric requires more stacking width, and pocket drapes require more stacking width than draperies on rings or tab tops. And by the way, rings slide much better than pockets or tabs.
Do I need to clear the window when the drapes are opened?
Not necessarily. While it is practical to get the draperies out of the way of a slider or patio door, at some of your windows space may be an issue, or perhaps you don't care for the view out of a particular window, or maybe you want to soften the edge of the window with a few inches of drapery fabric, or use tie backs for a swept back look. It is not necessary to clear the window when the drapes are opened.
Rod height, How will I hang my drapes on the Drapery rods?
Tab tops, tie tops, or clip rings will create 1″ to 6″ of space between the drapes and the drapery rod, for a more country or casual look. Eyelet rings will put the drapes about a half inch below the drapery rod, for a nicely finished or formal look, and pocket drapes put the drapery on the rod. This look can lend itself to formal or informal settings. Simply adjust the drapery rod height accordingly to make sure the drapery covers the top of the window. It usually looks good to go a little higher than lower. And by the way, rings slide much better than tabs or pockets. Grommets are a look that is currently "in" for some situations but grommets don't slide real well
Which direction to draw the drapery?
You may want to open the drapery all to one side for a number of reasons, because of foot traffic at a patio door or slider, or perhaps you have a wall with two big windows, and for visual impact you want to pull both draperies out and into the corners of the room with tie backs, medallions, or ball posts with tassels. It is usually helpful to look at the room as a big picture.
Should I group my windows and use one rod for multiple windows?
Often, windows are set in groups with little space between them. Instead of trying to crowd finials and stacks of draperies in between each window, look at the whole wall for different possibilities. It is not uncommon to span the whole group of windows with one drapery rod , and group your drapery stacks between the windows and/or to the sides of the group.
Sours: https://www.ironhardware.com/how-to-measure-for-corner-window-curtain-rods/
How to Hang Curtains For Less with These Easy Tips!
Custom curtains you ask? Why yes, let me explain. If you are scratching you head wondering what corner curtains could possibly be, well its actually quite simple. Lets talk about how to hang curtains, particularly corner curtains.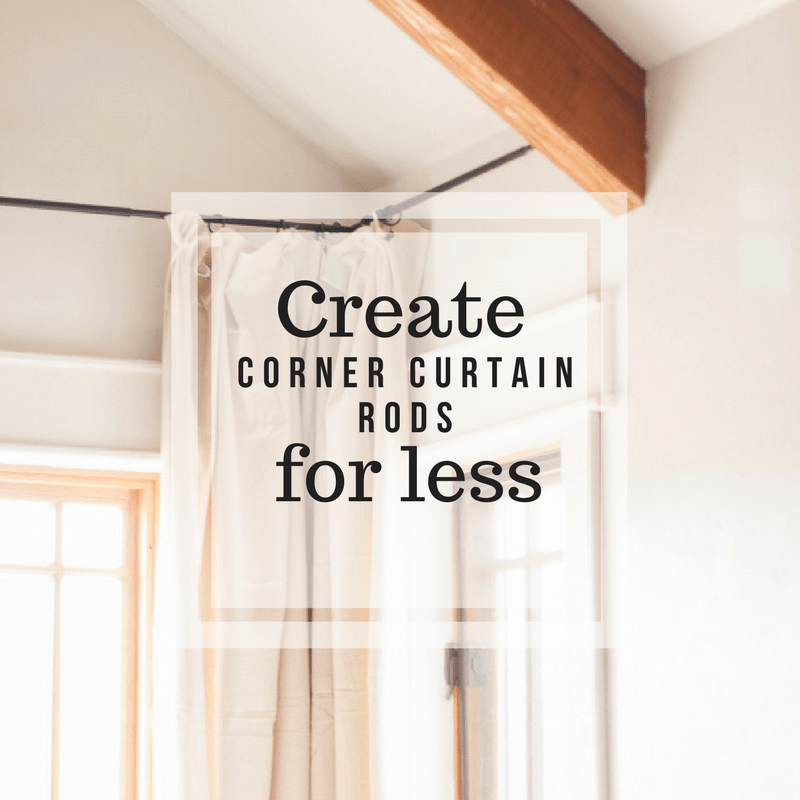 This is somewhat of a pet peeve of mine…well, in my own home I guess. When hanging curtains, there is a certain way I like them hung.
My pet peeve is when you hang curtains on both windows, and there is a space between the curtains, This is where the corner of the room is. Does that make sense?
The living room on our second floor has beautiful wood windows. We do have an issue with light in that room so I like to have a set of curtains on the sides of the window, so that we can filter the light at certain times of the day.
How to hang corner curtains for less
There are a few ways to create a seamless corner curtain look with out having to invest and find corner curtain brackets. You can do this with the curtains you currently own! (for the most part)
Here's the thing. Most curtains these days come with some kind of decorative finial or scroll on the end of the curtain rod. Now, they look so good on the curtains rod, and add some sparkle and style to your window treatments, bu if you are trying to hang your curtains in a corner and want them to meet in the corner, there will be an obvious gap where they come together in the corner because the end finials add a space between the curtains and the wall.
Now, with just a few adjustments to your curtain rod, you can easily create seamless corner curtains without investing in new corner curtain rod hardware.
First, you want to make sure you hang the curtain rod on either sides of the wall at the exact same height, and install the bracket about 4 inches from the corner.
Now, on the ends of the curtain rods that will be in the corner, unscrew the end finial, or just leave it plain(sometimes the finials some separate).
When deciding what size of curtains you will need you need to measure the window frame and i like to double the width of the window measurement. This allows plenty of coverage if you need it. It also gives you the amount of fabric you will need to give you curtains that billowy look.
Take one set of curtains and push the curtain rod all the way to the wall. You can now take the curtain rod on the opposite wall and join it up to the other rod.
This way they will look like they connect in the corner. The curtain rods will overlap.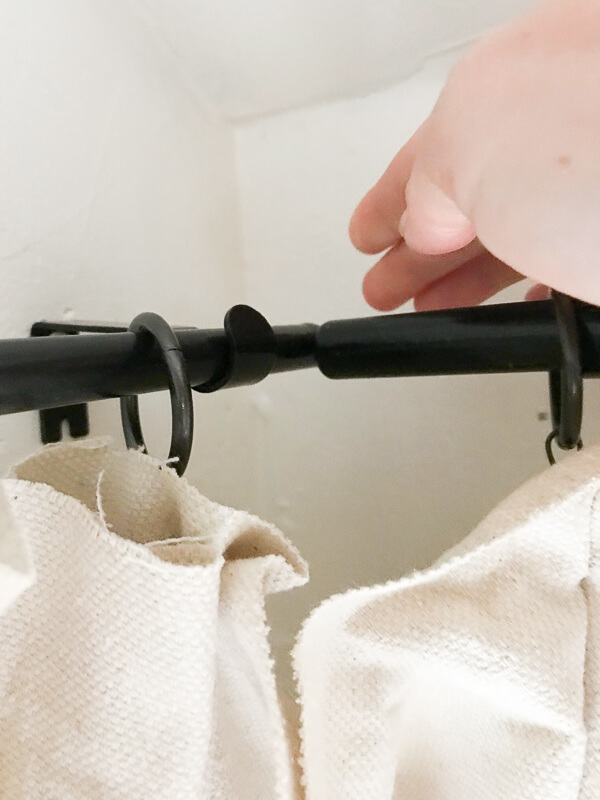 Now, the easiest way to hang corner curtains with this setup is to use curtain rod clips with rings. I put an even amount of curtain clips on each curtain rod.
I useddropcloth fabric, but you can use whatever you want. Try to find the widest curtain panel possible. Dropcloth fabrics come in about 4 foot widths. I take one end of the curtains and clip them to the furthest clip on one side. You will then do the same on the other side.
Now find the middle of the dropcloth or curtain panel and clip that to the most centralcurtain clip. Now, evenly space the rest of the clips to the curtains. You can either clip them straight on, or gather them and create a pleat. That is what I did, it is a casual pleat.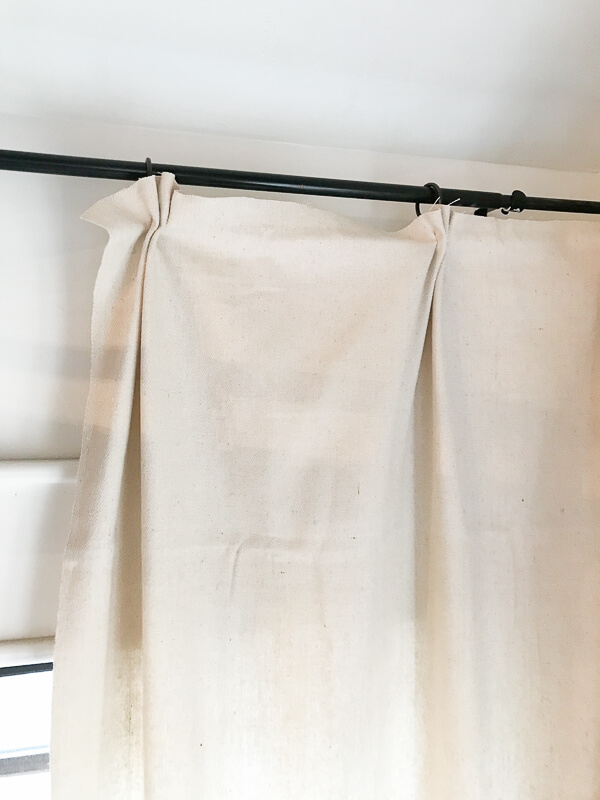 One other way you can do this is by taking two separate curtains panels, and overlapping them in the corner so that they look like they are one continuous panel. You can really add as many panels as you need to get the fullness and look you desire. I had a pretty small corner opening so I didn't want to overfill the space with curtains.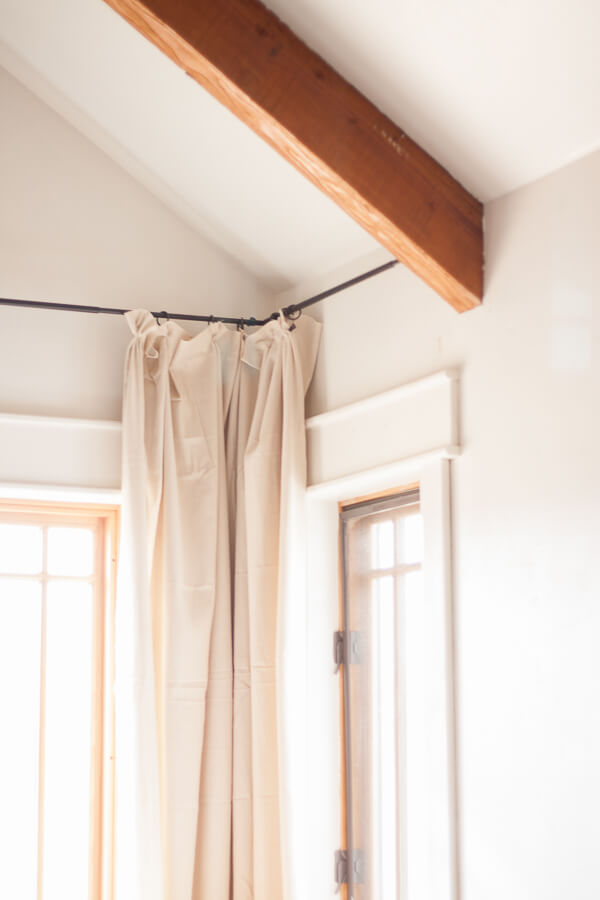 This creates a more styled and cohesive look around your windows. You can keep the end finials on the opposite ends of the curtain. This way they look more finished and they look like they connect and are a continuous curtain rod.
The great thing about this is that the curtains are still functional- I can open and close them to control the light.
And you see that coffee table? Have you ever wanted some insider tips on how to style a coffee table just right? Check out this video:

So, Try this the next time you want to install curtains and try installing corner curtains for less.
And if you would rather purchase corner curtain rods, try these out:
Thanks so much for stopping by and I hope you found something here that's helpful! You can check out these other helpful posts as well:
How I Customized My Wooden Roman Shades
DIY Industrial Pipe Shelves
Large Farmhouse Sign | Laugh Often
18 Incredible Farmhouse Bathroom Floor Tiles
GET YOUR FREE GUIDE to 30 DIY projects that can be done over the weekend!
By subscribing, you will gain access to my FREE guide with 30 DIY projects that can each be done in a day, or over a weekend!
You will also receive a weekly email with some of my favorite tips, tricks, and design ideas.
Success! Now check your email to confirm your subscription. Upon confirmation, your FREE guide to 30 DIYs will automatically download! As an added bonus, you will also receive exclusive access to my printables library! Keep a lookout for that email!
Filed Under: 10 Minute DIYs, DIY, DIY Home Decor & Crafts, Re-purposed Projects
Sours: https://www.twelveonmain.com/get-the-look-of-corner-curtains-for-less/
Do you have corner windows in your home? When I moved into my house 4 years ago I was like, what do I do with all these corner windows?! I searched and searched and found the perfect Corner Curtain Rod.
Blinds are great, they give you privacy and block the sun so you can sleep later but I love the look of curtains on a window. It adds softness and style and I want to add them on most of the windows in my home.
When I bought this house and realized most of the windows had a corner that would have to be addressed. Not kidding, all the bedrooms, the dining room, and the breakfast nook all have corner windows! I knew this was going to be something important that would impact the look of the room. So I took to the good ole internet!
*This post contains affiliate links. For more details see my full disclosure.
Curtain Rod for Corner Windows
As I searched the internet I found lots of options but not many of them worked for me.
There are a lot of DIY options but I didn't want to make them. I have so many windows and I didn't want to have to DIY that many corner curtain rods.
I found one corner curtain rod connector that was bendable. That might be a good option for someone that has an odd angle but I knew I would just mess it up, bend it in a wonky way and it would end up looking ridiculous.
Bay Window Curtain Rod
There are a ton of options for a bay window. Most people probably have a bay window that needs curtains at an angle rather than a window at a 90-degree angle. Here are some great options for a bay window curtain rod.
90-Degree Angle Curtain Rod
If you have a true corner window that is at a 90-degree angle then you should consider the options at Bed Bath and Beyond. I found this rod to be the nicest quality of all the ones I looked at. This curtain rod has many options in color and width as well as length.
It's in the Cambria Line of curtain rods. They come in white, graphite, oil rubbed bronze and matte brown. They are also offered in different lengths and have cute options on different finials you can purchase for the ends of the rods.

There are connectors that you can add to create a custom length if you have super long windows, which I do in my family room. Also, you can buy additional brackets to keep your curtain rod from sagging, nobody likes a saggy rod! LOL
The best part is the corner curtain rod connector!
The corner connector is perfect. It screws into each end of the curtain rod and is at a 90-degree angle. You can adjust it to go left or right, it truly is the perfect corner connector.
This connector also comes in the same colors as the rod so you won't even notice it's there.
I am kind of picky about curtains and rods. I want them to be perfectly level, it's an OCD thing I think. If it was off my eye would go to it every time I walk into the room and it would drive me nuts. This curtain rod and corner connector flow seamless and you are able to get a perfect level line.
In all the rooms on the first floor, I used these IKEA curtains. I love them so much! Check out my post on these curtains to know why!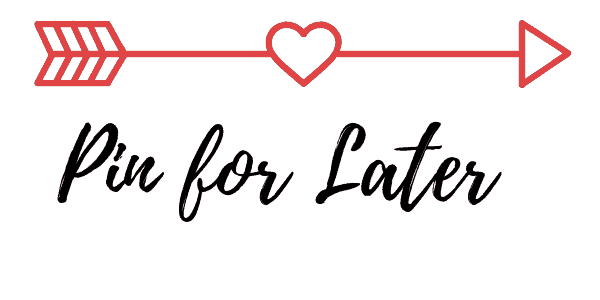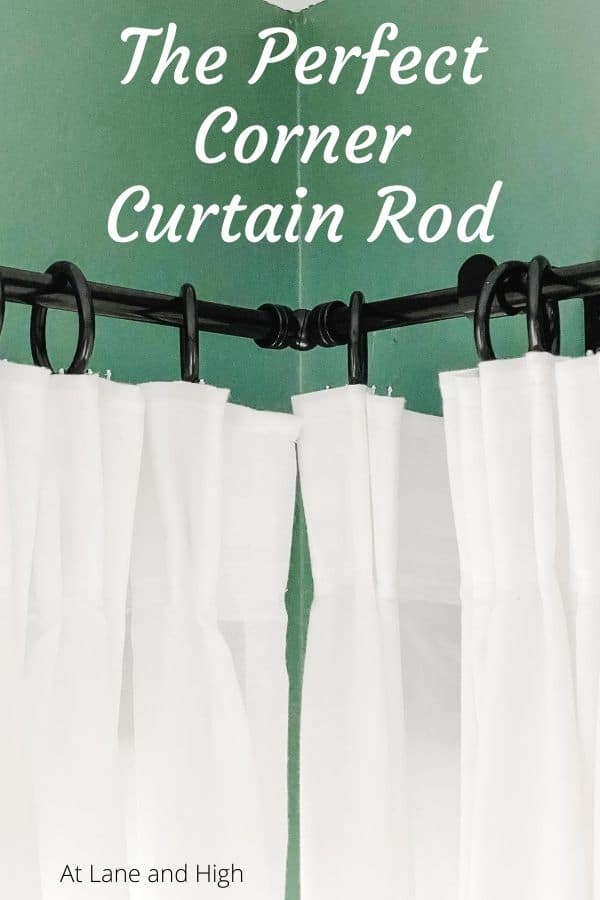 I hope you are inspired to hang some beautiful curtains now! You have a ton of options at your disposal. I just love the look of the curtains now that I have added my corner curtain rods to my windows.
Sharing is caring!
Sours: https://www.atlaneandhigh.com/corner-curtain-rod-for-windows/
Rods corner curtain
CURTAINS FOR CORNER WINDOWS PERFECT FOR LETTING THE SUN IN
Curtains for corner windows are coveted items. We'd love to share with you some great options that are easy to install. Since we've piqued your interest, come check out some choices and see what will work best in your home.
It might be easy to settle on curtains for corner windows, but sometimes it isn't as easy to hang those curtains up. We'd like to give you a few tips today on which rods are best to purchase or what other options are out there.
This post contains affiliate links, which means I receive a commission if you make a purchase using the links below. All opinions are all my own.
Curtains for Corner Windows
Unskinny Boppy
These windows are amazing in Beth's home. Wanting to dress up these windows with curtains doesn't look like it was an easy task to accomplish though.
Beth's curtain rods are shortened and the curtains themselves continue from one rod to the next where they meet in the corner. This is a great trick to hide where you've met the rods in the corner.
Christiansburg Indoor Outdoor Single Curtain Rod
Purchasing curtain rods with hooks that can be hung from the ceiling, allows you to meet the rods in the corner without bulky brackets getting in the way. These rods from Wayfair can be purchased in a couple of different colors and would look perfect in a farmhouse.
Wildflower Home
It looks like Marynn used a corner curtain rod with an elbow joint at the corner. These are a one piece rod that all you need to do is install the brackets and then add on the rod with curtains.
The touch of wooden roman blinds with her white curtains is beautiful! It allows the sun to come through or be blocked out. If heat comes in the windows when the blinds are open, but you love the look, consider putting in a ceiling fan. We have some perfect options in our post 10 Affordable Modern Farmhouse Ceiling Fans.
Lyndhurst Corner Window Single Curtain Rod & Hardware Set
There is a great solution to decorate your corner windows with what's called a telescoping corner rod. These curtain rods attach with a corner ball connector that allows for close to a 360° of rotation.
Twelve on Main
Sara has some great tips in her post How to Hang Curtains For Less with These Easy Tips. She shows how you can use the curtains rods you already have at home and install them for your corner windows.
Curtain Rod Connector
These are adjustable rod connector that is perfect for rods you might already have. They pivot from a straight angle to a 90° angle.
Many color options so that they can easily disappear into the rod.
Repurpose And Upcycle
Lindsey show's you a DIY trick on hanging curtains in a corner without breaking the bank. The secret is found at your local hardware store.
We don't want to give away anymore clues, so go hop over to her blog post, Transforming a Room with Corner Curtains and a Corner Curtain Rod Hack, to read more.
Inspired Spaces by Laura
Laura designed this bay area for a client of hers. When it came to hanging the sheer drapes she used a hidden ceiling mount rod. It literally is melting into the ceiling.
Decopolitan Bay Window Rod Set
It's nice when you can find a curtain rod that disappears into the wall. Right now, white is a trending color to paint farmhouse walls.
This bay window rod comes in white and will vanish in a second.
Royal Design Studio Stencils
Now that you know these gorgeous curtains can be hung in the corner on several different rod options, it's time to pick out curtains. Don't forget when choosing the number of panels that you need that the corner panel can be shared on both rods.
We have a few tips on buying curtains in our post Curtains That Keep The Cold Out.
Conclusion
Hanging curtains for corner windows now seems a little less stressful. Hopefully, you feel like you have several options and are ready to conquer adding some décor on and around your windows.
Happy Decorating!
If you enjoyed this post, sign up to receive new decor ideas each week. FREE EMAIL SUBSCRIPTION
Sours: https://lifeonsummerhill.com/curtains-for-corner-windows/
Neo bay window corner pieces
I'm not a fan of when rooms have weird window layouts, are you? Our master bedroom has a very weird window layout with only two corner windows. It's been six months since we moved and I've decided it's time to do something with this corner in our bedroom that just looks bare. I'm sharing how you can transform a room with corner curtains and a corner curtain rod hack.
This is what our windows looked like without any window treatments.
Disclosure; this post contains affiliate links. As an Amazon Associate I earn from qualifying purchases. This does not affect the price you pay. This disclosure statement refers to the rest of the Amazon links in this post. See more on my disclosure page.
Our master bedroom is a very long room and these are the only windows. Because of this, I didn't want "heavy" or large hardware. I wanted to keep it light and airy looking.
My thought for the curtain rods was to have one very slim and connected corner curtain rod rather than two above each window.
I looked and looked online to find an affordable way to create one long connected corner curtain rod.
Long story short, I couldn't find one.
A little frustrated, I headed to Bed Bath and Beyond for some inspiration.
While I was there, I remembered deep in my closet I had two curtain rods I had previously purchased (sometime after the move).
Full disclosure; if I did not have these curtain rods already, I would have made my own. Scroll down to see how YOU can make your own for a fraction of the price.
After I confirmed the size of our curtain rods, I found a corner curtain rod connector for $7.99.
The curtain rods that I had on hand were rather pricey ($19.99, I know, I'm cheap).
I have to say, sometimes it's nice to buy rather than DIY even if you spend a little more.
This is what the corner piece looks attached to the rods. The corner piece fits in the holes where the finials normally go.
For those of you who would rather DIY than buy (me 99% of the time), keep reading.
CORNER CURTAIN ROD HACK
Like I said earlier, if I did not already have these curtain rods on hand I would have created my own. The total cost for the corner curtain rods and corner connector was about $50 from Bed Bath and Beyond.
You can create a set of corner curtain rods from the plumbing section of a hardware store A LOT cheaper than you can from Bed Bath and Beyond.
First you need the rods. You can create your own rods with plumbing pipe or PVC pipe, but the problem there is that you need the exact measurement (it won't telescope like a curtain rod will) so it might be more trouble than it's worth (and sometimes more money).
My suggestion is to try a cheaper curtain rod paired with a corner plumbing connecter piece.
Below is a screen shot I took from a more affordable curtain rod from Walmart.
If you buy a set of these, and then pair them with a corner connector from the hardware store, it will only cost you about $21.
See details below for all products and suggestions.
Shop The Post
Corner Curtain Rod Set from Bed Bath and Beyond:
Cambria Classic Complete Drapery Rod in Matte Brown. I purchased two of these.
Cambria Classic Complete Corner Curtain Rod Connector in Matte Brown.
Corner Curtain Rod Set with plumbing materials
If you are creating your own curtain rod from a piece of plumbing AND IT IS HOLLOW ON THE SIDES, you can use this kind of corner curtain rod connector attachment.
3/4″ plastic plumbing piece from Home Depot
If you prefer to purchase your own curtain rod and then a piece of plumbing for the corner connector piece you can follow these instructions below.
Options for affordable curtain rods:
Affordable curtain rod from Walmart. You need to purchase two for a corner.
Another affordable curtain rod from Walmart
Now you need to purchase a 90 degree elbow like the one below.
Corner Connector plumbing piece – this will obviously need to be painted
Word to the wise: If you are going to DIY this corner curtain rod, I would suggest buying the curtain rods first, and then carrying them to the hardware store to make sure the corner elbow fits with your curtain rod.
One of the joys of DIYing is saving money. I have learned the hard way, though, that things don't always "fit" the way they should when we try to create something. Take my advice and carry your curtain rod with you to buy the "corner connector."
I hope I've guided you through creating your own corner curtains with either a store bought solution or your own DIY!
Let me show you how this room has been transformed!
Or if you prefer, you can see how it looks when you hang your corner curtains to the sides!
Do you like how I added the DIY botanical prints to frame the windows?
SHOP THE ACCESSORIES:
Eclipse Dane Grommet blackout curtains:
Tufted Chair– THIS IS ONE AMAZING RECLINER for around $200! I'm trying to find an excuse to buy another because I love it so much!
I hope this post has given you some ideas on how to create and style your own corner windows.
Lindsey**
Sours: https://repurposeandupcycle.com/transforming-a-room-with-corner-curtains-and-a-corner-curtain-rod-hack/
Similar news:
Later, I had other girls, but Svetlana forever remained in my memory as the very first. The author expresses gratitude to the students of ASTU and. MGUP for their frank conversations, which he happened to overhear; many of the ideas used in this story were extracted from them.
2852
2853
2854
2855
2856