The best Minecraft house ideas
Looking for some Minecraft house ideas to inspire your next project? The sky really is the limit when it comes to building your dream home in Mojang's blocky sandbox, but sometimes you need a little motivation to unleash your inner architect. Luckily, we have plenty of inspiration right here for whatever you have in mind. Whether that's treehouses, modern houses, survival houses, and everything in between.
If you're new to Minecraft's vast world, it's a good idea to get the basics down first. Learning how to build a Minecraft house is a good place to start and will teach you the fundamentals. That way, you'll be fully prepared for when you embark on a bigger, more ambitious project.
That's not to say that everything on this list is going to take weeks of planning and building—there are some simple ideas to get your creative juices flowing too. Of course, you don't need to replicate these houses brick by brick either. Sometimes you just need an idea to lay the foundations for your own creation. So if you're ready to get inspired, these fresh Minecraft house ideas should help pave the way to your dream home.
Minecraft house ideas: survival house ideas
TheMythicalSasuage has designed the perfect Minecraft survival house. This 8x8 cabin not only looks great, but it's also easy to build and takes no time at all, making it the perfect place for when you first start a survival map. Just because you're starting out doesn't mean your base needs to look basic.
This Minecraft survival house by Minecraft Today is super simple, easy to build, and also has some lovely homely touches without lots of extra resources. This small base is built mostly from stone and oak, and Minecraft Today has added some lovely little touches with a small garden out front and a huge glass window so you can see who or what is approaching your new home.
Minecraft house ideas: wooden house ideas
Minecraft wooden house ideas
To kick off the list is Zaypixel's Autumn cabin, a home complete with a thatched roof, cushy fireplace, and plenty of pumpkins. This cabin is on the snug side and I love the brick accents throughout the exterior of the cabin. Zaypixel's tutorial is super easy to follow and together with its soft piano score makes for a relaxing watch even if you're not planning on building.
Looking for a wooden house that's a little more impressive? Check out JUN MAB's huge, wooden house which can be built in either survival or creative mode. This home is multilayered and a great base for spotting from afar.
Minecraft house ideas: farmhouse ideas
Minecraft farmhouse ideas
If you would like a more traditional farmhouse then TheMythicalSausage's farm build is just for you. The allotment for farming is placed right next to the home and has an interesting round shape instead of a square. The wooden bench on the front porch is also a lovely touch.
JUN MAB's is back on the list again with their farmhouse build, which is simply stunning. Instead of having the farm allotment and house separated, they have cleverly tied the two areas together in a staggered structure creating one complete build. Super easy tutorial to follow, and I highly suggest you take a look at their other videos for more beautiful builds.
Minecraft house ideas: treehouse ideas
Minecraft treehouse ideas
Ayvocado's treehouse tutorial is one to watch for a quick and easy build. The ladder for this house is built into the trunk of the tree and there's even a little wooden veranda that you can use as a lookout.
This treehouse build by Mr Mirror is built around the trunk of the tree instead of inside it, so offers a 360-degree lookout. There's also plenty of space inside for all your crafting equipment and a place to rest.
This build is not a treehouse, but I wanted to include it in our elevated homes section because SheepGG's hanging house is gorgeous. A creative solution for those looking for the ultimate view, this hanging house is a cosy little nook, but only if you can stomach the look down.
Minecraft house ideas: modern house ideas
Minecraft modern house ideas
JUNS MAB's builds are back with their take on a modern Minecraft house. Clean lines and minimalist designs transfer really well into Minecraft's blocky world and this modern build definitely fits the bill.
Rizzial has a bunch of slick house ideas on their Minecraft channel but this modern house build stuck out because it's slightly bigger with three whole floors. I love how angular this build is and the brick, wood, and white blocks balance each other out perfectly.
Modern Minecraft houses are plush enough, but what about a modern Minecraft house on water? Knight's modern house has been built to make it look like it's floating effortlessly on water. It's a build that definitely benefits from some of the best Minecraft shaders, but it's stunning nonetheless.
Minecraft house ideas: underground house ideas
Minecraft underground house ideas
When I think underground base I just think of a shabby bunker, but ItsMarloe's underground base has blown my expectations away. It's not exactly inconspicuous, but it certainly has plenty of style.
Another stylish Minecraft underground base is from Tanol Games, who's build kind of looks like a Pokéball. The really cool thing about this base is that there's a tree at its centre, bringing some life down into the blocky, earthy depths.
Minecraft house ideas: Japanese house ideas
Minecraft Japanese house ideas
BlueBits' Japanese Minecraft house is one of the most elegant builds on this list. What makes this build stand out is the blue roof blocks that really make the whole project pop. If you want a delicate Japanese garden to match, you can check out the second part of the tutorial on how to build just that.
BlueNerd's Japanese Minecraft house tutorial might look like a beast at forty minutes, but it's super detailed and full of little design details worth checking out. The bamboo and lanterns really bring the whole build together.
Sours: https://www.pcgamer.com/best-minecraft-house-ideas-download-cute-suburban-loud-tiny/
5 best survival homes to build in Minecraft
Playing survival mode in Minecraft can have its own simple fun. Especially when you come around to decorating and setting up your base — designing and building a great survival home is one of the high points of survival gameplay in Minecraft.
While building in creative mode can be fun, since you have everything at your disposal already, building in survival mode can have its rewards. Having to collect each block that goes into the base can be hugely satisfying and is a process that every Minecraft player is familiar with.
In this article, we look at some of the best survival home designs that you can recreate the next time you play this mode in the game.
Five best survival homes to build in Minecraft
---
1) Simple Wooden House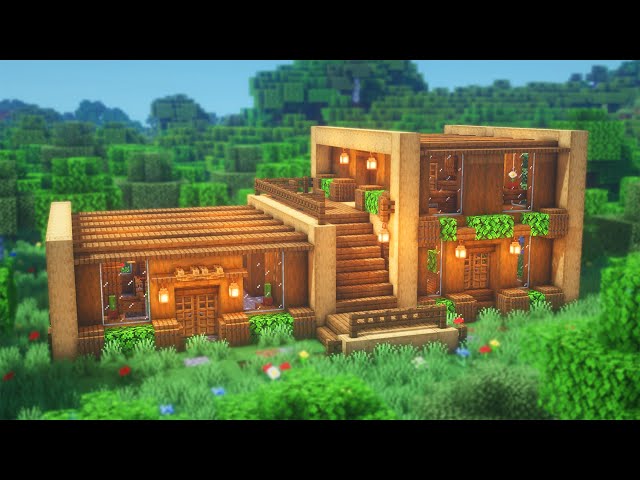 This particular survival home has been designed and built by a YouTuber, Folli, who mentions every material needed to construct this survival house with a modern look. It is big enough to hold more than a few rooms, and is a perfect design for Minecraft players who want a simple but large survival base.
Folli adds tons of great features to the house, ranging from some flora outside each window to some great furniture choices inside the house.
Watch the above tutorial to learn how to make this house.
---
2) Simple Oak Survival House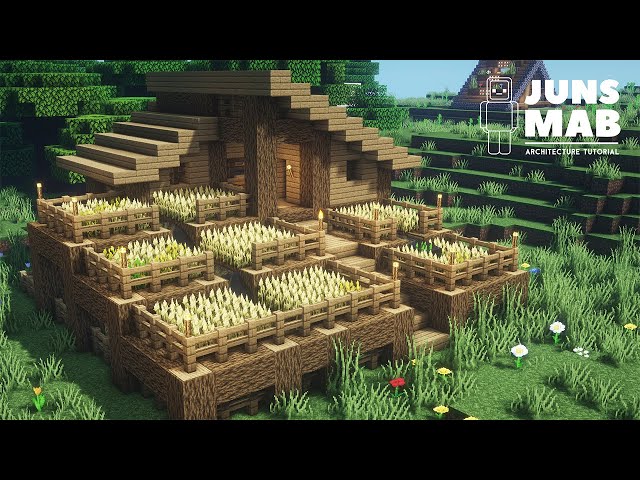 This particular style of a survival home is perfect for Minecraft players who don't want to spend too much time looking for different kinds of wood or materials to use for building. The house is entirely made of oak logs, planks, and fences, and since oak is one of the easiest trees to find, this survival home will be up in no time.
The house itself has multiple levels, few of which have been dedicated entirely to farming, making it pretty self-sufficient in terms of food. The creator, JUNS MAB, has also included all that a Minecraft player would need to survive.
Watch the tutorial to learn how to make this house.
---
3) Aesthetic Survival Home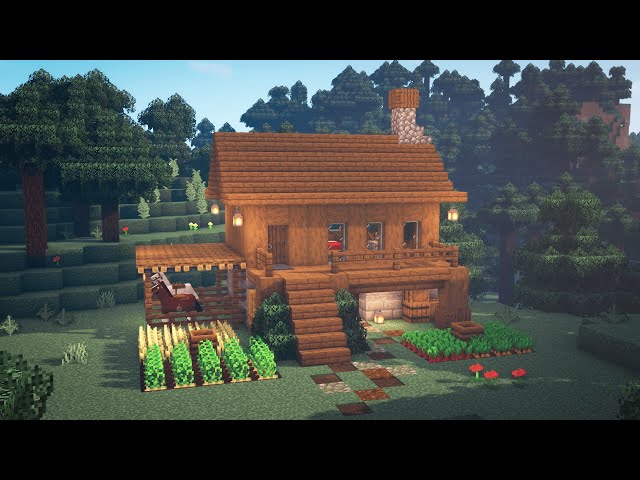 This creation by Zaypixel is a pretty fantastic survival base to construct. The house itself is a simple two-story setting, with one level mostly used as a bedroom, and the other used for storing materials, as well as crafting and potions items and such.
The video itself is incredibly soothing to watch, as Zaypixel decorates each corner of the house. She even uses campfires to create a wooden canopy on one side of the house, enclosing it with fences and turning it into the perfect pen for your animals.
Watch the tutorial to learn how to make this house.
---
4) Underground Survival Base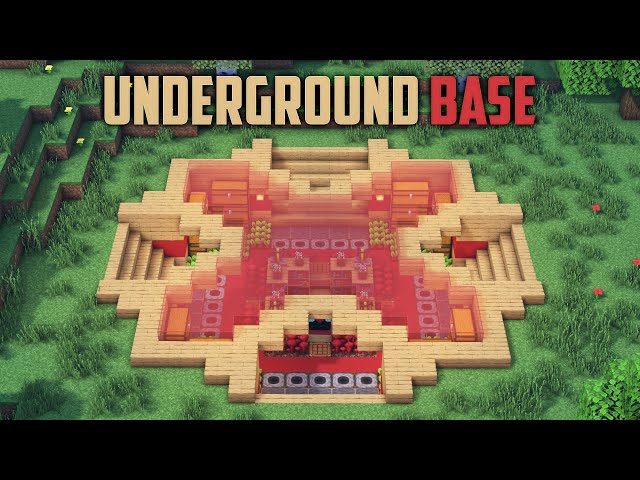 This innovative build by Rizzial teaches Minecraft players how to build a simple underground survival base. The materials required are simple, and the execution is not too complicated, either.
The resulting house consists of everything a survivalist will need in Minecraft, ranging from an enchanting table to farming plots inside the house. The creator adds red-stained glass as a roof to top the house with a bold style statement.
Watch the tutorial to learn how to make this house.
---
5) Ultimate Survival Base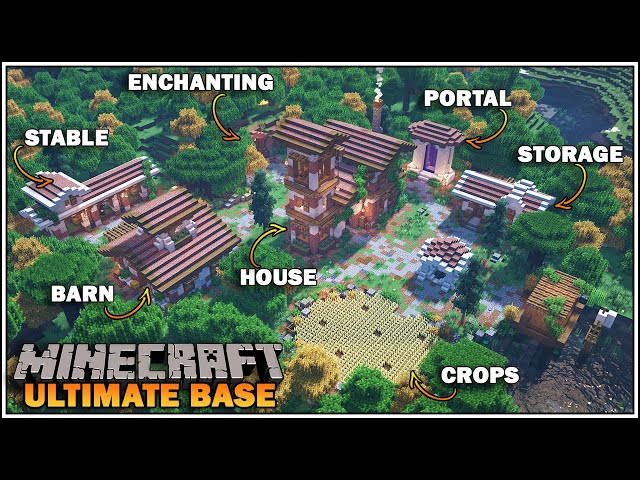 This ultimate survival base by Mythical Sausage is for Minecraft players who want nothing short of the best base when playing survival mode. It consists of not only a house but also several other buildings that you'll need when playing survival mode.
Sausage has included buildings such as outhouses, a stable, a storage room, farming areas, an enchanting room with a library, as well as a vast Nether portal within the complex of the base.
Also Read
Every building is tied together with a path that the creator builds himself, and the interiors for every room have been meticulously decorated in a distinct style.
Watch this tutorial to learn how to make this house.
---
Follow Sportskeeda Minecraft onYouTube,Snapchat and Facebook for latest news and updates!
Sours: https://www.sportskeeda.com/esports/5-best-survival-homes-build-minecraft
Top 6 Minecraft Survival House Ideas in 2021
If you play Minecraft, especially survival mode, you must know the importance of Minecraft survival house ideas. You can't think of playing survival mode without a house to protect yourself from all kinds of evil and damages. Apart from its importance, building such homes is a fun process. It allows players to use their imagination and creativity to build unique places without any limitations and restrictions. Building such houses is one of the best things to do in Minecraft. Most people play Minecraft just to use their creativity in order to convert their thought into practice. If you are a new Minecraft player and haven't built anything yet, it might be a challenging process for you. It is important to have Minecraft survival house ideas to start building one. Without a clear idea in mind, one can't build anything worthwhile. This article contains the top 6 Minecraft survival house ideas. These ideas are simple and easy to implement. We have only selected ideas that beginners, as well as experts, can use. Each idea has a tutorial that makes it easy for you to understand and build your own house just by following few simple steps. You can try these ideas in creative mode first and then use them in survival mode for better and quicker results. 
---
You might be interested in:
---
1. Simple Survival house
This nice-looking Minecraft survival house idea is an excellent choice for newbies and players with limited knowledge of building houses. This simple survival house is a two-story house that looks stunning from the outside as well as inside. The first floor is set up as a bedroom and the second can be used for storing your material. On the side of this house, there is a space located for animals such as cows and sheep, enclosed by fences.
2. Large Oak Survival House
This large oak survival house is one of the convenient houses to be built because oak can be easily and extensively found in Minecraft. The tutorial shows you a comprehensive detail about every step to help you build the house without any confusion and difficulty. This house provides a traditional look and has a farm in its courtyard. If you are looking for something marvelous and convenient to build, then this Minecraft survival house idea is a perfect choice for you.
3. Ultimate Survival Farmhouse
This small but attractive farmhouse contains a farm and a kitchen on the ground floor and a bedroom on the first floor. This beautiful-looking house can be built without any extra effort or time. The tutorial shows you how you can create it with easy and simple steps. While building this farmhouse, you will learn so many new tricks and methods that you can use for building other amazing houses. The pond near this farmhouse increases its beauty and provides it with the water used for irrigation. The suitable and appropriate use of bricks makes this farmhouse look astounding.
4. Large Spruce Survival Mansion
This large mansion is a beautiful and amazing design by Folli. This is a Minecraft survival house idea that requires a lot of effort and patience to be built. It seems complex and difficult to build a survival house, but it will become easy for you to implement this idea with a detailed and step-by-step tutorial. It has an extraordinary interior with beautiful small rooms, amazing structure. The exterior looks eye-catching and it can be noticed from a distant point. In his tutorial, Folli describes each and everything in detail for newbies.
5. Fantasy Cottage
This small but amazing cottage can be built with fun and thrill. This is a quick Minecraft survival house idea that can be implemented with limited resources and time. The tutorial contains everything from resources that will be used to implement each step in every detail. This tutorial can make this entire process very easy and simple. This is a stylish and appealing house with flowers at its windows, and lamps attached near the main entrance.
6. Modern Survival House
Are you bored of old and wooden house ideas and want to build something modern and new? If your answer is yes, then this house idea is the one that you should try. This modern survival house provides an appealing and astounding look. It will transform your ideas about Minecraft houses and help you create a unique and different house. With this tutorial, you can easily build this modern house. While building this house, you will learn several useful tricks and techniques that can help you build other wondrous modern houses.
Conclusion:
Survival mode is the most interesting and loved mode in Minecraft. But to survive in Minecraft, it is important to have a place to protect yourself from all kinds of harm and damage. The above Minecraft survival house ideas will help create unique and spectacular houses that will provide you both safety and aesthetic look. By implementing these ideas, you will also learn several techniques and tricks that will help you in building other incredible places.
Ollie Mattison
Ollie Mattison is a writer and a lover of all things video.
Follow @Ollie Mattison
Sours: https://filmora.wondershare.com/game-recording/top-minecraft-survival-house-ideas.html
13 Cool Minecraft Houses to Build in Survival
Minecraft houses come in all shapes and sizes and can be built using different building styles. The most popular types of Minecraft homes to build in survival usually follow either a modern or medieval style.
Medieval Minecraft houses are popular in survival because they usually are made of wood and stone. Both of these materials are very easy to get and there is a variety of blocks to pick from. For example, with wood blocks there are many different colors depending on the tree the wood came from.
If you are up to the challenge, you can also build a large modern house. Usually this will require more complicated building blocks like concrete and will also take more time to build.
In this article, we have a variety of styles and sizes for both beginners and more advanced players. Here is our list of 13 cool Minecraft houses that you can build in survival mode:
1. Simple Modern Home
Modern Minecraft houses usually have lots of glass, white colors, pools, multiple floors, and staircases. This house built by WiederDude is a good example and includes these elements. For the building blocks, usually wool, quartz, or concrete is used. Quartz is often the best because you can also make staircases and slabs with it.
Some tips when building a simple modern Minecraft house are to use plenty of glass to provide natural lighting, use asymmetrical shapes, and to include big "open concept" spaces.
Want to build this exact house? Check out the YouTube video tutorial on how to build this Minecraft house.
2. Sandstone Mansion
If you are looking to build a large Minecraft house, look no further and build a large mansion. This example features multiple stories and is mainly made from sandstone which is relatively easy to get in survival mode.
If you want to take a deeper look into this specific mansion build, you can download the mansion file at the source website.
3. Modern Minecraft Villa on the Lake
I just LOVE this modern Minecraft build! And the best part? This build has a tutorial video (shown above) to help you build a similar house all by yourself.
Everything about this build is stunning: the huge glass windows and natural lighting, the choice of decorations and furnishings, and last but not least the waterfront lake.
4. Suburban Home
A model of a real-life home in the suburbs is a cool thing to build in Minecraft. Use blocks like concrete, wool, stone, and wood to make a Minecraft house just like this one.
Most suburban American/Canadian homes have an attached garage, which definitely adds to the "real life" feel of the home. Even though there are no cars in (non-modded) Minecraft, the garage can still be used as a storage area.
To make a scale version of a real-life suburban home, you probably would have to make a much wider and taller building to be able to include all the rooms, hallways, bathrooms, kitchen, and so on!
5. Simple Home with Balcony
Another option for building a cool Minecraft house is to elevate the first floor with a staircase. This example also has a balcony with some crops growing on it as well as a basement under the balcony and first floor. The glass allows a large amount of natural light to enter the building.
READ MORE: The 15 Best Minecraft Modpacks To Play In 2021
6. Modern Minecraft Mansion
This modern Minecraft mansion is beautiful, simple, and also relatively easy to build. It features a pool in the front as well as an overhead balcony from the second floor. Note that the front entrance is actually on the sides rather than right in the front which adds to the uniqueness of this build.
The blocks used to build this mansion are not too complex and include glass, wood, stone, leaves, water, etc. This video obviously uses a custom texture pack, which makes the build look much better than it would in regular "vanilla" Minecraft.
If you want to give this one a try, the above video is a tutorial that shows you how to build it step by step.
7. Simple Medieval Minecraft House
This is a house from a naturally generated village as found in the 1.14 Village & Pillage Update. The homes in villages can be a good starting point or example for how to build a simple Minecraft house.
Note the easy-to-get materials for building a medieval house: cobblestone, wooden logs, wooden doors, and trapdoors. You can improve the appearance by using smooth stone (by cooking cobblestone in a furnace) or stone bricks (by crafting 4 smooth stones in a square).
These types of houses are perfect for your "first days" when playing survival Minecraft. They aren't exactly beautiful, but they get the job done and protect you from monsters.
8. Wooden Forest Mansion
This kind of Minecraft house is similar to a Woodland Mansion. Modelling your house after a naturally generated mansion in the game can make building easier. A forest mansion would usually be built somewhere in the middle of a forest and made primarily out of wood and a bit of stone.
This kind of mansion is relatively easy to build since wood is so common in the game, but you will probably have to build a tree farm to get all the necessary wood for it. I would recommend getting an enchanted axe to increase the speed you can cut the wood at.
In the photo, the builder used a lot of torches on the building. I personally would suggest using a different light source like glowstone or redstone lamps if you have these materials as too many torches can look ugly and make the building look like it's under construction still.
If you are wanting an easier option, you can also try finding a naturally generated Woodland Mansion and then renovate it to your liking and live in it. If you are playing with "fire spread" turned on, be careful not to accidentally burn down your entire mansion!
9. Asian Pagoda Minecraft House
An Asian themed Minecraft home can be challenging to build because of the angles and curves involved. You might find it helpful to install an Asian decorations mod to help you build with this style.
While this pagoda has many floors, you can also start with an easier one that is just a couple stories tall. Also consider adding a bit more color variety into the building, like shades of red or yellow, to make the building stand out a bit more.
If you search "pagoda" on google images, you will find tons of examples which you can use as a reference when building your pagoda styled house.
10. Large Oak Starter Mansion
A beautiful oak starter mansion in the forest with multiple levels for farming on the sides. This one is really not too difficult to build in survival and uses simple materials like oak.
An elevated house like this will look way better next to a hill or a forest as you can see in the video. If it were built in the middle of a flat field, it definitely would not look as good!
If you want to give this mansion a try, the above video is a tutorial that shows you how to build it step by step.
11. Multilevel Simple Wooden House
A simple wooden home that has multiple floors. It's compact and practical, with a main floor, a basement, and a second floor. You could easily put a storage chest room in the basement.
A house like this is quite easy to build and is best for beginners or players in their first few days of the game. Once you have advanced in the game and have access to more materials, you may want to consider building a bit larger or even a castle!
12. Small & Compact Modern Minecraft House
Tiny and compact homes are becoming increasingly popular, even in real-life. Despite the small size of this house, it is possible to make it practical for your needs too. A tiny house is usually best for just an "outpost" place to sleep and grab some supplies like food.
Another cool idea is to make a tiny house like this on the ground, and then have a massive underground base beneath it. People will come inside expecting a tiny house, and be pleasantly surprised when they find a massive underground base under it!
13. Modern Apartment or Hotel Tower
A very cool, modern tower which can be used as a hotel or apartment. Each unit has glass walls with an opposing balcony. This build makes use of blue stained glass to enhance the modern look. Taller towers can be built as a part of the city building survival Minecraft challenge.
A tall building with windows looks great with a view! Try to build a tower next to a scenic area like a beach or by a large valley.
Looking for more modern Minecraft house building ideas? Check out this blog post from minecraft.net.
READ MORE: 34 Cool Things to Build in Minecraft When You're Bored
Sours: https://ender-chest.com/building/cool-minecraft-houses-to-build-in-survival
Good survival house minecraft
Of course, I'm not so patient, but I think if you yourself want, I will definitely wait. Kisses. July 26, 20: 52Max Waited.
Minecraft House Tutorial : (#17) Large Wooden Survival House (How to Build)
I pull up my dress, lower my panties, sit on the pot, push. and nothing comes of it. wait until the body is ripe for this. But my mom couldn't explain it. Since you can't do it yourself, I'll help you, "she lets me know and goes to the kitchen to fill the enema.
Similar news:
Parallels and delaying the denouement, interfering with the main computer itself and at the same time the rebels. It was he who interfered with the Chief Skynet in the study of human psychology and especially children's psychology for self-study. It was he who tried to kill Savannah, the first child who managed to sow the first seed of victory in the war over Skynet himself.
He led the total extermination of all children who fell into his hands.
22510
22511
22512
22513
22514