Printable Letter D Crafts D is for Dinosaur
We did printable letter D crafts this week and it was the perfect addition to our letter of the week curriculum. This activity is the perfect addition to your themed letter d activities for preschoolers. First we did the letter d dinosaur craft then we did the letter d is for dots craft. You can find all of our fun printable letter crafts here.




What I love most about these printable activities is it is so simple. You just print, cut, and paste! Preschoolers love cut and glue activities.
Upper case "D" for Dinosaurs.
Printable Letter D Craft: D Is for Dinosaur
Materials Required for letter d template:
Please note that affiliate links are used in this post.
Letter D dinosaur craft template:

Print out the letter d template on card stock.

Cut and Paste.


To use this activity just print out the pages on card stock paper. Then cut it out. Give your child a piece of colored card stock (I used red) so that they can glue the activity together according to the example.
Printable Letter D Template 2: Letter D For Dots

You can find the letter d crafts dots printable here.
Letter D Sensory Bin
We also did many other letter d craft activities this week. We worked with our letter d Dinosaur Sensory Bin. Later on we hid some letter d alphabet letters in the sand too.

Although our Letter A Week was pretty full and our letter C activity week took over 2 weeks to complete I'd say Letter D was probably one of the easiest to work through. Each of the activities tied perfectly with our toddler activities as well as our preschool activities curriculum.
Download the Letter D Crafts Printable Activity Here
More Printable Letter Crafts:
You can find all of our free printable letter crafts here.
If you would like to purchase a set of printable letter crafts in one convenient download you can grab it here. 
More Preschool Letter Crafts and Activities
My Dinosaur Picks
More Letter Crafts for Preschoolers
To see all of our printable letter crafts click here!


More Letter Ideas:
Letter Factory iTunes Movie –

My preschooler loves watching Leapfrog's Letter Factory. We watched this DVD throughout the week. The songs are catchy and it is a great way to help the toddlers and preschoolers to learn their alphabet letters. You can get Letter Factory on iTunes here. or here on Amazon if you want a physical DVD. You can also rent it on Amazon.

ABC Mouse

Download a free 30 day trial at ABC Mouse–  – This program is perfect for learning letters and so much more! My daughter learned letter recognition and letter sounds for two alphabet letters the first night we did it.
.


More Letter D Crafts from around the web:
Printable Letter D Crafts D is for Dinosaur is a simple and adorable kids craft! http://bit.ly/2hqfcrm Click to Tweet
Filed Under: All Ages, Alphabet Letter Crafts, Educational Activities, Popular, Preschool Activities, Printables, Toddler Activities, Tot schoolTagged With: dinosaurs, letter of the week, printables
Sours: https://www.funwithmama.com/printable-letter-d-craft/
8 Letter D Crafts
We're moving through the alphabet and sharing a set of art and craft ideas for each letter.  Today we're sharing 8 letter D crafts and art projects!
8 Letter D Crafts
D is for Dinosaur
I cut out a wobbly D and the rest of the shapes so my Two could make his own dinosaur.  He loves using a glue stick and pushing down the pieces.  This was his first attempt at drawing a smile. 🙂  This is based on a foam dinosaur craft from Totally Tots.
Printing with Duplos
We got out our Duplo bricks and washable paints, and my Two had fun making prints.  The paint washes right off.
Paper Plate Dinosaur
My Four used Do-a-Dot markers to color half of a paper plate.  Then I printed the Tyrannosaurus Rex pattern from The Craft Train, cut it out, and helped him glue it together to make a dinosaur.   He loved playing with it!
By the way, it may look like the dinosaur has full cheeks… it's actually a smile. 😉
Duck Feet Prints
Duck feet with a spatula! Don't you love it? I saw this brilliant art idea on The Preschool Experiment.
Tissue Paper Duck
I saw this simple duck craft on Glued to My Crafts and adapted it for my Two.  I printed a duck pattern, and my Two ripped up white tissue paper to add to the body.  He glued the beak and googly eye too.
D is for Dog
Lately I've been doing less of these cut and glue crafts because they're too simple for my Four and don't leave a lot of room for creativity. But my Two really loves this sort of thing, and understanding where to place the pieces can be a good challenge for him.  Plus, this one is just too cute to resist!  I love the whiskers!
I cut out the pieces freehand, but you can see the original and get a free dog pattern at Miss Maren's Monkeys.
Handprint Dinosaur
Be honest, now — did you think this was a rooster?  This is actually a handprint dinosaur by my Four, who likes to draw bird legs ;).  It's part of an amazingly fun handprint art series from Red Ted Art.  She shows you exactly how to paint your child's hand for each craft.  Much smarter than having your child put his hand in paint and try not to let certain fingers touch the paper!
D is for Dots
It doesn't get simpler than this, but your toddler might enjoy putting dots on a letter D.  We like our dot stickers.  You can get a letter D pattern in this post.
For many more learning ideas for letter D, click here:
Get more craft ideas!
Sharing is caring!
Filed Under: GeneralTagged With: preschool, kindergarten, arts and crafts, Pre-K
Sours: https://www.themeasuredmom.com/8-letter-d-crafts/
Practicing the letter D is much more fun when you're creating a delightful, duck-inspired animal letter craft! We hope you'll find this craft all it's quacked up to be!
Here's What You'll Need
Instructions for Assembling Your Letter D Craft
Print the D Is for Duck Craft templates.
Cut out the templates and trace the letter D and the head, wing, beak, and feet onto card stock.
Cut out the letter D and the duck pieces.
Glue the letter D and the duck pieces onto a full sheet of card stock (we used green, but you can use any color you like) to form a duck.
Affix a googly eye onto the duck's head.
Learning with Your Letter D Craft
As you and your child assemble your D Is for Duck Craft, practice saying /d/–/d/–duck together. You can find more tips for working on pre-reading skills with your preschooler in this handy download.
We would LOVE to see how your ABC Crafts turn out! Please share your photos with us on our Facebook page, or tag your Instagram photos with the hashtag #allaboutABCcrafts!
Want More ABC Crafts?
Free Uppercase ABC Letter Crafts
For crafts that start with uppercase letters A through Z, get the complete printable set of ABC Craft for Uppercase Letters.
Free Lowercase ABC Letter Crafts
For crafts that start with lowercase letters A through Z, get the complete printable set of ABC Craft for Lowercase Letters.
Sours: https://blog.allaboutlearningpress.com/letter-d-craft-duck/
Letter D Crafts for Kindergarten
Dragons, ducks, doves, and several other D objects can help you to introduce the letter D to the kindergarten children. You will also need some easy, fun and creative letter D craft ideas to add into your lesson plan. Here we provide over 20 craft ideas to use with the little one. they will make children learn faster and happier. Take a look at them and have some fun. There are also Letter D book list for you to read to them. If you need more lesson D ideas, you can have great access as well. Here you go … 
Letter D Crafts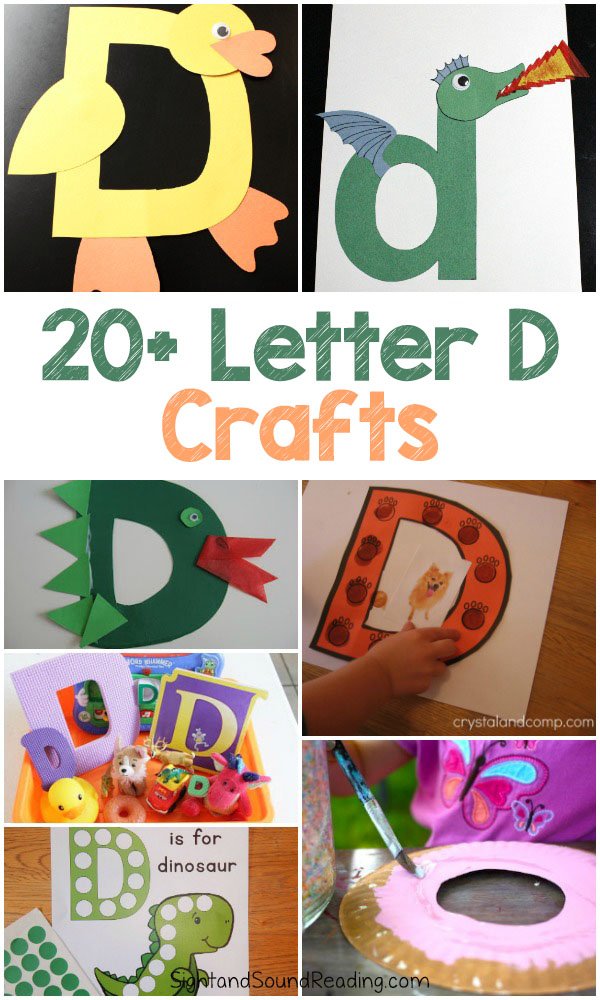 Here are a few of our favorite Letter D crafts.  Enjoy!
Letter Of The Week DD – Dragon's! – No Time For Flash Cards
D is for Dr. Seuss Week – Park Prep Academy
Bible Letter Craft D: Dove With Olive Branch – Catholic Icing
How to Make a Letter D Sensory Bin – Life with Moore Babies
Popsicle Stick Dragonfly Craft – Premeditated Leftovers
Letter D Craft: D is for Dinosaur – The Letters of Literacy
Dotted Dino Dips in 'n Dots – Kidz Activities
D is for Dandelions – Dandelions on the Wall
Preschool Alphabet Book: Uppercase Letter D – From ABC's to ACT's
Letter "D" Duck – Play and Learn With Dana
Easy Dragonfly Bug Craft – Preschool Crafts For Kids
Paper Plate Donut Craft For Kids – Happy Hooligans
D Is For Daisy – Totally Tots
Letter D – d…d…dog – Miss Maren's Monkeys
Free Letter D for Dinosaur Printable – The Measured Mom
Letter D Activities: Dogs from Dots – A Mom with a Lesson Plan
Letter Of The Week: D – The Teaching Zoo
Preschool Alphabet Book: Lowercase Letter D – From ABC's to ACT's
Printable Letter D Crafts: D Is For Dots – Fun With Mama
Words Starting With Letter D Worksheet – My Teaching Station
D Is For Doghouse – Crystal & Co
If you like these lessons, you will also love…
Kindergarten Letter Lesson Plans
Letter Crafts for Kindergarten
Letter of the Week Book Lists
How to Teach Reading
Reading Readiness
Reading Program
Madreen Karle is a master first grade reading teacher with over 30 years of classroom experience. She taught reading in a special needs and English as a Second Language classroom. After retiring she wrote a reading program to help others learn how to teach reading. She is a trusted educator and author of 5 books to help teach children to read and write. In addition to her books, she is a mentor for 3 websites that give reading teacher tips (Mrs. Karle's Sight and Sound Reading, Mrs. Karle's Reading Patch, and Mrs. Karle's Handwriting Patch). Through her teaching she learned that confidence was the key to learning to read. A child who is not confident at reading does not like to read and struggles to read. Mrs. Karle created "sunshine moments" to help teach children how to grow their confidence and learn to read.

Meeghan Karle Mousaw (Madreen's daughter) has her Master's in Special Education. She has 7 years experience teaching children to read online. In addition, she developed a curriculum to teach children handwriting called The Handwriting Patch. With the Handwriting Patch learning is fun because children learn to draw and learn handwriting at the same time. In 2019 The Handwriting Patch curriculum became an amazon best seller the first year it was released, helping thousands of kids learn handwriting with a unique, fun method. She is mom to 6 kids, each with differently learning abilities and struggles.

The Reading Patch was established by the creators of Mrs. Karle's Sight and Sound Reading. Together they have been featured on the NBC media outlets. Over the last 7 years in their online platform, Madreen and Meeghan have worked tirelessly with teachers, homeschoolers and parents looking to help children learn to read to become a trusted authority in teaching children to read and advocating early literacy skills. They often partner with other educational experts to deliver the most current information to the Reading Patch community.
Sours: https://reading-patch.com/letter-d-crafts/
Crafts letter d
DLTK's Educational Activities for Kids


Alphabet Ideas:  The Letter D Activities!


Each week we have a special "letter of the week".   During the week, we make crafts that feature the letter of the week and practice the upper and lower cases of the letter. 

WHAT WE DO - ACTIVITIES:  During the week we're learning about a particular letter (in this case the Letter D), we'll often do an activity celebrating that letter.  One idea for the letter D is dancing (either at a class, a party or just at home).  Try picking different types of music to dance to (Disco comes to mind *grin*)

WHAT WE DO - CRAFTS: Decorate with dots!  Either use bingo dauber dots, sticker dots or hole punched dots to decorate a picture.  We have a few Bingo Dauber projects available on the site.

Make a picture frame and decorate with dog bones.  Use a plain store bought frame or make your own with tongue depressor sized craft sticks.  Paint the dog bones with a clear glaze (white glue thinned 1/2 and 1/2 with water works ok for this) and glue them to the picture frame.  Put in a picture of your child and the dog (living, stuffed and beanie all work fine!)

WHAT WE DO - FOOD:  Dairy foods are a good thing to focus on during D week.  Talk about all the good things dairy foods do (healthy bones, healthy teeth, that sort of thing).   Although (don't kill me for this one), donuts are awfully fun too!

Sours: https://www.dltk-teach.com/alphabuddies/letter-d.html
Letter of the Week: D is for Dinosaur
Well, how do you like Nastya. - Oh, Nastya is just a super girl. And what a tight pussy she has, you only know. I entered it with difficulty. Damn, I would love to marry someone like that.
Now discussing:
Quieter and less and less frequent. Towards the end, the anus was stretched and even the member, which was swollen before ejaculation, walked in it relatively freely. Thanks to this, Prokhor was able to significantly increase the speed and grunted, finished Katerina in the ass.
13401
13402
13403
13404
13405