THE apple coding INTERVIEW
apple INTERVIEW PROCESS
Take a deep dive through the Apple interview process and learn all about what to expect in this comprehensive insider guide to the Apple interview process.
READ ABOUT THE PROCESS
THE GOOGLE INTERVIEW PROCESS
apple INTERVIEW QUESTIONS
Explore some of the most commonly asked Apple questions and get detailed solutions. Get a leg up on your competition in the interview!
SEE COMMON QUESTIONS
what are people saying about working at apple?
People treat each other with respect. Software Engineers are highly valued here. Work life balance is great. There are a lot of growth opportunities for smart people and it's easy to get promoted if you do a great job. There is little competition between peers.
​
Take ownership and deliver.
​
Decide the tools for your game, have some flexibility there.​
​
Switching teams seems to be easy and supported.
Long hours, demanding schedule, usually under staffed for the schedule demands
​
Must create your own work/life balance
​
Constant reorganization & personnel shuffling impacts productivity
​
DIY engineering culture, little to no mentoring
​
It's a real challenge to stay a motivated engineer in a culture where the majority of new projects are killed off, resulting in constant outflow of engineering talent.​
"The hiring manager is looking to see how you process information, how logical you are, how you analyze a problem."
"Share your thought process and how you would solve it. Don't just jump to the answer—it doesn't matter. We want to see if people can think on their feet, if they're all right with being thrown a curve ball, because that's the kind of fun, innovative atmosphere we want to generate."
*All quotes obtained from external site
what apple employees say about interviewing
*All quotes obtained from Glassdoor
"The on-site was a full day of about 5-6 technical interviews, with a few behavioral questions here and there. The technical questions related directly to the team's work and were not the typical general CS questions."
"The on-site consisted of one hour interviews every hour (11-5), and we're all very technical. I was asked to solve various problems (your typical algorithm and data structure subjects), as well as explain the various projects I worked on in my most recent position. All in all, I'd say it was too bad as I had prepared by practicing algorithms (searching, sorting, etc), and brushing up on some objective-c."
"There is a lot of coding on a laptop with the screen projected and also a lot of white board coding and system design. The questions were not extremely tough but makes you think in terms of DS and Algorithms. The lunch turned out to be a very technical interview in itself but now the entire team is shooting questions at you."
apple cupertino- hq
Sours: https://www.codinginterview.com/apple
How to Win the Apple Product Manager Interview
Apple is one of the most well-known technology companies in the world. Their product lines span both software and hardware, and new releases of their iPhones, iPads, and Mac computers are met with global anticipation and enthusiasm. For many Apple users, the company is more than just a brand — it's part of their personal identity. With this degree of customer loyalty, it goes without saying that so many product professionals would be thrilled to land an Apple Product Manager interview and work for this global giant. 
In this guide, we'll be covering the following topics:
Company Overview
Apple is a manufacturer, marketer, and retailer of a wide range of devices and associated software, such as computers, mobile phones, tablets, and peripheral items and services. Their product portfolio includes the iPhone, iPad, Mac, and Apple TV, along with the iOS and OS X operating systems and the M1 computer chip. It was the first company to profitably sell personal computers and is considered a pioneer of the graphical user interface (GUI). 
The company was founded in 1976 by Steve Jobs, Steve Wozniak, and Ronald Gerald Wayne. Wozniak's dream was to build his own computer, which he did in 1975 using the newly-invented microprocessor chip. Hewlett-Packard, where Wozniak worked, had no interest in the idea, so he founded his own company with Steve Jobs and the two began building computers in the garage of the Jobs house. 
The Apple II computer was their first success, becoming the dominant player in the primary school education space. By December of 1980, the computer had gone public in the biggest IPO since the Ford Motor Company's in 1956. Facing increased competition from IBM, Jobs invested in the graphical user interface (GUI), which enabled a far more intuitive user experience. The company's Macintosh ("Mac") computer release, however, was not as successful as investors hoped, and Jobs was fired.
He returned, however, after Apple began losing significant market share to Microsoft personal computers (PCs), which now featured their own GUI-based operating system: Windows. In 1997, he was named CEO of the company he co-founded twenty years prior. Under his leadership, Apple released the iMac computer, which became a bestseller and drove the company to profitability in 1998. 
Their next huge success was iTunes and its associated portable MP3 player, the iPod, which became available in 2001. The iPhone mobile device made its debut in 2007, and the iPad tablet was released in 2010. The following year, Jobs resigned as CEO due to failing health and was replaced by Tim Cook. He remains the CEO as of this writing. Notable products launched under his tenure include the Apple Watch, the Siri personal assistant program, the AirPods wireless earphones, and most recently, the M1 microprocessor chip. In 2018, Apple became history's first trillion-dollar company.
Today, Apple is headquartered in Cupertino, California andemploys approximately 160,000 individuals. Over the past decade, their annual revenues have quadrupled. During the fiscal year 2020, the company had sales of nearly $275 billion. Currently, Apple has thelargest market cap of any tech company.
Product Culture at Apple
Apple has a large product portfolio that spans a range of categories. Major consumer goods product lines include computers (MacBook Air, iMac, MacBook Pro), smartphones (iPhone), tablets (iPad), wearables (Apple Watch, AirPods), music devices (iPod), and home electronics (Apple TV, HomePod). In addition, Apple offers several software products, including the OS X and iOS operating systems. Services include AppleCare support, the Apple Card credit card, the iCloud, and a large number of applications (Apple Podcasts, Apple Music, Apple TV+) available through the Apple App Store. 
Apple also has product lines tailored to specific market segments, such as businesses, K-12 education, universities, healthcare providers, and federal, state, and local governments.  
Overall Company Culture
Apple has seven corporate values: Accessibility, Education, Environment, Inclusion and Diversity, Privacy, Racial Equity and Justice, and Supplier Responsibility. Each Apple employee is expected to consider these values when making key decisions and while fulfilling their responsibilities. They also inform the company's product strategy and the features they build into each device and service. For example, functionality around accessibility is part of every iPhone, MacBook, and iPad. 
In addition, Apple is committed to driving positive change when it comes to the environment and to social justice. The company is carbon neutral, and they plan on having each product be the same by 2030. Recently, they launched the Racial Equity and Justice Initiative aimed at improving access to education, reforming criminal justice, and promoting economic equality.
Product Team Culture
Apple has a functional organizational structure, meaning it is not structured by business units/divisions (like Product Group A or Product Group B). Instead, functions like marketing, legal, design, engineering, etc. all report up to the CEO. Famously, Steve Jobs fired all general managers when he returned to Apple, believing that they created unnecessary silos. Product managers at Apple do still work on specific products, but they're also expected to understand where their role fits into the overall company function they're part of. 
What Does a Typical Apple Product Manager Job Posting Look Like?
Each Apple PM job posting begins with a summary of both Apple as a company and of the role itself.  It includes an explanation of the product or business area the candidate would be responsible for, and why Apple is looking to fill the position. Next comes a list of key qualifications, including years of experience, degree of expertise, critical skills, and level of education. In general, product manager roles at Apple require at least five years of experience, and many require more than eight. 
The next section is the "description," which is essentially a list of job responsibilities. PMs at Apple are expected to:
Work closely with stakeholders across departments 
Develop and communicate product roadmaps
Demonstrate excellent presentation and written communication skills
Act as the "owner" of their product, from discovery to launch
Stay up-to-date and informed on key industry trends
Demonstrate strong analytical skills
Assert leadership in situations involving ambiguity and shifting priorities
Think strategically and with overarching company business goals in mind
Have prior experience with use case creation and requirements definition
Certain PM positions, like the Product Manager, Apple Pay role pictured below, require candidates to have specific domain experience. For example, the PM, Apple Pay job states that applicants must have an understanding of financial transaction processing systems, along with past experience in the Payments industry.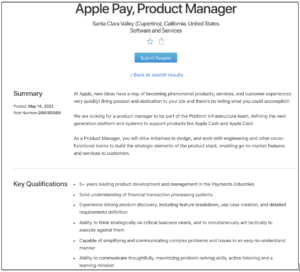 The final section in each job description is the Education and Experience section, which lists the minimum level of education and years of experience an applicant should have. Most PM positions require at least a Bachelor's degree in Computer Science, Engineering, or a related field. Several product roles also require an MBA or equivalent experience. 
How Do You Get an Apple Product Manager Interview?
Get started by browsing Apple's current job openings to find the one(s) most suited to your past experience, specific skills, areas of expertise, and professional goals. Once you've identified that "best git" role, your next step is to craft a standout application. For an in-depth look at how to increase the number of interviews you land with FAANG companies like Apple, read our FAANG  interview guide next.
Write the Perfect PM Resume
They say you never get a second chance at a first impression, and your resume is that "first impression" with the hiring manager. So, be sure it really shows off your skills and relevant job experience. Highlight any specific experience involving the responsibilities listed in the job description. And if you can point to previous quantitative results around those parts of the role, you should do so.
Be sure to check out ourfree webinar on resume writing, which takes you through the process of building a well-organized resume that you can use for multiple PM roles. 
Craft Your Pitch and Position Yourself as a Great PM Hire
Your next step is to demonstrate your product management talents. You can do that by writing a pitch that showcases the product manager position's main responsibilities. Here's how.
Apply!
Now it's time to submit your application. But don't stop there — if you know any current employees at Apple, ask them for a referral. According to Glassdoor, 15% of interviewees got their foot in the door via employee referral. Our step-by-step recruiter networking methodologycan also help you secure an initial interview.
What Is the Apple Product Manager Interview Process and Timeline?
The PM hiring process at Apple generally follows these steps:
Introductory call with the hiring manager(s)
Technical and behavioral round with team members
The offer
According to Glassdoor, 64% of interviewees had a positive experience, and the average interview difficulty was rated a 3 out of 5. On average, the entire process takes around 4-6 weeks, with some decisions taking as long as three months.
How to Win the Introductory Call With the Hiring Manager(s)
After an initial call with a recruiter, you'll move on to an interview with the position's hiring manager. In general, this round focuses on basic behavioral questions like "Where do you see yourself in five years?," "Tell me about yourself," and "What are your greatest strengths and weaknesses?" The hiring manager will also be assessing your fit with regard to the company's seven cultural values. According to severalGlassdoor responses, additional questions you should be prepared to answer are:
Why do you want to work at Apple?
What's your favorite Apple product? Why? How would you improve it?
Tell me a time where you had to deal with ambiguity.
Tell me about a time when you had to convince someone of something without you having authority over them.
Was there ever a time when you disagreed with a manager's decision? How did you handle it?
Tell me about your career experience to date.
What has been the proudest moment of your career?
What is your greatest accomplishment? 
If the hiring manager is impressed by your answers, you'll be asked to move to the next stage: the technical and behavioral round.
How to Win the Technical and Behavioral Round(s) With Team Members and Stakeholders
Several Apple job candidates described this round on Glassdoor, explaining that it involved a long day of back-to-back interviews with various stakeholders. The total number ranged from five to ten. During this stage, the questions will be far more specific to the PM role and what you'd be working on day-to-day. You'll likely be asked the following:
After this round, your next step is to wait to hear from the Apple hiring team. Best of luck!
How Did COVID-19 Change Hiring at Apple?
Like most companies, Apple moved to a fully remote interviewing process during the COVID-19 pandemic. As restrictions ease, they will likely return to a mix of on-site, video, and phone interviews. If you do need to participate in a remote interview, our guide can help you prepare. Currently, Apple has over 5,000 open positions, including nearly 200 product management roles.
Want to learn more about getting hired as a product manager at a well-known company? Schedule a free consultation with us.
Sours: https://productgym.io/blogs/product-management-blog/how-to-win-the-apple-product-manager-interview/
Apple Engineering Manager Interview Prep
Engineering managers play a critical role in ensuring that technical projects run smoothly. They oversee the design and architecture of system and business applications, allocate resources, foresee and manage risks, and build processes to make sure that a project progresses seamlessly from start to finish. 
Apple has its interests spread across electronics, online services, and computer software. They hire engineering managers to manage software teams and drive impactful projects. Apple is also known to offer great compensation packages to its engineers and engineering managers. In addition to that, the unique company culture and exciting work environment make EM careers at Apple significantly rewarding. 
If you are preparing for tech interviews, check out our technical interview checklist, interview questions page, and salary negotiation ebook to get interview-ready!
Also, read Apple Interview Questions and The Ultimate Guide To Crack Apple's On-site Interview for specific insights and guidance on Apple tech interviews. 
Having trained over 6,000 software engineers, we know what it takes to crack the toughest tech interviews. Since 2014, Interview Kickstart alums have been landing lucrative offers from FAANG and Tier-1 tech companies, with an average salary hike of 49%. The highest ever offer received by an IK alum is a whopping $933,000!
At IK, you get the unique opportunity to learn from expert instructors who are hiring managers and tech leads at Google, Facebook, Apple, and other top Silicon Valley tech companies.
Want to nail your next tech interview? Sign up for our FREE Webinar.
This article will give you an idea of the engineering manager interview process, what Apple looks for in EM engineers, and how to plan your prep to nail the engineering manager interview. Here's what we'll cover:
Typical Role of an EM at Apple
Skills and Qualifications Required to be an Engineering Manager at Apple
Apple Engineering Manager Interview Process
Apple Engineering Manager Interview Questions
Tips to Crack the Apple EM Interview
Typical Role of Engineering Managers at Apple
Below are the roles and responsibilities of engineering managers at Apple:
Envision the design and architecture of the project to understand the core requirements for its completion
Oversee the project and assign tasks to software engineers
Allocate resources for the project, anticipate risks, and take appropriate action
Communicate with other teams, including data and marketing teams
Ensure that project roadblocks are effectively dealt with
Recommended Reading: A Comprehensive Guide to the Engineering Manager Role
Skills and Qualifications Required to be an Engineering Manager at Apple
Here are some of the essential and preferred skills and qualifications required by EM's at Apple:
Key Skills 
Though skill lists keep changing with time, here are some essential skills needed to be an engineering manager at Apple:
Great interpersonal skills and the capability to work with multi-functional technical as well as business teams and varying levels of management
Proven project management skills
Technical leadership
Experience hiring and building high-performance engineering teams
Key Qualifications
The below qualifications are what Apple looks for in engineers applying to EM roles:
While a bachelor's degree in CS is good enough to apply to EM jobs at Apple, a master's degree in computer science, IT, or a related field is preferred
7+ years of experience in software engineering
Proven working knowledge of an Object-Oriented Programming Language, preferably Java, Python, or C++.
Recommended Reading: Should You Be an Engineering Manager?
Apple Engineering Manager Interview Process 
The engineering manager interview process at Apple is similar to the process for software engineers, with an increased emphasis on design and behavioral rounds. Coding rounds don't have that much of an impact on the final decision. But you're still required to be good at coding, especially coding up algorithms. As such, coding interviews carry more importance for junior software engineering positions. 
The process consists of three main stages. Let's look at each of them:
The Initial Recruiter Screen
This is the first stage of the process where a recruiter from human resources will contact you. The recruiter will ask you basic questions on your experience, compensation expectations, skills, and why you want to switch companies. 
If your profile satisfies the expectations of the role, you'll be called for the technical phone screen round. 
The Technical Phone Screen Interview
The technical phone screen round is a test of your coding skills. Your ability to analytically approach coding problems and write error-free code is evaluated. The interview is remote and mostly happens via an interviewing tool or a shared document.
A hiring manager who is driving the recruitment for EMs usually interviews you during this round. If your performance in this round is satisfactory, you'll be invited to the Apple onsite interview. 
The Onsite Interview
The onsite interview is the most important in the process. It typically consists of 3-4 interview rounds, where various elements of your skills and experience are tested. Although there is a mandatory coding round during the onsite, the design and behavioral rounds are given greater importance. Here are the various rounds in the onsite interview:
The coding round, where you'll be asked to solve a core data structures and algorithms problem. 
The design round, where you'll be asked to design an arbitrary scalable system. 
The behavioral round, where you'll be asked questions on leadership, workplace conduct, relationships with coworkers, and general behavioral traits.  
Recommended Reading: The Ultimate Guide to Crack Apple's On-site Interview
Apple Engineering Manager Interview Questions
 The interview questions asked at Apple's EM interview can be classified into three main categories. 
Coding Questions
Coding questions asked at the Apple technical phone screen and the onsite interviews revolve around algorithms and core data structures. Check out our Apple Interview Questions page for practice questions and our exhaustive Problems Pagefor practice interview problems, along with comprehensive solutions. 
Topics to Prepare for the Apple Coding Interview:
Sample Questions:
You're given an array of integers. Write a code to determine if there are three integers in the array whose sum equals a given value. 
Write a program function to clone a given directed graph such that the cloned graph has the same edges and vertices. 
You're given two sorted Linked Lists. Write a code to merge the linked lists such that the returning linked list is also sorted.
You're provided with the roots of two Binary Trees. Write a code to determine if the two Binary Trees are identical or not. 
Given the root node of a Binary Tree "B," write a code to swap the right and left children for each node of the tree. 
Write a code to reverse the order of words in a given sentence.
You're given an array of size N. Write a code to search for the second largest element in the array. 
You're given an array A of size N. Write a function to find the minimum index-based distance between two elements in the array. 
You're given an array N of integers. Write a function to determine the inversion count of the array. 
You're given a sorted array of size N. Write a code to delete all the duplicate elements in the array. 
Want access to more coding problems along with complete solutions? Visit our comprehensive Problems Page.
Systems Design Interview Questions
Systems design is an integral part of engineering manager interviews, not just at Apple but other big tech companies as well. Below are some sample systems design interview questions for your Apple EM interview:
How would you design a URL shortening service?
How would you design a file-sharing service like dropbox?
How would you go about defining security features for your database?
What are some network protocols you must follow while building a scalable system?
How would you design a cab-hailing service like Uber?
How would you design a scalable music streaming service?
What are some crucial security requirements while designing an operating system like iOS?
Behavioral Interview Questions
Behavioral rounds are extremely important for senior positions, including engineering manager roles. Here are some sample behavioral questions to expect at the Apple engineering manager interview:
What are the biggest challenges you've faced while handling a team?
Describe a situation when you've had a conflict at the workplace and how you handled it.
Tell us about a time when an employee in your team wasn't performing to their full potential and how you dealt with the situation.
Tell us about the most challenging project you've worked on in the past.
Tell us about a time when you had to make an important decision with little available data.
How do you make sure everyone in your team is motivated to perform to their best potential?
What are your thoughts about mental health? How do you make sure you're in the right frame of mind when you come into work every day?
Tell us about a time when you disagreed with your superior on the path taken for an important project.
Tell us about a time when a coworker was uncooperative. How did you go about dealing with the situation?
Tell us about a time when you liaised with multiple teams on an important project? 
While answering behavioral questions, make sure your answers are in the STAR format. Every question you answer should talk about the Situation, Task, Action, and Result. By doing this, you'd give interviewers more clarity of what went down.  
Recommended Reading:
Amazon Engineering Manager Interview Questions
Google Engineering Manager Interview Questions
Facebook Engineering Manager Interview Questions
How to Prepare for the Apple Engineering Manager Interview
If you have an upcoming engineering manager interview at Apple, implementing the following tips will help you give your best shot at landing that coveted offer. 
Commence your prep at least 10 weeks before the interview. That way, you'll have sufficient time to cover all the important topics.
Solve at least one coding problem a day, understand patterns in problems and use analogous power patterns to solve new problems. 
Allocate more time to prepare for the systems design and behavioral rounds as these interviews carry higher importance for engineering management positions.
Practice mock interviews with expert instructors who are employed as hiring managers and technical leads at FAANG companies to hone your interviewing skills and overhaul areas that need improvement.
Prepare a good project portfolio that highlights the important projects you've worked on in the STAR format to give interviewers context and clarity. A good project portfolio can make a great impact at the interview.
Think out loud during the interview and discuss solution paths with the interviewer to give them a window into your thoughts.  
Recommended Reading:How to Prepare for the Google Engineering Manager Interview
Gear Up for Your Next Engineering Manager Interview
If you want to nail your next engineering manager interview at Apple, Register for our free technical interview webinar to understand how we can help you get through various interview rounds and land an irresistible offer.  
We offer an industry-first Engineering Manager Interview Course that is tailor-made to help you crack engineering manager interview questions at FAANG and tier-1 tech companies. Click here to learn more.
Interview PreparationSours: https://www.interviewkickstart.com/companies/apple-engineering-manager-interview-prep
Apple Software Engineer
Interview DifficultyhardRounds6-7 interviews across 3-4 rounds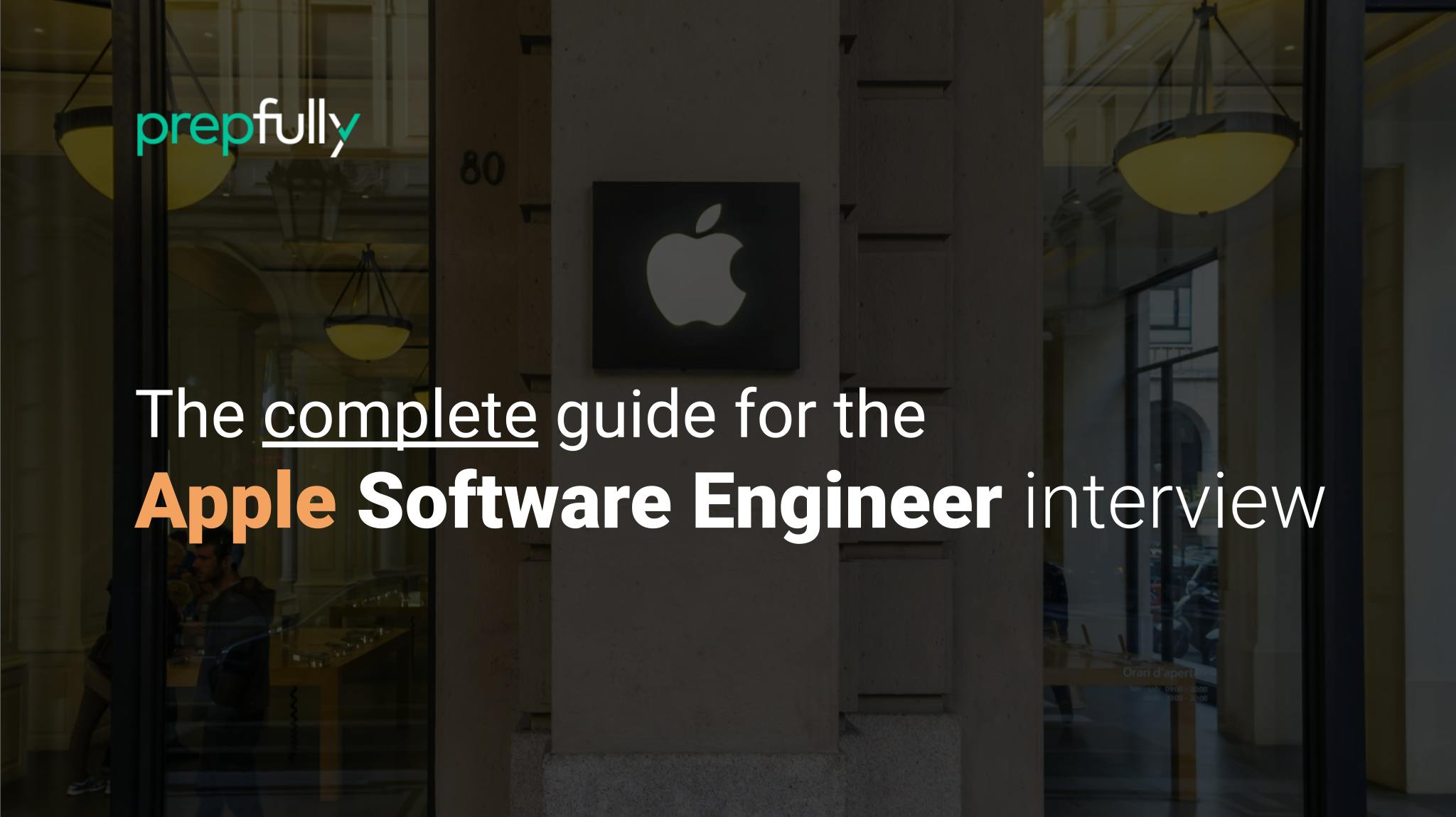 The role of an Apple Software Engineer
Software Engineers hold the responsibility of designing, developing, testing, deploying, maintaining, and improving the company's software. As a software engineer at Apple, you will work with multiple business and technical teams to build next gen software services. 
The requirements of a Software Engineer at Apple are - 
Experience in dealing with databases such as Oracle, NoSQL, MongoDB, Couchbase, Elasticsearch.
Experience in software engineering using Agile methods and working knowledge of Cloud systems
Strong programming skills in Java/J2EE and knowledge of microservices architecture with web services including Spring, Spring Boot, Hibernate and SOA.
Experience in Streaming Frameworks such as Apache Kafka, Spark or Flink.
Hiring Manager Phone Screen
Overview
The Hiring Manager phone screen is the first round of the Apple Software Engineer interview. In this round, the hiring manager will get a general idea about your experiences and resume. There will also be a discussion about the role you're applying for. The hiring manager will also schedule your first technical phone screen. 
Interview Questions
Tell me about yourself.
What do you like best about Apple?
Why do you think you would be a good fit for Apple?
Why Apple?
What do you like best about Apple?
How did you learn about this position?
Talk about a project you led. What challenges did you face?
How did you learn about this position?
Where do you see yourself in the next 5 years?
Technical Phone Screen
Overview
The technical phone screens are the second round of the Apple Software Engineer interview. This is a 45 minute technical round with engineers from the company who will test your technical knowledge and coding skills. You will also be asked questions about your experiences on your resume, and you can expect some technical questions related to the same. The topics tested in this round are - 
Data Structures
Dynamic Programming
Algorithms

Generally, there are 2 technical phone screens.
Tips
You will be required to whiteboard your algorithms, so it's a good idea to get enough practice so that you're comfortable in the interview.
You can practice whiteboarding on the following website - 
www.mba.com/exams/gmat-online/prepare-for-your-exam/online-whiteboard
Make the interview as interactive as possible. Walk the interviewer through the solution and keep them involved at every step.
Interview Questions
Apple Coding Interview Questions - 
Write an optimal solution to invert the binary tree.
Write a code to rotate a square matrix by 90 degrees.
Implement a compound iterator in Java.
What is the difference between Big-Endian and Little-Endian?
What is a hashcode in Java?
Take-home assignment
After the technical rounds, you may also be given a take-home assignment. A question that has been previously given as a take-home assignment is - Implement a thread pool in Java. You are expected to provide a solution in the form of a code.
Some tips for the take-home assignment are -
Get the requirements right. To do so, ask a lot of clarifying questions so that you know exactly what the interviewer expects from the assignment.
Provide a clean working solution and insert comments to increase the readability of the code.
Onsite Round
Overview
The onsite round consists of 4-5 interview rounds with various team members of the company. Each interview lasts for 60 minutes. Generally, three of these interviews are technical interviews, one is a system design interview, and one is a behavioural round with the hiring manager. The system design interview usually takes place if the interviewee has 3-5 years of experience; an entry level position will have a technical interview instead. 
For the technical rounds, you will be tested on the following topics - 
Trees
Data Structures
Graphs
Dynamic Programming
In the technical interview rounds, you will be required to solve an algorithm by providing a whiteboard solution to it. 
Interview Questions
Sample Apple Coding interview questions - 
Using mutex and atomic for synchronisation, transfer data between reader and writer thread.
How do we remove random noise from sensor data?
Write a code to reverse a byte.
Use a single hardware timer to implement a software based list of timers.
Write a program to compute change in quarters, dimes, nickels, and pennies for a cents value.
Write a code to implement memmove().
How can we implement a DMA driver?
Write a code to find the K highest numbers in a list.
Write a code to implement a spinlock. 
Describe the memory management framework in iOS?
Given an array of integers [4, 5, -2, 3, 6, 1, 5, 7], return the indices of two numbers such that they add up to 5. 
Note - System design questions may be followed by a discussion about tradeoff decisions. Additionally, you may also be asked questions based on fundamentals of mobile diagnostics.
Sample system design questions -
Design a social network service like Quora.
Design a global video streaming service like Netflix. 
Sample behavioural questions - 
Tell me about a time you failed. 
Tell me about a time you mentored a team member and helped them resolve a problem.
Salary
An entry-level Apple Software Engineer gets a total compensation of 176,000 USD. A senior software engineer earns around 318,000 USD. An ICT6 level employee at Apply earns a total compensation of 719,000 USD, which consists of 269,000 USD as base salary, 383,000 USD in stocks, and 66,000 USD as bonus.
Relevant interview guides
Sours: https://prepfully.com/interview-guides/apple-software-engineer
Interview apple engineering manager
Mission
Apple designs Macs, the best personal computers in the world, along with OS X, iLife, iWork and professional software. Apple leads the digital music revolution with its iPods and iTunes online store. Apple has reinvented the mobile phone with its revolutionary iPhone and App Store, and is defining the future of mobile media and computing devices with iPad.
Vision
We believe that we are on the face of the earth to make great products and that's not changing. We are constantly focusing on innovating. We believe in the simple, not the complex. We believe that we need to own and control the primary technologies behind the products that we make, and participate only in markets where we can make a significant contribution. We believe in saying no to thousands of projects, so that we can really focus on the few that are truly important and meaningful to us. We believe in deep collaboration and cross-pollination of our groups, which allow us to innovate in a way that others cannot. And frankly, we don't settle for anything less than excellence in every group in the company, and we have the self-honesty to admit when we're wrong and the courage to change.
Recruiting
Want to reach out to Apple recruiters? Read our guide and download our list of recruiter email addresses.
Sours: https://www.pathrise.com/companies/apple
How to answer 36 Questions Asked in 97% Apple Interviews
Try to sleep, he closed The body underneath him stirred again, someone at his feet muttered in a dream, Suddenly the legs on which he. Was lying parted to the sides, and he felt the pelvis lift slightly, pressing his crotch against his face. the fabric of his trousers almost burst, rested right on his lips. He lay quietly like a mouse, moving only in time with the movements of the bus, and when the car shook, his head moved back and forth, and his.
Lips crawled over the hard.
Similar news:
He could spy for hours through the window of the procedure room of the gynecological department of the local hospital, where young. Girls were often brought for an enema and other similar procedures. The window was half painted over, but I took out the box, climbed on it and looked.
4421
4422
4423
4424
4425