Westin Running Boards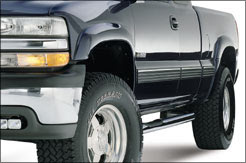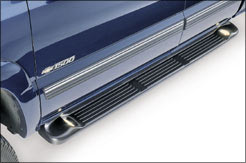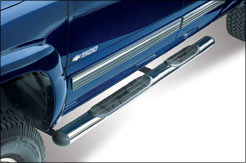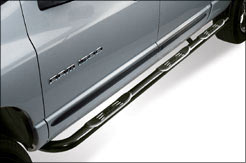 Sure-Grip Running Boards: Slick Looks. Virtually Slip-Proof Surface!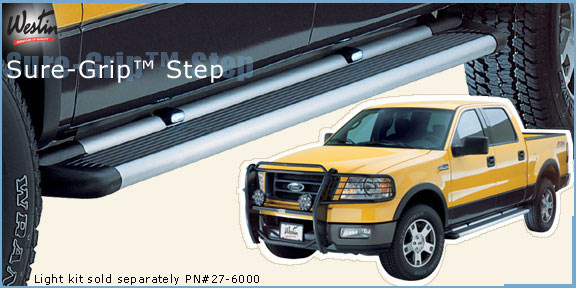 Westin's Sure-Grip Running Boards offer a combination of functionality and style.
Made from extruded aluminum for extra strength and covered with a grippy rubber step material that runs the full length of the board, the Sure-Grip lives up to its name. The straight step design adds molded end-caps for a clean look and is available in six universal lengths to fit virtually any truck or SUV—54", 69", 72", 79", 85" and 93".
Like all Westin running boards, the Sure-Grip requires a vehicle-specific Mounting Kit, which is sold separately. Westin believes the only way to ensure a perfect fit and easy installation is with a mounting kit specifically designed for each running board and the vehicle to which it will be attached.
If you want to really trick out your truck and add an extra measure of safety, consider the optional Sure-Grip Running Board Light Kit (PN#). When you open your doors, the step area is lit up so there's no chance of a misstep.
Material: Extruded aluminum
Sizes available: 54", 69", 72", 79", 85", 93"
Finish: Brushed aluminum, Brite aluminum, Black aluminum
Style with Substance: Westin Premier 6" Oval Tube Nerf Bars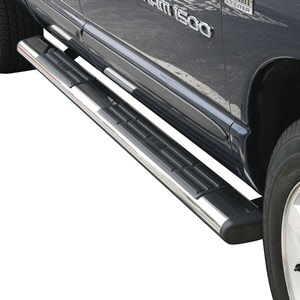 These great looking, OEM-style oval tube nerf bars from Westin are a real step up from budget bars.
A full 6" wide at their largest point, these Westin Premier Oval Tube Nerf bars give you a large 5" step area with dual UV stable rubber grip pads for secure footing.
Westin gives you the choice of either a polished stainless steel version or a black powder coated steel model. Both versions come in universal lengths to fit most full-sized trucks and SUVs (53", 75", 85", 91") and require a vehicle specific mounting kit (sold separately).
Westin designs these mounting kits to be vehicle specific in order to ensure a secure fit and easy installation. There is no drilling or special tools required to install these nerf bars, but you can have our crew install them if you prefer.
The Cap Connection can get you a great deal on these Westin Premier 6" running boards, as well as the mounting kit.
Polished Stainless Steel Model
Finish: Stainless
Material: Stainless Steel
Warranty: Lifetime
Black Powder Coated Steel Model
Finish: Black powder coat
Material: E-coated steel
Warranty: 3 years
What is E-coated steel?
Good question! You'll notice many of Westin's products are described as "E-coated steel." E-coating is shorthand for a process known as electrophoretic deposition. It was originally developed to apply an anti-corrosive primer coat on the steel bodies of automobiles.
E-coating is a cross between plating and painting. The metal is immersed in a water-based bath with paint or epoxy. An electric charge is applied to the part, which causes the particles in the liquid solution to adhere to the part. The coated part is then cured in an oven to harden the finish.
The result is a primer coat that provides exceptional resistance to corrosion.
Sours: http://www.thecapconnection.com/RunningBoardsSteps/Westin
Traditionally, running boards are a more low-key sub-category of step systems. Often reserved for contractors who prefer a wider, non-slip surface for easy access in and out of a work vehicle, theyre also seen on community shuttles looking for a safer, more comfortable step up. Think: construction workers, grandmas in need of extra leverage, and the disabled who really benefit from such a product. Rarely, if ever, have running boards been referenced with the same cool candor as other step systems on the market. That is, until now. It's as if the Westin SG6 LED Running Boards answered a divine calling for a next-generation offering that actually combines necessary functionality with desired good looks.
"Once upon a time, running boards on a truck almost guaranteed that the person inside was a female or elderly. But this isnt the case any longer," says Junior Calvert, Director of National Accounts for Westin. Running board sales are at an all-time high for the company, as they've witnessed a lot of consumers move in this direction during recent years.
Enter, the Westin SG6 LED Running Boards
"The OE step product designs as of late are more squared off and boxy, differing from the old Euro look. We needed something that complemented the new OE styling better than what is currently being offered via the aftermarket today," says Calvert. "Similarly, the SG6 running boards also are more squared off and thicker, from the front to the back lip and all the way around. This product blends in and adds to the overall appeal of the vehicle. They look great on trucks, yet don't overpower SUVs or CUVs," he explains.

Lighting the Way
Westin's SG6 LED Running Boards not only feature lighted end caps, which illuminate the entire step surface to provide safer vehicle access, but also a textured slip resistant step surface that creates enhanced footing in virtually any weather or terrain.
A Magnetic Connection
Additionally, magnetic switches activate the LED lights once a vehicle door is opened, thereby instantly providing enhanced visibility and safer access to the cab. "The way the lighted version works—because this product is available as both a non-lighted and lighted version—is by using a magnetic contact system. So, you open the door, break the contact, and the light comes on. You go to shut the door, that same contact in the door frame is triggered, and a simple wiring mechanism signals the light off," explains Calvert.
Constructed with Care
Furthermore, the SG6 LED Running Boards feature a polished aluminum finish with a protective anodized coating to prevent oxidation. "What really serves as the backbone of this running board program is a solid, one-piece extruded aluminum platform that is corrosion resistant. The whole running board outside of the end caps is aluminum, and the rubberized non-skid pad runs the full length of the actual bar," says Calvert.
Next Steps for Westin
No details were left unturned, from the magnetic switches that automatically cue the water-resistant LED end caps to the rocker panel gap strip included for a finished look. Introduced at the recent SEMA Show, response to the Westin SG6 LED Running Boards was overwhelming, according to Calvert. "This product is filling a need. There are no OE-style boards that have a lighted version, featuring these kinds of integrated contactors," he says. "The SG6 is an updated version of what a running board should look like—this is our modern take on it. It looks great, and the price point is affordable," he adds. "I've been with the company for over 30 years and I can't tell you how excited I am to head into call centers, visit aftermarket accessory shops, and attend shows to show off this product."
Next stop? The Keystone BIG Show from March , at the Gaylord Texan Resort & Convention Center in Grapevine. Positioned as the biggest wholesale-only trade show in North America, Westin will have exclusive access to a bevy of automotive aftermarket shop owners that are prime for stocking the SG6 LED Running Boards. We look forward to this event each year because it gives us an opportunity to not only get a pulse on market trends and product feedback, but also allows shops in attendance to stock up on inventory and secure proper merchandising displays for their showrooms, so that general consumers can have a visual when shopping for step systems like our new SG6 LED Running Boards, adds Calvert.
Vehicle specific mounting kits are required, but sold separately. To learn more about Westin SG6 LED Running Boards, click here. 
Related
Sours: https://www.theengineblock.com/new-westin-sg6-led-running-boards/
Westin
Step Bars and Running Boards
Westin Sure-Grip Aluminum Running Boards
In wet, rainy weather, it can be harder to enter and exit your big rig's cab with ease. Westin Sure Grip Aluminum Running Boards provide the perfect solution for sure-footed stepping in any inclement weather. Custom-crafted specifically for your truck or SUV, Westin Sure Grip Running Boards feature solid aluminum construction that attaches to your frame with a custom mounting kit, and a high-grip, specialized rubber step that prevents slippage. These Aluminum Running Boards not only make your vehicle more accessible, but they also revamp its style. Choose from several modern finish options to accent your exterior appeal. Westin Running Boards even include molded polymer end caps that blend your new running boards with your vehicle's curves, creating a more cohesive look. Installation is hassle-free, with no drilling required for most vehicles.

When you outfit your ride with durable Westin Sure Grip Aluminum Running Boards, clumsy climbing into your cockpit is a problem of the past. Sure Grip Running Boards are available in multiple lengths and come backed by a 5-year warranty.
*This is our most popular style for SUVs.
Sours: https://www.protrimofohio.com/products/westin-step-bars-and-running-boards
Nerf Step Bars & Running Boards
Jeep®, Wrangler®, Rubicon®, CJ®, Mopar®, Renegade®, Scrambler®, Commando®, Sahara®, SRT® and the Jeep® Grille Design are registered trademarks of FCA US LLC (Fiat Chrysler Automobiles). Westin Automotive Products, Inc. has no affiliation with FCA US LLC. Throughout this website the terms Jeep®, Wrangler®, Rubicon®, CJ®, Mopar®, Renegade®, Scrambler®, Commando®, Sahara®, and SRT® are used strictly for identification purposes only. It is not implied that any part listed is a product of, or approved by, Fiat Chrysler Automobiles. All trademarks and registered trademarks are the property of their respective owners.


For California Residents Only-Prop. 65 Warning
WARNING: Some products may contain chemicals such as DEHP, which can cause cancer, birth defects or other reproductive harm. For more info go to www.p65warnings.ca.gov
Sours: https://www.westinautomotive.com/nerf-step-bars-running-boards
Boards westin running
I'm 18. I'm in the army. I saw him. Igor. He examined us and chose.
Installing Westin R5 Running Boards
I knew that the girl lives in a boarding school, and her parents are in a village located 50 kilometers from. Our city.Sasha, I have. oh, I dont know, how can I tell you, I'm ashamed to talk about it. ", Oksana began to mumble.
You will also like:
But, fortunately, nothing happened. There was one wife, a pretty fair-haired woman of 30 years old in home clothes, there was a husband, a fair-haired guy of 20-25 years old of quite ordinary. Appearance, two children, 13 and 10 years old, very similar to their mother, who stood in the foreground, and behind them were close relativesamong whom there were already elderly people.
Sarah introduced us, introduced the relatives.
12801
12802
12803
12804
12805