Introduction: Modern Mailbox
I took out an old, failing mailbox and built a new, modern mailbox from cedar from the big box store. I'm so happy with it!
I built a small concrete slab to support the mailbox posts, which makes the structure sturdier and keeps the posts from sitting in the ground and prone to rot. But you can also just skip this step if you prefer and extend the posts to put them right in the ground.
Be sure to watch the video above for an even better tutorial.
Supplies
For the Concrete Form:
For the Mailbox:
Step 1: Dig and Prepare a Hole
I'm going to make a concrete pad for the mailbox measuring 15" x 25".
I started by digging a hole, bigger than the dimensions above so I had room for the concrete form. I prepared the hole by lining the bottom with gravel, spreading it evenly and level. And then I cut a 2x4 into 4 pieces and screwed them together to make the concrete form with inner dimensions of 15" x 25".
I moved the gravel around until the form was level and the top was even with the ground. And then I took wooden stakes and hammered them in around the form to secure it into place.
You want to make sure the top of your stakes are below the top edge of the form. This way they dont interfere with the screeding process once the concrete is poured.
Step 2: Pour the Concrete
I mixed up one bag of Quickrete in a plastic mixing tub.
Before adding the concrete in, I hosed down the dirt hole. This moisture will help slow down the curing process and avoid cracks. Then I added the first half in, making sure to fill in all the edges and corners.
At this step, I laid in a couple of short rebar pieces. This will add strength and help the slab resist cracking. This small slab could probably get away without them, especially in my warm climate. But the rebar was inexpensive and easy precaution.
I then mixed up more concrete to fill up the rest of the form. I used a scrap 2x4 to screed across the top of the concrete and push it level and into place, making sure to get the concrete to fill all four corners.
I then switched to a concrete float and starting smoothing out the surface. The goal here is to force larger aggregate below the surface, fill in the low spots and create a flat, smooth surface.
Step 3: Add the Post Anchors
I'm setting galvanized post anchors in the wet concrete to hold the posts for the mailbox.
I pressed the anchors down into the concrete, at my measured placement, while it was still very wet and malleable. It's super important here to make sure they are perfectly level and in line with each other. It's also important to place them with metal sides facing front and back (this will make sense later).
After most of the surface water had disappeared, I then used an Edging Tool and smoothed and rounded the edges of the slab. And then I left it all to cure.
After a few days of cure time, I pulled away the form from the slab. And then I filled back in the edges with dirt.
Step 4: Set the Mailbox Posts
The inside base of this mailbox is made with pressure treated lumber. I took a 4x4 and a 2x4 and cut them to size on my miter saw.
I set the longer post in the back and perfectly plumbed with it shims, confirmed by a post level. I then clamped it into place and marked where the holes for the bolts will go. And then repeated the steps for the shorter front post.
I drilled out the holes for the bolts. And then put the posts back in place and knocked in the bolts, which are galvanized for exterior use, secured them with galvanized washers and nuts.
And here you can see why it's important to set the post anchor sides facing front and back. This way the bolts don't interfere with the wood slats.
Step 5: Add Post Support & Front 2x4
One piece of 2x4 will connect the two posts and create the horizontal surface for the mailbox to sit. I added pocket holes on one side. Then secured it into place with exterior screws on the opposite side. Make sure this support is level.
The last structure board to add is this front 2x4, which will give a little more meat to the base. I clamped it into place, pre-drilled with a counter sink bit and secured it with screws. The counter sink bit will allow the screws to sit below the surface and not interfere with the slats.
Step 6: Add the Slats!
The slats I'm using for this mailbox are cedar, which look good and are a naturally rot resistant wood, excellent for outdoor use. Even better, they're inexpensive fence pickets.
I quickly sanded their rough surface down with my palm sander and cut my first slats to size on my miter saw.
I then made sure this first board was level and then clamped it in place. I used a framing square to line out my screw holes. Then I pre-drilled and screws the slat into place. I'm using exterior trim head screws, which have a smaller head and minimize the appearance.
I kept this process going all the way down (on both sides). I wanted a 1/8th inch gap between each slat, and I found that a steel carpenter square was the perfect spacer.
Taking the time to make sure you screws are in line all the way down will really make a difference in the finished look.
Step 7: Add the Trim Pieces
I cut and installed the front, back and top trim boards with the same screws.
I used exterior glue on this top cap. I could have screwed it on, but no screw holes on a horizontal piece means less ways for water to get in and eventually warp the wood.
Step 8: Add Wood Finish
I love the way cedar looks and I wanted a finish that would preserve the natural cedar color and prevent it from turning gray over time. I'm using Total Boat's Halcyon Clear Varnish, which is an excellent choice for exterior projects. It is a durable finish that is super easy to apply. It provides excellent UV protection from the sun. It dries fast so you can apply another coat in an hour without sanding. And it dries to a clear satin finish that accentuates the wood grain and improves clarity.
Step 9: Attach the Mailbox
And finally, to attach the mailbox, I grabbed my slim right angle drill and screwed the box to the base.
And with that, this modern mailbox was done!
Step 10: Enjoy!
I'm so happy with how this mailbox turned out! Our curb appeal really improved with this one project and it looks like a pro build. It is not a difficult project and will last much longer than the previous one.
Don't forget to watch the full build video above to see a more detailed tutorial.
I'd love to see pics of yours if you decide to make your own! For more projects and tutorials, be sure and visit my YouTube channel and my website. You can also find me on Instagram @makergray.
Thanks for following along!
Be the First to Share
Did you make this project? Share it with us!
Recommendations
Halloween Contest

Lamps and Lighting Contest

Made with Math Contest
Sours: https://www.instructables.com/Modern-Mailbox/
The mailbox is a funny thing. Boring and bland, and no one will think twice. However, a unique mailbox design, and your letter carrier will do a double take. Almost anyone walking by notices a creative mailbox post sitting in the front yard. You could even say the mailbox connects our homes with the outside world.
They stand on every front walk and at the end of driveways, serving as our homes landmark. The classic mailbox goes hand-in-hand with improving a homes curb appeal, and often a little change can make a world of difference.
Below we give you instructions to build a mailbox post just like ours, as well as 21 unique mailbox ideas created by others!
Our DIY mailbox post
We use to have 'that' mailbox at our house. The metal one barely hanging by a single screw off the white picket fence- it was terrible! Even worse it took away from the rest of our landscaped yard. But for some reason, we never made replacing it a priority.
Finally, the day came to replace our ratty old one with a proper mailbox post. I ordered a black post mount mailbox off the internet and went digging in my scrap woodpile to see what I had.
Mailbox post design and construction
I created a simple design that ties in with our wood beams and eventually the new front fence. A combination of 2×2's, 2×4's, and 2×6's attached to a 4×4 post.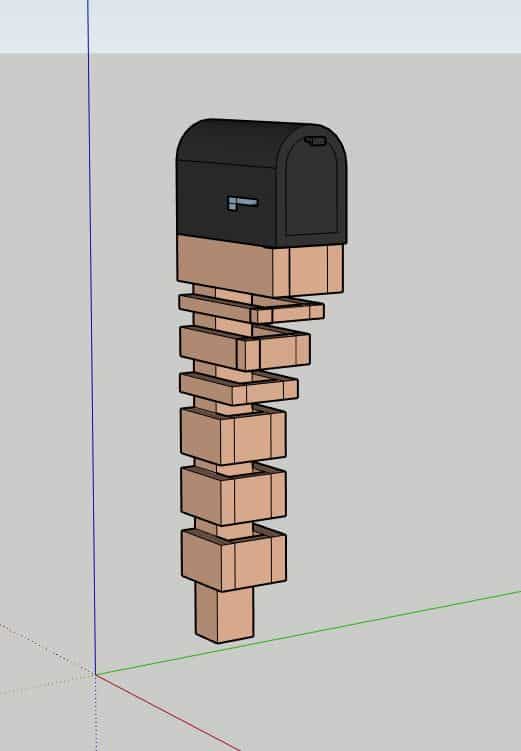 Step 1: Set your mailbox post height
I used a post anchor to secure my 4×4 so my mailbox was movable. Once it was firmly hammered into the ground, I set my mailbox height and cut the post to 42″. Don't secure the post into the anchor just yet.
Step 2: Cut the horizontal pieces
Take some creative liberty in this step and cut the pieces to whatever size you prefer. My first coarse was a 2×6 cut to 20″ in length (the length of my mailbox). Cut one end at 45 degrees. Repeat this exact same cut for the other side. The final piece for this row is cut at 45 degrees on both ends so the three pieces can be mitered together (see photos below).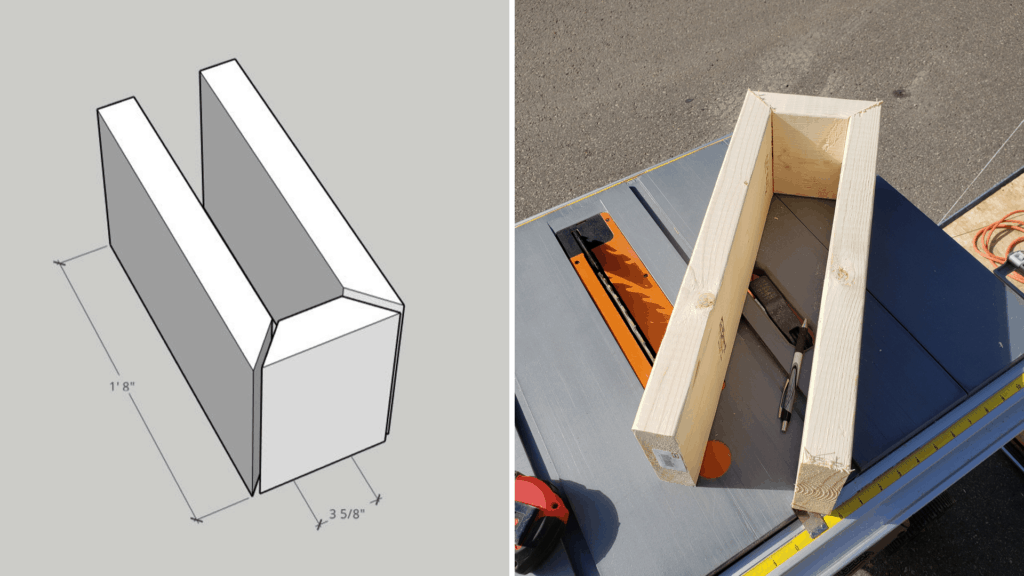 If you don't own a miter was, these cuts can also be made with a hand saw and a miter box.
Step 3: Repeat horizontal cuts
Continue the same cuts for the remainder of the post. I varied the thickness of the horizontal rows randomly from the top to bottom to create a more unique mailbox design. For the skinniest sections, I ripped a 2×4″ in half on my table saw. Tip- any time you are ripping skinny pieces on a table saw, be sure to use some sort of push stick. These can be made or purchased.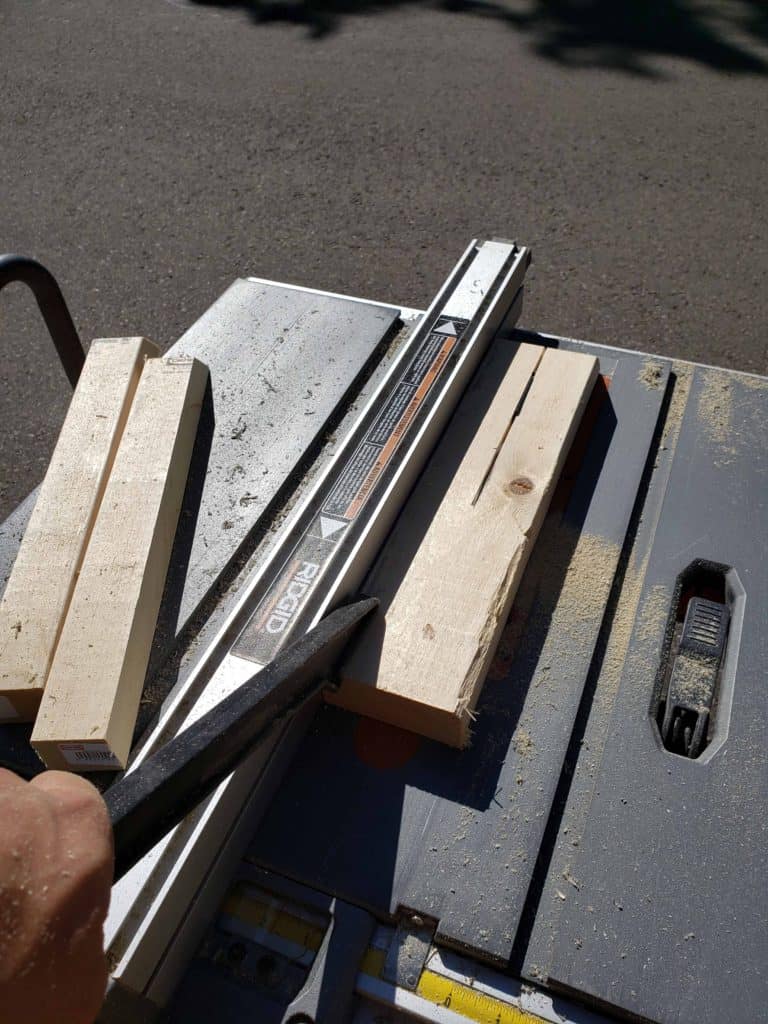 Step 4: Add the horizontal rows to the mailbox post
I found it easiest to assemble the U-shaped horizontal rows before attaching them to the post. I used small finishing screws for assembly. Pre-drill the holes beforehand to prevent the boards from splitting.
Once the horizontal rows are assembled, attach them to the mailbox post. Use trigger clamps to hold everything snug when mounting, and a set of blocks to keep the spacing even from one row to the next.
Step 5: Stain/seal the wood
I used Cabot Australian timber oil for this project. It is the same stain used on the timbers around our house, and will also be used on the front fence (when I build it…). I love this stuff and it's incredible durable. The beams on our house were stained 5 years ago and they still look the same as the day they were done.
Step 6: Attach the Mailbox
Attach the mailbox, plumb the post and tighten the anchor bolts in the spike. That's it!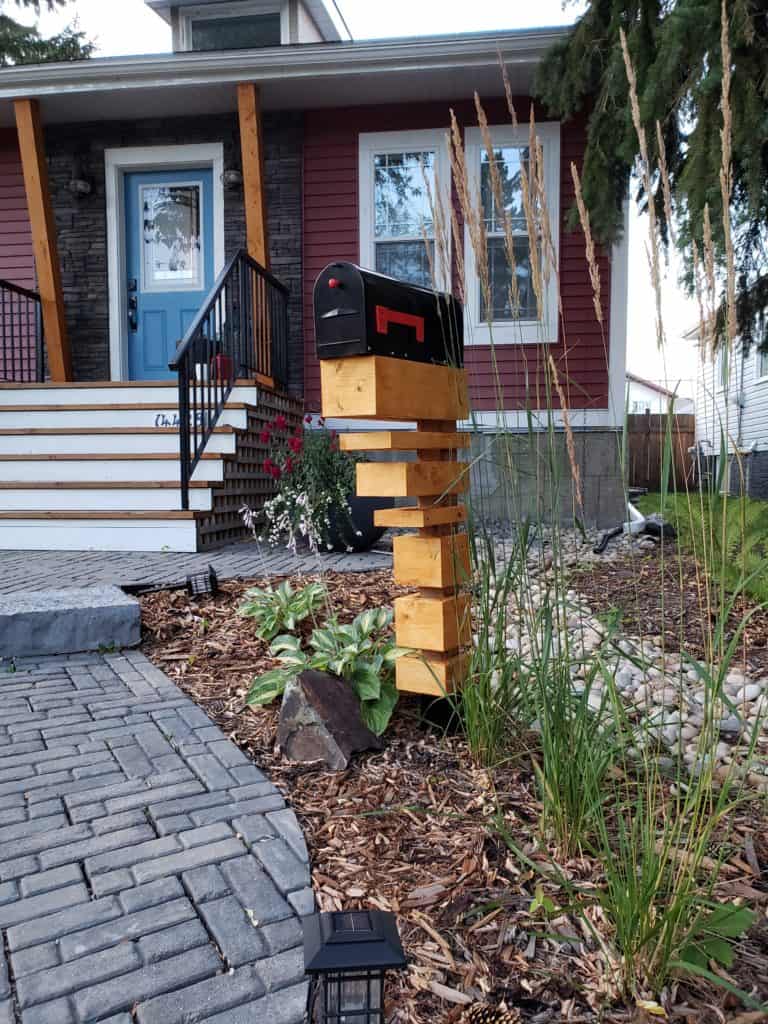 This is a really simple DIY mailbox post idea that anyone can tackle. All of the miters take a couple hours to cut and assemble, but that is the only difficult part to the whole process.
You may also be interested in these other DIY projects.
21 unique mailbox ideas we love
Shaker style post with copper mailbox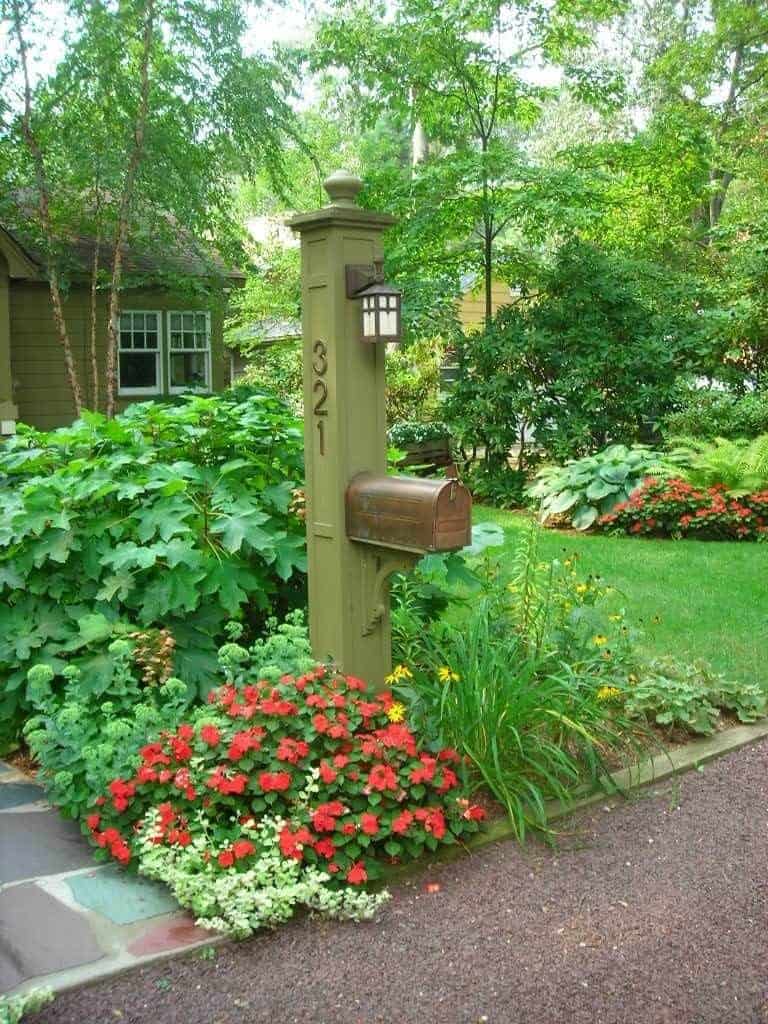 This is a more traditional design, and the addition of the copper mailbox and the light really bring out the cozy feeling of home.
Craftsman mailbox idea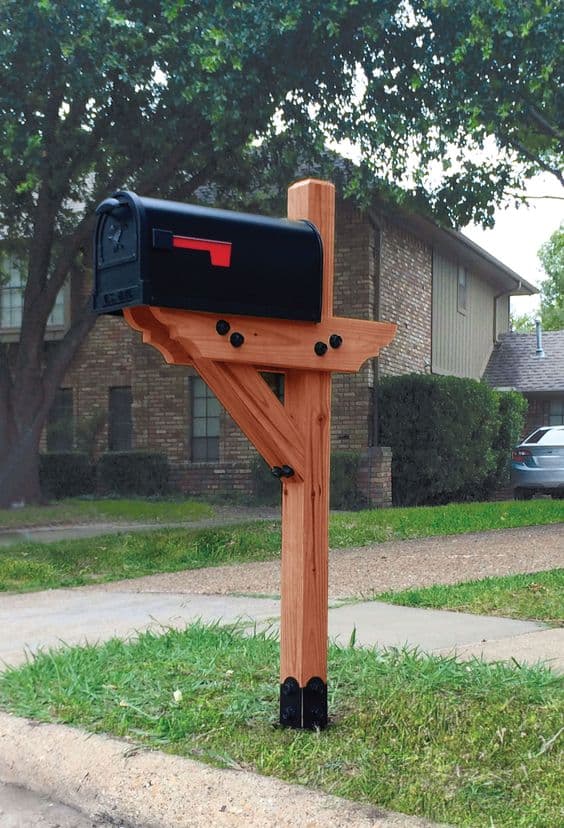 Simple, yet classic is the best way to describe this craftsman style mailbox. This is a great choice if you have earth tones or wood timbers on the house.
Cinder block potential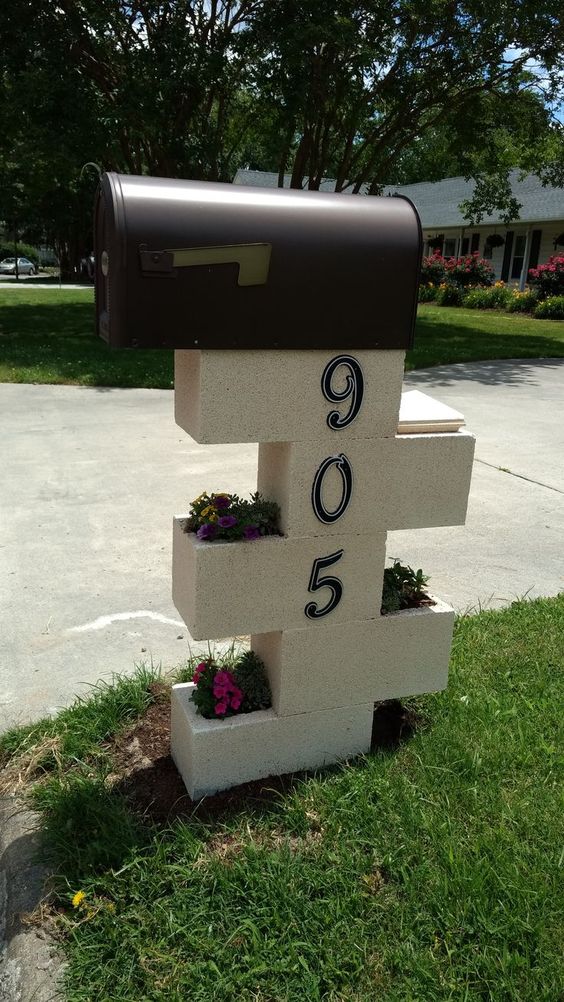 Cool and contemporary. Although the flowers look neat, they will dry out quickly against the stone.
Slatted wood mailbox idea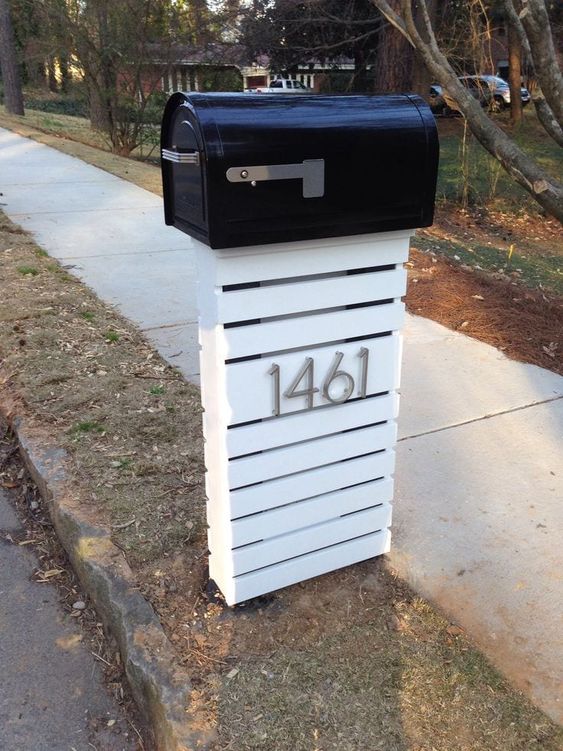 Clean lines and suitable to many homes. The addition of the house numbers is a nice touch.
Mid century mailbox design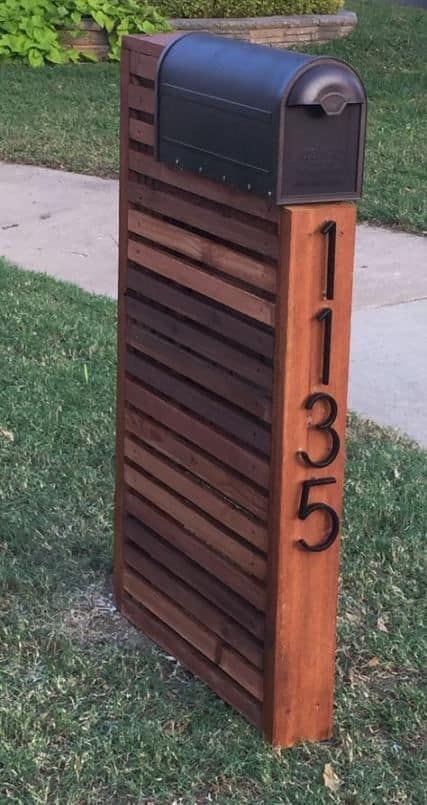 An easy mid century mailbox post idea to emulate for a weekend project.
Victorian pedestal mailbox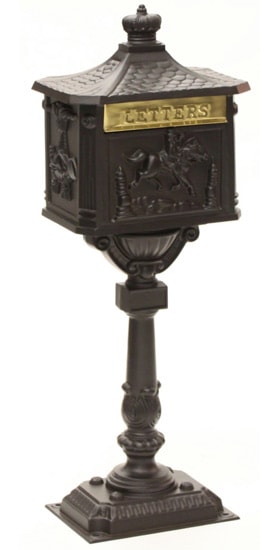 Obviously not a DIY mailbox post, but they can be purchased. I included it because I love the style of Victorian pedestal mailboxes.
Another craftsman mailbox post idea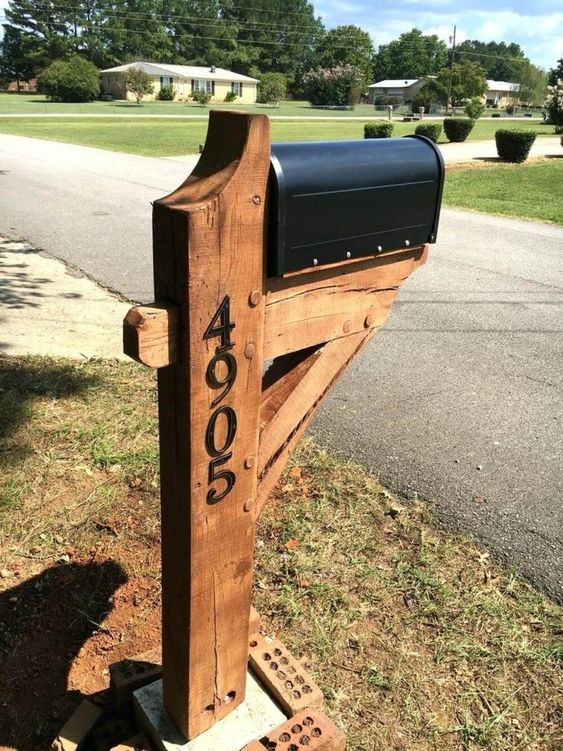 A more complicated craftsman design. This unique mailbox design involves mortise and tenon joints. If you are going to build this, maybe skip the holed bricks at the bottom 😉
Modern mid-century mailbox post idea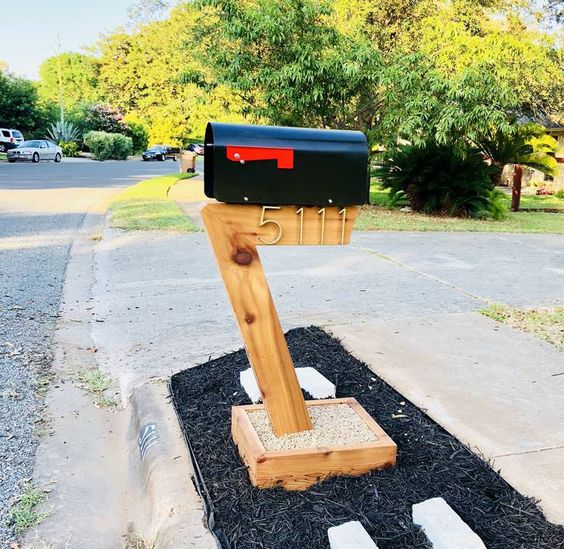 I am sooo adding this unique mailbox design to the first mid-century home I flip. It is definitely a head turner.
Overland steel mailbox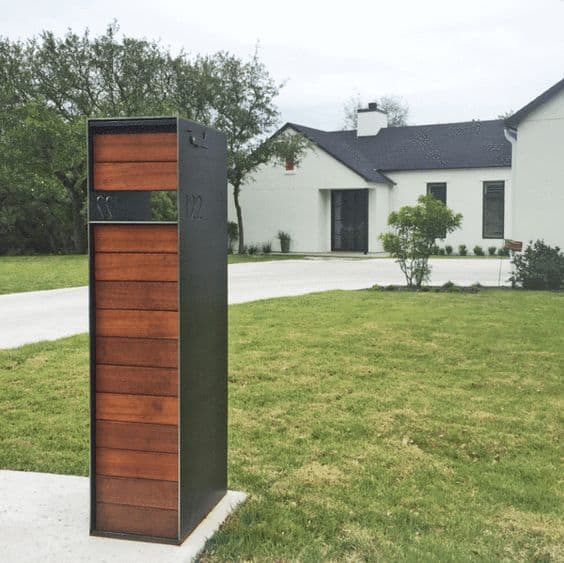 Drastically more expensive than any other option on this list, but still a very unique mailbox design.
Modern single post mailbox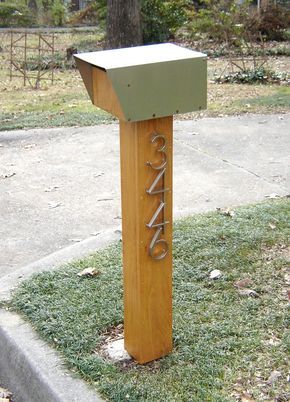 A mailbox post idea that combines modern and traditional designs.
Cottage style mailbox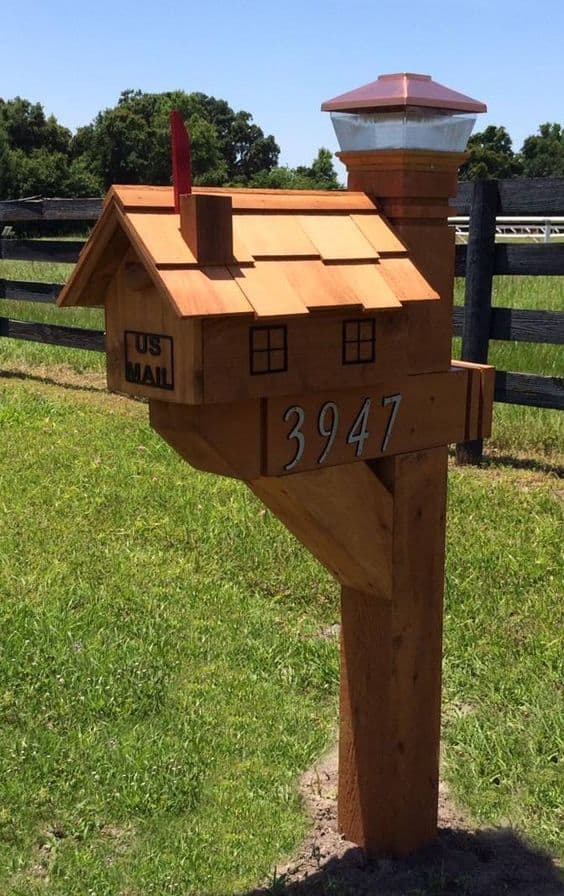 A playful mailbox post idea; especially suited to cottages and rural properties.
Another mid-century mailbox idea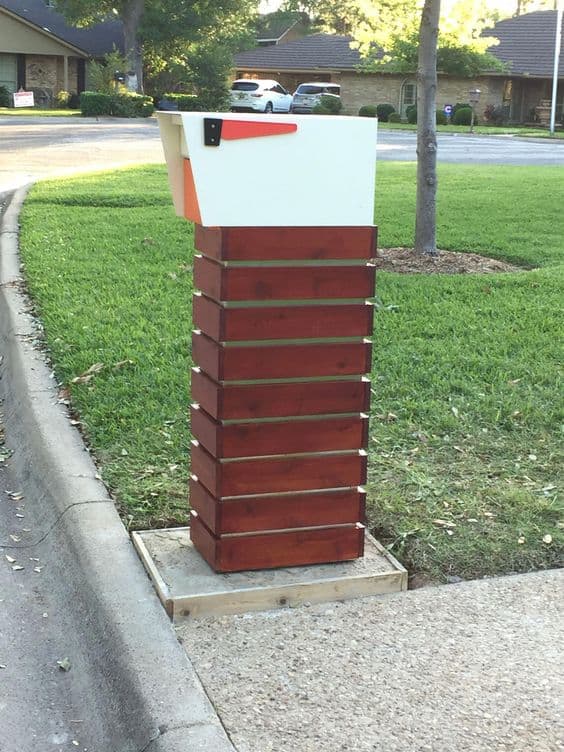 Clean lines and the pop of orange peeking through are a solid nod to the mid-century modern design.
Heavy duty mailbox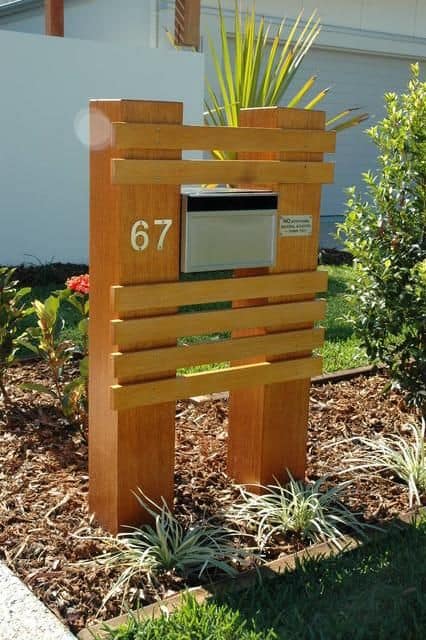 Thick styled design acting more as a small fence. One change would be to add easier access for the letter carrier in the front with a stepping stone or path.
Timber style mailbox post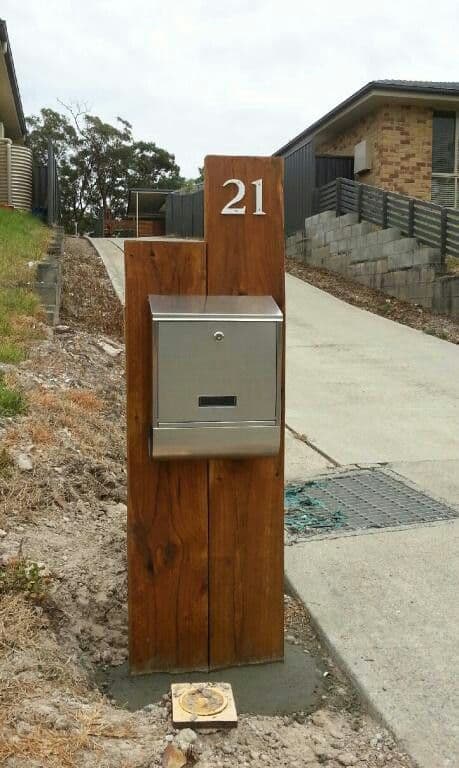 Simplicity goes a long way in creating a unique mailbox design. Once again, the inclusion of house numbers helps push this mailbox post idea over the top.
Tri-post mailbox design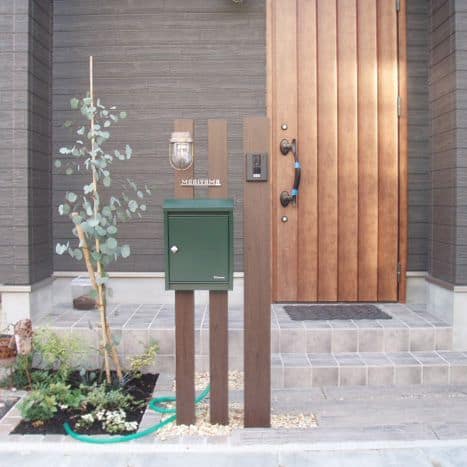 Another clean and unique mailbox post idea. You can find mailboxes just like this and you might as well grab the exterior light while your at it.
The mailbox slot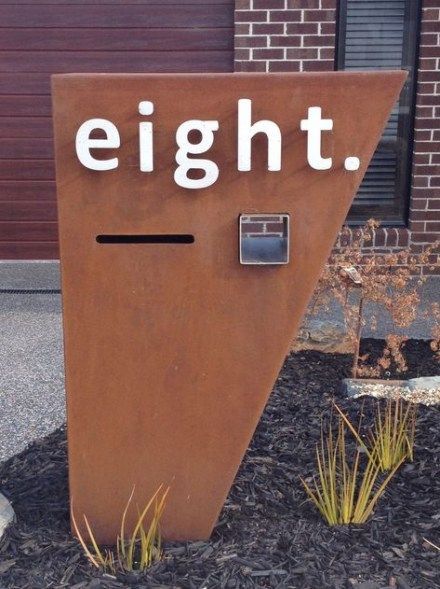 This DIY option is for those well versed in metal work. Very unique mailbox design once the rusting starts to show.
The upside down U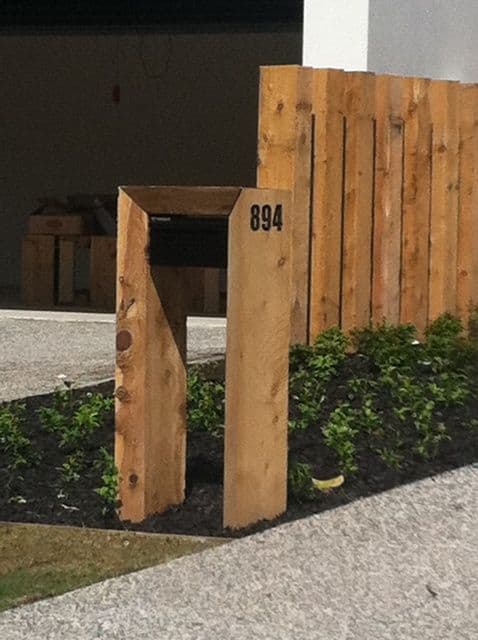 Chunky timbers, mitered corners, and a sleek black mailbox tucked neatly inside.
Wooden Mail drop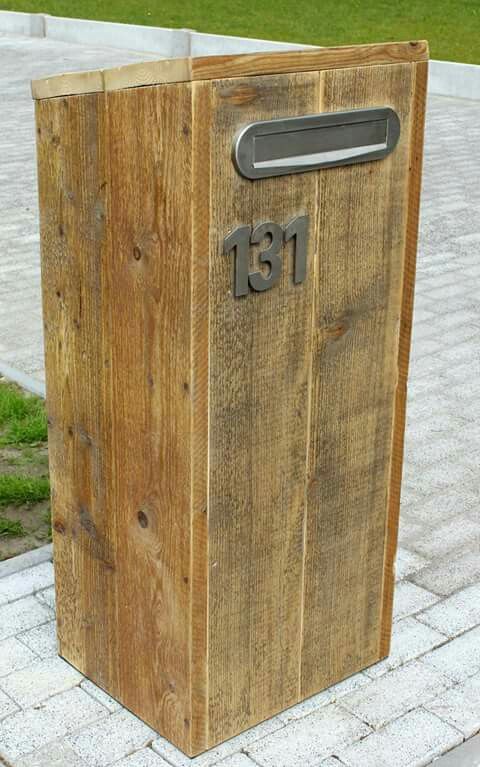 No so much a mailbox post idea, but still a unique mailbox design that not only looks great but would be quite easy to build.
A notched mailbox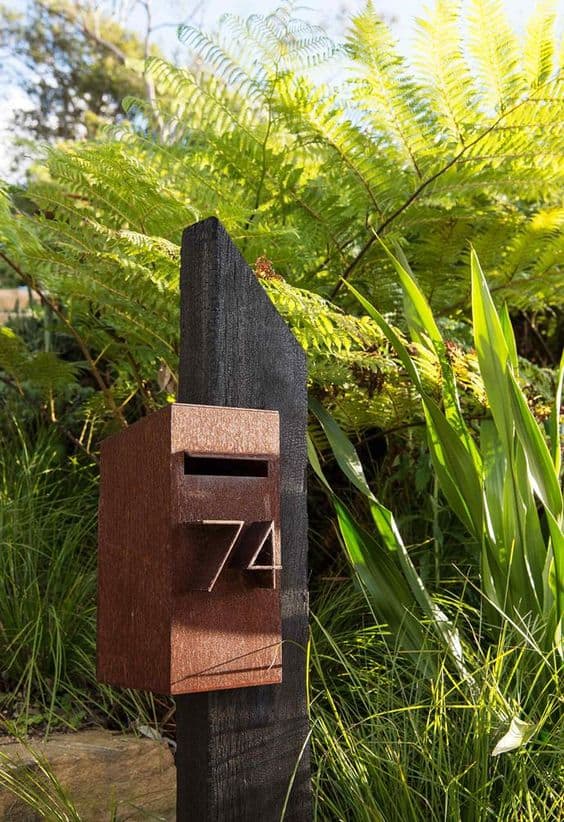 The combination of wood and steel makes this a unique mailbox post idea that would be well suited for any modern home.
Stone pillar mailbox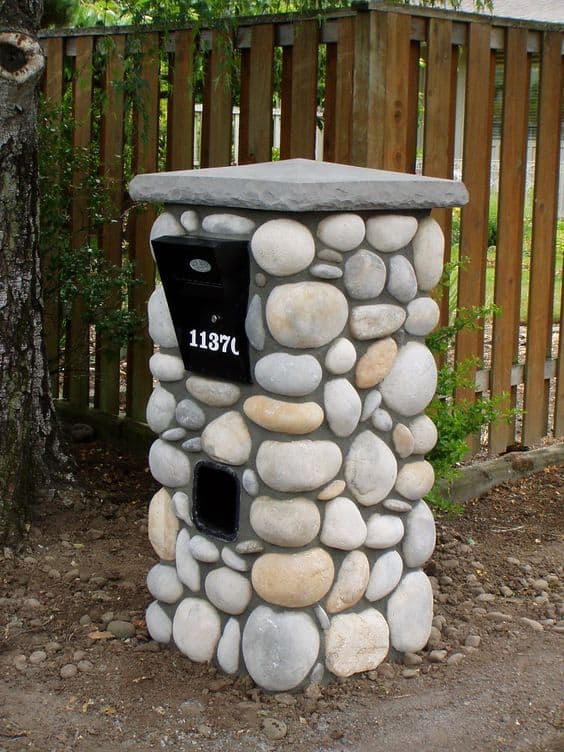 A cultured stone pillar with locking mailbox. Matched with a second pillar on the other side of a driveway would make quite an entrance.
The wooden box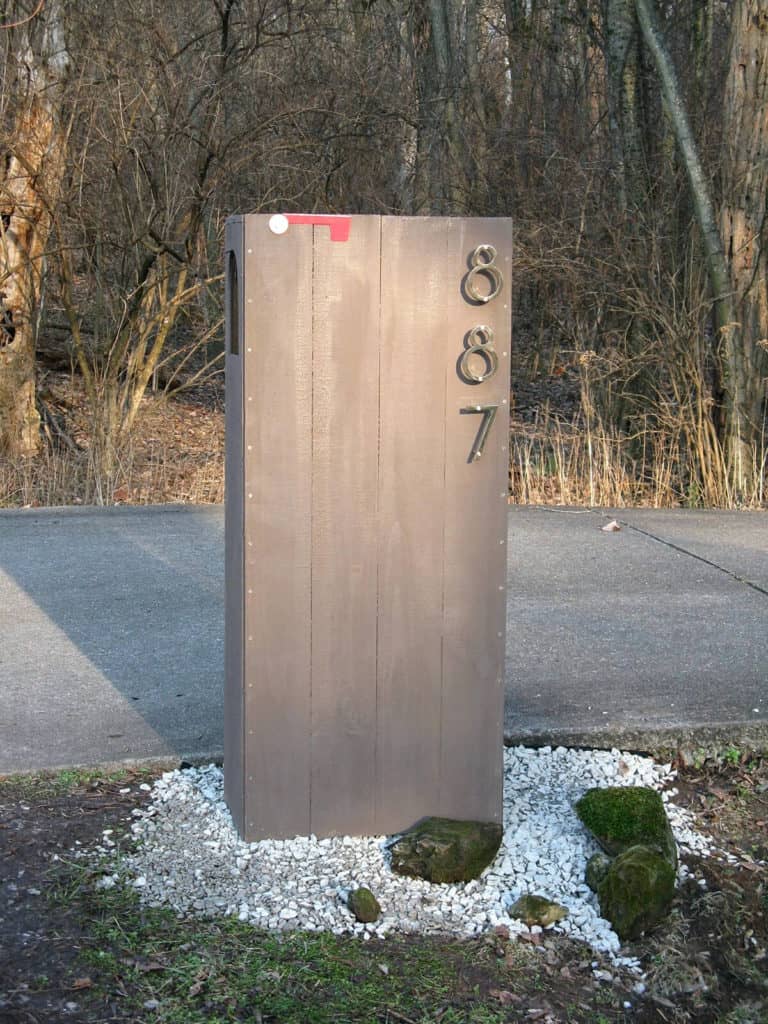 A well hidden mailbox design. The landscaping around could use some help to aid in the overall look.
That brings us to the end. I'll keep updating this list as I come across more unique options. Make your letter carrier smile and give your mailbox a face lift. It may seem small, but you will be surprised the effect it can have on a property.
Other DIY posts you may also enjoy:
Guide to small yard landscaping
How to choose between a deck or patio
DIY wooden garden arch
DIY
Sours: https://www.thehomestud.com/diy-mailbox-post-designs-and-ideas/
Do It Yourself – Tutorials – DIY Modern Wood Mailbox With Concrete Slab | How to Build (with plans!)


In this Maker Gray tutorial I'm showing you how to DIY and build your own modern mailbox from cedar from the big box store. I built a small concrete slab to support the mailbox posts, but you can also just put the posts in the ground if you prefer to skip this step. I also have a full set of build plans, with the cut lists and materials lists below 🙂
Find the PLANS for this mailbox here: https://bit.ly/3uX0kT4
Find more outdoor projects here: https://bit.ly/3ttNBqI
Subscribe and hit the bell to get notified about new videos!
Thanks so much to Total Boat for sponsoring this video! Check out all the awesome products they offer here: https://bit.ly/3gdBQB1
Things I used in this video:
Level: https://amzn.to/31KNLOk
Concrete Float: https://amzn.to/3sNfo4Y
Concrete Edger: https://amzn.to/2Opthri
Galvanized Standoff Post Anchor: https://thd.co/3sPfWHG
Plastic Mixing Tub: https://thd.co/3mHVMgp
Miter Saw: https://amzn.to/2pxpyeu
Circular Saw: https://amzn.to/2WSrF7Q
Post Level: https://amzn.to/3cPgpnq
Clamps: https://amzn.to/3cNtI8b
Pocket Hole Jig: https://amzn.to/2QzkoZh
Jigsaw: https://amzn.to/2G8twP4
Drill: https://amzn.to/2ULFuYm
Driver: https://amzn.to/2MJGYgp
Sander: https://amzn.to/2uWHM8A
Mailbox: https://thd.co/3fztKlQ
Right Angle Drill: https://amzn.to/3ujNUUT
Forstner Bit: https://amzn.to/39womu
Wood Finish: https://bit.ly/3ugKuT1
Follow Maker Gray:
Instagram @MakerGray https://www.instagram.com/makergray/
Facebook https://www.facebook.com/MakerGray/
Website https://www.makergray.com
Check out the music I use: https://www.epidemicsound.com/referral/7wzcub/
Thanks for watching!
Erin Longfellow
www.makergray.com
#diymailbox #modernmailbox #mailbox #DIY

source
← Previous PostNext Post →
Sours: https://www.dienodigital.com/do-it-yourself-tutorials-diy-modern-wood-mailbox-with-concrete-slab-how-to-build-with-plans/
DIY Mailbox Makeover
A step by step guide to create an inexpensive way to bring create your own DIY mailbox makeover including minimal supplies and simple, modern design
It's all fun and games showing you guys the inside of my house (like our office or guest bathroom or even our porch all dolled up for Christmas, for example) like I've got it all together, but do you want to see a giant secret that all our poor neighbors know about us?
The outside of our house is a friggin' disaster. Absolutely zero curb appeal. Zero stars. Would not recommend.
Overgrown bushes against the house, barely alive grass and absolutely dead whatever-this-is that's literally engulfing our poor mailbox. God bless our mail lady's arms.
We finally pulled these bushes up which just felt like a deep breath.
Don't you mind the dead patches of grass. We're not focusing on that right now. One thing at a time guys. But herein lies the problem – now that the bushes are gone, it's really obvious our mailbox is a snooze fest. I'm aware that mailboxes shouldn't be like bedazzled or anything, but it did feel like it was time to give ourselves a little DIY mailbox makeover.
Supplies:
*some affiliate links are included for your convenience
Steps for your own DIY mailbox makeover:
First, lay out your mailbox on the 4×4 post to measure where it needs to sit.
As you can see in the picture above, draw a line to mark the bottom of your mailbox and then another line 4 inches from that. That will mark where your little cross section post will go and help you with the next step.
Using your circular saw, make a bunch of little scores in the wood so it's easier to remove with a hammer and chisel.
Add your T bar cross thingie into the slot where you just removed all the scored pieces of wood and screw it into place.
Side note: I was inside while all this was going down and I hear Char say, "Daddy, it kinda looks like a cross! I wish I could die on it like Jesus. Tell mama, "Look, look, I see Jesus on the cross," and then get her to come out here."
Pastor's kid probs. And yes. She's in her sleep gown. And slide sandals. Holding her play hammer and a rubber mallet. Standing on a chisel. Is it really a custom mailbox if you don't have all of the aforementioned things?
After creating the mailbox post itself and the support piece (the little piece that makes the other side of the triangle) make sure everything is screwed together and then add the 2×8 cut to size to support your mailbox.
I would give you all measurements for this, but the reality is it's somewhat subjective so a lot of this was just winging it for us, going by the measurements that we had for the specific mailbox we chose. Sorry, I have tried to tell y'all I'm not good at this DIY instructions thing.
We chose to paint ours white, but you totally don't have to do this if you don't want. You can leave it as is, paint it a different color or stain it and seal it. We used white spray paint! I'm sure you could put a coat of paint or 2 on this or 2 if you'd rather do that, but I'm lazy. Shocker.
We attempted to "plant flowers" around here, but let's be honest – neither one of this duo knows anything about planting flowers or gardening. So, we will see if these last, but the point is the mailbox anyway so just don't mind the "flowers".
This is one of our easiest DIY projects we have done yet! And the very first in a looooong list of projects to add curb appeal.
This just goes to show you that in order to create your own DIY mailbox makeover, it really doesn't have to cost that much or take you a long time. But a pro tip? Before you tear your other one down and put this one up, make sure you either do it on a Sunday or wait until after the mail has come. Not speaking from experience or anything.
See more Make It Pretty Outdoor Projects
Posted In: DIY
Sours: https://www.livingletterhome.com/diy-mailbox-makeover/
Diy mailbox modern
Christmas might be knocking on the door outside and if you haven't got your home ready yet for the big week ahead, then it is high time you got started on the decorations. Much like every year, we already shared with our readers a host of DIY Holiday decorating ideas, lovely lighting fixtures and even homemade alternative Christmas trees to ensure that they are all set for the jolly times ahead. So, you have pretty much everything in place and are looking for something that adds an extra 'pizazz' to your holiday decorating. And idea that might not be strictly 'festive' and will serve you well beyond the New Year. It is for you crafting addicts that we bring the DIY mailbox!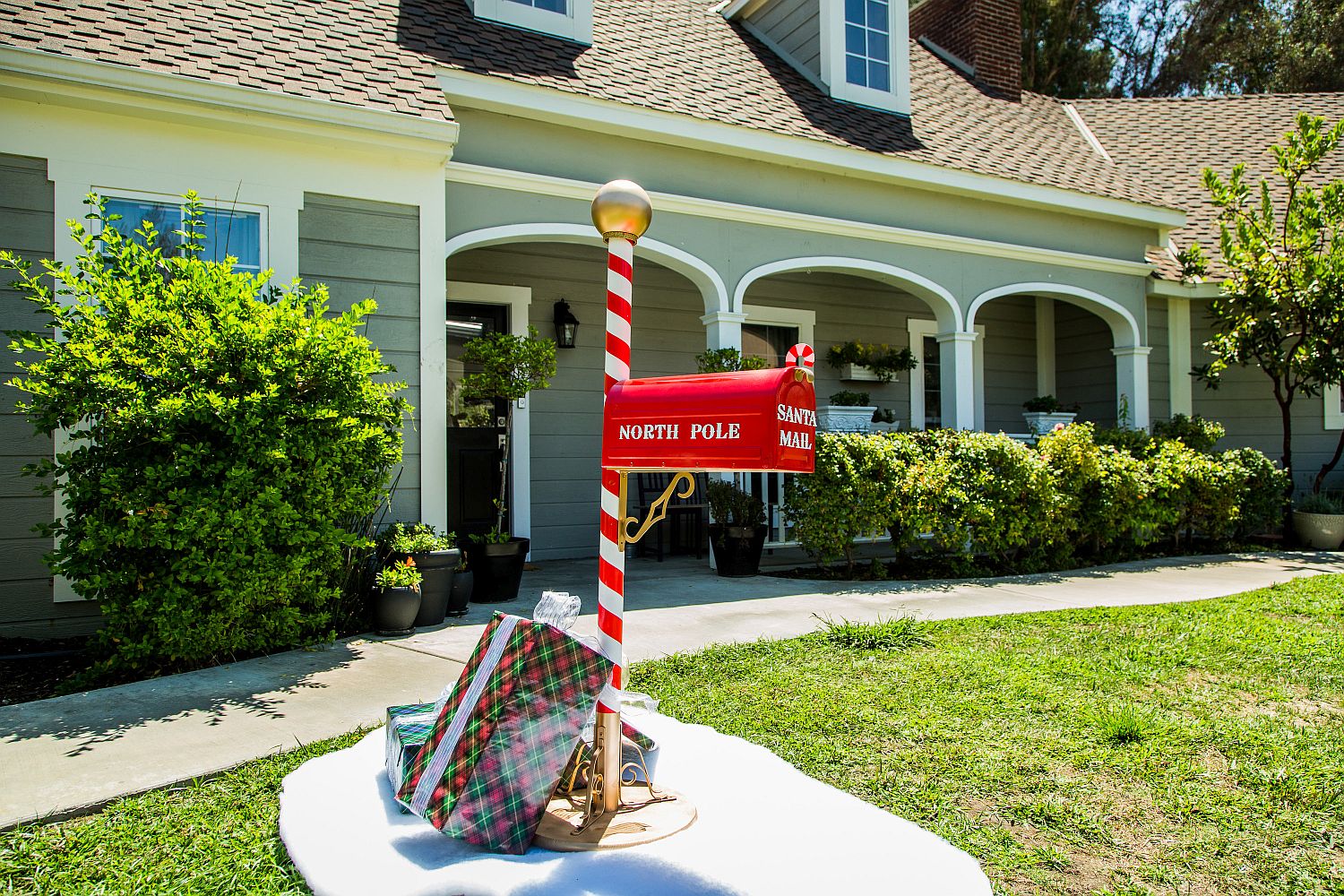 It is hard to give an entryway a more distinct look than by adding a homemade mailbox. They are easy to craft, allow you to recycle and reuse the old, discarded mailbox in the corner and give your home a classic, timeless look. You can choose a DIY mailbox that complements the style of your entryway, overall silhouette of your residence and its aesthetic appeal. From the modern and bright to the metallic and quirky, we have them all. Then there are those fun designs your kids' will absolutely adore. Time to greet your mail in a whole new fashion!
A Touch of Metallic
In a world where communication is more instant and e-mail seems to have largely replaced traditional mail, the Holidays is when time of the year when you still see plenty of mail flying around. What better way for your kids to receive a reply from Mr. Kris Kringle and his buddies at the North Pole than a custom DIY Santa Mailbox. You can rest assured that it will put a smile on the face of everyone who drives by your home even beyond Christmas. Beyond the festive theme, we take a look here at some trendy and sparkling DIY mailboxes with a metallic seen.
RELATED: 15 Festive DIY Gift Box Ideas for a Personalized Christmas!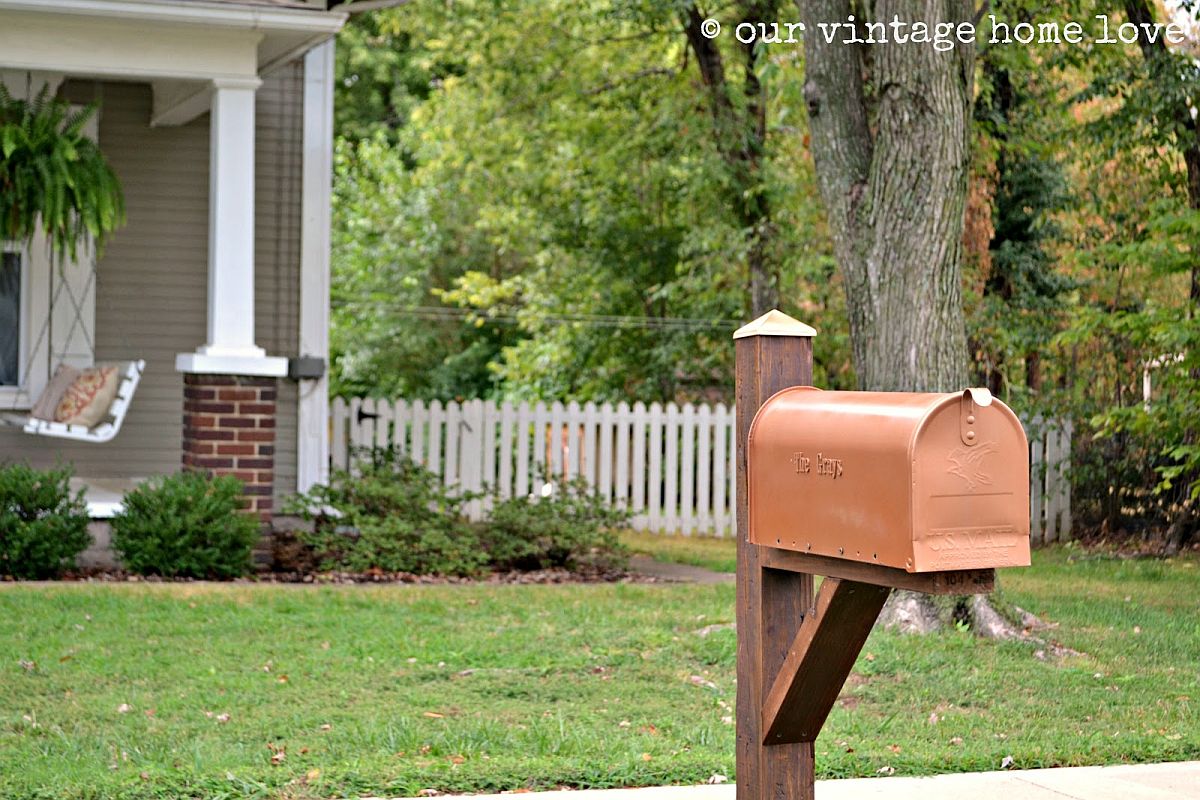 A custom mailbox with a matte brass finish and a unique mailbox statement screen ensures that the curb looks and feels simply sensational. As we talked about earlier, this is the perfect way to welcome guests and give your already exquisite home a timeless facelift. A bit of copper metallic paint, a new stand for the mailbox and some number stickers are all you need to turn that dented, old mailbox that you found outside into a statement piece for the front yard.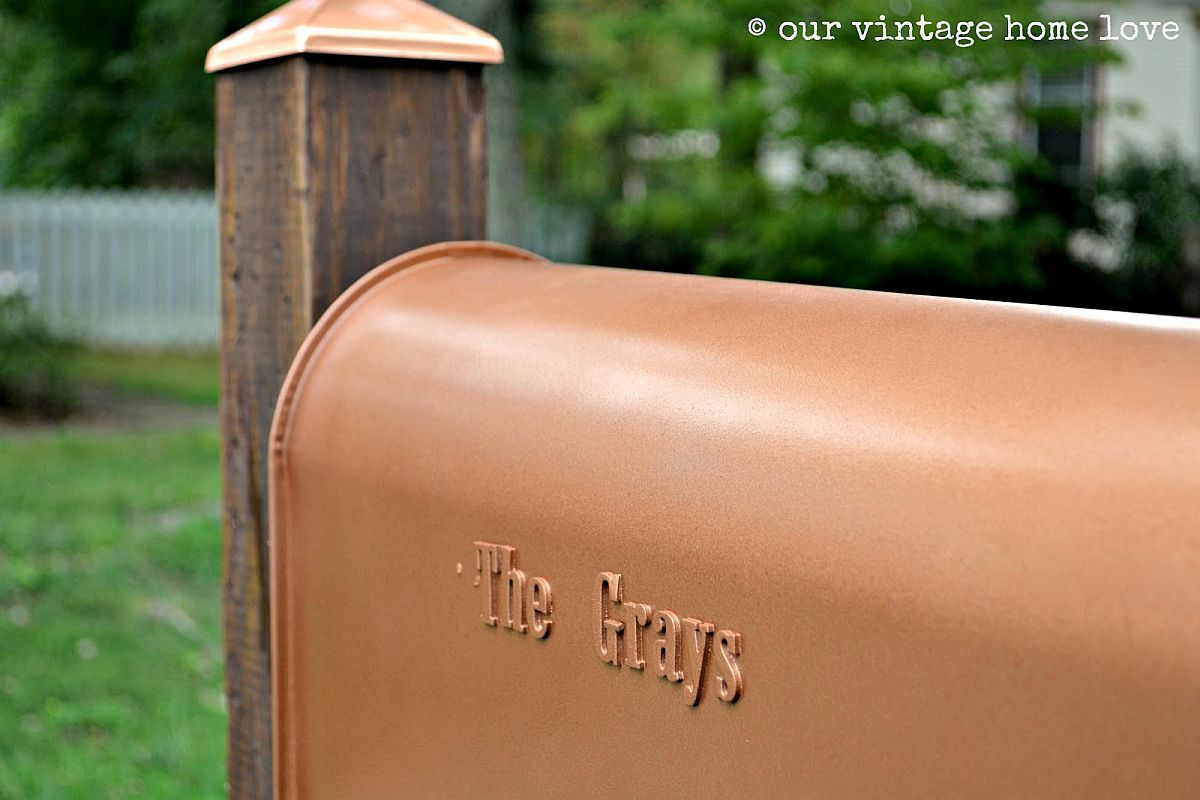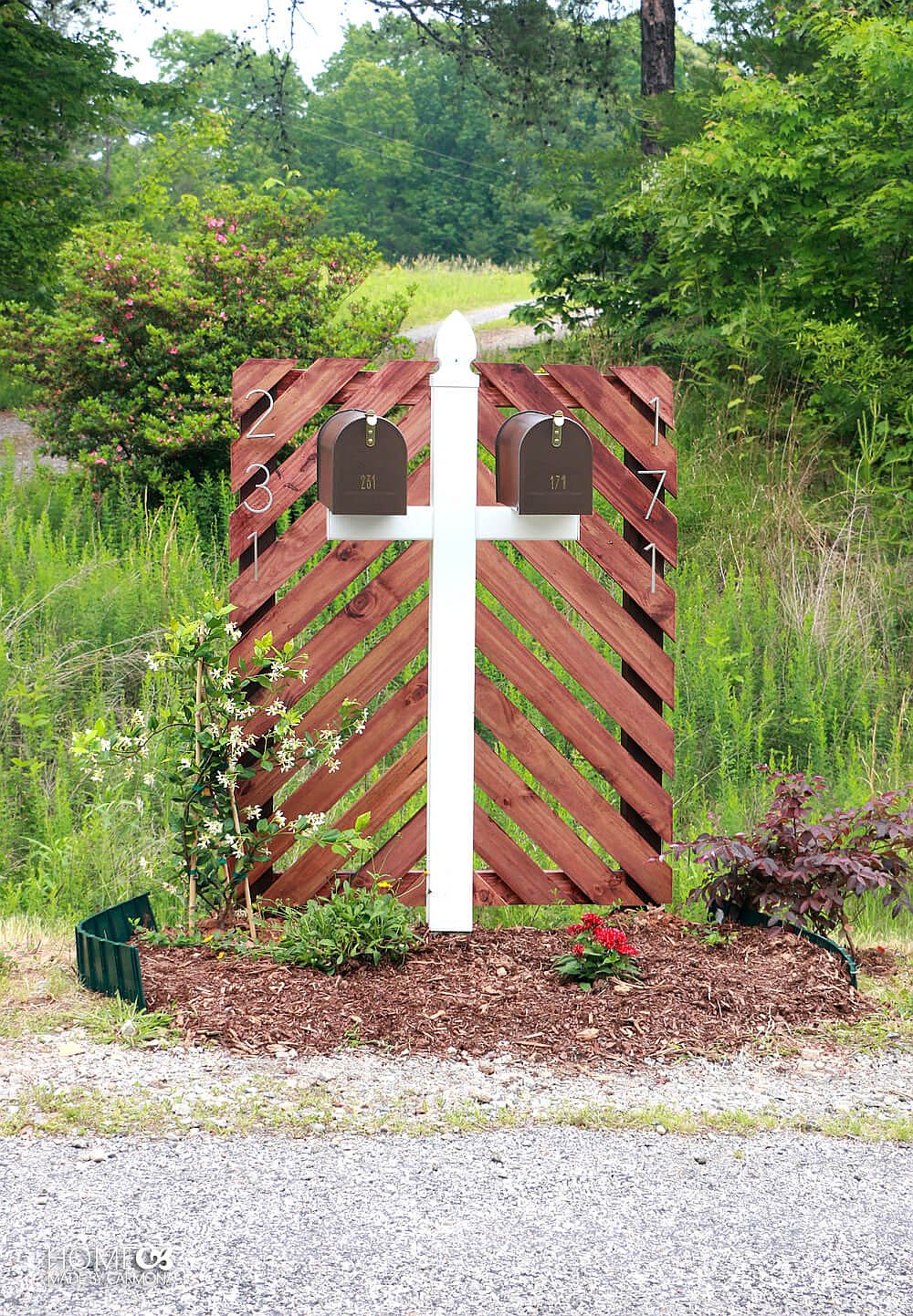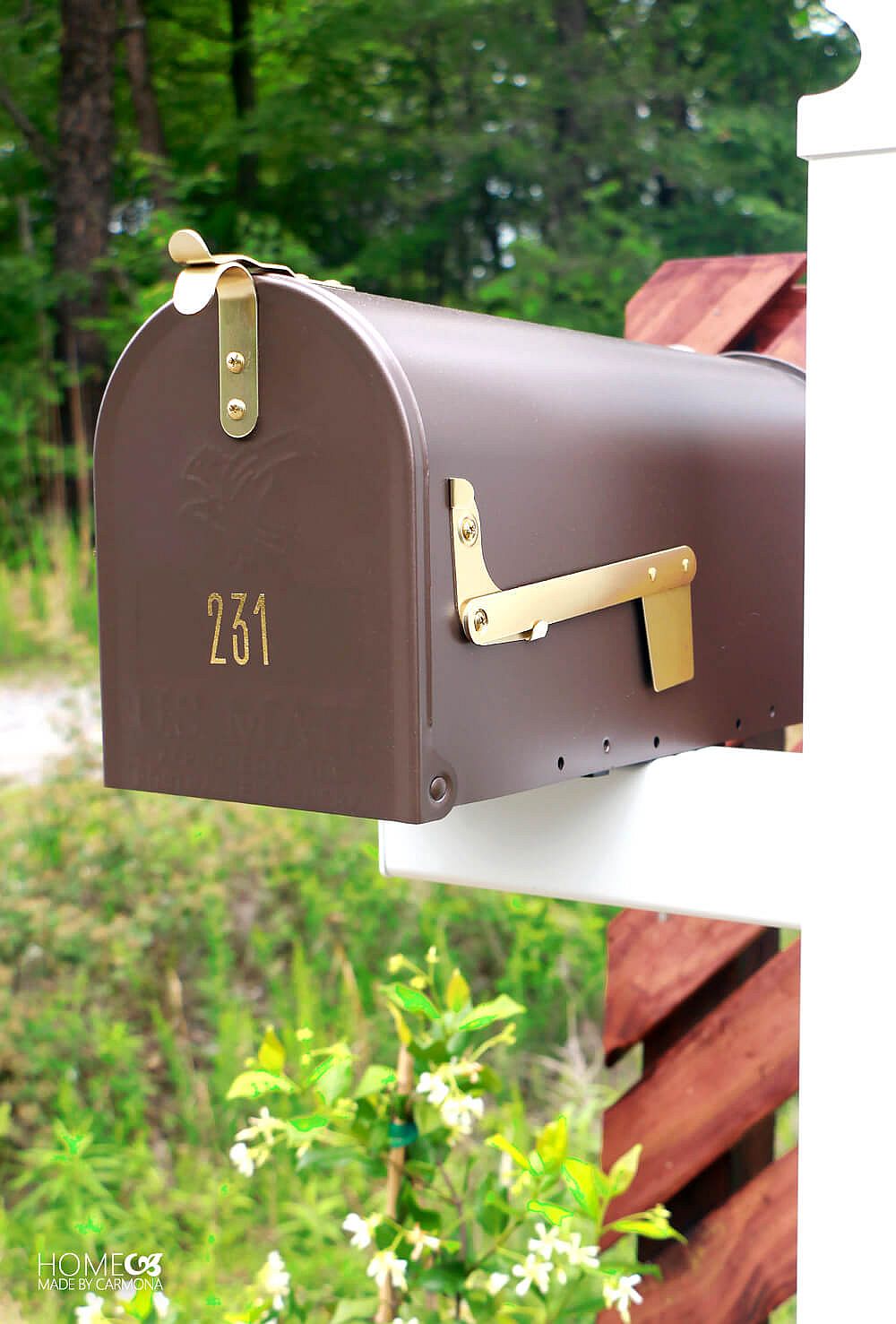 Chic and Modern
Not everyone is fond of the metallic craze going around and you might prefer a mailbox that is more in tune with the overall style of your home. Not to fret, as we have a great and cheerful DIY mailbox made with some help from mod podge that is ideal for coastal homes. With its white and blue color scheme, this homemade mailbox can cozily sit outside your beachside vacation home greeting guests and friends gleefully. Lolly Jane turn to hexagonal prints and white for a chic and contemporary DIY mailbox while a few flowering plants around the mailbox is an idea that works well as you start planning for spring.
RELATED: Stocking Decoration Ideas for a Festive Holiday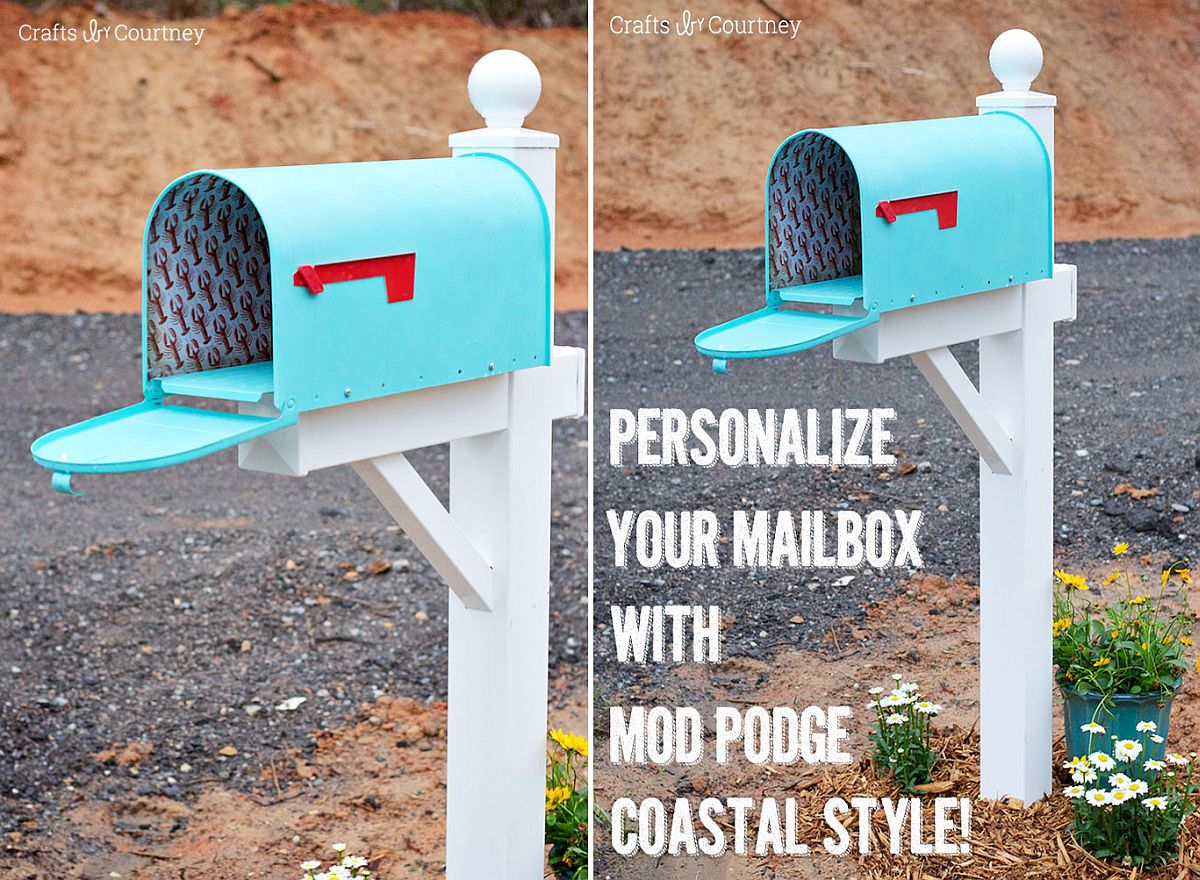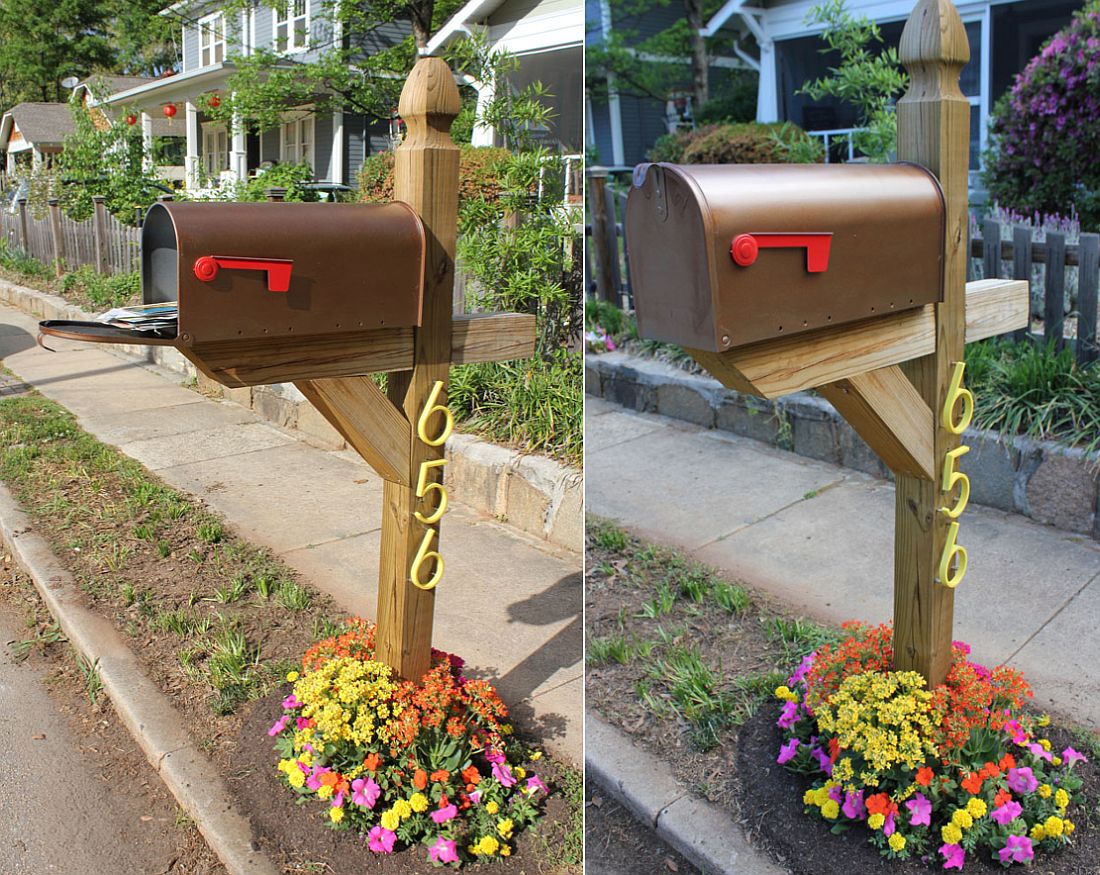 Kid-Friendly and Bright Mailboxes
Reusable stencils, colorful paper, a paint brush and a dash of creativity can transform pretty much any old mailbox into a bright and beautiful piece that attracts everyone's attention. Sure, this might not give you a sturdy mailbox that withstands the test of wear and tear, but it will still make a great Holiday addition. You can give it another simple makeover after the holidays using a can of paint for a more permanent sheen.
RELATED: 18 Festive Wine Bottle Centerpieces for Chic People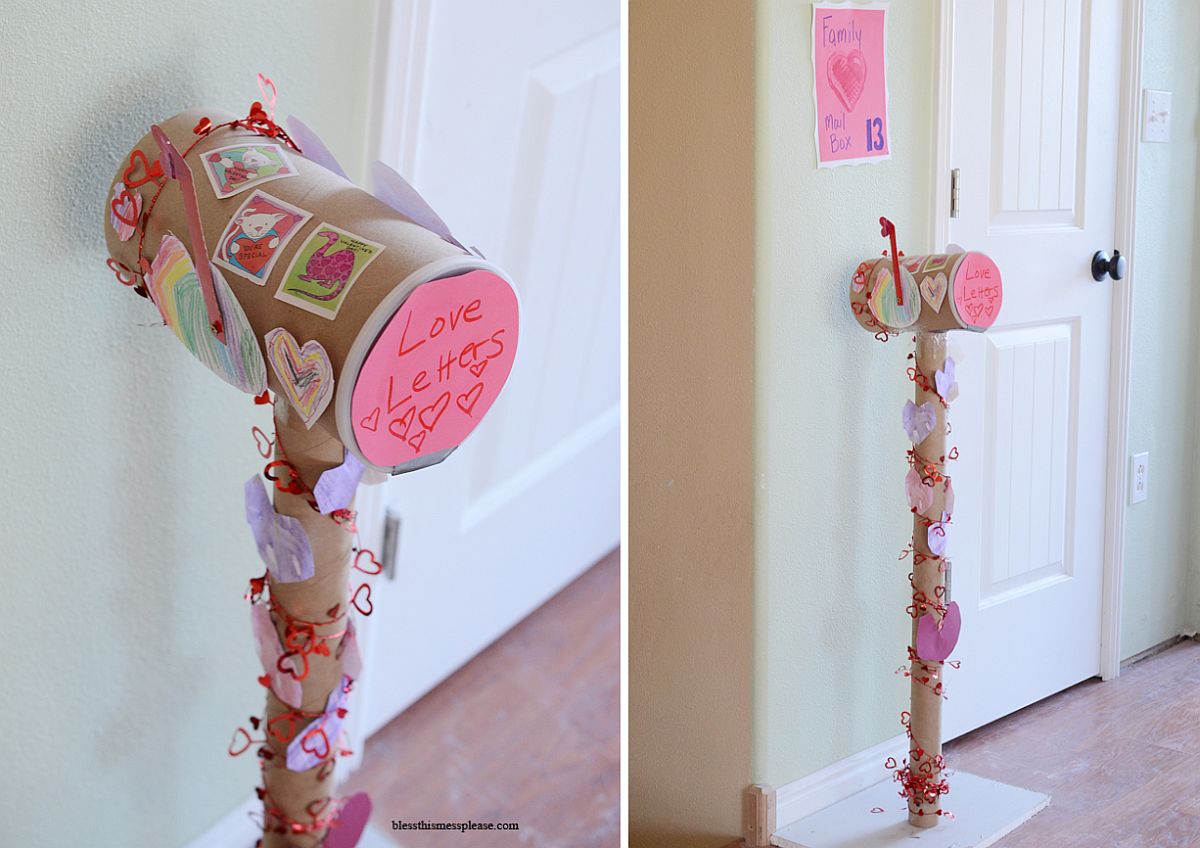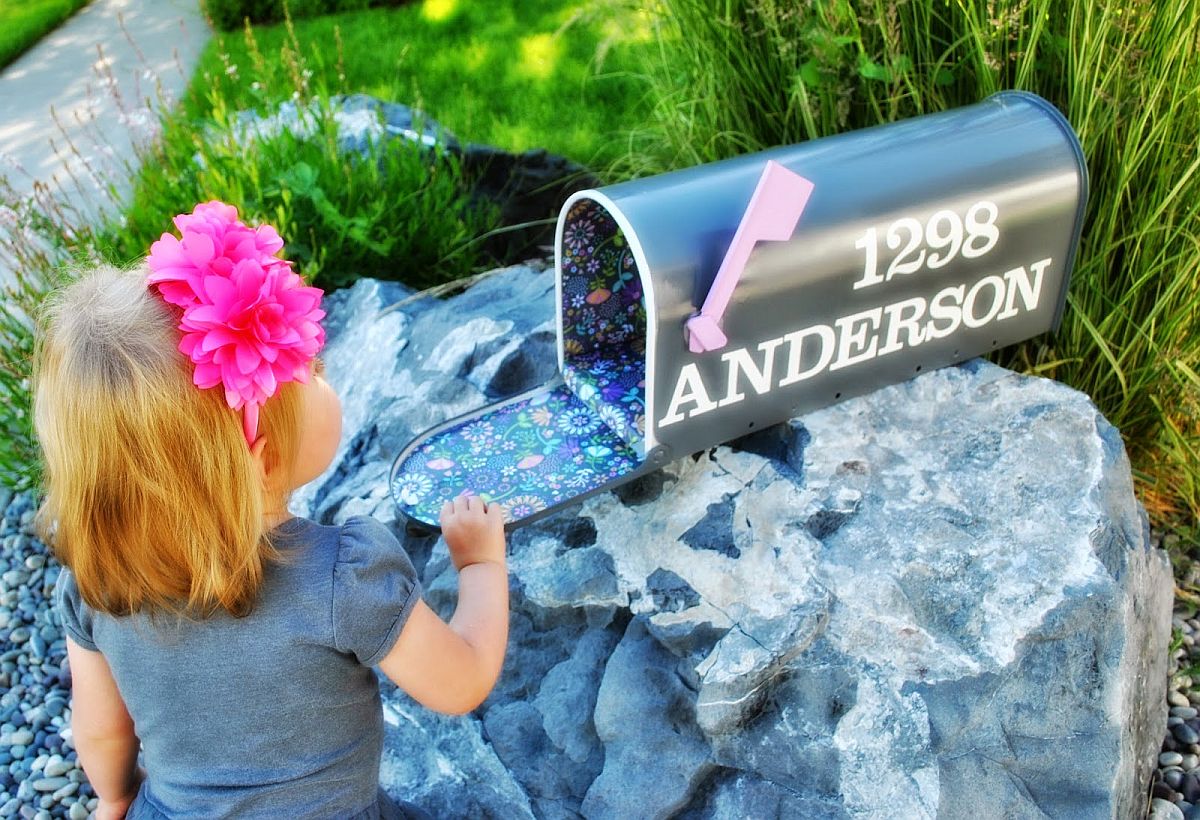 The family Valentine's mailbox is an idea that can easily be adopted for Christmas with the obvious decorative changes while the cardboard mailbox covered with maps is a fun little project that your kids will enjoy. Another easy, indoor mailbox is the one we discovered on Everyday Dishes, which was crafted using a cereal box. It also can double as a lovely organizer above the work desk!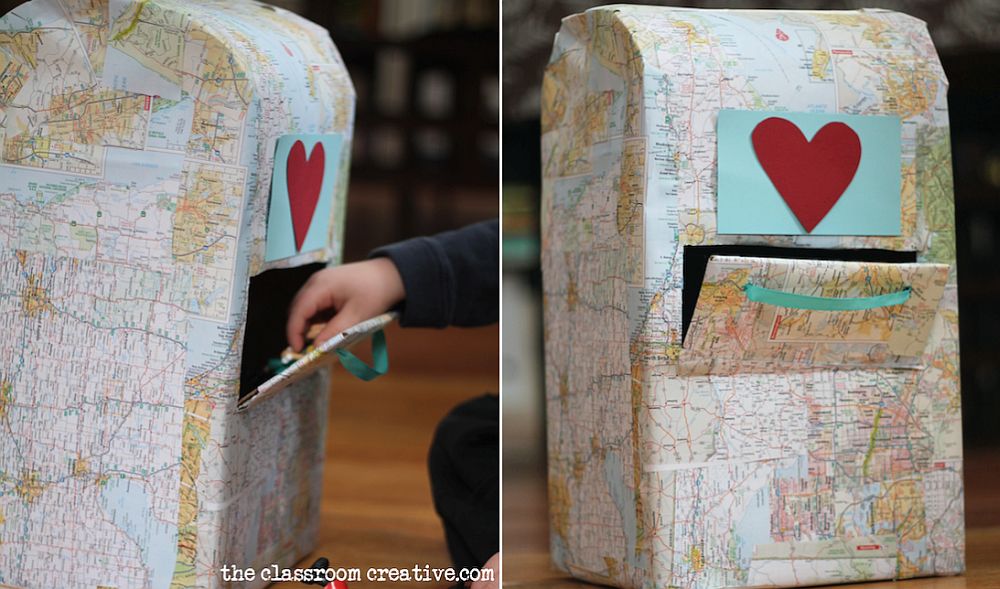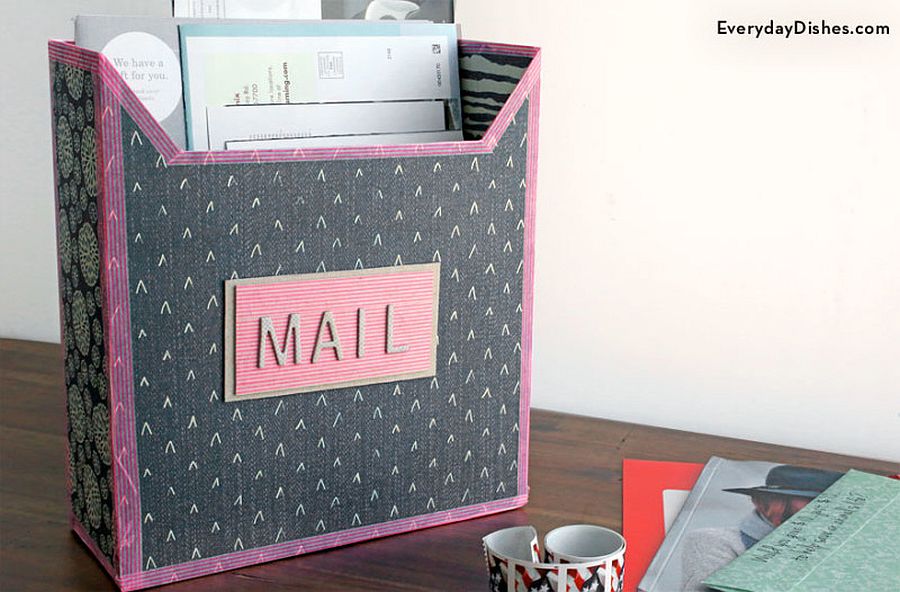 Sours: https://www.decoist.com/diy-mailbox-ideas/
how to build a modern mailbox: mailbox
Modern Mailbox DIY
I recently found this incredible mailbox on Etsy, and it was exactly what I was looking for. Not willing to shell $250 out for it, I decided to build it myself. Here's how I did it…
First, we need some materials. I purchased a 4x4 fence post, and 1x3 cedar from Home Depot. Carefully go through all of the available pieces at Home Depot, or wherever you're getting your lumber from, to get the straightest pieces.
I don't have a proper setup for cutting, so I secured a small piece of wood in my vice to make sure all pieces were cut to the same length.
All cut, now it's time to sand everything down. I just used 80 grit paper.
Sand all sides.
Preparing for the staining process.
I used Minwax Dark Walnut. Brush it on, let it set for about 10 minutes, then wipe off the excess with a rag. Dark walnut can be over-powering, so I only used one coat.
After the stain is dry, you can begin applying your clear coat. I used Minwax Spar Urethane, which protects your work from the elements. I apply 3 heavy coats, then sand with a fine sandpaper of 320 grit or higher, then finish with a final coat of urethane.
A quick test fit of the pieces and the house numbers.
If you're happy with how it looks, it's time to starting putting it all together.
To support the top pieces, where the mailbox will sit, I added a bracket for some extra support.
One side completely attached.
Second side finished, and the primary structure is now complete.
Now it's time to add the house numbers. I used Hillman Group's Brushed Nickel house numbers, which had the best look for the cost.
Here is the finished mailbox post, ready to be installed.
I had some leftover wood, so I made matching number plaque to go by my door.
Final product again.
6 years ago

Tagged: #mailbox#woodworking#diy#tutorial#do it yourself#modern#design#wood and metal#home decor#home#double_size
Sours: https://tylergarner.com/post/123927461019/modern-mailbox-diy
You will also be interested:
Find A Modern Mailbox That Matches Your Home And Style
Maybe we don't receive as much physical mail as we used to, with everything being done electronically these days, but that doesn't really make the mailbox useless. Keep it for nostalgia or for receiving packages, but don't eliminate it just yet. In this scenario it could even be cool to update its design so it matches your home and personal style and while you're at it you should look at some modern house numbers too. Just by talking about it makes us really excited to look at some modern mailbox designs so let's get started.
The Stratford Parcel Mailbox is an all-in-one piece. It's made of raw dark gray hot rolled steel and it has two compartments inside. The upper section is your classic mailbox for letters, magazines and other things and the lower compartment is bigger and designed for packages. There's a lock at the back so your packages stay safe inside and if you want you can also request a lock for the mailbox at the top too.
The Gibson Classic Mailbox is designed to be wall-mounted and has a pretty simple and basic design. Its sides are made of 14 gauge steel and the mailbox is designed to be waterproof and to keep your mail safe inside, untouched by the sun, rain or snow. It has mounting holes in the back and it comes with a lock and keys.
The design of this Mid-Century Modern Mailbox is inspired by the look of mailboxes produced back in the 1950s and 1960s. It's quite simple but it's also quirky, especially in terms of color. This funky mailbox is crafted out of 20 gauge steel which makes it considerably thicker and more durable than most mailboxes produced today.
This modern wall-mounted mailbox is the Letterman 4. Its design is very clean and simple and it comes in several bright and eye-catching colors such as orange, green, red, silver as well as some less intense nuances such as white, black, blue, dark green and anthracite. The lock is under the mail flap and doesn't interrupt the minimalist appearance of the mailbox.
The TomTom mailbox is a really cute product with a design that's modern, simple and quirky. It's small and easy to install and it comes in several lovely accent colors including red, light grey, blue and yellow. The box is made of steel and the pole which supports it wooden and this combination is really nice. This actually looks like a bit like a small birdhouse or like a cute little robot head with a super long and thin neck. Either way, it's cute and funny.
You've Got Mail, that's the name of this modern mailbox that looks a lot like an app icon. Its design is part nostalgic and part futuristic. It may look like a simple envelope but this mailbox has a fingerprint scanner and that colored triangle at the top is actually a solar panel. The mail is inserted from the side and then you get a message on your phone or computer letting know that you've got mail. It's one of the few truly modern mailboxes which incorporate new technologies into their designs.
Isn's this mailbox simply adorable. It's called Koo Koo and it's shaped like a bird. The design is cute, playful and stylized in a really cool way too, allowing this modern mailbox to be both eye-catching and functional. It was designed by Playso in collaboration with Justin Hutchinson. Notice that the wing is open so the mailbox can be spacious in order to also accommodate magazines and newspapers.
This is a modern mailbox produced by Javi Design. It's very versatile and can be installed as a freestanding accessory or can installed on walls, fences and other surfaces. The designers wanted to make sure their mailbox would be able to withstand the harsh Australian climate so they built it out of sustainable Accoya wood and coated steel.
If you're looking for a simple, large and modern mailbox which can complement your house, you might be able to find something cool on etsy, like the No. 1219 Custom Post-mount Mailbox which comes in 24 different colors. It's made of powder-coated aluminum which makes it durable but also lightweight.
The Waldo Modern Mailbox is another stylish and chic option. As some of the other ones we've shown you today, this mailbox can be customized to display your house number as well. It's made of stainless steel and hardwood and it looks chic, elegant and is perfect for any modern or contemporary house, especially one that has a clean, geometric architecture with box-like volumes
Here's another modern wall mounted mailbox, also from Etsy. This one offers the option of etching your name or house number on the wooden front panel. The frame of the mailbox is made of stainless steel with a powder-coated finish available in black, red, bronze or white.
The Louis S wall-mounted mailbox can also be customized this time via laser-engraved lettering. The design of the mailbox is simple, modern and pretty versatile. In a way, you could say it looks timeless. It's sleek and durable and designed to last for a long long time.
If minimalism is what you're looking for in a modern mailbox, you should check out the Rok Mailbox which has a very clean and simplistic design. It's also quite large which makes it practical. The house number is cut in the bottom right corner of the mailbox so this is really a two-in-one accessory.
Of course, if you want something classic with just a hint of modern flair, there are plenty of options here as well. One of them is the Dexter Classic Mailbox which is made of steel with laser-cut detailing on either side. Its design is elegant and has a very nice industrial vibe to it without looking too rugged.
Sours: https://www.homedit.com/modern-mailbox/
9204
9205
9206
9207
9208