When Sue Hoppin was in college, she met the man she was going to marry. "I was attending the University of Denver, and he was at the Air Force Academy," she says. "My dad had also attended the University of Denver and warned me not to date those flyboys from the Springs."
"He didn't say anything about marrying one of them," she says. And so began her life as a military spouse.
The life brings some real advantages, like opportunities to live abroad — her family got to live all around the US, Japan, and Germany — but it also comes with some downsides, like having to put your spouse's career over your own goals.
"Though we choose to marry someone in the military, we had career goals before we got married, and those didn't just disappear."
Career aspirations become more difficult to achieve, and progress comes with lots of starts and stops. After experiencing these unique challenges firsthand, Sue founded an organization to help other military spouses in similar situations.
Sue had gotten a degree in international relations because she wanted to pursue a career in diplomacy, but for fourteen years she wasn't able to make any headway — not until they moved back to the DC area. "Eighteen months later, many rejections later, it became apparent that this was going to be more challenging than I could ever imagine," she says.
Eighteen months is halfway through a typical assignment, and by then, most spouses are looking for their next assignment. "If I couldn't find a job in my own 'hometown' with multiple degrees and a great network, this didn't bode well for other military spouses," she says.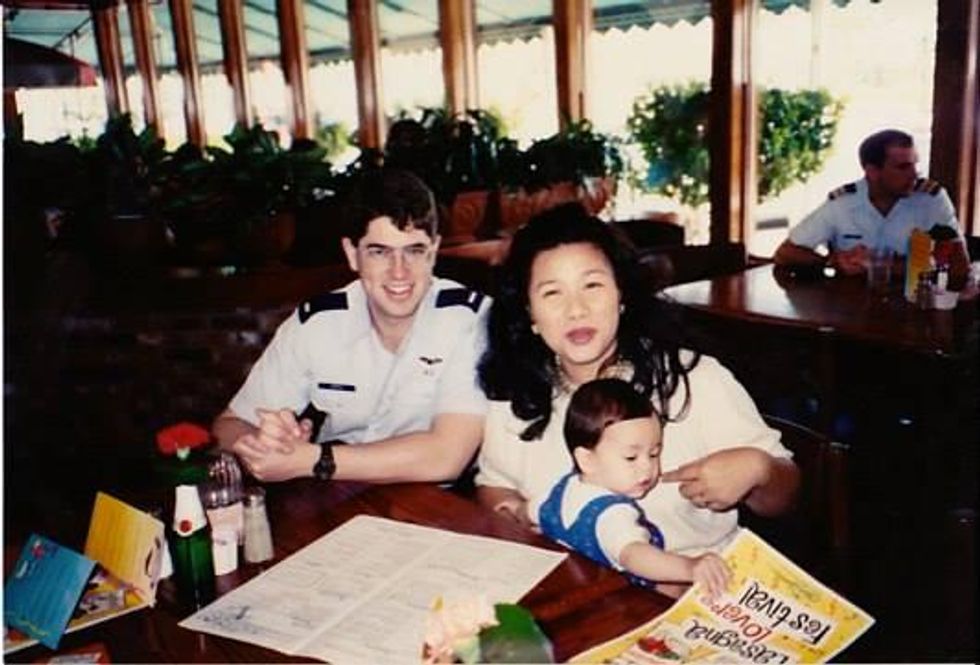 She's not wrong. Military spouses spend most of their lives moving with their partners, which means they're often far from family and other support networks. When they do find a job, they often make less than their civilian counterparts — and they're more likely to experience underemployment or unemployment. In fact, on some deployments, spouses are not even allowed to work.

Before the pandemic, military spouse unemployment was 22%. Since the pandemic, it's expected to rise to 35%.
Sue eventually found a job working at a military-focused nonprofit, and it helped her get the experience she needed to create her own dedicated military spouse program. She wrote a book and started saving up enough money to start the National Military Spouse Network (NMSN), which she founded in 2010 as the first organization of its kind.
"I founded the NMSN to help professional military spouses develop flexible careers they could perform from any location."
"Over the years, the program has expanded to include a free digital magazine, professional development events, drafting annual White Papers and organizing national and local advocacy to address the issues of most concern to the professional military spouse community," she says.
Not only was NMSN's mission important to Sue on a personal level she also saw it as part of something bigger than herself.
"Gone are the days when families can thrive on one salary. Like everyone else, most military families rely on two salaries to make ends meet. If a military spouse wants or needs to work, they should be able to," she says.
"When less than one percent of our population serves in the military," she continues, "we need to be able to not only recruit the best and the brightest but also retain them."
"We lose out as a nation when service members leave the force because their spouse is unable to find employment. We see it as a national security issue."
"The NMSN team has worked tirelessly to jumpstart the discussion and keep the challenges affecting military spouses top of mind. We have elevated the conversation to Congress and the White House," she continues. "I'm so proud of the fact that corporations, the government, and the general public are increasingly interested in the issues affecting military spouses and recognizing the employment roadblocks they unfairly have faced."
"We have collectively made other people care, and in doing so, we elevated the issues of military spouse unemployment to a national and global level," she adds. "In the process, we've also empowered military spouses to advocate for themselves and our community so that military spouse employment issues can continue to remain at the forefront."
Not only has NMSN become a sought-after leader in the military spouse employment space, but Sue has also seen the career she dreamed of materializing for herself. She was recently invited to participate in the public re-launch of Joining Forces, a White House initiative supporting military and veteran families, with First Lady Dr. Jill Biden.
She has also had two of her recommendations for practical solutions introduced into legislation just this year. She was the first in the Air Force community to show leadership the power of social media to reach both their airmen and their military families.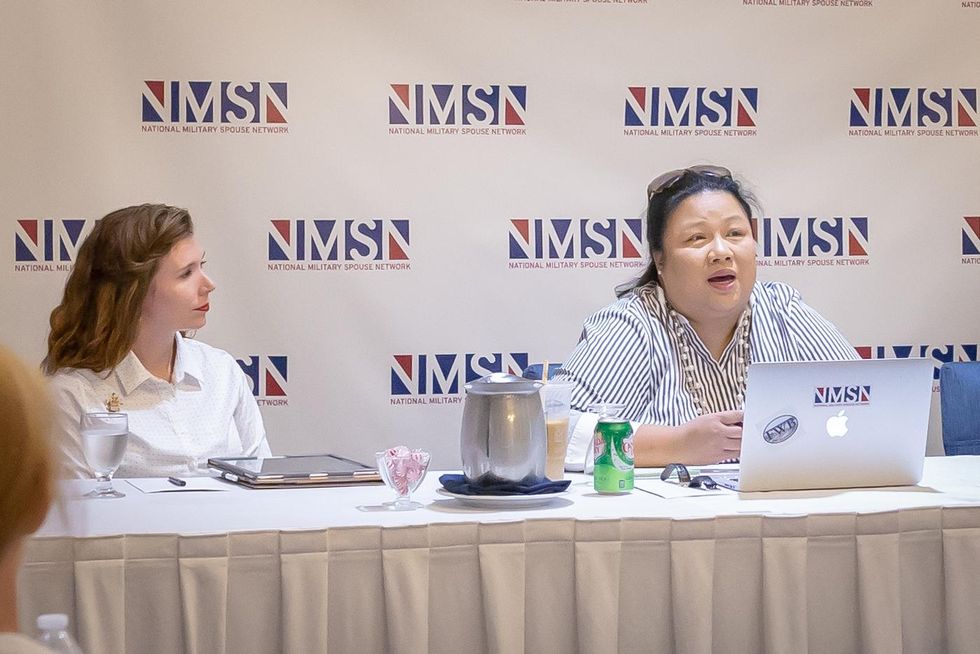 That is why Sue is one of Tory Burch's "Empowered Women" this year. The $5,000 donation will be going to The Madeira School, a school that Sue herself attended when she was in high school because, she says, "the lessons I learned there as a student pretty much set the tone for my personal and professional life. It's so meaningful to know that the donation will go towards making a Madeira education more accessible to those who may not otherwise be able to afford it and providing them with a life-changing opportunity."

Most military children will move one to three times during high school so having a continuous four-year experience at one high school can be an important gift. After traveling for much of her formative years, Sue attended Madeira and found herself "in an environment that fostered confidence and empowerment. As young women, we were expected to have a voice and advocate not just for ourselves, but for those around us."

To learn more about Tory Burch and Upworthy's Empowered Women program visit https://www.toryburch.com/empoweredwomen/. Nominate an inspiring woman in your community today!
From Your Site Articles
Related Articles Around the Web
Sours: https://www.upworthy.com/10-photos-of-seriously-wounded-vets-remind-us-about-the-real-costs-of-war
The Civil War as Photographed by Mathew Brady
Background
Many historians call the Civil War the central event in U.S. history. The formation of the Constitution corrected the autonomy of individual states that the Articles of Confederation did not harness. Still, the young country struggled for 75 years to find a graceful balance between the power of the federal government and the several states. The rights of states and the issue of slavery propelled the country into civil war. Today, America defines itself from that point forward, as it still seeks a more perfect union and equality for all its citizens.
The sociology of the American Civil War can be viewed through a medium that was coming of age in the middle of the 19th century: photography. The National Archives and Records Administration makes available on-line over 6,000 digitized images from the Civil War. Mathew Brady and his associates, most notably Alexander Gardner, George Barnard, and Timothy O'Sullivan, photographed many battlefields, camps, towns, and people touched by the war. Their images depict the multiple aspects of the war except one crucial element: battle. Photographs show camp life, routines, war preparations, the moments just prior to battle, and the aftermath of battle. The primitive technology of photography required that subjects be still at the moment the camera's shutter snapped. Battle scenes are, therefore, missing from the record of history of this era. The study of war journals and artifacts has developed a network of people, particularly located on the East Coast, who perform Civil War re-enactments. Recently, these groups have helped American filmmakers portray the war in realistic terms in movies like Gettysburg and Glory and in other documentaries on key Civil War battles. Thus, the more modern technology of cinematography fills the gap left by photography in recording the battles.
Other Resources
The Library of Congress has over 1,000 photographs of the Civil War in its American Memory collection. It includes a search engine.
McPherson, James. For Cause and Comrade: Why Men Fought in the Civil War. New York: Oxford University Press, 1997. (McPherson read over 1,000 letters and 200 diaries of Confederate and Union soldiers to come up with his answers to the book's title question.)
McPherson, James. Battle Cry of Freedom: The Civil War Era. New York: Oxford University Press, 1988. (This is McPherson's Pulitzer prize-winning history of the Civil War.)
The Valley of the Shadow: Two Communities in the American Civil War by historian Edward L. Ayers of the University of Virginia allows students to compare and contrast a Northern town with a Southern one before, during, and after the Civil War.
The Photographs
Colors of the 23rd New York Infantry
National Archives Identifier: 529517

Wilderness, near Chancellorsville, VA
National Archives Identifier: 524447

View in Wilderness area of VA
National Archives Identifier: 529193

Pontoon across the Rappahannock River, VA, Cavalry column
National Archives Identifier: 524925

Battery in action at Fredericksburg, VA
National Archives Identifier: 524733

Wounded soldiers under trees, Marye's Heights, Fredericksburg,
after the battle of Spotsylvania, 1864
National Archives Identifier: 524768

Wounded soldiers in hospital
National Archives Identifier: 524705

Confederate prisoners waiting for transportation, Belle Plain, VA
National Archives Identifier: 524824

A company of the 6th Maine Infantry on parade after the battle of Fredericksburg
National Archives Identifier: 524587
At time of the charge across the stone wall at foot of Marye's Heights, General Joseph Hooker was in command of the Federals and General Fitzhugh Lee in command of the Confederates.

Confederate dead behind a stone wall at Fredericksburg, VA
The 6th. Maine Infantry penetrated the Confederate lines at this point
National Archives Identifier: 524930

Aquia Creek and the Fredericksburg Railroad, with a construction corps at work
National Archives Identifier: 528988

Battery D, 2nd U.S. Artillery, at Fredericksburg, VA
National Archives Identifier: 533305

Pontoon bridge across the Rappahannock River at Fredericksburg, VA
National Archives Identifier: 533306

An interior view of Union breastworks on Little Round Top, Gettysburg, PA
National Archives Identifier: 530424

Camp of the 44th New York Infantry near Alexandria, VA
National Archives Identifier: 524564

Camp scene showing winter huts and corduroy roads
National Archives Identifier: 524642
National Archives and Records Administration
Records of the Office of the Chief Signal Officer
Record Group 111
Article Citation
This article was written by Douglas Perry, a teacher at Gig Harbor High School, in Gig Harbor, WA.
Sours: https://www.archives.gov/education/lessons/brady-photos
Everyone should see these powerful images of wounded vets
Professional photographer David Jay knows a picture is worth a thousand words, so he applied it to wounded vets.
---
To comprehend the news he would hear about the Iraq and Afghanistan wars, Jay visited Walter Reed Hospital to meet with wounded veterans. The visit had such a profound effect on him that he spent 3 years photographing wounded servicemen and women capturing an unadulterated look at their traumatic wounds for his series "Unknown Soldier."
"We hear about 'this number of men were killed' and 'this many were injured,'" Jay said in a recent interview with NPR. "And we think of them — maybe they got shot — or we don't really picture what these injured men look like."
The images are so visually powerful they have been acquired by the Library of Congress to be used as part its Iraq and Afghanistan wars visual documentation.
"You can imagine how many times each of these men and women have heard a parent tell their child, 'Don't look. Don't stare at him. That's rude.' I take these pictures so that we can look; we can see what we're not supposed to see. And we need to see them because we created them."
Jay gave WATM permission to use some of his photos below, but you can see his full gallery here.
Army Staff Sgt. Robert Henline. Bobby's transport was incinerated by a roadside bomb in Iraq. He was the lone survivor.
Army Spc. Jerral Hancock. Jerral was driving a tank in Iraq. A roadside bomb pierced the armor, breaching the interior. It is believed that Jerral was trapped under the wreckage for half an hour.
Robert was hit by incoming artillery, sustaining burns over 60% of his body
Maj. Matt Smith, US Army. On June 8, 2013 in Paktika Province, Afghanistan, Matt was shot along with five others by a member of the Afghan National Army. The bullet severed his femoral artery, resulting in the amputation of his leg.
Marine Cpl. Michael Fox. On November 15, 2011 Michael was on foot patrol in the Helmand Province of Afghanistan when he was injured by an improvised explosive device.
1st Lt. Nicholas John Vogt, U.S. Army. On November 12, 2011, he was severely injured by an IED while on a foot-patrol in Panjwaii, Afghanistan.
"The only thing that I want to pass on is this: Losing limbs is like losing a good friend," Vogt said. "We wish we could still be with them, but it wasn't 'in the cards'. Then we get up, remember the good times, and thank God for whatever we have left."
Cpl. Christian Brown, USMC
On Dec. 13, 2011, Christian was leading his squad on foot patrol in Helmand Province, Afghanistan when he stepped on an improvised explosive device. Both of his legs were blown off- one above the knee, the other below the hip. Just four days prior, under heavy enemy fire, Christian had carried a mortally wounded Marine almost 1,000 feet to a hovering helicopter — an act of bravery for which he was awarded the Silver Star.
Spc. Marissa Strock. She was injured when her vehicle was struck by an IED buried in the road. She was 20 years old.
Staff Sgt. Shilo Harris. Shilo was severely burned on February 19th, 2007 by a roadside bomb estimated at 700 lbs. He lost three men out of a crew of five. Only Shilo and his driver survived the blast.
To view the entire Unknown Soldier collection by David Jay, visit his website here.
NOW: Here's What An Army Medic Does In The Critical Minutes After A Soldier Is Wounded
OR: This veteran artist has some inspiring words for wounded warriors
Sours: https://www.wearethemighty.com/mighty-moments/wounded-vets-imagery/
These Photos Of Wounded Veterans Are Both Sexy And Inspiring
When Los Angeles–based photographer Michael Stokes began taking pictures of a former Marine model who had lost his leg in the war, he had no idea how the images would be received.
"I honestly thought people would be very torn about these photos," Stokes, 52, told BuzzFeed News. "I had no idea people would react so positively."
At first, Stokes said he was cautious about how to portray the veteran, Alex Minsky. But Stokes eventually decided to photograph the vet "the same way I shoot all my models." The reaction was overwhelmingly positive.
"All the other photos I've seen of wounded vets have been very downer," Stokes told BuzzFeed News. "I wanted to produce photos that would really show him, let him decide how he wanted to be portrayed."
Minsky's nude shoot showing his amputation added to the veteran's popularity, helping him land a multi-page spread in GQ and a major modeling career.
Though the reaction from the public has been overwhelmingly positive, Stokes told BuzzFeed News that he has had a years-long struggle with those in charge of censoring Facebook.
Many of his photographs are removed, then put back up without explanation, telling any inquiring news outlets that it was a mistake. Then the same photos are removed again a week later.
"I get a lot of threats from religious groups who oppose my photos," Stokes said.
He hypothesized that it was some of those people who consistently report the photos, including one of two fully dressed male police officers almost kissing.
Stokes said he wouldn't call the reactions homophobic, but rather "anti-homoerotic."
"They believe men should not be the subject of what is traditionally the male gaze," Stokes told BuzzFeed News. "My models often take on the traditionally female role of being objectified. Some people just aren't comfortable with that."
Stokes said that even though his photos have often been called homoerotic, over 70% of his active followers and commenters are female.
Yet as the images began circulating, Stokes began receiving messages from other amputees and wounded veterans telling him how much the photographs meant to them.
Stokes recalled one woman's comments on a photograph he posted on Facebook that referred to her 4-year-old son having just been fitted for a prosthetic. "After seeing these photos, I know he's going to grow up to be a man," Stokes recalled the message saying.
Another email he received was from a woman missing a leg who said she was even uncomfortable taking her prosthetic leg off in front of her husband at night. Seeing Stokes' photos, though, had given her more confidence, she added.
"I wasn't thinking about empowering these vets," Stokes said. "They have the confidence already. I was just giving them the exposure."
Before he begins shooting a model, Stokes said he lets them choose the way they want to "brand themselves."
"If they want to be on the cover of romance novels, I can make that happen," Stokes told BuzzFeed News.
Though Stokes has included veterans in his photography books before, this calendar and book series, called Always Loyal, is his first vet-only production.
An upcoming second book will be full of "the sexy stuff," Stokes told BuzzFeed News.
When asked if these photos wouldn't also be considered "sexy stuff," he responded: "Oh, no. No, it's not."
One can only imagine.
Sours: https://www.buzzfeednews.com/article/emaoconnor/god-bless-these-troops
Shoot photo wounded soldiers
The Management of Combat Wounds: The British Military Experience
Steven L.A. Jeffery1,,2,*
Steven L.A. Jeffery
1The Royal Centre for Defence Medicine, Queen Elizabeth Hospital Birmingham, Birmingham, United Kingdom.
2Department of Wound Healing, Faculty of Health, Birmingham City University, Birmingham, United Kingdom.
Find articles by Steven L.A. Jeffery
Author informationArticle notesCopyright and License informationDisclaimer
1The Royal Centre for Defence Medicine, Queen Elizabeth Hospital Birmingham, Birmingham, United Kingdom.
2Department of Wound Healing, Faculty of Health, Birmingham City University, Birmingham, United Kingdom.
*Correspondence: The Royal Centre for Defence Medicine, Queen Elizabeth Hospital Birmingham, Birmingham B15 2TH, United Kingdom (e-mail: [email protected]).
Received 2015 Apr 10; Accepted 2015 Jun 12.
Copyright 2016, Mary Ann Liebert, Inc.
This article has been cited by other articles in PMC.
Abstract
The concept of the military wound is not an easy entity to define as the wounds seen in conflict can be of many types: those caused by recognized or improvised weapon systems may have similarities to civilian wounds as well as the wounds soldiers sustain outside of battle. This article will focus on the current treatment approaches to combat wounds sustained by the deployed UK Armed Forces personnel.
Keywords: : combat, wound, debridement, imaging, dressing, reconstruction
Translational Relevance
Medicine has always taken great leaps forward during wars and times of conflict. Medicine has changed, and it is now much more difficult to test basic research findings in the clinical setting and also to introduce any new techniques at all into the clinical setting. This has been particularly problematic in the military, where there is great reluctance to be seen to be treating injured soldiers as guinea pigs. Nevertheless, when faced with new challenges, such as soldiers surviving with huge wounds, sometimes there is no alternative but to embrace the opportunities that new technologies bring.
Clinical Relevance
Our experience in treating thousands of injured soldiers has produced a small team of clinicians who have become adept at anticipating and managing the inevitable complications and setbacks when dealing with such catastrophic injuries. We who have made this journey have a duty to pass on the lessons we have learned, so that the next generation of clinicians who face these problems do not have to reinvent the wheel. I hope that this article will go in some small way toward that aim.
Introduction
As the UK military has been engaged in recent conflicts in the Middle East, the University Hospital Birmingham Foundation Trust and the Royal Centre for Defence Medicine (RCDM) in Birmingham, through which all injured British soldiers are transferred for treatment, have often been faced with challenging traumatic wounds, particularly those caused by improvised incendiary devices and gunshot wounds.
The RCDM also provides medical support to overseas operational deployments and delivers secondary healthcare for members of the military (Role 4). It is also a training center for defense personnel. All injured British military personnel from overseas are transferred back to the RCDM, part of the Queen Elizabeth Hospital Birmingham (QEHB). The QEHB is a unique center in the United Kingdom, treating both military and civilian trauma.
Changes in body armor have resulted in fewer abdominal and thoracic injuries and therefore relatively more limb injuries. These injuries are often associated with extensive soft tissue stripping and contamination. High levels of exudate are commonly present, and these wounds are particularly prone to infection both by fungi and bacteria.
Mechanism of Injury
Since the evolution of our species, man has been fighting rival individuals, families, tribes, and then eventually states.
Since 2001, the majority of wounds sustained by the British serving personnel have been caused in Afghanistan and Iraq. During this period, the conduct of the conflicts has evolved. Improved medical care has led to a change in the severity of injuries now requiring reconstruction. Explosive devices in asymmetrical warfare are popular (Fig. 1). The use of such devices produces a higher proportion of extremity injuries than seen in previous conflicts fought with more conventional firearms.
The effects of a blast have been previously described and the injury patterns they cause are well recognized. These are often traumatic amputations. Extensive fractures, heavy contamination, and soft tissue disruption are common. Improvements in medical care, such as training for all soldiers in controlling external hemorrhage, the routine use of tourniquets, new hemostatic agents, helicopter evacuation, and consultant-led surgical resuscitation, have resulted in a large number of patients surviving with severe injuries. A group of survivable unsurvivables has been identified, whose injuries would have most probably resulted in prehospital death elsewhere and who are also likely to have died in the civilian context.
Wound Management
It is likely that we have been treating combat wounds since shortly after the human species evolved. These wounds continue to pose a challenge to both nursing and medical staff. In the military patient, the substantial inflammatory response creates an austere environment for complex primary reconstruction.
Wounds can be small and unpleasant or be large and life-threatening. The skin is both an immunological and a physical barrier to invasion by microbes. Any deficiency in the integrity of the skin may allow fungal or bacterial invasion.
The way that explosive devices are used now means that wounds are often heavily contaminated. In cases of suicide bombing, this situation may be further complicated by contamination with foreign human material within the wound.
The prognosis for the patient will be adversely affected by extreme contamination, massive blood transfusion, suboptimal debridement before transfer, or any delay in transfer.
Wound Debridement
"Debridement is one of the most important and significant discoveries in all of surgery," Larrey, Napoleon's surgeon.
Wound debridement is the most important first step in wound management and will significantly affect the end result for the patient. In heavily contaminated military wounds, this is often only achieved with several stages. The first debridement is performed within the constraints of damage control surgery and should be as thorough as possible without being excessive. A debridement classification as described by Granick and Chehade1 is a useful model based on the Jackson burn wound model.2 In the center of the wound is an area of dead and dying tissue surrounded by a marginal area of injured but alive tissue. This in turn is surrounded by healthy tissue. Granick and Chehade classified wounds according to the level of debridement. Incomplete debridement, where not all of the necrotic material is removed, is to be avoided if at all possible as retained necrotic material will serve as a nidus for infection and inflammation. Marginal debridement where all necrotic tissue is removed, but where injured and potentially viable tissue is retained, is an appropriate level of debridement at the first operation. The removal at this stage of potentially viable tissue is not necessary. A larger wound will be created, which will require a more complex reconstruction. Providing that there are sufficient resources available for frequent take-backs to the operating room (OR), marginal debridement provides the maximum chance for survival of native tissues.
Before wound debridement, all wounds should be cleaned of particulate matter using soap and water (Fig. 2). A tourniquet should be applied if possible (Fig. 3). Large irregular wounds contain crevices into which contamination may be forced between tissue planes. Without tourniquet control, these areas will be filled and obscured with bleeding, making excision of dead and dirty tissue difficult. In addition, blood loss without the application of a tourniquet may be significant. A sterile disposable tourniquet is useful for proximal wounds; the surgeon can apply a sterile disposable tourniquet once the skin has been prepped and draped. With experience, the routine use of a tourniquet helps rather than hinders debridement.
The first debridement should be performed as early as possible following injury in the field hospital, once the patient is stable. When soldiers reach Role 4 (in the case of the United Kingdom: Birmingham), reassessment needs to be made of all wounds sustained. This is best performed under general anesthesia. This can usually wait until the next routine operating list unless the viability of a limb is in doubt, there is a large amount of undebrided contamination, or if there is suspicion of sepsis. This assessment should be performed by senior plastic and orthopedic surgeons, so that a plan for reconstruction can be made. Photographs must be taken.
Debridement should be performed under magnification using surgical operating loupes to help identify contaminants. Debridement should be performed systematically in layers: start at the skin and work your way in. Skin edges are best excised using a scalpel. More mobile tissues, such as fat and muscle, are best debrided using scissors (Fig. 4). Debridement of tissue, which is difficult to pick up with forceps, such as sand, ingrained mud, and adventitial tissue, is best removed using the Versajet™ hydrosurgery system.3 This device incorporates a high-pressure jet of water, which debrides the tissues. The high-pressure water jet is tangentially placed, so the deleterious effects of standard high-pressure irrigation are avoided. The debris is continuously removed so that the surgeon can assess the extent of the soft tissue damage (Fig. 5).
At this first theater session, all wounds should be exposed, explored, and debrided. This may require the patient to be turned in theater so that wounds to the back and buttocks can be assessed.
Once debridement is complete, irrigation with at least 3l of warm saline should be performed (Fig. 6) before dressing application. High-pressure irrigation is contraindicated as it further damages the tissues and drives foreign material further in.
Wound swabs as well as tissue samples should be taken and sent for microbiological and histological examination so that the presence of fungal spores can be identified. If fungal contamination is suspected, samples should be taken of both healthy and dead muscle.
Wound Imaging
Currently, assessment of wounds is achieved through visual inspection and recording these findings in the clinical notes. Wounds can be measured and their dimensions can be written down. While the English language contains many words to describe texture, form, and shape, there are limitations in using this approach to describe wound appearance and topography. The clinician will inevitably record features that appear relevant at the time of assessment. However, certain features may be incorrectly omitted from a wound description, which may have significance later.
Wounds have been represented pictorially for many hundreds of years. Surviving Roman mosaics show combat injuries. The eminent military surgeon, Charles Bell, drew and painted very clear images of his patients at Waterloo, showing injuries that are instantly recognizable and familiar to military surgeons today.
Until the advent of the digital revolution, the taking and processing of photographs were cumbersome and lengthy affairs, and the results were certainly not guaranteed. Medical photography was used by certain specialties, particularly plastic and maxillofacial surgery, but was not widespread. Wounds were seldom photographed.
Medical photography has become more widely available within hospitals, but still usually needs the photographs to be taken by a dedicated medical photographer. Forms need to be filled in, and as it is not practical to send patients with open wounds down to the medical photography department, the medical photographer needs to be sent for; and the inevitable delay that this involves puts off anyone with a busy practice.
Digital photography now allows for many images to be taken at very low cost. A display on the back of the camera allows the viewer to see instantly whether the image is in focus and whether the subject of the photograph is adequately captured, previously a bit of a lottery with film cameras. Poor images can now be deleted and another photograph taken at no extra cost.
The reduction in cost and the increased availability of digital photography has meant that now most people own a digital camera, and indeed most people now carry around a mobile telephone capable of taking very high-resolution images. Such photographs are a useful reminder of how the wound looked, can be referred to at each dressing change, and are particularly useful when trying to convey the details of the wound to another practitioner. Medical photography is used extensively in our practice to describe the appearance and characteristics of the wound to all members of the multidisciplinary team. The trauma team at the QEHB holds regular multidisciplinary team meetings, where all members of the team discuss all aspects of the care required for our military and civilian trauma patients.4 Each patient is discussed in turn, through a Powerpoint presentation, including blood results, X-rays, and clinical images taken during the latest dressing change. Not all members of the team can be present at the time of the dressing change, and this would not be wise from an infection control point of view. Traditional two-dimensional (2D) photographs will suffice for most wounds, particularly simple wounds that lie in one plane.
Telemedicine now allows for images of the wounds to be sent to the Role 4 Hospital from the Field Hospital so that the receiving hospital is adequately prepared.5
Estimation of wound depth and volume is an important assessment of wound topography. Changes in wound volume can be an effective indicator of evolving wound status. Wound tracings can be taken, allowing serial assessment of whether the wound is in fact getting bigger or smaller. A piece of acetate can be placed on the wound and the edges traced. This technique was formalized into the Visitrak™ (Smith & Nephew, Hull, United Kingdom) device, which incorporates a digital tablet device that the wound tracing can be retraced onto. This involves direct contact with the wound, a messy business, and such tracings are only really suitable for flat wounds.
Three-Dimensional Imaging
While not a new concept, the advent of recent technological advances has made the use of three-dimensional (3D) technology in medicine increasingly practicable. The latest development in this field is that of handheld 3D imaging (Fig. 7). This allows for the imaging of complex wound topography that would not be captured very well by conventional 2D images. It also allows for the calculation by the software of the wound area and volume, which can be measured serially. The ability to demonstrate to a patient that the wound is getting smaller in either size or volume may be good for the morale of the patient. On the other hand, some patients have static wounds; this can be demonstrated to them using this technology, with a view to helping them accept a change in the treatment plan.6
Dressings
Combat wounds are challenging to dress due to their, often, large size and the amount of exudate that they produce.7 The introduction of negative pressure wound therapy (NPWT) has transformed the management of these wounds as it allows for total exudate capture and also total wound isolation (Figs. 8 and ​9). These dressings are now the standard of care for combat wounds.
Many dressings include antimicrobial agents. Some dressings release the agent into the wound, while others work by trapping the wound exudate, then using the antimicrobial within the dressing to control microbial growth.
Silver has been known to have antimicrobial properties for many years and has been incorporated into many dressings. We recently published the first randomized controlled trial set in a combat zone, comparing the use of the nanocrystalline silver dressing Acticoat™ (Smith & Nephew) against plain gauze.8 Unfortunately, the trial did not recruit the numbers of patients that we had planned for when we powered the study due to the development of advances in NPWT dressings. Nevertheless, there was a trend toward Acticoat (Smith & Nephew) dressings having less malodor than control wounds, and it is likely that if the trial had run to 100 patients, as originally planned, that this would have reached statistical significance.
Negative Pressure Wound Therapy
Subatmospheric pressure is applied to the wound bed by a filler material. This is then sealed, and exudate is drawn off by a pump into a canister. Until quite recently, the only filler available was polyurethane foam, supplied as part of the V.A.C. system (KCI, San Antonio, TX). An alternative wound filler (nonadherent gauze) is now commercially available in several NPWT devices, including Renasys (Smith & Nephew), based on the technique described as the Chariker-Jeter system.
Our preference is to use dry gauze impregnated with polyhexamethylene biguanide (Kerlix AMD; Tyco Healthcare, Gosport, United Kingdom) and placed directly onto the wound bed. We have not experienced any retained gauze using this technique. Moistening of the gauze with saline, as recommended by the manufacturers, is not required as the dressing soon becomes wet and to do so would reduce the chances of developing a successful seal. Drains should be placed within the gauze for deep wounds. A port system is only suitable for relatively shallow wounds.9 This is then sealed with a semipermeable film, with a 2- to 3-cm border around the wound onto healthy skin.10
We have found that NPWT, when used in combination with surgical assessment, exploration, and careful debridement, greatly facilitates wound management.11 It also stabilizes the soft tissues, salvages compromised tissue, reduces edema, the frequency and total number of dressing changes, and facilitates further reconstructive surgery.12
NPWT also makes effective hand dressings when used circumferentially.13 In a hand with multiple composite soft tissue and bony injuries, when functional splinting is required, gauze-based NPWT allows for easily applied dressings that provide optimum conditions for wound healing and functional splinting, negating the need to apply a plaster-of-Paris splint. The ability to use variable intermittent pressure combines the advantages of intermittent therapy without the disadvantages of loss of seal or splitting effect.14
The development of NPWT, which essentially seals off the wound, has greatly reduced the odor coming from many wounds.15 Many people would be afraid of placing NPWT onto an anaerobically smelling wound, but the ability to irrigate wounds while undergoing NPWT has made this now possible.16
Wound Odor
Three troublesome problems caused by wounds are pain, exudate, and smell. Malodorous wounds are distressing to the patient, the relatives, and the staff. This impacts negatively on the psychosocial well being of all involved, most importantly the patient. The embarrassment that the patient with a malodorous wound experiences can lead to social isolation and withdrawal, with little or no chance for social intimacy. In the First World War, wounded soldiers were often given little bags filled with lavender to mask the smell of their wounds and allow them to sleep.17
The bad smell is caused by a cocktail of volatile short-chain fatty acids produced by interactions between aerobic and anaerobic bacteria such as Bacteroides or Clostridium species.18,19 Other proteolytic bacteria may produce diamines such as cadaverine and putrecine. The development of a biofilm will reduce the chances of the body removing these bacteria. Some bacteria are thought to be able to be recognized by their unique smell, such as Staphylococcus, Proteus, and Pseudomonas species.
Signals from olfactory receptors in the nose are processed in the limbic and hypothalamic systems of the brain, considered relatively primitive, and associated with emotional responses. Strong bad odors can therefore cause physical responses such as gagging or vomiting, as well as affecting taste and appetite. Such a strong reaction to bad smell is thought to be part of our survival mechanism, warning off our ancestors against contact with potentially dangerous pathogens, particularly from rotting meat. Many injured soldiers have frequent episodes of enforced starvation associated with their anesthetics, which will further affect their nutritional status. These patients are also nutritionally challenged and the last thing that they need is a reduction in appetite as well.
The assessment of malodor is not helped by the lack of a standard measurement tool. The scale that we now use in Birmingham is adapted from the original Baker and Haig scale and incorporates the distance from the wound and the presence of the dressing.
Moisture Sensing
One aspect of wound healing considered essential is the control of the level of moisture in the wound bed. Moisture is an essential part of the wound healing environment, but achieving the proper moisture level in the wound currently relies on clinical judgment and dressing selection. It is a delicate balance; too wet a wound environment introduces the possibility of maceration of the skin. A wound environment that is too dry will impede healing.
The use of a moisture sensor may allow decisions about dressing changes to be made without disturbing the wound bed or removing a dressing unnecessarily, which would increase the risk of contamination. Many dressings rely on the presence of moisture to activate an antimicrobial agent (such as silver).9 The ability of a sensor to alert the clinician if the dressing is too dry is useful. Similarly, the ability to know that a dressing is too wet will help decisions around the timing of dressing changes as well as which dressing to choose.
In our practice, selected patients have the WoundSense™ (Ohmedics, Glasgow, United Kingdom) moisture sensor incorporated into their dressings to allow monitoring of moisture levels in wounds while leaving the dressing intact.20
Fungal Infection
In our experience, fungal infection is much more common in casualties injured in Iraq or Afghanistan than in our other patients. Fungal histology and microbiology results take time to come back, and before this, the patient may demonstrate prolonged pyrexia. Some fungal species can grow up the intima of blood vessels, causing thrombosis in side branches and producing mycotic emboli. This can result in flap failure. All patients who have extensive soft tissue injuries, injured while on foot patrol within the Green Zone (arable land adjacent to water sources), should have debrided tissue sent for examination before receiving antifungal prophylaxis. Amphotericin should be the starter until sensitivities are available. These injuries may be from explosive devices or gunshot wounds, which are then heavily contaminated during evacuation by being dragged through the dirt.
Timing of Wound Closure
Dressing changes are uncomfortable for patients. The time they take also reduces their quality of life. Dressing changes also represent a major financial and logistical burden, particularly if they are associated with prolonged inpatient stay or require general anesthesia. Therefore, clinicians should try to achieve wound closure as soon as feasibly possible.
There are several civilian guidelines available for the management of trauma patients, such as those produced by the British Association of Plastic, Reconstructive and Aesthetic Surgeons and the British Association of Orthopaedic Surgeons. While in theory these are helpful, they may not be applicable to the management of combat injuries. For example, the aim of achieving complete soft tissue closure within 5 days of injury is usually inappropriate for the heavily contaminated and multiple injured soldiers we have become used to seeing recently.
Wounds should only undergo surgical closure when they are ready for closure. This decision about timing of wound closure is often highly subjective and solely dependent upon how the wound appears, with little objective information available to assist the surgeon with the decision. Two considerations to bear in mind are as follows; first, wounds that would actually be safe to close may have had this surgery delayed unnecessarily due to reluctance to close the wound too soon. Leaving the wound open thus risks potential further contamination and the development of infection, as well as additional OR trips (with the starvation time that they usually bring), dressings, and inpatient stays. There is also the fear of increasing the chances of developing heterotopic ossification later on. Second, attempting surgical closure when the wounds are not actually ready for closure may mean that patients go on to experience wound problems such as infection or dehiscence.
Surgical Reconstruction
First, a clean wound has to be achieved through adequate debridement of both bony and soft tissues. Second, reduction and rigid fixation of associated fractures are required. Third, early soft tissue cover is required. This often takes several debridements; the number of debridements required reflects the state of the patient's wounds on arrival.
Evidence from the literature suggests that early soft tissue cover of open fractures reduces both infection and time to bony union. Reconstruction should not be performed; however, until the patient is physiologically stable, the patient should be apyrexial, the nutritional status should be optimized, and all inotropic medication should be discontinued. The microbiology profile of the wound should also be understood before attempt at reconstruction.21 The other consideration is the availability of suitable donor sites for local or free flap reconstruction due to the extensive zone of injury.22 Reconstruction, which relies on local perforator vessels, should be used with care as the zone of trauma is often much bigger in blast injuries. The primary blast wave is likely to cause damage to the intima of blood vessels beyond the extent of the obvious injury. This occurs where perforating vessels are relatively fixed, that is, where they penetrate the deep fascia. An additional precondition of flap site selection is the potential detrimental effect of the donor defect. Commonly used muscle flaps such as rectus abdominis affect core stability; harvesting them may subsequently compromise rehabilitation.23 The development of infection may also delay reconstruction.24
The use of dermal reconstruction templates should be considered, particularly for amputation stumps.25
Nutrition
The arduous nature of operational deployment, particularly when combined with a very hot or cold climate, and difficulty in procuring fresh fruit and vegetables mean that soldiers who have been deployed on operations for some time will inevitably lose weight. They are relatively malnourished at the time they get injured. It is therefore vital that every opportunity is taken to improve their diet on return to the Role 4 Hospital. Patients must be weighed and assessed by a dietician on arrival. The nutritional requirements of all patients with significant injury must be supplemented with enteral feeding. Soldiers seldom complain about the passage of a fine-bore nasogastric tube if they are told that this will shorten their hospital stay. For patients who require frequent surgery, a nasojejunal feeding tube should be passed to minimize starvation times as nasojejunal feeding does not need to be discontinued before undergoing general anesthesia. This is particularly important for patients who subsequently become contaminated with organisms such as methicillin-resistant Staphylococcus aureus (MRSA), which will often result in them being placed last on the operation list.
Pain
The effect of pain on the recovery of the injured military patient cannot be underestimated. Pain is also detrimental to wound healing.26 Inadequate analgesia may result in a patient becoming exhausted and noncompliant.27 Such patients may become primed to anticipate pain and discomfort at every subsequent intervention and this may cause significant disruption to dressing changes, cannula and catheter changes, suture removal, and subsequent rehabilitation. The ability to place nerve block catheters in the field hospital has greatly improved the pain management of patients during aeromedical evacuation to Role 4. Nerve block catheters should be left in situ (if still working) and should be used for subsequent operations and dressing changes.
Increased requirements for analgesia may be caused by dislodgement of the nerve block catheter or more sinisterly marred representation of the development of compartment syndrome.28 Patient-controlled analgesia, if used at the field hospital, should be continued during aeromedical evacuation.
Psychological Aspects
Injured troops should be admitted to the same ward if at all possible. An open ward facilitates camaraderie, with soldiers effectively debriefing each other. Unfortunately, soldiers who grow certain bacteria, such as resistant species of Acinetobacter, MRSA, or Panton-Valentine Leukocidin, will require isolation in a side room, where they will have less contact with their comrades and less opportunity to come to terms with their injury.
All soldiers with combat-related injuries must be reviewed by a trained psychiatric nurse from the military mental health team. This nurse will arrange for referral to a psychologist and/or follow-up by the military community mental health team as required. Injured soldiers may also be referred to counselors from specific organizations, such as the British Limbless Ex-Service Men's Association, WoundCare 4 Heroes, or the Royal National Institute of Blind People, as required. Amputees often benefit from a visit by a soldier who has recovered from a similar injury, particularly if that soldier is coping well with his or her prosthesis.
It is important that the medical and nursing staff looking after a severely injured serviceman get to know his family. Effective communication is very important and paramount as the soldier's family will understandably be very anxious about the injuries and the prognosis.
Soldiers with combat wounds often require prolonged inpatient stay. It is also likely that during the admission the patient will experience setbacks, such as infection, wound dehiscence, or delays in healing. This will be less problematic to both the soldier and his family if they are forewarned that this is likely to occur. These patients will usually require prolonged follow-up; it is important that a trusting relationship develops between the patient, the surgeon, the nursing staff, and the family.
Discharge
Patients no longer need to be kept in hospital until their wounds are completely healed as long as the rehabilitation center can cope with undertaking relatively simple wound care. It is important that a prosthetist assess the patient before transfer to the rehabilitation center to cast stumps in order that those prosthetic devices are ready when the patient arrives. The prosthetist can also help confirm to the patient that the loss of a limb or more is still compatible with an independent life.
Summary
In the management of the combat injuries, a holistic approach should be taken. Many technologies, some of these new, some very old, will be required.
Advances in wound care technologies and dressings, as well as developments in prosthetic devices and rehabilitative care, have enabled more soldiers to survive and enjoy a good quality of life than in any previous conflicts.
Hippocrates recognized that war is the greatest laboratory for medical advancement. It is important that the techniques gleaned from the battlefield aid the treatment of soldiers and the advances made are transferred to aid in treating complex civilian patients. It is also important that these lessons are recorded so that the next generation of combat surgeons do not have to learn from their own mistakes.
TAKE-HOME MESSAGES
• Advanced resuscitation techniques, if brought forward, mean that patients with huge and complex wounds can and will survive.

• Wound debridement is a skill, which improves with practice and feedback.

• NPWT allows for exudate management and wound isolation even for the biggest wounds.

• Wound imaging is a vital communication tool.

• Nutrition and pain management are as important as the surgery.

• If the psychological aspects are ignored, the patient will do badly.
Abbreviations and Acronyms
| | |
| --- | --- |
| 2D | two-dimensional |
| 3D | three-dimensional |
| MRSA | methicillin-resistant Staphylococcus aureus |
| NPWT | negative pressure wound therapy |
| OR | operating room |
| QEHB | Queen Elizabeth Hospital Birmingham |
| RCDM | Royal Centre for Defence Medicine |
Author Disclosure and Ghostwriting
No competing financial interests exist. The content of this article was expressly written by the author listed. No ghostwriters were used to write this article.
About The Author
Steven L.A. Jeffery, BSc, MBChB, FRCS (Ed, Eng, Glasg), EBOPRAS, FRCS (Plast), FHEA, is military consultant burns and plastic surgeon with extensive experience of the management of combat wounds from working at the UK Role 4 Hospital in Birmingham as well as multiple deployments.
References
1. Chehade M, Granick M. Surgical Wound Management. New York: Informa, 2007 [Google Scholar]
2. Jackson DM. The diagnosis of the depth of burning. Br J Surg 1953;40:588–596 [PubMed] [Google Scholar]
3. Jeffery SLA. Role 4 and reconstruction. In: Brooks AJ, Clasper J, Midwinter M, Hodgetts TJ, Mahoney PF, eds. Ryan's Ballistic Trauma: A Practical Guide. London: Springer, 2011:657–668 [Google Scholar]
4. Jackson PC, Foster M, Fries A, Jeffery SL. Military trauma care in Birmingham: observational study of care requirements and resources utilisation. Injury 2014;45:44–49 [PubMed] [Google Scholar]
5. Jeffery S. Wound imaging: from Waterloo to tomorrow. Br J Nurs 2013;23:S3 [PubMed] [Google Scholar]
6. Savage JM, Jeffery SL. Use of 3D photography in complex-wound assessment. J Wound Care 2013;22:156–160 [PubMed] [Google Scholar]
7. Fries CA, Jeffery SL, Kay AR. Topical negative pressure and military wounds—a review of the evidence. Injury 2011;42:436–440 [PubMed] [Google Scholar]
8. Fries CA, Ayalew Y, Jeffery SL, Penn-Barwell JG, Porter K, Midwinter MJ. Prospective randomised controlled trial of nanocrystalline silver dressing versus plain gauze as the initial post-debridement management of military wounds on wound microbiology as the initial post-debridement management of military wounds on wound microbiology. Injury 2014;45:1111–1116 [PubMed] [Google Scholar]
9. Russell F, Jeffery S. Use of Renasys™ Gauze and Port to simplify negative pressure dressing techniques. Wounds UK 2010;6:125–130 [Google Scholar]
10. Guyver PM, Mountain AJC, Jeffery SL. Application of topical negative pressure for traumatic amputations. Ann R Coll Surg Engl 2013;95:226–227 [PMC free article] [PubMed] [Google Scholar]
11. Birke-Sorensen H, Malmsjo M, Rome P, et al. . Evidence-based recommendations for negative pressure wound therapy: treatment variables (pressure levels, wound filler and contact layer)-steps towards an international consensus. J Plast Reconstr Aesthet Surg 2011;64:S1–S16 [PubMed] [Google Scholar]
12. Penn-Barwell JG, Fries CA, Street L, Jeffery S. Use of topical negative pressure in British servicemen with combat wounds. Eplasty 2011;e35:11 [PMC free article] [PubMed] [Google Scholar]
13. Taylor CJ, Chester DL, Jeffery SL. Functional splinting of upper limb injuries with gauze-based topical negative pressure wound therapy. J Hand Surg Am 2011;36:1848–1851 [PubMed] [Google Scholar]
14. Staruch R, Jeffery S. Variable topical negative pressure therapy for wound care. Wounds UK 2011;22:26–33 [Google Scholar]
15. Hankin E, Jeffery S. Challenges of treating modern military trauma wounds. Wounds UK 2010;6:47–54 [Google Scholar]
16. Jeffery SLA. Best of both worlds: combining the benefits of NPWT and instillation therapy. J Wound Care 2012;S1:3–10 [Google Scholar]
17. Mayhew Emily. Wounded: The Long Journey Home from the Great War. London: Vintage, 2014 [Google Scholar]
18. Bowler PG, Davies BJ, Jones SA. Microbial involvement in chronic wound malodour. J Wound Care. 1999;216–218 [PubMed] [Google Scholar]
19. Miranda BH, Ali SN, Jeffery SLA, Thomas SS. Two stage study of wound microorganisms affecting burns and plastic surgery inpatients. J Burn Care Res 2008;29:927–932 [PubMed] [Google Scholar]
20. Jeffery SLA. Exudate monitoring in traumatic wounds. Wounds UK 2013;9:40–44 [Google Scholar]
21. Taylor C, Jeffery SLA. Management of military wounds in the modern era. Wounds UK 2009;5:50–58 [Google Scholar]
22. Jeffery SLA. Advanced wound therapies in the management of severe military lower limb trauma: a new perspective. Eplasty 2009;9:e28. [PMC free article] [PubMed] [Google Scholar]
23. Evriviades D, Jeffery S, Cubison T, Lawton G, Gill M, Mortiboy D. Shaping the military wound: issues surrounding the reconstruction of injured servicemen at the Royal Centre for Defence Medicine. Philos Trans R Soc Lond B Biol Sci 2011;366:219–230 [PMC free article] [PubMed] [Google Scholar]
24. Taylor CJ, Hettiaratchy S, Jeffery SL, Evriviades D, Kay AR. Contemporary approaches to definitive extremity reconstruction of military wounds. J R Army Med Corps 2009;155:302–307 [PubMed] [Google Scholar]
25. Foong DP, Evriviades D, Jeffery SL. Integra™ permits early durable coverage of improvised explosive device (IED) amputation stumps. J Plast Reconstr Aesthet Surg 2013;66:117–1124 [PubMed] [Google Scholar]
26. Nimmo WS, Duthie DJ. Pain relief after surgery. Anaesth Intensive Care 1987;15:68–71 [PubMed] [Google Scholar]
27. Emflorgo CA. The assessment and treatment of wound pain. J Wound Care 1999;8:384–385 [PubMed] [Google Scholar]
28. Lueck RA, Ray RD. Volkmann's ischemia of the lower extremity. Surg Clin North Am 1972;52:145–153 [PubMed] [Google Scholar]
---
Articles from Advances in Wound Care are provided here courtesy of Mary Ann Liebert, Inc.
---
Sours: https://www.ncbi.nlm.nih.gov/pmc/articles/PMC5067872/
WOUNDED SOLDIER , RHONDA , DARRIN \u0026CAROLYN VINCENT
The Civil War Wounded in Photographs
Seated in profile, the young men pose as they would for family portraits. On closer inspection of the oval gold-lined frames, the serene faces are scarred, bald spots divided by deep canyon-like cuts, shoulders swollen around bullet craters. These are the "after" photos, taken after the men had left their homes to fight for the Union or the Confederacy, and after they were wounded, carrying the scars of the American Civil War for the rest of their lives.
"This is one moment in this person's life," said Heidi Knoblauch, a doctoral candidate in the History of Medicine program, who is examining Yale's collection of 98 photographs taken during the Civil War at Harewood Army Hospital in Washington, D.C. "To piece together what happens after this moment, how people live with their wounds afterwards, how that patient experience either carries with them or doesn't carry with them, has been a motivating factor for me."
Knoblauch's photo analysis will comprise one chapter in her dissertation on the use of photography in American medical practice from 1839 to the eve of World War II.
Locked away in the stacks of the Cushing/Whitney Medical Library, these Civil War photographs are one of four collections of enlarged photographs commissioned by the head surgeon at Harewood, Reed Bontecou, M.D., a pioneer in the art of clinical photography. Yale's collection is now used as a teaching tool in several classes, including "Photo Memory in the U.S.," taught by Laura Wexler, Ph.D., professor of American Studies and Women's, Gender, and Sexuality Studies.
Knoblauch noticed that most of the scholarship on the photos focuses on Bontecou and the practice of surgery rather than on the patients he photographed. "By focusing on him, we've kind of lost the patients' narratives," Knoblauch said. Investigating the lives of the men in Bontecou's photos is a way for Knoblauch to enter into that patient experience, she said. "Being wounded gave them a record; it attached a visual image to their name, something that a lot of Civil War soldiers did not get," she said.
On the backs of the photos are short biographies of the soldiers—both Union and Confederate—containing personal and medical information. Knoblauch also searched census data and military and pension records; she will use the individual stories to tell the larger story of what it was like to be a wounded Civil War veteran.
Robert A. Butcher, a 21-year-old laborer from Philadelphia who served in an infantry company, suffered two saber cuts to his skull during a battle at Burke's Station, Va., in April 1865. He complained of severe headache and sensitivity to light and noise, but left Harewood at his own request and lived for 68 more years, moving among veterans' homes across the country from Milwaukee to the Chesapeake Bay.
Aaron Detweiler, an 18-year-old corporal in a Pennsylvania infantry company, was shot in his upper right arm during the battle of Hatcher's Run, Va., in March 1865. He went on to become a doctor and later drowned in a place called Devil's Hole.
"It's a different story because it shows not only the tragedies of the war, but also the resilience. A lot of these people live until 1910, 1930—and just thinking about how they go on has been interesting for me," Knoblauch said.
The photographs will be part of an exhibit curated by Knoblauch titled "Portraits of Wounded Bodies." They will be on display in the rotunda of the Medical Library from January through April 2013. The cases in the foyer of Sterling Hall will provide background on medicine during the Civil War, including maps of and information about Harewood Hospital as well as a biography of Bontecou.
Natalie Villacorta is a student at Brown University and was Yale Medicine's 2012 writing intern.
Sours: https://medicine.yale.edu/news/yale-medicine-magazine/the-civil-war-wounded-in-photographs/
You will also like:
Sours: https://www.123rf.com/stock-photo/wounded_soldier.html
430
431
432
433
434