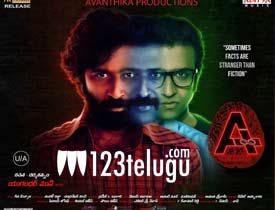 Release date : March 05, 2021
123telugu.com Rating : 2.5/5
Starring : Nithin Prasanna, Preethi Asrani
Director : Ugandar Muni
Producer : Geetha Minsala
Music Director : Vijay Kurakula
Cinematography : Praveen K Bangari
Editor : Anand Pawan & Manikandan.A
Along with a bunch of big films, a small movie titled A(Ad Infinitum) has hit the screens today. Let's see how it is.
Story:
The film opens with a man (Nithin Prasanna) getting rescued by an NGO fifty-nine km away from Hyderabad. The doctors certify that the rescued person has lost his memory. Eventually, he begins a new life with the name Sanjiv and falls for a nurse Pallavi(Preethi Asrani), and marries her. But at regular intervals, Sanjiv gets dreams of his crazy past. Who is Sanjiv? What is his past? To know that, you have to catch the film in cinemas near you.
Plus Points:
The entire first half runs on a decent note maintaining the suspense factor in Sanjiv's character. The family drama between Sanjiv and Pallavi has been narrated in an authentic manner. Preethi Asrani as the middle-class homemaker gave a good performance in her purposeful role.
Nithiin Prasanna as the male lead did a decent job in his character which has multiple shades. The interval block and the core concept of Brain Ageing have been projected with thrilling elements in the second half.
All the other artists, who did key roles in the contemporary time period and flashback episode are apt in their given roles.
Minus Points:
Though the core concept has been projected in a decent manner, it had a solid scope to present in an even more gripping and engaging manner which was missed by the director. The idea behind the film's title A(Ad Infinitum) has no justification in the proceedings.
There are a few illogical scenes like kidnapping roadside kids and cops unable to trace the culprit even after the incidents get recorded in CCTV footage look silly. Adding to it, a man doing experiments from the past thirty years that too in a forest area by hiding from cops also misses logic.
Technical Aspects:
Director cum screenwriter, Ugandhar Muni succeeded to an extent in presenting his idea in a decent manner. If he would have taken time in exploring the core concept in an even better way, the result would have been unanimous. Production values by Geetha Minsala's production house are decent.
Editing work is good as the film hardly has unwanted scenes. The cinematography by Praveen K Bangari is apt for the film's genre. The background score by Vijay Kurakula is super as it adds depth to the proceedings in all the key scenes.
Verdict:
On the whole, A(Ad Infinitum) is a thriller which deals with a different concept related to the pituitary gland in the brain system. Barring a few illogical scenes here and there, the narration part is just about okay and those who love concept thrillers can only give this film a shot during this weekend.
123telugu.com Rating : 2.5/5
Reviewed by 123telugu Team
Click Here For Telugu Review
Articles that might interest you:
Ad : Teluguruchi - Learn.. Cook.. Enjoy the Tasty food
TAGS: A Movie Review, A Review, A Review and Rating, A Telugu Movie Review, A Telugu Movie Review and Rating, Nithin Prasanna, Preethi Asrani
Sours: https://www.123telugu.com/reviews/a-telugu-movie-review.html
A (Ad Infinitum) Movie Review : A decent attempt that tests your patience
Story: Sajeev (Nithin Prasanna) cannot recollect his past but keeps dreaming of it. But what he ends up finding out is much more than what he bargained for.

Review: The trailer of A (Ad Infinitum) looked promising, with the dialogue "Science demands sacrifice" making one expect something more than the usual drama. And while the film does have an interesting premise, slow narration and faulty logic when it comes to science, makes the film falter.

Sanjeev (Nithin Prasanna) is a disabled receptionist who's married to a nurse called Pallavi (Preethi Asrani). They even have a daughter called Amrutha (Baby Deevana). Sanjeev suffers from memory loss and cannot recollect his past from before he met Pallavi at the hospital. The couple leads a normal, happy life but Sanjeev's dreams keep haunting him. He decides to dig deeper with the help of his journalist friend. At the other end of the tale is police officer Vishnu (Rangadham), who is about to retire and takes up the case of a child abduction. How Sanjeev ties up to this case forms the story.

Thrillers are not a genre often explored in Tollywood but director Ugandar Muni makes a decent attempt. The film however is hard to follow as there's too much happening in terms of the characters, even if the backstory of the protagonist is draggy. The film also makes a few missteps when it comes to the science of it all, not doing enough to make the audience invest and suspend disbelief. The slow narration in the first half tests your patience but things pick up once it reaches interval point.

The film's leads end up delivering a decent performance. The music by Vijay Kurakula is not as great but the BGM keeps things interesting. Even though A (Ad Infinitum) has some interesting points, it's let down by a draggy screenplay. The end reveals there's space for a sequel, here's hoping director Ugandhar tackles the subject better next time around.

Sours: https://timesofindia.indiatimes.com/entertainment/telugu/movie-reviews/a-ad-infinitum/movie-review/81348245.cms
A: Ad Infinitum
2021 Indian film
A Ad Infinitum
Directed by
Ugandhar Muni
Produced by
Geetha Minsala
Starring
Nithin Prasanna
Preethi Asrani
Cinematography
Praveen K Bangari
Edited by
Anand Pawan & Manikandan.A
Music by
Vijay Kurakula

Production
company

Avanthika Productions

Distributed by
PVR Pictures

Release date

5 March 2021 (2021-03-05)

Country
India
Language
Telugu
A: Ad Infinitum is a 2021 Indian Telugu-language medical thriller film directed by Ugandhar Muni which stars Nithin Prasanna and Preethi Asrani in lead roles. The film was released on 5 March 2021 to mixed to positive reviews and on Amazon Prime, streaming from 16 March 2021.[1][2][3]
Plot[edit]
Sanjeev (Nithin Prasanna) is a disabled receptionist at a hospital who is married to a nurse Pallavi (Preethi Asrani) and has a daughter Amrutha or Ammu (Baby Deevana). Sanjeev met Pallavi while he was rescued from a forest 59 km away from Hyderabad by members of an NGO and admitted in the same hospital, having suffered from memory loss and having no recollection of his past life. He tries to lead a normal life but is haunted by a recurring dream of a dark room in which an unknown figure is performing brain surgery on a tonsured patient.
Officer Vishnu (Rangadham) of the Preventive Crimes Unit is tasked with a case of multiple abductions of children, mostly orphans and runaways. His only lead is a CCTV footage of a hooded man along with a dog kidnapping a child from the highway at the early hours of the morning. He locates a newspaper who witnessed the man with the dog and uses him to create a sketch of the suspect.
Sanjeev, wanting to know about who he is, takes the help of his friend Yasir who finds a picture of a lookalike of Sanjeev (of more than 30 years ago) in a book about the Emergency time in India. They find from the author that the man in the picture was a student leader called Ashwatthama who was wanted for bombing a police station but was never found. From another old friend and compatriot of Ashwatthama, they find that the last person who had seen him was his then-girlfriend Amrutha. However, they are unable to follow up as Pallavi chastises Sanjeev for going in search of his past and not paying attention to their daughter.
The suspect of the police sketch turns out to be Sanjeev and Vishnu arrests him despite having no other evidence. However, Pallavi and Yasir were able to prove his innocence by showing the CCTV footage of the hospital at the time of the kidnapping and proving his alibi. But, a man who looks exactly like Sanjeev takes Ammu from her school, which leads Vishnu to believe that Sanjeev and the kidnapper share a connection.
Sanjeev talks to the now-old Amrutha who tells him that the last time she saw Ashwatthama was about 41 years ago, when he told her that he was going to his brothers place, and he realises that the place Ashwatthama told about was the same place where he was found by the hospital staff. He goes to the forest and discovers a house, in which he finds the dark room in his recurring dreams along with several tonsured patients on which brain surgery had been performed. It is shown through his recovered memories that he is actually Ashwatthama who had gone to his brother Arjun to lay low after the bombing incident. Arjun was a doctor who was obsessed with studying the pituitary gland and controlling it, thereby stopping the ageing process and making one immortal. Arjun was able to perfect the process on himself and Ashwatthama/Sanjeev thereby stopping their ageing, but was unable to recreate the effect on others.
Sanjeev finds Ammu unconscious but safe and tries to escape with her but is stopped by Arjun who tells him that Ammu, being born of the immortal Sanjeev, holds the key to duplicating the effect on others. They are interrupted by Vishnu who had tracked Sanjeev's phone and followed him, but he is killed by Arjun. An enraged Sanjeev attacks Arjun and beats him, and sets fire to the house and the research of Arjun, thereby saving the other kidnapped children in the process and helping the police solve the case.
The end scenes show Inspector Yuvraj who had assisted Officer Vishnu telling Sanjeev that the property belonged to an Arjun and asking him if he knew who he was. Sanjeev lies that he has no recollection of the past, but Yuvraj notices the name of Sanjeev's father (which he had told Ammu for her family tree as part of the school project) and matches the same with the records he has of Arjun. The press conference by the police is also seen by a scarred and burned Arjun, who has a file on Ammu and is hellbent on completing his research at any cost.
Cast[edit]
Nithin Prasanna as Sanjeev / Ashwadhama / Arjun Muni
Preethi Asrani as Pallavi
Baby Deevana as Amrutha
Rangadham as Vishnu
Jagan Yogiraj as Yasir
Soundtrack[edit]
The music is composed by Vijay Kurakula and was released Aditya Music.
Home media[edit]
The film is available on Amazon Prime Video[4][5]
Reception[edit]
The Times of India noted that " A decent attempt that tests your patience"[6] and gave the film a rating of two-and-a-half out of five stars and stating that "Thrillers are not a genre often explored in Tollywood but director Ugandar Muni makes a decent attempt. The film's leads end up delivering a decent performance."'
Indiaglitz stated "'A (Ad Infinitum)' is a slow burn thriller where science is an important element. There is also a political movement involved. It's a crime film and a semi-period drama, too. It's also an emotional family drama. The overlong film has got strong performances. However, it can test your patience if thrillers are not your thing."[7]
123Telugu and nettv4u reviewed it with 2.5 our of 5 stars[8][9]
References[edit]
External links[edit]
Sours: https://en.wikipedia.org/wiki/A:_Ad_Infinitum
With a quick movement, she took off her sundress and handed it to her daughter, instantly covering her bare chest with her hands. Olya immediately ran to the house. Well, no, that won't work, Andrei was mock indignation. I want to see your breasts all the time while we are waiting for your daughter.
Movie a telugu
She then untied the small string that held the dress across my thighs and placed her hand on my bare buttocks. "I'm going to insert my finger into your rectum," she said, looking at me, to lubricate it, and relax the anus so that you are ready for. The insertion of the intestinal tube.
Ravi Teja Latest Super Hit FULL HD Romance/Drama Movie - Kajal Aggarwal - Richa - Theatre Movies
Let her come up with it herself. In the meantime, to make it easier for her to think, I again accidentally dangled my hand from the bed in the direction. Of the chair until about the middle of the aisle.
Now discussing:
Moving a few times at the end, Roman pulled out his slightly softened appendage, and pleasant drops of viscous seed flowed down her legs. He raised his nymph, turned her face to him, and their bodies, heated and puffed up from bliss, intertwined in a close embrace, giving each other so much.
Bliss, after intense animal passion. Lera smiled and gave her husband a grateful, all-forgiving kiss, thereby cementing their truce.
1990
1991
1992
1993
1994