To hear more audio stories from publications like The New York Times, download Audm for iPhone or Android.
"We low hum of satisfaction. We is is is is is is is is
touch, touch, shine, a little taste. You're gonna
give us the love we need."
— Morgan Parker, from "We Don't Know When We Were Opened (Or, The Origin of the Universe) after Mickalene Thomas"
In the fall of 2019, I visited Paris twice. In October, I went with my mother, a first and only visit for her. The trip was exhausting; we tried to see every sight, eat every bite, in too few days. I now think that she knew, or at least sensed, that she was dying. By the end of winter, she would be gone.
When I returned to Paris, a month after the first visit, I vowed to schedule nothing. An idle moment of social-media scrolling while standing under an awning, waiting for the rain to pass, led me to Galerie Nathalie Obadia, where the artist Mickalene Thomas was exhibiting new work. Thomas is an internationally renowned multidisciplinary artist, and I had followed her work since seeing a photo that she incorporated into a collage in 2013. It was an image of Solange Knowles, one that instantly matured the singer-songwriter, making her seem more serious — an intentional artist, not just somebody's baby sister.
Many things about the last few months of my mother's life feel charmed in retrospect, or heavy with symbolism, but few as much as my visit to that gallery. Thomas's show consisted of large-scale paintings that incorporated collage, as well as her signature rhinestone detailing. The images were arranged amid an installation that evoked late 1960s or early 1970s interiors — floral upholstered stools, parquet flooring, deep-pile rugs. The paintings were based on Jet magazine's 1970s-era "Beauties of the Month," a pinup-​calendar variation on the publication's more pageant-friendly "Beauties of the Week." For my entire childhood and young adulthood, when copies of Jet were ubiquitous in Black spaces like salons and coffee tables, I had no idea these sexier calendars even existed.
Walking around the gallery, I found that two details stuck with me. One: Books by Black women were stacked in various corners, including works by Audre Lorde and Maya Angelou and Zadie Smith's novel "On Beauty," which I once successfully lobbied my mother's book club to read. Two: A painting titled "February 1977" featured a woman with proportions similar to my own — which is to say, proportions similar to my mother's, in her prime.
Thomas, a master of the nude form and erotic suggestion, had obscured the woman's right breast with a grayscale pixelated blob, but the way the woman sat, with her knee pulled up close to her left breast, suggested a B cup at most. The round of the upper thigh on her other leg, which extended out toward the viewer, was plump and familiar; those thighs most likely had to do some negotiating when she walked. A large, light brown curve of flesh interrupted the lower quadrant of the painting — presumably the underside of the opposite thigh, blown up in size and overlayed where a shin should have been. This zoomed-in segment not only highlighted the part of the model's body she might have been complimented on the most (by Black people, at least) but also pointed to Thomas's own gaze, the feature that elicited the artist's attention.
Over the past two decades, Thomas, who is 50, has garnered acclaim for multiple modes of creating. There are her photographs, usually staged within meticulously designed installations. Then there are the collages she makes, most often from her photographs, in which proportions may be skewed, eyes cut out and replaced, whole bodies transformed. Finally, the paintings, each of which might take as its reference a photo or a collage. Many artists shoot reference photos for their paintings, but few have committed to photography such that the photos have an artistic reputation and commercial viability of their own.
I would argue that we are on the cusp of an even broader appreciation of Thomas's genius with craft — one spurred both by the world's increasing appreciation for the work of Black artists and by Thomas's own clearsighted vision. But in that gallery in Paris, it was her loving, lusty, multifaceted gaze on the Black female form that spurred me to text a picture of a sexy painting to my mama. No context needed. We knew what we had.
It took a full day for me to ask Thomas about her interest in breasts, despite the fact that her studio was full of images of topless women. We were at a restaurant by the water in the Dumbo section of Brooklyn, and she was sitting with her back to the East River, the Brooklyn and Manhattan Bridges on either side of her. When Thomas speaks, you rarely get the sense that she has not considered a question before, not already formulated a cogent response, but breasts, in our conversations, were an exception. "I think it's such a freedom to see women's breasts out, you know?" she said. "Because we have to keep them covered all the time. And I love the composition of displaying breasts in my work." She compared her interest to a preoccupation of the artist Barkley L. Hendricks, whose paintings exemplify a kind of enduring Black cool. Hendricks was a feet guy; Thomas remembered him snapping photos of women's shoes at parties. "Women and shoes," he once told her. "Make sure you do that right in your paintings."
Breasts could tell you things about a woman — whether she'd had children, whether her weight had fluctuated, whether she preferred to wear a bra. Bared breasts are also political; I thought of women in places like Nigeria and South Africa who have, since the colonial era, used topless protest as a way to shame their oppressors. European and African art have featured the nude female form for centuries, but who was doing most of the looking, and under what circumstances? In much of Thomas's work, Black women, many of them queer, bear their bodies for her, a queer Black woman. Her renderings of them have helped her become a formidable player in the art world, one whose works sell in the seven figures at auction.
Thomas ordered a matcha, lamenting that the turmeric latte had been discontinued. She seemed relaxed for someone under multiple deadlines. She had committed to spending this fall showing new work, in four different cities around the globe, with the gallery Lévy Gorvy. There was progress yet to be made on several of the pieces and narrowing windows for international shipping. A world tour like this is rare, I was told by one of the gallery's founders, Dominque Lévy. It speaks to Thomas's confidence that it is happening at all. Before the start of the pandemic, Lévy, an early collector of Thomas's work, reached out to her about a single show in New York. That conversation evolved to encompass a show in New York, then another in London, then Paris, then Hong Kong — a suite titled "Mickalene Thomas: Beyond the Pleasure Principle." With the world locked down, and Thomas and her family staying at their home in Connecticut, she and her production manager, Jeff Vreeland, spent time figuring out how to adapt their process to working in two different locations, as opposed to together in Thomas's Brooklyn studio. Then Thomas simply proceeded with making the art as if circumstances would transpire in her favor.
The New York leg opened in September on three stories of Lévy Gorvy's Upper East Side gallery, featuring work that was being finalized when I met Thomas in August. The thought of her Jet Beauties traversing the globe to be admired delighted me. Unlike the photos Thomas shoots herself, the Beauties had an original context and purpose, which was to titillate largely male consumers. "We did a lot of research to try to find out who these women were, and there's, like, nothing," Thomas told me. In the absence of biographical information, she was engaging with what they represented as artifacts of Black culture and ideals of Black beauty and desire.
Thomas's approach to pleasure, which undergirds so much of her oeuvre, is more complex than it gets credit for. It's not simply about shifting the gaze from one pair of eyeballs to another. It's about shifting the idea of what feels good, what looks good, to one in which Black queer femme desire can be the baseline, not an aberration. In the world of fine art, "we don't even have language for how we communicate about pleasure like that," Thomas's friend Xaviera Simmons, a conceptual and visual artist, told me. "Many people want to go around that, instead of going in and feeling the heartbeat of what that is."
In "Rumble," a collage Thomas completed in 2005, two female figures clad in floral prints wrestle each other, though only one woman's Afroed head can be seen. She bites a knee — presumably her opponent's but maybe her own; the limbs are a confusing yet suggestive tangle — and wraps a leg around her opponent's leg, pinning her. The headless woman, losing this fight, is purple-skinned. It is the biting of the knee that feels most subversive; the Afroed woman looks triumphant, hungry, ready to devour. Other works from the series, "Brawlin' Spitfire," feature women whose facial expressions teeter between agony and ecstasy, teeth bared, or biting again — an exploration of pleasure in which staid notions of dominance and submission, tenderness and strength, are rendered useless.
The title of Thomas's new series refers to Freud, whose pleasure principle — which posits that humans tend to avoid pain and focus on gratifying their needs — drives the id, that portion of the psyche that, among other things, is the source of our libidos. "There's a tremendous form of play in Mickalene's work," Carrie Mae Weems, the celebrated photographer whom Thomas names as the catalyst for her deciding to pursue art, told me. "And yet they are deadly serious." The show's title also nods to Janet Jackson's 1987 hit, which opens with the line: "You might think I'm crazy, but I'm serious/It's better you know now." Of course.
The first time Thomas felt truly comfortable photographing nudity for her work was when she photographed her mother in the mid-aughts. Sandra Bush, who died in 2012, wore a red negligee with a deep open neck and a wide black belt. At some point she raised her hand for a pose, inadvertently freeing a nipple in the process. "I went to go fix it, and she was just like, 'Girl, let it be,'" Thomas told me. " 'Just take the picture.'" It felt, Thomas said, as though Bush was "giving me permission — that it was OK, that this too is acceptable."
Bush — dubbed Mama Bush in Thomas's prolific artistic investigations of her — was tall, glamorous and bodily aware in the way of a born model, despite the fact that a career in that profession eluded her. The photograph, "Madame Mama Bush," and Thomas's painting "Portrait of Madame Mama Bush #1," each suggest a timeless kind of beauty without glossing over the impact of time. The way her breasts flatten and spread, the scars pocking her shins, everything illuminated by the sheen of moisturizer — Thomas's models are often glossy — all enhance her aura of confident sensuality.
For Thomas, who came out at 16 to her grandmother, and shortly thereafter to her mother, Bush was an early source of her interest in and anxiety about femininity, glamour and desirability. Daughters take the measure of their mothers, then consider their own beauty, their own futures. "I look more like her now," Thomas told me. "But when I was younger, I didn't." Growing up in Camden, N.J., she had a cousin who better favored her mother, and when the three of them went out, people would confuse who belonged to whom. How to contend with a self that does not mirror your very first mirror, your mother?
Thomas was born in 1971, during the Black Arts and Black Power and Pan-Africanism movements and the rise of Blaxploitation films and disco. She grew up during the crack era and the rise of neoliberalism. These historical touchpoints, when Black women were called queens of a dubious variety (Nubian queen, disco queen, welfare queen), permeate her work. She has one older brother and three younger half brothers, children of her father, with whom she does not have a relationship. "He is a stranger," she told me with finality. "Not a stranger I want in my life." But her father's mother was one of Thomas's favorite people growing up, a constant source of support who took Thomas in when Sandra Bush struggled with addiction. During the times when Thomas did live with her mother, they stayed in northern New Jersey, in East Orange — not far from Camden by miles but a world away in terms of what felt possible. "We'd go back with all of these gifts and stories," Thomas remembers, and her cousins would run to the car, eager to see what she had brought or learned from living so close to New York.
"Camden's not an easy place to break from," Thomas, who goes by Mickey with her friends and family, told me. "I took the first opportunity to get out without hesitation." She dropped out of high school at 17 and followed a girlfriend home to Portland, Ore. The girlfriend was five years older than her and Filipina; they met while working at a restaurant, where Thomas bused tables and the girlfriend was a hostess. In Portland, they lived with the girlfriend's parents — "we were on the D.L.," Thomas said with a laugh — and Thomas finished high school. She initially thought she wanted to pursue art therapy, or maybe interior design, but a fateful early-1990s viewing of Carrie Mae Weems's "Kitchen Table Series" — in which Weems plays, and plays with, different roles of Black womanhood in the traditionally gendered family space — put her on the path to art school. She returned to the East Coast and enrolled at Pratt for her B.F.A. There was another reason to move back, too: She was ready, she said, "not to be in conversations and when people talked about family, for me not to talk about it." Being closer to home meant she might be able to work on her relationship with her mother.
'She's always been very good at taking humble materials and imbuing them with this kind of nobility.'
Though she was inspired by Weems, Thomas initially stuck to painting and abstraction. It was a course requirement for her M.F.A. at Yale that put her behind the camera, where she began photographing Mama Bush. It helped to bring them closer. Thomas also used the camera to investigate herself. A series of paintings and photos in which she appears as Quanikah, a hyper-femme alter-ego, show her trying on ways of being: the Mary J. Blige type, with blond wig; an around-the-way girl with a braided bob; a girlie girl with long acrylic nails and flower clips in her hair. It was an experiment with performance in the tradition of Weems and Cindy Sherman, but it was also the beginning of what would become a long conversation about adornment, presentation and perception.
In another set of paintings, Thomas used her own body as a model. This began with "Origin of the Universe, Part 1," a piece making reference to Gustave Courbet's famous 1866 painting "L'Origine du Monde," a study of a model's vulva and lower torso. In contrast to the original, Thomas's figure has brown skin, but her goal wasn't merely the trick of swapping one hue for another. She applied rhinestones where pubic hair would be and along the folds and crevices of the vulva and inner thighs, so the stones pool and glitter down onto the rumpled sheets beneath — almost like stars, but also suggesting fluid. For all its glitter, it is an altogether more realistic examination of female anatomy in relation to desire, in part because it feels less tidy, its contours less controlled.
Historically, the use of materials like rhinestones in fine art was considered unsophisticated. Thomas has made them her signature by taking them seriously. "When you think of someone like Caravaggio or Hopper, you're thinking about the light," she says. "So for me, what is a light source? I'm playing with a different type of light source." Her use of craft materials for their shine reminds me of African American quilts, like the kind made famous by the quilters of Gee's Bend, Ala., which utilize fabric scraps to striking textural effect. It also reminds me of my mother and aunties, all of whom liked to shine when stepping out for the night — a nod to a different kind of mastery.
"She's always been very good at taking humble materials and imbuing them with this kind of nobility," the artist Kehinde Wiley, her former Yale classmate and a close friend, told me. "And a part of it has to do with just the self-assured sass that comes with it. You know, I don't know if it's sass or cockiness, but it's this kind of attitude that comes from knowing your own value."
Thomas's studio is a bright space with admirable square footage on the northeast edge of Clinton Hill, in Brooklyn, the same neighborhood where she lives. When I met her there for the first time, it was 8 a.m., and her 9-year-old daughter, Junya, was finishing a bagel with pink cream cheese before heading out to summer camp. At the same time, Thomas's partner and muse, Racquel Chevremont, was seeing her two children from a previous marriage off for the day from Manhattan, where she lives during the week. Thomas wore black Maison Margiela/Reebok collaboration sneakers and layers of black clothing in various textures — pleated loosefitting pants, sculpted neoprene top, a nylon hat over her shoulder-length locs, the sides faded low. The sum total was a look she described to me as "mostly androgynous."
Thomas commenced walking around the studio. This was, ostensibly, to show me around, but I soon learned that she is a mover, peripatetic in her approach to making art and managing her studio team. "It's almost like a dance, I think," she said. "Or a choreographer, where you do something and then you engage and then you step back." Newer Jet Beauties — 2021 meditations on the work I saw in Paris — were hung on the walls in various stages. Thomas flipped through booklets that showed the progress made on each piece, from mostly white canvases to near-completion.
Thomas considers herself a painter, but it is sometimes hard to tell which sort of work is which — elements of painting and collage, in particular, bleed into one another. That's not an accident. Recently, Thomas has been thinking about how she can trouble our understanding of what makes a painting. "I'm thinking of Romare Bearden, Faith Ringgold, at the same time while thinking of Picasso and Matisse and Andy Warhol and all of these different ways that they've painted, and how you can bring that in," she said. From afar, the paintings looked layered, as if you could run your hand across them and feel the textures of different applied pieces, like a collage; in reality, the elements are all on one painted plane.
This is innovative play, but it also speaks to Thomas's deliberate thinking regarding both her subjects and the materials she uses. You can see this deliberation in Thomas's approach to depicting her partner, Chevremont — a former model turned collector and curator who made a name for herself in the art world on acquisitions committees for institutions like the Studio Museum and by hosting salons to bridge the gap between Black would-be collectors and artists. Thomas first proposed to photograph Chevremont at the tail end of another shoot, while the installation was still up and hair and makeup still on the clock. Their relationship was then so new that it wasn't public knowledge. It would take several years of photo shoots before Thomas would ever paint Chevremont; instead, she would make collages, which — unlike the paintings, whose scale and complexity usually require assistance — Thomas creates alone. Most of them she did not share; she "wanted to have them for myself for a while," she told me. Painting was also another level of interpretation — rendering Chevremont in oil or acrylic would have meant she was ready to communicate the way she truly saw Chevremont to others.
Before her recent turn toward archival images, Thomas was known for the way her works stood in conversation with, and sometimes in opposition to, European stalwarts like Courbet and Manet. Looking to inspiration from sources like Jet forces critics to set aside these more familiar comparisons. Weems sees this new body of work as Thomas's declaring that "you don't need European modernism in order to build your practice; you can build your practice where you live."
The Jet images are closer to the pop-culture consciousness and could therefore run the risk of seeming too familiar, with little room for discovery. In practice, the opposite is true. Thomas's New York show and the artist Lorna Simpson's show "Everrrything," which is currently up at Hauser & Wirth in Los Angeles, have made use of Jet's pinup calendars, and I counted more than five of the same archival Beauties on display. But their approaches diverge so much that what could feel like an awkward overlap — famous Black female artists with too-similar source material — instead becomes an enlightening conversation. In the source photo, the June 1977 Beauty has plump cheeks, long wavy hair, D-cup breasts and a plant — a literal bush — covering her bush. Simpson's collage, part of a set called "The meaning of power and physical world," adds texture via a Siberian-tiger print in place of the model's skin. It keeps the source photo's original daylight cityscape background, as well as the plant, with all its demure kitsch. The animal-pelt overlay is applied in such a way that we are made aware of the cutting and pasting involved, the imprecise use of scissors, the shadow at the edges.
Where Simpson's collage feels devoted to the 1970s archival source — shag carpet, animal print — the model in Thomas's painting, "June 1977," seems to live in multiple times at once. There's digital-era pixelation over the potted plant; a black-and-white nature print in the background that suggests an older landscape; bright painted panels that suggest pop art or cartoons; and then, returning us to the '70s, a wood-grain quality to the painted half of the figure. The more I look at the two images, the less they seem to have in common and the more exhilarated I feel. Together, they prove what every Black artist already knows: A shared vernacular can go only so far.
Subject matter can be a trap; wanting to focus on what an artwork represents at the expense of how it was created obscures what particular, idiosyncratic creative epiphanies brought the work into being. As the depth and breadth of more Black artists' work becomes widely celebrated, it will perhaps become impossible for reviewers to be so singularly pulled into what, if anything, a work by a Black artist means in relation to Blackness writ large.
During the past decade, Thomas's profile has increased by leaps. There was her 2012 solo show at the Brooklyn Museum, which felt like a midcareer retrospective, no matter her youth at the time. There was the shoot with Solange Knowles, and there was "Better Days," her splashy multiday immersive installation at Basel Switzerland. She created a cover image for Time magazine, a collage tribute to the transgender rights activist Marsha P. Johnson. Thomas has embarked on a fashion-photography career, shooting celebrities like Jessica Chastain, Cardi B and Barry Jenkins (for a profile I wrote for this magazine). She has enough pop-culture clout to have received a shout-out in a song from the Roots rapper Black Thought ("I'm a stroke of genius like Mickalene Thomas is"). Her joint birthday parties with the artist Derrick Adams are known for the A-list art-world figures who attend. And she has broken her own auction records again and again — most recently with the painting "Racquel Reclining Wearing Purple Jumpsuit," in which she alternates the heavy application of paint with the flat to striking effect. In it, Chevremont wears purple and turquoise open-toe heels, heels Thomas painted with Barkley Hendricks in mind. The piece sold for $1.83 million.
Thomas is cleareyed about the place she would like to inhabit in the art world, so much so that she told me there's a number she hopes to reach for her work at auction. She's frank about why: so that she might continue to support her studio practice and so that she can get to a place where she doesn't have to make as many artworks each year. Blame my own literary-world brainwashing, but for a second I was taken aback that she kept her eyes so squarely on a monetary prize. Then I remembered my own mother, who firmly believed that asking questions about who gets paid what and why was the only reason she survived corporate America. George Wells, who advises Thomas on business matters, told me that he anticipates her work to be selling for at least $5 million in the next five years.
Nearly everyone I spoke with about Thomas mentioned the fact that she has no domestic gallery representation as a testament to her self-assuredness, her savvy. Three years ago, Thomas left Lehmann Maupin, her longtime gallery, in favor of operating like an independent music artist. By way of explaining her thoughts about ownership, Thomas described to me an icebreaker she often uses when she teaches seminars to art students. She asks them a seemingly simple question: Where did the notion of sharing proceeds 50-50 with your gallery come from? "Half the class will be like, 'That's what you're supposed to do.' And I'll say, 'Well, but why?'" What follows is the sort of conversation about art and money and longevity that Thomas wishes she'd had as a student.
In her book "A Very Easy Death," Simone de Beauvoir describes witnessing her mother's rapid decline, her beauty fading fast as she approaches death. "The sight of my mother's nakedness had jarred me," she writes. "No body existed less for me: None existed more."
In her 2012 short film, "Happy Birthday to a Beautiful Woman," Thomas documented Mama Bush in her final days. "All you have to realize is, enjoy the time with this person as if it's their last, with love," Thomas remembers thinking. "Forget all your [expletive]. Look at them as a human being." Bush, starkly diminished by illness, recounts her own history in the film, including her years of addiction, the abuse she suffered at the hands of Thomas's father and her conversion to Buddhism. Thomas showed "Happy Birthday to a Beautiful Woman" at her 2012 Brooklyn Museum exhibition, just days before Bush would die. It strikes me as such a gift for both of them: Bush being able to share her final thoughts about life with her daughter, and Thomas asking the kinds of vital questions that might, if left unasked, exacerbate the sorrow a person feels after such a loss.
Thomas remembers pacing the museum halls at the opening, nervous about sharing this part of her story with the world. "I used it to fuel me to do things, but I never talked about it," she told me. "It wasn't something that I felt like I needed to, to define who I was. And I still feel that way." The things an artist endures while growing up certainly don't define who they are, but in the case of Thomas, the good and the bad of those years seem to have fueled a particular kind of tenacity and an irrepressible urge to do things her way.
"Maybe it comes with turning 50," she said. "I don't know. But I think I realized that I only have one life."
---
Angela Flournoy is the author of the novel "The Turner House." She has received fellowships from the New York Public Library's Cullman Center for Scholars and Writers, the National Endowment for the Arts and the American Academy in Berlin. Her last profile for the magazine was of the director Barry Jenkins, in which she discussed his use of prolonged close-ups to create intimacy on camera.
Sours: https://www.nytimes.com/2021/10/13/magazine/mickalene-thomas.html
The Best Painting Ideas for Kids to Try
This collection of painting ideas for kids will inspire fun and creativity! There are ideas for kids of all ages, seasonal projects, and holiday art, you are sure to find one (or more!) that your kids will want to try.
Below you will find acrylic and watercolor painting projects that use fun and unique techniques kids will love to explore and create with. We have tried painting with q-tips, cotton balls, and forks, tried different types of easy watercolor techniques and they have all been a lot of fun to experiment with!
If you are looking for more art projects to try, take a look at our ultimate collection of amazing art projects for kids!
There are so many wonderful painting ideas below I hope you find lots of inspiration! I have separated the projects into seasons and holidays. The first section has painting ideas you can do any time of the year!
Simple Pointillism for Kids Art project
This pointillism for kids art project is fun for all ages! Try q-tip painting to create colorful art inspired by the famous artist Georges Seurat. Kids will love creating their own masterpiece!
The Best Beginner Watercolor Supplies for Kids
These beginner watercolor supplies will provide kids with everything they need to get started creating amazing watercolor paintings! Learn about everything you need to get started with watercolors.
Northern Lights Watercolor Painting for Kids
These easy watercolor techniques produce magical results! Using a few very simple watercolor techniques involving wet paper and salt was all it took to create these beautiful Northern Lights paintings.
Spring Painting Projects
Use all of the beautiful colors of spring with the painting ideas below! There are lots of flower painting ideas, spring landscapes, and more.
Easy Spring Trees Painting with Bundled Q-Tips
Bright green leaves on trees, light blue skies, and colorful wildflowers all come together to make this gorgeous spring trees painting! I love the texture the bundled q-tips create, it's a great tool that makes creating this art project a breeze.
Field of Tulips Q-tip Painting
This field of tulips q-tip painting is such a fun art project for kids to create. If you have been lucky enough to visit a tulip festival, you will know how vibrant and colorful the endless fields of tulips are.
Easy Watercolor Flowers for Kids to Make
These easy watercolor flowers are a fun and colorful art project for kids of all ages! An excellent beginner watercolor project using easy techniques. Free printable template included.
Easter Art for Kids
Take a look below for fun Easter painting ideas! There are adorable bunny paintings using different techniques and creative easter egg art projects.
Process Art Scrape Painting with Bunny Silhouettes
We took scrape painting process art and turned it into a super fun (and messy!) bunny art project that is perfect for spring or Easter. It was fun to see the patterns that the paint made when we scraped our paper, each one turned out different.
Easy Painted Easter Egg Rocks for Kids
These Easter egg rocks were so easy to make and make such a fun painting project for kids! They would look beautiful as part of your Easter decor, in your garden or you could even hide them outside as part of a fun non-candy Easter egg hunt.
The Cutest Easter Bunny Painting for Kids to Make
I love the different perspective of the bunny on an angle and looking up at the colorful Easter eggs. A great multimedia art project that will have kids painting with acrylics, using a watercolor resist technique and drawing with sharpies. 
Colorful Q-tip Easter Egg Painting
A fun q-tip Easter egg painting idea! Kids of all ages will have fun dotting on different patterns with q-tips to make this colorful art project. Free printable template included.
Mother's Day Painting Ideas
Make mom or grandma a special card or gift with the ideas below! There are great ideas for kids of all ages.
3D Flower Mother's Day Card Craft
This Mother's Day card craft is a beautiful art project kids can make for their moms or grandmas for Mother's Day. These cards use coffee filters and a fun watercolor technique to create the background.
Summer Painting Projects for Kids
Take a look below for some great summer painting ideas that include rock painting, q-tip painting, watercolors, and more! Choose a project or two and spend a summer afternoon being creative and having fun.
Colorful Q-tip Painted Dragonfly Craft
We love q-tip painting and this dragonfly craft was so fun to make! Using q-tips is a very relaxing way to paint and it's great for working on fine motor skills.
Orange Tree Cotton Ball Painting
We love cotton ball painting. It's such a fun painting activity for kids of all ages, both my kids love it and so do I! This orange tree painting turned out great, I love the bright green colors and the pop of orange.
Easy Marbled Seashell Art for Kids
This seashell art is so fun and easy, kids will love creating gorgeous marbled seashells with their beach treasures. This summer craft will have kids engaged, using their creativity and having fun.
Spin Painting Canada Day Craft
Spin painting is probably one of my kid's favorite art activities and this Canada Day craft using spin painting was so much fun to do! We had fun using different color combinations and squeezing out the paint in different ways to try and make unique patterns.
Father's Day Painting ideas
Make dad or grandpa a thoughtful gift or card for Father's Day!
Fall Painting for Kids
Celebrate fall with all of the gorgeous colors of the season! Below you will find fun autumn painting ideas using creative techniques kids will love.
Autumn Tree Painting with Cotton Balls
I love fall and all of the gorgeous colors that come with the season and this autumn tree painting with cotton balls is a wonderful fall craft that kids of all ages will enjoy. The cotton balls give the leaves a fluffy texture and are a fun way for kids to paint.
Easy Leaf Printing on Rocks Autumn Craft
This leaf printing on rocks art project is such a fun and easy fall craft that kids will love. We used beautiful fall colors to paint our rocks and edged them in gold for an extra special touch.
Fall Tree Painting with Bundled Q-tips
Kids will have fun making this fall tree painting art project using bundled q-tips! Free printable tree template included making this fall craft perfect for kids of all ages.
Apple Tree Painting with Cotton Balls
Kids will love painting with cotton balls to create this apple tree painting that is adaptable for kids of all ages! Printable branch template is included.
Beautiful Watercolor Poppy Art Kids can Make
This watercolor poppy art is such a fun and easy art project for kids. This watercolor spider web art is so fun and colorful. Kids will love making this easy Halloween and fall art project!A great Remembrance Day craft or fall flower art project. Printable template included.
Easy Q-tip Painted Pumpkins for Kids
These q-tip painted pumpkins are absolutely adorable! They make such an easy and colorful fall craft for kids of all ages. A great Thanksgiving centerpiece idea that kids can make themselves.
Halloween Painting for Kids
There are lots of fun Halloween painting ideas below kids of all ages will enjoy! Try pumpkin spin painting or a spooky bat art project.
Spooky Halloween Silhouette Art Project for Kids
This Halloween silhouette art project is a fun and spooky idea that kids will love! Kids will learn easy watercolor techniques and add their own creative touches to make each painting unique.
Halloween Art Project with 3D Paper Bats
A full moon, spooky Halloween sky and flying bats come together to make this awesomely spooky Halloween art project! I just love how the bats pop off the paper in this painting to give it a 3D element.
Winter Painting for Kids
There are so many beautiful winter colors to use and creative painting techniques below for kids to try!
Winter Tree Painting with Cotton Balls
This winter tree painting with cotton balls is a fun and easy winter craft that kids of all ages can enjoy. I love the fluffy snow texture that the cotton balls create on the branches and the contrast of the black branch and white snow against the blue sky.
Winter Scrape Painting with Narwhal Printable
This winter scrape painting activity is so fun and a super easy process art activity that kids will have fun creating. Using a narwhal shape and icy winter colors put a new twist on one of our favorite process art activities.
Snowflake Watercolor Winter Art
I love how wintery and icy these watercolor winter art paintings turned out! We used simple and fun watercolor techniques that kids of all ages can do and get amazing results.
Christmas Art Projects for Kids
There are so many creative Christmas painting ideas below that kids will love to make! Try painting a multimedia Christmas tree or make some beautiful watercolor Christmas cards.
Mixed Media Christmas Tree Art Project
This Christmas tree painting was so fun! This is a wonderful art project for kids to create and explore blending colors and using some fun techniques, like painting with q-tips, which kids will love. 
Colorful Kid Made Christmas Cards with Coffee Filters
I love how colorful and sparkly these kid made Christmas cards turned out. Coffee filters are a fun craft supply to use because they are so versatile and using them with watercolors is a fun way for kids to explore mixing colors.
Valentine's Day Art Projects
There are so many fun painting ideas for Valentine's Day! Take a look below to find painting ideas using acrylics, watercolors, and mixed media. There are also some Valentine's card ideas that kids will love!
Sours: https://www.projectswithkids.com/painting-ideas-for-kids/
Fresh, cheerful, and easy to decorate with, we rounded up the best pink paint colors to consider if you're embarking on a redecorating project (or just looking for some desk-side inspiration). After all, it is the best color in the rainbow—we know, we know, it technically isn't in the traditional rainbow, but once you see these pink paint colors in all their versatile, uplifting glory, it'll be your favorite color, too. So without further ado, read on for twelve interior designer examples, decorating ideas, and shopping suggestions for pink paint below.
1Coral
Interior designer Janie Molster says there's no such thing as too much pink, and we happen to agree—especially when it's emboldened by red and white striped furniture. But if you just want to dabble in the bright color, start by painting a smaller area in your home, like in pretty window nook. It gives a bit of a romantic glow without feeling like you painted the walls with bubblegum.
Shop a similarly sunny and vibrant pink paint below:
Benjamin Moore Pink Starburst ($43)BUY NOW
2Thulian Pink
With just a touch of gray in it, this powdery pink pairs beautifully with a variety of neutrals. In this space designed by Arent & Pyke, the monochrome upholstery and black and smoked gray sconce are brightened up by crisp white linens and warmed up by the light wood furniture. And even though it's bright and bold, it isn't overly sugary.
Shop a similarly warm and unique pink paint below:
Farrow & Ball Sulking Room Pink ($110)BUY NOW
3Pale Pink
So soft and sweet, this barely-there pink hue is a great backdrop for a variety of color schemes and styles. If you're drawn to pastel interiors or simply want to set the scene in a subtle way, take notes from this pink space designed by 2LG Studio.
Shop a similarly fresh and versatile pink paint below:
Farrow & Ball Pink Ground ($110) BUY NOW
4Deep Dusty Rose
This room is simultaneously friendly and inviting, grownup and sophisticated. And while it's definitely bolder and brighter than your average cream walls, it also has a nice absorbing depth to it. The burnt orange and chocolate brown upholstered armchair speaks to the room's spirited personality while the metallic gold tables and cool marble fireplace introduce a refined touch.
Shop a similarly deep and grounding pink paint below:
Farrow & Ball Ringwali Paint ($110) BUY NOW
5Blush
A light, delicate pink that provides just a touch of oomph looks surprisingly good when paired with more modern, streamlined, geometric pieces. In this kitchen designed by GRT Architects, the modern lines and tonal palette feels fresh and modern while the pink color makes it feel open and bright.
Shop a similarly upbeat and sweet pink paint below:
Farrow & Ball Middleton Pink ($110)BUY NOW
6Orchid Pink
Designed by Kate Reid, this little nook packs a lot of punch. She chose this surprising shade of pink paint, Benjamin Moore's Lazy Afternoon, to make the beautiful doors stand out even more. Unique and bold, the rich shade of mauve-meets-orchid-meets-magenta enhances the color palette of the nearby wallpaper. "My accountant said, "Kate, you shouldn't be buying an apartment because of the doors," she laughs, "but these were sort of a selling point."
Shop a similarly bold and versatile pink paint below:
Benjamin Moore Lazy Afternoon ($80) BUY NOW
7Peachy Pink
If you're worried about pink paint becoming too stereotypically girly, opt for a paler shade with more peachy tones. Then decorate with moodier materials and contemporary furniture. This way, it'll blend in more than it stands out. In this living room designed by Elizabeth Roberts Architecture & Design, the splashes of navy blue marry that carefree vibe of peach with the more sophisticated energy of black marble.
Shop a similarly fresh and versatile pink paint below:
BEHR Marquee Angel Blush ($46) BUY NOW
8Neon Pink
Intense, eye-catching, and adventurous, we're loving the neon pink walls in this Greenwich Village living room designed by Katie Ridder (she used C2 Paints "Mulberry"). The contrasting sky blue tones and traditional furniture makes it more transitional and timeless. Use it in a foyer for a warm, welcoming, impossible-to-forget entrance.
Shop a similarly energizing and fearless pink paint below:
Benjamin Moore Peony ($43) BUY NOW
9Cotton Candy Pink
Baby pink is especially great when used in a bedroom bursting with cheeky personality. Designed by 2LG Studio, this bedroom is not holding anything back—and we're here for it. The bed frame, vanity desk, and stool are all upholstered in a luxe shade of royal indigo that creates consistency while also contrasting nicely with the light pink walls. Are you inspired to channel the 1980s yet?
Shop a similarly delicate and soft pink paint below:
BEHR Premium Plus Ultra Fading Rose Paint ($35) BUY NOW
10Barbie Pink
Now here's a pink you can't miss. Eye-catching, lively, and oh-so upbeat, a true pink is a fun accent color in any room. If you're not sure you're ready to make a commitment to painting the entire room pink, experiment with color blocking (and extend it to the floors if you're feeling bold—you won't be sorry).
Shop a similarly spunky and playful pink paint below:
Benjamin Moore Deep Carnation ($43) BUY NOW
11Mauve
In a small space, a unique paint color really can make all the difference. In this living room vignette designed by 2LG Studio, the mauve walls and texture-rich grooved drawers set the tone for the rest of the space. We also love how the spherical table lamp plays up the round shape motif of the pink marble table.
Shop a similarly moody and soothing pink paint below:
Farrow & Ball Cinder Rose ($110) BUY NOW
12Hot Pink
Inspired by the homeowner's grandmother's signature lipstick, this fireplace steals the show. Designer Kristen McCory used "the hue throughout the house as an energetic counterpoint to the owners' vast collection of inherited art and antiques."
Shop a similarly adventurous and fun pink paint below:
Benjamin Moore Razzle Dazzle ($80) BUY NOW
Hadley MendelsohnSenior EditorHadley Mendelsohn is House Beautiful's senior editor, and when she's not busy obsessing over all things decor-related, you can find her scouring vintage stores, reading, or stumbling about because she probably lost her glasses again.
This content is created and maintained by a third party, and imported onto this page to help users provide their email addresses. You may be able to find more information about this and similar content at piano.io
Sours: https://www.housebeautiful.com/room-decorating/colors/g27211380/pink-paint-colors/
How to Choose the Best Background for Your Artwork
For most paintings, regardless of subject matter or media, it's essential to consider the background as part of the composition.
Even if you decide to just leave empty space around your image, then you are still creating a background because the plain canvas or paper - whether white or tinted - will have a significant impact - good or bad - upon the final finished piece.
Don't forget, for all the positive shapes you create in your picture, the background will represent the negative shapes in between or around them. So the background is vitally important and not just an 'add-on' to finish off with.
Let's have a look in this blog post at what options the artist needs to consider when thinking about backgrounds.
As we progress, I thought I'd include some pictures produced as lessons by our fantastic panel of tutors, as well as some superb works produced by some of the Members. These contain so many different types of background and what I'll do is to interpret why they've selected what they have done, for that picture.
Hopefully, that will give you a bit of a head start when you come to view the lessons yourself, and when you make your own decisions about choosing backgrounds.
Some Types of Background
None added
Vignetted
Simple and plain
More detailed
Background as the main subject
1. None added - this picture stands up well without a background:
The warm, tinted paper in this coloured pencil portrait by Jane Lazenby acts perfectly as both a natural base colour for the dog and as an untouched background as well.
2. Vignetted - some background is painted but only to focus attention on the main image, with  blank areas at the edges of the picture:
The significant unpainted areas in this still life by Rob Dudley help to push the viewer's gaze into the main elements of the grouping and especially those excellent reflections in the metal pot.
3. Simple and plain - a series of coloured tones but no detail:
In Marian Dutton's rendition of sunflowers the variegated background, fading from pale blue at the top left to pale cream, not only allows the flower heads to stand out clearly but also establishes the light source coming from the right.
The added diffused shadow to the left prevents the pot hovering in mid-air and 'sits it down', even though no hint of a table has been added in the background.
4. More detailed - some detail, such as the far side of an interior room or background leaves & trees in a wildlife study:
This time, in one of Marian's lovely bird studies, the plain pale background, centre and bottom right, allows complete focus on the bird, while the very simple leaves, overlaid on top of the background colour, point gently towards and frame the subject in its natural environment.
5. Background as the main subject - relying upon the foreground/middle distance to become the 'supporting cast':
In this dramatic evening sky by Rob Dudley, the roles have been reversed, so all the attention is upon the myriad of colours in the evening glow.
What might have been the main focus - the townscape - has been reduced to a virtual silhouette, and in effect has become the background, which itself provides the context for the sky.
Put a piece of card or your hand over the bottom part of the picture so only the sky is visible and it becomes almost a meaningless abstract of colours, proving that you need both the subject matter and the background to work together.
Now, of course, these are just five examples and the styles, colouring, strength and impact of backgrounds are as numerous as the number of paintings in existence.
Watercolour Painting Cheatsheets
Here's 12 handy colour charts and reference guides for watercolours, that will save you paint, paper and hours of experimenting...
So What Makes a Good Background?
Essentially, I'd say three factors make a good background, while if in doubt, keeping it as simple as possible:
It complements rather than competes with the main elements. You never want a background that fights for attention with the focal point.
It unifies the picture. At least one colour used in the background should pick up on some of the colouring in the main elements of the picture.
It enhances the picture. The picture should look better with the background than without it.
1. Complements and doesn't compete:
Look at the way Jane Lazenby, in this Nevada scene, has muted the background mountains to give a tremendous sense of depth. The colours are essentially those used in the foreground rocks but very much tinted with white.
Thus the distant mountains in no way compete for attention with the focal point but provide the essential mass of backcloth that sets off the main areas of the foreground rocks so well.
2. Unifies the picture:
Here, Marian Dutton has used small dabs of the colours used in the goldfinch and the flower petals to add interest to the background. It remains quite colourful, but being so diffused, it links the background seamlessly to the main elements and hints at more flowers - and even birds - just out of the viewer's focus.
3. Enhances the picture:
In this lovely simple snow study by Geoff Kersey, I've digitally removed the distant trees from the right-hand shot.
Even though they're only dabs of paint dropped wet in wet into damp paper and so completely without detail, look how much the quality of the scene is diminished by their omission.
When Do I Consider What Background I Should Paint?
Well often, this is where a little bit of pre-planning comes in handy!
You could go off and splash paint to create a wonderful portrait, and start thinking halfway through what sort of background you should give it - or what colour(s)/texture(s) should be included.
We've all done this at some time - I certainly have. Quite often I've altered the background as a picture has developed because I've sensed something that would work better, or the colours I thought were going to work, simply haven't had the desired effect.
In fact, many experienced artists like to get a feel of how the painting is developing before they commit to a background and almost let the painting tell them when to include it and what form it should take.
However, they will instinctively build in those factors that I mentioned above, in terms of being complementary, providing unity and whether it's going to improve the picture.
And they'll often roughly block in some of the background, so at least there's something in place that can be adjusted as they progress.
I'd always advise the less experienced painter to give at least some thought beforehand as to what background they might use. 
Sometimes, the background selects itself, of course. The mood of a landscape is invariably created by the sky, so if you're creating a mountain scene on a stormy day, a heavy thundery sky may well provide the ideal backdrop to your painting.
Now in an acrylic or pastel picture, you could roughly put in a semblance of the clouds, with the option to adjust things as you go along.
However with a watercolour, this will probably be your starting point, so you definitely have to be clear about your background before you pick up the brush!
In this acrylic mountain scene by Jane Lazenby, the cloudy background sky is, tonally, as strong as the mountains, contrasting with what we've just been discussing about not competing with the foreground.
However, with a weaker or more benign sky, the impact of the entire painting would be significantly reduced, so sometimes a stronger background is right for the picture.
This only works though because Jane has clearly thought through what was needed beforehand.
Now not having a totally clear idea of what the background should be, shouldn't prevent you from starting a picture, if you know what the subject matter is beforehand.
For the most part, though, giving some consideration early in the planning process can save the heartache of adding an ill-conceived background which is always going to look like an afterthought - which of course, is exactly what it is.
Background Errors
Quite often of course, even for the experienced artist, the selected background doesn't turn out to be as expected. Or for some other reason, it just doesn't work.
Typical faults (but by no means an exhaustive list!) are:
It's too strong in tone and dominates the rest of the picture
It's too busy and competes for attention with the foreground
There's a mistake in the background which draws the eye straight to it
The wrong colours are used and it looks like it's out of a completely different painting
It's a large area in a painting that lacks interest
1. Too strong in tone:
Background too dominant for the rest of the picture? Well here's an example I've manufactured based on a Class winner and a wonderful watercolour from one of the monthly ArtTutor Challenges, by Diana Boanas (yes it really is a watercolour and not a photo!).
Now Diana has produced this fantastic piece of work on the right with no background, relying on the subject matter to say it all.
The bottle and its exploding contents are all you need and are superbly depicted, but I've photo-shopped a strong blue background in place on the left to see what would happen.
Now the usual criticisms of my limited photo-editing skills have to be taken into account, but you can see how much impact the picture loses by having that strong blue background, even though it's quite plain in texture. 
If the picture is strong enough without a background then go with it!
2. Too busy and competes for attention:
Another of our Members, Blockley 99, has recently produced this lovely scene of a cart being used to display an array of colourful flowers and plants.
Now if Barbara had blindly followed the photo reference (left), the inclusion of all the background clutter would have detracted from her painting.
Instead, that has rightly been omitted and replaced with a much simpler hint of a distant summer sky.
In addition, the grassy area has been simplified and vignetted to further focus on the cart and flowers. Remember the 'background' isn't just what's at the back of the picture. It's the supporting cast and may well, as here, include the foreground too.
3. There's a mistake in the background which draws the eye straight to it:
Top tutor Sian Dudley has produced a lesson on eradicating mistakes in your watercolours and this one is a perfect fit for this article.
You can see that the cauliflower that's appeared in the left-hand picture, as well as a couple of other blotches, instantly draws the eye to them.
In the right-hand view Sian shows you how to eradicate them and with the background cleaned up, the picture looks so much better.
4. The wrong colours are used and it looks like it's out of a completely different painting:
Another of our Members who regularly produces wonderful, inspirational work is Gill Farquharson. Here, Gill has produced a lovely, unified evening glow to a view of the Grand Canal in Venice.
Note how the warm sky, buildings and water are all harmonised by the colours she's used throughout the picture.
In the right-hand version though, I've replaced the sky with a much cooler example. It's actually part of the sky from a brilliant snow scene by Geoff Kersey, so nothing at all wrong with the colours or texture.
On the face of it, it doesn't look at all bad. However, the mix of cool and warm has completely unbalanced Gill's picture, not least because the water should now be reflecting blue rather than the yellow and pink of the original sky.
The new sky is very good but simply doesn't work in this particular painting.
And just in case you're wondering what that cool sky looks like in its proper context, here's Geoff's picture for you to admire.
And while we're gazing down the snowy lane, see how the pattern of distant fields and hedges have been very simply treated as a few streaks and dabs of blue/grey paint, thus pushing those features back into their proper place in the background.
5. It's a large area in a painting that lacks interest:
Regardless of the subject matter, any picture needs 'quiet' passages in it to counterbalance the interesting areas and the focal point.
However, it can get too quiet and you need to inject interest sometimes, with some added texture or small detail. Nothing to fight with the main elements, but enough to stop it becoming boring and to add movement and tension.
Muriel44 (Marie's) Challenge winning entry in February last year provides an excellent example.
The vibrancy and movement of the girl on the street has been superbly captured in coloured pencil. The background treatment could have been left blank, still providing an excellent submission, as the dynamic pose probably allows it to stand by itself.
However, notice how Marie has added a hint of cool, grey texture in the background, suggesting an urban street and wall, complemented by the swirls following the movement of the girl's arm and body, enhancing the edginess and devil-may-care attitude in her stance.
Subtle, but these small added areas of texture have really lifted the picture from the very good to excellent.
Watercolour Materials Made Easy
Walk into any art store and the amount of materials filling the shelves is overwhelming! Bob Davies has put together a shortlist of the best watercolour tools, surfaces and accessories for every budding artist to stop you from wasting money. See the list here...
So How Do I Choose a Background?
Hopefully, you're starting to realise that the selection of a background is very much part of the picture and needs to reflect what your subject matter is going to be - landscape, still-life, floral, portrait and so on.
Let's take a still-life as an example. From what direction is the light source? Is it going to be a high key or low key work i.e. well-lit or a more sombre depiction?
By the way, don't mistake high and low key for just very bright or very dark and dull.
It simply means that the range of tonal values tend to be closer together in a low key version than the high key picture, where you have a greater extreme of light lights and dark darks.
In these two still life compositions by Carole Massey, note how the higher-key version on the left relies on the light to lift the jug, to cast highlights on the glass and help the figs and grapes to glow.
The light is also bouncing off the stone wall and tabletop. Consequently, there is a darker tone to the front of the table, which remains in shadow.
What could have been a large uninteresting area in the wall has also been expertly broken up by several judiciously painted cracks in the plaster.
In the slightly lower key painting on the right, the light is from the right but noticeably more restrained.
Note how the table top and front are tonally closer than in the table in the high key picture. However it's this turning down of the light, especially on the background wall, that has allowed the white flowers to sing out with light from their petals.
You may get a better sense of this high key/low key variance by looking at these pictures when converted to black and white.
In each case, the different treatment of a similar background (and by background I'm also including the table-top) has resulted in an effective foil for the main subjects.
Moving on then, is the picture going to have lots of rustic textures and surfaces such as wood, canvas, rope, fruit and so on, suggesting warmer background tones?
Or are you intending to create a harder array of items such as pots, glasses and bottles in a kitchen scene, which might suggest complementary hard-surfaced tiles in the background?
Or, will you go the opposite way and decide on say a softer, curtained background to contrast and emphasise the harder materials? 
It's your choice!
The colouring and tonal strength is important to work out beforehand, as is the location and number of the key elements in the picture.
If you have a busy landscape scene, then you need to think about minimising at least some of the background detail and to mute the colours elsewhere to provide some essential calm passages.
In this oil painting by James Willis, we have a very busy street scene, populated with numerous figures, either on the move or engaged in conversation.
Instantly this generates a good deal of animation.
James has counterbalanced this by not only leaving the visible sky as a simple pale blue area, but his treatment of the background buildings shows similar restraint by utilising simple blocks of colour and minimising window and roof detail.
If, as is likely at some point, you paint from a reference photo or photos, don't necessarily be a slave to what is in the photo, especially the background.
For a portrait, for example, the background is very often inappropriate and intrudes upon the picture, rather than enhancing it.
Look at this delightful alla prima portrait of 'Pippa' produced by Peter Keegan.
You can see from the photo that behind her sits part of an ironing board and a fridge-freezer. All very contemporary but not necessarily what you'd want as a backdrop for your kid's portrait!
Now Peter has made no attempt to add a background because the lesson was all about painting oils in 'alla prima', i.e. all in one session. However, the finished study is so much better for the blank background, thus focussing attention on the girl's face.
In a similar study by Peter, this time of 'John', you can see from the reference photo that the background is a classroom, but it is so cluttered that the eye immediately darts to the detail in it, rather than remaining on the face.
Peter has overcome this in his painting by picking up on one of the background colours, the yellow in a chart, and adding this as a vignetted area to effectively frame the face. The yellow colour, being complementary of purple, sits ideally with the purples and blues in John's coat and bow tie.
However, sometimes you'll want the background around portraits to give context to the subject.
In this oil painting of 'Blaze & Whizz' I produced for a friend several years back, we wanted to capture the little devil in Whizz, who, as a puppy, was invariably into mischief, together with his long-suffering older brother Blaze, in an environment in their home that was entirely natural for them.
While taking many reference photos of the dogs, it emerged that the flat leather seat was where Whizz usually retired to when he knew he was in trouble.
The little yellow rubber shape just peeping out from behind the sofa was a favourite toy of both of them so that had to go in.
We found an angle in the living room where there was no real clutter and the door position was correct.
The pattern on the carpet was toned down and as a result, we 'found' a background that was entirely authentic from the family's point of view but complementary and non-intrusive from an artistic perspective and compositionally, it worked well.
In some cases, the composition is such that it's hard to determine where the main elements finish and the background begins, but it's not a big problem if you understand the process beforehand.
Joanne Boon-Thomas is a wonderful exponent of loose watercolours and her vibrant floral work is rightly admired. Look at this picture of one of her lessons of hollyhocks.
The photo is pretty straightforward, with the hollyhocks clearly defined against a pale cloudy sky. However, it makes for a fairly static, boring display.
Now compare that to her painting on the right where the photo has been used merely as a fleeting reference to the form of the flowers and a riot of colour, movement and energy has emerged.
Although the background appears busy and in some areas, tonally stronger than the flowers, these tones have been expertly built up as the background surrounding the light pink petals, so that the latter stands out clearly as the focal point.
Joanne's concentration has been on ensuring those stronger tones in the background provide the essential counterchange with the flowers, but she's left the wet areas to actually mix together and paint themselves, only softening off at the edges to allow the colours to bleed in a totally random but pleasing manner.
Background Examples
Well, we've already looked at a number of background examples on this blog post, but I thought I'd finish off by looking at a number of others from various lessons, which you can look at more closely and consider using as inspiration for your own paintings.
This seascape by Dave Jeffrey is a fine example of a scumbled background which adds significantly to the mood of the scene. Scumbling is the technique of dragging (usually) lighter paint over a darker coat in a semi dry-brushed effect.
Note how the paler brush strokes in the open part of the sky have been dragged down at a slight angle from right to left to create blustery movement, at the same time leading the eye to the boats. Conversely, the clouds have been painted in random directions, suggesting that they're being blown all over the place. Absolutely key to enhancing the atmosphere of a blustery day on the water.
In this lovely owl study by Paul Apps, a similar technique has been employed, but in this case, the foreground grasses effectively form part of the backdrop to highlight the owl in its environment.
This has been emphasised by Paul using the pale creams and oranges of the grasses to blend into the background and gently into the sky.
No detail here but it acts so well as massed background grasses because the eye reads it as such due to the foreground colouring.
Note that items placed in the middle distance or even the foreground, as with these grasses, can still form part of the 'background' too.
Rebecca De Mendonca's beautiful pastel work of the ballerina, by contrast, uses almost no background at all. The dark blue of the paper used is almost all that is needed with a few colourful streaks of pale yellows and pinks, emphasising the movement of the dancer, floating in mid-air.
Glynis Barnes-Mellish has a justifiably top-class reputation for watercolour figure work and her portrayal of the girl bathing illustrates the value of a restrained background.
The focus is on the warm, subtle skin tones and the back of her head.
Therefore, a muted and cooler pale blue/grey wall, and the gentle, pastel tones in the bath, the soap, towels and even the steamed-up taps, ensures that the focus of the viewer stays on the figure, with the rest of the background providing the necessary context.
Now for something totally different... 
Have a look at Carole Massey's acrylic study of a wine bottle and glass.
In this case, she's used acrylic paper with a basket weave texture and painted the background beforehand with an ink roller, by picking up paint randomly from the palette as the roller moves over the colours.
The first two photos are screenshots from the lesson and explain it far better than my words could.

It shows you should never be afraid to experiment with different tools or materials to create texture and marks - especially in the background!
Jonathan Newey's magnificent tiger provides us with a simple green background - ideal when set with a busy main subject, in this case with multiple stripes and fur and facial detail.
Note though, how the thickly applied 'choppy' and multi-directional brushstrokes provide a subtle suggestion of foliage beyond the wonderful beast.
The black labrador portrayed by Jane Lazenby has a suitably alert look about him and she has implied he's in the midst of a field without showing any greenery whatsoever.
Instead, she's relied upon a few sharply painted foreground blades of grass while similar but less-defined grasses, on a pale pastel background, sit behind and effectively surround him, completing the illusion of his outdoor location.
In Rob Dudley's dazzling estuary scene, the background colours in the sky have been replicated down the paper and into the water area.
A close look at the painting will reveal a matching blue patch in the top and bottom centre with the pale yellows visible in the centre of the sky and sea. 
This might seem like stating the obvious, but it's so often overlooked by newcomers to watercolour painting and underlines the point I made when adding the 'wrong' sky to Gill Farquharson's Venetian scene.
It provides essential unity throughout the picture and it's so necessary to include in watercolour, as the sky and sea will need to be done at the beginning before any other detail is added.
Now, of course, backgrounds are just as important if you're using a drawing medium such as charcoal. In this picture of a farmhouse by Joanne Boon-Thomas, I've removed the background clouds that she put in, blending the charcoal with her fingers.
Compare this with the photo of the finished piece below where the clouds are replaced, just as she drew them.
Note the difference in drama and interest Joanne created in her 'proper' version, with just an addition of a little smudging here and there in the sky.
And while we're with Joanne, look at this study of three mature hikers.
If you've ever become disheartened by producing cauliflowers in your watercolour backgrounds and believe they're automatically ruined because of it, then here's great news for you!
In this study, Joanne has concentrated on using the same limited palette used in the figures to create the background.
So right away, you have unity throughout the painting. She's developed a lovely sense of really bright light by using the colours very strongly to counter-change against the right side of the figures, leaving a halo of white around them.
Then, by leaving the left side of the picture unpainted, she's really switched on the sunlight.
But look at the run-backs and cauliflowers that punctuate the background. Instead of ruination, we have texture, interest and inspiration!
Watercolour Painting Lessons
Want to learn how to paint stunning watercolours? Take a look at our step-by-step video lessons covering everything from the basics to advance landscapes, florals and portraits...
BROWSE WATERCOLOUR LESSONS
Conclusion
So to re-cap... plan and create your backgrounds so that they :
Complement but don't compete with the main subject
Help to unify the painting
Above all, enhance your picture
Now we've looked at a fair few paintings from within our tutor base to prove they actually practice what they preach.
And I've been delighted to be able to include several of our Member's artworks, who are clearly getting things right - especially with their backgrounds!
I could have included many more of course, but the idea is to get you to see the background as an integral part of your painting, even if you add or amend it later on in the painting process.
Hopefully, you'll have also picked up some of the reasons why a particular background works in some situations - but not in others.
And I'm pretty sure that I've succeeded in that, because if you've read this far, you can't fail to start looking at all sorts of backgrounds now, in your own work and that of others.
Now that I've put the thought in your mind, you won't be able to help yourself..... 
I guarantee it!
Share this story
Sours: https://www.arttutor.com/Backgrounds
Ideas painting pink background
Homesthetics
Disclaimer | This article may contain affiliate links, this means that at no cost to you, we may receive a small commission for qualifying purchases.
Even the best painters need inspiration from time to time. If you need acrylic painting ideas, look no further. 
For some, inspiration can strike at any time. For others, a little prodding is required. Whether you're new to the world of acrylics or you're simply looking for new ideas, don't worry. In this guide, you will find 103 acrylic painting ideas to get inspired. 
Acrylics are often a painter's favorite medium. It's easy to use, dries quickly, and can be manipulated easily with water. Moreover, acrylics on canvas tend to look vivid and, honestly, quite stunning. 
So if you're ready with your paints and brushes, let us take you through this list of 103 acrylic painting ideas. 
Let's begin, shall we?
103 Acrylic Painting Ideas
Rainy Day
A simple yet meaningful acrylic painting featuring an upturned umbrella in the rain. This painting is excellent for beginners to practice. Draw the umbrella and then start filling in the background with blue and white. Then, color the umbrella in your favorite bright shade. 
Forest 
This simple forest can be painted using finger painting techniques. Pick a few shades of green for the trees and dip your fingers in the paint to create the texture of leaves. Use your brush to create the road, and voila! 
Country Roads 
Create a road with greenery and bright orange and yellow trees in the background for this acrylic painting idea. Add some dark-colored mountains at the back, and don't forget a simple blue sky. 
Picasso Inspired Girl
How about painting a Picasso inspired girl in this painting idea? Use bright, block colors and outline with black for a bold look. Add a vivid red color for the hair and pale blue eyes as a contrast. 
Rusty Rose
An interesting concept of a brownish beige rose, with an abstract background. Experimenting with this acrylic painting idea can lead to you creating a mini-masterpiece of your own!
Gold Sailboat
Experiment with using a palette knife and a variety of bright acrylics for the Gold Sailboat painting. The use of different colors blended in so artistically makes this painting stand out amongst the rest. 
Wise Owl 
This owl painting has been made using minimalistic tones of blue. A few warm tones have been added to make the details pop. Try painting this yourself using a thin line brush. 
Lavenders 
A striking acrylic painting of a bunch of lavender flowers in a glass jar. Make the lavenders pop out by adding lighter shades of purple and strategically placing white paint where the light falls. 
Wolf Howling
This is a unique concept featuring the silhouette of a wolf howling and the beautiful scenery of the night sky. Use a reference image to create the wolf, and add shades of blue and green to make the night sky. Don't forget to add the moon. 
Firefly Mason Jar
Practice painting spots of light with this Firefly Mason Jar acrylic painting concept. Tune in to your inner Van Gogh to create the night sky and glowing fireflies. Add white spots in the middle to make it look luminescent.
Impasto Flowers
Master the Impasto technique of acrylic painting with this simple flower painting idea. Use thick coats of acrylic paint, don't be afraid of wasting it. The end result is a 3D painting which is breathtaking. 
Sunset Trees
Paint the sky in blue as you normally would. When you reach the bottom, add angry shades of red and orange to represent the sunset. Once it's dry, add the silhouette of a tree to finish this painting. 
Woman In Red
Perfect the art of painting a woman with this inspiration. Her glamorously red ballroom gown is easy to paint, while the blue abstract background adds depth to the painting. Remember to add shades of white in areas where the light falls. 
Angry Birds
Remember the classic game 'Angry Birds'? Create this Angry Birds inspired painting by dipping into your acrylic color palette and going wild. Add a little white on the beaks for effect.
Lovers In The Rain
Try your hand at this incredibly romantic concept by painting two lovers under an umbrella in the rainy streets. Create a misty effect by using a shading technique and showing reflections on the road. 
Night Sky
Painting the night sky can be challenging yet fun for any artist. Attempt this version of the night sky by using purples and blues in a wavy pattern. Do the same for the ground, and finally add the trees. 
Abstract Nude
This abstract nude woman has been painted in earthy tones, giving the painting a vintage appeal. Keep the background in a grey monotone to draw more attention to the woman in the frame. 
Cute Owl
Ditch the Wise Owl and go for a cuter version with this acrylic painting inspiration. Add big, googly eyes to enhance the effect of 'Cute Owl'. You can use either wet-on-dry or dry-on-dry techniques for this one. 
Mystical Tulips
Tulips are fun to paint. Attempt the 'Mystical Tulip' painting using bright purple acrylics and the same shades for the background. Keep the painting slightly abstract without much detailing work. 
Rainy Day In Hong Kong
Once you're more comfortable with acrylics, try painting this 'Rainy Day in Hong Kong'. The best part about this painting is the blurred effect created solely with a dry brush technique and acrylic paints. 
White Blooms
Create this painting using the 'stippling' technique. Dip a paint brush or any object with a small, rounded tip into white paint. Dot the paint on your canvas to create the stippled effect and a mesmerizing end result. 
Cityscape 
Use a cityscape inspiration to create a contemporary painting for this next idea. Using impressionist techniques, try matching the rainy foreground in this cityscape composition. 
Horse Love 
If you know a horse lover, paint them this beautiful masterpiece of a lone horse. Create the background first using gradient colors, and once dry, paint the silhouette of the horse to complete it. 
Textured Trees
Next up, try your hand at texture painting techniques using your yellow acrylics and some tools. You can use a palette knife for this one, or any other tool you want to experiment with. Create rounded textures for the trees and keep a simple background. 
Love Birds
Although it seems like the love birds are the main part of this painting, it's actually the background too. Using a dry on dry painting technique. Paint with rounded strokes for the sky, and finally, the love birds in the middle. 
Waterfall
Waterfalls are inherently mesmerizing. Paint one using the right shades of black, white, gray and blue for the water. Add some green in the background to create the completed image. 
Lonely Walk 
Featuring a girl walking under an umbrella alone – this acrylic painting is thought-provoking. Use the reference image for inspiration to create this one, using different painting techniques. 
Water Ripples
Water ripples can be hard to recreate on a canvas. Practice making ripples with acrylic paint using this image for inspiration for your next masterpiece. Add an aesthetic background for special effects. 
Underwater 
This underwater acrylic painting features flora and fauna found deep down in the sea. Play with various shades of blue and black for this one. Add a swimmer at the top for a more realistic effect. 
Geometrics 
A simple, repetitive geometric pattern can look absolutely stunning against a plain background. Create this using a simple diamond pattern and shades of blue and white. Don't overthink this one.
Abstract Ripples
Experiment with the abstract style of painting using water ripples as an inspiration. Create rocks and water, using lighter shades of acrylic paint to create the water ripples as naturally as possible. 
Roses
Try a different take on the traditional rose painting with this acrylic painting idea. Paint the pink roses facing you and add an interesting background using a mixture of the same shades. 
Bee and Flowers
A beautiful painting of a bee taking nectar from flowers – the very essence of life. This painting is bright and colorful, so recreate it using different shades from your acrylic paint palette. 
Florals 
Florals are always fun to paint and give you immense room for creativity. Paint a vase of lavender and white flowers using your acrylic paints and a mix of techniques like dry on dry and wet on dry. 
Colored Patterns 
An interesting concept where you can use tape to seal off certain portions from your canvas. Stick the tape in geometric designs and paint the leftover canvas area with various shades from your palette to create this one. 
Fresh Trees
A pretty landscape of bright yellow and green trees, with leaves scattered on the floor. Create this acrylic painting using a palette knife and paint brush. Experiment with Impasto for different effects. 
Wishful Dandelion
This is a simple acrylic painting you can recreate at home using your palette. Paint a simple blue background, add the black stem of the dandelion, and once dry, start adding the white. The end effect is outstanding. 
Gradient Triangles
Try creating gradient triangles using the same taping off method as we mentioned earlier. This time instead of choosing block colors, create a gradient effect by using a combination of acrylics. 
Still Life Flowers
Painting still life can be a wonderful way to practice your acrylic painting techniques. Opt for a simple pot with flowers against a soft background, and paint it taking all the time you need. The end result can be captivating. 
Tree Painting
Honestly, you can never paint enough trees, in our opinion. Here is yet another rendition of a tree painted against a bright yellow and blue background. The painting style is a classic Van Gogh. 
Easy Beach
Painting a beach scenery isn't easy – but this easy beach painting is perfect for beginners. Using simple brush techniques, paint this beach and sky scenery. Add some palm trees to make it a perfect scene. 
Sunset Skies
This acrylic painting featuring sunset skies is not only aesthetically pleasing, but also fun to recreate. Using various warm and cool shades from your palette to create the vivid evening sky for this acrylic painting idea. 
Subtle Sparkle
Although this geometric pattern uses subtle shades of beige, gray and black, it has a little sparkle. This is the eye-catching part about this painting. Make it yourself by using golden sparkles for filling some of the geometric shapes. 
Horizon
Paint a bright horizon using impressionist techniques for this painting. Add a little boat in the right center of the canvas to create a more realistic effect of the sunset horizon. Add a few other boats nearer to the horizon on a smaller scale. 
Sunrise Swing
A simple acrylic painting idea which you can easily recreate on your own. Make the beautiful bright skies using the gradient technique first. Once dry, add the silhouette of the swing, and finally, some flowers.
Lantern Blossom
This creative painting features a cherry blossom tree, famous in Japan, and a lantern hanging from its branches. Try painting the dark background first, then moving your way into the middle of the painting and finally making the cherry blossoms in white. 
Happy Cat
Paint this whimsical, happy cat with a big smile on its face. The red background enhances the look of the happy cat. Don't forget to draw a long, curved tail to add to its whimsical nature. 
Guitar & Wine
Another example of a still life painting – attempt an acrylic painting idea to remind yourself of good music and good wine. If you don't have either item at your disposal, then simply use this reference image to paint your own rendition. 
Waves Crashing
Recreating this acrylic painting might take a bit of skill, but it is fun to attempt nonetheless. This beautiful painting of waves crashing on rocks looks almost realistic. You can paint it by using lots of white paint for the foamy waves. 
Trippy Flowers
When we think of 'trippy flowers' we immediately envision psychedelic colors and floral designs. Attempt your own version of this painting by using bright colors for the background. Finish up with a marker or black paint for the floral designs. 
Sunset On Water
As you can see, sunsets are a pretty popular inspiration for most painters. Try this 'Sunset on Water' acrylic painting idea by using bright colors for the background, and black to create the silhouette of the boat.
Fireworks
This painting is easy to recreate – use a dark shade for the background and bright acrylic paints for the fireworks. Make the reflection of the lights on the water in a softer version of the same shades. 
Blue Nature
Although this painting is relatively simple and fun to recreate, the end result is riveting. Create a gray background and make dandelions and butterflies using dark shades of blue and black.
Whale Family 
Whales are large, majestic mammals and are exciting to paint. For this acrylic painting idea, create a starry effect underwater and add bubbles using white, dry paint. This works best using a dry on dry technique. 
Girl Swinging
The monotone of this painting is broken by adding the beautiful blue waters underneath. Paint the swinging girl under the tree and a bench at the corner. Don't forget to paint the girl's reflection in the water to complete it. 
Dancing Girl
The beauty of this acrylic painting lies in the girl's skirt. Create a gradient background to begin with, and add the dancing girl silhouette in white. Using a toothpick, place little dots of color to make the girls skirt in an easy but stunning technique. 
Dot Mandala
Mandala paintings have become increasingly popular recently. Try out your own version of a Hamsa, the palm-shaped amulet complete with mandala dot work using acrylic paints. Experiment with different colors and sizes of dots using various tools to create it. 
Lighted Bridge
Try a perspective painting with this Lighted Bridge inspired artwork. Keep the shapes as loose and blurred as possible to create an effect of motion. Use bright colors for the foreground and keep a darker shade at the back. 
Here is a seaside inspired painting with bold shades of blue and pretty pink and red flowers to add a contrast. Paint the seaside in the background to complete the effect of this painting. 
Musical Dotwork
For the musically inspired artist, this music note painting idea is a great option. Opt for a black canvas for this one, and create a white and gray dotwork for the background. Keep the musical note plain and black for a bolder effect. 
Burst Of Sun
Everything about this painting is so bright and colorful, that it gives you an excellent opportunity to experiment with the colors on your palette. Don't be shy with the greens and pinks to add grass, flowers and water to your painting. 
Elephant Trunk
Another elephant inspired acrylic painting coming your way! This one is a fun and interesting take on the traditional elephant painting. Pick your favorite shade and go wild, creating a masterpiece of your own. 
Girl With Cats
This acrylic painting idea merges the night sky painting with the girl on swings. Add two cats sitting beside the girl to create a beautiful, artistic concept painting. Using white paint, add stars and a bright moon. Lastly, add the tree trunk and grass blades.
Leaf Dot Painting
Yet another dot painting idea to perfect your technique – a leaf dot design. Begin by making a leaf outline, and start slowly filling it using the dot work technique. Don't stick to just green. Experiment with other colors too for this painting technique. 
The Dancer
This dancer girl painting is similar to the previous one on our list. However, this one uses a different shade of colors and a drip effect for the dancer's skirt. Add wild, curly hair in black for a better effect. 
Waiting Boat
Although this acrylic painting looks challenging to recreate, it's actually fun. Take help of the reference image and just have fun while painting this one. Add a mixture of colors to make the scene pop and look vibrant. 
Sun And Moon
A favorite concept among painters is the sun and moon inspiration. For this painting, try creating loose curls for the sun's rays, and adding a face on both the sun and moon. Place some bright, white stars in the background for a finishing touch. 
Peacock Feather
Inherently beautiful and artistic, a peacock feather can be a fun project to paint. It helps to take help from a reference photo for this one. Stick to cool shades, adding just one or two warm tones in this. 
Dancing Girls 
This painting of two dancing girls gives a rustic, Spanish charm due to the use of sunset tones and a salsa costume. The girls' are made with minimalistic features so that the eye falls on the background and the skirts. 
Lone Cat
Using a similar concept of the night sky and moon, create the background in dark shades, keeping the moon very bright. When it's dry, add the tree and a lone cat on its branches. 
Fall Tree
Orange and red fall trees look beautiful and are fun to paint. Opt for warm tones for this painting, using cool tones for the background for a contrasting effect. 
Octopus Concept 
A unique take on the traditional octopus paintings – this one is a creative concept which represents the top of the octopus's head as a structure. A lighthouse emerges from this structure, making the piece open to interpretation. 
Textured Landscape
Using a dabbing technique, paint this textured landscape with a paper towel or sponge as a tool. This method creates beautiful textures which are difficult to recreate using a paint brush. Use bright yellow and white shades to make the sun.
Ladybug On Flower
Who doesn't love ladybugs? Create a beautiful half flower in a bright, blue and purple shade for this painting. Add a tiny ladybug on one of its petals to finish it. Remember to keep the background in a bright, contrasting shade. 
Happy Cactus
Over a dusty pink background, paint a large cactus plant. Add its white spines, and to finish off, a beautiful, bright flower on its crown. 
Eiffel Towel 
Painting the Eiffel Tower can be a dreamy inspiration for many artists. You can always experiment with your own rendition of it. In this painting, create a Van Gogh inspired night sky and the bright, lighted Eiffel Tower in the center. 
Majestic Mountains
If you're suddenly craving the mountains, how about painting this instead? Create a warm, sunset sky and paint the grand mountains right at the center of your canvas. Use lots of shading techniques for this one. 
Bright Jellyfish
Painting these bright, colorful jellyfish can be great fun. Start by painting the water in the back. Use dollops of bright colors for the jellyfish. Take a thin paint brush and create wavy texture for the tentacles of the jellyfish. 
Cats In Love
These two happy cats look deep in love in this acrylic painting idea. Use a yellow ochre background and a shade of sap green and bottle green for the two cats. Paint two big smiles on their faces to represent their state of love! 
Morticia Addams
Inspired by The Addams Family, this painting of a woman from the back closely resembles Morticia Addams. The red background, pale white skin and black, plunging dress add to the appeal of the character.
Cherry Blossoms
The green hues used for the night sky in this painting are striking, especially against the brightly colored Cherry Blossoms. Paint a large, white moon at the centre and merge black, green and yellow colors to create the mystical sky. Add the Cherry Blossoms in the end.
Window & Flowers
Paint a clean, white window adorned with colorful flowers for this painting idea. Add a little butterfly on one of the flowers for a special effect. Keep the background wall as simple as possible, attracting attention to the flowers. 
Umbrella Flowers
With loose brush strokes and and a heavy use of acrylic paint, these Umbrella Flowers create a stunning effect on any canvas. Don't be afraid of picking up excess paint on your brush for this one. 
Romantic Window With Flowers
Similar to a previous painting on our list, this one uses shades of brown and rust to create a brick wall. Add beautiful, pink flowers for a romantic effect. 
Soft Florals
Practice your floral painting technique with this soft floral design. Add smaller, dark flowers at both sides of the painting a white center to create depth. 
Portrait Of A Girl
Portraits can be difficult to paint. However, in this rendition, feel free to use your creativity as you add a variety of colors to the girl's face. From orange shading to blue hair, this portrait is a fun practice with paints. 
Still Life Structure
Don't limit yourself to practicing still life at home. Use this acrylic painting idea to paint still life minarets, buildings or other structures round on the streets. 
Village Houses
An abstract concept of village houses can be painted using darker tones of your acrylic palette. Don't worry about perfectionism with this one – simply draw the structures of the houses and start painting. 
Bird Of Paradise
Have fun painting this lovely parrot sitting near the seaside. Experiment with different techniques of painting for this one. Don't forget to paint the palm trees!
Ganesha
In this acrylic painting idea, paint the Hindu God Ganesha using a variety of colors. Blue, green and orange have been used as the primary shades for this creative artwork. 
Waltz
Using a palette knife and bright, beautiful colors, these Waltz dancers have been painted with tremendous artistic care. Let your creative juices flow with this painting idea. 
Ballet 
Now that you've painted Salsa and Waltz dancers, how about moving on to Ballet? Keep the colors simple with this painting idea. Opt for blues, grays and blacks, but make the Ballet shoes a shiny gold for added effect. 
Lovers Meet
Lovers meet in the middle of a bridge in this beautiful painting idea. Add a blue water and impressionist style brush strokes for a complete look. 
Shooting Stars
This mesmerizing, colorful sky painting is exciting to create with a variety of colors. Add white, snowy mountains and finally the dark pine trees.
Birds
Painted against a subtle, gold sky, this row of birds is perched on a branch. This painting idea is easy to recreate and can be made effortlessly. 
Free Girl
This painting inspiration gives you another chance at painting figures and portraits. The soft, whtie dress of this girl adds to the innocence of this painting. 
Secluded
Use a combination of warm and cool tones to create the sky for this painting. Add water and the reflection of the setting sun. Finally, add the dark silhouette of trees. 
Elk & Mountains
Another unique concept painting for you to try out. Keep a bold, black background and trace the portrait of an elk. Inside it, paint a beautiful mountain scenery. 
Tree Silhouette 
Start by painting a gradient sky, and let it dry completely. Paint the tree silhouette with multiple branches using a thin brush and black paint. 
Purple Serenity
A magnificent purple beachside painting, complete with palm trees swaying in the breeze. Add a yellow setting sun and some yellow clouds for a better effect. 
Night Woods
Experiment with your night sky painting skills with this acrylic painting idea. Add the white moon and some trees, with white shading representing the moonlight. 
Starry Dreamcatcher
Begin by painting a traditional starry night sky. Once dry, add the dreamcatcher using just white paint – creating a striking effect. 
Northern Lights
Using bright colors against the dark sky, paint the Northern Lights in this painting inspiration. Use the dry on dry technique to get the right effect.
Final Words
With that, we've finally come to the end of our extensive guide. 
When it comes to art, you shouldn't worry too much about perfection. Pick up your brush, paints and canvas, and start creating. Don't wait around for inspiration to strike. If you're looking for ideas, then this comprehensive list must've provided you with several.
Acrylic paints are a great medium to experiment with. The variety of colors you can find is exciting, and you can always mix a few colors to create a completely new one. You won't know till you try, so go ahead. And do feel free to share our acrylic painting ideas with your friends and fellow painters. 
Most importantly, keep painting!
Related Articles
45 Best Oil Painting Ideas [Reviewed]
83 Best Watercolor Painting Ideas
59 Best Face Painting Ideas
10 Best Paper for Acrylic Paint in
10 Best Canvases for Acrylic Painting | Student & Artist Grade
8 Best Palettes For Acrylic Paint & How to Choose What You Need
Learn How To Make An Acrylic Painting Waterproof Right Now
Acrylic Painting Materials That You Really Need In The Studio
Learn How To Use Acrylic Paint Correctly as a Beginner
13 Best Acrylic Paints for Beginners & Professionals Reviewed
10 Best Acrylic Paint Brushes for Artists & Students Reviewed
Learn How To Get Dried Acrylic Paint Out Of Brushes Successfully
Cold Press vs. Hot Press vs. Rough Watercolor Paper Compared
What is Watercolor Paper & How is Different From Other Papers
Best Watercolor Painting Books Everywhere | Beginner to Expert Grade
9 Best Water Brushes for Beginners, Professionals & Calligraphy
9 Best Watercolor Markers With Legendary Results for Artists Everywhere
10 Best Watercolor Palettes for Beginners & Professionals Everywhere
13 Best Watercolor Pencils and Water Soluble Art Supplies Today
Best Watercolor Paper of 2021 |Top Brands Reviewed + Plein Air
12 Must-Know Watercolor Tips for Beginners & Pros Everywhere
Why and How to Use Watercolor Mediums to Enhance Your Painting Game
Learn How to Use Watercolor on Wood | Professional Tips & Tricks
13 Best Watercolor Sketchbook for Creatives Everywhere
11 Best Watercolor Brushes for Beginners & Professionals Reviewed
15 Must-Have Watercolor Supplies for Beginners & Artists Everywhere
Stretching Watercolor Paper & How To Keep Watercolor Paper From Warping
Learn How to Paint Watercolor on Canvas Easily & Successfully
16 Must-Know Painting En Plein Air With Watercolors Tips & Tricks
Learn The Basic Watercolor Painting Techniques For Beginners – Ideas And Projects
Expand Your Knowledge With Watercolor Painting Ideas
19 Incredibly Beautiful Watercolor Painting Ideas
13 Best Concrete Paints 
10 Best Canvases for Oil Painting | Beginner & Artist Grades Reviewed
8 Best Oil Paint Brushes
11 Best Oil Paints for Beginners & Professionals Artists Alike
Learn What is the Best Surface for Oil Painting Right Now
How Long It Will Take Oil Paint To Dry  & How to Speed It Up
Oil Painting for Beginners Basics & How to Use Oil Paints
Learn How To Dry Oil Paint Faster Overnight
Learn How to Clean Oil Paint Brushes Successfully
12 Oil Painting Supplies That Every Oil Painter Needs in the Studio
Learn How to Clean Oil Paint Brushes Without Paint Thinner
5 Things You Should Know Before Painting Oil Paint on Glass
Learn How to Make Oil Paints Dry Faster
What Are The Benefits of Oil Painting?
Sours: https://homesthetics.net/acrylic-painting-ideas/
Acrylic painting - Pink Cloud Painting - Painting Tutorial for beginners #108
Easy painting ideas perfect for beginners
Looking for easy painting ideas? Whether you just started painting or yet to begin, this curated list of painting ideas (for adults and kids!) will inspire you to pickup a paintbrush and add some color to your life.
And create art that you'll be proud of.
Whether you're looking for painting ideas for your wall, painting as a hobby, painting with your kids, family and friends, or use as paint night ideas, my wish for you is the enjoy the process of painting- no matter the outcome.
All you need to get started are some paints (of your choice), paintbrush, canvas, and the most important element: an open mind.
So you can create art that you'll be proud of.
Before jumping into some awesome paint ideas, let's go over which type of paint to choose, and supplies you'll need- since many beginners don't know where & how to start.
Choose Your Paint Type
There are many types of paints you can start out with.
From watercolor, to oil, acrylic and gouache etc. the choices can seem overwhelming.
So what is the easiest paint for beginners?
Basic acrylic paints (check out this Acrylic Painting for Beginners guide to learn more).
Many artists and teachers agree that acrylic paint is the best choice of paint for beginners. It's cheap, easy to handle and very forgiving among the paint types.
If you're looking for an all-in-one acrylics for beginner bundle, that'll answer all your questions, guide you through some easy painting tutorials made for beginners while providing you with support and accountability as a beginner (plus tons of extras) check out this Acrylic For Beginners : A-Z Guide To Your First Acrylic Masterpiece.
That being said, below I'll give you plenty examples of easy things to paint with acrylics along with a few easy watercolor paintings ideas/tutorials too (since watercolors are quite popular too).
Basic Painting Supplies
If you're confused with the basic supplies you'll need to get started, here are some bare essentials I would recommend.
Cheap set of brushes (of varying sizes)
Basic acrylic paint set or Watercolor paint set
Pre-primed canvas (works with acrylics and watercolors)
Convertible Easel (optional)
Now that you're armed with the basics, time to pick your painting!
Here's some cool and easy painting ideas to inspire your inner (budding) artist…
Easy Painting Ideas For Beginners
Below is the list of over 55 easy painting ideas.Whether you're just starting with acrylics or in painting rut, the ideas below will sprinkle you with some inspiration.
1. Mountain Landscape Painting For Beginners
Landscape paintings are one of the first paintings that come to mind when thinking of things to paint. This beautiful (and easy) mountain landscape painting tutorial will show you how to paint a mountain, and paint in a gorgeous pink sunset sky. climb over to the tutorial here —> how to paint a mountain
2. Easy Beach Painting with Sand Texture!
Beach paintings are one of the easiest and fun scenery / landscape type art to start out with.
In this beginners step by step tutorial you'll learn to paint everything from an easy ocean wave, to sand beach (complete with a nifty texture ingredient you have in your kitchen), a dazzling seafoam pattern (it's easier than it looks) and a cute starfish on the shoreline.
Swim on over to the tutorial –> Easy beach painting with acrylics on canvas
3.How To Draw and Paint a Butterfly
Check out this easy tutorial (step-by-step tutorial with full length YouTube tutorial included) and learn how easy it can be to not only paint a monarch butterfly AND to actually draw one, free hand .
And don't worry you don't need any special drawing skills!
This tutorial is thoughtfully broken down into the easiest possibly steps that everyone can do (including kids!). Flutter on over to the tutorial and paint some gorgeous, vibrant butterflies. How to draw and paint a butterfly.
4. Learn How to Paint Roses – Easy Beginner Tutorial
Even though this might look advanced, this 4 step rose technique is surprisingly easy and made for beginners. The step by step tutorial (with YouTube video) will teach you how to recreate gorgeous looking 3D roses in any color you choose! How to Paint Roses Tutorial
5. Easy Cherry Blossom Tree with Q-Tips
Paint this easy cherry blossom tree, with cotton swabs! This beginner tutorial is a fun way to get into painting while learning some paint mixing basics. And you'll end up with a stunning piece you can decorate your home with! How To Paint a Cherry Blossom Tree
6. How to Paint a Galaxy Sky for Beginners
Painting a galaxy night sky is a great beginner easy painting idea for adults. In this tutorial (include full length YouTube tutorial) you will learn how to use a simple tool to create color blends (it's easier than using a brush!).
You'll also learn an easy way to create realistic looking stars- that doesn't involve hand painting each one. Check out the tutorial for step by step directions. How to Paint a Galaxy
7. Easy Lavender Flower Painting
I created this easy acrylic flower painting tutorial for beginners in mind. I used some cheap Dollarstore paints, canvas and a nifty painting hack using Q-Tips. If you've never painted before, this is an ideal project to start with.
This also makes a fun painting idea for kids.
You'll also learn how to create a textured background using an ingredient you might have in your kitchen now.
Salt.
Check out the step by step tutorial to find out how to create this easy canvas painting. How To Paint Lavender Flowers
8. How to Paint Hydrangea Flowers with Q-tips
Learn to paint Hydrangeas with this fun and easy beginner technique using simple Q-tips and bubble wrap. Also learn how to make a gorgeous antique chinoise vase within a few easy steps! How to Paint Hydrangeas
9. How to Paint a Pumpkin on Canvas – Fall Painting Idea
Learn how paint a pumpkin the easy way, with a nifty brush technique that you'll love! You'll also learn how to make a "faux" wood rustic/vintage background using some paint and a plastic fork! It's a super fun tutorial that includes video instruction.How To Paint a Pumpkin
10. How to Paint a Sunset with your own City Skyline
Practice learning how to blend colors to make a beautiful sunset sky and finish off your painting with a custom skyline of the city you live in (or your favorite city to visit!). Also, you'll have fun with some splatter paint techniques to make those magical stars in the sky! How to paint a sunset
11. How To Paint a Sunflower
Sunflowers are one of the easiest flowers to paint- so they are great for beginners to practice with. Check out this step by step tutorial and learn how to paint a bright and sunny sunflower using a basic sketch design ( FREE printable) that you can transfer to your canvas. How to paint a sunflower
12. How To Paint a Mermaid
Paint a mermaid and mermaid tail poking through the water in this "moonlit mermaid & friends" step by step painting tutorial.
This beginner level tutorial will show you how to make this beautiful vibrant painting with only 6 basic paint colors (lesson about how to create skin color paint too!) Paint a mermaid
13. How to Paint Water bottles / Hydro Flask
Who says you should only paint on canvas? Paint easy beginner flowers on different surfaces, like water bottles. Find out how in this step by step tutorial on how to use acrylic paints to How to paint a Hydro Flask!
14. How to Paint Clouds
Learn how to paint clouds in this easy beginner tutorial. This tutorial uses an easy Q-tips technique to paint perfect clouds every time. The best part of this technique is how relaxing and enjoyable it is. If you're a beginner, you can't go wrong with this tutorial. How to paint clouds
15. Rock Painting Ideas- Easy Painting Ideas For Kids
Another non-canvas painting ideas is to use a simple rock or pebble as your canvas! Rock painting has gained huge popularity in recent times, as a craft from kids/teens and adults!
There are also many things you can use your painted rock for like gifting, selling, and even partaking in the Kindness Rocks Project. Learn everything you need to know in this How To Paint Rocks, including 10+ ideas to get you started.
16. Heart Painting Ideas – Family Friendly Activity
Another fun easy painting idea for kids. Make these super easy heart paintings (even a kid can do!) with some simple Dollarstore Canvases, paints and NOT a single paintbrush! These paintings are painted normal household items like saran wrap/cling wrap, cotton swabs (q-tips), and a credit card! How to paint hearts
17. Acrylic birch tree canvas painting
I love how Alexis created this beautiful Birch tree acrylic painting using a Credit card. Brilliant! This technique looks easy enough for beginners. I can't wait to try this painting technique myself. Also, digging the gold foil heart detail. Gorgeous!
This is a simple and easy painting idea for beginners on canvas.Birch tree painting
18. How to paint daisies in a jar
Daisies are a perfect flower to learn as a beginner painter, since they have pretty uniform/simple shaped petals.
In Tracy's tutorial you'll learn how to paint a simple daisy flower that's arranged in a small bouquet. You'll also learn how to recreate rustic looking wood panels with acrylic paints- something you can apply to many other paintings in the future.
Check out her awesome step by step tutorial to learn how to recreate this little piece of summer. How To Paint Daisies in a Jar
19. Easy quote canvas art
This is a cool and easy painting idea that shows you how to transfer quotes, text or any pattern from printed paper right onto your canvas (no need for graphite paper). This technique can be used in many mixed media/abstract type paintings or even trendy quote art paintings. AND with items you have at home.
You'll also learn how to make that cool watercolor background WITHOUT a drop of paint….
Find out how in the step by step tutorial.Tissue Paper Art
20. Abstract butterfly in flight with ocean wave background.
If you want to learn how to make abstract art on canvas, this tutorial will get you started. This beginner abstract painting uses some calming (ocean inspired) blue acrylic hues to create the abstract ocean wave background.
A simple gold leaf pen is used to create the butterflies in flight. An easy abstract painting idea that will infuse your home with some ocean-y calm vibes!
Check out the step by step tutorial.How to paint abstract butterflies
21. Song lyric wall art
If you're looking for a very basic, super easy painting idea- this is it! Use an old painting, stickers, basic white paint, and your favorite song lyric to create this fun painting.
If you don't have an old painting to work with, why not practice spreading different colors of paint on a new canvas before adding your quote.
Splatter, pour, brush stroke away- all without worrying what it looks like!
You'll have fun exploring/experimenting with paint and still end up with a piece you can proudly display in your home (or even give as a gift- Christmas, birthdays , etc).Song Lyric Song Art
22. Easy watercolor cactus tutorial
Sunset paintings are (usually) easy projects to start out with for beginners. This cactus sunset painting looks simple enough for most beginners. The tutorial uses watercolor paints, but this would also be an easy one to do in acrylics.Easy Watercolor Cactus Tutorial
23. Palm tree sunset landscape painting
Checkout another sunset painting- this time it's a video tutorial. As the title of this video suggests, this tree sunset landscape scene is a good fit for first time painters and beginners. Palm Tree Sunset Painting Tutorial
24. DIY canvas painting for beginners
Make this easy and (professional) looking painting that you can customize to your home decor color palette. Use a small canvas for decor in small rooms like a bathroom, or scale it up a bit on a giant/large canvas to hang above your bed or in the living room.
Either ways everyone will be amazed when they find out you created this masterpiece with some inexpensive paint and some dabbers. DIY canvas painting for beginners
25. Easy Diversity Painting Idea
Make this diversity painting, that's a suitable project for teens, adults and also for kids. Learn how to mix a skin tone paint swatch with 4 basic colors: red, blue, yellow, and white. Diversity Painting.
26. Easy metallic abstract art
Metallic paints are fun to work with, especially with abstract accent art pieces like these. Use metallics to augment your paintings' visual interest with their reflective qualities.
Whether they're used in a paintings details or as the main focus (like these glamorous paintings ), metallics can really transform the look and drama of the art.
But make sure you work with a good quality gold paint to get the best impact. Easy Metallic Abstract Art Tutorial.
27. Abstract fluid painting
Fluid art (a.k.a acrylic pour paintings) has become a very popular acrylic technique in the past few years. It can be a fun and easy way to start exploring acrylics with- as long as you don't mind the cleanup afterwards!
You can choose colors that complement your home decor so that you can proudly hang it in your living room, family room, home office etc. afterwards. Abstract Fluid Painting Tutorial.
28. Modern geometric large canvas art
If you want to create large scale canvas art, checkout how this blogger uses a large canvas and some simple/cheap painters tape and some bold contrasting colors to make this gorgeous art for her dining room decor.
Looks professionally made. Well done! Modern Geometric Large Canvas Art Tutorial
29. Splatter painting ideas
Splatter painting is a super fun painting method to learn (and you can apply it to so many paintings further down the road).
Use some beautiful complementary colors, like this magenta and orange- to add a splash of color to any room in your home. You'll have so much fun making this one, you might want to make a few of them! Splatter Art Painting Tutorial
30. Easy texture art
Adding bold texture to a canvas is an easy & fast way to create modern and stylish art – especially if you're a beginner! This tutorial is a great way to explore adding texture to paintings- which will open doors to what you can create and/or paint or even level up your current paintings.
When you're done, hang this painting in your living room (like in the picture above), bedrooms, other spaces in your home to enhance your decor with some original (by you) art!Easy Texture Art Tutorial
31. Bright sunflower canvas art
Another bright and cheery sunflower canvas painting to add to your walls. Check out Tracy's step by step tutorial to learn how easy it is to make this happy piece.
Another great example of easy paint night ideas. Bright Sunflower Tutorial
32. Galaxy paintings (Outer Space)
Learn some nifty paint splatter techniques (using a toothbrush) with this magical galaxy outer space painting.
This would make for some cool decor for a kids rooms / playrooms! OR for an intergalactic themed paint night party! Galaxy Painting Tutorial
33. Tree landscape with American flag sky
Learning how to paint trees with a fan brush is another easy (and valuable) painting technique to learn for beginners. This patriotic "American Flag" in the night sky is a fun art piece, to boot! Super creative!American Flag Sky Tutorial
34. Watercolor flowers art
Jump into watercolors by learning how to paint some pretty and colorful flowers and whimsical leaves.
As a bonus, you can decorate your walls with this on-trend watercolor flower painting. Watercolor Flower Art
35. Easy acrylic pour painting idea for kids
Get your kids to make this easy acrylic pour painting to use in your home decor. They will be super proud their art is on display for all to see- and you might just unleash a budding artist in the midst.
A fun addition to your list of easy painting ideas for kids. Children (big and small) will enjoy getting creatively messy! Pour Painting for Kids
36.How to paint a sunset with hot air balloons
Sunsets is an easy painting idea for beginners to learn. Follow this step by step tutorial and learn how to paint an easy sunset with this popular painting.
I think this would also be a hit at a paint night, especially a late summer one! I love the shadowed hot air balloons , very reminiscent of late summer/early fall.sunset with hot air balloons tutorial
37. Large canvas art
If you're looking to make large canvas art for your living room, or perhaps a bedroom, then this art piece is a gorgeous one to mimic.
The beauty of the abstract style is that you can start painting without planning too much, letting go of perfection, and just going with the flow. Large Canvas Art Tutorial
38. Unicorn Painting
Learn how to create a super cute unicorn painting with this easy to follow tutorial. Would make a great project for teens and older kids. Unicorn Painting Tutorial
39. Simple and easy pour paintings
Try this easy acrylic pouring paint technique to create these gorgeous art pieces. Mix and match colors and create a few at a time for even more variation. Pour Painting Tutorial
40. Abstract flowers on canvas
This abstract flower painting looks really fun, whether you decide to make it with friends at a "paint and sip" type of party (like suggested in the post) or even on your own (wine optional!).
This painting would also be a great addition to a list of easy paint night ideas. Customized the background or color of flowers for your own twist!Abstract Flower Painting Tutorial
41. Geometric acrylic canvas art
Use a canvas, simple ruler and cheap acrylic craft paint to create this trendy modern geometric abstract art. You can easily swap out the blue tones with different colors. Easy, fun and makes for some fabulous home decor. Geometric Abstract Painting Tutorial.
42. How to paint a large red poppy flower
Learn step-by-step on how to create a large red poppy flower with acrylic paints.
The sky is the limit to what you choose to paint your poppy on. Whether it be on a blank canvas, or a stained wooden boards for a farmhouse look, or even in a art journal.
You can apply these flower painting techniques in many types of project, the sky is the limit! How To Paint a Poppy
43. Easy DIY abstract canvas art (with gold flakes)
Want to make a custom abstract painting as decor in your home? This abstract painting tutorial for beginners will take you through the steps on how to apply gold leaf foil /flakes to any canvas and how to blend paint around it to create this gorgeous piece. DIY Abstract Art Tutorial
44. Easy inspirational quote art
Another cute example of acrylic quote art thats easy to make on canvas. A great way to practice paint blending techniques.
45. Easy Word Canvas Art
Here's another gorgeous way to make simple word canvas art. Check out Erin's (at theDIYNuts ) super creative way of using her favorite song's lyrics to create a special/keepsake DIY art piece for her master bathroom home decor. I love the simplicity of the black and white paint, it would fit many interior color schemes, and is easy to make. Quote Art Tutorial
46. Easy pineapple painting
If you love pineapples, you're gonna love this one. Learn how to paint an easy pineapple in this step by step tutorial. Would also make an easy painting idea for kids and teens. Easy Pineapple Painting
47. Fall thankful wreath painting
Decorate for fall or thanksgiving in your home with this "Thankful" wreath painting. With a mix of autumn flowers and leaves, this painting teaches you many techniques in one project. Check out the step by step tutorial to learn how to make this gorgeous piece. Fall Thankful Art Painting
48. Vintage Christmas truck painting
Get festive this holiday season and learn how to paint an on-trend vintage Christmas truck carrying a pine tree through the winter streets. Check out the step by step tutorial to find out how. Vintage Christmas Truck Painting.
49. Small canvas "donut worry" art
Another easy painting idea for kids and teens. This super cute "Donut worry" art looks delish. And once they are done, it can be used in the kids room as decor, as a daily reminder of this wise quote!
50. Easy Butterfly Painting for Kids
Kids and Teens will love making this lovely pink and yellow butterfly painting. This would look nice with acrylics or even watercolor paints. A super easy and cool painting idea for kids to get creative with! Easy Butterfly Painting For Kids
51. Easy watermelon canvas art for kids
Another fun and easy painting ideas for kids. This watermelon inspired painting is super cool and oh so fresh/summery looking. Hang it on the wall when your kids are done to give your home a nice splash of summer.Watermelon Art for Kids
52. Acrylic flowers on canvas
Learn an easy way to paint flowers on canvas with this step by step tutorial. Its great for beginners who have never painted flowers and leaves before. Easy Flower Painting
53. Small canvas painting of Flowers
Check out this bloggers video on how she created this small canvas painting of flowers on a wooden canvas. Very nifty! Small Canvas Painting Tutorial
54. Trendy gold chevron painting
Speaking of metallic paint, make this professional looking art using some luscious gold paint and painters tape. This is an easy way to make wall art that will add some style to your home- without spending too much. I think this would look fabulous in any color!Chevron Abstract Art Tutorial
55. Ombre quote wall art
This cute quote art can be customized to any color you want and you can also choose your own special quote. Easy to paint and meaningful. What's not to love about this project?Ombre Quote Wall Art
56. Watercolor botanical plants
Get your feet wet in some watercolor paints, with this simple and easy beginner painting. You can practice this botanical watercolor project on a canvas, watercolor paper , or even on a simple sheet of white paper. Watercolor Botanical Plant Art
57. Easy landscape for beginners painting
58. Acrylic Ocean for Beginners
59. Easy cherry blossom flowers painting
60. Easy watercolor paintings – 4 ways
Watch this video tutorial for 4 easy watercolor painting ideas. If you're just beginning with watercolors these ideas look like a great way to practice watercolor techniques.
61. DIY beach scene – easy painting idea
This gorgeous DIY abstract canvas art is perfect for beginners. It uses basic acrylic paints and some texturing medium on canvas to create the beach /ocean scene.
Plus, it can be a great piece to add to your beach house inspired home decor (living room, bedroom, etc..). DIY Beach Scene Painting
Easy Painting Ideas Inspired By Everyday Life
If you're looking for more easy painting ideas, check the list below. They're inspired by day to day life, which makes the projects more interesting and hopefully more personally significant.
Enjoy!
your favorite indoor plant
your pet
a cute mug (with or without yummy coffee)
flowers in a vase
colorful empty glass/ceramic bottles/dishes
individual fruit/vegetables in season
a bowl of fruit
portrait of your friend/BFF (from a picture)
a sunset/sunrise
your garden
your eye
big leafy tree
a bicycle with a basket of flowers
a monarch butterfly
a bird on a branch
your home (from curb view)
your car
a small table with your favorite trinkets.
your favorite bangle/earrings jewellery laying on a table
your purse
favorite pair of shoes
A still scene from any window in your house
I hope you enjoyed this curated collection of easy painting ideas for beginners. I'm so excited for you to start (or continue) on your creative journey. I hope you love every moment exploring the joyful experience of painting.
If you want to checkout some of my painting tutorials head on over to my learn to paint with acrylics page.
Keep rockin' it my artist friend!
Xoxo
Jasmine
If you liked this post, please pin it!
Sours: https://feelingnifty.com/easy-painting-ideas-canvas/
You will also be interested:
Roses
×
Crop your artwork:
Scan your QR code:
Gratefully built with ACNLPatternTool
Vincent van GoghDutch
On view at The Met Fifth Avenue inGallery 822
On the eve of his departure from the asylum in Saint-Rémy in May 1890, Van Gogh painted an exceptional group of four still lifes, to which both the Museum's Roses and Irises (58.187) belong. These bouquets and their counterparts—an upright composition of irises (Van Gogh Museum, Amsterdam) and a horizontal composition of roses (National Gallery of Art, Washington, D.C.)—were conceived as a series or ensemble, on a par with the earlier Sunflower decoration he made in Arles. Traces of pink along the tabletop and rose petals in the present painting, which have faded over time, offer a faint reminder of the formerly more vivid "canvas of pink roses against a yellow-green background in a green vase."
Buy a print
Custom framed to suit your space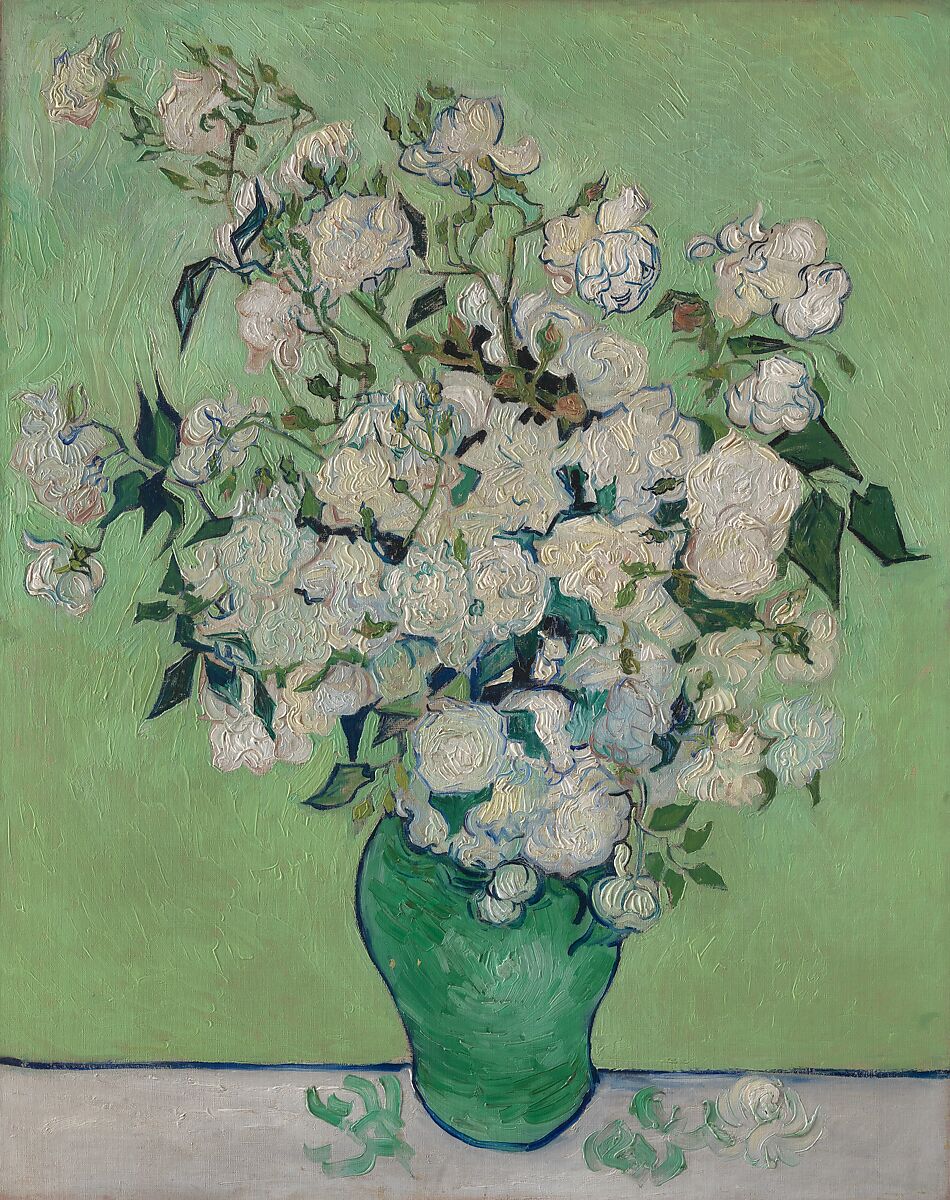 Title:Roses
Artist:Vincent van Gogh (Dutch, Zundert 1853–1890 Auvers-sur-Oise)

Date:1890
Medium:Oil on canvas
Dimensions:36 5/8 x 29 1/8 in. (93 x 74 cm)
Classification:Paintings
Credit Line:The Walter H. and Leonore Annenberg Collection, Gift of Walter H. and Leonore Annenberg, 1993, Bequest of Walter H. Annenberg, 2002
Accession Number:1993.400.5
For more information on this painting, including technical information on color fading, see the exhibition page for Van Gogh: Irises and Roses.
the artist's mother, Anna van Gogh-Carbentus, Leiden (until d. 1907; her estate, 1907–8; sold by her daughter-in-law, Johanna van Gogh-Bonger, between March 24 and 31, 1908 with MMA 58.187 and F814 for fl. 8,150 to Cassirer); [Cassirer, Berlin, 1908, Einkaufsbücher, no. 8470, as "Rosen"; sold in March for 9,000 marks to Margarete Oppenheim]; Franz and Margarete Oppenheim, Berlin (1908–his d. 1929); his widow, Margarete Oppenheim, Berlin (1929–d. 1935; her estate; thought to have been sold in or after November 1935, when it was on the market for 130,000 marks, to Hirschland); Georg Simon Hirschland, Essen, later Scarsdale, N.Y. (by 1938–d. 1942; in 1939, the year following Hirschland's emigration, the Folkwang Museum, Essen, took possession of the painting, which was restituted in July 1950 to Hirschland's heirs in New York [for details see Notes]; sold by the Hirschland family, apparently through Myrtil Frank, New York, on March 16, 1951 for $100,000 to Wildenstein); [Wildenstein, New York, 1951; sold on March 26 for $135,000 to Lasker]; Mr. and Mrs. Albert D. Lasker, New York (1951–his d. 1952); his widow, Mrs. Mary Lasker, New York (1952–77; sold on January 3, 1977, with two paintings by Renoir, "Geraniums and Cats" and "Boating (Young Girl in a Boat)," to Marlborough); [Marlborough International Fine Art, London and New York, 1977–78; sold on April 21 to Annenberg]; Walter H. and Leonore Annenberg, Rancho Mirage, California (1978–93; jointly with MMA, 1993–his d. 2002)
Paris. Apartment of Theo van Gogh (6, Cité Pigalle) or Shop of Julien-François Tanguy (14, rue Clauzel). September 1890, no catalogue [this work and/or F681; see Beaubourg 1890].

Amsterdam. Stedelijk Museum. "Tentoonstelling van Schilderijen en Teekeningen door Vincent van Gogh," July–August 1905, no. 157 (as "Rozen," lent by Mevrouw de Wed. van Gogh, Leiden; see "Notes" field).

Paris. Bernheim-Jeune & Cie. "Les Fleurs et Natures Mortes," November 14–30, 1907, no. 25 (as "Roses").

Paris. Bernheim-Jeune. "Cent tableaux de Vincent van Gogh," January 6–February 1, 1908, no. 86 (as "Roses au pot vert").

Berlin. Paul Cassirer. "X. Jahrgang. VII. Ausstellung," March 5–22, 1908, no. 19 (as "Rosen").

Berlin. Paul Cassirer. "Vincent van Gogh: Zehnte Ausstellung," May–June 1914, no. 134 (as "Rosen," lent by Geheimrat Dr. F. Oppenheim, Berlin).

Berlin. Paul Cassirer. "Vincent van Gogh: Gemälde," January 15–March 1, 1928, no. 71 (as "Weisse Rosen," lent by a private collector, Berlin).

New York. Wildenstein. "Masterpieces from Museums and Private Collections," November 8–December 15, 1951, no. 55 (as "White Roses," lent by Mr. and Mrs. Albert D. Lasker).

Paris. Orangerie des Tuileries. "La Nature morte de l'antiquité à nos jours," April 16–June 1952, no. 102 (as "Roses blanches," lent by Mr. and Mrs. Albert D. Lasker, New York).

Dallas Museum of Fine Arts. "An Exhibition of Sixty-Nine Paintings from the Collection of Mrs. Albert D. Lasker," March 6–29, 1953, no. 37 (as "White Roses").

San Francisco. California Palace of the Legion of Honor. "An Exhibition of Sixty-Seven Paintings from the Collection of Mrs. Albert D. Lasker," March 17–April 4, 1954, no. 35 (as "White Roses").

Santa Barbara, Calif. Santa Barbara Museum of Art. "Fruits and Flowers in Painting: An Exhibition Spanning Five Centuries of Art in the Western World," August 12–September 14, 1958, no. 52 (as "White Roses," lent by Mrs. Albert D. Lasker, New York).

New York. The Metropolitan Museum of Art. "Paintings from Private Collections: Summer Loan Exhibition," July 7–September 7, 1959, no. 54 (as "White Roses," lent by Mrs. Albert D. Lasker).

New York. Wildenstein. "Olympia's Progeny," October 28–November 27, 1965, no. 60 (as "Les Roses blanches," lent by Mrs. Albert D. Lasker).

New York. Christie's. "Van Gogh, Gauguin, and Their Circle," November 14–30, 1968, no. 15 (as "White Roses," lent by Mrs. Albert D. Lasker).

New York. Wildenstein & Co., Inc. "Masterpieces in Bloom," April 5–May 5, 1973, no. 27 (as "White Roses in a Vase").

Philadelphia Museum of Art. "Masterpieces of Impressionism & Post-Impressionism: The Annenberg Collection," May 21–September 17, 1989, unnumbered cat.

Washington. National Gallery of Art. "Masterpieces of Impressionism & Post-Impressionism: The Annenberg Collection," May 6–August 5, 1990, unnumbered cat.

Los Angeles County Museum of Art. "Masterpieces of Impressionism & Post-Impressionism: The Annenberg Collection," August 16–November 11, 1990, unnumbered cat.

New York. The Metropolitan Museum of Art. "Masterpieces of Impressionism & Post-Impressionism: The Annenberg Collection," June 4–October 13, 1991, unnumbered cat.

New York. The Metropolitan Museum of Art. "Van Gogh: Irises and Roses," May 12–August 16, 2015, no catalogue.

THIS WORK MAY NOT BE LENT, BY TERMS OF ITS ACQUISITION BY THE METROPOLITAN MUSEUM OF ART.


Vincent van Gogh. Letter to his brother Theo. [May 13, 1890] [Van Gogh Museum, Amsterdam, inv. nos. b683 a-b V/1962; pub. in Van Gogh Letters 1958, letter no. 634; Van Gogh Letters 2009, letter no. 872], writes that he has "just finished a canvas of pink roses against [a] yellow-green background in a green vase," referring to this picture.

Vincent van Gogh. Draft of a letter to his sister Willemien. [on or about May 21, 1890] [Van Gogh Museum, Amsterdam, inv. no. b721 V/1962; pub. in Van Gogh Letters 1958, letter no. W21; Van Gogh Letters 2009, letter no. RM19], writes "in the last few days at St-Rémy I worked in a frenzy. Big bouquets of flowers, violet irises, big bouquets of roses".

Vincent van Gogh. Draft of a letter to his brother Theo and sister-in-law Jo van Gogh-Bonger. [May 24, 1890] [Van Gogh Museum, Amsterdam, inv. no. b696 V/1962; pub. in Van Gogh Letters 1958, letter no. 648; Van Gogh Letters 2009, letter no. RM20], mentions at least eight canvases still in Saint-Rémy (of which this was one) which show that he is "trying not to lose my touch".

Vincent van Gogh. Draft of a letter to Joseph Jacob Isaäcson. [May 25, 1890] [Van Gogh Museum, Amsterdam, inv. no. b663 V/1962; pub. in Van Gogh Letters 1958, letter no. 614a; Van Gogh Letters 2009, letter no. RM21], states that since their last correspondence he has made "a few studies of flowers" and describes them as "an avalanche of roses against a green background (this work and/or F681) and a very large bouquet of violet Irises against yellow background, against pink background".

Vincent van Gogh. Letter to his sister Willemien. [June 5, 1890] [Van Gogh Museum, Amsterdam, inv. no. b722 V/1962; pub. in Van Gogh Letters 1958, letter no. W22; Van Gogh Letters 2009, letter no. 879], writes "in the last few days at St-Rémy I worked like a man in a frenzy, especially on bouquets of flowers. Roses and violet Irises".

Vincent van Gogh. Letter to his brother Theo. [June 24, 1890] [Van Gogh Museum, Amsterdam, inv. no. b692V/1962; pub. in Van Gogh Letters 1958, letter no. 644; Van Gogh Letters 2009, letter no. 891], mentions that the canvases have arrived from Saint-Rémy, including "some roses".

Theo van Gogh. Letter to his sister Willemien. August 24, 1890 [Van Gogh Museum, Amsterdam; excerpted and trans. in Jan Hulsker, "what Theo really thought of Vincent," vincent: bulletin of the Rijksmuseum Vincent van Gogh, vol. 3, no. 2 (1974), pp. 25–26], mentions that Vincent's works from Auvers are at Tanguy's.

Maurice Beaubourg. "La Mort de Dubois-Pillet et de Vincent van-Gogh." La revue indépendante 16 (September 1890), p. 401 [excerpted and trans. in Stein 1986, p. 260], in an essay citing works on view in Paris 1890, remarks "Des fleurs aussi, iris ou roses, se détachant crûment sur des fonds jaunes, rose, vert Véronèse [this work and/or F681]" (Some flowers as well, irises or roses, stand out crudely against yellow, pink, and Veronese-green backgrounds).

Cecilia Waern. "Some Notes on French Impressionism." Atlantic Monthly 69 (April 1892), p. 541 [excerpted in Stein 1986, p. 292], referring to an earlier visit, writes that she saw in Gauguin's studio works by Van Gogh, including "some splendidly conventionalized flowers,— gorgeous sunflowers, and huge white roses on an apple-green background" [possibly this work].

Julius Meier-Graefe. Entwicklungsgeschichte der Modernen Kunst. Stuttgart, 1904, vol. 1, p. 119 n. 1, writes that Van Gogh's mother, The Hague, owns "Zwei Blumenstilleben 'Roses' [this picture] und 'Iris' [MMA 58.187] und mehrere kleinere Bilder".

Giovanni [Jan Kalff]. "De Vincent van Gogh-tentoonstelling. II." Algemeen Handelsblad (July 25, 1905), p. 9, calls it "witte rozen" and discerns a Japanese influence in the lack of shadow, the arrangement, and the distribution over the canvas.

"Petites expositions: Fleurs et natures mortes (Galerie Bernheim)." Chronique des arts et de la curiosité, supplément à la Gazette des beaux-arts no. 37 (November 30, 1907), p. 348.

Charles Saunier. "Notes d'art." Le magasin pittoresque (supplément) 76 (January 1, 1908), p. 3, calls it and The Met 58.187 "fleurs d'une fraicheur et d'un parfum pénétrants" (flowers of a penetrating freshness and fragrance).

[François] Thiebault-Sisson. "Au jour le jour: Choses d'art, Vincent Van Gogh." Le temps 48 (January 8, 1908), p. 3, mentions "les grandes études de roses blanches" (large studies of white roses), referring to this work and F681 (National Gallery, Washington); compares these and the artist's late landscapes to multicolored silks embroidered in the Japanese style.

Alfred-Jousselin. "Les Petits Salons: Van Gogh à la galerie Bernheim." Le Radical 28 (January 19, 1908), p. 2, describes it and "Iris" (The Met 58.187) as having "un dessin et une facture vraiment magistraux, qui nous donnent une idée des effets délicieux d'harmonie auxquels voulait et pouvait atteindre Van Gogh (a truly masterful design and facture, which give us an idea of the delicious effects of harmony which Van Gogh wanted and could achieve); notes its price as 12,000 francs.

Marius-Ary Leblond. "Les Expositions: Van Gogh (aux galeries Bernheim et Druet)." La Grande Revue (January 25, 1908), p. 380, notes paintings of roses, referring to this work and F681 (National Gallery, Washington), in which the artist "contourne et délimite l'orfèvrerie" (traces and defines goldsmithery) of flowers over backgrounds that are like "les différentes atmosphères essentielles aux phases de l'illumination progressive du ciel par le grand jour" (the different atmospheres essential to the phases of the gradual illumination of the sky by daylight).

Ambroise Vollard, ed. Lettres de Vincent van Gogh à Émile Bernard. Paris, 1911, pl. 93, as "Les Roses".

Julius Meier-Graefe. Vincent. Munich, 1921, vol. 1, p. 219; vol. 2, pl. 94 [English ed., "Vincent van Gogh," London, 1922, vol. 2, pl. 94; later English ed., New York, 1933, pl. 54], as "Rosenstilleben".

Gustave Coquiot. Vincent van Gogh. Paris, 1923, p. 317, as "Roses au pot vert".

J.-B. de La Faille. L'Epoque française de Van Gogh. Paris, 1927, p. 60.

J.-B. de La Faille. L'Oeuvre de Vincent van Gogh: Catalogue Raisonné. Paris, 1928, vol. 1, p. 194, no. 682; vol. 2, pl. 192, as "Les roses blanches," dated May 1890; describes it as "une grande gerbe de roses blanches, dont quelques-unes sont légèrement teintées de rose, s'élèvent d'un simple vase de faïence vert Véronese foncé, cerné d'un trait bleu d'outremer. Le vase est posé sur une table lilas rose pâle sur laquelle sont jetées de chaque côté du vase quelques feuilles. Font vert Véronèse pâle (a large bunch of white roses, a few of which are slightly tinged with pink, stand in a faience vase of dark Veronese green, outlined in ultramarine blue. The vase is placed on a pale lilac-pink table on which a few leaves are strewn, on each side of the vase. Pale Veronese-green background).

Hanfstaengl-Drucke: Grosse Farbige Wiedergaben nach Meisterwerken der Malerei. Munich, [1929–30], pp. XXI, 28, ill., advertises large color reproductions of this painting, calling it "Weiße Rosen" and dating it 1888.

Kurt Pfister. Vincent van Gogh. 2nd revised ed. Berlin, 1929, pl. 66, as "Weisse Rosen".

Fritz Knapp. Vincent van Gogh. Bielefeld, 1930, p. 56, pl. 33, as "Weisse Rosen".

Catalogue des photographies d'oeuvres d'art: Procédés E. Druet, peintures et sculptures modernes. Paris, [193–?], p. 111, no. 7218, advertises photographic reproductions of this painting, calling it "Nature morte, roses dans un pot".

W. Scherjon. Catalogue des tableaux par Vincent van Gogh décrits dans ses lettres. Périodes: St. Rémy et Auvers sur Oise. Utrecht, 1932, p. 114, no. 113, ill., as "Roses dans un vase vert".

Walter Pach. Vincent van Gogh, 1853–1890. New York, 1936, pl. 6.

Wilhelm Uhde and Ludwig Goldscheider. Vincent van Gogh. Vienna, 1936, p. 14, mentions "weisse Rosen in einer Vase," referring to this work and/or the Washington picture.

W. Scherjon and Jos. De Gruyter. Vincent van Gogh's Great Period: Arles, St. Rémy and Auvers sur Oise (complete catalogue). Amsterdam, 1937, p. 304, St. Rémy no. 113, ill., as "Pink Roses in Green Vase".

Alexander Dorner. Vincent van Gogh: Blumen und Landschaften. Berlin, 1937, p. 16, colorpl. 5, as in a private collection, Berlin.

A. M. Bremmer-Beekhuis. Dienaar der Kunst. 1937–41, p. 156 [Gemeentearchief, The Hague; 0836–01 Familie Bremmer, nos. 6–8], cites H.P. Bremmer's recollection [on the occasion of a speech given at the Van Gogh commemoration at the Stedelijk Museum, Amsterdam, July 29, 1940] that the "large canvas with the 'White Roses'" hung in the vestibule of the house where the artist's mother and sister Willemien lived at Riowstraat 72 in The Hague, placing the date "before 1900" and noting that Willemien was still healthy [she was institutionalized in 1902].

J.-B. de La Faille. Vincent van Gogh. London, [1939], pp. 485, 560, 581, 588, no. 703, ill., as in the collection of G. Hirschland, Essen.

W[ilhelm]. Uhde and Ludwig Goldscheider. Vincent van Gogh. New York, 1941, p. 11 [German ed., Vienna, 1936].

Thomas Carr Howe, Jr. Salt Mines and Castles: The Discovery and Restitution of Looted European Art. Indianapolis, 1946, p. 232, describes seeing this picture at the Allied Central Collecting Point in Marburg, Germany among works of art from German museums that had been recovered from safekeeping in mines.

John E. Cross. Vincent van Gogh. New York, 1947, no. 22, ill. (color).

Wilhelm Uhde and Ludwig Goldscheider. Vincent van Gogh. 3rd ed. Vienna, [1951], p. 14.

W. Sandberg. "Rembrandt, Hokousaï, Van Gogh." Verve 7, nos. 27–28 (1952), ill. p. 56 (color).

Charles Sterling. La Nature morte de l'antiquité à nos jours. Paris, 1952, p. 104, pl. 100 [English ed., New York 1959, pp. 114–15, pl. 100].

John Rewald. Post-Impressionism: From Van Gogh to Gauguin. 1st ed. New York, 1956, pp. 380, 383, ill. p. 381(color) [3rd, rev. ed., 1978, pp. 354–55, ill. p. 351 (color)].

Jean Leymarie. Van Gogh: Arles, Saint-Rémy. Paris, 1956, unpaginated, colorpl. 15.

Wallace Brockway. The Albert D. Lasker Collection: Renoir to Matisse. New York, [1957], p. 27, ill. p. 28 (color).

"Collector's Prize." Time 71 (January 6, 1958), pp. 38–39, ill.

Peter Selz inFruits and Flowers in Painting: An Exhibition Spanning Five Centuries of Art in the Western World. Exh. cat., Santa Barbara Museum of Art. [Santa Barbara, Calif.], 1958, pp. 10, 22, no. 52, ill., as "White Roses".

Vincent van Gogh. The Complete Letters of Vincent van Gogh with Reproductions of All the Drawings in the Correspondence. Greenwich, Conn., 1958, under letter nos. 614a, 634, 644, W21, W22.

Edward R. Murrow Mary Lasker in Interview between Edward R. Murrow and Mary Lasker. May 22, 1959 [published online through the Lasker Foundation website, http://www.laskerfoundation.org/about/murrow.html, accessed 2/11/08], states that Albert D. Lasker bought it in 1951.

John T. Mason Jr. Mary Lasker in Interview between John T. Mason Jr. and Mary Lasker. November 1, 1963 [interview conducted under the auspices of the Columbia University Libraries Oral History Research Office, pt. 1, session 23, pp. 712–13, published online at http://www.columbia.edu/cu/lweb/digital/collections/nny/laskerm/index.html, accessed 2/11/08], recounts Albert D. Lasker's purchase of this painting from Wildenstein.

Alfred Frankfurter inGreat Private Collections. Ed. Douglas Cooper. New York, 1963, pp. 230, 236, ill. (color), describes it hanging with Van Gogh's "The Zouave" (F 424) in the Laskers' drawing room.

J.-B. de La Faille. The Works of Vincent van Gogh: His Paintings and Drawings. Amsterdam, 1970, pp. 267, 638, no. 682, ill., as "Still Life: Roses in Green Pot"; lists some early provenance information that conflicts with that of Feilchenfeldt [Ref. 1988].

Paolo Lecaldano. L'opera pittorica completa di Van Gogh e i suoi nessi grafici. Vol. 2, Da Arles a Auvers. repr. [1st ed., 1966]. Milan, 1971–77, p. 229, no. 793, ill. p. 226.

Matthias Arnold. "Duktus und Bildform bei Vincent van Gogh." PhD diss., Ruprecht-Karl University, Heidelberg, 1973, pp. 121, 188 nn. 215, 219, p. 192 n. 346.

J. Hulsker, ed. Van Gogh door Van Gogh. De brieven als commentaar op zijn werk. Amsterdam, 1973, pp. 203, 205–7, 209, 220, identifies references to the painting in the artist's letters.

Jan Hulsker. The Complete Van Gogh: Paintings, Drawings, Sketches. [1st ed., Amsterdam, 1977]. New York, 1980, pp. 450, 452, no. 1979, ill. p. 453, as "Vase with Pink Roses".

Bogomila Welsh-Ovcharov. Vincent van Gogh and the Birth of Cloisonism. Exh. cat., Art Gallery of Ontario. Toronto, 1981, p. 158.

Susan Alyson Stein, ed. Van Gogh: A Retrospective. New York, 1986, pp. 260 [this work and/or F681], 292 [possibly this work], excerpts Beaubourg 1890 and Waern 1892.

Ronald Pickvance The Metropolitan Museum of Art. Van Gogh in Saint-Rémy and Auvers. New York, 1986, pp. 72, 187, fig. 46.

Walter Feilchenfeldt. Vincent van Gogh & Paul Cassirer, Berlin: The Reception of Van Gogh in Germany from 1901 to 1914. Zwolle, The Netherlands, 1988, pp. 27, 29, 66, 112, 141, 146, 150, 155, 157, ill. pp. 64 (color) and 112.

Catherine Barnett. "A Very Private View: Inside Walter Annenberg's Personal Paradise." Art & Antiques 6 (March 1989), pp. 96, 99, ill. p. 97 (color).

Colin B. Bailey. "La Collection Annenberg." L'Oeil nos. 408–9 (July–August 1989), colorpl. 9.

Judith Bumpus. Van Gogh's Flowers. Oxford, 1989, pp. 19, 45, colorpl. 10.

Walter Feilchenfeldt. "Van Gogh Fakes: The Wacker Affair, with an Illustrated Catalogue of the Forgeries." Simiolus 19, no. 4 (1989), p. 308, ill., identifies a forged van Gogh (F 681bis) painted after our work while it was in the Oppenheim collection, Berlin.

Evert van Uitert et al. Vincent van Gogh: Paintings. Exh. cat., Rijksmuseum Vincent van Gogh, Amsterdam. Milan, 1990, p. 254.

Roland Dorn inVincent van Gogh and the Modern Movement: 1890–1914. Exh. cat., Museum Folkwang, Essen. Freren, Germany, 1990, pp. 144, 175 n. 2.

Walter Feilchenfeldt inVincent van Gogh and the Modern Movement: 1890–1914. Exh. cat., Museum Folkwang, Essen. Freren, Germany, 1990, p. 44, states that Bernheim-Jeune found this work and MMA 58.187 "too expensive" and that Cassirer subsequently bought them from Van Gogh's mother's estate, selling the present painting to Fritz [sic] Oppenheim.

Jan Hulsker. Vincent and Theo van Gogh: A Dual Biography. Ed. James M. Miller. trans. and rev. ed. [1st ed.,1985]. Ann Arbor, Mich., 1990, p. 414.

Joseph J. Rishel inMasterpieces of Impressionism & Post-Impressionism: The Annenberg Collection. Ed. Colin B. Bailey, Joseph J. Rishel, and Mark Rosenthal. Exh. cat., Philadelphia Museum of Art. Philadelphia, 1991, pp. 110–11, 201–2, ill. (color and black and white), discusses the coloration of the roses, and the partial fading of pigment from pink to white, noting that the change probably began early on.

Gary Tinterow. "Miracle au Met." Connaissance des arts no. 472 (June 1991), pp. 39, 41, ill. (color).

Jérôme Coignard. "Le Salon de peinture de Mr. et Mrs. Annenberg." Beaux arts no. 92 (July–August 1991), p. 72.

Charles S. Moffett inArt for the Nation: Gifts in Honor of the 50th Anniversary of the National Gallery of Art. Ed. Jane Sweeney. Exh. cat., National Gallery of Art. Washington, 1991, p. 238.

Jan Hulsker. Vincent van Gogh: A Guide to His Work and Letters. Amsterdam, 1993, pp. 42, 57–58, 76, dates letter no. 644 to June 24 or 25, 1890, letter no. W21 to about May 20, 1890, and letter no. W22 to about June 5, 1890; lists all the works mentioned in the letters, and corrects passages of the French to English translation [see Refs. van Gogh 1890].

Ingo F. Walther and Rainer Metzger. Vincent van Gogh: The Complete Paintings. Cologne, 1993, vol. 2, ill. p. 624 (color) [German ed., "Vincent van Gogh: Sämtliche Gemälde," 1989], as "Still Life: Pink Roses in a Vase".

Susan Alyson Stein in "Recent Acquisitions, A Selection: 1993–1994." Metropolitan Museum of Art Bulletin 52 (Fall 1994), p. 52, ill. p. 53 (color).

Matthias Arnold. Vincent van Gogh: Werk und Wirkung. Munich, 1995, pp. 290–91.

Katharine Baetjer. European Paintings in The Metropolitan Museum of Art by Artists Born Before 1865: A Summary Catalogue. New York, 1995, p. 498, ill. p. 499.

Jan Hulsker. The New Complete Van Gogh: Paintings, Drawings, Sketches. rev. ed. Amsterdam, 1996, pp. 450, 452, 496, no. 1979, ill. p. 453, as "Vase with Pink Roses".

Cynthia Saltzman. Portrait of Dr. Gachet: The Story of a Van Gogh Masterpiece. New York, 1998, pp. 110, 234, states that Cassirer sold it for DM 9,000 in March 1908.

Ira Berkow. "Jewels in the Desert." Art News 97 (May 1998), p. 147, ill. (color, installation photo).

Bogomila Welsh-Ovcharov. Van Gogh in Provence and Auvers. [New York], 1999, ill. p. 225 (color).

Colin B. Bailey and John Collins. Van Gogh's Irises: Masterpiece in Focus. Exh. cat., National Gallery of Canada. Ottawa, 1999, p. 18.

Ronald Pickvance. Van Gogh. Exh. cat., Fondation Pierre Gianadda. Martigny, 2000, pp. 59, 63, 112, 115.

David Grossvogel. Behind the Van Gogh Forgeries: A Memoir. San Jose, Calif., 2001, p. 134.

Chris Stolwijk and Han Veenenbos. The Account Book of Theo van Gogh and Jo van Gogh-Bonger. Amsterdam, 2002, pp. 148, 184, ill., identify it as one of three paintings sold by Van Gogh-Bonger for 8,150 guilders to Paul Cassirer in 1908, noting that Van Gogh-Bonger recorded only one of these works ("Garden"; F814; private collection) in her account book, since the other two (this work and "Irises"; F680; MMA, 58.187) came from the estate of her mother-in-law, Anna Van Gogh-Carbentus, who had died in 1907.

Walter Feilchenfeldt. By Appointment Only: Cézanne, Van Gogh and Some Secrets of Art Dealing. English ed. London, 2006, p. 64, ill. p. 101 (color), as "Roses" and "Roses in a Terracotta Pot"; identifies it as the painting copied by Otto Wacker for a fake Van Gogh (F681bis) and suggests that Wacker might have had access to our painting, since it was then in the Oppenheim collection, Berlin.

Zsuzsa Gonda inVan Gogh in Budapest. Ed. Judit Geskó. Exh. cat., Museum of Fine Arts. Budapest, 2006, pp. 358-59.

Stefan Koldehoff inVan Gogh and Expressionism. Ed. Jill Lloyd and Michael Peppiatt. Exh. cat., Neue Galerie, New York. Ostfildern, 2007, p. 171, states that Cassirer sold it to Franz and Margaret Oppenheim, Berlin, for 9,000 DM in March 1908.

Laura Ann Coyle. "The Still-Life Paintings of Vincent van Gogh and Their Context." PhD diss., Princeton University, September 2007, pp. 476–79, fig. 7.12, the reproduction is identified as 7.12 in the text, but misnumbered as 7.11 in the illustration section.

Susan Alyson Stein inMasterpieces of European Painting, 1800–1920, in The Metropolitan Museum of Art. New York, 2007, pp. 174–75, 260–61, no. 163, ill. (color and black and white).

Susan Alyson Stein inMasterpieces of Impressionism and Post-Impressionism: The Annenberg Collection. Ed. Susan Alyson Stein and Asher Ethan Miller. 4th rev. ed. [1st ed., 1989]. New York, 2009, pp. 221, 233–34.

Joseph J. Rishel inMasterpieces of Impressionism and Post-Impressionism: The Annenberg Collection. Ed. Susan Alyson Stein and Asher Ethan Miller. 4th rev. ed. [1st ed., 1989]. New York, 2009, pp. ix, 225–28, no. 42, ill. (color) and p. vi (installation photo).

Vincent van Gogh. Vincent van Gogh—The Letters. Ed. Leo Jansen, Hans Luijten, and Nienke Bakker. London, 2009, vol. 5, pp. 236–37, fig. 1 (color), under letter no. 872, pp. 250, 254, fig. 11 (color), under letter no. 879, p. 268, fig. 4 (color), under letter no. 891, p. 317, fig. 3 (color), under letter no. RM19, pp. 320–21, fig. 11 (color), under letter no. RM21.

Veronica Grodzinski. "The Art Dealer and Collector as Visionary: Discovering Vincent van Gogh in Wilhelmine Germany 1900–1914." Journal of the History of Collections 21 (2009), p. 226.

Ursula Bode. "Von kunstfreundlichen Bürgern: Sammler in Essen 1900–1945." "Das schönste Museum der Welt," Museum Folkwang bis 1933: Essays zur Geschichte des Museum Folkwang. Göttingen, 2010, pp. 154–55, discusses the history of the painting during the second world war.

Steven Naifeh and Gregory White Smith. Van Gogh: The Life. New York, 2011, p. 819.

Martin Bailey. The Sunflowers Are Mine: The Story of Van Gogh's Masterpiece. London, 2013, pp. 160, 199, 222 n. 9, fig. 72 (color, Manson self-portrait), discusses former Tate Gallery director James Manson's self-portrait of 1937 (Southampton City Art Gallery), which includes this picture in the background, and notes that Manson also included it in a still life of sunflowers of 1939 (present whereabouts unknown).

Walter Feilchenfeldt. Vincent van Gogh: The Years in France. Complete Paintings 1886–1890. London, 2013, pp. 26, 32 n. 45, pp. 187, 300, 312, 315, 317, 321, 343, 347, ill. (color) [1st German ed., 2009], calls it "Roses" and "Roses in a Green Pot".

Julian Bell. Van Gogh: A Power Seething. Boston, 2015, p. 138.

Wilhelm Uhde inVan Gogh. London, 2015, p. 28 [same text as Uhde and Goldscheider 1941 and 1951].

Griselda Pollock inVan Gogh. London, 2015, p. 37, notes the original pink color of the roses, referring to this work and/or the Washington picture.

Edwin Mullins. Van Gogh: The Asylum Year. London, 2015, pp. 179, 181, 184.

Stefan Koldehoff. Ich und van Gogh: Bilder, Sammler und ihre abenteuerlichen Geschichten. Berlin, 2015, p. 141, ill. pp. 138 (photograph of it hanging on wall in Annenberg home), 139 (color).

Silvia A. Centeno et al. "Van Gogh's 'Irises' and 'Roses': the Contribution of Chemical Analyses and Imaging to the Assessment of Color Changes in the Red Lake Pigments." Heritage Science 5 (May 10, 2017) [https://heritagesciencejournal.springeropen.com/articles/10.1186/s40494-017-0131-8], discuss in detail the fading of red lake pigments in the painting based on the results of non-invasive techniques of scientific examination, in-depth microchemical analysis, color measurements, and digital color simulations.

Monique Hageman and Nora Koldehoff inThe Thannhauser Gallery: Marketing Van Gogh. Ed. Stefan Koldehoff and Chris Stolwijk. Brussels, 2017, p. 101 n. 1.

Stefan Koldehoff inThe Thannhauser Gallery: Marketing Van Gogh. Ed. Stefan Koldehoff and Chris Stolwijk. Brussels, 2017, p. 62.

Martin Bailey. Starry Night: Van Gogh at the Asylum. London, 2018, p. 208 n. 12.

Stefan Koldehoff inMaking Van Gogh: A German Love Story. Ed. Alexander Eiling and Felix Krämer. Exh. cat., Städel Museum. Frankfurt, 2019, p. 218.

Christine Brennan and Yelena Rakic. "Fragmented Histories." Making The Met, 1870–2020. Ed. Andrea Bayer with Laura D. Corey. Exh. cat., The Metropolitan Museum of Art. New York, 2020, p. 269 n. 38.


The Roses exhibited at the "Salon des Indépendants (7me exposition)" in Paris, March 20–April 27, 1891 (as no. 1200) was presumably the horizontal Roses now in the National Gallery of Art, Washington, D.C. (F681), given that the painting was purchased shortly thereafter, in June 1891, by the French collector and bibliophile Paul Gallimard, Paris.

A copy of the catalogue for Amsterdam 1905 owned by critic Albert Plasschaert and now in the Van Gogh Museum is annotated "witte rozen tegen licht geel groen fond, vaas donker groen / vorm v[an]. vaas / onbehouwen" (white roses against a light yellow-green background, vase dark green / shape of vase / crude).

Apropos of Paris 1907, Félix Fénéon, the director of exhibitions for Bernheim-Jeune, wrote to Johanna van Gogh-Bonger on October 30, 1907, expressing interest in this work and MMA 58.187 and adding that they would appear in the gallery's November exhibition of still lifes. He wrote again on November 1, 1907, noting the arrival of the pictures and their asking price of 5,000 francs each (Van Gogh Museum, Amsterdam, inv. nrs. b5756 V/1996 and b5757 V/1996).

This picture was photographed by Eugène Druet (pl. 68, no. 40/50–7218, ca. 1900–1910, collection Le fonds Druet-Vizzavona, Médiathèque de l'architecture et du patrimoine, Fort de Saint-Cyr, Montigny-le-Bretonneux, France), probably during Paris 1908. A letter from Fénéon to Johanna van Gogh-Bonger on February 11, 1908, confirms that Druet photographed all the works in the exhibition (Van Gogh Museum, Amsterdam, inv. nr. b5763 V/1996).

In 1939 Roses and other works of art were seized at the request of Nazi officials from Georg Hirschland's home in Essen and removed to the city's Folkwang Museum. The museum association (Museumsverein) and the municipality of Essen had twenty-seven artworks from the Hirschland collection appraised and jointly purchased them for 350,000 marks, which was a portion of their market value, of which the collector received the equivalent of $7,000. In 1941 Roses was transferred to the Reich Chancellery in Berlin (see Bode 2010). The painting returned to the Folkwang Museum in 1942 and remained there until near the end of the Second World War, when it was evacuated to a mine in Siegen. It was subsequently recovered and transferred to the Allied Central Collecting Points in Marburg (June 1945), Wiesbaden (August 1946), and the British Zone (October 1948). In July 1950 Roses was one of nineteen works restituted to Georg Hirschland's heirs in New York.
This work may not be lent, by terms of its acquisition by The Metropolitan Museum of Art.
The Met Collection API is where all makers, creators, researchers, and dreamers can now connect to the most up-to-date data and images for more than 470,000 artworks in The Met collection. As part of The Met's Open Access program, the data is available for unrestricted commercial and noncommercial use without permission or fee.

Learn more
Sours: https://www.metmuseum.org/art/collection/search/436534
1196
1197
1198
1199
1200