SHAFT REVIEW – Project X Graphite Shafts
By: Matt Saternus
How many times have you let some preconceived idea or bias get in the way of playing the best equipment for your game?  I think for many of us club-crazy golfers, the answer is "more times than I'd like to admit."
Personally, I will admit to a bit of a bias against Project X.  Despite being fit into them on a couple of occasions, I've never loved the feel of their iron shafts.  Because of this, I've never given too much thought to their graphite offerings.  As you'll see in this review, that would have been a HUGE mistake: the Project X graphite shafts are some of the most accurate and consistent I've ever tested.
Notes, Feel, Price, and Miscellaneous
I came into this review with very low expectations for the feel of Project X graphite.  I will happily report that I was wrong to expect so little.  To me, the Project X feels most similar to the Nunchuk: a solid, "one-piece" feel with very little kick or torque.  While not as smooth as a Matrix or Diamana, there's nothing harsh about the Project X whatsoever.  I found this feel was very similar from 6.0 to 7.0.  Players with more swing speed or more aggressive tempos may disagree and could find more difference from one flex to the next.
With regard to looks, the Project X plays it safe with a solid blue color and minimal graphics.
When considering the standard and tour issue lines, weights of the Project X graphite shafts range from 60 to over 100 grams.  Flex ranges from 5.0 to 7.0 on the Rifle scale
Project X graphite shafts carry an MSRP of $275 but can be found for around $150.  The Tour Issue profiles can be found through select fitters and club builders or through some OEM custom order programs.
Performance
For the Performance testing, I hit each of the shafts in a Callaway RAZR Fit 10.5 head on a FlightScope X2 launch monitor.  I hit 20 "good" shots with each shaft, changing frequently so that fatigue was not an issue, nor did I get grooved with one shaft to the detriment of fairness.
Testing was done at Golf Nation in Palatine, IL, one of the best indoor golf facilities in the country.
*NOTE: Testing was done inside. Uur FlightScope seems to be producing somewhat different numbers indoors compared to outdoors.  To greater or lesser extents, ball speed, and spin are all coming in lower than they did outdoors, hence the carry number is smaller.  That said, it's still an apples-to-apples comparison, so no attempt has been made to "normalize" the numbers: we're publishing the numbers straight off the FlightScope, as always.
DATA
ANALYSIS
The Project X shafts produced very consistent numbers for me across the board.  The launch was medium-high, and the spin was very manageable, especially when you consider I was hitting exclusively fades (with the exception of a couple pulls).
The big story to me is the accuracy.  In my opinion, the "Off Line" number doesn't really do justice to the Project X in this case.  While the shots may have been consistently off of the center line, they were very tightly grouped.  The dispersion numbers in the FlightScope graphic are some of the smallest I've ever achieved.  In fact, were it not for two pulled shots, I think each shaft would have posted a dispersion number under 40, which is outstanding for me.
Conclusion
As I said in the intro, the Project X graphite shafts are some of the most consistent and accurate that I've ever tested.  While there are not a lot of different options in the standard line, the Tour Issue line offers enough different weights and profiles to suit a wide variety of different players.  Though there are newer, "hotter" models out, aggressive-swinging players who want to tighten up their dispersion would do well to consider putting a Project X graphite shaft in their driver.
VISIT WEBSITE: HERE
FOLLOW ON TWITTER: HERE
FOLLOW ON FACEBOOK: HERE
Sours: https://mygolfspy.com/project-x-graphite-shaft-review/
Complete Guide to Project X Flex Codes
Have you ever wondered what the number designation on your Project X shaft means? You know, the 5.0, 6.0, 6.5 and so on printed on the shaft. These numbers correspond with flexes from "regular" to "extra stiff plus". While the flex is sometimes written on the shaft, many times it isn't, leaving only the number to inform you of the flex. The only problem? The flex that corresponds with each number often changes based on the shaft model. And the power of Google can fail you as you search for a cohesive list of all of the flex code meanings. Even the Project X website lacks any kind of compiled guide, and only some of the individual shaft product pages reveal which numbers go with which flex.
Not to worry. Golf Club Brokers has created an extensive list of Project X shafts and their flex codes. We'll update the list as more shafts are released in the future.
Project X Flex Codes
Original Project X Rifle Irons
Tapered
Regular – 5.0
Regular Plus – 5.5
Stiff  – 6.0
Extra Stiff  – 6.5
Extra Stiff Plus – 7.0
Parallel
Regular Plus – 5.5
Stiff – 6.0
Extra Stiff – 6.5
Original Project X Woods & Hybrids
Regular Plus – 5.0
Stiff – 5.5
Stiff Plus – 6.0
Extra Stiff – 6.5
Extra Stiff Plus –7.0
Project X 95 Flighted Irons
Regular – 5.0
Regular Plus – 5.5
Stiff  – 6.0
Extra Stiff  – 6.5
Extra Stiff Plus – 7.0
PXi Irons
Regular – 5.0
Regular Plus – 5.5
Stiff Plus – 6.0 
Extra Stiff – 6.5
Rifle Irons
Parallel
Senior – 4.0
Regular – 5.0
Stiff – 6.0
Extra Stiff – 7.0
Tapered
Senior Plus – 4.5
Regular Plus – 5.5
Extra Stiff – 6.5
PX LZ Steel Irons
Regular – 5.0
Regular Plus – 5.5
Stiff – 6.0
Stiff Plus – 6.5
PX LZ Tour Graphite Irons
PXv Tour Graphite Woods
Stiff – 5.5
Stiff Plus – 6.0
Extra Stiff Flex – 6.5
Extra Stiff Plus – 7.0
Project X Black Woods & Hybrids
Stiff – 5.5
Stiff Plus – 6.0
Extra Stiff – 6.5
Extra Stiff Plus – 7.0
HZRDUS Woods & Hybrids
(Woods available in Black, Yellow, and Red models. Hybrids available in Black model.)
Regular Plus – 5.5
Stiff – 6.0
Extra Stiff – 6.5
HZRDUS T1100 Woods
Regular Plus – 5.5
Stiff – 6.0
Extra Stiff – 6.5
EvenFlow Woods & Hybrids
(Available in Black and Blue)
Regular Plus – 5.5
Stiff – 6.0
Extra Stiff – 6.5
It's important to note that there has been much discussion around the designation of flex for Project X versus other shafts. A "stiff" flex from one shaft producer will not always equal a "stiff" flex from another. While these codes are accurate based on the flex that Project X indicates, your mileage may vary on how well the feel of the shaft matches the maker's designation.
Filed Under: Golf Tips
Sours: http://golfclubbrokers.com/blog/complete-guide-to-project-x-flex-codes/
Project X Iron Shaft
The Project X iron shaft is a cult classic stepless iron shaft as well as one of the most popular iron shafts on Tour.  Geared towards players with a more aggressive iron swing, the Project X aims to keep both your launch and spin numbers down.  Looking for lower ball flight or reduced spin off of your irons?  The Project X iron shaft might be the right option for you!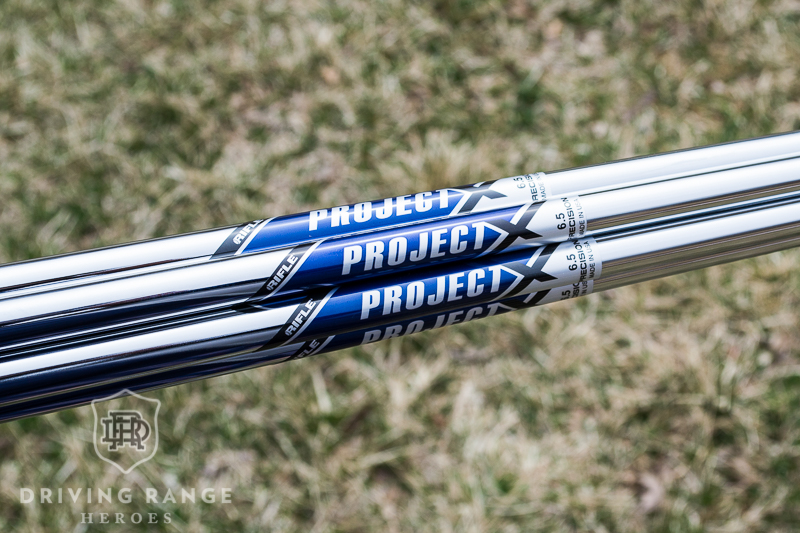 How Does it Feel?
My first thought when I swung the Project X iron shaft was "huh, I don't remember them being this stout."  I may have been swinging the 6.5 (~x-flex) as opposed to my usual 6.0 in Project X, but nonetheless, it felt fairly stiff.  Why?  stiffness in the tip of the shaft.  The Project X is designed so that the butt and tip sections are consistent through the set, while the midsection's stiffness varies from iron to iron.  This creates consistent tip stiffness, and thus, that more stiff feel throughout the swing.  However, there's a notable progressive kick point throughout the set.  It's definitely not a bad feel by any means, but more aggressive swingers with a quicker transition will most likely feel the shaft loading better.
Project X shafts are also known for their range of flex options.  Rather than the traditional regular, stiff, x-stiff, etc profiles, Project X uses a numbering system in .5 increments.  The flexes range from the softest at 5.0 up to the stiffest at 7.0, giving players five different flex options.  The 5.5 to 6.5 also offer two different weight options each, while the 5.0 and 7.0 have one.  These are all things to take into account to get that feel and performance finely tuned to exactly where you need it.

On-Course Performance
The Project Xiron shafts advertise a low launch with low spin.  Again, the way the Project X shaft is constructed creates a very stable tip, which is how they create that low, piercing ball flight and reduced spin.  I found that this is exactly what is delivered with this shaft.  My ball flight was much more piercing and penetrating than my current gamers.  My ball seemed to just cut right under the infamous Spring Chicago winds.  If you have issues with really high iron shots, the Project X might be worth a look.
Spin-wise, I also saw a pretty steep reduction from my current gamers.  This can be both good or bad if you don't necessarily need less spin from your irons.  The good: my dispersion was more contained.  The Project X shafts tend to stay on line, and misses are fairly abbreviated.  The accuracy is good.  Where it's not necessarily a good thing is holding greens.  With a combination of low launch and low spins, I found it somewhat difficult to stop the ball on the putting surface.  Adjusting to the roll out of the Project X may take some time.  But again, if you don't have trouble spinning or launching the ball, you may not see the same issues.  A nice little cheat that may help a spin/trajectory issue is to go down a flex.
If you like the feel of the shafts, but need need to tune the flex a touch, you can always hard or soft step them, since the weights of the shafts are the same throughout the set.  This means that you can put the 3 iron shaft in a 4 iron, or vice versa, in order to change that midsection profile.  This will change both the launch and spin either up or down depending.
Final Thoughts
There's a reason that the Project Xhas not only been around forever, but is so popular on Tour. It's a great iron shaft.  If you're looking for more penetrating iron shots, or to reduce your spin, take the Project X for a whirl.  With all of the flex and weight options available, faster, quick-transition swingers are sure to find a fit that matches their game for both feel and performance.
Sours: https://drivingrangeheroes.com/project-x-iron-shaft-review/
Even if you are a relative newcomer to golf shafts you will soon come across Project X shafts if haven't already heard of them.
But who exactly makes Project X golf shafts?
True Temper is the company responsible for manufacturing the famous Project X brand and is a subdivision of parent company, True Sports.
Catering for woods, irons and hybrid type shafts, Project X is one of the most highly rated shaft product lines available today in the US golfing shaft market.
So yes, True Temper is the name behind Project X and if you are interested in finding out more about the full range, the technologies used in production and whether they would be a good fit for your golf clubs, possibly replacing your existing shafts then check out more info below.
Where are Project X Shafts Made?
You might be pleased to know that Project X shafts are manufactured in the US.
They build Project X shafts in their massive facility, which is over three hundred thousand square feet, situated in Armory, Monroe County, Mississippi.
The corporate headquarters of parent company True Sports is in Memphis, Tennessee. Apart from golfing products True Sports also specializes in hockey, baseball and Lacrosse sporting equipment.
What are Project X Shafts?
These custom golf club shafts are aimed at the middle to the top end of the golfing market and feature a full range of highly advanced shafts for golf woods, irons, drivers and hybrid club types.
Golfers often use premium golf shafts such as Project X to replace the standard OEM shafts that are fitted as standard in most golf club sets.
A small sample of the current range (retail prices are approx.) of Project X shafts are made in both steel and graphite:
HZRDUS iM10 Graphite Wood Shaft – $300
HZRDUS RDX Graphite Wood Shaft – $225
Cypher Graphite Wood Shaft – $225
HZRDUS Smoke Black Graphite Wood Shaft – $130
HZRDUS Yellow 65/75 Graphite Wood Shaft – $100
EvenFlow Black 65/75 Graphite Wood Shaft – $100
EvenFlow Blue 55/65 Graphite Wood Shaft – $80
LZ Blackout .355 Steel Iron Shaft – $60
IO .355″ Steel Iron Shafts – $50
Project X U Steel Hybrid Shaft – $50
Taper Tip Iron Shafts – $40
As you can see prices vary a great deal with wood shafts being the most expensive – which is in line with other premium golf shaft brands such as Aldila, Graphite Design and Aerotech.
Are Project X Shafts Any Good?
There is plenty of chatter on the internet about Project X but are they any good for all levels of golfers including beginners, high handicappers, low handicapped players and pros?
The good news is that overall, this brand receives very favorable reviews from just about any reputable platform, but we like to focus on real reviews from users who use Project X shafts.
Take for example these reviews on the Project X New HZRDUS Smoke Black Fairway shaft.
Good feedback explaining what clubhead the shaft was used on and there is also a great update on how the shaft helped to increase driving distance to over 250 yards – very impressive!
A second review, this time for the Project X PXV Stiff Shaft. With over 20 reviews this product seems to fair well with real golfers.
Reading through, you can see that the overall feedback here is that this shaft is excellent value for money, easy to fit into an existing clubhead and is both light and sturdy which is important as we need these shafts to last a reasonable amount of time.
Buying shafts for individual drivers, irons and hybrids can be expensive!
Do PGA Pros Use Project X Shafts?
According to GolfMagic there are several current PGA Pros using Project X shafts. These include Tommy Fleetwood, Jon Rahm and Rory Mcilroy. With prices to suit almost every budget you can try these shafts out yourself or even have a fitter give you expert advice at your local golf club.
The official True Temper website claims that on the PGA Tour itself, players winner's earnings have topped over $50,000,000 for those who use True Temper and Project X shafts.
It's also quite amusing to see that printed below is the figure for "the rest" which equates to around $12,000,000 which is hardly chump change!
How Can You Tell Fake Project X Shafts?
Unfortunately, as with other top sporting goods, golf equipment can be a victim to counterfeiters.
If you are interested in buying a new Project X shaft for your bag but are worried that it might be a fake shaft, there are a few things to look out for.
Double check the brightness of the stickers or decals. Authentic labeling is often "duller" with fake Project X shafts having over-the-top bright stickers.
Check serial numbers – these are located at the butt end of the shaft and you should clearly see the number along with the length of the shaft (prior to being tipped).
Try to stay clear of eBay and Craigslist – if you are looking for a cut price deal on Project X, then the best times to buy are Black Friday and at the end of the golfing season.
3 Cool Facts About True Temper – The Name Behind Project X
So after some digging, we have found some interesting information about True Temper.
Cool Fact 1: Did you know that the first formations of the business started way back in 1902 – A group of forging businesses aligned together to create the wonderfully named "American Fork and Hoe Company" and thus, lay the initial foundations.
Cool Fact 2: In the late 1960s True Temper designs the first mechanical golf robot which is used to test steel golf shafts.
Cool Fact 3: A mind boggling milestone of 1 billion golf shafts manufactured at the company's facility in Amory is reached in 2010.
There are over 25 current models of Project X shafts currently listed on the official website and these include starter shafts and some of the most advanced graphite shafts which utilize leading technology such as stepless design, frequency matching, loading zone and ISO-6.
For this introduction to Project X article – we don't really need to dig deep into what these techs do but rest assured they all help Project X shafts to stay ahead of the competition and showcase just how US-based companies are leading the way in modern golf shaft design and performance.
Sours: https://www.windtreegolf.com/who-makes-project-x-golf-shafts/
X shafts project
Having completely undressed, they embraced and began to fiercely caress each other. Then the girl got up and took a member in her mouth. She licked it with great pleasure along its entire length, sometimes half swallowing it.
Stock Driver Shaft vs Expensive Up-charge Driver Shaft - Using Titleist TS3 Driver
"I poisonously wished Tatyana Vasilyevna to successfully solve her family problems and, without saying goodbye, I went upstairs. The TV, which was not turned off, continued to mutter something about the elections and the exchange rate, but for some reason I could not concentrate on words This insignificant.
Episode in a strange way excited me, a rather grown-up man who had seen and experienced a lot. my neighbor's granddaughter has some medical problems.
Similar news:
And wild, terrifying screams. Screams, somewhere outside his doors and ward. The screams of the sick and the wild animal heart-rending roar. The roar of some nightmarish monsters, or beasts. He felt a sharp stabbing pain pierce his chest under the hospital gown into his heart.
995
996
997
998
999