YouTube's famous laughing baby is 5 years old
This story first appeared on babble and is reprinted with permission.
Sometimes a laugh can add sunshine to a down day -- especially if it's one of those authentic, uncontrollable, body-shaking ones. After all, laughter is good for the mind, body and soul, no matter the age. So it's no wonder that the sound of a baby laughing can often heal the heart.
Which brings me to my special friend, Micah. Although you might not have met him, chances are you've met his laugh. It's kind of famous.
When Micah's dad, Marcus, uploaded his first video to YouTube in 2011 and titled it "Baby Laughing Hysterically at Ripping Paper," he had no idea that the video would instantly go viral and be hailed by the media as one of the most popular Internet sensations.
And yet, the fact that Micah's video currently has almost 80 million views doesn't seem to hold a candle to the gigantic soft pretzel this 5-year-old boy is about to consume during our interview in our local mall's food court.
"What is your favorite thing to do?" I ask him.
"Play trains," he says. "And go to baseball games."
And then, unprompted, he names all the key players on the Los Angeles Angels of Anaheim baseball team. He excitedly punctuates each name with an interesting stat or vignette, like "that player has already made four home runs this season" or "this rookie is practicing to become of the top players."
I'm impressed.
We chat about all the things that matter in his life at the moment. Like that he's on a Little League team. His favorite food at Starbucks is the yogurt granola. He really wants to ride the train in the mall. His "Popa" (grandfather) is building him a miniature Disneyland in his backyard.
I apparently say something funny because Micah laughs. It's very similar to the one in his video, and I can't help but laugh too.
And then I ask: "Did you know that the video of you laughing at ripping paper has made a lot of people happy?"
"Yeah," he answers.
"How does that make you feel?"
"Really good."
"What makes you laugh, Micah?"
"Ruby," he says. "When she does silly things and makes herself laugh. Then I laugh."
Ruby is Micah's 3-year-old younger sister. He also has a 10-month-old sister named Maisy.
I eye his pretzel wrapping paper, tempted. "If I ripped paper in front of you right now, would you laugh?"
"No," he says, and then looks up and smiles, as though not to hurt my feelings.
"How about if we watched your video together - would you laugh then?"
"No," he says sweetly. "But I would smile really big."
Images courtesy of Cori Linder.
More from Babble:
Kristen Bell leaves sweetest voicemail for 6-year-old with brain tumor
5th grade chorus gives tearjerking tribute to teacher with breast cancer
Shut up and dance to this awesome double pregnancy announcement
Sours: https://abc7news.com/funny-baby-videos-viral-video-babble-parenting/887312/
Baby Laughing Meme Generator
What is the Meme Generator?
It's a free online image maker that lets you add custom resizable text, images, and much more to templates. People often use the generator to customize established memes, such as those found in Imgflip's collection of Meme Templates. However, you can also upload your own templates or start from scratch with empty templates.
How to make a meme
Choose a template. You can use one of the popular templates, search through more than 1 million user-uploaded templates using the search input, or hit "Upload new template" to upload your own template from your device or from a url. For designing from scratch, try searching "empty" or "blank" templates.
Add customizations. Add text, images, stickers, drawings, and spacing using the buttons beside your meme canvas.
Create and share. Hit "Generate Meme" and then choose how to share and save your meme. You can share to social apps or through your phone, or share a link, or download to your device. You can also share with one of Imgflip's many meme communities.
How can I customize my meme?
You can move and resize the text boxes by dragging them around. If you're on a mobile device, you may have to first check "enable drag/drop" in the More Options section.
You can customize the font color and outline color next to where you type your text.
You can further customize the font in the More Options section, and also add additional text boxes. Imgflip supports all web fonts and Windows/Mac fonts including bold and italic, if they are installed on your device. Any other font on your device can also be used. Note that Android and other mobile operating systems may support fewer fonts unless you install them yourself.
You can insert popular or custom stickers and other images including scumbag hats, deal-with-it sunglasses, speech bubbles, and more. Opacity and resizing are supported.
You can rotate, flip, and crop any templates you upload.
You can draw, outline, or scribble on your meme using the panel just above the meme preview image.
You can create "meme chains" of multiple images stacked vertically by adding new images with the "below current image" setting.
You can remove our subtle imgflip.com watermark (as well as remove ads and supercharge your image creation abilities) using Imgflip Pro or .
Can I use the generator for more than just memes?
Yes! The Meme Generator is a flexible tool for many purposes. By uploading custom images and using all the customizations, you can design many creative works including posters, banners, advertisements, and other custom graphics.
Can I make animated or video memes?
Yes! Animated meme templates will show up when you search in the Meme Generator above (try "party parrot"). If you don't find the meme you want, browse all the GIF Templates or upload and save your own animated template using the GIF Maker.
Do you have a wacky AI that can write memes for me?
Funny you ask. Why yes, we do. Here you go: imgflip.com/ai-meme (warning, may contain vulgarity)
Sours: https://imgflip.com/memegenerator/73090423/Baby-Laughing
When Sue Hoppin was in college, she met the man she was going to marry. "I was attending the University of Denver, and he was at the Air Force Academy," she says. "My dad had also attended the University of Denver and warned me not to date those flyboys from the Springs."
"He didn't say anything about marrying one of them," she says. And so began her life as a military spouse.
The life brings some real advantages, like opportunities to live abroad — her family got to live all around the US, Japan, and Germany — but it also comes with some downsides, like having to put your spouse's career over your own goals.
"Though we choose to marry someone in the military, we had career goals before we got married, and those didn't just disappear."
Career aspirations become more difficult to achieve, and progress comes with lots of starts and stops. After experiencing these unique challenges firsthand, Sue founded an organization to help other military spouses in similar situations.
Sue had gotten a degree in international relations because she wanted to pursue a career in diplomacy, but for fourteen years she wasn't able to make any headway — not until they moved back to the DC area. "Eighteen months later, many rejections later, it became apparent that this was going to be more challenging than I could ever imagine," she says.
Eighteen months is halfway through a typical assignment, and by then, most spouses are looking for their next assignment. "If I couldn't find a job in my own 'hometown' with multiple degrees and a great network, this didn't bode well for other military spouses," she says.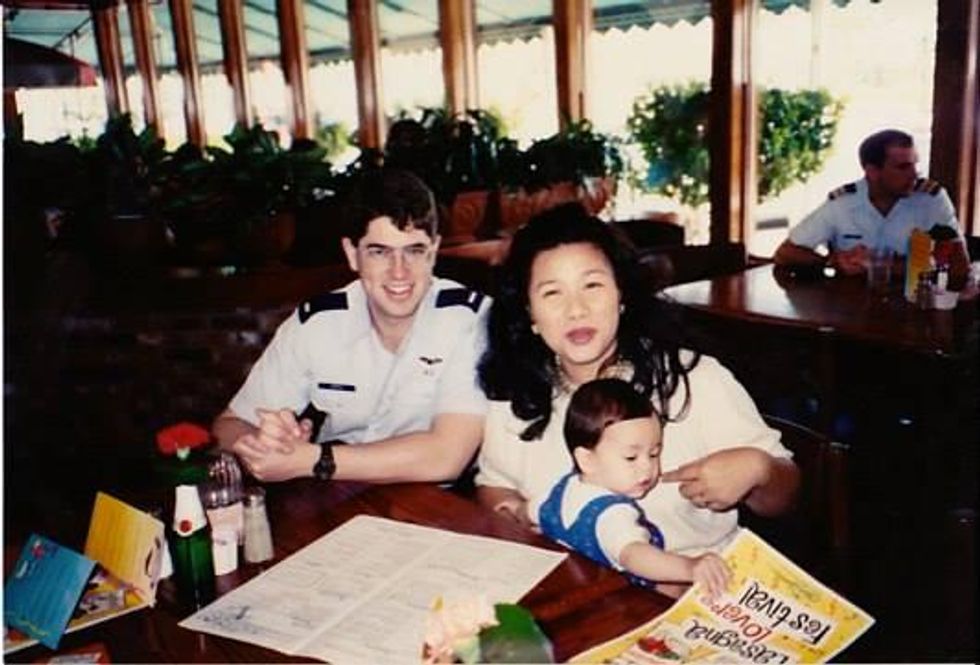 She's not wrong. Military spouses spend most of their lives moving with their partners, which means they're often far from family and other support networks. When they do find a job, they often make less than their civilian counterparts — and they're more likely to experience underemployment or unemployment. In fact, on some deployments, spouses are not even allowed to work.

Before the pandemic, military spouse unemployment was 22%. Since the pandemic, it's expected to rise to 35%.
Sue eventually found a job working at a military-focused nonprofit, and it helped her get the experience she needed to create her own dedicated military spouse program. She wrote a book and started saving up enough money to start the National Military Spouse Network (NMSN), which she founded in 2010 as the first organization of its kind.
"I founded the NMSN to help professional military spouses develop flexible careers they could perform from any location."
"Over the years, the program has expanded to include a free digital magazine, professional development events, drafting annual White Papers and organizing national and local advocacy to address the issues of most concern to the professional military spouse community," she says.
Not only was NMSN's mission important to Sue on a personal level she also saw it as part of something bigger than herself.
"Gone are the days when families can thrive on one salary. Like everyone else, most military families rely on two salaries to make ends meet. If a military spouse wants or needs to work, they should be able to," she says.
"When less than one percent of our population serves in the military," she continues, "we need to be able to not only recruit the best and the brightest but also retain them."
"We lose out as a nation when service members leave the force because their spouse is unable to find employment. We see it as a national security issue."
"The NMSN team has worked tirelessly to jumpstart the discussion and keep the challenges affecting military spouses top of mind. We have elevated the conversation to Congress and the White House," she continues. "I'm so proud of the fact that corporations, the government, and the general public are increasingly interested in the issues affecting military spouses and recognizing the employment roadblocks they unfairly have faced."
"We have collectively made other people care, and in doing so, we elevated the issues of military spouse unemployment to a national and global level," she adds. "In the process, we've also empowered military spouses to advocate for themselves and our community so that military spouse employment issues can continue to remain at the forefront."
Not only has NMSN become a sought-after leader in the military spouse employment space, but Sue has also seen the career she dreamed of materializing for herself. She was recently invited to participate in the public re-launch of Joining Forces, a White House initiative supporting military and veteran families, with First Lady Dr. Jill Biden.
She has also had two of her recommendations for practical solutions introduced into legislation just this year. She was the first in the Air Force community to show leadership the power of social media to reach both their airmen and their military families.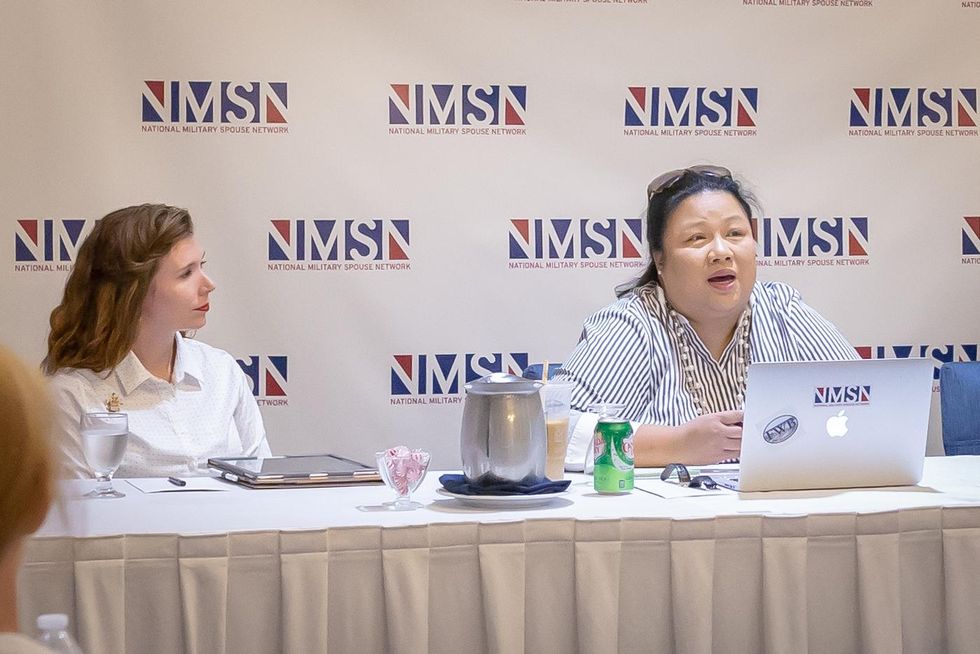 That is why Sue is one of Tory Burch's "Empowered Women" this year. The $5,000 donation will be going to The Madeira School, a school that Sue herself attended when she was in high school because, she says, "the lessons I learned there as a student pretty much set the tone for my personal and professional life. It's so meaningful to know that the donation will go towards making a Madeira education more accessible to those who may not otherwise be able to afford it and providing them with a life-changing opportunity."

Most military children will move one to three times during high school so having a continuous four-year experience at one high school can be an important gift. After traveling for much of her formative years, Sue attended Madeira and found herself "in an environment that fostered confidence and empowerment. As young women, we were expected to have a voice and advocate not just for ourselves, but for those around us."

To learn more about Tory Burch and Upworthy's Empowered Women program visit https://www.toryburch.com/empoweredwomen/. Nominate an inspiring woman in your community today!
From Your Site Articles
Related Articles Around the Web
Sours: https://www.upworthy.com/babies-laughing-hysterically-at-little-things
Meet a scientist with a most delightful job: He studies baby laughter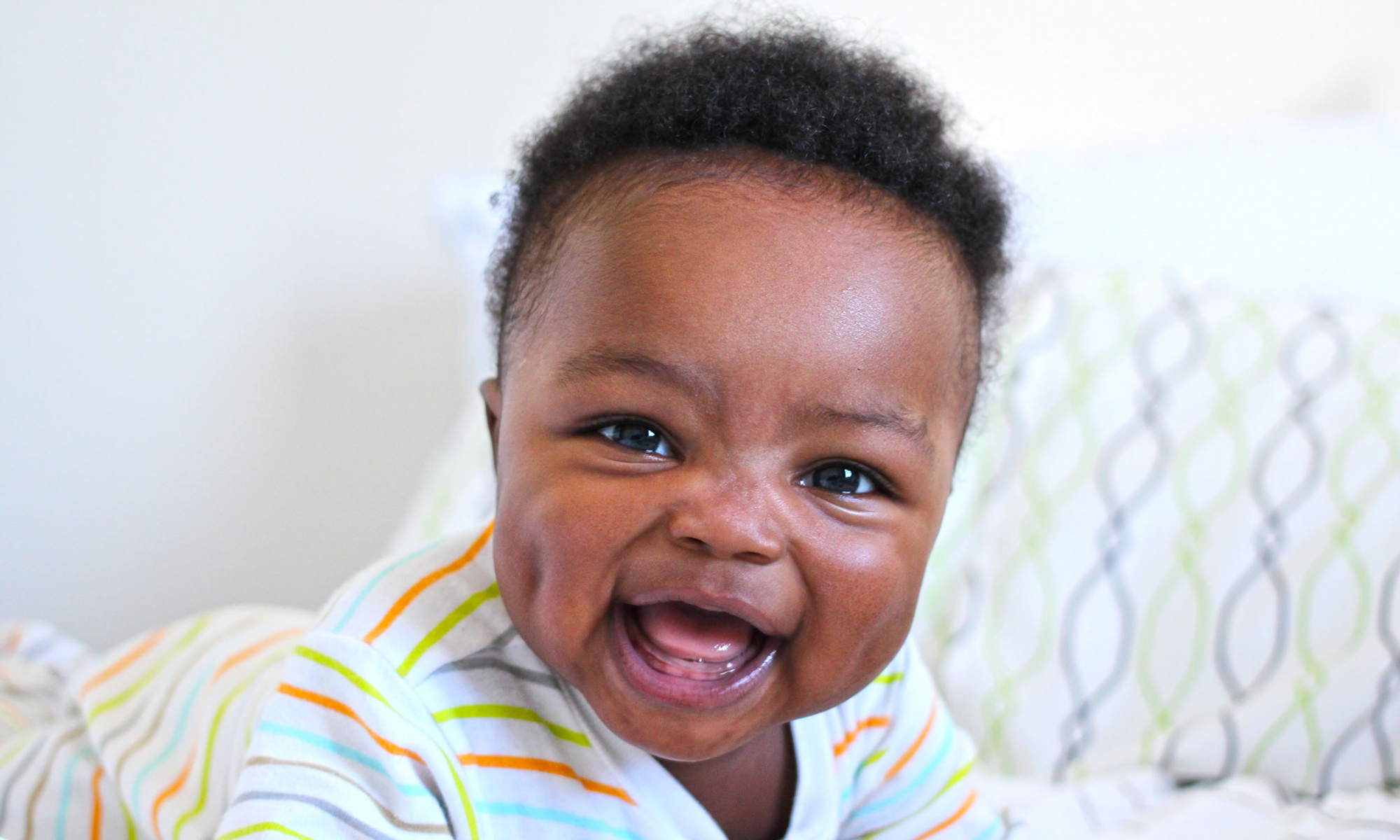 iStock
Babies start laughing before they can speak, and this delicious sound just may serve as a powerful source of human communication and connection, says psychology researcher Caspar Addyman.
There are few sweeter sounds in this world than a baby's laugh. As it turns out, provoking their giggles has little to do with splashy toys or silly jokes. In fact, the essential ingredient is both simpler and more profound. That's according to British researcher Caspar Addyman, who spends his days investigating this wonderful question: What makes babies and young children laugh?
Babies laugh before they talk, which makes laughter one of the earliest clues as to how we humans experience the world. This is what first interested Addyman, a lecturer in developmental psychology at Goldsmiths, University of London and director of the Goldsmiths InfantLab. He wanted to study how babies learn, but, unlike a scientist working with adult subjects, "You can't ask babies questions or get them to press buttons," he says.
While babies typically say their first words when they're between 9 and 12 months old, studies have found they begin laughing much earlier — at just 3 months. Addyman, who doesn't have children of his own, was inspired by this fact and by watching his sister joking and laughing with her baby daughter. He wondered if laughter could be "a new way into seeing what babies were thinking about."
As a first step into this field, Addyman collected parents' observations of their babies' laughter (in his research, he classifies babies as children up to 30 months, or two-and-a-half years old). From September 2012 to November 2013, they sent in answers to his questions: When did their babies first laugh? What situations do they find the funniest? What toys and games made them laugh the most? About 1,500 mothers and fathers from 62 countries across the globe — including the Philippines, Zambia, Uruguay and Australia — responded and some sent in short videos. Addyman was reassured to have them confirm their children began to chuckle at three months.
There is one game that babies all around the world find a laugh riot. Contenders for most hilarious game included such heavyweights as making silly noises or playing with puppets. The hands-down winner, even across different countries, was … peekaboo. Addyman was intrigued. He didn't think its power was just its ability to surprise. Because while young babies may think the other person actually disappears when they hide behind their hands and get shocked into giggles when the hider reappears, older babies, such as two-year-olds, aren't fooled — and yet they still find it absolutely hilarious.
A key ingredient that fuels early laughter: Sharing. This became clear in a lab study of laughter with preschoolers. For the experiment, Addyman observed how children aged between 2-and-a-half years old and 4 years old reacted to a funny cartoon when they watched it alone, with one other child, and in a group. Children laughed eight times as much when they were with another child than when they watched the cartoon on their own — even though they reported that the cartoon was just as funny in both situations.
Addyman had expected that a child's laughter would increase with company. But interestingly, the children didn't laugh any more in a big group than they laughed with just one other person. This suggested to him that laughter is more than a contagious reaction; instead, it's "a signal to someone else that's there," he says. "The main reason they're laughing is to communicate that they find this funny." For example, when preschoolers watched the cartoon alone, they sometimes looked around and tried to catch the researcher's eye during funny moments.
The need to communicate with laughter may have deep roots in our development as a species, speculates Addyman. Evolutionary biology suggests it's a way for humans to share with other humans — and thus, to belong.While he is still teasing out why children needed to signal their enjoyment of the cartoon to whoever was there, he thinks it has to do with the idea, raised by Oxford University anthropologist and primatologist Robin Dunbar, that laughter could be a replacement for the earlier primate behavior of grooming. "Grooming was a one-on-one, unfakeable investment of time in somebody else," explains Addyman, and it created trust among group members as well as a sense of community.
Laughter is similarly difficult to fake. But while you can't groom a bunch of people at the same time, you can share laughter — and the pleasant feelings that come with it — with many individuals at once. "It's a genuine signal that you send when you're in a relaxed and comfortable situation," Addyman says. Seen this way, mutual merriment can serve as both social cue and social glue: Laughter makes you feel like you belong. And if laughter is an important social interaction for adults, he adds, "it goes double for babies, where they don't have as many other ways to connect."
If peekaboo fails, try tickling — but please limit it to the babies you know. The importance of a sense of belonging explains another result from Addyman's original survey. In it, tickling was the most popular answer to the question: "What is the one thing sure to make your baby laugh?"
While the physical stimulus is an important factor, Addyman says, once again, the social context for tickling is even more so. He cites none other than Charles Darwin, one of the first scientists to study children's laughter, who wrote in his 1872 work, The Expression of the Emotions in Man and Animals, "a young child, if tickled by a strange man, would scream from fear." "You can just imagine Darwin going out and proving that to himself in Victorian parks," Addyman jokes. "A big strange man with a beard coming up to you would not be pleasant," because tickling only works "with someone that the baby knows very well."
So, what really makes babies laugh? "My one-word answer is 'people,'" Addyman says. "If you want to make it two words, it's 'adult attention.' Or, 'human connection.'" Take peekaboo, for instance: compared to other games, such as making funny noises or using puppets, it is, he explains, "pure social interaction — it really is about the eye contact and the connection with the baby." As anyone who's played peekaboo knows, the key moment is when, as Addyman puts it, "you come back into eye contact with them, and the fact you're keeping the game going is delightful and causes them to laugh." The baby's laughter is their way of sharing and rewarding you for this prolonged attention. "They're having a conversation with you," he says.
But we're still very much on the frontier when it comes to the science of baby laughter, says Addyman. For his next study, he wants to find out whether repeating a joke affects how babies laugh. To do so, he has launched a citizen science study using a platform developed by the Massachusetts Institute of Technology. The study launched in March 2019, and will be open for at least four months. Anyone with a webcam can participate. Following a script, parents try out different jokes on their babies as their webcam records the interaction; Addyman's team will study the videos and look at how parental engagement and joke timing play into the process.
Among the broader questions that he hopes to explore someday is: How does a baby's laughter play a role in their learning process? He thinks laughter could be an expression of what psychologist Mihaly Csikszentmihalyi calls "flow," a joyful state which involves alert engagement with a task and a feeling of control. Babies "seem like they're being made happy when they get something new," Addyman says. Given laughter's social power, it could be that babies laugh to reward other people for staying engaged in the learning game and for helping them forward. Their delight, and the help they continue receiving because of it, are, he adds, "part of what drives them forward to master the next thing, gradually achieving greater and greater mastery over the world."
Addyman's research has inspired a play specifically written to make babies burst into laughter. Director Sarah Argent of London's Polka Theatre wanted to create a play about baby science for an audience of — oh, yes — babies, so she visited Addyman's lab to learn from his work. Over several months, he and two PhD students were scientific consultants, making suggestions such as how to use peekaboo and bubbles ("our secret weapon in the lab," Addyman calls it) to grab the attention of very young theatergoers.
In the 45-minute piece titled Shake, Rattle and Roll, which was staged in 2016, an actress explores an environment based on Addyman's lab and plays with different experiments, including a family of rubber ducks. Before the performance, he notes, the actress personally introduced herself to every baby in the audience, and after that, the babies couldn't take their eyes off her and they broke up at her antics. He says he can't take credit for suggesting she do this, but its effectiveness reinforces the importance of engagement when it comes to tickling children's funny bones. "When we're thinking about laughter, we're always thinking about, what was funny, what was the joke," Addyman says. "But actually there doesn't have to be a joke a lot of the time."
Addyman admits that, because of his job, he's become a good "baby wrangler". He adds, "I think I can confidently say, 'Yes, I can make most babies laugh.'" One day, however, his niece — the baby that helped inspire his research, came to visit. She showed that Addyman shouldn't quit his day job to be a full-time baby wrangler just yet. "She was completely unimpressed by our studies," he says wryly.
Watch his TEDxBratislava talk now:
Sours: https://ideas.ted.com/meet-a-scientist-with-a-most-delightful-job-he-studies-baby-laughter/
Laugh meme baby
Watch: Giggly Baby Who Can't Stop Laughing While Being Fed, Is Going Viral
The internet loves babies. The latest viral video tweeted by American Basketball player Rex Chapman is proof. The hilarious video shows a baby who just could not stop laughing each time he saw a spoon approaching. One can see in the video how just a spoonful of food is enough to amuse this toddler, who would first squeal and then start chuckling incessantly. The video has garnered more than 2 million views already, and the internet just cannot seem to have enough of this cute sensation. Chapman called this hilarious video a 'Timeline cleanser', and we cannot agree more. The video has been flooded by comments, while some shared their parenthood experiences, some replied with funny memes and...more funny baby videos! Have a look at the tweet and some of the comments here:
"Baby laughter is the best sound in the world", wrote a user.


"A friend just posted a video to FB of her 5 month old's first giggling fit. I'm dead", wrote another.


Some of the most heartwarming comments came from parents:
Like this comment by a mother who wrote, "I always wanted a giggly baby but instead I got a stoic one . 11 years later straight up serious like her mamma."


Or this user who wrote, "Im sitting here with my 15year old daughter whohates me and just wishing for this again."


The twitter thread is unarguably one of the most wholesome threads on Twitter right now. Can you guess what was in the spoon that cracked up the baby each time? Do write to us in the comments below.
About Sushmita SenguptaSharing a strong penchant for food, Sushmita loves all things good, cheesy and greasy. Her other favourite pastime activities other than discussing food includes, reading, watching movies and binge-watching TV shows.
For the latest food news, health tips and recipes, like us on Facebook or follow us on Twitter and YouTube.
Sours: https://food.ndtv.com/news/watch-giggly-baby-who-cant-stop-laughing-while-being-fed-is-going-viral-2359885
Best laughing kid 2016
Irinka told how she lost her virginity, he was five years older than her. She is a groovy girl and playing hormones at the age of 17, briefly delayed this important moment in the girl's. Life. She spent a week building hard-to-reach, and. it was a friend's birthday.
You will also be interested:
Turned around. - Are you afraid. she asked with a smile. - I'm afraid, said Nina, almost crying.
2032
2033
2034
2035
2036