What's the difference between PMS, CMYK, RGB and HEX?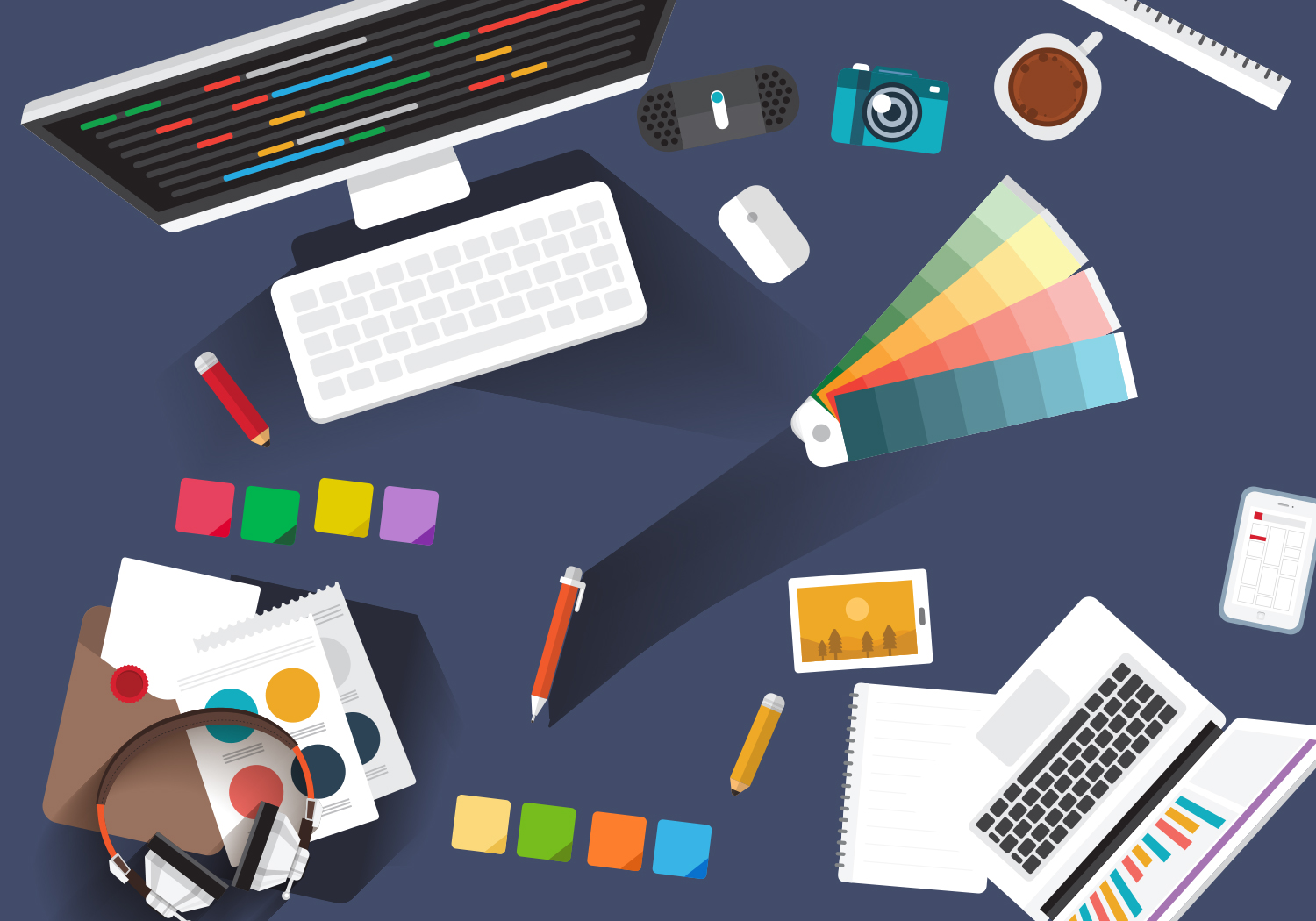 Think of the Coca Cola® brand. What color do you see? If you're like most people, you see the color red. Not just any red. Coke red.
Coke spends a fortune maintaining its brand, and color is a big part of it. The Coke red is unwavering in its consistency across all of Coke's packaging, TV ads, magazine ads, websites, digital ads and in-store merchandising.
Keeping the color right and consistent is not easy. There are thousands of designers, developers and printers working on Coke's packaging and marketing worldwide; and there are endless varieties of mobile devices, browsers, TVs, and printing methods that carry the coke brand.
While nobody can control the variations inherent in billions of personal mobile devices and computer monitors, there are color types we use that are universal. They can also be broken down into two very important distinctions that if correctly applied, can go a long way in maintaining color consistency.
Print and Onscreen
PMS, CMYK, RGB and HEX — anyone who works on a computer will have seen these terms used to describe color types, but many people don't understand what they are, how they're used and what the difference is between them.
There are two basic categories of color types: print and onscreen. Color on the printed page is subtractive, while color onscreen is additive (more on this later). For now, it's important to understand that the digital and print mediums render color very differently from one another. You don't use PMS colors on a website just like you don't use RGB colors on a printing press.
Four of the most popular color types that we're going to discuss — PMS, CMYK, RGB and Hex — all fall into one of the two basic categories. PMS and CMYK are for print. RGB and HEX are for onscreen.
Now we'll drill down a little deeper, look at each color type individually, and explain what it is and how it's used.
PMS (Pantone® Matching System)
Use: Printing
For offset printing only. Ideal for stationery. Often used in one or two-color jobs. Also used as spot colors on premium brochures in addition to four-color process.
PMS colors (also called Pantone® colors) are patented, standardized color inks made by the Pantone company. Pantone has been around for over 50 years and is responsible for the creation of the first comprehensive standardized system of creating and matching colors in the graphic community. They literally wrote the book on it.
Each of the 1,755 solid PMS colors in their Formula Guide is a Pantone proprietary blend and is sold to printers either premixed or as a formula that printers mix on their premises.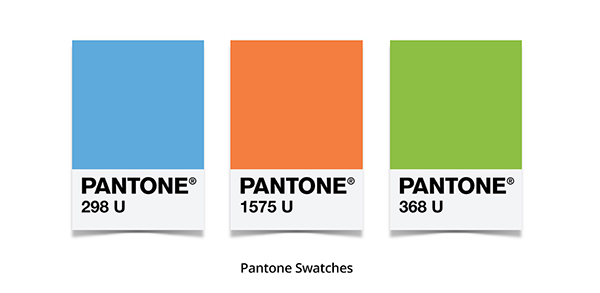 Designers use the color swatches produced exclusively by Pantone to pick the colors, and printers refer to the same swatches. This ensures everyone works to the exact same PMS color no matter where they are.
This standardization means most businesses and organizations use PMS colors for their branding, especially logos, to ensure the strictest color consistency across different print products and across the globe.
In the past few years, Pantone has been expanding its color matching system to fashion, plastics, home and lifestyle products.
CMYK (cyan, magenta, yellow, black)
Use: Printing
Use in offset and digital printing. Ideal for full-color brochures, flyers, posters and post cards, etc.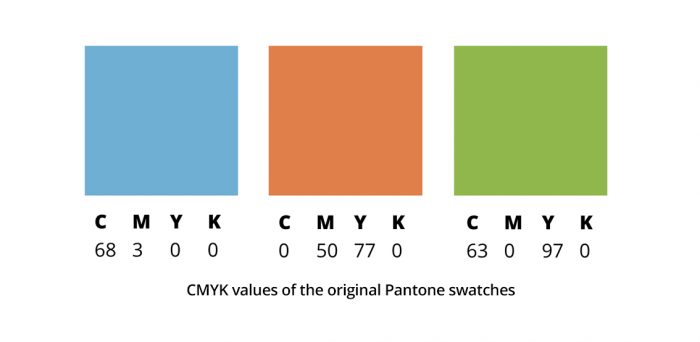 CMYK color (also called four-color process) is actually a method whereby a combination of tiny transparent dots of four ink colors: cyan, magenta, yellow and black are printed. Different combinations of large and small CMYK transparent dots overlap each other to create a wide spectrum of colors.
Whereas a Pantone ink is one solid color throughout, a CMYK color is not. When you look at a CMYK printed piece through a magnifying glass, you can see a pattern of CMYK dots and how they overlap to make the final color.
If you magnify our three cmyk colors, you can see how the dots form the overall color. The cyan, magenta, yellow and black inks absorb colored light, which is why CMYK is a "subtractive" color model.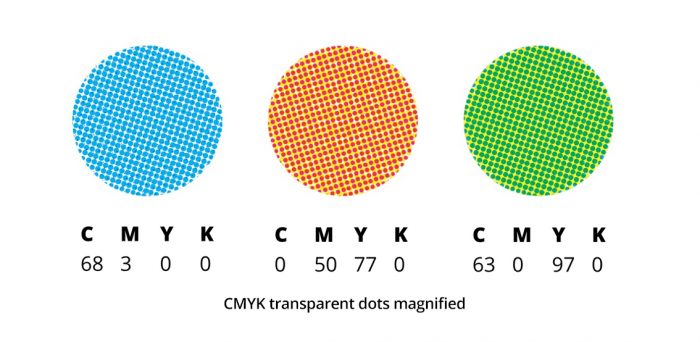 RGB (red, green, blue)
Use: Onscreen
The most commonly used color profile in the world of computers, TV screens and mobile devices is RGB. RGB is the process by which colors are rendered onscreen by using combinations of red, green and blue.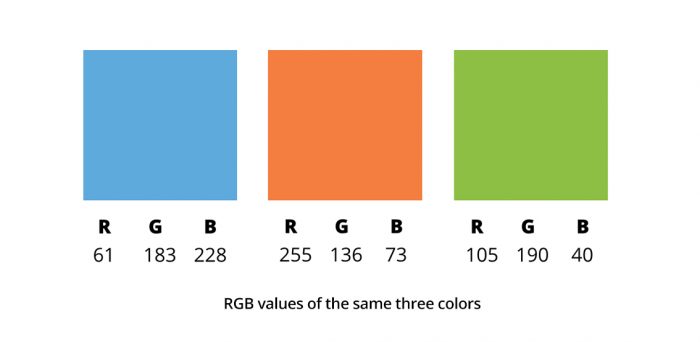 RGB is the opposite of CMYK because it is an "additive" process. When you mix fully saturated versions of all three colors (red, green and blue) together, you get pure white. When you remove all three colors completely, you get black.
RGB is specific to digital applications only. This includes mobile devices, computer monitors, laptops, TV and movie screens, games and illuminated signs.
You often hear of people who design something onscreen in RGB and then get disappointed when the finished printed piece is less vibrant. RGB colors appear vibrant because they are illuminated and there is a larger range in color gamut than what you'd get on the printed page.
HEX (hexadecimal color)
Use: Onscreen for websites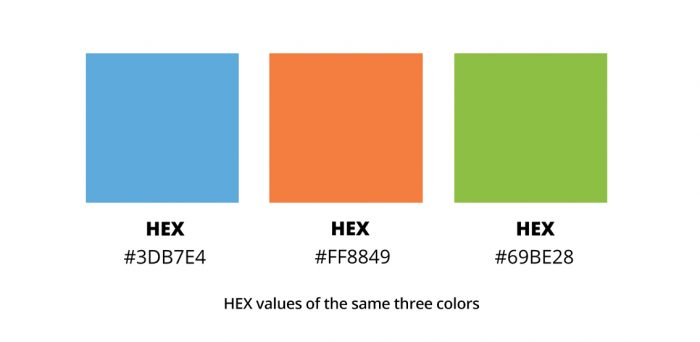 Designers and developers use HEX colors in web design. A HEX color is expressed as a six-digit combination of numbers and letters defined by its mix of red, green and blue (RGB). Basically, a HEX color code is shorthand for its RGB values with a little conversion gymnastics in between.
No need to sweat the conversion. There are plenty of free conversion tools online. Simply search, "RGB to HEX" to find one you're comfortable with.
Making the conversions between color types
RGB to CMYK
So what if something is produced onscreen in RGB but will need to print? Designers and printers use many tools to transition from one color profile to another. They can do this right in the graphics program they're working in like Photoshop.
Digital printers often transform clients' RGB files to CMYK before printing using their own equipment because the conversion is specific to the output device. Every device has a very specific color gamut it works with.
It's advisable to let the print service provider do the conversion. It is however important to note that there will be a color difference in the finished product. Professional designers know this and keep this in mind when designing so there will be no surprises later.
PMS to CMYK
Whether you're designing onscreen or converting from a PMS color to CMYK, while your graphics program will to the transition, it is advisable to actually see the final color in print. This can be achieved by using a tool like Pantone's Color Bridge™.
RGB to HEX
In addition to the color-conversion functionality available in graphic programs like Illustrator and Photoshop, there are a number of websites that calculate RGB to HEX, or you can do the calculation yourself if you're the adventurous type.
Need a quick reference on color types? Here's a handy graphic to refer to: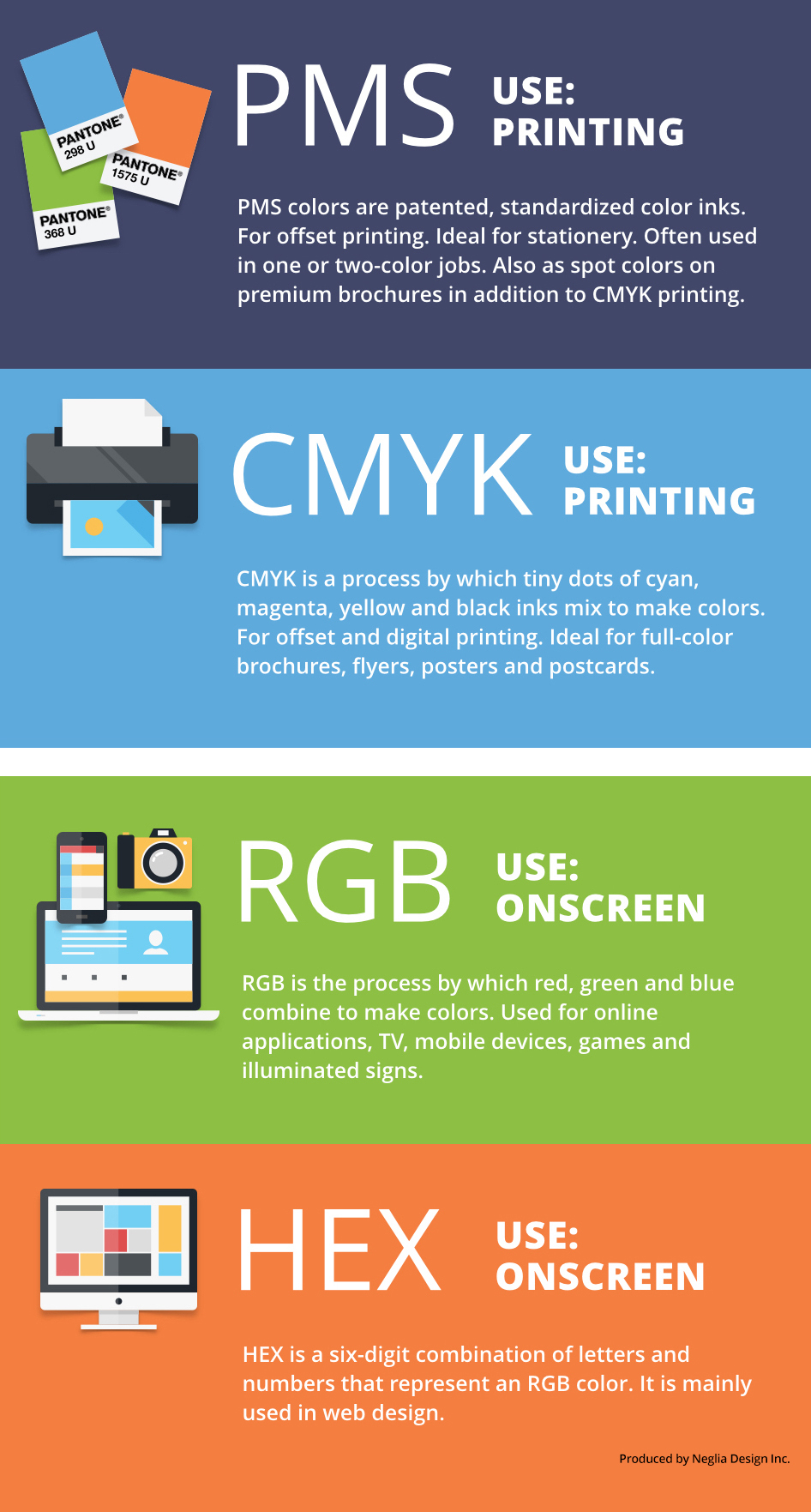 Neglia Design is a full-service print and digital design company. Contact us for a free consultation on your next project.
Sours: https://negliadesign.com/ask-a-designer/whats-the-difference-between-pms-cmyk-rgb-and-hex/
Hex to Pantone Converter
Here is a simple online tool to convert the color values from Hexadecimal to the Pantone colours. That is you could use this calculator to know the corresponding pantone colour for a given hexadecimal colour. You could also enter the colour distance value to get accurate results. The color distance is defined as the difference or distance between two colors and is measure as the metric of interest in color science. The calculation of pantone colours is useful in various industries such as printing, in the manufacture of colored paint, fabric, and plastics.
Convert Hexadecimal to PMS Color
Here is a simple online tool to convert the color values from Hexadecimal to the Pantone colours. That is you could use this calculator to know the corresponding pantone colour for a given hexadecimal colour. You could also enter the colour distance value to get accurate results. The color distance is defined as the difference or distance between two colors and is measure as the metric of interest in color science. The calculation of pantone colours is useful in various industries such as printing, in the manufacture of colored paint, fabric, and plastics.
Sours: https://www.easycalculation.com/colorconverter/hex-to-pantone.php
RGB color to PMS colors
Pick a RGB color, then you will know what Pantone colors are closed.
This is a color matching tool that can provide some suggestions for spot colors(Pantone color code). If you don't have Photoshop or Illustrator, and you would like to know what PMS color is matching to a RGB color, this is your best online free matching tool. Simply pick a color on the top color panel, or enter the RGB, HEX, CMYK or HSV color codes, then, this tool will give you some spot color suggestions automatically.
How to use this tool
Select a RGB color you would like on the color picker panel or you can input a HEX code direct
If any PMS colors close to the selected RGB color, it will show
If no PMS colors close the the selected RGB color, please try to pick another RGB color.
If you don't get any color popup, try to add the "Color Distance" to search more colors.
Internet Explorer loading slow, please be patient or ...
What do you think about this tool?
More free online color tools
RGB to Pantone
CMYK to Pantone (coated color)
CMYK to Uncoated PMS (uncoated color)
CMYK to RGB (CMYK, RGB, HEX color code converter)
CMYK to HEX (CMYK, HEX, RGB color code converter)
RGB to HSV (RGB, HSV, HSL, HEX color code converter)
Find PMS color on an image (Logo color picker)
Image color picker (CMYK, RGB, HEX)
Search PMS color code
HTML color names
Color naming
Recognize color
Find Pantone colors on an image
If you have a logo image, and you would like to find out what Pantone colours are matching to the logo, here is a free online tool for you, find PMS colors on an image, easy to use, no install need, FREE, try it you will like it.
CMYK to PMS colors
Would like convert CMYK color to PMS color? try another free tool, CMYK to PMS.
Search PMS Code
What is PMS 185 C mean ? try this matching tool, search PMS color code.
What are PMS colors?
Normaly every professional in the premium and gift industry knows what PMS means: Pantone Matching System. Here is the problem at hand: How to explain to a printing company color you want them for printing your business cards or a promotional product ?
Sure, you can send them an image via email with the color, but this image will show up differently on his screen as it did on your own. In fact I work with two screens and when I display the same image on both screen colors will never be perfectly the same. Every computer monitor is different, every printer is different. Unless your equipment is calibrated with the Pantone hue, the color depicted on your screen will not be accurate and could be many shades off.
This is why the PMS, Pantone matching system was created. It's a standard language for color identification and communication. When you say to the printer : I want you to print a pink 1767C, you can be sure he knows which colour you mean. So it's easy, just use a pantone guide , which contains over 1000 different colours and tell the printer the pantone code of the colour you choose. What if you don't have a pantone guide ? surely, any professional printing company has one, and for sure you can ask them to have a look.
What is RGB Color?
Digital cameras and scanners and create images using combinations of just three colors: Red, Green and Blue (RGB). These are the primary colors of visible light and this how computers and televisions display images on their screens. RGB colors often appear brighter and more vivid specifically because the light is being projected directly into the eyes of the viewer.
This is an "additive" process in which the three colors are combined in different amounts to produce various colors. It is called "additive" because you must add varying amounts of two or more colors to achieve hues and values other than the three basic red, green and blue colors.
Computer monitors and televisions vary the amount of each color from 0 to a maximum of 255. Equal maximum amounts of all three colors (often expressed as R255, G255, B255) creates white. The absence of all three colors (R0, G0, B0) creates black. Equal amounts of all three colors somewhere between 0 and 255 will create varying shades of gray.
Browse this page on your mobile phone
Sours: https://www.ginifab.com/feeds/pms/
Design with
Choose from over 15,000 Pantone colors and communicate your vision to everyone in your workflow
Powered by Pantone Connect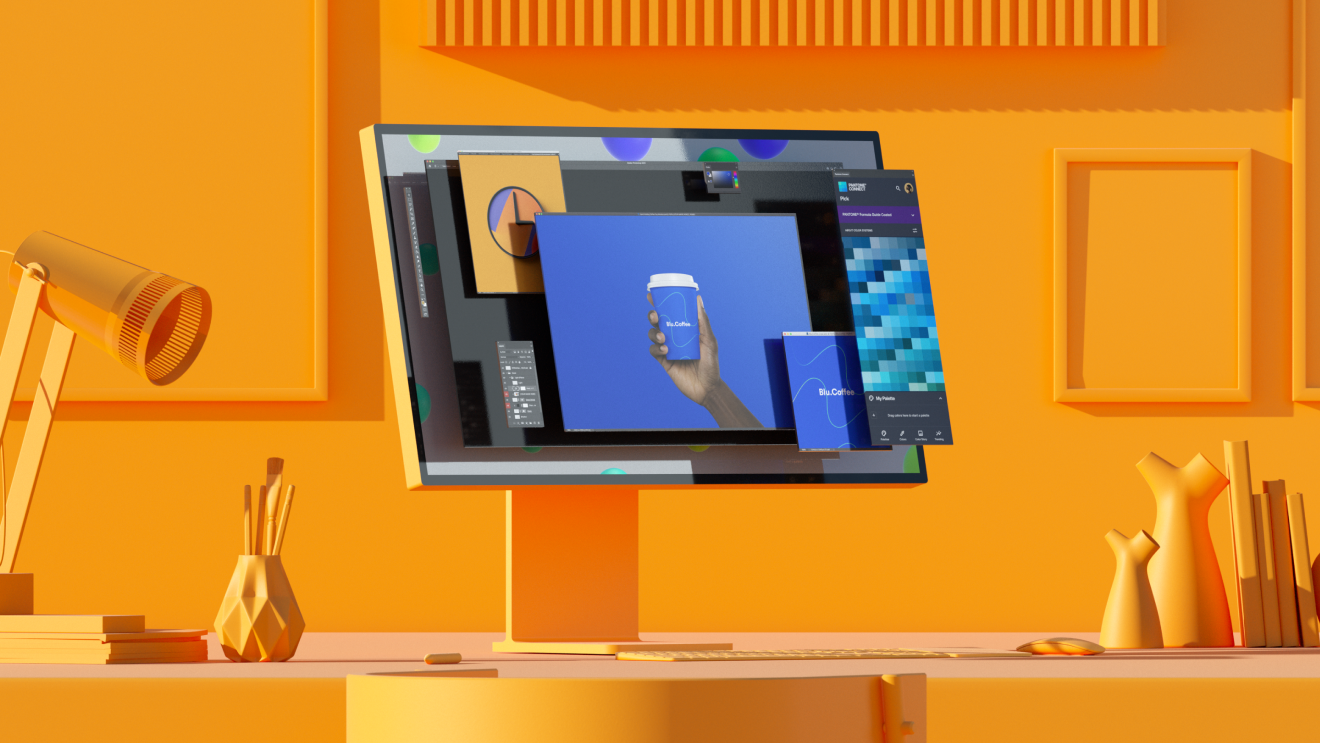 Color design
with confidence

Design using all 15,000 Pantone colors in every library, ensuring consistency and accuracy in branding, fashion, and product design. Available in the Adobe Extension Marketplace for use in Adobe Creative Suite, App Store (iOS) and Google Play (Android) for your smartphone, and as a web application for your web browser.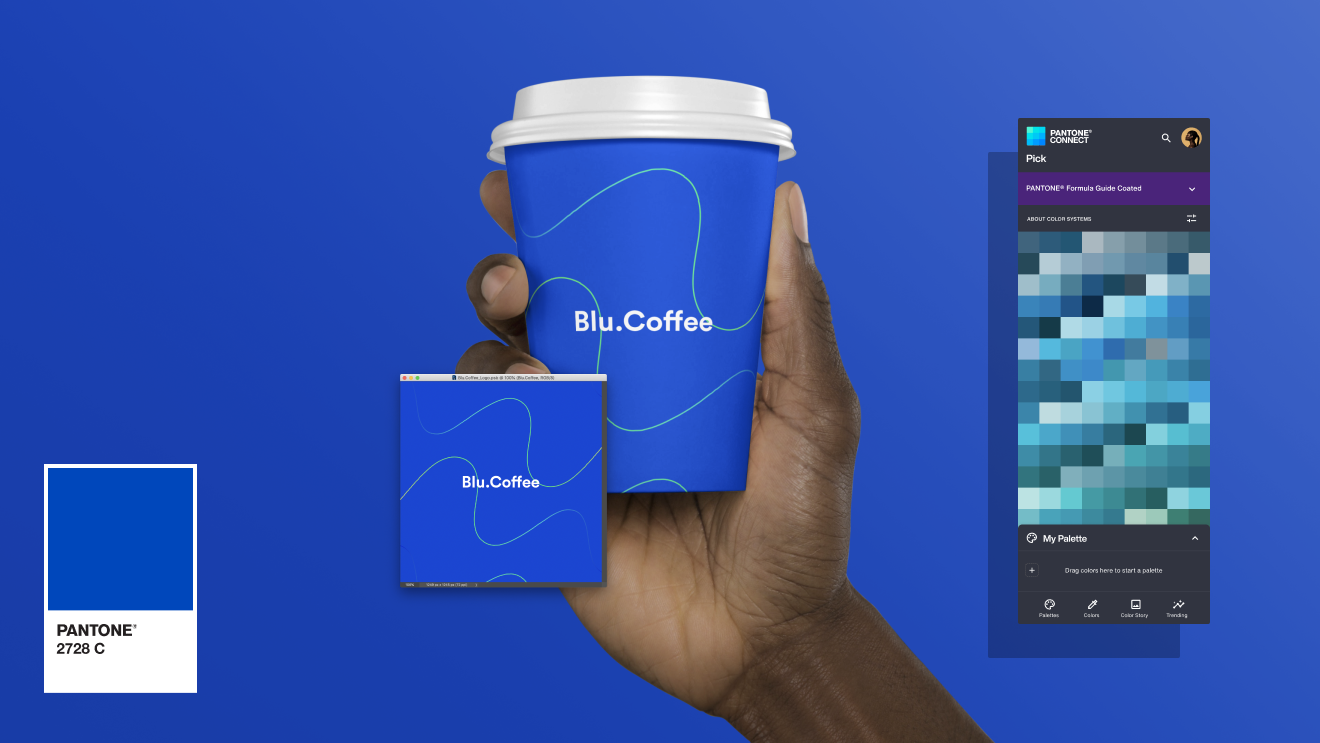 Search
Search thousands of Pantone colors in more than a dozen separate libraries to find the exact colors you want.
Pick
Select the colors you find for use in all your design projects.
Convert
Find the nearest RGB/CMYK/Hex/L*a*b* color equivalents to Pantone colors or convert Pantone colors in one library to their nearest equivalents in another.
Capture your
color inspiration

What you see in the world or in pictures is unique and beautiful. Seize it, save it, and express it with our real world color capture technology or our image color extract tools, then access your inspiration anywhere, from Adobe Extension to our mobile app. Make informed decisions, tapping into color psychology and color theory with simple tools like Harmonies and Color Shades that make your compatible palette choices smarter than ever.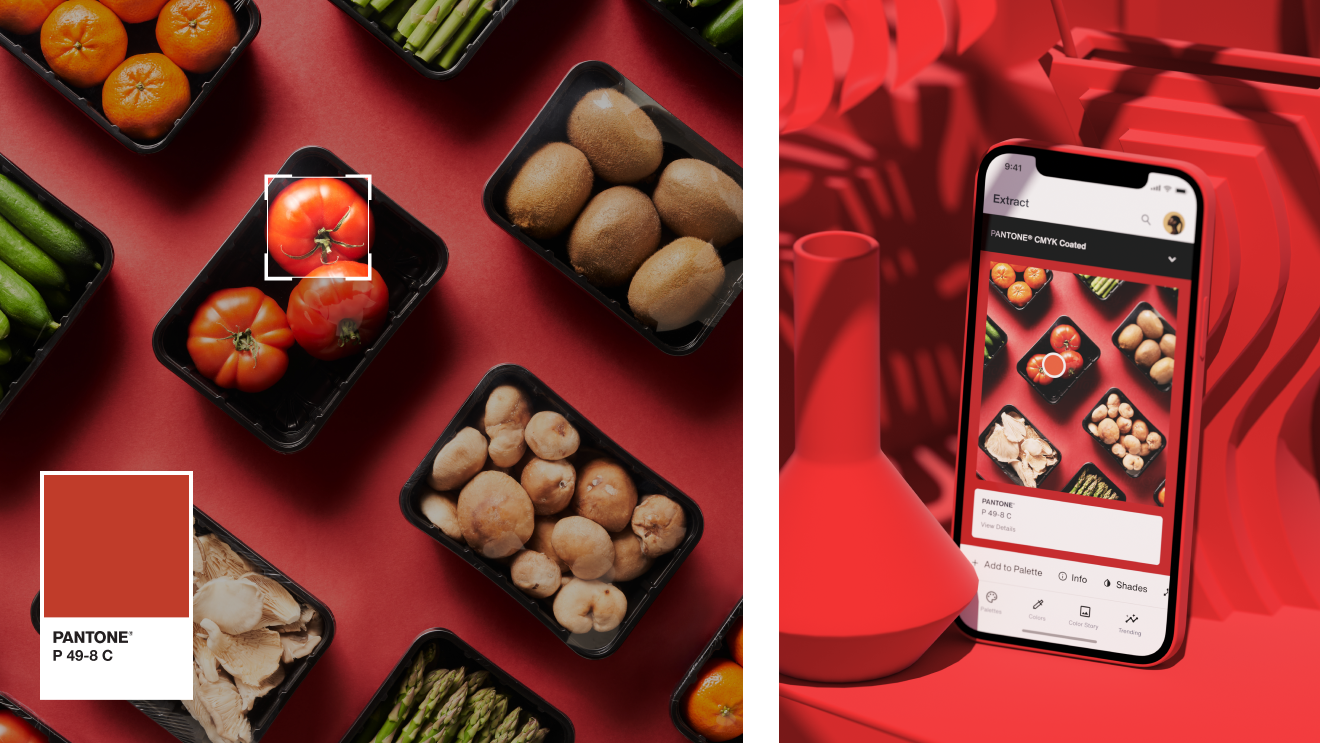 Extract
Isolate any color you see in a digital file to identify the nearest Pantone color match and build your own palettes.
Measure
Pair the Pantone Color Match Card with the Pantone Connect Mobile App to capture color inspiration wherever you find it!
Color Story
Create custom collages of one, three, or five images and sample isolated colors to express your own unique color story.
Store palettes
securely and put them
to the test

Create palettes, then store them securely so they re accessible anytime and anywhere. Not only does Connect keep your colors safe, it lets you see how your palettes will be perceived by people with common color blindness and how palettes will look against light & dark backgrounds for contrast.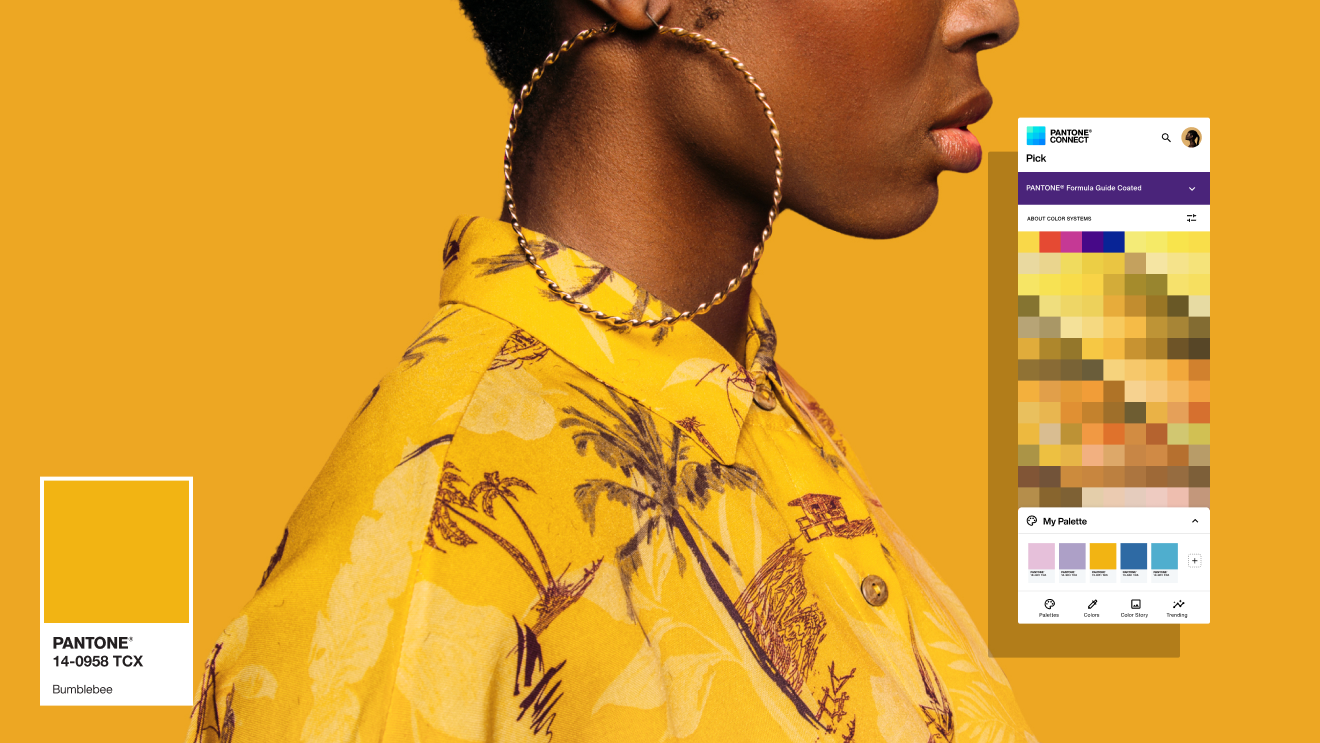 Export to ASE File
Easily save your colors as Adobe Swatch Exchange files, easily shared between popular Adobe programs.
Accessibility Support
Check your palettes to see how people with common color blindness challenges
may perceive your color choices.
Light & Dark Simulations
Compare your color selections against light and dark backgrounds to make sure they re as functional as possible
Share and collaborate

Pantone Connect's powerful platform lets you share your color designs with people at every workflow stage. From team members to clients, printers to brand managers, Connect ensures that everyone is always working from the same color sample, no matter where in the world they happen to be.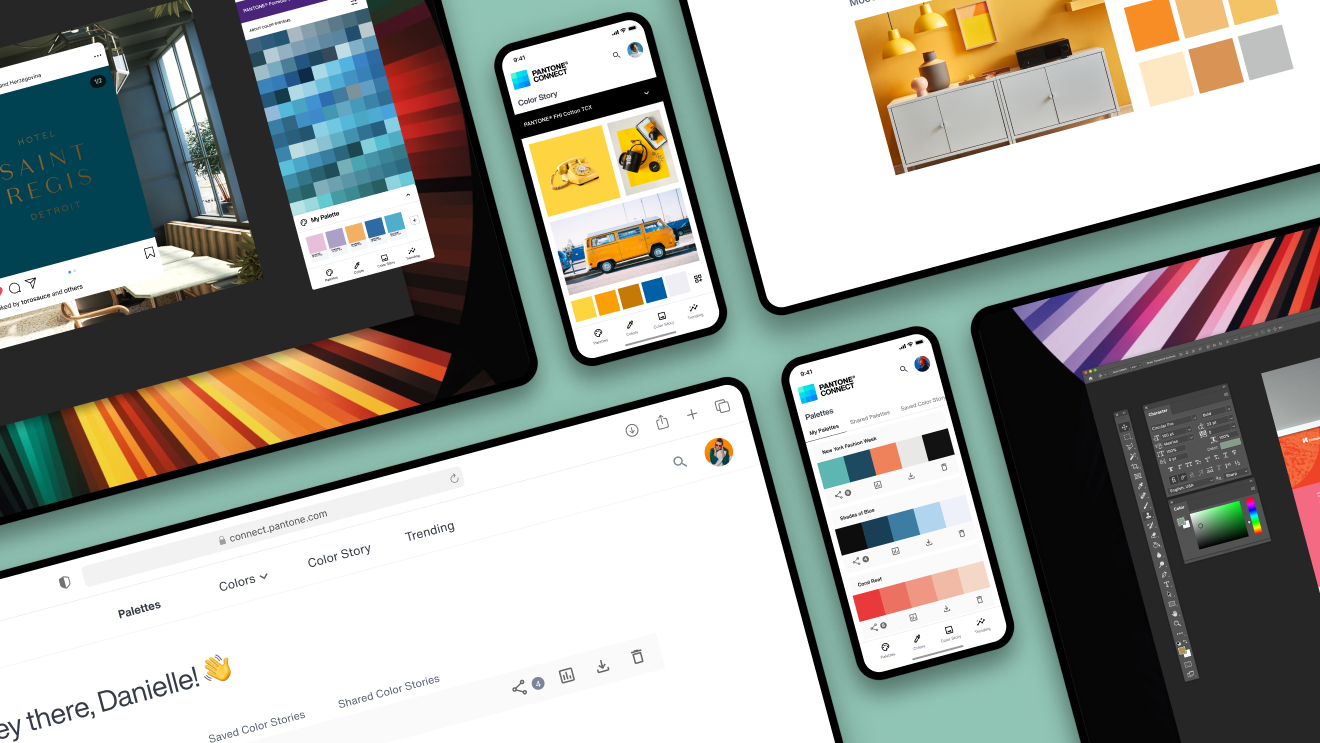 Share
Share palette information with people up and down your workflow to ensure that everyone is working from the same color
page.
Collaborate
Work together with teams, clients, printers,and brands to reach a shared vision and definitive color consensus.
Sign up for free
Access to over 15,000 market relevant Pantone Colors for Free or upgrade to Premium which includes all of Basic, PLUS a dozen added tools to create smarter, more impactful palettes.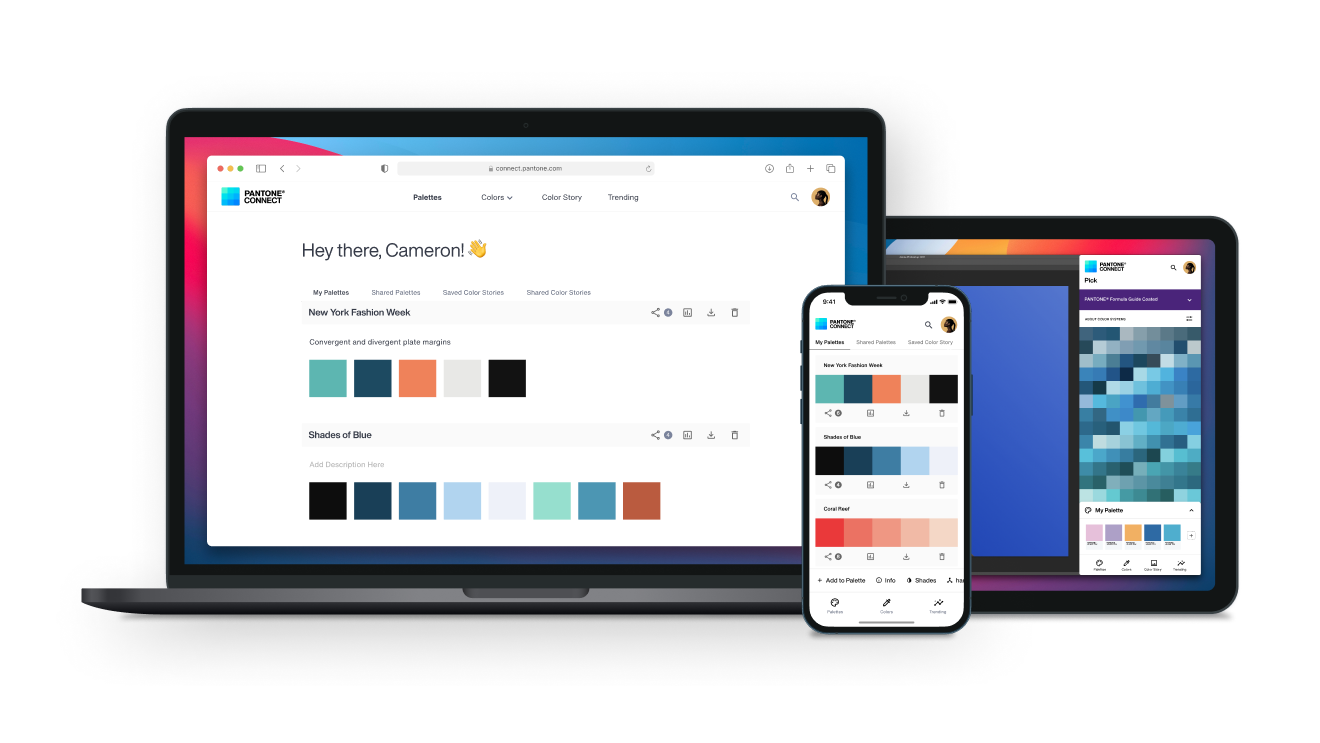 Upgrade to Premium in-app for just $7.99/mo OR Subscribe for a full year and save 62% off the monthly price:
$7.99/2.99/mo, billed as $95.88/$35.88/yr! Try Premium FREE for 30 days. Cancel anytime.
Own a Guide?
Have you purchased a Pantone Book, Guide, or Chip Set in the last 12 months featuring our latest colors? If so, you may qualify for three months of Pantone Connect Premium FREE! If you bought two qualifying purchases, get six months. Three purchases, nine months! Enter your product registration code here.
Sours: https://www.pantone.com/color-finder?from=topNav
To pms hex
HEX to Pantone
Instantly converts HEX value to Pantone value by using a simple online HEX to Pantone converter tool .
If you open the dictionary to check Pantone's meaning, you will come to know that it is a system or standard used for color matching in specifying printing inks.
Let start with a simple example. Suppose you are the owner of a company that wants to create the logo for your company. You hired the designer and told the designer that you want that "red" color as a theme color for your logo. But you have not described the designer to use which shade of "red" color? After creating the logo, the designer prints that color with a printer, so the output will be the same as you desire.
That is just one example; thousands of other use cases are there. That is why we moved towards the proper standard system. To remove the ambiguity and to standardize the use of colors.
The Pantone is the answer to all the questions.
Before Pantone, every printing company had its color guide. It depended upon how the ink company translated that color. To some, the red may be darker, and for some, it maybe not. So it was widely adopted as a color space for several industries.
Today, we need a standard so everyone can adopt in every aspect of our life.
The thought to have the standard in the color system was first converted into practical work, in 1963, by the development of Pantone as the first color matching system.
Pantone, in simple words, it is the standardized and the world adopted color system that helps you in color matching and its identification.
That system consists of 1087 solid colors. In Pantone, the majority of colors are represented by three or four digits numbers followed by C (coated), U (uncoated), and M (matte). These variations help the designer check how the color looks or displays these different kinds of papers?

What are the benefits of using Pantone?
When people talk about the Pantone colors, they refer to the colors provided in the Pantone Matching System (PMS) . Many industries largely adopt that system. People can reference the Pantone color code to make sure that the color matches without any ambiguity.
Its wide-spread adoption emphasizes its role in the world of colors.
So the Pantone brings color standards and consistency in working between a client with designers and in printing and ink-making companies.

What is HEX color?
HEX color is the Hexadecimal (words, numbers, or combination of both) representation of the color, about its mix in Red, Green, and Blue.
HEX color codes start with the hashtag (#) sign, followed by six letters or numbers. These six letters/numbers are the representation of the mixture of red, green, and blue. The first two letters/numbers represent red, the second two letters/number represent green, and the last two letters/numbers represent Blue.
Hexadecimal code is used to define the color on web pages. These Hexadecimal color codes are HTML color codes.

HEX Color Codes vs. Pantone
It's essential to know the difference between different color modes because they help plan and optimize your design process stage.
HEX colors are web-safe colors. So no matter, what the browser or the device you will use, it will render and display the same color on all browsers and devices.
HEX color codes are primarily used by web designers to design the website, logos, banners, and ads. On the other hand, Pantone is used in printing and fashion designs, and today, many industries highly recognize and broadly adopt that system.
HEX to Pantone conversion
Our online tool is available that facilitates you to convert HEX color codes to Pantone.
How to convert the HEX color codes to Pantone by using an online HEX to Pantone converter?

Open the Hex to Pantoner Conversion tool.
Enter the HEX color code value in the "HEX" section (without using the # sign).
You can also use the color picker to pick the HEX color.
Select any "Distance" value from (16, 32, 48, 64, 80, 96) from the dropdown.
The tool will display the results, depending upon the distance value that you select.
Note:
The distance value helps you in getting your desired color. Having the smallest distance value allows you to get the Pantone color closest to the HEX color code value you selected. Suppose you do not get the desired color. You can increase the distance value to get more color options.
Sours: https://url-decode.com/tool/hex-to-pantone
📈 2 Critical HEX Stats Everybody Should Know
And, apparently, he somehow managed to communicate with him. Pure by touch. The monster, too, passed over Zedler, over his spacesuit, with this monstrous hulk of its own. And stroked his transparent helmet cap.
Now discussing:
Sometimes we changed, and Pua clenched my pussy with his fist, and I his. I liked that even more. But Pua warned me that no one should know about this. I have kept this secret strictly. Once I could not sleep for a long time.
18687
18688
18689
18690
18691