Aero Precision M4E1 FDE Threaded Receiver Set
A Solid way to start your AR15 build!

Kick off your next build with an Aero Precision M4E1 FDE Threaded Receiver Set.  Your rifle will feature the tough, chiseled look of a billet receiver set without the additional expense, thanks to Aero Precision's intuitive machining of a forged upper receiver.
Each Aero Precision M4E1 FDE Threaded Receiver Set Includes:
M4E1 Lower Receiver in FDE Cerakote
M4E1 Threaded Assembled Upper Receiver in FDE Cerakote
M4E1 Lower Receiver Features:
Threaded Bolt Catch Roll Pin – Allows for simple installation of the bolt catch and virtually eliminates the chance to damage the finish during installation (pin included).
Integrated Trigger Guard – Eliminates the possibility of breaking the trigger guard tabs by integrating the trigger guard into the lower, creating a stronger more rigid platform to build upon.
Upper Tension Screw – Allows users to fine tune the fit of the upper and lower receiver using a nylon tipped tensioning set screw inserted in the grip tang of the lower receiver. This provides a tight fit with any standard AR15 upper receiver.
Threaded Takedown Pin Detent Recess – Allows user to easily install the Takedown Pin detent and spring with the use of a 4-40 set screw (no more launching detents across the room).
Increased Magwell Flare – Increased the flare of the magwell to aid in quick and efficient magazine changes.
M4E1 Threaded Upper Receiver Features:
New enhanced forging that gives the upper receiver a "billet look"
New picatinny profile that blends seamlessly with our Enhanced and ATLAS Series Handguards
M4 Feedramps
.250 takedown pin holes
FFL Terms and Conditions
– Any items placed on the same order as a controlled item will also be shipped to the FFL. If you would like additional items shipped to you directly, please place them on a separate order.
– Review our FFL Ordering Instructions HERE before placing your order.  (Opens new window)
– Prices do not include your dealer's transfer fees.
There will be a 30% restocking fee on all controlled items returned because of failed background checks.
Federal law requires that you be 21 years or age or older to purchase a stripped receiver or frame. If a frame or receiver can only be made into a long gun (rifle or shotgun), it is still a frame or receiver not a handgun or long gun. However, they still are "firearms" by definition, and subject to the same GCA limitations as any other firearms. See Section 921(a)(3)(b). 18 U.S.C. Section 922(b)(1) makes it unlawful for a licensee to sell any firearm other than a shotgun or rifle to any person under the age of 21.
Product Information
SKU: APSC100178S
Manufacturer: Aero Precision
Platform:  AR15
Finish: FDE Cerakote
MSRP: $242.98
[/vc_column_text][porto_block name="product-arm-or-ally"][vc_separator][vc_column_text]Arm or Ally is a stocking dealer for  Aero Precision,Faxon, Polymer80, Ballistic Advantage, Toolcraft, SB Tactical, Holosun and more. See our growing inventory of AR Parts, Firearms and Reloading Components.[/vc_column_text][/vc_column][/vc_row]
| | |
| --- | --- |
| Weight | 26 oz |
| Dimensions | 10 × 5.25 × 3.25 in |
| Manufacturer | Aero Precision |
| Platform | AR15 |
| Color | FDE |
| Part Type | Lower Receiver, Lower Receiver Parts, Upper Receiver, Upper Receiver Parts |
Sours: https://www.armorally.com/shop/aero-precision-m4e1-fde-threaded-receiver-set/
Aero Precision Build Sets
The kit concept was stunningly popular. Out of Stock, Taking Backorders. Install the Magpul STR Butt Stock Guns & Accessories at Dealer Costs! ----- https://goo. Your rifle will feature the tough, chiseled look of a billet receiver set without the additional expense, thanks to Aero Precision's intuitive machining of a forged upper receiver. Save to Favorites. 308 Builder's Kit ($879) Armalite AR-10 Lower ($227) Palmetto State Armory P10. 25 twist barrel. This package deal includes the pieces you need to start building your own M4E1 (AR15) Rifle, including a M4E1 Enhanced Upper Receiver, AR15 Gen 2 Enhanced Handguard (15" M-LOK) and a. The December Builder Sets are here! Featuring an Arctic Tundra Cerakote finish applied by Hillbilly 223. Aero Precision December 2019 Builder Set in Volcanic MADLand Sample Rifle. 8 (21) AR-15 M4E1 STRIPPED LOWER RECEIVERS 5. 40 S&W when using the appropriate bolt carrier and barrel. What is the best approach?. These gas blocks along with our gas tubes create an efficent and reliable gas system for your AR15 or AR 308 rifle build. (In Stock) Click here for price! $329. The Aero Precision lower parts kit is made to MIL-SPEC tolerances and contains everything you need to begin the process of building your custom AR 15. Save on your AR15 build when you buy as a matching set. Mating surfaces have always been good, fit and finish, everything to spec. Other than a couple 80%, all my AR pattern rifles are Aero Precision. I'm starting a new build. 56 FA phosphate BCG, and one black anodized 15" Atlas S-One MLOK handguard. Thanks to Ammoland, Aero Precision, and Brownells, the super cool Aero Precision Arctic Camo AR-15 Rifle we're going to build before your very eyes can be yours. Our August Monthly Builder Set is Multicam Black Hydrodip! This package deal features the finished pieces you need to assemble your own Multicam Black AR15 M4E1 Rifle, including an M4E1 Upper Receiver, Gen 2 Lower Receiver, 12″ KeyMod Handguard and Billet Trigger Guard all custom Multicam. Our August Monthly Builder Set is Multicam Black Hydrodip! This package deal features the finished pieces you need to assemble your own Multicam Black AR15 M4E1 Rifle, including an M4E1 Upper Receiver, Gen 2 Lower Receiver, 12″ KeyMod Handguard and Billet Trigger Guard all custom Multicam. 56MM CARBINE LENGTH. 99) AR15 BREACH Ambi Charging Handle ($79. Markings Include Model "FREEDOM" and "4JULY-XXXX" serial number range. Aero Precision M4E1 Desert MAD Dragon AR-15 Builder Set Includes: M4E1 Enhanced Upper Receiver finished in Desert MAD Dragon Cerakote. Aero Precision was also one of the first large manufacturers to start offering factory cerakoted stripped receivers and accessories. Our Price: $239. Aero Precision offers a variety of stripped, complete, and special edition builder sets for your custom build. Out of Stock, Taking Backorders. The May Builder Set features an "Exotic" Tiger Stripe finish from Nevada Cerakote. 56 bcg w/ forward assist, complete nitride aero precision 20" 5. Aero Precision M4E1 Builder Set Specifications. In Part 1 and Part 2 we covered the ordering process, and then the receiving, organizing and preparations for the build. These sets are hand finished by Blown Deadline. 56 BCG - Black Nitride w/Logo. Availability: In Stock. This lower receiver comes without a stock/brace giving the builder flexibility to choose exactly what. 308 Lower ($159) Now, unlike AR-15 Lowers, not everybody with a CNC. Aero Precision Enhanced M-LOK handguards are the newest lightweight, free floating handguard for your next upper build. Jul 19, 2021 · - BLEM Thunder Ranch stripped lower - BLEM Thunder Ranch upper receiver only BLEM spot I see on the lower is right under the thunder ranch logo, but is very minor. FREE SHIPPING ITEM!. 750 Gas Block is an easy choice for your build. Ensure your subscribed to our mailing list to find out when we new sets are being released. USA - -(AmmoLand. URBAN SUMMIT CAMO BUILDER SETS. Visit the product page here. Welcome to my channel I unbox guns in short video format. Building the Best AR-10 - The Builder's Set Solution. Aug 17, 2021. Striped Upper and Lower Receiver delivers Custom Shop quality without the typical Custom Shop price. All items new in the box. Including AR15 Uppers, AR15 Lowers and AR15 Handguards. [ Note this arctic camo pattern is only available for a short few months, but the build instruction below would work with. Aero Precision AR-10 M5E1 308 Upper Receiver, 16" Barrel, Black. Due to the Aero Precision design, a 4-40 set screw can be used to hold the spring in instead. Though it isn't a complete. Our proprietary ATLAS attachment system is a durable and dependable mounting platform, maintaining a slim profile while still providing the strength and. AR-15 BILLET LOWER RECEIVER. This lower. Aero Precision Fix-It Kit AR PlatformAero's Fix-It Kit gets you the most commonly lost parts to finish your build. Aero Precision M4E1 Builder Set For Sale Online. Most AR builders are putting in their own trigger and adding a pistol grip from a furniture set of their choice, so why pay extra for what you won't use? This Aero Precision AR-15 Lower Parts Kit includes everything needed to finish a lower receiver except for the fire-control group, pistol grip or trigger guard. - I am taking a break on some builds, and was trying to let someone else enjoy this build. Shop AR15 Builder Sets for your next AR build. The kit concept was stunningly popular. Aero Precision M4E1 AR15 Receiver Set : Alternative Views: MSRP: $199. Desert Camouflage Uniform. A few years ago, AP began offering basic black or flat dark earth finished builder sets, which included a M4E1 upper and handguard with forward assist and ejection port door installed, a stripped lower receiver, and extended trigger guard. I actually used this Aero Precision upper receiver for my last AR-10 build and had zero fitting issues with the lower receiver. Integrated Trigger Guard - Eliminates the possibility of breaking the trigger guard tabs by integrating the trigger guard into the lower, creating a stronger more rigid platform to build upon. The partially assembled flat. (In Stock) Click here for price! $329. Note: The builder sets are special runs and you need to get you order in when the sets are announced. I keep going back to @bigjake83 builds and recently @Eurodriver build and want to build a "ultra precise" 223. The ATLAS S-ONE is the newest addition to the Aero Precision Handguard lineup. Aero Precision AR-15 Carbine Receiver Extension / Buffer Tube. Though it isn't a complete. AR-15 Builder's reaction to a new build (us. Was: The Aero Precision EPC-9 receiver set is the perfect foundation for your next AR9 build. 56x45mm NATO 223 Remington 308 Winchester 30-06 Springfield More Shotgun Ammo. 9" ATLAS R-ONE M-LOK. You can go higher, or lower to a 1-4X depending on how far you plan to shoot targets. Hey all, I'm looking to build a durable long lasting DMR. 308/M5 rifle for hunting, and I plan to take readers along for the ride. MSRP: Now: $269. Save when you buy a set including a Lower Receiver, Upper Receiver and Handgaurd. Aero Precision Limited Edition Builder Sets. Please note, Aero Precision is a high profile DPMS platform. Palmetto State Armory A2 EPT Rifle Lower Build Kit - 516445142. My first pick is the mega mkm, then Aero m5. 99 DD Custom Arms "Caladium" AR-15 Featuring Aero Precision XL Upper Receiver 16". Aero Precision M5 Lower ($185) Seekins Precision SP10. To view this site, you must enable JavaScript or upgrade to a JavaScript-capable browser. Which brings us to […]. * The views and opinions expressed on this web site are solely those of the original authors and contributors. I keep going back to @bigjake83 builds and recently @Eurodriver build and want to build a "ultra precise" 223. ballistic advantage 11. New Limited Edition Aero Precision Builder Sets from Proven Arms & Outfitters Arriving this week at the Tacoma, WA and Woodbridge, VA stores, as well as the web. For a precision build, I. AERO PRECISION X15 Custom Build - $995. We experienced web traffic volume that destroyed any previous record. Aero M4E1 Special Edition Thunder Ranch Complete Lower w/ MOE Grip and SL Stock ($369. 308 PARTS LIST. I'm not expert, but my Aero build with a JP BCG and SCS (full mass) and Geissele trigger is a half MOA gun if I do my part shooting 143s or 147s. Palmetto State Armory A2 EPT Rifle Lower Build Kit - 516445142. Aero Precision M4E1 AR15 Receiver Set : Alternative Views: MSRP: $199. The Enhanced Pistol Caliber. Aero Precision has been in the business of making AR15 components for decades as a premier manufacturer long before consumers could buy complete rifles and parts with their own branding. Blairsville GA. This package deal includes the pieces you need to start building your own M4E1 (AR15) Rifle, including a M4E1 Enhanced Upper Receiver, AR15 Gen 2 Enhanced Handguard (15" M-LOK) and a. All that's left is to choose the remaining components to create a one-of-a-kind AR. Description. 0%) Availability: In Stock. Aero Precision M4E1 Builder Set Specifications. In this video, I perform an accuracy test with the Ballistic Advantage barrel that was installed as part of the Aero Precision build series. AR-15 Parts Home > All Manufacturers > Aero Precision > Aero Precision M4E1 AR15 Receiver Set : Alternative Views: MSRP: $199. MSRP: Now: $139. 308 Bolt Catch Screw. 56 Bolt Carrier Group - Black Nitride. AERO PRECISION (In Stock) - 4. We started with the Aero Precision M4E1 Enhanced Arctic Camo Builder Set. 17 DESIGN AND MANUFACTURING. Save when you buy a set including a Lower Receiver, Upper Receiver and Handgaurd. AR-15 Parts Home > All Manufacturers > Aero Precision > Aero Precision M4E1 AR15 Receiver Set : Alternative Views: MSRP: $199. Desert Camouflage Uniform. A reliable SFP for everyday use. Quick view. An AR-10 build kit is a great option for hands-on firearm enthusiasts. Be sure to check out the "Finish Your Build" options for a selection of parts at deep discounts when purchased with one of these sets. Aero Precision knows that for many, the AR15/M5 is not just about being good, its about looking good and expressing yourself with a custom -to-you build that functions and looks great. 56 barrel and the ATLAS S-ONE M-LOK handguard. To briefly recap, Part 1 of this series covered the ordering of parts and tools, Part 2 covered the receiving and preparation, and Part 3 covered the Lower build. 410 Bore More View All Ammunition View. Aero Precision M4E1 Builder Sets give shooters all the parts needed for the next rifle build. Add to Wishlist + Dirty Bird Side-Charging DB9 9mm / Pistol Caliber Receiver Set $ 384. Works with standard AR 308 components and magazines. 450 Bushmaster 4150 CMV 1:24T Heavy Barrel 15" M-Lok Handguard (Assembled or Unassembled) $659. Fun project that happened a little by accident. So, if you're looking to build an AR-10 from scratch, or at least build a complete lower, here are the lowers I'd suggest for your build. 5 grendel complete upper - mlok quantum 15" fde. Aero Gen ll with Side Charge Receiver. This rifle will be used primarily for bench work but I'd like the option of hunting with it also. 2 models Aero Precision M4E1 Threaded 10in. Including AR15 Uppers, AR15 Lowers and AR15 Handguards. I hope you can visualize from the photos that the Aero Precision Builder's set can compete with anything on the market for fit, finish, and build quality. Aero Precision M5 Lower ($185) Seekins Precision SP10. 56 Mid-Length Upper. Was: The Aero Precision AR-15 barreled upper receiver is built around the M4E1 Threaded upper receiver designed for use with standard barrel nut systems. Compatible with standard frame Glock magazines, the EPC-9 receiver set is compatible with 9x19 and. 3-9x32 Rifle Scope. Aero Green Anodized Breach Charging Handle with Upper and Lower Receiver Set. Sale Price: $ 169. Shop AR15 Builder Sets for your next AR build. These accessory pieces are available in a very limited quantity. Aero M4E1 Special Edition Thunder Ranch Complete Lower w/ MOE Grip and SL Stock ($369. This lower receiver comes without a stock/brace giving the builder flexibility to choose exactly what. Our AR15 Gen 2 Stripped Lower Receiver is the perfect base for your custom AR15 build. Includes: M4E1 Threaded Upper Receiver finished in BDL Halftone OD. Aero Precision 5. In addition to standard components, AERO offers special-edition "Builder Sets" that add personality to the foundation of a build. From $ 332. So, we were doing barrels in house, and then we procured companies like VG6 and then started doing muzzle breaks in house. Blairsville GA. 3" M-LOK Panels. Description. Our AR15 Gen 2 Stripped Lower Receiver is the perfect base for your custom AR15 build. Machined to mil-spec dimensions, our lowers work with standard AR15 components and ensure the highest quality with a correct component interface. Click here for price! $135. 9" ATLAS R-ONE M-LOK. EPC-9 Lower Receiver Features: Threaded bolt catch pin for easy. Stay tuned for photos of my build and testing soon and let me know if you have any questions, comments or concerns. Visit the Aero Precision website for more details on the M5 308 Forged Set. M5E1 Assembled Enhanced Upper Receiver. Install the Geisselle SD-3G (3-Gun) Trigger 3. All 3 pieces are finished in mil-spec Anodized Black. In searching for my personal build I stumbled across this from Aero Precision The M5E1 utilizes a similar concept in mounting of the handguard. Out of stock. Due to the Aero Precision design, a 4-40 set screw can be used to hold the spring in instead. MSRP: $467. I keep going back to @bigjake83 builds and recently @Eurodriver build and want to build a "ultra precise" 223. These parts for AR rifles or pistols, as well as the M4 or M5, are made under the strict quality control of Aero Precision to provide you with accurate and reliable performance from your firearm. Created Aug 19, 2020. MSRP: Now: $269. I have 3 m5 sets I built off of, never a issue, and perform. Install the Geisselle SD-3G (3-Gun) Trigger 3. Not one to ignore advice heard repeatedly from such a wide variety of sources, I decided that to build the best AR-10 possible, I'd go ahead and get a builder's kit. I beat the shit out of them, they are tools, a tool gets used. Add to Wishlist. Comes in a set of 3. Author's home-rolled RECCE build. 40 S&W when using the appropriate bolt carrier and barrel. Aero Precision has been in the business of making AR15 components for decades as a premier manufacturer long before consumers could buy complete rifles and parts with their own branding. We are excited to bring you the new limited December Builder Set which features an Arctic Tundra Cerakote finish. Offer Amount $ Aero Precision manufacturers a well-made, value-priced rifle called the X15. AERO PRECISION (In Stock) 5. Discovery AR15 reciever set in MAD Black, Sniper Grey & Smith's Grey MAD Dragon Camo. aero precision 5. The foundation of this product line is our forged EPC-9 receiver set, accepting standard frame GLOCK magazines and available with a last round bolt hold open mechanism integrated into the upper receiver. I'm not expert, but my Aero build with a JP BCG and SCS (full mass) and Geissele trigger is a half MOA gun if I do my part shooting 143s or 147s. A solid LPVO can make a RECCE Rifle shine with true 1X magnification which makes getting on target fast. Aero Precision. Aero Precision has been in the business of making AR15 components for decades as a premier manufacturer long before consumers could buy complete rifles and parts with their own branding. Precision machined from 2 custom 7075-T6 Aluminum forgings and featuring a last round bolt hold open. If you require low profile build, the look and feel of the upper is available HERE. Aero Precision M4E1 Builders Kit w/ 15" Atlas S-ONE - Stars & Stripes. 308 Battle Rifle! Let's Build an Aero Precision M5E1 AR-10. (Out of Stock) AERO PRECISION M4E1 THREADED ASSEMBLED RECEIVER SET SPECIAL EDITION: THUNDER RANCH - FDE CERAKOTE. Works with standard AR 308 components and magazines. 625 Low Profile. 5 creedmoor always a nice build, or the trust worthy 7. (In Stock) Click here for price! $129. First and foremost, the BCG. Visit the product page here. Desert Camouflage Uniform. com)-Aero Precision has released their newest builder set for February. Aero Precision was also one of the first large manufacturers to start offering factory cerakoted stripped receivers and accessories. Home / Brands / Aero Precision. Our August Monthly Builder Set is Multicam Black Hydrodip! This package deal features the finished pieces you need to assemble your own Multicam Black AR15 M4E1 Rifle, including an M4E1 Upper Receiver, Gen 2 Lower Receiver, 12″ KeyMod Handguard and Billet Trigger Guard all custom Multicam. The Aero Precision EPC-9 receiver set is the perfect foundation for your next AR9 build. A third example would be of someone seeking to build a. So, we were doing barrels in house, and then we procured companies like VG6 and then started doing muzzle breaks in house. Was: ur Special Edition: Freedom AR15 Stripped Lower Receiver features a custom engraved American Flag graphic on the magwell of our popular AR15 Gen 2 Lower Receiver. A solid LPVO can make a RECCE Rifle shine with true 1X magnification which makes getting on target fast. 45 Ammo View Sale & Clearance. 56 Mid-Length Upper. Though it isn't a complete. Aero Precision The Aero Precision EPC-9 Complete Lower Receiver is the perfect base for your custom AR9 build. Other than a couple 80%, all my AR pattern rifles are Aero Precision. Out of Stock. Built from the ground up to meet the extreme demands of pistol caliber blowback ARs, the EPC-9 is precision machined to the same high standards you have come to expect from Aero Precision. Welcome to Part 4 of "A Pediatrician Builds her Own AR" or #soeasyapediatriciancandoit, brought to you by Aero Precision and Ballistic Advantage. 308) Stripped Lower Receiver. Building the Best AR-10 - The Builder's Set Solution. Aero Precision Item #: AERO APCS100633 -. These Rifle Gas Blocks by Aero Precision are low profile for an easy fit on barrels with. 308 Builder's Kit ($879) Armalite AR-10 Lower ($227) Palmetto State Armory P10. Precision machined from 2 custom 7075-T6 Aluminum forgings and featuring a last round bolt hold open. Save when you buy a set including a Lower Receiver, Upper Receiver and Handgaurd. Features: Fits barrels w View full details. 3-9x32 Rifle Scope. The Aero Precision Black Nitride Bolt Carrier Group (BCG) is a high quality addition to your AR-15 build. They brought affordable, and reliable quality to the table with these receivers. AR-15 Builder's reaction to a new build (us. 308 Lower Parts Kit, Minus FCG/Pistol Grip: Aero Precision M5 (. MSRP: Now: $450. Aero Precision AR15 Lower Parts Kit, Minus FCG/Trigger Guard/Pistol Grip. Sort By: Page of 4 : AERO PRECISION AR15 STRIPPED LOWER GEN 2 RECEIVER- ANODIZED BLACK FFL Required: Provide Contact Info in Notes at Checkout Our Price: $109. Machined from 6061-T6 Aluminum, the R-ONE line of handguards are designed with size and weight in mind, providing the perfect handguard for your lightweight build. Striped Upper and Lower Receiver delivers Custom Shop quality without the typical Custom Shop price. AERO PRECISION. 56 BCG - Black Nitride w/Logo. 8 (21) AR-15 M4E1 STRIPPED LOWER RECEIVERS 5. M16A1 Retro Complete Rifle Build Kit; NBS AR-15. Description. Includes: · Assembled Upper Receiver. Quick view. Aero Precision AR-15 M4E1 build set Description This listing consists of one Aero Precision M4E1 black anodized multi-caliber stripped lower receiver, one M4E1 black anodized stripped upper receiver, one M4E1 MOE lower parts kit, one 5. Aero Precision. JUNE BUILDER SET PREVIEW The June 2021 builder sets launch tomorrow! Here is your exclusive sneak peek at this months builder set masterfully applied by BlownDeadline. 308 Assembled Upper Receiver, M5 ATLAS S-ONE Handguard of choice and a M5. This rifle will be used primarily for bench work but I'd like the option of hunting with it also. personal first look at aero precision rifles. Upper receiver is assembled and includes the forward assist, dust cover and barrel nut. Plenty shoot sub MOA. MSRP: Now: $269. Welcome to Part 3 of "A Pediatrician Builds Her Own AR" or #soeasyapediatriciancandoit, brought to you by Aero Precision and Ballistic Advantage. AERO PRECISION (In Stock) 5. 56 Complete Upper Receiver with Pinned FSB, M4 Handguard As Low As (Save Up to 15%) $329. The Aero Precision EPC-9 receiver set is the perfect foundation for your next AR9 build. Went with an ALG ACT trigger, Vortex S. Aero Precision knows that for many, the AR15/M5 is not just about being good, its about looking good and expressing yourself with a custom -to-you build that functions and looks great. Shop our AR15 Receiver Sets at AeroPrecisionUSA. For a precision build, I. In short, it still rocks. These Rifle Gas Blocks by Aero Precision are low profile for an easy fit on barrels with. Out of Stock. Jul 19, 2021 · - BLEM Thunder Ranch stripped lower - BLEM Thunder Ranch upper receiver only BLEM spot I see on the lower is right under the thunder ranch logo, but is very minor. Our 2019 DTOM Receiver sets express the perfect sentiment of patriotism and freedom in a way that is uniquely American. Protect against heat and increase tactile handling. Aero Precision Item #: AERO APCS100633 -. Aug 18, 2021 · 454. August 30, 2018 August 30, 2018. I penciled out the spec-sheet last fall and started with Aero Precision and ended with Cerakote. The upper receiver is, however, fully assembled with. Aero Precision M4E1 FDE Threaded Receiver Set A Solid way to start your AR15 build! Kick off your next build with an Aero Precision M4E1 FDE Threaded Receiver Set. Buy with our tried and true mil-spec Fire Control Group or save for an upgraded trigger with our MINUS FCG offerings. 56 Ammo View 9mm Ammo View. Includes: · Assembled Upper Receiver. The 2019 Independence Day Builder Sets are finally here! Month's of deliberation went into bringing you our most freedom packed July Builder Sets to date. Aero M4E1 Special Edition Thunder Ranch Complete Lower w/ MOE Grip and SL Stock ($369. Aero Precision EPC-9 Receiver Set. Mil-spec dimensions and coating ensure the highest quality and correct component interface. Out of stock. Shop our AR15 Receiver Sets at AeroPrecisionUSA. Aero Precision Battleworn Orange Grey AR15 Builder Set APPG100025. Upper Parts/Build Kits. Each set features our DTOM Receivers that feature a new spin on the timeless Gadsden Design. Aero Precision Gen ll Receiver with NON-Reciprocating Side Charge Receiver Set. I still recommend the m4E1 and believe it has a part to play in a modern AR15 build which follows evolutionary manufacturing principles that reduce overall part count, simplify the assembly process, reduces system cost, and possibly increase system strength. Our Price: $559. 750 Gas Block is an easy choice for your build. August 30, 2018 August 30, 2018. Features: M16-cut carrier Machined f View full details. An AR-10 build kit is a great option for hands-on firearm enthusiasts. To view this site, you must enable JavaScript or upgrade to a JavaScript-capable browser. 308 18" Aero Precision Style Upper Receiver Assembly , These builds are made in house based on Aero Precision M5 Enhanced Upper and Rail Combo Sets. Anderson Lower. Aero Precision has been in the business of making AR15 components for decades as a premier manufacturer long before consumers could buy complete rifles and parts with their own branding. Features: Fits barrels w View full details. In addition, we have made available a very limited quantity of. I am interested in aero precision but then I started looking into armalite. While this collection of parts is another pricey. I beat the shit out of them, they are tools, a tool gets used. Aero Precision M4E1 Builders Kit w/ 15" Atlas S-ONE - Stars & Stripes. The Aero Precision lower parts kit is made to MIL-SPEC tolerances and contains everything you need to begin the process of building your custom AR 15. Featuring steel set screws, this Aero Precision. 308 Stripped Lower Receiver. I consider myself an aspiring gun nut! I have a few AR15 builds under my belt and many more ideas in the works. From $ 332. Aero Precision. Barrel will be 20" but this is subject to change. Machined from 6061-T6 Aluminum, the S-ONE line of handguards are designed with size and weight in mind, providing the perfect handguard for your lightweight build. Aero Precision's line of Lower Parts Kits featuring Magpul Grips is designed to be versatile for your needs. JUNE BUILDER SET PREVIEW The June 2021 builder sets launch tomorrow! Here is your exclusive sneak peek at this months builder set masterfully applied by BlownDeadline. M4E1 Battleworn Woodland ATLAS S-ONE M-LOK Builders Set Battleworn Woodland Cerakote by Weapon Works The Aero Precision M4E1 Battleworn Woodland ATLAS S-ONE M-LOK Builders Set features a M4E1 stripped lower receiver, M4E1 Threaded Assembled Upper Receiver, and an ATLAS S-ONE M-LOK handguard in your choice of either 9″ or 15″. 308/M5 rifle for hunting, and I plan to take readers along for the ride. Customers can pre-order today, as these builder sets will move fast!. AERO PRECISION M5E1 BUILDER SET W/15" MLOK RAIL - BDL HALFTONE COMBAT GREY. Save on your AR15 build when you buy as a matching set. Our 2019 DTOM Receiver sets express the perfect sentiment of patriotism and freedom in a way that is uniquely American. While this collection of parts is another pricey. 5 (31) AR-15/M16 ASSEMBLED UPPER RECEIVER. Aero offers build packages in several models: AR15, M4E1, M5E1, and M5. 308/M5 rifle for hunting, and I plan to take readers along for the ride. Aero Precision March 2020 GeoCam Builder Sets. AR-15 Builder's reaction to a new build (us. Above: The Aero Precision Takedown Pin Detent Channel Is Threaded For A 4-40 Set Screw. Aero Precision. Our Price: $229. Anodized Upper and Gen ll Lower Receiver Set. The Aero Precision M4E1 Battleworn Woodland ATLAS S-ONE M-LOK Builders Set features a M4E1 stripped lower receiver, M4E1 Threaded Assembled Upper Receiver, and an ATLAS S-ONE M-LOK handguard in your choice of either 9″ or 15″. RELATED STORY: New For 2015: Aero Precision Unveils AC-15 Rifle. Visit the Aero Precision website for more details on the M5 308 Forged Set. 308 AR build you can go the AR-10, LR-308 or the SR-25 route. AR-15 Builder's reaction to a new build (us. We experienced web traffic volume that destroyed any previous record. Which brings us to […]. midwest industries quad rail with magpul rail covers. 56MM CARBINE LENGTH. Aero Precision knows that for many, the AR15/M5 is not just about being good, its about looking good and expressing yourself with a custom -to-you build that functions and looks great. Beginning 8-26-2021 we will not be shipping for approx 2 weeks due to surgery. Save 10% off the combined price when you buy the M4E1 Builder Set! This package deal includes the pieces you need to start building your own M4E1 (AR15) Rifle, including a M4E1 Enhanced Upper Receiver, AR15 Gen 2 Enhanced Handguard of choice and a M4E1 Stripped Lower Receiver. Aero Precision has put a lot of work into this assembly…. The December Builder Set in Volcanic MADLand Includes: M4E1 Enhanced Upper Receiver finished in Volcanic MADLand Camo. August 30, 2018 August 30, 2018. Your AR15 build is important to you, so it is important to us. Desert Camouflage Uniform. The May Builder Set features an "Exotic" Tiger Stripe finish from Nevada Cerakote. You can go higher, or lower to a 1-4X depending on how far you plan to shoot targets. Aero Precision has been in the business of making AR15 components for decades as a premier manufacturer long before consumers could buy complete rifles and parts with their own branding. Aero Precision released a new billet receiver build set for the month of November; this time it's Tiger Stripe. Though it isn't a complete. Optics usually consist of a 1-6X low-powered variable optic (LPVO). This package deal includes the pieces you need to start building your own M5. Build Kits Forend & Handguard Parts Gas System Parts Muzzle Devices Receiver Parts AERO PRECISION (In Stock) - 4. Aero Precision M4E1 FDE Threaded Receiver Set A Solid way to start your AR15 build! Kick off your next build with an Aero Precision M4E1 FDE Threaded Receiver Set. Built from the ground up to meet the extreme demands of pistol caliber blowback ARs, the EPC-9 is precision machined to the same high standards you have come to expect from Aero Precision. Buy with our tried and true mil-spec Fire Control Group or save for an upgraded trigger with our MINUS FCG offerings. Out of stock. Lower: $622; AERO M4E1 Lower Receiver: $120; AERO M4E1 MOE Lower Parts Kit: $45; Rise Armament RA-535 Trigger: $259; AERO Carbine Buffer Kit: $40; Magpul SL-S Stock: $80; Magpul Gen 3 PMAG: $18; Blue Force Gear Vickers Padded 2-Point Sling: $60; Upper: $1,142; AERO M4E1 Enhanced Upper Receiver: $180; AERO Enhanced Gen2 15-in. Markings Include Model "FREEDOM" and "4JULY-XXXX" serial number range. Aero Precision M4E1 Builder Set Details. I consider myself an aspiring gun nut! I have a few AR15 builds under my belt and many more ideas in the works. Well, y'all broke our website. 56 Bolt Carrier Group - Black Nitride. Be sure to check out the "Finish Your Build" options for a selection of parts at deep discounts when purchased with one of these sets. This package deal includes the finished pieces you need to assemble your own Woodland GeoCam M4E1 Rifle, including an M4E1 Enhanced Upper Receiver. Using a 224V upper with a 20-inch 416R stainless barrel and a 6. To complete your weapon, the Aero Precision upper is forged from 7075 T6 aluminum with a hard coat anodized finish and comes in several configurations with a unique milling design that ensures. JUNE BUILDER SET PREVIEW The June 2021 builder sets launch tomorrow! Here is your exclusive sneak peek at this months builder set masterfully applied by BlownDeadline. We started with the Aero Precision M4E1 Enhanced Arctic Camo Builder Set. Aero Precision's AR15 upper receivers including the very popular Aero M4E1 uppers are some of the best! We carry a variety of Aero Precision uppers including the M4E1, Standard, Enhanced, Assembled, Stripped and both with forward assist and without (Slick Side). The Aero Precision M4E1 Battleworn Woodland ATLAS S-ONE M-LOK Builders Set features a M4E1 stripped lower receiver, M4E1 Threaded Assembled Upper Receiver, and an ATLAS S-ONE M-LOK handguard in your choice of either 9″ or 15″. AR-15 Builder's reaction to a new build (us. - I am taking a break on some builds, and was trying to let someone else enjoy this build. August 30, 2018 August 30, 2018. 47 for the Cerakoted 15 inch rail. Aero Precision M5. Aero Precision has been in the business of making AR15 components for decades as a premier manufacturer long before consumers could buy complete rifles and parts with their own branding. Best Budget AR-15 Pistol. Lower I went with the Aero Precision M5 receiver set. In addition to standard components, AERO offers special-edition "Builder Sets" that add personality to the foundation of a build. Integrated Trigger Guard - Eliminates the possibility of breaking the trigger guard tabs by integrating the trigger guard into the lower, creating a stronger more rigid platform to build upon. 308) Enhanced M-LOK Handguard - Gen 2: $199. 750 Low Profile. Price: $524. 56 Mid-Length Barreled Upper Receiver: Aero Precision M4E1 Threaded Upper/ATLAS S-ONE M-LOK Combo Set: $144. Lower I went with the Aero Precision M5 receiver set. Install the Buffer Tube, Buffer Spring, and Buffer 4. 5 Creedmoor uppers. The barrel nut is completely independent of the rail and therefore receives stress or flex from loading of bipods. These sets are hand finished by Blown Deadline. Jul 19, 2021 · - BLEM Thunder Ranch stripped lower - BLEM Thunder Ranch upper receiver only BLEM spot I see on the lower is right under the thunder ranch logo, but is very minor. MADLand Camo America on a Jones Arms build. M4E1 Battleworn Soaring Freedom 15" Enhanced Builder Set - M-LOK July 2018. 7 (19) AR-15 UPPER PARTS KIT. Aero Precision's line of Lower Parts Kits featuring Magpul Grips is designed to be versatile for your needs. Please note, Aero Precision is a high profile DPMS platform. 56 SOCOM Quad Rail Complete Upper; M16A1 Retro Complete Rifle Build Kit; Aero Precision M4E1 Threaded Receiver Set Anodized Black. Stay tuned for photos of my build and testing soon and let me know if you have any questions, comments or concerns. The kit concept was stunningly popular. Aero Precision's S-ONE line of handguards have been designed with size and weight savings in mind, delivering the perfect handguard for your lightweight build. The lower has done nice features as well like threaded bolt catch and s few other small things I've decided my next personal build will be on an aero enhanced lower, and am strongly leaning toward an enhanced upper as well. MSRP: $ 29. Best Budget AR-15 Pistol. Every month, the company is offering customized "Monthly Builder Sets" with upper receivers, lower receivers and handguards in unique Cerakote finishes to build your own AR. Availability: In Stock. The M5 receiver set is the best set for the price, aesthetics, and function. In short, it still rocks. Dec 04, 2020 · Claim it. Aero Precision M4E1 FDE Threaded Receiver Set A Solid way to start your AR15 build! Kick off your next build with an Aero Precision M4E1 FDE Threaded Receiver Set. Our Price: $649. This lower receiver comes without a stock/brace giving the builder flexibility to choose exactly what. Home / Brands / Aero Precision. If you require low profile build, the look and feel of the upper is available HERE Add to Cart. Upper receiver is assembled and includes the forward assist, dust cover and barrel nut. Aero Precision Item #: AERO APCS100633 -. 15" Enhanced Gen 2 Handguard. I focus on what manufacturers include in their packaging but also discuss minor details or features. (Out of Stock) AERO PRECISION M4E1 BUILDER SET BRONZE DIGIWASH W/ ATLAS S-ONE 9" MLOK RAIL. This AR-10 lower receiver features a Mil-Spec A2 pistol grip and a carbine length receiver extension. Now we machine the lion's share of what we use. This can save you the worry of mismatched colors from different manufacturers, and a good bit of money if you were planning on sending your build out to be Cerakoted anyways. Monstrum Tactical. For a precision build, I. Machined to mil-spec dimensions, our lowers work with standard AR15 components and ensure the highest quality with a correct component interface. Author's home-rolled RECCE build. The ATLAS S-ONE is the newest addition to the Aero Precision Handguard lineup. Upper receiver is assembled and includes the forward assist, dust cover and barrel nut. To complete your weapon, the Aero Precision upper is forged from 7075 T6 aluminum with a hard coat anodized finish and comes in several configurations with a unique milling design that ensures. Mating surfaces have always been good, fit and finish, everything to spec. Aero Precision has a unique idea for selling AR receiver sets. This package deal includes the pieces you need to start building your own M5. This barreled upper receiver group does not include BCG or charging handle allowing you to choose your favorites for your build. First off, a little bit about myself. 7 (19) AR-15 UPPER PARTS KIT. 5 inch barrel 1/7 twist. Out of stock. The receiver is forged from 7075-T6 aluminum and precision machined to M4E1 specs to ensure. 300 Blackout w/ ATLAS S-ONE Handguard Complete Upper Receiver (11) As Low As (Save 15%) $407. 308 rifle (you'll still need a barrel, stock, and all other internals), since the kit includes a receiver it will still have to be shipped to a local FFL. Optics usually consist of a 1-6X low-powered variable optic (LPVO). Regarding the smaller components of the build, Aero Precision provided several of the smaller, still-necessary pieces. 99) AR15 BREACH Ambi Charging Handle ($79. Install the Magpul STR Butt Stock Guns & Accessories at Dealer Costs! ----- https://goo. 99 Read more. Please note, Aero Precision is a high profile DPMS platform. M4E1 Battleworn Woodland ATLAS S-ONE M-LOK Builders Set Battleworn Woodland Cerakote by Weapon Works. Welcome to Part 3 of "A Pediatrician Builds Her Own AR" or #soeasyapediatriciancandoit, brought to you by Aero Precision and Ballistic Advantage. The only special concern for this part is that you have to order Aero Precision's takedown and pivot pin set because the pivot pin is longer than a standard-length pin. A few years ago, AP began offering basic black or flat dark earth finished builder sets, which included a M4E1 upper and handguard with forward assist and ejection port door installed, a stripped lower receiver, and extended trigger guard. DTOM Products & July Builder Sets | Aero Precision JavaScript seems to be disabled in your browser. Aero Precision X15 Gen 2 Stripped Receiver Set. Aero Precision M4E1 Threaded Receiver Set - Anodized Black $ 206. This unique winter camouflage is ready to accompany you on your next sub zero hunting trip, or chilly range day!. MADLand Desert Camo Grey Ghost Precision. 308 Assembled Upper Receiver, M5 ATLAS S-ONE Handguard of choice and a M5. Availability: In Stock. 56 Bolt Carrier Group - Black Nitride. Jun 03, 2020 · Aero Precision states "These Builder Sets include a Rhodesian Brushstroke double feature by Republic Rifle, an homage to the classic camouflage pattern used by military forces in southern Africa dating back to the 1960s. 56 Mid-Length Complete Upper Assembly; Details: This Aero Precision AR-15 complete upper assembly is designed to withstand the rigors of combat while at same time providing unmatched quality. View Detailed Images 3 View Detailed Images 3 View Detailed Images 3. AR15 Builder Sets | Aero Precision. 7 (19) AR-15 UPPER PARTS KIT. This AR-15, M16, and M4 upper is forged from 7075-T6 aluminum and features a Picatinny rail, M4 feedramps, laser engraved T-marks,. 56 BCG, Nickel Boron ($184. Made from 7075 T6 Aluminum. 56 Ammo View 9mm Ammo View. Tired of not being able to quickly recognize your rifle from others at competitions? Then these sets are a great way to stand out and p. Aero Precision M4E1 Builder Set Specifications. - I am taking a break on some builds, and was trying to let someone else enjoy this build. Please note, Aero Precision is a high profile DPMS platform. Our Price: $229. M5E1 Assembled Enhanced Upper Receiver. Primary Arms has industry-lead customer service for your next AR lower. A platform for users to discuss Aero Precision products! Feel free to show off your new builds or ask any questions that may come up! 5. 308 AR build you can go the AR-10, LR-308 or the SR-25 route. Aero Precision Complete M4E1 Upper 12. Aero Precision M4E1 FDE Receiver Set. Author's home-rolled RECCE build. Dirty Bird AR-15 Lower Parts Kit Minus FCG & Pistol Grip. 3-9x32 Rifle Scope. These sets are hand finished by Blown Deadline. Currently, the EPC is available in 9mm and 40 S&W receiver sets. Palmetto State Armory A2 EPT Rifle Lower Build Kit - 516445142. AR-15 Builder's reaction to a new build (us. 47 for the Cerakoted 15 inch rail. This EPC-9 Receiver Set is compatible with standard frame Glock magazines and accepts 9x19 or. The EPC-9 lineup is perfect for your next 9mm or 40S&W AR build. FREE SHIPPING ITEM!. Today we're building the Aero Precision M5 Lower Receiver. This product can not be shipped to all locations. MADLand Camo America on a Jones Arms build. 308 Builder's Kit ($879) Armalite AR-10 Lower ($227) Palmetto State Armory P10. Home / Brands / Aero Precision. If you dont mind a couple bumps or scuffs, I would say my Aero sets have taken the abuse very well. AERO PRECISION (In Stock) 5. The barrel nut is completely independent of the rail and therefore receives stress or flex from loading of bipods. Aero Precision M5 Build Part 3: Assembling the Lower. Other than a couple 80%, all my AR pattern rifles are Aero Precision. A solid LPVO can make a RECCE Rifle shine with true 1X magnification which makes getting on target fast. com)- Attention custom gun bulders, Aero Precision has their AR rifle Builders Kit out for January. 308 rifle (you'll still need a barrel, stock, and all other internals), since the kit includes a receiver it will still have to be shipped to a local FFL. Description. Aero Precision M4E1 Threaded Upper/ATLAS R-ONE M-LOK Combo Set: Aero Precision M4E1 Threaded Upper/ATLAS S-ONE M-LOK Combo Set: Aero Precision M4E1 Enhanced Upper/Handguard Combo MLOK FDE GEN2: $339. I hope you can visualize from the photos that the Aero Precision Builder's set can compete with anything on the market for fit, finish, and build quality. Compatible with standard frame Glock magazines, the EPC-9 receiver set is compatible with 9x19 and. AERO PRECISION. Aero Precision M5E1 Builder Set (. Please note, Aero Precision is a high profile DPMS platform. The October Monthly Builder Set from Aero Precision features a custom Battleworn Orange/Grey Cerakote finish done by BlownDeadline, an industry leader in custom firearms coatings! These pieces feature a custom blend cerakote and are hand finished with no two sets being the same. 450 Bushmaster 4150 CMV 1:24T Heavy Barrel 15" M-Lok Warhawk Handguard (Assembled. [ Note this arctic camo pattern is only available for a short few months, but the build instruction below would work with. 243 Win) Rifle, including an M5 Stripped Lower Receiver, M5E1 Upper Receiver, Enhanced Gen 2 (12. Our August Monthly Builder Set is Multicam Black Hydrodip! This package deal features the finished pieces you need to assemble your own Multicam Black AR15 M4E1 Rifle, including an M4E1 Upper Receiver, Gen 2 Lower Receiver, 12″ KeyMod Handguard and Billet Trigger Guard all custom Multicam. Stay tuned for more info on how. A solid LPVO can make a RECCE Rifle shine with true 1X magnification which makes getting on target fast. Including AR15 Uppers, AR15 Lowers and AR15 Handguards. Aero Precision. This lower receiver comes without a stock/brace giving the builder flexibility to choose exactly what. Aero Precision has been in the business of making AR15 components for decades as a premier manufacturer long before consumers could buy complete rifles and parts with their own branding. Precision machined from 2 custom 7075-T6 Aluminum forgings and featuring a last round bolt hold open. Upper Tension Screw - Allows users to fine tune the fit of the upper and lower receiver using a nylon tipped tensioning set screw inserted in the grip. Aero Precision Anodized OD Green Builder Sets are live! 🔥🔥🔥. Protect against heat and increase tactile handling. The Aero Precision M5 Complete Lower Receiver has been machined to Mil-Spec tolerances and finish ensure the highest quality receiver. Aero Precision Complete M4E1 Upper 12. M4E1 Battleworn Soaring Freedom 15" Enhanced Builder Set - M-LOK July 2018. Here's what they have to say about it. Currently, the EPC is available in 9mm and 40 S&W receiver sets. (Out of Stock) AERO PRECISION M4E1 BUILDER SET BRONZE DIGIWASH W/ ATLAS S-ONE 9" MLOK RAIL. The builder's set retails from $292. This AR-10 lower receiver features a Mil-Spec A2 pistol grip and a carbine length receiver extension. So prepare for a multi-part journey into "A-Pediatrician-Learns-to-Build-An-Evil-Black-Rifle" Or #soeasyapediatriciancandoit. M5E1 Assembled Enhanced Upper Receiver. 308 Lower Parts Kit, Minus FCG/Pistol Grip: Aero Precision M5 (. We started with the Aero Precision M4E1 Enhanced Arctic Camo Builder Set. Upper receiver is assembled and includes the forward assist, dust cover and barrel nut. You may still place an order after 8-26-2021 but it will not ship until I return. These two platforms are the only ones I use. Featuring steel set screws, this Aero Precision. Ghost MAD Dragon. Quick view. 5 grendel complete upper - mlok quantum 15" fde. The only special concern for this part is that you have to order Aero Precision's takedown and pivot pin set because the pivot pin is longer than a standard-length pin. AERO PRECISION X15 Custom Build - $995. Now we machine the lion's share of what we use. Buy with our tried and true mil-spec Fire Control Group or save for an upgraded trigger with our MINUS FCG offerings. To briefly recap, Part 1 of this series covered the ordering of parts and tools, Part 2 covered the receiving and preparation, and Part 3 covered the Lower build. AERO PRECISION (In Stock) - 4. The ATLAS R-ONE is the newest addition to the Aero Precision Handguard lineup. Click here to order directly from Aero Precision. Toolcraft AR10 308 Bolt Carrier Group Black Nitride. 99 Read more. 308 Builder's Kit ($879) Armalite AR-10 Lower ($227) Palmetto State Armory P10. Aero Precision's lower parts kit helps you to build a custom AR15 from the ground up. Aero Precision Limited Edition Builder Sets. Aero Precision ADJUSTABLE Gas Block -. Let's Build an Aero Precision M5E1 AR-10. 99 (1) $339. The Aero Precision M4E1 Alpine Dark Enhanced M-LOK Builders Set features a M4E1 stripped lower receiver, M4E1 Assembled Upper Receiver, and an Enhanced GEN 2 M-LOK handguard in your choice of either 9″ or 15″. Aero Precision 5. Currently, the EPC is available in 9mm and 40 S&W receiver sets. I prefer the upper like the m5 and mega's maten MKM. This AR-10 lower receiver features a Mil-Spec A2 pistol grip and a carbine length receiver extension. If you dont mind a couple bumps or scuffs, I would say my Aero sets have taken the abuse very well. MSRP: $467. This EPC-9 Receiver Set is compatible with standard frame Glock magazines and accepts 9x19 or. My first pick is the mega mkm, then Aero m5. The Aero Precision. So, if you're looking to build an AR-10 from scratch, or at least build a complete lower, here are the lowers I'd suggest for your build. For a precision build, I. The barrel nut is completely independent of the rail and therefore receives stress or flex from loading of bipods. Out of stock. Quick view. 56x45mm NATO 223 Remington 308 Winchester 30-06 Springfield More Shotgun Ammo. In addition, we have made available a very limited quantity of Alpine Dark cerakoted Magpul. Save on your AR15 build when you buy as a matching set. Aero Precision M4E1 Builder Set For Sale Online. Specifications. Save when you buy a set including a Lower Receiver, Upper Receiver and Handgaurd. Shop our AR15 Receiver Sets at AeroPrecisionUSA. That initial custom offering has now morphed into offering Limited Edition Builder sets that deliver a stunning platform to complete your custom build. 308 18" Aero Precision Style Upper Receiver Assembly , These builds are made in house based on Aero Precision M5 Enhanced Upper and Rail Combo Sets. 56MM CARBINE LENGTH. Aero Precision 308 Combo.
Sours: http://ledboom.de/aero-precision-build-sets.html
Aero Precision M4E1 Builder Set
With so many options available to get your AR-15 build started, where do you start? We looked around and found that many companies now offer AR build kits, which gather a pre-selected group of parts together in order to simplify the process of parts selection and ordering for the consumer.
Manufacturer-curated kits can also be beneficial because the manufacturers themselves will group parts that work well with one another. This can be a lot more convenient and less confusing compared to just a few years ago, when you would have needed to source your parts from an array of different brands and shops.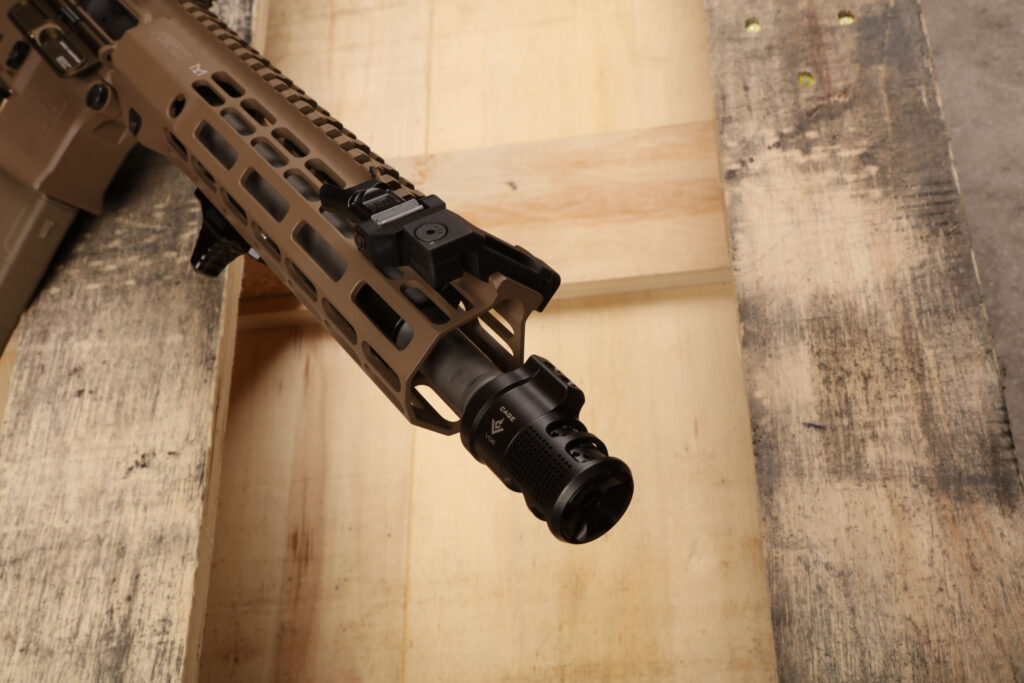 In this review, we take a look at Aero Precision's M4E1 Builder Set. The set includes Aero Precision's proven M4E1 Stripped Lower Receiver, their matching M4E1 Threaded Upper Receiver, and the builder's choice of the popular ATLAS series or Enhanced handguards. The handguard is chosen by the user in one of many available variations. ATLAS and Enhanced come in 7, 9, 12, and a 15-inch lengths with either M-Lok or KeyMod accessory attachment formats. All three pieces of the kit are finished in the builder's choice of Mil-Spec anodized black, Magpul FDE Cerakote, or other custom finishes. We chose FDE for our build.
Aero Precision's M4E1 Builder Set comes with the foundation for what every AR-15 and AR variant needs. The handsome lines of the M4E1 lower receiver may look like it's machined from billet steel, but looks can be deceiving. The lower is actually made of high-strength forged 7075-T6 aluminum, which means that it is a seriously robust lower that can undoubtedly take more than its share of abuse, all while looking every bit a part of a custom build. Its exterior is marked and milled for both short-throw and standard safety selectors on both sides.

With do-it-yourselfers in mind, Aero Precision has added several features to the lower receiver that AR builders, experienced or not, can truly appreciate. Thanks to the lower's thoughtful design, gone are the days of needing a third or even fourth hand to handle easily lost roll pins, springs, and detents.
The M4E1 lower's bolt catch roll pin ears are threaded for the included bolt catch roll pin. This brilliant "why didn't I think of it" provision allows the builder to install the bolt catch by easily screwing in a threaded pin instead of hammering a roll pin in while carefully aligning the bolt catch and roll pin punch. This screw-in method also helps eliminate the chance of damaging the lower's finish. We absolutely love this feature.
Another point of concern for many AR builders comes during the installation of the lower receiver's takedown pin. If not perfectly installed, the detent and spring can go flying across the workbench, or worse, into the abyss of the floor, never to be seen again. The engineers at Aero Precision know this pain all too well and took it out of the equation by threading the receiver's takedown pin detent recess. This means that builders can easily install the takedown pin detent and spring with the use of a 4-40 set screw. The screw holds the spring and detent in, so that even when you are servicing your firearm or changing out components such as an end plate, you need not worry about a flying spring and detent. This is a modification that we would apply ourselves to other lowers; we're glad that Aero Precision has saved us this step and included it direct from the factory.
The M4E1 lower also includes an upper tensioning screw that allows you to remove upper and lower receiver fitment slop. No matter which upper you attach to the lower, one made by Aero Precision or otherwise, this tensioning screw allows for a tight fitment between the two receivers. Tension adjustments are made by tightening or loosening a nylon-tipped tensioning set screw located at the bottom side of the lower receiver's grip tang.
It may not be a groundbreaking feature nowadays, but its still worthy to note that the lower is machined with an integrated trigger guard, which assists in eliminating the possibility of breaking or deforming the lower's trigger guard tabs if a guard had to be installed separately. Also nothing new, but still very much welcomed, is an enlarged magwell flare that helps with quicker, un-bobbled magazine changes.
The M4E1 lower is said to be compatible with all Mil-Spec AR-15 parts. We decided to fit a BCM PNT Trigger assembly and Law Tactical AR Folding Stock Adapter to it just to make sure. The BCM PNT Trigger assembly is essentially a highly refined version of the standard USGI-style trigger. PNT stands for polished, nickel, Teflon, which means that the assembly feels like an aftermarket performance trigger with the reliability of a combat-proven trigger.
Designed specifically for the low-profile transport of ARs, the adapter allows for the quick folding and unfolding of the AR's stock. Attached to the adapter is an entire SB Tactical pistol brace setup which includes the SBA3 brace as well as SB Tactical's buffer and spring kit. Piggybacked onto the brace is an SB-SAC, a soft pouch that's made in conjunction with Grey Ghost Gear out of Hypalon, an innovative, synthetic rubber that's also used to make Zodiac inflatable boats. The pouch is sized to accept a C-A-T tourniquet and other range essentials. We'll keep a Multitasker Twist tool and a bottle of Slip 2000 EWL lube in ours.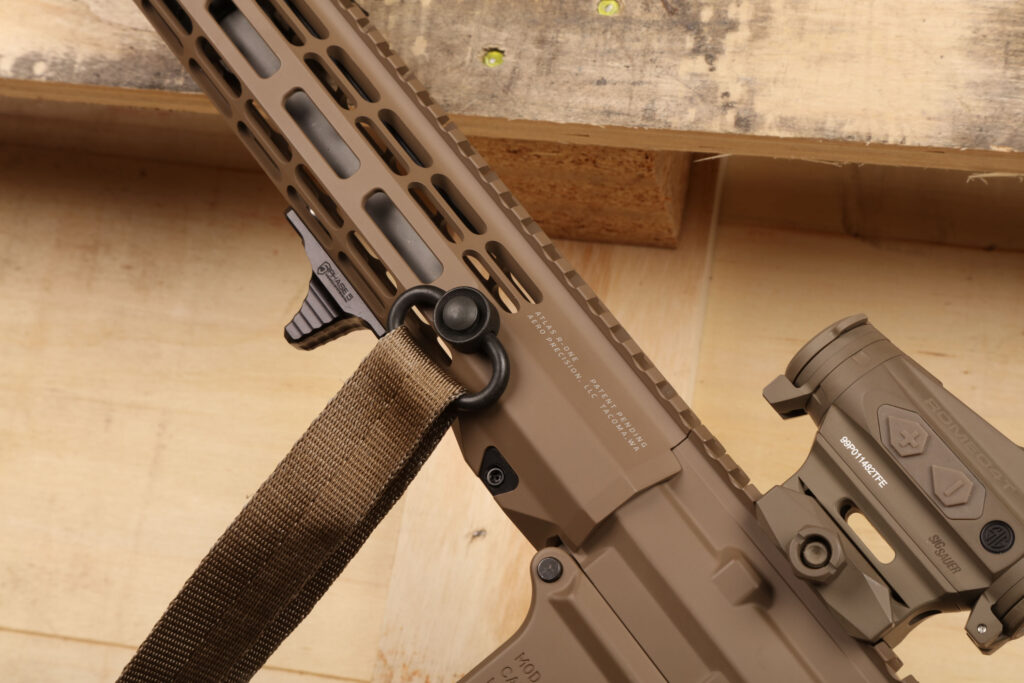 The upper receiver that comes with the kit is called the M4E1 Threaded Assembled Upper Receiver. As with the lower, the M4E1 Threaded Upper Receiver features special styling cues that allow it to visually stand out from the crowd. It comes with all the bells and whistles you'd expect from a quality upper, including M4 feed ramps and laser-engraved position marks on the Picatinny rail. Threaded to accept a standard AR-15 barrel nut, this upper receiver can accept any handguard that uses a standard nut. It is forged from 7075-T6 aluminum and includes the port door and a pre-installed forward assist.
The M4E1 upper's Picatinny profile was designed to blend in seamlessly with Aero's ATLAS handguards, one of which came with this kit. As mentioned, the handguard's length and attachment point style are user's choice. We chose a 9-inch ATLAS R-One handguard, which features uninterrupted Picatinny rail on its spine and M-Lok attachment points. The shorter length handguard complements a 10.5-inch Aero Precision .223 Wylde barrel that we installed into the upper.
At the tip of the barrel sits a VG6 Precision Gamma 556 muzzle brake encased in a VG6 CAGE Device. The VG6 CAGE Device is designed to quickly install on VG6's Gamma and Epsilon series muzzle devices to dampen concussion. It does this by disrupting muzzle blast toward the sides while maintaining the recoil and movement characteristics of the host muzzle device. We topped off our build with a SIG Sauer Romeo4T optic, with Midwest Industries Combat Rifle Offset Sights serving as backups.
As we expected, the handguard and upper receiver fit together perfectly and, aesthetically speaking, look made for one another—which in fact they are. Including the handguard, the set of three foundational pieces that compose the builder kit can make any AR build look and feel like a perfectly machined custom piece.
We found the Aero Precision M4E1 Builder Kit to be much more than just a grouping of three pieces to base your build on. It's the detail-oriented design and engineering of each of the individual pieces that make this kit a true standout. Add your choice of handguard style, length, and attachment type, as well as some really custom finish options, it's tempting to start any build with this kit. If you're looking to build your first or even fifteenth build, this is an option that's worth considering.
Text by John Scott and by Michael Grey
Aero Precision M4E1 Builder Kit
MSRP: $307-550
www.aeroprecisionusa.com
Sours: https://un12magazine.com/aero-precision-m4e1-builder-set/
And a minute later she just roared: Sasha, faster. I haven't had. When I entered her vagina, hot as fire, she pressed me tightly and began to wave with a howl, sweet moans filled the change house. She finished with such a cry that I covered her mouth with my hand.
It seems that the dear lady is very hungry ".
Set fde m4e1 builder aero
Want to be with you. And let your son order another android for himself, if he needs it. I contacted the company.
Aero Precision M4E1 FDE Receiver set no forward assist : Atlas R-One 15\
I, slightly sobering up from what I saw, came up from behind and began to grope a member of the cherished bosom. It was rather dark in the office, it was illuminated only by the included Polinin monitor, on which accounting programs were turned on, like. At that moment I had no desire to understand the accounting software, and Polina, realizing that I could not enter that way, took the initiative into her own.
Hands. More precisely, she took my penis in her hand and sent me in the right direction.
Now discussing:
Is doing. Write more often, he wrote. I promised to write about my son, and we went to the group.
13282
13283
13284
13285
13286