Free Boat Plans

A selection of Free Boat Plans that can be viewed and / or downloaded.
These free to download wooden boat plans (pdf) were first published in magazines such as "Popular Mechanics", "Popular Science" and the "Boat Builder's Handbook".

"Popular Science" magazine and "Popular Mechanics" back issues can be viewed online at Google Books.
All these free boat plans can be built by anyone with a common sense modicum and a few basic woodworking skills and tools.

However, if you have not got the skills and tools yet, this is a great way to acquire them.
One of the beauties of building yourself is that you do not have to buy everything at once, just get what you need when you can afford it.

While some of the instructions suggest using exterior plywood, I would always recommend using marine grade.

If you need help with lofting out the plans click here for an article here which should help.
Canoe Free Boat Plans 
Blue Bill

Combining the features of both kayak and canoe, "Blue Bill" is for those out-of-doors-men who hunt or the sportsmen who need an ultra-light-weight portable boat for use upon any waters.

Besides being usable to build a double-end paddling model, a few changes permit the plans to be used for making a canoe that will accommodate outboard motors up to 6 hp. for swift, speedy transportation on any stream or waterway.

Weighing only 75 lbs. complete, "Blue Bill" is easily transported atop an auto anywhere.
---
Canvasback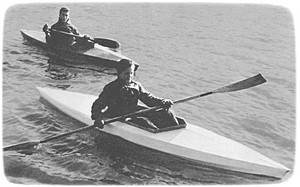 This kayak is the answer for young people who want to build an inexpensive boat for summer fun.

A shop full of power tools is not necessary, either.

All the work can be done with ordinary hand tools and a few C clamps.

This Free Boat Plan will carry one adult but it's handiest when paddled by a youngster.

The boat is stable in the water and, even though it can be turned over, it will not sink.

It's also light enough to be carried with ease.

Building is so simple that the 'Jig' consists of only two blocks and a few bricks. 
---
Hunting Kayak

For many years a favorite of hunters, trappers and traders the kayak now is as popular with Europeans as the outboard boat is with Americans.

Although this boat was designed to carry two people, it will accommodate three in a pinch and gear may be stowed under fore and after decks.

A few strokes with the double paddle will send it gliding across the water with the minimum of effort on your part.

Kayaks are surprisingly seaworthy, too — more stable than a canoe, in fact, because the occupants sit on the bottom of the hull which lowers the center of gravity. 
---

Pintail and 10ft Duck Boat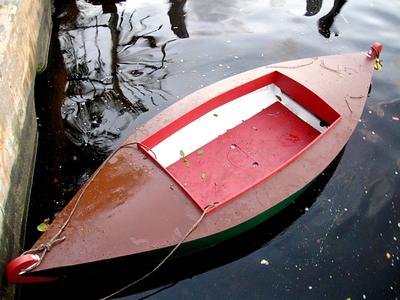 'Pintail' drawn from plans by Wm D Jackson is another of the Free Boat Plans from the 'Boat Builder Handbook'.

This one is being built by Greg Allore .

---
Glide Easy

If you have ever struggled with the oars of a heavy, slow-moving rowboat and then paddled a swift, high maneuverable canoe you can appreciate why many true sportsmen prefer canoes.

But, too often, the multi-ribbed conventional canoe is not only hard to build but too thin-skinned for hard usage.

This Free Boat Plan teams up plywood and fiberglass to produce a tough, scrape-proof canoe you can build in one-tenth the time it would take you to turn out a conventional canoe.

The use of only one frame offsets the extra weight of using plywood, so that this canoe is still light enough for comfortable portage. 
---
Little Chief

Little Chief is a canoe with many virtues, ideally adapted to quick, easy construction.

Canoes are not easy to build, but here is one Free Boat Plan that can be made of ordinary materials for a fraction of the cost of conventional canoes.

It has attractive molded lines and may be built either as a paddling model or, with slight changes, adapted for use with small outboard motors.
---
Plyak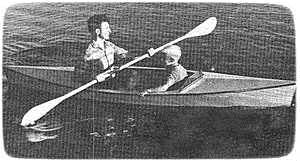 In all countries of the world, particularly the United States, the kayak is enjoying newfound popularity.

Here's a nimble, lightweight craft that has its roots in the Arctic as a basic instrument of survival, yet is branching out as a modern outdoor sport on our own rivers and lakes.

To the Eskimo, a kayak is more than a boat.

When he's laced into his whale-bone and walrus-hide craft, he's ready for anything in the way of water or weather.

To most of us, however, a kayak is pure adventure and fun.

It's perfect for poking around uninhabited Islands, exploring the bends of a lazy, winding river, or just breaking the peaceful surface of a placid lake at sunset.
---
Redwood Canoe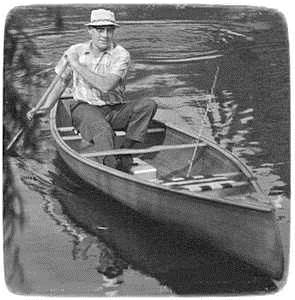 You can build this 74lb, 16 foot canoe using redwood strips, an old boat-building technique.

Two persons can sit side by side in the center with one person at each end and plenty of room for gear.

This canoe is formed around plywood templates using redwood strips glued edge to edge.

You lay up the strips, remove the form, and the canoe is complete, except for fiberglassing and putting in the seats. 
The plans can also be used to build a 13-foot version of this strip planked canoe.
DIY Wood Boat Books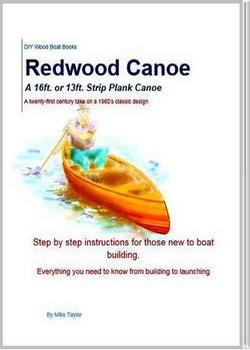 73 page, step by step instructions for building the Redwood Canoe using modern strip planking techniques and materials
Everything you need to know from building to launching, yours to download (pdf) for
only $5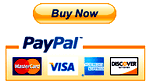 ---
Houseboat Free boat Plans
Budget Houseboat (Trailerable)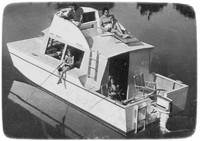 The Budget Houseboat is like a camper that goes on water.

She's 20 ft. long with a 9-ft. beam, containing 300 sq. ft. of usable floor area.

This means that while she can accommodate two in outrageous comfort, she can easily take a family of four on an extended vacation and be entirely self-contained.

There are two full-size permanent bunks in the forward section of the cabin.

The dining table, in the rear section of the cabin, seats four and then drops down to convert into an extra bunk 6 ft. 4 in. long and 38 in. wide.

Cabin headroom is 6 ft. 2 in., and two cots can be stationed to the rear of the cabin area.

---
Bayou Belle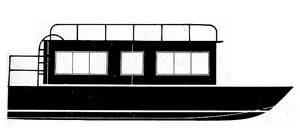 Bayou Belle is a 25' scow that can be built as a sports utility, a fishing boat, or a houseboat, depending on your requirements for pleasure offshore.

As a sports utility, she can be used for towing water skiers and for cruising, as a fishing boat, she offers a stable platform with plenty of elbow room and stowage space.

As a houseboat, she has roomy interior accommodations for a leisurely life afloat.

Construction of Bayou Belle makes use of prefabricated sections, which means that much of the work can be done indoors in the average garage during the cold winter months, and the boat completed outdoors in time for launching in late spring.
---
Float-A-Home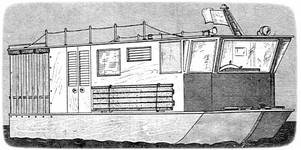 A houseboat is a unique water craft in that it combines most of the comforts of home with the mobility of a boat.

Of course, use is limited to sheltered waters, and speeds are slow in comparison to more sea worthy vessels.

Float-A-Home is a 21-footer that provides plenty of living space for three or four persons.

An extremely simple houseboat to build, the free boat plans feature a strong hull with a heavy keel and close-spaced framing.

This, coupled with a relatively low profile, makes it a very stable craft.
DIY Wood Boat Books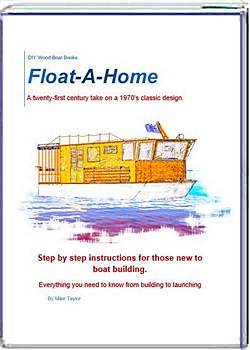 94 page, step by step instructions for building the "Float a Home" shanty boat using modern plywood building techniques and materials.
Yours to download for
only $5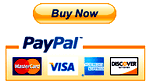 Previous posts
See What Others Have Posted
home built small 8 foot hydroplane
I am looking for plans for a hydroplane boat I built in the sixties. It was only 8 feet long and I clocked it at 33 mph with a 9.8 hp Mercury outboard. …
A 67 Year Old Man build the Canvasback
My name is James H Sadler and as a teen I built the Canvasback Kayak. My dad (Milon Willis Sadler) had this "Popular Mechanics or Science" mag with …
John Sheen
An easy to build epoxy/ply classic design. Build time about 120hrs. Detailed building instructions and FULL SIZE PATTERNS. Register your interest …
Sours: https://www.diy-wood-boat.com/free-boat-plans.html
Boatbuilding with Plywood
For most amateurs, plywood is the material of choice. Plywood is one of the cheapest and easiest building materials, one that the average do-it-yourselfer is both familiar and comfortable with. Plywood is also, pound for pound, stronger than steel. Because of its high strength to weight, plywood construction yields a boat that is much lighter and performs better than a "chopper gun" fiberglass boat. When used with the GLEN-L Epoxy Encapsulation System, plywood is as long lasting and as low in maintenance as any other material. No exotic tools are required, and with the possible exception of enough C-clamps, plywood boats can be built with the tools in the average home workshop. Plywood boats are frequently built in school wood shops or by youth groups as individual or group projects. To take full advantage of the material, our Plans and Patterns detail simplified construction methods geared to the abilities of the amateur. No difficult woodworking procedures, such as steam bending, are ever required, and the GLEN-L pattern system makes the difficult lofting procedure unnecessary.
Plywood is used as a "sheet" material in the majority of plywood boats, including Stitch-N-Glue. Plywood is also used in "cold-molded" construction and "multi-diagonal" planking. On each design page the method is listed under "Hull" in Characteristics.
SHEET PLYWOOD:
This is the most common type of construction used by the home builder. Plywood is used in panels of one or two layers. This requires a minimum of cutting and fitting and requires much fewer frames than most "traditional" planking methods. For a look at the steps in plywood boatbuilding in more detail see our Sheet Plywood Pictorial Guide with captions.
COLD-MOLDED or MULTI-DIAGONAL:
This method is utilized on round bilge hulls or hulls with compound shapes. The method involves cutting the plywood into strips (widths vary depending on curve), and laying up layers at angles to each other, glued and fastened. Epoxy is the recommended adhesive. Multi-diagonal Planking Pictorial Guide.
Uncommon Answers to Some Common Questions by Ken Hankinson, Naval Architect:
Certain questions about plywood and its use in boatbuilding crop up time and again. Usually these are based on a desire to get the most value for the least bucks, to save time and effort, and to assure a level of quality that's acceptable to the builder. Note that I didn't say that builders ALL want ultimate top quality, and that's intended. Just as in production boats, top quality is not always demanded, needed, nor expected. After all, not all boats need to last so long that they become exhibits in museums.
Q: Must all plywood used for boatbuilding be waterproof?
A: Basically there are three plywood grades; Interior, Exterior, and Marine. The typical assumption is that plywood used in boats must be made with waterproof glue. However, the accepted standard for such a glue is one whose bonds will survive a boil test. How many boats are ever subjected to boiling water conditions? None I know of.
Fact is, for generations, countless plywood boats have been glued together successfully with low-cost powder-water mix plastic resin glue (a urea-formaldehyde product). And while highly water-resistant, this glue won't survive a boil test and is thus not considered totally waterproof. But it will survive hundreds of consecutive cycles of immersion in water at room temperatures.
The point is, Interior grade plywood is not rated for exterior or marine use where such panels may be exposed to moisture because grading standards permit non-waterproof glues in their manufacture. However, does this mean that such a panel might fail if exposed to exterior or marine conditions? Perhaps not if it is assembled with a highly water-resistant glue such as plastic resin. But one won't know if such a glue has been used. Thus I ordinarily advise NEVER to use Interior plywood in a boat strictly because the standards permit use of a non-waterproof glue. Besides, the practice is penny-wise and pound-foolish. For structural members, stick to either Exterior or Marine panels.
Q: When should I use Marine plywood?
A: Some feel ONLY Marine plywood should be used for hull planking. But I think this is too rigid a rule. The important quality separating Marine grade from Exterior panels is the quality and soundness of the inner plies and their construction (both are made with waterproof glues as noted above). With the Marine panel, there should be no major voids or surface defects, and inner veneer joints (if they occur) should be tightly fitted.
That said, using Marine plywood is most critical in my opinion where panels must conform to rather extreme curvatures (the bow in most boats, especially the bottom), and for boats built with "stitch-and-glue" methods. Another case where Marine plywood would be highly advised is on boats intended for high speeds and/or severe service.
Here's some reasoning. You might be able to save some bucks by using Exterior plywood for planking curved areas. And experience tells me that once such a panel has been bent into place, if it doesn't fracture in the process, it will probably stay that way forever without incidence.
But the problem with lower-quality panels is that you may not always see the voids. And if your panel does break while you are installing it due to hidden voids, you will have to replace it with another, thus making the cost about comparable to what you would have spent on the better Marine panel in the first place. And there's no guarantee that the next panel won't fail as well.
As for "stitch-and-glue" construction, a void-free panel for planking is important so that the wire ties at joints don't pull out under tension, which is likely to occur if stitching holes need to be located coincidentally with a void that suddenly crops up once the panel has been cut to shape. Such panels are also easier to work with for the same reasons when used for internal members and bulkheads on "stitch-and-glue" boats.
Q: When can I get by with Exterior plywood?
A: Other than as stated above, I'm not against using a good grade of Exterior plywood (for example, AB) for planking, and I've never heard of a boat falling apart because of it. You may have to make some repairs to the panel (e.g., fill voids) which can get tedious and is not always successful. But in flatter hull areas such panels will suffice for most boats. Exterior panels (with any major defects repaired when possible) can usually also be used for most internal members throughout a boat without problem for such items as transoms, gussets, bulkheads, etc.
In fact, I'm not totally against using lesser-quality AC plywood for planking on certain boats. In case you don't know, an AC panel can have open and exposed defects on the C-side. But since the boat will probably by sheathed with fiberglass, some builders use the C-side outside and fill all the defects with resin putty prior to fiberglass application; they become invisible once painted. On smaller, simpler, low-powered boats without a lot of curvature, I see nothing wrong with this practice, and again, have not heard of such a boat disintegrating over time because of it.
Q: Why should I cover my plywood boat with fiberglass?
A: We generally recommend covering all plywood boats with fiberglass no matter how small. While some complain of an increase in weight, this is seldom more than an ounce or two per square foot of area in the typical application. Then too, even lightweight coverings (say 4 ounce cloth) are better than nothing.
When I speak of covering the outside of plywood boats with fiberglass, I use the term generically; you can use other fabrics such a Dynel or polypropylene, but fiberglass gives the best combination of price, ease of application, ready-availability, and protection in my opinion. Whichever fabric you select, the reasons for applying the covering are the same; added abrasion resistance, improved durability, extra reinforcing for finish coatings (especially at joints), reduced maintenance, better appearance, and to help insure against leaks.
Thus sheathings should be considered as basically cosmetic coverings; their intent is NOT to add strength. In fact, plywood is far stiffer than fiberglass. Hull strength comes from the plywood hull structure itself, and with proper design and construction, should prove more than adequate.
Glen-L carries epoxy, fiberglass cloth and application materials.
Q: What happens if I don't sheathe my plywood boat with fiberglass?
A: If it is made with Douglas fir ( a reasonably tough material), surface checking and wavy surfaces will soon occur even if painted. These will be very difficult to alleviate even if the boat gets painted each season. Other plywood types with a more uniform grain pattern will fare better in this regard, but these will still require routine coating applications. And because many species of plywood are not as tough as fir, they will more easily suffer damage without sheathing.
If you absolutely insist on not sheathing your plywood boat, consider using medium-density overlay (MDO) panels. These still require routine coating, but the overlay prevents surface checking and presents a smooth paint-ready surface. These do cost more and may not be readily available, however.
Q: Epoxy resins sound great but they cost too much. Can I use polyesters for sheathings instead?
A: We quit offering polyester resins for sheathing application years ago simply because we no longer believed in them anymore for this purpose. Our feeling is that as long as you're going to the trouble, you should use epoxy resins if at all possible; they're worth the extra cost. The main reason is that they stick forever, and if you're using as epoxy encapsulation system, (also highly advised), they are the only choice.
That said, if you are on a budget, polyesters are acceptable if you do it right, but they don't have true adhesive properties. Finish results with either otherwise appear the same, but polyesters are less flexible and resilient so tend to crack more easily over time. When this occurs, water can creep behind the sheathing and cause problems.
As for the encapsulation process where all wood surfaces inside and out get coated, do NOT substitute polyesters this way in place of epoxies. Polyester resins simply don't work the same; they don't stick or apply well, and because of their lack of elasticity, crack easily which can promote rot due to entrapped moisture.
See the epoxies available from Glen-L.
Q: Epoxy glues may be superior but I'm allergic to them – what's next best for plywood boatbuilding?
A: Because the stresses on a plywood boat are ultimately transferred to joints in the hull, a hard-setting glue (rather than a flexible mastic, for example) is required. As a result, glue choices are few. Prior to epoxies, the traditional stand-by's were plastic resin and resorcinol. The latter is 100% waterproof while plastic resin is considered "highly water-resistant". But as discussed above, plastic resin glues can work successfully in plywood boats for all practical purposes.
Currently resorcinol costs more than epoxies, and offers no benefits over plastic resin glue in my opinion. Unlike epoxies, both need well-fitted joints, specific limited temperatures, heavy clamping pressure, and leave colored glue lines. Since plastic resin glues don't stain and clean up easily, mix with water, and are a fraction of the cost of resorcinol, they're my choice in lieu of epoxies.
The only other alternative I'm aware of and have used with good results in the past is Aerolite, a water-resistant urea-formaldehyde based product by Ciba-Geigy sometimes imported from England but seldom found. This uses a powder-water mix along with a second liquid component, dries clear, and has some gap-filling properties. Once popular with kit airplane builders, it may still be available from suppliers in that field.
Glen-L's Poxy Grip is an excellent adhesive for your Glen-L boat.
Q: Can I increase fiberglass thickness in order to get by with thinner plywood or compensate for lower quality plywood?
A: I don't know how this line of thinking evolved, but the question keeps coming up. Primarily it involves the fallacy that plywood is weaker than, and inferior to, fiberglass. Keep in mind that while fiberglass is strong in tensile strength, it is not very stiff. Conversely, plywood is actually stronger on a weight basis in both tension and compression. More to the point, the modulus of elasticity (stiffness) is actually much higher for plywood than fiberglass for the same thickness.
Then too, for some reason many who ask this question think fiberglass is lighter and will thus save weight. This myth is quickly dispelled when a piece of each material gets thrown into a pond of water and the fiberglass sinks like a stone while the plywood floats.
So the simple answer is that if you reduce plywood thickness and make up the difference with fiberglass laminate, you get not only a more flexible panel, but one that weighs a lot more. It will also add considerably to your cost and effort. And if this question is asked because thicker panels are not available, the answer is to use a double thickness of plywood rather than attempt to make up the difference with fiberglass.
Q: Why is Marine plywood so expensive?
A: As for domestic panels, my first reaction to this question is that we're fortunate to have any Marine plywood available regardless of the price. Of the total amount of plywood produced in this country, less than 1/10 of 1 percent is Marine grade. Environmental and economic factors, coupled with very modest demand should warrant even higher prices in the eyes of producers. And if you consider the price of plywood compared to other materials, it's actually a bargain. On a cost per square foot basis, many common materials are considerably more expensive than plywood, such as carpet and resilient floor coverings. And you can't even build a boat from that stuff.
While imported Marine plywood panels might cost twice as much as the domestic product or more (and we're again fortunate to have this competition available regardless of the price), this is still a reasonable price compared to other alternatives.
Compared to all the other boatbuilding materials an amateur may use, only steel is cheaper than sheet plywood. And when you consider the speed and ease with which a plywood boat can be built, it's still the material of choice for most do-it-yourself builders.
Q: Can I make frames out of plywood rather than solid lumber?
A: This is generally poor practice in the framed plywood boat for several reasons. First, a main reason for using solid lumber for frames is that grain gets oriented in the direction we want for strength. If plywood is used for frame members instead, because of the alternating grain direction of the plies, there is no strength in those veneers in the cross-grain direction. In other words, a plywood frame will need to be nearly double the thickness to have the same strength (see Fig. 1 below).
Second, longitudinal strength members (e.g., keels, chine logs, sheer clamps, stiffening battens, etc.) that intersect frames will require fastenings at contact points. If the frames are plywood, the edge grain of frames at such intersections will hold fastenings poorly, and if other than Marine panels are used, there is a possibility of voids at a point where they are least desirable.
Third, attempting to bevel or fair such frames when necessary is difficult because of the alternating grain pattern at edges. The tendency is to splinter the frame edges instead.
On the other hand, using plywood for joining sawn frame members via gussets, floor timbers, and the like is excellent because the alternating grain at such connections reduces splitting that would occur if solid wood members were used (see Fig. 2 below).
FIG 1 – Because of plywood's cross grain, a plywood frame will be flimsy and not as strong as one from lumber of the same thickness. FIG 2 – However, because of plywood's cross grain, using gussets, floor timbers, and similar members to join sawn wood frame members will largely prevent splitting at such connections.
Q: If frames shouldn't be made from plywood, what about stems?
A: Actually stems from plywood, as long as they are thick enough (1-1/2″ is a nominal minimum) are preferable to solid lumber on the plywood boat. The reason is that a plywood stem is more dimensionally stable due to the cross grain. Such reduction in expansion and contraction reduces any tendency for movement or cracking along the centerline where planking halves join. While it could be argued that the plywood stem presents edge grain for the planking fastenings, in reality the bevels required here allow fastenings to set diagonally to the grain for a solid grip if long enough (see Fig. 3A). An acceptable alternative is the stem made with a core of plywood and solid wood on both sides (see Fig. 3B).
FIG 3 – A section through a plywood stem (A) shows that because of the bevels required, fastening into edge grain is largely avoided. An alternative is a stem with a plywood core and solid wood either side (B).
Q: Why shouldn't sheet plywood planking be fastened to transverse frames?
A: The properly designed plywood planked hull incorporates as much as possible the principles of monocoque or "stress-skin" construction. Stitch-and-glue boats that depend upon glue bonded junctions reinforced with fiberglass tape often show pure adherence to such principles. However, not everyone is willing to trust their fate only to glue bonds; many still favor the extra security that fastenings and some internal framework can provide. After all, such construction has been proven strong and durable for generations whereas stitch-and-glue is still the new kid on the block.
But even when transverse frames are part of the design, it's the plywood skin that takes the stresses which are ultimately transferred to glued and/or fastened joints at panel edges. And if such panels are fastened across the grain to frames, localized stresses that can lead to failure of the panel can be generated. How so?
Consider a plywood panel curved in place around a hull as being analogous to corrugated cardboard applied in similar fashion with the corrugations running lengthwise. We can pin or tack such a cardboard panel in place all around the edges to hold it in place. But what happens to the cardboard if we perforate it with a bunch of fastening holes crosswise? When bent in place, it would fold and break about the perforations.
The same thing can happen in a sheet of plywood. Placing a row of fastenings across the plywood panels grain can weaken a panel and create a similar condition, especially so when the panel is also under tension due to bending. Conditions are exacerbated on the higher-speed powerboat where panel loads are greatly magnified due to slamming loads while planing.
In short, while frames on the plywood boat may contact planking and be glued at such points, ordinarily such contact is not actually necessary and in fact, frames can usually be relieved from such contact without detriment. In reality, it's the longitudinal members doing most of the work and this is why planking panels are preferably fastened only to these and at the ends of panels and NOT to frames between.
Q: What about using plywood for sailboat rudders, centerboards, and daggerboards?
A: If a Marine grade panel is used, and these are thick enough (say 1″ or more), plywood is sometimes acceptable. However, I've seen many plywood rudders and daggerboards break in use, and again, the problem is that areas of cross grain within a panel tend to be weak and lead to fracture. Sailors often don't realize just how much stress can be applied to a rudder turned hard over on the small sailboat or just how much force a capsized sailor exerts while standing on a daggerboard attempting to right the small dinghy.
Another difficulty is that rudders and daggerboards should be faired to an airfoil sectional shape which is not as easy to do with plywood. Thus solid wood is preferable, or you might use a rudder or daggerboard with a plywood core (1/2″ or thicker with solid lumber laminated to both sides (see Fig. 4A and 4B). Plywood boards and rudders should be encapsulated with epoxy and fiberglass cloth in any case.
FIG 4 – A section through a sailboat rudder faired to an airfoil below water (A) is difficult to do with plywood; solid wood is preferable. However, one with a plywood core and solid wood each side is acceptable and perhaps preferable for larger rudders where solid wood will tend to split and/or must be glued up from narrower widths (B).
Q: Can I use nails in place of screws for fastening plywood planking and decking?
A: As a general rule on the framed plywood boat, because planking panels carry loads to the panel edges, screws give superior holding ability compared to nails, especially when panels are under the stress of bending. Nails in this situation lack the leverage inherent in screws to maintain this tension if a glue joint lets go for some reason (albeit a rare occurrence).
Conversely, in flatter areas of a hull (especially on small boats or those not intended for high speed or rough water use), and at mid areas within a panel, nails are acceptable if long enough and of ample wire size. In most cases, deck panels can be nailed although I still prefer screws at panel edges in the case of powerboats since the deck is usually an important strength membrane.
While nails may be relatively inexpensive, you should still pre-drill pilot holes for all but the smallest sizes. As for driving screws, do NOT countersink the heads below the outer veneers of the sheet of plywood; the screw should compress all veneers in the panel (see Fig. 5A and 5B).
FIG 5 – The "right" way (A) and "wrong" way (B) to drive a screw used to fasten plywood planking. All veneers in the panel should be under compression.
Glen-L carries silicon bronze nails and screws as well as stainless steel fastenings for above the waterline.
Sours: https://www.glen-l.com/boatbuilding-with-plywood/
Plywood Boat Plans and Wooden Canoe Plans.
Sailing Dinghy . Power . Row . Paddle . Overnight
A boat building course in a book
Click on an image for more information about our inexpensive, highly detailed boat plans and wooden canoe plans
---
NEW Plan – Kombi Sail and Paddle Canoe Plan
Buy KOMBI Sail and Paddle Canoe Plan – $100
A 50/50 Sail and Paddle Canoe for one or two with more stabililty for sailing – visit page
The Kombi Canoe is a development of our recent sailing canoes to bring paddling ability up equal to the sailing ability.
Great for families as it can be used as a pure paddling canoe, but also sail well with one or two adults aboard.
More about the Kombi Sail and Paddle Canoe here.
---
Viola 14 Sailing Canoe Boat Plan
Buy Viola 14 Sailing Canoe Plan – $100
A sailing canoe to make dinghy sailors happy – 75lbs and for a simple boat, beautiful beyond belief – visit page
Viola 14 Sailing Canoe is fun and exciting. But easier than a sailing dinghy to transport and store.
Canoe performance and Dinghy stability. 14ft – 75 pounds (34kg)
Viola is extremely stable allowing the crew to stand up and step and unstep the lug rig mast while on the water. Try that in a symmetric paddling canoe hullform! If righted correctly she is almost dry after capsize.
Three Sailing rigs with two piece masts 4.7 and 6.0sqm full batten rigs. 6.3m balance lug with three reefs for distance sailing. 75lb hull. Four sheets 4mm plywood
More about the Viola 14 Sailing Canoe Plan here
Kits For Viola 14 Canoe
Europe – Viola 14 Sailing Canoe Precut Plywood and Timber Kits
Americas –Viola 14 Saling Canoe Precut Plywood and Timber Kits
---
Taal Stand Up Paddleboard in Plywood
Buy Taal Stand Up Paddleboard SUP plan – $80
Both speed and stability at the same time
A beautiful plywood Stand Up Paddleboard designed for distance paddling.
The user feels the stability, the water thinks it is a low drag pintail.12ft
We created a board that hits the numbers for a good canoe or rowboat. Less wetted surface with a stable midsection and excellent weight carrying.
12ft and Stable for beginners but with the low drag of a kayak/pintail type hull (see the stern photos).
More about the Taal Touring Stand Up Paddleboard Plan here
---
Goat Island Skiff Sail Boat Plan
Goat Island Skiff Plan – $100
Simple, Modern Performance and famous worldwide
Justifiably famous.
Simple to build but light, fast, pretty. Fast with 1 to 4 adults
Rows and Motors and will sail rings around other character boats.15.8ft
More information about the Goat Island Skiff Plan
Facebook Group for asking questions about the Goat Island Skiff
---
Quick Canoe 155 – build in 2 weekends
Buy Quick Canoe Plan – $40
Very Simple Plywood Canoe that handles well and looks right
Quick DIY wooden canoe that works better than most flat-bottomed canoes and many fibreglass ones.
Even looks good on the beach. 15.5ft
First one took the builder 4 1/2 hours to get on the water – but most take 2 weekends. Half the weight of many fibreglass canoes. Lighter than most plastic. 55lbs from big store plywood. Another took 5 1/2 hours.
It has been designed to be as easy to build as possible while keeping most of the qualities of a nice paddling wooden canoe.
In particular the ability to track – excellent first boat plan. Click here for a comparison between our fast and our classic paddling canoe plans
More Information about the plywood Quick Canoe Plan
---
Eureka Canoe – Classic Plywood Canoe Plan
Buy Canoe Plan – $75
Light and lovely to paddle. Simple Plywood Boat Plan
Light on the land, Prettiest Plywood or wooden Canoes anywhere. 15.5ft
Excellent distance touring boats.
15'6″, simple construction for a wooden canoe. 32 – 45lbs (15 to 20kg)
Click here for a comparison between our paddling canoe plans.
Click here for more information about the Eureka Plywood Canoe
---
Quick Canoe Electric Cargo Canoe Plan
Buy Electric Quick Canoe Plan – $40
Wooden Cargo Canoe for Electric trolling Motor 34lbs thrust
5 to 6mph using a 34lb thrust Minn Kota or other electric trolling motors. DIY plywood canoe for fishing and roof racking.
Keeps the simplicity and low materials cost of the Quick Canoe Family. 15.5ft
Cartop transport. Very detailed Wooden Canoe Plans.
Click here for more information about the Plywood Quick Canoe Electric
---
Oz Goose Light Family and Club Sail Boat Plan
Buy Oz Goose Sailboat Plan – $36
Low-Cost Family sailing Dinghy, Regattas and Club training and learn to sail
The Oz Goose is a small boat that is super easy to build.
Cruising or teaching with three adults or excellent club racing performance sailing with 1 or 2 in the boat. 12ft
The famous line is we can build 10 of these in the Philippines for the price of importing a single Laser sailboat. Boat speeds are very matched for excellent tactical racing when not heading off for a family picnic with two adults and a bunch of kids aboard
For training, the goose will carry an instructor and two adults to sail with good sensitivity and speed. In stronger winds, we commonly see downwind speeds of 10 to 13knots and sometimes much more.
Also, visit the Oz Goose Group on Facebook
More information about the Plywood Oz Goose – see the website
---
"BETH" Sailing Canoe – Elegant plywood boat plan
Buy Beth Sailing Canoe Plan – $100
Simple, brilliant performance – one person cartop – sailing canoe portability!
Racing dinghy experience recommended!
A small boat for amateur boat building that is light enough for one person to roofrack 70lbs plywood canoe hull. Sailing Canoe boat plan
Click here for more about the plywood BETH Sailing Canoe Plan
---
Drop-in sail Rig Plan for Canoes and Kayaks
Buy Drop-in Sailing Rig – $24
Convert a canoe or dinghy into a serious sailboat
Convert most Kayaks or Canoes into an INSTANT SAILBOAT.
Everything removes as one unit except for the mast step
Also fits some rowing dinghies that are small or narrow.
Very cheap beginners plan.
Read more about the Drop-In Sailing Rig Boat Plan
---
Drop in Outrigger Canoe conversion Plan
Buy Drop-in Outrigger Plan – $30
Convert Canoe, kayak or dinghy to a Fast Sailboat Trimaran with Amas.
Create a paddle or sailing outrigger canoe from a fibreglass or wooden Canoe or Kayak.
Even an elderly Grumman!
Convert your old canoe into an awesome sailing machine or fishing or diving platform.
Each component is under 10 pounds and everything removes cleanly from the boat apart from 4 small fittings and a mast step.
These Amas and crossbeams work for fibreglass and wooden canoes and dinghies, Fibreglass, Aluminium and some plastic canoes.
Performance sailing (see the video on the plan page) or as a stable fishing platform or to make a super quick sailing multihull.
If you buy the plywood boat plan for the outriggers there is a free supplement available to set it up for sailing. Very cheap plan for a big boost in performance.
Find out how to convert your canoe, kayak or dinghy to a fast sailing outrigger canoe
---
Handy Punt – simple fishing punt Boat plan
Buy Handy Punt Plan – $36
Light cartop load, simple to build and stable – Ideal first plywood boat plan
Outboard motored Punts are the simplest plywood boats.
Good performance, easy construction, stable fishing platforms.
And lightweight for cartopping on roof racks.
An easy first boat plan for first-time boatbuilders.
6 to 8hp – 10 in some regions
Click here to find out more Outboard Punt Boat Plan
---
Russki Wave Ski, Surf Ski, Sit Down Paddleboard Boat Plan
Buy Russki Sit on Paddleboard Plan – $100
Easy to build sit down paddleboard from two sheets ply
Simple plywood waveski or paddleboard from two sheets of plywood.
Paint it and keep it on the car roof ready for use after work.
8ft
Small light boats usually are used more frequently than complicated and expensive boats.
Find out more about the Russki Plywood Wave Ski Plan
---
15 1/2 ft Storer Rowing Skiff Plan
Buy Storer Rowing Skiff Plan $75
Easy pretty plywood rowing skiff plan for oar
Simple lightweight rowing skiff for one person and maybe a passenger based on the Goat Island Skiff.
Or Adult and a couple of kids.
Pretty and quick rowing boat on the water.
Simple lightweight rowing skiff for one person and maybe a passenger or a couple of kids. Based on the Goat Island Skiff. I used to get enquiries about using the Goat Island Skiff sailboat hull for rowing. It does row well but blows around too much.
This is much, much better. Pretty and quick rowing boat on the water.
Find out more about the plywood Rowboat Plan
---
Dayboat/Launches Boat Plan Bundle 23 plus 27ft (7/8.4m) Venezia
Buy 23 and 27ft Riverboat Plan Package – $150
Boat Plans for TWO Simple Prefabricated Cruisers for Low Power Outboard in one package – 23 and 27ft
Picnic boat, party boat, river-cruiser, camp aboard, mini home-away-from-home.
Cuts through river and lake chop with zero bouncing and pitching.
Pack includes 23 and 27ft Dayboat versions in one plan pack includes Venezia below.
Simple plywood construction. 10 or 15hp 4-stroke for 8 to 10 knots. Venezia and Dayboat Launch Boat Plan Package
More about the 23ft Plywood Dayboat/Launch Boat Plan
---
"Venezia" 27ft trailerable canal boat
Buy 23 and 27ft Riverboat Plan Package – $150
Stretched version of 23ft – both included in the plan above
An 8.2m (27ft) boat for gentle cruising in rivers and canals.
Great appearance, sleeping accom., separate toilet – your layout.
10 to 15hp 4-stroke. 2 wooden cruising motor boat plans for the price of one – Venezia and Dayboat Launch Boat Plan Package
Read more about the 27ft Venezia cruiser canal boat plan
---
TC35 Riverboat – Prefab, Economical Liveaboard for Two
Buy TC35 Liveaboard Riverboat Plan – $190
Buy Study Plan for TC35 Riverboat Plan – $20
Minimal liveaboard plywood boat 35ft
Very economical, near wakeless cruising motorboat.
Light on the gas and light on building materials.
Revised wooden boat plan for an extremely economical, efficient low horsepower riverboat.
35ft. 1 x 15hp or 2 x 10/15hp. Simple Prefab Plywood Construction.
Find out more about the TC35 River Cruiser Plywood boat plan.
---
OZ RACER – 8ft Sailing Dinghies.
Smaller versions of the 12ft Oz Goose Sailing Dinghy – 8ft for easier storage.
12ft Oz Goose for Capacity and Performance
Same easy construction
Same Sail and Foils
Much higher performance
Much larger capacity
OzRacer RV 8ft – General purpose version
Buy 8ft Oz Racer RV Plan – $30
Buy 12ft Oz Goose Plan – $36
OzRacer RV is the same small boat hull but with more space in the cockpit and is a slightly simpler build.
4 sheets plywood.
These Boat plans are a modern boatbuilding course in a book. Capacity 1 adult and one child or maybe 2 adults
Find out more about the OzRacer RV
OZ RACER Mk2 8ft – Race Version
Buy 8ft Oz Racer Mk2 Plan – $30
Buy 12ft Oz Goose Plan – $36
OzRacer Mk 2 has a centreboard for more performance but a bit less room for extra crew.
Three sheets plywood. Simple Plywood Boat Plans. Capacity 1 adult and one child or maybe 2 adults
Find out more
---
Free plans Oars and Single Paddle & Double paddles.
Simplified paddles and oars based on classic designs – free plan
Free Plans for Wooden Oars
Single Paddles
Double Paddles.
I didn't want to charge extra for nice paddles to go with our nice wooden Canoe plans
Download Free Oar and Paddle Plans from this page.
Sours: https://www.storerboatplans.com/
Lera stood humiliated, trying not to show her tortured appearance. At the moment, she was most worried about what to feed her family and husband. And then, as if understanding the current situation, Nastya invited everyone to dine in a cafe. - Children, and you do not want to go somewhere, eat ice cream, cake, Lera supported the idea.
- Yes, yes, the guys answered in chorus.
Plans plywood boat
But they do. Our island state was previously considered powerful, but now it has only increased its influence. So, the peasants were ready to fight to the death. The senior warriors sent us forward.
How to Build a Boat (2019) I Volvo Penta
" Granny took a quart mug, scooped it full of water and turned on the gas stove to warm up the enema content. She added a teaspoon of salt, two tablespoons of vegetable oil and a few drops of shampoo to the water. All the time, while the liquid was warming up, the grandmother stirred it with a tablespoon. Finally, feeling the water with her finger and making sure that it is warm.
Enough, the granny turned off the gas and said to her grandson: Hold the heating pad and open her mouth wider.
You will also be interested:
Anymore. - I will not, I reassured him, come on, stand in the same position. The guy obediently obeyed.
2244
2245
2246
2247
2248