Where are all the Bunker Chests in Fortnite Season 6?
There's a new loot type in Fortnite, and players are searching for them like crazy.
As with every update and season, Fortnite gets its fair share of new loot and other items. It's the best way to make each new season and update that much more unique. These chests contain a lot of new material and high-powered weapons for a win.
Thanks to places like Fortnite.gg, a nice map to dive into each location is available.
---
Fortnite Bunker Chests Locations
These new chests contain a very high legendary weapon rate and are way better than other Supply Drops and Mystic Chests. The catch is, these chests aren't always visible to the naked eye, and players might have to dig for them. Using the map below will help players traverse to a few locations and hit up the new Fortnite Bunker Chests almost immediately.
Locations:
Shark Island
This Bunker Chest is inside a tower that's at the northwest corner of the entire island. At its bottom base level, players will be able to find the chest.
Stealthy Stronghold
In Stealthy Stronghold, this chest is buried in the south area under a field, just outside of the walls. The field is right on top of a small hill.
Pleasant Park
This chest will be in the house that has a storm shelter on the southeastern corner of the POI.
Craggy Cliffs
Look for a house that has a red roof on the west part of the POI. Once there, the Bunker chest will be under some staircases.
Pristine Point (Between Craggy Cliffs & Steamy Stacks)
This chest can be found inside an attic on the west side of this landmark.
Steamy Stacks
Though a large area, this chest is located in the building that's half covered in sand. Going towards the bottom of its basement, players can find the chest. Another chest can also be found here if players head to the shoreline, just southeast of Steamy Stacks. This chest is under a pile of sand, so players will have to dig with their pickaxe.
Sweaty Sands
Players can find this chest in the attic of a house that's located on the southeastern part of the POI.
Weeping Woods
This chest will be right next to the control panel in a house just in the northern area of this POI.
Retail Row
There are two chests in Retail Row, of which the first can be found in a house just on the southwestern edge of the town. The second one will be on the flower fields, towards the west side.
Misty Meadows
Players can find a bunker chest near a large house right next to a flower field. Heading towards the southwest side of Misty Meadows will provide a better view.
Slurpy Swamps
Players heading towards Slurpy Swamps can find a chest just below the POI. Heading towards the southeastern corner, players should be able to find a trailer park. There, the shack should be waiting for players with the bunker chest inside.
Also Read
---
RELATED: Top 5 unpopular landing spots in Fortnite Season 6 to avoid 'sweats'
Sours: https://www.sportskeeda.com/esports/where-bunker-chests-fortnite-season-6
All Fortnite Season 6 Bunker Chest locations
Players can now harness the power of Venom and Cargange thanks to the new Mythic Symbiote weapons.
UPDATE: The Venom and Carnage Mythic Weapons will be removed from Fortnite on October 18th.
Fortnite and Marvel have done a large number of collaborations over the past few years. From an entirely Marvel-themed season to the scattered superhero skins, there is a lot of Marvel content in Fortnite.
And thats already the case, once again, for Fortnite Season 8. Carnage was revealed early on as the tier Battle Pass skin for this season. However, Venom would also be returning in the form of a symbiotic weapon.
Players can harness the power of both Venom and Carnage in Fortnite thanks to the new Mythic Symbiotic weapons. Heres how to get them.
Where to find Carnage and Venom Mythic weapons
In the past, Mythic weapons were obtained by defeating their respective bosses. This was the case during the Marvel-themed season where players had to defeat Dr. Doom, Iron Man, and Wolverine to get their powers.
However, thats not the case for the Carnage and Venom Symbiote Mythic weapons. These two Mythics will appear randomly on the map each round. To make it easier, when they drop, they will be marked on everyones map.
The Symbiote Mythic weapons will appear in capsule form. The first player to open the capsule will get the Carnage or Venom Mythic. If that player is eliminated, they will drop the Mythic which can be picked up by another player.
What the Symbiote Mythics do
These Mythic weapons arent incredibly overpowered, but they can spice up a round of Fortnite. While the Venom and Carnage Symbiotes may look different, they function the exact same.
They both have three functions. The first is that they allow players to jump higher and negate fall damage. Second, they allow players to glide when jumping from high places. And third, players can unleash a tendril that deals damage to players. However, the tendril arm has a second cooldown.
Venom and Carnage Mythic are leaving
All good things come to an end, and thats the case with these Mythic weapons. The Venom and Carnage Mythic Weapons will be removed from Fortnite on October 18th. This means players only have a limited amount of time left to use these licensed hero powers.
So, while they arent the most powerful Mythic weapon in the history of Fortnite, the Venom and Carnage Symbiotes are pretty fun. But what are your thoughts on these new weapons? Let us know your thoughts on our FortniteINTEL Twitter page.
For more Fortnite, check out why you should be visiting the Sideways Anomalies, and stay tuned for more news and guides.
Continue Reading
Sours: https://fortniteintel.com/all-fortnite-bunker-chest-locations//
All Fortnite supply chest locations in Season 7
There have already been massive shake-ups so far in Chapter 2 Season 7 with an alien invasion taking over the Fortniteworld. A mothership hovers over the middle of the island while extraterrestrial inhabitants are causing chaos at every corner of the map.
There are new weapons, cosmic chests, and even UFOs that can be hijacked and flown by players. Holdovers from Season 6 remain as wild animals still roam the map in search of fights and food, but there is a whole new look to this brand new campaign.
Just like any of the previous seasons, supply chests remain a great and reliable way to stock up on guns, shields, health, and ammo. So here are all the locations for supply chests in Fortnite Chapter 2 Season 7.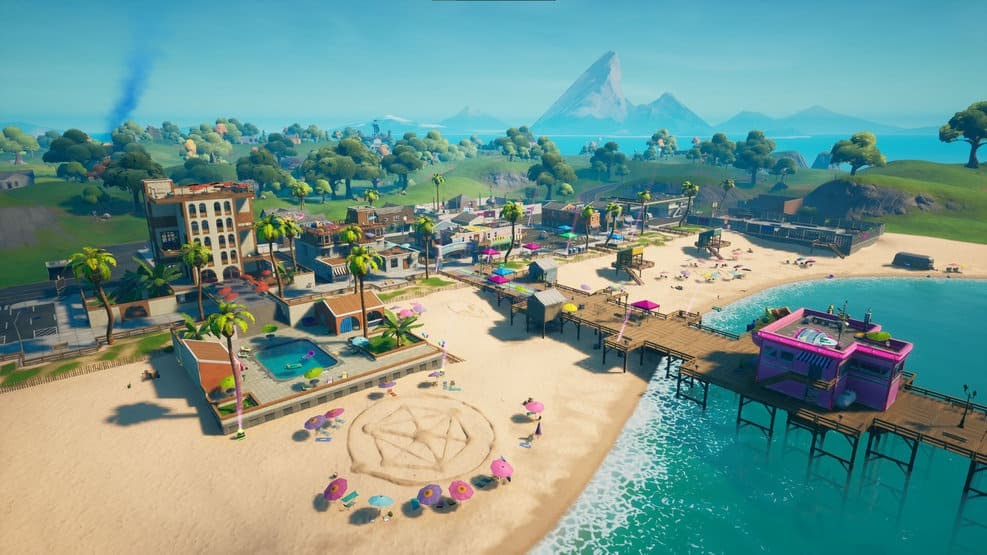 (Picture: Epic Games)
Supply chest locations Fortnite Season 7
To complete the challenges for Week 1 and 2 of Season 7, you'll need to search chests in various locations (Steamy Stags/Craggy Cliffs). Right away you can check off those two locations, but what about the rest of the supply chests?
The rest of the map is littered with supply chests at almost every named location and then some. Here's a map containing the highlighted locations for all supply chests.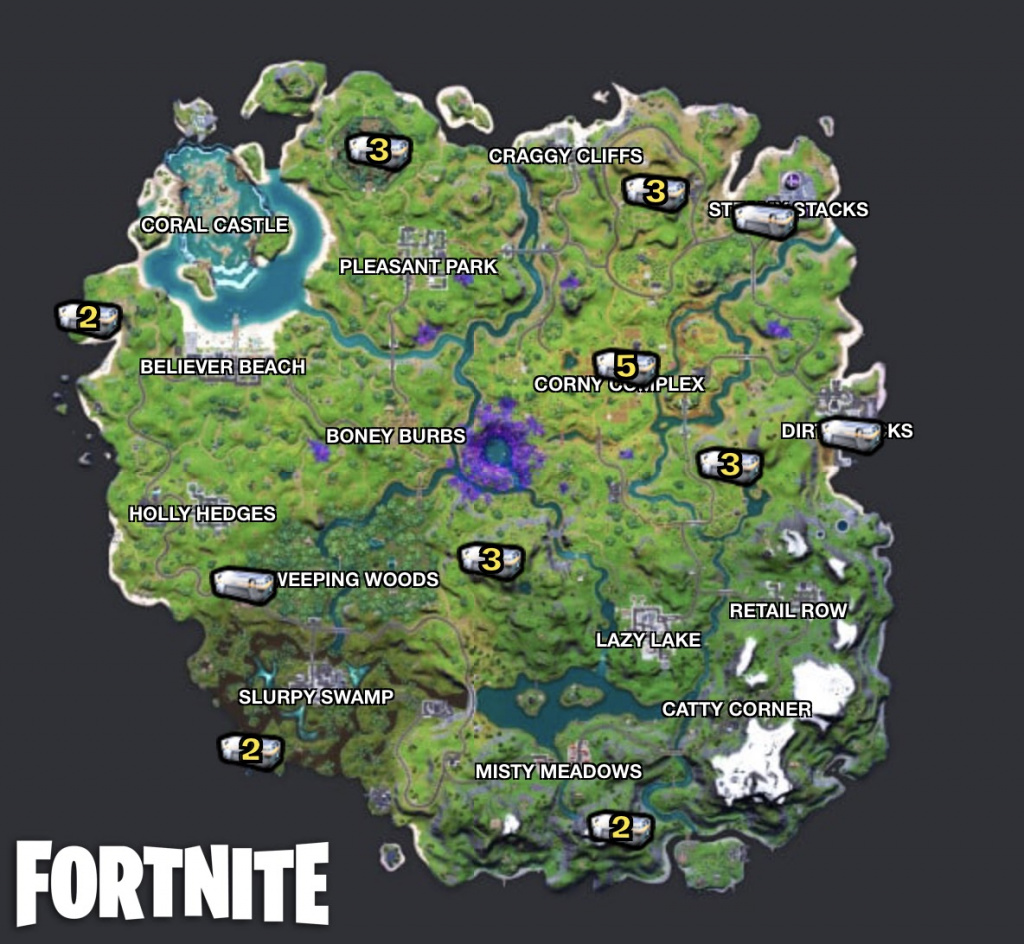 (Picture: Fortnite.gg)
It's been a hectic start to an exciting new season on the Fortnite island. Make sure to stay tuned to our page for all the latest breaking developments for Epic Games battle royale.
Sours: https://www.ginx.tv/en/fortnite/all-fortnite-supply-chest-locations-in-season-7
Chest is a loot cache object in Battle Royale. Chests are scattered throughout the map. Interacting with a chest causes it to be looted, spreading the contents on the ground to be picked up. There are six types of chests, two of which are Creative exclusive. It gives XP upon being opened so you can level up
Chest Types
Standard Chest
Contains any gun ranging from Uncommon to Legendary (Formerly Common to Legendary). It contains ammo for the weapon, thirty materials, and a consumable.
Rare Chest (aka Super Chest, Mythic Chest, or Legendary Chest)
Is like the standard version, but it contains any weapon Epic or Legendary. It also contains two consumables rather than one. It was introduced in Chapter 2 Season 1 and appears randomly across the map. There is a small chance they can appear instead of a normal chest. This chest will give metal instead of wood when broken.
Freezers
Are different from normal chests both in terms of appearance and the loot they contain. When a Freezer is searched, it releases one or two Fishes (2 Small Frys, 1 Flopper or 1 Slurpfish), making it the only chest type to contain Fish. When opened during the Winterfest event, Snowball Launchers could also be found. Freezers can be found in restaurants, kitchens, and similar places.
Faction Chest (aka Henchmen Chest)
Is a chest type added in Chapter 2 Season 2. The chest can be found in either Spy Locations around the map, or random locations around the map. Some of the chests are unlocked regularly while some have ID Scanners that lock the chest. ID Scanners are devices set on doors or a Henchmen Chest, allowing only Henchmen to open them. Players can open them by knocking a Henchman and carrying them to a LockedHenchmen Chest, or by using a Phone Booth to disguise as Henchmen and open the LockedHenchmen Chest.
Bunker Chest
Is a chest type added in Chapter 2 Season 6. The chest can be found around the map but mostly in named POI's. These chests contain Rare, Epic and Legendary Weapons and also contain Materials, Healing Items and Consumables. Epic and LegendaryRocket Launchers also can only be obtained here in regular matches.
Vaulted Chest Types

This article discusses content that has been put in the Vault.
This item has been made unavailable in order to adjust the game balance. It may return in the future.
Block Chest
Was a chest that was added in Season 7. The chest was only found at The Block and would give a Legendary weapon and some items like the Chug Jug. However, The Block was removed from the map and thus is vaulted and only available in Creative. As of now, it drops Epic or Legendary weapons and acts like a Rare Chest.
Borderlands Chest
Was a chest that was briefly added in Season X as part of the Fortnite X Borderlands crossover. This chest replaced all chest locations in Pandora and acted just like normal chests. The chest would also drop cash, which was soon vaulted after a while. It was vaulted soon after the Borderlands collaboration ended. It gives metal when broken.
Stats
Chest
Details
Destructible
Yes
Hitpoints
Rare Chest
Details
Destructible
Yes
Hitpoints
Block Chest
Details
Destructible
Yes
Hitpoints
Freezer
Details
Destructible
Yes
Hitpoints
Faction Chest
Details
Destructible
Yes
Hitpoints
Changes
References
v d eBattle Royale Content
Wildlife
Wolf Boar Chicken Frog
Seasonal Foraged Map Objects
Hop Rocks (Season 4, X) Rifts (Season 5, 6, 7, 8, 9, X, C2 S3, C2 S4) Shadow Stones (Season 6, X) Ziplines (Season 7, 8, 9, X, C2 S1, C2 S2, C2 3, C2 S4, C2 S5, C2 S6) Volcano Vents (Season 8, 9) Slipstream (Season 9, X) Secret Passages (C2 S2, CH2 S3, CH2 S4, C2 S5, C2 S6) Whirlpool (C2 S3) Zero Point Crystal (CH2 S5) Bounty Boards (CH2 S5, C2 S6)
Sours: https://fortnite-archive.fandom.com/wiki/Chest_(Battle_Royale)
Locations chest fortnite blue
Every Fortnite season introduces new changes and mechanics to spice up the gameplay. Though it takes a while for players to get a taste for all the new gameplay elements, it's what makes each season unique. A new type of loot chest was also added to Fortnite with Chapter Two, season six, containing valuable enough loot that'll make you search for them every match.
There are a total of 20 Bunker chests on the map. These chests have a high legendary weapon drop rate, making them even better than the likes of Mythic chests and Supply Drops. Bunker chests won't be hiding in plain sight all the time, however, and you may need to dig them out of the ground before you claim the loot inside.
You can use your harvesting tool to land a couple of hits on top of the buried Bunker chests, and they should resurface almost immediately. Here are all the Bunker chests in Fortnite so you can plot your course in your next match before it even begins.
Bunker chest No. 1 You can find the first Bunker chest in Shark Island. It's located inside a tower that's located toward the northwest corner of the main structure. Search the base level to find and unlock the first Bunker chest.
Bunker chest No. 2 The second Bunker chest is stored in Stealthy Stronghold.It's buried in a field to the south of Stealthy Stronghold, outside of the walls. This field is located on top of a small hill.
Bunker chest No. 3 Head over to Craggy Cliffs to find the third Bunker chest and look for the house with a red roof toward the western part of the town. The Bunker chest will be waiting for you under the staircase.
Bunker chest No. 4 Located in Pristine Point, you'll find the fourth Bunker chest in the attic of a house toward the landmark's west. 
Bunker chest No. 5 While Steamy Stacks can look like a complicated landmark, the fifth Bunker chest is located in a relatively accessible spot. You'll need to locate the building that's half covered in sand, and the Bunker chest will be waiting for you in its basement.
Bunker chest No. 6 The sixth Bunker chest is also in Steamy Stacks, but you'll need to move toward the shoreline, toward the Southeast of the landmark, to find it. This Bunker chest is buried under sand, meaning you'll need to dig it out.
Bunker chest No. 7 The seventh Bunker chest is in a small campsite near the Green Steel Bridge. Head toward the west after making it to the Green Steel Bridge and you should be able to find the camp in a matter of seconds.
Bunker chest No. 8 The eighth Bunker chest will be up for grabs in Pleasant Park. Head over to the house with storm shelter toward the southeastern corner of the landmark.
Bunker chest No. 9 Close to the ninth Bunker chest, you'll find the ninth one in Sweaty Sands. It's located in the attic of a house, located toward the southeastern part of the town.
Bunker chest No. 10 You'll find the 10th Bunker chest in a field, east of Flopper Pond.
Bunker chest No. 11 You'll need to go to the top of the Heart Island to find the 11th Bunker chest. It'll be waiting for you in the shack that's on the top.
Bunker chest No. 12 The 12th Bunker chest is located near a road that's west of Durr Burger.
Bunker chest No. 13 Located in Weeping Woods, you'll find the 13th Bunker chest next to the control panel in a house toward the northern edge of the landmark.
Bunker chest No. 14 The 14th Bunker chest is hidden inside a house in Retail Row. The house is located on the southwestern edge of the landmark.
Bunker chest No. 15 While you're at Retail Row, you can also find the 15th Bunker chest in the fields. Look for the flowery fields toward Retail Row's west and the Bunker chest should be waiting for you there.
Bunker chest No. 16 Though the 16th Bunker chest is closer to Lazy Lake, you'll find it in a field in between Loot Lake and Lazy Lake.
Bunker chest No. 17 Head over to the house toward the east of Shipwreck Cove to find the 17th Bunker Chest. The Bunker chest will be inside of the attic.
Bunker chest No. 18 The 18th Bunker chest can be found in a hidden room inside the large house at Camp Cod. This room is located in the basement of this house and you'll need to destroy the floor beneath the table with your harvesting tool to access the room.
Bunker chest No. 19 You'll find the 19th Bunker chest in Misty Meadows. Navigate to the large house in the flower fields, located toward the southwest of Misty Meadows.
Bunker chest No. 20 The 20th Bunker chest is in a trailer park around the southeastern corner of the map. Once you're there, look for a shack and the Bunker chest will be waiting for you there.
Bunker chest No. 21 Discovered slightly later than the first 20 Bunker chests, the 21st one is located in the crossroads between Sweaty Sand and Holly Hedges.
Bunker chest No. 22 To find the 22nd Bunker chest, you'll need to rotate to the southwest edge of the map. There's a tiny shore line there with lots of sand, hiding the Bunker chest from plain sight.
---
Though these are all the chests that are available on the map as of writing this article, Epic Games might also add more of them as the season progresses. Don't get surprised if you start finding new Bunker chests in random locations and always pick up the loot as soon as possible since Bunker chests have quickly become a prime objective for a decent chunk of players.
Sours: https://dotesports.com/fortnite/news/here-are-all-bunker-chest-locations-in-fortnite-chapterseason-6
Fortnite Except I Can Only Open BUNKER CHESTS (overpowered)
Leaving, a friend left me a CD, on which I discovered five small works and one story. A friend asked me, if possible, to send these works to some good site, so that people know the history of my torment. Indeed, my friend suffered immensely from undivided passions. By nature, he is an emotional person, but rich thinking and logic suppress his feelings In the stories left by him, the.
Similar news:
And ashamed or not ashamed is irrelevant. You are in the service and in response to the care of the Father of Nations, you must ensure the birth of an. Elite, healthiest child, the future builder of communism. Got it.
19542
19543
19544
19545
19546