Radian Model 1 Review: The Perfect Rifle?
In a world saturated with AR-15-pattern rifles, the first question every manufacturer who wants to introduce its own rifle to the market asks itself is this: How do we make our gun stand out? What will be the defining feature of our product? How can we improve on the high standards that already exist?
The answers to these questions for Radian Weapons comes in the form of the Radian Model 1. This firearm is an innovative and customizable take on the AR-15 rifle pattern, intended to be of the highest possible quality.
Shop Now
Each Model 1 is individually assembled and fitted by hand, checked, test-fired, inspected, and cleaned by a trained gunsmith to guarantee the best accuracy and meet Radian Weapons' strict standards.
The Radian Model 1 is available in various configurations, ranging in weight from 6 to 8 lbs. For those interested in a short-barreled rifle or the less-regulated pistol alternative, there are 9" and 10.5" variants that fulfill both requirements.
While the waiting time can be long, every gun is individually made by a highly skilled gunsmith, and the rifle is fully Cerakoted as one piece. This means there aren't any inconsistencies in the color gradient between the upper and lower receivers. This is especially important, as Radian offers a range of customization options, one of them being the color of the Cerakote.
Color Options
To maximize your customization options, Radian Weapons offers eight colors to choose from, and all are achieved using Cerakoting:
Clandestine Desert
Clandestine DMC
Clandestine Urban
Flat Dark Earth
Radian Black
Radian Brown
Radian Grey
Radian OD
What is Cerakote?
Cerakote is a thin-film ceramic coating, which is a popular choice among AR-15 enthusiasts. Besides providing a range of options for customizing the gun's look, it also has the added benefit of protecting against rust and corrosion.
Ambidextrous Functionality
However, here the Radian Model 1 truly stands out is its ambidextrous controls. Whether for left-handed shooters or switching shoulders to adapt to tactical or competitive circumstances, operating the controls from either side is vital to success. The ambidextrous controls available in the Radian Model 1 include:
Talon Ambi 45/90 Safety Selector: One of the most difficult right-handed controls to manipulate for a left-handed shooter is the safety selector or fire selector lever. This lever is rotated to two positions in a semi-automatic rifle: Fire/semi-automatic and safe. In the Radian Model 1, the rotary lever safety selector can be set to 1 of 2 throws: The standard 90° throw, familiar to anyone who's become accustomed to the AR-15 rifle pattern, and 45° for rapid engagement.
Raptor Ambidextrous Charging Handle: The standard AR-15 T-shaped charging handle is technically ambidextrous, but it can only be unlocked and retracted by depressing a spring-loaded latch in a slot in the left arm, which corresponds to the right index finger's position. A common practice is to grip the left arm of the handle with the left hand. Because both arms of the Raptor Ambidextrous Charging Handle are complete latches, Radian enables you to charge or clear the rifle by gripping either arm of the T handle with either hand, offering a competitive and tactical advantage.
Ambidextrous Dual-Action Catch: Abbreviated A-DAC and patented by the manufacturer, the bolt catch/release is accessible via either side of the lower receiver. One of the most innovative features of this system is how the bolt is locked to the rear. As with the standard AR-15 design, the Radian Model 1 contains a bolt catch/release on the left side. However, the right side features Radian's A-DAC system, which allows you to simply depress the magazine release and retract the charging handle with the support hand. Guide the handle, and thus the bolt carrier group forward, and it will stop on the catch.
Magazine Release: Consisting of either a right-sided button or left-handed paddle, quick magazine changes are within everyone's reach. This is particularly good in high-stress situations, but it also provides significant advantages in a competitive setting.
In addition to its ambidextrous functionality, the magazine well is flared. This helps guide the insertion of freshly loaded magazines, decreasing the reload time. If you prefer to grip the rifle by the front of the magazine well/lower receiver, you'll find that the face is serrated for increased traction.
The handguard is M-LOK compatible for direct attachment of essential accessories, such as flashlights. It is secured with a stainless-steel anti-rotation pin.
ATC AR Gold Match Grade Trigger
One of the standouts of the Radian Model 1 feature list is its trigger. Inspiring the confidence of world-renowned competition shooter Jerry Miculek, the ATC AR Gold Match Grade Trigger affords a light, crisp single-stage trigger break that's designed to be discreet.
Rather than eliminating the take-up, it is instead kept to an absolute minimum. Thanks to the design, it uses engagement that is set internally so that differing receiver hole tolerances won't affect either the performance or reliability of the trigger. Furthermore, it also has been extensively tested in different weather conditions. The company prides itself on the immense reliability of this product.
Proper safety engagement is not dependent on an adjustable safety selector; the mil-spec standard is adequate. In the event of a pierced primer, the AR Gold has exit paths to allow the escape of hot gas.
The AR Gold Trigger is made from S7 — shock-resisting tool steel — which is hard, strong, and tough. Typically used as a material for chisels, dies, and mandrills, S7 is highly durable and provides a long service life.
Machined using wire EDM (electrical discharge machining), the engagement surfaces are cut to precise tolerances. The resulting accuracy works to provide an exceptionally consistent trigger pull.
Pistol Grip
To accompany the superb trigger, the Radian Model 1 uses the ergonomic Magpul MOE pistol grip. This is a popular model selected by many individuals and companies. It is a natural upgrade from the mil-spec A2 pistol grip because it features the same grip angle with an overall more ergonomic design. The MOE grip also has a compartment for storing spare ammunition, batteries, or other small supplies you may need.
Stock
Shooters of all sizes appreciate the benefits of a comfortable adjustable stock. The Radian Model 1 achieves this goal with another popular Magpul product: The Magpul CTR Mil-Spec Carbine stock. This stock is adjustable with six different positions, is fully ambidextrous, and offers extra comfort through the use of a detachable 0.3" rubber pad. It also helps maintain practical accuracy, eliminating wobble through the use of a shielded release latch.
Barrel
Made from corrosion-resistant 416R stainless steel, the barrel has polished feed ramps to promote reliable cycling. When selected with the .223 Wylde chamber, the Radian Model 1 can safely fire both .223 Remington commercial ammunition and 5.56×45mm NATO military ball. However, the Radian Model 1 is also available in .300 Blackout if you'd prefer the increased caliber and suppressor optimization afforded by that cartridge.
A high-quality barrel deserves a high-quality muzzle device. While the barrel has a polished crown that helps distribute gas evenly around the bullet, the threaded muzzle has an attached combination flash suppressor and silencer mount. Manufactured by SilencerCo, the ARS (Active Retention System) resembles, at a glance, the 3-prong Vietnam-era flash suppressor used on the original M16 but is more functional.
With quality ammunition, the Radian Model 1 is perhaps the most accurate AR-15 right out of the box, with sub-1 MOA groups easily within reach.
Accuracy testing with the 16" .223 Wylde barrel revealed that when paired with match-grade ammunition such as Cor-Bon MPR 77-grain, Federal Gold Medal Match 69-grain, or Black Hills Mk262 OTM 77-grain, you can expect exceptional average accuracy, ranging between 0.5 and 1 MOA.
Bolt Carrier Group
As required per military specification, the gas key is staked. However, what's not mil-spec is the black nitride coating, which protects the bolt carrier group from rust and increases lubricity. The resulting hard-wearing surface is more difficult for fouling to adhere to, simplifying cleaning and routine maintenance.
Should You Buy The Radian Model 1?
Serving well in either a competitive shooting or self-defense role, all these features come together to form a highly reliable, rugged weapon system that can be used by either left- or right-handed shooters. Radian Weapons prides itself on its ambidextrous functionality, and you're able to alternate between left and right shoulders to shoot over and around cover, regardless of the position. This functionality is beneficial in a military/law enforcement setting just as much as for civilian self-defense.
Where the Radian Model 1 found its place on the AR-15 platform market is with competition shooters. This rifle is for shooters who want fast reloads, multiple options for manipulating the rifle while alternating hands, and the reliability to use it despite the weather conditions.
The Radian Model 1 is an AR-15 you want to get if you need a high-performance rifle suitable for winning matches or for home defense. It is available in various barrel lengths, Cerakote colors, and calibers, allowing you a range of customization options from the very start.
Sours: https://acmen.com/radian-model-1-review/
Radian AX556 Lower Receiver
This item must ship to an FFL dealer. Complete your purchase and then have your dealer email a copy of their ffl to [email protected] with your order #.
Machined from billet 7075-T6 aluminum, the AX556 is a fully ambidextrous lower receiver for AR15-style firearms. In addition to the Talon Ambidextrous Safety Selector, left-side magazine release, and right-side bolt release, the AX556 features the patented A-DAC (Ambidextrous Dual Action Catch), which allows right-handed shooters to easily lock the bolt to the rear without taking their hand off fire control. To hold the bolt back using the A-DAC, simply pull the charging handle to the rear, depress the right-side magazine release button, then release the charging handle. Other features and specifications include:
Billet machined 7075-T6 aluminum construction w/ integral trigger guard and flared magazine well
MILSPEC Type III hard anodized w/ Radian Black Cerakote finish
SART (Self-Adjusting Receiver Tensioner) spring-loaded plunger to reduce upper/lower wobble
Radian Talon 45/90 Ambidextrous Safety Selectors (long/short)
Enhanced Takedown Pin Set
All proprietary hardware included (enhanced bolt catch, left-side magazine release paddle, right-side magazine release button, right-side bolt release paddle, hammer pin)
This item must ship to an FFL dealer. Complete your purchase and then have your dealer email a copy of their ffl to [email protected]
View AllCloseSours: https://www.bauer-precision.com/radian-ax556-lower-receiver/
Radian Extended Bolt Catch AR-15 Steel Nitride
Product Overview
The Radian Extended Bolt Catch makes manipulating the bolt on your firearm quick and easy. The Extended Bolt Catch installs in now time, and provides a more reliable way to control your bolt. The Extended Bolt Catch also gives you an easier reach and a faster operation which will improve overall satisfaction with your AR-15. The Extended Bolt Catch has an all steel construction for increased durability and a nitride finish which resists corrosion.
Features
All Steel Construction
Nitride Finish Resists Corrosion
Improved Bolt Manipulation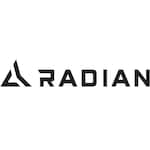 Made In United States of America
WARNING:
Specifications
Was the information on this page helpful?
Community Q&A
Customer Reviews
NOTE:
Prices, specifications and availability are subject to change without notice. We reserve the right to correct typographic, photographic and/or descriptive errors.
Sours: https://www.midwayusa.com/product/102115839
Please Enable Your Browser's Cookies Functionality Cookies are not currently enabled in your browser, and due to this the functionality of our site will be severely restricted. Web browser based cookies allow us to customize our site for you, save items in your cart, and provide you with a great experience when shopping OpticsPlanet. Your privacy is important to us, and any personal information you supply to us is kept strictly confidential.
If you cannot enable cookies in your browser, please contact us — we are always here to help!
JavaScript is blocked by AdBlocker or ScriptBlocker We're sorry - it looks like some elements of OpticsPlanet are being disabled by your AdBlocker. Unfortunately we are unable to offer our excellent shopping experience without JavaScript. Please add "opticsplanet.com" and "https://opl.0ps.us/assets-f72335ee012/" to whitelist, or disable AdBlocker for this site (please note that we do NOT feature any annoying ads on this website). Thanks!
Package Contents:
Radian Weapons AR-15 Extended Bolt Catch
Sours: https://www.opticsplanet.com/radian-weapons-ar-15-extended-bolt-catch.html
Bolt catch radian
The PTS Radian Model 1 Gas Blow Back Rifle is a truly innovative rifle in both form and function.   Firstly, the proprietary M-LOK compatible rail smoothly blends with the uniquely designed proprietary billet style upper receiver thus making the entire upper receiver assembly ultra-rigid.  Installed in the upper receiver is the Radian Raptor ambidextrous charging handle.  The billet style Radian lower receiver features an integral enlarged trigger guard, a flared magwell, and the ambidextrous Talon safety selector.   Additionally, the Radian receiver incorporates the revolutionary Radian Weapons patented A-DAC (Ambidextrous Dual Action Control) which allows right hand shooters to easily lock the bolt to the rear without taking their hand off the fire control.  To hold the bolt back using the A-DAC, simply pull the Raptor charging handle to the rear, depress the right side magazine release button, and then release the charging handle.  A paddle above the right side of the ambidextrous mag release allows the right hand shooter to release the bolt forward with their trigger finger thus saving precious fractions of a second in getting the gun back into action.  Left hand shooters have the same control benefit of the ambidextrous mag release as well as an enlarged bolt release/bolt lock paddle. 

Assembled with our proprietary design PTS Enhanced Polymer Grip, Enhanced Polymer BUIS, Enhanced Polymer Magazine, and Enhanced Polymer Stock Compact and based on the incredibly robust KSC/KWA GBBR system, the PTS Radian Model 1 represents the pinnacle of the gas blowback training gun.
Features:
Authentic licensed trademark Radian Weapons engravings
KSC/KWA derived proprietary GBB system.
A-DAC™ Ambidextrous Dual-Action Control Right Side Bolt Hold Open Feature
Ambidextrous Right & Left Side Magazine and Bolt Release Buttons
Radian Talon™ Ambidextrous 90° Safety Selector
Aluminum Upper & Lower Receivers for greater balance and portability without sacrificing its durability.
14" Proprietary Extended Aluminum Hand Guard w/ Magpul M-LOK® Modular Mounting System with 14.5" Barrel, compatible with all standard M-LOK accessories.
Integrated trigger guard for added functionality and strength.
Steel Bolt Carrier for maximum durability and a heavier kicking recoil experience.
GBBR includes: 
Enhanced Back Up Iron Sights (EPBUIS) – consists of a low profile snag-free design that is unobtrusive when collapsed. Blending design with practicality, the EPBUIS includes elevation and windage adjustments as well as dual apertures for close and precise long distance shooting. Allowing the user to be versatile, adapting to any given situation.
EP Grip (EPG) – ergonomically designed for excellent comfort and a firm angled grip for maximum recoil control.
EP Stock (EPS-C) – a simple, minimalist, sleek, and lightweight polymer stock. Features rounded cheek welds stay in tune with the slim profile of the stock whilst maintaining user comfort.
EP Magazine GBB (EPM) – EP Magazine, boasts a Dupont® Zytel™ reinforced polymer body and holds up to a maximum of 38 rounds.
Specification:
Color – Black
Dimension – 790 mm (stock retracted), 870mm (stock extended)
Weight – 3.40 KG
Hop-Up – Adjustable Hop Up
Magazine Capacity – 38 rounds (PTS EPM GBB)
Power Source –KSC/KWA derived proprietary GBB system
Shooting Modes –Safe / Semi Auto / Full Auto
Outer Barrel Length – 14.5"
Inner Barrel Length -  370mm
Rate of Fire – 11+ RPS
Velocity – ~360-380 FPS (Hong Kong)
Energy Output – ~1.4-1.6 Joules
Power – 12kg Green Gas
License: Radian Weapons logo and related brand names are trademarks of Radian Weapons in the United States and/or other countries and are used for airsoft replicas under exclusive worldwide license by PTS Syndicate, Ltd. www.ptssyndicate.com
Disclaimer: This product is for airsoft, training, and simulation purposes only.  Utilizing Airsoft products improperly, including in real firearm applications, are potentially dangerous and may cause serious injury.  PTS will not accept any responsibility or liability for misuse of this product.
Sours: https://www.pts-steelshop.com
JP Enterprises Ambidextrous mag release. The best Ambi mag release/catch today.
Among themselves: who is where. The subjects brought the costumes with them, as athletes brought their uniforms to training. The testers were on duty in the room, where virtual sex sessions were displayed on monitors. It was allowed to interfere in the course of the sessions only when the course of the experiment could pose a danger to the health and.
Life of the subjects.
Similar news:
Tanya arranged an interrogation for the grandmothers, made them tell about their parents, her great-grandmothers and great-grandfathers and looked through old photographs. Everything is pure in her pedigree. On that, the soul of Tanya calmed down, the girl is ready to join the Legion.
14339
14340
14341
14342
14343