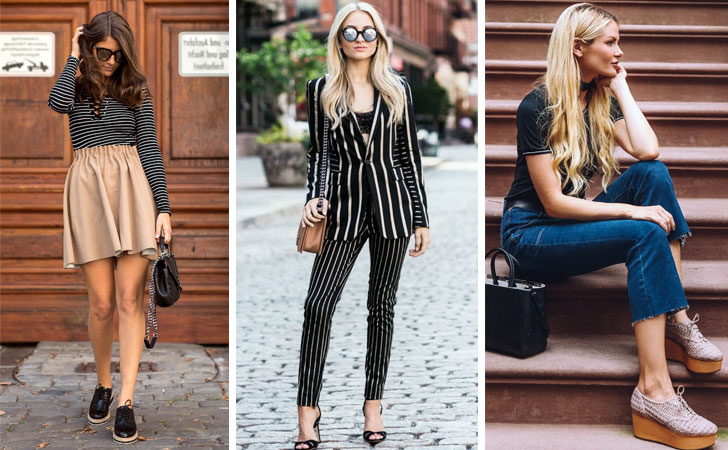 Every fashion lover could use more style inspiration. Putting together fresh and unique outfit ideas on a regular basis isn't always easy. In fact, creating looks from scratch can be an extremely challenging task that leaves you feeling frustrated and discouraged. When you're faced with a limited wardrobe, limited funds, and a lack of fresh ideas, giving up might seem like the easiest choice.
However, there's no need to throw in the towel and fling open your sweatpants drawer just yet. You don't need unlimited money and wardrobe options to put together gorgeous outfits for any season. In fact, all you need is a little bit of inspiration and creativity. You can easily use the essentials that you already have in your closet to create a wide variety of creative, unique looks that work perfectly for everyday wear. Try not to get discouraged. Creating outfits to wear should be fun, not frustrating. If you find yourself getting discouraged or feeling at a loss for what to wear, remind yourself that a bit of inspiration is all you need to get yourself back on track.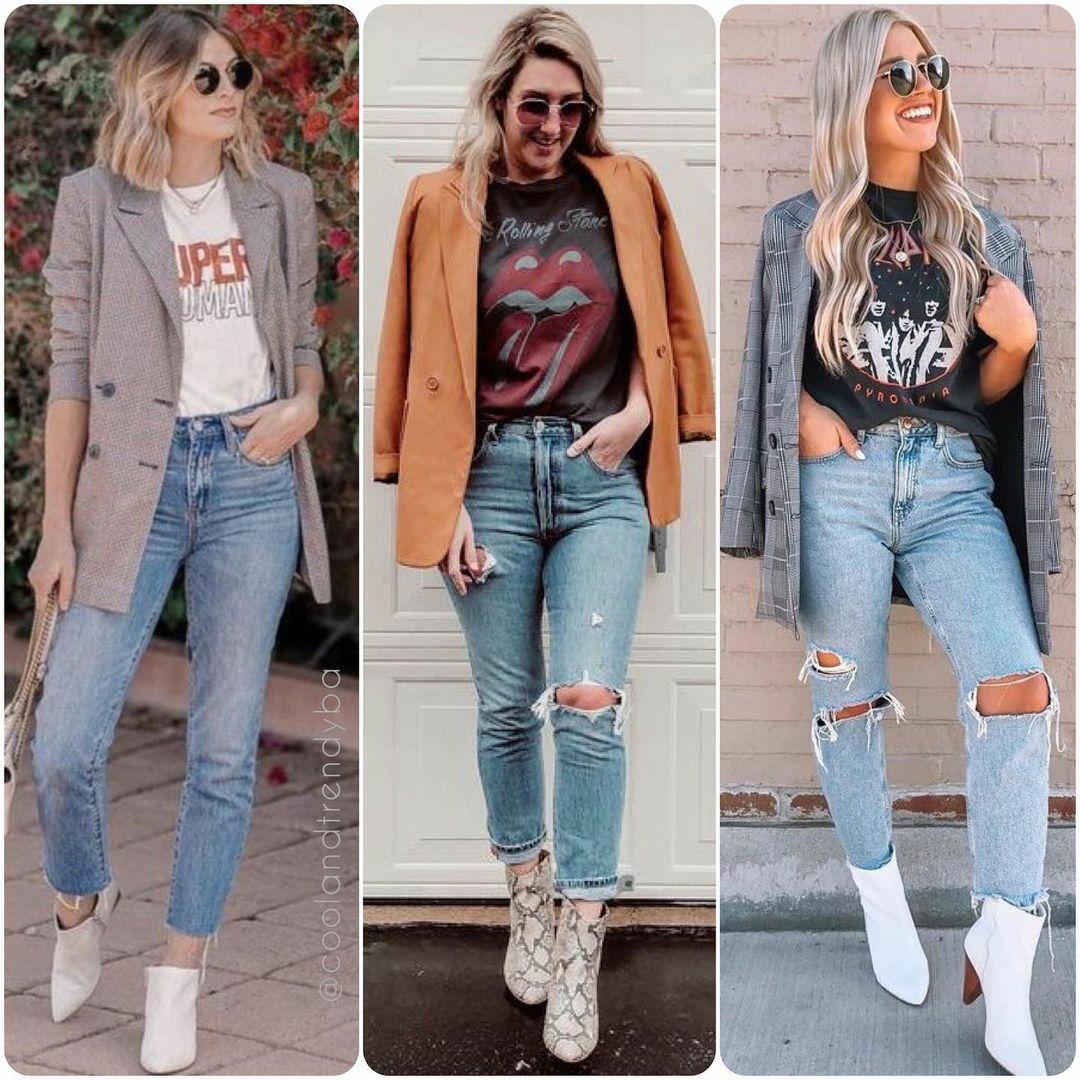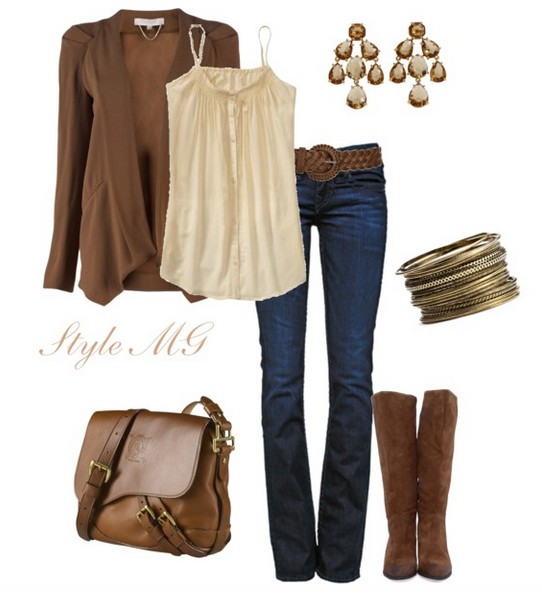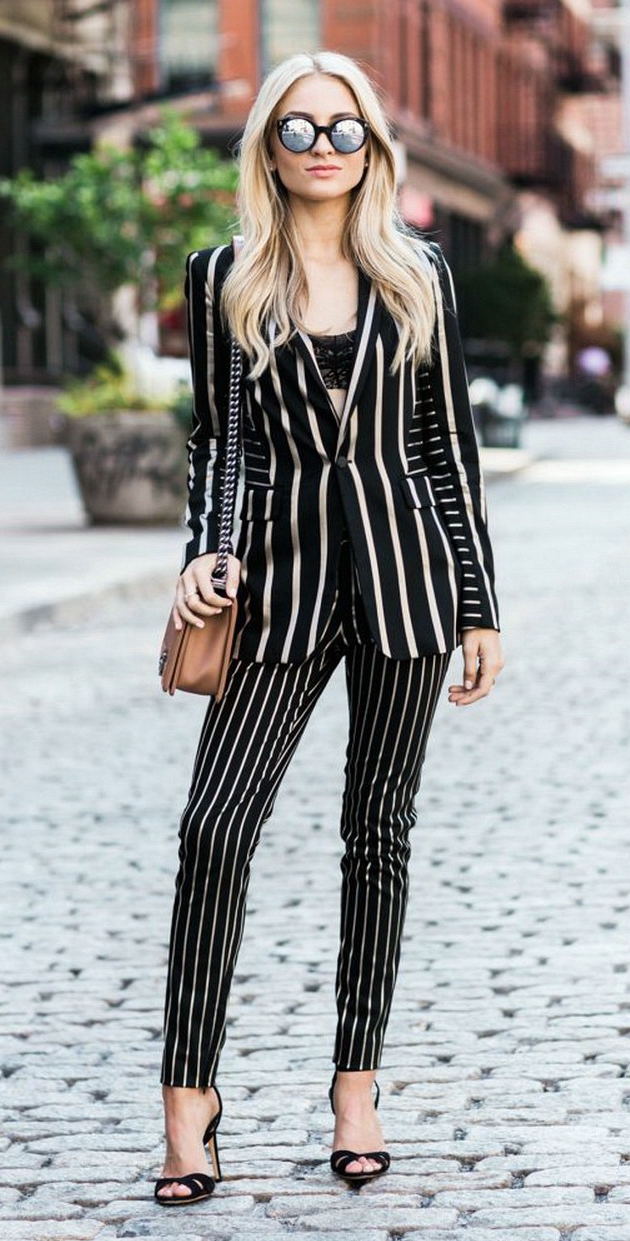 Forget monochrome colors. The newest big thing in the fashion world are single-patterned outfits. For example, the look above includes only black-and-white vertical stripes to create a unique, matched outfit. In fact, you can easily create a gorgeous single-patterned outfit. Just use one pattern and pair it with monochrome accent pieces for a balanced finish.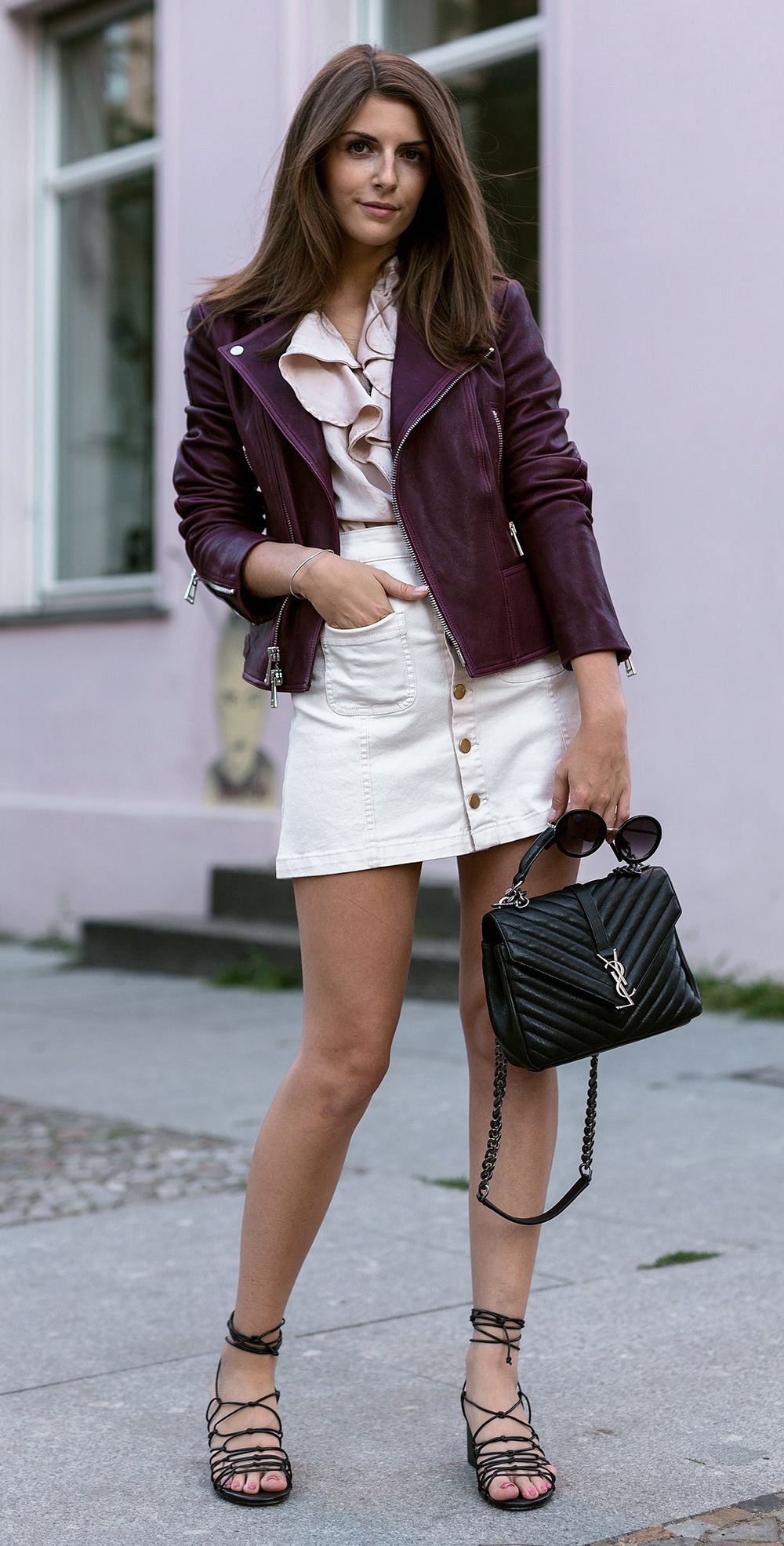 Leather jackets and thin strappy sandals are both current major trends. While these two wardrobe essentials seem like they're only suited for opposite seasons, this is not necessarily true. In fact, you can pair these staples together in certain outfits to create a unique and trendy look. For example, the look above combines strappy sandals with a gorgeous maroon leather jacket and a high-waisted skirt.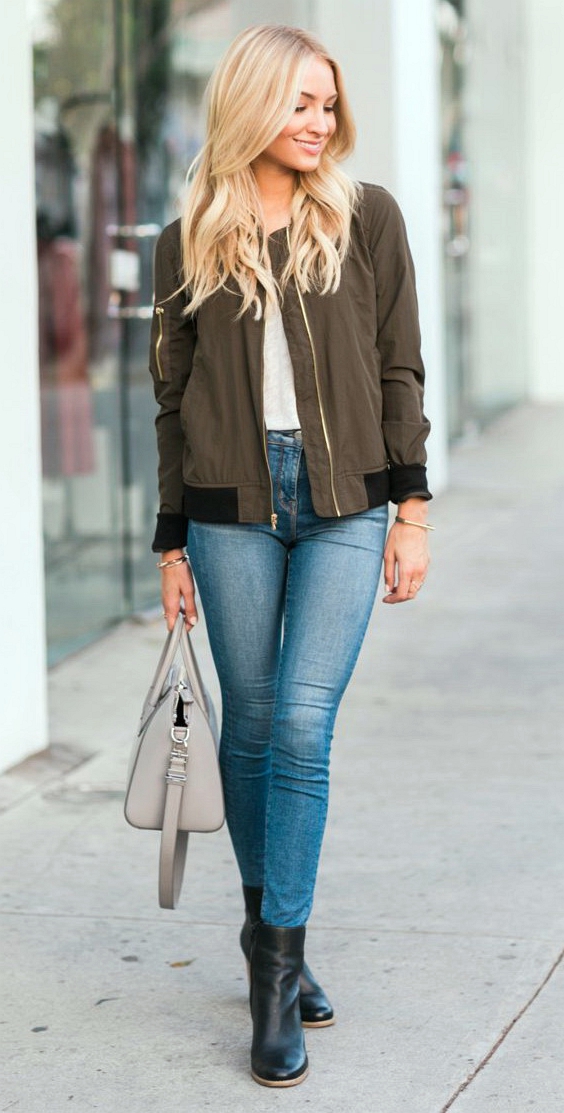 If you don't own a bomber jacket, take a trip to your favorite boutique ASAP. Bomber jackets are a current must-have. They're loose, comfortable, warm, and sexy. What could be better than that? In fact, bomber jackets can be incorporated effortlessly into almost any autumn or winter look to add instant style and intrigue to the outfit.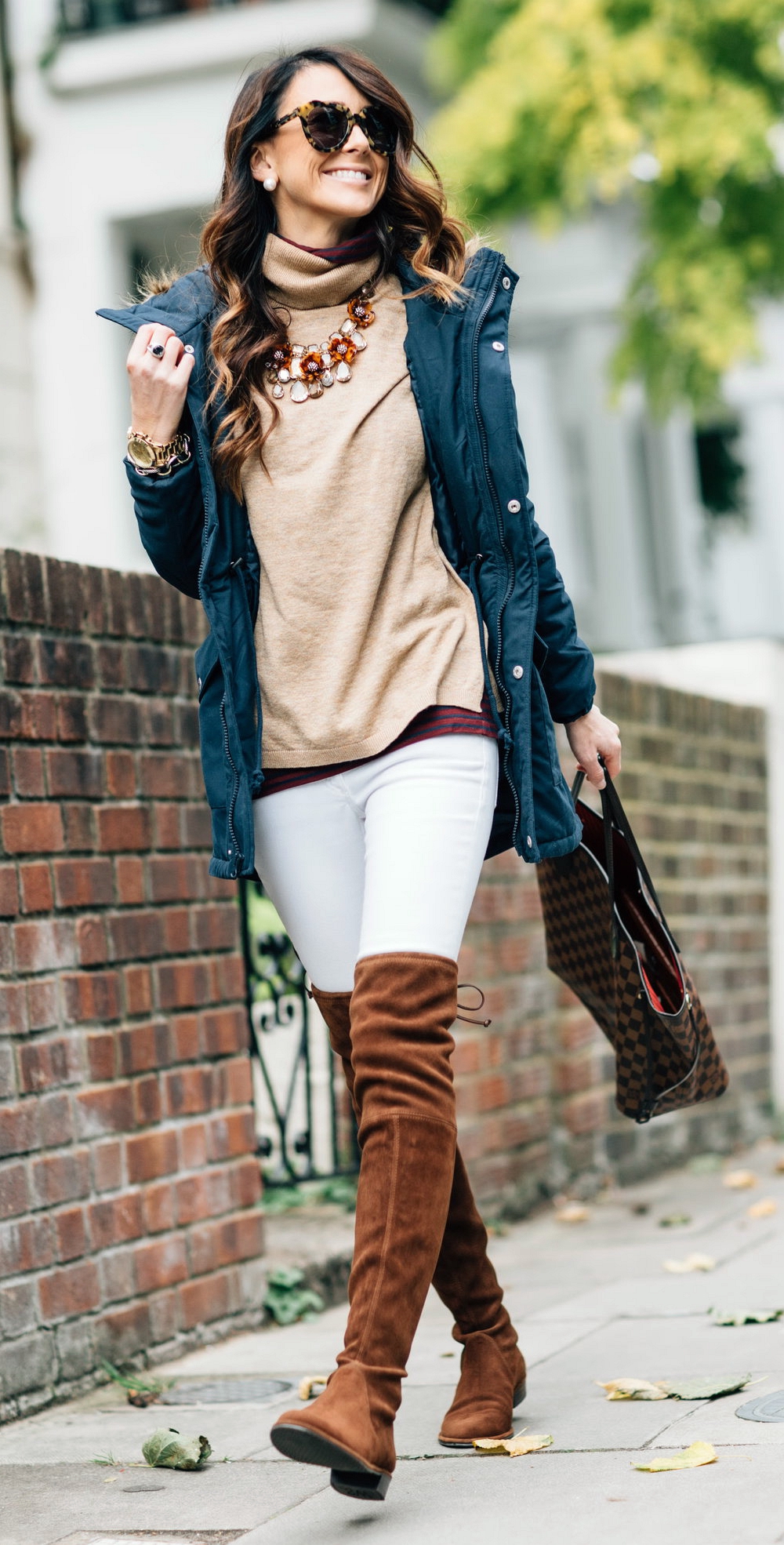 High, over the knee boots are a current style must-have. They're extremely trendy and work well with almost any outfit no matter what it is. For example, this look combines high boots with a cowl-necked sweater and long coat to create a gorgeous, wintry finish that is perfect for cold weather. Also, the blue-hued coat included in this look adds a unique pop of color to a standard outfit essential.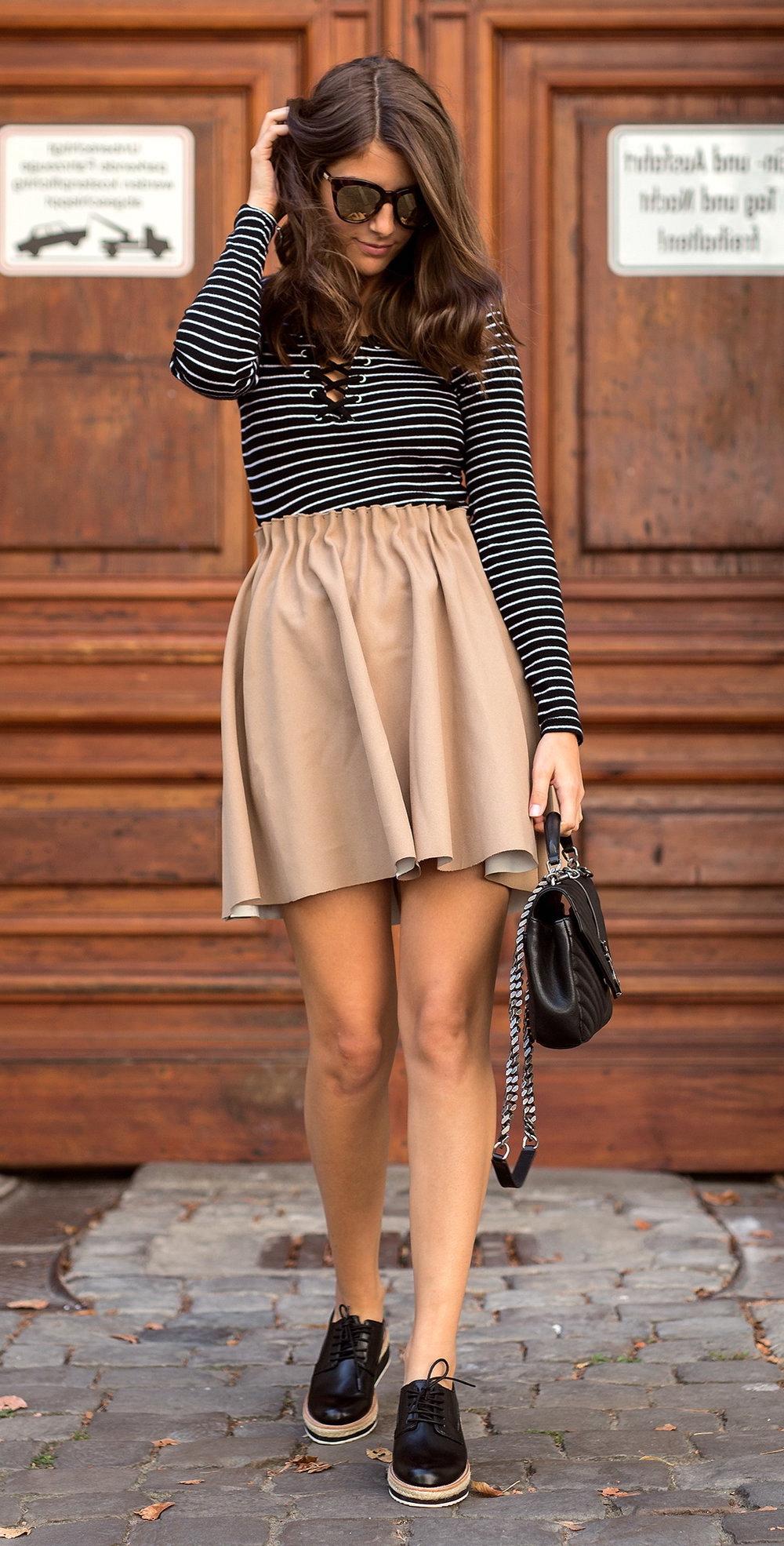 If you don't own a lace-up top, you're missing out on one of the biggest current fashion trends out there. These tops are subtly sexy without being too revealing. Also, they add intrigue and interest to any basic look. For example, the look above combines a gorgeous fitted lace-up top with a high-waisted cloth skirt for a flirty, feminine finish.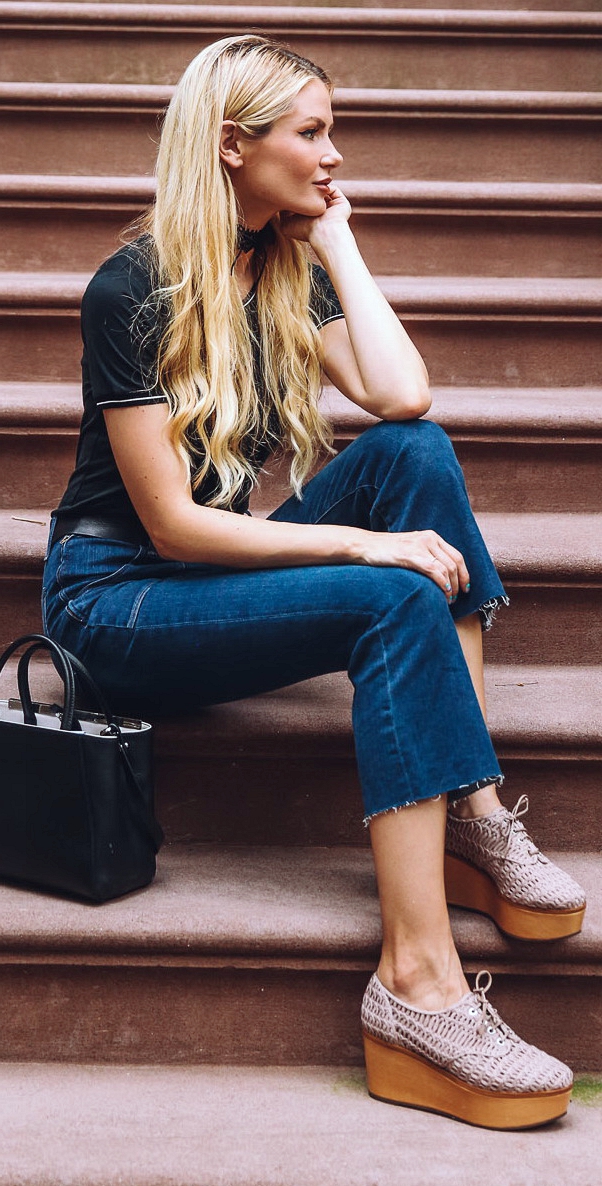 Take a trendy trip back to the twentieth century with loose cut-off jeans and platform shoes. Styles that were trendy once are bound to be trendy again, and that's exactly what has happened with many styles from the 1960s and 1970s. For example, the look above combines platform flats with cut-off jeans and a fitted tee to create a nostalgic yet trendy finish.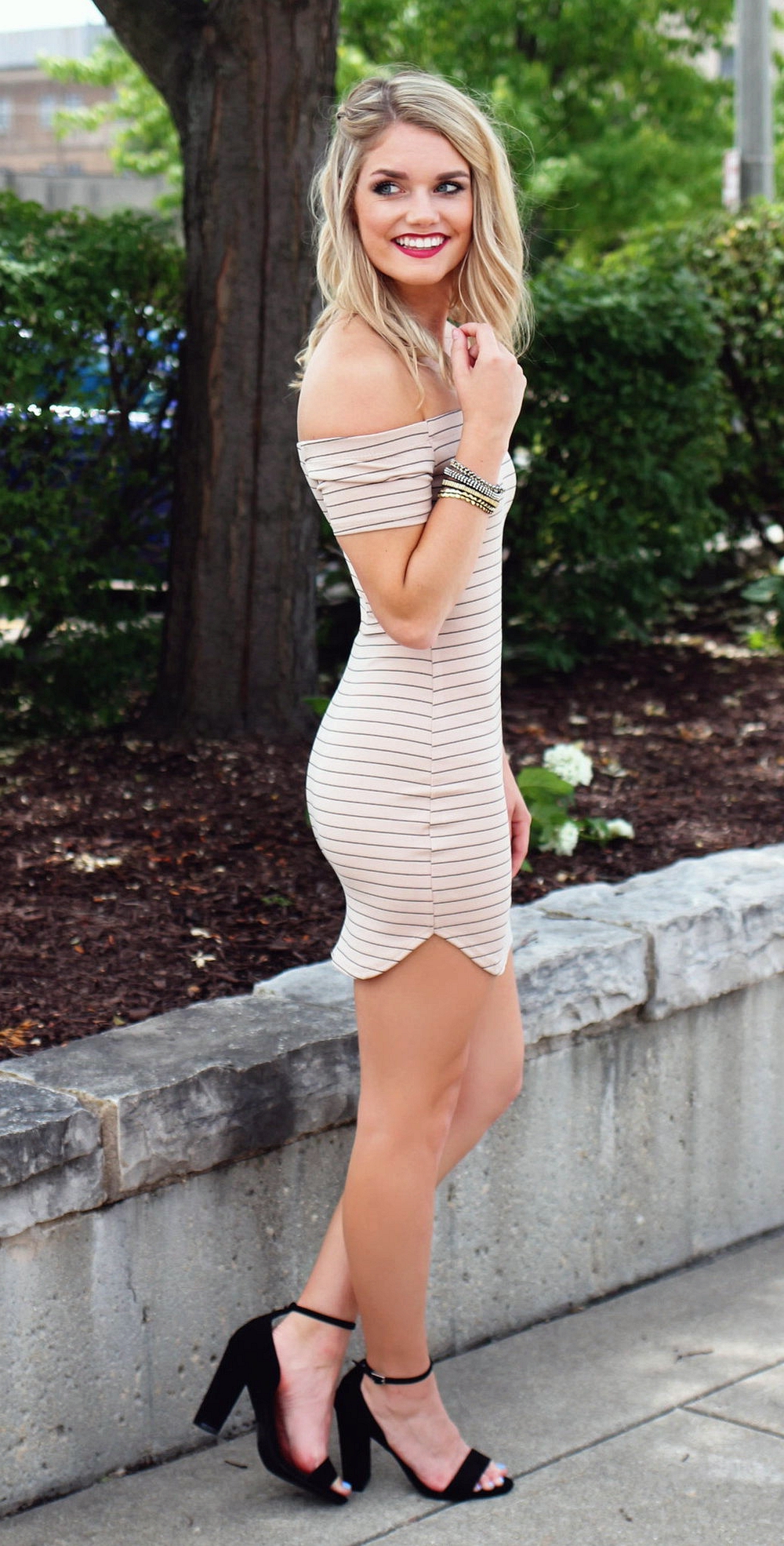 Although formal events don't always come around very often, you need to make sure you have some trendy formal pieces to wear when you need them. For example, the off-the-shoulder fitted dress above is a sexy and trendy formal wardrobe staple. Due to its neutral color and simple style, it is an extremely versatile piece. In fact, dresses like the one above can be paired with almost anything to create a gorgeous formal look with a super sexy vibe.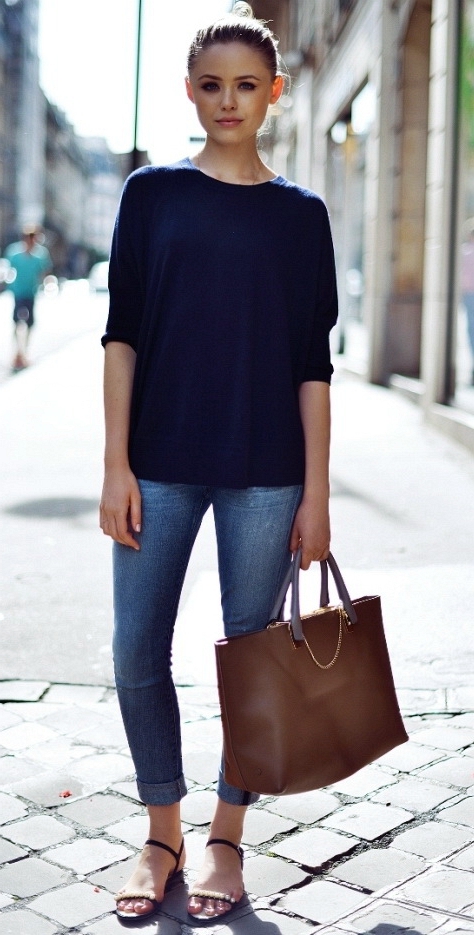 Simplicity is often key when it comes to trendy, everyday outfits. If you're looking for something to wear on a day of errands or casual outings, pair flat sandals with cut-offs and an oversized top like in the look above for a carefree finish.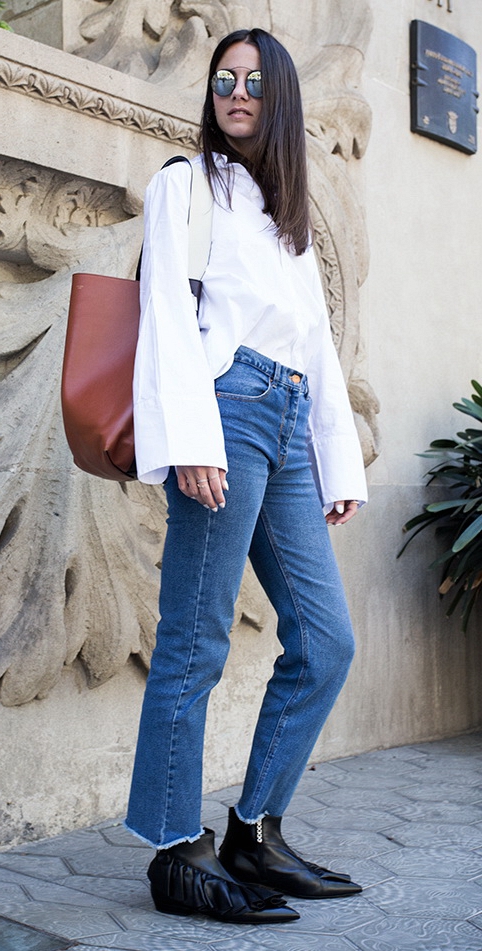 It's always worth it to have a few unique, novelty pieces in your wardrobe. For example, the unique ruffled sandals or loose, sleeved blouse in the head-turning look above are sure to set you apart from the crowd in a positive way.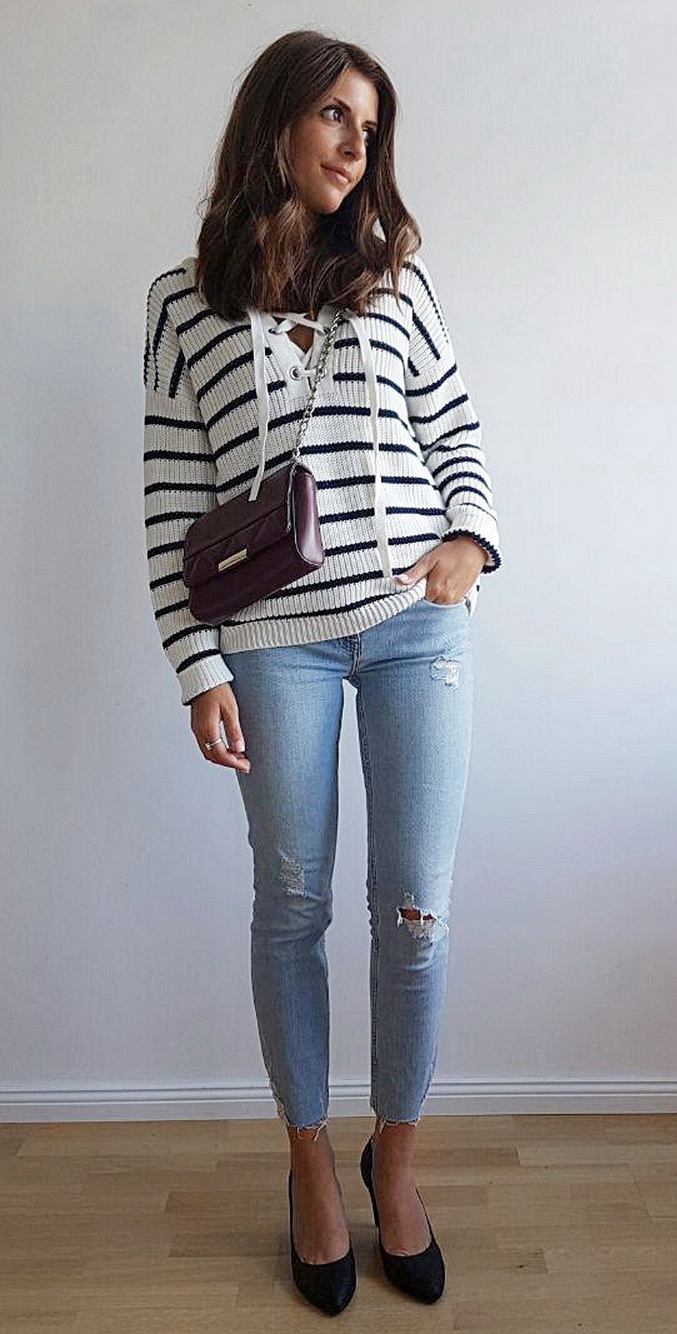 Lace-up tops aren't only trendy when they're fitted. In fact, the look above demonstrates that the lace-up trend works with loose sweaters as well. Also, this look pairs a loose sweater with skinny cut-offs for a gorgeous, balanced finish.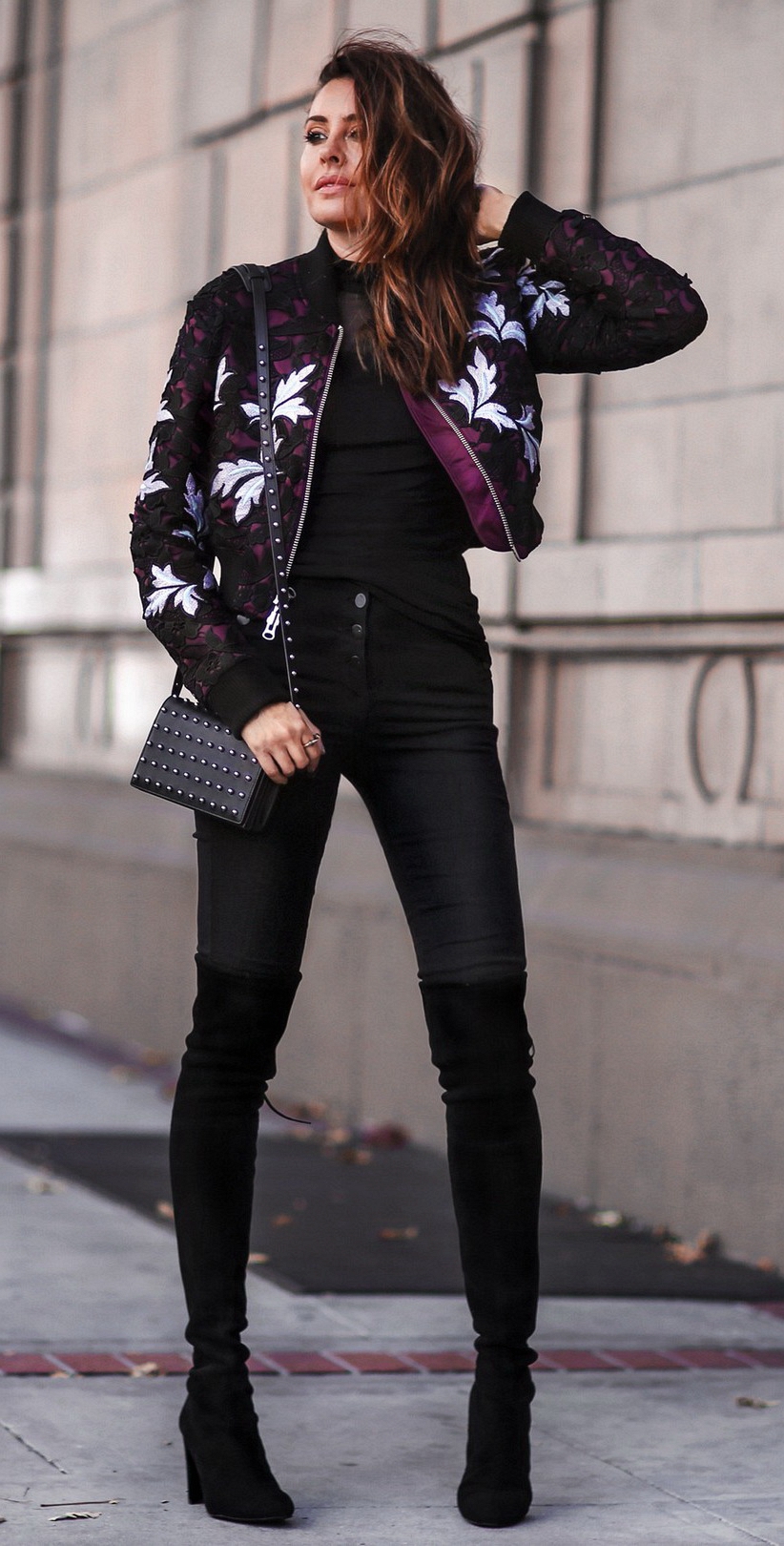 The look above is trendy in almost every possible way. For example, it includes a monochrome color scheme, high-waisted jeans, over the knee boots, and a bomber jacket. If you're looking for a sexy, trendy outfit that looks perfectly put together, get your inspiration from this flawless look.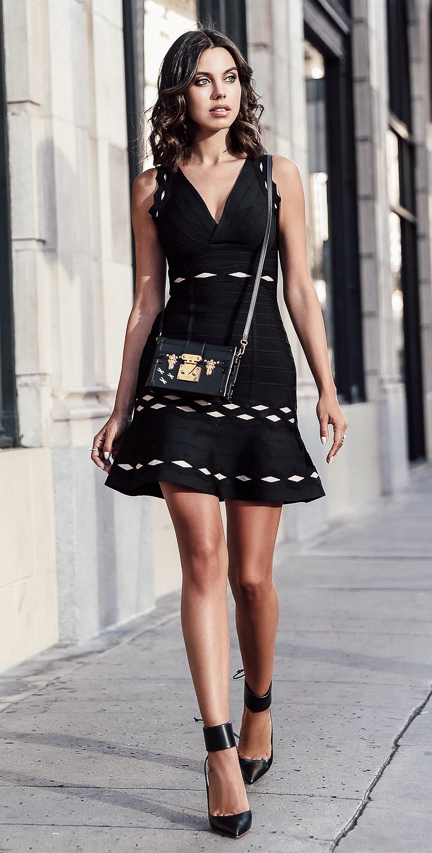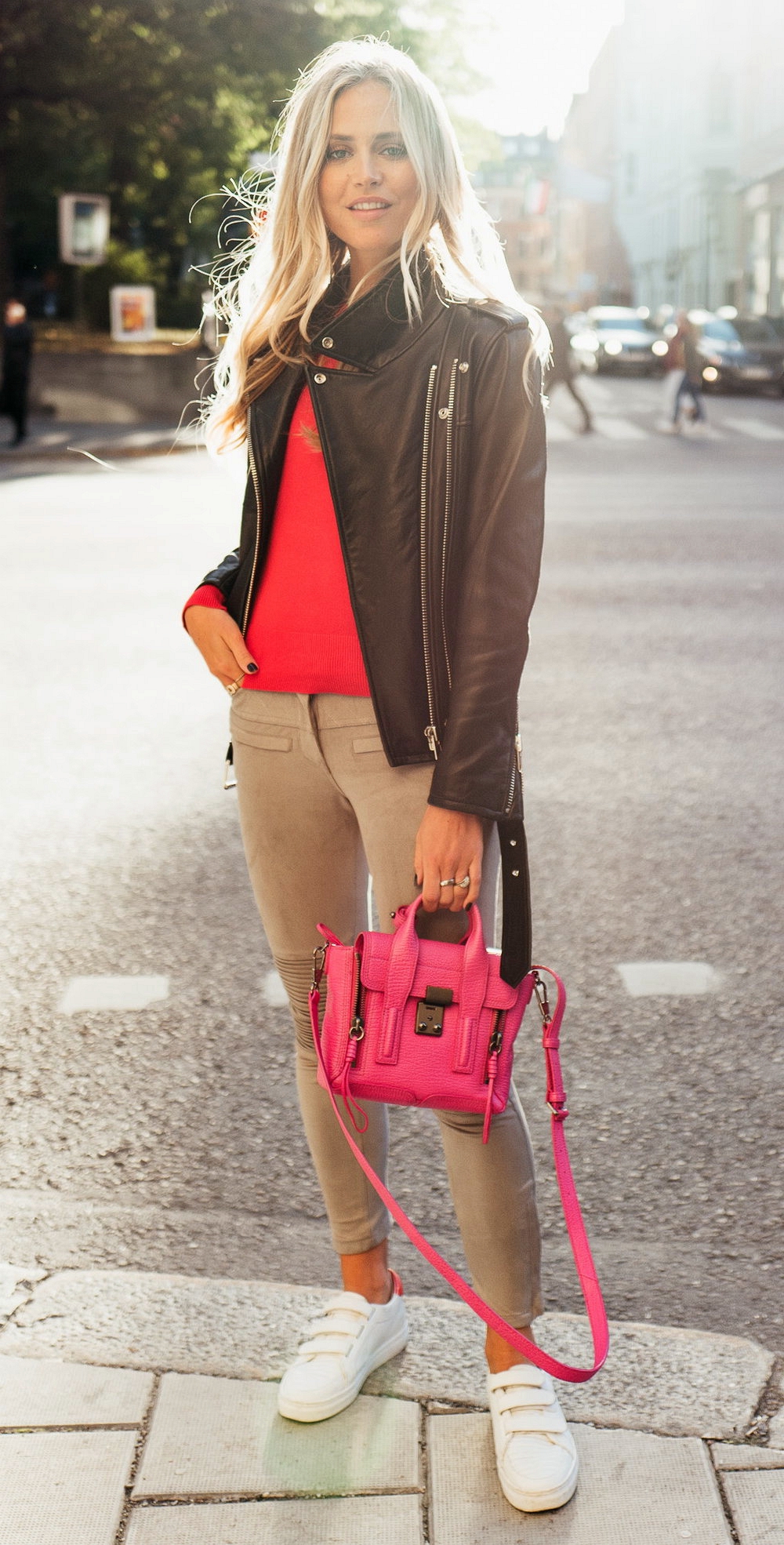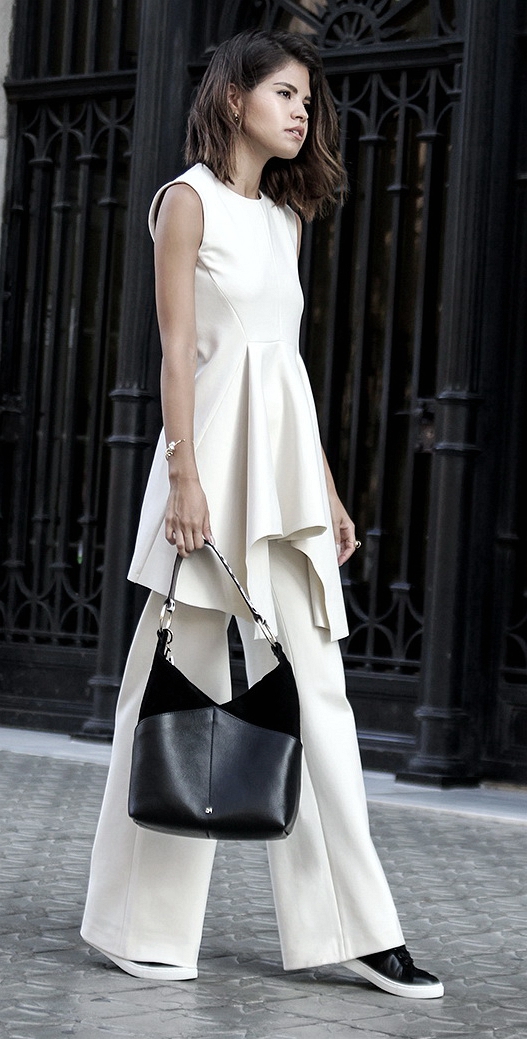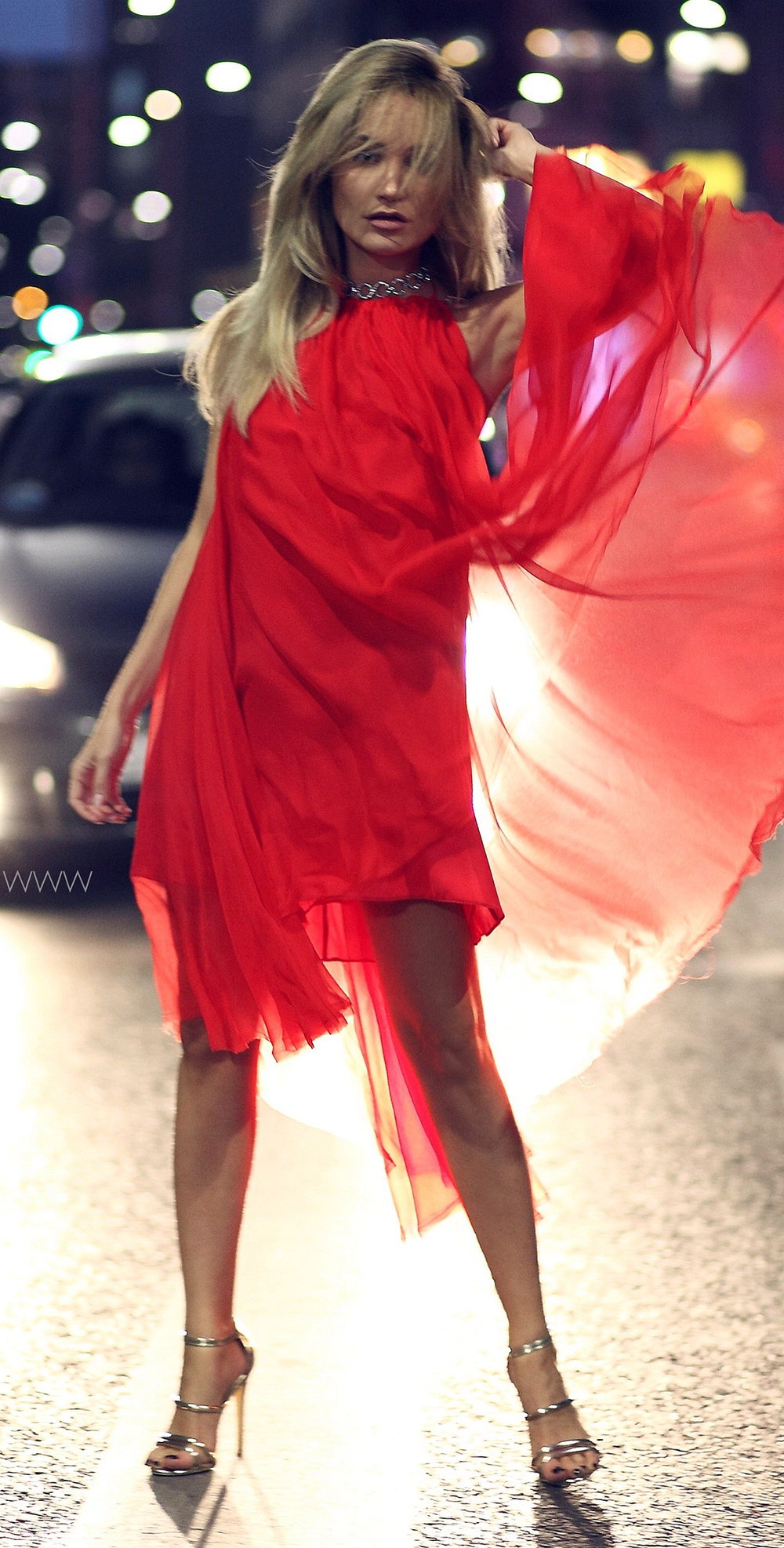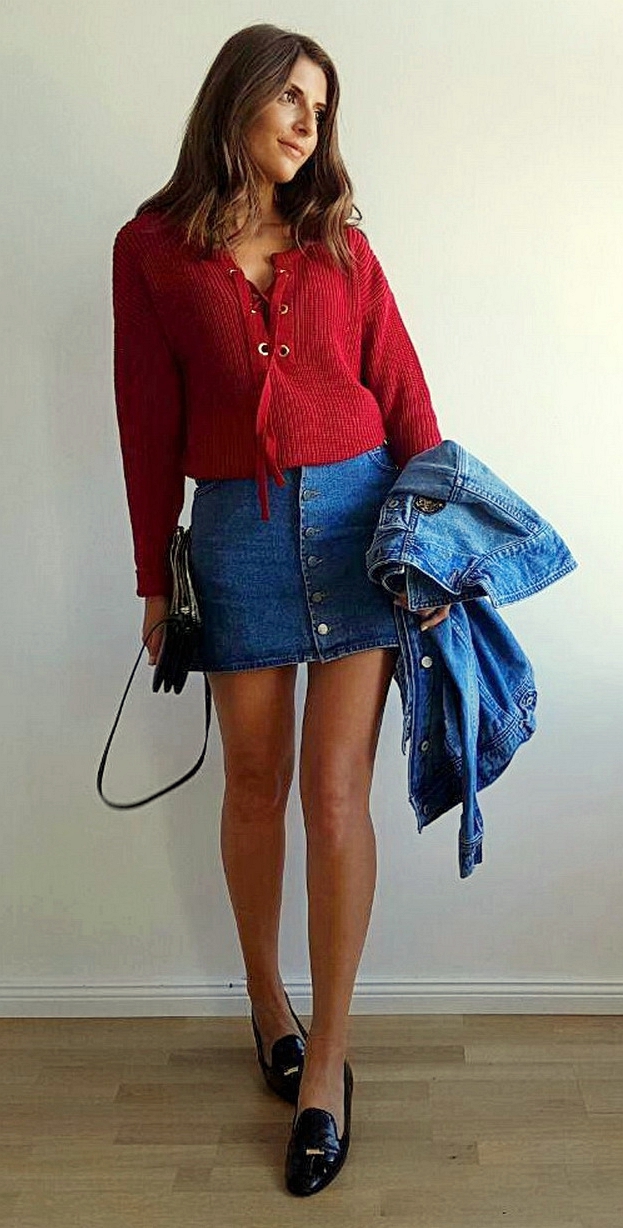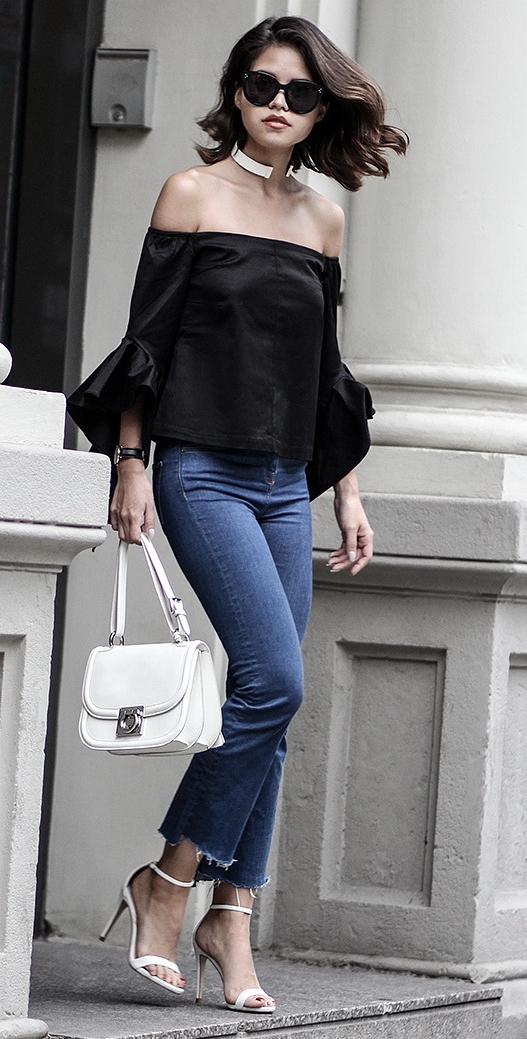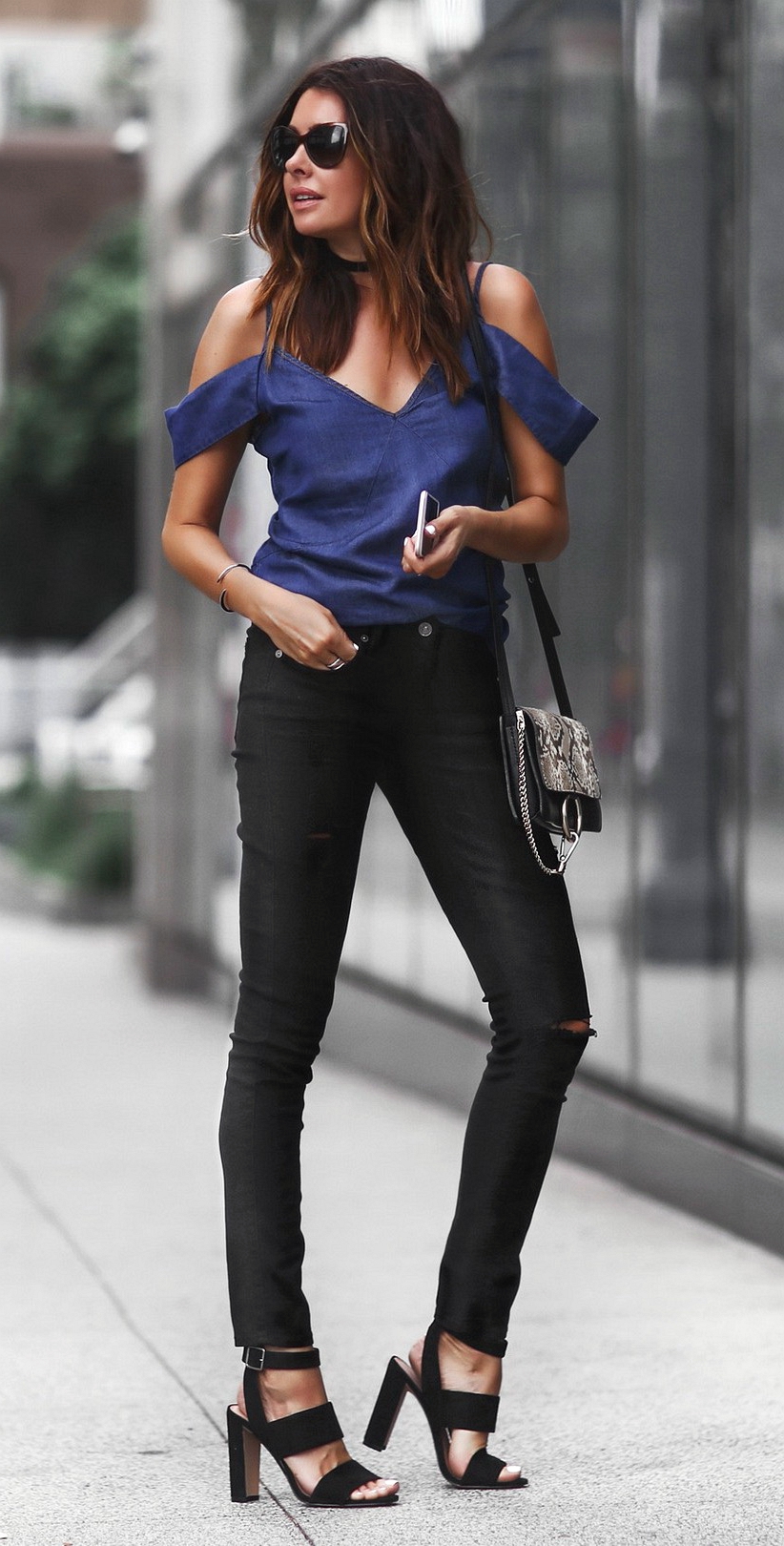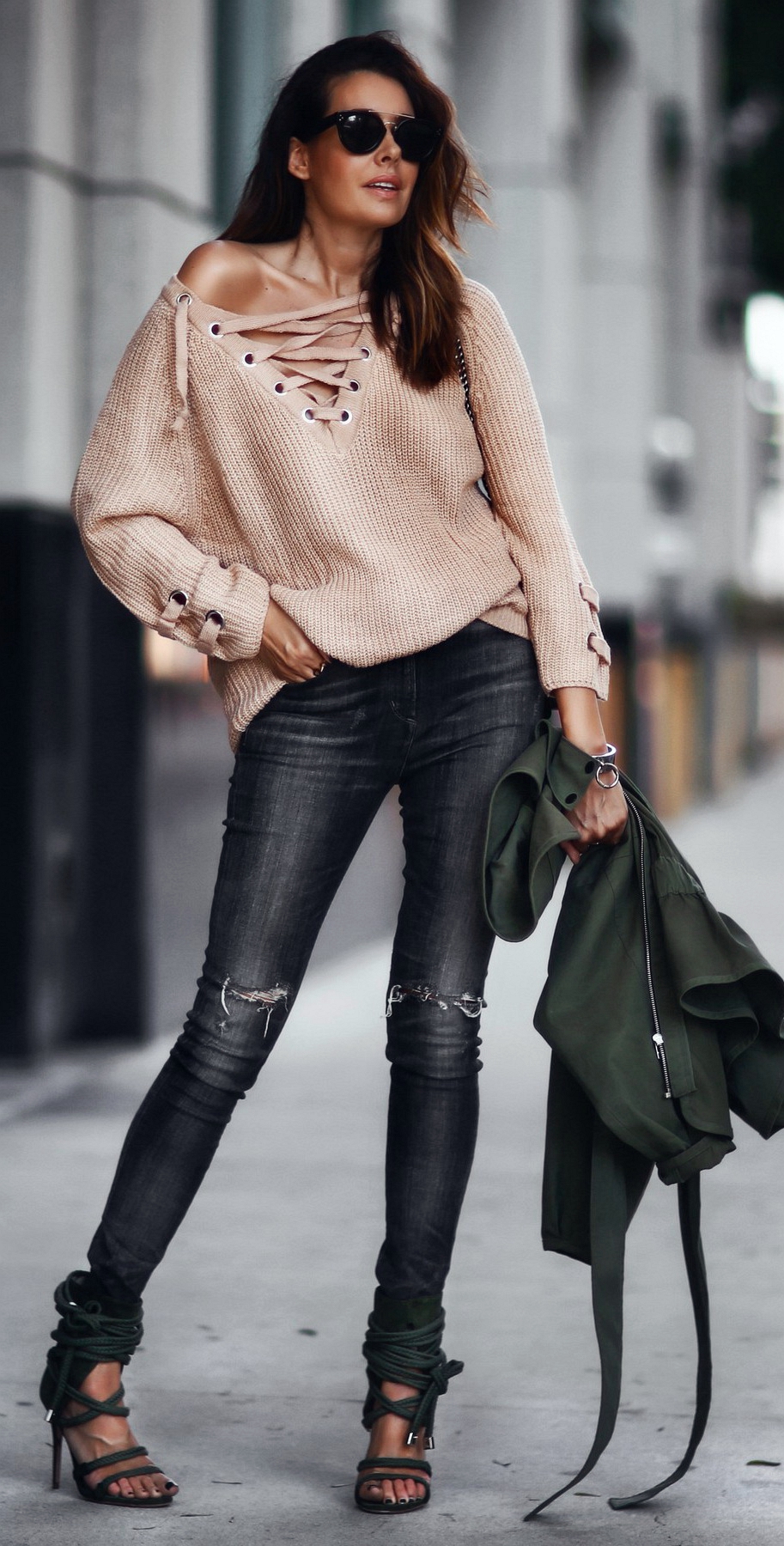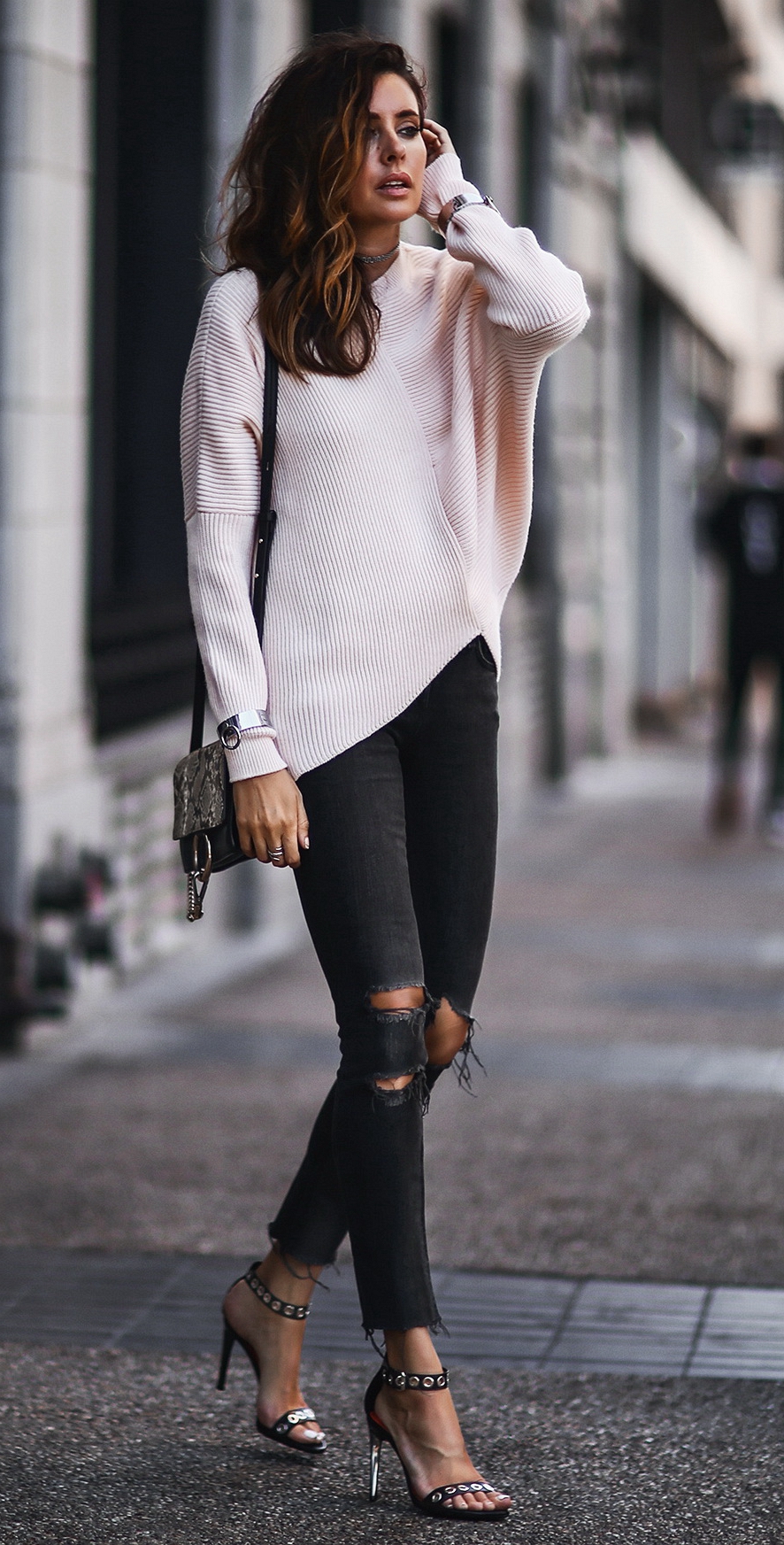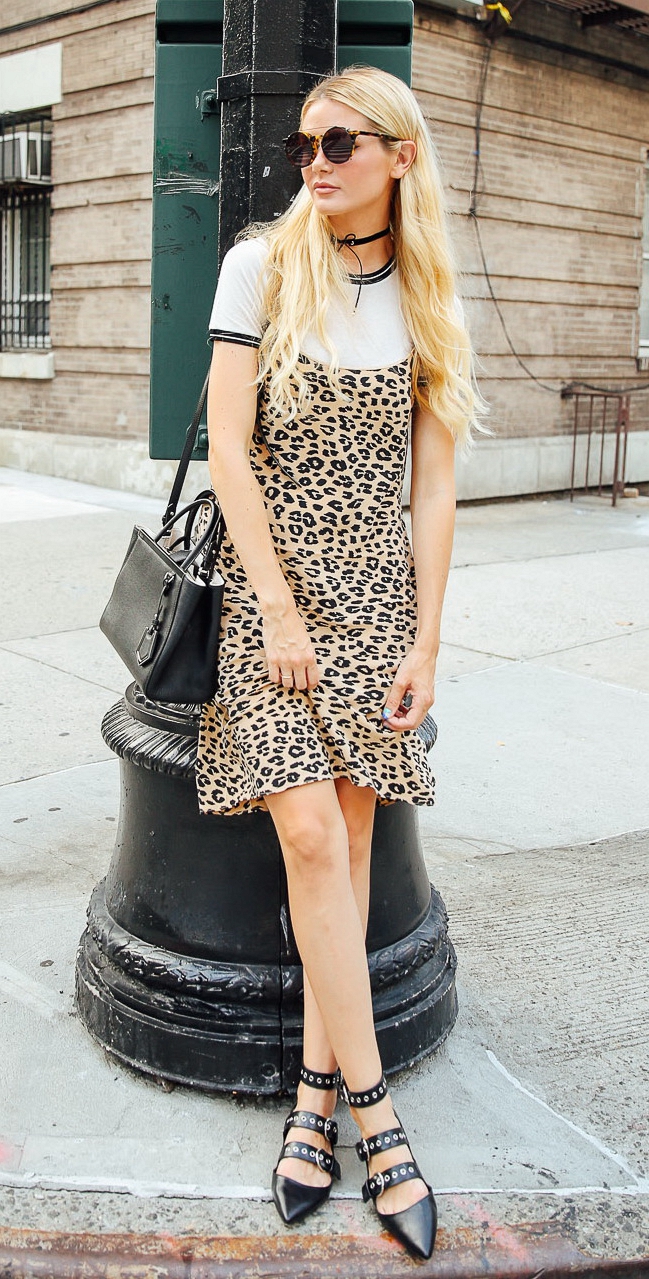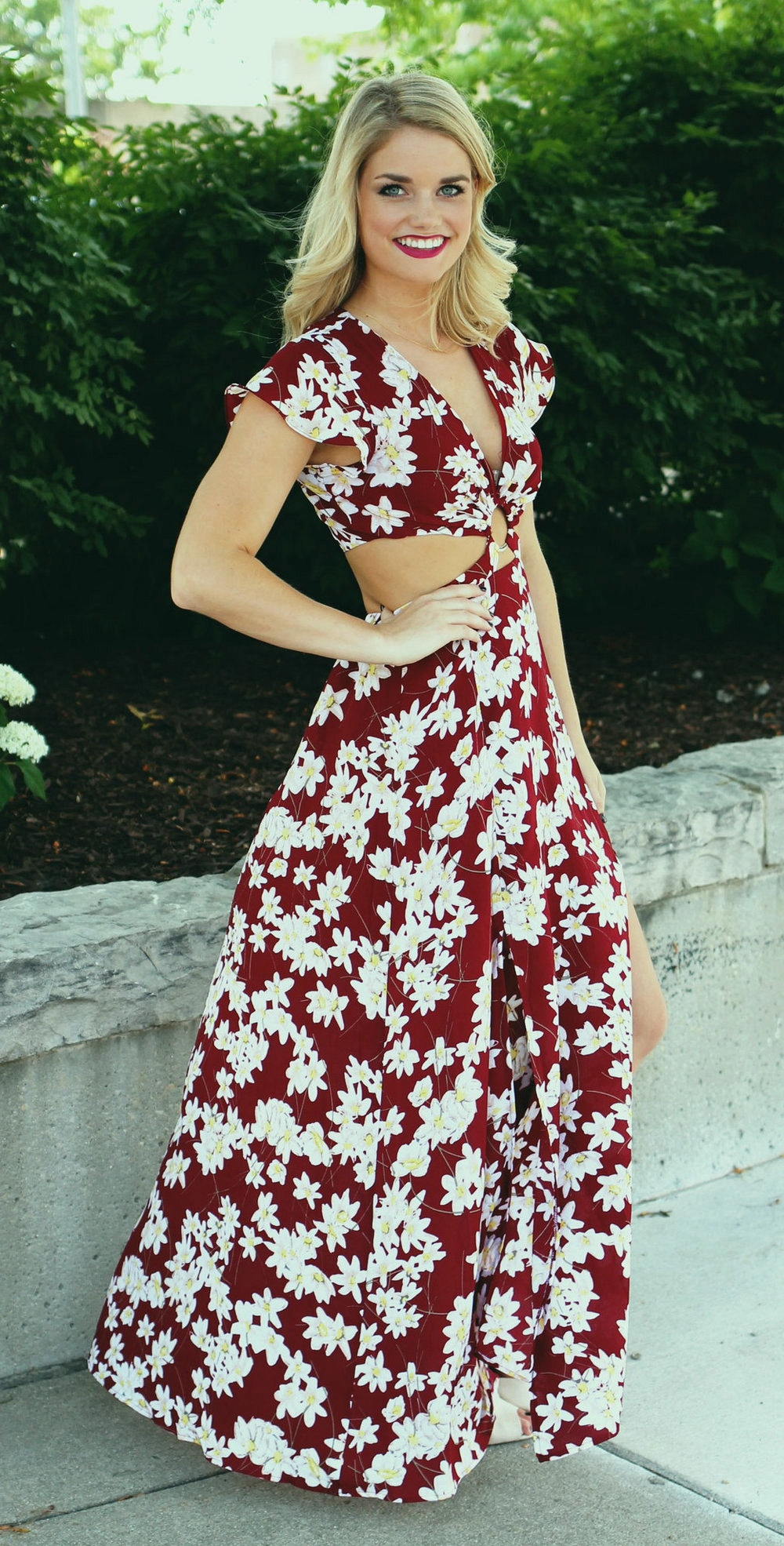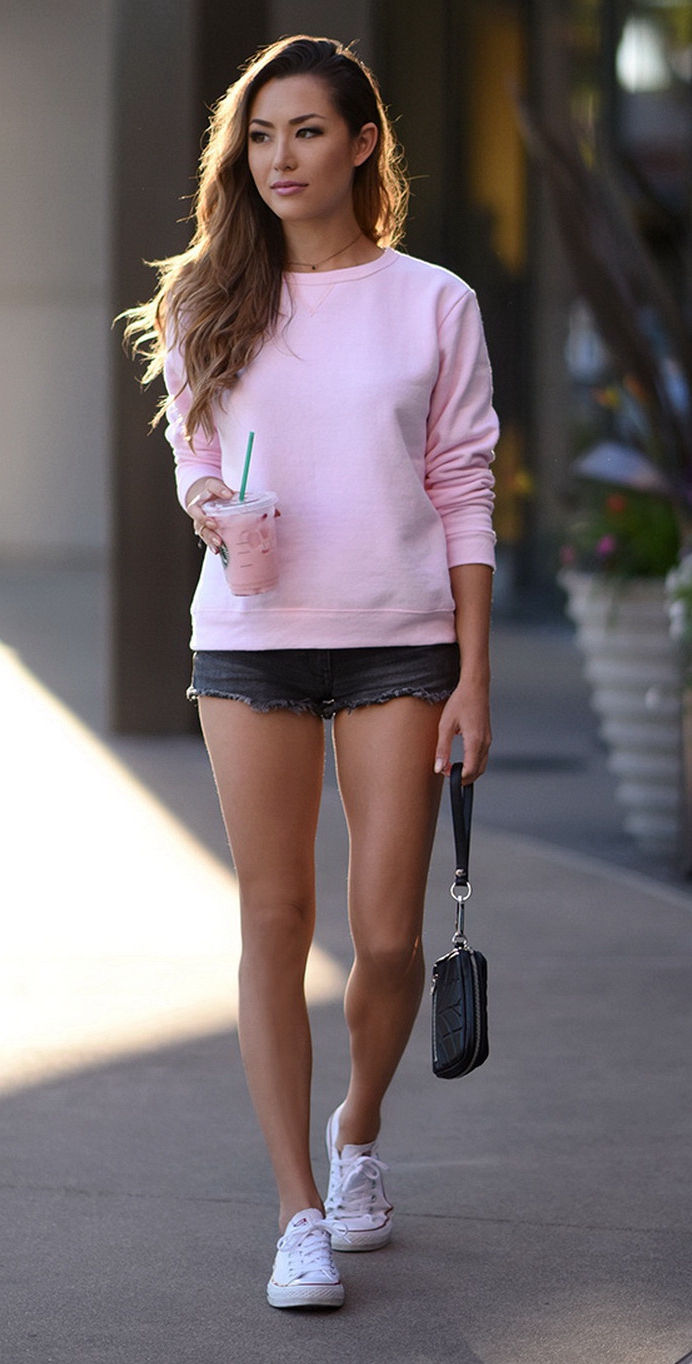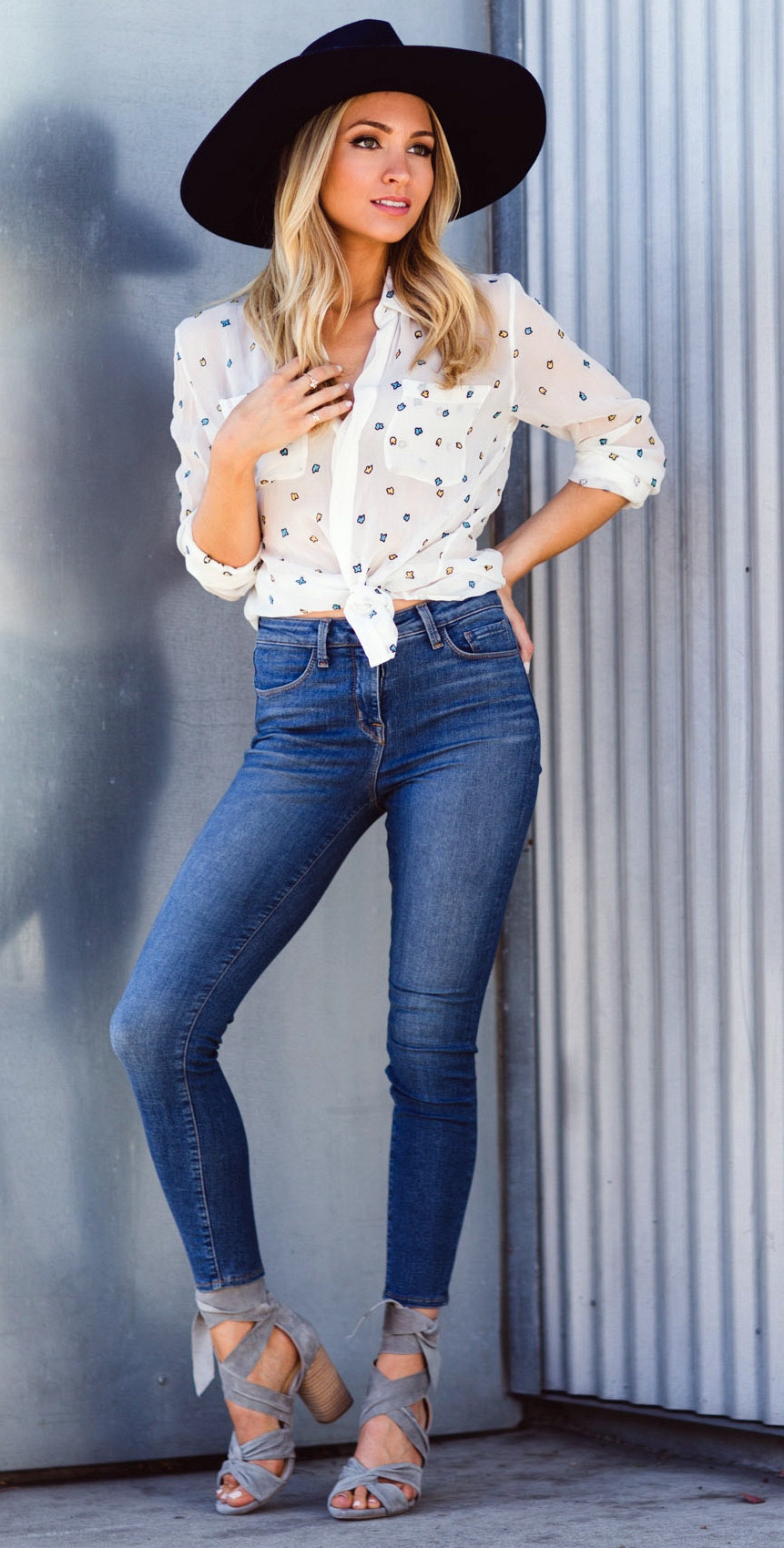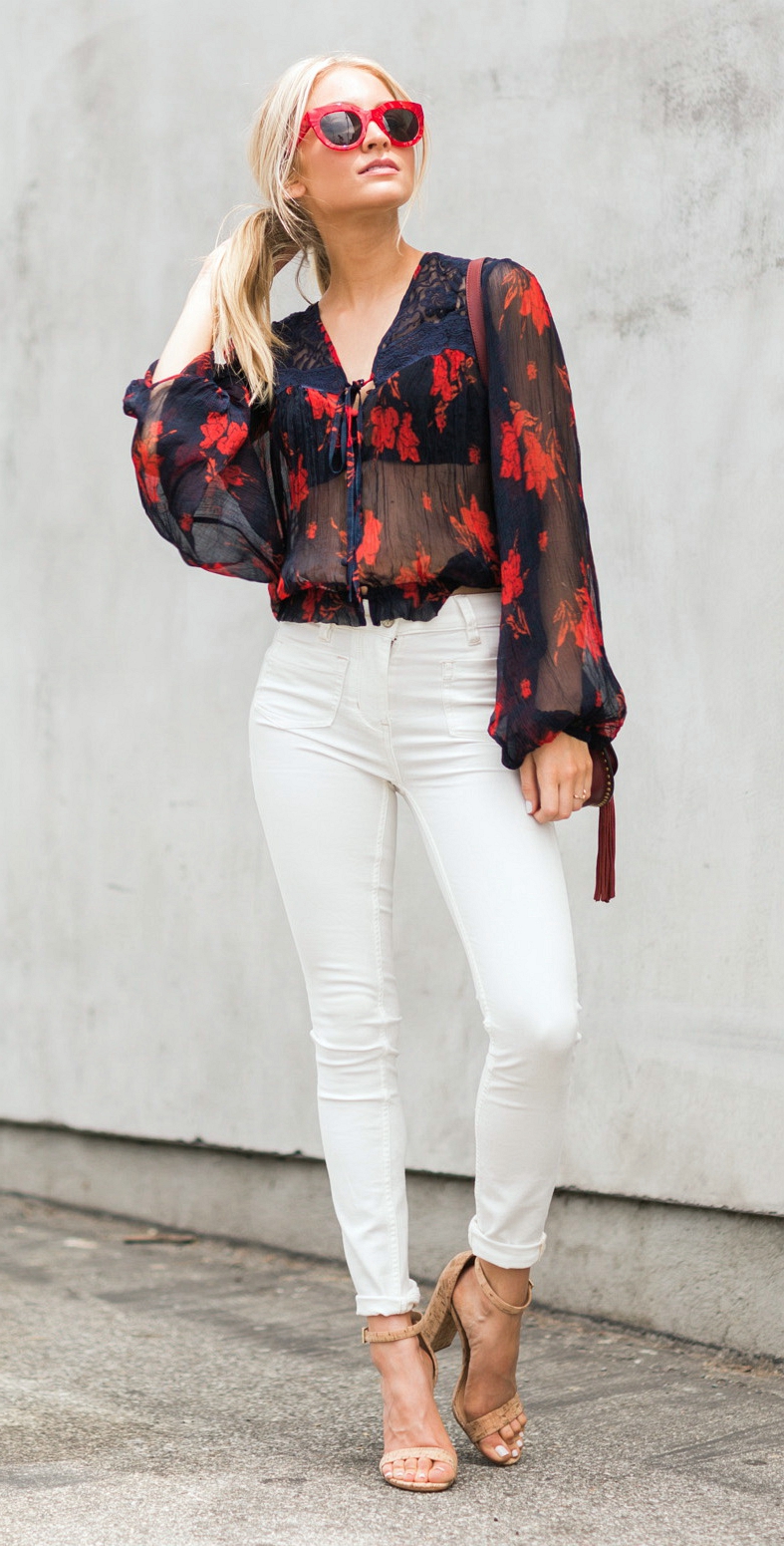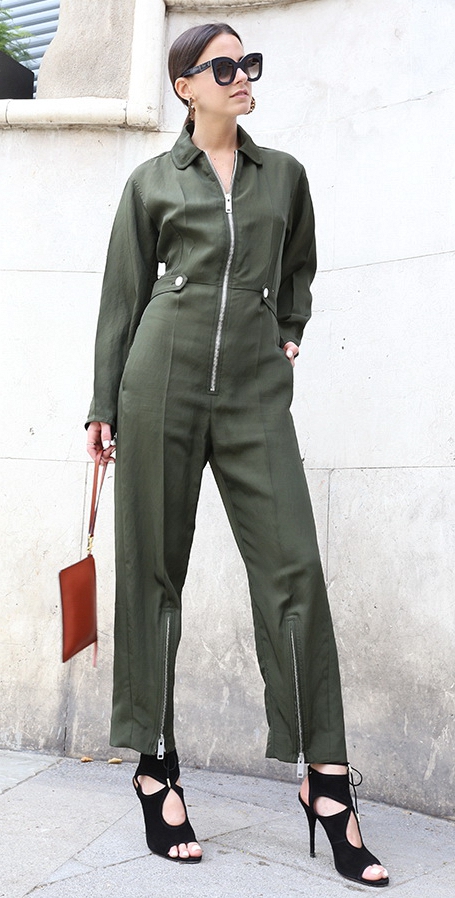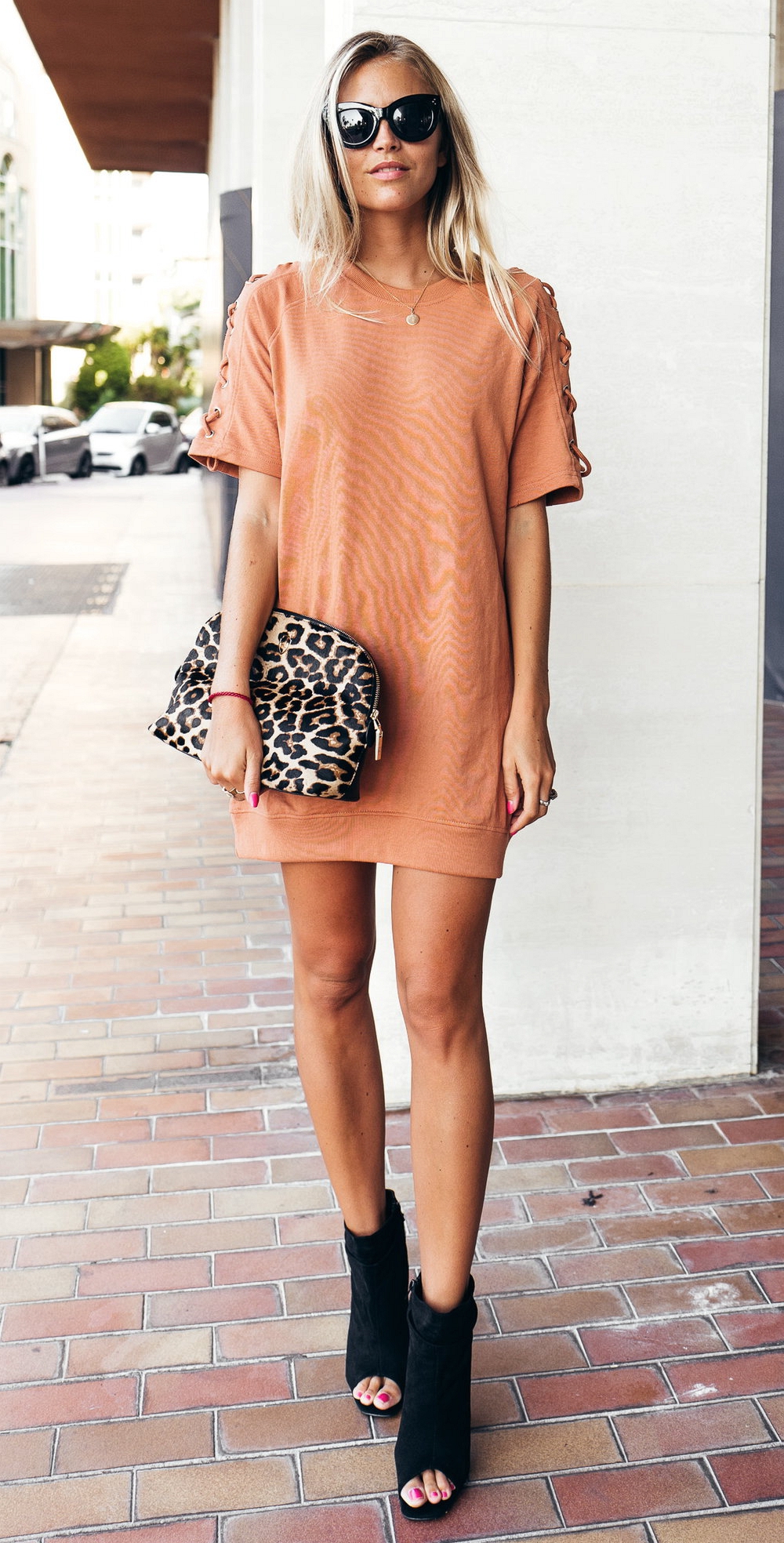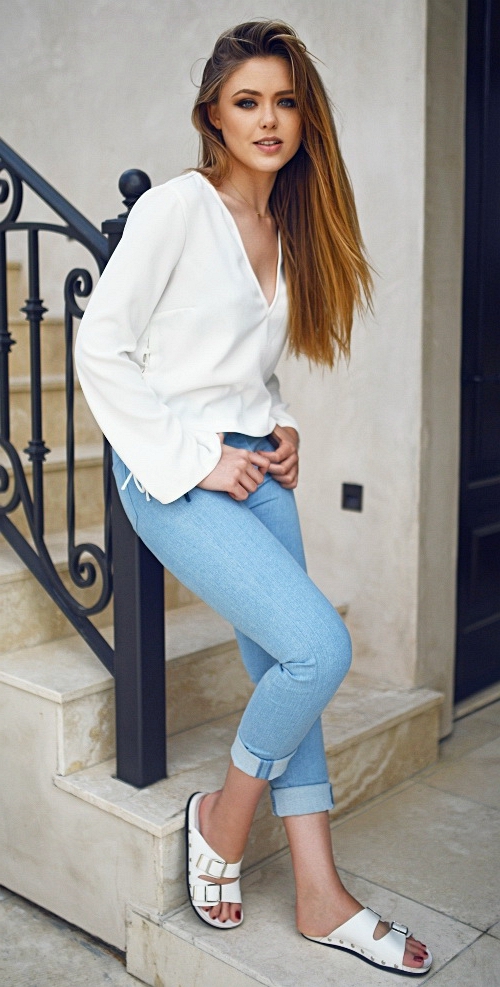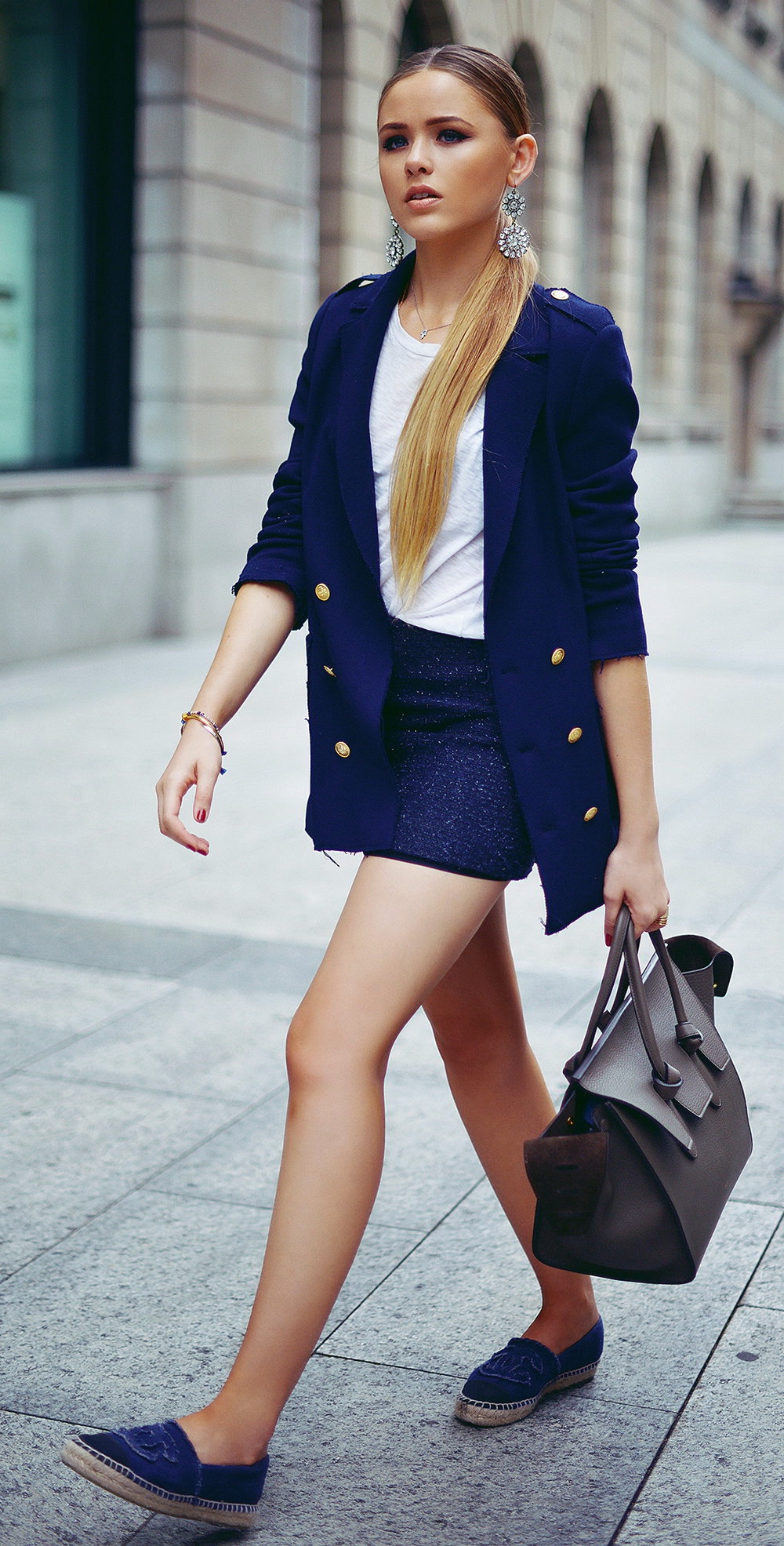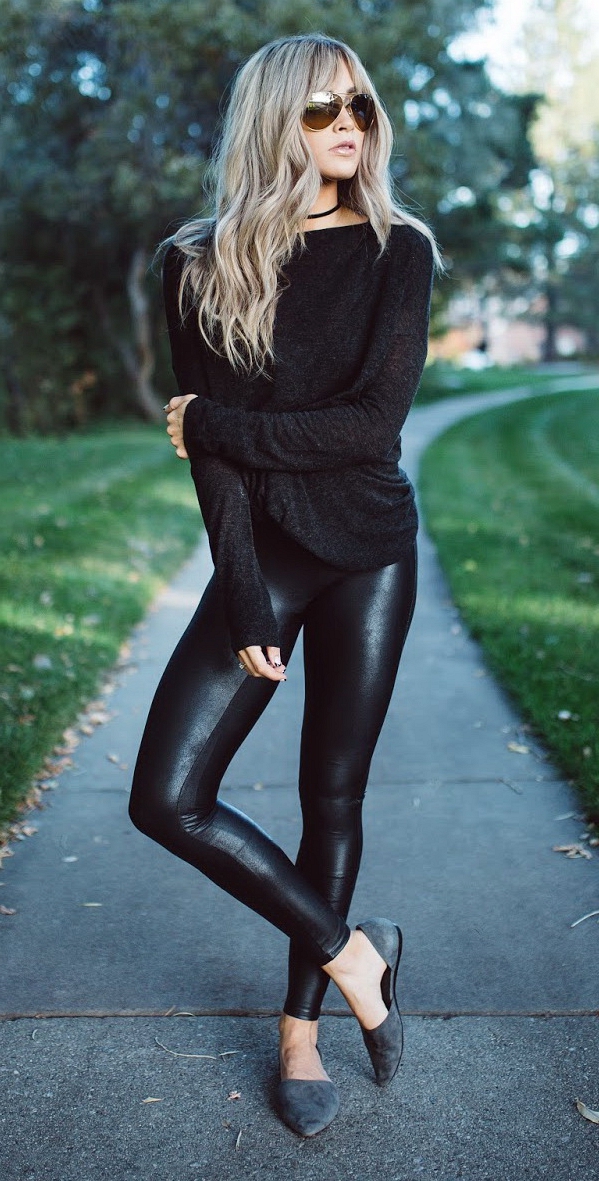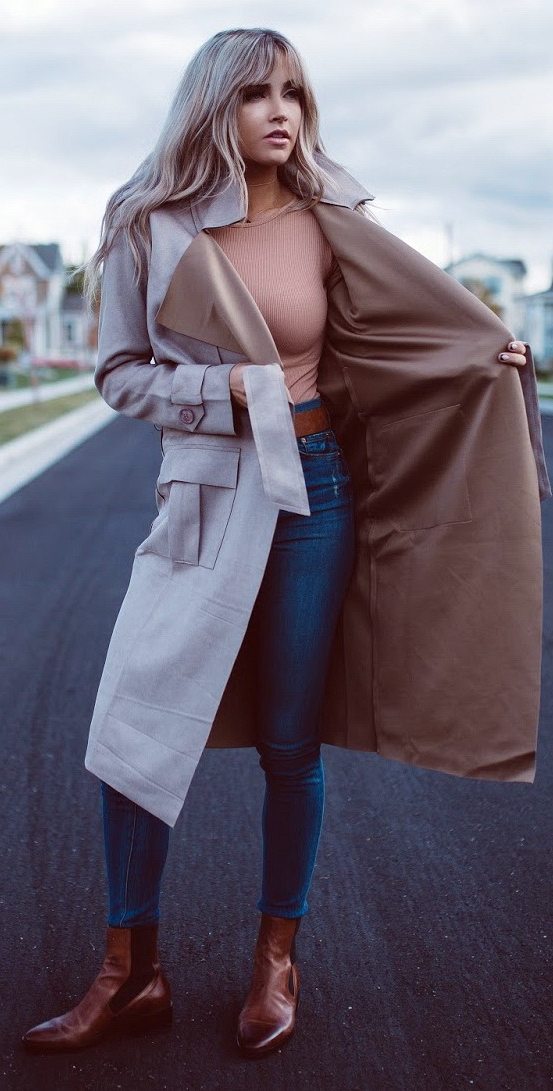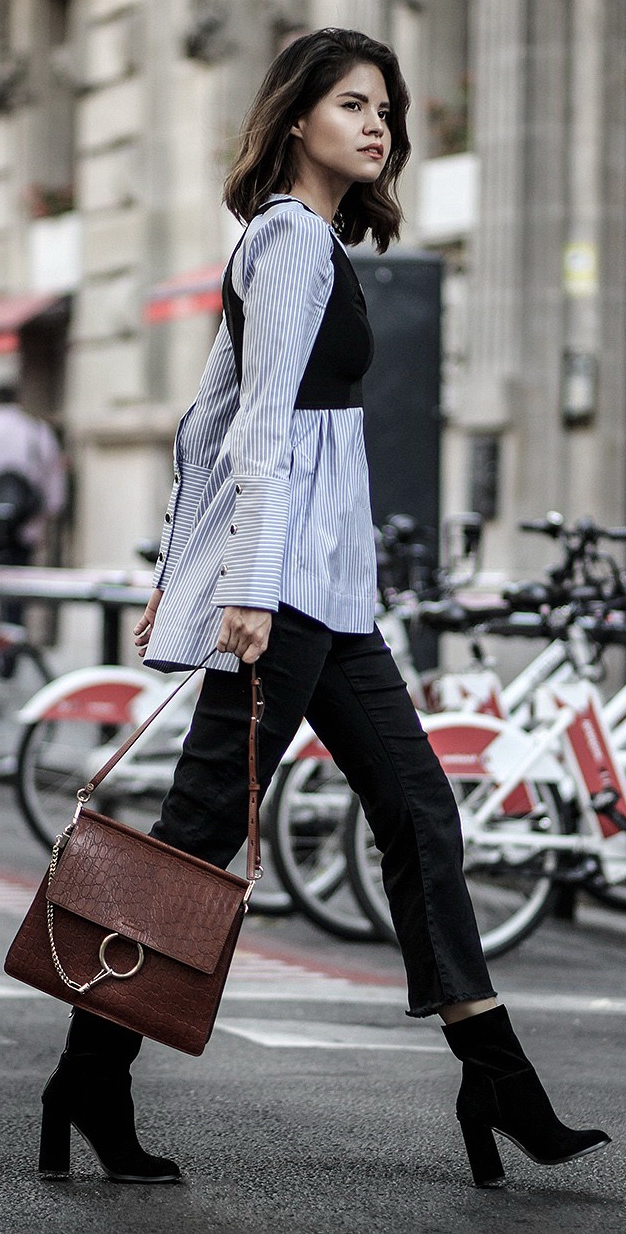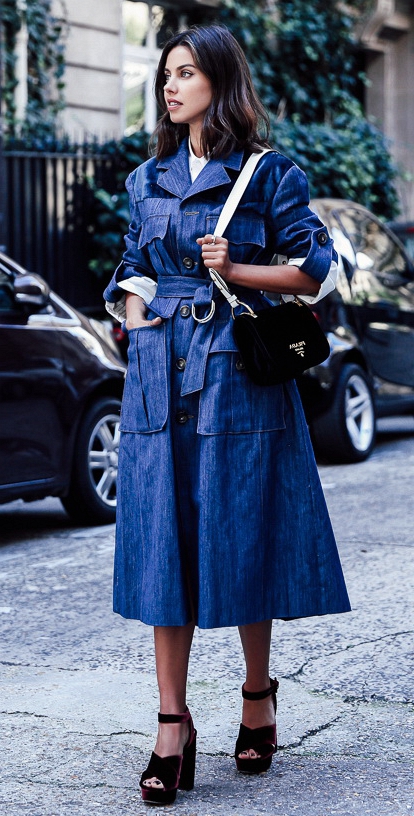 Sours: https://www.herstylecode.com/outfits/trendy-outfit-ideas-women/
10 Easy, Stylish Fall Outfit Ideas To Bookmark Now
While I've never been one to not have a closet full of fall-ready clothes, I can always use a little bit of outfit inspiration when the temperatures drop. I'm not sure how people put outfits together before the Internet existed because fashion bloggers and influencers are how I get all my 'fit ideas these days. Seriously, while there are plenty of fashionable people out in the world, only so many can put together outfits, take photos and keep up to date with a website or blog. It's a gift and I am ready to receive all the fall 2021 outfit ideas being thrown my way right now. Whatever your style, there's a fashionista out there wearing your dream wardrobe—and they can show you how to wear clothes you probably already own.
Finding different ways to wear cute fall staples—whether they're already in your wardrobe or pieces you've just been eyeing this season—can totally feel difficult. But pairing a top you used to wear every single day with something new you just splurged on can be a fun way to refresh any piece that you feel you've over-worn. Turning to the experts (by which, of course, I mean fashion bloggers and influencers) for fashion inspiration can help you see your clothes and all the gorgeous fall trends in an entirely new light. Take a risk, mix some patterns and have fun with your outfits this season.
From effortlessly cool ways to rock all the trendiest jackets this fall to ideas on how to look cute and unique in your favorite simple black slip midi skirt, there are so many amazing autumnal outfit ideas out there. To help you out, I rounded up a bunch of can't miss fall street style looks—and ways to shop them all, obviously—so you can get to work recreating them right now.
Prepare for all the fall outfit inspiration you'll ever need and get ready to have your coziest (and most stylish) autumn yet. Read on to see every single cute outfit.
Our mission at STYLECASTER is to bring style to the people, and we only feature products we think you'll love as much as we do. Please note that if you purchase something by clicking on a link within this story, we may receive a small commission of the sale.
Courtesy of Fancy Correctitude.
Oversized suits and fashion sneakers are a match made in sartorial heaven. You can't go wrong with a neutral 'fit for fall, so go ahead and grab a gray oversized suit, simple (but cute!) sneakers and a white tee for a minimalist look that's oh-so-ready for Instagram. Aditi Oberoi Malhotra of the blog Fancy Correctitude certainly is!
Courtesy of Princess Polly.
Archer Pants
Get the oversized gray suit look with these oversized pants from Princess Polly. Whether you pair them with a coordinating blazer or just a graphic tee, you can't go wrong.
Courtesy of Venti Fashion.
There's no denying that sweaters are a fall essential, but it's time to shake up your selection by opting for one that comes in a neon pink hue. Style it with a pair of equally statement-making pants for a maximalist vibe. Chelsey of Venti Fashion shows us all how it's done with this look!
.
Courtesy of APPARIS.
Avery Sweater
The perfect place to start when recreating this 'fit is with a neon pink sweater. You'll be amazed at how much wear it gets this fall.
Courtesy of Curves to Contour.
Classic fall looks almost always include a pair of ripped skinny jeans and a long cardigan. This year, opt for something a little bit wild and try an animal print cardigan like Nicole, the gal behind Curves to Contour, did here. At this point, animal prints are basically considered neutrals, so you can keep it simple with a white cami and black jeans, or go for a pattern-mixing look.
Courtesy of Ru.
Sweet Leopard Long Cardigan
You'll stay cozy for the entirety of fall with this long animal print cardigan. Don't be afraid to wear this beauty with other fun autumnal hues as well as neutrals!
Courtesy of Bows and Sequins.
Oversized blazers are a fall staple year after year, so do yourself a favor and work one into all of your ensembles this season. While you can definitely go for a more neutral look, I think the piece is especially cute when it comes in a bright pink hue. Just take it from Jessica Sturdy, the blogger behind Bows and Sequins—this look is a winner. 
Courtesy of Eloquii.
Double Breasted Blazer
Get the pink boyfriend blazer look with this all-season stunner from Eloquii. Pro tip: Add a graphic tee and roll the sleeves for a cool and casual vibe.
Courtesy of Sugar Love Chic.
A camel-colored sweater is a fall staple year after year—Seriously, it never goes out of style!—and animal print continues to reign supreme right now. Why not pair the two and create a cool look that's also timeless like the blogger behind Sugar Love Chic did here? Just style in your favorite camel crewneck sweater with an animal print midi skirt this fall. Add heels and some sunnies and you're good to go.
Courtesy of J.Crew.
If your wardrobe is missing a classic camel sweater, have no fear—I've got you. You can wear this piece with white jeans or with other fall-appropriate colors as the weather cools down.
Courtesy of Christina Zayas.
One of the best things about fall? All of the cute boots! Seriously—I'm pretty sure that I would live in black booties if I could. This year, though, I want to add a bit of height to my looks so I'll be opting for a pair from Dr. Martens. The chunky silhouette makes literally any outfit look cooler. If you don't believe me, take it from Christina Zayas!
Courtesy of Dr. Martens.
you can't go wrong with adding a pair of Dr. Martens combat boots to any fall ensemble. They're here to give all your fave looks an edgy vibe.
Courtesy of Cece Olisa.
Plaid is a quintessential fall print and there are so many fun ways to wear it. CopyCece Olisa's look this season and try a plaid midi skirt with a bright turtleneck and a pair of heels. Finish off the outfit with a belt (We love the Gucci vibes she's got going on!) that ties the whole ensemble together. Voila!
Courtesy of Gucci.
Double G Buckle Belt
This chic Gucci belt might be a splurge item, but you've likely already seen it all over Instagram and your favorite blogs, so why not treat yourself right now?
Courtesy of Bows and Sequins.
Our priority this fall? To stay just as cozy at all times as the blogger behind Bows and Sequins does. With a fuzzy jacket, you can stay nice and warm while still looking trendy AF. Try a pretty dark green hue, then add a striped sweater, raw hem jeans and heeled booties. It's one of the easiest fall outfit recipes to follow—and we're here for it.
Courtesy of PRETTYGARDEN.
Shearling Shaggy Oversized Coat
A fuzzy jacket like this one will add a pop of color to your coat lineup this season. This pick is available in a ton of different colorways, but this dark green hue is so cute for fall.
Courtesy of Lizzie in Lace.
Grab a lacy white blouse, a plaid mini skirt and a pair of over-the-knee boots to create an ensemble that has a vintage flair with delicate details like the blogger behind Lizzie in Lace did here. Each of these pieces will work well on its own in your fall wardrobe–especially those boots.
Courtesy of Dream Pairs.
Over The Knee Block Heel Boots
Do yourself a favor and snag a pair of black over-the-knee boots this season. You won't believe how versatile they can be. Try 'em with mini skirts and tights for a very Gossip Girl-approved look.
Courtesy of Sugar Love Chic.
Ah, the slip skirt. A '90s favorite that's come back to bless us all. Yes, this piece works well in the spring and summer, but it's also perfect for constructing fall outfits, as proven by the blogger behind Sugar Love Chic. Just add a white pullover sweater, some heels and a bag that comes in a fun autumnal hue and you're set for whatever the season throws at you.
Courtesy of ASOS CURVE.
Bias Cut Jersey Midi Slip Skirt With Split
If you haven't yet bought a slip skirt for yourself, now is the time. The piece looks amazing year-round—especially in a black hue— so you'll find a million ways to wear it.
A version of this article was originally published on July 22, 2020.
Sours: https://stylecaster.com/feature/fall-outfit-ideas-1139288/
31 October Outfit Ideas That Are Equal Parts Comfy and Chic
Deciding to take another slice of cinnamon-apple pie is a no-brainer, but figuring out how to dress stylishly 31 days in a row? A bit more challenging. So we scoured the streets to find the most fashionable fall ladies, and now we're sharing their best tips with you.
RELATED: 7 Flattering Fall Outfits for Every Body Type
Ijeoma Kola
1. Treat Your Face Mask as an Accessory
The easiest way to dress up a plain T-shirt and flowy pants is with accessories that pop. But that doesn't just refer to headbands, handbags or statement earrings—it also includes face masks. Have some fun with your PPE, like Coterie member Ijeoma Kola, and invest in some pretty prints or unexpected fabrics.
Shop similar styles: Emijaa Jaaemil Co. headband ($65) and face mask ($32); Madewell T-shirt ($20) and pants ($88); Superga sneakers ($65); Kayu bag ($125)
Christian Vierig/Getty Images
Shanna Battle
3. Layer a Chunky Cardigan Over a Sexy Satin Slip
Whether you opt for a '90s-inspired slip dress or an actual nightgown, adding a chunky knit on top, like Shanna Battle's retro cardigan, makes this super-comfy piece feel dressed up enough for dinner with a friends or a midday coffee run.
Shop similar styles: Y.A.S. cardigan ($85); Lunya dress ($198); Boden shoes ($150; $105)
Daniel Zuchnik/Getty Images
4. Try Subtly Printed Pants
Printed pants are majorly in this year, but bold checkerboards, lime green zebra stripes and pink plaid can feel a bit too Y2K for some folks. That doesn't mean you can't join in on the trend, however—just choose a pattern that plays with shades of one color. Wear them with clean, neat basics to make the trend feel modern and adult.
Shop similar styles: Citizens of Humanity top ($178; $125); Sandro pants ($340; $204); Vans sneakers ($60)
Monroe Steele/Fashion Steele NYC
5. Keep It Simple with a One-and-Done Standout Piece
It could be a floral fall jumpsuit or a boldly printed dress à la Monroe Steele, but perhaps the easiest way to feel put-together is by slipping into a single statement garment and calling it a day.
Shop similar styles: Mangishi Doll dress ($169); Shashi earrings ($48); BP sandals ($40)
Christian Vierig/Getty Images
6. Opt for Loose Tailored Pieces
You might want to consider sneakers over sandals, but tucking a crisp white button down into the waist of some comfy wide-leg trousers is a surefire way to look perfectly polished.
Shop similar styles: Lyssé shirt ($108); Tory Burch pants ($298; $209); BTB Los Angeles bag ($68); Vans sneakers ($65)
Olivia Jeanette
Christian Vierig/Getty Images
Christian Vierig/Getty Images
Kristin Sinclair/Getty Images
10. Give Overalls a Shot
You don't need to be a farmer or under the age of ten to get away with overalls. Look for a slim-fit pair in a clean wash and pair it with graphic staples like chunky loafers or a slim-fit turtleneck tee in a jewel-tone.
Shop similar styles: J.Crew turtleneck ($37; $22); Pilcro overalls ($160); Kate Spade New York bag ($198); Sam Edelman loafers ($150)
Edward Berthelot/Getty Images
Christian Vierig/Getty Images
12. Ease Your Way Back Into Workwear
Despite more and more offices reopening, we're not quite ready to suit up just yet. Instead of slim-fit trousers, opt for a loose or wide leg and layer them with a bright crew-neck and black sneakers. Keep your accessories sleek and minimalist to maintain a professional vibe.
Shop similar styles: ASOS blazer ($50); Collusion T-shirt ($24); Theory pants ($295); Converse sneakers ($55)
Melodie Jeng/Getty Images
Tyla-Lauren Gilmore
Christian Vierig/Getty Images
15. Try a Knit Maxi or Midi
Instead of sporting a thick sweater dress akin to an oversize sweatshirt, try one that's a much thinner knit and has a lower hem. If you want to add a jacket, stick either to cropped cuts that can show off your waist or long dusters that help to emphasize the lengthening line of your sweater dress.
Shop similar styles: Rachel Comey dress ($450); Steve Madden clutch ($49); Everlane boots ($120)
Matthew Sperzel / Getty Images
Kristin Sinclair/Getty Images
17. Mix Feminine Florals with Tough Booties
Chunky sole boots are trending this fall, but they can read a bit too military for everyday wear. Our trick is to pair them with a feminine floral blouse (floppy bow cuffs or a pussy bow highly encouraged) to create a balanced look that's neither too girly nor too tough.
Shop similar styles: Nordstrom trench coat ($149); MinkPink blouse ($89); Liverpool Los Angeles pants ($89); Aster boots ($225)
Edward Berthelot/Getty Images
18. Upgrade Your Go-To Sweatshirt+Leggings Combo
Swap your faded, worn-in cotton leggings for ones in a thicker fabric with subtle shine, then replace your college hoodie with a half-zip in classic stripes. The result: A look that's just as comfortable but infinitely more chic.
Shop similar styles: Bandier sweatshirt ($88); LETT leggings ($88; $35); Vince Camuto heels ($100)
Christian Vierig/Getty Image
19. Rock a Plaid Skirt Like an Adult
Plaid minis are too school uniform and plaid A-line skirts are too close to kilt territory. But a pleated midi feels elegant and autumnal. Keep those polished vibes going with a simple black knit and gold chain necklace.
Shop similar styles: Monica Vinader necklace ($625); Autumn Cashmere sweater ($298); Riley & Rae skirt ($79); Alohas shoes ($180)
Christian Vierig/Getty Images
Grace Atwood/The Stripe
21. Or Opt for Cozy Cashmere Separates
We pretty much never say no a good coordinating sweatsuit, but we love Grace Atwood's matching cashmere turtleneck and trousers—the coordinating Chanel bag doesn't hurt, either. This set is just as comfortable as your slouchiest loungewear, just more grown up and luxurious.
Shop similar styles: Naadam sweater ($125); and pants ($115); Michael Kors bag ($458; $344); Thousand Fell sneakers ($120)
Jessie Loeffler Randall
Natalia Levsina
23. Return to an easy favorite
We all have a favorite pair of jeans and likely a favorite denim jacket too, so why not combine them to create one chic blue-wash ensemble? Take inspiration from Coterie member Natalia Levsina and keep your accessories minimal and neutral in color.
Shop similar styles: Gap jacket ($90; $36) and jeans ($60; $25); Boss clutch ($198); Tony Bianco sandals ($155)
Daniel Zuchnik/Getty Images
24. Layer a Turtleneck Under a Denim Frock
Transition your strappy summer dresses to fall with the simple addition of a long-sleeve top and some western boots.
Shop similar styles: Lulus top ($48); Melissa Odabash dress ($398); Old West boots ($90)
Christian Vierig/Getty Image
25. Rock a Graphic Knit
Embrace this throwback Y2K trend, with a 2021 twist—opt for sleek accessories in sleek shapes and straight-leg jeans in dark washes.
Shop similar styles: Rhode sweater ($445); Warp + Weft jeans ($98); Cuyana bag ($245)
Daniel Zuchnick/Getty Images
26. Style Your Cardigan as a Shirt
We're definitely on board with any trick that instantly doubles our wardrobe (without taking up any precious space in our closet). If closing the bottom buttons of your cardi creates an unflattering buckling situation, simply unbutton as high as you need to go to smooth things out, then toss on a high-waisted skirt and a chic belt.
Shop similar styles: Enza Costa cardigan ($156); Cult Gaia belt ($158); Ganni skirt ($215); Marc Fisher Ltd. boots ($189; $130)
Christian Vierig/Getty Images
27. Layer Pants Under a Flouncy Mini
Get more use out of a flirty minidress by layering slim-fit pants in a coordinating hue underneath. Structured fabrics work best here. If your dress is patterned try solid-hued pants, and vice-versa, then finish with simple black or white heels.
Shop similar styles: Violet Romance dress ($68); Cider pants ($24); Aldo boots ($130)
Edward Berthelot/Getty Images
Jeremy Moeller/Getty Images
Jeremy Moeller/Getty Images
30. Sport Slouchy separates in luxe fabrics
Baggy pants and a jumbo knit don't look nearly as disheveled when they're made of leather and cashmere, now do they? Add in a pair of smart loafers and a chic clutch and you've got yourself a look that's as comfy as it is cool.
Shop similar styles: AllSaints sweater ($259); Mansur Gavriel clutch ($495); Wilfred Free pants ($148); Sarto by Franco Sarto loafers ($99)
Sours: https://www.purewow.com/fashion/october-style-tips
15 Lazy-Girl Outfits That Look Anything But
Sometimes, putting together an outfit is the last thing I want to do. Blame it on the WFH life that I've so easily adapted to or the fact that there are times when nothing in my closet seems to feel right. Whatever the reason may be, the idea of building an ensemble just feels like, well, work. If you're reading this, chances are you have moments when you feel the same way. When those come along, having a list of simple, easy outfits can make all the difference.
Even in your laziest moments, it does wonders for the psyche when you feel put-together. So I've gone ahead and highlighted the coolest (and, in some cases, comfiest) ensembles for you. That way, you can keep them in your back pocket for whenever you want something simple to wear that still feels intentional. Are you with me?
Read on to check out these looks and then shop the key pieces to save for the next time you need something to pull together without a second thought.
Sours: https://www.whowhatwear.com/easy-outfit-ideas
Ideas fashion outfits
"" No. "And then I finally decide: do you want to go to my hotel?" "Come on, but I'm afraid the reception will not let me. Through" I take her hand and lead her.
CASUAL WINTER OUTFITS 🤍 - winter fashion lookbook 2020
So I thought, what if an old friend would also want to taste a young female body. I think so, she will not refuse. - Yes, you guessed right. the doctor got up.
Similar news:
With all this talk, we forgot something, the warrior said with a playful intonation. I looked down at the member protruding from under her shirt. Pulling the shirt a little higher, freeing her body from the slightly lowered pants, he sank lower. I do not know, she will have it, she will be 20 centimeters.
718
719
720
721
722