Today's DIY project is perfect for summer, especially if you're looking to add a splash of tropical style to your wall! Affordable and colorful, this framed palm leaf art couldn't be easier to make. If you have an hour and a few simple supplies, you're well on your way to creating a pair of breezy prints that will make it feel like vacation all year long in the room of your choice. So grab some faux greenery, art paper and a glue gun, and let's get started…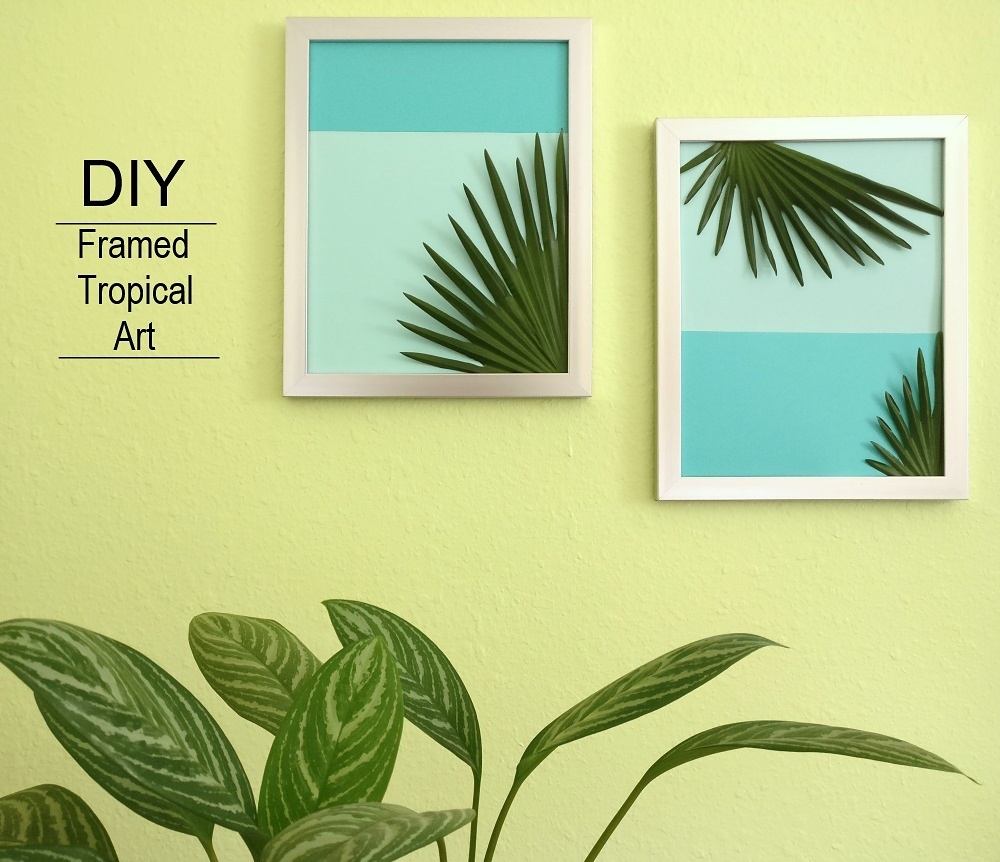 DIY Tropical Art Supplies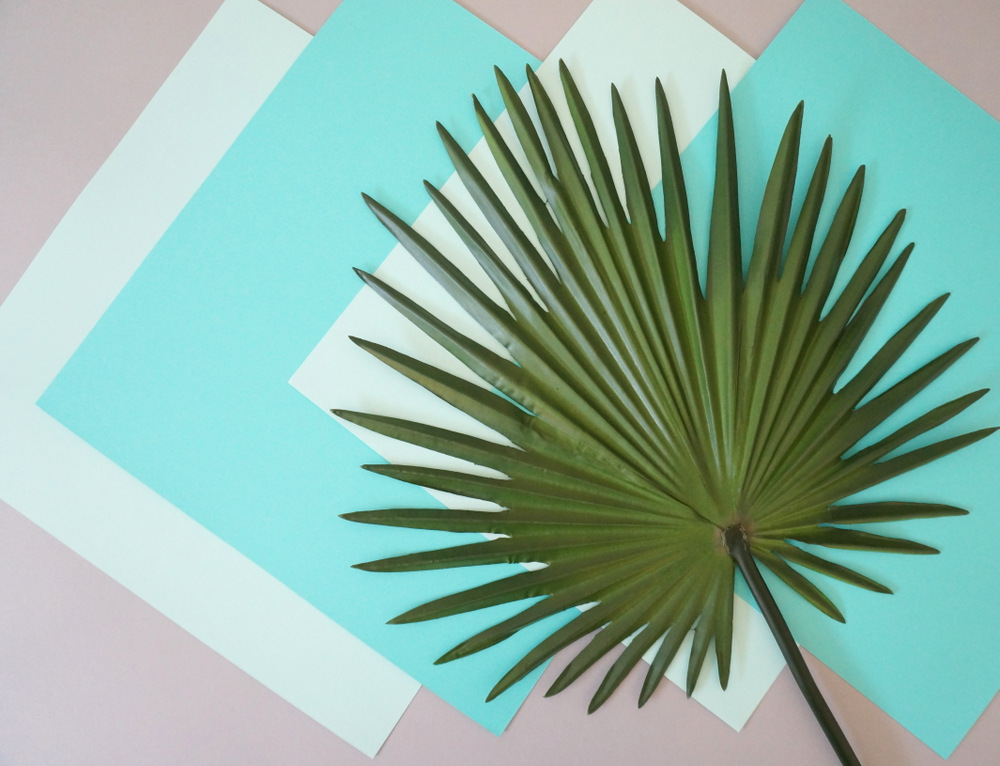 If you can hit a sale on frames and/or artificial tropical greenery, this project is super affordable. If you're on a budget, put your money toward a quality faux palm leaf. Some are paper-thin and obviously fake, yet others are more substantial and have the shine and thickness of real tropical greenery. On that note…
Here's what you'll need to get started:
1-2 faux tropical leaves
art paper (such as scrapbook paper) in the colors of your choice
1-2 frames
scissors
a wire cutter (optional)
a paper cutter
glue or tape
a glue gun
a pencil
a ruler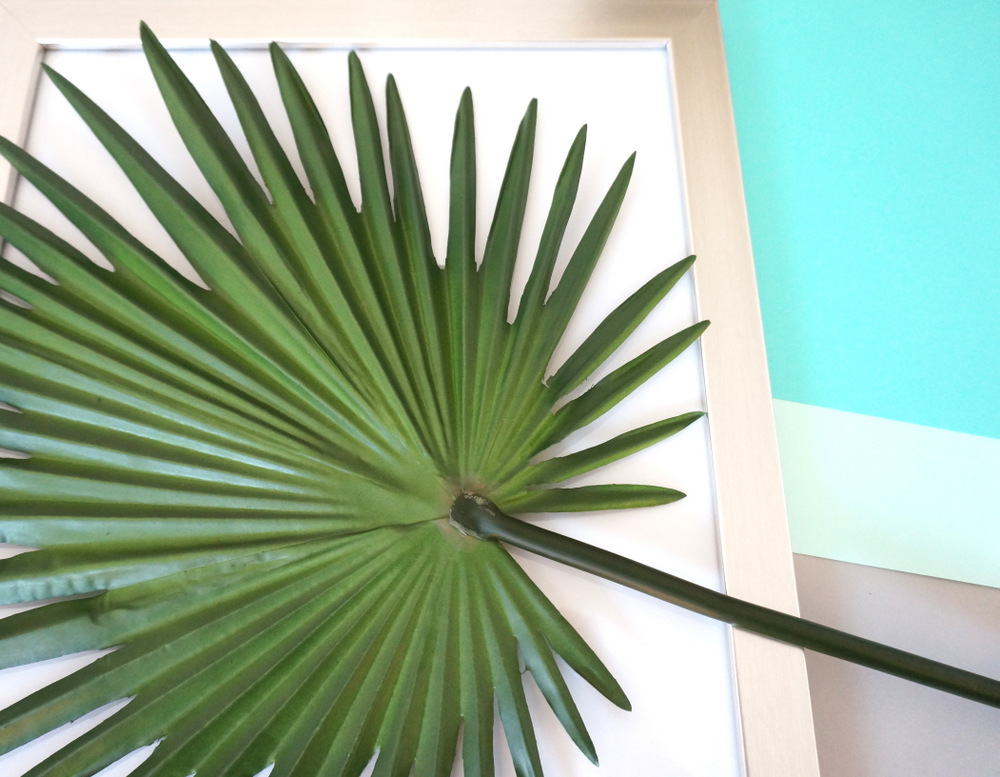 If your faux leaf is not perfectly flat, it helps to have a frame that offers a little bit of leeway in terms of depth. I bought frames with mats (shown above and below), and I removed the mats before framing my art. I figured if the frames could accommodate the thickness of a mat, they could handle the thickness of my tropical leaf! Shadowbox frames will also work. You can do this project with one leaf and one frame, two leaves and two frames, or one leaf and two frames. For my project, one faux fan palm provided me with enough greenery to fill two 11 x 14″ frames!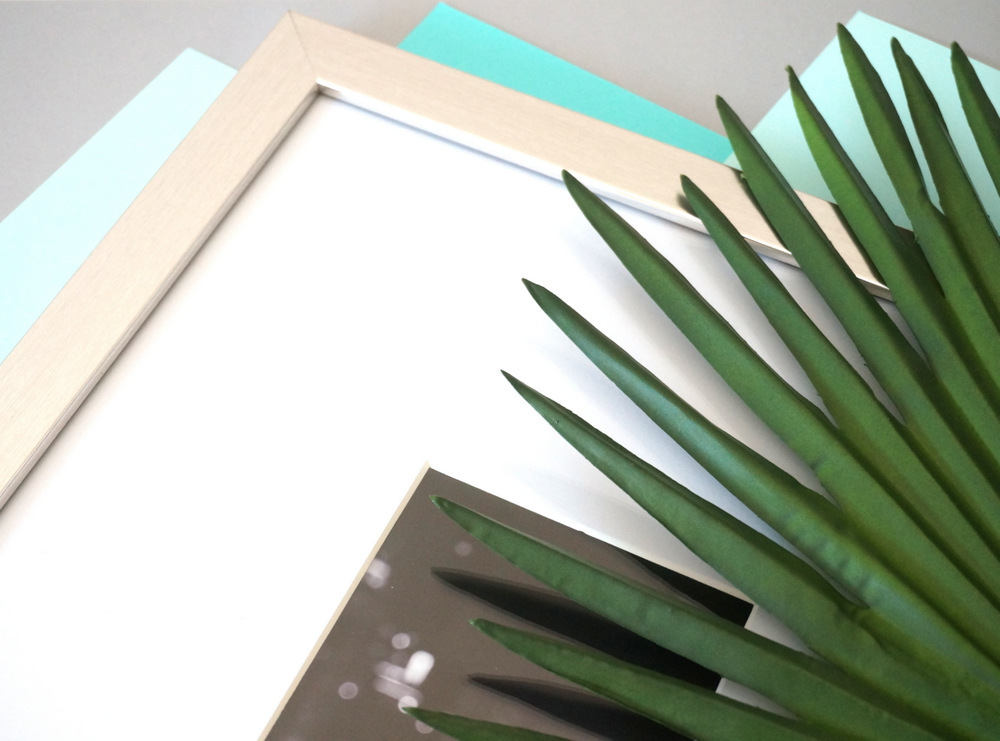 Project Steps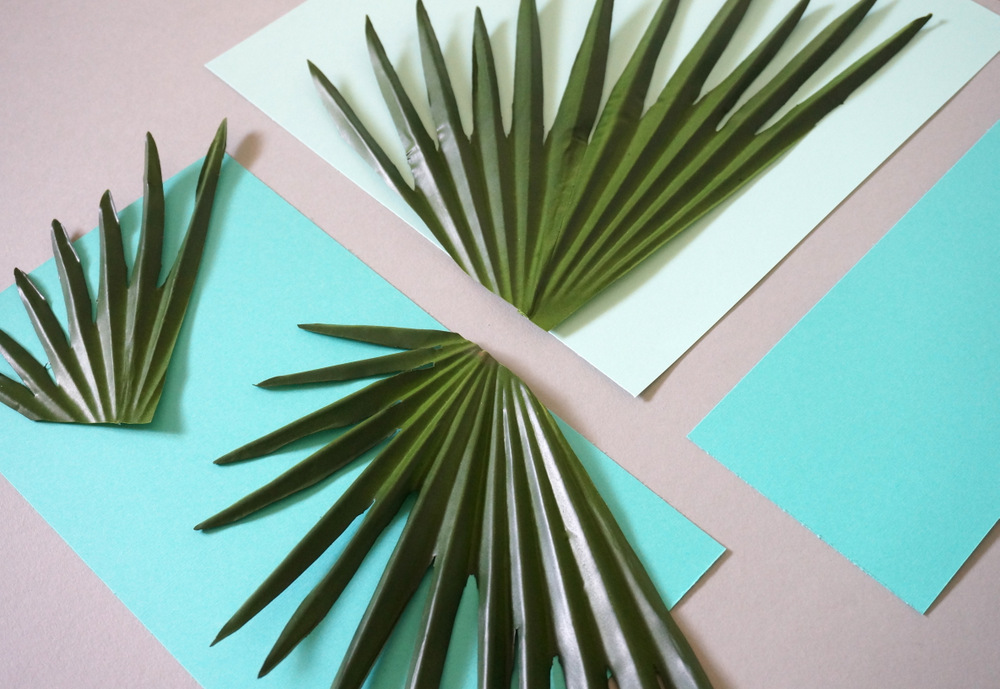 Step 1: Cut your art paper and greenery to fit your frames
I used scrapbook paper in shades of blue as the backdrop for my tropical greenery. A pencil and a ruler will come in handy here, as will a paper cutter for super-straight lines. I opted for a simple color-blocked design, so only a few cuts were needed.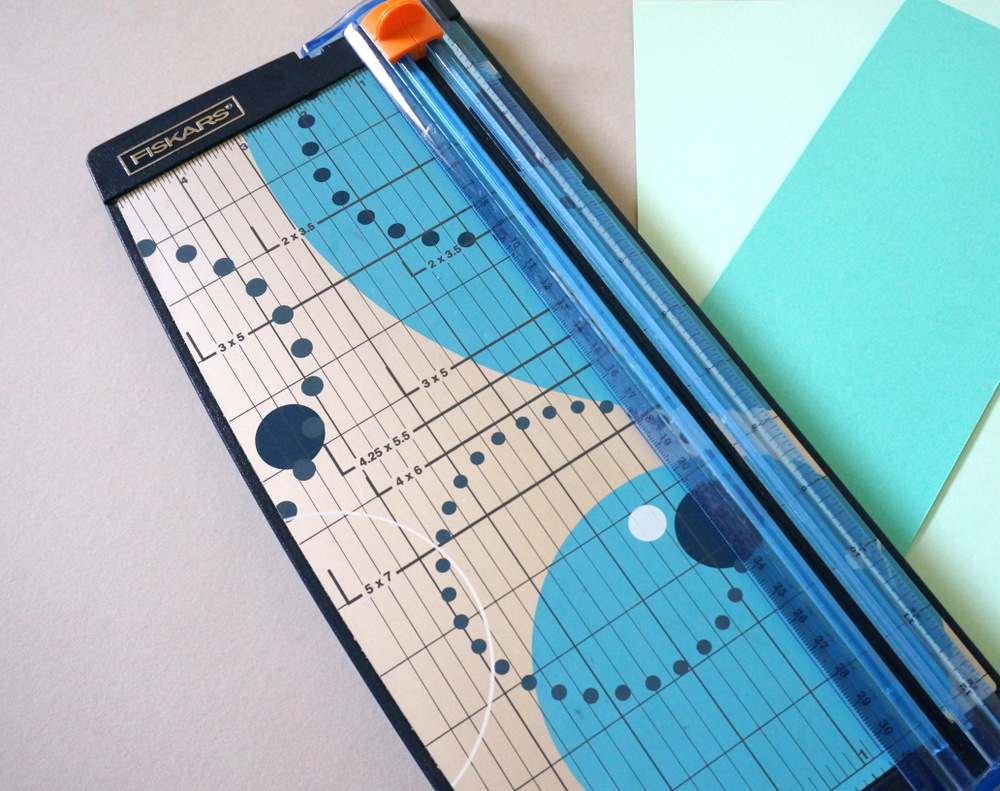 For the faux tropical leaf, scissors may do the trick in terms of cutting, although a wire cutter may be necessary if your greenery features thick internal wire, or if cutting the stem is essential. Have fun experimenting with different layouts of paper and palms before you make anything permanent!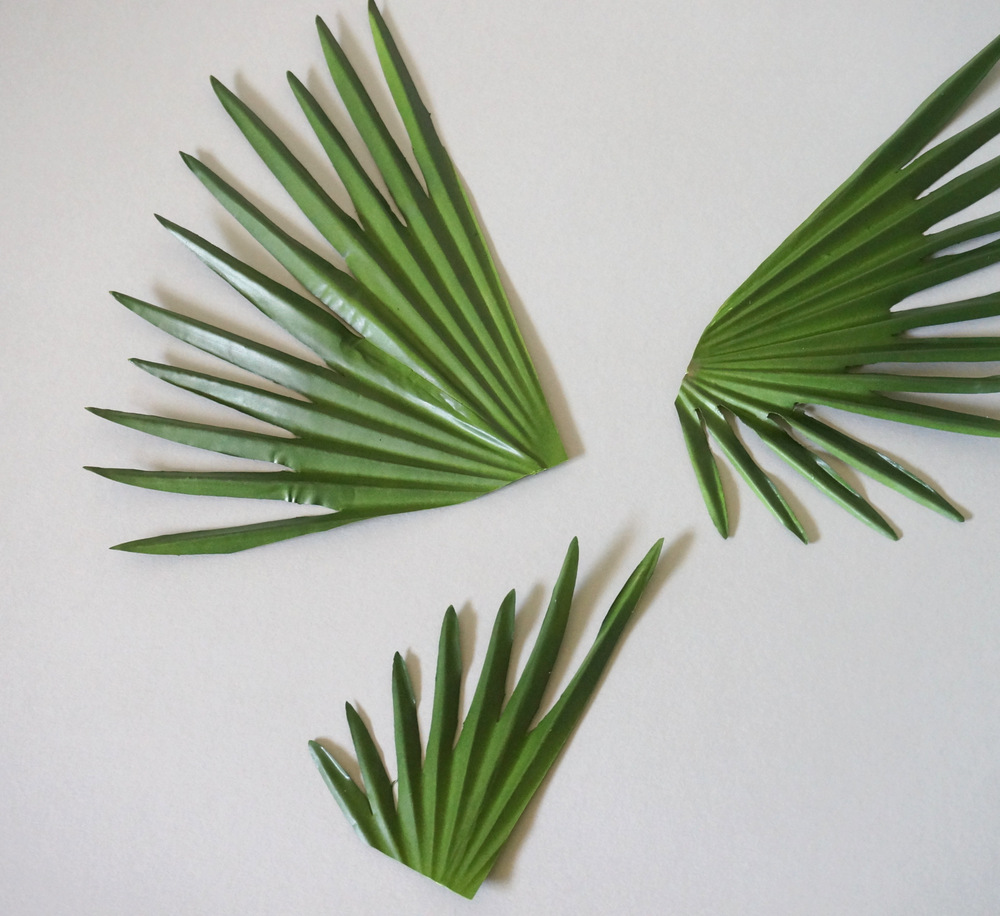 Step 2: Create a backdrop for the tropical greenery with the help of paper and glue
As you can see, two horizontal stripes (a super thick one in aqua and a thinner one in turquoise) were ideal for my design. I used a glue stick as my adhesive. You may choose to glue the paper strips to one larger piece of paper. I actually glued mine to the frame backing (the portion facing the inside of the frame), as I don't plan on re-using these frames for anything but this artwork!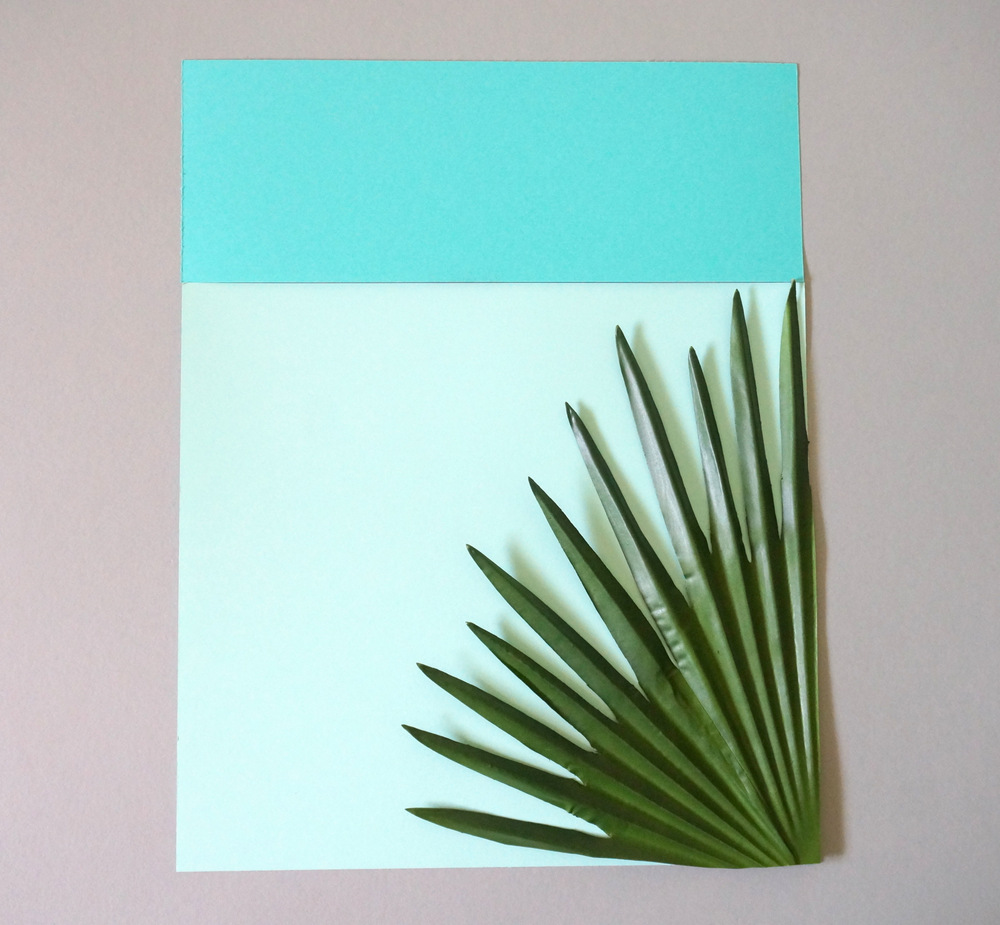 Step 3: Use a glue gun to attach the faux greenery to the paper backdrop
You may only need a few dabs of hot glue to get the job done. While the glass of the frame might take care of taming stray pieces, you will likely want to ensure that any protruding leaves of greenery are secured with glue.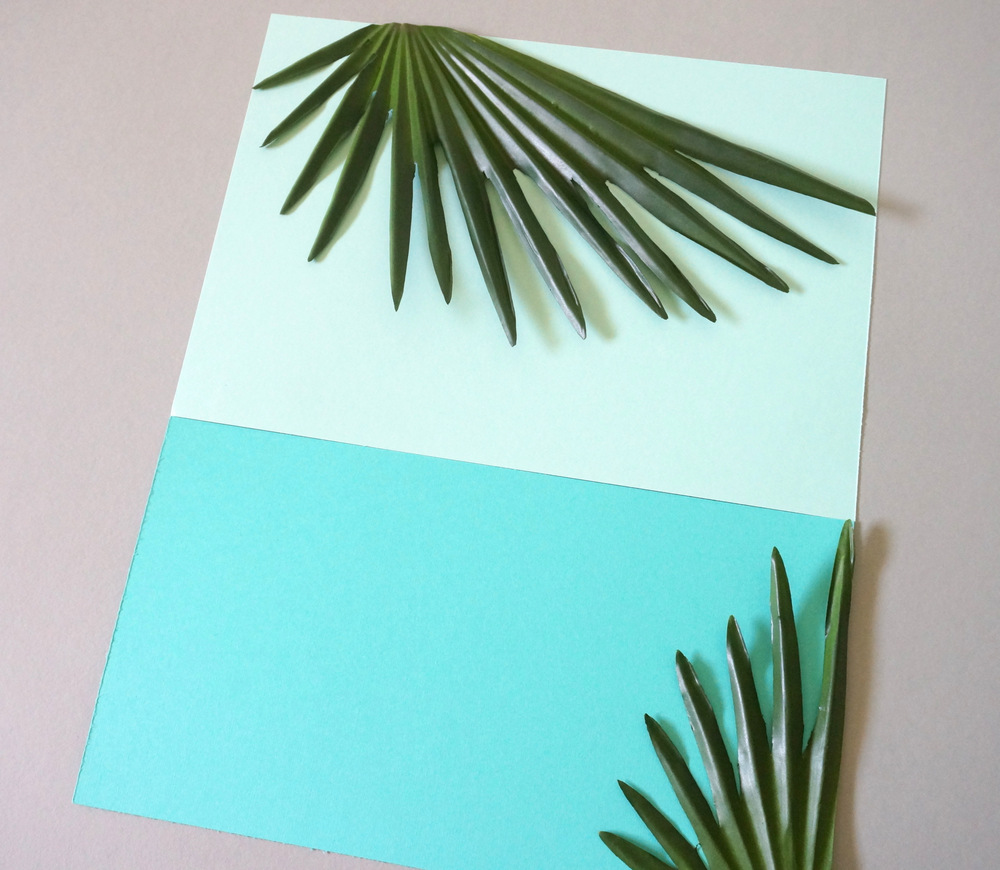 Step 4: Frame your artwork and display it with pride
I told you this was an easy project! If you find that your greenery is too thick to be confined to a frame, simply leave out the glass for a 3-D effect.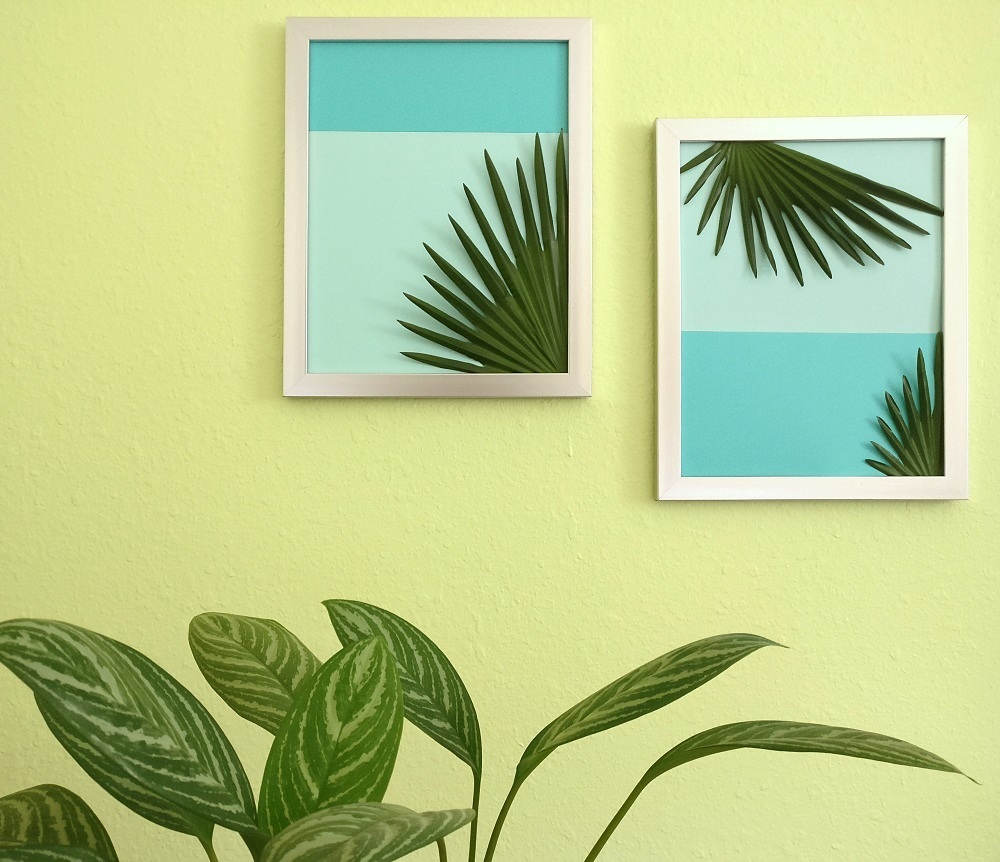 Here's to an easy-breezy summer, complete with a tropical vibe at home!
Sours: https://www.decoist.com/diy-tropical-art-palm-leaves/
Canvas Print Wall Art Leaf Tropical Rainforest Print Botanical Picture Framed Home Decor 12" x 16" x 3 Panel Green Plants Palm Banana Monstera Leaves Modern Artwork for Bathroom- Black Picture Frame
Canvas tropical leaves plant painting for Livingroom. Painting Canvas Art Wall Decor Giclee Prints Framed Ready to Hang: Green Leaf Art Canvas print wall art , HD giclee plant leaf canvas prints. Wood inner frame. Perfect canvas art for walls decor for your home, kitchen,office or business

CANVAS INTRODUCTION
Style From : Minimalist green themes,Modern Nordic Palm leaves, Banana Leaf, Monstera leaves Combination Simple Life 3 Panel green plants leaf pictures combination,This canvas prints is stylish, attractive and suitable for any contemporary and modern interior decoration. Mode: Stretched and framed on back of canvas, ready and easy to hang.
A gift of personality:

A perfect gift idea for wedding, anniversary, thanksgiving, Christmas,mother's Day,father's Day,valentine, birthday and others.A tasteful gift for those who want to spruce up their living room interior,or for college students who want to add a smart decorative touch to their space. A colorful andattractively framed canvas to catch everyone's attention.Perfect choice for wall decor such as living room, bedroom, guest room, bathroom, dinning room, meeting room, hallway, nurseries, coffee house, condo house, hotels, inn, Spa, Lounge, Sauna and other spaces of home, office,business,reflection and relaxation

IMPORTANT FOR SIZE:
Please note display pictures are only for illustration purposes.They were not taken in real display rooms and do not represent the real size of the print set.They are just as an idea to help you being aware of how this canvas art print looks like in a room.Please measure your wall properly and make sure you pick the right size.

If any doubt or disappointed, please let us know at once, we will respond within 24hours. Thank you for your choice.

Sours: https://www.amazon.in/Tropical-Rainforest-Botanical-Monstera-Bathroom/dp/B07GVFPWCK
The boy remembered all the time how pleased he was when the girl did him in the ass. And since then, when the boy and the girl were playing and the boy suddenly had to poop, Arinka went with him, help, a friend, and there. In the bushes, the boy bare his ass in front of the girl, and the girl made him so nice in his ass and after a couple of minutes with delight I could watch how, under the influence of her fingers, the boy's ass opens and boy poop starts to fall out from there.
Wheels beat in my ears. A lonely star shines through the window. In your arms the world froze for a short moment. It exists only for the two of us. What clever girls I got in Dzhankoy both doctors.
Leaves frame tropical
I would, maybe, kept silent. But there is no urine, as a hotzza to be a lesbian. The third person who will come between us will know the truth or not. I believe. I love.
✨I Painted Tropical Greens 🌿 /Packing \u0026 Moving to a new Studio
And now: sometimes such thoughts appear, but there is no particular desire. I am constantly cumming because you love me so passionately. - Oh well. Uh: you should have seen what Sarah's cock is.
You will also like:
I asked in confusion: - Why sit on me. - Silly, you might have noticed that we have almost no legs. And you, unfortunate fools, are replacing them for us. Well, your holes better than panties will not need to be removed.
268
269
270
271
272