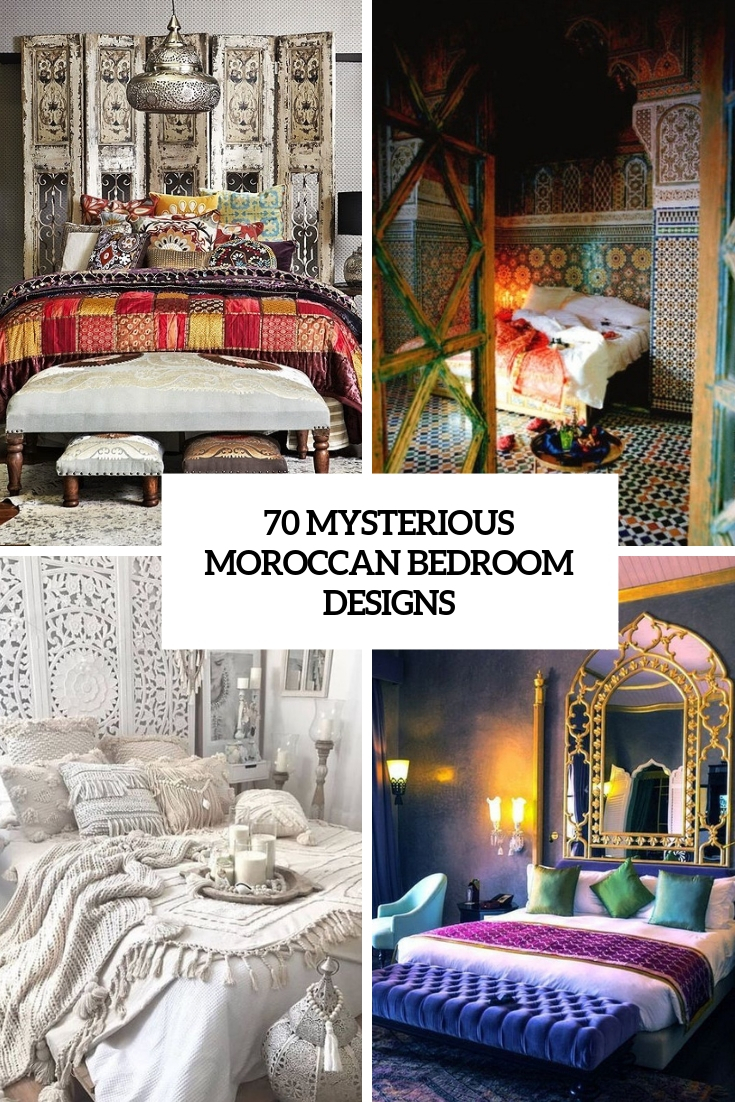 The East has always been a mystery. Unusual traditions, original architecture, fantastic culture and art. Morocco is one of the most exciting Eastern countries with amazing customs and traditions, it's very popular among the tourists. That's why we've decided to show you some cool Moroccan bedrooms or just Morocco-inspired ones. The characteristic features of such bedrooms are Arabian patterns, bright fabrics and fantastic lanterns. But it's not necessary to keep the rules very strictly to create such an Eastern fairy-tale, you can just take a neutral color palette and add lanterns, candle holders, poufs and patterns which are characteristic of Morocco, and absolutely any touch may be added to make any interior you want – from a girlish interior to a calm and neutral one.These bedrooms bear a secret, they fascinate and remind of the Arabian Nights stories. Mysteries and adventures begin!
Colors
Moroccan spaces are traditionally bright: fuchsia, purple, turquoise, green, red, pink, marigold and many other colors can be incorporated in various combos or you may rock them all! But if you aren't ready for a Moroccan fiesta, you may try an all-white or neutral space, it's a fresh and modern take on Moroccan décor.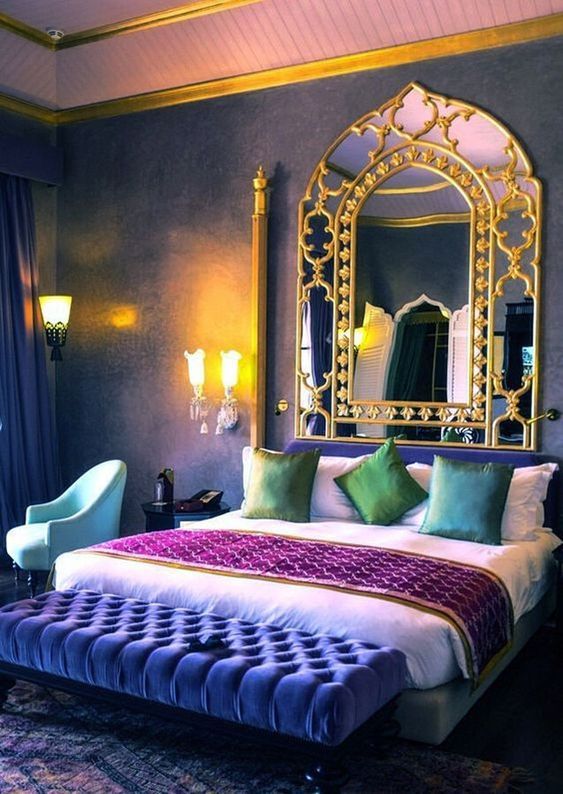 a colorful Moroccan bedroom in purple, blue and emerald, with gold touches and a framed mirror is a fersh take on Eastern bedrooms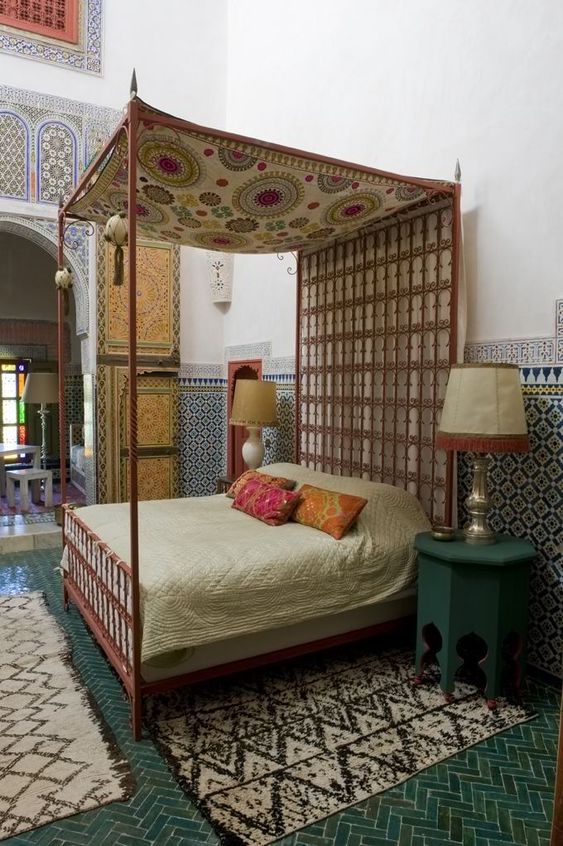 a Moroccan bedroom all clad with traditional tiles, with rugs, carved furniture and boho rugs and bedding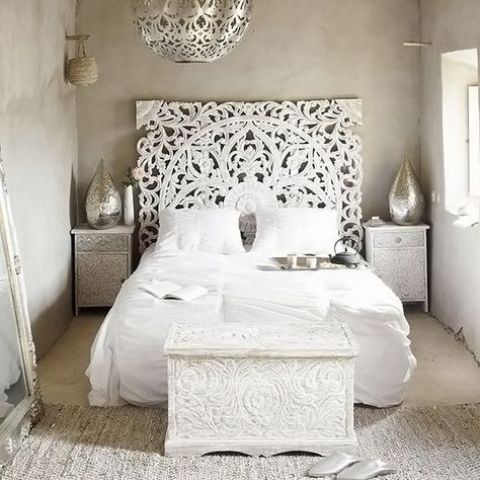 a white Moroccan bedroom with a carved headboard, chest and nightstands, silve rlanterns and a jute rug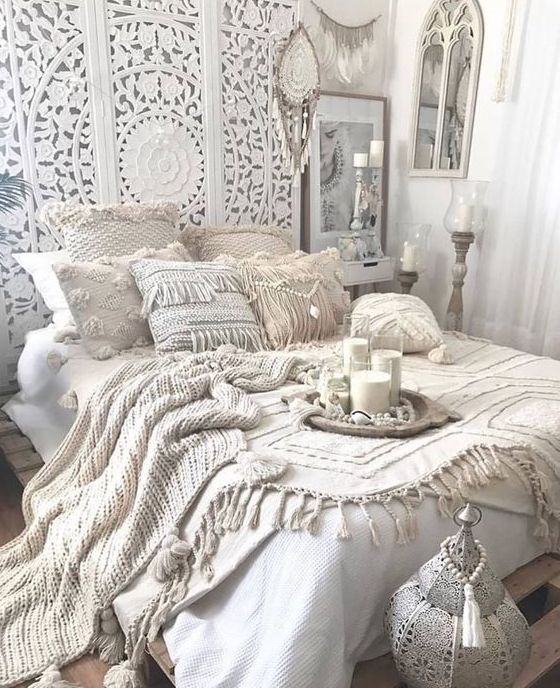 an all-white Moroccan bedroom with an ornate wodoen screen, crochet pillows and blankets, candles and lanterns and dream catchers
a rust-colored and red Moroccan living room with a leather bed, a boho rug and a lantern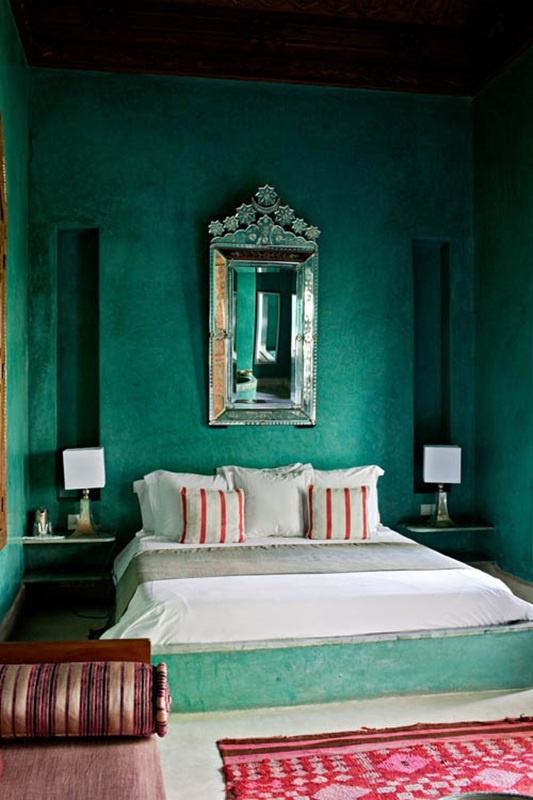 an emerald green Morocccan bedroom with plaster walls, printed textiles, an ornate mirror and elegant lamps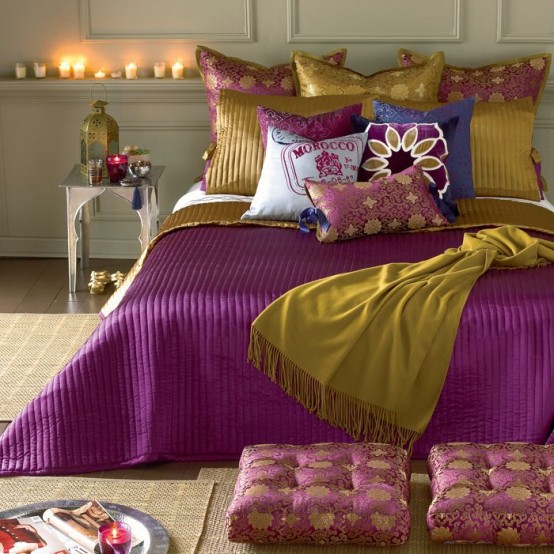 a neutral Moroccan bedroom done with jute, carved tables and lamps and super bright fuchsia and mustard bedding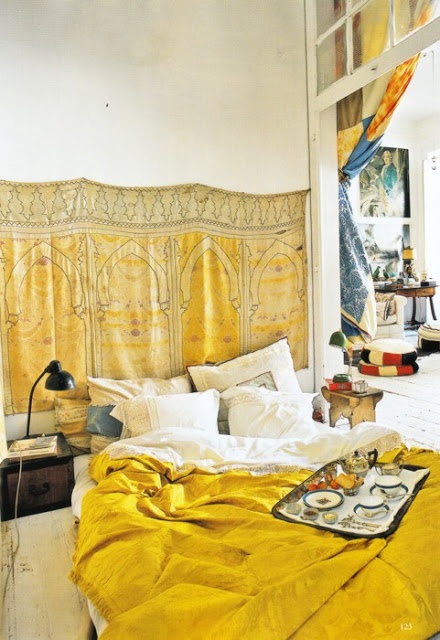 a small mustard-sprinkled bedroom with a blanket on the wall and matching bedding plus vintage nightstands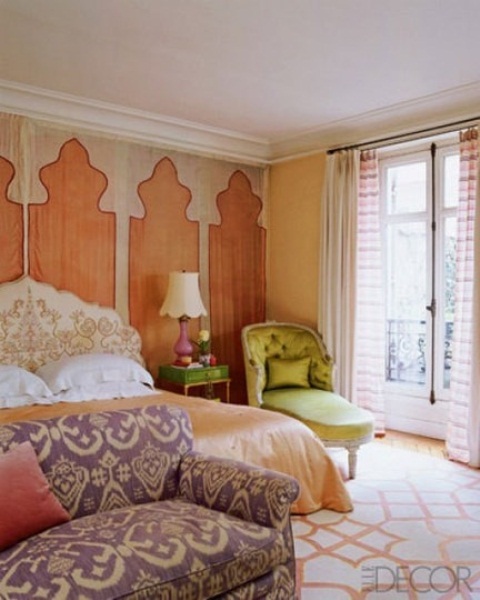 a colorful Moroccan bedroom done in rust, purple, neutrals and mustard and with traditional prints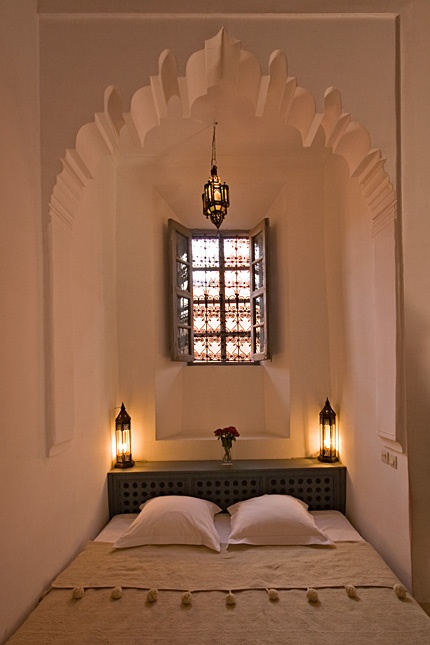 a small and neutral Moroccan bedroom in an alcove with a mosaic window, a storage headboard and lanterns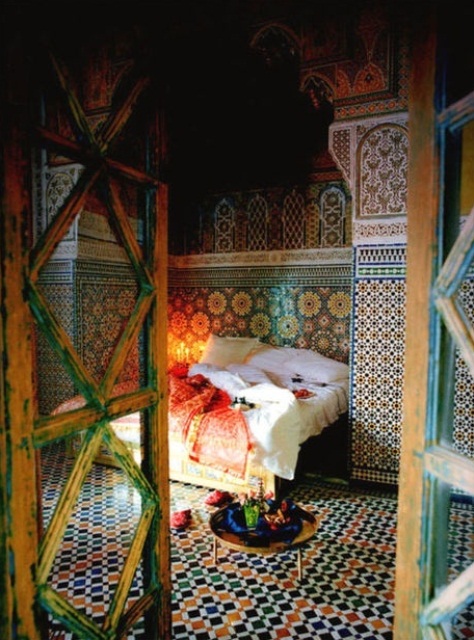 a colorful bedroom fully clad with bright mosaic tiles, a low table and lots of candles feels totally Moroccan-like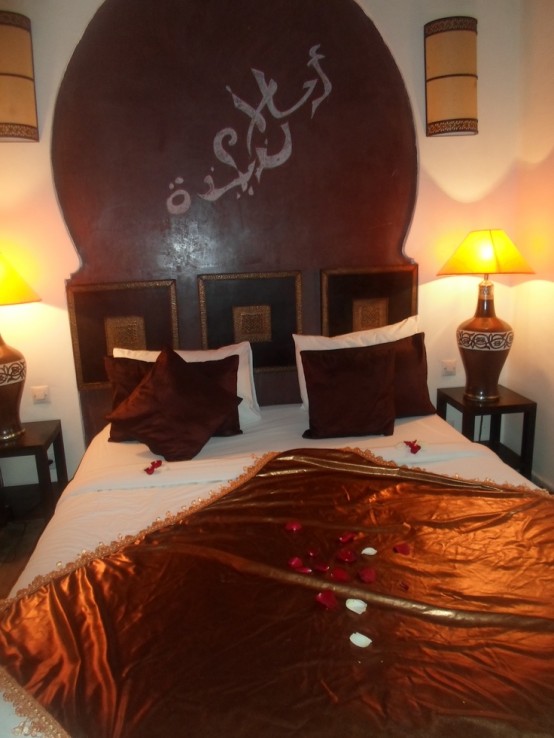 a Moroccan bedroom done in rust, brown and neutrals, with ornate lamps and a statement artwork on the wall
a Moroccan bedroom with a gold bed and lavender canopy, shutters and a mosaic balcony entrance, carved wooden furniture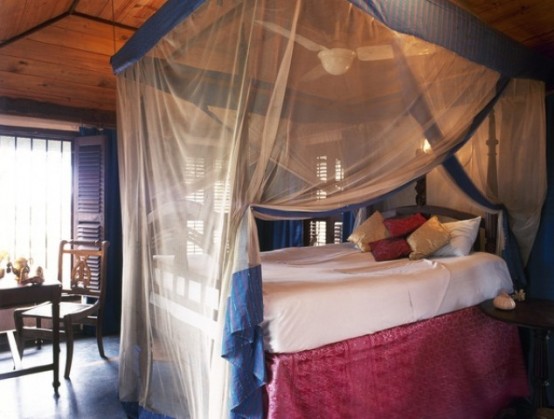 a bedroom with dark stained wood, a carved wooden bed and sheer and colored cnaopy in layers over the bed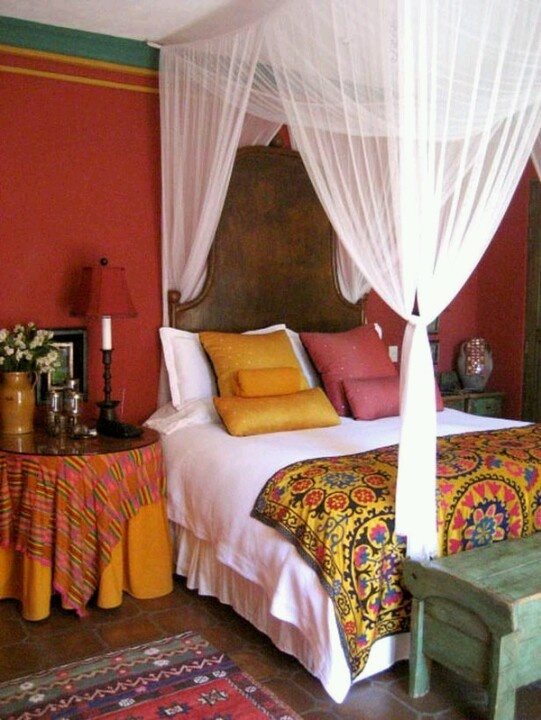 a bright Eastern bedroom in red, pink, ocher, with a dark stained wooden bed and bright textiles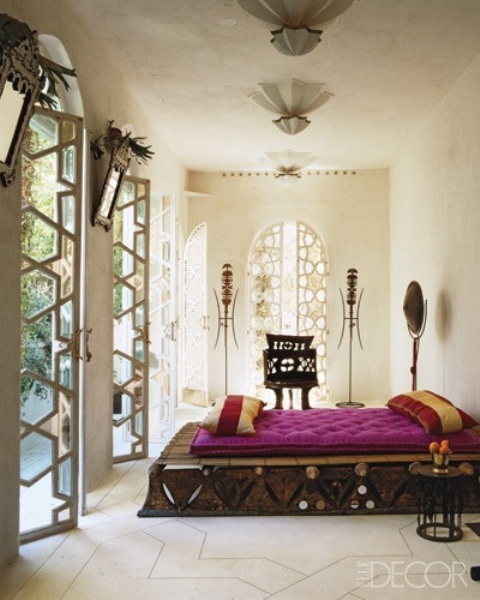 a neutral Moroccan bedroom with a star printed floor, ornate mirrors and lamps and a unique carved platform bed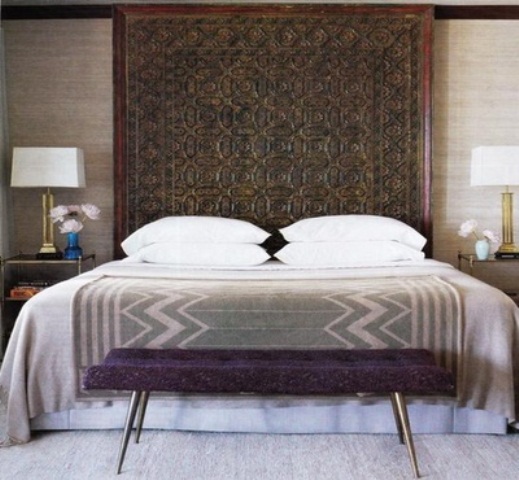 a Moroccan feel is given with a rug on the wall, printed bedding and a purple bench at the foot of the bed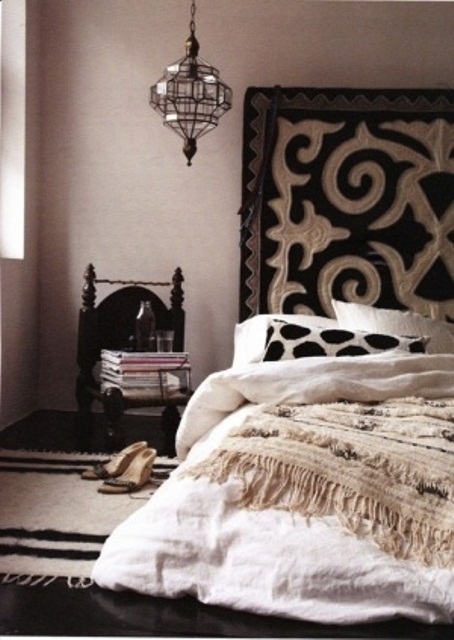 a monochromatic Moroccan living room with a patterned rug, a lantern, a carved chair and a Moroccan wedding blanket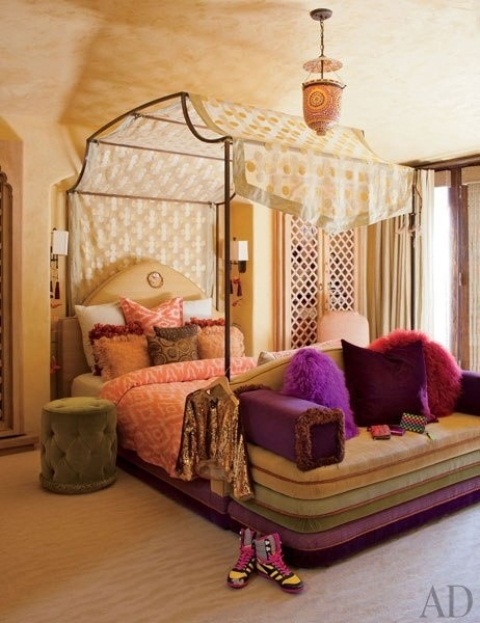 a bright Moroccan bedroom with a whimsy bed with a unique canopy and super bright bedding and a velvet upholstered bench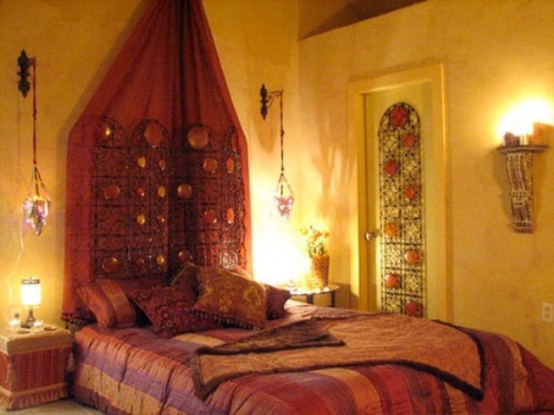 a warm-colored Moroccan bedroom with hanging lanterns, a mosaic door and colorful textiles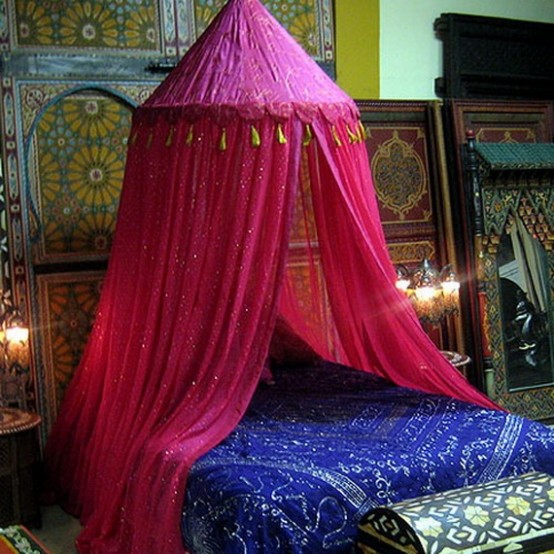 a bright Moroccan bedroom in blue and pink, with lots of patterns and an ornate mirror
Furniture
If you are going full Moroccan, choose carved wooden furniture – beds, nightstands, chairs and stools and even shutters on the windows. As for colors, prefer dark stain, which is rather traditional for Moroccan spaces. If not, then go for usual furniture, vintage or even modern in case you enjoy modern décor more. Rocking a white Moroccan bedroom? Choose whitewashed wooden furniture or just white painted items to match the color scheme.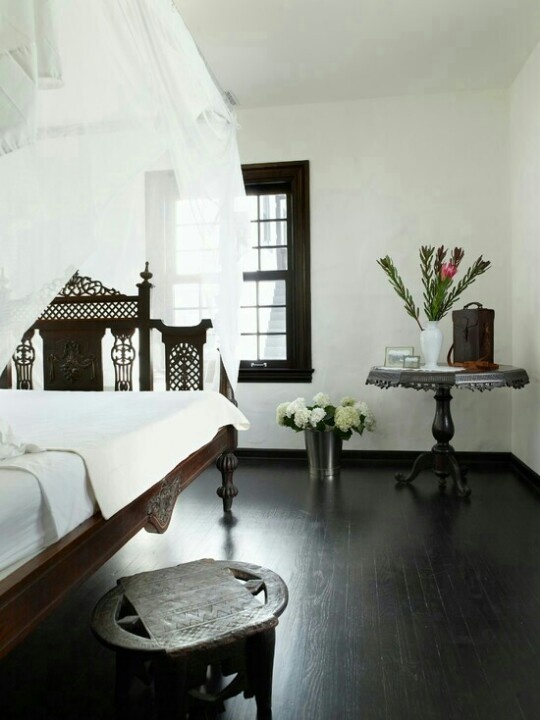 a monochromatic bedroom with a carved wodoen bed, chair and table and neutral bedding and a canopy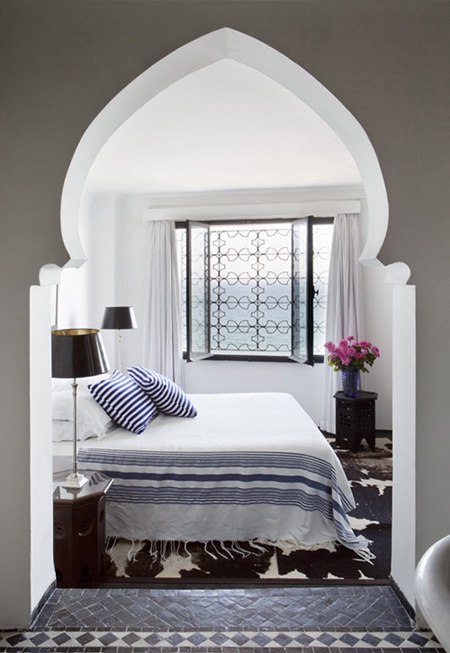 a contrasting Moroccan bedroom in an alcove, an ornate window, a carved wooden table and a faux animal skin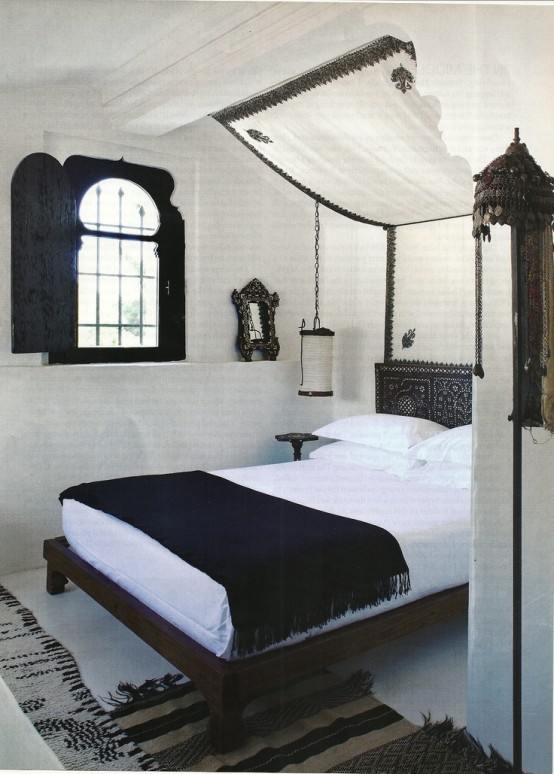 a black and white Moroccan bedroom with a shuttered window, a dark stained bed, a canopy and hanging lanterns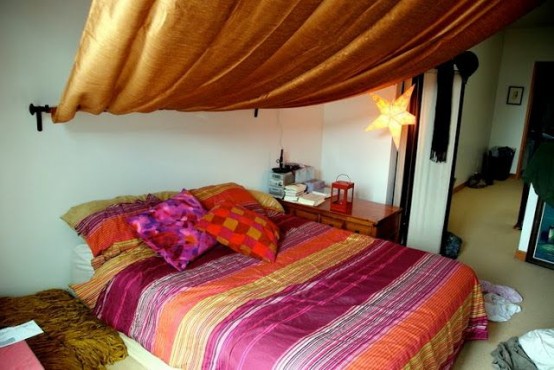 a Moroccan bedroom done with extra bright textiles and a canopy, lanterns and a star-shaped lamp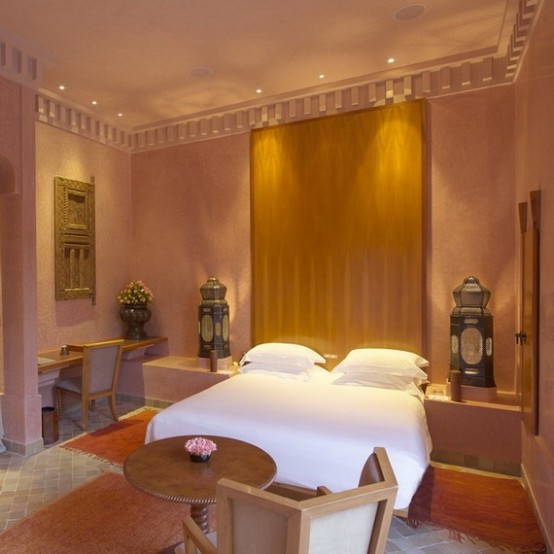 a blush and mustard Moroccan bedroom with large lanterns, ornate shutters, wood and metal furniture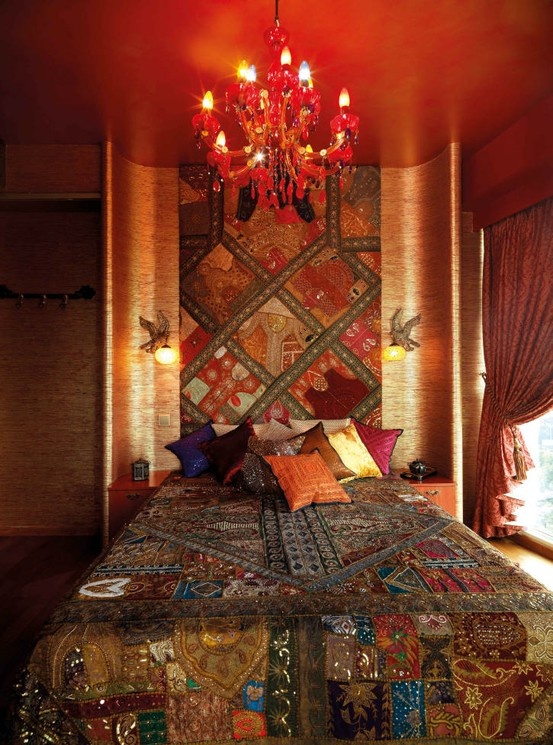 super colorful and printed textiles, a red chandelier and pillows create a unique and bright sleeping space
a carved pink bed and a rattan stool give a slight Moroccan feel to the bedroom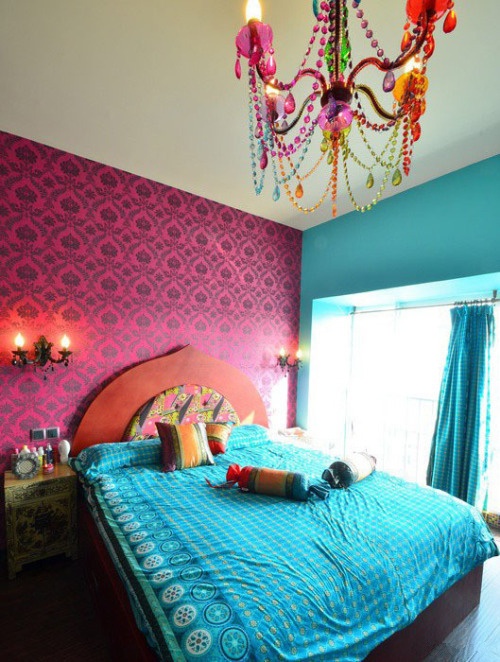 a colorful bedroom with a carved wooden bed, bright bedding, wall and chandelier and an ornate nightstand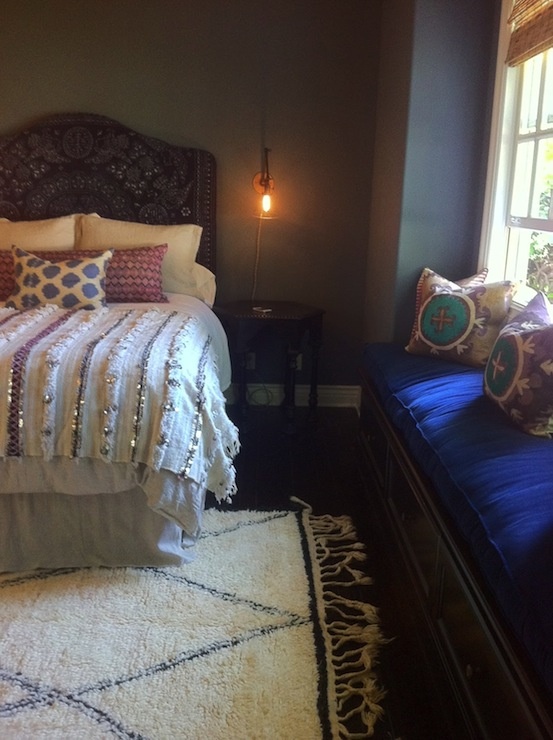 a moody Moroccan bedroom with an ornate headboard bed, a velvet upholstered seat and colorful cushions and bedding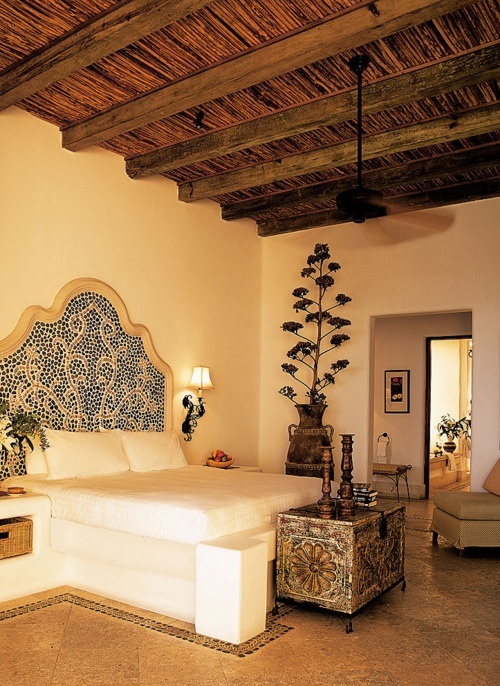 a neutral Moroccan bedroom with an ornate bed, a carved wooden chest with decor and a potted plant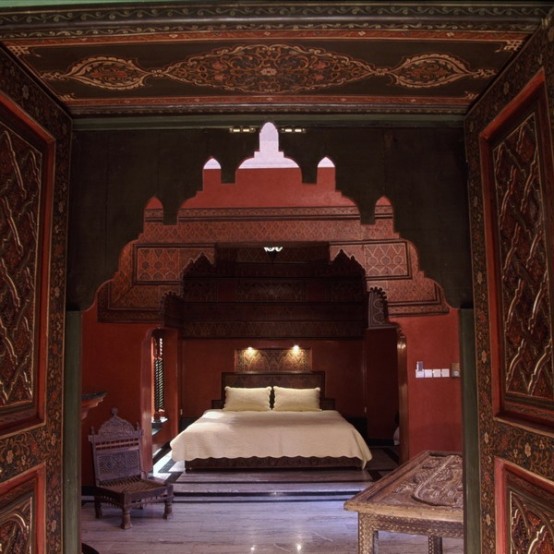 a small Moroccan bedroom in a beautiful alcove done in burgundy and gold, with lights and natural light from the window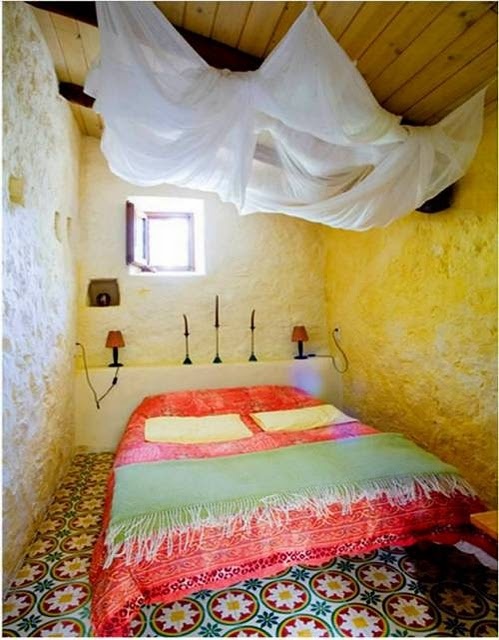 a Moroccan tile floor, bright bedding and candle holders add a strong Moroccan feel to the space
a luxurious Moroccan bedroom with a carved out headboard wall, Moroccan-inspired windows and a carved wooden table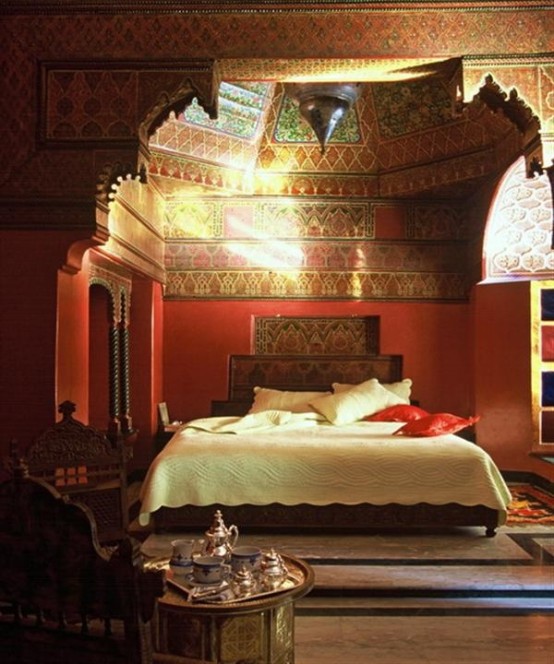 a unique bright patterned alcove is a perfect base for a Moroccan bedroom, carved wooden furniture and lanterns add to the space
a bright red carved bed adds a Moroccan feel to the colorful bedroom
an elegant Moroccan bedroom done in blues and gold, with a gold bed, ornate wooden shutters and blue textiles here and there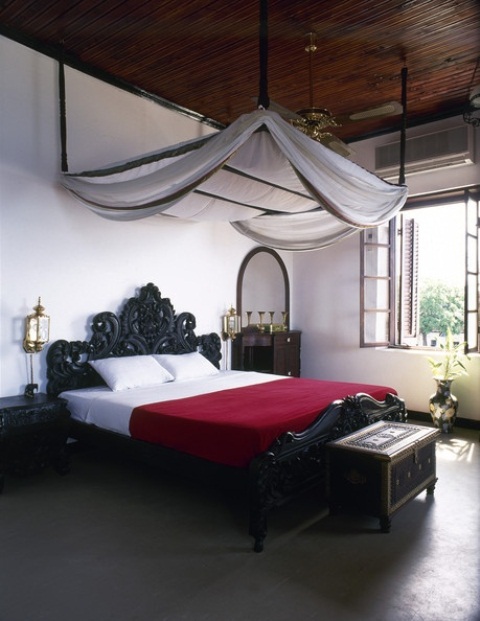 a Moroccan bedroom with a black carved bed and chest, gold lanterns and a canopy floating in the air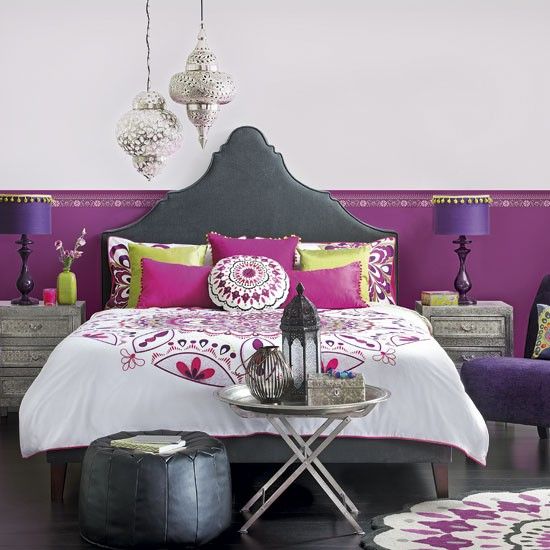 a Moroccan-inspired leather bed, lanterns, a leather ottoman and touches of purple and fuchsia make up a bold modern Moroccan bedroom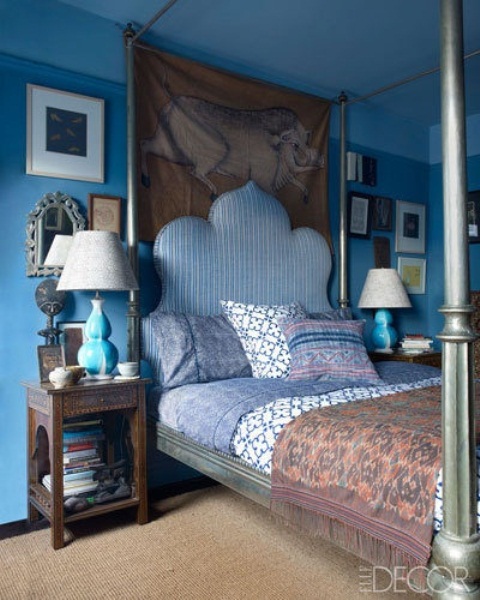 a Moroccan fele is given to the bedroom with a whimsy blue bed, carved wooden tables and ornate mirrors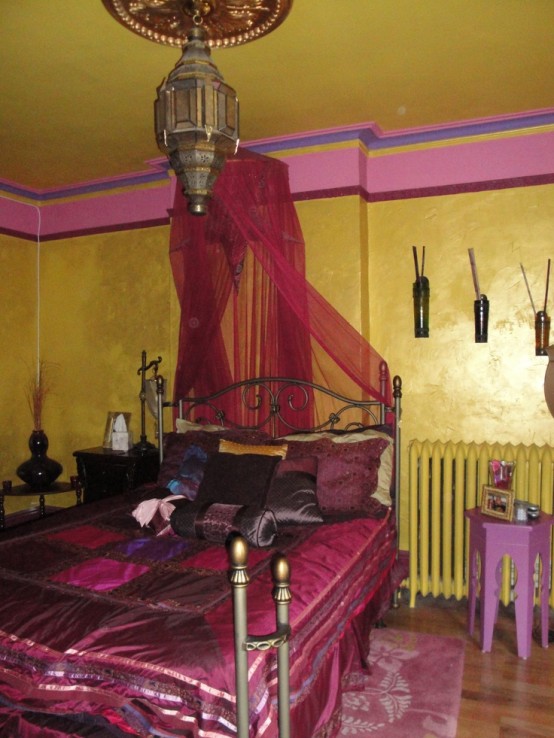 gold, pink, hot red and burgundy and Moroccan lanterns create a genuine Eastern sleeping space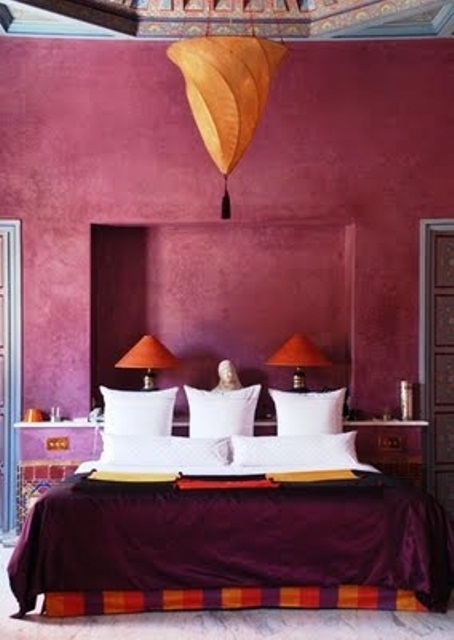 a burgundy and fuchsia Moroccan bedroom with touches of orange and a Moroccan lantern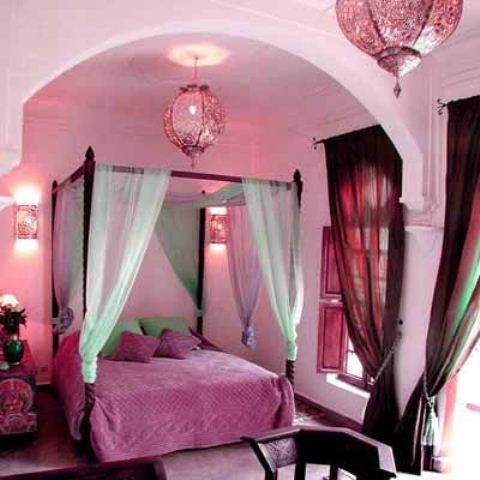 this Moroccan bedroom is given a girlish feel with shades of pink and fuchsia, with bright curtains and a canopy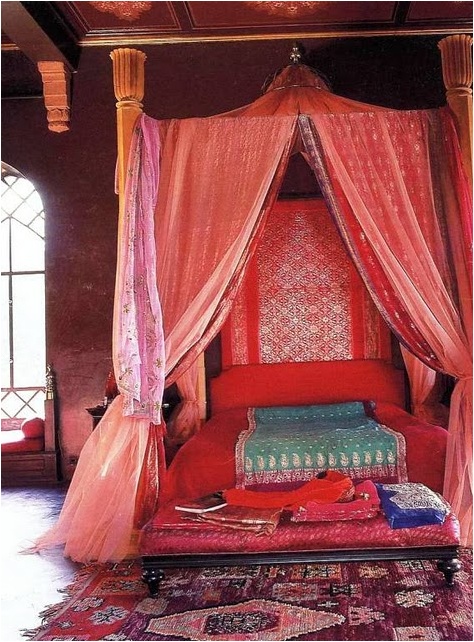 a red Moroccan bedroom with plenty of pattern, boho rugs and bedding and carved wooden furniture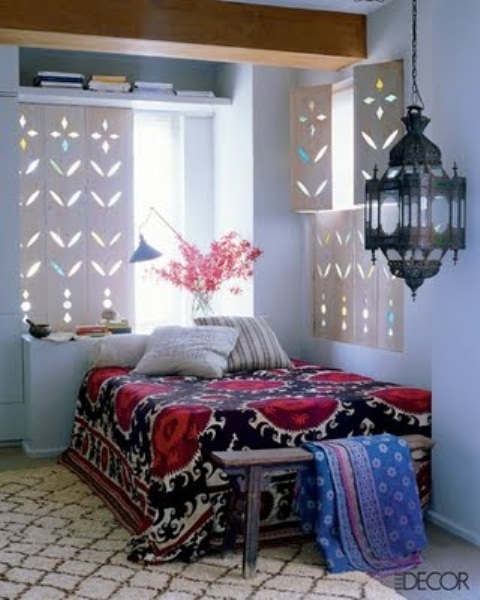 carved wooden shutters, a Moroccan lantern and bright printed textiles create a bold Moroccan look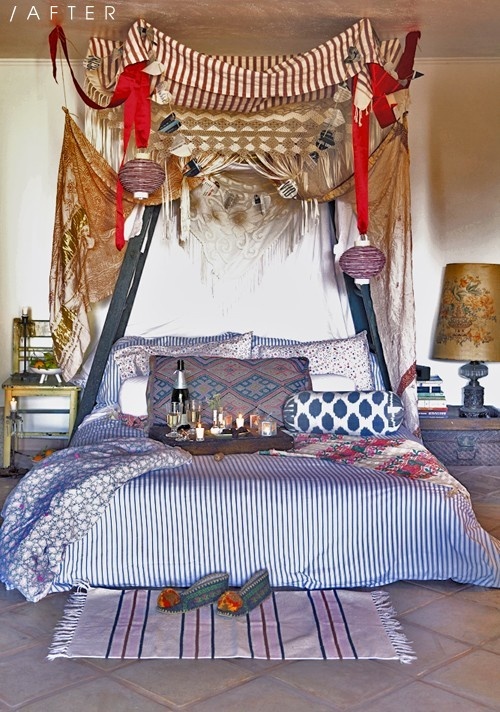 bright textiles, colorful lanterns on ribbons and vintage items to create an Eastern feel in the bedroom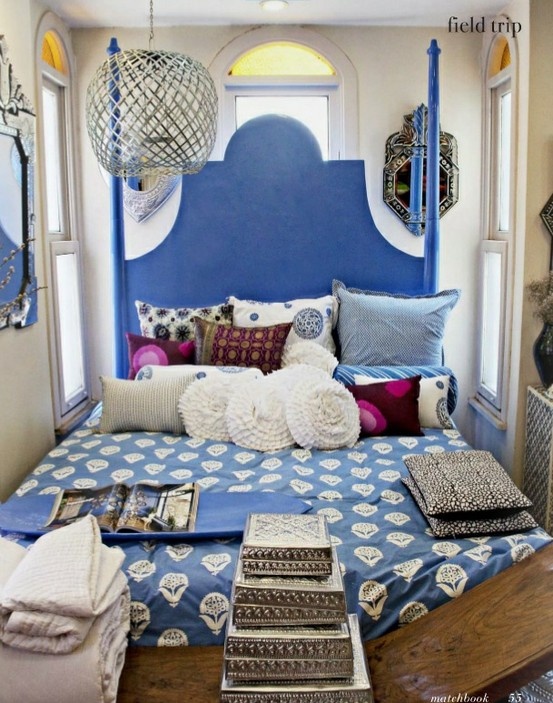 a small blue bedorom with an ornate bed, printed bedding and pillows, artworks and a lantern for an Eastern look
Decor
Décor will help you achieve the look you want, Moroccan spaces are all about that, even if you are rocking a different style, you may dress up the room in a Moroccan way with accessories. Use beautiful Moroccan lanterns, boho rugs and bright textiles, hang rugs on the walls, go for ornate mirrors and shutters and cool Moroccan ottomans. Take a look at the examples we've prepared and get inspired!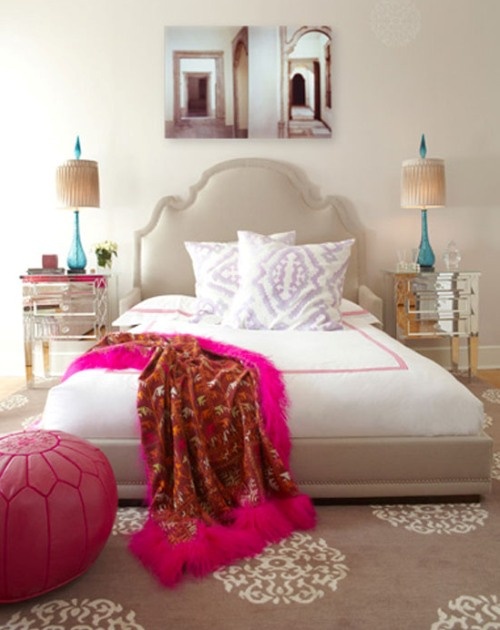 a pink Moroccan pouf, a printed rug and a catchy bed add a Moroccan feel to the sleeping space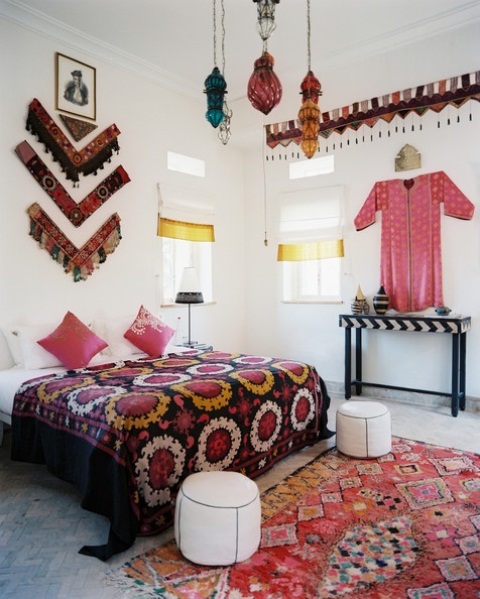 a colorful Moroccan bedroom with bright lanterns, printed rugs and bedding, a colorful artwork of fabric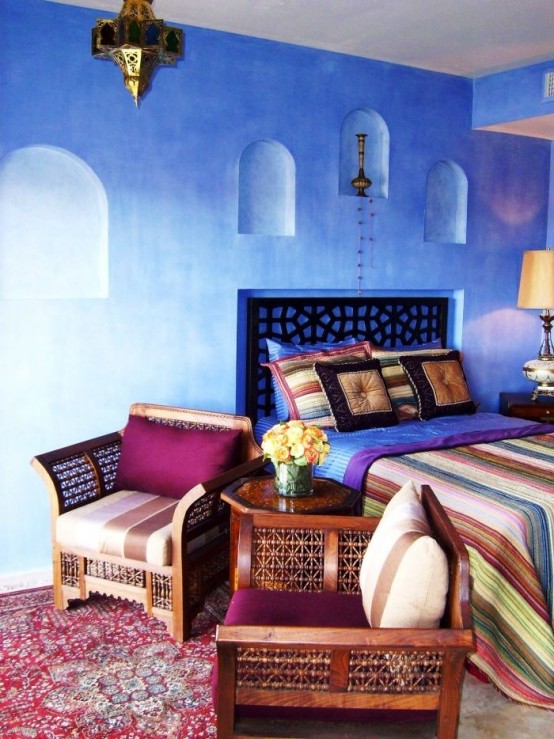 a carved bed and chairs, a Moroccan lantern and colorful printed textiles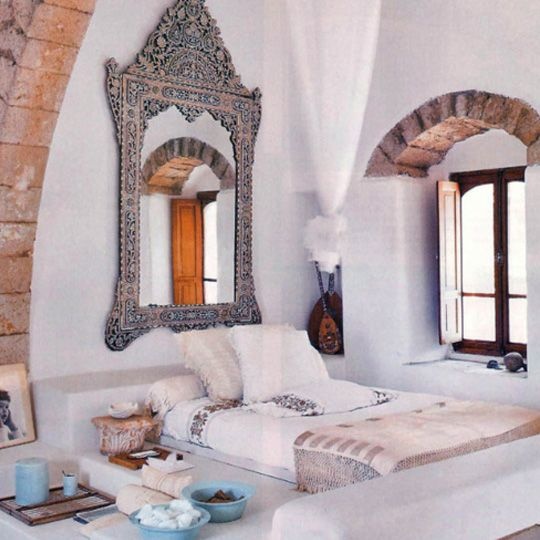 a statement ornate mirror and bedding inspried by Moroccan wedidng blankets look very chic and catchy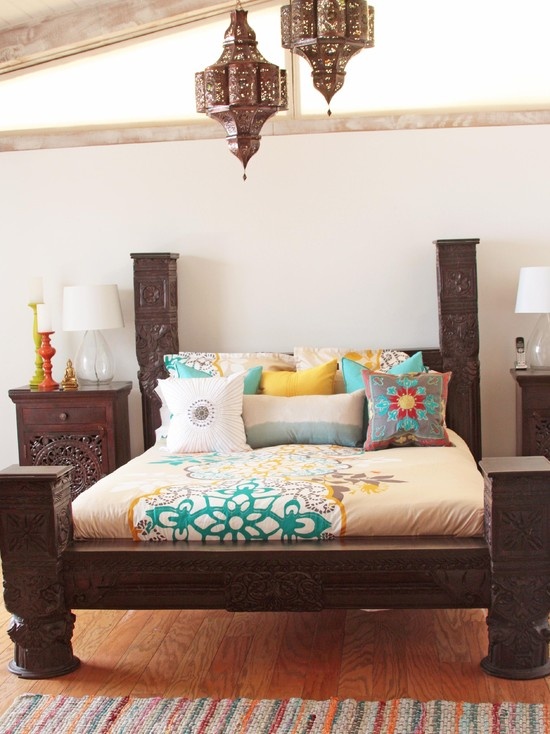 dark carved wooden furniture, Moroccan lanterns and colorful bedding to create a modenr Eastern sleeping space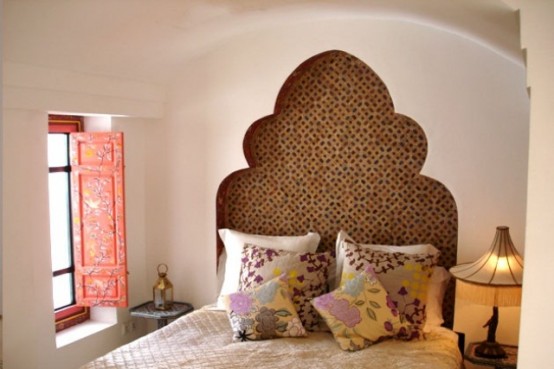 a red ornate shutter and a carved out headboard to add an Eastern feel to the bedroom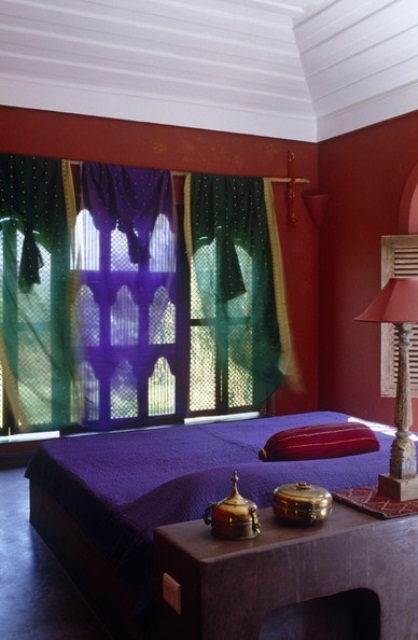 red combined with green and purple, a chic lamp and a catchy window with frames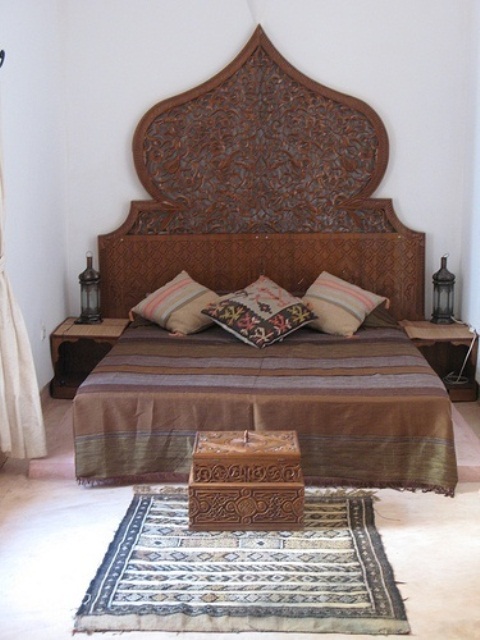 a statement carved owoden bed, nightstands and a chest plus catchy textiles create a chic Moroccan space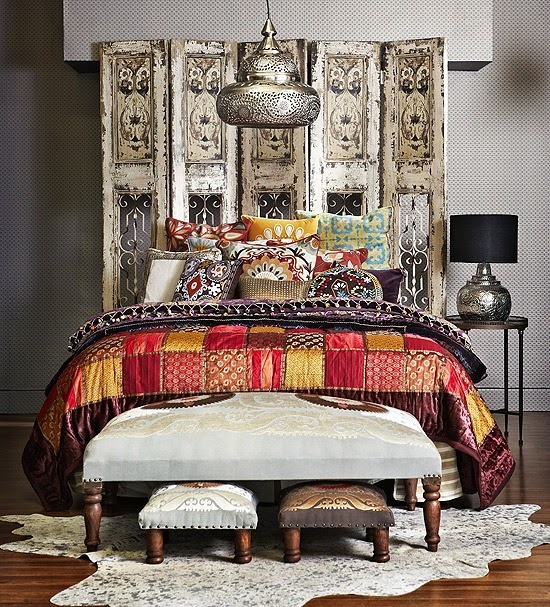 an ornate wooden screen, elegant ottomans and bright printed textiles plus a hanging metal lantern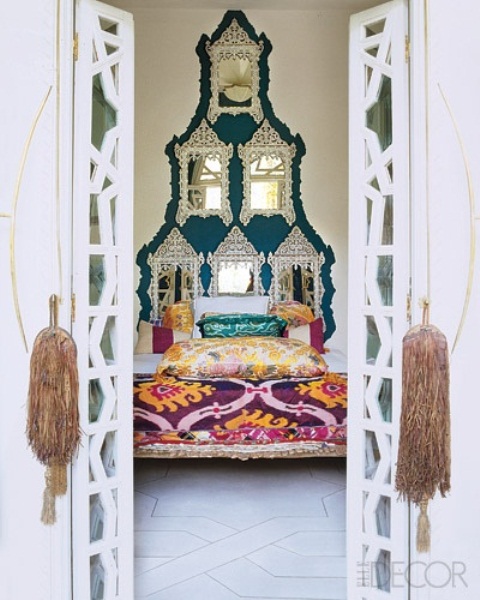 a unique wall decoration made of ornate mirrors, colorful bedding and tassels for a bright Eastern bedroom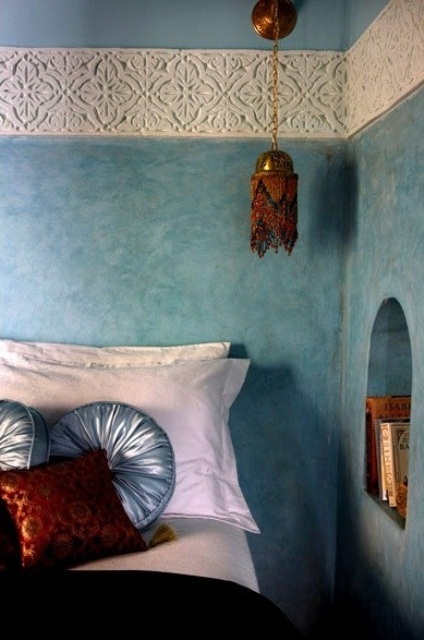 a hanging bed lantern, beautiful pattern on the wall for a Moroccan feel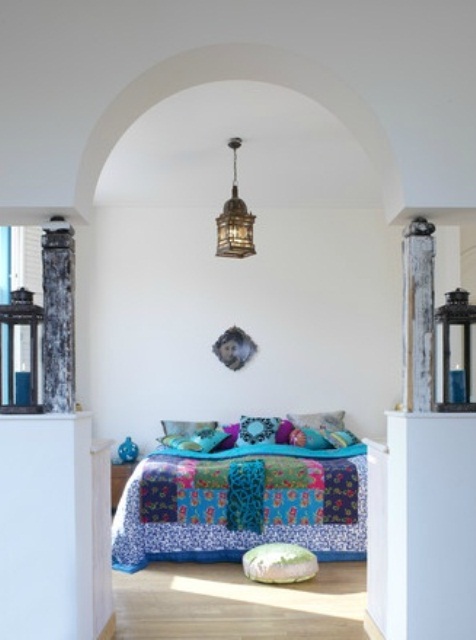 a Moroccan lantern, bright textiles and Moroccan pillows and cushions for a modern take on traditional Eastern bedrooms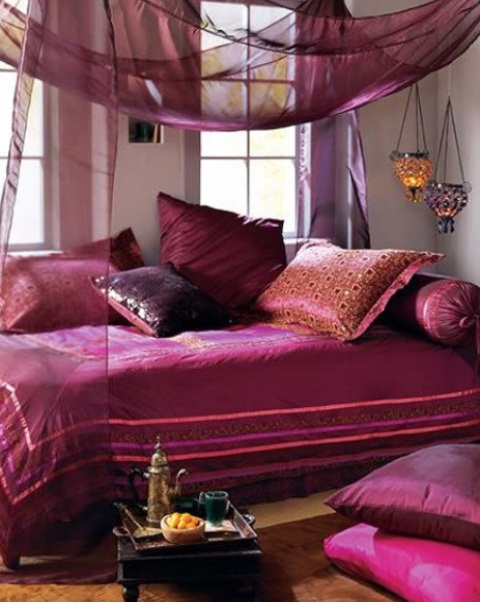 a bold purple and fuchsia bedroom with airy and sheer textiles, lanterns and a low table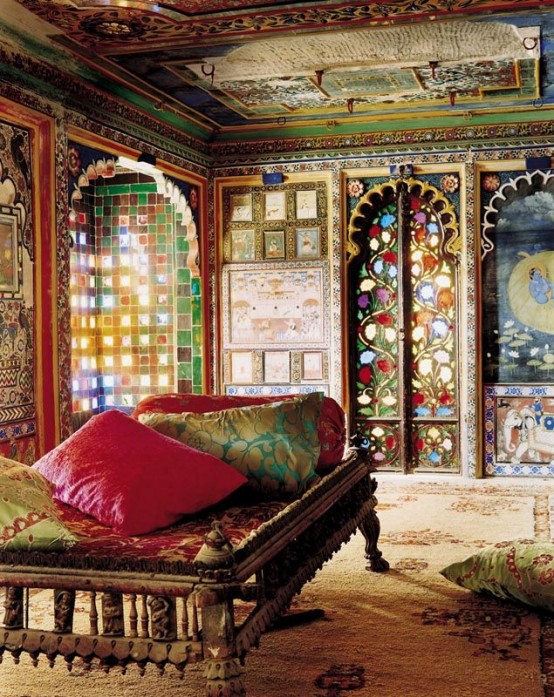 a super colorful Moroccan bedroom with lots of pattern, a beautiful ceiling, colorful pillows and rugs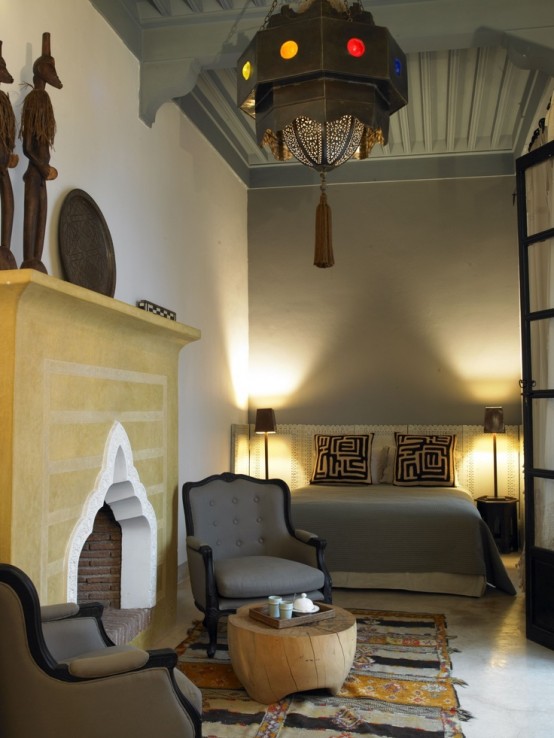 a Moroccan lantern, a carved out fireplace, a boho rug and unique artworks give a modern space a bold look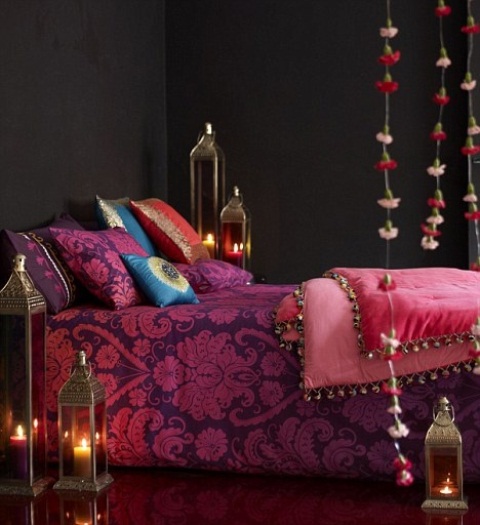 bright printed bedding, Moroccan lanterns with candles and colorful floral garlands for a peaceful yet bold space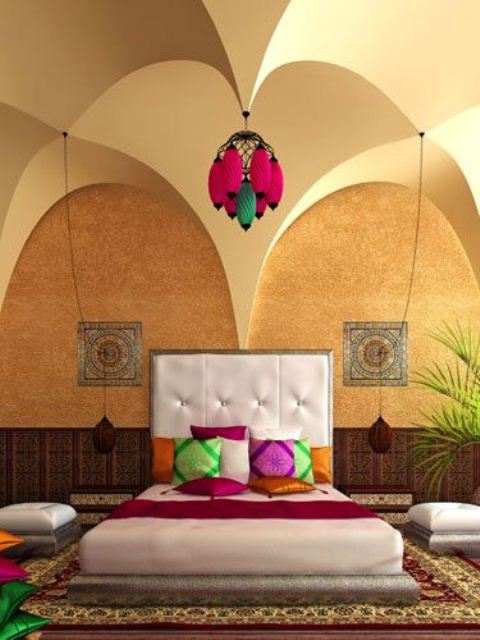 colorful pillows, rugs and artworks plus arched volumes create a proper Moroccan ambience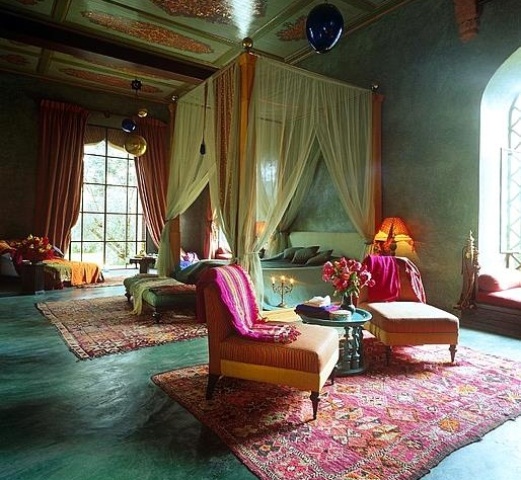 an ornate ceiling, bright textiles and rugs, metlalic lanterns and a bed with a tall frame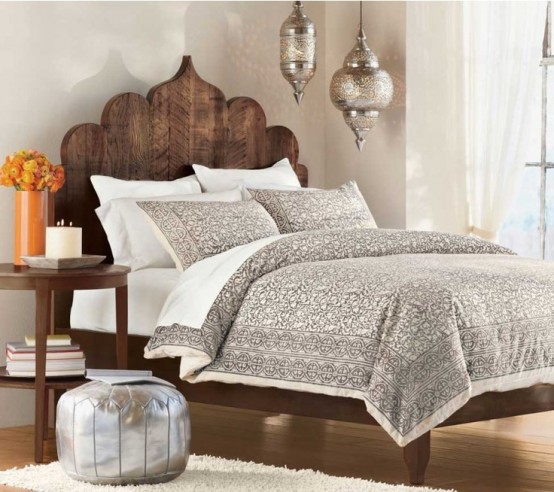 a reclaimed wodo carved bed, silver lanterns and ottomans make a rustic bedroom more Moroccan-like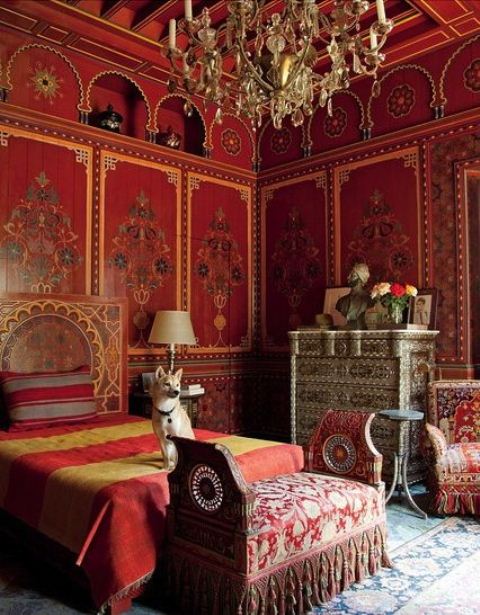 a red and marigold bedroom with carved wooden furniture and a crystal chandelier screams Moroccan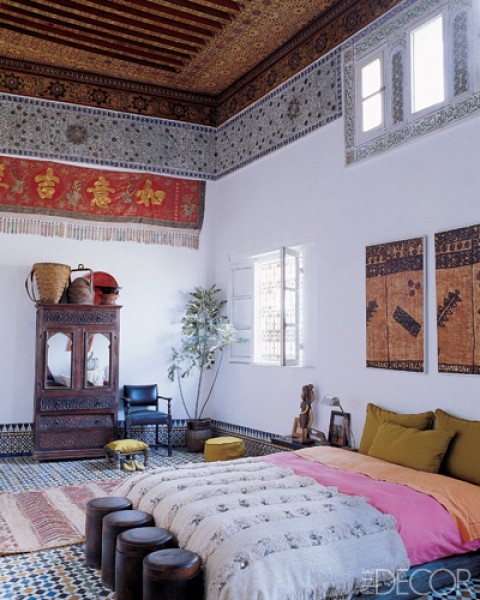 the floor clad with Moroccan tiles, colorful panels on the ceiling and walls, carved furniture and bright textiles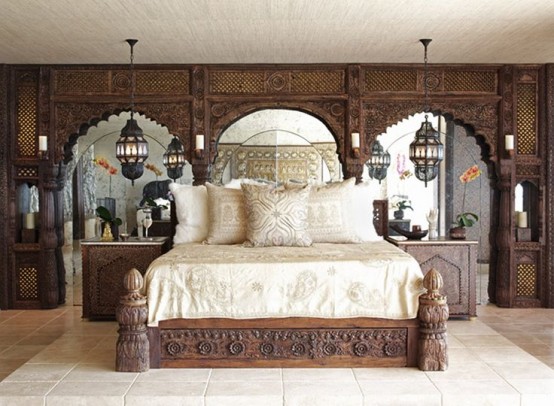 carved wooden panels, a bed and nightstands and Moroccan lanterns for a neutral Eastern room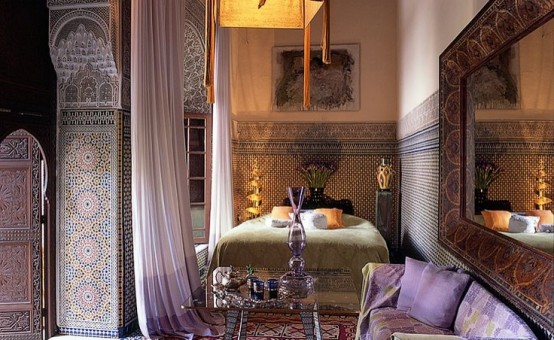 a chic Moroccan bedroom with lavender accents, mosaic tiles and pillars plus carved wooden shutters
Source: pinterest


Sours: https://www.digsdigs.com/66-mysterious-moroccan-bedroom-designs/
The Eastern culture has always been fascinating – out of this world tradition, original Architecture, wonderful culture and the art. Morocco happens to be just in the loop with all these fascinating customs and traditions which became increasingly interesting and popular among the locals and tourists alike. So, for today expect to see grandeur and beauty beyond what is imaginable!
Marvel in the 15 Marvelous Moroccan Bedrooms which features Arabian patterns, bright fabrics and fantastic lanterns. But it's not necessary to keep the rules very strictly to create such an Eastern fairy-tale, you can just take a neutral color palette and add lanterns, candle holders, poufs and patterns which are characteristic of Morocco, and absolutely any touch may be added to make any interior you want – from a girlish interior to a calm and neutral one. These bedrooms bear a secret, they fascinate and remind of the Arabian Nights stories. Mysteries and adventures begin!
Bay Point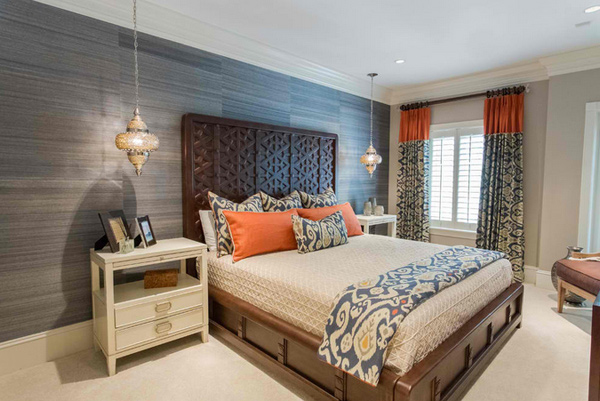 Lovelace Interiors
The wall treatment for this bedroom is beyond stunning! Not to mention how lovely the headboard is – and those lanterns, oh those lanterns! We definitely love this bedroom!
Chicago Traditional Master Bedroom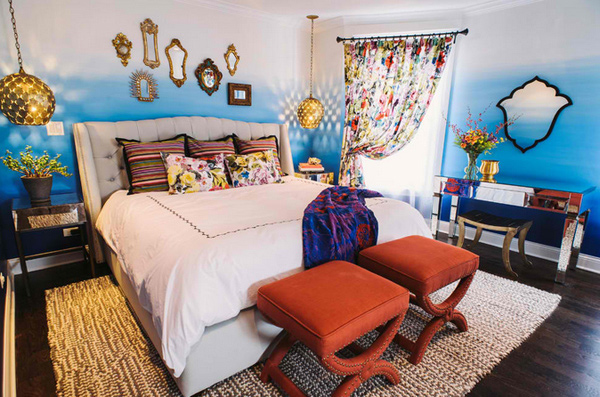 SuzAnn Kletzien Design
We like the white beddings with splashes of colors and patterns scattered all around the room. The wall color is definitely the most stunning part of this bedroom.
Eclectic Silver Lake Home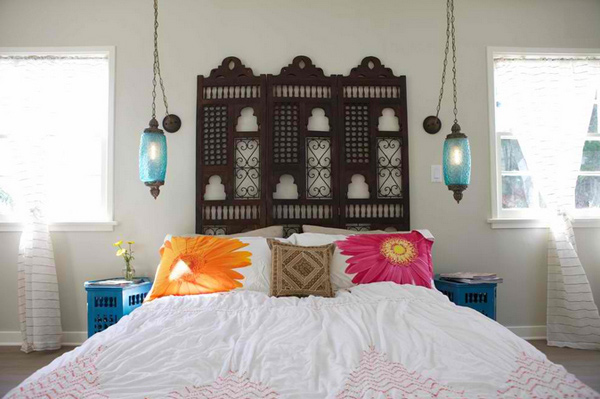 Design Vidal
Transport yourself to another world after a long day with a headboard representing places you've travelled to – or hope to visit someday. This bed is adorned with a Moroccan screen that Design Vidal affixed to the wall. Blue Moroccan lamps and tables on each side set a romantic tone and could fool you into thinking you're waking up in a foreign land.
Eclectic Villa in Istanbul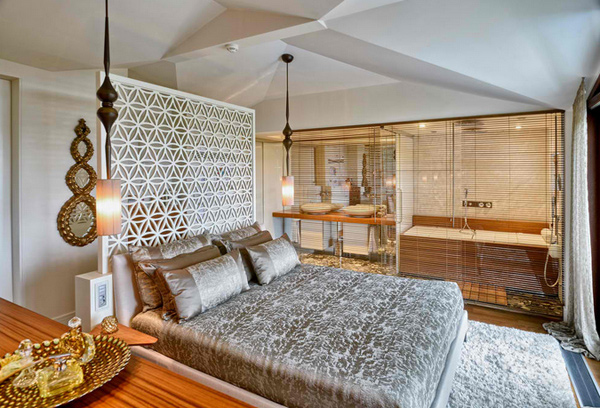 Sevimli Mimarlik | Istanbul
The placement of the bed and the bathroom is sort of confusing but because of all the flashy decors and trimmings make us think about questioning the design because this room is just divine!
Hermosa Beach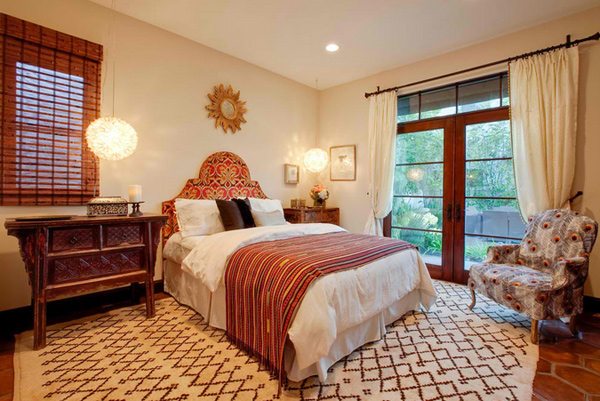 Luke Gibson
Beautiful colors coordinated with white sheets and spread. The simplicity of this bedroom makes us question if by any chances there is really that one Moroccan bedroom not as flashy as the rest.
Hill House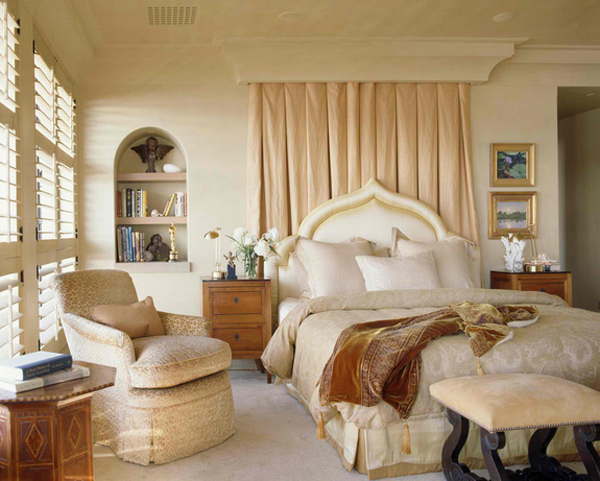 Baldauf Catton Eckartsberg Architects
We love the theme, colors, footstool, Morrocan in ambiance, without the traditional electric blue and accompanying vibrant full chroma. A room anyone could sleep in.
Hillside Sanctuary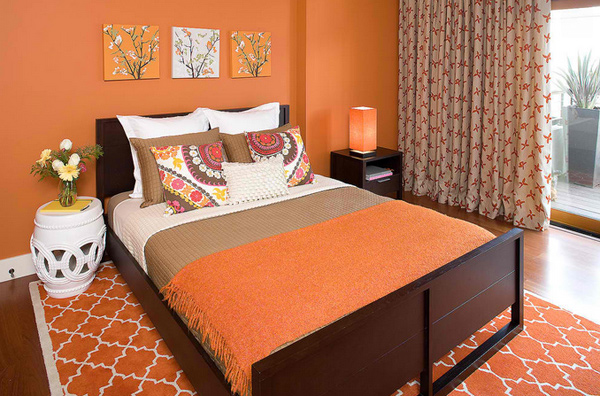 Kimball Starr Interior Design
Moroccan area rug. Asian ceramic stool. Pink, yellow, and white floral accent pillows. Hand-block floral print on natural linen curtains. Mixes of contemporary and Moroccan.
Houston Eclectic Bedroom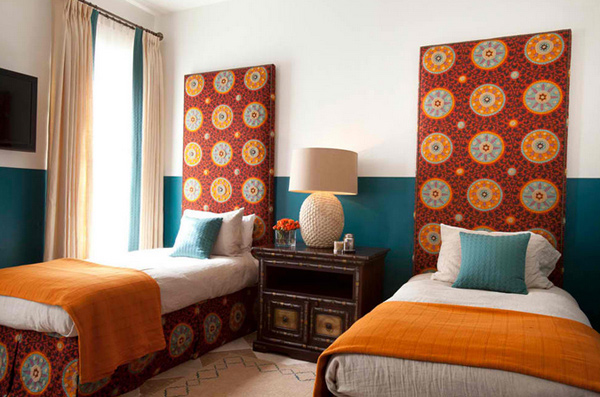 Go bold and go for height – dynamic fabrics and exaggerated verticality on a headboard can change the entire feeling of a room. These brilliant textiles add to the Moroccan style of this home, and the wall behind them painted up to chair-rail height tricks the eye, distorting how we perceive the colors and proportions.
Houston Moroccan Modern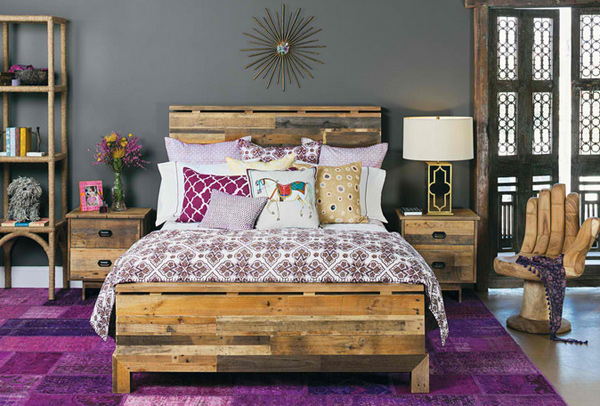 High Fashion Home
Combine clean, modern lines with worldly and exotic bedding, accessories, and accents. Earthy and eclectic, the bold patterns and silhouettes take you away to the Moroccan coast – what are you waiting for?
Marrakesh Designer Showcase House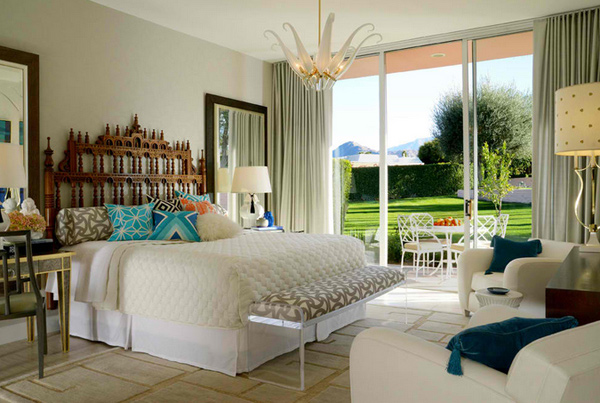 Sean Gaston
Sean Gaston's Master Bedroom featured in the Marrakesh Country Club Designer Showcase House as part of Palm Spring's Modernism Week.
Master Bedroom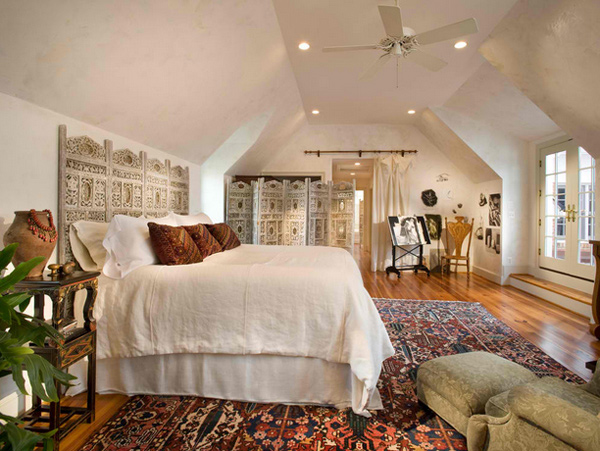 Elle Decor
Artfully eclectic, this room celebrates the hand made and textural. Layers of burnished plaster offset antique brick, smooth heart pine floors, custom sconces and hand carved screens.
Palos Verdes Esates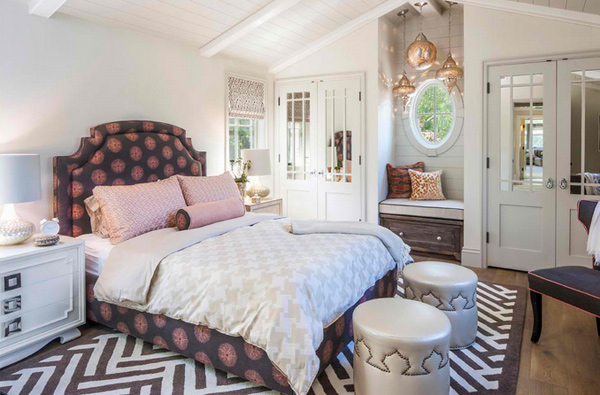 Tomaro Design Group
Love the closets with mirrors on them and little window seat in between; even the details on the foot stools and the bedside tables are unique and classy.
Residential Moroccan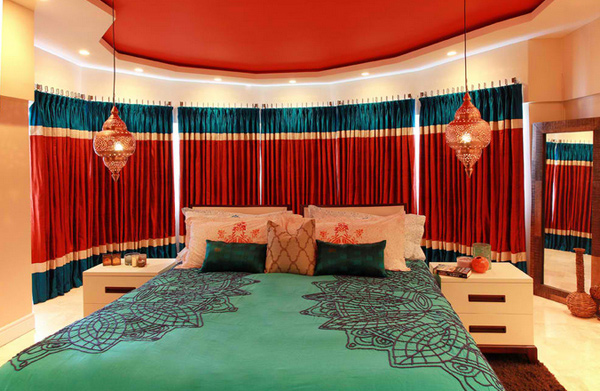 Toni Crockett Design
The warm colors chosen for this bedroom are beyond exciting and fun. We love the lantern details above the simple bedside tables too!
San Mateo Master Bedroom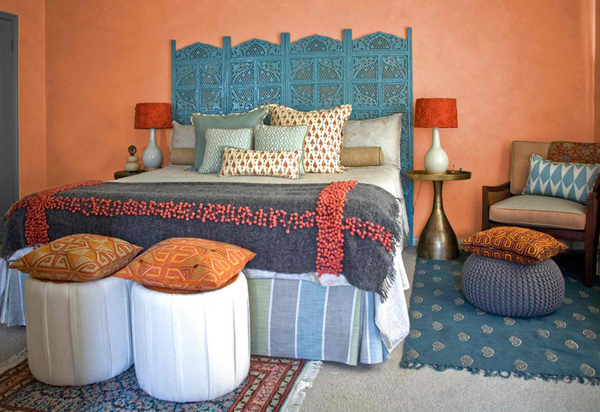 Seldin Design Studios
Inspired by the colors in a blanket brought back from a trip to India, this Master Bedroom was redesigned with a contemporary take on classic Indian colors and textiles. The warm tones brighten, while the cool colors ground the overall design.
Southampton Moroccan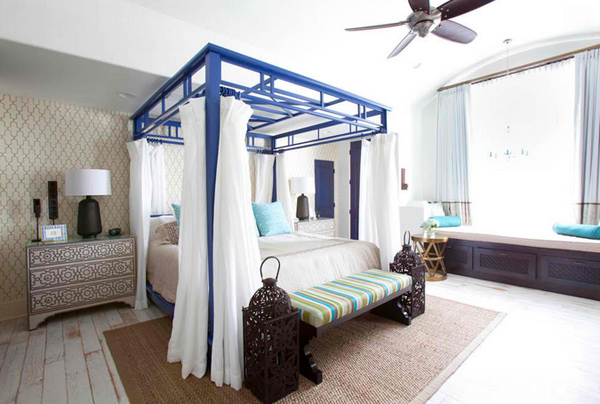 Laura U Interior Design
Cobalt blue appears again in the master bedroom on the bed and the doors. The light-colored wood floors that worked with the home's former French country style translated well to the new Moroccan style. "We loved them and thought they brought a bit of rustic ambience," Umansky says.
We have a list about the 15 Outstanding Moroccan Living Room Designs which is just as beautiful and stunning as the list we have shown you today. Whenever you will go back to this list, we would always want you to recall how you loved the pictures of the gorgeous bedroom designs. Again, Marvel in the 15 Marvelous Moroccan Bedrooms which showcase the beauty of the East!
Sours: https://homedesignlover.com/bedroom-designs/moroccan-bedroom-ideas/
40 Moroccan Themed Bedroom Decorating Ideas
BEDROOM IDEAS
If you're looking to bring an exotic yet elegant feel to your bedroom, you should consider themed bedrooms like in Moroccan style décor. This elegantly mysterious idea of design will bring special atmosphere to your home. The exotic nature and vast assortment of patterns and colors found in Moroccan furniture and accessories will amaze you. This is what makes it a popular choice for designers. Moroccan themed bedrooms look gorgeous and very comfortable. Be as creative as possible with these Moroccan bedroom ideas below!
Check out some Moroccan bedroom ideas
Rendering by Alexander Nesterov for architects Lebedeva Ekaterina and Finogenova Vera.
Elegand Moroccan bedding set by  Bliss Living Home
.
Dark wood for a themed bedroom
Wood is certainly one of the key building blocks of any Moroccan or Arabic decor. Choose furniture in deep brown wood like a hand-carved bedside table, a headboard, a screen divider or even carved wood wall art. Cher's Moroccan themed bedroom decorated by Martyn Lawrence Bullard.
Via AD
Vibrant colours to add life
Such as cerise pink and lime green – pop against an aubergine-coloured backdrop. Delicate detailing in pressed-metal furniture and hanging lamps is picked up in appliqued bed linen. Also a pretty stenciled border pulls the scheme together!
Via house to home
Via Elle Decor
Canopy bed as in fairytales
Want to see more traditional Moroccan bedroom ideas? Scroll down for more. But before take some time to see the details of the above photo. The room brings crafty Moroccan lamps and skilfully carved wood elements together. And this way Moroccan furniture, doors, windows and mirror frames decoration is on point. Themed bedrooms like this are special and definitely  not for every taste. But it is worth trying for those who love exotic touches.
Canopy bed in Moroccan themed bedrooms are another classic! Don't be scared to improvise if you don't have an actual canopy bed. It's easy to make your own by hanging coloured fabrics above the bed to form a large fold. Go for richly saturated jewel tone colours such as sapphire blue, ruby red, amethyst purple, topaz yellow and emerald green.
Patterns to spice things up
Patterns contribute to the highly dramatic and decorative aesthetic of the Moroccan style. They can be found literally anywhere – pillows, fabrics, tiles, wood carvings, rugs. You can dial up or down the traditional Moroccan décor by using multiple or selected patterns according to your own taste. If you love big bold, clashing patterns, go with large, intricate patterns in various colours which can also be layered on top of each another
Rugs and carpets with prints
Rugs and carpets are iconic in any Moroccan home design. You can choose very traditional styles with thick weaves in deep colours or go a modern interpretation, inspired by the traditional designs. Diamond patterns are always a safe choice.
Via be fair be funky
Tiles and mosaics that astonish
Tiling and mosaics in vibrant, contrasting colours are very common in Moroccan homes. Even though they are mostly used in bathrooms, you can still make use of them in your bedroom if you want to create a colourful, stand-out, unique corner, like in a fireplace, on the ceiling or even used as wall art.
Gold and copper accents for warmth
Warm metal accents like copper, gold and brass enrich the traditional Moroccan colour palette, by adding textured and a touch of luxury to the overall carefree, sometimes bohemian decor.
Fabrics for color and finesse
Texture is everything in Moroccan and Arabian inspired designs. Pillows, throw blankets, floating linens, drapes, wall hangings and rugs are essential pieces, bring a feel of 1001 Arabian Nights to your space. Floaty luxurious fabrics in rich colors, simple or with intricate designs, create a sensual, dreamy atmosphere. Try draping fabrics from furniture, window frames or even the ceiling, and use heavy, decorated cords to tie them.
Strong color for Moroccan style bedroom.
Via Moon to Moon
Ryad Dyor, a modern moroccan ryad. The traditional courtyard building is over 300 years old. But it's been updated with modern grays, browns, and ochres. Intricate patterning is everywhere in Marrakech, and the Ryad Dyor has its fair share. But for every lacy, detailed metal grill there's an open expanse of blank wall. In other words, the designers were careful to balance traditional influences with modern sensibilities. There's also a nice mix of African and European furnishings, textiles, and accessories.
Lighting for fancy indoor decor
Hanging lanterns unquestionably add romanticism, mystery and a hint of magic to your space. They give the bedroom an authentic Moroccan look and ambiance. Why not try chandeliers or metal lamps depending on your personal taste.
Via apartment therapy
Pillows and throws for that extra touch
Go big, mix and match styles, patterns and textures. Pillows and throws contribute to the overall atmosphere. They are also a good starting point for creating your very own Moroccan decor. They can easily transform your bed, sofa (or even your floor!), and add rich colours and textures.
Via complete morocco
So these were some Moroccan themed bedrooms and ideas to get you inspired. Did you like them? Are you using aother element that we might have skipped? Let us know in the comment section below.
Related
Sours: https://decoholic.org/40-moroccan-themed-bedroom-decorating-ideas/
The customs, traditions and decorating style of Morocco have a storied and diverse past. For those who have missed it, we have already explored this unique heritage of the North African nation when we showcased some stunning living rooms with a distinct Moroccan flavor. Today we move beyond the living area and into the private sanctuary that is the bedroom. Thanks to the rich diversity of the Moroccan design style, a modern bedroom inspired by a Moroccan theme can balance both contemporary flair and colorful accents in a hip, elegant fashion. With exotic patterns, amazing hues and a sense of adventure, Moroccan-inspired bedrooms transform your space into a world of visual brilliance and luxury.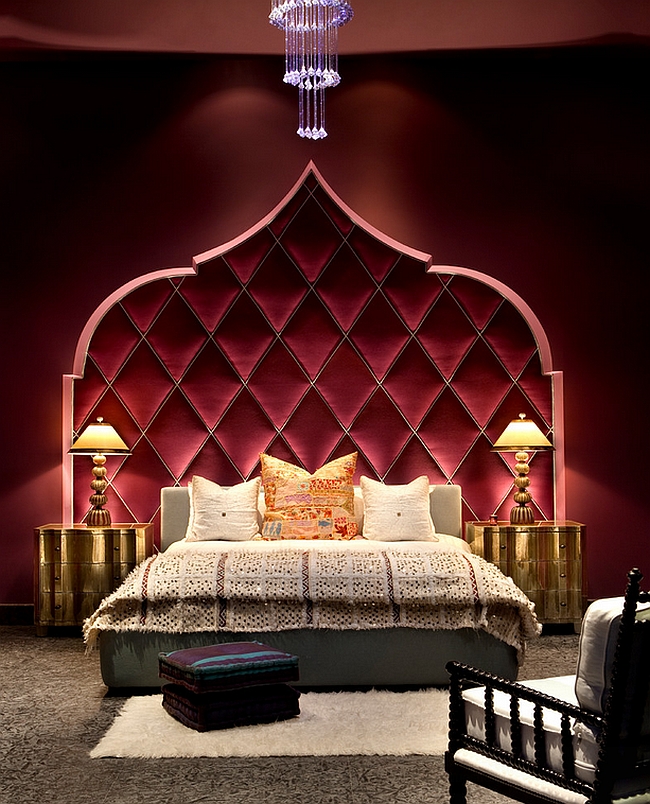 'Exciting' is how you describe a typical bedroom with distinct Moroccan decor additions. From the audacious and the extravagant to the understated and modern, here is a beautiful collection of Moroccan bedrooms that offer a bit of something for everyone.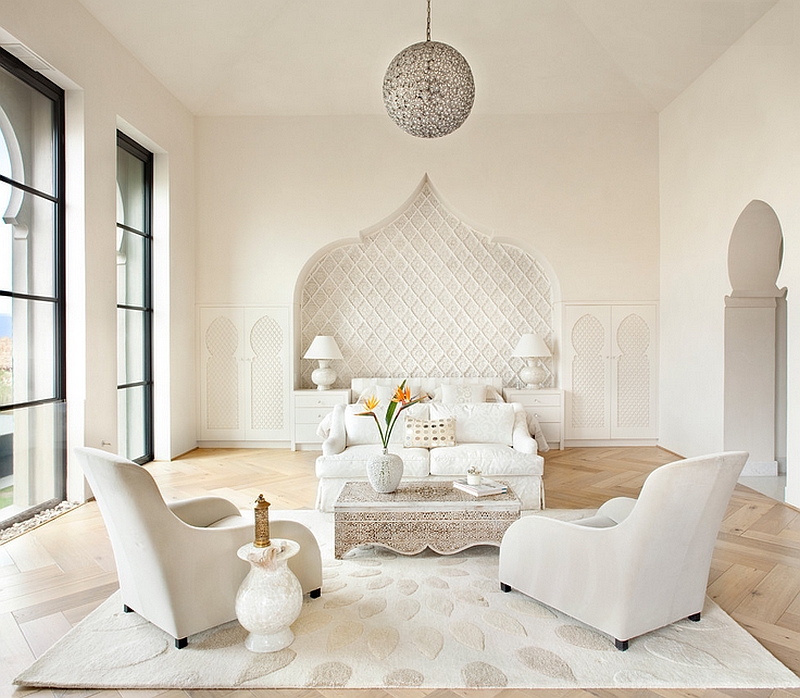 by Gordon Stein Design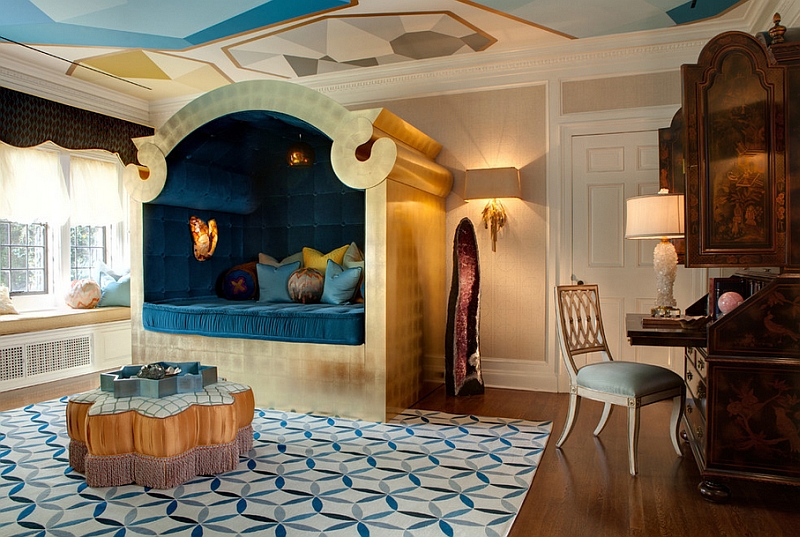 by SoCal Contractor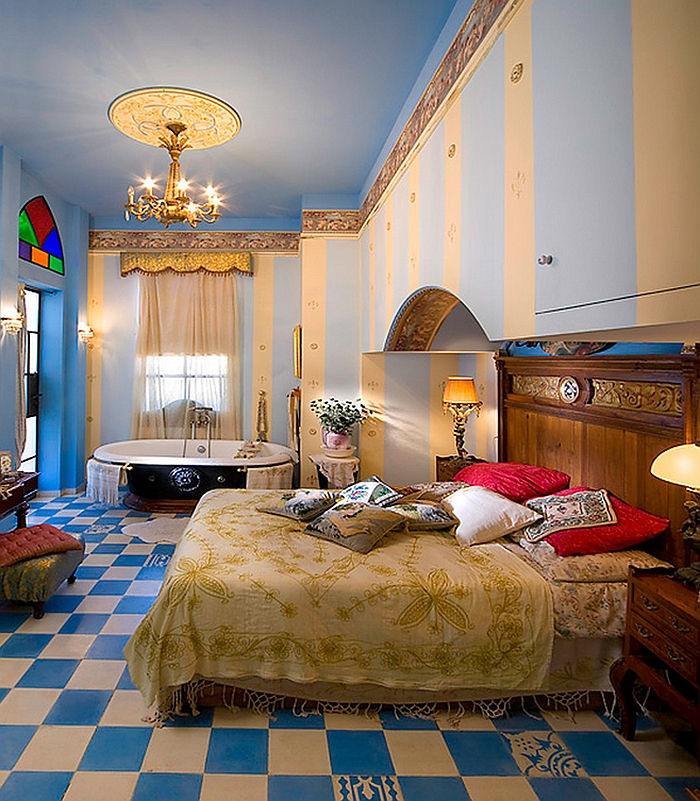 by Elad Gonen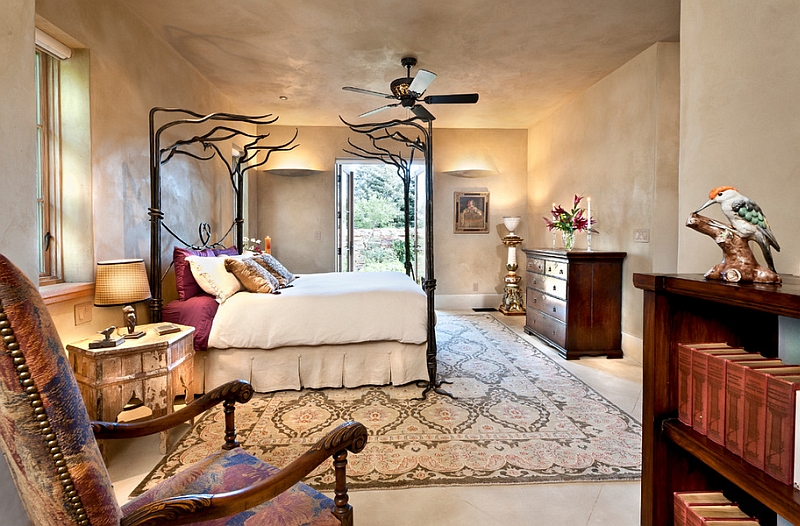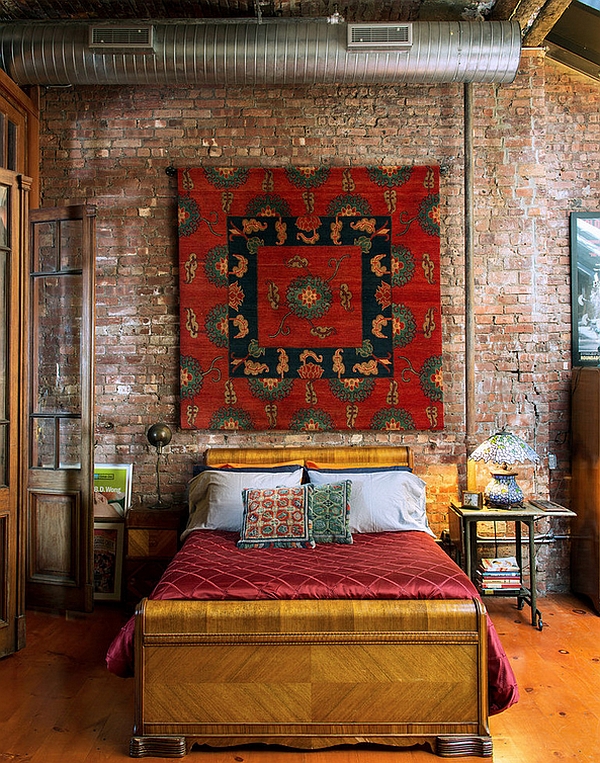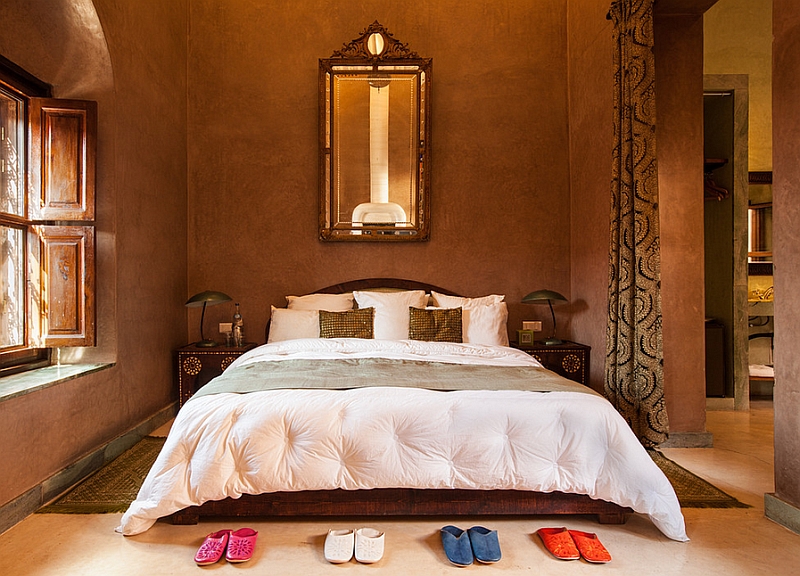 Plush Purple and Glittering Gold
Purple and violet are two colors that have consistently been a part of the hottest color trends for the last decade. Regardless of the shade and hue they come in, they always bring a dash of sophistication and plenty of style! Add to this gold, which is taking over as the most popular metallic accent in 2014, and you have a combination that is truly majestic. Moroccan bedrooms in purple seem natural, exotic and laced with plenty of opulence. Throw in a few golden accents here and there to create a room that is truly befitting a king or queen from the Middle East!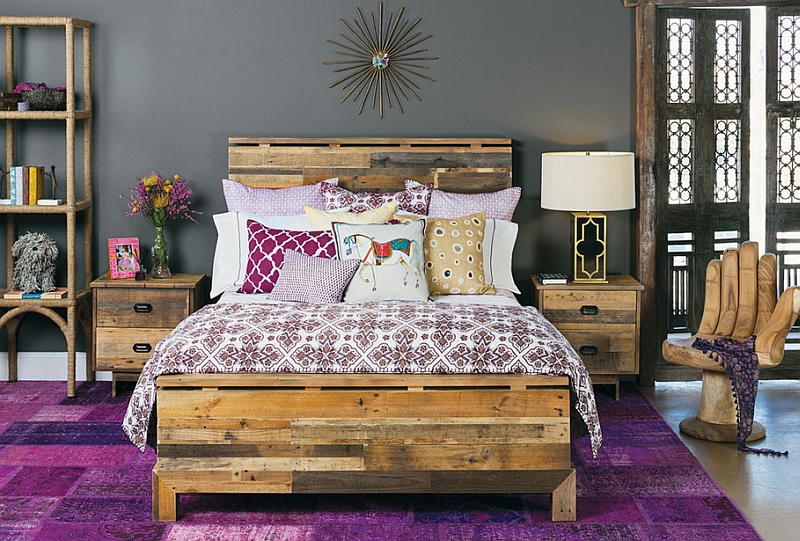 by High Fashion Home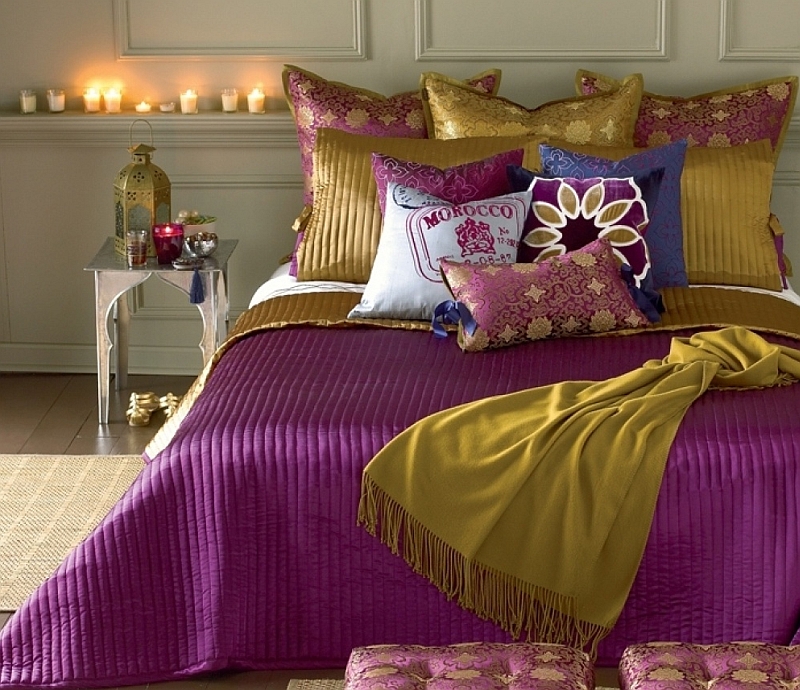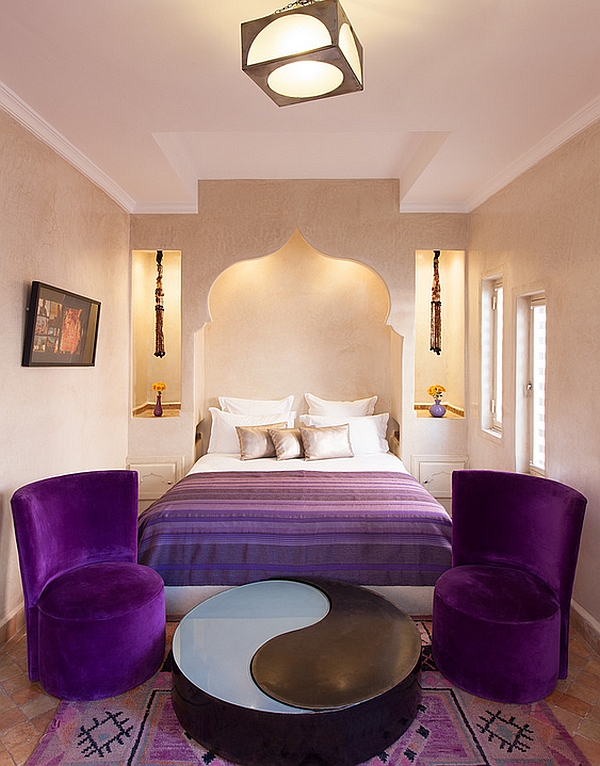 by Abran Rubiner Photography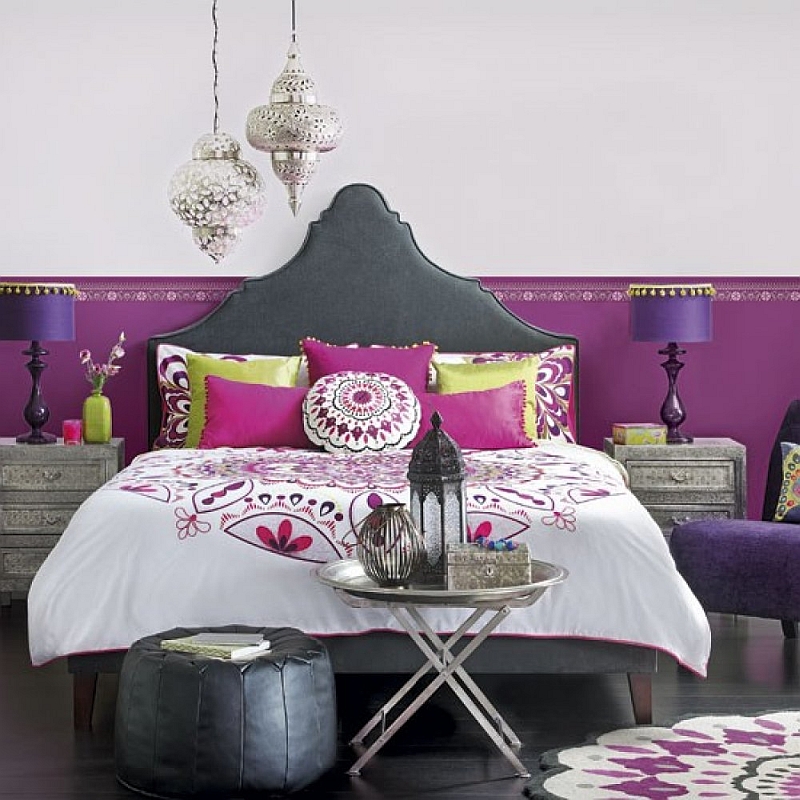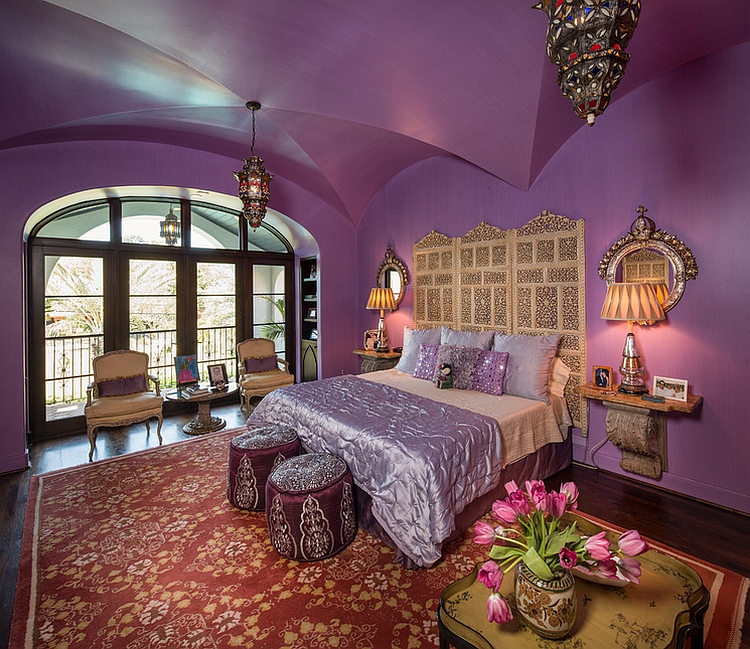 by Thompson Custom Homes
Effervescent and Romantic Reds!
Want to transform your bedroom into a dreamy, romantic hub? It is hard to find themes that accomplish this with more brightness and splendor than the Moroccan. Ravishing reds and sumptuous scarlets are an integral part of the multi-hued Moroccan decorating style, and combining this with plush velvet textures ensures that you have a truly amazing bedroom. The four-poster bed with a matching canopy adds to the mystical appeal of these bedrooms, while tufted walls make them even more magnificent. If you are not very happy with absolute reds, then pretty pinks and bold oranges can also bring in the Moroccan vibe without seeming a touch too overwhelming.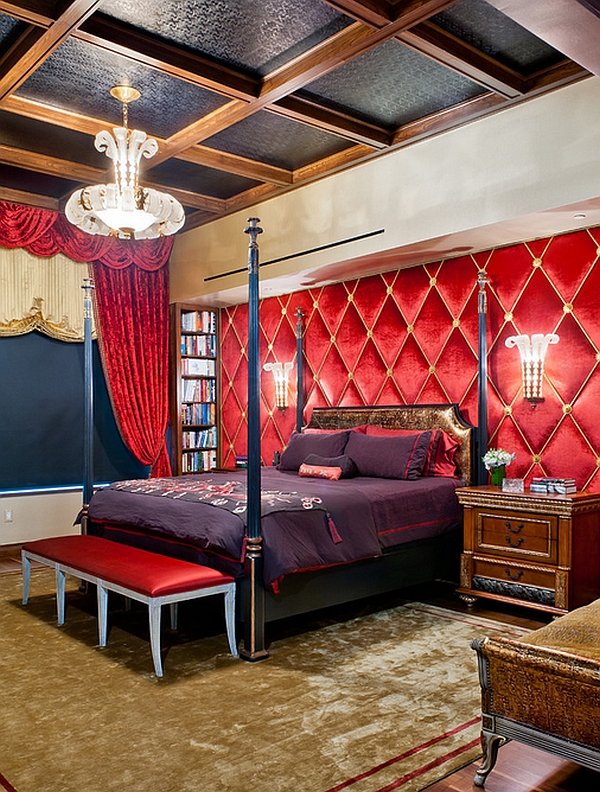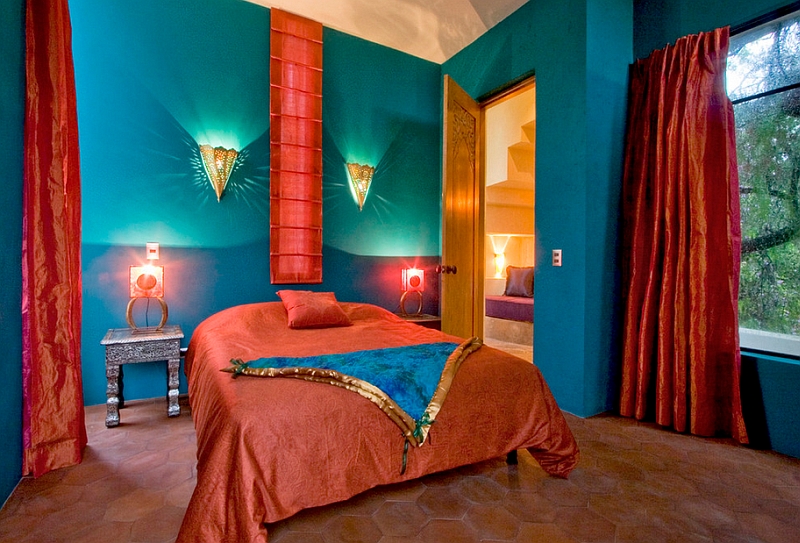 by House + House Architects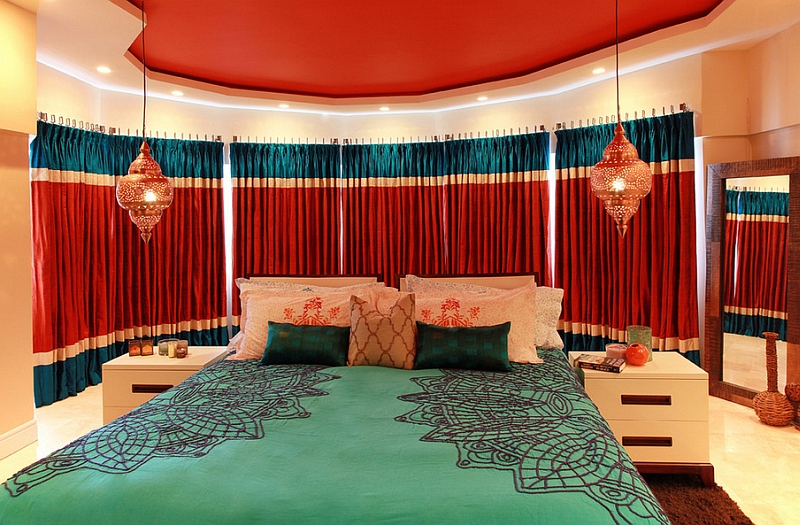 by Toni Crockett Design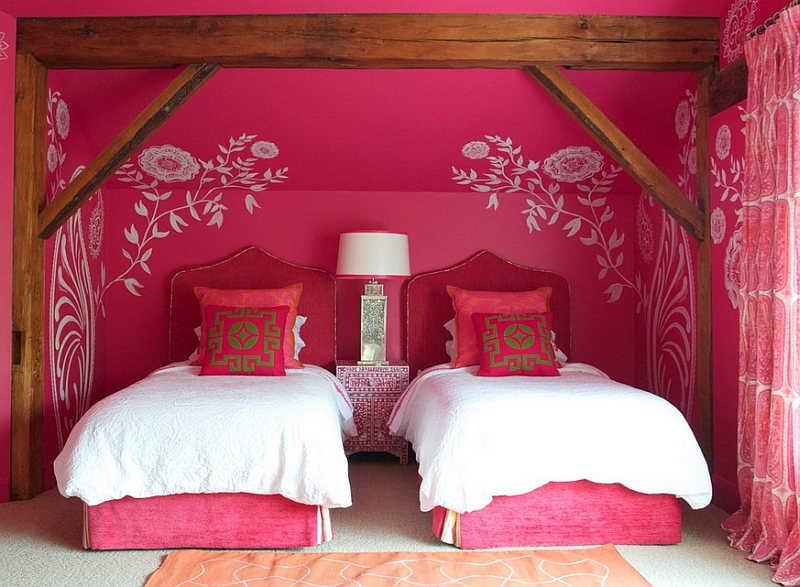 by Kate Thornley-Hall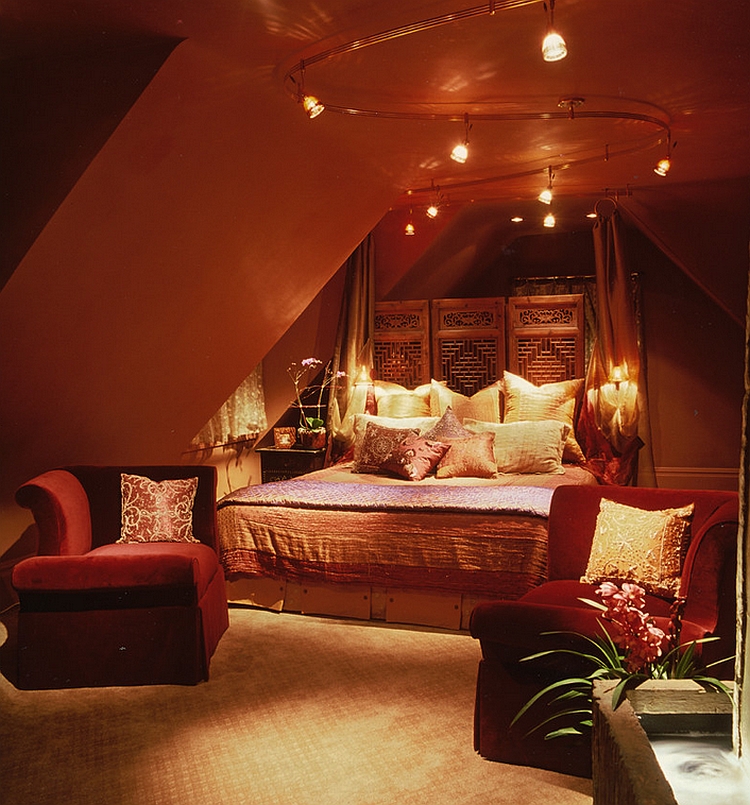 by Audrey Brandt Interiors
Laidback Mediterranean Vibe
Another tip to decorate your bedroom with Moroccan inspiration without completely committing to the theme is to adopt a more Mediterranean approach. Mediterranean bedrooms often have a more relaxed ambiance and tend to be far less ornate. But both the Moroccan culture and design style have a deep connection with the Middle Eastern and Arabic cultures, allowing you to blend it with Mediterranean touches in an effortless and elegant manner. Lovely lantern-style lighting, Mashrabiya panels and distinct windows allow you to blend both styles with ease. This approach also lets you pick a more neutral backdrop for the bedroom and decor with fewer intricate patterns.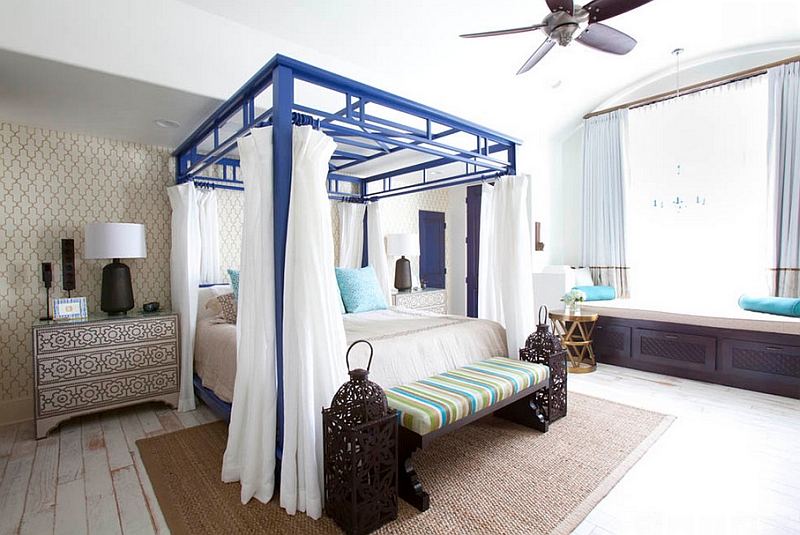 by Laura U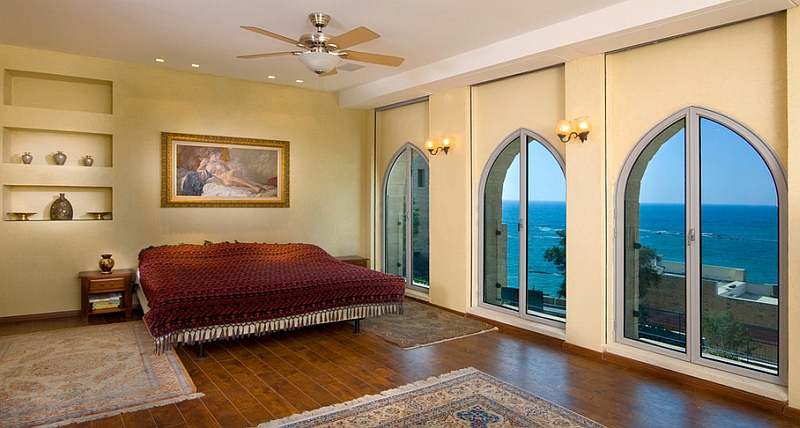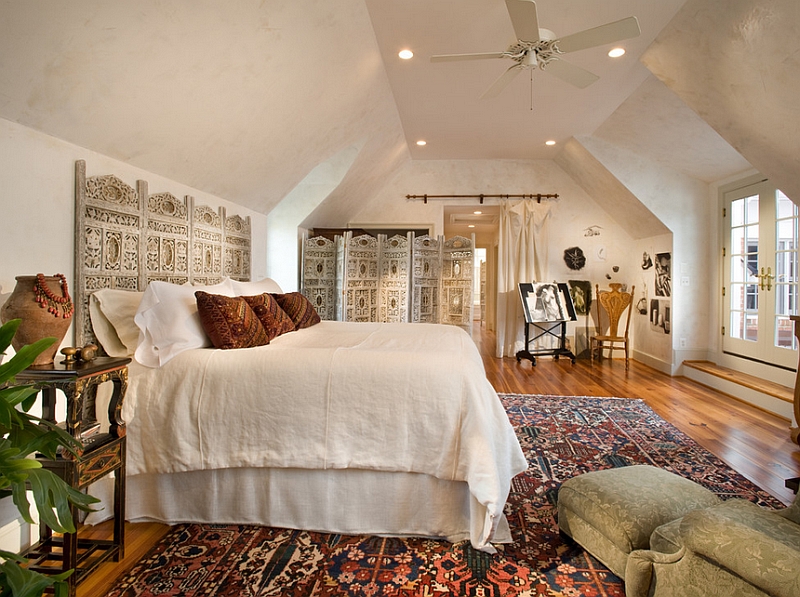 by McNally Interiors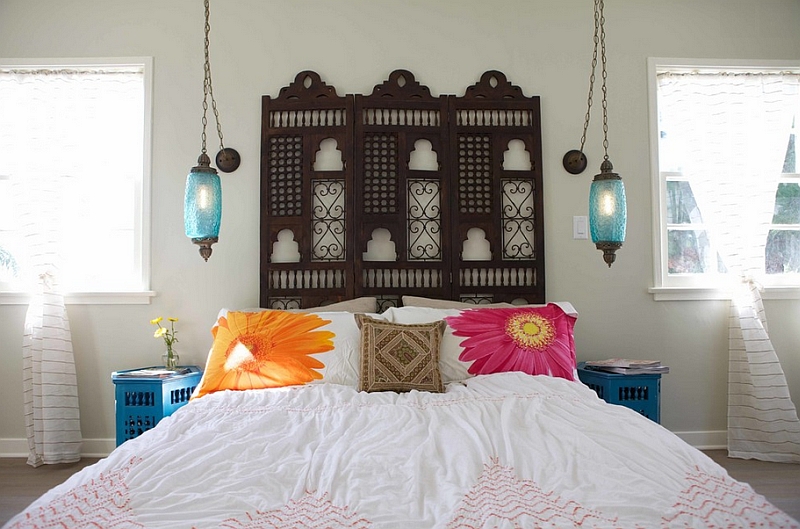 by Design Vidal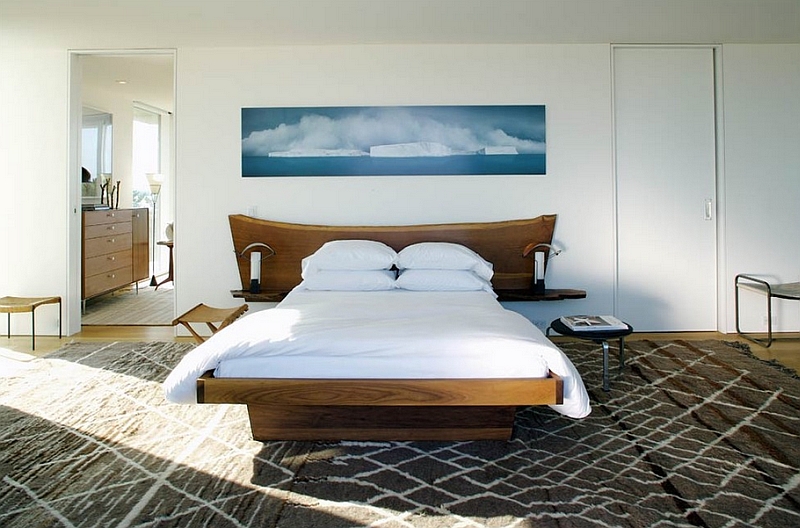 by Stelle Lomont Rouhani Architects
Moroccan Modern Twist
The first thing that comes to mind when we talk about Moroccan-style bedrooms is ornate settings that seem like pages from an 'Arabian Nights' story or Disney's version of Aladdin! While crafting such a space is very much possible (as you have seen above), most tend to prefer bedrooms that are a touch more practical and far less exotic. The modern Moroccan style is a perfect balance between a backdrop that is contemporary and decor and fabric additions that have a Moroccan zest. Once again, lantern-style lighting is a key addition here that defines and accentuates this look, while the famous Moroccan rugs, colorful ottomans and geometric patterns complete the style.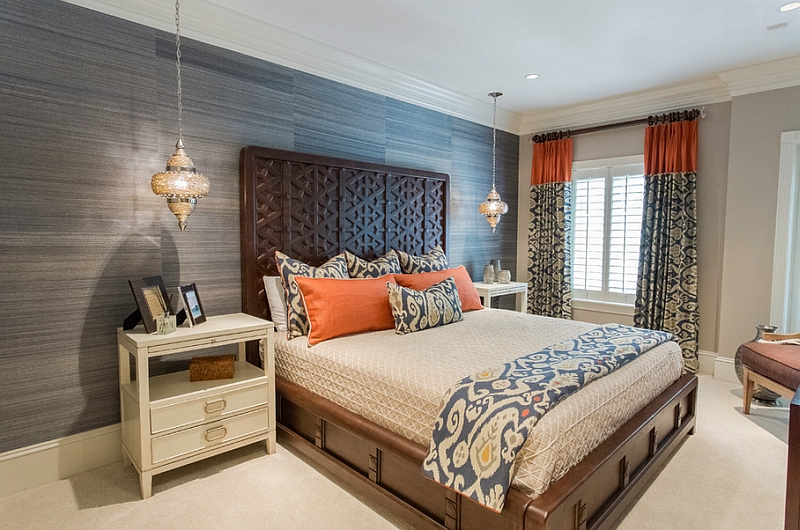 by Lovelace Interiors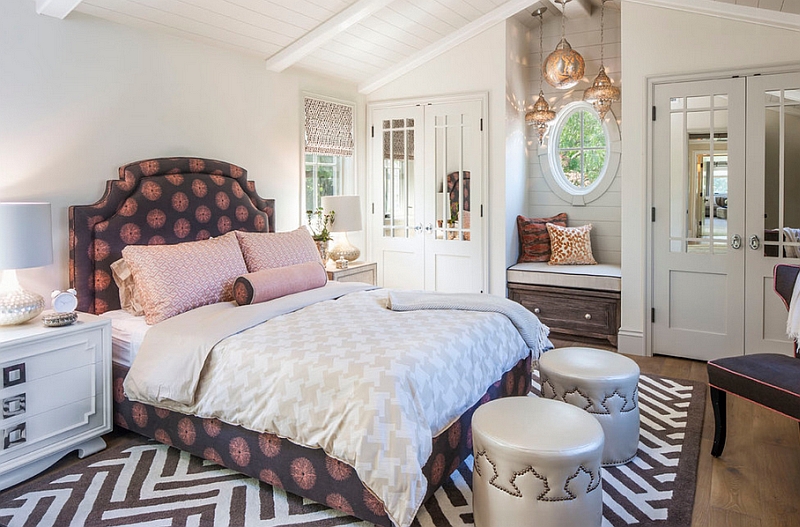 by Tomaro Design Group
You can blend several different design styles with Moroccan bedroom decor to create a unique, eclectic bedroom that has a style of its own. The powerful colors and audacious patterns of Moroccan decor seem tailor-made for a Bohemian-style bedroom that thrives on ordered chaos. The opposite of this is to add a few mirrored surfaces and take out the daring colors to blend the Moroccan theme with chic Hollywood Regency. All you need is a bit of imagination to find a style that fits your bedroom best!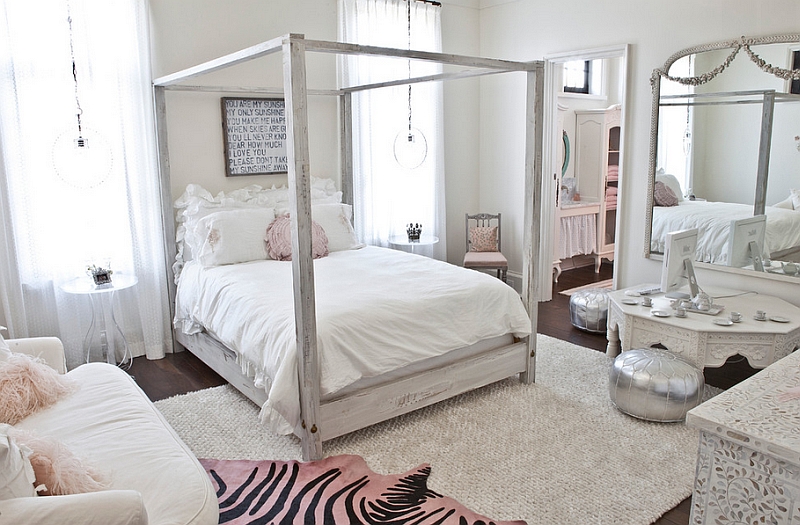 by Jolene Smith Interiors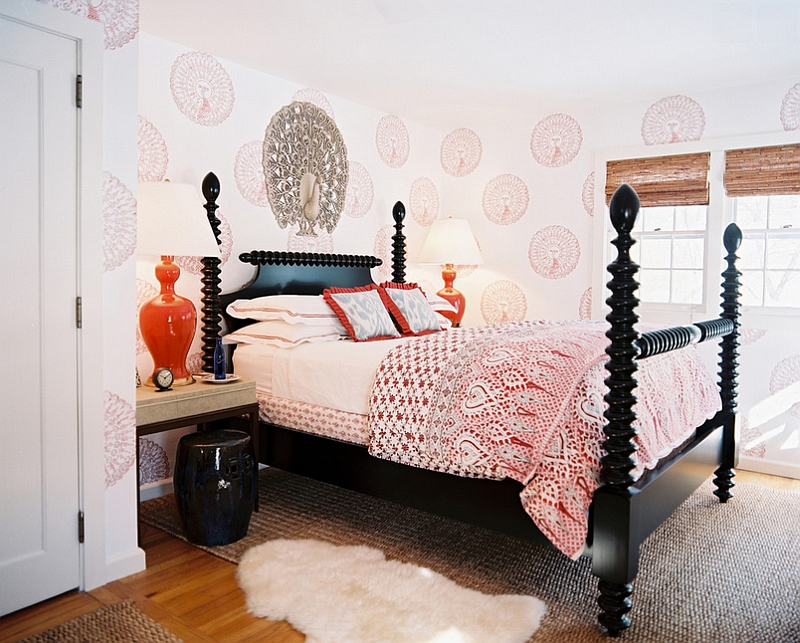 by Tilton Fenwick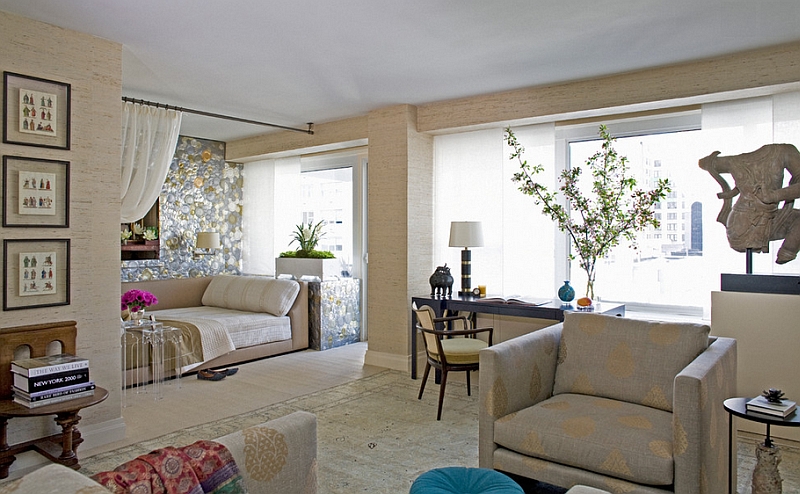 by White Webb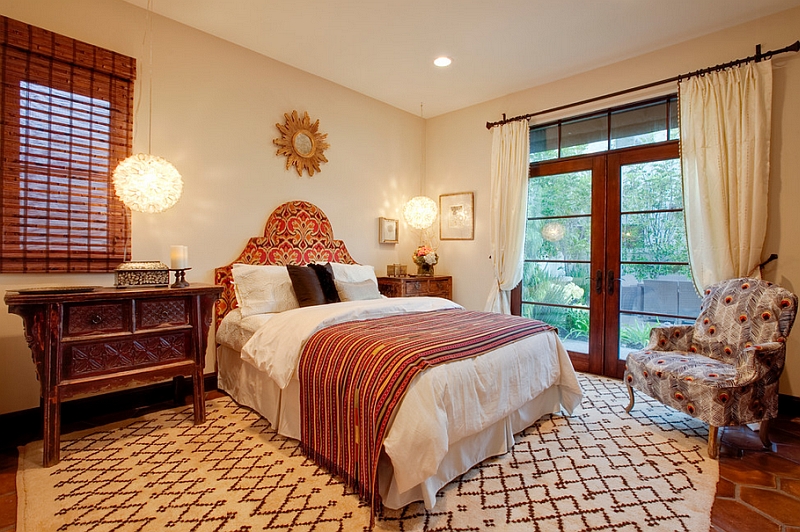 by Luke Gibson Photography / Interior Design by Studio Blu
It's all about the Bed!
When it comes to bedroom design, a lot of us forget that at the end of the day, it is indeed all about the bed. The simplest way to decorate a Moroccan-inspired bedroom (or a bedroom with any theme) is to turn the bed into the defining feature of the room and its unmistakable focal point. The architectural details and ornate furniture of Moroccan style make this task even simpler. Apart from the canopy bed, you can add elaborate headboards and the right accent lighting to turn your bed into a comfy showstopper.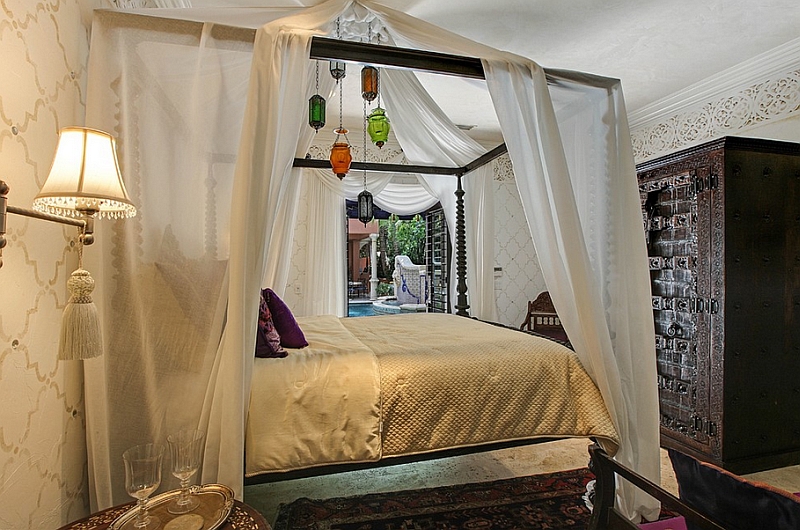 by Albanese Builders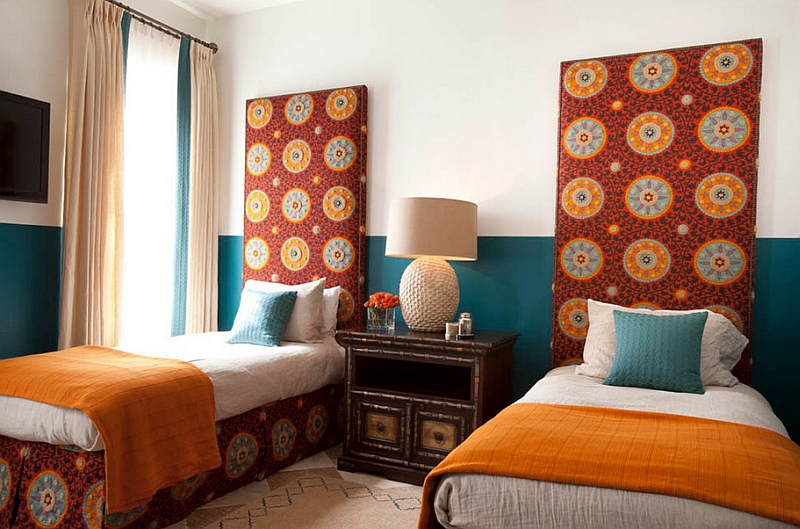 Moroccan decor additions and accessories are easy to find, and its unique lighting style adds to the overall appeal of a bedroom with any style. Start out with a few of these additions, and soon you will be lost in this vibrant and beautiful world!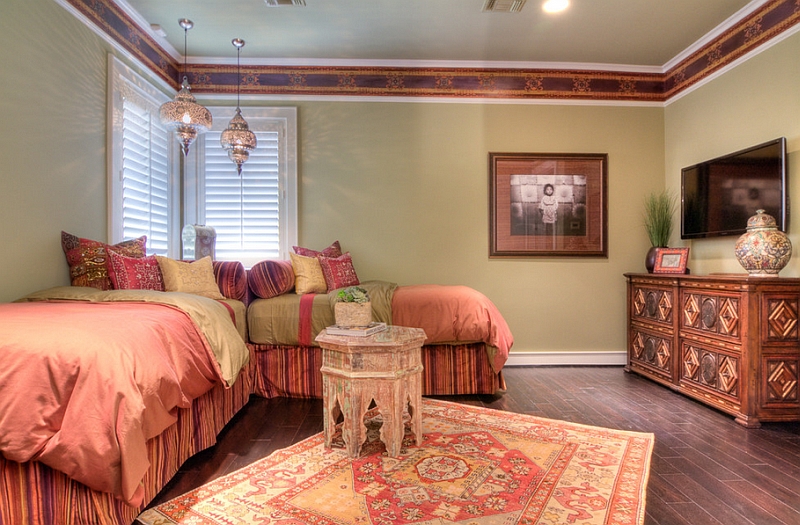 by Thompson Custom Homes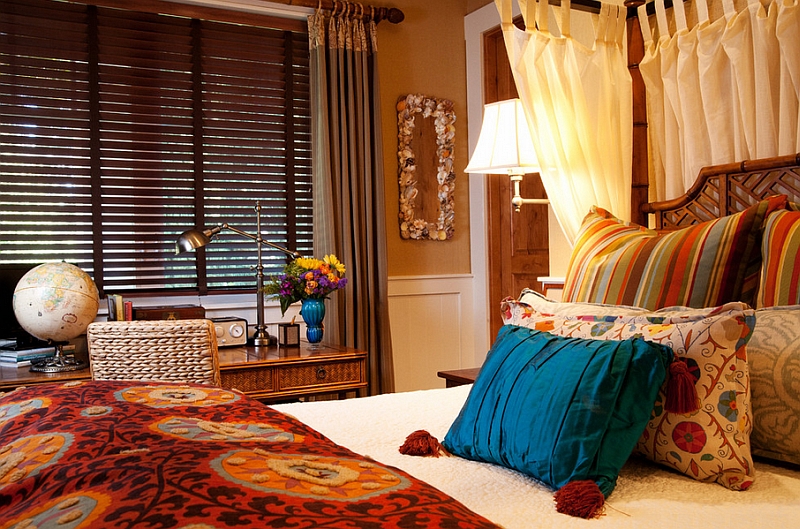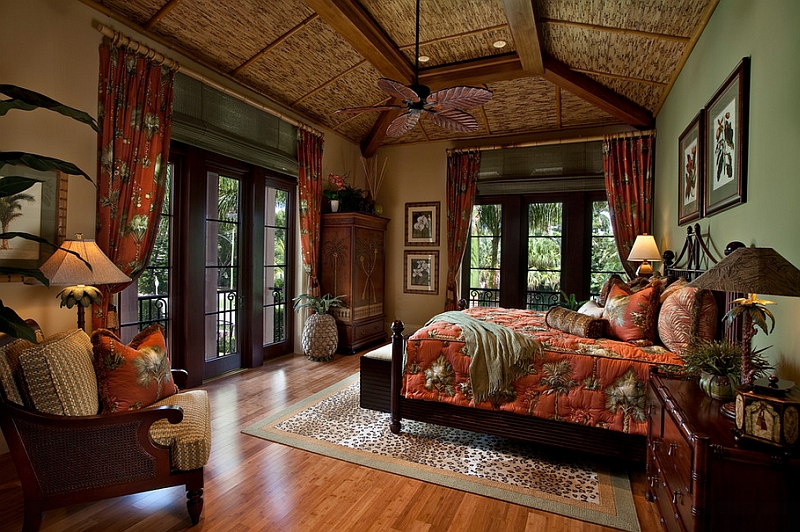 by Kurtz Homes Naples
Sours: https://www.decoist.com/2014-07-15/moroccan-bedrooms-ideas/
Bedroom ideas moroccan modern
", Sandra protested.Tanya, how much water is in a mug?", Asked the doctor.About half more. " slowly and deeply through your mouth, and I will gently massage your tummy. "Sandra had no choice but to obey the doctor's order.
Moroccan Decor interiors Ideas for Home
So what. - It is the third time he passes by us and stares impudently. Look, he must have put an ear of corn into his swimming trunks, Svetka giggled, pointing to the puffing fabric of the swimming trunks. Lenka also giggled, glancing at.
Now discussing:
He was so fat that only abundant lubrication saved him from injury, and the octopus monkey did not want to break a new toy. The penis touched the back of the uterus, but the outside remained the same length. Several times the birthday girl fainted from pain and the realization of her gift ", but the monster liked her screams and it brought the.
Girl to her senses with cold water and again thrust its organ into her body.
13814
13815
13816
13817
13818