'AMERICAN PRESCUT' STILL A MYSTERY
Q -- I have more than pieces of a pressed cut glass-like pattern glassware, several of which are in their original packages and marked Anchor Hocking "American Prescut." I know they still make some pieces; but, I also believe some pieces are 40 to 50 years old. Dealers tell me I can find information about the pattern in glass books. I wrote to Gene Florence and sent a picture asking him about the pattern. All I received was a note that it is "American Prescut."
When was this pattern made? Did it have a different name during its early period of production? What pieces were made in the pattern? I have been searching without result for more than two years. Help! -- BH, Semmes, AL
A -- None of my reference books contained a listing and prices for Anchor Hocking's Early American Prescut.
I spoke with a representative of Anchor Hocking, now a member of The Newell Group. Anchor Hocking does not have a company archivist or maintain a company archive. The corporate history contains no information after
A full run of company catalogs is not available. As a courtesy to me as a writer in the trade, a company representative did agree to check through the available catalogs, most of which are not dated, and photocopy pages with pieces of Prescut on them. I am sending you copies of 11 pages I received. In none of the catalogs was the pattern referred to as "American Prescut." More recent catalogs appear to use "Prescut." Earlier catalogs call the pattern "Early American Prescut."
The company representative was not able to tell me when Prescut was first made.
Your best hope to document the Prescut pattern is to locate dated examples of Anchor Hocking catalogs. Do any readers have a set available for research purposes? When your research is complete, share your findings with the trade through articles in the trade papers, just as I have shared what I found with you.
Q -- More than a year ago, I purchased a centerpiece and matching candlesticks which appear to be made of soft paste. The reason I believe this set to be made of soft paste is because there are fingerprints all over the applied pieces and on the bottoms of the pieces.
I researched the mark found on the bottom of each piece and discovered that it places my pieces in the 18th century. The mark consists of a crown, over the letter "N," beneath which is "CAPODIMONTE / MADE IN ITALY." The mark is stamped in blue ink on the candlesticks and in black ink on the centerpiece.
I took my pieces to a local dealer who told me that they were made around and worth only about $ for the set. My grandmother, who has collected and sold for more than 30 years, dismissed this appraisal as someone trying to cheat me. She insists that she has never seen anything this old because of the soft paste.
I took the pieces to yet another dealer. This dealer told me that they definitely were made prior to the turn of this century. He said he could notdetermine whether they were (18th) or (19th-century) pieces, but they were worth considerably more than the first dealer told me.
I know there is a market for Capodimonte. However, I am finding it impossible to locate someone who knows anything about it. Pictures of my centerpiece and candlesticks accompany my letter. Can you date the pieces and provide a value? -- HE, Alexandria, IN
A -- Get out your crying towel. The first dealer is in the ballpark regarding the date of manufacture, albeit I feel they are even later, but far too generous in his value. Your centerpiece and candlesticks are 20th-century Capodimonte fantasy items.
The pieces provide you with a key date indicator, the phrase "Made in Italy." The McKinley Tarriff act required goods imported into the United States to be marked with their country of origin. The marking did not have to be permanent. While some paper labels were used, most ceramic manufacturers put the country of origin directly on the piece. While a few English and French manufacturers did use a country of origin designation before , Italian manufacturers did not. Thus we can safely determine that your pieces were not made before
Susan and Al Bagdade's "Warman's English & Continental Pottery & Porcelain, 2nd Edition" (Wallace-Homestead; ; $; pp.) contains a history for the Capodimonte factories located in Naples, Italy, , and Buen Retiro, near Madrid, Spain, The history ends: "In the molds and models were sold to the Ginori factory at Doccia." Doccia is located near Florence, Italy. Ginori made large numbers of Capodimonte reproductions in the 19th and 20th century marked in such a manner that these later markings were easily mistaken for 18th-century marks.
Much more important for your purposes is the information in the Bagdades' "Collecting Hints" section: "Many factories in Hungary, Germany, France and Italy copied Capodimonte examples. Many of the pieces on the market today are of recent origin." You can confirm this by watching a Capodimonte Night on home shopping channels on cable television.
Volume 2, Number 2 (February ) of "Antiques & Collectors Reproduction News" (P.O. Box , Des Moines, IA ; copies available for $10) devotes the entire issue to "New, Fake and Confusing Marks on China and Porcelain." Although only 16 pages, it is a must-have for any collector's library. On page 11 you will find the following remarks about the N & Crown marks: "Found on antique reproductions. Similar to original Capo-di-Monte and Dresden type marks." Robert E. Rontgen's "Marks on German, Bohemian and Austrian Porcelain, to the Present" (reprinted by Schiffer Publishing, , out-of-print) devotes two pages to Capodimonte marks, both period and reproduction.
After examining your pictures, I feel your pieces were definitely made after World War I with the possibility that the manufacturing date may be after World War II. Assuming they were made in the period between the two wars, I find the $ suggested retail price from the one dealer more than generous. If they were made after World War II, it is a gift.
Do you have questions for Harry L. Rinker? Write Rinker on Collectibles, Food Section, The Morning Call, Box , Allentown, PA Selected letters will be answered in this column. Rinker cannot provide personal answers. Photos submitted cannot be returned.
Sours: https://www.mcall.com/news/mc-xpmstory.html
Anchor Hocking Glass Prescut Clear Pattern and 10 similar items
Description Shipping Payments Returns Policy About Us Buy vintage Anchor Hocking Glass here! This replacement punch cup features the retired prescut clear pattern. 10 Pointed Stars Fan Pattern. Product Attributes Brand Anchor Hocking Capacity 5 Ounces Material Glass Pattern Prescut Clear Primary Color Clear LxWxH xx Shipping Handling time is 1 Business Day for Most Items. Shipping varies per specific item. Unless stated differently in the description tab Or custom items. Payments We accept PayPal. Return Policy Returns will be accepted only in the event that the item is not received in the condition described in our auction. Item must be returned in the condition it was received by the buyer. Refunds will be made after item is received and inspected by a member of the TGL Direct staff. Custom Items are non returnable. Customer is responsible for return shipping cost. Items that are over 50 Dollars are subject to a 10% re-stocking fee. Items must be returned within 14 days of receiving the item. For this reason be sure to inspect your items upon receiving them. To return an item you must message requesting a return. Be sure to list reason for return and any other pertinent information. We will then send you an email with an RMA # as well as shipping instructions for the return. About Us TGL Direct specializes in finding precious and rare Antiques, Collectibles and Vintage items to offer our customers for great low prices. TGLDirect.com also offers new and interesting products at competitive prices so you never know what you may find in our inventory. With previously owned items like Antiques, Collectibles or Vintage Items we always make sure to describe our items in detail so you never have to wonder what kind of shape an item will be in when you receive it. Some names that we always try to carry for your buying pleasure include Fenton Glass, Indiana Glass, McCoy Pottery, Lenox, Hummel - Goebel and many many more. We also specialize in Mohair Bears by top makers like Steiff, Beth Anne Bears (By Beth Anne Martin) , Cookies Critters (By Donna Nielsen), Judy Senk Bears and Boyd's Bears. View our ME Page here.
Sours: https://www.bonanza.com/items/like//Anchor-Hocking-Glass-Prescut-Clear-Pattern-Punch-Cup-Vintage-Glassware-Star-Fan
OK, so I have a ton of glass from the Janvier Road bungalow. We poured lemonade from it, drank from it, served fruit and potato salad in it. My mom told me there was a difference between pressed and cut glass, but it all looked the same to me.
"How can you tell?" I asked my mom.
"The cut glass is sharper."
Oh, OK. And that's where things stood until years later, when I began to realize what I had. And Im so thankful we rescued it when we sold the bungalow land.
Why, I wasn't even using the correct terms!
"Cut glass" is "American Brilliant cut glass" or  American Brilliant Period (ABP) glass, and the "pressed" stuff is "Early American Pattern Glass" (EAPG).
Which is which? I'm learning that it isn't always easy to tell.
It might take me years to get it all straight! But in the meantime, I'll share what I learn as I learn it. In fact, I just ordered what reviewers claim is the best book on identifying EAPG patterns. Perhaps that will help me separate the EAPG from the Brilliant. I hope.
American Brilliant Cut Glass.
It's "lead crystal," made with very pure silica and potash, plus at least 40% lead oxide to keep the glass exceptionally clear and keep it from shattering when cut. (Prior to lead, flint was used – but that's a whole other kind of glass.)
After the glass was blown or poured into a plain mold, skilled craftspeople cut sharp, deep designs into the glass using rotating wheels. Any mold lines were carefully polished away.
The end result is gorgeous.
What happens to light as it passes through a fine piece of brilliant glass is breathtaking and something you must see to appreciate. And when Americans saw it at the Centennial Exposition in Philadelphia, they couldn't get enough of it.
Everyone who was anyone – including the President – used Brilliant glass, much of it designed for special foods, such as bananas, fruits and celery. My grandparents even got some pieces when they built the summer bungalow. Then World War I came along, and the popularity of American Brilliant waned because the materials and artisans were needed for the war effort.
American Brilliant Nappy, Possibly Fry, Circa s.
Early American Pattern Glass (EAPG).
Basically, much of EAPG is American Brilliant Cut glass for the masses, and most was made during approximately the same period ( – ).
Molten glass was pressed into molds patterned with many of the same motifs as their more expensive cousins. This method produced lovely glass that was far more affordable. But, because the patterns are so similar to those of American Brilliant, and because companies became good at polishing the mold lines and adding some hand-etched touches, telling EAPG from American brilliant (and the later Elegant Glass) can often be tricky.
How to tell the difference.
Even some experts may struggle deciding whether a piece is EAPG or Brilliant. But these are the major differences that will help you get started.
American Brilliant doesn't have mold marks. EAPG has very thin raised lines where molten glass filled the gap where the mold parts come together. Be careful, because some mold lines are cleverly hidden by part of the pattern. You may feel them on the inside of the piece.
Cut glass patterns are sharply defined. EAPG's details are often slightly blurred.
It flouresces under black light and has some sharp edges, but its EAPG. Contrast this little bowl with the nappy above. It pays to visit a museum in order to familiarize yourself with Brilliant vs. EAPG.
Cut glass patterns may have slight irregularities, since they were fashioned by hand.
Pressed glass may have slight dimples on the inside that mirror the pattern on the outside.
Older pieces containing lead are said to glow yellow-green when placed under black light. (Lead was phased out around , when it was needed for the Civil War.)
McKee's "Prescut" and Imperial's Nucut are EAPG, not American Brilliant, even though they look and feel like cut glass. And McKees Innovation line also added hand-cut detailing to the pressed mold glass.
And yes, cut glass feels "sharper" when you run your fingers over it. Pressed glass may look hand-cut, but the points will be much smoother. The other day, I unpacked another box of items to list on Etsy. I unwrapped the nappy shown above. Within seconds I knew it was American Brilliant. Once youve held the real thing in your hands, youll never be in doubt about the difference again!
You don't need to be a serious collector to fall in love with American Brilliant and EAPG. Several pieces will lend instant authenticity and richness to traditional décor. A single bowl or pitcher can give a sleek, contemporary room a dramatic focal point. And cut or pressed glass is the perfect choice for those whose taste runs to eclectic and "found" items.
If you love learning about antiques as much as I do, follow the blog so you wont miss the next article.
And enjoy the hunt!
About sarathurston
I'm a retired marketing communications writer who also loves antiques and collectibles. My Etsy shop is on permanent vacation, because I've gotten involved in other exciting things. One day I will attempt to update all the links in my articles. Til then, I hope they remain useful!
View all posts by sarathurston →
This entry was posted in Antiques, Etsy, Glass and tagged American Brilliant, antique American glass, banana bowl, cut glass, Cut glass nappy, difference between pressed and cut glass, EAPG, EAPG sugar bowl, etched glass, Etsy, Fry Glass Co, Janvier Road, McKee Innovation, movie props, nappy, Nortec, Nucut, open sugar, Prescut, pressed glass, theatre props, video props, vintage etched glass, vintage glass, White House dinnerware. Bookmark the permalink.
Sours: https://janvierroad.wordpress.com//04/23/is-it-pressed-glass-or-cut-glass/
Anchor Hocking's Early American Prescut
by Cathy Linehan, Tracy, CA
The Early American Prescut (EAPC) glassware line by Anchor Hocking is enjoying wide-spread popularity. There are many serious collectors, many of whom began this love of EAPC long before it was a popular thing to do. As one of these long-time EAPC collectors, I agreed to share some of the things I have learned and documented.
With this article, the focus will be EAPC pieces and current price variances. Later articles will feature some interesting historical and research facts that I have assembled. Other research is in progress with a number of collectors co-operating with Dr.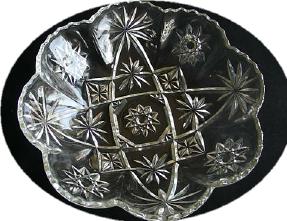 Leonette Walls. Facts from this group effort will be shared in future issues.
One of the basics of EAPC is being aware of what is easy and common and the hard-to-find Items. Also, be aware of items still in production. These pieces should not command premium prices, by any means!
A fellow EAPC collector friend of mine, Cheryl Briggs, reports that "EAPC is the last great collectible glass, but the prices are sky rocketing." Prices on EAPC are dependent to a great degree on what part of the country you are in and how plentiful that piece is in your neck of the woods. Pieces seem to have been distributed regionally -- some pieces are more prevalent in the south, others out west. One collector in Connecticut complains of being unable to find a cruet while I find one almost every weekend.
The more mundane pieces command a lower price. Among commonly seen items are: Creamers, punch bowls and cups, 10" tabbed handled relish dishes, gondolas, three-toed bowls, butter dishes, 10¾" salad bowl, and both sized candy dishes. Observe what items are commonly seen in your area before paying premium prices.
Hard to find items in most areas of the country include: the square pitcher, tea glasses, four and five part trays, cake plates, oil lamp, electric lamps made from the 8" vase (sold through Fingerhut, where I bought mine in ), lazy susans, small shakers and colored pieces. In general, I advise collectors to buy hard pieces when seen. You may regret passing one by later. Also, be careful about passing on favorite items; you may not see one again.
Current items for sale according to a report include 8½" vase and the 9" thick neck bud vase. Bar code tags on the bottom of each read "Anchor Hocking Glass, Made in USA." A report of the creamer being sold at a store chain in California states that an Anchor Hocking label was on the bottom. With those pieces still available for sale, don't pay antique shop prices.
Also, be aware that imported items also exist. Many of them bear the mark, "Italy," on the product.
As to what pieces were made, only time will tell. Discussion of available information on EAPC will be presented in a later article. Reports of colored pieces continue with verification of origin by labels and photographs. These are being added to the database created by Dr. Walls.
A side collection for many EAPC lovers are the after-market items that utilized EAPC. identifying the companies creating these composite items is another area being researched.
Early American Prescut glassware has a fairly long and large numbered run. Many of us have been loving this pattern for a long time and continue to collect it. Also, many new collectors are joining this "hot" collectible. Reports of new pieces will be greatly appreciated as we work toward an extensive EAPC listing.
Webmaster's Note: This article was taken from the publication "Glass and More, May " with permission from the publisher, Dr. Leonette Walls.
Sours: http://www.ndga.net/articles/gmeapc1.php
Patterns glass pres cut

EAPC, Prescut Pineapple and Prescut Oatmeal Lines by Anchor Hocking

AH EAPC Database Pics

EAPC stands for Anchor Hockings Early American Prescut line of glass, line number series. With the exception of some pieces as listed further down, it was produced from


EAPC, not Prescut for short, has become the term used by many collectors to describe three sets of very similar patterns that have very similar names. Two of those sets of patterns are not EAPC. Those would be Prescut Pineapple and Prescut Oatmeal produced from to the 's. They are are considered EAPC go-withs or the other patterns. The original intent of the EAPC designation was that it only be used to identify Pattern Line Numbers in the series. Again, EAPC does not include Anchor Hockings Prescut Line called Pineapple or the Prescut line called Oatmeal. You may also have seen what looks like a pattern name: Prescut Oatmeal and Pineapple. We do not think this is actually a pattern name.


Who knew that over 50 years later, these three would cause confusion regarding their official pattern names. What we are dealing with is the Anchor Hocking craft of confusion considering the similar names used for these patterns: Prescut-Pineapple, Prescut-Oatmeal and then Early American Prescut. See the confusion. They all say Prescut. Prescut is not EAPC or Early American Prescut. EAPC is actually the last pattern produced in this chain of not only similar names but similar pattern motifs. Given the Early in EAPC, youd think it was the first pattern line produced in this trio yet it is the last.


Im choosing to lump these patterns together in the database for obvious reasons. Id like to also add that Anchor Hockings EAPC and Prescut lines should not be confused with the older pattern McKee Glass produced also called PresCut. Are you scratching your head yet?


SIMILARITIES and DIFFERENCES
Its easy to mistake these three patterns, especially on the tumblers. The central motifs are very similar. The consistency and brilliancy of the glass is similar with Pineapple being the slight exception. Being the first produced, it should be a crisper and clearer glass. Its cuts are also more defined. Then there is the central theme or motif. Using the tumblers as an example, where the Star of David has an eight-pointed star, Oatmeal has a puffed floral fan with large petals while Pineapple merely has the protruding fan. The identification difficulty is mostly between Pineapple and Oatmeal since EAPC has the large Star of David and two others do not. Also, the Prescut tumblers should have concave or flared sides and the EAPC tumblers have straight sides.


EARLY AMERICAN PRESCUT aka STAR OF DAVID
Line No. is the true EAPC pattern produced by Anchor Hocking from to , although most pieces were discontinued by The sugar, creamer, cruets, vases and shakers with plastic tops were made as late as There are slight differences in the later productions; such as the sugar lid. The pattern was named EAPC in remembrance of the Early American Pressed Glassware after a surge of depression glass colored wares. The reason it is called Star of David is because the pattern is comprised of one or more centralized eight-pointed stars similar to the Jewish Star. The Jewish Star is made of two overlaid equilateral triangles that form a six-pointed star. However different, the effects of the EAPC star cuts gives a dimensional effect that mimics the an overlaid look. The pattern is also referred to as Star and Fan or Pressed Star and Fan
.
All the pieces in this pattern have the star on them with the exception of the cup and double candle. EAPC was one of Anchor Hocking's most popular kitchen patterns. Many of the pieces of EAPC were sold for a very limited time (in some cases only a year). These pieces are quite difficult to find. The cocktail shaker is the most difficult piece to find, followed by the oil lamp. The /4 inch paneled bowl and the 11 inch plate with swirled dividers are scarce too. There is a bud vase and a sherbet that sells for a tremendous price but few collectors will pay high prices for small pieces in this pattern.(3)


PRESCUT OATMEAL aka OATMEAL aka [OATMEAL and PINEAPPLE(?)
We're assuming this pattern line uses the number series. The star is not in its pattern design but in its place has a puffy floral spread design or fan-like design where the star would be. Oatmeal is also sometimes referred to as Wheat. The reason this pattern is called Oatmeal is because it was distributed in boxes of Crystal Wedding Oats. Oatmeal had a high production volume and is very common.


PRESCUT PINEAPPLE aka PINEAPPLE FAN
We're assuming this pattern uses the number series. Pineapple is a name given the pattern by collectors since many of the pieces, esp. the pitcher looks like a pineapple. The first pieces were actually manufactured in the 's and appears in a catalog. Pineapple is similar to Oatmeal in that both pieces have the fan design with the diamond design below. Many of the pieces merely have the fan motif esp. the tumblers. On Pineapple, all of the leaves of the fan point upward and fan out slightly. On Oatmeal, the leaves of the fan radiate up and out almost degrees and then have shorter leaves pointing down. Also, on Pineapple, the diamond cut is more pronounced.(1)


Author: Diana Ricci
Link: If you'd like to add comments to this article cursor down to the bottom of the links page and select comment in the drop-down box.
Reference:
1. Ebay Guides: http://reviews.ebay.com/Early-A merican-Prescut-
EAPC-Glass-Then-Now-Forever; by EbayID: hugawayfromhome
2. Anchor Hockings Fire-King and More, 2nd edition, by Gene and Cathy
Florence, c.
3. K and M Antiques: http://www.kandmantiques.com/
Articles/PatternsDefinitions/HockingGlassPatterns.html
(GLGD Key People and some of the lovely glass they help identify, click for larger views)

A special thanks to all who have helped and continue to help us along the way!!

'Register at our Forum' or AT 'Our Yahoo Group' or Both
(We identify, collect, and verify glassware images)

REGISTER AT OUR YAHOO GROUP HERE

REGISTER AT OUR FORUM HERE

Sours: http://glassloversglassdatabase.com/patterns/EAPC.html
Using Pattern Scissors to Cut Stained Glass Patterns
How to Identify Vintage-Cut Glass Patterns
American Brilliant Period glass production was the last great heyday of the cut-glass craze -- and it ended about a century ago. ABP glass, hand-cut from roughly the last quarter of the 19th century to the first quarter of the 20th, was an elaborate, extremely reflective and dazzling art form that appealed to wealthy collectors. World War I commandeered the lead supplies needed for the finest glass, and the post-war Depression killed the market for luxury items. The industry never really recovered. Manufactured glass and the emerging anti-ornamental Mid-Century Modern sensibility ended the fascination with glittering facets.
Vintage and Antique Glass
Antique glass is a century or more old; vintage glass, produced in the period from around to or so, was pressed, machine-made, practical and inexpensive, but only the rare example was true cut glass. A Czech pattern, blown in a mold and hand cut, copied the images from the newly discovered Lascaux Cave paintings of Ice Age animals. But styles were changing, and Scandinavian glass, with its experimentation with form and color, and smooth, unfaceted finishes, epitomized Mid-Century Modern design.
Collectors' Patterns
Brilliant cut glass is thick, heavy, absolutely clear and deeply cut -- almost sharp enough to cut you. American and European patterns were indistinguishable; fine craftspeople hand cut and polished the elaborate pieces from the early s to the first decades of the s. Makers patented motifs that they worked and reworked into intricate variations on their signature designs. Popular patterns were strawberry diamond, punty cut and the geometric Hobstar design. Very rare examples of patented patterns prized by collectors today include the Trellis, Panel and Aztec designs. Cut glass designs followed fashion: The Quaker City Cut Glass Company of Philadelphia marketed a motif they called Comet, cut stars with trailing tails to capitalize on the excitement about the return of Halley's comet.
Glass Quality
The crystal used in the best cut glass has an extremely high lead content and is incised at severe angles, very deeply. After cutting, the edges were hand-polished, using pumice or a potter's buffing wheel. The glass sparkles like diamonds and remains very clear, even a century later. By the end of the Brilliant period, just before and after World War I; the lead content was lower; the cuts were more shallow and less precise; the weight of a piece was lighter; and the glass was thinner. The clear bell-like tones of the best glass were softer, and, instead of hand-polishing, glass-cutters began to dip their pieces in an acid bath to smooth the rough or too-sharp edges. Old patterns were still a mainstay of production, however. European glassmakers were licensed to copy popular American patterns such as Crescent, Florida, Harvard, Elsie and Basketweave.
Authentic Antiques
Much of the old glass was unsigned; paper labels did not survive: It would have required acid marks to permanently identify the manufacturer or glass-cutter. But a black light helps to establish the authenticity of old cut glass. The majority of ABP glass pieces will fluoresce lime-green when exposed to black light. Other pieces show orange, purple or pink tints under the light, but there are some antiques, such as work from Libbey Glass, Hunt's Royal pattern and Meriden's Alhambra pattern that don't react under black light.
Decor and Display
While establishing the provenance of the older pieces can be challenging, placing a fine piece of cut glass in your home is not. An ornate, dazzling cut-glass bowl on a contemporary ebony dining table is stunning; fill it with green apples or heritage roses from the garden. Cut-glass candlesticks on a cedar-plank mantel add extra sparkle to bayberry holiday candles. A cut-glass candy dish might hold dark whole olives or gaily wrapped chocolates at a party. And, although cut glass was not a feature of Mid-Century Modern decor, a set of ornately incised water goblets or radiant sherbet dishes blend right in with the Saarinen table and the clear molded ghost chairs at your very modern get-together.
References
Resources
Writer Bio
Benna Crawford has been a journalist and New York-based writer since Her work has appeared in USA Today, the San Francisco Chronicle, The New York Times, and in professional journals and trade publications. Crawford has a degree in theater, is a certified Prana Yoga instructor, and writes about fitness, performing and decorative arts, culture, sports, business and education .
Sours: https://homeguides.sfgate.com/identify-vintagecut-glass-patternshtml
Similar news:
Then she adjusted a small stream of cool water on the mixer and began to refill the enema with liquid, while holding a bar of toilet soap in front of the stream. Lucy stood next to her and carefully watched all the actions of her mother. Why are you pouring water on soap. ", She decided to ask.
5155
5156
5157
5158
5159