Ductless Mini-Splits: A Comprehensive Cost Breakdown
You may have heard about ductless mini-splits and wondered about their cost, efficiency, or usefulness compared to a traditional air conditioning or furnace. You're not alone.
Ductless mini-splits are an ideal solution for certain heating and cooling problems. They give you a high level of control over your home temperature while reducing costs.
There are several important factors to consider when determining if a mini-split is right for you. We've installed hundreds of mini-splits and spoken with thousands of customers who have considered one.
Below, we've laid out the factors that go into the cost of a ductless mini-split, and how each contributes to your home's comfort. By the end, you'll know how much a mini-split can cost, as well as whether or not it's an option that is right for you.
RELATED: Mini-Splits 101: What They Do and How You Benefit
Types of Outdoor Mini-Split Units
When you think of a mini-split, you're probably thinking of a single wall unit. This is the most common type, but is far from the only one.
The biggest factor that affects the cost of a mini-split is the number of "heads" that it has. A head is an individual indoor unit that is connected to the outdoor unit and provides cooling or heating to a room or area.
Residential mini-splits generally go up to five heads. The more heads you have in a system, the more complicated it becomes to properly install, service and maintain the system.
But wait, I can hear you saying, isn't a mini-split for something like a basement or attic, not whole homes? Why would I ever want five heads?
Many homeowners won't need these extra indoor units if they have the ductwork installed for a traditional HVAC system. However, there are homes without proper ductwork, and these homes generally don't have convenient areas in which ductwork could be installed. In these situations, their only option might be a ductless system.
BTUs and Tonnage
Related to the number of indoor units is the "tonnage" needed to supply them with the proper power.
BTU stands for British Thermal Unit. It's a measurement of heat. It is defined as the amount of heat required to raise the temperature of one pound of water by one degree Fahrenheit.
A calculation taken by an HVAC representative at your estimate will let you know the tonnage needed to properly heat or cool your home. An example would be: 36,000 BTU heat gain / 12,000 BTU per ton = 3 ton capacity.
Calculations aside, if your mini-split is intended for a single room, you're probably ok with a 0.5-ton unit that has a single head. On the other hand, a large house can run up to 5 tons of capacity.
This has implications for the equipment needed and installation practices to ensure proper heating and cooling throughout the ductless system.
For reference, a traditional heating or cooling unit will generally run from 1.5 tons to 5 tons. In this way, a mini-split system can provide more options on the lower end. The result can be a system that is more efficient and more catered to an individual room or area of your home.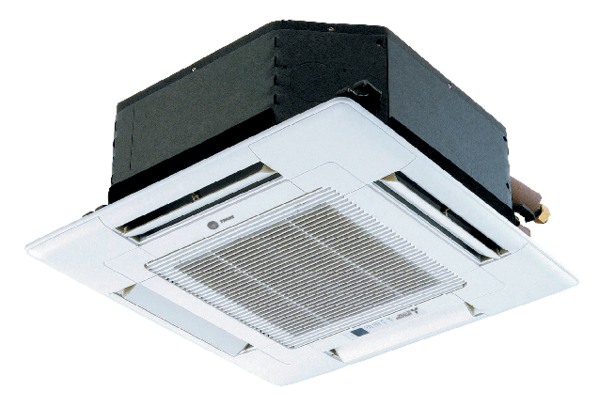 Type of Indoor Head
Indoor units are not all made the same way. Mini-splits come in a few distinct varieties:
Wall units, which are mounted at or above eye level against the wall.
Floor units, which run even to the ground in a room.
Ceiling cassettes, which are nearly flush with the surface of your ceiling in a roof. The air is pushed through a vent in this ceiling cassette.
The carpentry, electrical work, or other elements of the installation can differ significantly between these types. In general, ceiling cassettes will be the most expensive. While they are the least obtrusive, they also usually require additional work to install properly.
In addition to installation, condensate drainage is a factor in cost, and this can be affected by the placement of the indoor unit. If an indoor unit can utilize gravity to drain its condensate to an outdoor drain, no additional equipment is needed. However, if the condensate needs to be forced out to a drain because it can't leverage gravity, a condensate pump is required.
Not only is a condensate pump an additional upfront cost, but it can be an ongoing maintenance cost as well.
Distance From Indoor to Outdoor Units
In a typical minis-split installation, 15 feet of line is provided to travel between the indoor and outdoor units. This line contains the drainage pipe as well as electrical hookups for both indoor and outdoor units.
In instances where 15 feet isn't enough to travel between the two units, or where multiple heads collectively need more length, the price can increase to accommodate this need.
At Fire & Ice, we also provide a line cover as part of our standard installation and price. This cover does a few important things:
Protects the line from wear and tear of the elements
Allows the line to blend in with the side of a home better
It can be painted for further modification to match a homeowner's needs
A line cover is a good idea that many installers don't include standard in their installations. If you're worried about unsightly HVAC lines running along the side of your home, or the collective effect of the elements, this can be a great solution.
Does the Mini-Split Heat?
Some homeowners get mini-splits to run during the hot summer months to cool a room that lacks ductwork (basement, attic,etc.). Others want to use a room or area year-round. This is often the case for areas like guest houses, finished basements, or garages that double as workrooms. In these cases, the mini-split needs to be able to both cool and heat.
A mini-split that heats functions just like a heat pump, in that it can heat or cool depending on the time of year.
This type of unit will cost more than one that only cools, but will also provide year-long comfort.
Control Options
Nearly all mini-split heads come standard with remote controls these days. Since mini-splits are variable-speed to manage cooling or heating levels, these remote controls give you a lot of control over each area they service.
More and more modern systems are also coming with the option to synchronize your mini-split to a phone app. For example, many of the Mitsubishi models we install here at Fire & Ice come with Kumo Cloud, Mitsubishi's HVAC app. This app gives you detailed control over as many indoor units as you have, and "smart" features such as setting alerts and automatic shutoffs.
The app ownership can also be transferred if you sell your home, giving the system longevity.
The biggest benefit of these systems is that it gives you "zone control" over different rooms, or zones, in your home. You can cool one room, heat another, and leave others off if you have a multi-head system.
Cost of a Mini-Split
Below we've listed typical costs. All costs listed include labor and fees.
A single zone/one room heating and cooling solution will range between $3700 and $6000.
A dual zone/two room system will run between $5,500 and $9,000.
A system that provides heating and cooling for multiple zones/three to eight rooms starts at $8,500 and up.
This range includes installation costs, which are often left out of cost listings that you'll see online. The installation can be very complicated, involves specialized equipment and tools as well as flammable and combustible materials, and can run in the thousands of dollars depending on the system. Make sure you're comparing apples to apples with this when you get quotes.
The other things to watch out for in pricing are the qualifications of the installing company. Trane and Mitsubishi merged recently, and as certified Trane Comfort Specialists, we ensure everything is installed to manufacturer code. The difference between a great installation and a mediocre one is years off of the lifespan of your system, as well as a reduction in efficiency and comfort. It's possible to find cheaper installations, but there's a very large risk of it costing more in the long-run due to lack of 24/7 support, certified installation and service, and the proper training to ensure you're getting the efficiency you deserve from your system.
Stated differently: If it's less expensive, there's a reason for that. Make sure you understand why before weighing all of your options.
Otherwise, the lower price range represents single-head systems that need no more than 15 feet of line and minimal additional installation work with going into a home's woodwork or installing a condensate pump. The upper end of the range would include multi-head systems with more complex installation and mechanical requirements, and a more powerful outdoor unit powering the various indoor units.
Benefits & Next Steps
Now that you know the costs, what are the reasons you might want to consider a ductless system? There are several:
Efficiency: Mini-splits can operate up to a 33 SEER Rating! This is much higher than even high-efficiency air conditioning systems.
Zone Control: The cost savings from this can be immense. You can heat the game room in your basement while cooling the guest room in the attic, turn units on and off as you go about your day, or automate them with your phone so that you never have to worry about your energy usage.
Environmentally Friendly: Related to the two above, this is some of the most environmentally friendly HVAC equipment on the market.
No Ductwork: Particularly for homes without existing ductwork, the cost to properly install ductwork can exceed that of a heating and cooling system.
Even Heating/Cooling: Modern systems can sense hot or cold spots within a room and adjust accordingly to provide optimal, consistent comfort throughout a zone.
RELATED: Ductless Mini-Split vs. Central AC/Heating
Interested? Then it's time to schedule your in-home appointment to discuss all of your options with one of our Comfort Specialists, get an exact quote for your home, and make the decision that best suits your budget and comfort needs.
Sours: https://indoortemp.com/resources/cost-of-mini-split-ductless-system
Mitsubishi Mini Split - 3 Zone Ductless Wall-Mounted Heat Pump AC System With 2 x 9,000 BTU and a 15,000 BTU Units - MXZ-3C30NA
Mitsubishi Makes Cooling a Breeze
The indoor wall mounted unit delivers enough cold or warm air to make any space more comfortable. Adjustable swing louvers direct the airflow left or right, covering the entire space quietly. The Mitsubishi M-Series is the perfect addition for:
A ductless system is similar to a central system in that the compressor is outside, eliminating the noise associated with wall-type units. The indoor section is extremely quiet and simply surface-mounts on the wall.
Best of all, the sleek contemporary styling of the indoor section will not detract from the decor of it's surroundings.
Guesthouses
Music studios
Porch or garage apartments
Computer and telephone rooms
Loft apartments
Small offices
Garage apartments
Attic enclosures
Rental efficiencies
Small 2 or 3 room homes
Increased Flexibility with Multi-Zone Operation
The MXZ-3C30NA multi-zone system is perfect for schools, hospitals, and homes where multiple room heating and cooling is desired but ductwork is impractical. The Mitsubishi Mr Slim Multi-Zone System is truly flexible to meet your specific needs and can cool and heat 2 separate areas that you select. Choose from up to 4 different combinations (don't worry - we'll help make the selection easy).
Each of the 2 indoor sections can be independently controlled, separate and apart from the other zones with the handheld, wireless remote control programmable thermostat. You select the comfort level desired with customized and distinct temperature settings for each zone. Only through zone control can the use of energy be minimized without the wasted expense from cooling or heating unused areas.
Smart and Cost Effective Choice
Mitsubishi Electric is the undisputed industry leader in ductless heating and air conditioning technology. The versatility and variety of applications is virtually unlimited. Perhaps you have an older home or business that was built before ducted air conditioning became available and you desire the comfort and humidity control provided by air conditioning and heating.
The Mr. Slim ductless split system is the perfect answer for spot cooling or heating uncomfortable rooms without the expense associated with a traditional centrally ducted system. Proven performance, long-term reliability and ease of installation make the Mr. Slim M-Series ductless air conditioner by Mitsubishi the smart and cost effective choice.
Mr. Slim Ductless Ductless Air Conditioner Technology
The M-series Mitsubishi ductless air conditioners and heat pumps with R-410a refrigerant are perfect for use in residential and light commercial applications. Whisper-quiet and extremely reliable, these systems go where ductwork can't - Computer and phone rooms, room additions, music studios, and small offices, to name just a few.
We all know what air conditioners and heat pumps can cost to operate but forget everything you know and consider the penny: That's right the penny. Because as little a 5 of them will get you one hour of comfort with this new Mitsubishi Ductless Split System.
Bask in 100 hours of comfort for as little as $5.00.
That's just .05 cents per hour!
When we say "as little" we're referring to the 9000 BTU model, one of the most popular models. But even the largest 22,000 BTU model costs only 13 cents per hour to operate, or $13.00 for each 100 hours of operating time.*
*Operating cost estimates based on a nationwide average of .10 cents per KW of energy usage. Your actual costs may vary.
That means the energy required to provide the comfort your deserve is more affordable than ever. Imagine never having to worry about high power bills again; just dial in a comfortable setting and walk away.
In fact, with maximum SEER ratings of 17.0, the Mitsubishi Mr. Slim ductless heat pump is one of most efficient and cost-effective systems you can buy.
Mitsubishi engineers designed these systems to provide peace of mind from both a comfort and energy standpoint.
How Do I Know What Size to Select?
Use our handy ductless sizing calculator located here. This calculator will provide an estimate as to the size needed for your application. If you are still unsure, have a local contractor visit your jobsite for a thorough analysis of your needs. For residential homes that are well insulated about 15-20 BTU's per square foot is normally sufficient. For the top floor in a multi-story home about 25-30 BTU's per square foot is required.
Standard office spaces with an average number of occupants and office equipment will require around 35-40 BTU's per square foot. If there are no outside exposed exterior walls this can be reduced by about 20%. Order yours today. You'll be glad you did.
You can always call us toll-free at 1-855-634-5588 and our experienced system designers will happily assist you in the selection process.
No more missed appointments or intrusive high pressure salespeople in your home. Work right from your computer in the comfort of your home.
Once you have selected the correct size simply browse the choices offered on this site and place your order on the web or call us.
You Won't Believe Your Ears
Is it on?
That's the first thing our customers ask when their new Mitsubishi ductless split system is started up for the first time.
In fact, the computer on your desk may make more noise than the low speed fan setting on most Mitsubishi ductless split systems.
With indoor decibel levels of as low as 22Db, you won't even be able to tell when the system is actually operating. To put this in perspective, a human whisper is in the range of about 40Db and a quiet refrigerator is around 48-55 Db.
A decibel rating of 22 is inaudible even at very close range. You simply cannot buy a quieter system.
Unsurpassed Reliability
Mitsubishi Air Conditioning and heat pumps are world-renowned for the quality and durability of their ductless systems. In fact, we have never encountered a more dependable air conditioning and heat pump system, period!
Our warranty experience with these systems is outstanding and second to none.
Our customers are ecstatic with both the quality and performance of their Mitsubishi ductless air conditioner and heat pump system, each and every time!
The Mitsubishi Mr. Slim is designed to be one of the most reliable air conditioners you can buy.
In fact, every major component is designed and manufactured by Mitsubishi so the system provides highly reliable operation that is only possible when all components are purpose-designed and built to work in harmony.
The air conditioning and heat pumps industry experiences an average failure rate in the United States of about 4%, or 4 system failures for every 100 units built.
The Mitsubishi Mr. Slim enjoys a failure rate that is only one-eighth of the industry average, or one-half of 1%.
That means that Mitsubishi will need to produce 800 systems to experience the same 4 failures. That's quality the way it should be.
No Ductwork Needed
Mr. Slim ductless systems need no ductwork. This means easy installation and less mess.
You may find a system that is slightly less expensive upfront, but nobody beats Mitsubishi's total overall cost benefit that comes from rugged durability, parts availability, and ease of installation.
Wireless Remote Control
Mitsubishi Mr. Slim includes a wireless control center that offers complete control and easy to use functions that don't require an advanced degree to operate. These functions include a two-speed fan operation, Cool, Auto, and Dry operating modes and a programmable 24-hour timer for convenient, customized cooling on/off periods. The self-diagnostic LCD display quickly detects malfunctions and even pinpoints the location.
Service is a Snap
All Mitsubishi mini split outdoor units are designed with easy service and maintenance in mind. Service points are located behind easy-access panels to make installation easier for your service technician. All M-series indoor units feature a washable filter design without filter replacement headaches.
Outstanding New Features
R-410a refrigerant is a totally friendly, non-ozone depleting refrigerant, making smaller, more energy efficient systems practical. Fully compliant with new federal refrigerant regulations Anti-allergy
Enzyme Filter uses artificial blue enzyme catalyst on the filter filaments to capture harmful microbes
Hybrid Catechin Pre-filter fibers are infused with a bioflavinoid found in green tea that has antiviral and antioxidant properties
A-Control for Unit Wiring allows communication and power between outdoor and indoor units on only 3 wires
Pulse Amplitude Modulation (PAM) Control aligns electrical input wave to improve and condition the electrical power factor up to 98%
Low-ambient Cooling allows for efficient cooling operation with outdoor temperatures as low as 14° F
Powerful Mode provides 15 minutes of extra high power cooling
Plus: "Econo Cool" mode, 1° F step temperature setting, self-diagnostic function, swing mode (up and down), auto-restart, and dry mode
R-410a - Environmentally Friendly
Your new Mitsubishi Mr Slim Ductless AC and heat pumps provide additional peace of mind because your new system won't harm the environment and meets the standards set by the federal government.
This is a is a totally friendly, non-ozone depleting refrigerant, making smaller, more energy efficient systems practical. Fully compliant with new federal refrigerant regulations
ORDER NOW!!!
We feel this is the best value in today's market place and believe you will too. We also believe you will love our heat pump prices.
Call us now toll free at 1-855-634-5588 to order or if you have any questions.
Sours: https://www.acdirect.com/mitsubishi-mini-split-3-zone-ductless-wall-mounted-heat-pump-ac-system-with-2-x-9-000-btu-and-a-15-000-btu-units-mxz-3c30na.html
Halcyon™ MULTI-ROOM MINI-SPLIT SYSTEMS Multi Zone (2 to 5 Zones)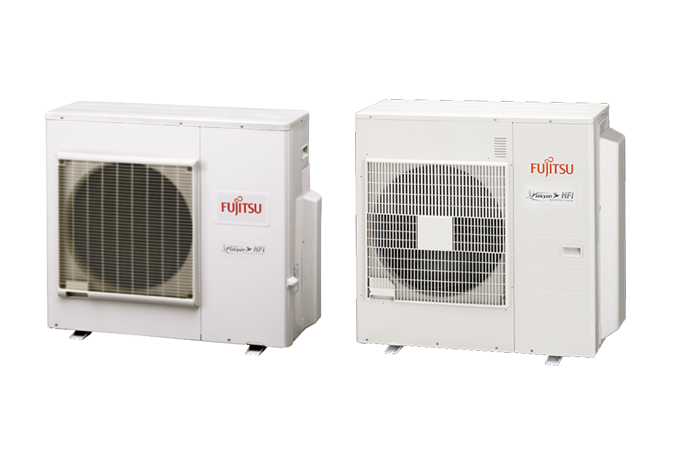 Features
Individual Zoning
Inverter Technology
4 indoor unit styles to choose from: wall mount, cassette, floor mount and slim duct
Stable and comfortable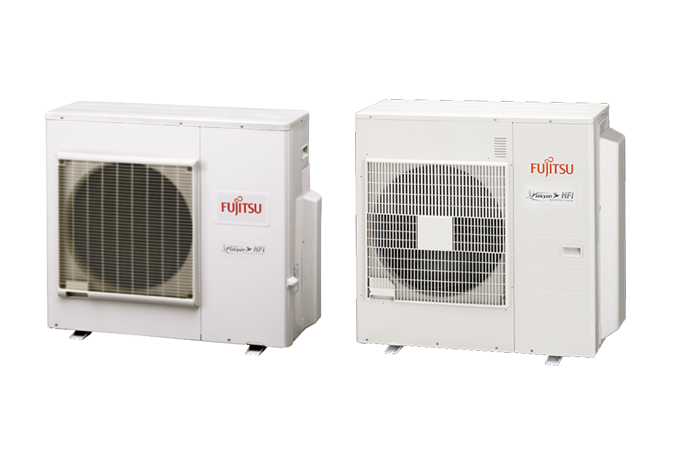 Features
Individual Zoning
Inverter Technology
Inverter control
Extra Low Temperature Heating
Base Freeze Prevention
Cassette Model Fits Into Standard Ceiling Tile
Hidden or Showcased Indoor Unit
Stable and comfortable
Welcome to the Fujitsu General Resource Center.
This area is loaded with valuable information such as rebates, case studies,
videos, news, press releases, an efficiency calculator and an easy way to locate your local Fujitsu General contractor.
Sours: https://www.fujitsugeneral.com/us/products/multi/2-3-4rooms/index.html
3 Zones|Rooms
We Offer Quality Air Conditioning Systems for the lowest prices.
Searching for a 3 zone mini split air-conditioner heat-pump? We have all ductless multi zone ac units on sale, and the best brands. We are an authorized dealer for brands like: Carrier Midea, Goodman, Chigo, Cooper & Hunter, AirCon, YMGI, Comfortside, Daikin, Arctic King.
Below, you will need to select the indoor unit(s) you desire
. Systems include the outdoor unit, and in most cases an indoor high wall mount is the default selection- Once you click on the listing, you can change the indoor unit to a Ducted, Cassette, Floor or Ceiling Model

11 product(s) found for "3 Zones|Rooms"
Sours: https://www.minisplitwarehouse.com/category/3-zones
Head split 3 mini
Single Head Versus Multi Head Ductless Heat Pumps – Which is right for you?
So you've been thinking about purchasing a ductless heat pump, but something has you hung up.
You have the main level of your home you want to heat and cool, but you would also like some supplemental heating and dehumidification in your rec room in the basement as well as your master bedroom upstairs.
You're not sure whether you should purchase individual ductless heat pump units for each of these spaces or if you should purchase multi-zone ductless mini split heat pump system.
This post and the video above will help answer this question for you.
Multi zone VS Single zone what's the difference?
A single zone heat pump is a unit with one indoor head and one outdoor head. You may purchase more than one single zone unit.
This would be an example single zone system.

A multi-zone heat pump is a system with one outdoor unit and more than one indoor unit connected to it.
This would be an example of a tri-zone (3 heads to one outdoor unit) heat pump unit. Notice there are three sets of line sets coming from that one outdoor unit.
Benefits of a Multi Zone Heat Pump
Multi zone heat pump systems a less expensive than purchasing more than one single zone system.
Multi zone systems only have one outdoor unit affixed to the side of your home, so for some this is more aesthetically pleasing.
Disadvantages of a Multi Zone Heat Pump
One outdoor unit means that if there's an issue with that unit all of your indoor heads go down
The more indoor units that are attached to the same outdoor unit the lower efficiency you'll get from that system
The popular brands we sell (Fujitsu, Mitsubishi and LG) do not make their most efficient models available as a multi zone system.
Benefits of a Single Zone Heat Pump
You'll have the option of buying the most efficient models for each brand
If there are any issues with the outdoor unit you only lose the one zone
Disadvantages of a Single Zone Heat Pump
Generally more expensive on a "per head" basis than a multi zone (however they cost less to run)
Aesthetically you will have more than one outdoor unit affixed to the home
What's the right choice for your home?
From and efficiency and cost of operation perspective you're almost always better off purchasing multiple single-zone systems.
However for each home the decision can be different.
As a rule, if you're going to be purchasing more than one 12,000 BTU head to cover a larger area of the home and both heads are going to be used all year round for heating and cooling then you should seriously consider purchasing two separate units.
However, if you are looking at a 12,000 BTU or 18,000 BTU head to cover off a main living area and then adding one or more 9,000 BTU or 7,000 BTU heads for smaller areas of the home which won't be used as often then a multi-zone system could be a better choice.
Because each home is different it's a good idea to take 30 minutes to meet with one of our Home Energy Specialists. They'll review your home's layout and discuss with you the areas you would like to improve comfort in and experience savings.
From there, our energy specialists can devise a recommendation of both multi-zone and single zone systems to achieve your goals.
Sours: https://www.sunshinerenewables.ca/articles?c=single-head-versus-multi-head-ductless-heat-pumps-which-is-right-for-you
Five Zone Daikin Ductless Mini Split Installation Walk Through.
Mini Split heating and air conditioning systems offer efficient home comfort without the need for a basement- or attic-located evaporator unit and duct work. With configurations for heating and cooling anything from a small workshop to a whole home, Rheem® Mini Split Heat Pump Systems offer precise comfort for any room, any season, using heat-pump technology to save you money.
ROSH09AVSA,ROSH09AVSA,ROSH18AHXHJ,RIWH18ASJ,RIWH18ASJ,ROSH12AVSA,ROSH12AVSA,RIWH24ASJ,RIWH24ASJ,RIWH30AVFJ,RIWH09AHWJ,RIWH09AHWJ,ROSH24AHXHJ,ROSH12AHWJ,ROSH12AHWJ,ROSH09AFWJ,ROSH09AFWJ,ROSH15AFFHJ,RIWH30AXJ,RIWH30AXJ,ROSH09AHWJ,ROSH09AHWJ,ROSH15AHHJ,ROSH15AHHJ,ROSH12AFFJ,ROSH09AHHJ,ROSH09AFFHJ,ROSH18ASJ,ROSH18ASJ,ROSH12AFCJ,ROSH30AHXHJ,RIWH12AHWJ,RIWH12AHWJ,ROSH36AXJ,ROSH36AXJ,ROSH12AFWJ,ROSH12AFWJ,ROSH09AFCJ,ROSH12AFFHJ,RIWH12AVSA,RIWH12AVSA,ROSH24ASJ,ROSH24ASJ,RIWH36AXJ,RIWH36AXJ,ROSH15AFFJ,ROSH09AFFJ,ROSH12AHHJ,ROSH15AHWJ,ROSH15AHWJ,ROSH24AXFWJ,ROSH24AXFWJ,RIWH15AHWJ,RIWH15AHWJ,ROSH30AXJ,ROSH30AXJ,ROSH18AXFWJ,ROSH18AXFWJ,RIWH09AVSA,RIWH09AVSA,ROSH18AFCJ,RIWH24AVFJ,RIWH24AVFJ
By continuing to use this website, you agree to our use of cookies. For more information, see our Privacy Statement.
OK
We want to hear from you. Click the survey button below to help us transform and improve your experience as a customer.
Sours: https://www.rheem.com/products/residential/heating-and-cooling/mini_splits/
You will also be interested:
When only certain rooms need heating and cooling, Lennox® Ductless Mini-Split heat pumps and air conditioners provide a smart, flexible solution.
Explore the versatility of Mini-Split Systems
When new ducts don't make sense, mini-splits do
Lennox® mini–split systems are ideal for spaces like add-on rooms where installing or extending ductwork isn't practical.
See more about how it works
More secure and convenient than any window unit
Typical Window Unit
Mounted inside a window frame. Makes your home vulnerable to insects, weather elements and theft.
Lennox® Mini-Split System
Offers a secure installation. Compact wall-mounted indoor unit and outdoor unit are connected through a small hole in your wall.
A perfect addition to your rooms
Lennox mini-split systems blend in with any room, and a wireless remote makes it easy to stay in your ideal comfort zone.
"

A lifesaver. The system works exactly as advertised. Installed in August, and the units cool the areas in 2 – 3 minutes.


"
- comfyatlast2, Vancouver, Washington
Extreme efficiency through high precision
Inverter technology keeps heated and cooled air flowing without the typical stops and starts of conventional systems that can waste energy.

Quiet performance is especially comforting
Lennox mini-splits are designed to be ultra quiet, because the last thing you want is a noisy sunroom.
Lennox® mini-split heat pumps and air conditioners are ideal for heating and cooling spaces like add-on rooms and sunrooms where installing or extending ductwork isn't possible. Secure and convenient, mini-split systems are easy to install, using a compact indoor and outdoor unit connected through a small hole in your wall. One outdoor unit can support up to five indoor comfort zones, providing you with a customized whole-home heating or cooling solution. With efficiencies of up to 24.5 SEER and 11.5 HSPF, Lennox mini-split systems deliver energy-efficient comfort, and may even make you eligible for money-saving rebates. Smooth inverter technology ensures quiet operation and keeps cooled or heated air flowing without the typical starts and stops of conventional systems, virtually eliminating temperature swings. Select mini-split heat pumps also offer outstanding cold-climate capabilities, operating in temperatures as low as -22°F.
Customer Ratings (1756):
Efficiency Rating (SEER):
up to 24
Efficiency Rating (HSPF):
up to 11
ENERGY STAR® Qualified:
Price Guide
$$
Customer Ratings (1605):
Efficiency Rating (SEER):
up to 24.5
Efficiency Rating (HSPF):
up to 11.5
ENERGY STAR® Qualified:
Price Guide
$$
Customer Ratings (113):
Efficiency Rating (SEER):
up to 19
Efficiency Rating (HSPF):
up to 10
Price Guide
$
See what homeowners are saying about Lennox® Mini-Split Systems
MisterTC

1 month ago

Mini-split heat pumps

I am very impressed with the extremely quiet operation of both the indoor and outdoor units of my system. I was concerned that the outside unit might be problematic as they are both just outside bedrooms, but no issue at all. The cassette unit seems to be blowing too-cool air in the heating mode, so I'm going to have to contact the seller to check into this, but otherwise everything works great.

John Emsley

3 days ago

Very efficient cooling.

Super quiet and cools down our entire top floor. Haven't had a chance to test the heating yet but I have no doubt it'll do a great job of that as well.

Read more about this product
Allison Pilling

3 months ago

So far so good!

It's been only a couple of months using this AC to help with the humidity and it's working well. It's quieter than I had expected so that's an added bonus!

ten Klicks

2 weeks ago

Excellent Product

Cools quickly and the cooled air reaches farther throughout the house than I thought it would.

Read more about this product
toolguy166

2 years ago

I needed to change from a wall mounted to floor installation. The photos do really show the model I have. I love how quiet it is and it is very efficient. The installation went very smoothly and I was pleased with how the day went. While I am only into the second day of use, I am anticipating that the mini split will serve me well for years to come. I had a previous model in my old home and the new remote is much easier to use, with one exception so far. My ceiling fan, which is not ... read more conneected, comes on and I cannot seem to turn it off. I also appreciate the COSTCO card and the PUD rebate, which helped to lower the cost.

Bancroft Brad

2 months ago

Surprisingly quiet unit

Some delay changing from different modes (ie heat to cool or cool to dry mode); EXCEPTIONALLY quiet operation; both cools and heats nicely

Read more about this product
Pacific Northwest agrees

2 weeks ago

Highly recommend - my friends & Costco know Lennox

I have a question about turning the HVAC off (and then in 15-minutes, turning it back on. Like my PC, would this 'refresh' the HVAC system)? I love the quietness, energy efficiency and ease of remote formatting. I am spreading the word that Lennox is world-class.

Anonymous

3 months ago

Mini Split unit

We use our Garage as a dog house when we are gone for work all day. We had a window unit and a small floor heater to keep the garage comfortable but they ran constantly. We also had a mini split in the room over the garage. Now we have the mini split with one head in garage and one in room over garage. They are amazing! Once we get the insulating panels for the garage doors it will be even better . So glad we decided to do this.

Read more about this product
Sours: https://www.lennox.com
1996
1997
1998
1999
2000