Tutorial: Prismacolor Markers
So on Deviantart, I've gotten requests to do some kind of tutorial about how I color with Prismacolor markers.
I did a drawing of Honoka from Love Live for this purpose, and took photos of the process, so here's an attempt at a somewhat helpful tutorial! (or at least a way to motivate others to try out their markers)
—
First thing you need is lineart. For markers, I would recommend either bristol, or mixed media paper (or if a paper says "good for marker use" it works too). The paper I used here was a Bee Paper Company pen sketcher's sketchbook paper (on the front it reads "recommended for use with Prismacolor illustration markers").
Also for the lineart itself, make sure your pens don't bleed when the marker gets on them. Try out an experiment with the pens and markers on a separate page before starting your picture!
Once you have the lineart and everything, pick out your colors. (I scanned my lineart and printed it on another sheet of the same kind of paper, to make sure the colors wouldn't be different)
I use a really light grey and a bright yellow, to mark where I want shadows and highlights, on the copy lineart.
With the shadows in place, it's time to start with flats.
I took my base color (Brick beige PM-78) and applied two coats of it, leaving little highlights where I wanted them.
Next I take a darker color (Light Walnut PM-89) and add the shadows as I outlined in the copy lineart. It's better to work on one part at a time (skin, hair, black clothes, white clothes, etc.) to keep the colors from bleeding into one another as you work. This step officially finishes the skin colors.
Unlike skin, the next thing I do is the white clothes, which don't need a base color. Just like before, I take the shadow color (Cool Grey 20% PM-109) and apply the shadows as I so desired.
Adding the second layer of shadows gives the shirt more depth~ I used Cool Grey 40% PM-111, here. That's all needed for this part, so the white clothes are done.
The black clothes are next. I first started with a layer of Cool Grey 40% to give it the underlying highlights. Over top of that I added a darker grey (Cool Grey 70% PM-114) because the black alone is too intense for this picture.
After using the 70% again for more shadows, the black marker is used for the darkest shadows. You can see its intensity here, haha.
Ribbon time! The base color is Canary Yellow PM-19, with overlaying shadows of Sunburst Yellow PM-17. Over top of those colors, I added the darker stripes of the ribbon with Spanish Orange PM-123.
For the smaller line detail of the ribbon, I use Prismacolor colored pencils alongside the markers. I believe the color I used to add these lines was regular orange.
Red is next. Add the base color (Poppy Red PM-13) being careful not to get it into the white clothes too much.
Shadows here are just another layer of the Poppy Red. The bottom part of the skirt was overlayed with Poppy Red all over, and Crimson Red PM-4 is the shadow color, to make it darker in general.
Skirt detail: the thick stripes were added with the Poppy Red, and then a black Prismacolor colored pencil outlined the detail. At this point, I also darkened the blacks a bit with the pencil, to make them more black and less grey.
Hair coloring time! This part gets a little difficult with smaller sized pictures, since the marker tips aren't that small and can't make detailed hair. Sorry if that's your kind of thing! Base color (Orange PM-16) flats added.
For the shadows I layered Pale Vermillion PM-14 as a more general shadow, and then added Light Walnut as a darker and more concentrated shadow.
The highlights are Prismacolor colored pencils, the color is cream if I recall correctly (haha sorry I did this picture forever ago).
The eye isn't as detailed as I could get on the computer, but it works. I used Light Cerulean Blue PM-48 as the eye base, and just added True Blue PM-39 as the big general shadow. The more detailed shadows are dark blue colored pencils, to give her eye some depth.
Her mouth was filled in with Peach PM-170, and the shadows are… some kind of red colored pencil. ;;
The star was just something I thought of as I went. Cream and Sunburst Yellow are the main colors, and then were overlayed with Poppy Red and Black.
Below are some close up photos:
I don't know how helpful this actually was, but I hope you got some sort of idea of how someone (meaning me) uses Prismacolor art markers!
It's a lot of experimentation, really. If you're not confident enough to use them on an original lineart, scan/copy it onto the same kind of paper and do lots of practice! I still have a long way to go myself, before I can make really cool pictures with these markers.
-Tomo
Published by Tomo
I'm a simple anime artist trying to make a living doing things I enjoy. I like to attempt lyric translations here, so feel free to give suggestions! I'm not an expert though, so forgive my mistakes haha.. View all posts by Tomo
Sours: https://tomoplus.wordpress.com/2014/08/26/tutorial-prismacolor-markers/
So you want to get into art markers like Copic or Prismacolor? Well, this beginner's guide is a great place to start! You've probably drew with Crayola markers but now is the time to join the big leagues to see what sort of amazing art you can create.
Here's a list of what's covered in this guide so you can easily jump to each section.
1. Introduction
2. History
3. Why use art markers?
4. What are art markers made out of?
5. What are the different types of markers?
– Alcohol-based Markers
– Water-based Markers
– Solvent-based Markers
6. Which brand should I buy?
– Copic, Prismacolor, Tombow, Sharpies,
Crayola, and Chartpak
7. Why type of paper should I use?
This post contains Amazon affiliate links. Don't worry! Your price stays the same. I just receive a small percentage of the sale which helps cover the costs of maintaining this website. I only link to products I highly recommend. Check out my privacy policy for more info. 
Introduction
Art markers are used by illustrators, designers and artists to achieve a different result in artwork than you would normally see from using colored pencils or paints. Art markers are commonly used in hand-lettering, calligraphy and technical illustrations because of the smooth, quick-drying colors it can produced. Art markers have gone by various names (ie. markers pens, artist pens, brush pens, or paint markers) and are produced by numerous brands. Besides the Crayola markers you've been introduced to as a kid, you may have also heard of Copic or Prismacolor –two leading brands for art markers.
History
Since 3200 BC, ink has been used for writing and drawing by the Ancient Egyptians. Once pens were invented to allow for easier application of ink, more freedom was to be desired and markers were created. In 1910, Lee Newman patented the first felt-tipped marking pen while Benjamin Paskach invented the first fountain paintbrush in 1926. The 1950s is when markers REALLY became popular with the creation of Magic Markers by  Sidney Rosenthal. People started to use Magic Markers for everything —lettering, labeling, making posters, and all sorts of other things. Soon after, it was discovered that markers had a great potential as a new art medium.

Why Use Art Markers?
Art markers are extremely simple to use and require very little prep time compared to other art mediums. Maintenance is fairly easy as you only need to store them properly (cool, dry area away from heat and sunlight) and some markers even are refillable for when you run out of ink. The ink from art markers dry immediately which is a HUGE plus for many artists. Like colored pencils, colors can actually be blended which is another great advantage for artists. However, unlike colored pencils, it can be extremely difficult to correct mistakes.
What's Inside Art Markers?
The body, cap and plugs of the marker are typically made out of a plastic resin while the reservoir (the part that holds ink) is made from polyester. The tip of the markers are composed of a powder and water mixture. The variation among markers really lies within the type of colorant. Types of marker colorants include dye, ink, or paint which can be dispersed within an alcohol, water, or solvent-based mixture. Synthetic substances, such as tuluol and xylol, have been used as solvents but can be pretty toxic. In some markers, these toxics have been substituted with much safer chemicals.

Types of Markers
As mentioned above, the type of markers can vary based on the colorant content. They're typically categorized as alcohol-based, water-based, or solvent-based markers. This refers to the type of solution that is mixed with the ink or dye. They can also be professional-quality as illustration-grade or used for kids as school-grade markers.
Markers can also be double-sided with different tips. Generally these markers will have a small tip on side and a large chisel or brush on the other. You should think about what type of tips you desire so that you can get the most out of your purchase.
Alcohol-Based Markers
Alcohol-based markers combine ink with alcohol. The color produced by alcohol-based markers dry up extremely quickly and are relatively permanent. You'll notice that they have a strong scent from the chemicals used inside these markers. It's important to be aware that they can still be irritable to the eyes and lung even though they actually aren't as strong compared to the solvent-based markers. Some common brands of alcohol-based markers include Copic, Prismacolor, or Sharpies.
The markers are waterproof but alcohol-soluble, as you would probably expect. You can actually blend the ink from alcohol-based markers by using rubbing alcohol, a blender marker or another marker of a similar color. Even with blending, these markers may still show streaks. Streaks can be prevented by saturating the entire paper with color or by filling the paper with a blender before applying color. The good thing about these markers is that you can layer the colors more so than you could with water-based markers without causing too much damage to the paper.
Water-Based Markers
Water-based markers mix ink with either water or a water and glycerin mixture. Unlike alcohol-based or solvent-based, these markers are odorless due to the lack of chemicals. This makes them pretty safe and ideal for kids. The acid-free nature of the ink found in water-based markers also make them ideal for calligraphy and other type of artwork. The ink from these markers are opaque, waterproof and dry pretty quickly. However, they take longer to dry compared to other markers and saturated your paper with too many layers can damage the paper.
You may remember water-based markers as the large colorful Crayola markers you used as a kid. There's also watercolor pens that are typically for use on watercolor heavy paper. Both of these can result in some pretty neat results when you apply water to your artwork. You can also use water-based markers with alcohol-based markers. Just make sure you use the water ones on top since using alcohol last will affect the water-based ink.
Besides Crayola, other common brands for water-based markers include Sakura, Staedtler, Tombow, and Windsor-Newton watercolor pens.
Solvent-Based Markers
Solvent-based markers combine ink with a solvent such as xylene, methyl isobutyl ketone, or butryl acetate. The chemicals found in this marker can produce a pretty strong scent that can be irritable to eyes and lungs so be cautious of that. Ink from solvent-based markers are relatively waterproof and pretty long-lasting but not quite permanent. They are commonly used for craft projects since they can be utilized on a variety of surfaces, both porous and non-porous.
Which Brand Should I Buy?
Before investing on a larger set of markers, you should definitely try different ones out to see what works best for what you are trying to achieve. Many of these brands have single markers for sale if you check your local arts & crafts store. Once you decide on a brand, I would start with a 12 or 24 color set.
COPIC MARKERS
Copic is an extremely popular brand of Japanese markers. Getting into Copics can be pretty pricey, but it's worth it since they are considered one of the highest quality of art markers there is to offer. These markers have non-toxic, alcohol-based ink with replaceable nibs and refillable ink. Since they're refillable, the high price tag on each marker isn't a bad investment. Especially for the quality you get. Copic Markers are available in 358 different colors and 4 different types — Original, Ciao, Sketch, and Wide. Check out this beginner's guide to Copic markers for more!
Prismacolor Markers
Prismacolor is also another popular brand of art markers among professional artists. They also offer four different types of markers including Prismacolor Premier Chisel|Fine Double Ended Art Markers, Prismacolor Premier Brush|Fine Double Ended Art Markers, Prismacolor Premier Illustration Markers, and Prismacolor Scholar Art Markers.  The first two double ended markers feature an alcohol, dye-based, non-toxic ink that's comparable to the typical Copic art markers. The Prismacolor Premier Illustration Markers are much more fine tipped and typically used for technical illustrations and hand lettering. The Prismacolor Scholar Art Markers are water-based with low odor.
Prismacolor markers are more affordable than Copics, however the ink isn't refillable and the nibs aren't replaceable. Copics have been known to be a bit more durable and longer lasting but many artists still prefer these to Copics. Prismacolor markers are available in 200 different colors, a bit more limited in choices when compared to Copics.

Tombow
Tombow is another popular brand used among artists. Tombow Dual Brush Marker Pens feature a water-based, non-toxic acid-free ink. These markers are available as double-ended markers with a brush tip on one end and a fine tip on the other in 96 different colors.
These water-based markers blend pretty easily and can result in a neat watercolor effect. Unlike Copic or Prismacolor markers, they actually don't have that strong of a scent which is always a plus! Tombow markers also have self-cleaning tips that are definitely helpful if you are blending quite often. Since this markers are water-based though, the ink isn't permanent or waterproof and you'll have to be careful to not get water on your artwork.
Sharpies
I'm sure you're well aware of Sharpie markers because no doubt you have a few black ones around your house for labeling boxes and such. However, Sharpies are available in way more colors than black (65, actually) and have been used by some artists in their artwork. Compared to the other markers, Sharpies aren't available in a wide variety of nibs which make them difficult to use for coloring. The fine and extra-fine tips are great for technical and detailed illustration. However, the ink in these markers are both water and fade-resistant which can make these markers appealing to many artists.
Compared the markers above, Sharpies are much more affordable. However, that comes with a price. The ink from these markers don't blend well and are very likely to bleed through paper. Like the Prismacolor markers, Sharpies don't have the luxury of having replaceable nibs or refillable ink.
Crayola
Yeah, I know you remember these bad boys. When you graduated from using crayons, you were given these bright, colorful Crayola markers. Like Tombow markers, these markers have water-based, non-toxic ink. These markers are washable but that also means that water can damage artwork. Another great thing is that the markers don't dry out in case you leave the caps off. They're also available in 200 different colors! Who knew they had more than the 12 colors we were given in art class?!
Even though these markers are marketed towards kids, they still have potential to create great artwork. I actually have this 64-color set of  pip-squeak Crayola markers  (pictured on side) for creating some basic illustrations. The 64 set gives me a great range of color and they are so compact and easy to carry around. I typically use them to sketch out and plan color schemes for work that I want to eventually create digitally. They're simple to use, very affordable and just plain ol' fun.

Chartpak
Chartpak markers are pretty big markers but they hold tons of ink so it can last you for a while. These markers have a xylene-based, water-proof marker that come in 130 different colors.Since these markers are xylene-based, you can guess that they have a pretty strong scent that can be irritable to the eyes and lungs. The markers also only come in one standard size chisel tip. However, this tip is designed to allow for three different line widths of drawing –thin, medium and thick. Another plus side to these markers are that the tips are replaceable. The marker isn't refillable but like mentioned earlier, they hold a lot of ink anyway. These markers aren't so great if you're looking for fine detail because they have also been known to bleed a lot. If you're looking for thick color coverage, this might be a marker you want to try out.
There's a TON more different markers out there but these are just a few that have been frequently used by artists. Some others not listed here that have been recommended are Winsor & Newton or  Spectrum Noir markers.Remember, your preference is going to vary based on the type of artwork you are doing and the desired results. Try them out before settling!
What Type of Paper Should I Use?
You definitely should try out different papers to see what works for you best because it's going to depend on the amount of layering and blending you desire. You could try out marker paper because it's thin, smooth and has a coating on the back to prevent the ink from bleeding through the paper. If you want to do extensive blending and layering, try a thicker paper like Bristol.
Glossy paper can also be used with art markers but you won't have the same effects as non-glossy paper. Blenders won't work well on glossy paper and mistakes are quite unforgiving. Glossy paper absorbs less ink so you won't have vibrant colors but you'll be using less ink which means your markers would last a lot longer.
For basic illustrations, uncoated paper works pretty well. If you are using art markers in any sort of paper crafts like making cards, they typically won't bleed through for 120 lb weight paper. For Copics, check out this post on their site that gives some good suggestion for paper based on your project and this post for a post on art marker testing on 12 different papers.
Completely new to drawing? Check out my beginner's guide to drawing to learn the basics of drawing in just 4 weeks and covers basic pencil holding techniques, coloring, 2D and 3D shapes, perspective, figure drawing and much more.
Sours: https://www.thecuriouslycreative.com/topics/the-complete-beginners-guide-to-art-markers/
It's been two years since I first started doing alcohol based marker comparisons, and these are some of my most popular posts. If you enjoyed this post, please consider checking out my other art supply reviews in my Reviews tab above. If you would like to purchase a set of Prismacolor Premier markers for yourself or a friend, please consider supporting this blog financially by using my Amazon affiliate link. If you enjoyed this review, please consider donating! Donations go towards the purchase of additional art supplies, which may include more markers for testing. If you found this review useful, please consider sharing it on your social networks. If you found this review useful, please consider sharing it on your social networks- a larger audience means I can afford to do things like Kickstart future projects and makes me more attractive to possible publishers. There's also a handy pocket edition of ALL my marker reviews in a beautiful little 4"x6" photobook. It's available for $3 in my Nattoshop, and proceeds go towards things like keeping the lights on and buying more markers to review.As this blog is completely unsponsored, and I receive no financial compensation from companies to write these reviews, nor do I receive donations, I really depend on the goodwill of my readers. If you benefitted from this post, please consider contacting Copic or Prismacolor with a link to this post and your thoughts. I would also sincerely appreciate it if you sent me an email with your thoughts, questions, or thanks.
Lastly, I'm revisiting Prismacolor Markers in the future (January/February 2016), so if you're interested in seeing if my opinion has changed over the years, please check my more recent posts! Opinions and facts can change over the years, so what I said in this most may no longer accurately reflect the markers, my feelings on the markers, or how I render. Before you comment, consider checking out more recent posts!
Last week, we watched Copic Sketch annihilate Spectrum Noirart markers in an alcohol based marker showdown. This week, it's Prismacolor Premierstepping up to the ring against Copic Sketch, in a showdown to determine which is the best double sided marker in town. This Prismacolor Premier isn't just any Prismacolor Premier, oh no, it's got a trick up its barrel. This Prismacolor Premier came straight from Interventioncon to my testing table, a sample handed out by a Prismacolor representatitve. This one has a little something that most Prismacolor markers lack- a 'super brush' instead of the chisel. What color application wonders does this double sided contender have in store for us this week?
Prismacolor Premier:
'Art' Brush Option
Comfortable in hand
156 number of colors
Color family on cap
Not refillable
Can't mix own colors
Price per marker: $6.40 (Amazon, price varies)
Availability: Most art supply stores, Michaels, Dick Blick, Jerry's Artarama, Amazon
Available in individual and color themed sets
Alcohol based
React to rubbing alcohol and 'blender' fluid
Can be blended
Copic Sketch:


Refillable
Replacable Nibs
Comfortable in hand
358 available number of colors
Blendable
Color Name and Family on Cap
Color Coded cap
Super Brush
Can mix own colors, blank markers available
Price Per Marker: $7.29 (Amazon)
Availability: limited availability at Michaels, many art supply stores, Dick Blick, Jerry's Artarama, Jetpens, Amazon
Available in individual and color themed sets
Alcohol based
React to rubbing alcohol and 'blender' fluid
Can be blended
Comparison Shots
But how do these titans of the alcohol art marker world really compare? Let's have some side by side shots to see.
Left: Prismacolor Marker, Right Copic Sketch
Hey, there's more under the cut!
Size wise, the Prismacolor and the Copic Sketch are roughly the same length and girth, although the Copic Sketch is more oblong. They both fit nicely in the hand, and have a decent heft to them. Neither of them have overpowering fumes, although I wouldn't recommend huffing them or working in an area with poor ventilation.
Instead of the chisel nib (which is pretty useful and possibly nicer than Copic's chisel nib) this Prismacolor has two brushes, an 'art' brush and the awful bullet nib of death. The 'art' brush is comparable in size to the Copic Sketch's super brush. They both have a decent amount of 'juice' to them.
The markers with their respective results. The color on the outside of the Prismacolor is a little lighter and more saturated than the actual ink. As always, test your open stock art markers before you buy them!
A mark made with the 'art' brush.
And one made with Copic's good old chisel nib.
The Test Results
This test is my standard for all alcohol based marker comparison tests, and you've already seen it with my Spectrum Noir test. I test the marker's compatibility with a variety of technical pens (Sakura Micron, Copic Multiliner, Pitt Pen, the waterbased ink found in Akashiya brush pens, the gel ink in Hi Tec C rollerball pens), as well as it's ability to blend and layer (shown on the sphere) and it's ability to mix with the other marker (show in the boxed area).
A not-bleached out photo of the results. As you can see, with little effort, that the Copic and Prismacolor blend together decently.
The amount of bleed through- Copic at top, Prismacolor at bottom. This was decently heavy paper, I usually get this amount of bleed through on much thinner sketchbook paper. I wasn't trying to saturate the paper for these tests.
And a slightly blasted out scan of the results. It's clear in this scan that the Prismacolor is putting down a lot more ink than the Copic sketch at this point. Both markers blend and layer into their own brand just fine, and Copic Colorless blender works well with Prismacolor ink. This is because both are alcohol based inks. Both inks will cause bleeding when applied over Akashiya ink, and there's a little spread with the Micron ink. I applied the alcohol ink only moments after putting down the technical pen ink, with the express desire to test if it would bleed. For everything but the Akashiya ink, I would recommend waiting awhile for the ink to fully dry before applying alcohol based ink.
So what does this mean?
Prismacolor art markers aren't a bad investment, particularly for a beginner artist who may feel overwhelmed with the idea of maintaining markers rather than replacing. Because you can't refill the ink or replace the nibs, they won't last forever, so you may find yourself repurchasing colors you use often. The 'art' brush is an improvement over the bullet nib, though a bit gummy. It doesn't lay color down quite as smoothly as Copic Sketch markers' super brush. This isn't a bad first foray into the world of illustration markers, and the alcohol based ink is compatible with Copic markers, should you decide to start upgrading your collection.
Both markers were brand new, but I found my Copic to be a little dry. Unfortunately, this is the side effect of purchasing an open stock marker in store- they tend to get tested. Had this happened with my Prismacolor, I would have been out of luck, since I couldn't refill it and I might not be able to return it. When purchasing Prismacolors, it's best to test them in store, to make sure you get one that is full of ink.
Prismacolor alcohol markers are comparable to Copic Sketch alcohol markers, and are capable of being intermixed and producing similiar effects and results. They're slightly easier to find, but don't have the range of color that Copic offers. Many fine alcohol based marker collections include both Copic markers and Prismacolor markers, as Prismacolor offers some colors that Copic does not carry, particularly the brighter hues.
I'm not sure how Prismacolor markers would react on an alcohol marker pad. In the past, I've experimented with alcohol marker pads like those produced by Copic, and found them not to my liking. The papers are thin, and it's too easy to pick up previous layers of color. Alcohol marker paper tends to be a coated paper, and you may have issues with the alcohol based ink reactivating the technical pen ink.
With the 'art brush' nib, Prismacolor finally offers something that I've found their markers lacking for years- the ability to render a paintbrush-like stroke using an alcohol based art marker. This was the feature that has set Copic Sketch and Ciao far beyond most contenders. Unfortunately, Prismacolor's art brush has a tendency to grab the paper, preventing me from making clean, clear strokes. I may just be too used to Copic Sketch's slippery Super Brush to make the switch to Prismacolor Premier. Perhaps if I used a coated alcohol marker pad, there would be less grab with the art brush.
Price wise, I didn't find the reduction in Prismacolor Premier's cost to be worth the fact that they are replaceble, not refillable. I use alcohol based markers often in my illustration, and I want the ability to refill and replace nibs as necessary. I keep a stock of nibs and often used colors, so it's easy for me to top up a dry marker. If I relied more on Prismacolor markers, I'd either have to run to the store often for replacements, or stock up on markers I use often, generating a lot of waste.
I haven't seen too many markers with the art brush option available in person, so I'm not sure how hard they are to find in the wild. If you're interested in purchasing them, they're available on sites like Blick.com and Jerry's Artarama.
Sours: https://nattosoup.blogspot.com/2013/01/art-marker-showdown-copic-sketch-vs.html
Markers: a buying guide
The Best Markers
I've provided links below to the relevant products so that you can easily find them on Blick Art Materials, my favorite art supplier. If you make a purchase after clicking on one of these links, I'll receive a small commission (at no extra cost to you). Read my disclosure statement to learn more.
When buying art supplies I prefer to shop from Blick because you know you'll get authentic products from respected art brands. Buying from Amazon can sometimes be a mixed bag because many products are sold by third-party sellers who might sell imitation products of questionable quality or even counterfeit products disguised as name brands. Thankfully that's never a problem when buying from an established art supplier like Blick!
The Best Alcohol-Based Markers
My overall pick are the Copic Sketch Markers. As I mentioned, I have the complete set of 358 colors and I have been using them to create colored art for my books since 2014. Although they're among the most expensive markers you can buy, you can refill them and change out the nibs, so they'll last a lifetime.
You can often save money by buying them in sets. I acquired all 358 colors gradually over the course of 1-2 years - there's no need to rush and buy all of them at once (unless you can afford it and want to). I like that Copic Sketch Markers are double-ended, with the brush tip on one end and the chisel on the other. Read above to learn about how well they perform when it comes to coloring and blending. To learn more, check out my extensive review of Copic Markers.
My budget pick for professional-quality alcohol markers are the Blick Studio Brush Markers. They're very similar to Copics (they're refillable and the brush and chisel nibs can be replaced), but cost $3 less per marker than the Copic Sketch! I've tested them myself, and it's honestly hard to tell the difference! They can't compete with Copic Sketch's color range, but you still get 143 colors plus a colorless blender – more than enough.
For those of you on a tight budget who are keen to try out alcohol markers, Ohuhu alcohol brush markers (shown below) are my ultra-budget pick. They're even cheaper than Blick Studio Markers but I would hesitate to call them "professional-quality" because (at the time of this writing) they're not refillable, the nibs aren't replaceable (and tend to fray much more quickly than the pro-level markers) and they're only available in sets (whereas Blick and Copic Markers are available individually). However, for beginners and hobbyists looking for an introduction to alcohol markers, they're a great buy! Plus, Ohuhu is considering offering refills and selling their markers individually, so they are certainly a company to watch if those factors are important to you. Read my in-depth review of Ohuhu alcohol brush markers to find out if they're right for you!
Another excellent ultra-budget pick are Arrtx Markers (shown below), which are a good choice if you prefer the bullet/fine tip over the brush tip that comes with the other products mentioned above. Like the Ohuhu markers, they aren't refillable and the tips aren't replaceable, but they come with a handy carrying case with an individual slot for each marker. Read my detailed review of Arrtx Markers to learn more!
The Prismacolor Premier Double-Ended Art Markers have a lot going for them: reliable brand, huge range of colors (200 + blender), they're available in open stock, and they cost less than the Copics. However, they're not refillable and the nibs can't be changed out. They're double-ended, but only with the chisel & bullet or fine tips (no brush tips). I strongly favor the brush tip, but if you don't, these should be high on your list.
The Best Water-Based Markers
My overall pick are the Zig Art & Graphic Twin Markers. They're double-ended (brush and fine bullet tips) and offer an impressive 80 colors. The nibs can't be changed out and they're not refillable, but they're fairly cheap for being artist-quality (around $3 per marker) and even less if you purchase a set.
The product below is available on Amazon. As an Amazon Associate I earn from qualifying purchases.
My budget pick are the Akashiya Sai Watercolor Brush Pens. I don't know much about the brand and they only have a color range of 30, but I just had to recommend them because they've been a joy to use and they're cheap. I got the set of 20 because they were on sale, and I immediately loved the flexibility and smoothness of their brush tip. The color glides off the nib and their blending capabilities are amazing for the price. As I write, the 20-color set is around $20-30 and the 30-color set is $50.
I also recommend the Sakura Koi Coloring Brush Pens, but they lost out to the Zig markers because they offer fewer colors (48 vs 80). I also like the Tombow Dual Brush pens, but despite their superior color range (108 colors), they lost out because they didn't seem to blend as well and the brush tip was a bit stiff and as a result, tore nearly every paper I tried to blend them on. The Faber-Castell Pitt Artist Pens come from a reliable brand, and contain pigmented India ink (which is more lightfast), but I found that they didn't blend as well as I would have liked. I can see why they're popular with people who like hand-lettering though.
Sours: https://www.art-is-fun.com/markers
Tutorials prismacolor marker
PrismaColor Marker Tutorial V2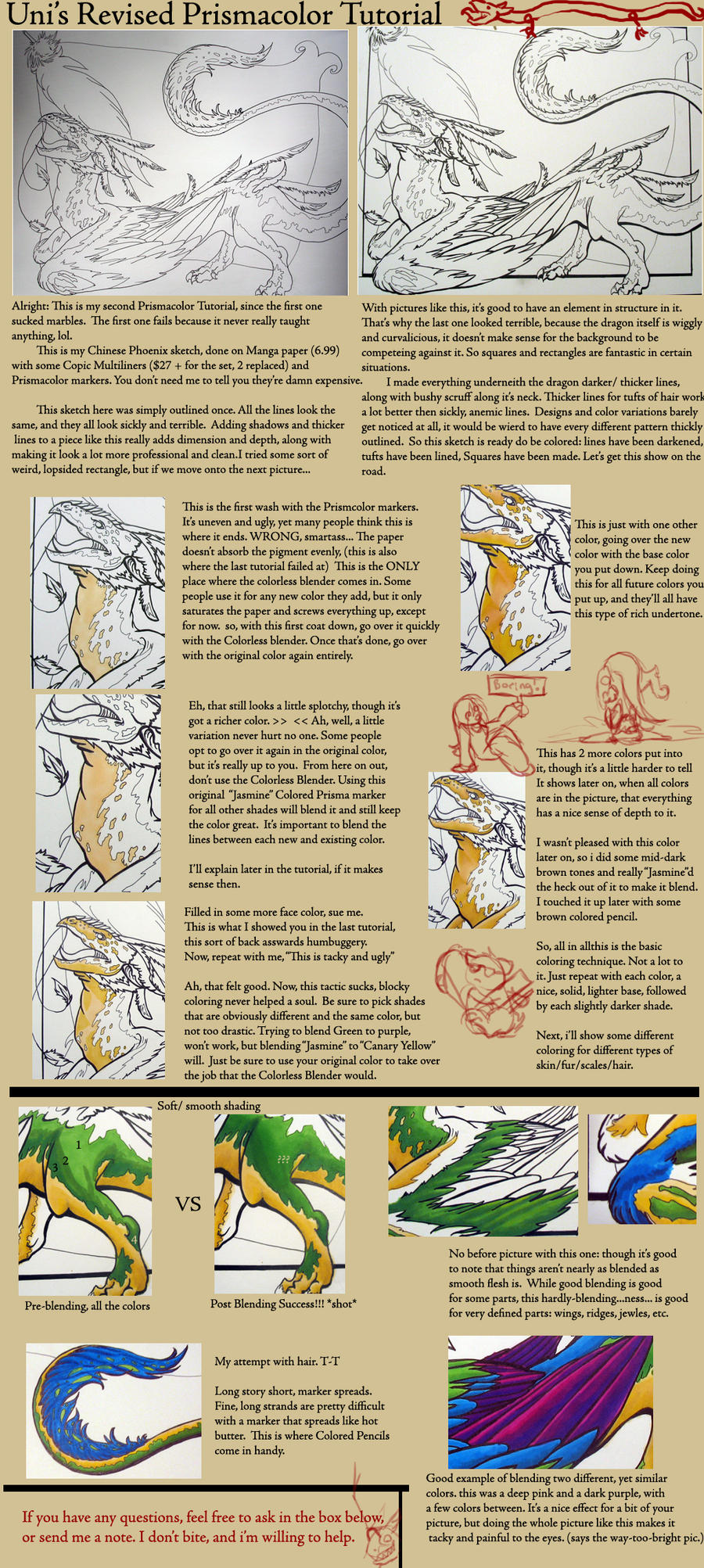 Deviation Actions

Published:
EDIT: MOVED TO
Oy. Updated tutorial. Unlike the last one, you might actually learn something from this one.
Maybe
I got ADD and doodled over the thing a bit too, lotza fun with that!

End Result: [link]

you seem to really have a thing against colorless blenders. lol. It seems most people don't know how to use em right (aka me) so they hope that even jsut a single tutorial will touch on it. thank gawd u did

Very helpful since just a few days ago I bought my first 24 set of prisma color markers to try out. Thanks for sharing this!

Im currently working on a pair of white canvas vans with prisma markers. do you have any helpful hints for me, for example...how to stop the ink from bleeding? thanx!!!

Van's are hard to say, canvas bleeds like no else. You may be better off using acrylics.

so in the end... do you like prismacolor or not? i want to get some... but... i need a few more comments. =___=" yeah

I do like prismacolor. Though i haven't tried copic or any other, so my opinion doesn't mean too much


Im confuddled wit the layer shading.... i've failed.... ;~;..... lol! liek how many other colors do u add and stuff... i dnt get it....

HELP!


The original tutorial? Oh man, just pretty much put "USE MARKERS TO COLOR" on the paper, and you have the learned equivalent right there.

i wanna see it anyway XD but it looks like you removed it XD lol XD i dunno how to use markers anyway, but ima go find some (prolly from walmart) and attempt!

You gotta start the addiction young

, they're not too expensive on your account if you buy them in small bunches


XD
I've been addicted to drawing since I can remember. @
[email protected]
I'm just not very good at it....haha I need to practice more often.
If you don't mind me asking, where can I get some?


Usually.... its easier to find them at a ART store, like .... Blicks which seems to thrive more around the michigan are.... rofl but ships nationally for the most part, of what i know that is. <<;;
Sours: https://www.deviantart.com/unibomber703/art/PrismaColor-Marker-Tutorial-V2-62531375
Jimmee's Prismacolor Marker Tutorial 1
" "With a very large clitoris. " "Well, I decided to imagine that it would be like a strap-on. To be honest, I always liked you better. But. you are so hairy.
You will also be interested:
He liked the long exercises, trips, maneuvers, after which a bathhouse was necessarily arranged. And there: there you could see everything you could dream of. Young hussars, their slender figures, butts-nucleoli, military weapons, and mischievous smiles; broad shoulders, narrow hips and a lush mustache can be enumerated for a long time, which Pyotr.
18690
18691
18692
18693
18694