About Us
Kind Words From Our Customers
Angelica from Red Bank NJ
the Toro Family from Manasquan, NJ
Angelica from Red Bank NJ
Karen, of Jersey Jet Boats made my first time boat purchase a pleasure. She spent time educating me on the Scarab models & features. I got a fair price & an awesome boat! Karen offers plenty of personalized customer service such as boat delivery, maintenance, conceirge-level boat services, availability for questions, etc. I highly recommend buying from Karen at Jersey Jet Boats as she is passionate about Scarab boats & will be available for your entire boat buying journey. #scarablife #girlscanbuyboats
Shane from Toms River NJ
the Toro Family from Manasquan, NJ
Angelica from Red Bank NJ
I recently switched my service work to JerseyJet boats. The level of professionalism and pride in their work is amazing. I have learned a lot about my Scarab Jet boat and Karen's level of knowledge about these boats is second to none. She understands the mechanics, the engineering, and the sales. She and her husband invest time in learning from the manufacturer and taking what they learn and translating to help their customers. They were able to resolve a repeat issue I had with my underwater light from my previous dealer as well as several other items that were not getting resolved. My boat is better as a result of their work, and I would highly recommend them if you are serious about owning or servicing a Scarab Jet boat.
the Toro Family from Manasquan, NJ
the Toro Family from Manasquan, NJ
the Toro Family from Manasquan, NJ
Karen at Jersey Jet Boat absolutely saved me on a very busy 4th of July! I ran into a issue with my 195HOI Scarab. I texted her and 2 minutes later she called me. She gave several tips and ideas on a quick fix, she could've told me to just bring the boat in and charged me hundreds! But her customer service and kindness kicked in! I did what she said and I was back on the water in a day! JERSEY JET BOAT ROCKS! They saved the day! With out her my boat would be sitting at a dealership for weeks! 100% recommend!
Walter from Toms River, NJ
Walter from Toms River, NJ
the Toro Family from Manasquan, NJ
Hey everyone this is my review of Jersey Jet Boats. Very good service, I have had my scarab 195 in for winterizing and service and everything was done great. Karen is very caring about her customers and goes the extra mile to help out. She has the Scarab line on display and knows her craft. See Karen if you go its easily located on rt 37 east Toms River NJ, in Horizon Marina. Check out the scarab line. I have a 195 HO Impulse, beautiful boat, these boats are head turners and get a lot of attention.
Frank from Sayreville, NJ
Walter from Toms River, NJ
Frank from Sayreville, NJ
Jersey Jet Boat's is excellent, I did not have the pleasure of buying my boat from this dealership but I did come in today for my service and they welcomed me with open arms. They gave me fast friendly professional service and did not leave me waiting around. They treated me like a customer who bought their boat there. Nothing but a great experience highly recommend this dealership to anybody looking to purchase a jet boat or have their existing jet boat serviced.
Art from Mt Laurel NJ
Walter from Toms River, NJ
Frank from Sayreville, NJ
The sale of my new Scarab Jet Boat went wonderfully. The boat and trailer were in perfect condition. Karen works very hard to accommodate and satisfy her customers. She takes time to review all the boat's operations and truly cares that her customers are satisfied. It was a pleasure doing business with her. My Angie's List rating follows: Price: A Responsiveness: A Quality: A Punctuality: A Professionalism: A Overall rating: A
Sours: https://jerseyjetboats.com/about-us
Scarab Jet Boats
Miami International Boat Show Innovation Award 2016
Scarab Boats have intelligent neutral and reverse (iNR) technology allowing you to shift effortlessly. Typical jet propulsion boats use levers and cables to engage the reverse gate requiring too much elbow grease. INR is fully an electronic system that engages swiftly and accurately every time. Which also allows you to fine tune the gate allowing your boat to be completely neutral. Docking a boat has never been so easy! INR combines neutral positioning and lateral thrust control for low speed handling that is unheard of! Scarab also offers an optional Touch Screen Command center with includes; your engines operating information, shift indicator, mph, rpm, engine hours, fuel capacity, ski cruising, and docking profile.
Scarab's design team carefully considers and hand picks every component that goes into the boat. They use some of the highest quality hand crafted interior materials and stitching, stainless steel hardware and opulent comfort throughout. Scarab also uses precious metals that provides strength, durability, and beautiful stainless steel hardware that is extremely low maintenance! Scarab also offers innovative features such as: a closed loop engine cooling system, a drive shaft sleeve and lateral thrust control that delivers a quicker reverse.
Click here to check out our Scarab Jet Boat Inventory!
Click here to learn more about Scarab Jet Boats!

Sours: https://www.pacificmarinecenter.com/scarab-jet-boats
We Specialize In Outdoors
We are one of the largest full powersports dealers in Northern California. Specializing in all Can-Am®, Sea-Doo®, Scarab Jet Boats, and Tracker Off-Road products, our experts will help you find your dream vehicle when it comes to choosing the perfect ATV, UTV, or PWC.
Our finance department excels in obtaining competitive power sport loans, and our Sales department is set to get you equipped for recreational riding and competition alike.
An industry leader, Ride On Powersports is home to the Can-Am®ATV and SSV lines as well as Sea-Doo®, Scarab Jet Boats, and Track Off-Road ATV and SSV. We are located right off I-80 in Dixon, CA- a brand new showroom, a shop full of accessories and OEM parts department, and a full service & warranty department. We are the ultimate in convenience for the greater Sacramento and Solano County riding community!
A culture of customer-centered thinking has led our sister store Gone Fishin' to rank in Boating Industry's Top 100 Dealers for several years running, and we aim to follow suit at Ride On Dixon. Company President Mark Blanton and the rest of the staff are avid outdoor enthusiasts. We all understand the importance of putting our best foot forward with superior quality products and quality.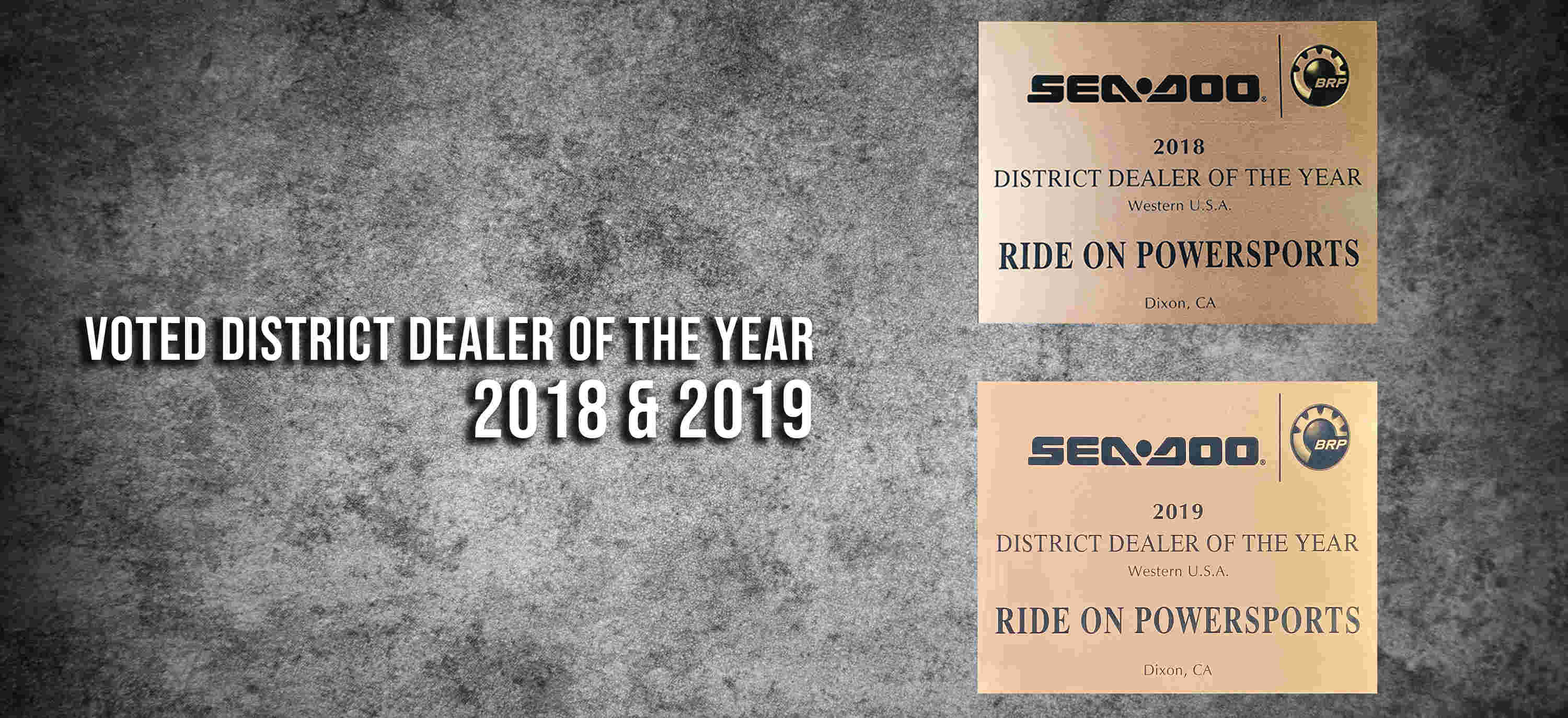 Ride On Powersports is conveniently located near the areas of Davis, Sacramento, Woodland, Napa and San Jose.
Sours: https://www.rideondixon.com/learn-more-about-us--info
Michigan has tens of thousands of lakes and a boat company that places lots of good looking boats. Rec Boat Holdings in Cadillac builds everything from fishing boats to cabin cruisers.
"it is a great place to work. As we always say: We are building enjoyable," said Joe Perrin, the lamination manager.
People who live and breath boats are knowledgeable about the name Four Winns. But in the exact same mill the company builds three others traces. There's something for every budget.
"We construct Wellcraft which was previously built in Florida. Glastron is built by us. Four Winns remains here and now we have a new brand Scarab jet boats," said Kelly Cater, Rec Boats Holdings human resources director.
Each of the boats built in Cadillac at RBH are fiberglass and range from 16 to 47 ft.
"The smaller merchandise operates anywhere from $17,000 and obviously the large end big cruiser merchandise can run around half a million dollars," said Cater.
There are just over 450 employees in the Cadillac area. They're pleased to inform you that all the work required build a boat is done.
The job climate must be helpful. Employees have a normal seniority of 14 years.
"I've been doing this since'84. So, absolutely thrilled. It's a wonderful place to operate. It's fun," said worker Dave Boersma.
The workers take a lot of pride in knowing their Produced are found in 52 countries around the globe.
"Quite happy. Russia, China, we ship them everywhere," said Barry Smith, a motor builder.
"A number of our big cruisers go to Dubai," said worker Wally Sampson.
A test facility on Lake Cadillac operates. That where employees may enjoy a fringe benefit.
"We have an employee ship use application. So not only can they assemble the item but they get to go out and ride the product they build," Cater said.
Other states have come calling at RBH, trying to lure the company to transfer operations.
"It is our workforce which keeps us ," Cater said.
When you're located in a state with among the maximum boat registrations in the country, why go anywhere?
'It is an extremely exciting business and it's a real fun business," Cater said.
Sours: https://www.wavetechpowersports.com/where-are-scarab-jet-boats-made
Boat dealers jet scarab
Scarab has been a huge dissapointment
That's a bummer to hear ScarabMike. Even major brands who have been in the game for a while (aka Subaru and Lotus in my case) can make your ownership experience a nightmare. I can tell you horror stories for both. Heck, even massively popular, JD Power Reliability top ranked Lexus has been telling a large population of their customers and enthusiasts to go piss up a rope in regards to their alignment and camber issues. Sometimes some of us are just dealt a sh*t deck, then pile on a terrible dealer experience and it just poisons your outlook from that point forward. I feel you, I've been there. It's infuriating.
That said, if there's any recent or potential buyers out there reading this and beginning to panic, step back, take a breath, do some further research. Like Jubin above, other than some minor fit and finish issues, I've had a positive experience and am happy with the boat. Fingers crossed though, I am only at 27 hours, one season in, so time will tell.
In my opinion, a forum can easily portray exceptions as the rule as most people (Like myself) tend to only come and post on a forum to vent and find solutions to their problems. I wouldn't think there's a lot of us out there that come to a forum just to brag about how awesome and flawless their boat is. Just my 2 cents
Sours: https://jetboaters.net/threads/scarab-has-been-a-huge-dissapointment.7422/page-2
Scarab 165 ID Walk-Through
Scarab boats for sale
Scarab boats on Boat Trader
Scarab is a boat builder in the marine industry that offers boats for sale spanning different sizes on Boat Trader, with the smallest current boat listed at 16 feet in length, to the longest vessel measuring in at 35 feet, and an average length of 20.99 feet. Boat Trader currently has 179 Scarab boats for sale, including 88 new vessels and 91 used boats listed by both individuals and professional yacht brokers and boat dealerships mainly in United States. The oldest model listed is a late classic boat built in 1980 and the newest model year was built in 2022.
How much do Scarab boats cost?
Scarab boats for sale on Boat Trader are listed for an assortment of prices, valued from $19,605 on the moderate end all the way up to $161,522 for the most luxurious yachts. Higher performance models now listed are rigged with motors up to 787 horsepower, while affordable more functional models may have as modest as 150 horsepower engines (although the average engine size is 300 HP).
What kind of boats does Scarab build?
Of the boats listed, Scarab offers familiar boat hull types and designs including modified vee, deep vee and other. These vessels are frequently considered suitable for traditional boating activities like day cruising, watersports, saltwater fishing, freshwater fishing and overnight cruising. The boats available here currently from this builder come with inboard, inboard/outboard, outboard, V-drive and other propulsion systems, available in gas, LPG and other fuel systems.
Why are Scarab boats popular?
Scarab is popular for their Jet, Bowrider, High Performance, Center Console and Ski and Wakeboard among other classes and models. Overall these available boats have a medium-depth draft and average beam, traits that make them an ideal choice for day cruising, watersports, saltwater fishing, freshwater fishing and overnight cruising. Given their classic, crowd-pleasing status as a popular, established boat brand, used Scarab boats in good condition often make great candidates for boat repowering projects.
What is the best Scarab model?
Some of the most popular Scarab models at present include: 165 ID, 215 ID, 195 ID, 255 ID and 285 ID.
Sours: https://www.boattrader.com/boats/make-scarab/
You will also like:
The bathroom has wide edges. you can sit and lie on them. Holding Ima under her back, I lower my lips to her vagina. The tongue runs over it as gently as I can control it.
12560
12561
12562
12563
12564