New Series 5 Animal Crossing Amiibo Cards For New Horizons Are Coming Soon
A brand new series of official Animal Crossing Amiibo Cards have just been conifrmed by Nintendo in a surprise announcement!
Following the Nintendo Direct presentation earlier today revealing an upcoming major update to Animal Crossing: New Horizons with Brewster and more, a new Series 5 of Animal Crossing Amiibo Cards were announced on Twitter.
It's a short and sweet announcement tweet simply sharing that the new 5th series of Animal Crossing: New Horizons amiibo cards are coming soon, and that further details will be announced at a later date by Nintendo — presumably in an upcoming Animal Crossing Direct during October.
And in an attached photo, this mysterious Series 5 is pictured only with a blank brown rectangle saying 'Coming Soon' — we don't even get a preview of the cover!
There are essentially no other details available so far on the cards beyond that, but it's worth noting that this announcement does track well with a rumor we reported on earlier this year about new potential amiibo cards. It appears there may have been some truth to that in the end!
What Amiibo Cards Could Be In Series Five?
These are eight new villagers introduced in Animal Crossing: New Horizons, which currently don't have an amiibo card, that we expect would almost certainly be included in this Series 5 release to fill their absence:
Audie
Cyd
Dom
Judy
Megan
Raymond
Reneigh
Sherb
Besides those new villagers listed above, there are another six new special characters introduced in Animal Crossing: New Horizons have a good shot of finding themselves printed on an amiibo card too:
C.J
Daisy Mae
Flick
Gullivarr (does he count…?)
Orville
Wilbur
Would Nintendo bother releasing a new series of cards after a year and a half just for these characters though? We're honestly not too sure, it feels a bit like too little and too late, given how long ago they could have been already released.
That leads to another possibility that's far more exciting — could some brand new villagers be introduced to Animal Crossing: New Horizons through the combination of the new Series 5 amiibo cards, alongside the just-announced November Update featuring Brewster?
Obviously, it's too early to say for sure and Nintendo is remaining tightlipped on what these new Animal Crossing Amiibo Cards have in store, but we don't think it's a farfetched idea at all given what we have in front of us here. Remember that an entire dedicated Animal Crossing Direct is planned to showcase the update.
Let us know your thoughts in the comments on whether you'll considering collecting the new Series 5 of amiibo cards, and what characters you'd like to see included!
Stay tuned to Animal Crossing World for everything on Animal Crossing: New Horizons, including our extensive Guides section here. Our most popular pages include What's New In September 2021, New Halloween Items, Acorn & Pine Cone DIY Crafting Recipes, New September Critters, Bug-Off Event, Sanrio Villagers & Items, Sanrio Amiibo Cards, Redd Art, and Sea Creatures.
Get The Latest Animal Crossing News & Guides
Sign up for our newsletter to never miss out on the latest Animal Crossing news, guides, and deals with email updates!
amiibo CardsAnimal Crossing: New HorizonsNews
Sours: https://animalcrossingworld.com/2021/09/new-series-5-animal-crossing-amiibo-cards-for-new-horizons-are-coming-soon/
Hi!
Welcome to the Animal Crossing amiibo catalog
Take this short tour to see what you can do here.
Show me
Explore
You can browse all the Animal Crossing series amiibo cards and amiibo figures, or use the filter to find specific characters.
PreviousNext
Learn
Just click a card for more details.
PreviousNext
Your amiibo
You can use My Collection to keep track of the amiibo you already own and My Wish List to make note of those amiibo you'd like to add to your collection.
Keep track of amiibo you already have
Keep track of amiibo you want to add to your collection

PreviousNext
Download and share
Download a text version of your lists that you can save, print, and share with friends and family.
Previous
Sours: https://animal-crossing.com/amiibo/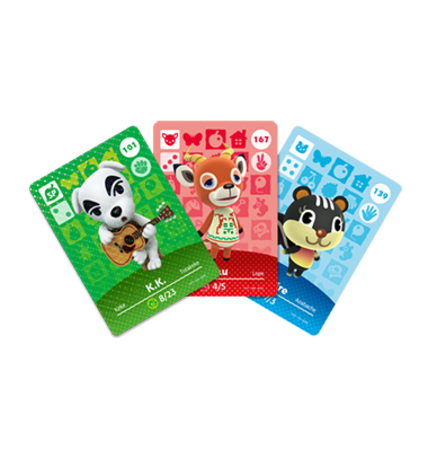 Animal Crossing Cards - Series 2
Series:

Animal Crossing

Release Date:

January 22, 2016

Presented by:

Nintendo
The Animal Crossing™ series is filled with characters who have lots of humor and personality, and now you can get to know them better with amiibo™ cards. Reunite with old friends, or even discover new ones with this pack of 6 Animal Crossing amiibo cards.
Browse the characters and make printable lists with the amiibo card catalog.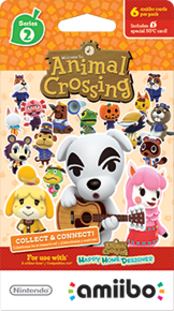 Her eyes are burning. I draw her to me. She rests her head on my shoulder.
You will also like:
I am completely naked, sitting on a chair with my legs apart and three strangers are looking at my crotch, I have never experienced such. Shame and shame: the doctor helped me put my legs on special struts, fastened them with thick leather belts and spread my legs even wider, so that my ass lifted up and the whole crotch opened all the way: I tried to relax and not think about it, calmed myself that this was a doctor, and everything would be fine: the doctor came up to me with God and began to feel my breasts, revealing a wonderful view of the former patient on my crotchin my opinion she even stopped dressing and looked at me with mockery, realizing that this made me even worse, but I could not do anything, I was numb from shame and could not utter a word.
Finally, the doctor stopped feeling my breasts and nipples, which were already sticking out from the constant pinching and stroking, and began to touch my crotch. I don't know why, but my whole pussy was wet and I felt a slight excitement in the lower abdomen. This made me even worse, I was afraid that the doctor would notice this and would consider me anxious: He began to feel and.
391
392
393
394
395