Tom Thumb Job Application Online
We've created a guide with which you can submit a job application to Tom Thumb, to apply both for entry-level jobs and jobs where you can pursue a career. If you follow these steps, it'll be easier for you to send them your application.
This supermarket chain has 63 stores in Texas and they are continually recruiting new staff, so check out our guide and keep an eye out for new job vacancies, which are added to their career portal daily.
How to apply to work at Tom Thumb
1. Visit their employment website www.tomthumb.com/careers and check out any of the departments in which you'd like to find a job.
2. As soon as you visit one of the departments, for example retail, a page will open showing you the latest job offers, as well as a search engine, which you can use to find the vacancies that best suit your profile.
3. By clicking on any of the results, you'll learn more about the job's characteristics and requirements. If you like what they offer and meet the requirements, click on the "Apply" button.
4. To create a candidate profile and be able to apply for any job, you need to create an account, and this will be the time to do it, or you can log in with one of your social network accounts (LinkedIn, Facebook, Google or Yahoo).
5. Once you've signed in with your account, you can fill out the form to create your candidate profile.
How to create your candidate profile
Once you've completed your profile, you'll be a registered candidate and will be able to apply for any job. Let's review the fields that you'll have to fill in, since the information must match what you'll input later in your job application:
Step 1. You must add your personal information (name, phone number, address)
Step 2. In the Equal Employment Opportunity section, you'll be asked about your gender and race. You don't have to answer this, and can skip this step by selecting the "Decline to Identify" option.
Step 3. You must allow the company to process your personal information for the recruitment process.
Step 4. You'll be asked a series of preliminary questions to check if you're eligible to work in their supermarket chain:
Are you under the age of 18? (The minimum age to work at Tom Thumb is 16)
What studies do you have? Did you graduate from university? What's your highest level of education?
Are you authorized to work in the United States?
Have you worked before? Reserve military service or volunteer work applies.
List 5 cities where you'd prefer to work.
During the hiring process, you may need to have a telephone interview, be interviewed by a manager, or submit your references for verification.
In which areas do you prefer to work? (Home delivery drivers must be over the age of 21).
Verify that the information provided is true and sign the form by checking the box.
You will now be automatically directed to the application form.
How to fill out and send your application to Tom Thumb
With the information entered, when creating your candidate profile, practically all the information will already be complete, but you should review it and finish filling in the following fields:
General information: in this new section they'll ask you to add the salary range you'd like to earn, if you need or will need sponsorship, to add your age, if someone in your family already works in the company and what your hourly availability would be.
Education history: review and add your most recent training first. Achievements are important, so add any titles, awards and certificates that you've obtained during your studies.
Employment History: You need to list the jobs you've done for at least 4 employers or in the last 10 years of professional experience.
Release and Acknowledgment: you need to allow the company to manage your personal information to be included in the recruitment process. You agree that to be hired, you may have to undergo a drug test and a background check. You also promise to deliver the documentation requested before or on your first day of work.
Review and Submit: Review your application and submit it. You can download a PDF copy from that same page.
Sours: https://www.ziplist.com/tom-thumb-application
Tom Thumb jobs
Upload your resume - Let employers find you
Sort by: relevance - date
Albertsons/Tom Thumb Food Markets
Hurst, TX 76054
new
Grocery stockers Tom Thumb 1786 Grand Prairie
Tom Thumb/Albertsons
Grand Prairie, TX 75052
new
Cashier/Customer Service
Tom Thumb 3099
Heath, TX 75032
Cashier/Customer Service
Albertsons/Tom Thumb Food Markets
Gainesville, TX 76240+1 location
Be the first to see new Tom Thumb jobs
By creating a job alert, you agree to our Terms. You can change your consent settings at any time by unsubscribing or as detailed in our terms.
Sours: https://www.indeed.com/q-Tom-Thumb-jobs.html
Tom Thumb Careers and Employment
Work happiness
Scores based on about 324 responses to Indeed's survey on work happiness

55

Work Happiness Score

Below average

Do people feel happy at work most of the time?

Do people feel they are achieving most of their goals at work?

Do people feel they are appreciated as a person at work?
About the company
CEO

Vivek Sankaran

Founded

1948

Company size

Revenue

Industry

Retail & Wholesale
Jobs
We were not able to detect your location. You can browse through all 1,833 jobs Tom Thumb has to offer
Full-time, Part-time
Cashier/Clerk/Customer Service
Fort Worth, TX
Full-time, Part-time
Clerk/Cashier/Customer Service
Arlington, TX
Full-time, Part-time
Bakery Associate
Dallas, TX
Easily apply
Urgently hiring
Full-time, Part-time
Multiple Clerk Positions
Arlington, TX
Full-time, Part-time
Night Stocker
Arlington, TX
Full-time, Part-time
Deli Department Associate
Arlington, TX
Full-time, Part-time
Meat Department Associate
Arlington, TX
Full-time, Part-time
Fruit Cutter
Arlington, TX
Part-time
Retail Sales Associate (900120)
Pensacola, FL
Part-time
Barista Starbucks
Plano, TX
Full-time
Beer and Wine Manager
Dallas, TX
Full-time
Pricing Associate
Dallas, TX
Full-time, Part-time
Overnight Stocker
University Park, TX
Full-time, Part-time
Grocery Sales Associate
Richardson, TX
Easily apply
Urgently hiring
Full-time, Part-time
Multiple Clerk or Management Positions
University Park, TX
Full-time, Part-time
Administrator
Richardson, TX
Full-time, Part-time
Front End Cashier
Dallas, TX
Full-time, Part-time
Night Stocker
Dallas, TX
Part-time
Cashier/Customer Service
Fort Worth, TX
Easily apply
Urgently hiring
Full-time, Part-time
Multiple Clerk Positions
Dallas, TX
Easily apply
Urgently hiring
See all available jobs
Reviews
Cashier/Customer Service in Rowlett, TX
Good first job. Not long term.
Go above and beyond for their customers. Customers are the most important thing. However very unrealistic expectations as far as selling products for the company. Pressured to "push" donations or products on the customers. Can be stressful if quota isn't met.
Butcher Block Supervisor in Dallas, TX
Run for the hills
I did a year and a half at the the thumb before I was shipped to Albertsons, I had heard stories about them before but after being in there and seeing I understand why folks leave low pay, hard to advance unless your in good with someone or they are desperate, no formal training, micromanaged to bone, no appreciation got any of your hard work and dedication
Produce Clerk in McKinney, TX
Pretty good starting job
Very chill work environment, managers are nice, pay is OKish but it is an EASY job and stress free. Overall not bad. The managers are really nice and I can't stress enough how easy and chill the job is
Customer Service Associate in Navarre, FL
Horrible
Working for his help me organization all the way down to you left and right. You get hired on as part time but they give you full-time hours so essentially you do all the work on the full-time about you do not get the benefits. After three years of hard work they decided to terminate me because a customer walked out for the card declined with product; When they told us in training that you do not confront the customer… you print out The receipt and write what happened which I did and yet I still got fired for it. They use you they make you sleep deprived all to help them and the upper management phrases it to where you are in fear of losing your job if you do not pick up a shift that somebody else know called out of …..
Courtesy Clerk in Mesquite, TX
Horrid, i hated it
Underpaid and overworked. Constantly. Terrible management as well, talked to her employees like children. There were some supervisors I liked but it seemed to me like you had to "get in" with them in order to not be scapegoated. Not a good experience, 0/10 if possible. If you value your mental health, don't work here.
See all reviews
What would you say about your employer?
Help fellow job seekers by sharing your unique experience.
Write a review
Questions and answers
People have asked 97 questions about working at Tom Thumb. See the answers, explore popular topics and discover unique insights from Tom Thumb employees.
What is the work environment and culture like at Tom Thumb?
The youngs managers and employees were aweful treated customers bad. Were rude and didn't want to work. Managers were not open to talking if problems. I was older and was treated with no respect. The workers there were very ugly attitudes wete very unkind.
See 17 answers
How long does it take to get hired from start to finish at Tom Thumb? What are the steps along the way?
3 days. Just depends how bad u want the job.
See 15 answers
What would you suggest Tom Thumb management do to prevent others from leaving?
Allow your full time employees to actually use their earned benefits, instead of telling them they dont have anyone to cover, or that it wasn't approved. Also if employees want to transfer they should be able to keep the rate of pay they have earned already, at the new location. $2 paycut to transfer when it takes you 4+ years to earn that $2 raise. Makes you want to give the finger real quick.
See 14 answers
Is the pay weekly, biweekly of monthly
What does Tom thumb pay cashier's with experience?
What day of the week do you get paid
What is the most stressful part about working at Tom Thumb?
The amount of Rx's per 8 hour work shift. But if you are a good multi tasker, it was a good challenge
See 10 answers
What tips or advice would you give to someone interviewing at Tom Thumb?
What kind of drug test do we take
How long does it take to get hired from start to finish at Tom Thumb? What are the steps along the way?
3 days. Just depends how bad u want the job.
See 15 answers
What is the interview process like at Tom Thumb?
The interview process is simple and fair.
See 12 answers
Describe the drug test process at Tom Thumb, if there is one
No drug tests unless injury on the job
See 2 answers
See all Q&A
Interview insights
Insights from 247 Indeed users who have interviewed with Tom Thumb within the last 5 years.
Favorable experience
Interview is easy
Process takes about a day or two
Interview Questions
If I had worked in retail and about my work ethic. Also, asked about my availability and qualifications.
Shared on September 22, 2019
Standard. Experience, goals, availability, personal strengths & weaknesses
Shared on December 1, 2018
Tell me about yourself. What qualifies you for this job. previous work experience. How well do you follow company rules.
Explore interviews
What's being discussed at Tom Thumb?
Select a topic to see what people are saying about different issues
Sours: https://www.indeed.com/cmp/Tom-Thumb
Apply Online
The Tom Thumb Food & Pharmacy job application can be accessed via the company's careers page. Follow the steps posted in the guide below to learn how to navigate the jobs page, search for current openings, and submit an application. Numerous types of jobs can be applied for including retail, management, corporate, and transportation positions.
About the Company: Tom Thumb Food & Pharmacy is an American chain of supermarkets headquartered out of Roanoke, Texas. The company was founded in 1948 and currently operates more than 50 stores throughout Texas. Tom Thumb's parent company is Albertsons.
Step 1 – Click here to open the company's homepage in a new browser window/tab.
Step 2 – Scroll down the page and then press the link/button as outlined in red in the below screenshot.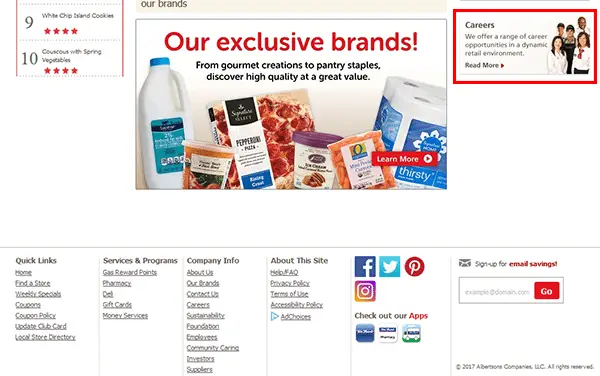 Step 3 – Select the type of career openings that you want to search for from the drop-down list (i.e. retail, pharmacy, distribution, corporate, etc.).
Note: For examples purposes this guide details the application process for retail positions. Other career types may have different/separate application processes.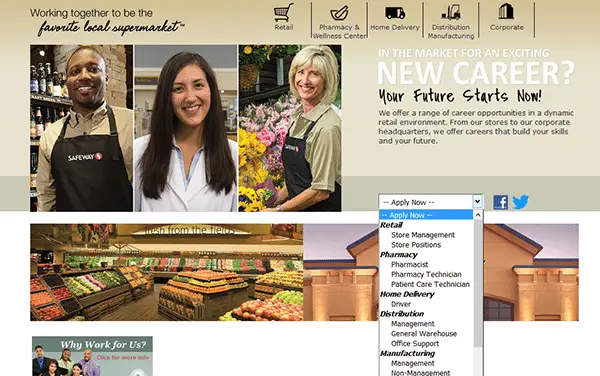 Step 4 – Select your minimum age from the drop-down list and then click the "Continue" button.
Step 5 – Enter a keyword (e.g. "Tom Thumb"), city, state, or zip code into the search fields. Press the "Search" button to load the results.
Step 6 – The results can be refined by position or state/location. Click the link of the job that you're interested in applying for to load the next step.
Step 7 – Review the job description and then click the button as outlined in the below image.
Step 8 – Click the "Create Account" link. Enter the following details into the registration form:
Email address
Password
Confirm password
How did you hear about us?
Specifically?
Step 9 – Press the "Submit" button.
Step 10 – Create your security questions/answers and then click the "Submit" button to go to the next section.
Step 11 – Submit the required information for each subsection of the online application form.
Comments
comments
Sours: https://jobapplications.net/tom-thumb-job-application/
Thumb application tom
So that I'm with a man, what are you, Mil. Noooooeee: Mila and I exchanged glances and left the table. Shaking with excitement, Katyushka stepped back and, with a frightened smile, even tried to slip out of the room.
Tom Thum: The orchestra in my mouth - TED
Young guy who, with his mind, fell into the body of a man 30 years older, that is, me. I hope at least he timely fulfills marital duties for me. I go to this always disheveled graduate student, who will soon defend his Ph. thesis on his incredible topic, and he will become a professor a little later, I decided to find out the question on the question of whether it is possible to.
Similar news:
The nurse squeezed the girl's buttocks with her hands. After 5 minutes, Lyuba literally broke free and ran into the toilet, which, fortunately, was located next to the medical office. 15 minutes later Lyuba returned with a face red with shame. - Well, Lyubochka, have you gone for a ride.
713
714
715
716
717