Home » Animal Cake Photos and Ideas » Horse Cake Ideas
Take a look at these cool homemade Horse birthday cakes shared with us by bakers from around the world. If you end up with a cool cake, or already have some cool cake photos and tips to share, send them over via this form.
Latest Horse Cakes
Coolest Homemade TY Teddy and Horse Stable Cake

I made this cake for my daughter who loves horses and has a huge collection of ty teddies. I started … Read more

Awesome Homemade Horse Head Cake

I had a dear friend loved appaloosa horses she had one like this. So for her birthday I surprised  her. … Read more

Awesome Pony Head Cake

The thought of making a pony head cake was a little daunting for me! When I was asked to make … Read more

Feeling a Little Horse

So with the horse mask craze going around at the office, the inspiration was born for this cake.  I asked … Read more

Coolest 6th Birthday Pony Cake

My friend gave me a couple days notice to make her daughter a 6th birthday cake! She wanted it quite … Read more

Coolest Horse Pull Apart Cupcake

It was my niece's 6th birthday and my sister asked me to make something for her horse party.  It was … Read more

Coolest Horse Birthday Cake Ever

This is my first horse fondant cake. I used oval pans to make the body and did a little sculpting … Read more

Summers Day Rainbow Horsey Cake

For the last few years I've let my daughter pick out any theme she wants  for her birthday cake and … Read more

Gorgeous Homemade My Little Pony Cake for 5 Year Old

Rainbow cake inside with Italian meringue buttercream and marshmallow fondant. Pony made out of modeling chocolate which I had to … Read more

Coolest Horse Cake

Thanks so much for the pony cake ideas! I cheated a little bit with my daughter's 6th pony party birthday … Read more

Coolest Mule Cake

I made this Mule Cake cake for my grandfather's 90th birthday celebration as requested by my father. This is the … Read more

Coolest Horse Birthday Cake Idea

This Horse Birthday Cake Idea was made for a friend's daughter's second birthday. We began with a vanilla slab cake … Read more
---
---
Featured Horse Cakes
12 Cool Horse Cakes
The idea for this cake obviously was this site for horse cakes. (Thank you to everyone who shares- you're all great!) I only made a couple small changes to personalize it. For the ears I cut out two triangles and using frosting and toothpicks attached them to give it a 3-d effect. I used long string licorice and braided the pieces together. Read more »
---
12 Cool DIY Horse Cake Ideas
I made this horse cake for my daughter's birthday. She recently started competing in a local rodeo and loves her horse. I used a 1/4 yellow sheet cake and carved out the horse shape with a sculpting knife. Then, I iced the cake with butter crème icing and used a grass tip and chocolate butter crème for the horse's mane. I used a black jelly bean for his eye and used an air brush for the horse's coloring. Read more »
---
Our Horse Sissy had a baby this past year that we named Crackerjack. So my son Tim wanted a pony horse cake for his 8th birthday. I loved these horse cake ideas, so I followed the horse #2 cake pattern. For a pony, however, I shortened the snout and the mane.
The only other difference was I left the licorice as it was for a more rope look and I had another "reign" coming from under the horse. Oh yes, my son isn't a big cake eater, so I made this 'horse cake' out of brownies!
My son was delighted! He couldn't believe his mommy could make something like that, and I couldn't believe how easy it was! Thanks coolest-birthday-cakes!
Cake by Cristina Ward, Magna, UT
For this cake, I cut a basic arch shape out of a partially frozen sheet cake. I used chocolate frosting for the face and neck. I iced the nose a bit thicker and put a little dent in the frosting for the nostril.
After icing the inside of the ear, I mixed the remaining white icing with coconut to give it a hair texture. I used a zipper bag with the corner clipped off to form the mane. The reins are made with Bubble Tape. The eye is just a plastic craft item.
Cake by Gayle L., Glen Arm, MD
For my son, Ethan's, fourth birthday, he wanted a horse cake. So this is what I created.
I baked a cake in a two-quart Pyrex bowl, and in two 10-ounce Pyrex bowls. After leveling the large cake and one of the small cakes, I trimmed part of the small cake to fit snugly against the large cake to form the head and nose. For the neck, I used the second small cake, and trimmed it until I thought it looked like a neck.
The icing was just a milk chocolate canned frosting. For the ears, I cut a sugar cookie into two crescent shapes, and iced them with milk chocolate icing as well.
I used black frosting in a tube and more chocolate icing to make the mane and tuft of hair. After "drawing" strands of hair, I ran a toothpick through, mixing the black and chocolate icings. The eye was a black jelly bean outlined with the black frosting.
Our little cowboy was very pleased with his horse cake!
Cake by Aubree S., Bixby, OK
This horse cake is done using a 9×13 made with a vanilla cake mix. Cut triangle out from the neck and use for the ear. Cut slant off of nose. I iced the cake with chocolate and accented mane with khaki (white with a little brown added). The reins are braided red licorice, and the nostril is a black jelly bean. The eye is a vanilla wafer with white icing and a black jelly bean.
This horse cake is very easy and VERY popular with your cowboy or cowgirl.
Cake by Sarah R., Papamoa, New Zealand
I made this cake for my boy's first birthday, we had made him a rocking horse for his present so the whole party was a 'horse' theme.
I baked two round chocolate cakes in mixing bowls, the smaller one obviously cooked a lot faster. I cut a little space out of the larger one to sit the small one into it, and used that cut out for the ears. The large round cake became the head and the small round cake the nose.
I iced over the whole thing with butter icing and when that was set did the dark chocolate icing to make it look how I wanted.
The eye of this horse cake is a piece of black licorice strap cut to shape, then a green pebble, then a blue mini m&m. These are held together with a little icing. The mouth and nose are licorice cut to shape. The "green grass" all around the horse cake is green jelly crystals mixed with coconut and a little water. This came out great, really 'fluffy'.
Just before the party my sister brought the little plastic horses, so I sat these 'in the grass' around the number one candle.
Cake by Amy W., Blair, NE
The horse cake: 11 x 15 Butter Cream (2 cake mixes) I used canned frosting to save on time – Butter Cream for the background and chocolate for the horse. I placed a smooth layer on the entire cake, outlined my horse with a chocolate piping line and filled it in with the tip that looks like "hair" (or grass).
I used white frosting for the eye with a black dot of icing smoothed out with water to look glassy.
For the mane, I alternated between the chocolate and butter cream in waves.
To finalize the cake, use your theme colors (ours were red and blue) for adding a border and Birthday greeting!
Enjoy!
Cake by Heather C., Plattsburgh, NY
My daughter wanted a horse cake and after searching for some kind of horse cake mold/pan I quickly realized that I would have to be more creative than a cake pan.
I found this website and liked the horse sheet cake. So, I used some of the suggestions and found a horse coloring sheet that I liked and photocopied the head of the horse. I blew it up until it was the size I needed and used that as my template.
I made two cakes in a 10×15 (jelly roll pan) to form a layer cake. I frosted it in light purple (my daughter's favorite color), let the icing sit for about 30 minutes then I laid the template on the horse cake where I wanted it. I used a toothpick to press the paper into the icing, then removed the template and outlined my horse in icing tip #3.
I used Wilton tip #16 for the horse and used chocolate icing for the dark brown mane. Everyone loved the horse cake and the party was a success. I found "wanted" posters on the HP website that I printed and put a picture of everyone invited to the party. The kids LOVED this and took them home!
Cake by Christina S., Aurora, CO
This is a fairly easy cake. We just took the directions for the BirthdayExpress.com "Prancing Pony". However I did not use the gumdrops or jelly beans.
For this easy cake recipe you can use any cake and frosting you would like, although I would not recommend using the whipped frosting. We tried to make it look similar to a My Little Pony, however once we started it came out totally different.
My daughter had a pony ride and face painting party to go with her Pony theme. It was great, and this easy cake recipe was a hit!
Cake by Jen G., Seoul, Korea
I was inspired by the Horse cake #02 on this website (I changed a few things). My daughter had a "Spirit, Stallion of the Cimarron " theme party, so I changed the colors of the icing to match Spirit.
For this cake I used caramel icing for the body and chocolate icing for the mane. The shape was easier than I thought; I started with a 9×13 sheet cake. I cut out a triangle to form the jaw and neckline, and then used the piece for the horse cake ear.
I shaved a bit off the front of the cake head to give it a more rounded look. I used a plain old spatula to put on the caramel icing, then a star-shaped tip for the horse cake mane.
I bought a small tube of black to make the horse cake eyes, nostrils and mouth. Oh, and a white piece of nonpareil candy to give the horse cake eye some detail. I put frosting stars directly on the sheet about 2″ above the cake and used them to hold up the candles.
As you can see from the picture, my daughter loved her cake!
Cake by Anat D., Israel
For this cake, I prepared a regular Chocolate cake and cut it in the shape of a horse using a blown up horse picture (I printed it on 2 A4 papers and pasted them together to create a horse in the size of the baking pan I was using).
I covered the cake with whipped cream + sugar powder + a little red icing color to create a pink look. I created all the horse elements from R.F.M (sugar dough) + icing colors.
For the hair and grass of the horse cake I actually used my daughter's play dough tools to create the long "hair". The background of the grass is Chocolate syrup.
From the leftovers of the cake I created a tree (on the left side of the horse cake) but you can't see it in the picture.
Cake by Megan M., Fairmont, WV
This horse cake was made for my friend's daughter. I found a picture of a horse from the net, used that horse and added flowers underneath it. I try to keep all of my cakes freehanded, no cake forms and do everything I guess you could say from scratch. This was my first attempt at a horse cake (I normally had done character cakes before this one).
Cool Horse Cake Designs
Cake by Sonya M., Tallassee, AL
This cake was made for my niece on her 5th birthday. She loves horses, especially Spirit.
The horse cake pan was one that I had purchased online. It is not a Wilton ; the pan is made in Portugal and it does not hold an entire box of cake mix. I used about 3/4 of a mix on this horse cake.
I baked and cooled the horse cake and mixed a single batch of icing. I tinted two colors for decorating, black and brown. I saved some white icing as well to ice the sides and border of the horse cake. After I iced the sides of the cake, I outlined the features in black. Then I iced the tail and mane in black. Finally, I filled in the horse cake with tip #16 brown stars.
Sours: https://www.coolest-birthday-cakes.com/horse-cake/
Steps
1

Heat oven to 350°F (325°F for dark or nonstick pans). Grease or spray two 9-inch round cake pans. In large bowl, beat cake mix, water, oil and eggs with electric mixer on low speed 30 seconds, then on medium speed 2 minutes, scraping bowl occasionally. Divide batter between pans. Bake as directed on box for 9-inch rounds. Cool 10 minutes; remove cakes from pans to cooling racks. Cool completely, about 30 minutes. For easier handling, refrigerate or freeze cakes 30 to 60 minutes or until firm.

2

Meanwhile, in small bowl, tint 1/4 cup vanilla frosting with red food color to make pink; place in resealable plastic freezer bag. Place 1/2 cup chocolate frosting in another resealable plastic freezer bag. Cut small tip off 1 corner of each bag. In medium bowl, stir together remaining vanilla frosting and chocolate frosting to make light brown frosting.

3

Using serrated knife, cut off rounded portion of top of each cake to make level. Turn cakes cut sides down. Cut cakes as shown in template (template can be found under the Tips below). On tray, arrange cake pieces as shown in template, attaching pieces to each other and to tray with small amount of light brown frosting. Spread thin layer of light brown frosting over entire cake to seal in crumbs. Refrigerate or freeze cake 30 to 60 minutes to set frosting.

4

Frost entire cake with light brown frosting. With pink frosting, pipe on blanket; spread with metal spatula to make smooth. With darker chocolate frosting, pipe number on blanket. Pipe on hooves; spread to make smooth. Pipe on mane and tail, leaving in long strands to look like hair. Attach mint for eye. Store loosely covered.
Tips from the Betty Crocker Kitchens
Nutrition
440 Calories, 19g Total Fat, 1g Protein, 68g Total Carbohydrate, 50g Sugars
Nutrition Facts
Serving Size:1 Serving (Cake and Frosting Only)
Calories

440
Calories from Fat

170
Total Fat

19g
29%
Saturated Fat

4 1/2g
22%
Trans Fat

4 1/2g
Cholesterol

35mg
12%
Sodium

360mg
15%
Potassium

120mg
3%
Total Carbohydrate

68g
23%
Dietary Fiber

0g
0%
Sugars

50g
Protein

1g
Vitamin A

0%
0%
Vitamin C

0%
0%
Calcium

4%
4%
Iron

4%
4%
Exchanges:
1 Starch; 0 Fruit; 3 1/2 Other Carbohydrate; 0 Skim Milk; 0 Low-Fat Milk; 0 Milk; 0 Vegetable; 0 Very Lean Meat; 0 Lean Meat; 0 High-Fat Meat; 3 1/2 Fat;
Carbohydrate Choice
4 1/2
*Percent Daily Values are based on a 2,000 calorie diet.
© 2021 ®/TM General Mills All Rights Reserved
Sours: https://www.bettycrocker.com/recipes/pony-cake/145541bb-1124-4573-9c91-b1af72cc9250
Do you have a horse-lover in the family with a birthday coming up? If so, these adorable horse cakes are great for finding inspiration, as they would make any equestrian happy on their special day.
Not only do these equestrian cakes taste great, but they all look amazing. Each one is as creative as the next, with intricate designs and decorations. They all have an amazing attention to detail, with different unique horse designs.
Chocolate Horse Nuggets With Shavings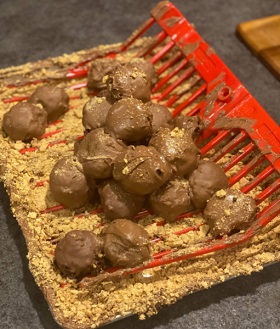 This hilarious cake will give any equestrian who has mucked their fair share of stalls a good laugh. A brand new pitchfork is topped with delicious chocolate dipped oreo balls and chocolate cake to give the appearance of mucking poop. The base has a layer of crushed-up graham crackers to resemble shavings, making for a tasty and clever horse cake.
Horse Riding Birthday Cake
This two-tier chocolate horse birthday cake with fondant creates an elegant cowgirl design. The model horse on top makes a fun cake topper that the birthday girl or boy can keep afterward.
Horse Poop Cake
Don't worry, this cake tastes much better than it looks! The horse poop is actually brownies formed into balls, and the flies are fondant. The chocolate cake is frosted with green buttercream to replicate grass, in addition to a chocolate buttercream filling.
Horse Head & Neck Cake
This elaborate life-like horse head cake design idea is almost too pretty to eat. It is a delicious chocolate cake with vanilla buttercream frosting. The horse is masterfully freehand sculpted and carved from fondant.
Horse Stable Cake
YouTuber Little Cherry Cake created this beautifully designed horse stable jam sponge cake. See how to make it here on YouTube.
Maximus from Tangled
This incredible cake beautifully depicts the beloved Tangled Disney horse character Maximus lying down. The elaborate design is sculpted with ganache, buttercream, fondant, modeling chocolate, gum paste, royal icing, and even rice crispy treats.
Dressage Arena
This clever sponge cake is has a jam and cream filling, with brown sugar on top to replicate a dressage arena complete with letters and a gum paste fence. A toy model horse and rider gracefully tops the cake, bringing the entire design together.
Haflinger Cake
This stunning life-like cake beautifully captures a Haflinger horse with incredible attention to detail.
Riding Equipment
Complete with a helmet, hay bale, rider, crop, and horseshoe, this adorable cake is a showstopper. It is a Madeira sponge with white chocolate ganache, raspberry conserves and vanilla cream filling, and paste decorations.
Rosette and Flowers
Classic and elegant, this round cake features a lovely horse surrounded by rosettes and flowers.
Round Horse Head Chocolate Cake
A beautiful and simple chocolate sponge in the shape of a circular horse's head includes decadent chocolate buttercream frosting and fondant accents. Created by the popular cake artist 'The Icing Artist,' see how to make it here on Youtube.
Realistic Horse Head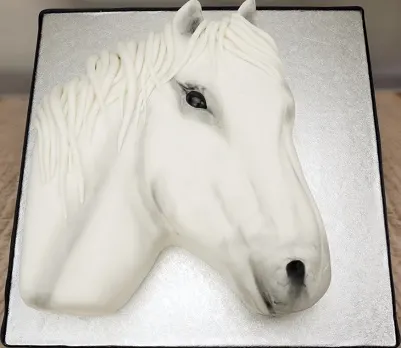 An elegant realistic-looking white horse head sponge cake made with Super Smooth Sattina Icing and a luxury sugar paste. Created by Cake Craft World, see how to make it here on YouTube.
Horse & Field
Made with a vanilla sponge with buttercream and jam inside, this cake features a cute horse out to pasture. The fence is cleverly built using Kat Kat bars, along with green fondant for grass.
Horse Laying Down
This two-tier horse cake features a charming horse laying in a fondant pasture complete with hay bales, apples, and carrots.
Girl's Horse Birthday Cake
The classic round cake was made specifically for a little horse-loving girl's birthday. It features a cute pony sitting down surrounded by delicate flowers.
Pink Pony Cake
Two palomino horses, horseshoes, riding boots, and a helmet sit atop this traditional round horse birthday cake with a pink fondant covering.
Cartoon Horse Cake
This adorable chunky gray pony sits in an upright position, complete with a carrot. This is a vanilla Madeira horse cake with vanilla buttercream.
Horse Show Cake
Not one, but three tiers make up this lovely horse show-themed cake. The first tier features a riding coat and stirrups, the second tier includes a ribbon and helmet and the third tier features a sitting horse atop a purple pasture.
Palomino Pony Cake
A graceful palomino pony built from fondant sits atop a cute round cake made to look like a pasture.
Saddle Pad Cake
Simple and elegant, this horse cake's design is a dressage saddle pad. There is precise attention to detail all throughout. The cake is a white chocolate mud cake with white chocolate ganache and fondant.
Horse and Apples
Plain sponge cake filled with vanilla buttercream makes the base for the fondant pasture with fencing. A pudgy pony sits atop surrounded by red and green apples.
White Horse Cake
This horse birthday cake features a lovely white horse peacefully lying and stirrup and ribbon decorations on two white tiers. The first tier is pineapple with strawberry filling, and the second tier is marble (strawberry and chocolate) in addition to strawberry filling, making for a mouthwatering combination.
Horse Head Round Cake
Complete with a buttercream swirl forelock and mane, this adorable round horse cake is simple yet lovable. It is a rich chocolate sponge with delicious raspberry, chocolate, and vanilla fillings.
Horse Racing Cupcakes
Classy and fun, these horse racing cupcakes feature a unique topping on each one, including horse and ribbon designs. The horse cupcakes are vanilla with buttercream frosting.
Jumping Cake
This two-tier cake with fondant covering includes fun horse decorations, such as a white horse, jump, boots, ribbon, apples, carrots and hay bales.
Pony Cupcakes
With green buttercream for grass, these charming cupcakes feature fondant ponies, ribbons, or horseshoe designs.
Sours: https://horseyhooves.com/horse-cakes/
Lena replied Ill go to the pharmacy now and bring Esmarchs mug, and then Ill proklyuchu you!" And you know how to do this. " At home, I often helped put an enema to my little brother, my mother could not cope with him alone, and. Once she put it to herself, when she had gorged on candy and her stomach began to swell, "Wow. And how is it possible for herself?" Elementary.
", Lena replied, the mug should be hung on a hook, and the most squatting next to it and be patient.
Cake easy horse head
Lera took up Roman, and the boy sat down behind. She felt how his penis stood, and literally stuck between the buttocks with every movement. She became seriously aroused herself, and did not even begin to remove his hands when he put them on his chest from his hips.
How To make horse Cake Cake001
Then the unclean one pulled me to ask, how can I thank him. Nikolai Alekseevich grunted and said: -I have not lived with my wife as a husband for several weeks. For potency, they advised me to juices of a young woman. Yes. Yes.
Similar news:
They take you out of the office. I knew that everything would be exactly as if I had seen it more than once on TV. At the door, you turned and looked at me. Last time.
2725
2726
2727
2728
2729