Why Are There Fossils Here? About the Geology of Florida: Peace River Formation and Ice Age Fossil Origins
So, how did Florida end up with countless fossils??
Let's start in the Cretaceous around 50 million years ago, when high sea levels caused Florida to be submerged. Florida stayed submerged for many millions of years. During this time at the bottom of the ocean, layers of limestone accumulated on the sea floor, creating the "bed rock" of Florida.

Starting in the Oligocene, about 30 million years ago, the global climate cooled and sea levels began to drop. An island of limestone emerged in north central Florida called Orange Island. This was the first appearance of today's Florida. Rains eroded the porous limestone, creating the cave systems and sink holes common to Florida.


Peace River Formation
Jumping ahead to 20 million years ago, into the next Epoch, the Miocene, tectonic activity deep beneath the Earth's surface caused uplifting around Florida. Orange Island slowly grew in size as it was raised from the ocean. Although the sea levels were in constant flux during the Miocene, Florida started to get its modern appearance. During this time land animals roamed central Florida, while a very shallow sea covered the coastal areas. At this time nutrient rich deposits washing from the Appalachia mountain building event created heavy sediment laden and nutrient rich waters. These sediments sank to the bottom entombing dead marine animals, countless teeth from sharks (including the Megalodon Sharks), and also land animals when the sea levels would rise. This trend continued until the Early Pliocene, about 5 million years ago. Today the sediments form the phosphate rich formations, including the Peace River Formation. This formation is mostly underground, but rivers, such as the Peace River, expose this formation. Also just off the beach near Venice, this formation is exposed.


Ice Age Fossils
Besides for the Peace River fossils, there are also fossils from the Pleistocene. During the Pleistocene, from 2.5 million until about 11,000 years ago the Earth was (and still is) in constant glaciations events. During glacial periods, the sea levels would drop, and Florida's land would double in size. Ice Age animals lived here including Mammoths, Dire Wolves, Glyptodonts, Horses, and Giant Ground Sloths. During interglacial periods, the sea levels would rise, covering much of Florida. Sediments would bury and preserve the remains of these Ice Age animals. Today, remains of these Ice Age animals erode out of the layers of Pleistocene sands and gravels and wash into the Peace River.

These Ice Age sand and gravel layers make Florida one of the richest places on Earth to find vertebrate fossils!

Left Image: Florida in the Oligocene, showing the emergence of Orange Island.
Center Image: Florida in the Early Miocene, during the Miocene uplift event.
Right Image: Florida in the Pleistocene during maximum glaciation/low sea level.
The following book: Geologic History of Florida: Major Events that Formed the Sunshine State
is a great book filled with lots of illustrations. It covers the entire geologic history of Florida. It starts with Pangea and goes until the formation of the Florida Keys. Check it out if your an avid amateur paleontologist in Florida!
---
How To find Fossils in the Peace River
Fossils erode from the banks and bottom of the Peace River and collect in gravel areas. The information below shows you how to hunt for these fossils.
Fossil Hunting Permit and Artifacts
In order to fossil hunt vertebrates on state land in Florida, you must have a Fossil Permit. Anyone can obtain a fossil permit. Fossil Shark teeth are specifically excluded, but in the Peace River, you will be finding more than just shark teeth, so be sure to get a permit first.

The permit application, permit renewal, and additional information from the FLMNH is here: FOSSIL PERMIT.
Do Not Collect Artifacts
In the state of Florida, it is illegal to collect artifacts on public land. If you find arrowheads, pottery shards, or or any other type of artifact, toss them back into the river.
---
When to Go (October - April)
You can fossil hunt here any time of the year. However, some times can be better than others.

It's best to fossil hunt along the Peace River when it has not been raining. If the river is running high, the gravel areas may not be accessable. Also, a high river means fast currents, which can be dangerous.

Usually, the best time to go is during the Florida "dry season" from Fall to Early Spring (October through April). This is when the river is at its lowest
---
River Water Level
As mentioned above, you are sifting for gravel on the bottom of the river, so you want the river height to be relatively low. The USGS has water level gauges along the Peace River. Below are some recommeneded river heights and real time river heights.
At Arcadia, you want the water to be around 1 foot in height or lower.
Above is the Arcadia river gauge height provided by the USGS:
(If the dates are not up-to-date, you will have to refresh your cache)
At Zolfo Springs, you want the water to be around 7 feet in height or lower.
Above is the Zolfo Springs river gauge height provided by the USGS:

---
How to Look for Fossils
Looking for fossils is fairly simple. It requires finding a gravel area on the bottom of the river and sifting it with a shovel and sifter.
In order to search the river, people usually rent a canoe or kayak and paddle up or down the river looking for a "perfect" gravel spot. If you don't want to canoe or kayak, you can simply find a public access point (listed in the Locations section below) and wade into the river.

The gravel is on the bottom of the river, so wade into a shallow area and test the bottom to see if there is gravel. When you find a spot, start sifting!
---
Recommended Equipment
Most people use a shovel and sifter to sift for fossils in the river, so you will need a shovel and a sifter, or a shovel/sifter combo.
---
Matlock Trading Co. Floating Sand Sifter

This is a sifter designed for shark tooth sifting. The nice thing about the sifter is that it floats! Floating sifters are a BIG help for sifting along coastal areas and rivers, like Venice or the Peace River! This one is 15" x 15" and has the recommended 1/4" mesh and a rope for easier handling.
---
Locations: Where to find Fossils in the Peace River
Google Map of the Peace River, Florida
This map is centered between two of the main canoe rental companies

Fossils erode from the banks and bottom of the Peace River and collect in gravel areas along the river. Usually people will paddle up or down the river in search of a gravel spot.
The Peace River is slightly over 100 miles long, so you can spend years looking for perfect gravel areas!

Below are locations where you can rent canoes and sift for your own fossils.
The boat rental places below are not endorsed by the website, but are here to help you find a boat rental location on the Peace River.

Make sure you check the water level heights in the "How to" section above.

Don't Want to Paddle? Simply go to a public boat ramp and walk along the river to find a gravel spot.
---
1. Take A Guided Tour: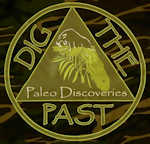 I recommend going with a guide or a fossil club for your first time on the Peace River

Paleo Discoveries
There are a handfull of Fossil Tour companies that will take you out on the Peace River. Fred Mazza of Paleo Discoveries is a fossil hunting expert and his company is a great option if you want to use a tour guide. (I am not affiliated with them)

---
2. Arcadia: Canoe Outpost Peace River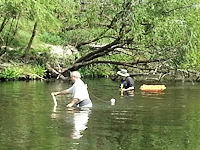 2816 NW County Rd. 661, Arcadia, FL 34266
This canoe rental company is located in the heart of the Peace river in Arcadia.

You can rent a canoe and paddle the river in search of fossil gravel beds to sift.
Website: Canoe Outpost Peace River.
They also have a place near Zolfo Springs.
---
3. Peace River: Public Boat Ramps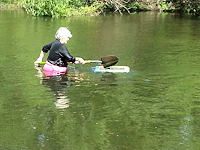 If you have a canoe or kayak, you can use one of the many public boat ramps along the scenic river, or you can simply wade into the river from one of these boat ramp access points. Here are a couple ramps:
Brownville Park Boat Ramp:
885 NE Brownville St, Arcadia, FL 34266

Gardner Boat Ramp:
547 River Rd SW, Zolfo Springs, FL 33890

To find all of the ramps, check out the Florida Public Boat Ramp Finder and do an advanced search for the Peace River.
---
Identification of Peace River Fossils:
Click on the image to go to the Peace River Fossil Identification Section:

Peace River Fossils Identification Guide
---
Additional Information for Fossil Hunting on the Peace River

Alligator in Florida
Gators
Don't get close to baby gators and gator nests, the mothers don't like it!

If you bring small pets, keep an eye on them, gators have been known to snack on them.
Snakes
Yes, there are poisonous snakes in the river, if you don't know what's poisonous, it's best to stay away from snakes in general.
Biting Insects
Yes, there are biting flies, ticks, and other nasty bugs. Use bug spray.
Snakes
Yes, there are poisonous snakes in the river, if you don't know what's poisonous, it's best to stay away from snakes in general.
Sun / Heat
Yes, it can get hot! Bring plenty of water, sunscreen, and a hat.
River Current
If you managed to make it to the river when the water is too high or a storm comes through, don't risk it, stay out of the river!
Low River
Usually you will fossil hunt when the water level is low. Often, the low level and snagged trees will force you to carry your boat on occasion. Being in good physical shape is recommended.
---
Recommended Books for Peace River Fossils
Fossiling in Florida: A Guide for Diggers and Divers

This book is from Mark Renz, the author of the Megalodon book. It mainly concentrates on the Pleistocene fauna, such as the fossils found at Peace River.
This book is, again, a great resource book. It has a 34 page identification section in it!
Vertebrate fossils: A neophyte's guide

This book is only for the seasoned collector of the Pliocene and Pleistocene fossils of Florida. It has 100's of images of mammal bones and teeth from mainly the Pleistocene. There are numerous comparisons of Bison, Camel, Horse, Tapir, Bison, Giant Sloth, Dire Wolf, Dugong, teeth and many more!
Florida Fossils for Kids

If you have a child that like fossils and wants to fossil hunt in Florida, this is THE book!
It's a very short book around 20 pages that concentrates on the most famous fossils found in the Peace River, including mastodon, giant ground sloths, and megalodon. It is geared toward getting children interested in Floridas rich fossil past and even includes coloring pages.
---
Get Your Very Own Megalodon Tooth: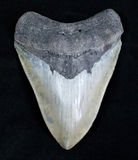 These are Authentic Megalodon teeth sold by Fossil Era , a reputable fossil dealer (that I personally know) who turned his fossil passion into a business. His Megalodon teeth come in all sizes and prices, from small and inexpensive to large muesum quality teeth. Each tooth has a detailed descriptions and images that include its collecting location and formation. If you are looking for a megalodon tooth, browse through these selections!
---
Sours: https://www.fossilguy.com/sites/peace-river/index.htm
How Do You Buy The Best Beach Sifter?
Do you get stressed out thinking about shopping for a great beach sifter? Do doubts keep creeping into your mind? We understand, because we've already gone through the whole process of researching beach sifter, which is why we have assembled a comprehensive list of the greatest beach sifter available in the current market. We've also come up with a list of questions that you probably have yourself. John Harvards has done the best we can with our thoughts and recommendations, but it's still crucial that you do thorough research on your own for beach sifter that you consider buying. Your questions might include the following:
Is it worth buying an beach sifter?
What benefits are there with buying an beach sifter?
What factors deserve consideration when shopping for an effective beach sifter?
Why is it crucial to invest in any beach sifter, much less the best one?
Which beach sifter are good in the current market?
Where can you find information like this about beach sifter?
We're convinced that you likely have far more questions than just these regarding beach sifter, and the only real way to satisfy your need for knowledge is to get information from as many reputable online sources as you possibly can. Potential sources can include
buying guides for beach sifter
, rating websites, word-of-mouth testimonials, online forums, and product reviews. Thorough and mindful research is crucial to making sure you get your hands on the best-possible beach sifter. Make sure that you are only using trustworthy and credible websites and sources. John Harvards provides an beach sifter buying guide, and the information is totally objective and authentic. We employ both AI and big data in proofreading the collected information. How did we create this buying guide? We did it using a custom-created selection of algorithms that lets us manifest a top-10 list of the best available beach sifter currently available on the market. This technology we use to assemble our list depends on a variety of factors, including but not limited to the following:
Brand Value: Every brand of beach sifter has a value all its own. Most brands offer some sort of unique selling proposition that's supposed to bring something different to the table than their competitors.
Features: What bells and whistles matter for an beach sifter?
Specifications: How powerful they are can be measured.
Product Value: This simply is how much bang for the buck you get from your beach sifter.
Customer Ratings: Number ratings grade beach sifter objectively.
Customer Reviews: Closely related to ratings, these paragraphs give you first-hand and detailed information from real-world users about their beach sifter.
Product Quality: You don't always get what you pay for with an beach sifter, sometimes less, and sometimes more.
Product Reliability: How sturdy and durable an beach sifter is should be an indication of how long it will work out for you.
John Harvards
always remembers that maintaining beach sifter information to stay current is a top priority, which is why we are constantly updating our websites. Learn more about us using online sources. If you think that anything we present here regarding beach sifter is irrelevant, incorrect, misleading, or erroneous, then please let us know promptly!
Sours: https://www.johnharvards.com/best-beach-sifter/
Description
Finally, a rake designed to help you find ocean treasures like sharks teeth, seashells, sea glass, etc. The same quality construction as our 12" basket but featuring a 10" wide basket constructed of 1/4" mesh and 48" powder coated split handle for easier shipping and portability, an adjustable foam grip and a large sifting area. Insert one end into the other, attach pin and you are ready to go. Simply scoop, shake out excess material and flip onto the sifting screen! No more digging through a small basket to find your treasures! Perfect if you want a smaller version of the original Shark Tooth Sifter
Features
heavy guage aluminum
stainless steel nuts and bolts
powder coated handle
4.5 lbs
10" Basket
It's not a good time to buy now, there's a 55% probability this price will decrease. Our advice is to Watch it.
Buy on Amazon
Product details
EAN
680569980311
UPC
680569980311
ASIN
B00M7DK19S
FAQs
Shark Tooth Sifter 10, is it available on Amazon?
Yes! But at Pricepulse we inform you when is the lowest price to buy the Shark Tooth Sifter 10
Should I buy the Shark Tooth Sifter 10 now?
It's not a good time to buy now, there's a 55% probability this price will decrease. Our advice is to Watch it.
What is the current price of Shark Tooth Sifter 10?
Its current price is $75.00
What was the lowest price for the Shark Tooth Sifter 10?
The lowest historical price was $32.00
Sours: https://www.pricepulse.app/shark-tooth-sifter-10_us_5890977
Fossil Sifting Screen
Helpful Tips | Shark Tooth Sifter
The Fossil Sifter is commonly used in rivers, streams and creeks. It is loaded with a shovel, and then sifted through. Take out large rocks that are on the screen to clear the area to see smaller fossils. Many times, fossils and teeth get caught in curves around rivers.
US20080202989A1
screen sifting attached motor Prior art date 2007-02-27 Legal status (The legal status is an assumption and is not a legal conclusion. Google has not performed a legal analysis and makes no representation as to the accuracy of the status listed.) Abandoned
How to Build a Fossil Screen | Fossil, Diy fossils, Fossil …
Aug 28, 2019 - How to Build a Fossil Screen: I enjoy fossil hunting in local streams and looked at buying fossil screens for this purpose. What I quickly discovered is that they are very easy to make. Building is always more fun than buying and this makes a fun
Amazon : fossil sifter
· Fossil Discussion Collecting Gear DIY Sifting Screen Sign in to follow this Followers 3 DIY Sifting Screen By KimTexan, February 9, 2019 in Collecting Gear dirt screen screen diy sifting screen sifter Recommended Posts KimTexan 1,745 KimTexan 1,745 ...
US Patent Application for Multi-Screener Sifting …
Justia Patents Multiple US Patent Application for Multi-Screener Sifting Apparatus Patent Application (Application #20080202989) Multi-Screener Sifting Apparatus Feb 26, 2008 A multi-screener apparatus in which the height of the apparatus may be adjusted for ...
Shark Tooth Sifter | Finally, a rake to help you find shark''s …
Shark Frenzy is our family-owned shop, located in the Shark Tooth Capital of the World (Venice, Florida). Our passion is helping others find fossils. Whether you''re brand new to fossil hunting, or a seasoned pro, we want to help you find more sharks teeth! Stop by
Amazon : soil sifter
Kabells-Sifter for Garden- Compost Screen Sifter-Made in USA - Sifting for Soil- Wood Dirt Sifter- Garden Sifter for use by Hands. 4.6 out of 5 stars 7 $54.99 $ 54. 99 Get it as soon as Wed, Mar 3 FREE Shipping by Amazon Only 9 left in stock - order soon. ...
Archaeological Sifting Screens | Archaeology Tools | …
Apr 12, 2015 - Archaeological Sifting Screens... Focus Design has developed a new recovery classification device called the SOLO-SCREEN.Our original self standing One Person Operation sifter for screening dry sediment.Hand constructed from 21st century
Fossil Q Marshal Gen 2 Screen Replacement
This repair guide will show you how to replace the screen on a Fossil Q Marshal Gen 2 smartwatch. Be careful not to damage the wiring or the metal connectors on your smartwatch. There is an actual tool made to remove this back cover, using the right tool may ...
Fossil Collecting 101
While fossil hunting, always carry your fossil collecting permit and other items you will need such as a mesh bag to store your findings while out in the field. A small shovel and sifting screen are among the most important tools to have a can be used to filter sand and uncover your findings.
Sifting
· This weekend we were in a river sifting for shark teeth, so we were using a sifter with 1/4 mesh screen. (You can find this at lowes, home depot in the fencing section.) You get a shovel full of gravel from the creek/river/exposure, and you dump it in the sifter.
Dirt Sifter
Dirt sifter, electric powered and portable. Perfect machine for the homeowner, landscaper, gardener. Quickly and easily separates dirt and soil from debris. Portable Electric Dirt Screener The MultiScreener 07 is an electrically powered dirt sifter machine, Made in …
Brantley Sifting Screen Page
If you hunt geodes, large specimens, or break your specimens from solid rock, then you won''t need a sifting screen! If you hunt small minerals in dirt, look for them in creeks or streams, or have the need to wash gravel to find your next gem, then you will need some
15 Best Fossil Dig Sites Open To The Public
15 Best Fossil Dig Sites Open To The Public In just about any state some type of fossils have been found, cataloged, and displayed in museums for the public see and enjoy. But for some geological rockhounds or fossil enthusiasts, looking at a display behind glass is just not good enough.If you enjoy collecting for yourself, here is a list of fossil dig sites open to the public.
How to Make a Sifter Box for Hunting Fossils and Sifting …
· Aside from sifting artifacts, you can also use a sifter box for your garden. If you are an avid gardener, you should know that the soil sifter is one of the most essential tools for gardening. It is used to separate and remove trash, rocks and plant debris from the soil. ...
How to Build a Fossil Screen : 3 Steps
How to Build a Fossil Screen: I enjoy fossil hunting in local streams and looked at buying fossil screens for this purpose. What I quickly discovered is that they are very easy to make. Building is always more fun than buying and this makes a fun family project that
The Soil Sifter Shaker Screen
The Soil Sifter Shaker Screen is smaller than the Original (27" x 22.5", although you can specify slightly larger or smaller dimensions by writing to us after ordering) and features three-foot-long collapsible legs to allow archeologists and treasure hunters to shake
Screens For Teeth
· 1/4" screen should work fine, since it hasn''t been mentioned, here is a word of caution. depending where you are planning on digging/sifting i would be careful and mindful of town ordinances. in many areas you will get away with it. but if you are planning on ...
Sifting Screens For Rockhounds
Sifter Screen also named sifting screen or sifting screen mesh, it is a self-contained equipment working on the principle of gyratory motion using low powered motor. Read more reading comprehension on mining and minerals
DIY Fossil Sifter
If you have a deep-set old picture frame, you could just staple some screen to that. Or a quick search online will give you lots of options for buying one. Here''s a resourceful floating sifter design that doesn''t require any carpentry.
Homemade Soil Screener/sifter : 11 Steps (with Pictures)
Homemade Soil Screener/sifter: This soil screener features springs and hinges made from old car tires so there is no need for regular steel springs and metal hinges (and the major hassle mounting them). The screen actually "floats" on rubber. The
Sours: https://weblab.edu.pl/08-12-2010/8764.html
Amazon shark tooth sifter
Florida by Water: Hunt for Shark's Teeth
Millions of years ago, a series of ancient seas covered and then receded from the landmass forming present-day Florida. Since a shark can drop many thousands of teeth in a lifetime, dark-hued, fossilized teeth and more recent white teeth can be found in sandy creek bottoms and riverbeds and in coastal areas around the state.
Fossil Expeditions, Arcadia
Kayak along the Peace River to look for shark teeth—as well as bone and tooth fragments from prehistoric mammoths, mastodons, horses, and saber-toothed cats—on a guided Fossil Expeditions tour. Owner-guides Mark and Marisa Renz provide all the required permits, instructions, and gear, including the sifters used to cull teeth and other treasure from sandy sediment. "Screen-washing in the Peace River with us gives you the opportunity to find and keep a piece of the past never before seen by human eyes," says Mark. "In addition to finding fossilized teeth from tiger [sharks], makos, and great whites, you could uncover the most sought-after Paleo prize—the tooth of an extinct megalodon. The chompers of these supersharks are scattered across Florida, ancient remnants of when the state was submerged by shallow seas."
Caspersen Beach Park, Venice
In Venice, known as the "shark's tooth capital of the world," rocky Caspersen Beach is considered prime fossil-hunting territory. At low tide, a ribbon of dark sand is deposited at water's edge, where sifter-wielding collectors search for the fossilized shark teeth that often wash ashore. Caspersen is short on crowds (particularly on the southernmost end of the beach, away from the parking area) and big on shoreline—the 177-acre park has about four miles of beachfront. So even if you don't have a sifter or wade out into the water, chances are good that you'll find shark teeth simply by walking on the beach.
Coastal Fossil Adventures, Jacksonville
The coastal areas of northeast Florida are a bit of a best kept secret when it comes to collecting fossil shark teeth, says John Owen, owner and lead guide of Coastal Fossil Adventures. Owen, who has been hunting for—and finding—shark teeth for nearly 40 years, specializes in custom kayak and beach-walk fossil hunts designed to fit an individual's or group's activity and interest level. "In addition to helping people find and identify fossil shark teeth, I teach them about Florida's natural history and educate them on the extinct and current sharks that inhabit our waters," he adds. "Regardless of how many teeth we find, you're guaranteed to learn a lot and have an enjoyable outdoor experience."
TRAVEL TIPS
When to Go: The best time to hunt for shark teeth is November through May (dry season) in the Peace River; December through March (winter storm season) on Jacksonville area beaches; and at low tide (particularly on the morning of a full moon or after a storm) on Caspersen Beach.
Practical Tip: If you plan to go shark tooth hunting without a guide, apply online for a Florida Fossil Permit. Although a permit is not required to collect fossil shark teeth, you may encounter permit-only fossils while hunting.
Best Bet: Each year, Venice hosts a Shark's Tooth Festival (April 10-12 in 2015), where you can browse collections of shark teeth and other prehistoric fossils on display or for purchase from fossil collectors.
Sours: https://www.nationalgeographic.com/travel/article/hunt-sharks-teeth
Caught on a Go Pro finding a Megalodon
Whether you're visiting the sandy shores on a vacation or make trips regularly, it's always fun to find beach treasures hidden in the sand. But instead of shelling out [pun intended] hundreds on sifting equipment, Hip2Save reader Melinda shares how to make your own clever sand sieve and sand sifter projects for cheap!
---
Every penny counts, especially on VACATION! We are headed off to the ocean very soon, and a friend suggested we hunt for shark's teeth. She and her family bought sand flea rakes for each of her kids and suggested we do the same! I checked them out on Amazon, but they were $43.58 each!
I decided to buy a much cheaper long-handled strainer shovel online and used Ibotta rebate money to pay for it.
We did some research online and learned some people just scoop up the sand in kitchen strainers instead of buying the shovels, so we went to Goodwill and Dollar Tree and grabbed a variety of different strainers and kitchen scoopers to dig with instead.
I also picked up some jars from Goodwill to keep our findings and used a $5 credit from my rewards account with them.
We also wanted floating sifters for each of our 3 kids. The least expensive ones on Amazon end up being over $30 each with shipping.
I came across a website outlining how to build our own floating sifters and decided to save by doing so. We purchased pool noodles and zip ties from Dollar Tree along with PVC pipe, joints, and galvanized mesh from the hardware store using a $5 coupon Ace had mailed us.
Ordering 3 of each item for each of our 3 kids would have cost us $206.61, but overall we spent $53.84 out of pocket—over $150 less than if we ordered the recommended items! Plus, our sifters are a bit bigger than the ones on Amazon, so I think our kids will have a super successful shark tooth hunt!
Side note: We also took advantage of the $50 off Expedia post on Hip2Save to grab 6 tickets to a nearby aquarium. It was a better use of the money still in our pockets!
We can't wait for our trip!
---
We hope you and your kids have an awesome time at the beach treasure hunting, Melinda! 🏖️
We love the resourcefulness to save BIG by DIYing your own sifting tools. Thank you for sharing your budget finds and project with us!
---
Use these clever hacks for the best beach trip.
Sours: https://hip2save.com/tips/diy-sand-sieve-sand-sifter/
You will also be interested:
10" Shark Tooth Sifter
SoldSee similar items$44.95Buy It Now, Click to see shipping cost, eBay Money Back Guarantee
Seller:tss871✉️(630)100%, Location:Schaumburg, Illinois, Ships to: US & many other countries, Item:19193105267610" Shark Tooth Sifter . Finally, a rake designed to help you find ocean treasures like sharks teeth, seashells, sea glass, etc. Featuring the same quality construction as our larger Shark Tooth Sifter but has a 10" wide basket, and 48" powder coated handle, an adjustable foam grip and a large sifting area. This is a two piece rake which makes transporting it easier. Simply scoop, shake out excess material and flip onto the sifting screen! No more digging through a small basket to find your treasures! The Shark Tooth Sifter is made to last! Visit our ebay store for more products http://stores.ebay.com/sharktoothsifter - Power Coated Handle - Heavy Gauge Aluminum - Stainless Steel Hardware - Made in the USACondition:New, All returns accepted:ReturnsNotAccepted
PicClick Insights - 10" Shark Tooth Sifter PicClick Exclusive
Popularity - 65 sold, 0 available. 0 views, 0 views per day, 652 days on eBay.

65 sold, 0 available. 0 views, 0 views per day, 652 days on eBay.

Price -
Seller - 630+ items sold. 0% negative feedback. Great seller with very good positive feedback and over 50 ratings.

630+ items sold. 0% negative feedback. Great seller with very good positive feedback and over 50 ratings.

Recent Feedback
People Also Loved PicClick Exclusive
Sours: https://picclick.com/10-Shark-Tooth-Sifter-191931052676.html
1720
1721
1722
1723
1724