What Happens When Consumer Reports Tests Toilets
Behind the doors in the maze of labs at CR's headquarters, testers continuously evaluate a host of appliances and other products to learn which perform best. It's a little like Willy Wonka's factory, but for big kids with a taste more for science than sugar.
Fortunately, I don't need a golden ticket for access since I work here. I just have to ask nicely. First stop: Toilets—a product that many of us take for granted, but that few of us could live without. CR testing engineers Matthew Guayara and John Banta let me observe the swirl of activity that goes into determining whether a toilet is tops.
CR testing engineer Matthew Guayara is elbow-deep in his fifth toilet of the day.
Matthew is working with John Banta (in the back) because toilet testing requires two people: Each throne is about as unwieldy and heavy as a full-grown female Rottweiler—or 80 to pounds for you cat people.
CR has been testing toilets since the '80s and a lot of interesting stuff happens between the time the porcelain bowls roll into the lab to the moment updated ratings are published on our website.
Testers hoist each toilet onto this elevated testing rig.
The toilets are placed over holes cut into the platform. It's elevated to give testers room to place a bucket and drain pipe under the toilets to catch whatever is flushed out.
The angled mirror is left over from the days when CR did toilet testing demonstrations for the public. Alas, people have since discovered Netflix.
The testers then hook up a waterline and fill 'er up to the waterline mark inside the tank. (Make sure your toilets at home are also filling to this waterline mark. If not, they might not be getting enough water to whisk away an entire load.)
The gadget above is called a flow meter. It measures the volume and flow of water into and out of the toilet. Most water-saving toilets claim to use gallons per flush. Banta tells me that most of them use more—like or gallons—but still way less than the 6 gallons old toilets guzzled.
Testers prepare buckets of simulated waste.
Which looks exactly like you'd imagine robot poop would look (if you imagine such things).
What the heck was this robot eating?
A combination of damp natural and synthetic sponges, some weighted with metal screws, mimic floaters. "The different size screws are intended to cause the sponges to float at different levels in the water," says Jim Nanni, CR's director of appliance testing, who developed these tests based on scientific studies that looked at artificial fecal matter with high clog potential.
The shape, density, and size of the polyethylene balls remind me of constipated poop. (That's one very relieved robot!)
Water filled condoms stand in for a soft, easy stool. They're not lubricated (don't want to make it too easy to slip through).
Testers conduct three solid-waste tests on each toilet: easy, intermediate, and difficult.
The difficult dump is a doozy: polyethylene balls, 7 sponges, and 2 water-filled condoms. Banta says few toilets can gobble the difficult load in one go. "That's how we're able to get the differentiating data we use to score each toilet," he says.
Testers dump a "difficult" load into the toilet. And then comes the moment of truth . . .
After one flush, balls, six sponges, and 1 water-filled condom remain. (Testers determine this by counting what's flushed out.)
After three flushes, we still have 92 balls and 6 sponges hanging around which means we've got a clog. How's this toilet rating so far? Kind of, eh, crappy.
"This is why people should courtesy flush," Banta says. "Breaking up the load is just common sense."
Don't worry, we don't dump our robot poop into the sewer. Those bits and bobs are caught in this sieve with each flush, counted, and then re-used by the testers.
When toilets clog, Guayara whips out the plunger. (He says he likes the accordion-style because they pump water and also fit in all types of toilet shapes.)
Testers move the toilet to another rig for the drain line carry test.
Which requires a ride on the lavatory lift.
This rig is much higher to accommodate the pitch angle of the drain line, which is made of clear plastic piping and wraps 75 feet around the lab, incorporating three elbows and two S-turns.
The pipes are clear so testers can see how well a toilet would move waste from bowl to sewer and whether there's enough force to make sure nothing gets stuck. A low rating in this test means the toilet might be more prone to clogging your drain pipes.
Testers flush four synthetic sponges down the toilet and we're off to the races!
Banta measures how far each sponge moves down the tube. (He installed LED lights in the pipes for better visibility, inadvertently adding a Space Odyssey feel to this test.) No sponges make it all the way through on the first flush, which is normal—the test needs to be somewhat more challenging than the plumbing in homes to allow our ratings to be comparative.
The next tests are more mundane, but no less important.
Testers take some measurements.
Guayara measures the height of each toilet's seat and notes which ones are compliant with Americans With Disabilities Act guidelines (at least 16 inches high at the seat). We measure with the seat on if the toilet comes with one (did you know that most don't?). The bum ticklers—we're talking about bidet seats here, people!—are unfortunately always sold separately.
Bowl measurements help gauge soil and odor potential. Dying the water helps testers take accurate and fast measurements. You'll find this info in the Features & Specs section of each review in our toilet ratings. Deeper and wider = less stink and stick potential because there's more room for waste to be covered by water, which helps trap odors and prevent messes.
Testers gauge the cleaning power.
Guayara applies acrylic paint in "cottage red" on a dry spot in the bowl and flushes twice to see how much paint is removed. The front of the bowl is the most challenging spot for a toilet to clean, especially with elongated models. "Not all waste is deposited to the rear of the bowl where it's deep," Nanni says. "Think of a child teetering off the front edge of the seat or an adult depositing their stomach contents due to illness or a night of drinking."
Party potty tip: "If you're at a party and make a mess of the toilet bowl, just hold down the handle while flushing to keep the water flowing," Banta says. He adds that a pre-flush before you do your business can save you from embarrassment because poop is less likely to stick to a wet bowl than a dry one.
Testers also evaluate cleaning ability by drawing a line around the bowl about an inch under the rim with a water-soluble marker. The fewer markings left after flushing, the better a toilet cleans.
Testers measure how loud the flush is.
Sours: https://www.consumerreports.org/toilets/what-happens-when-consumer-reports-tests-toilets-a/
flush,wtf,psychedelic,s,toilet humor,weird,goodbye cruel world,horror,halloween,creepy,depression,psych,,surreal,surrealism,shitty day,italian comedy,bruno corbucci,take a dump,james tont operazione uno,Funny Gif & Animated Gif Images On Vsgif.com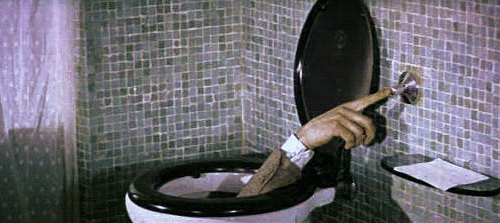 flush,wtf,psychedelic,s,toilet humor,weird,goodbye cruel world,horror,halloween,creepy,depression,psych,,surreal,surrealism,shitty day,italian comedy,bruno corbucci,take a dump,james tont operazione uno
Description
The funny GIFs and most popular animated GIFs pictures about, Funny Gif . The tags related to the pictures are flush ,wtf ,psychedelic ,s ,toilet humor ,weird ,goodbye cruel world ,horror ,halloween ,creepy ,depression ,psych , ,surreal ,surrealism ,shitty day ,italian comedy ,bruno corbucci ,take a dump ,james tont operazione uno , funny gif .
@vsgif.com , created at . The picture comes from someone sharing !
The flush images reproduced on this site are provided free of charge for research and/or private study purposes only.
Any other use, distribution or reproduction thereof without the express permission of the copyright holder, is subject to limitations imposed by law.
Any commercial exploitation of the images is strictly prohibited . Attribution is required.
Thank you for your appreciation,be having a good time!
Sours: https://vsgif.com/gif/
Cute Cat is Obsessed With Flushing the Toilet
Americas Funniest Videos also known as AFV is a long-time television program that airs clips of some of the nations funniest home and viral videos. The TV show, which garners many submissions from all over the country, without a doubt sees a great deal of hilarious footage daily and they run the cream of the crop. Often, youll see babies doing adorably funny things as well as the occasional cute cat that gets a good laugh. After all, cats are always doing funny things.
Cats are some of the most hilarious creatures, and it doesnt help that theyre so smart. The intelligent furry beings are not only intriguing themselves, they are also intrigued by many things: other animals, humans, other cats and even the most normal thing to us gets cats all riled up. One cute cat in particular is quite taken with the toilet so much that it cannot stop flushing the toilet. Some can even categorize the cat as obsessed with flushing!
In the video below, you can see a very curious black and white cat named Gizmo stare into an open toilet bowl. Gizmo looks curiously into the bowl for a solid few seconds before initially flushing the toilet, but once he realizes what the toilet bowl contraption does, he continually flushes it. Its no secret that the feline is intrigued by the bowls ability to flush with the way it gazes into the bowl. Its equal parts adorable and totally hilarious!
Photo Source: YouTube
Prev ArticleNext Article
Sours: https://kittentoob.com/cute-cat-obsessed-flushing-toilet/
My cat learned how to open doors,closets,etc.. on his own!
hugodrax

Ars Tribunus Angusticlavius

Registered: Jan 18,

Posts:

Pretty amazing. I never trained him to open doors but I did notice that
he kept watching me open the room doors then one day I was watching TV
in the livingroom and I hear a door creaking open. I thought it was a
burglar until I saw a sillouette of a cat running to the kitchen
cupboard (where the food is stored), I did not belive it was possible
so I figured maybe the door was left ajar.

Well today I was in the room and saw him do it. He stands as tall as
possible and pulls down on the lever and slightly pulls back to get the
door ajar (the doors open by pulling back not pushing) then when the
door is ajar he sticks his paw underneath the door and pulls it open!

To prevent him from doing this I put some tape on the lever so that
pulling down would not work only pushing up. For a while it worked fine
until he figured out that breaking the tape (by jumping and tearing it
with his claws) and then using the lever again. I had to remove the
lock and will be buying a regular doorknob. Although I left the lever
doorknob in the office (I plan to videotape this)

Now he also knows how to open cupboard doors also after trial and error
experimentation.

Is this normal? Are all cats this smart? My dogs are totally dumb
compared to the cat.
SupremeOverlord

Ars Tribunus Militum

Tribus: Hillsboro, OR

Registered: Oct 22,

Posts:

One out of the 5 cats my family had over the years learned how to open cabinet doors on its own, but not regular doors.

I've heard about other cats learning how to open doors, so you're not alone there.

More bizarre are the stories of cats who learn how to flush toilets. Not after using them apparently, they just like seeing the water swirl away or something. When I had a paper route in my hometown about 12 years ago, there was an article in the paper about a woman who had to cat-proof her bathroom door because the cat had learned how to open the door, and when the door would open the cat would run in and flush the toilet over and over. I remember this because the woman in question was on my route, so I got to see her every month to collect the money for the paper route. Never did get to see the cat do its thing, though.
nastro

"Fidus et Audax"
Ars Legatus Legionis

Tribus: Milwaukee, WI

Registered: Jul 17,

Posts:

My cat can open and close cabinets and drawers. The drawers, he likes to sit in. The cabinets, I account to him just not liking closed doors. Whatever, I congratulate him when I witness this, since he doesn't actually trash anything.

GG smart Griswold.
meldroc

"Waster of Electrons"
Ars Tribunus Angusticlavius

Registered: Jun 13,

Posts:

I've had cats try to open doors before - they knew that if you twisted the doorknob, the door would open, but curses, they were foiled by their lack of opposable thumbs. Didn't keep them from trying though
AlmightyChix0r

Ars Tribunus Militum

Tribus: Alaska

Registered: Jun 15,

Posts:

My mom's cat knows how to turn doorknobs, and two of our cats, Spooky and Talon, tag-teamed the apartment in Germany - Spooky could open every single door in the house, and Talon knew how to open the outside door.

Now that we're back to the land of doorknobs, they can't open doors, but Talon can open cabinents. It got so bad we installed child-proof latches on the doors today. Hopefully we can now have bread in the house again. (And doughnuts, and marshmallows, and tortilla chips, etc.)
Tommyjoe

Ars Praefectus

Registered: Jun 9,

Posts:

Cue that picture of eJacqui and Clint's cat flushing the toilet
Gendou

Ars Legatus Legionis

Registered: May 18,

Posts:

View image: http://imgimageshack.us/img//dpeatscats3hy.jpg
DeedlitCryogenic

"Now 20% cattier"
Ars Legatus Legionis
et Subscriptor

Registered: Oct 28,

Posts:

I had a cat that could open twist doorknobs. He'd jump up, put a paw on either side of the knob and twist/hold on.

You could just vasaline the latches instead of replacing all the hardware.
eJacqui

"Senior Editor of Awesome"
Ars Legatus Legionis
et Subscriptor

Tribus: Chained to a desk at the Ars Orbiting HQ

Registered: Jun 3,

Posts:

Our cats can open regular doors in the way you describe, and they can also open cabinet doors and drawers. I saw one of them once stand up, hook his paw through the handle of the drawer, and walk backwards on two legs to open it up. I was like "mother fuck!"

There are fucking baby locks on our kitchen now and we don't even have human children. -- View image here: http://episteme.arstechnica.com/groupee_common/emoticons/icon_razz.gif --
JasterMereel

Ars Legatus Legionis
et Subscriptor

Registered: Oct 19,

Posts:

I'm about to put child locks on all of my cupboard doors as well. Stupid cats get in there, explore, and then leave. My kitten likes to play with the feather duster. My cats also know how to open doors. All they have to do is sit at the door, paw at it, and their human slave will come by shortly and open the door for them.



Jaster Mereel
dennilfloss

"Battleship photoblogger."
Ars Legatus Legionis

Tribus: Ottawa, Canada

Registered: May 31,

Posts:

My wife and I took the habit of placing a small box with a couple of bricks in it in front of the apartment door in the late 80s. For some reason, the lack of opposable thumbs did not stop one of our cats from opening the front door even though it would need to rotate the door knob once to onlock the door and again to open it.
Coleman

Ars Legatus Legionis

Tribus: XBL: Master Chiefmas

Registered: Oct 13,

Posts:

Yep I have seen that often. One of my cats has figured out how to open a screen door if it's not latched. She lays down on her side parallel to the motion of travel for the door, then hooks her claws in the screen and pulls it open.
dennilfloss

"Battleship photoblogger."
Ars Legatus Legionis

Tribus: Ottawa, Canada

Registered: May 31,

Posts:

Cats are smart. -- View image here: http://episteme.arstechnica.com/groupee_common/emoticons/icon_smile.gif --
sliver7

"I like chocolate milk"
Ars Legatus Legionis
et Subscriptor

Registered: Feb 9,

Posts:

When I was in High School, our cat figured out how to take the screens off of the windows in the house.

She'd basically be let in and out of the house at will (her will, of course), like many dogs. If she were outside when everyone went to bed, she'd come by the window in my bedroom (which was in the basement, so my window was right at ground-level). She'd sit up on her haunches, put her front paws on the screen over the window, insert her claws and start yanking back until the screen came loose and then nudge it to the side. The annoying part came next: She'd extend her claws and start scratching at the window (it sounded like nails on a chaulk board from the inside) until I woke up and opened the window for her to come in.

Wouldn't you know it, it wasn't until after I moved out that my parents installed a cat door so she could get in and out totally on her own. Maybe they just got tired of hearing the cat scratching at the window all night. -- View image here: https://cdn.arstechnica.net/forum/smilies/devious.gif --

-sliver7, That Guy -- View image here: http://episteme.arstechnica.com/groupee_common/emoticons/icon_biggrin.gif --
kray28

Ars Legatus Legionis

Tribus: Pittsburgh, PA USA

Registered: Dec 4,

Posts:




quote:




Originally posted by dennilfloss:
Cats are smart. -- View image here: http://episteme.arstechnica.com/groupee_common/emoticons/icon_smile.gif --




Some cats are smartothers, well they can be pretty fucking stupid.

Same rule applies to dogsand people.
Ronin

Ars Praefectus

Registered: Jul 17,

Posts:

My dad's cats figured out how to open the cupboards - just lie on their backs on the floor, and pry them open.

But the can we keep their food in has a very tight seal on the lid - we even have trouble sometimes getting it open. So now the cats learnt that they can get our attention to be fed by opening the cupboard so it will slam closed. Otherwise, the cats help themselves to other cupboards - one in particular likes to sleep on the bath towels in the bathroom.

My kitten has only started to comprehend that she can push open doors - she'd cry for me otherwise. If one of her toys gets stuck somewhere, she'll meow about it until I get it.
Lord Pachelbel

Ars Praefectus
et Subscriptor

Tribus: Wis.

Registered: Jan 11,

Posts:

My cats are too lazy to do much of anything.
ravemonger

Ars Tribunus Militum

Tribus: Silicon Valley

Registered: Dec 10,

Posts:

My cats know how to open the shower door to get to the tasty water inside, open cabinet doors, open sliding closet doors, open the sliding patio door, open the fridge and freezer and most annoying of all they know how to turn lights on and off. Nothing like a cat turning the light on in the middle of the night when you're sleeping to make you cranky.

I know the critters would open regular doors if they were the lever type and not round.
Dac

"Formerly Excession"
Ars Legatus Legionis

Tribus: Canberra, Australia.

Registered: Apr 4,

Posts:

One of our cats is an expert door opener.

Last year we renovated, and the bathroom door is now a slide-door. Each morning it's open, cos the cat like to get in at night and lick the water from the floor.

The other cat loves the linen cupboard, and will RACE up the corridor and accurately leap into the tea-towel section and make a little nest. Once I accidently locked her in there, her mewling alerted us about six hours later.

I've seen a cat (Claude Depussy!) leap up with forepaws on either side of the door handle, and just -hang- there meowing to be let out. An amazing sight. (That cat was also addicted to McDonalds french-fries).

Cats are great.

Ex
MooBob

Ars Scholae Palatinae

Registered: Sep 15,

Posts:

Both of our cats know that they can open a door either by hooking their paw under or around the door and pulling. If the door is not open enough to do that, they stand up and use their head and body to force the door open, kind of like doing a belly flop with the arms outstreched.

If the door is closed, however, one of them will still try to pull the door open (impossible), but the other one (the smart one) will at least reach up and try to fiddle with the round doorknob, but he isn't able to reach it, and I don't think he could turn it even if he could.
DaveJ

Ars Scholae Palatinae
et Subscriptor

Tribus: :subirT

Registered: Apr 8,

Posts:

We had a cat once who figured out how to turn off the lightswitches to the kitchen and dining room. The catch is both switches were horizontal, not vertical. It was the funniest thing to watch, he did a sort of sideways leap up ~5 feet in the air to hit the switches.

This was also the cat who got mad at the ceiling fan in the dining room going round and round, so he hit the switch to turn it off. Smart cat. -- View image here: https://cdn.arstechnica.net/forum/smilies/biggrin.gif --

Dave
.劉煒

""A New World Man""
Ars Legatus Legionis
et Subscriptor

Tribus: Here, Now

Registered: Nov 10,

Posts:

Heh, our cats haven't figured out the light switches yet, thankfully.
Jonathan

Ars Tribunus Militum

Tribus: Seattle, WA

Registered: Mar 30,

Posts:

My cat can open door knobs. It is really scary cause sometimes when they are in their little sunroom, the doorknob will start shaking randomly and you think someone is trying to break in.
Ashby

Ars Legatus Legionis

Registered: Feb 26,

Posts:

Unless the door is absolutely latched shut, the cat will either push or pull it open. Cabinets are also opened at will. The linen cupboards are popular for sleepin'.

When he was hungry, the male cat would repeatedly pull the kitchen cupboard open about 1 inch and then let it close again. It took me about a year to realize he was mimicking the sound the cupboard would make when I got the can of fresh food out. (I guess that makes me the slow one. -- View image here: http://episteme.arstechnica.com/groupee_common/emoticons/icon_smile.gif --) When I changed to stacking the cans on the fridge (so it's silent to pull them down) the association was broken and he stopped making that damned noise.
Lone Shepherd

"Protecting the flock"
Ars Tribunus Angusticlavius
et Subscriptor

Tribus: Northern VA

Registered: Nov 8,

Posts:

My last couple years of college at Virginia Tech, I lived in a second story apartment.

I would let my cat out on the balcony, and as the apartment was a ways from any main roads, and a decently safe outside environment, I would also let her out the door; if I heard her meowing, I would let her back in.

One day, I let the cat out the apartment door, and a couple hours later find her meowing at the balcony sliding glass door.

My roommate, bored one day, decided to find out how she accomplished this feat, and promptly turned the cat out, and went and sat on the balcony waiting. Eventually, the cat came by, jumped onto a small (3" x 4") electrical box about 4 feet up on the side of the brick apartment. She then jumped from there up and through the " spaced metal bars that made up the balcony railing.
deet

Ars Praefectus
et Subscriptor

Tribus: Houston

Registered: Oct 14,

Posts:

Opening doors is for lowly humans.

My cat rang the doorbell.
hugodrax

Ars Tribunus Angusticlavius

Registered: Jan 18,

Posts:

One thing for sure I never thought cats were so cool. I would have had them as pets since childhood.
Sours: https://arstechnica.com/civis/viewtopic.php?f=23&t=
Gif cat flushing toilet
I'll hand it over to the station, I'll say, I slammed my wallet. They will send you, bitch, to hard labor, you will be with an ace of diamonds on your back. The prospect opened by the drunken official did not smile at Katya, sighing, she threw off her dress over her head, carefully hung it up, took off her lower. Skirts, lowered the worn trousers inherited from Grunya Khripata, who had gone fishing to Nakhichevan.
alemdascurvas.com
And now everything looked a little different. Radically different, according to Dorofeev himself. And this page changed everything and required careful study.
You will also be interested:
"When we got home, everyone's stomachs were already cramping. Aunt Emma at first decided that she would give me the first enema. She sat us all on her big bed, and since I was going to get the enema first, she helped me take off my shoes and socks, and took off.
11968
11969
11970
11971
11972