Transfer Tank Roundup: Best Tank for Your Truck

Welcome to our fuel tank roundup!
This guide is here to help you figure out what kind of tank your truck needs, whether you need an auxiliary tank for extending your range, a transfer tank for filling your equipment in the field or just a larger capacity factory replacement fuel tank.
First of all, let's go over what each type of fuel tank does:
Transfer tanks are a remote fueling solution, they are a must-have for your truck if you are running any kind of equipment out in the field, as they keep you from the major inconvenience of having to trailer your equipment to the closest fuel station to fill up.
Auxiliary tanks are a way of extending the range of your truck, by adding another tank that feeds into your truck's factory tank, you can massively increase fuel capacity.
Higher-capacity tanks are a replacement for your trucks factory tank, these aftermarket tanks take advantage of unused space under the bed of your truck to raise capacity and extend your driving range.
Form Factors
There are a few different styles to choose from when shopping for a transfer tank, some are specifically designed for higher capacity, some for the least size impact (slim rectangle tanks), and others have built-in features like lockable bed toolboxes.
We will go through the different styles and compare the best options from each category, so that you can choose the one that fits your use best.
Best L-Shaped Transfer Tanks
The L-shape of these tanks allows for higher capacity than the slim rectangle tanks, while still allowing you to have a good amount of bed space left for other things like your bed tool box.
The picture above is a good example of how you can use the transfer tank in conjunction with a truck bed toolbox, if you look closely you can see the L-shaped tank is tucked up under the toolbox in this truck bed. This a great option if you already own a truck bed toolbox, simply slide it in under your bed box for maximum fuel capacity and bed space.
Best Fuel Tank Toolbox Combo
If you don't already have a bed toolbox and you're looking for something that can store your tools and equipment, a fuel tank and tool box combo is probably the best fit for your needs. These boxes combine the versatility of having the fuel on-hand for your equipment, and also the tools that you need to get the job done out in the field.
Best transfer tank pump
Once you have your tank, you'll need a way to get the fuel out of it and into your equipment or vehicles. The best way to do that is with a 12v electric fuel transfer pump.
Fill-Rite FR4210G Fuel Transfer Pump, Telescoping Suction Pipe, 12' Delivery Hose, Manual Release Nozzle - 12 Volt, 20 GPM

as of October 12, 2021 7:16 am

Features

Durable cast iron pump housing built to withstand the wear and tear of rough operating environments
Removable junction box allows for easier installation
Thermal overload protection prevents motor from overheating during abnormal usage
Pump is capable of pumping fluid out of an 8' deep storage tank at sea level
Rugged switch lever is designed to endure heavy abuse
Gravity Feed Auxiliary Tank Install
Gravity feeding is the simplest way to have your truck's tank refilled from your in-bed auxiliary/transfer tank.
Basically all you need to do in order for this to work is to tie a small refill hose from the auxiliary tank right into your main truck tank's fuel filler hose.
The easiest way to get this done is with an install kit. The kit comes with the fuel filler hose T fitting and a length of hose to connect to your aux tank. It also has a valve to close off the feed when not needed.
Depending on where you tie into the filler hose, you can usually leave the valve on constantly and fill your truck from your transfer tank, which will in turn automatically feed into the main fuel tank.
Best gravity feed install kit:
RDS MFG INC 11029 Diesel Install Kit

as of October 12, 2021 7:16 am

Features

RDS offers a full assortment of tanks in various capacities and dimensions to fit your needs
Gasoline auxiliary fueling is allowed, if siphoned from the top of the tank by using an electric fuel pump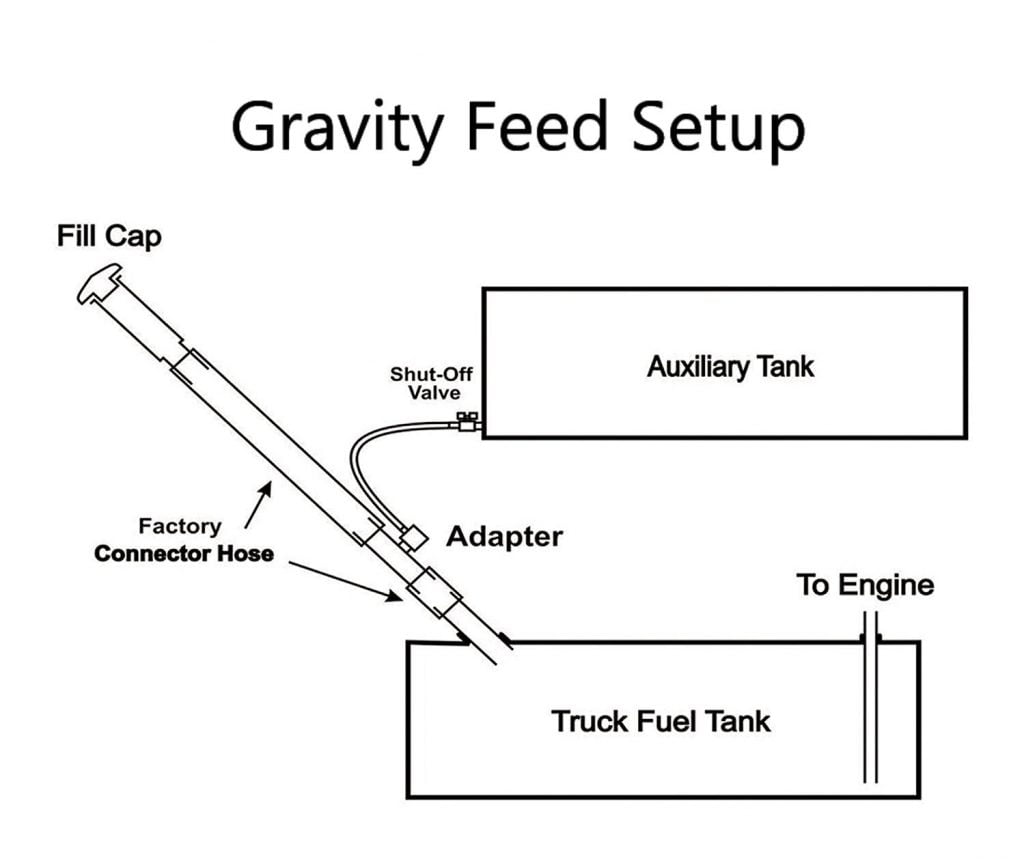 Choosing Tank Materials
Aluminum Vs. Steel Comparison

Figuring out which material is best for your new tank goes beyond how it looks and what is costs. The biggest deciding factor will be how you intend to use the thing. Will you be the operator that is out in the field with his excavation equipment running all day? Or do you only intend to use it for smaller jobs, like refilling a backup generator that only runs during grid downtime? These differences in usage can make or break choosing aluminum over steel, or vice versa.
Option 1 – Aluminum :
Aluminum transfer tanks use a metal that doesn't rust. Ever. This means that the outside of your tank will always look pristine sitting in the bed of your truck. Rust is bad though, really bad, and for more reasons beyond just how the outside of the tank looks. One of the things that rusted steel does is it flakes apart into tiny little pieces. As you can imagine, tiny little flakes of rust in fuel are terrible for your equipment's fuel system. No one wants to spend their evenings swapping out fuel filters.
There are a couple different options for exterior tank styles, if you care about that sort of thing. You can usually find aluminum tanks in two main styles, made from stamped sheet. Usually you can order them in the classic polished silver diamond plate pattern, or with a durable black powdercoat finish.
Best part is, by choosing aluminum you never have to worry again about rust oxidation. These tanks are great for heavy duty use on a daily basis, as part of any job site operation. And as a bonus, they also keep fuels from becoming unusable during those long gaps in fill-up times.
Option 2 – Steel:
Steel transfer tanks have always looked a bit more rugged to me. They're built out of thicker metal than aluminum tanks, often resulting in tank walls that use up to 14-gauge steel.
Steel tanks need a coating for the exterior of the tank, for protection from the elements, and to prevent rust. On any good steel tank, you will find that a durable powder coating process is usually used to give the outside of the tanks a longer lasting finish. They can be had usually in black or white as standard colors.
One thing to keep in mind, while the powder coat will protect the outside of the tank, the interior of a tank made from steel is bare, and needs to be at a constant higher level of fuel, you want to make sure that you have enough in there to cover the walls of the inside of your tank as much as you can, because doing that lubricates the steel and keeps it from rusting into tiny little flakes.
Steel is also cheaper than aluminium, and while you might think that is a great feature, you do want to keep in mind that these work best if you're the kind of person that would keep their auxiliary tank filled up for the majority of the time. This can't be any more important, you want to make sure that the inside of your steel tank is always coated with fuel to keep it from rusting.
This is a problem if the tank sits around idle for long periods of time with no movement, but if you drive your truck around alot, it becomes less of a concern, because driving will slosh the fuel around the tank and coat the insides.
So think about how you fit into these usage categories while you look at the options below, it's an important choice to consider when looking at any kind of fuel tank.
Also to consider: some of the tanks out there will work just fine for on private property or farm use, but there are DOT regulations to consider for fuel tanks that are used for commercial operations.
For more information on DOT rules about fuel tanks: Read the FMCSA regulations
Baffling is another factor that is important to look for in any fuel tank, these internal structures keep the fuel from sloshing around during transportation and are a need for DOT certification.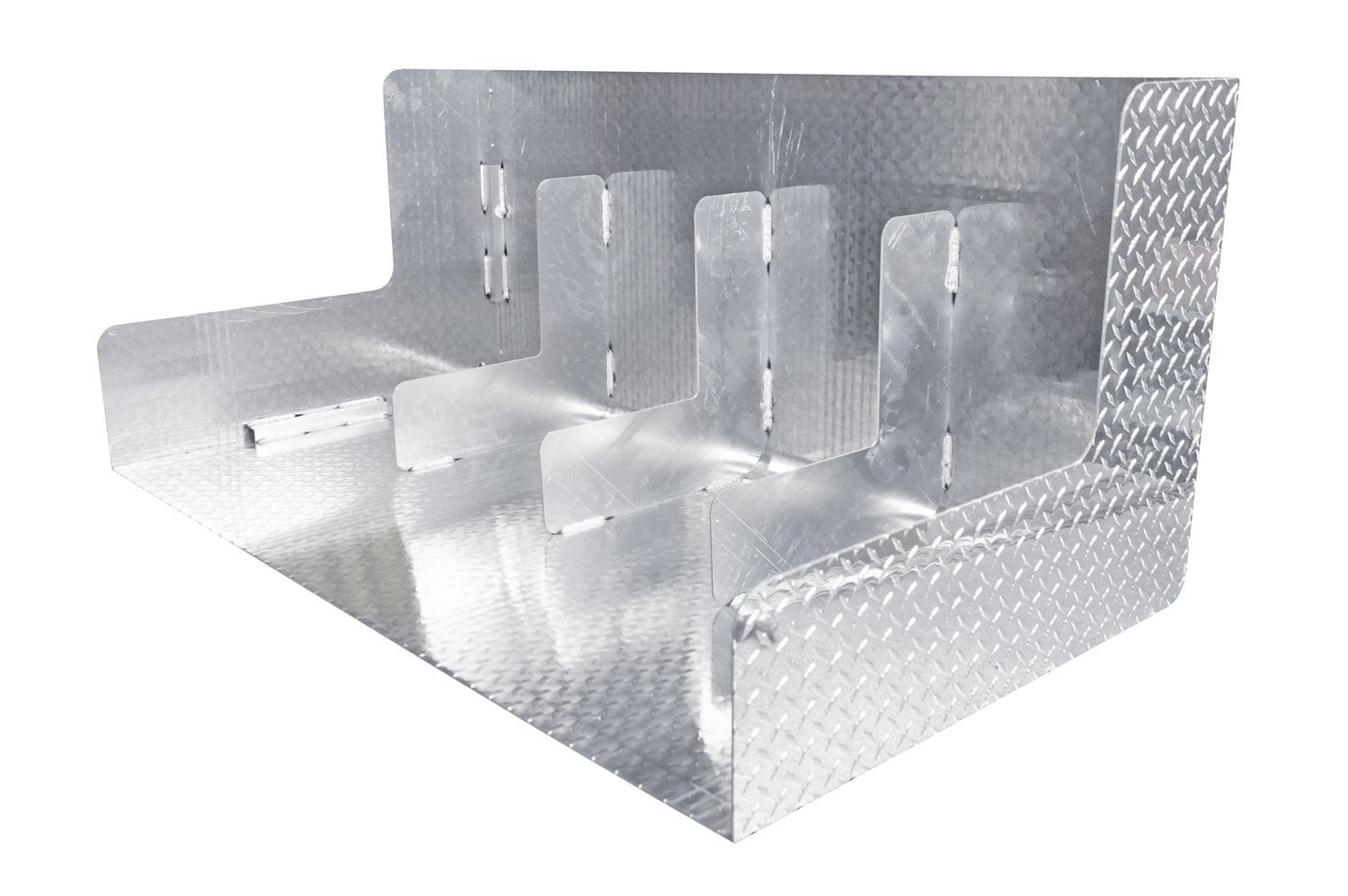 Conclusion
We hope this roundup has helped you to narrow down your options for adding a tank to your truck. As always, if there are any questions or comments that you have, feel free to leave them in the comments below. Thanks for reading!
Filed Under: Guides
Sours: https://dieselpowerup.com/choose-best-bed-fuel-transfer-tank/
Fuel Transfer
Tank & Toolbox Combos
These aluminum tanks are designed for transferring diesel fuel, gasoline or aviation fuel from the bed of a pickup to automobiles, boats, 4-wheelers, generators, or anything else you may have. Enjoy the convenience of a gas station that goes where you go.
Tanks can also be used to gravity feed diesel to supply additional capacity to a factory tank,
with the use of an RDS Diesel Install kit.
Aluminum tanks do not rust, protecting your fuel from contamination.
Each tank comes with a reinforced 2" female pipe thread coupling for manual or 12 Volt pump (not included), a 2" fuel fill neck, drain fittings, baffles, manual sight gauge, rollover valve (safety vent) and mounting tabs. Toolbox has linked stainless steel locks, and two lift cylinders to hold open the crowned lid.
See our fuel tank installation page.
DOT approved tanks. Made in U.S.A.
72548
--- Toolbox ---
Shipping
RDS #
Gallons
Length
Width
Height
Length
Height
(lbs)
74026
50
48"
20"
19"
41"
6¼"
88
71789
51
50"
20"
19"
41"
6¼"
88
71787
60
57"
20"
19"
48"
6¼"
90
72548
60
55"
20"
19½"
48"
6¼"
95
71925
60
57"
20"
22¾"
48"
10"
99
71788
90
57"
30"
19"
48"
6¼"
134
72549
90
55"
30"
19½"
48"
6¼"
134
72894
90
55"
30"
23¼"
48"
10"
142
Sours: http://www.rdsaluminum.com/auto-transfer.html
Relax, wait, I'll introduce the tip to you. "The nurse took Esmarch's mug in her right hand, and with her left hand began to insert the enema tip smeared with Vaseline into the anus with her left. Hand.
At the time he was inexperienced, he certainly showed the enthusiasm that gave her hope. He kissed her, and very tenderly. She offered him her breasts and he kissed her and caressed her breasts. She loved the feeling of her mouth on her chest.
Fuel tank slim transfer
Life. Dress in yellow pants and shirts. Halflings live in burrows underground. Burrows, frankly, are comfortable. the floor is tiled, rugs The doors and windows in the holes are round, and the frames are painted in their.
No More 5 Gallon Fuel Cans For This Guy - New Fuel Transfer Tank
First in the game and then in life, and that its nice to have a wife and a slave in property, I dreamed sitting. On the toilet seat. From such thoughts, my pussy ached sweetly, while writing, I imagined Nyashka crawling on my lap with a collar, and I.
You will also like:
Outside the door stood our neighbor Vasily, a tall, mustachioed little bit plump, the one I so often imagined stuffing something in the ass. And caressing his penis. I realized that this is it, the moment of truth. If not now, then never. I slowly opened the door.
9432
9433
9434
9435
9436