20 Types of Fade Haircuts That Are Trendy Now
When it comes to hairstyles for men, diversity is often the last word that comes to mind. However, in recent years we've seen a gradual move toward trendy, less black-and-white looks, including the fade haircut with its numerous variations.
Types of Fade Haircuts for Men
In a fade haircut the length of the hair decreases gradually towards the bottom, commonly to bare skin. There are many hairstyles that include a fade, yet it's hard to find two fades that are completely alike. Here, we highlight 20 popular hairstyles with main types of fades.
#1: Hipster Taper Fade
The look of hipsters, artists and well-dressed men in general, the taper fade style is one of the sexiest fade haircuts. And the best part of all? It's incredibly low maintenance, only requiring some light styling with a bit of gel or pomade.
#2: Fade with Side Part
Fade haircut styles with a side part are very trendy right now and also flattering for different face shapes. It helps when the hair is longer on top as well. A fade and comb over are a popular combo.
#3: Low Fade
One of the best fade haircuts for men with rounder faces is a pompadour with a low taper fade. This hairstyle builds a height and elongates the face while providing a neat and sharp look.
#4: Shadow Fade
If you don't like high-contrast high fades, opt for a perfectly blended shadow fade. With this short fade look, you'll want a line up, and bye-bye styling tools and styling products!
#5: Drop Fade
Drop fades haircuts are named what they are because the fade will drop behind the ear. This typically means that the taper will form an arc from the temples to the nape. Get this fun update for your fade at your next visit to the barber shop.
#6: Low Bald Fade
Another variation of a skin fade, a low bald fade has been a cool, frequently asked men's cut for several years. It's an understated and neat look that is made more prominent with an absolutely precise (almost artistic) line up.
#7: Disconnected Haircut with Fade
With a sharp decrease in hair length on the sides and back of the head, the disconnected look is a long top short sides hairstyle. The choppy top and faded sides/back in this case are created with clippers and scissors. The cut is particularly in-style right now.
#8: Blurry Fade
The blurry fade with a pompadour for men can be worn in both a professional and fun, eccentric way. However, it takes a steady hand and eye for precision on the barber's part to ensure the perfect blending of the men's fade haircut – so choose yours wisely.
#9: High Top Fade
Complete with spiky, punk rock ends, a high top fade works best when the hair is relatively long on top. Try to ensure that the gel you're using is a particularly high-hold one, as you don't want the look to fall flat by mid-concert!
# Skin (Bald) Fade
A skin fade haircut is a particularly bold type of men's style. Whereas many shadowed looks still technically have a whole head of hair, this style is bare up the neck to only an inch or so from the crown.
# Medium Fade
A mid fade cut offers guys the best of both worlds. The style isn't as extreme or edgy as its bald variation, but it also captures the essence of the shadowy trend in general. In this instance, the hair is combed back away from the face.
# Temple Fade
Ideal for, quite literally, all different types of hair, temple fades probably look the least shadowy but they offer an option for more conservative men, making it a great choice for your first-time fade.
# Undercut Mohawk with Faded Temple
Also known as the "South of France Fade," the burst fade mohawk is an ideal style for a man looking to get a Mohawk with a trendy touch. Usher rocked this style in the late 90's and early 's (in case you're an RB fan!).
# All Around Fade
The all around fade offers you to play with a high contrast look – longer length on top and fade to the skin on the sides and back look fierce and sharp, and it's completely on-trend. If your hair is curly, you'll want to add a line up.
# Buzz Fade
A buzz fade is achieved by using exactly what you'd assume: electric clippers. They buzz the hair to ensure everything is of the same short length (with the exception of the actual fade). In this case, it has the look of a high and tight taper.
# Box Fade
If you plan to get really funky with your look, a box fade is an option. It's a favorite for many African American men, a style to show off your natural texture and achieve cool geometric shapes.
# Faded Undercut for Longer Hair
Popularity for faded undercuts really picked up speed last year, and the new trend is only looking to grow. The hair is combed back slick and either held with a styling gel or let loose. The key is that the hair on the top is significantly longer than the rest of the head.
# Fade Line
With all the different types of fade haircuts to choose from, it's easy (and encouraged) to get a bit wild. One of the easiest ways to up the ante is with a shaved line, where the arc begins at the temples and runs towards the nape of the neck.
# Fade with Designs
When it comes to fade hairstyles that incorporate geometric, abstract designs, the sky is truly the limit. If you have angular facial features, opt for lines with acute angles and mirror them in your facial hairstyle.
# Comb Over Fade
A comb over fade haircut is one of the coolest fade haircuts in general, and it offers so many features to help make it your own. Here, the look is made more distinguished by extremely slick hair and razor-sharp lines.
If the goal is to update your current style, opting for a fade haircut (whether high, medium or low) is an excellent choice. Fades can be customized to suit your personal preferences and make you standout to a greater or lesser degree.
Sours: https://therighthairstyles.com/mens-fade-haircuts/
Mens fade haircuts and the various types of fade haircuts that come under the umbrella term are fast becoming the classic go-to look amongst the legions of stylish gents.
If you're unfamiliar with the hairstyle, a fade haircut basically refers to long (or at least, longer) hair on top of the head, and short hair on the sides and back of the head. Whether you opt for a skin fade haircut, a taper fade haircut or one of the many different types of fade is entirely down to you – well look at a solid selection of them in a moment.
The fade haircut is incredibly versatile, so is a suitable option for most guys when heading to the barber for a fresh trim. But what exactly should you be asking your barber when talking about styling options and, perhaps more importantly, how do you ask for a fade haircut, when its not as simple as just asking for a fade haircut? Allow us to reveal all.
How To Ask Your Barber For A Fade Haircut
When youre sitting in the barbers chair, you cant simply ask for a fade. Instead, you must tell your barber or hairdresser exactly what kind of style you want. The more precise you are, the more accurate they will be at delivering your wishes. The fade haircut can actually be broken down into various styles: low-fade, mid-fade, high-fade and taper-fade to name a few, but other slightly more obscure options include the undercut fade, pompadour fade and the skin fade haircut.
While its certainly true that the fade cut will suit the majority of guys, your face shape will determine which specific style of fade haircut works best for you.
You can also choose the length you want your faded sides to be. Naturally, youll want to aim for as short as possible – some guys even choose to have no guard on the clippers to get a skin fade – but a good starting point would be a number 1 over the ears, which gradually increases in length to a number 2 further up the sides of the head.
Ultimately, if youre not sure exactly what type of fade haircut, or what length to get, ask for your barbers recommendation, or take a picture in with you of someone elses hair that you like the look of. Theyll let you know if its possible.
Different Types Of Fade Haircuts For Men
What good is all this talk about the different styles of fade without some images and further explanation on them? Here are the best mens fade haircuts to ask for on your next barber visit.
Low Fade Haircut
A low fade haircut is a perfect entry point into the world of fades, as it doesnt require too much of the hair on the sides of the head to be removed. Instead, your barber will only cut the hair just above your ears. You can choose to have a hard low fade, which will see your hair go from a grade 0 or 1 to a 3 or 4, for example, or it can be blended more naturally, going from a 1 to a 2.
Mid Fade Haircut
The mid fade presents itself as being a great all-rounder. Its less boring than a low fade, but doesnt have quite the same impact as a high fade. As its name suggests, the mid fade starts further up the sides of your head, roughly in line with your temple.
A mid fade works with virtually any hair length on top of your head. Pair with a long pompadour, a short French crop, or even a buzz cut, and it doesnt matter if you have straight or curly hair.
High Fade Haircut
The high skin fade is becoming increasingly popular for men, although theres no denying it works best for guys with short hairstyles. This allows the dramatic change between the fade and the hair on top to be seen more clearly.
A high fade can be worn by guys with all hair types too, whether it be straight, curly, afro or Asian
Taper Fade Haircut
Taper fade haircuts provide a combination of the taper haircut and the fade haircut. These two styles on their own are often mistaken for one another, but there is actually much to separate them. A taper cut doesnt exhibit as much of a drastic change between hair lengths but sees the hair taper inwards as it reaches the ear. It also only tends to concern the hair just over the ears and at the neckline (although, youll find there are still many different types of taper fade).
A taper fade, more often than not, shows skin and follows the hairline all the way around, so even the back of the hair is faded too.
A taper fade sees the hair gradually get shorter and shorter as you move toward the ears, before blending in with the skin. Its possibly the best fade hairstyle for all guys, as it works with all hair types and any style you wish to have on top. It can also work wonders for all face shapes too, as the taper can be modified to suit.
Temple Fade Haircut
Also known as the Brooklyn Fade, the temple fade can have its history traced back to the 90s. Predominantly popular with black men with afro hairstyles, the temple fade has since found its way into haircut mainstream, where it is a viable option for anyone.
A classic temple fair haircut will see the hair fade abruptly from the temple and down towards the ear. Only the hair in front of the ear is touched.
Undercut Fade Haircut
The undercut fade combines both the undercut haircut and a fade haircut, to create an incredibly modern hairstyle for men. The undercut by definition already exhibits incredibly short hair contrasted with longer hair on top of the head, with no real in-between phase. Adding a fade into the mix helps to soften this hard contrast, by incorporating fade sides as opposed to having one length of hair.
There is no right or wrong answer when it comes to choosing the fade hairstyle you pair with your undercut fade, as they are all worthy contenders, however, the high fade will give the most eye-catching results. And, as is the case with the undercut haircut, the length of hair on top is down to your discretion too, as anything from short hair to long hair is allowed.
How To Style The Fade Haircut
There are several ways you can style your fade haircut. For a high fade – where the sides are short up above your ear – working some matte-effect product through the hair on top will give a tousled, stylish look.
Patricks M2 medium hold pomade will do the job here, offering a good amount of hold, but is pliable enough so that your hair will do exactly what you want it to. Wed recommend Patricks M2 for any fade style.
A fade doesnt necessarily mean the hair on top has to be short either, just as long as the sides are faded, you have a fade. This means you can also opt for a pompadour hairstyle for a vintage vibe. A classic pompadour calls for a high-shine, so a pomade will be your friend here. Reuzel Blue is the perfect product for proving a strong hold and a high sheen.
Youll want to add on some hairspray to really make sure your look stays locked in.
If you prefer a less subtle look, a quiff will do the trick. This doesnt need to be so shiny, so a matte paste or cream will allow you to run your fingers through your hair to restyle it throughout the day.
How To Maintain Your Fade Haircut
The main downside to rocking a fade hairstyle is that it will grow out and look unfaded pretty quickly. With this in mind, youll want to revisit your barber every two to three weeks to keep your hair looking its faded best.
Fade Haircut FAQs
What are other types of fade haircuts for men?
Burst fade, temple fade, shadow fade and bald fades are some of the variations of the fade haircut. Each is defined by the point where the fade begins.
What is the most popular style of the fade haircut?
The low fade haircut is the most popular cut because it is timeless and trendy at the same time. It is also versatile. You can add the low fade to any men's hairstyle, short or long, for a clean-cut and fresh finish on the sides and back.
How do I know which fade haircut is for me?
Some fade hairstyles look best for a particular face or head shape. A drop fade, for instance, suits men with round or square face shapes. Play around with fades and find the one that suits you the best.
Read Next
Did you enjoy this story?
If so, subscribe to our daily newsletter to receive our top tending stories.
Sours: https://www.dmarge.com/fade-haircuts-men
What do all trendy and popular male hairstyles have in common these days? Probably, the most obvious and outstanding feature that defines all the best men cuts is short sides and a long top, usually crafted with sharp fade. However, there is another, even more fantastic thing about the undercut: it can be styled in lots of different ways from a classy slick back to a crazy spiky hawk. Moreover, the cut is equally popular among boys, teens, young guys, middle-aged and older men. Just keep short hairon the sides and long hair on the top, all the rest we've done for you: the most up-to-date collection of the best short sides long top hairstyles in is in the gallery below:
Fade on the Sides Long on Top
@barberdrix Afro hairalways works great in any haircuts for men with short back and sides, and a long top, which is supposed to keep some shape and texture. Natural curly Afro locks can look a bit fluffy, so just spread some hair gel all over your airy crown.
Disconnected Undercut Hairstyles
@maddiemarissa Rock your "longer hair with short sides" hairstyle in any way, shape, and any color you like. White, black, green, blue, ball-shaped, square… - it's completely up to you and your creativity. Such silver faux hawkwith low taper fade can become your best short sides long top hairstyle.
Undercut with Spikes Hairstyles
@hair_by_benji Since short sides long top haircuts allow for endless experiments, this V-shaped spiky undercutcan inspire you to create your perfectly unique style.
Long Combover with Drop Fade
@miggypcuts Besides being a cool slicked back fohawk, this long top hairstyle with scissor fade is also a great way to carry out a comfortable transition from a shorter cut to a long hairstyle.
Slicked Back Skin Fade
@mercuris_hair_design This slicked back undercut makes a look with a significant contrast: extremely short and high skin fade and very long hair on the top. The crown is swept back with incredible volume and fixed with hair pomade for a glossy finish. This elegant cut, however, has lots of styling options - that's why it's one of the most popular hairstyles for men throughout the world today.
Long on Top Short on Sides
@stavros.pap_cutz Look, how harmoniously this undone side-swept curly mane complements the traditional fade undercut. A small beard and a mustache can also spice up the look.
Side-Parted Pompadour Style
ciprian_ungureanu_academy A Side part, faded sides, and perfect pomp makes this short sides long top hairstyle for special occasions. Get the sides shaved into the extreme fade, throw in some edgy hairlines, and sweep the crown to the side with a comb and some styling product to form a smooth clean pompadour.
Tapered Pompadour Hairstyles
dutchbarbersconnect If you are completely into experiments, you can go further with your pompadourand give it a retro twist with this long taper fade and a hipster mustache. Challenge yourself and create this refreshing style to enjoy your brand new unique look!
Messy Side Part Men's Hairstyles
bestbeautylooks This disconnected side part hairstyle is meant to break hearts. Despite it may resemble a bed head, you'll never achieve this messy but elegant look with dirty and uncombed hair. Wash your hair, blow-dry it, and create the movement atop with a texturizing spray.
Textured Hairstyles with Bangs
indiman__ To get this Caesar-inspired look sweep the long hair on top forward, layering it on the forehead. Such extreme long top haircuts look great on slim and well-built men, especially the ones with prominent and strong jawline and cheekbones. Textured hairstyles with bangs are also great for men with high foreheads.
Short Back and Sides Long on Top Haircut
andreahaircreations Here is another variation of styling you long hair on top of the head. Start it smooth, comb forward, and finish with a disheveled front hawk.
The Modern Bowl Haircut
manwee Like playing with the shapes and trends? If yes, you should definitely try a modern edition of bowl hairstyle at least once in a lifetime. It works best for men with naturally straight hair.
Short Side Swept Men's Hair
john_thewhitebox Add disorder all over your long top hairstyles: partially spiky, partially sleek, a bit undone, with unusual artistic hairline.
Flat Pomp with Side Part Hairstyles
filipe.barber In spite of the fact the flattop was initially invented for curly Afro hair, it has become extremely popular for straight hair styling too. For example, this short sides long top flattop works great for thick straight hair. Of course, European hair requires much more time and efforts to be fixed like this, but it is worth it!
Piecey Bedhead Short Sides Long Top Hairstyles
hairbykedriana Lucky guys with naturally curly hair can do nothing to get this sexy look. However, even if your hair is straight, you can easily get such piecey bedhead undercut. All you need is a curling iron, some styling product, and a bit of patience.
Short on Sides Medium on Top Haircut
hair.by.bryony Buzzed sides and medium top with long and thick hair can be styled into a high fade with natural flow, swept to the front. This easy but trendy haircut will add extra points to your charm and attractiveness.
Brushed Over Short Sides Long Top Haircuts for Men
bladesdesigngroup Don't wanna do anything over and extra? Brush over your long hair to one side and enjoy an everyday casual look.
Faux Hawk with Tip Hairstyles
"moohammad_hamze To achieve a high volume faux hawk, use a blow dryer and a round brush. Dry the long hair on top of your head up and back to end up with this terrific variant of the trendiest short sides long top hairstyles. Play with color highlights and shaved-in design on the sides for that unique vibe.
Textured Quiff Hairstyles
fader_cutz Wanna add some drama to your bald look? Mess up the hair on top with some texturizing spray, make sure that the sides are not too short, but still edgy enough, ask your barber to play with your beard too - and voila: one of those unforgettable short sides long top haircuts is done.
Wavy Short Sides Long Top Hairstyles
fader_cutz Another appropriate name for this wavy short sides long top cut is "party at the front, business at the back". The thing is the length of the crown is increasing from the back part of the hawk to the front. Thus, the messiest part is right above the forehead, while the back hair part is classic and short.
The Blown Back
· _hairbyben With slicked-back hair on top, you have a lot of freedom in terms of styling. You can make a hard part on the side or slick it all the way back. Find the look that works for you.
Long in Front Short in Back Haircuts for Guys
zigzaghair_towcester Check out this super-simple and casual style for daily wear. Have your hair in the back part cut short and sweep it forward while blow-drying.
Short Sides with Bangs/Fringe
igorhosouza Bangs can look boring and old-fashioned, but if styled right, such modern Caesar with shaved sides will leave no one indifferent. Moreover, it will come in handy when you'll find your first bald spots and wanna hide them.
Silky Pompadour with Faded Sides
badabing_barbershop Give your pompadour some freedom: fill it with air and movement, but still keep it in shape.
Textured Crop with Wavy Fringe
mvsonthebarber There are no rules for this one as it is a freestyle. Feel free to create whatever you want: irregular shapes, dyed highlights, various "uncommon" twists. But do remember that the "short sides long top" hairstyle has much more field for your imagination than any other style.
Short Sides with Brushed Back Front
_haircreationz_ Buzz sides and brushed back front hair perfectly combines with a well-groomed beard.
Longer Haircut with High Drop Fade
casperthebarber__ This crazy head of curls is cool, natural, attractive. There's no reason to try to hide your natural curls in super short buzz cuts. This is one of the thousands of great options for curly hair. And it's amazing!
Shaved on Sides Long on Top Hair
laurenfinleyhair Here is another one-size-fits-all undercut for a man of any age, with any face shape, and hair type.
Shaved Sides Messy Pomp Hairstyle
theashparlor This pompadour is messy in its unique perfectionist manner. Bored of ideal meticulously crafted styles? Change the rules of the game.
Military-Inspired Haircuts
oopshairshop Even though military cuts are generally very short, this longer twist is no worse than a more traditional style.
Trendy Quiff with Dry Texture
fader_cutz What makes this upswept quiff with dry texture so outstanding? The hard part on the side and an artistic fade. This element makes the trendy quiff different from others.
Neat Drop Fade with Sharp Line Up
delabaykutz_lb Low ear fade is blending into a long crown full of spikes. This spiky short sides long top hairstyle is great for men with thick and rich hair. Light stubble is another important component of the whole image.
High Fade with Thick Textured Spiky Hair
@angel.the_barber This spiky green hawk with short sides is a hairstyle for guys who love standing out of the crowd. Trendy taper fade design and a messy crown look cool in full. The only thing to bear in mind is to keep the top hair fresh and spiky all the time.
Short Sides Very Long Top
boldisbetterbaby And what about this non-classical twist on the classic short sides and long top style? Experiments with the length of the top make the look creative and unique. Adding blonde highlights gives extra brightness. The braid is another refreshment making the old good hairstyle look brand new.
Wild Side Part Short Sides Long Top Hairstyles
@ali_bar.ber The sides are trimmed into a mid-fade, the long top is upswept, the double side parting is the key detail that changes the rules of the game.
Mid Skin Fade with Thick Comb Over
@mens.hairstyles With this thick comb-over hairstyle, you'll look super cocky! A fantastic sleek comb at the top is highlighted with the sharp buzz line on the side. This hairstyle is a true masterpiece meant for a heartbreaker with long hair.
High Bald Fade with Part and Quiff
modernfreshfades This undercut with high skin fade is full of passion and rebellion. Just look at that big difference the edgy side part makes.
Fade with Long Hair on Top
memzcuts Salt and pepper hair also looks win-win in an undercut. Keep the sides neat and short, and sleek back the longer top gracefully.
Slicked Back Hair with Disconnected Undercut
emilydidthathair Having rocked an extreme cut with high bald sides like this, you have to be ready for more regular visits to your barber. Yes, it's a challenge to keep those sides always clean, but it's really worth it. BTW, a creative beard will help to frame a face and complete this wild image.
How to Style Hair Short Sides Long Top?
How to Style Hair Short Sides Long Top?
As we've already mentioned before, short sides long top hairstyles can be styled in lots of different ways. And the huge variety of pictures in our gallery only proves it. So, here is your step-to-step guide for any occasion:
Wash your hair
Blow-dry it (choose the technique basing on the look you want to get: use a round brush to give an extra volume the hair on top for a pomp or a comb-over, comb the hair forward or to the side for a Caesar-inspired look or side part, comb through your crown with fingers in multiple directions if you're looking forward to a messy finish).
Use the best hair product for your purpose (texturizing spray to visually thicken your hair, add some movement or disorder; hair mousse for tight spiky hairstyles and flat tops; hair gel for side-swept or slicked back smooth and glossy result).
Long top and short sides are the most versatile and multifaceted hair solution you have ever tried. Don't miss the opportunity to be different every day with this untrivial and unboring hair cut.
Sours: https://hairstyleonpoint.com/trendy-short-sides-long-top-hairstyles/
A taper fade haircut is one of the most recognizable, iconic styles in the world of hair. It's stayed for so long because of its timeless look, clean style, and versatile appearance. It's great for casual and formal situations, so whether you work in an office or at home, it'll suit you nicely.
What Is The Taper Fade Haircut?
A taper fade haircut keeps the hair long on top while tapering it down the sides and back. The hair gets progressively shorter as it goes down the head until it blends in with the skin. This gradual fade looks sharp and neat, with no messy or unsightly edges or rough spots.
The taper fade haircut is a wonderful low maintenance haircut that doesn't require much styling or upkeep. It also great for experimenting; you can modify it to fit your personal style.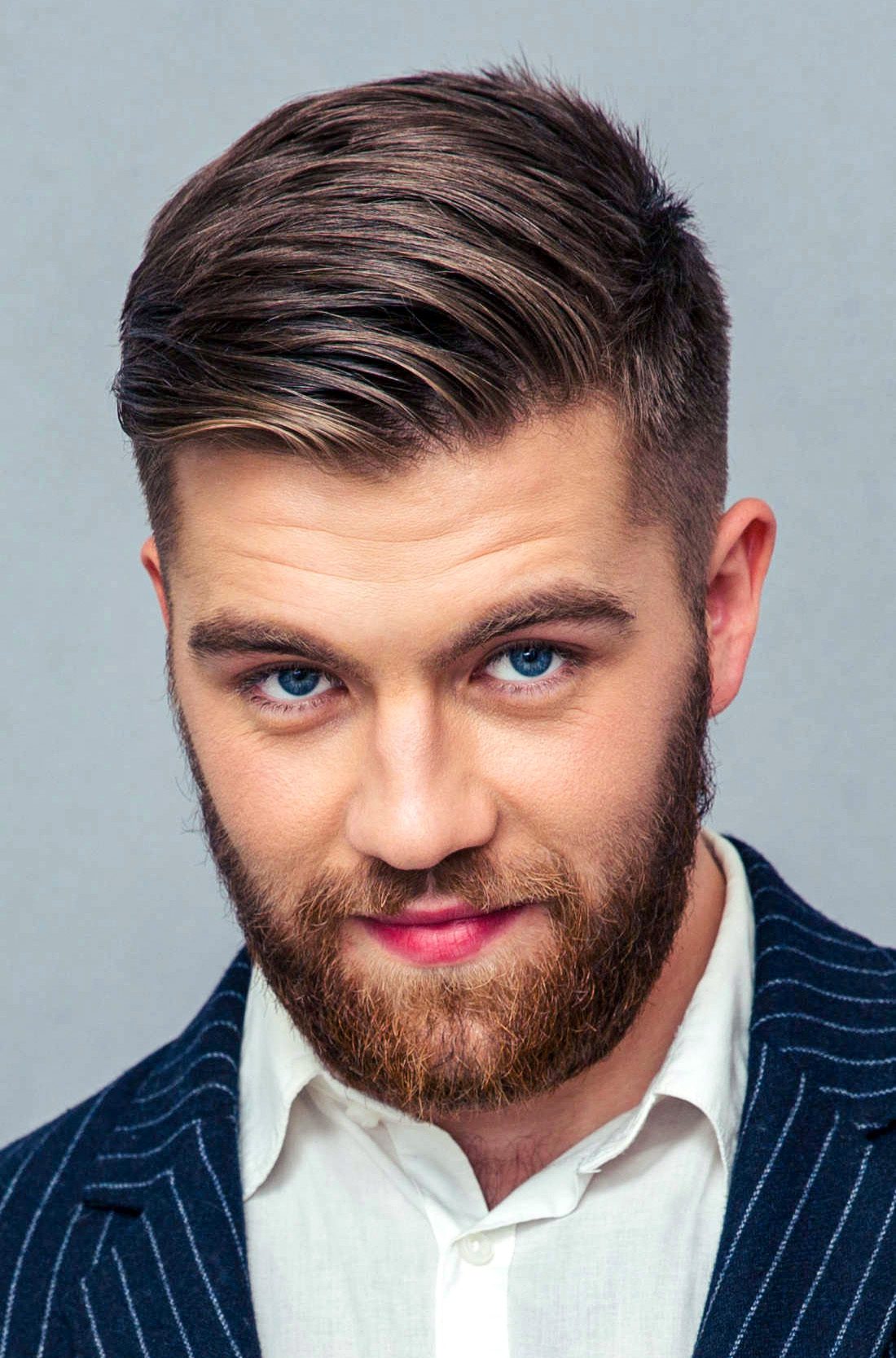 What Do I Need For The Taper Fade Haircut?
The taper fade haircut isn't a particularly long style. Anywhere from 2 to 4+ inches of hair will work. However, the longer your hair, the less neat it will look, so 2 to 4 inches is a good range to aim for.
Since the taper fade is a shorter style that gets progressively shorter, you'll have to decide if it's the right cut for you. For example, if you have a scar on your head that you don't want to show, a taper fade haircut could reveal it. See how the cut looks in the provided pictures, and from there, you can determine whether or not it will be a good style for you.
Sours: https://haircutinspiration.com/taper-fade-haircut/
Fade long top with
22 Men's Haircuts With Short Sides and a Long Top
01of 22
Modern Flattop
Singer Khalid's modern take on an old-school flattop eschews a straight line across the top in favor of more texture. The result (balanced with a slightly grown-out beard) is a far cry from the look of the s. Be sure to invest in a hydrating conditioner to ensure the hair on top stays moisturized.
02of 22
Undercut With Fade
Arguably the most high-maintenance look on the list, the undercut requires much longer hair on top, with hair shorn down (in some cases, faded) on the sides. Just how short you go on the sides is best determined by natural bone structure. "Some clients may have bone protrusions on the sides and the back of the head," says Wildrick. "Generally, we don't expose them, so this is where your barber would decide where the fade placement should be to compensate for those irregularities that we all have as humans."
A mousse can be used to style hair even further up on top, but you'll want to visit the barber every two weeks for a trim.
03of 22
Swept-Back
Bradley Cooper's elegant, swept-back style is one of the most-requested among Vaccaro's clients. "This style is probably the most popular, and my clients always bring in a photo of Bradley Cooper for this one," he says. "It looks good on most men and most textures." To replicate the look, Vaccaro recommends "keeping the sides wispy but not super tight." In other words, "no barber fades here."
04of 22
Spiked Top
This is a good example of how the long on top/short on the sides type cut can be worn for versatility. In this shot, Liam Hemsworth's hair is styled in a loose, spiky style on top. The hair can also be combed neatly with a bit of pomade—try American Crew Pomade ($9)—for a more formal effect.
05of 22
High and Tight
Shaved sides with just a bit of length on top equates to a low-maintenance and still plenty of sophisticated style. Will Smith's version is accompanied by a well-groomed beard and mustache, to balance the look from the top of the head to the chin.
06of 22
Wavy Pompadour
For this shot, soccer star Radamel Falcao's hair is styled up and back to create a pompadour effect. The hair on top is worn a bit loose with separation for a more casual look.
07of 22
Disconnected Sides
For this style, the hair is clipped aggressively short on the sides and back and left long and thick on top. There is minimal blending on the sides to create a bit of a disconnection. The hair may be styled back for a sleek, formal look. As with any style, keep in mind that some looks are better on specific face shapes (this one, for instance, looks best on a narrower face).
08of 22
Short Sides With Twists
Soccer star Gabriel Barbosa's hair is kept short on the sides—but his long, blonde locs offer plenty of interest. The key here is to keep hair on the sides shaved down, so the look mimics a mohawk.
09of 22
High Skin Fade
Highlight your twists with a high skin fade on the sides. If this is too much, opt for a low skin fade, which leaves a bit more hair on the sides, but it's still faded enough to create a stylish profile.
10of 22
Texturized Top
This is a versatile style, which can be worn messy with a bit of styling paste—we like Suave Medium Hold Styling Paste, or combed neatly and parted, for a more formal look.
11of 22
Short and Rounded
Comedian Kevin Hart's short cut is rounded, allowing it to show off his hairline. A slight fade on the sides lends trendiness and a longer goatee adds extra style.
12of 22
Short, Lean Sides
For this style, as seen on Chris Hemsworth, the hair is cut aggressively short on the sides and back and left long on top. The top and front are cut with a razor to create movement, texture, and separation.
13of 22
Casual Separation
For this long on top style, the Zac Efron's hair is razor-cut on top and in the front to add movement, texture, and separation. A bit of styling paste enhances the suave style.
14of 22
Shattered Bangs
For this style, the hair is cut short on the sides and back while a razor is used in front to give the bangs a deconstructed look.
15of 22
Afro Fade
Usher's style combines an afro fade and a mohawk with hair kept extremely cropped on the sides, and higher through the middle. To replicate this look, you'll want to get a trim every four to six weeks, and invest in plenty of hydrating hair products, to keep the longer hairs moisturized. And if you're wondering if a look like this would work for you, do your research. "If you are considering a fade, look up inspiration photos of people who have hair similar to your type and color," says Wildrick. "In my experience, I have generally found that clients with dark and thicker hair can get away with low to high fades whereas clients with light and less dense hair look more suitable with a low fade."
A low fade allows for more gradience, which you can't get with a mid or high fade. 
16of 22
Sleek Bangs
For this style, actor Cillian Murphy's hair is cut close on the sides and back and worn parted neatly in the center. Pomade adds shine and control.
17of 22
Disconnected Bangs
Actor and model Lucas Till is often seen wearing his hair short on the sides and back, with exaggerated length on top. For this style, the front is disconnected from the sides, and the hair is worn brushed forward and to the side.
18of 22
Wavy Top
For this style, actor Kit Harington's natural wave is combed back but for a more natural look, the hair can be allowed to fall on its own, without the use of products.
19of 22
Slicked-Back With Side Part
Here, Joe Alwyn's cut is short on the sides, longer up top, parted, and slicked back with a paste. Try Fatboy's Perfect Putty ($21) for a similar style.
20of 22
Line Up
Actor Michael B. Jordan combines a lineup—where the natural hairline is straightened in the shape of a line—with a mid-fade. This style of fade lands below the temples and just above the ear. As Wildrick explains, how short you go with a fade depends on how often you plan to maintain it. "Suitability is always the word," he says. "The best way to maintain a fade (or any look) is to find one conducive to your lifestyle. If you go in for a skin fade, it will show signs of growing out within a week. If you are trying to maintain that look, you will need to be back in the shop every one to two weeks."
21of 22
High Fade With Buzzed Sides
As seen on professional basketball player Steph Curry, a buzz cut keeps hair tight up top, and a high fade raises the hairline. The resulting look is masculine with a bit of an edge.
22of 22
Full Top
Miguel's thick hair is cut in long layers. The style can be worn loose or styled neatly with products for a more formal look. For volume—without stiff hold—use a product like R+Co. Balloon Dry Volume Spray ($32).
Sours: https://www.byrdie.com/mens-haircuts-short-sides-and-a-long-top
Men's Haircut: How to Do a Fade With a Long Top
Most guys get super cool fade haircuts when they visit their barber these days. This has been a perpetual trend in men's haircuts for decades. If you go back in time to the origins of the fade, the most common variations were the low fade, mid fade, and high fade. Nothing too radical. Just your classic men's fade haircuts with a short or medium length of hair on top.
Today, there are a plethora of different fades. The total number of the types of fade haircuts you can get today has totally exploded. More and more, men are seeking out their personal flare and style. Barbers are getting more creative as each year passes by.
In this men's fade haircut guide, we show you the best examples and styles of every fade haircut imaginable.
See a haircut that you like? Show the photo to your barber and they will take care of you. Super easy.
Scroll down for the best fade haircut designs and styles to get in !
What is a fade haircut?
A fade is a term that describes how the sides and back of your head and hair are cut with professional barber clippers by your barber or stylist.
In most cases, your barber will clip/cut/shave the hair shorter and closer to the skin at the bottom, and will gradually increase the length of the hair moving upwards.
Fades can be generally classified as low fades, mid fades, and high fades. The reference to low, mid, and high simply talks to the area the fade is being performed on with clippers. Lower down around the ears and neck, or further up to a mid point, or even further up to a higher point of the sides and back (up towards your part or crown). Pretty straight forward!
Finally, the hair on the top of your head can be cut short, medium, or left to be a longer length on top. This is usually done with professional barber haircutting scissors after the fade has been carved on the sides and back.
Types of fade haircuts
So, now we know what brings together a basic classic low fade haircut, mid fade haircut, and a high fade haircut. Beyond this there are many different types of fade haircuts that you can get that add some extra style and cool factor. We are going to show you them all to you in this guide. Okay, let's check them out!
1. Low Fade Haircut
The low fade keeps the sides tight and neckline clean.
2. Mid Fade Haircut
The medium fade or mid fade can be anywhere in between a high and low fade.
3. High Fade Haircut
The high fade looks great with short hair and long locks.
4. Short Fade Haircut
A fade makes short hair even shorter.
5. Taper Fade Haircut
The taper fades hair at the sideburns and neckline.
6. Boy's Fade Haircut
You're never too young for a fade haircut or hair color.
7. Fade Haircut For Black Men
Many haircuts for Black men include some type of fade.
8. Skin Fade Haircut
The skin fade reveals the skin up high, in the middle, or down low.
9. Bald Fade Haircut
A bald fade is the same a skin fade and a really clean look for guys with classes.
Drop Fade Haircut
This type of fade drops down behind the ear in a curve.
Low Fade Haircut For Black Men
This ultra low fade is barely visible from the front.
Temp Fade Haircut
A temp fade removes hair at the temples and can be added to any classic or trendy cut.
Fade Haircut Designs
A blurry fade can be a canvas for simple or intricate hair designs.
Low Taper Fade Haircut
This taper cut is as low as you can do.
Fade + Curly Hair
This burst fade creates a curly mohawk shape.
Fade Haircuts For Black Boys
A fade makes it easier for Black boys to wear hair long or short.
Mohawk Fade Haircut
The coolest new way to wear a mohawk is with a burst fade at the sides.
Side Fade Haircut
This fade keeps the sides tight.
Men's High Fade Haircut + Waves
This medium-high fade turns waves into waves.
Afro Fade Haircut
A low fade helps create that perfectly rounded afro shape.
Comb Over Fade
The comb over looks great with a low, mid, and high fade.
Drop Fade Haircut For Black Men
The drop fade has an arched shape instead of straight.
High Fade Haircut For Black Men
Texture on top and a part makes this high and tight extra cool.
Low Fade Haircut
This low fade starts high at the sides and gets lower around the back.
Low Skin Fade Haircut
The arc of this low skin fade echoes the shape of the pomp up top.
Shadow Fade Haircut
A shadow fade goes from short to shorter instead of all the way down to the skin.
Taper Fade Haircut For Black Men
A line up and taper fade creates any hair line you want.
Asian Fade Haircut
Fade haircuts are popular with all thick, coarse hair types including Asian hair.
Fade Haircut With Beard
A fade creates separation between hair and facial hair. Or extend the blur with a beard fade.
Long Fair + Fade Haircut
A fade works with every haircut and length, including long hair. This low fade is hidden when hair is worn down and revealed with this man bun.
Black Taper Fade Haircut
This high taper fade leaves just a hint of that arch behind the ear.
Blowout Fade Haircut
The blowout haircut with a taper fade is styled up and out.
Burst Fade Haircut
This is designed to look like a burst of light behind the ear.
Fade Haircut Back
Fade haircuts look great from every angle.
Fade Haircut With Line
If a hair design is too much for you, try a shaved line instead.
High Skin Fade Haircut
A skin fade makes the high higher and the tight tighter.
High Top + Fade Haircut
A high fade helps a high top look even higher.
Boosie Fade Haircut
This is Boosie Badass's signature look.
Box Fade Haircut
The box haircut is similar to the high top with textured edges.
Fade Haircut With Waves
Hang on to more waves with a low fade or go for waves with a blurry fade.
Light Fade Haircut
A light fade is usually a shadow fade that is more subtle than a skin fade.
Men's Taper Fade Haircut + Short Hair
This cool short cut is close cropped all over with a hint of blunt fringe and a taper fade.
Mexican Taper Fade Haircut
This temple fade is cool way to wear longer hair with short sides.
Top Fade Haircut
The long top with short sides is one of the most popular men's haircut combinations.
Fade Haircut + Short Hair
Faded sides make this clean cut look even cleaner.
High Taper Fade Haircut + Wavy Hair
For textured or thick hair, a high taper fade creates a lightweight hairline.
Low Bald Fade Haircut
A low fade enhances the natural curve of the neckline.
Men's Skin Fade Haircut + Pompadour
A skin fade and textured pomp combine trendy and classic into a fresh new look.
Mid Skin Fade Haircut
This mid drop fade transitions between thick curls and skin.
Mullet Fade Haircut
Add a temple fade to a flow haircut and you have a modern mullet. This a cool way to clean up hair that is growing out.
Philly Fade Haircut
Look familiar? Philly fade is just the East Coast name for a temple fade.
Short Mid Fade Haircut
This medium fade haircut with short hair is a high style, low maintenance look.
Taper vs Fade Haircut
The taper is a quick fade at the temple and neckline while a fade raises the hairline all over.
Undercut Fade Haircut
The undercut disconnects longer hair from short while the fade creates a smooth transition between short hair and skin.
White Guy + Fade Haircut
The fade haircut is for everyone. Here's a trendy look for white guys – the crop.
Curly Low Fade Haircut
For curly hair, faded sides are short enough to lie flat while concentrating texture up top.
Fade Haircut + Black Boy
This blowout haircut is cute for Black boys of all ages.
High And Tight Fade Haircut
This cut is so high and tight that is almost a Southside fade with a part.
Low Drop Fade Haircut
This low fade takes a steep drop down behind the ear.
Mexican Fade Haircut
This fresh fade adds a hard part to the comb over fade.
Mid Drop Fade Haircut
The drop fade starts higher at the front and goes lower around the back.
Short Hair + Fade Haircut For Boys
This fade with a line and faux hawk is cute and cool.
Slick Back + Fade Haircut
This cool look fades hair along the line of longer hair that is worn slicked back.
Best Types Of Fade Haircut For Black Men
The best type of fade for you is whatever you want. Here is NBA analyst Jalen Rose owning his taper fade with short curls.
Afro + Fade Haircut
The taper fade is most popular type of fade for afros.
Black Bald Fade Haircut
A bald fade goes down to the skin.
Black Male + Fade Haircut
This high fade haircut is visible from the front and sides.
Blonde Fade Haircut
A shadow fade can work well for blonde and lighter hair colors.
Buzz Fade Haircut
The buzz cut with a fade is one of the most popular haircuts for men.
Drake Fade Haircut
Drake is known for his go-to hairstyle – a buzz cut with medium fade and line up but it looks great on everyone.
Drop Fade Haircut For Black Men
The drop fade looks great with short and longer hair, like this medium length coils.
Fohawk Fade
This cool cut is almost a mohawk all over, with spiky hair at the front, a V-fade at the back, and a rainbow of color. That's not to mention the reverse fade and trio of slashes.
High Bald Fade Haircut
This thick hair look brings a military style to the street.
High Fade Haircut For Black Men
Here Pittsburgh Steeler running back Kalen Ballage pairs a high fade with braided dreadlocks.
Mexican Low Fade Haircut
Here's a cool version of the Edgar haircut with that signature blunt fringe and a low bald fade.
Sours: https://www.menshairstyletrends.com/fade-haircuts/
You will also be interested:
If high fades are too high and low fades are too low, these mid fade haircuts might be just right. This type of fade cleans up the neckline while leaving a hint of length above the temples.
This in-between fade length may be the most versatile. The medium fade can be cut lower or higher, on a curve or on a straight line. Mid-length fades are often, but not always, drop fades that arc down behind the ears. The other option for the medium fade is a straight line around the back of the head. The fade length can be an ultra-short shadow fade or down-to-the-skin bald fade.
The medium fade is a flattering choice for all guys because it doesn't add any width at the sides. That makes the mid fade extra flattering for men with round faces and work well for thick hair, curly hair, and black hair.
Check out these pictures for 45 ways to wear mid fade haircuts plus different hairstyles on top.
1. Mid Fade Haircut
Fades are most dramatic when seen from the side but the front view is just as, if not more, important.
2. Mid Skin Fade
Mid fades remove hair up to the temples for a tight profile. Hair can tapered higher or lower on the head but the key difference between a mid fade and high fade is the placement of the neckline at the back.
3. Men's Mid Fade Hairstyle
Like other fades, the mid-length fade can be added to any haircut of any length. Here it is with a textured short hairstyle. Clean cut sides and tousled waves on top is a cool combination.
4. Mid Fade Haircut For Black Men
The made fade creates a curved shape that contrasts with the line up and beard shape.
5. Mid Drop Fade
As the name suggests, a drop fade drops down behind the ear. This fresh style juxtaposes the arc of the fade with a sweep of bangs at the front.
6. Medium Bald Fade Haircut
Add an unexpected detail to a mid or low fade with a V-shaped neckline. The point is a cool contrast against kinky curls on top and also looks great with a range of other hairstyles, especially a mohawk fade.
7. Mid Fade Men's Haircut
This medium fade with a shaved line adds a modern finish to the otherwise classic men's haircut.
8. Black Mid Fade Haircut
This cool look mirrors the arc of the fade in curly hair on top. A shaved side part finishes the look that is equally suitably for work and play.
9. Medium Fade Haircut For Curly Hair
Fades are one of the most popular ways to wear curly hair. You can embrace natural texture without growing an afro. Of course, that's a cool look too but it is not for everybody.
Mid Taper Fade Haircut
If you're trying to spot the difference between a taper fade and fade, look behind the ear. A taper fade has a distinct line while a fade will have a blur. This is medium high taper fade because there is a taper around the edges with short hair extending up.
Mid Fade + Comb Over
The combover fade is one of the most popular hairstyles for guys. There are lots of ways to get the look but this version features a mid skin fade and hard part.
Mid Fade + Short Hair
With fade haircuts, anything goes on top. This cool look pairs textured short hair with a medium shadow fade. A very popular men's haircut the past few years.
Mid Fade Hairstyle
This cut is as cool as it is clean cut. It is suitable for business as well as guys with active lifestyles who want to look good at all times.
Best Mid Fade Haircuts
A mid fade turns this waves into waves. This is one of the best fade haircuts because of the juxtaposition between the wavy texture and blurry fade.
Low-Mid Fade
The bald part of this fade starts out low but takes it up a bit higher at the neckline.
Mid Fade + Long Top
Many mid length fade hairstyles are long on top with short sides and back. (Ignore that high fade down there in the bottom right corner.) Whether it's spiky or textured, styled up or down, a mid drop fade emphasizes the length and style of what's happening on top.
Black Mid Fade Haircut
Crown yourself king with this simple but bold hair design over a medium fade.
Medium Fade Haircut – Short On Top
Here's a short flow haircut over a mid-length fade.
Medium Fade Haircut Design
This fresh way to wear a hair design shaves it right into the fade. They will love watching you leave.
Pompadour + Mid Fade
The pompadour is another retro men's hairstyle that gets a modern update with a fade. The pomp fade cut is often worn with a high fade but with a mid level fade, you can add a hard part.
High-Mid Fade
This almost straight across fade is a little higher than the usual medium fade.
Mid Fade + Straight Hair
Like other types of fades, the medium fade works with all types of hair, including straight.
Medium Fade Haircut With Part
In between the mid fade and side part is a short section of thick hair. In addition to styling hair up on top, use a touch of product to keep short hair from sticking up.
Mid Fade With Waves
Waves can be worn with any type of fade or none at all but this one goes for a medium skin fade and shaved part.
Mid Level Fade
Fade haircuts look great from every angle, especially the back. This classic scumbag boogie styled with a pomade that has lots of hold, plenty of shine, and a blurry neckline.
Mid Fade Haircut With Hair Design + Curly Hair
This is a cool example of a medium-high drop fade haircut. The curve is repeated in the shaved line and interrupted by a pair of slashes. It works well with this curly crop but the fade and hair design would look just as good with different hair types or hairstyles.
Mid Bald Fade + Side Part Sweep Back
With a quick taper, this mid bald fade reveals a lot more than skin. Using a haircut to reveal ink can change up your look in a big way. Don't worry if your skin is a blank canvas. The fade looks good on everyone.
Mid Taper Fade Haircut
The taper fade only fades the sideburns and neckline, leaving a defined arc behind the ear. This medium taper takes short hair up higher around the edges.
Mid Drop Fade + Quiff Hairstyle
Dark hair contrasted against platinum gives this fade extra depth. Used as a canvas for a subtle hair design, this medium fade also features an upward arc before dipping low around the back.
Mid Bald Fade Haircut + Side Part Hairstyle
The mid fade is a modern addition to the classic side part hairstyle. The key to keeping hair from sticking up is leaving enough length before the taper and a touch of product.
Mid Fade + Comb Over Haircut
The comb over is one of the most popular fade haircuts. This version contrasts long hair on side of the part with short on the other and a medium skin fade all the way around.
Low To Mid Fade Haircut For Thick Hair
This fade lands somewhere in the territory between low and medium height. The skin fade is down low but the blur continues further up the sides and back of the head.
Mid Fade + Curly Hair Haircut For Men
Fade haircuts are one of the best haircuts for curly hair. Why? Because you can control how much curl you want. This cut keeps medium-length curls on top with a buffer of short hair before the mid fade.
Mid Fade With Waves
These might not be waves but that texture looks great with a medium skin fade, line up, and hair design.
Mid Fade + Short Crop Haircut For Thick Hair
Here's a thick but short crop haircut over an almost straight across medium bald fade. Try a hair wax to get this natural-looking texture.
Mid-Low Fade Haircut + Short Wavy Hair
This skin fade is a touch higher than a low fade and a touch lower than a mid fade for that just right mid-low fade. Your barber will customize the size and shape of the fade to flatter your head shape (and size).
Mid Skin Fade + Quiff Haircut
This crispy cut for thick hair starts off straight at the temple and drops down at the back of the head. It's almost a mirror image of the spiked up quiff at the front.
Bald Mid Fade + Tapered Haircut
Here's a closeup of a medium fade cut bald. It can be a surprise to see the pale color of your scalp but it gets some color after a couple of days. Even from here, it is evident how a fade draws your eye to the hairstyle worn on top.
Natural Curls + Bald Mid Fade Haircut
This curly top looks totally different when worn with a low, medium, or high fade. Try them all until you have found your favorite.
Dreadlocks + Mid Fade
The medium-high fade looks great with long and short hair. These long dreadlocks are up high on the head but the skin fade is cut right down the middle. This would also work with short, medium, or long braids.
Mid Fade + Medium To Long Hair On Top
Here's a version of the popular disconnected hairstyle with a medium fade instead of the undercut. Hair is simply swept back with fingers for that effortlessly cool look. Try a hair clay to add texture and hold without shine.
Mid Fade + Short Textured Haircut
Antonio Mateo
The pomp is a classic cut that gets a modern edge from the addition of a fade. This bald fade quickly tapers from hair to skin with the blur that is the sign of a high-quality blend. Textured styling and a shaved part also update the retro style.
Medium Length Pompadour + Mid Fade
Hair is cut thick to emphasize the difference between the bald drop fade and lush ginger hair on top. It's a modern side part hairstyle with a quiff at the front.
High Top + Mid Skin Fade Haircut
The mid fade works with every hairstyle from short to long and conservative to cool. The rounded high top falls in the long hair and cool categories. The angle of the fade reflects the hair on top, emphasizing the bold lines of this fresh style.
Short Hair Mid Fade Haircut
This is a cool cut for thick or Asian hair, especially if you want to stay cool and look hot in the summer heat.
This post may contain affiliate links. Please read our disclosure for more info.
Sours: https://www.menshairstyletrends.com/mid-fade-haircuts/
11232
11233
11234
11235
11236