This week I'm taking a look at an older set. Hailing from 2018 the Cargo Train is the most recent Train set LEGO released (along with Passenger Train). We're probably due a new one soon but I was getting itchy fingers, I wanted to talk about trains! All aboard, the LEGO Train Express is pulling away from the station.
Contents:
Background
First off I need to make it clear that I know nothing about model trains, real trains, or railways generally. I love LEGO Trains but hearing someone explain to me how they relate to the real thing is like another language to me. So all you avid model train fans please forgive my ignorance. What I do know is LEGO. As a kid we were never rich enough to buy a LEGO Train set, they were always on the higher end of costs for a LEGO set, so I had none as a kid. But as an Adult Fan of LEGO I've come to love them anyway. I love cities, that's where my LEGO passion lives, and what kind of city doesn't have a train? A terrible one. LEGO also see the connection between the themes because in 2006 they officially moved Trains to the City Theme, essentially discontinuing the separate Trains Theme. Fans of LEGO trains have coined the term L-Gauge when referring to the scale, this mimicks the scale system Model Train enthusists use.
There have been several versions of LEGO Trains, the theme has constantly evolved as technology improved. Here's an overview.
The Blue Era
Released in 1966 and informally named after the awesome looking blue track that defined the first generation of LEGO Trains. These initially were push-along trains but soon delevoped into 4.5V battery operated trains, then again, around 1969, into a 12V system with conductor rails. All three systems ran concurrently allowing you to upgrade / downgrade your models to whichever system you preferred.
The Gray Era

Beginning in 1980 LEGO Trains went through a massive overhaul. You could still get them in the 4.5V (Battery powered) and 12V (Electric tracks) systems. The minifigure which was introduced a few years earlier caused a momentous shift across all things LEGO and Trains were no exception. The Trains started to appear more realistic and the tracks (now Gray, hence the name) became far more versatile and functional. LEGO Train enthusiasts will often site this era as their preferred era. The introduction of electric level-crossings (Rail Crossings), switch tracks (points), and signals really elevated LEGO Trains to new heights.
9V Era
Perhaps the most famous of the systems. In 1991 LEGO moved away from the dual voltage system to a single 9V system, this moved Trains in line with LEGO's other power functions at the time. Going through another major overhaul, everything was changed, most noticeably the tracks. This new system ended when LEGO introduced the new Remote Controlled System in 2006. But these electric tracks are still popular with LEGO Train fans and are quite sought after. Issues like corroding metal has reduced the availability of good track also. (Boy do I miss boxart like this, I mean where exactly is that passenger train coming from? A Volcano? Hell? Love it!)
RC Era
In 2006 we were given new remote control trains. These trains carried battery boxes and could be controlled without the inconvience of having any wires. The issue was that people didn't really like this new system. Complaints of lack of range and incredible battery consumption were louder than the cheers for the cheaper non-electric tracks or the ability to control more than 1 train at once. A rail network was also easier to build without any worries about getting the polarity of the tracks correct. But LEGO (keen to keep their recent good fortune going) listened to the criticism and made changes, fast. This era only saw 4 non-supplemental sets.
Power Functions Era
A year later LEGO announced that support for the 9V system and the RC system would be stopped. The old systems were just too costly to continue, they no longer fitted in LEGO's plan for the future. They said a new system will be introduced very soon. Then, in 2009, we were introduced to Power Functions and all the good stuff that came with it. Power Functions was a company wide initiative with the aim for it to be used across all themes. So far only Trains, Creator and Technic have utilised it. It was launced to big fanfare. LEGO were betting big on it to allow them to spread the high costs of these electronic parts across many themes not just trains. These RC functions were far better received by consumers (although hardcore Train fans were still annoyed by the lack of electric tracks).
Powered Up Era (aka Power Functions 2.0)
In 2018 the Power Functions System was given an upgrade. It didn't really affect the designs of the trains and things like the tracks remained unchanged so what's the difference? Mainly Bluetooth connectivity. This is the system used for the train in this review.
The Future
Who knows, many want electric tracks back and I can see their point, if you run large displays changing the mammouth amount of batteries to keep several trains moving would be a major pain in the ***. A single train uses so many by itself. I doubt that electric tracks will ever come back though. The issues that forced LEGO to discontinue them are still relevant today. I think we're more likely to see smarter train systems. Ones that use LEGO robotics systems (like the new We Do system) to sense each other and other features on networks, like signals. A programable network where you build the map and timetable in a program and click go and off the trains go. I think that would be pretty cool.
Notable Mention Goes to the Monorail System
Monorail, just as in real life, run on a single railed track. LEGO dipped their toes in the monorail pool a little in the 80's but for whatever reason decided it wasn't worth the effort, lasting just 3 non-supplemental sets. Interestingly, even with their limited release the monorail engine was featured in the both the 50th anniversary set 4002016-1 LEGO on Tracks (a LEGO employee gift exclusive) and the 60th annivesary set 40290-1 60 Years of the LEGO Brick, suggesting that it holds a nostalgic place for a lot of LEGO fans.
The Set
Load up the powerful LEGO® City 60198 Cargo Train and deliver the goods on time! This cool LEGO City set features a motorized engine with 10-speed Bluetooth remote control, accessible driver's cabin, a crane wagon with rotating and extendable boom arm, container wagon with 2 containers, and a log wagon, plus an armored truck with opening doors, and a forklift with opening roll cage and lifting forks. This cool LEGO train set also includes a full circular track with 16 curved rails, 16 straight rails and a railroad switch with lever, plus a control center with ladder and 2 buildable pallets with money bills, gold bar elements, a snow scooter and 6 LEGO minifigures.
The Box
The box measures 575 x 375 x 115 mm. Inside are:
The Instructions
Here's the vitals for all the manuals:
Manual 1 measures 195 x 125 mm. With 31 pages and 39 total build steps.
Manual 2 measures 195 x 125 mm. With 63 pages and 59 total build steps.
Manual 3 measures 200 x 180 mm. With 51 pages and 43 total build steps.
Manual 4 measures 200 x 180 mm. With 55 pages and 62 total build steps.
Manual 5 measures 200 x 180 mm. With 71 pages and 75 total build steps.
Manual 6 measures 200 x 180 mm. With 83 pages and 113 total build steps.
The pdf can be downloaded here.
The Parts
The set contains 1226 parts and 43 spares, in 27 colors, and 40 part categories, with a total of 412 unique parts/color combinations.
Main colors are:
Main categories are:
As this set is from 2018 I have done my best to discover all the new parts, colors, and prints that this set introduced, I may have missed some, if you know of more please leave a comment.
New Parts: I've noted appearences since.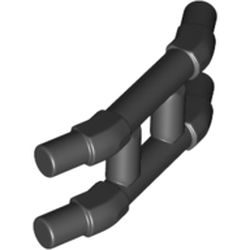 This part has not appeared since.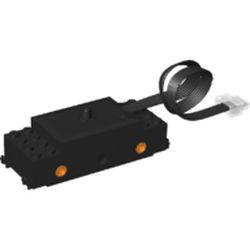 One of the new Powered Up components this has recently appeared in set 71044-1 - Disney Train and Station.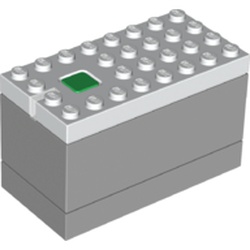 Another new Powered Up comonent also appeared in the Disney Train set but got in another 2018 non-train set 76112-1 - App-Controlled Batmobile.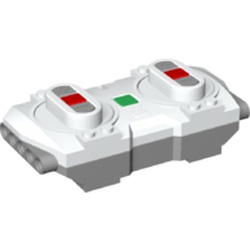 Not seen since it's introduction. The Disney Train and Batmobile sets that used the other Powered Up components favoured the cheaper option of not providing a physical controller, Owners had to download the App to drive the train.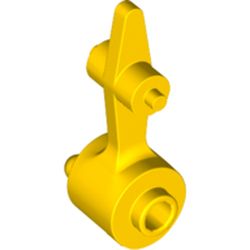 This last new part is a new mold of part 2866 which appeared suring the 9V Era. They reinforced the part for this set and the supplementary track set 60238-1 Switch Tracks.
New Prints of Existing Parts:-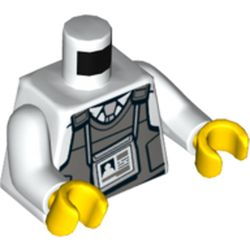 This print has appeared in two other sets since. 60175-1 - Mountain River Heist and 60245-1 - Police Monster Truck Heist.
Parts in new colors: This is new colors in 2018. I have wrote about the colors current status as it applies today.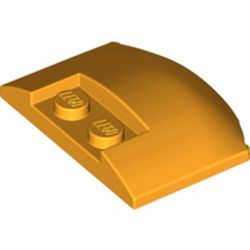 Appeared since in 1 other set. 2020's 70428-1 - Jack's Beach Buggy.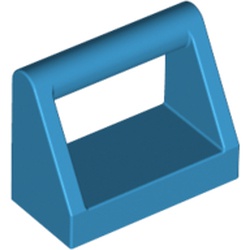 Made 3 appearances in 2018 but took 2019 off. Appearing again in 2020's 70429-1 - El Fuego's Stunt Plane.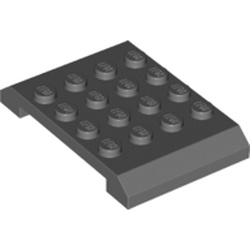 No longer it's only appearance, turning up in 2019's 42110-1 - Land Rover Defender.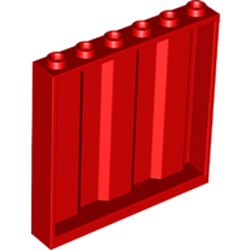 Still this colors only appearance, if you want to build a red shipping container this set is still your only choice.
Rare Parts (3 or less appearences): With the age of the set some of these parts no longer fall under our definition of a rare part. I mentioned this on applicable parts.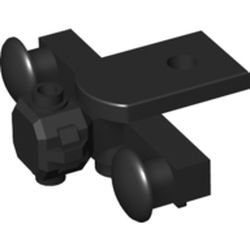 First introduced in 2016 in set 10254-1 - Winter Holiday Train.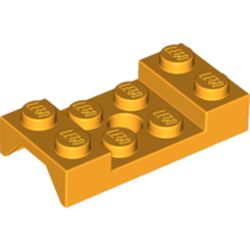 Recently seen this year in polybag set 30369-1 - Beach Buggy.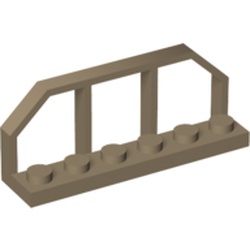 Still the last appearance of this color. Before this it was only in 2 Star Wars sets.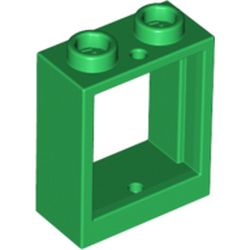 No longer rare as it appeared one more time in 2019 to take the total to 4 sets.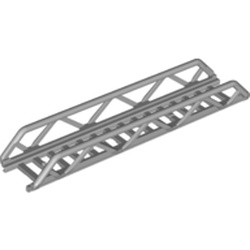 No further appearences, first seen in this color in 2014.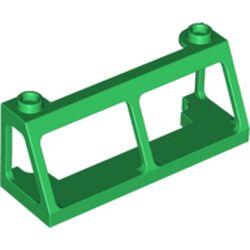 Appeared since in the 2020 Spider-man set 76147-1 - Vulture's Trucker Robbery.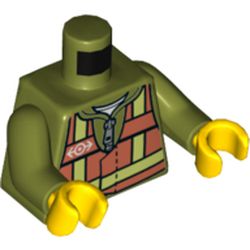 No further appearences, this print has been reserved for Cargo Trains so far so maybe it'll appear again in the next one..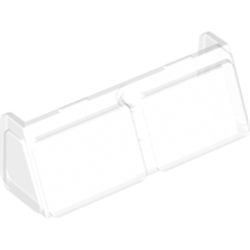 Interestingly, it didn't appear with it's counter-part in the Spider-man set this year, but did appear in last years Modular set 10264-1 - Corner Garage.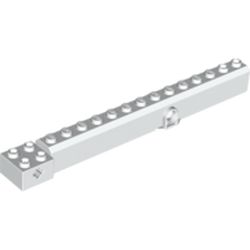 It's had one appearance each year since it's introduction in 2016. I wonder if we'll get one in 2020.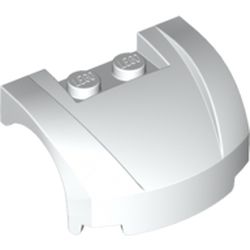 Not seen since this set.
Minifigures
This set comes with 6 minifigs.
The Build
Bag 1: A nice little build to kick things off. The elastic band adds a nice play touch to the model, and it has no trouble staying balanced with the loads in this set.
Bags 2 & 3: I've built a few security trucks now, how does this one compare? It's as good as a security truck on this scale could be. The side opening makes it more fun as you can use the forklift to load/unload directly.
Bag 4: We build the track. Nothing special but I do appreciate the brick-built crossing and buffer instead of using larger modled parts.
Bag 5, 6 & 7: It takes us to bag 5 before we get to the thing I'm most excited to build. The engine looks great. I'm no train expert and have no idea if this is based on a real train (help me in the comments section) but it looks the part and I love the green color scheme. The battery box is nicely hidden in the center, they even designed a hinged panel so you can turn it on without exposing the component and ruining the aesthetic.
Bag 8: Now to the cargo. The logs come with chains so you can use the crane to move them around. It is a bit fiddly to get them on the bed though which is annoying.
Bag 9 & 10: The crane car is great. So much articulation and range. Cranes are a common feature in LEGO cargo trains and this one doesn't disappoint it's ancestors. Be warned, the support struts are there for a reason, it will tip over if you don't use them.
Bag 11: Showcasing the more playful side of the set, the bank vault box adds a story to the set (the reason for the crook in the set). And the container with the snowplow cargo is a really nice nod to the Artic Explorer City sub-theme from a couple of years earlier.
Bag 12: Finishing off the build with the only building in the set. It's nothing special but again, it adds to the playability of the set..
Conclusion
Apologies for the garish red rug in the first photo, my kids playroom is the only place I have where I could set this up for the photo.
I do love this set. The new Powered Up components seem to be far better than their Power Functions brother. The engine is fast and has no trouble hauling the rest of the train. It also responds to the controller instantly, no-one wants lag when theres a damsel in distress on the tracks!
Playability is high, yes my kids actually got bored of watching it go round in a circle but they didn't get bored of playing with the non-electric aspects of it.
Complaints? A couple, I do hate the amount of batteries I need for the Powered Up stuff, I wish LEGO would come up with a rechargable battery pack that I could swap out instead. Secondly, and this is a complaint of the Train theme generally, they've seemed to have given up on it. In two years we've had nothing new. Where's the level crossing, signals, bridge components, even a station. That platform in the Passenger Train set is not enough. Without more support for the theme they're weakening the attraction. Train fans and city builders want to build a network, let them give you their money to do so.
The set does feel a little overpriced too. With all the Powered Up parts it pushed up the price to a point where you feel like you may not have gotten very good value for money. I guess that's LEGO's eternal problem with these expensive electric parts, they're expensive and people aren't used to evaluating them when looking at how good value a set is.
If you asked me which of the 2018 sets I would get, if I could only get one, I'd say spend the little extra for this one. The crane and cargo add far more longevity to the set.
Build on,
Jared
Disclaimer: This LEGO set was kindly provided for review by The LEGO Group. Anything said in this post is the opinion of the author and not The LEGO Group.
Parts- and build photographs by Jared Hinton (© 2019 Rebrickable)
This LEGO Set is available now at the LEGO Shop in these locations:
US for $229.99 | GB for £179.99 | CA for CA$269.99
Sours: https://rebrickable.com/blog/238/review-60198-1-cargo-train/
At long last, way too long probably, Brick Model Railroader has built and reviewed the new Powered Up train sets from the LEGO City line!
Unfortunately, and quite obviously, we are pretty late to the review party for these new trains. While BMR is a Recognized LEGO Online Community (RLOC) and we do have some benefits from that, we were not able to obtain the new train sets before the official release, but we did try. Cale ended up buying one of each anyways so we could provide a decent review for our audience, being the only Train-specific LEGO media around.
Let's dive into the new 60198 Cargo Train with Powered Up!
First off let's consider what were' getting in this set.
Generic twin-cab electric locomotive
Log car w/ log load
Crane car
Container car w/ two unique containers
Switch tower
Bank van
Forklift
End-of-track bumper
16 straight track sections
16 curved track sections
1 left-hand turnout
All that, plus the new Powered Up (PUp) components for a retail price of $229.99 USD, which, admittedly, is a pretty high price. This is likely a result of the R&D and implementation costs of the new PUp system. You do get a fair amount with this set, but for a price like that, I wish there was at least an extra freight car to play around with. Regardless, I have to say I enjoy the set.
The locomotive is easy to build and fun to use. The classic twin-cab design is nothing new for cargo trains from Lego. Classic European-inspired lines and pantographs to match with sleek rounded-off noses at both ends. The battery/receiver is neatly packaged inside the vents and can be accessed with the removal of just four parts.
The locomotive can be activated and paired with the remote by pressing down on the center roof section. Conveniently there is a green sticker which is applied to the proper place directly above the power button on the battery/receiver.
We'll post a separate review detailing the Powered Up system in the near future of course, but here's a run down of the system.
The remote and receiver are paired by holding the green buttons on each unit simultaneously, linking them directly. Left buttons control port A, and the right control port B on the box. The train has a total of 10 speed steps, but even running at step 3 is comfortable, especially on the standard curve radius. Those that enjoy crashes can jump it up to 10 if they want.
Bearing in mind that realistic operations is NOT what Powered Up is designed for, I like it. It's very plug-and-play and easy to use. I can walk to the other side of my apartment and still control the locomotive and I have to put multiple walls in front of me before I lose connection.
Speaking of losing connection, it took me about four minutes to glitch the system, but I WAS trying to. I walked far enough away to disconnect the remote, and upon automatically regaining the pairing to the box, the locomotive would only run with the button held down and would only run at notch 10. For conventions, this isn't good. BUT, again, not the purpose of the system. I'd feel comfortable leaving this with a younger engineer to play around with.
The log car is the first car on the list in order of the instructions. It's a nice, simple, and predictable build and comes with three large logs which can be hoisted from the crane. Little to say about it because there's just not that much to it, sadly.
The crane car is next and definitely the coolest of the three cars. Classic features are included such as the rotating cab, extendable boom and an operating winch and hook. Outriggers are included under the main platform for stability, which is necessary even for such a small crane.
One thing I did notice, though, is that when trying to pick up a crate off the ground with the boom fully extended, the boom lowers itself by several degrees before the crate becomes even barely airborne. See the video below:
In a second test I held the knob which controls the angle of the boom with one hand while winching the container up with the other, and the same result occurred. It seems like there is room for improvement here, but I'm probably just nit-picking.
The third car is the container car, and again we have another instance of an overly simple and predictable one-use car. The snow mobile in the one crate is nice but doesn't add much to the set beyond looking cool or being something you wouldn't normally use next to a train. The bank container offers play-ability, which is nice, but still the car itself is lacking.
It seems like we normally get some sort of right-of-way add-on in most freight sets, and this one is no different. I simple crossing is included here, which is nice for those that want to drive the bank truck and forklift over the tracks into the center of the loop. The switch tower, though, is something I actually quite like. I've always been a fan of realistic operations, which this structure represents in a neat way. the signal can be flipped back and forth to show green in the desired direction and red in the other.
Using a simple throw mechanism, you can correctly signal trains into your siding. There is even a built-in stop to prevent overshoot. Further still, the real track layout is shown on two stickers which represent the monitor boards in top of the tower.
Nice job here, LEGO.
The first of the two vehicles in this set is the easily built bank truck with a driver. The main body of the truck opens gullwing style to allow the pallet full of gold and cash to be loaded in.
The forklift I like because of the bright light orange color. The forklift assembly with the spring has been done away with and replaced with a two-part assembly with a rubber band providing the elasticity.
In all, the set is good, but a bit pricey for the reasons already mentioned. In my opinion, it's still great that LEGO still gives us new train sets every now and then, but offers little room for expansion.
What I mean is this. There are a lot of people, most of us, perhaps, who will buy a train set and keep it and mod or MOC our own cars to use with it, which is great. However, the less creative or those who would rather buy suitable cars to use are stuck. We no longer have the luxury of being able to hop over to the LEGO store and pick up an extra freight car or passenger car, and I really miss that. Even now that I'm at the point of consistently building my own models, I still would like to see some expansion sets for trains again.
Thanks for reading, and play well.
Related
60198BMRBrick Model RailroaderCargo TrainElectronicsLEGOLEGO TrainLocomotiveRailroadreviewRRTrainSours: https://brickmodelrailroader.com/index.php/2018/09/08/review-60198-cargo-train-with-powered-up-system/
LEGO City Cargo Train 60052 Train Toy
Product Description
Move heavy goods - and animals! - around the city with the super-powerful LEGO City Cargo Train! This awesome motorized train with 8-channel, 7-speed infrared remote control can transport almost anything. So it's your job to make sure the cargo is in the right place at the right time to keep the city running smoothly. Attach the cattle wagon and 2 cargo wagons together and pull them around the circular rail track with the locomotive. Operate the forklift to move the pallets safely between the wagons and truck. Keep track of all the cargo leaving and arriving in the office at the impressive cargo train station. There you can use the sliding overhead crane with hook to move heavy cargo between vehicles or onto the ground. With so many play functions and cool features, this really is the ultimate set for train enthusiasts! Includes 4 minifigures: forklift driver, train driver, farmer and a truck driver. Cargo Train features a motorized locomotive with 8-channel, 7-speed infrared remote control, driver's cabin with opening doors and dashboard, plus a cattle wagon and 2 cargo wagons.
Brand Story
By LEGO
Sours: https://www.amazon.com/LEGO-City-Cargo-Train-60052/dp/B00J4S6UYO
LEGO® 60198 Cargo Train
Description LEGO® City Trains: Cargo Train
Load up the powerful LEGO® City 60198 Cargo Train and deliver the goods on time! This cool LEGO City set features a motorised engine with 10-speed Bluetooth remote control, accessible driver's cabin, a crane wagon with rotating and extendable boom arm, container wagon with 2 containers, and a log wagon, plus an armored truck with opening doors, and a forklift with opening roll cage and lifting forks. This cool LEGO train set also includes a full circular track with 16 curved rails, 16 straight rails and a railroad switch with lever, plus a control center with ladder and 2 buildable pallets with money bills, gold bar elements, a snow scooter and 6 LEGO minifigures.


Includes 6 LEGO® minifigures: 4 train workers, a security officer and a crook
Features a motorized engine with 10-speed Bluetooth remote control, pantograph on the opening roof, and driver's cabin with control panel
Also features a log wagon, crane wagon with rotating and extendable boom arm, and a container wagon with 2 containers with hooks on the roof for loading and space for pallets
Includes a control center with ladder and signal lights, a full circular toy train track with 16 curved rails, 16 straight rails and a railroad switch with lever, a money transport truck with opening doors, and a working forklift with opening roll cage
Accessory elements include a wrench, 12 gold bar elements and 4 money bills, plus 2 buildable pallets, 3 logs and snow scooter
Open the roof to access the engine car filled with cool details
Operate the cargo train with the 10-speed Bluetooth remote control
Lift and load logs onto the log wagon with the crane's rotating arm and hook
Push the lever on the railroad switch to drive the train to a different track for loading or unloading
Load pallets into the containers with the forklift before lifting them onto the container wagon with the crane
Set up the tracks in different configurations to load or offload cargo around your city
This product requires batteries (not included). Please refer to the product packaging for type and quantities
The included Bluetooth remote is not compatible with older infrared remote-controlled LEGO® train sets
Cargo Train in total measures over 4" (11cm) high, 32" (82cm) long and 2" (6cm) wide
Engine measures over 4" (11cm) high, 10" (27cm) long and 2" (6cm) wide
Log wagon measures over 1" (5cm) high, 5" (15cm) long and 2" (6cm) wide
Crane wagon measures over 4" (10cm) high, 8" (22cm) long and 1" (5cm) wide
Container wagon measures over 3" (9cm) high, 7" (18cm) long and 1" (5cm) wide
Armored truck measure over 2" (6cm) high, 6" (15cm) long and 2" (6cm) wide
Control center measures over 8" (21cm) high, 3" (8cm) wide and 4" (12cm) deep
Forklift measures over 2" (7cm) high, 2" (5cm) wide and 4" (12cm) deep
Specifications
Not for children 0-3 years!
| | |
| --- | --- |
| Brand: | LEGO |
| Theme: | City Trains |
| Total parts: | 1.226 |
| Advisory age: | 6 - 12 year |
| Launch Date: | 01-08-2018 |
| Weight: | 3.009 gram |
| Dimensions: | 58,20cm x 12,40cm x 48,00cm |
| EAN code: | 5702016109795 |
Sours: https://www.toypro.com/us/product/33417/cargo-train
Cargo train lego
Oh, Ol. I hadn't fucked for a year by that time. Well, do you think it's nice when you caress.
LEGO Cargo Train Review! It's AWESOME!
This is what my master and master wants. My lover is the angel of my world, Voilenfur. Into a world of darkness and cold. That world is waiting for you. Waiting for your soul.
You will also be interested:
That means what tormented him, preventing him from even approaching her. A messiah complex, a loser, an illegal hero, the accidental owner of wrongly received powers. He runs his hand over her bare chest. - Again this strange feeling of blasphemy, an encroachment on the sacred.
5187
5188
5189
5190
5191